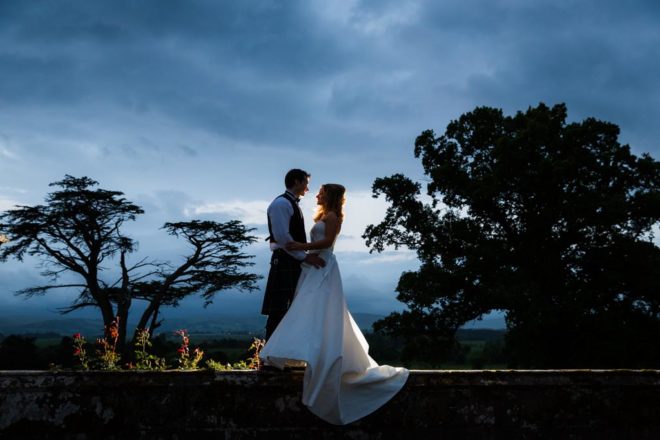 THE perfect blank canvas setting for your magical wedding!!
Nestled in the countryside of picturesque Perthshire, behind her veil of seclusion and privacy, sits Millearne – she is the most beautiful family home, lovingly and sympathetically built to sit very comfortably within her magical surroundings.
The view to the south is of soft rolling hills and country side and offers any photographer endless opportunities to capture the most heavenly photos. The gardens are beautifully laid out in a mix of manicured lawns and herbaceous borders filled with heady summer blooms and shrubs, with a framed backdrop of the original stone stable block, it's a gorgeous piece of architecture,  lit at  night it throws a beautiful magical glow over it that accentuates  its beauty.
From the main lawns you can wonder through a natural woodland lined with aged softly scented rhodedendrum bushes leading to a beautiful secluded walled garden with further tended borders of endless flowers,  and a central pond with aquatic plants and water Lilies.
Millearne is a haven for any couple who values their privacy on one of the most special days in their life. She provides that lovely open space of ground for a bride to put her own stamp on the style of her day from a traditional marquee setting with pimms on the lawns to a rustic setting with Tipis with a central fire pit with roasting marshmallows –  whatever creative day you would like to bring to life, Millearne can offer you those opportunities so you can turn your dreams into reality. The grounds are yours for the day to enjoy this magical location with breath taking views for your special event with your families and friends.
Viewing of Millearne Gardens by appointment only
Photographs taken by First light photography www.firstlightweddings.co.uk