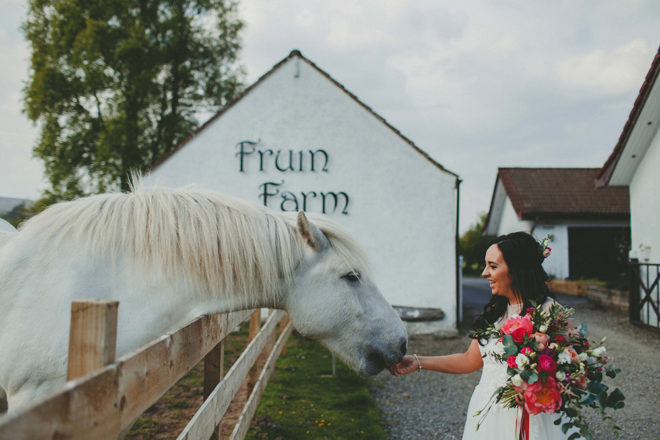 Located a mile from the shores of Loch Lomond, Fruin Farm allows couples to tie the knot in a truly beautiful and atmospheric setting. Fall for the rustic charm of our barn or, if you prefer, sit back and savour the ever-changing vista of hills and Loch from the restaurant. Or use both, dine in one and dance in the other, the choice is yours.
There is an on-site wedding suite available for the day and your wedding night. Included with the venue is a dedicated wedding planning service to oversee the smooth running of the day. They can also provide your flowers, wedding cake and personalised venue dressing, letting you get on with the finer details.
We specialise in intimate, relaxed and personal weddings for a maximum of 60 guests, with great emphasis on producing high quality locally sourced food. Dates available for 2020, prices start from £3,000.
TESTIMONIALS
Date  – 21st April 2019
Bride and groom names –  Paul and Vivienne
OUR REVIEW OF FRUIN FARM
We had a wonderful wedding day at Fruin Farm, venue was fabulous, food magnificent and the host and all the staff at Fruin farm could not have been more helpful to make our day so wonderful and memorable.
The support given to us in organising the day was exceptional and made it so easy for us and no request was too much, organising the wedding breakfast, decoration of the venue, our wedding cake and more, even organising a Llama walk for the two of us and some of our guests which added a lovely twist for the children and grown-ups.
I cannot thank Fruin Farm enough for making our wedding day so special.
Date – 9th November 2019
Bride and groom names – Russell Barclay and Adele Marshall
OUR REVIEW OF FRUIN FARM
We would absolutely recommend this very quirky and bespoke venue! From the early stages of planning Wayne and Rebecca helped us craft and build our very personal wedding day.
The ethos of "do what you want" allowed us to make it very personal and bespoke. The venue dressing and creativity from rebecca was ace and her calming influence made it so easy.
Wayne and the chef selected the meal and wine to a Tee. First class food and homely atmosphere made it very special.
A fantastic venue and we will be regular visitors in the coming years.