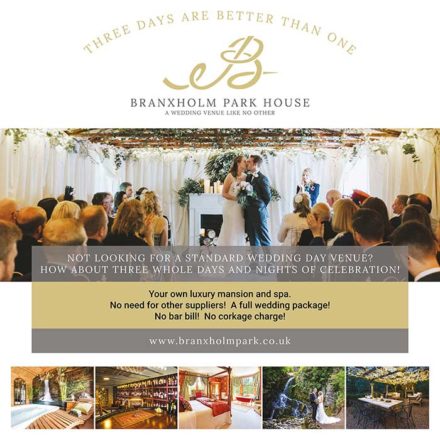 Your own exclusive 3 night Mansion in the stunning Scottish Borders, for a luxurious extended wedding celebration with your friends and family. We have re-written the rules of wedding venues, because three nights are better than one!
We offer ……..
Affordable luxury in your on Private Mansion, with a unique wedding package unlike any other to be found in the UK.
We can honestly say that Branxholm Park is a truly unique wedding venue. Not only is it a luxurious mansion and spa, but it is has jaw dropping views over the beautiful Teviot Valley.
This is a destination wedding where you enjoy not one, but three days of celebration.
With your main wedding party of 16 adults and additional children, arrive the day before to a warm welcome. This is not a hotel but your home, so put your feet up and enjoy drinks and snacks in front of the cracking fire in the drawing room, or explore the rooms and grounds, then relax and enjoy spa facilities.
Later a complimentary welcome meal is served in the stately dining room. Then maybe a soak in one of the roll top baths before snuggling down for the night in a huge 4 poster bed.
The next morning, have a your breakfast at the kitchen table. A sandwich platter late morning is provided for those staying before the celebration begins.
Guests staying in the local market town, just 2 miles up the road, will arrive for canapés and a drinks reception. The hall is a good place to maybe listen to music played on the grand piano.
Step outside onto a ancient woodland path, that was inspiration for a Victorian children's book. Follow a pergola walk adorned with thousands of twinkling fairy lights. At the end, discover the Pavilion that has been dressed with greenery, blossoms and dozens of candles for a truly romantic ceremony.
Outside, enjoy a celebratory drink around the woodland fire pit circle before making your way to the Mediterranean vine covered Loggia for more canapés.
The gardens and grounds are a photographers dream. Mature trees and flower borders, Victorian gates and walls, an enchanting bridge and enormous giant's storytellers chair!
Guests can amuse themselves with garden games or maybe stroll through the woodland to the duck pond and animal enclosure. They may choose to sit on the patio and enjoy the glorious views. In winter months the crackling fires are enticing, or maybe a game of snooker?
Branxholm Park is a food lovers paradise and the wedding meal won't disappoint. Later the wedding cake is the focal point, made at the house, but to your design. The ceremonial sword for cutting adds a touch of theatre! Then it's time for dancing! Disco lights and music are provided, as is a buffet and evening snacks. The basement bar and karaoke suite provide the setting for the late night fun!
The next day, why not relax in one of the indoor or outdoor hot tubs, Gym and exercise pool, or sauna and water massage suite? How about a BBQ in the Finnish Grillikota, or a riverside walk to the nearby waterfalls?
Whatever you choose, we know that your wedding will be memorable, not only to you but to everyone involved.
We are sure when you visit this venue, you will fall in love all over again.