A bride-to-be is fundraising for charity by selling these stylish wedding favour tags
Bride-to-be Keely Butcher is raising money for Macmillan Cancer Support by selling her beautiful handmade wedding favour tags.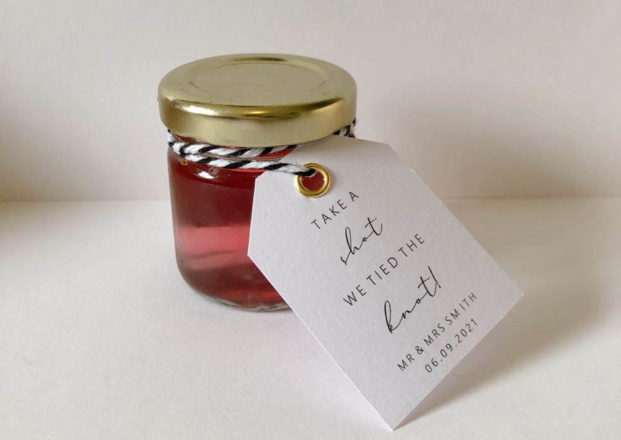 An Inverness bride-to-be is raising money for Macmillan Cancer Support by selling wedding favour tags – with all proceeds going to the charity.
Like many to-be-weds, Keely Butcher – who's getting married at Aswanley next October – was bitten by the crafty bug when she started planning her own big day.
"I feel like ever since we got engaged I've been playing about with different ideas for the wedding; there's so many different ideas and things to try," she says.
Keely turned her hand to creating stylish wedding favour tags for her guests which could be attached to miniature booze bottles and flip-flops (an excellent combination if you ask us: one to get guests in the mood to dance, and the other to help make dancing easier when the heels come off!).
They turned out so well that the bride-to-be would now like to make favour tags for other engaged couples in a bid to raise funds for a cause close to her heart.
"We lost my granny to a brain tumour years ago, and my grandad was diagnosed with Non-Hodgkin's lymphoma in 2019 – thankfully after six months of chemo he is doing well," says Keely.
"Then at the start of 2020 my other grandad was diagnosed with oesophageal cancer, and unfortunately we have now been told there's no further treatment."
Keely decided at the start of lockdown to turn the negatives into a positive by selling bespoke wedding creations.
She hopes that in doing so she'll be able to give a generous donation to a charity that provides support to people affected by cancer.
How to order the wedding favour tags
There is no set price for the favour tags, and the bride-to-be is simply asking for couples to donate whatever they can to her JustGiving page.
If you'd like to place an order, simply email Keely with your details on keely_dee@hotmail.co.uk.
All money made will go directly to Macmillan Cancer Support.