'70s vibes, vintage rings, sustainable style: Etsy's 2020 trend report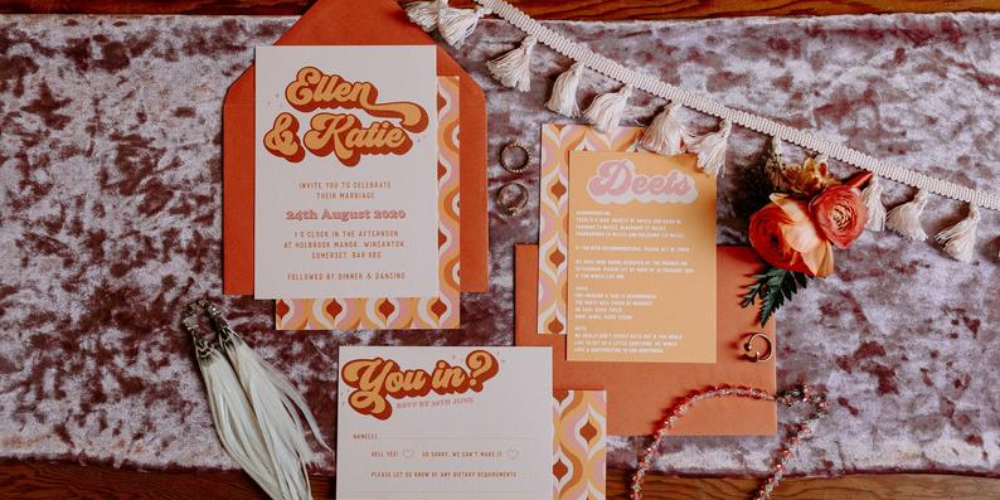 PHOTO | Peach Wolfe Co
It's a bold new decade, and with it comes a whole new set of wedding trends.
Worried about being left in the dust? Have no fear; Etsy has provided their wedding trend report to help you out, revealing the new mix of decor and style choices that brides and grooms are favouring.
So, what's in store for 2020 weddings, based on Etsy's findings?
PURPOSE
While last years' couples opted for personalised touches, Etsy's trend report has declared 2020 the "year of purpose". That means we can see customisation, individuality and personal values taking the helm.
"2020 is the year of purpose, so it's all about staying true to your partnership," says Etsy Trend Expert Dayna Isom Johnson. "Couples are casting aside traditions that don't fit with their vibe, and making their big day a celebration of what's most important to them, from inclusivity to sustainability."
'70S STYLE
Disco balls! Wicker chairs! Funkadelic fonts! Far-out fringe! Disco fever is alive and well, with couples increasingly embracing the iconic era for their own wedding theme.
Retro color palettes are also seeing a rise in popularity, like orange and chartreuse – Etsy's colour of the year.
Vixen wedding invitation set (from £2.49) Peach Wolfe Paper Co
POWER SUITS
Reader, cast your mind back to 2008. Remember in the Sex In The City film, when Carrie Bradshaw rejected a truly spectacular bespoke gown and embraced the decision to wed her longtime lover in a sleek bridal power suit? Yeah, us too.
Carrie would no doubt be thrilled to learn that 2020 brides are following suit (excuse the pun) and embracing the chic pant-suit ensemble.
Also, pockets? Yes, please.
Torres Trousers (£695) House of Ollichon
VINTAGE RINGS
When it comes to rings, couples are looking for something with a little more life to it.
One-of-a-kind vintage engagement rings and wedding bands are on the rise for 2020.
For something a little more sentimental, why not repurpose the stones and metal of jewellery you or your family no longer wear?
Rosalind from Sweet Rosie Jewellery offers a special remodeling service to do this, and it's not just environmentally friendly – it's budget-friendly too.
NON-TRADITIONAL WEDDING PARTIES
Listen, we've seen it all this year: grannies as flower girls, gender-swapping to a man of honour, and of course, four-legged ring bearers.
Etsy predicts that 2020 will see an increase in the rise of the wedding party that speaks to you—not just to tradition.
SUSTAINABLE STYLES
Sustainability is the word on everyone's lips for 2020, with brides and grooms-to-be taking Something Old to a new level and decking themselves out in pieces that don't cost the earth.
Think recycled wedding bands and vintage gowns like this sixties style from Edinburgh's own Those Were The Days vintage. Swoon.
WELLNESS FAVOURS
https://www.instagram.com/p/B8ZYL_qAz1o/?utm_source=ig_web_copy_link
Couples are thanking guests for coming with a wedding favor that encourages them to treat themselves with a little self-care.
That means goodbye to dinky bottles of booze and sweet treats, and hello to face masks, luxe soap, and scent-sational candles.
Jasmine, cedar and rose scented soy wax candle (£17.96) Sage and Bloom
CO-ORDINATED COUPLES' JACKETS
Personalised denim and leather jackets were all the rage in 2019, but for 2020 they're not only here to stay – they're doubling up.
The craze for coordinated jackets lets couples capture their unique style while parading your new partnership, plus it's one of the few fashion items you can keep wearing after your big day.