What the Scottish Government's new Covid-19 guidance means for weddings
The Scottish Government has published a 46-page route map outlining how lockdown restrictions will ease over four phases. Here's what it means for weddings.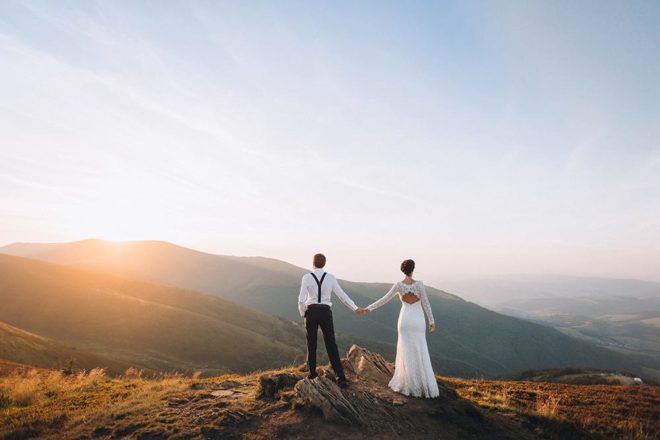 First Minister Nicola Sturgeon has today unveiled a four-phase "route map" outlining how the Scottish Government intends to navigate the coronavirus crisis over the months ahead.
The 46-page document broadly details what may happen during each phase, with information pertaining to the most significant areas of our lives.
Gatherings and occasions have been addressed in the guidance, and we now have an approximate idea as to when weddings might be able to take place again in Scotland.
Scotland is still in lockdown until 28 May, but it's expected that from this date we will enter the first phase of lockdown restrictions being eased.
Here is what you need to know about each lockdown phase and how it may affect your wedding plans.
Phase one
If all goes to plan, we will enter phase one on 28 May.
During this phase, no public gatherings will be permitted.
You will be allowed to meet with one other household, but you will only be able to meet them outdoors and you must be physically distanced from them by at least two metres.
Under normal circumstances in Scotland you can get married outside and you only require two witnesses plus your celebrant.
Scottish Wedding reached out to the Scottish Government to ask if it would therefore be possible for a wedding ceremony to take place outdoors during phase one.
However, a government spokesperson responded and said that no, this would not be permitted.
In an email to Scottish Wedding, the spokesperson said:
"The document published today suggests that at phase 2: 'Allow marriages and civil partnerships and other types of ceremonies to take place with minimal number of attendees.'
"This is in the table on page 44.
"But phase two can only come after phase one – and it's phase one that may start on 28 May."
Phase two
The document states that the review cycle of phase one will conclude on 18 June.
However, the government will only allow progression to stage two if the virus is controlled and the 'R' number (infection rate) is consistently below one.
During phase two, the government plans for registration offices to open for high priority tasks. Places of worship would also be able to open for private prayer with physical distancing and hygiene safeguards in place.
Marriages, civil partnerships and other types of ceremonies will also be able to take place with a limited number of attendees.
The number of attendees has not been specified yet.
During this phase, pubs and restaurants will be allowed to open outdoor spaces with physical distancing and increased hygiene routines.
The guidance also suggests that you would be able to meet with larger groups of friends and family at this point, but only outside and with physical distancing.
This may mean that a very small outdoor wedding with the required distancing measures in place would be the most sensible option during this phase.
Phase three
It isn't clear when we will enter phase three – it will depend entirely on how well the virus has been suppressed.
It looks as though this phase will see a return to something close to normality.
We will still have to adhere to hygiene and distancing guidelines, but we will be able to meet indoors with friends and family; pubs and restaurants can open indoor spaces; and museums, galleries, cinemas and libraries will be allowed to open.
The document states:
"People can meet in extended groups subject to physical distancing. Places of worship can open to extended groups subject to physical distancing and hygiene safeguards.
"We will relax restrictions on funeral attendance, marriages, civil partnership and other services to beyond close family."
This suggests that during the previous phase, phase two, only close family members will be able to attend your wedding.
Though your guest list could be larger during phase three, it's important to remember that everyone at your wedding would have to remain two metres apart.
Phase four
Again, it's not possible to determine at this stage when exactly phase four will commence.
It is expected at this point that mass gatherings would be able to resume, in line with public health advice.
All ceremonies will be able to take place at this point with any necessary precautions.
So, really, phase four is when we can expect weddings to look something akin to the celebrations we were accustomed to prior to the coronavirus outbreak.

Things to bear in mind
These are just guidelines.
The government will be closely monitoring progress and it's possible that the guidance will change over time.
It's also been suggested that there is potential for regional variation, which could mean that some parts of Scotland would progress to the next phase faster than others.
Scottish Wedding will continue to update you on the latest news in the dedicated 'Covid weddings' section of our site.
If you require any help or advice, you can email natasha@scottishwedding.co.uk and we will do our best to assist where possible.