Weddings could be small and socially distanced until at least October
Scotland's national clinical director Jason Leitch has said that a wedding in October 2020 "will not look like" a wedding in October 2019.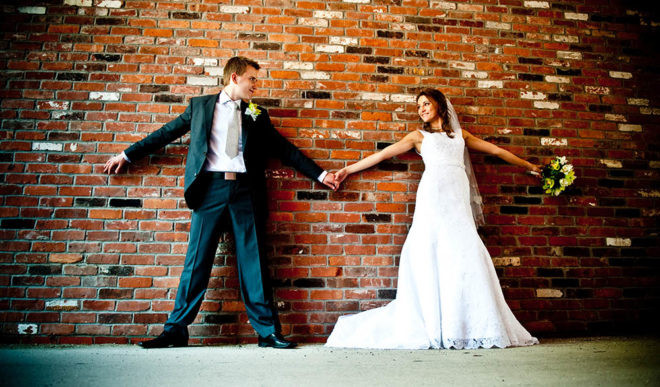 Scotland's National Clinical Director of Healthcare Quality and Strategy, Jason Leitch, has said that when weddings resume in Scotland it is likely they will be small and unsociable until at least October.
The coronavirus pandemic has had a significant impact on the wedding industry, and many couples are still unsure as to whether or not they should postpone their wedding.
Kaye Adams hosted a call-in with Professor Leitch yesterday on her BBC Radio Scotland show, where listeners were encouraged to ask questions.
One listener got in touch and asked:
"My son gets married in October – what are the chances that a wedding of 120 guests can go ahead, and would we still be doing contact tracing then? How do you social distance at a wedding?"
In response, Mr Leitch said:
"If you'd told me [the wedding was] next October I'd have said keep the booking, if you'd told me [it was this] July, I'd have said cancel the booking. October lies somewhere in the middle there.
"I don't think we will be back to normal in October and it's really, really difficult to give individual advice about what that might look like. I would hope that weddings would be going ahead by October, but I don't think they will be the weddings we recognise."
Last week, First Minister Nicola Sturgeon unveiled a four-phase route map, outlining how lockdown restrictions may be eased as time goes on.
It was suggested in the guidance that weddings will be able to take place from phase two onwards, but that throughout phases two and three these gatherings will have to be small and with social distancing measures in place.
Kaye Adams asked Professor Leitch what he thinks a wedding in October 2020 could look like.
He replied:
"It's really difficult to know. I think they will be smaller. I don't know if they will still be completely physically distanced by then but I suspect they probably will be, except for individual households.
"It's really, really difficult to predict. It's quite a few months away, and the virus will have changed. We may have treatment, we may have such low levels of the virus that we're able to release the lockdown in a more significant way by then, so it's really unpredictable.
"But I don't think an October [2020] wedding will look like last October's weddings."