This tartan face mask is selling fast after being worn by a famous face
Looking for a Scottish wedding-themed face mask? This tartan face covering is the perfect accompaniment to a kilt outfit!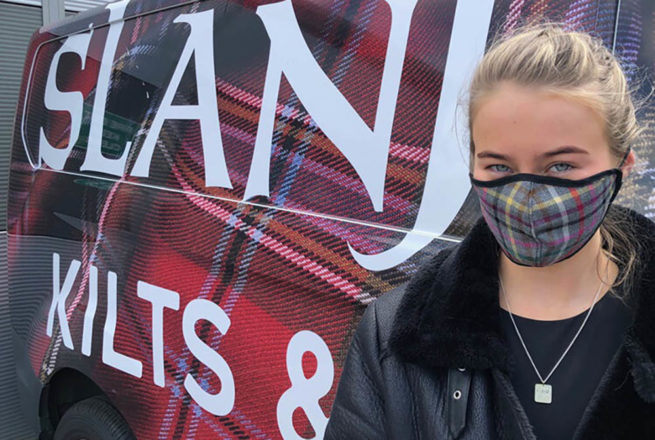 Scottish kiltmaker Slanj Kilts has created a stylish tartan face mask – and it's been selling faster than toilet paper at the start of lockdown ever since it graced the face of one of Scotland's biggest influencers.
But before you start picturing Jamie Genevieve rocking a plaid covid face covering, we're talking about a slightly different kind of influencer: Nicola Sturgeon.
The first minister tweeted a picture of herself wearing Slanj's Homeless Tartan face mask, which costs from £10 (a portion of which goes to homeless charity Shelter Scotland.
The kiltmaker saw a huge surge in sales after this endorsement.
Slanj told The National:
"First Nicola tagged us and then Tam Cowan mentioned us on Off The Ball, so our web sales have seen quite an increase – we were normally doing about 15-20 web orders a day. So far this morning we have had over 1,300!"
Had some people asking about this face covering. It is @slanjkilts homeless tartan. Part of the sale proceeds go to support @shelterscotland You can find details here https://t.co/UwLjQRCHRY pic.twitter.com/rf4EKrRCaD

— Nicola Sturgeon (@NicolaSturgeon) June 27, 2020
As retailers begin to open back up in Scotland, we reckon this tartan face mask would be the perfect face covering for a groom when he goes shopping for his kilt outfit.
Or, if you're planning to get married outside during phase two – when face masks are not mandatory as you'll be outdoors – this would be a fun mask to wear for a few photos to mark this strangest of times we find ourselves living (and marrying) in.
The £10 Slanj Homeless Tartan face mask is available to buy online.