Coronavirus Phase Two: Weddings in Scotland will be permitted in late June
We have now entered phase two of lockdown restrictions easing in Scotland. Here's what that means if you want to get married.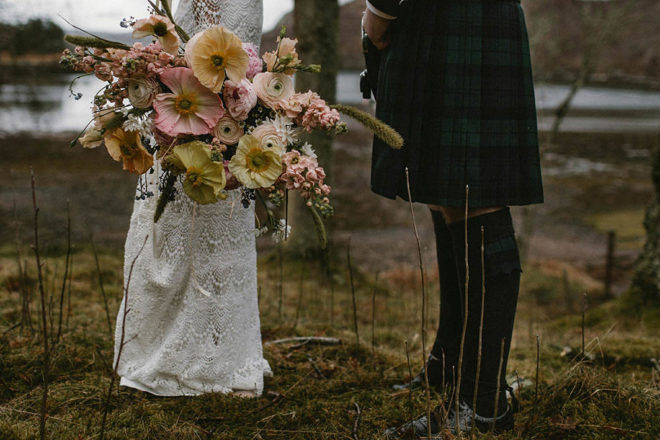 IMAGE | The Caryls
After a three-month stretch (that has felt more like three years) during which weddings have not been able to take place in Scotland, First Minister Nicola Sturgeon has announced that Scotland is ready to progress to phase two of the route map – and that means weddings are back, baby.
But we're not quite returning to normality yet.
Here's what you need to know about phase two of lockdown restrictions easing in Scotland, and how weddings will be affected.
Phase two weddings in Scotland
Weddings will be able to take place as of 29 June, and outdoors only.
Whereas previously we could only meet with one other household outside in groups of up to eight people, we are now allowed to meet with two other households outside – but that eight-person limitation remains.
To be clear, this means that your wedding should be an outdoor public gathering where all participants, including the couple and the witnesses, come from no more than three households and the group should consist of no more than eight people.
Scottish Wedding has spoken to a government representative, who has clarified that the celebrant or registrar will not count as one of the households.  If necessary the services of an interpreter can also be used by the celebrant or registrar.
People who have up until now been shielding would be allowed to get married outside (or indeed be among your guests), but this would of course be safest if you have selected a quiet area.
The Scottish Government has advised that people should travel no further than five miles for leisure or exercise, but this restriction does not apply to visiting friends and family or to holding an outdoor wedding.
"While the government's strong guidance is to avoid unnecessary travel, we recognise that in some cases it may be unavoidable," a government representative told us. "However unless you are in an extended household, it is not possible to stay overnight at anywhere other than your primary residence."
Again, it's important to remember that even when outside you would still have to be physically distanced from your guests by two metres.
Further changes in phase two
From Monday 6th July, outdoor hospitality businesses will be able to reopen. So if you fancy celebrating post-ceremony at a beer garden, you'll be able to do so!
You could even now have a minimoon in Scotland from Friday 3rd July, when self-contained holiday accommodation (with no shared facilities) such as holiday cottages and lodges will be able to take bookings.
Important to note
Don't forget that before you get married in Scotland, there's paperwork to fill in.
You need to complete the Marriage Notice (M10) Form no later than 29 days before your intended wedding date (and no sooner than three months before). This can be downloaded from the National Records of Scotland website.
You must also have two witnesses at your wedding.
If you'd like to see how restrictions on weddings may ease over the course of the next few months, we've broken down each phase of the route map in this post.
Phase two will be up for review on 9 July.
Are you planning to get married in Scotland during phase two? Get in touch – we'd love to hear from you!