Coronavirus Phase Three: what it means for weddings in Scotland
The First Minister has announced on 30th July that we must still adhere to phase three guidelines, as we are not yet ready to move to phase four.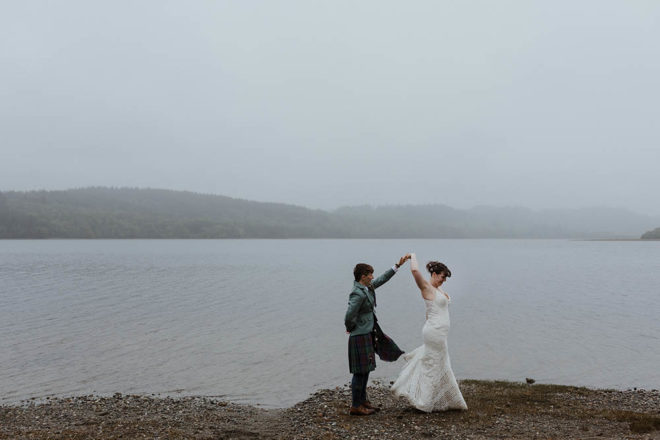 IMAGE | Caro Weiss
When the Covid19 lockdown began what felt like a lifetime ago – we can't believe it was only March – weddings as we knew them were suspended indefinitely.
But in early July, Scotland's First Minister Nicola Sturgeon announced a step back towards normality by relaxing restrictions on marriage ceremonies during phase three. Indoor weddings? Yes please, Nicola.
We previously explained how under phase two guidance, small weddings could begin to take place from 29th June. However these small ceremonies could only host eight people from a maximum of three households – and could only take place outdoors.
Scottish to-be-weds now have slightly more options open to them.
What a phase three wedding will look like
From Wednesday 15th July, wedding ceremonies can be held indoors in Scotland. That means hotels, restaurants, or any suitable indoor location you can think of.
With the restrictions on places of worship being relaxed by the Scottish Government's move into phase three of the coronavirus route map, this also means religious ceremonies can now go ahead.
Before you start firing out invitations to 300 people, please be aware there are still restrictions.
Ms Sturgeon said a maximum of 20 people can attend these ceremonies.
Although you will have to be selective about who you invite, it does mean guests don't have to be from the maximum number of households as set out by the Government in its guidance on seeing friends and family.
Of course social distancing measures – which we should all be used to by now – must also be followed.
"I announced yesterday that more people would be allowed to attend services for weddings, civil partnerships and funerals, but these would be subject to a cap on numbers," said the First Minister last week.
"I can therefore confirm that from Wednesday [15th July] onwards, a maximum – at this stage – of 20 people will be able to attend a funeral, marriage or civil partnership ceremony or service, wherever it is taking place."
What this means for wedding receptions
A key point worth noting is these rules apply only to your ceremony. Your reception must still follow the guidance for seeing friends and family as set out in phase three of the route map.
If your reception is outdoors, then it can host a maximum of five households at a time, and up to 15 people in total. If it is indoors then that means only three households and a maximum of eight people. Still, it's better than none.
Also, if you are planning a wedding in a smaller venue and it cannot hold 20 people while maintaining social distancing guidelines then the numbers will have to be reduced. It's best to check with your venue, here.
What's next?
First Minister Nicola Sturgeon has announced on 30th July that we will remain in phase three for the foreseeable.
This review period will last a further three weeks, until Thursday 20 August.
It has been indicated that there could be an easing of restrictions on Monday 24 August, and live events such as gigs and comedy shows may be able to go ahead from this date so long as they are outdoors and with physical distancing and restricted numbers.
Additionally, it has been suggested that from Monday 14 September, indoor live events could go ahead following guidance.
However, a Scottish Government representative has confirmed with Scottish Wedding that "Live events will not cover marriage ceremonies and wedding receptions where we need to consider the risks of households gathering together."
We have asked the Scottish Government to clarify if we will therefore be given separate indicative dates for wedding ceremonies and receptions soon, but we are yet to hear back.
If the Scottish Government announces any further changes which may affect your wedding then we'll be sure to keep you up to date.
The Scottish Government has published detailed guidelines on how to safely get married during the coronavirus pandemic, which you can read here.