"What I wore on my 2001 wedding day!"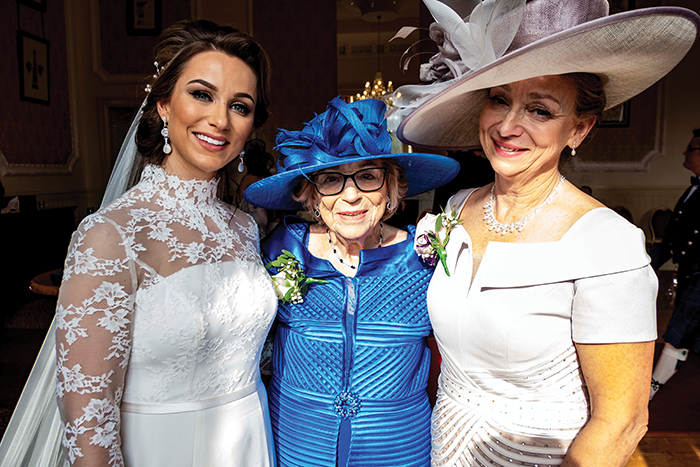 IMAGES | Ashley-liv Jamieson Photography
"Watching my daughter Heather get married was very emotional," remembers mother-of-the-bride Lesley. "I thought I was doing really well but when I turned around and saw her coming down the aisle I found that I was crying! The whole day was a wonderful experience, and the most important part was sharing it with family and friends."
Heather and husband Peter
While shopping for her daughter's wedding dress, Lesley was wowed by how much choice was available to modern brides, even since Lesley herself remarried in 2001.
"Heather spent a lot of time online narrowing down the type and design of dress she was looking for, even before stepping into a bridal boutique. The fact that you can have parts of the dress custom-made, and even make changes along the way if you change your mind – that's just something that wasn't available when I was looking. Also –," she laughs, "the prices have changed a bit too!"
For her mother-of-the-bride outfit, Lesley went for a sleek mauve dress with beautiful beaded detailing at the waist, accessorised with a statement hat and a large rose corsage to match her daughter's wedding bouquet.
"My mum (who is 90) and I both went into Catwalk in Falkirk for our dresses and the team there were wonderful with us," recalls Lesley. "Back when I got married in 2001, that's where my mum got her mother-of-the-bride outfit, so it's definitely a favourite of ours!"
When looking for her own dress for her big day to husband Joe in 2001, Lesley decided to go for something simple and elegant since she'd already had the big white dress at her first wedding in 1980.
"It was a cream silk three-piece with a calf-length pencil skirt, lace camisole and a long jacket with beautiful lace detail on the sleeves. I liked it because I felt it was elegant and stylish without being over the top," she explains.
"I remember shopping for my dress was lovely and a real family event, as Heather was there with me. I got her bridesmaid dress from the same shop I got my wedding dress and I've kept them both to remember the day by."
---
"What I wore on my 1982 wedding day"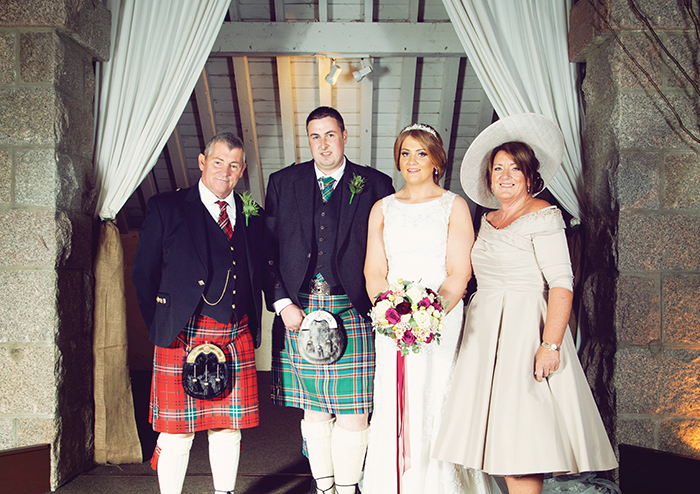 IMAGES | Josh Moverley Photography
Mum Lynne tells us how she found her dream wedding outfit for her daughter Chloe's wedding day – and tells us the story about her own wedding day outfit too!
"I bought my wedding dress at a shop called The Wedding Belle in Aberdeen," remembers mum Lynne. "It was 1982, and you didn't have to make an appointment or anything, you could just walk in."
Lynne wore an A-line dress with a high-neck daisy chain trim, a matching veil and a cool, crochet-patterned headpiece that wouldn't look out of place in a trendy bridal accessories store in 2020.
"I felt amazing in that dress. I felt like myself when I was wearing it!" smiles Lynne.
While buying a wedding outfit might have been simpler in 1982, Lynne says that when she went along to bridal shops with her daughter Chloe, who got married last year, the experience was a lot nicer. "They look after you now, and make you feel like it's a really important decision. It feels like an event!" says Lynne.
Finding her mother of the bride outfit proved pretty easy. "I went to Rouge Boutiques for my outfit for my son's wedding day the year before and really enjoyed the experience, so when I was in Inverness again I popped in for a look," she recalls.
"I had promised Chloe that she would be there when I bought my dress for her wedding, but Tania at Rouge Boutiques has such a good eye for these things; she knows immediately what colouring and styles will suit you.
She brought out this gorgeous gold off-the-shoulder dress with a full skirt. I loved it, but I told her I couldn't buy it unless my daughter was with me. She offered to take a video of me wearing it and send it to Chloe to see what she thinks. Chloe said, 'Mum, I can see on your face how much you like it – it's too lovely a dress not to buy!'"
Chloe and husband Steven
Watching her daughter get married at Coo Cathedral was an emotional experience for Lynne. "That and my son's wedding day were two really happy, really proud days. My only marriage advice would be always try to communicate with each other, and never go to bed on a row!"
---
"What our mums wore on their wedding day!"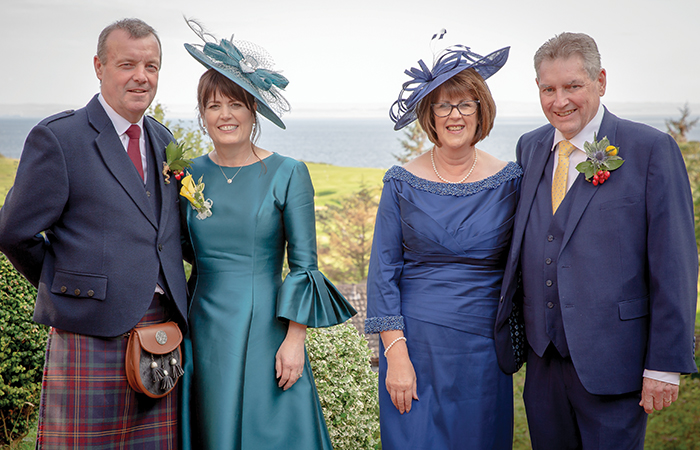 Mums Lynn and Lizzie tell us how they found their dream wedding outfit for their child's wedding day – and tell us the story about their own wedding day looks too!
IMAGES | Gregg Gilligan Photography
Forget the old cliché that in-laws don't get along: mother-of-the-groom Lizzie and mother-of-the-bride Lynn are the best of friends. "The week after Steven and Lisanne's wedding, Lynn, myself and our husbands all went to Belfast together!" says Lizzie.
Not only do the pair city-break together, but they bought their wedding outfits at the same time too. "I had visited Patricia Forbes in Dundee's Broughty Ferry already and saw a few things that I liked, and a few things I thought Lynn would like too," says Lizzie. "We went together the next Saturday, and it was great. We could compare outfits, and were even able to make sure our hats faced in different directions!"
Lynn went for a midnight blue gown with an embellished bardot neckline, while Lizzie opted for a teal A-line dress with bell sleeves. "I loved the colour and the silhouette of my dress," says Lynn. "It was really flattering. I also loved the blue pearl embellishments at the neckline – I'm a very pearly person!"
Lizzie was pleased with her dress too: "I loved that it was fitted at the bust and waist and was still very comfortable," she explains. Reflecting on when they bought wedding dresses for their own big days, they both agree that it was a completely different experience in the early 80s. "Back then, if you liked it and it fitted you, you took it home with you!" laughs Lynn. "You used to also get 'going away' outfits too, which you would change into to leave your wedding reception at night. You'd leave at about 10pm while the rest of your guests stayed and had a good time."
Lynn and Bert on their wedding day
Lizzie on her wedding day
"When I look back at my wedding dress now, I'm a bit 'hmmm'," laughs Lizzie.
"I don't think I'd pick it again, but it was the fashion at the time. And I remember I felt really good in it! And that's what's most important when it comes to wearing any dress: how it makes you feel."
Mother of the bride outfit ideas from the Scottish Wedding Show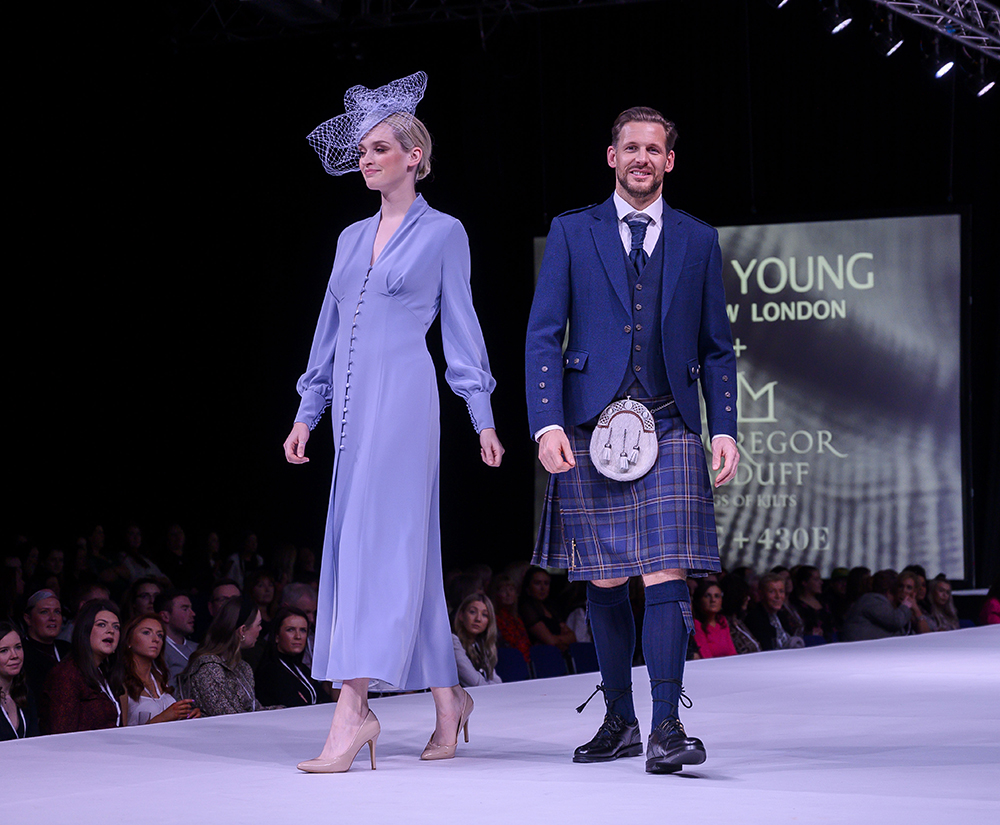 All images by Alan Peebles
With the coronavirus pandemic seeing us stuck indoors for the foreseeable, it'll be a while before any of us can go to a wedding fair – and mother of the bride (and mother of the groom) shopping is out of the question too (physically, at least).
But that doesn't mean you can't browse for ideas!
Even if you've had to put the search for your wedding outfit on hold, you can still use this time to research the type of outfit you'd like to wear.
Begin by taking a look at our edit of the mums' outfits we saw and loved at the most recent Scottish Wedding Show back in February. Whether you're after a jumpsuit, dress or skirt-and-jacket combo, you'll be spoiled for choice by this selection.
CATWALK
Find out more about Catwalk.
JOYCE YOUNG DESIGN STUDIOS
Find out more about Joyce Young Design Studios. (Groomswear is by MacGregor and MacDuff)
MIA BELLA
Don't forget to check out our edit of the best wedding dresses at the Scottish Wedding Show.
We've also highlighted some our favourite suit and kilt outfits from the show.
How to shop for a mother of the bride outfit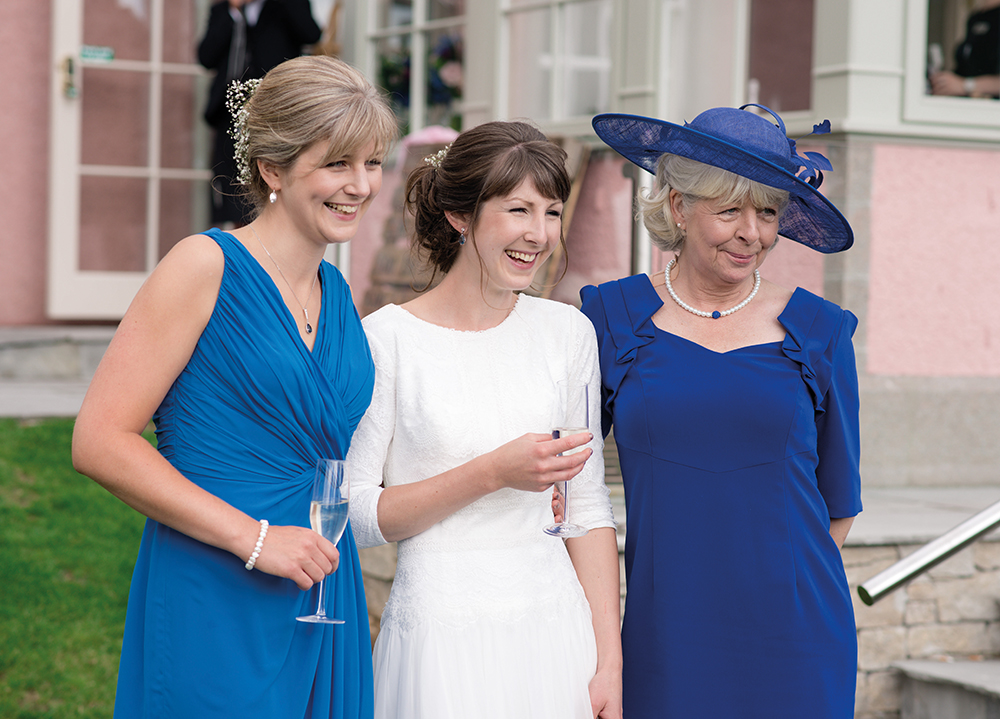 IMAGE | Zoe Rae Photography
Unless you come from a squad of siblings, shopping for her mother of the bride outfit isn't something your mum's going to be doing every year – so make it special.
Maggie Robin of Bear Necessities in Auchterarder suggests making a fun day of it.
You could factor in a nice lunch and drinks, but the most important thing is to support your mum.
"Try to enjoy this part," advises Maggie. "It's not the sort of thing you're going to do often. Try not to be stressed or stress each other.
Be kind if somebody doesn't suit something. Mum is usually a bit nervous and needs your back-up."
A great place to begin the shopping experience is of course flicking through the pages of Scottish Wedding to get an idea of what styles and shapes she might suit.
Catwalk shows at wedding fairs are also a great source of inspo and make for a fun mother-daughter day out.
Then it's time to head to the boutiques.
Remind your mum to keep an open mind; she might be pleasantly surprised.
"I think most people look through magazines and the internet and come in with ideas of what they like," says Maggie.
"Whether it suits them or not they won't know until they try them on.
"You've got to have an open mind. We're all guilty of wearing the same style and colours. [In the shop] we can see someone and think 'I bet they'll suit such and such.'
"Quite often it's the first one they try on because we see them in a new canvas."
Natalie Godfrey from Frox of Falkirk agrees that keeping an open mind is key: "It is helpful to have an idea of what you think you like but we will always advise on shapes. Be willing to try different styles and shapes."
BE PREPARED
This isn't an outfit to find at the last minute.
In fact, designer Ian Stuart recommends looking around six months before the big day.
"In the event of your dress having to be ordered (if you can't get the correct colour or size you are looking for) this allows enough time for the dress to arrive and for any alterations," he explains.
While Natalie agrees that most customers like to be organised and purchase at least six months before, she says there is never a right or wrong time to buy.
"If you see something and love it, buy it and put it away!" she says.
IMAGE | Julie Lamont Photography
COLOUR ME BEAUTIFUL
You'll have put a lot of thought into the colours of your wedding, so it's something your mum might want to be mindful of too.
Natalie suggests taking a fabric swatch of the bridesmaids' dresses and groom's tartan when going shopping and Ian says it's important all mums know the colour story of the wedding.
"Ask about flowers, bridesmaids, groomsmen and most importantly, the other mum!" he says.
"It looks much better in photography if there is a correlation between the wedding party.
"There is nothing worse than standing out like a sore thumb.
"If in doubt, neutrals such as silver, gold and platinum always work well."
Finally, remind your mum to wear her best pants when you go shopping.
Natalie says that a good pair of undies can make all the difference in creating the right silhouette.
HAS YOUR MUM FOUND HER MOB OUTFIT YET?
Forget flowers; here's some alternative mother of the bride gifts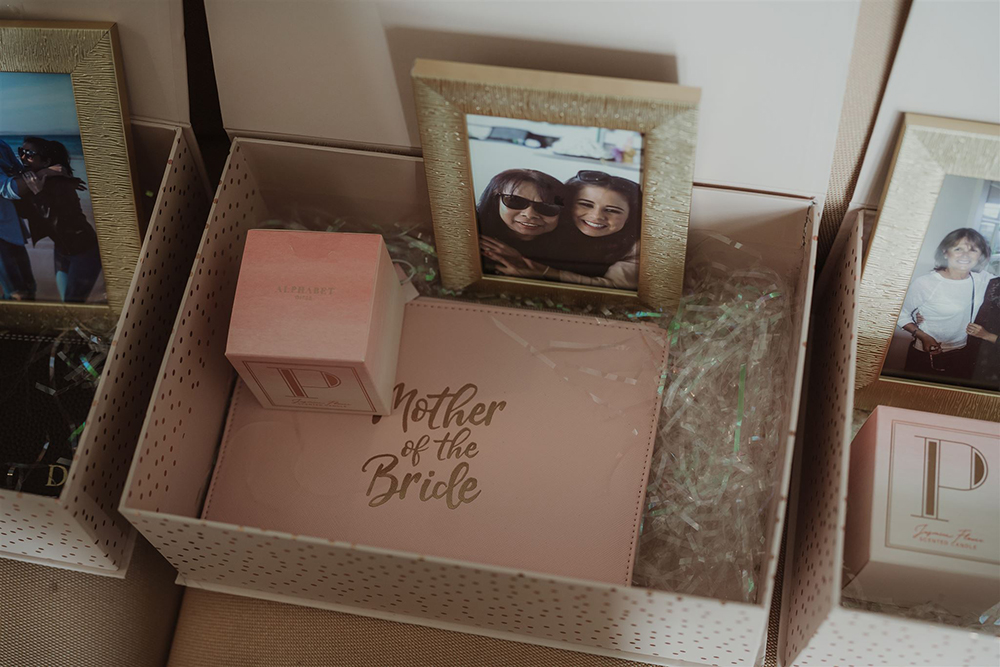 IMAGE | Maureen du Preez Photography
We all know the score; groom thanks his mum and new mother-in-law for all their help, new wife fumbles about behind the top table before delivering beautiful big bouquets to both mums.
But what if you want to buy something that's going to last more than a few days?
Here are some of our fave alternative ideas…
DIAMONDS ARE FOREVER…
 Sheila Fleet Rowan earrings
…or pearls, or silver or any other gorgeous piece of jewellery you want to present to your mum as a way of saying thank you.
We love these rowan earrings from Sheila Fleet – Scottish Designer Jewellery (£214).
WALK THIS WAY…
…in a gorgeous pair of shoes! If your mum's been eyeing up a particularly beaut pair recently, why not treat her?
And it needn't be fancy heels (my mum would thank me more for a pair of Hunter wellies).
TREAT YOURSELF
Kimpton Blythswood Square Hotel
Why not book a meal at your mum's favourite restaurant a month or so after the wedding or when you get your photos back so you can enjoy a family dinner out and relive all the fun.
Or, after all the stress of wedding planning (and hosting far flung family members), book your mum  a much-needed spa day.
For luxury pampering, check out the spa at Fairmont St Andrews or The Kimpton Blythswood Square Hotel.
WONDERING HOW MUCH TO SPEND ON YOUR MUM?
14 of the best mother of the bride + groom outfit shops in Glasgow 2019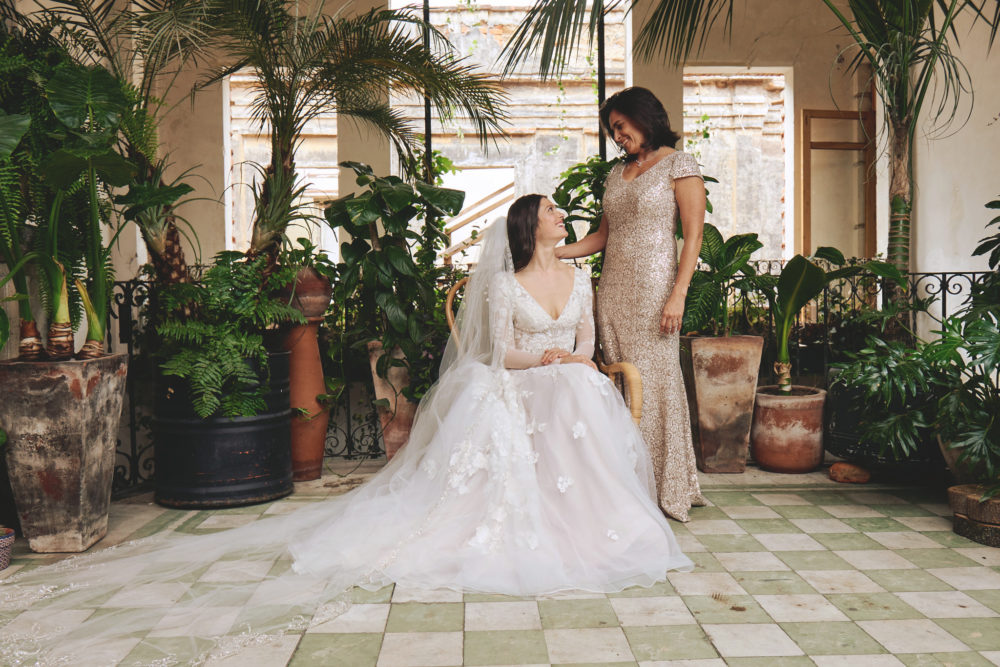 IMAGE ABOVE | David's Bridal
A wedding is such a special occasion for everyone, including the mother of the bride and/or groom involved.
The much-revered mums' outfit is such an important one – so make sure you know exactly where to go to find that perfect ensemble in Glasgow with our shop and boutique rundown…
Some of the content in this post is paid-for.
David's Bridal
"We want mums to feel just as glam and beautiful as the bride does when it comes to choosing a special outfit," says Rachel Brown, stylist at David's Bridal Braehead. "It's a big day for everyone involved, and mums deserve to have that reveal moment too."
The team at David's Bridal pride themselves in treating everyone who comes through their doors the same, from flower girls to the bride herself, and mother of the bride or groom is no different.
"To complete your outfit, we have shoes and accessories in-store; you can get your whole outfit in one place. Five-star service is our priority," explains Rachel.
Once you find your gown, the in-store alterations team will make sure that it fits like a dream.
David's Bridal is open seven days a week. Appointments can be made online.
David's Bridal stock: Cachet, DB Studio, Nightway and Vera Wang.
Visit David's Bridal Glasgow's website | t. 0141 8852121
Reeta Fashions
"We offer a friendly, honest and relaxed experience at Reeta Fashions, and we love helping mothers of the bride and groom find that very special outfit to wear on their son or daughter's wedding," says owner at the Gallowgate boutique, Sheran Lang.
Outfits at Reeta Fashions cater for all different styles, from beautiful modern dresses to a more classic, traditional look; you'll find something to suit your personality and budget here. Sizes go up to 26 too.
"We also have an amazing alterations service to ensure your chosen outfit fits perfectly," says Sheran. "You're in safe hands with us."
Reeta Fashions have a fantastic range of hats and fascinators to compliment your outfit, from statement pieces to daintier fascinators.
Reeta Fashions stock: Couture Club, Gina Baconni, Lexus, Marfil, Maria Lago and Sonia Pena.
Visit Reeta Fashions website | t. 0141 5525101 | e. sheran@reetafashions.com
Catherine's of Partick
Located in Glasgow's west end, Catherine's of Partick is a well-established occasionwear specialist with a range of sought-after designers and gorgeous millinery.
Visit the Catherine's of Partick website
Joyce Young Design Studios
With a mother of the bride and groom collection individually made-to-measure, this is the place to visit if you're after something unique and bespoke.
Visit Joyce Young Design Studios website 
Mia Bella
Browse a variety of mums' styles in a relaxed environment, with mother of the bride dresses and outfits to suit every budget and body shape.
Visit Mia Bella's website
Halo Glasgow
Located on Dumbarton Road in Glasgow, this boutique is best for the more modern, fashion-forward mum who doesn't want anything too traditional.
Visit Halo Glasgow's website
---
Looking for a mother of the bride/groom outfit outside of Glasgow? Check our online directory!
---
Moda Dea
This Barrhead-based boutique specialises in occasionwear, and stocks a great range of accessories for mothers' of the bride and groom too, including hats and fascinators.
Visit Moda Dea's website
Secondlove Scotland
This pre-loved clothing shop is just outside Glasgow in Mollinsburn, and stocks outfits, hats and accessories; ideal for a mum on a budget who wants great quality.
Visit Secondlove Scotland's website 
~ WILLING TO TRAVEL? ~
These amazing mother of the bride/groom boutiques aren't quite in the centre of Glasgow, but they're all within a one-hour drive from Glasgow and definitely worthwhile visiting on your outfit hunt!
Frox of Falkirk
This occasion wear specialist is always full of beautiful gowns, all in the latest trends and colours, and in a variety of sizes from 8-32.
Plus, with a huge range of fascinators and hats, shoes and bags, you'll find everything you need to complete your look all under one roof.
The team at Frox pride themselves in their ability to offer a friendly and professional personal shopping experience, to help the mother of the bride or groom feel like the Queen she is!
Choose from a range of modern to classic styles, with something to suit all budgets.
Frox of Falkirk stocks: Ann Balon, Anoola, Cabotine, Carmen Melero, Couture Club, Fely Campo, Gill Harvey, Irresistible, Marfil, Penguin, Social Occasions, Teresa Ripoll and Zeila.
Visit Frox of Falkirk's website | t. 01324 611350 | e. fiona@froxoffalkirk.co.uk
---
Find out where the best bridal boutiques are in Glasgow with our top picks!
---
Catwalk
You can be sure of really personal service (award-winning, in fact!) at this Falkirk boutique, with designers like Ronald Joyce and Veromia in stock.
Visit Catwalk's website
Runway Boutique
With Ella Boo and Daisy May amongst the designers at this Falkirk shop, you can be sure to find a chic and classy mother of the bride or groom outfit here. Out of hours appointments are also available.
Visit Runway Boutique's website 
The Dressing Rooms
Grab a bargain at this store, which takes past season outfits from sister shop Catwalk and sells them at fantastic discounted prices.
Visit The Dressing Rooms website
Elegance Boutique of Helensburgh
You'll find your complete mother of the bride/groom outfit at this boutique near Loch Lomond, with hats, jewellery, bags and shoes.
Visit Elegance Boutique of Helensburgh's website 
Gina Smart
Ispirato, Michaela Louisa and John Charles London are just a few of the designers stocked at this boutique in Ayr.
Visit Gina Smart's website
How to involve both mums in your wedding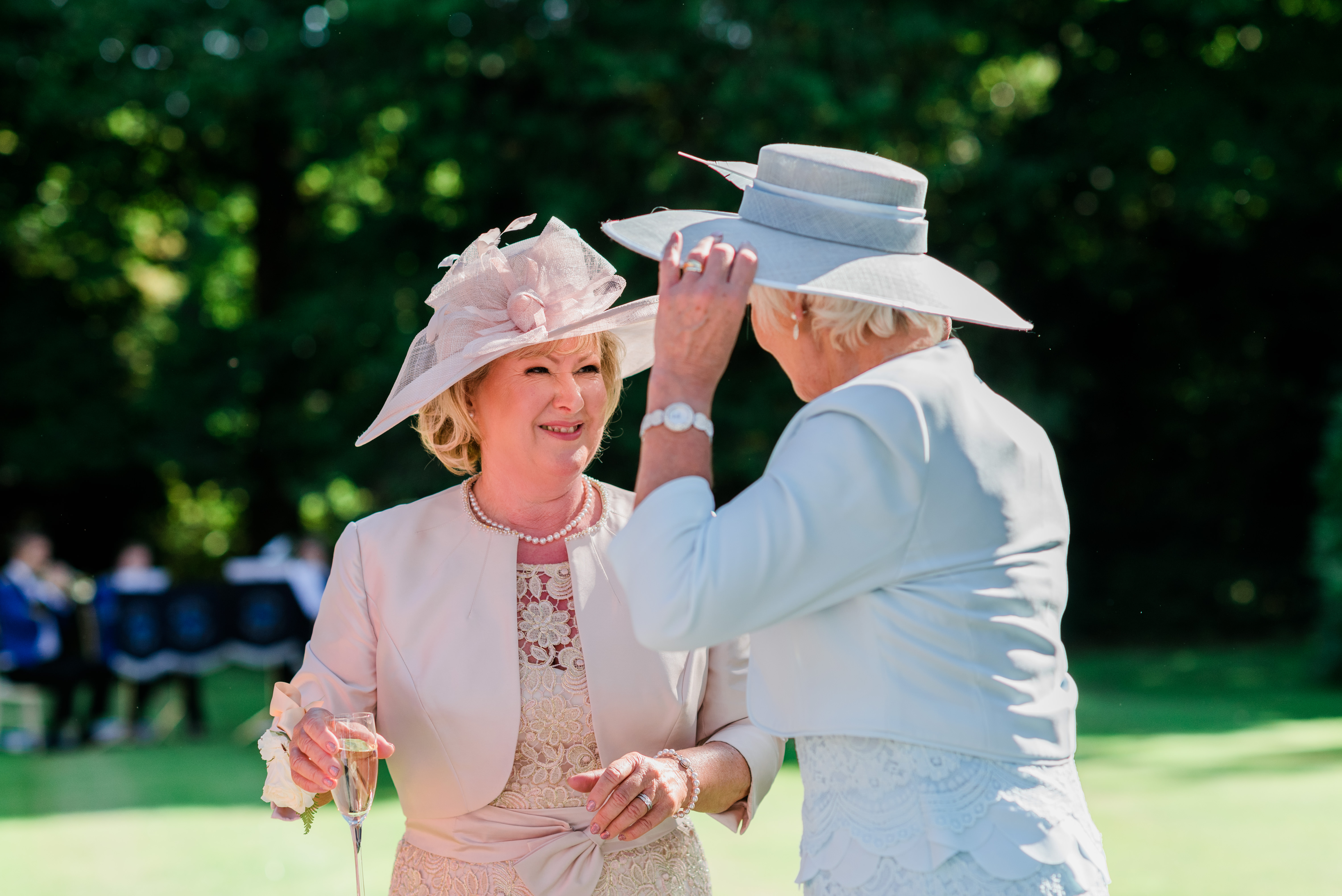 IMAGE | James Kelly Photography
Traditions sway heavily in favour of the mother of the bride with no one keeping an eye on when your other half's mum takes her hat off – or indeed considering that there could be two mothers of the bride or groom – but it's always a nice thought to involve your partner's mum in the planning fun.
You don't need to invite her along to everything; after all, some things are special for just you and your own mum, but a little invitation here or there will make her feel part of your wedding.
You could invite her to one of the dress shopping trips or ask if she'd like you to help shop for her outfit.
Remember to keep her abreast of the wedding colours so she doesn't end up feeling out of place.
You could also invite her to a wedding fair with you and your mum and make a fun girls' day out of it.
Giving your mother-in-law a specific role or job will also help her feel included.
IMAGE | Laura A Tiliman Photography
She could be in charge of the favours, a certain supplier or give a reading on the day.
We love when couples ask both their mums to sign the register or walk their children down the aisle.
Finally, don't be afraid to ask your mum-in-law for help.
If you need someone to chase up replies from their side of the family, she's the perfect candidate.
AND REMEMBER TO INVOLVE YOUR GRANNIES TOO…
IMAGE | Neil Thomas Douglas Photography
Just like your mum, your granny might also want some help with shopping for her wedding outfit, so take time out of wedmin to bring her to a show or scout out the boutiques with her.
However, not all grans are well enough to attend any hen fun or even your wedding.
When I got married, my granny wasn't able to leave her nursing home for the day so my husband and I got dressed in our wedding outfits again the day after and visited her.
We've also heard of brides and grooms who make a stop off on the way to the reception to visit relatives who can't make it. Sweet.
ON THE FLIP SIDE DO YOU NEED TO ASK YOUR MOTHER-IN-LAW TO TAKE A STEP BACK?
How to have a mum-friendly hen party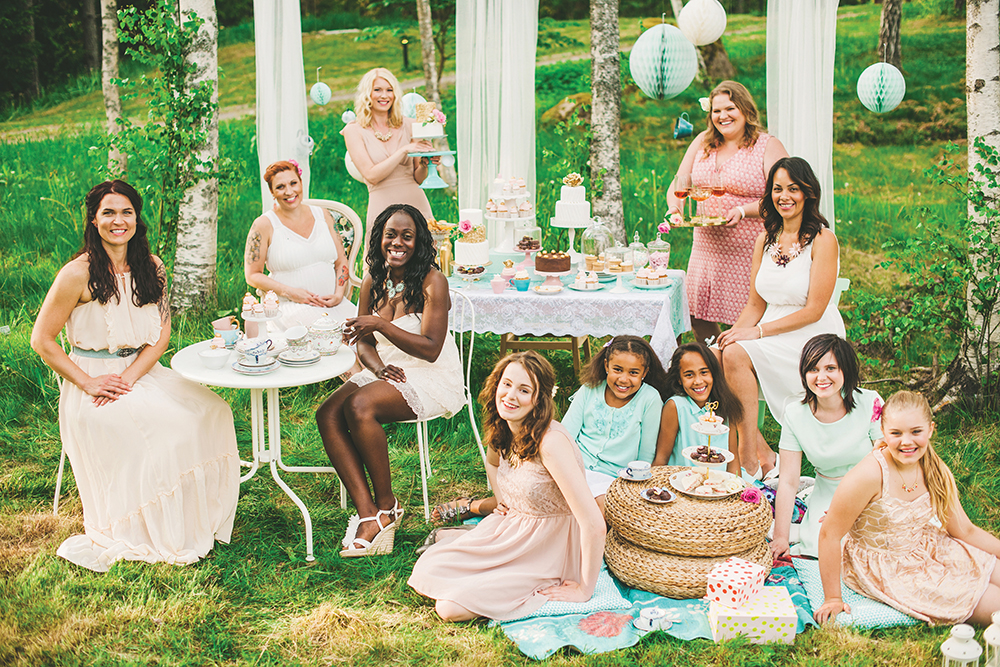 You and your mum may be super close but be honest: do you really want her to hold your hair back as you throw up shots, or hear about your partner's favourite position?
If the answer is yes then totally invite your mum along on your hen.
However, if you reckon she'd be cringing through a Mr and Mrs quiz then there are other options.
TAXI FOR MUM
Have the best of both worlds by briefing your bridesmaids to divide your day's activities into two sections; mum-appropriate and post-watershed for after mum's gone.
I was on a recent hen where the bride's mum joined everyone during the day then made her way home before dinner.
Mum-friendly activities can include a crafting class, cocktail-making or a sightseeing trip.
IT TAKES TWO
There's nothing to stop you having two hen parties: one for your mum and family and one for everyone else.
This way you can let your hair down properly without having to babysit different groups and make sure everyone is getting along.
It's also a nice idea to invite your future mother-in-law and other women from your other half's family to the family hen.
You can't go wrong with a posh afternoon tea.
MUM'S THE WORD
When it came to my own hen do, my mum said right from the start she didn't want to be involved.
But I still wanted to do something really special with her amid all the madness of pre-wedding prep, so we went for a spa day.
Sometimes it's a good idea to take some time out and show your mum just how much she means to you, without having to mention the w-word every five minutes.
FANCY BOOKING A CHILLED OUT SPA BREAK FOR YOUR HEN?
Check out the new Joyce Young mother of the bride and bridal shoot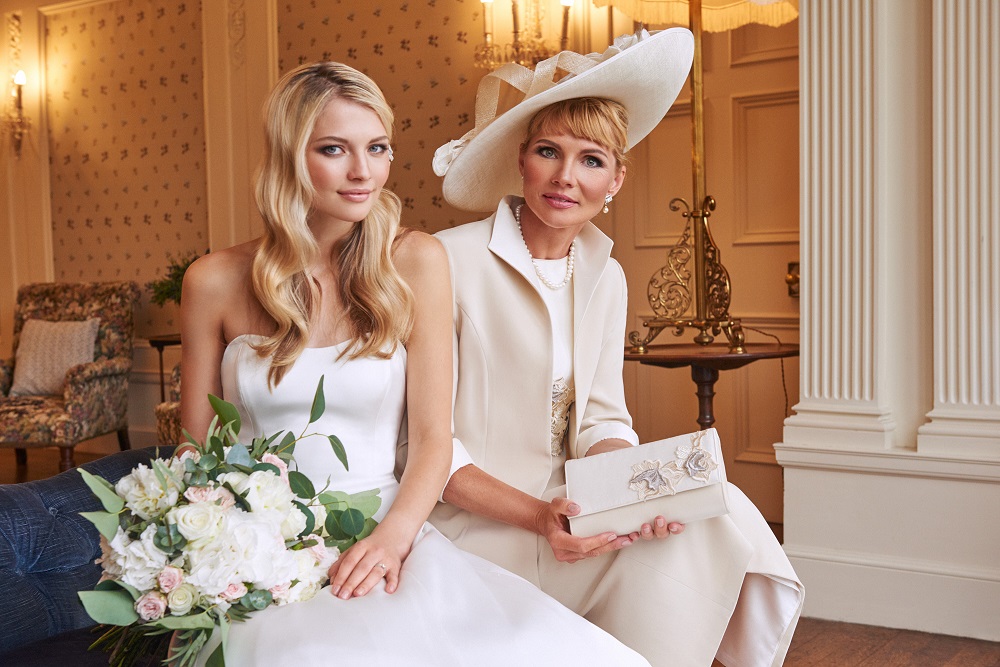 Soak up some wedding fashion inspiration from this recent mother and daughter shoot from the creative team at Joyce Young Collections.
"This lifestyle photo shoot at Sorn Castle in Ayrshire Scotland captures tender moments between mother and daughter," says Joyce.
"Remember to schedule in those special moments with your mum on your big day, they will be images to be treasured forever."
The models are real life mother and daughter, Riina and Judit, whilst designer Joyce and assistant trainee Alexandra looked after styling.
Here are just some of our favourite shots and Joyce Young designs…
IMAGES | Tanya Kiaie 
SEE THE COLLECTION IN PERSON
Joyce Young Design Studio is hosting an open weekend on the 12th + 13th of October so you can see some of these gorgeous designs in person.
You don't need to make an appointment, just pop along; models will be showing off some of the latest designs and there'll be glasses of prosecco on offer too!
During the event, you'll also be able to tour the production unit where all Joyce Young Couture outfits (both wedding dresses and mother-of-the-bride outfits) are made. You'll get a sneak peek at the behind-the-scenes work and skills that go into bringing Joyce Young designs to life.
Phone 0141 942 8900 or email glasgow@bystorm.co.uk to find out more.
FIND OUT MORE ABOUT JOYCE YOUNG'S COUTURE DESIGNS
t. 0141 942 8900 | e. glasgow@bystorm.co.uk