You'll love Motee Maids' mix-and-match bridesmaid dresses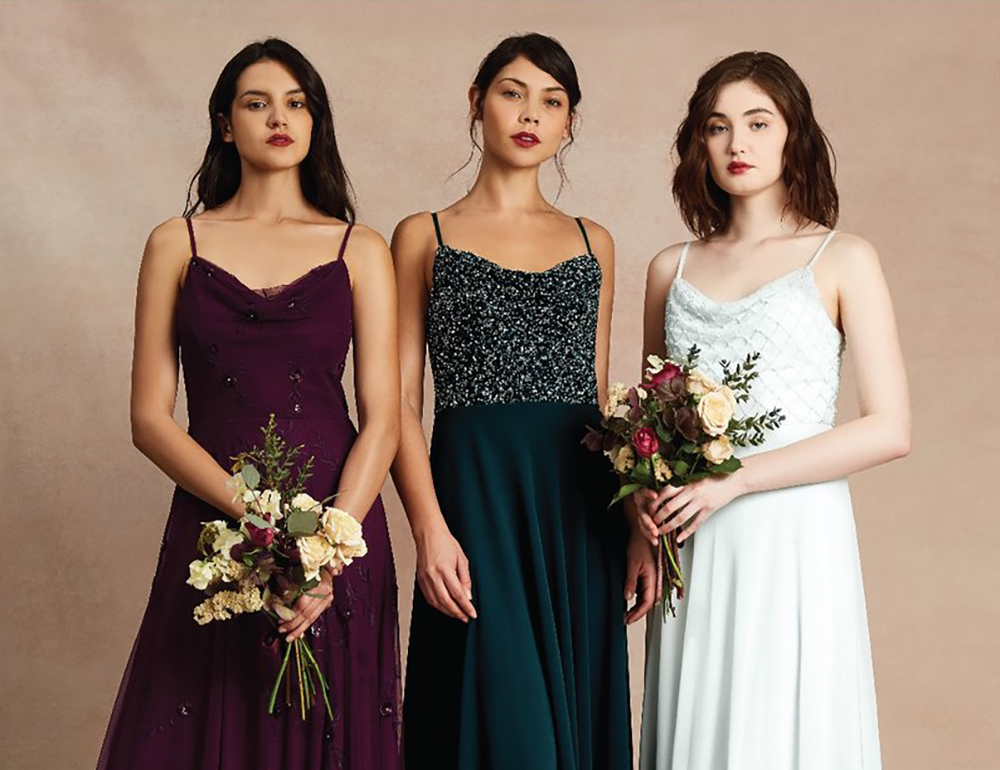 Finding a dress that all your bridesmaids love equally can feel like an impossible feat. Motee Maids cleverly solves the problem by letting you design bespoke mix-and-match bridesmaid dresses to suit everyone's individual tastes and body shapes.
While keeping your 'maids happy, it also means you won't have to compromise on style, colour or embellishment to create a cohesive bridal party look.
The whole process is super easy but there are a few decisions you'll need to make along the way, with the help of your Motee Maids consultant.
What styles work best?
Whether it's a neckline that lets you wear a bra or a halterneck to show off your summer tan, we all look for different things in dresses. With Motee Maids, your bridesmaids can build their dream dress comprising all their favourite elements.
From the 'Lake' v-neck (super flattering on all shapes) to the sleeved 'Rowan' and stunning 'Cara' draped cowl neck, there are nine bodice options to suit all tastes.
Similarly, there are three different skirts, separates and maternity styles, too. A top tip? Pick a shade and beading, then let your bridesmaids select the style they like best.
Where are you getting married?
Your venue can play a big role in your bridal party style. "For a castle wedding you might want encrusted beading and a luxurious look, or for a destination wedding something cool and light," says Rosanna Garden, designer at Motee Maids.
From fit to the colour and level of embellishment, keep in mind your venue and overall wedding theme, be it a relaxed bohemian affair or formal celebration, when designing your Motee Maids dresses.
Do you have a colour in mind?
Picking a colour is one of the biggest decisions, but it's an easy one if you keep in mind a few key things.
"Flowers are so important. Pick your bridesmaid colours first and then your florist can work around that, or if you have a really specific flower in mind, then design your dresses around that," says Rosanna, who also advises being open to unexpected colour combos.
Don't forget the season you're getting married in either. Light and airy shades are ideal for spring or summer, whilst deeper colours (burgundy, for example) work perfectly in autumn. In total, Motee Maids offers a choice of 11 colours.
When should you go bridesmaid dress shopping?
Getting everyone together in one place, finding an option everyone agrees on, tracking down that elusive size online – bridesmaid dress shopping is notoriously time-intensive.
With custom-made Motee Maids mix-and-match bridesmaid dresses, most bridal parties only need one appointment. Yup, that's right, one. This should ideally take place at least four months before your wedding and is a great opportunity to get everyone together for some pre-wedding fun designing their gowns.
Where can I buy Motee Maids bridesmaid dresses in Scotland?
Motee Maids bridesmaid dresses are currently available at Anne Priscilla Bridal in Glasgow, Opus Couture in West Kilbride, Kudos in Edinburgh and Ivory Grace in Aberdeen.
See more of Motee Maids' beautiful mix-and-match bridesmaid dresses on their website
10 of the best bridesmaid dress shops in Glasgow 2020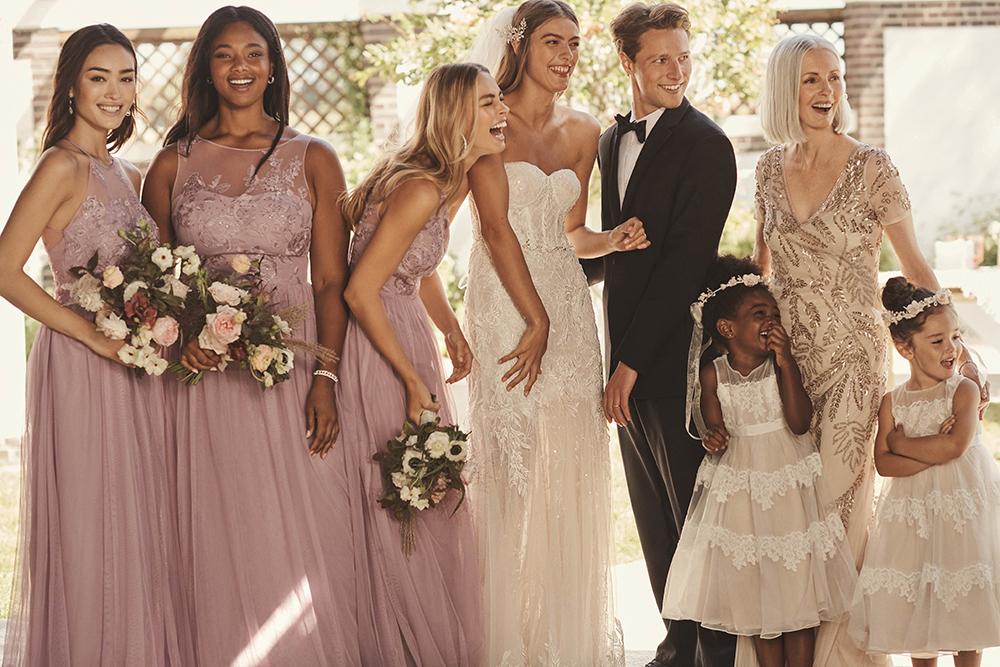 Bridesmaid dress shopping will be one of the most fun parts of planning your wedding. It's an opportunity to hang with your bride squad, and for your pals to get to know one another if they're from different social groups. And if you intend to start your search in Glasgow, you'll find plenty of places to go afterwards for a cocktail!
There are lots of gorgeous bridesmaid dress shops in Glasgow, so you'll be spoiled for choice if this is where you plan to start your search. Some specialise in bridesmaid dresses while others are located within bridal boutiques.
We've listed some of the best bridesmaid shops in Glasgow here, alongside some which are within a one-hour radius in case you fancy going further afield.
Some of the content in this post is paid-for. 
DAVID'S BRIDAL
Surely one of Scotland's largest bridal and bridesmaid emporiums, David's Bridal in Braehead, Glasgow, has a stunning selection of wedding dresses, bridesmaid dresses and accessories.
A vast and stylish array of bridesmaid dresses in every colour, shape and style means your squad are guaranteed to find the holy grail: a dress that flatters them and also suits your wedding theme!
The store also stocks an adorable range flower girl dresses, so even the wee ones will be catered for.
An in-house alterations team is available to ensure everything fits like a dream. Appointments can be made online, too.
Visit David's Bridal's website | t: 0141 885 2121
OLIVIA CAMERON BRIDAL
Situated just a half-hour drive from Glasgow in Falkirk, Olivia Cameron Bridal has a seriously swoon-worthy selection of bridal and bridesmaid dresses.
This is the boutique to come to if you'd love your bridesmaids to look chic and elegant, as Olivia Cameron is a stockist of Sorella Vita, an Aussie designer renowned for its uber-classy dresses.
The fashion-forward Sorella Vita dresses come in a variety of silhouettes and colours hot off the catwalk, and you'll find a hue to suit your big day whether you'd love your 'maids in pastels or fancy going for something bolder.
Best of all, you can book a private appointment so you and your gals will have the boutique to yourselves.
Visit Olivia Cameron Bridal's website | t: 01324 625293
OPUS COUTURE
Award-winning boutique Opus Couture is situated in the coastal village of West Kilbride, a scenic 45-minute drive from the city centre of Glasgow.
In addition to a fabulous range of wedding dresses, you'll find a carefully curated selection of bridesmaid dresses here to suit all bridesmaids and wedding styles.
There's the runway-led collection of Sorella Vita; the beautifully embellished customisable dresses from Motee Maids; and the glamorous Luna Collection by True Bride.
Not too sure what will suit your squad? Don't worry – you'll have a private appointment and the team at Opus will be on hand to offer their expert advice to make sure your bridesmaids shine as brightly as you do on the big day.
Visit Opus Couture's website | t: 01294 824838
SARAH LOUISE BRIDAL
A long-established and award-winning bridal and bridesmaid store in the heart of Glasgow city centre, the team at Sarah Louise Bridal have loads of experience connecting brides and bridesmaids with their dream dresses.
The boutique stocks a comprehensive selection of leading bridesmaid dress designers including Mori Lee, Sorella Vita and True Bride, all in different styles and fabrics with a multitude of colour options.
Regardless of taste or budget, you'll be able to kit your bridesmaids out in style. And to ensure that perfect fit, there's an in-house fitting and alterations service too!
Visit Sarah Louise Bridal's website | t: 0141 332 6060
ANGELIQUE LAMONT
Glasgow bridal boutique Angelique Lamont is home to Miss Angeline's Bridesmaids, which has a number of bridesmaid dress designers including Mark Lesley, Morilee, Richard Designs and Tiffany.
Visit Angelique Lamont Bridal's website
ANNE PRISCILLA BRIDAL
There are over 400 bridesmaid dress designs to browse at Anne Priscilla from a selection of modern, on-trend designers such as Motee Maids, Hayley Paige, Watters and Dessy.
Visit Anne Priscilla Bridal's website
JOYCE YOUNG DESIGN STUDIOS
In addition to wedding dresses, mother of the bride outfits and bespoke commissions, Glasgow designer Joyce Young stocks Dessy bridesmaid dresses in a wide range of colours.
Visit Joyce Young Design Studios' website
MELLE CLOCHE
A haven for anyone looking for cool, alternative bridesmaid dresses, Melle Cloche in the centre of Glasgow houses collections by Rewritten, Ghost, Maids To Measure and Twobirds. They have a brilliant accessories range too.
Visit Melle Cloche's website
REETA FASHIONS
Bridesmaid dresses in up to 80 colours in a wide range of sizes (from 6 to 38) are available in Reeta Fashions. You'll find the likes of Amanda Wyatt, Hilary Morgan, Linzi Jay and Venus on the rails, with plus-size samples available to try on.
Visit Reeta Fashions' website
THE FINER DETAIL
The Finer Detail is a specialist bridesmaid retailer with over 300 styles to choose from in a multitude of shades. Designers include Dessy, Sorella Vita and True Bride.
Visit The Finer Detail's website
Looking for a bridesmaid dress shop in another region? Make sure you check out our online directory for wedding suppliers near you!
Primark's done it again with budget-friendly wedding accessories (and they're cute!)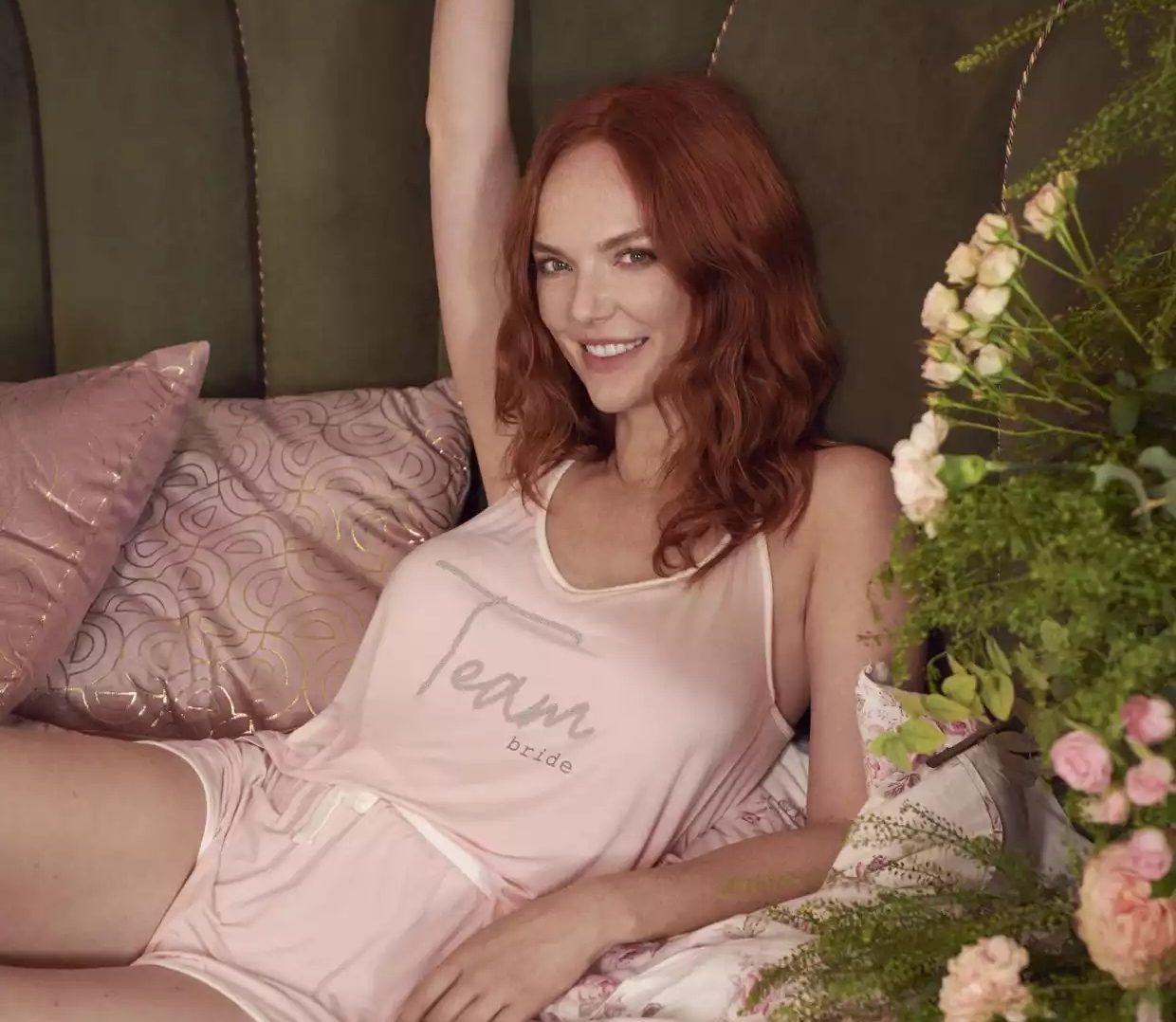 If you've got a few bridesmaids, you'll know how pricey it can get to buy three, four or five of everything for the wedding; step up Primark, with gorgeous night before the wedding PJs for them and you, plus loads of lovely pre-wedding accessories for your hen do.
Take a peek at our picks…
Kate Halfpenny has created the cool girl bridesmaid dresses of our dreams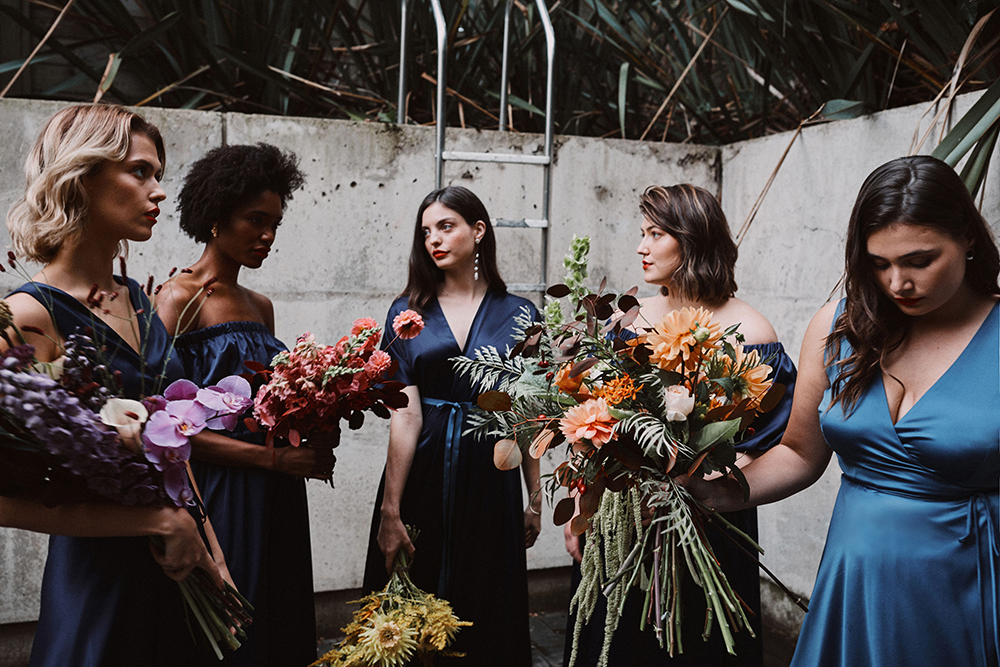 I've long coveted London designer Kate Halfpenny's uber-cool wedding dresses (seriously, I'd wear them in my day-to-day life if I could).
So when I heard the news that the designer was launching an online-only bridesmaid collection, I too launched myself. At my laptop screen. In excitement, obv.
The Sister collection exudes Halfpenny London's signature effortless style, with a huge – and very welcome – focus on diversity.
"I know from experience that dressing a group of fabulous, diverse women in a way where they feel amazing, yet look like a cohesive wedding party is a challenge," says the designer.
"I wanted to carry my mission statement of 'being the bride you want to be' through to the wedding party by creating an edit of ultra-flattering, interchangeable pieces which look fabulous together and allow every bridesmaid to feel incredible on the big day and beyond."
Each piece in the collection is named after one of Kate's own bridesmaids, and trust me when I say that there's a style to suit everyone, from a classy AF jumpsuit to chic skirt-and-top separates.
What I love about the range is that it doesn't look 'bridesmaidy' at all, so everyone will be able to re-wear their outfits after the wedding day without anyone batting an eyelid.
This is further enhanced by smart design features such as removable sleeves, which allow you to wear some of the styles in multiple ways.
The garments are available in three on-trend colours – dirty pink, pewter and navy – all of which complement each other perfectly, giving you the option of mixing and matching if you don't like the idea of everyone wearing the same hue.
And the price point is accessible, too, ranging between £70-295. Pretty good going considering the versatility of the range will knock that down on a cost-per-wear basis.
See the new Halfpenny London bridesmaid dress collection, Sister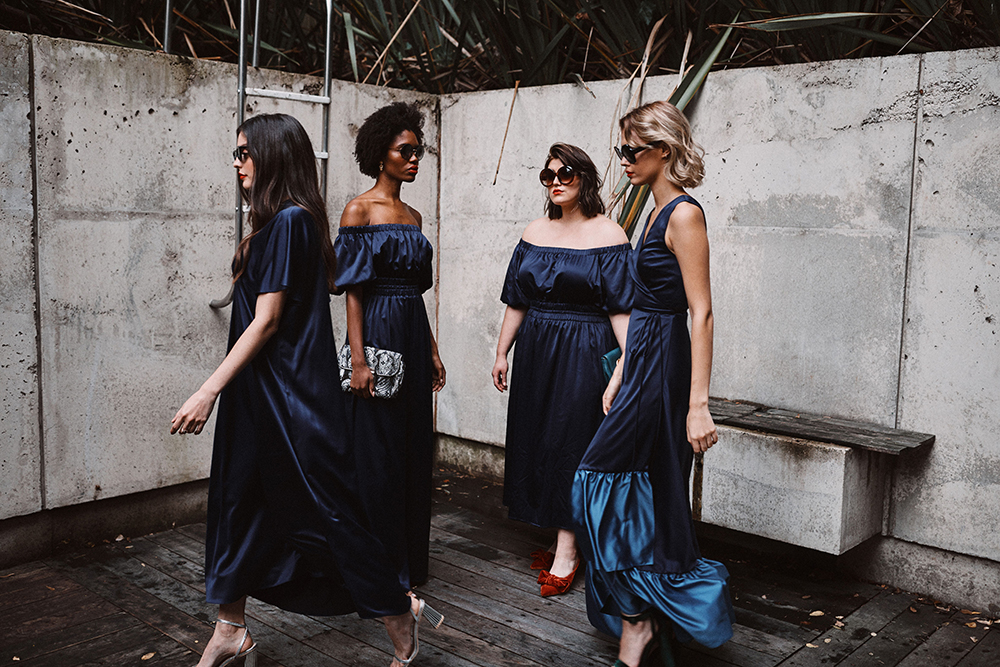 Bridal designer Halfpenny London has branched out into bridesmaid dresses with its brand new Sister collection (which you can read more about here).
This unique and diverse range of modern bridesmaid outfits is big on mixing and matching. So in addition to dresses and jumpsuits, there are skirts, tops and different styles of removable sleeves, giving each outfit greater versatility and longevity.
Here are all the styles currently available.
Note that each one is available in three different colours (dirty pink, pewter and navy), so don't worry if you see a style you like here but would prefer it in another colour!
Each item is also available in sizes 6-22.
THE HALFPENNY LONDON 'SISTER' BRIDESMAID DRESS COLLECTION
Halfpenny London 'Barney' skirt and 'Millington' top
This looks like an elegant dress, but it's actually a skirt-and-top combo! The 'Barney' skirt (£150) has a high-low hem and cinched waist, and can be paired with any top. Here, it's been combined with the beautiful 'Millington' top (£160), which has a high neckline, long sleeves and deep V back.
Halfpenny London 'Mills' dress
The 'Mills' dress (£225) is an easy-breezy off-shoulder style with a cinched waist and calf-length skirt with pockets. It's been designed so that the neckline can be worn off-the-shoulder or on, so your bridesmaids could have one look during the day and another at night!
Halfpenny London 'Fox' dress
Yup, this is the exact same dress worn three different ways thanks to the removable sleeve option. The 'Fox' dress (£295) is a stunning swishy wrap dress with a flounce skirt to bring all your red dancer emoji dreams to life. It can be worn alone or with the 'Rose' sleeves (£50) or 'Hero' sleeves (£50).
Halfpenny London 'Stone' dress
The 'Stone' dress (£175) is a gorgeous, flowing silky number that can be worn loose for a cool and relaxed fit, or belted to give it more of a defined shape. The V shape at the front is echoed on the back. Simple but stylish.
Halfpenny London 'Ingle' skirt with 'Taylor' cami
Another separates combo, the 'Ingle' skirt (£145) is a wrap style with a tapered hem, teamed here with the sleek 'Taylor' cami (£95). Both pieces will fit seamlessly into your wardrobe after the wedding; pair the cami with jeans and the skirt with a chunky knit.
Halfpenny London 'Klass' jumpsuit
For the bridesmaid that simply doesn't do dresses or skirts, there's the amazing 'Klass' jumpsuit (£295). Like the 'Mills' dress, the neckline on this can be worn off the shoulder or on.
Scotland's most stylish bridesmaids 2019 (and how you can steal their style!)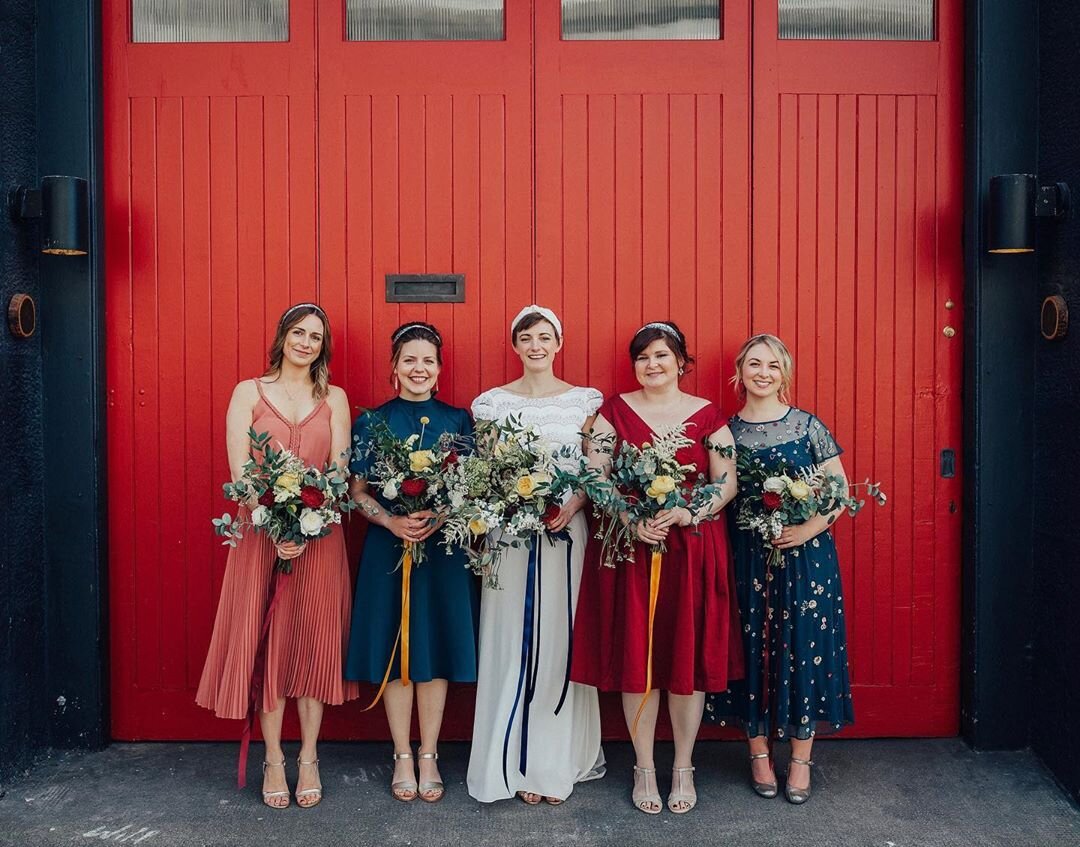 2020 is going to be the year of the bridesmaid. Once put in a plain dress with the sole purpose of not upstaging the bride, the 'maid fashion game has always been a little boring.
But nowadays brides know that if one of us shine, we all shine, and bridesmaid fashion has become more adventurous and varied.
So here's our top pick of the best of Scottish bridesmaid style this year, including some handy tips on how you can achieve the same look for your girls too!
SMOOTH AS SILK
Instagram/ @annawytrazekphotography
'Keisha' slip maxi dress in champagne (£72) SilkFred  
Silk and satin bridesmaid dresses are going to continue to be a big trend – we love this slinky copy from SilkFred of what these lovely 'maids from Aberdeen wore!
---
COLD SHOULDER
Instagram | @photosbyzoeweddings
Chi Chi Aiyanna Dress (£73) Chi Chi London
Sleek sophisticated silhouettes paired with deep, rich colours are rapidly replacing the floaty pastel dresses of the mid-2010s, especially in winter weddings.
For luxury and understated elegance in your bridal style, this Kinkell Byre wedding is a great place to start for inspo.
---
MELLOW YELLOW
INSTAGRAM | @caroweissphoto
'Let's Be Friends' midi dress in Aged Mustard (£108) Free People 
Why so formal? A pretty dress is a pretty dress, so no need to get your 'maids glitzed up if you're looking for a more relaxed vibe for your wedding day.
We love this mustard yellow gown from Free People, which has the same laid-back look as this cool Glasgow wedding shot by Caro Weiss.
---
MIX AND MATCH
INSTAGRAM | @pjphillipsphoto
Midsummer lace gown (£390) Needle and Thread
Pleat detailed midi dress (£135) Reiss
Red Bardot Midi Skater Dress (£48.65) Dorothy Perkins
All of your bridesmaids are individuals and you should embrace that.
Picking dresses for your 'maids that differ in colour, style, pattern and texture allows your girls to reflect their personalities, plus give your bridal party that extra oomph.
Tying their looks together with a similar colour tone and material can ensure that everyone compliments each other without looking samey, or the opposite, too different and chaotic.
---
POWDER BLUE
INSTAGRAM | @hayleyfraserphotography
Empire Chiffon Off the shoulder Long Dresses (£79) Babaroni
There's a shift towards soft, romantic wedding and bridesmaid dresses, with floaty skirts fairytale-esque off the shoulder gowns.
This dreamy number from Babaroni is a dead ringer for the gorge gowns wore by 'maids at a Barra Castle wedding.
---
PURPLE HAZE
INSTAGRAM | @dearlyphoto
'Seville' dress in Heather (£195) Rewritten
Pastel is going out of fashion, but that doesn't help brides who don't want their bridesmaids to wear dark colours like forest greens, navies or burgundies.
Dusky colours like lilacs, sea blues and rose pinks are a way to be on-trend without going to the dark side.
---
JEWEL IN THE CROWN
INSTAGRAM | @emmalawsonphoto
'Carmelina' dress in Emerald (£305) Reformation
There's something so chic about a high neck and long sleeves.
We're loving this Reformation copy of what these bridesmaids wore at Guardswell Farm.
---
GIRL GANG
INSTAGRAM | @melleclochebridal  | Photo |  Calum Riddel
Twobirds bridesmaid dresses (from £215) Melle Cloche

Customised painting onto bespoke leather jacket (£150) notonthehighstreet.com
Adding a denim or leather jacket to your 'maids outfits can really toughen up the look, making your girls – and your wedding – look that bit cooler.
To make it more on-brand for your big day, why not get something bespoke painted onto the jacket?
---
Scottish wedding events round-up: May 2019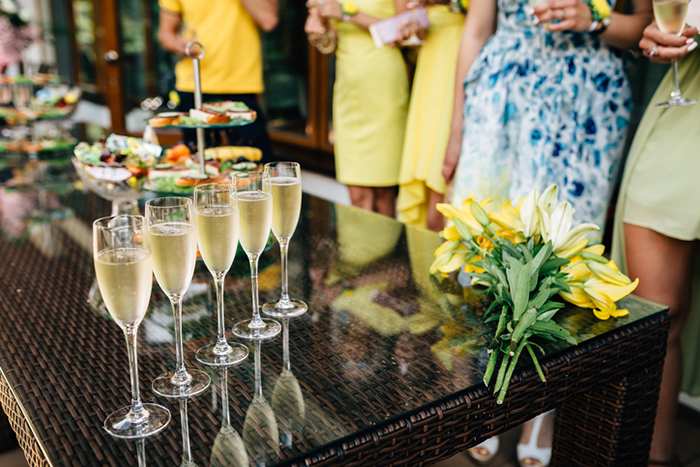 Looking for Scottish wedding events, fairs, deals and discounts in May 2019? Look no further than our weekly online round-up, featuring some amazing Scottish wedding suppliers and venues.

PERTH WEDDING EXHIBITION
WHEN: Saturday 11th + Sunday 12th May, 11.30am until 3.30pm
WHERE: Perth Racecourse
"Now in its fifth year this event will bring you everything you need under one roof to help you plan.
With all categories covered from venues, cakes, dresses, cars and much more this is one wedding show you don't want to miss!"
For more information, click here.

THE WEDDING EXHIBITION AT BRAEHEAD ARENA
WHEN: Saturday 11th + Sunday 12th May, 11am until 5pm
WHERE: Braehead Arena
"With over 125 top quality wedding professionals, stunning catwalk shows, band showcases and wedding car display all in this fabulous location."
For more information, click here.
WEDDING OPEN EVENING @ THE ROYAL BOTANIC GARDEN – EDINBURGH
WHEN: Thursday 9th May, 5pm until 7pm
WHERE: The Royal Botanic Garden Edinburgh
"Join us for our Wedding Open Evening on 9th May, and tour our various venues around the Garden. "
For more information, click here.
SOPHIA GRACE COUTURE CURVY BRIDE EVENT
WHEN: Friday 17th until Monday 20th May
WHERE: Sophia Grace Couture
"Every bride, regardless of body shape or size, should experience the joy of finding the designer wedding dress of her dreams. Therefore we are delighted to host our next Curvy Bride event in May.
We will have the latest styles from Stella York's 'Every Body Every Bride collection' and True Bride's Curves available in sizes 20 – 34 ensuring it's the perfect time to find your dream dress."
For more information, click here.
Don't forget…
You can check out all local Scottish wedding fairs, events, open days and exhibitions in our events section!
Everything you need to know about Kudos Bridal Edinburgh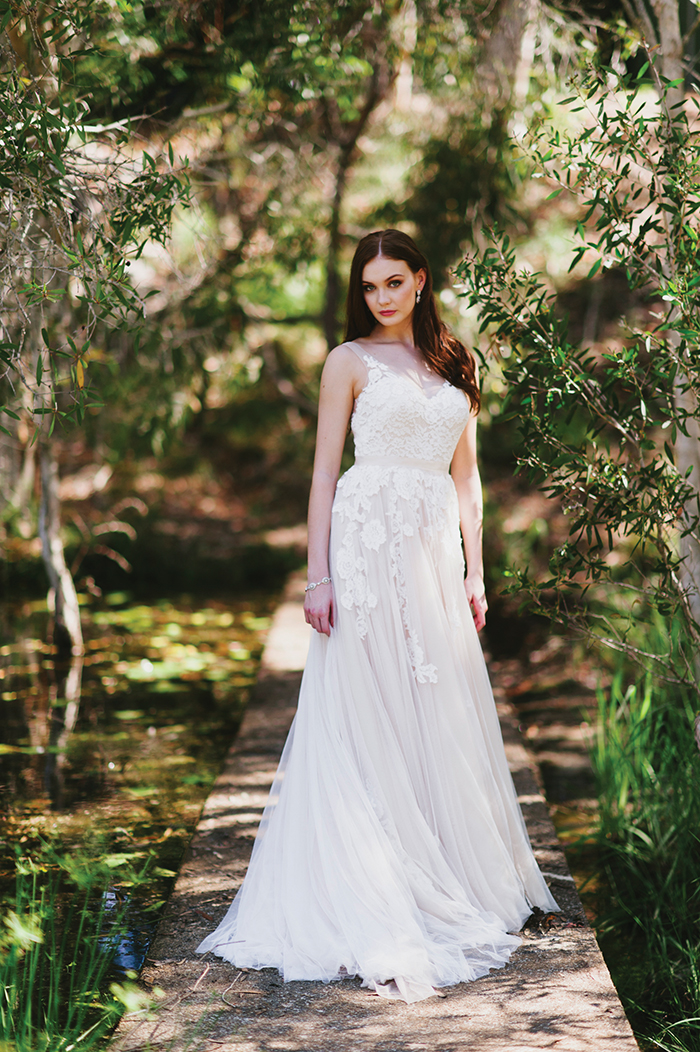 Kudos Bridal Edinburgh has everything you need for a successful wedding dress shopping trip! Here's what to expect from a visit to this gorge bridal boutique…
Scotland's capital is an atmospheric and romantic city,so it's only right that it's home to Kudos Bridal Edinburgh, a charming boutique filled with dreamy wedding dresses and exquisite accessories.
If you've ever passed by the shop on Morningside Road you're guaranteed to have noticed it; the extravagant window displays, changed weekly, are well-known amongst locals.
You may also have heard the boutique's praises sung by the many, many brides who've found their dream dress amongst Kudos's rails!
Formula for success
Kudos's long-standing reputation for being a bridal wear paradise is in part thanks to the feel of the shop itself. Although the Edinburgh store layout has recently been given a little refresh, it's retained its luxurious but friendly environment.
The result is a bridal boutique that manages to feel special (finding your wedding dress is a pretty important life moment, after all) without any of the intimidation that sometimes comes with high-end boutiques.
You can browse, try on styles and comfortably find a dress you love, all with the help of Kudos's friendly team, who are responsible for making the store so warm and welcoming. Led by newly appointed manager Millie, who's been a bridal consultant with Kudos for four years, the team of consultants are all experienced, knowledgeable and passionate.
You'll be assigned a dedicated consultant when you first make an appointment, who'll be there to support and help you find the perfect dress to say 'Ido' in.
Dreamy designers
Of course, brides-to-be also flock to Kudos for the chance to shop its unique and exquisite designer wedding dresses.
Amongst the most popular of these collections are Essense of Australia (picture romantic bohemian gowns) and Rosa Clará (contemporary silhouettes with beautiful detailing). They're also proud to stock up-and-coming Australian designer Wendy Makin who, although not as well-known as some of their other designers (for the moment, anyway), delivers beautiful, unique wedding dresses perfect for fashion-forward brides.
From start to finish
Once you've found your perfect dress, the Kudos Bridal team will also help with all the finishing touches; they've got a range of stunning accessories, from tiaras to shoes, to complete your bridal look.
They also offer all dress fittings and alterations in store which, again, helps to make the whole experience of shopping with Kudos feel friendly, personal and special.
After you've got your wedding day look perfected down to the last detail, you can also kit your bridal party out in style thanks to the boutique's gorgeous bridesmaid dress collection. You'll find lots of options to suit your 'maids, but the Motee Maids collection – which offers customisable dresses in mix-and-match styles – is our favourite.
By the time you all head down the aisle, you'll be feeling and looking ah-mazing thanks to Kudos Bridal.
t. 0131 447 8800 | e. manager@kudosbridal.co.uk 
Read reviews for Kudos Bridal Edinburgh
Sick of seeing your body shape under-represented in the world of weddings? Step up True Bride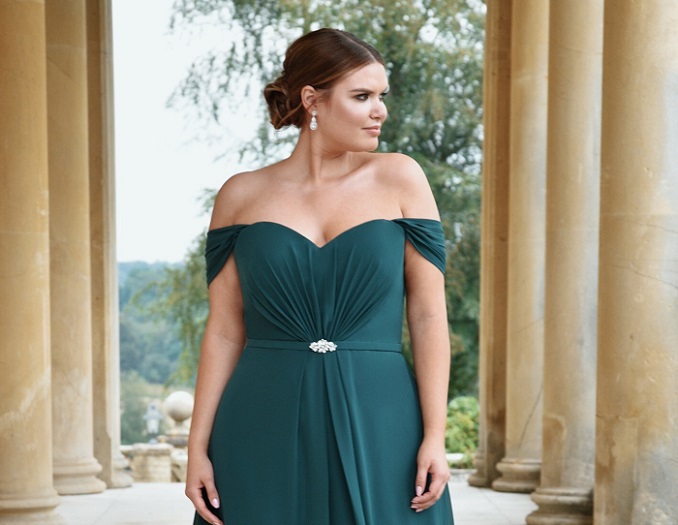 Sick of seeing your body shape under-represented in bridal and bridesmaid fashion? True Bride has shot its latest collection using a curve model.
In a welcome move, True Bride has shot its latest bridesmaid collection using a plus-size model.
Each elegant dress in this size-inclusive range is available in up to a size 36, with True Bride stating: "We intend to take more and more steps towards body inclusivity as a brand, and shooting our dresses across the sizes is something we intend to continue with."
How do you find bridesmaids' dresses for your girls if they're different shapes and sizes?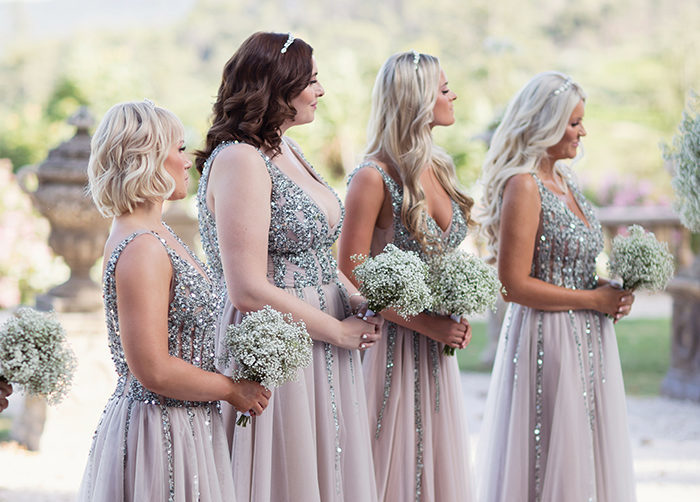 It's pretty likely that your Bride Squad comes in all different shapes and sizes, which can make finding a bridesmaid dress to suit everyone a little bit tricky.
Features writer Claire McPhillimy explores how to keep them all happy… 
IMAGE | Craig and Eva Sanders Photography
Once you've got your own wedding dress sorted, the next big challenge is finding your bridesmaid dresses.
They'll likely all have totally different body types and their own personal preferences when it comes to dress styles and shapes, so how on earth do you keep them all happy?
CHANGE IT UP 
The first step is remembering that you don't have to force them into wearing the exact same dress.
Creating a mix-and-match look with different gowns all in the same colour or within a complementary tonal palette will leave your bride squad looking unified and comfortable in their own individual styles.
Jasmine Bridal is great for offering mix-and-match dresses in a variety of flattering cuts, while Motee Maids is amazing for different bespoke styles, if you're struggling to find something quite right for everyone.
Motee Maids has gowns from a size 6 up to a size 22 and you can select different bodices and skirts to build unique dresses, all in the same colours with matching or co-ordinating embellishments.
Their dresses are very true to size and the best thing is that everything's made to order so the full choice of styles is available in all sizes, which means you'll never have to worry about rushing to order or buy in case they sell out in the sizes you're looking for.
SHOP RIGHT
Next, heading to the right shops that can cater to all your bridesmaids, no matter what their size, will help everyone feel comfortable! I can personally vouch for David's Bridal's excellence when it comes to bridesmaid dress shopping.
They stock so many different styles, lots of which are available to order in a variety of colours so creating a mix-and-match look is super easy. Everyone should be able to try on different styles in their sizes (there are sizes 0-34 on offer), and the advisor will keep you right when it comes to ordering them in the right colour.
Plus, on a super practical level, the David's Bridal Glasgow shop is massive with lots of changing rooms circled around one large waiting area. If anyone's a bit shy about stripping off to try on dresses in front of their fellow 'maids, they'll easily be able to find some privacy without having to leave and miss out on the chat.
Taking the time to source the right boutique and designers is guaranteed to make finding bridesmaid dresses everyone will be happy with so much easier, and it's definitely worth it; you want them to feel great, enjoy their day and look comfortable in all your wedding pics, after all.
Still looking for wedding outfits?