Glasgow Cocktail Collective offer a virtual bar crawl, delivered to your door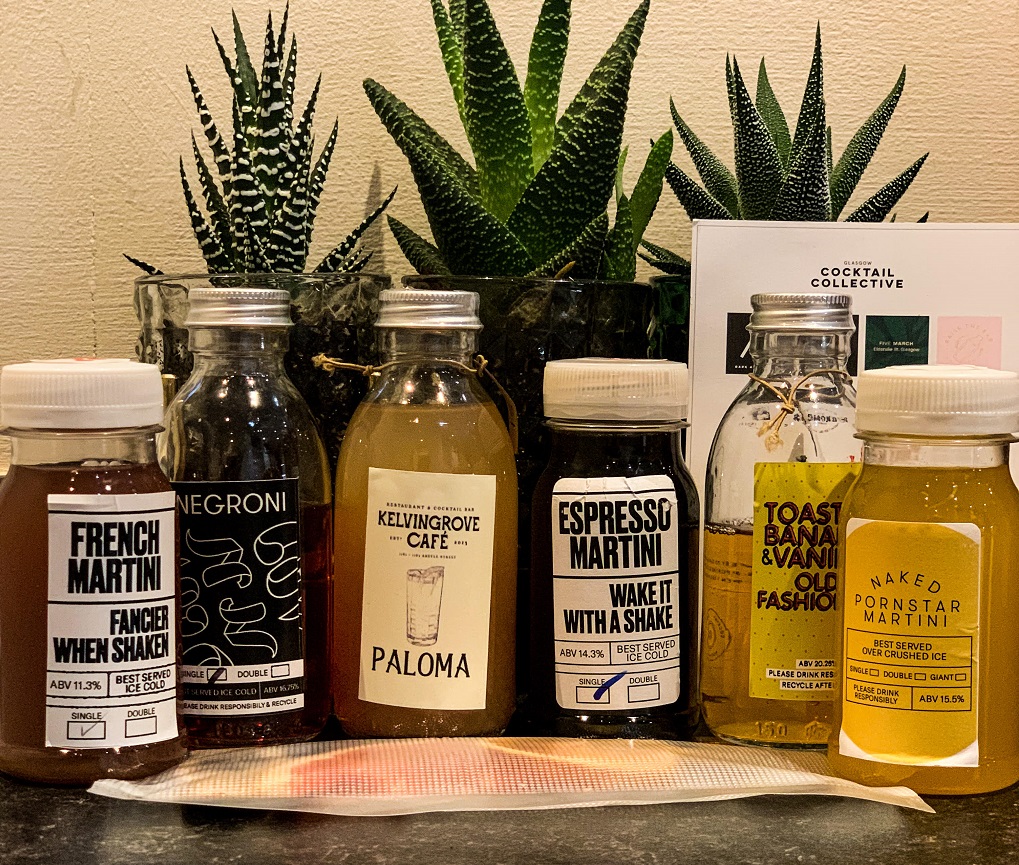 Now that pubs and bars have opened across Scotland it might be tempting to go out more, but if you're looking to have a girl's night out then you could struggle to find a bar that can accommodate your numbers.
Say hello to your new pocket best pal, the Glasgow Cocktail Collective app.
A cocktail delivery service in Glasgow and beyond, this app allows you to order pre-made cocktails from a variety of popular bars, meaning that you don't have to settle for your fave tipples from just one place; instead, you can order cocktails from a variety of places to be delivered direct to your door including Vodka Wodka, Kelvingrove Cafe, The Dam, Tiki Bar, Blue Dog and loads more.
"We began operating at the start of lockdown as a way of supplementing the license industry, by providing jobs for bartenders and drivers, while allowing bars to use their stock and bring in some much needed income," says the Cocktail Collective's Ritchie Munro. "The business has grown, and continues to adapt to the changing times."
One request from customers was for larger scale cocktails, ideal for BBQs, postponed wedding parties, hen dos or even micro weddings, so the Glasgow Cocktail Collective have added five and 10L cartons of Pink Gin Cosmo, Mango Rum Punch and Jolly Rancher cocktails to their menu.
Individual cocktails start from £4 and Party Packages from £70, including returnable dispenser.
You can get full menus and delivery details by downloading the Glasgow Cocktail Collective app for iOS or android.
Chi Chi London's new kids range is perfect for flower girls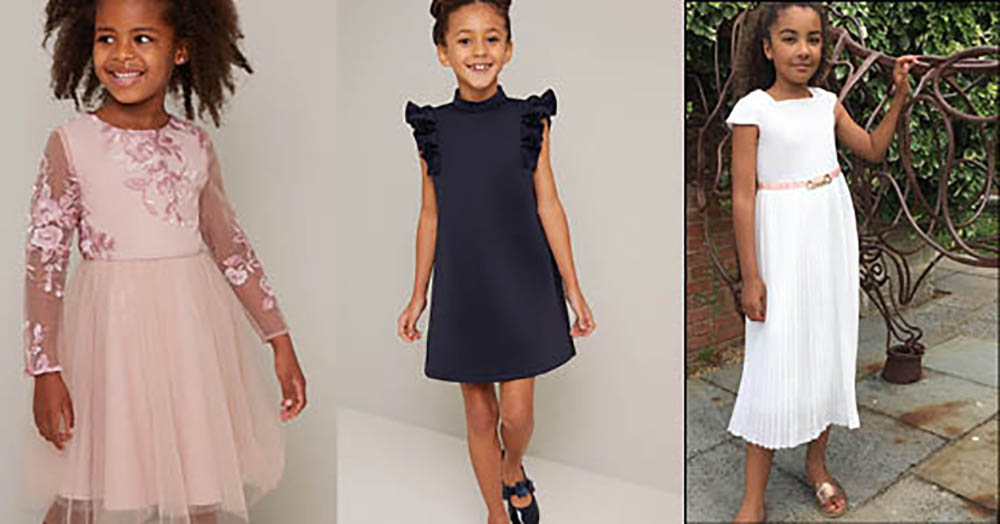 When you've got a wedding to attend, you can always rely on Chi Chi London for an affordable wedding guest outfit – and now even the wee ones can get kitted out, as the brand has launched its new kids range.
With its selection of colourful printed dresses, whimsical floral styles and even jumpsuits for the girls that simply don't do dresses, it's perfect for flower girls, young bridesmaids and the littlest wedding guests.
Here's a selection of our favourites from the collection, which is available for girls aged 6-14 and priced from a purse-friendly £40.
The SW Edit: Chi Chi London Flower Girl Dresses
The Marissa dress (£45)
"I had a virtual hen party!"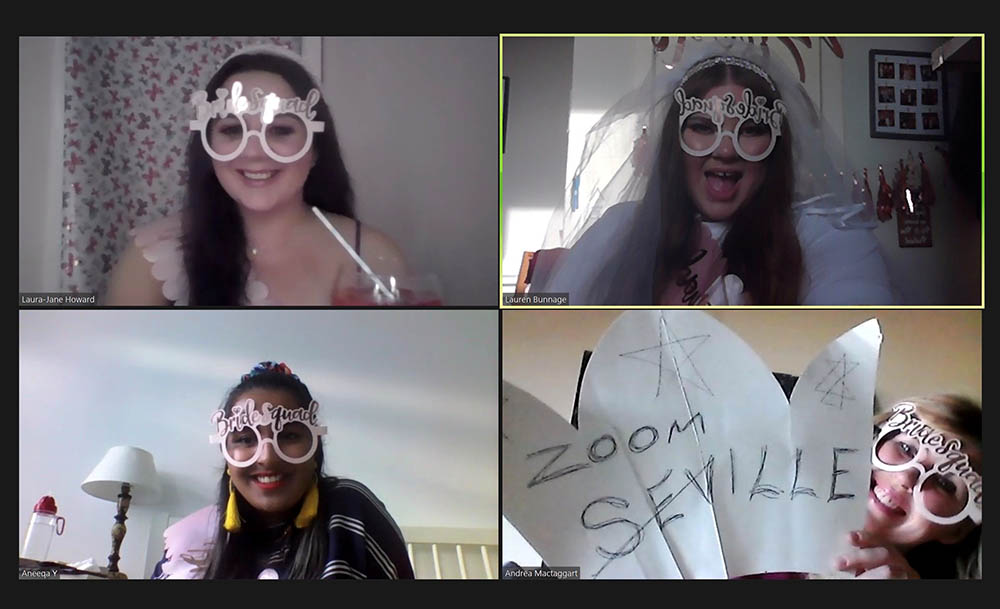 At the start of this year, you were probably in at least one hen party WhatsApp chat ablaze with countdown memes and links to questionable beach attire.
But just as Covid-19 has messed with our wedding plans, so too has it thrown a spanner in the works of the hen parties that were supposed to be taking place this summer.
Many of us have found ourselves attending virtual hen parties to mark the original hen party date, gathering on Zoom and Houseparty to sink homemade cocktails and play Never Have I Ever.
Edinburgh-based bride-to-be Lauren Bunnage and her partner Matthew Prichard are among the many couples who have chosen to postpone their 2020 wedding.
"We were very averse to postponing originally as we had booked our wedding in the summer of 2018 and our engagement was already going to be quite long," says Lauren, who was originally planning to get married this September at Ednam House in Kelso.
"After the first week of lockdown we decided the uncertainty was too stressful. I was supposed to begin a new medical treatment to improve my health significantly in time for the wedding and this was now delayed for the foreseeable future due to the virus.
"We also had a number of international guests travelling from Spain, America and Canada and it seemed unlikely that their travel plans wouldn't at the very least be disrupted."
Lauren's own travel plans were affected too, as she was due to jet off to Seville at the end of May with her mum, bridesmaid and a friend for her hen do.
"We were planning to do lots of sightseeing, see a flamenco show and eat lots of tapas," says Lauren. "I was also supposed to be having a home hen in Glasgow which was a complete surprise and my bridesmaid Laura-Jane was in charge of organising it."
And it was Laura-Jane who stepped up to surprise the bride with a virtual celebration to 'Zoomville' when it became clear that a real-life hen party wouldn't be on the cards.
The Zoom call took place the night before the hen squad were due to fly to Spain.
"My mum lives nearby so dropped me off a hamper from them all with lots of cute gifts, décor and sweeties, and she also made me some homemade tapas which was amazing," says Lauren.
"My bridesmaid sent me a bride sash, badge and bride squad glasses in the post. When I logged on everyone had the matching glasses on – it was brilliant!"
An evening of fun and games ensued, with Matthew even making a surprise appearance for Mr and Mrs. They also played Guess The Celebrity Dress, Snog, Marry, Avoid and a scavenger game where everyone had four minutes to collect a list of 15 random items from around the house such as a lipstick, toothpick and something blue.
"The most memorable moment was perhaps the toilet roll game where we all had to make ourselves a wedding dress from loo roll… even more ironic than when normally played due to the high toilet roll demand! We all had to show off our masterpieces and my mum had only got as far as the top!" laughs Lauren.
Lauren intends to rearrange her Seville and home hen parties for 2021 ahead of her wedding next year and says that she's looking forward to them even more than before.
"The virtual hen party was so much fun that I'm even more excited for the real deal now," she says. "I wasn't sure if a virtual hen do would be much fun or if it might make me feel a bit sad that I wasn't able to have my actual hen, but I loved every minute of it!"
Follow Lauren's wedding planning journey on Instagram.
Lauren's virtual hen party advice
Play games
"I would definitely recommend organising games and putting someone in charge of fun hen do music. If you have quite a big number of hens then you could ask each one to organise a game.
Dress for the occasion
"I would recommend dressing up as I really felt like a bride and I love looking back on the photos even if it is very far from the hen do I imagined!"
Stay on theme
"If you were due to be going abroad you could ask everyone to make some food related to that country."
Home hen party ideas from real Scottish brides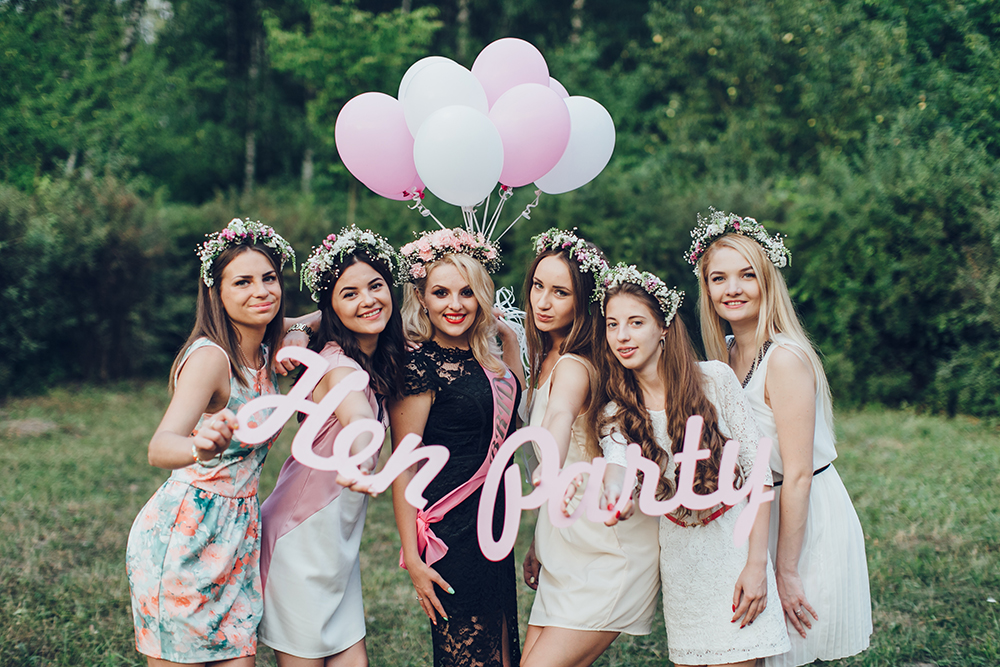 Long gone are the days when a hen party involved nipping down to your local pub sporting a bride-to-be sash and a pair of deely boppers.
That being said, you might not have the budget to jet off for a luxe hen weekend in Marbella. So how do you make a home hen in Scotland feel special?
Whether you're a bridesmaid looking for inspiration or a bride-to-be who wants to drop hints to her pals, we've founds some brilliant hen party ideas from real Scottish brides.
A hen party in Inverness
Kirsty Crosbie is a self-confessed control freak, so letting her sister Holly plan a surprise hen party was no mean feat.
"The only stipulation I had was I didn't want to leave the country and I didn't want to be in my home city," says the Edinburgh-based bride. "It wasn't until we switched trains in Perth that Holly finally told me we were heading to Inverness."
Their first activity was at Breakout Escape Games where they were split between escape rooms 'The Vault' and 'The Riddle of Nessie'. Then it was back to the apartment for a hilarious games night with a hen party edition of Cards Against Humanity, Mr and Mrs, and a game the girls affectionately named 'Pin the willy on the wally'.
A pole dancing class turned out to be one of Kirsty's favourite parts. "We had a great time laughing at each other's attempts to remember the routine and do any of the moves with something akin to grace." That night they headed out for dinner and a brilliant night of cocktail-making at Vodka Revolution followed by VIP treatment.
"The girls did an amazing job and it was better than any weekend I could have planned on my own!"
What it cost: Roughly £300 per hen, including a share of the bride's weekend
A hen party in Perth
Steph Kerr opted for a home hen, booking the beautiful Kinnaird House in Pitlochry. "I never fancied going abroad and wanted to keep things low key," she explains. "What we hadn't realised was the house sat at the front of the lodges where my husband Max had proposed!"
Booking the house was the only part Steph had a hand in. Her sister asked her for some buzzwords of things she would like – which included flamingos, games, karaoke, MD2020 and inflatables – and she and the other bridesmaid organised everything. Steph advises giving your 'maids free reign. "You picked them for a reason and I guarantee you will not regret giving them the power," she says.
On the first night the hens piled into the hot tub and played loads of party games, including a "very risqué" game of Never Have I Ever and an 18+ version of Mr and Mrs.
Halloween-mad Steph was also presented with some fantastic costumes over the weekend and her mum bought a karaoke machine which went down an absolute storm. "I had a fantastic if somewhat hazy weekend, full of dancing, party games and great laughs," she says.
What it cost: £150 per hen
A hen party in Edinburgh
Emma Middleton says it herself: she's the least sporty and competitive person. So she wondered what her friends were thinking when they took her to Battlezone Edinburgh as part of her hen for It's a Knockout – but she actually had a ball.
Emma's hen party had been planned to precision with her 'maids only telling her where she was going when they got on the train to Edinburgh.
Not all of it was as full-on as the Battlezone outing though. They went straight to Locked In Edinburgh for an escape room experience before enjoying a decadent afternoon tea at Tigerlily followed by a night in with Prosecco Pong and games.
The next morning they were up early for Battlezone before heading back to their apartments where a knock at the door had Emma absolutely dreading it was going to be a stripper (especially because her mum was there!).
"I was relieved to find out it was a cocktail making session, booked through Shake That Bartending," she says. An afternoon of mixing their fave tipple set them up for a fun night on the town.

Their last morning finished with Segway riding at Cluny Activities in Kirkcaldy. "We were all feeling a little worse for wear, but the fresh air worked wonders!"
What it cost: around £300 per hen
You'll love Motee Maids' mix-and-match bridesmaid dresses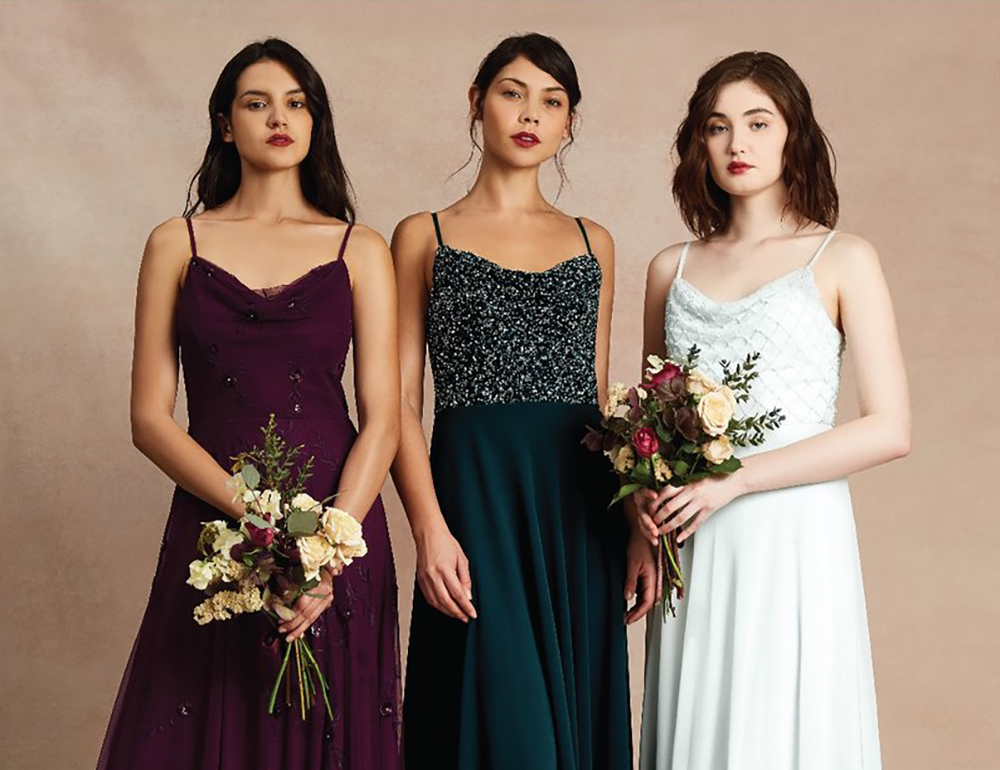 Finding a dress that all your bridesmaids love equally can feel like an impossible feat. Motee Maids cleverly solves the problem by letting you design bespoke mix-and-match bridesmaid dresses to suit everyone's individual tastes and body shapes.
While keeping your 'maids happy, it also means you won't have to compromise on style, colour or embellishment to create a cohesive bridal party look.
The whole process is super easy but there are a few decisions you'll need to make along the way, with the help of your Motee Maids consultant.
What styles work best?
Whether it's a neckline that lets you wear a bra or a halterneck to show off your summer tan, we all look for different things in dresses. With Motee Maids, your bridesmaids can build their dream dress comprising all their favourite elements.
From the 'Lake' v-neck (super flattering on all shapes) to the sleeved 'Rowan' and stunning 'Cara' draped cowl neck, there are nine bodice options to suit all tastes.
Similarly, there are three different skirts, separates and maternity styles, too. A top tip? Pick a shade and beading, then let your bridesmaids select the style they like best.
Where are you getting married?
Your venue can play a big role in your bridal party style. "For a castle wedding you might want encrusted beading and a luxurious look, or for a destination wedding something cool and light," says Rosanna Garden, designer at Motee Maids.
From fit to the colour and level of embellishment, keep in mind your venue and overall wedding theme, be it a relaxed bohemian affair or formal celebration, when designing your Motee Maids dresses.
Do you have a colour in mind?
Picking a colour is one of the biggest decisions, but it's an easy one if you keep in mind a few key things.
"Flowers are so important. Pick your bridesmaid colours first and then your florist can work around that, or if you have a really specific flower in mind, then design your dresses around that," says Rosanna, who also advises being open to unexpected colour combos.
Don't forget the season you're getting married in either. Light and airy shades are ideal for spring or summer, whilst deeper colours (burgundy, for example) work perfectly in autumn. In total, Motee Maids offers a choice of 11 colours.
When should you go bridesmaid dress shopping?
Getting everyone together in one place, finding an option everyone agrees on, tracking down that elusive size online – bridesmaid dress shopping is notoriously time-intensive.
With custom-made Motee Maids mix-and-match bridesmaid dresses, most bridal parties only need one appointment. Yup, that's right, one. This should ideally take place at least four months before your wedding and is a great opportunity to get everyone together for some pre-wedding fun designing their gowns.
Where can I buy Motee Maids bridesmaid dresses in Scotland?
Motee Maids bridesmaid dresses are currently available at Anne Priscilla Bridal in Glasgow, Opus Couture in West Kilbride, Kudos in Edinburgh and Ivory Grace in Aberdeen.
See more of Motee Maids' beautiful mix-and-match bridesmaid dresses on their website
"What I wore on my 2001 wedding day!"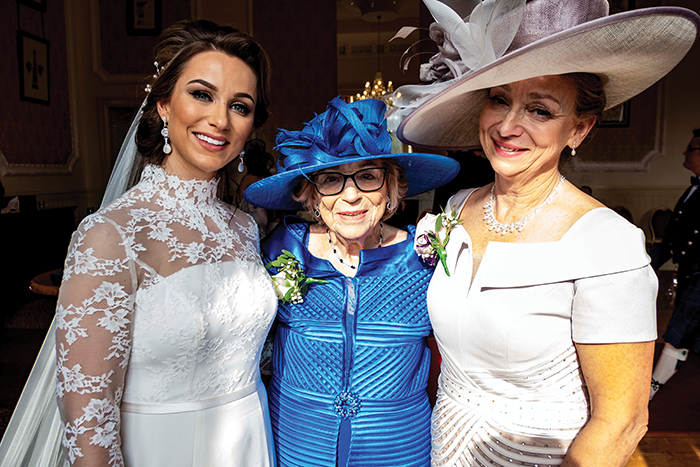 IMAGES | Ashley-liv Jamieson Photography
"Watching my daughter Heather get married was very emotional," remembers mother-of-the-bride Lesley. "I thought I was doing really well but when I turned around and saw her coming down the aisle I found that I was crying! The whole day was a wonderful experience, and the most important part was sharing it with family and friends."
Heather and husband Peter
While shopping for her daughter's wedding dress, Lesley was wowed by how much choice was available to modern brides, even since Lesley herself remarried in 2001.
"Heather spent a lot of time online narrowing down the type and design of dress she was looking for, even before stepping into a bridal boutique. The fact that you can have parts of the dress custom-made, and even make changes along the way if you change your mind – that's just something that wasn't available when I was looking. Also –," she laughs, "the prices have changed a bit too!"
For her mother-of-the-bride outfit, Lesley went for a sleek mauve dress with beautiful beaded detailing at the waist, accessorised with a statement hat and a large rose corsage to match her daughter's wedding bouquet.
"My mum (who is 90) and I both went into Catwalk in Falkirk for our dresses and the team there were wonderful with us," recalls Lesley. "Back when I got married in 2001, that's where my mum got her mother-of-the-bride outfit, so it's definitely a favourite of ours!"
When looking for her own dress for her big day to husband Joe in 2001, Lesley decided to go for something simple and elegant since she'd already had the big white dress at her first wedding in 1980.
"It was a cream silk three-piece with a calf-length pencil skirt, lace camisole and a long jacket with beautiful lace detail on the sleeves. I liked it because I felt it was elegant and stylish without being over the top," she explains.
"I remember shopping for my dress was lovely and a real family event, as Heather was there with me. I got her bridesmaid dress from the same shop I got my wedding dress and I've kept them both to remember the day by."
---
10 of the best bridesmaid dress shops in Glasgow 2020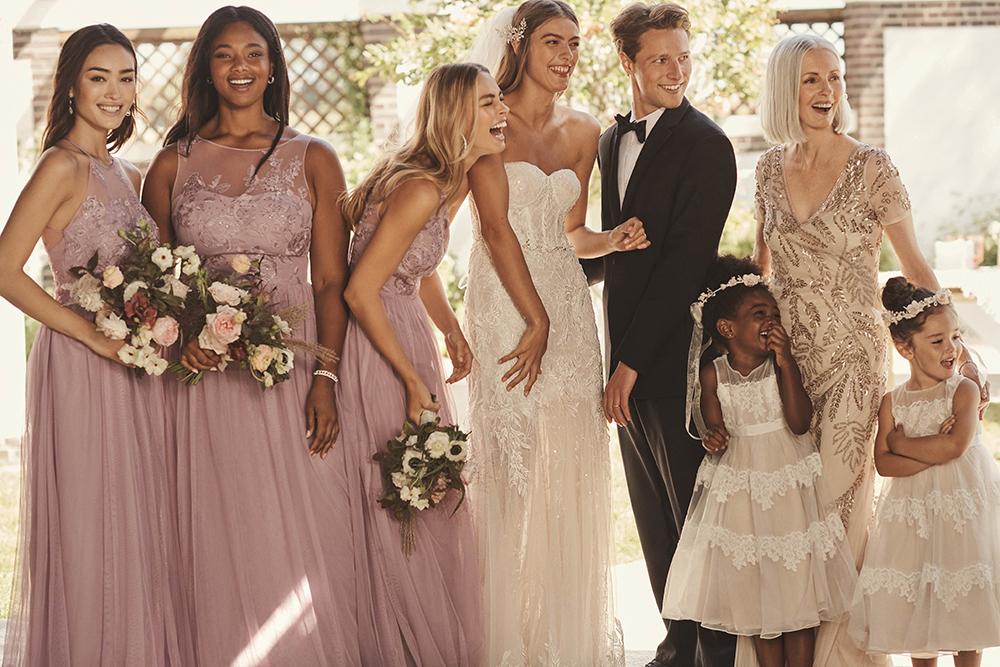 Bridesmaid dress shopping will be one of the most fun parts of planning your wedding. It's an opportunity to hang with your bride squad, and for your pals to get to know one another if they're from different social groups. And if you intend to start your search in Glasgow, you'll find plenty of places to go afterwards for a cocktail!
There are lots of gorgeous bridesmaid dress shops in Glasgow, so you'll be spoiled for choice if this is where you plan to start your search. Some specialise in bridesmaid dresses while others are located within bridal boutiques.
We've listed some of the best bridesmaid shops in Glasgow here, alongside some which are within a one-hour radius in case you fancy going further afield.
Some of the content in this post is paid-for. 
DAVID'S BRIDAL
Surely one of Scotland's largest bridal and bridesmaid emporiums, David's Bridal in Braehead, Glasgow, has a stunning selection of wedding dresses, bridesmaid dresses and accessories.
A vast and stylish array of bridesmaid dresses in every colour, shape and style means your squad are guaranteed to find the holy grail: a dress that flatters them and also suits your wedding theme!
The store also stocks an adorable range flower girl dresses, so even the wee ones will be catered for.
An in-house alterations team is available to ensure everything fits like a dream. Appointments can be made online, too.
Visit David's Bridal's website | t: 0141 885 2121
OLIVIA CAMERON BRIDAL
Situated just a half-hour drive from Glasgow in Falkirk, Olivia Cameron Bridal has a seriously swoon-worthy selection of bridal and bridesmaid dresses.
This is the boutique to come to if you'd love your bridesmaids to look chic and elegant, as Olivia Cameron is a stockist of Sorella Vita, an Aussie designer renowned for its uber-classy dresses.
The fashion-forward Sorella Vita dresses come in a variety of silhouettes and colours hot off the catwalk, and you'll find a hue to suit your big day whether you'd love your 'maids in pastels or fancy going for something bolder.
Best of all, you can book a private appointment so you and your gals will have the boutique to yourselves.
Visit Olivia Cameron Bridal's website | t: 01324 625293
OPUS COUTURE
Award-winning boutique Opus Couture is situated in the coastal village of West Kilbride, a scenic 45-minute drive from the city centre of Glasgow.
In addition to a fabulous range of wedding dresses, you'll find a carefully curated selection of bridesmaid dresses here to suit all bridesmaids and wedding styles.
There's the runway-led collection of Sorella Vita; the beautifully embellished customisable dresses from Motee Maids; and the glamorous Luna Collection by True Bride.
Not too sure what will suit your squad? Don't worry – you'll have a private appointment and the team at Opus will be on hand to offer their expert advice to make sure your bridesmaids shine as brightly as you do on the big day.
Visit Opus Couture's website | t: 01294 824838
SARAH LOUISE BRIDAL
A long-established and award-winning bridal and bridesmaid store in the heart of Glasgow city centre, the team at Sarah Louise Bridal have loads of experience connecting brides and bridesmaids with their dream dresses.
The boutique stocks a comprehensive selection of leading bridesmaid dress designers including Mori Lee, Sorella Vita and True Bride, all in different styles and fabrics with a multitude of colour options.
Regardless of taste or budget, you'll be able to kit your bridesmaids out in style. And to ensure that perfect fit, there's an in-house fitting and alterations service too!
Visit Sarah Louise Bridal's website | t: 0141 332 6060
ANGELIQUE LAMONT
Glasgow bridal boutique Angelique Lamont is home to Miss Angeline's Bridesmaids, which has a number of bridesmaid dress designers including Mark Lesley, Morilee, Richard Designs and Tiffany.
Visit Angelique Lamont Bridal's website
ANNE PRISCILLA BRIDAL
There are over 400 bridesmaid dress designs to browse at Anne Priscilla from a selection of modern, on-trend designers such as Motee Maids, Hayley Paige, Watters and Dessy.
Visit Anne Priscilla Bridal's website
JOYCE YOUNG DESIGN STUDIOS
In addition to wedding dresses, mother of the bride outfits and bespoke commissions, Glasgow designer Joyce Young stocks Dessy bridesmaid dresses in a wide range of colours.
Visit Joyce Young Design Studios' website
MELLE CLOCHE
A haven for anyone looking for cool, alternative bridesmaid dresses, Melle Cloche in the centre of Glasgow houses collections by Rewritten, Ghost, Maids To Measure and Twobirds. They have a brilliant accessories range too.
Visit Melle Cloche's website
REETA FASHIONS
Bridesmaid dresses in up to 80 colours in a wide range of sizes (from 6 to 38) are available in Reeta Fashions. You'll find the likes of Amanda Wyatt, Hilary Morgan, Linzi Jay and Venus on the rails, with plus-size samples available to try on.
Visit Reeta Fashions' website
THE FINER DETAIL
The Finer Detail is a specialist bridesmaid retailer with over 300 styles to choose from in a multitude of shades. Designers include Dessy, Sorella Vita and True Bride.
Visit The Finer Detail's website
Looking for a bridesmaid dress shop in another region? Make sure you check out our online directory for wedding suppliers near you!
"What I wore on my 1982 wedding day"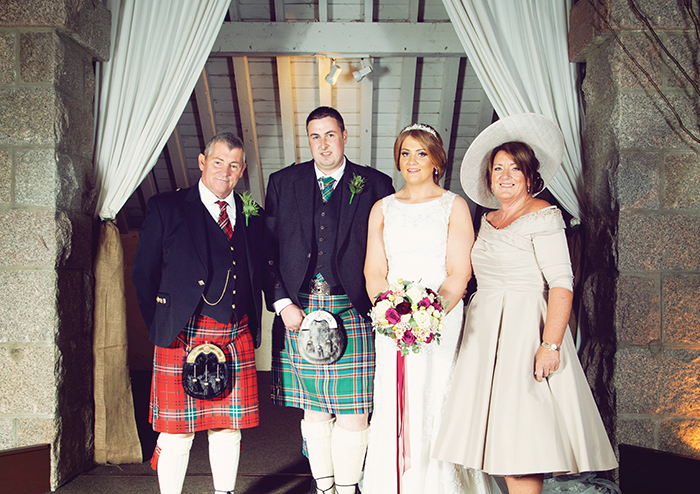 IMAGES | Josh Moverley Photography
Mum Lynne tells us how she found her dream wedding outfit for her daughter Chloe's wedding day – and tells us the story about her own wedding day outfit too!
"I bought my wedding dress at a shop called The Wedding Belle in Aberdeen," remembers mum Lynne. "It was 1982, and you didn't have to make an appointment or anything, you could just walk in."
Lynne wore an A-line dress with a high-neck daisy chain trim, a matching veil and a cool, crochet-patterned headpiece that wouldn't look out of place in a trendy bridal accessories store in 2020.
"I felt amazing in that dress. I felt like myself when I was wearing it!" smiles Lynne.
While buying a wedding outfit might have been simpler in 1982, Lynne says that when she went along to bridal shops with her daughter Chloe, who got married last year, the experience was a lot nicer. "They look after you now, and make you feel like it's a really important decision. It feels like an event!" says Lynne.
Finding her mother of the bride outfit proved pretty easy. "I went to Rouge Boutiques for my outfit for my son's wedding day the year before and really enjoyed the experience, so when I was in Inverness again I popped in for a look," she recalls.
"I had promised Chloe that she would be there when I bought my dress for her wedding, but Tania at Rouge Boutiques has such a good eye for these things; she knows immediately what colouring and styles will suit you.
She brought out this gorgeous gold off-the-shoulder dress with a full skirt. I loved it, but I told her I couldn't buy it unless my daughter was with me. She offered to take a video of me wearing it and send it to Chloe to see what she thinks. Chloe said, 'Mum, I can see on your face how much you like it – it's too lovely a dress not to buy!'"
Chloe and husband Steven
Watching her daughter get married at Coo Cathedral was an emotional experience for Lynne. "That and my son's wedding day were two really happy, really proud days. My only marriage advice would be always try to communicate with each other, and never go to bed on a row!"
---
"What our mums wore on their wedding day!"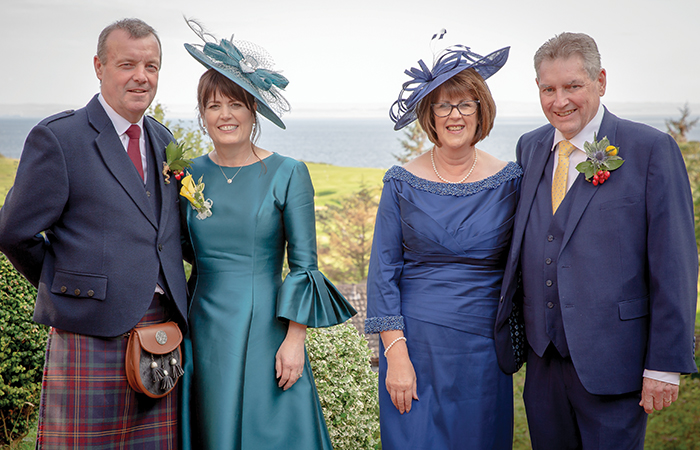 Mums Lynn and Lizzie tell us how they found their dream wedding outfit for their child's wedding day – and tell us the story about their own wedding day looks too!
IMAGES | Gregg Gilligan Photography
Forget the old cliché that in-laws don't get along: mother-of-the-groom Lizzie and mother-of-the-bride Lynn are the best of friends. "The week after Steven and Lisanne's wedding, Lynn, myself and our husbands all went to Belfast together!" says Lizzie.
Not only do the pair city-break together, but they bought their wedding outfits at the same time too. "I had visited Patricia Forbes in Dundee's Broughty Ferry already and saw a few things that I liked, and a few things I thought Lynn would like too," says Lizzie. "We went together the next Saturday, and it was great. We could compare outfits, and were even able to make sure our hats faced in different directions!"
Lynn went for a midnight blue gown with an embellished bardot neckline, while Lizzie opted for a teal A-line dress with bell sleeves. "I loved the colour and the silhouette of my dress," says Lynn. "It was really flattering. I also loved the blue pearl embellishments at the neckline – I'm a very pearly person!"
Lizzie was pleased with her dress too: "I loved that it was fitted at the bust and waist and was still very comfortable," she explains. Reflecting on when they bought wedding dresses for their own big days, they both agree that it was a completely different experience in the early 80s. "Back then, if you liked it and it fitted you, you took it home with you!" laughs Lynn. "You used to also get 'going away' outfits too, which you would change into to leave your wedding reception at night. You'd leave at about 10pm while the rest of your guests stayed and had a good time."
Lynn and Bert on their wedding day
Lizzie on her wedding day
"When I look back at my wedding dress now, I'm a bit 'hmmm'," laughs Lizzie.
"I don't think I'd pick it again, but it was the fashion at the time. And I remember I felt really good in it! And that's what's most important when it comes to wearing any dress: how it makes you feel."
Mother of the bride outfit ideas from the Scottish Wedding Show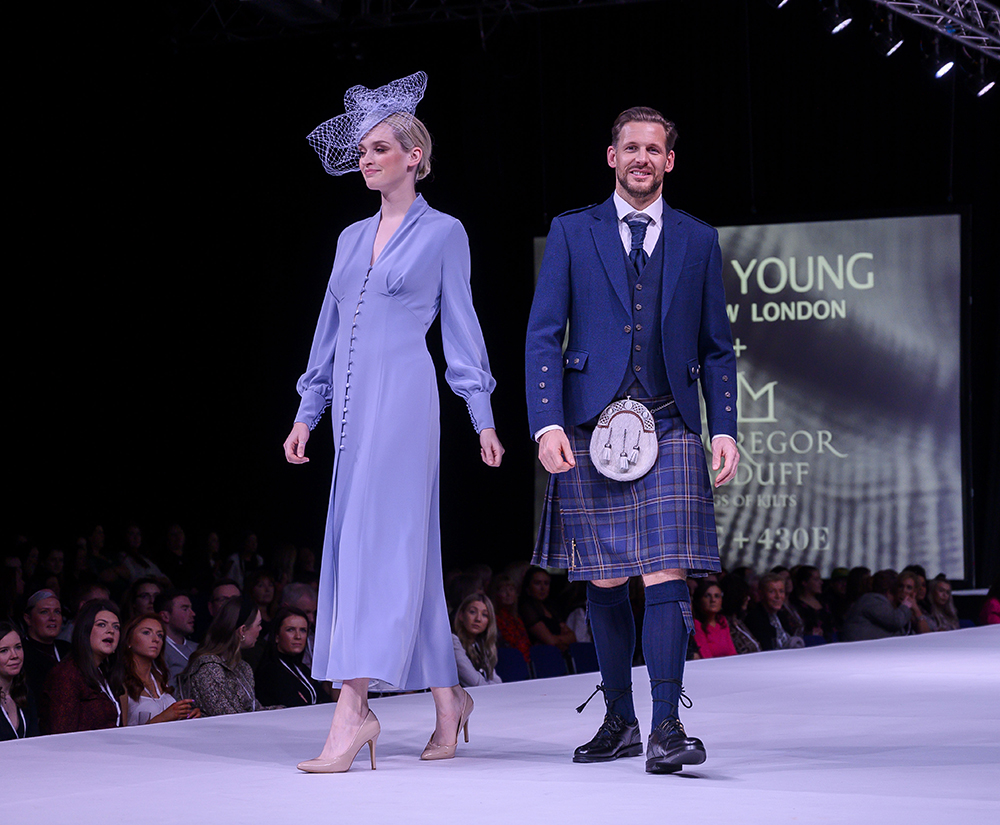 All images by Alan Peebles
With the coronavirus pandemic seeing us stuck indoors for the foreseeable, it'll be a while before any of us can go to a wedding fair – and mother of the bride (and mother of the groom) shopping is out of the question too (physically, at least).
But that doesn't mean you can't browse for ideas!
Even if you've had to put the search for your wedding outfit on hold, you can still use this time to research the type of outfit you'd like to wear.
Begin by taking a look at our edit of the mums' outfits we saw and loved at the most recent Scottish Wedding Show back in February. Whether you're after a jumpsuit, dress or skirt-and-jacket combo, you'll be spoiled for choice by this selection.
CATWALK
Find out more about Catwalk.
JOYCE YOUNG DESIGN STUDIOS
Find out more about Joyce Young Design Studios. (Groomswear is by MacGregor and MacDuff)
MIA BELLA
Don't forget to check out our edit of the best wedding dresses at the Scottish Wedding Show.
We've also highlighted some our favourite suit and kilt outfits from the show.