The Wedding Shop x Rock My Wedding event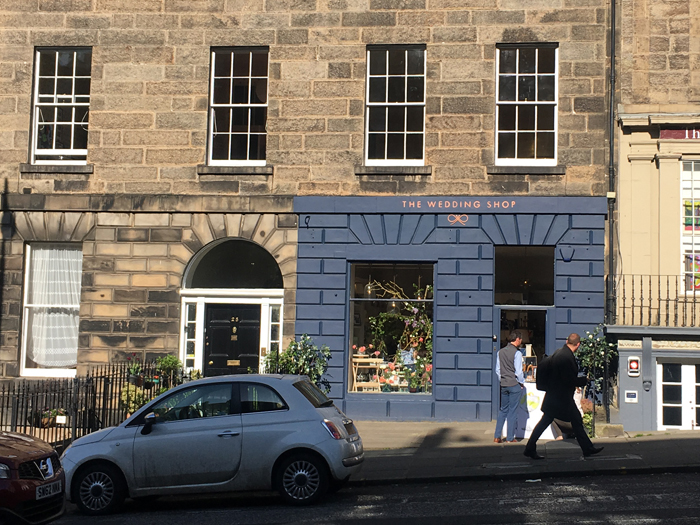 We headed to Edinburgh for a night of gin, sunshine and wedding fun at the The Wedding Shop x Rock My Wedding event.
Edinburgh is a beautiful city all the time, of course, but there's something extra special in the sunshine.
We arrive on Dundas Street to The Wedding Shop. Cushidoos have set up their bar outdoors and we're made a refreshing Harris gin with the Cushidoos Scottish botanicals tonic, served with a slice of grapefruit. Not bad for a Thursday night.
With it's iconic blue brickwork, The Wedding Shop is looking extra pretty with its floral window display by Pyrus Botanicals, who have decorated the entire shop in their exquisite wedding flowers.
The shop itself is a fine-tuned selection of dreamy wedding gifts, all so you can create your perfect wedding gift list.
There's something to suit every couple's style too, from vintage cocktail sets, right through to fun and colourful jenga!
The evening is in full swing when we arrive, with the Rock My Wedding team joining with The Wedding Shop to create the ultimate wedding night for brides, grooms and their friends and family.
Excited brides and their mums are arriving, looking around the shop for wedding gift inspiration whilst sipping their gins and indulging in the seriously delish canapes from The Pantry.
The event wasn't just about the gift side either as some of Edinburgh's best wedding suppliers joined in the fun.
Rachel Scott Bridal Couture showcased her latest collection pieces all whilst we chatted Royal wedding dress predictions and shared some of her most popular types of dresses at the moment.
Liggy's Cake Company was there too and made 3D sugarcraft flower making look easy whilst sharing their wedding cake stories, including their most elaborate wedding cake ever (a massive Forth Road Bridge wedding cake, FYI).
Gilly Nicholson was also on hand with her beautiful bespoke bed linen collections, perfect for the gift of a fabulously chic bedroom.
We loved seeing excited couples putting together their ideal wedding gift lists to the soundtrack of some of the most romantic songs, with Rock My Wedding playing a special playlist of songs, all collated from real couples' first danced songs. And yes, there was a lot of Ed Sheeran.
As the night came to an end, we were suitably inspired and have ended up with a rather large wish list for The Wedding Shop. We need that jenga set…
GET IN TOUCH WITH THE WEDDING SHOP
Send an enquiry | w. weddingshop.com | t. 0131 558 7755
19 gifts for every Disney-loving bride-to-be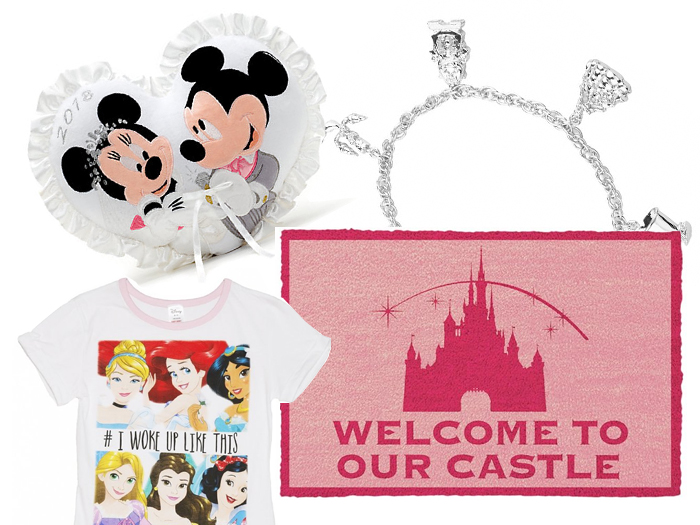 Disney loving brides-to-be – you're going to want to see this…
We've rounded up 19 of our favourite Disney gifts, perfect for brides-to-be or as a cute gift for your bridesmaid.
Ladies Disney Couture rose gold plated bangle (£45) watchshop.com
Disney Princess  'I Woke Up Like This' pyjamas (£15.99) TruffleShuffle.co.uk
Disney Princess welcome to our castle door mat (£15.99) TruffleShuffle.co.uk
White gold plated Beauty and the Beast bracelet (£35.99) TruffleShuffle.co.uk
Disney x Coach dinky bag with patches (£375) Coach
Disney Princess calming face mask (£4) Topshop
Mickey and Minnie Mouse 2018 wedding cushion (£13) Disney Store
Disney Cinderella's coach charm (£80) Pandora
Disney Ariel pyjama set (£15.99) New Look
'My contour's complete' makeup bag (£12) notonthehighstreet.com
Beauty and the Beast rose light (£24.99) TruffleShuffle.co.uk
Tangle Teezer Disney Princess detangling brush (£9.60) FeelUnique
Disney Mickey locket necklace (£125) Pandora
Belle Beauty and the Beast bath gift set (£15.99) John Lewis
Disney Beauty and the Beast pyjama set (£15.99) New Look
Chamilia Disney Minnie Mouse bow stud earrings (£45) H Samuel
The Little Mermaid drink sleeves (£7 for set of 4) Disney Store
Disney Princess photo booth (£8.99) Prezzybox.com
Enchanted Disney amethyst and diamond Ariel ring (£299) H Samuel
WHICH IS YOUR FAVOURITE DISNEY PRODUCT FROM OUR PICKS? LET US KNOW ON OUR FACEBOOK PAGE!
SWD Visits…The Wedding Gallery, London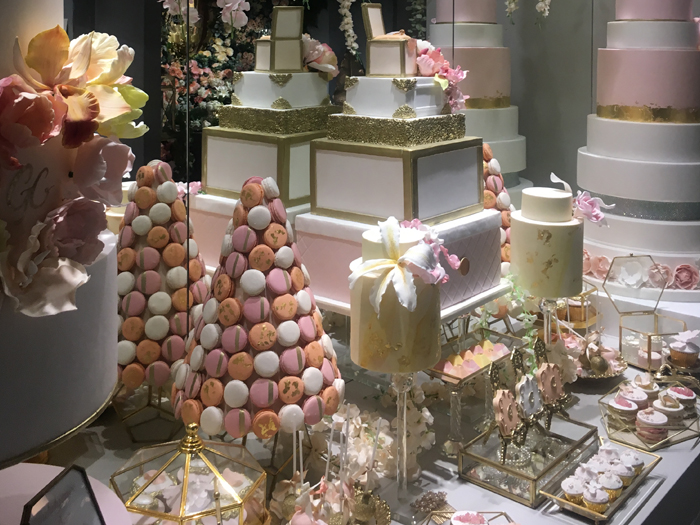 A luxury department store just for weddings? Sounds like a dream! We visit The Wedding Gallery, London.
When we arrive at The Wedding Gallery, it feels like a bit of a secret.
A hidden gem located in London's iconic One Marylebone, the doorway to the brand-new concept store is understated, with a simple, chic canopy and pretty greenery.
Stepping inside the small door, we could never have anticipated the world of luxury which awaited!
WHAT IS THE WEDDING GALLERY?
So, what exactly is The Wedding Gallery? Featuring over 200 leading wedding brands and services, The Wedding Gallery is a hub for fashion, trends, wedding ideas and creativity.
Available by appointment, couples can find everything from the dream dress and expertly tailored suit to the perfect florist, cake maker, venue, caterer, stationer and everything in between.
The Wedding Gallery is also a home to the first salon dedicated to wedding beauty " health, wellness, hair and make up for the bride and groom.
All customers become members of The Club at The Wedding Gallery and gain access to exclusive events, trunk shows and much more.
PART OF THE CLUB
Before our grand tour of the impressive space (all 20,000 sq ft of this wedding wonderland), we head to the gorgeous cafe and bar area. Think Pinterest-worthy furniture with plenty of plush velvet and gold.
The colour scheme at the moment is on-trend deep greens and grey, but The Club regularly updates the pieces.
A happy couple are enjoying afternoon tea and a glass of champagne each and there's a buzz as staff prepare for one of their exclusive masterclasses later that day. It really is the perfect setting for dreamy wedding planning.
B-E-A-U-TIFUL
We start off at Urban Retreat, a gorgeous cove of cosmetic heaven with brands from Jo Malone to Moroccan Oil.
It's not just about products either. Spearheaded by Creative Directors, Andrew Barton for hair and Ruby Hammer MBE for make-up, Urban Retreat offers services across hair, make-up, lashes and nails, getting you wedding day ready.
WITH THIS BOOK
We love all the little details of a wedding, so you can imagine our delight at the gorgeous offering of some very special notebooks.
Just look at the beautiful vows books!
BRIDAL STYLE
Of course, what would a wedding luxury department store be without the most amazing fashion for your big day?
With designers including Halfpenny London, Vera Wang, Amanda Wakeley and Suzanne Neville, it really is what wedding dress shopping dreams are made of.
FLOWER POWER
We were blown away by some of the most elaborate flower displays on show, giving plenty of inspiration for your big day. I mean, can you imagine your wedding day pics?!
TWG LOVES
What we loved most about TWG was just how curated everything is – like a real-life Pinterest board with suppliers you can actually have at your own big day.
This includes everything, right down to table place setting and stationery. This one gallery really does tick all the boxes!
PIECE OF CAKE
Seeing the works of art which were the wedding cakes up close was really something spectacular. How could you choose just one for your own wedding?!
OH LA LA
When we say every single wedding detail has been considered, we mean every single one, including the most stunning La Perla underwear and perfect wedding morning striped satin pyjamas.
DRESS UP
Of course, accessories weren't missed out either, with the likes of Sophia Webster and Charlotte Olympia available to complete your w-day look.
THE DETAILS
Alongside all of the above, there's also plenty of options for grooms' style and a whole bridesmaid section. Plus, there's also some really special touches, like the Screening Room which is a gorgeously intimate cinema screening room for you to watch videographer's work when choosing your wedding day videographer – such a sweet idea!
We're never going to be able to go into a normal department store again after this experience!
DO YOU WANT TO EXPERIENCE THE WEDDING GALLERY FOR YOURSELF?
Survey reveals what most newlywed couples *really* want as a wedding gift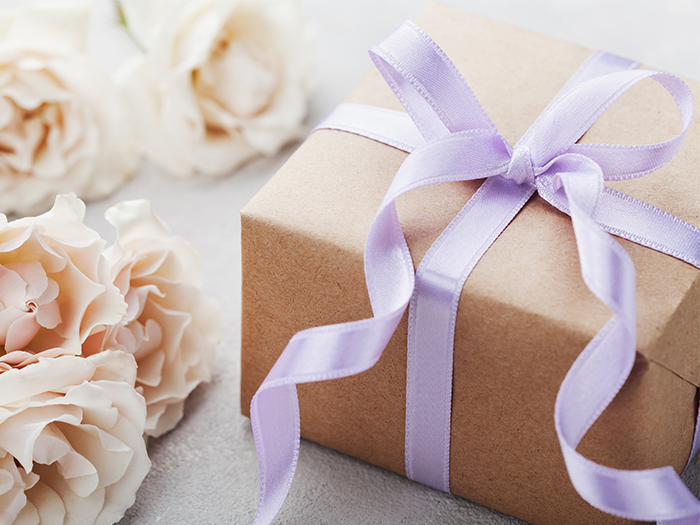 A new survey by high-end cutlery company Viners has revealed that the most sought-after wedding gift from soon-to-be-weds is cold, hard cash.
24% of participants said that cash was their number one requested gift, with fridges and cookers coming in a close second.
Homeware remains the most popular gift to buy couples, with kitchenware, glasses, dinnerware, cutlery and textiles all coming up as the gifts couples receive the most.
And as for the most unusual gift requests? Pets! Couples have asked for goats, dogs and even a racehorse! And one savvy couple even asked guests to kit out their home with new windows " worth a try, right?
What's the strangest thing you've seen on a wedding registry? Let us know in the Facebook comments!
Add this limited edition Le Creuset set to your wedding gift list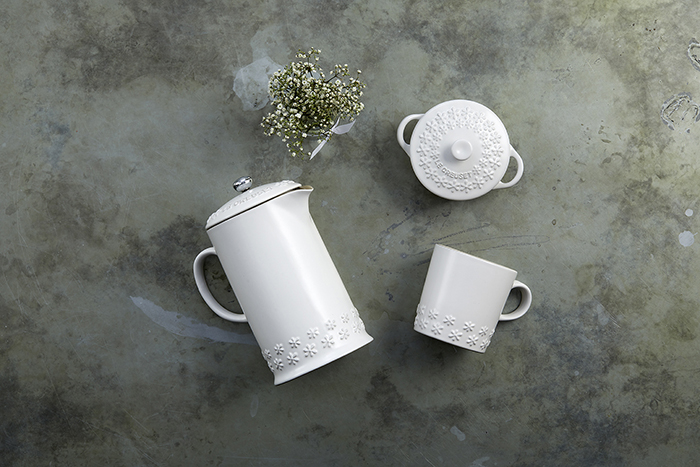 Add this limited edition Le Creuset Fleur set to your wedding gift list. How gorge would this stylish matte white range look on your table?
If you're struggling to think of something that little bit extra special to add to your wedding gift list, then consider this gorgeous limited edition crockery from Le Creuset.
Adorned with embossed flowers and finished with a stylish matte white texture, the elegant Fleur range from Le Creuset in Cotton adds a touch of sophistication to any kitchen.
The collection includes a 28cm cast iron casserole dish and a 21cm cast iron chef's pan, plus beautiful mugs, petite casserole dishes and a cafetiere.
Almost 2 million Brits are hoping for a Valentine's Day proposal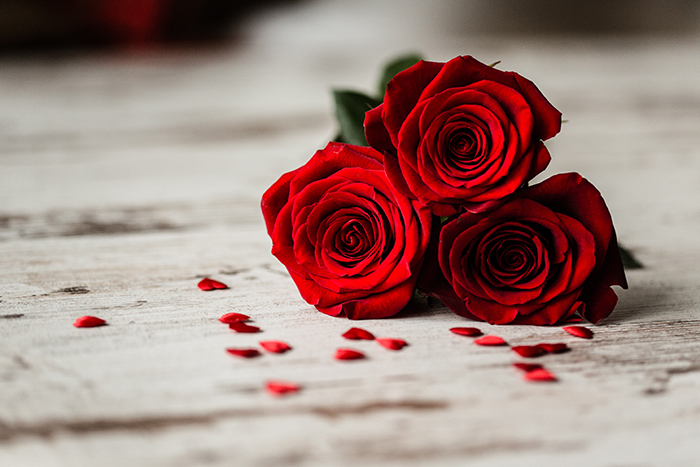 According to jewellery insurance provider Protect Your Bubble 1.8 million Brits want their partner to put a ring on it on 14th February.
And although 72% of those surveyed agree Valentine's Day has become too commercial it hasn't stopped them digging deep to splash out on cards and gifts.
In fact it's expected lovers in the UK will shell out £945 million this Valentine's. Men are the bigger gift-givers with the average male spender expected to pop £51 on their gift, compared to the average spend of £33 by women.
Flowers and chocolates are still the most coveted items to receive with jewellery coming in as the third most popular on the wish list.
Cosy night in
Surprisingly, while we're all for receiving gifts many couples plan to ditch a fancy meal out in favour of spending a night in with their loved ones.
James Brown, director of Protect Your Bubble, says, "As Valentine's Day is arguably the most romantic day of the year, it's no surprise to find that so many Brits are hoping their partner pops the question on the 14th.
"What is surprising, however, is the sheer number of Brits opting to stay at home to celebrate rather than going out for a romantic, candlelit dinner.
"The rise of supermarket special offers such as M&S's popular Dine In deals may have helped propel this trend, making home cooking easy for even the most kitchen-averse cooks.
"And while Valentine's Day is widely hailed as an excessively commercial holiday, Brits seem to be set on spending an enormous amount of money on flowers, chocolate, jewellery and other gifts."
How are you planning on spending Valentine's Day? Let us know at editorial@scottishweddingdirectory.co.uk
Build your dream gift list with The Wedding Shop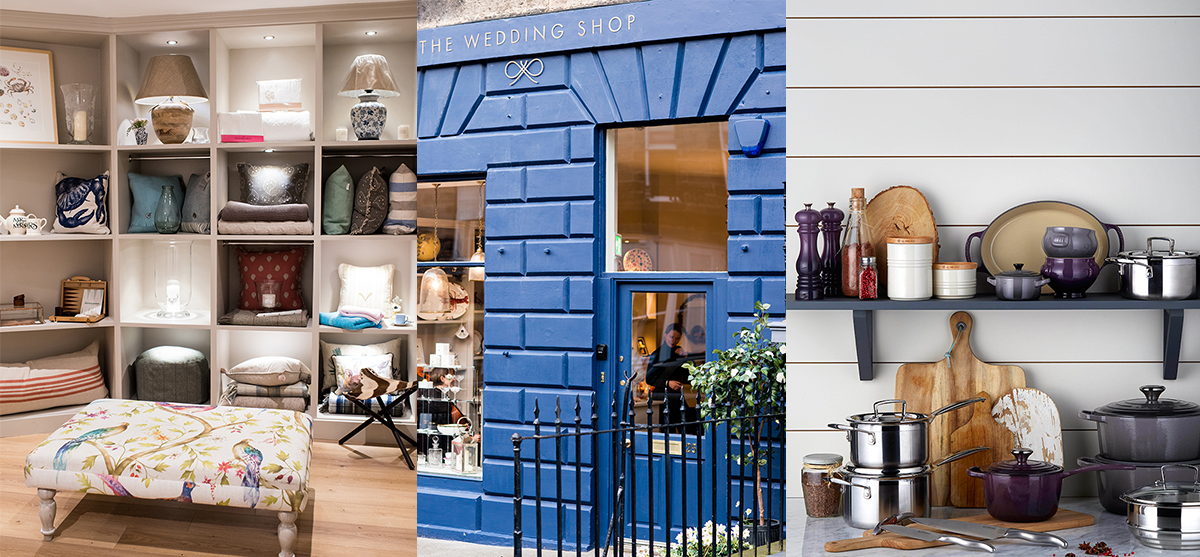 From spending too much to spending too little, manoeuvring the minefield that is gift-giving is often people's least favourite part of a wedding.
So why not cut all the awkwardness out by creating a fun and personalised gift list with The Wedding Shop?
Your guests will love the hassle-free approach to gift shopping, and you won't have to worry about the politics of displaying the awful china your partner's great aunt would otherwise buy you " it's a win-win!
We spoke to the experts in wedding gifts, The Wedding Shop, to learn their top tips for crafting the perfect gift list.
With over 27 years of experience, it's safe to say they've seen it all " check out their secrets for success below!
1. Start by registering
First things first, register with The Wedding Shop! You'll then be introduced to your own designated personal advisor who'll guide you through the whole gift list process, and help take all the stress out of gift list planning, leaving you to have all the shopaholic fun of compiling your list!
Plus, The Wedding Shop are the only gift list provider in the UK who WON'T charge you or your guests for their service.
It's all 100% free, you'll be happy to know!
2. Check out gifts IRL
Although browsing the latest internet sales from the cosy comfort of your sofa has its advantage, it can also be a bit risky (think of all those dreamy-looking dresses and jumpers you've ordered and waited impatiently for, only for them to arrive looking nothing like they did online).
Head to one of The Wedding Shop's beautiful showrooms (there are four in total, including one in Edinburgh run by the lovely Nicola) and you can browse gifts and brands in person; perfect for checking colours and sizes and other practical things that could cause trouble further down the line.
All you have to do is book an appointment and one of their friendly, knowledgeable advisors will be more than happy to show you around and help you get your gift list started!
Gift list guru Nicola heads up The Wedding Shop's Edinburgh showroom!

3. Don't leave it too late
In an ideal world, your gift list will be live as you send out your wedding invites, (just in case any super keen beans decide to go shopping there and then!).
Since panic-shopping rarely ever works out well, try and give yourself a few weeks before this date so that you can spend time thoughtfully compiling a list!
4. Add more than you think you'll need
With an army of over 350 amazing brands behind them, The Wedding Shop has more than enough products to choose between. But there's no need to feel overwhelmed by all the choice. Infact, the more you add to your list the better, according to their gift list pros!
You'll no doubt be surprised at how generous your guests are and you want to make sure they've got plenty of options to pick from, so don't be afraid to add more gifts than you think you'll need.
5. Think about price points
Everyone will have a different budget to work with, so cater to everyone by adding both smaller AND big ticket items to your list.
And don't feel awkward or cheeky for including those more expensive gifts! Thanks to The Wedding Shop's group gifting option, guests can pledge an amount they're comfortable with to larger, more expensive items.
"This is a hugely popular feature as it allows couples to ask for what they really want, without the worry of feeling excessive or out of touch with their guests' price ranges," says Nicola.
6. Pick things that make YOU happy

Putting together a dream gift list should be one of the more enjoyable pre-wedding chores you and your partner have to complete, so don't put any rules or limitations on the things you add to your list.
Instead, just try to include a few things you might need (like updating some of your existing home essentials) as well as a few pieces you love but would never be able to talk yourself into buying.
You'll find plenty from both categories at The Wedding Shop!
7. Be adventurous
You've got more than enough dinner plates, framed prints and decorative pillows to kit out an entire mansion…
…so what on earth do you add to your gift list?
Luckily The Wedding Shop has few unique options to take advantage of! As well as allowing guests to give money towards a personalised cash fund or your honeymoon, they've also partnered with Truly Experiences to offer a range of experience days and trips.
"Our new experiences range is perfect for couples who want to get involved in an activity or trip that they both love doing together, making memories to last a lifetime."
8. Download the wedding shop app
The Wedding Shop are the only gift list provider in the UK to have an App, and it's insanely handy for letting you manage your list on the move " just use the barcode scanner to add products from any UK store to your list!
You'll receive instant alerts whenever a guest purchases a gift (although you can turn this off if you want to keep it a surprise!), but the best part is the Thank You Card Manager! It records your guest's name, the item they bought, their address and their gift message, and you'll be counting your lucky stars for it when it comes to writing thank you cards!
As a further little bonus, they've partnered with stationery company Papier to give all couples 15% off Thank You card orders!
Feeling inspired to create your own dream wedding gift list?
Six romantic staying in ideas for Valentine's Day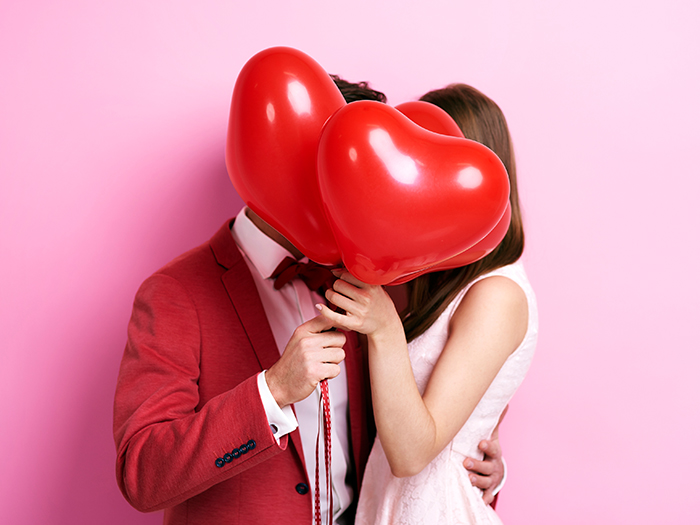 Spending a romantic night in is great way to celebrate Valentine's Day. Here are six cute ways to show you spouse-to-be how much you care!

SEE THE REST OF OUR ROMANTIC NIGHT IN PINTEREST BOARD HERE!
The Royal Mint issues 2018 dated wedding silver sixpence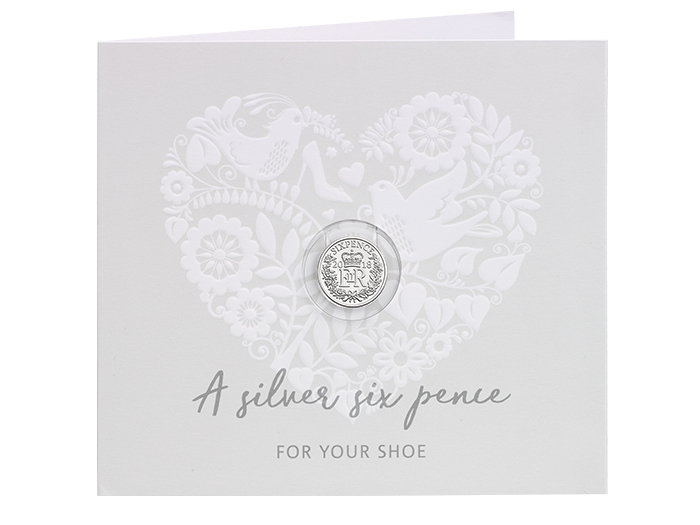 The Royal Mint has announced that they will now issue special 2018 dated wedding silver sixpences which can be bought as a gift for a soon-to-be-bride.
Traditionally, a father would give his daughter a silver sixpence on her wedding day to wear in her shoe for luck. It's referenced in the famous wedding rhyme – 'Something old, something new, something borrowed, something blue, and a silver sixpence in her shoe'.
They are available to buy on The Royal Mint's website for £15, and they come with a card to write a personal message in.
10 Christmas themed gifts from The Wedding Shop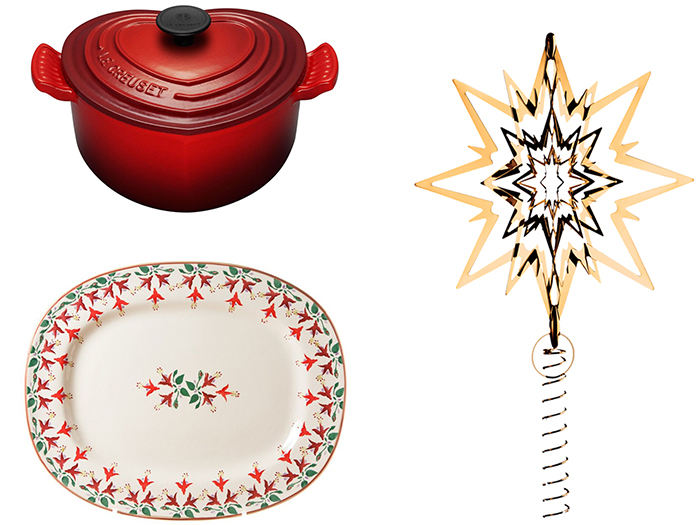 Getting married in and around the festive season? Look no further than The Wedding Shop to register for wedding gifts. They have an amazing selection of winter and Christmas themed gifts, and here are 10 of our favourites!