Fall in love with Sheila Fleet Jewellery's charity collection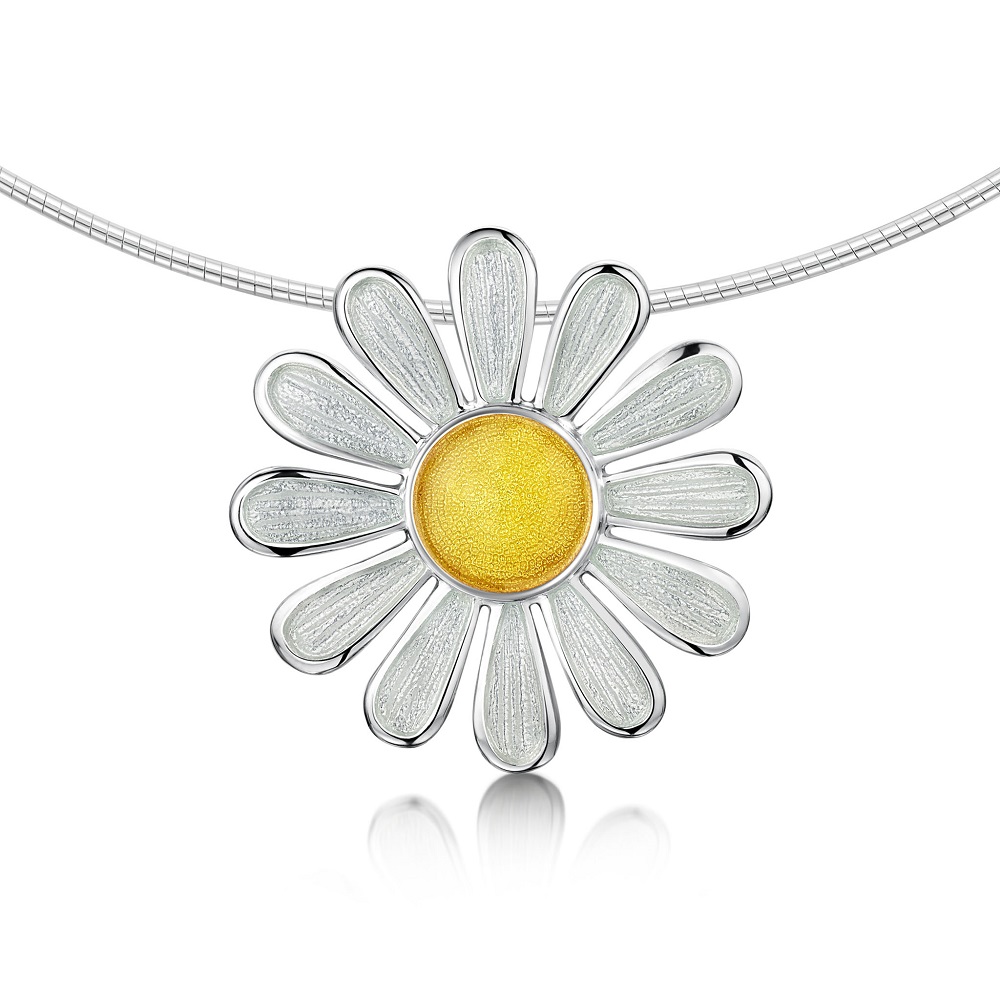 The best presents are the thoughtful ones – that's why we love Sheila Fleet Jewellery's daisy charity collection.
With every purchase from Sheila Fleet's Daisies at Dawn, Coloured Daisies or Diamond Daisies collections, 10% will be donated to Pancreatic Cancer Scotland.
Treat your bridesmaids to an item from the collection to say thanks and, as well as supporting the charity's amazing work, your 'maids will end up with a gorgeous piece of jewellery to treasure forever.
Read on to find out more about this lovely collection.
A special significance
The daisy has always had great meaning to Orkney-based jewellery designer Sheila Fleet OBE – when she married husband Rick in 1976, her long white dress was made of lace daisies and she carried a large bouquet of the flowers.
But daisies also have a special significance to Sheila's local community.
When at age 14 local girl Emily Findlay was diagnosed with neuroblastoma, a rare form of cancer, Sheila wanted to do something for her – she soon found out that Emily's favourite flower was the daisy.
This reminded Sheila of one of Rick's photographs (taken from their home and workshop in Orkney), which shows a sunrise with daisies highlighted in the forefront.
Using this as inspiration, she created and launched the Daisies at Dawn collection in 2014, turning the cheerful flower into a symbol of hope and joy.
Sheila explained: "When Emily was ill, we wanted to do something for her. We're delighted she's now doing so well, and I'm grateful we were able to help her at a very difficult time."
To date the Daisies have raised around £70,000 for good causes, which Emily and her family have benefitted from, as well as the Orkney Charitable Trust.
Now the collection will also show support for a charity close to Sheila's heart, Pancreatic Cancer Scotland, in memory of her late husband Rick who she sadly lost to the disease in 2013.
Sheila said: "I sadly lost Rick to this terrible disease. Locally I'm aware of other people in Orkney who have been affected by pancreatic cancer, but it affects people and their families all over the world. There is much we need to do to raise awareness."
The collection will benefit and support many people and their families, and raise much-needed awareness of one of the world's toughest cancers.
Shop the collection
While the classic daisy in the collection has white crystal petals with a sunshine yellow centre, there are also different coloured versions available.
The collection includes rings, stud earring, drops earrings, bracelets and necklaces featuring the delicate and pretty design – and we reckon any bridesmaid would be chuffed with receiving one as a prezzie!
It all works perfectly for a spring or summer wedding, and makes for a timeless, thoughtful gift that they can treasure for years to come.
Ethical wedding gifts from The Wedding Shop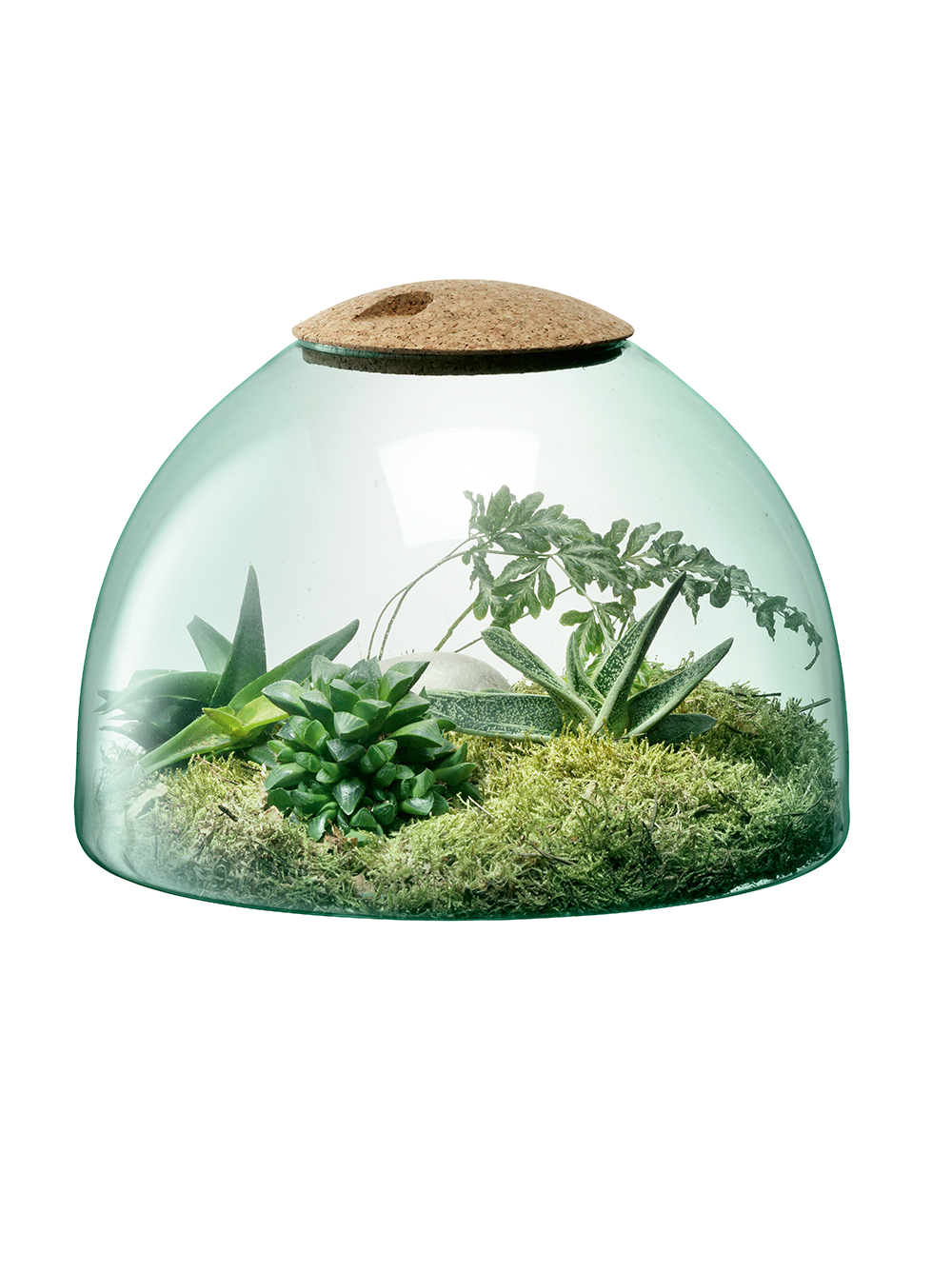 It's official, we're becoming increasingly focused on living sustainable lifestyles and according to The Wedding Shop it's filtering into to-be-weds' wedding gift list choices.
The company has found that 83% of couples ask for product gifts for their weddings and has partnered with a growing range of ethical brands – including LSA and Artisanne – to ensure couples don't have to compromise on their values.
We especially love the recycled glass from LSA's Eden Project range and the handwoven baskets from Artisanne.
Check out our pick of the latest range…
ARTISANNE
Ali Baba mint laundry basket (from £111)
30cm placemat (£5)
African blue diamonds storage basket (£58)
LSA INTERNATIONAL
Canopy self-watering planter (£36)
Canopy closed garden terrarium (£65)
Canopy vase (£20)
NKUKU
Baba large tall glass lamp (£120)
Hemp pouf (£120)
Wedding gift inspiration from A by Amara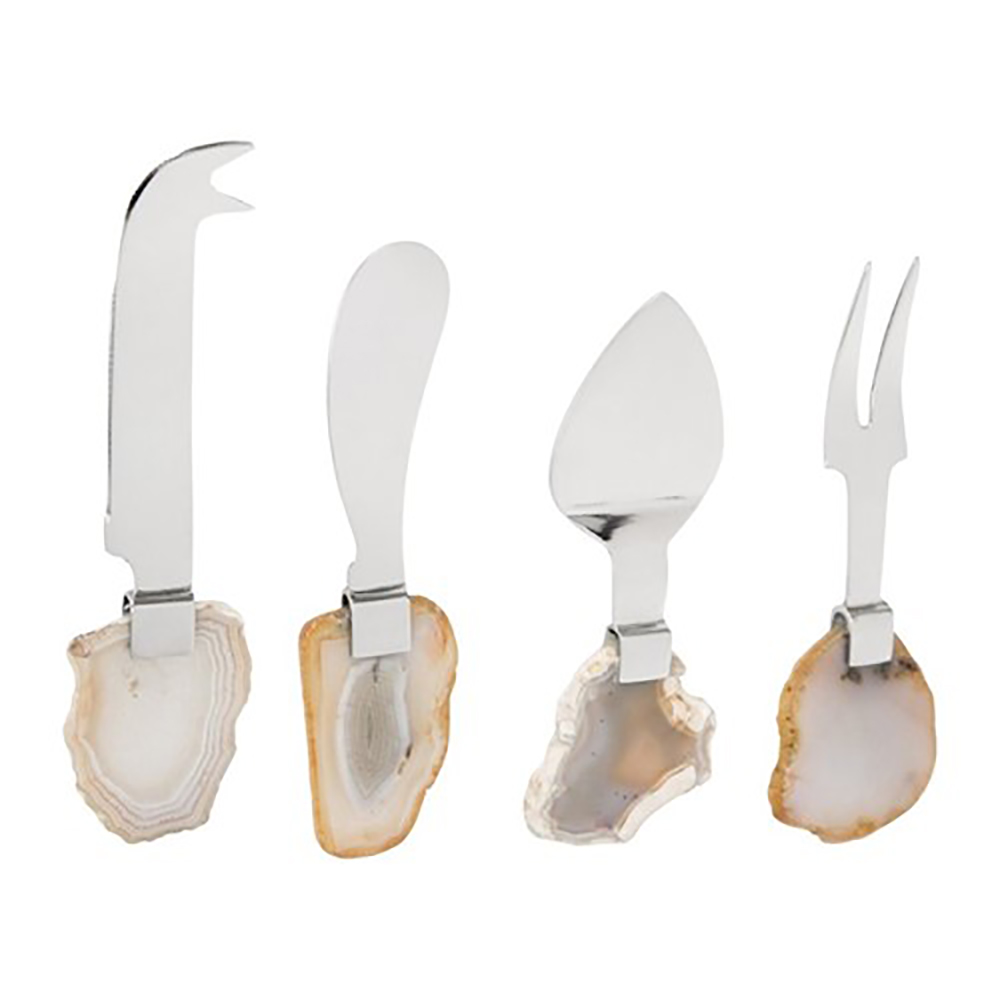 Do you love luxury homeware brand Amara? Us too. So let's celebrate the fact guests can now buy you A by Amara gifts from The Wedding Shop for an uber-instagrammable home.
You'll find gifts to suit every budget, making it a perfect way for guests to help you furnish your home after the wedding.
Rose gold, agate, marble and leather add a touch of luxe to your wedding list.
Here's just a few of the standout pieces we reckon will become staples of many couples' gift registers:
Cheese set, rose gold and marble (£25)
Natural agate wine cooler (£60)
Pair of round nesting side tables (£100)
Paloma 24 piece cutlery set, matt gold (£220)
Rope effect vase, midnight blue (£85)
Natural agate set of four cheese knives (£25)
8 beautiful pieces of glassware that would be perfect wedding gifts this summer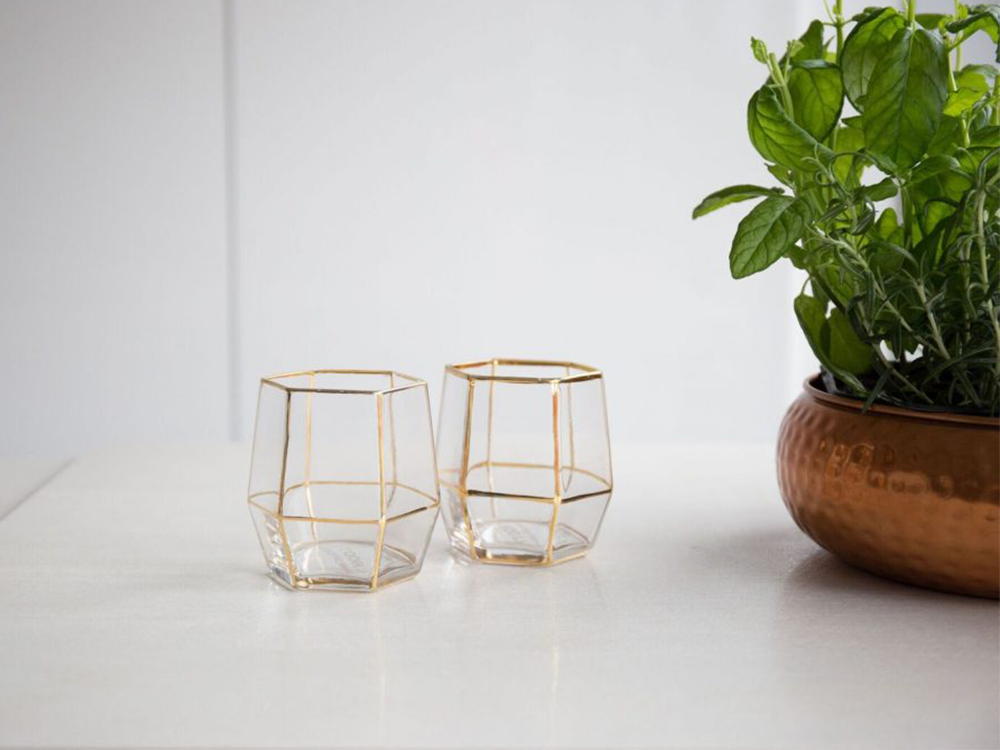 Buying wedding gifts is always tricky, but beautiful glassware is always a great choice – newlyweds need something to toast their new marriage with!
Here are 8 pieces of glassware that would be a perfect wedding present this summer…
Lismore Essence pair of crystal white wine glasses (£115) selfridges.com
Set of four Pallo tinted glass champagne glasses (£34) oliverbonas.com
Set of four cloudy flutes (£40) anthropologie.com
Set of two Himalayan shot glasses (£15) johnlewis.com
Gold base glass carafe (£22) johnlewis.com
Set of four astrological transfer tumblers (£19.99) zarahome.com
Set of two gold geo glass (£20) urbanoutfitters.com
Set of four pearl tumblers (£42) amara.com
---
Our guide to building your dream gift list with The Wedding Shop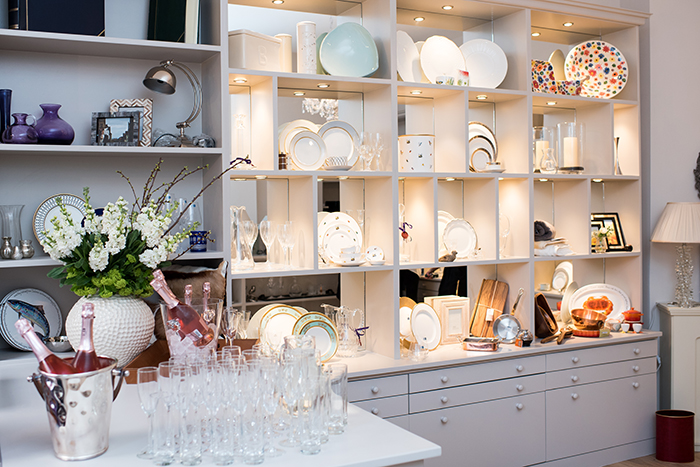 Wedding gifts can be a whole lot of awkward –you're worried about being lumbered with a horrendous vase or dinner set you'll feel obliged to have on display,and your guests are no doubt in knots over how much to spend and on what.
With a gift list from award-winning The Wedding Shop you can cut out all potential awkwardness in a polite,stress-free way.
Your guests will know exactly what you're looking for and they can team up with multiple other guests to contribute to pricier items, so money doesn't have to be a concern.
Not sure where to start? We've put together a guide to the whole gift list building process to help you stay organised…
1 Getting started
Register online or book an appointment at The Wedding Shop's Edinburgh showroom to begin your journey! Located on Dundas street, it's filled with a carefully curated selection of homeware and is bound to give you lots of inspo.
If you go for a private couple's appointment, you and your partner can browse the showroom at your leisure and even start picking out a few goodies.
You can also book in for one of The Wedding Shop's new Bring a Bridesmaid appointments; you and one of your maids will head along for a 20-min appointment including a tour, intro sesh and free glass of champs!
Ideally, you'll be doing this around six months before your big day, but it can be done in less if time's creeped away from you.
2 Ask the experts
Once you're registered you'll be assigned a personal Gift Guru who'll be on hand to offer advice and help.
Each experienced guru fully understands the importance of creating a truly tailored list that reflects you and your partner's styles, so they'll keep you on track throughout the process.
And don't worry, if you can't visit The Wedding Shop showroom in person, you'll receive the same exceptional service online. Just use their online chat function for instant access to their team of knowledgeable Gift Gurus.
With more than 28 years'experience in the industry, The Wedding Shop knows how to make wedding gift lists seamless and stress-free to organise – that's why they're the UK's most popular fee-free gift list provider.
3 The fun bit
Now it's time to actually choose gifts, which is basically shopping without the horrible 'having to actually pay for everything' bit at the end.
The Wedding Shop offers products and services from over 350 different brands, so you'll be spoilt for choice. The options really are endless; original artwork, weekly or monthly subscriptions (we love the flower subscription from Bloom &Wild), unique homeware and fabulous experiences.
You can add anything you want to your list, including gifts, cash funds, subscriptions and experiences all together.
You can even ask for contributions to your honeymoon or a charity that's close to your heart, and if you happen to see a product from a UK retailer not currently with The Wedding Shop, just let your Gift Guru know. They'll source the item on your behalf once it's been purchased by your guests.
The best bit is that with group-gifting you don't have to feel bad about adding in pricier gifts! Your guests will have the option to pledge any amount they want towards a prezzie.
4 Over to your guests
Next up, it's time to launch your gift list. Ideally you'll be able to pop one of The Wedding Shop's notification cards in your invites, and you can also personalise your own website link to share with your guests.
You can do this at any time but aim for around three months before your wedding!
You can also download the app and use it to help build and manage your list on the go (it features a barcode scanner), and you'll recieve email alerts whenever a guest purchases a gift. The Wedding Shop is the only UK gift list provider to offer an app,and it's a huge help!
It's also worth mentioning that even after your wedding date,The Wedding Shop gives you the flexibility to change your mind before you finalise your list.
5 Get your gifts
Once all your gifts have arrived in their warehouse, The Wedding Shop will notify you and offer free delivery anywhere in the UK.
They also provide free storage for up to six months, which is perfect if you're heading off on an exotic honeymoon after your wedding!
Just let your Gift Guru know what'll work best for you and they'll arrange delivery for a day that suits you.
Then all you need to do is unwrap everything (the really exciting part!) and start enjoying all your thoughtful gifts.
SWD's Wishlist!
Looking for a little inspo to get you started?
Here are a few products and brands we've got our eyes on…
Coveted London three wick candle (£75)
Kate Spade Two of a Kind cocktail shaker (£57.50)
Jo Malone pomegranate noir candle (£120)
t. 0131 558 7755 | e. hello@weddingshop.com
Read reviews for The Wedding Shop
Nearly half of all married couples wish they'd had a gift list!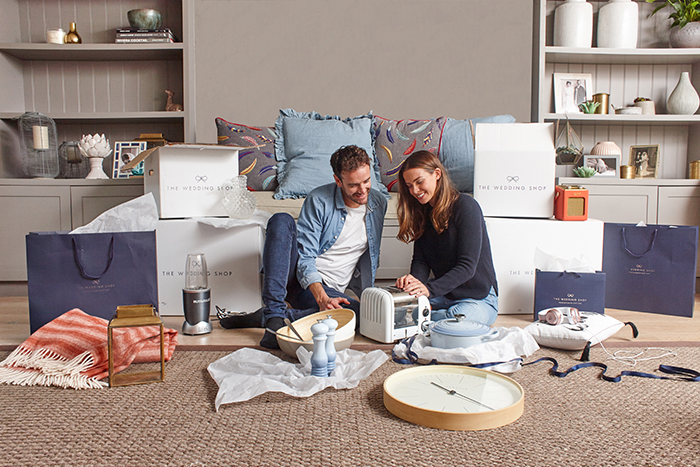 Planning a wedding can be manic and expensive, so it's likely that at some point along the way you'll make a couple of wee sacrifices or compromises in a bid to save money and cut down your to-do list.
But judging by the latest stats from The Wedding Shop, one thing you should definitely make time for is organising a gift list!
According to a recent survey conducted by the UK's largest independent gift list provider, 44.7% of married couples who didn't have a gift list in place wish they'd had one in retrospect.
The advantages of a gift list
So why do so many people regret not having had a gift list?
Well firstly, the survey also revealed that nearly half of couples are only happy with some of the presents they received at their wedding.
And secondly, couples who didn't have a gift list in place received an average of 5 dinner sets, 2 toasters and 4 photo frames on their wedding day.
In addition, 83.3% of couples said they received more than 3 unwanted gifts at their wedding.
A modern gift list
Luckily, today's gift lists provide a modern and easy way to prevent all of the above problems (I mean, who has room in their kitchen cupboards for FIVE dinner sets?!).
The Wedding Shop has a showroom in Edinburgh and options for building a gift list online and through their app!
SWD Loves: Personalised heart carved bottle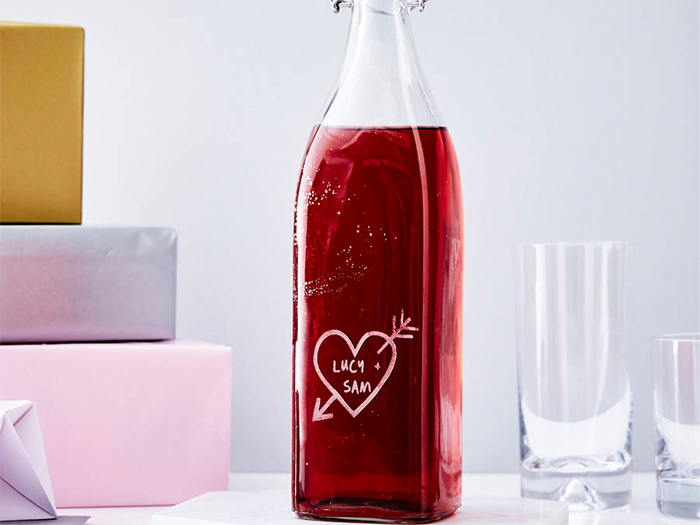 We love this personalised carved heart class bottle (£9.95), and here's why…
It's a super cute and unusual wedding present
It's something that you can use all the time
The bottle is available in three different sizes – including a small version that's perfect for condiments!
Our opinion: How much should I spend on gifts for the wedding party?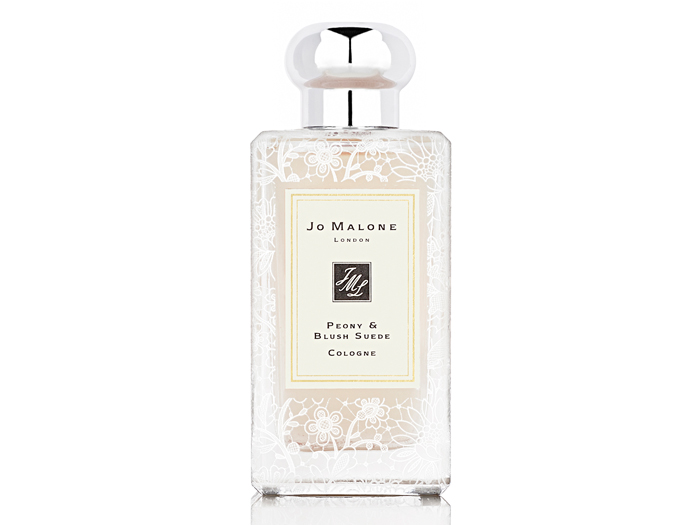 A friend of mine recently told me that when he was best man at his mate's wedding, he didn't receive a gift. Zilch. Nada.
So you're already a good human just for reading this, because presumably you do actually intend to buy presents for the friends and family who have helped make your wedding so special.
WHO IN THE WEDDING PARTY SHOULD YOU BUY GIFTS FOR?
Let me unroll my scroll.
It's considered good etiquette to give a token of appreciation to the friends and family members who have played an important role in your wedding, whether they've been by your side to help you plan or have put money towards the big day (or both!).
The list of people in the wedding party to buy gifts for normally includes:
The bridesmaids
The best man (or best men)
The groomsmen/ushers
Flower girls and page boys
Both sets of parents
Of course, it's completely up to you who you want to buy gifts for, and you might not have a traditional set-up when it comes to your wedding party. There may be others not on this list who you'd love to buy a little minding for, such as a grandparent, especially if they have financially contributed to the wedding.
Go with what suits your day. Budget for gifts for the wedding party at the start of wedding planning, then check over your list when it's close to the big day to make sure there's nobody you've forgotten to factor in.
HOW MUCH SHOULD YOU SPEND ON GIFTS FOR THE WEDDING PARTY?
Honestly, it depends. Depends on how many bridesmaids/groomsmen you have, depends on your wedding budget, depends how much you like them (jk).
Speaking from personal experience, most people spend on average between £50 and £100 each on bridesmaids and groomsmen, and it's usual to spend a little bit extra on the chief bridesmaid and best man.
For the wee ones, you don't need to spend as much (say around £15-30), while your parents " if they're anything like mine " probably won't want you to drop a wad of cash on them, so I'd follow your gut on that one.
Remember that these are just ballpark numbers. If you've got a small budget and the day you're planning reflects that, nobody is going to expect you to spend hundreds of pounds on gifts.
Plus, if recent research is to be believed, the average spend is a bit less than what I'm suggesting; I'm speaking from an entirely anecdotal perspective.
WHAT GIFTS SHOULD I BUY FOR THE WEDDING PARTY?
I'm sure you'll agree that the best gifts are always the ones that have been carefully considered. A thoughtful pressie trumps a spendy-but-thoughtless one any day.
Lots of brides gift their bridesmaids something that they can wear on the wedding day, such as accessories to match their dress or a piece of personalised jewellery with the wedding date engraved on.
Perhaps you could put together a goodie bag that's personal to each bridesmaid, with a few key items remaining the same for each alongside a gift that's totally personal to them, whether that's a special edition of their all-time favourite book or an engraved bottle of the perfume they love.
Lots of couples gift the mums a bunch of flowers, which is a lovely gesture, but perhaps they could get in on the goodie bag action too to really make them feel appreciated.
For a best man's, groomsman's or father's gift, consider a customised hipflask accompanied by their fave tipple, a stylish pocket watch or that vinyl they've been searching for.
GIFT IDEAS FOR YOUR WEDDING PARTY
JO MALONE PEONY + BLUSH SUEDE COLOGNE IN LACE BOTTLE
Peony & Blush Suede in Lace Bottle (£96) Jo Malone
I don't know a single person who doesn't love at least one Jo Malone Fragrance. Make it special by opting for a lace bottle (available for eight of the fragrances).
BRIDESMAID BAUBLE
Bridesmaid tree decoration (£15) Notonthehighstreet
A Christmas tree bauble with their name and your wedding date on is a special gift that'll truly last a lifetime.
LEATHER HIP FLASK
Made in Italy hip flask (£45) John Lewis
Is this the suavest hip flask ever? Perfect for any member of your wedding party who enjoys a wee tipple.
FLOWER GIRL TOTE BAG
Personalised flower girl gift bag (£8) Notonthehighstreet
She'll feel so important having a special tote bag with her name on. Stick in a few bits and bobs to keep her entertained, such as a colouring book.
PAGE BOY TEDDY
Personalised page boy teddy bear (£9.99) Amazon
This sweet page boy teddy bear can be personalised with any date, name or message, and comes with a gift bag.
Have you thought of adding subscriptions to your wedding gift list?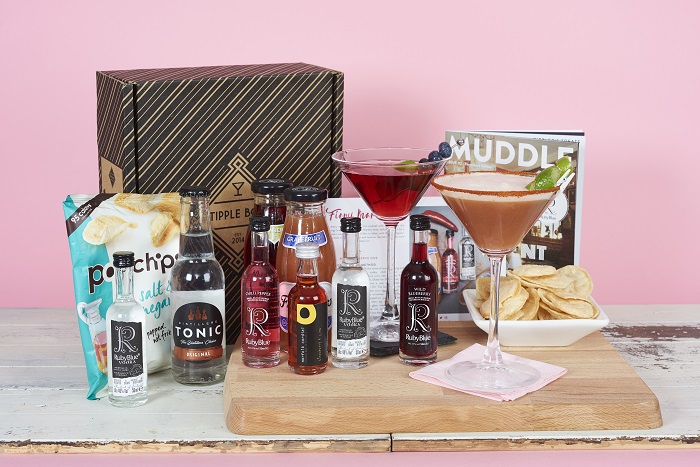 Think outside the box when it comes to your gift list with The Wedding Shop.
What do you do when you've got everything you need for your home, but you know your guests will want to get you something as a wedding gift?
The Wedding Shop has come to the rescue with its new range of amazing weekly and monthly subscriptions, from weekly fresh flowers to a monthly selection of wines, which can be added to your gift list like a regular product would be.
We love Tipple Box (above), which delivers a regular box filled with all the recipes and ingredients you need to recreate your fave cocktails at home!
See more on The Wedding Shop website, or visit The Wedding Shop in Edinburgh
Father's Day Gift Guide 2018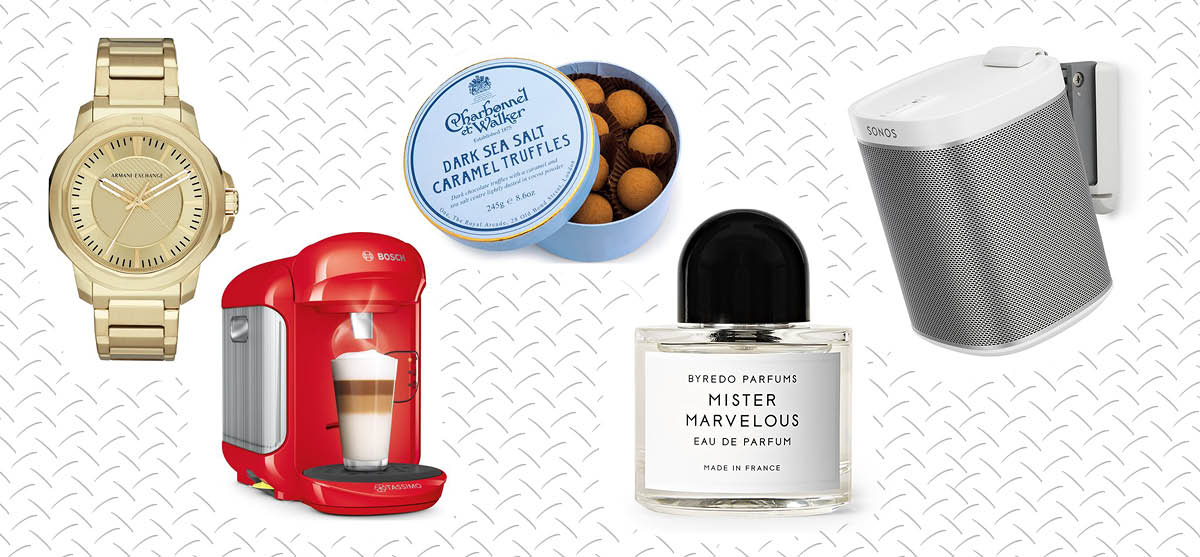 Don't forget to say a massive thank you to your fantastic dad on Father's Day, Sunday 17th June 2018! 
He'd love to receive a gift from our curated gift list. Take a look… 
Personalised hexagonal tumbler glass by Becky Broome (£24) Not on the High Street
Personalised accessories + manicure case (£29.95) Not on the High Street
Gourmet fresh pasta feasting box by Pasta Evangelists (£41.25) Not on the High Street
Map of your world adventures screen print by Wandermap (£155) Not on the High Street
Men's Society golf kit (£27) Paperchase
The Father's Day H-box (£12.95) Hotel Chocolat
Roll down backpack (£95) Ted Baker
Philips Sonicare DiamondClean 3rd Generation electric toothpaste (£94.99) Amazon
Sonos Play:1 (£149) Sonos
Armani Exchange watch (£150) The Watch Shop
Byredo Mister Marvelous Eau de Parfum (£160) Space NK
Elemis Perfect Man Collection (£49) Elemis
Dents berry leather zip top wash bag (£85) Selfridges
Tassimo by Bosch – red 'Vivy 2' multi-beverage machine (now £50) Debenhams
Charbonnel et Walker dark sea salt caramel truffles (£27) Harrods
RetroHot air popcorn maker (£59.95) Harrods
Slim fit printed cotton shirt (£55) Remus Uomo