You and your bridesmaids NEED to try out The Ivy Edinburgh's DJ Brunch Series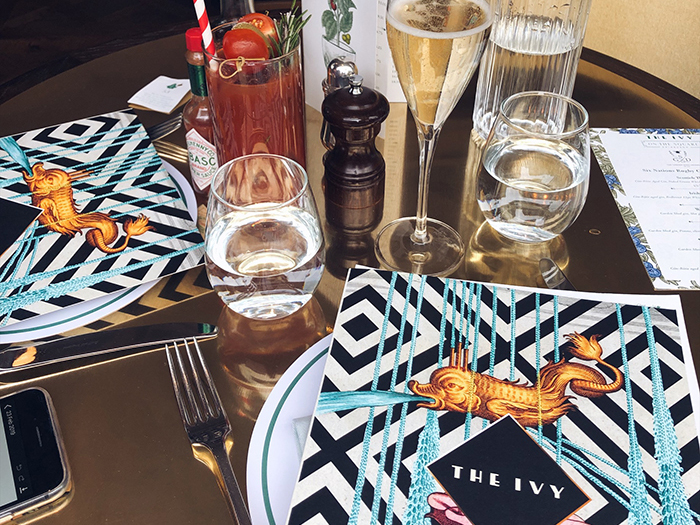 SWD's Rachel headed along for a girly day out to try out the Capital's newest brunch event.
One of the best parts about wedding planning? Being able to come up with so many excuses for a fun day out with the girls.
Proposing to your bridesmaids? Let's go for afternoon tea! Dress shopping? Well, that merits some bubbly. Heading to a wedding fair? We may as well make it a full day out…
My favourite way to spend time with my bridesmaids has to be over brunch so I was seriously excited when I saw The Ivy on the Square Edinburgh were launching their brand new DJ Brunch Series.
To kick-start the weekly event, Capital FM's Garry Spence took to the decks and set the tone of the chilled Saturday with a soulful mix of tunes.
Whilst Garry supplied the music, The Ivy Edinburgh created the ultimate brunch, along with two chilled glasses of champagne for my bestie and bridesmaid, Victoria, and I.
We opted for a delicious brunch feast of Eggs Royale and avocado – our fave. Raising a glass to a pretty perfect afternoon, we were already planning our return visit with the rest of my bridesmaids.
Serving up an amazing selection of brunch dishes, cocktails and sweet treats, you and your 'maids will be spoilt for choice! Surely a weekly champagne brunch should be part of everyone's wedding planning, no?
The Girl with the Big Hair: Cheap date night ideas to help save for your wedding
Our guest blogger Yasmin isn't letting saving for the big day put a halt to date nights with her hubby-to-be.
It's the final few months before the wedding.
We're now officially under the six-month mark (eek) and as you can imagine, the savings pressure is building, there's still a to-do list longer than my arm and I honestly don't feel like I have the time to even think about wedding plans right now.
Wedding planning burn-out
I'm sure I'm not the only bride-to-be to that is burning the candle at both ends in the run up to their big day.
Not only are we planning a huge event for our nearest and dearest (which has to be as perfect as we envision it) but we're also likely to be taking on more shifts to help bulk up the savings account, trying to squeeze in (or kick-start) gym sessions and attempting to maintain a steady pace in work so that time off for the wedding really is as enjoyable as it should be.
During this period, it's so easy to get caught up in the prep and planning that you forget to actually enjoy the time with those around you.
IMAGE | Fairmont, St Andrews
Taking time for us
This is something I've been aware of more than ever recently and is why I entered 2019 with a personal resolution to make more time for my loved ones – and for me.
I started this year doing just that with a New Year's Day getaway to the Fairmont St Andrews with my fiancé, Liam. It was the perfect way to begin the year that we will finally marry each other.
It not only gave me a chance to just press pause for a second, but it also reminded us of just how lucky we are to be planning a huge event to celebrate with our family and friends.
It was during our getaway that I made my little resolution to make more time for us before July 4th comes around.
Cheap date night ideas
Unfortunately a lavish overnight stay won't always be on the cards this side of the year, but I'm not worried as there are so many other things you can do together that are free or don't cost much at all.
I thought I'd share a little round-up of just some of the ways I plan on making our final memories together as fiancé and fiancée.
Car trip – sometimes some of the best trips are unplanned. There's nothing better than jumping in the car with no plans of where you're going and just seeing where you end up.
A trip to the beach – it may not be tanning season yet, but visiting one of Scotland's beaches in the winter has its perks. Just remember to wrap up warm!
Enjoy a movie-marathon – my fiancé was gifted with an at-home projector for Christmas (which is amazing, btw) so back-to-back movie marathons on a Sunday with some of your favourite snacks is perfect on a rainy day.
Cooking – making dinner together from scratch can be a fun at-home date option even if you're no Gordon Ramsay. Don't forget the bubbles – cooking is thirsty work.
The above are just a few cheap date ideas that I'm sure my hubby-to-be and I will be embracing over the next few months.
Regardless of how stressful, all-consuming or overwhelming wedding planning (and everything else that comes with it) can be, just remember to make time for you and your partner as you'll never get back these excitement-filled moments as you prepare for married life together.
Xoxo
ABOUT THE AUTHOR
Yasmin is a 20-something fashion, beauty and lifestyle blogger, sharing her interests, passions and general life-happenings on her blog, The Girl with the Big Hair. Following a romantic Loch Lomond proposal last autumn (you can read more about that here), Yasmin is now an excited bride-to-be and will be sharing every step of her wedding planning journey with SWD.
Yasmin lives in Glasgow with her fiance, Liam, and their Instagram famous pug, Indie. She loves fashion, beauty, dancing, travelling, food, movies, sleeping, and cookies " a girl after our own heart!
Steph's Bride Diary: The lowdown on non-surgical treatments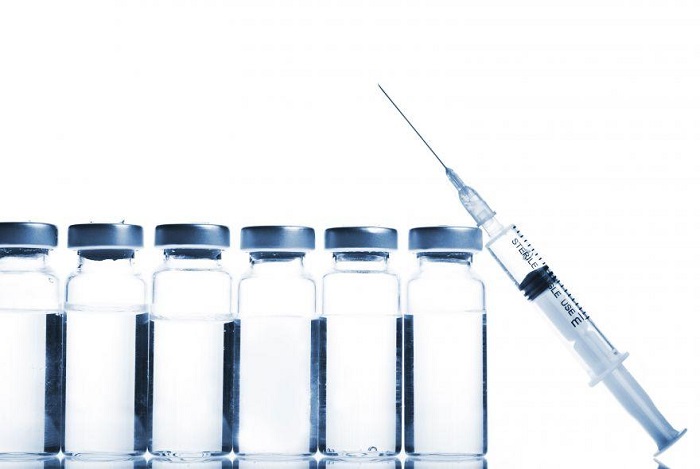 Digital editor Steph Telfer is thinking ahead to her wedding, and decided to try a couple of non-surgical facial treatments at Dr Darren McKeown's clinic in Glasgow.
Here's how she got on…
I turned 30 in 2017 and, almost immediately, I noticed that the fine lines on my forehead were not as subtle as they used to be.
My default resting face is a frown, and after years of this, the lines had become ingrained. In fact, a lot of things had changed about my skin over time and I became hypersensitive to all of the transitions that come with age.
They were completely normal, but noticeable, and they started to bother me. Having some non-surgical treatments had crossed my mind before, but I started to look into exactly what options were available more seriously.
FINDING THE RIGHT CLINIC
I'd attended the opening of Dr Darren's newly refurbished aesthetic medicine institute in Glasgow earlier this summer, and I felt like this would be the ideal place for me to begin considering my facial treatments.
The space is incredibly relaxed, chilled and comfortable; nothing like the clinical vibe I was expecting.
On the day of my first consultation appointment I was feeling incredibly nervy until I sat down in the plush waiting room; I instantly felt calmer.
Dr Darren himself has a very calming energy too. We sat down in a treatment room and, after going over the info I filled in previously – problem areas, things I was self-conscious about, my concerns – he recommended a course of Botox for my frown lines and a treatment called Tear Trough Filler: the semi-circular creases which start at the nose and run along the bottom of the eyelid, just above the cheekbone, would be injected with dermal filler to reduce hollowness, therefore diminishing dark circles.
He didn't know this, but I've had a complex about the dark lines under and around my eyes since I was in my teens. I couldn't believe there was a treatment out there that could provide a solution to this.
THE TREATMENTS
The Botox was honestly painless. It was over in a matter of one minute, and I could hardly believe it. I wince more when I get my eyebrows waxed! I was more nervous about the fillers, but I needn't have worried.
A cannula was inserted into the skin just above my cheek, and a blunt needle inserted to administer the filler, numbing the area as Dr Darren worked.
The great thing about Darren is how at ease he makes you feel. He carries out the procedures with such a quiet confidence, and that makes you trust him completely. Again, a few minutes later, I was done.
A common misconception is that Botox freezes your face almost instantly. In truth, the treatment gradually worked over the next few days so the change didn't seem so obvious.
I could no longer visibly frown, but I could freely move my eyebrows and forehead. My botox lasted just under three months, and I haven't had it done since. I did like the effects, but it's a costly procedure for a short-term fix, however I wouldn't rule it out in future. It evened out my eyebrows, which I loved!
The tear trough fillers worked instantly and I can honestly say I am amazed at the change, even five months later. I actually felt quite emotional about it when I first saw the results.
I had minimal swelling and a teeny, tiny bruise where the cannula went in (this disappeared in two days), but the next morning, I didn't wear concealer for the first time since I was 11. The before and after pictures, taken immediately before and after the procedures, speak for themselves, I think.
BEFORE: This photo was taken just before I got botox and tear trough fillers for the first time.
AFTER: This photo was taken around two weeks after I had botox, and immediately after tear trough fillers.
IS IT RIGHT FOR YOU?
I don't think anyone looks at me and thinks I've had treatments. The only reason people know is because I've chosen to tell them. And it doesn't bother me one bit if people seem to notice or not, because I notice, and I love the confidence those subtle changes give me.
Non-surgical treatments should be about how you feel about yourself, not about how other people see you. You'll never achieve the level of perfection an Instagram filter can give you, and it's crazy to try. These procedures were a chance for me to see if I liked the changes and, if I didn't, they'd wear off anyway.
Were they necessary? No. Do they make me feel good about myself? Absolutely. I can't pretend that it doesn't cost a fair bit of money, but if you can afford to have the treatments and you want to put to bed some nagging insecurities, then why not? It really is up to the individual.
There are risks involved with these procedures, that's true. You could experience bruising, or temporary weakness and droopiness of your facial features. There's also a risk of flu-like symptoms including a headache for 24 hours after the treatment, but generally speaking, when administered by a reputable practitioner who is properly qualified, there's minimal risk involved.
The treatments aren't suitable for everyone, so consultation should be sought before you go ahead (however a good practitioner would always assess you beforehand).
Tear trough fillers start from £400 and last 12-18 months. Three areas of Botox costs £325 and lasts three to four months.
Interested in chatting to Dr Darren about your own non-surgical treatments?
Contact Dr Darren McKeown at his clinic in Glasgow by calling 0800 0112719 or via the contact form at drdarrenmckeown.com.
FOLLOW STEPH'S WEDDING PLANNING JOURNEY ON THE BLOG AND IN SCOTTISH WEDDING DIRECTORY.
The Girl with the Big Hair: Designing my wedding band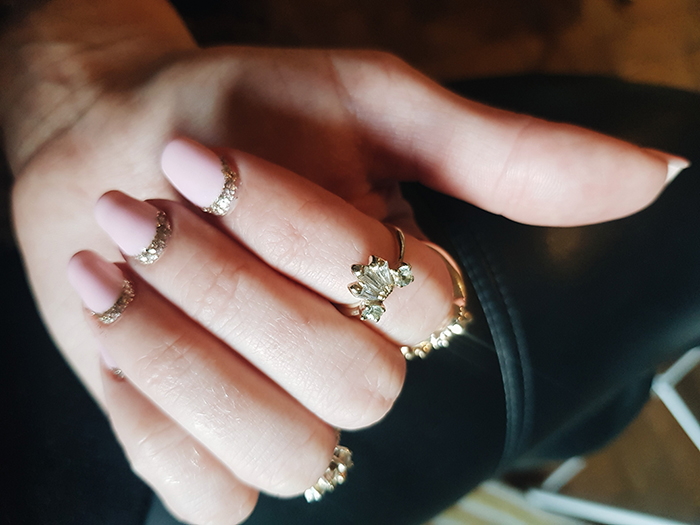 Our guest blogger Yasmin is back – and this time it's all about the right ring…
Wedding planning wins
I think it's safe to say ring shopping for your wedding band is one of the most under-rated parts of wedding planning. Why does no one talk about the ring they will choose to wear for the rest of their lives more often?!
It is, after all, the second (or first, depending on how you look at it) most special piece of jewellery you will ever own.
This week, I had the exciting task of shopping for my very own wedding band.
The search begins
After stumbling across Katie Lees Jewellery, a Glasgow based jeweller who designs some of the most unique rings I've ever laid eyes on, I knew I wanted to book in with her for a consultation.
On arrival to Katie's quaint but welcoming studio on Old Dumbarton Road, we spent a little time simply getting to know each other.
Fast forward 15 minutes and I felt a little weightier with about 10 different rings stacked across my fingers as I got more familiar with her designs.
Personal to me
Her rings have a strong vintage/art-deco theme running throughout which I love, and she works with a mixture of metals and stones with everything customisable.
After much debate I managed to narrow my decisions down to four different ring styles. Three similar to what I originally had in mind and one that was a little simpler.
Decisions, decisions
I'm still undecided about which exact ring I would like but thankfully Katie is incredible to work with and appreciates just how indecisive us girls can be.
With plenty of pictures in my camera roll I'll no doubt be scrolling through them over the next few days to help make my decision.
Next steps
Once I've made my final choice, Katie will work up a drawing of what we've agreed and then create a model out of wax before making the real thing.
Although I've not made a final decision yet I'm so excited about the process that is ahead! I've never designed my own piece of jewellery before and knowing that I can customise it to exactly what I want is the best feeling ever.
I need your help…
I hope you love this sneak peek at the designs that caught my eye. Please let me know if you have a favourite – I need all the opinions I can get.
I'll be sure to share the final piece when it's ready in just a few month's time!
XoXo
ABOUT THE AUTHOR
Yasmin is a 20-something fashion, beauty and lifestyle blogger, sharing her interests, passions and general life-happenings on her blog, The Girl with the Big Hair. Following a romantic Loch Lomond proposal last autumn (you can read more about that here), Yasmin is now an excited bride-to-be and will be sharing every step of her wedding planning journey with SWD.
Yasmin lives in Glasgow with her fiance, Liam, and their Instagram famous pug, Indie. She loves fashion, beauty, dancing, travelling, food, movies, sleeping, and cookies – a girl after our own heart!
The Girl with the Big Hair: Collecting my wedding gown – what really happened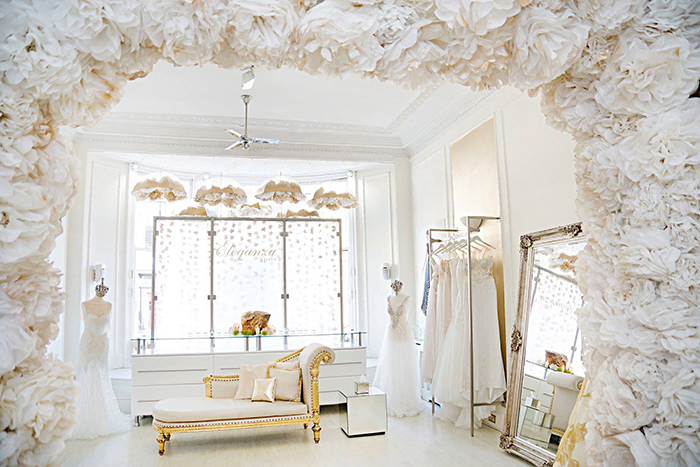 It's almost our girl Yasmin's wedding year and it was time to pick up her dress, but it didn't go quite the way she planned…
Two weeks ago, an email I've been eagerly awaiting popped into my inbox. Filled with excitement and nerves, I read the words 'your wedding gown has arrived in store, please call to make an appointment to collect your gown'.
I couldn't believe it – six months had passed, and I was finally able to see my dress once again.
DREAM DRESS NERVES
In the hours leading up to the appointment I felt all kinds of excited nerves. I could barely remember what the dress looked like from my original appointment, so it felt as though I was about to see it for the first time.
With my mum, sister and bride squad in tow, we made the venture into the city centre to Eleganza Sposa.
After a short five-minute wait, I was whisked into the fitting room to try on my dress. Seeing it hanging up on the hanger for what felt like the first time, I couldn't help but feel underwhelmed.
PERFECTION PRESSURE
'Is this the gown that's going to make me to look the best I've ever looked?', 'Is it 'wow' enough?', 'Will it make everyone think positively about my choice as opposed to critically like we often so harshly do?'.
So many things were running through my head that I honestly didn't know what to think. Before I knew it, the curtain had opened, the big reveal was happening and, before I could stop it, tears came flooding down my face.
Unsure what was wrong, my loved ones questioned if I hated it. I absolutely didn't hate it, but I honestly didn't know what I thought.
The built-up nerves, pressure and lack of memory was overwhelming and it had to come out in some way.
THE RIGHT FIT FOR ME
Thankfully the tears only lasted a quick 20 seconds before I walked over to the mirror to analyse the dress.
After a few additions were added and when it's eventually sized to perfection, I know it will be the perfect dress for me.
It took a while for me to warm up to the dress, but I now remember why I choose it the first time around. I want a dress that's effortless, romantic and fits my Tuscany destination wedding and this gown ticks all the boxes!
RE-BALANCING
Looking back, I think the pressures that come with buying a wedding gown had taken over. The desire to find something that everyone will love as opposed to something that I want was imbalanced.
And, most likely, spending thousands on a gown will undoubtedly make your question your choice. I actually have a history of doubting big purchases – it's something I'm working on!
Now that the gown is firmly in my possession (well, my mum's), and I have pictures I can look back on to remind me of what it looks like, I feel so much happier. I know I've chosen the right dress for me and can't wait to wear it down the aisle to marry my love.
THE HONEST TRUTH
I wanted to share my honesty in this experience for anyone who's like me and puts unnecessary pressure on themselves.
I think there's a picture painted within weddings that picking up your gown will be the most magical moment that will make you feel more beautiful than ever before.
This might be the case for some people, but if it's not for you – don't worry! I love my gown and I know Liam will too and that's all that matters.
ABOUT THE AUTHOR
Yasmin is a 20-something fashion, beauty and lifestyle blogger, sharing her interests, passions and general life-happenings on her blog, The Girl with the Big Hair.
Following a romantic Loch Lomond proposal last autumn (you can read more about that here), Yasmin is now an excited bride-to-be and will be sharing every step of her wedding planning journey with SWD.
Yasmin lives in Glasgow with her fiance, Liam, and their Instagram famous pug, Indie. She loves fashion, beauty, dancing, travelling, food, movies, sleeping, and cookies " a girl after our own heart!
Laura's Bride Diary: Planning our wedding when family + friends don't live close by can be tough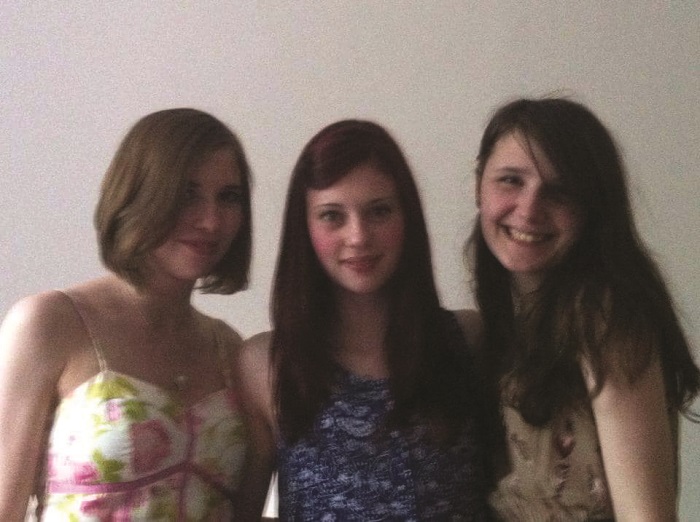 Laura's finding that planning a wedding can be tough when your friends and family don't live close by.
After William proposed and we had our moment, we called our loved ones to share the news. Because my excitement levels were so high, when I called my closest friends I automatically asked them to be my bridesmaids, which is a moment I think of with so much joy. I couldn't imagine our day without them by our side – they are such a big part of my life and shape who I am as a person.
There's Mara, Alina and Alexa, childhood and high school friends who live in Denmark, Italy and London, respectively; Hannah and Faye, who I've known since uni and who both stay down south; and Natasha, who I met through SWD and is the only bridesmaid who actually lives in Scotland!
Faye, Hannah + me during our third year at uni
A few months down the wedding planning path, I realised that having six bridesmaids scattered throughout Europe can be logistically challenging. I'm letting my bridesmaids each pick their own dress (so long as they all go for the same colour), and we've set up a Facebook chat to make sure everyone feels involved in the wedding plans.
One of the most difficult things I've found is not having my family close to me, especially my mum. Not having her there when I bought my dress was so hard, as it's supposed to be such a special moment for a mother and daughter to share.
My mum + I back home in Romania 
In saying that, thanks to Facebook video chat – and my maid of honour, Natasha, holding two phones at the same time – not to mention the patience of Rachel from Olive Jones Bridal, my mum in Romania and aunt in Germany got to share the shopping experience from afar. It was still heart-wrenching not being able to hug them and celebrate together afterwards.
On the plus side, because we chat every day, I've been able to involve my mum in the wedding planning process. In fact, because we're incorporating quite a lot of my heritage into our theme, my mum is helping out by collecting the décor elements that will bring together the whole venue. Also, along with her friends, she will make some traditional Romanian dishes for the evening buffet.
My maid of honour (and editor of SWD) Natasha
Though there are obviously downsides of living far away from your loved ones, at the same time I feel this will make the actual day even more rewarding and exciting.
My advice to anyone who is in a similar situation is to communicate lots, create group chats, share Pinterest boards and enjoy every moment when you get together!
~ SIX MONTHS TO GO ~ 
The Girl with the Big Hair: my wedding flowers edit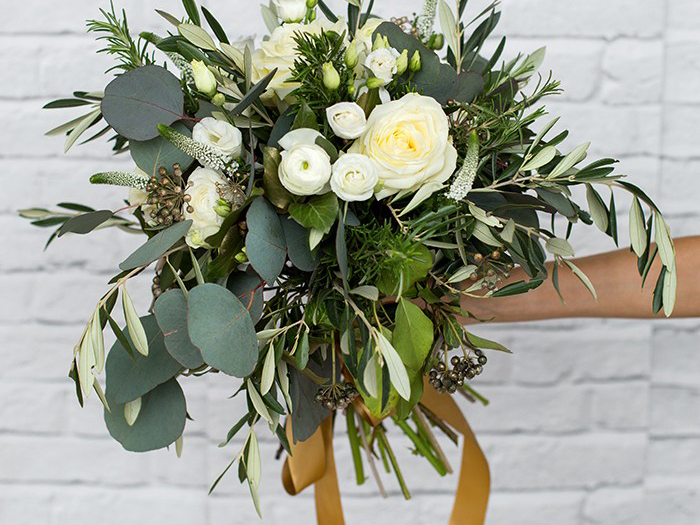 Our guest blogger Yasmin from The Girl with the Big Hair is talking blooming beautiful wedding flowers.
Before I seriously started thinking about my own wedding, I thought flowers were a waste of money.
Don't get me wrong, my wedding date may come and go next year, and I may be right back to where I was before wedding mania kicked in but as it stands, flowers are high on my agenda.
Picking out the flowers you'll be carrying as you walk the aisle to meet your future husband is a pretty big deal.
Flowers are one of the biggest accessories you're going to have on the day and something everyone will notice (unlike pretty shoes), so special consideration is essential.
When I first thought of bridal flowers, I thought my bouquet would be simple, fuss-free and modest in size.
I automatically went to the colour white, perhaps due to the fact that both times I've played bridesmaid I carried a white bouquet or because I don't really have a colour scheme, but something has changed.
Colours and unique designs are catching my eye and they've got me more excited about flowers than ever before.
I still don't want my flowers to be too big – I think a big bouquet on your wedding day would feel like carrying a tote handbag on a night out which no one ever enjoys!
Here's what's on my flowers radar right now:
Pinks and Blues
IMAGE | The Diamond Bouquet
Pinks and blues aren't normally colours that mix well in my own experience but I can't get enough of this combo when it comes to flowers. It just oozes delicate romance.
Gold art details
View this post on Instagram
This is something I had NEVER seen before and when I came across this picture on Instagram it got me so excited. I think this would work so well for the modern bride or a city wedding.
Greenery
IMAGE | Cherry Blossom bouquet captured by Eve Conroy Photography
IMAGE | Something Special Flowers captured by Eve Conroy Photography
Greenery has always been a bit of an underlying theme for my wedding so, of course, I would like a little bit of this incorporated into my bouquet.
I love flowers that look a little undone and adding greenery, such as eucalyptus, helps to achieve this.
Hand-made ribbon
IMAGE | Pinterest
I've been obsessed with silk-chiffon ribbon ever since I came across it online when researching ideas for my wedding invites. It's a beautiful, luxurious, soft material that drapes like a dream.
I never really considered having a ribbon tied around my bouquet until I laid my eyes on this stuff.
It's easy to go into autopilot when it comes to picking your wedding flowers, but before you do so, have a look at what else is out there.
You may be surprised at other styles that also fit your taste.
ABOUT THE AUTHOR
Yasmin is a 20-something fashion, beauty and lifestyle blogger, sharing her interests, passions and general life-happenings on her blog, The Girl with the Big Hair. Following a romantic Loch Lomond proposal last autumn (you can read more about that here), Yasmin is now an excited bride-to-be and will be sharing every step of her wedding planning journey with SWD.
Yasmin lives in Glasgow with her fiance, Liam, and their Instagram famous pug, Indie. She loves fashion, beauty, dancing, travelling, food, movies, sleeping, and cookies – a girl after our own heart!
Steph's Bride Diary: Celebrating our engagement with a party!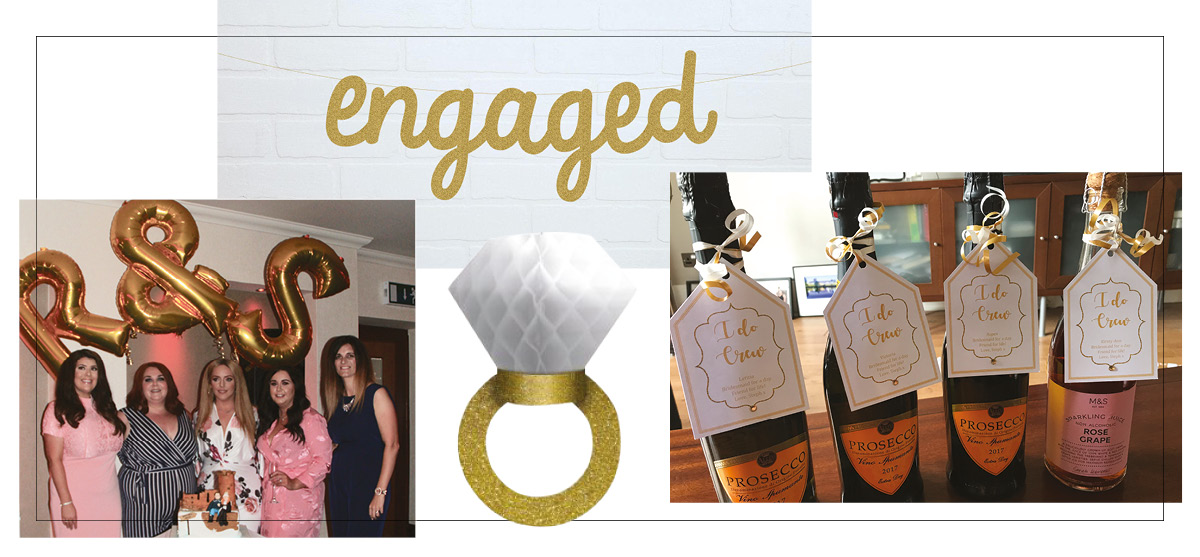 With just under two years to go until the big day, digital editor Steph and her fiancé Rab decided to mark their engagement with a party!
Digital editor Steph with fiancé Rab
When we got engaged, our friends and family wanted to meet up and celebrate with us. Rab proposed on Christmas Eve, so everyone had plans with their own friends and families at the time and, followed by a horrendous bout of flu for me at New Year, we found ourselves in January without having organised anything yet.
I didn't particularly want an engagement party at first. My 30th was in April 2017 and I had a big party for that, so I felt like it was too soon for another – and I didn't want people to feel obliged to give us gifts and cards. A party is an expense too (which could be better used for the wedding fund!) so we initially decided on a low-key dinner for close family and our wedding party.
When we had a look at the numbers though, it was clear that a dinner for everyone would be even more of an expense. My parents really wanted us to have a party and they offered to pay for it, so we agreed and booked The Castle Rooms in Uddingston (where we live) for July.
I kept the decorations simple. From top clockwise:
Engaged letter banner, similar available on Etsy.
Hip Hip Hooray letter banner, Ginger Ray.
Honeycomb engagement ring hanging decoration, The Nora & Katie Co. 
Our invites and our lovely cake! 
Our invitations were a kind gift from my chief bridesmaid's mum Carol at Made With Love Stationery; she designed a cute thumbprint heart motif – everyone loved them!
The venue gave us a great package deal which included a DJ (Dave from Graham Professional Sound & Light) and a breakfast roll buffet.
I sent the DJ a list of must-play songs and some must-not-play songs (500 Miles is a massive no from me). The staff at The Castle Rooms were great, and we got to party until 1am, although only the hardcore lasted 'til the end!
Claire from Sweetie Fairies provided balloons that worked with our colour scheme – midnight blue, gold and pastel peach – and we loved them, so much so that we took most of them home afterwards.
Our cake, designed and baked by Elina's Cakes, was so cute. I sent her a photo of us at Bothwell Castle, where we got engaged, and she recreated it in cake form, right down to figurines of us wearing the exact clothes we'd been wearing that day.
I wanted to do a wee thing for my bridesmaids, so I gave them all a bottle of prosecco with a personalised label on it that I bought from a seller on eBay (pictured below). My friend Kirsty-Ann is pregnant, so I got her a bottle of fake rosé instead!
The night really was brilliant. It was so lovely to have all of our closest friends and family together to celebrate, and it gave us a taste of what the wedding will be like, surrounded by those we love most.
The countdown is on: only 676 days to go!
FOLLOW STEPH'S WEDDING PLANNING JOURNEY ON THE BLOG AND IN SCOTTISH WEDDING DIRECTORY.
Laura's Bride Diary: Finding our perfect intimate wedding venue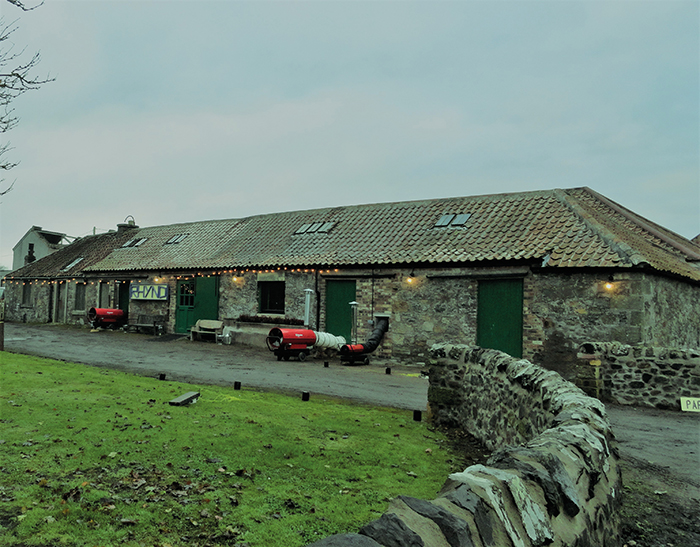 Laura and her fiancé William want their wedding to feel relaxed, and they've found the perfect venue to achieve that.
From the minute we started planning our special day, we knew that we wanted to have a very personal wedding that would reflect who we are.
With that in mind, finding the perfect venue was vital to us, and we set out with two main requirements for our ideal place: it would have to be relaxed and informal, as well as somewhere that would allow us to incorporate lots of the things we love into our day.
We figured a blank canvas venue would tick the right boxes and after doing lots of research we decided to have a look at The Rhynd, a newly refurbished barn near Tayport. As soon as we arrived we fell in love with the setting, and with how modern but intimate it felt.
It's right next to Tentsmuir Forest as well as a beach, which means we'll have loads of incredible backdrops for our photos.
Although it was the first venue we visited, we ended up booking it – it just felt right, and I think you have to go with your gut instinct. Another good sign was that The Rhynd will allow us to have a dog-friendly wedding, which means our dogs Olive and Eve can come.
Guests will be welcome to bring their beloved furry family members along as well!
Choosing our venue lifted a weight from my mind, but since then I've become very aware of all the extra things we now need to think about because we've taken the blank canvas route.
In Romanian culture, being the perfect host is a way of life and my mother raised me to make sure guests always have enough food on their plates and drinks in their hands, so I've been obsessing over finding the right caterer.
We want our meal to be interactive and memorable and after months of research, a very reassuring chat and a menu tasting (omg, the roast beef was delicious) we've booked Gourlay Catering.
We've opted for a family-style service to help break the ice between guests and create the laid-back atmosphere we've been dreaming of since we started planning!
Steph's Bride Diary: Things I've already decided I'm binning from my wedding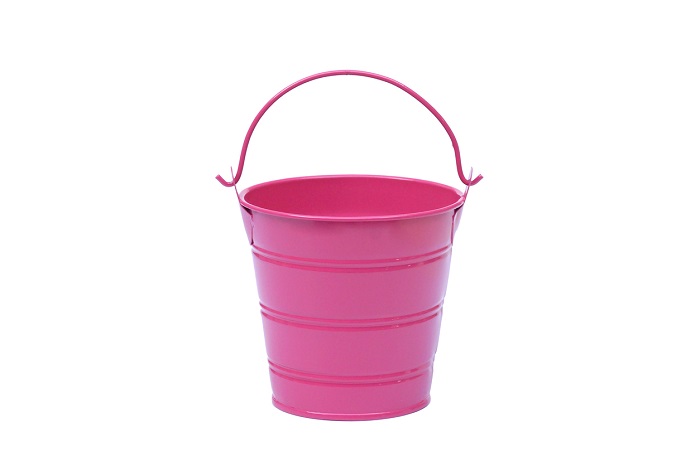 Working as digital editor at Scottish Wedding Directory may have actually made wedding planning a little bit harder, says Steph Telfer… 
You might think that working at Scottish Wedding Directory means that planning my own wedding will be a doddle. You'd be wrong.
I'll admit, I have got insider access to the world of Scottish weddings but, before now, I'd never looked at things with my own wedding in mind, not really. Sure, I've admired a ton of floaty gowns and loads of gorgeous, extravagant floral arches, but when it comes down to it, what's really important to me – to us – on our own wedding day?
One thing working at SWD has done for me is make me realise exactly what I don't want.
Every bride, every couple, is different, and some things on my list will probably be on your wedding essentials list, but here's 11 things I'm going to be giving a miss on my wedding day. Some might say they're going in the F**k It Bucket…
SAVE THE DATES 
I've always thought that sending a pre-wedding invitation warning is a little odd. I've received some very lovely Save the Dates in my time, don't get me wrong, and we've shot some gorgeous ideas for the magazine.
For me, they're an extra layer of expense that I personally don't think we need. Everyone that we love enough to invite to the wedding already knows when it is, so hopefully no one will forget and book their holiday!
WEDDING FAVOURS 
This one divides opinion and my mum just does not understand ("What about a wee candle with your names on it? Shortbread? Anything?") but I know that we won't be having wedding favours. Of all the weddings I've been to, and I've been to my fair share, I can remember about three favours.
I once left a Krispy Kreme doughnut favour behind at our friend Lisa and John's wedding and honestly, I don't want anyone else to suffer the upset that I felt when I woke up the next day, hungover, and discovered it wasn't in my handbag. Savvy guests at that wedding will have gone round the tables hoovering up the left-behind treats. Jealous.
BALLOONS (EVEN FANCY SPHERE ONES)
Anyone who knows me will tell you that in every other area of life, I adore balloons. Birthday? Musical balloon. Baby Shower? Giant baby balloon. Unwell? Balloon in a box delivered to your door. Engagement? 'He put a ring on it' personalised balloon with confetti inside. I don't know what makes me dislike balloons at weddings, but I just do. Can't even explain it.
PRETTY PASTELS
I love pastels at weddings, but I just don't imagine them for me. I don't really do colours other than black, white, navy and grey, and I don't suit any sort of cutesy vibes, so I feel like pastels wouldn't really suit my personality.
Colour scheme is shaping up to be something I really struggle with, for sure. I have been lucky enough to see loads of beautiful Scottish weddings submitted to us by readers and photographers, and I can see the appeal of loads of different colourways. See, I told you; working here does not help at all!
DIY PROJECTS 
Last weekend, I foraged around my local woodland picking up conkers and soggy pine cones that probably have beasties in to make an autumnal hallway display for my flat that I-haven't-actually-done-yet-but-it's-all-in-my-head-and-looks-AMAZING; that just about sums up my approach to DIY projects.
Have a great idea (or steal someone else's great idea from Pinterest), get together all the bits and bobs to execute said idea and then just kind of stare at it, say to other half 'I'm going to get round to that this weekend' and move it around the kitchen until it gets binned.
See also: every holiday photo album project since 2009 (seashells, ticket stubs and postcards lurk in the bottom of drawers just waiting to be Pritt-sticked into scrapbooks).
WEDDING CARS 
We're going to be staying at our venue all weekend, so we don't really need cars to take us back and forth. Even if we did, I don't think it would be high up on our list of priorities.
Neither of us can drive, so we don't particularly get excited over types of cars: my favourite model has four wheels, a sturdy cup-holder and most importantly, a driver who can drive.
TABLE NAMES
They'll have numbers, like normal tables.
ENTERTAINMENT STUFF 
Candy carts. Magicians. Photo booths. Light up letters. Giant garden games. Bouncy castles. Fire eaters.
I love cute ideas – if you need any for your wedding, I can rhyme off hundreds – and I have a fabulous collection of photo booth pics of myself in funny 'taches playing inflatable saxophones, but I'll be keeping extras to a minimum.
Booze and food and dancing will take centre stage at our day (oh, and us, hopefully!)
MATCHY-MATCHY BRIDESMAIDS
Channeling this flowergirl's sassiness 
All I want is for my bridesmaids to be comfortable and feel sassy AF on our wedding day. They are all different heights and shapes, they all have different preferences. They all like different styles, heel heights, make-up looks and hairdos.
Something will tie them altogether as bridesmaids but one thing is for sure, they won't be exactly the same on the day, unless they decide they want to be.
(MOST) KIDS 
Other than our page boys and flowergirls, we're not going to be able to invite children because if we did, we'd have as many kids as adults.
I love all of my friends and families' kids but it's just not possible. I have a feeling that the mums and dads are looking forward to a couple of nights' break anyway!
FORMALITY
My other half and I both agree completely on one thing; our wedding is going to be one big, happy, loving celebration not just of us, but of our friends and family too. We're not into formality. All I want is for people to feel welcome, comfortable and looked after on the day.
We can't wait to kick off our heels (well, my heels) and party the night away!
What will you be chucking anything in the… bucket, for your wedding? I'd love to know! Comment on our Facebook page.
FOLLOW STEPH'S WEDDING PLANNING JOURNEY ON THE BLOG AND IN SCOTTISH WEDDING DIRECTORY.