Steph's Bride Diary: COVID forced us to postpone our wedding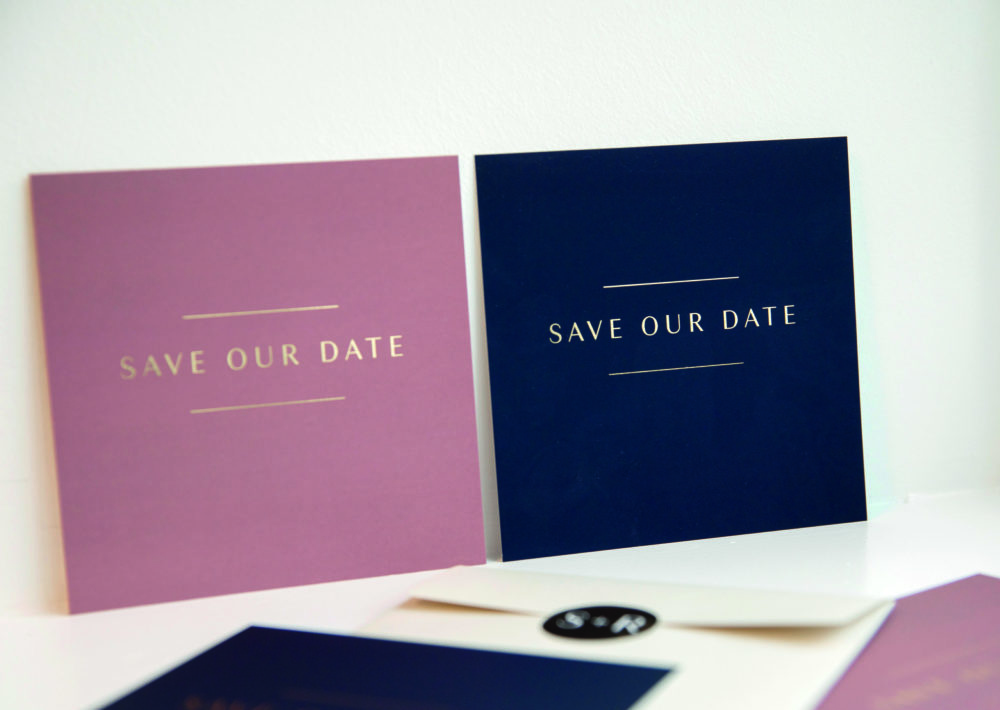 LEAD IMAGE | Save our date cards by Dursley Design Co
If you'd have told me this time last year that I wouldn't get married come September 2020, there's no way I would've believed you. Today marks one month to the date of our original wedding, 12th September 2020.
When the country went into lockdown, so did my brain. I couldn't focus on what I needed to be doing for our wedding, and that panicked me. As a bit of a control freak by nature, I wanted to be organised and at that time, we were five months from our wedding date. I didn't have my dress sorted completely, my bridesmaids didn't have their dresses, Rab hadn't even looked at suits and so much was up in the air.
When I emerged from the brain fog, I decided that I should go ahead and do things as normal as I could, so that if the world suddenly became less of a horror show, we'd be ready for the wedding.
PLANS ON HOLD
One thing I did do at the start of April was email my key suppliers and ask if I had to move the wedding to next year, could they accommodate us. To their credit, I got replies from all of them very quickly (even though at this point, they were dealing with cancellations left and right) and between us all, we landed on a new hypothetical date for 2021. My venue and my suppliers all held that date for us for the next few weeks while the true scale of the pandemic unfolded.
At the start of May, the possibility of postponing became very real as soon as lockdown was extended. Rab and I had to sit down and decide what we wanted to do.
We did want to wait until June to decide but we couldn't leave our suppliers waiting much longer, and I knew that the possibility of them filling our back-up date was very real. The moment when I realised I wouldn't be getting married this year was sad. I cried.
I felt like we'd been working towards creating a really special day for ourselves and our friends and families, and it had just been snatched away from us.
SAVE OUR NEW DATE
Afterwards, I have to say that my overriding feeling was one of relief. I had become accustomed to waking up at 3am, unable to get back to sleep, worried about what we'd do if the wedding actually did go ahead.
How would we make sure our guests were safe? What would we do if a second outbreak happened? Would our guests feel comfortable staying in accommodation just after a pandemic?
I worried myself sick about every detail for weeks and finally, I could breathe.
Telling everyone wasn't difficult. We did get a couple of people kind of scoffing that we were postponing so early, but looking back now with the benefit of hindsight, we definitely made the correct decision.
My friend Laura made a wee graphic that matched our original save the dates, and we got to contacting friends and family, trying to help people move accommodation around and sort out travel plans to suit our new date of 18th September 2021. I have to say that our families, friends and especially my bridesmaids and Rab's groomsmen have been exceptional.
It really does pay to pick your Bride Squad wisely – you never know what circumstances might crop up and if you don't have a supportive team around you, it can feel very lonely indeed.
TOP TEAM
Even though we'd said to each key supplier about the postponement, I emailed out a standard email telling them we were going ahead, and that we hoped they could still be part of our day. Luckily for us, everyone except one (my MUA Leigh – which I am so sad about!) could be part of our new date.
I have to say that my suppliers really did help me feel good about my decision. I know that COVID has brought a world of pain upon the wedding industry, and my heart goes out to every company who has worked so hard to build themselves up. It's an extremely hard time for them, and for them to accommodate us (all with no change to the agreed prices) was a massive weight off of our minds. I would recommend every single one of them without hesitation.

Rab and I in lockdown!
LET'S TRY AGAIN…
So that's it! I now have one year, one month to go instead of one month. It stings a little as we get nearer to the date but I just keep thinking that what we did was for the best and ultimately, having our wedding next year will mean we get the day we actually want with fewer compromises.
I've just found out that my dress fitting is going to be next month, and I took it as a sign that it's going to be a year to the date from our new wedding date! I am so excited to start the planning process again. You'll just have to put up with my Bride Diary for another year!
I postponed my wedding due to Coronavirus, and now I feel positive about it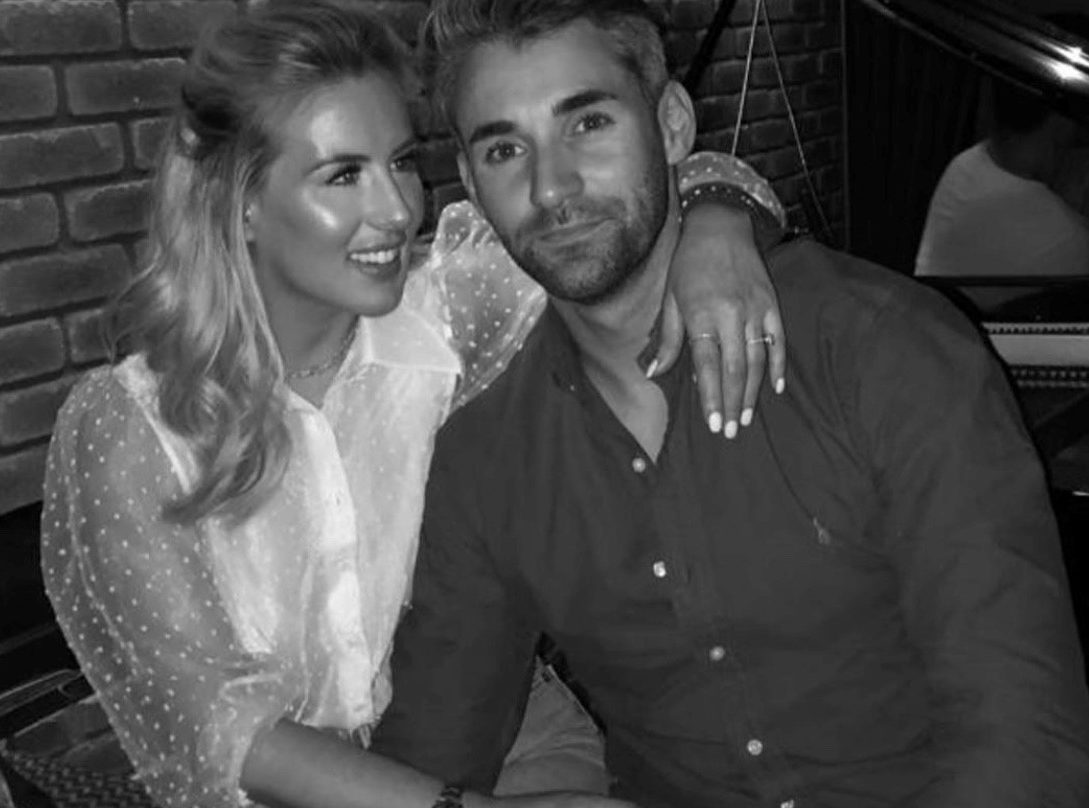 "Our original wedding date was today, Saturday 4th April 2020 and, because of the COVID-19 outbreak, we've rescheduled until Saturday 27th March 2021.
We're getting married at the beautiful Turnberry resort in Ayrshire, with a guest list of 130 people, so making the decision to postpone so close to the date was heart wrenching.
When I first heard about Coronavirus, never in a million years did I think it would affect us. I really brushed it off as a cold or a flu, which I now feel so embarrassed about. I even joked to our wedding coordinator before we met up that if we went into lockdown, I'd be turning up with my bags at Turnberry!
He told me not to worry, and if we had to reschedule we could. When he mentioned that word, I froze. It hit home that it could be a possibility.
We met up with Calum, our wedding co-ordinator at Turnberry and we decided that we had to move fast because the wedding was only a few weeks away. I didn't want the florists to start ordering flowers or food prep to begin, so we made the decision: we had to postpone. My husband-to-be Scott was on his stag do at the time, so when he came back we had a COBRA style meeting with our families, and it was finalised.
Scott and I were so disappointed. We came so close to the wedding day. There was also a sense of relief though, because of the uncertainty surrounding the virus. It was a weight off of our minds to have made the decision.
The wedding team at Turnberry were so brilliant and understanding. Calum and the general manager, Ralph, assured us that they would do everything they could so that we could have the wedding we'd planned on a different date. My other suppliers were also brilliant. I contacted Supernova first, as they had planned and created the whole wedding decor and florals, and they were so understanding. Our photographers, Craig and Eva Sanders, were also brilliant and I am so lucky that we were all able to get a date that everyone could do.
We'd already bought 200 Lindt chocolate bunnies as our favours, and the contents of a full sweetie table, which I tucked into the day the wedding got postponed! My hard work at the gym to prep for the wedding will now be lost on these bunnies!
Opus Couture, the shop I am getting my dress from, have been truly amazing throughout the whole process. I can now fully appreciate why their walls are lined with awards.
Louise at one of her hen celebrations
Now that it's sorted, I am taking positives from the situation. The way we see it, if we hadn't rescheduled, there would've been no way that we would have been able to have all of our guests and loved ones there with us. People wouldn't have been able to act with affection and love as they would normally, and that's what we want most.
I wanted to get some dental work done but ran out of time, so now I can get that done. Some of my friends are saying that it's an excuse for another hen do – which is a silver lining!
I have more time to practise my bridal makeup and hair looks too. This might sound small or insignificant to most people, but thinking this way helps me everyday because it's taking the best from a bad situation.
Lots of couples are facing even more devastating situations around their weddings than we have, and we all deserve an amazing day like we planned.
The best advice I could give to couples who are rearranging or postponing their weddings is that there's no other option than to take as many positives from it as you can.
You'll have more time to save, more time to plan. Imagine how special it is going to be when that day finally arrives!
I'd also say, as a wedding supplier myself, try to be understanding when you're dealing with your suppliers and venue. This is their livelihood, and while it's upsetting for you, they might not be able to keep their jobs because of this, so some give and take is required. I have seen it from both perspectives with my own brides coming to me worried about their wedding dates, all while I was rescheduling my own wedding – and I can tell you now, it is so stressful!
Try to focus on enjoying the time you have with your partner during this lockdown too. Remember why you want to marry each other."
Michelle's Bride Diary: We had to postpone our wedding, so we eloped!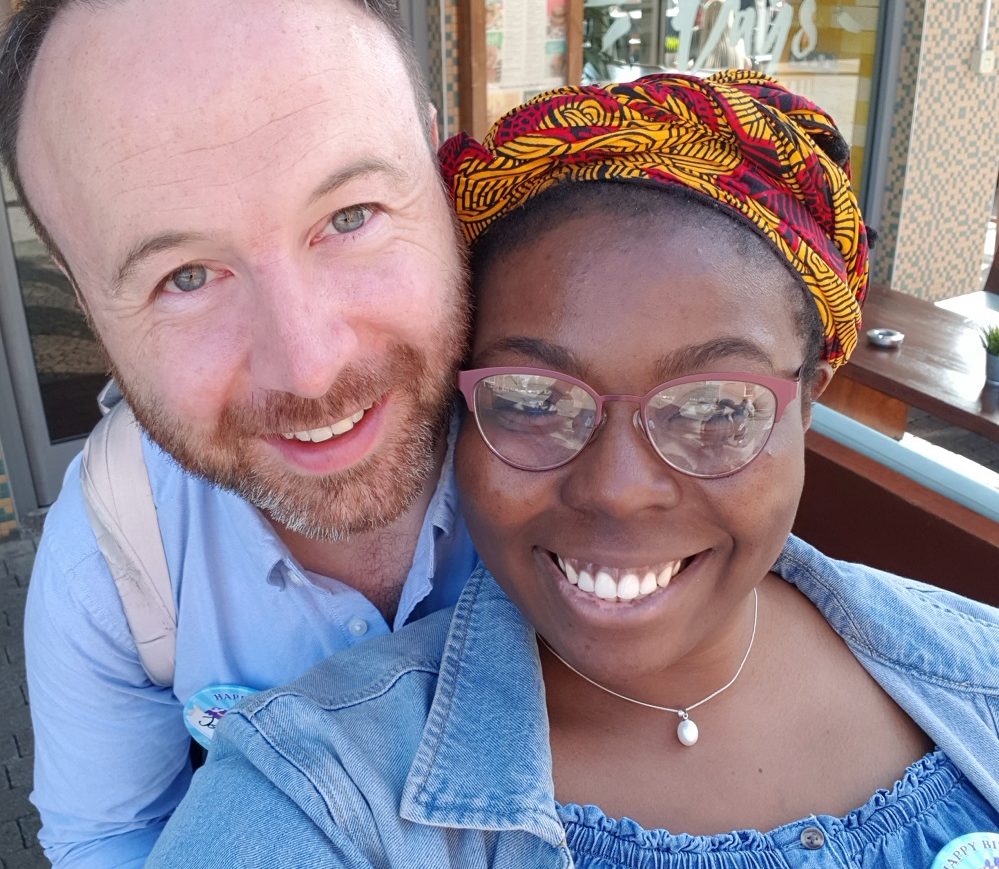 "We picked our original wedding date in Spring of 2019. We loved the idea of recapturing the beautiful Springtime we were experiencing at the time, and wanted the day to be a reflection of our love and of our personalities – fun and quirky. We'd settled on Three Sisters Bake at Killearn Village Hall.
But, by the evening of 15th March, we knew that things might not go ahead. The US shut their borders, and it became clear that my best friend wasn't going to be able to come to the wedding. We realised that the world was beginning to cycle to a halt.
I don't think either of us actually said the word 'elopement' out loud. We just instinctively knew that whatever was coming next, we wanted to navigate it as husband and wife.
We spoke to our families and to our minister, and everyone was so supportive of our idea. They too could feel there was a sense that things would be changing quickly in the UK, and if we weren't going to get the wedding we had planned, at least we could begin our married life now.
Reverend Catriona, our minister from Hillhead Baptist Church, was amazing. We originally thought that we would have the ceremony on 28th March, then 24th March, and right down to 20th when we realised that we'd be on lockdown soon.
We drove to Loch Lomond on 17th March to see if we could find somewhere to hold our ceremony. It was pouring with rain as we pulled into a carpark at Milarrochy Bay, and it was like we were able to exhale for the first time in about 48 hours.
We felt this incredible peace wash over us, and we knew right away that we'd get married there. A beautiful bridge would be my aisle to walk down with my dad, right up to the two trees which stood in perfect symmetry. I felt like it had been created just for us.
Arranging things from then on seemed to fall into place. We were able to pick up our marriage schedule on the same day as visiting Milarrochy; Lynne at Balfron Registrar's office came to the rescue and held the office open for us to change the details and pick it up.
The lead up was an anxious one for me, but mostly because of what was happening in the world, and also because I was worried that things could shut down any minute and we wouldn't get our ceremony.
On the day, all of that melted away. It was such a sunny, clear day. There was a gentle breeze and bursts of warmth, and I felt so calm.
My mum and my sisters arrived at our flat to help me get ready, and we laughed and talked and everything just felt so right. It felt like this was how it was always meant to have been.
The ceremony was always the most important part of planning to us. We wanted to capture the sacredness of what it meant for us to be bound as two souls, and we suddenly had it in its purest and rawest form because it wasn't about anything other than us coming together. I didn't have any expectations or plans other than getting to Jonathan and saying that "I do, infinitely".
As I walked down that bridge linked arm in arm with my dad, before I could even gather my thoughts, the tears came. My sister had Loch Lomond playing on a small speaker, which was the song that we'd picked way before our desire to elope.
I looked into Jonathan's eyes and we both smiled, that knowing smile we always give each other when we know we've done the right thing, and as we closed our eyes to pray with our minister, the air felt the thickest with love it had ever felt in my life.
There were some people out taking walks, and they stood in silence as we went through a short version of our ceremony and kissed as husband and wife. The biggest and most beautiful cheer erupted which made us both laugh and cheer alongside them!
We packed everything up after taking a few photos, and got in the car to go home.
The days that followed have been so wonderful, with moments of complete surrealism. We now greet each other by saying, "Hello husband!" or "Hello wife!". I don't think the novelty will wear off any time soon.
We were always a team but now we feel like a united force and I think we all need that feeling of reinforced support during these times.
The entire process has been extremely positive, and we feel how we look at things have been put into perspective. Of course I shed a few tears over our cancelled day, but only because of the love and money we had poured into it. The reality is, it's not about those things.
A wedding pales into insignificance in comparison to what a privilege it is to marry your best friend. It truly shows that you don't need all of the frills and excesses to be able to have a happy wedding, and it certainly won't equate to a happy marriage.
Now that our wedding celebration is postponed, I'm actually excited about having some extra time to perfect little details that will make our day more intimate – that's not about spending more money or planning extra stuff, but we'll be able to translate more of us and our growth as a couple into the day for our family and friends. Our suppliers have also been brilliant – they're such amazing people.
So though everything has changed and very world around us is being reshaped, I am so grateful I get to do it holding the hand of my husband."
YOU CAN ALSO FOLLOW HER ON INSTAGRAM AT @MICHELLEHOPEWELL
Steph's Bride Diary: I've got my dream dress from Sassi Holford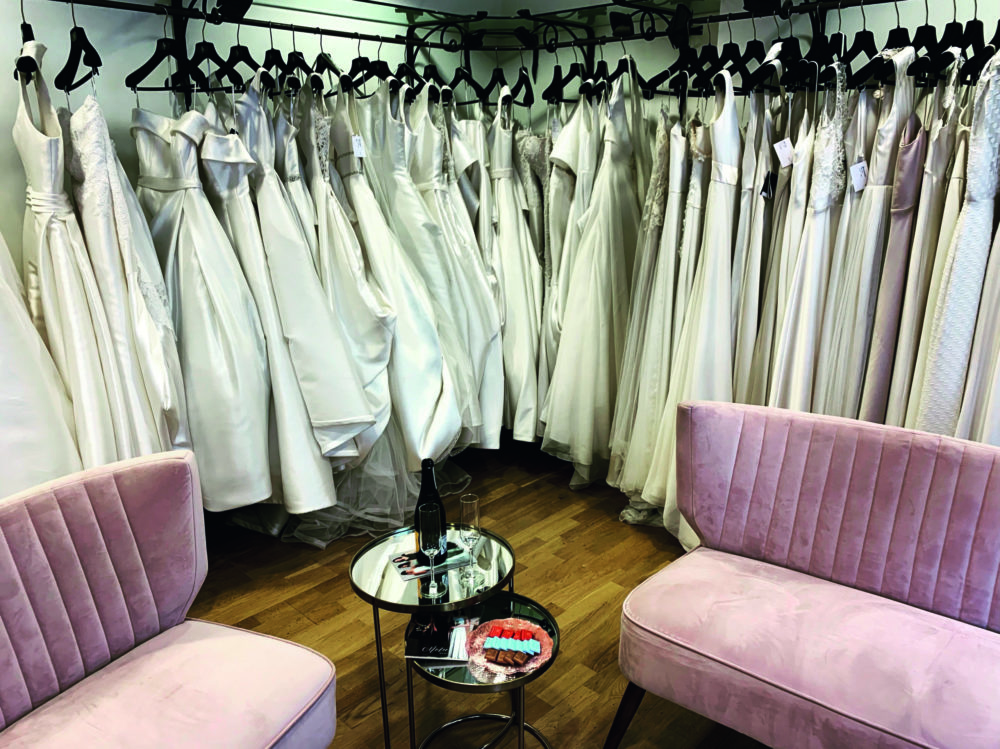 PICTURED ABOVE | Anne Priscilla Bridal, Glasgow
It sounds daft, but wedding dress shopping wasn't something that I was all that excited about.
Wedding gowns aren't a new thing to me; I've seen and been around my fair share in my job. What I was more excited about was taking my mum and my chief bridesmaid Letitia along with me, and letting them enjoy the experience.
I booked my first dress appointment at Melle Cloche in Glasgow's Merchant City, and I'd hardly gave it a thought until I was on my way over.
That's when I felt a few wee butterflies in my tummy. It took me by surprise that actually, shopping for my wedding dress did feel like a big deal after all.
Having written countless features on shopping for your dress, I thought I knew the basics, but actually doing it is a different ball game although.
I quickly realised that shopping for your wedding dress is not like shopping for any other outfit you'll ever wear.
A well-made wedding dress supports you in ways you never thought possible – going without a bra isn't an issue when the dress has cups sewn in, and that opens you up to loads of possibilities: backless, strappy, even strapless gowns become a possibility.
Trying on dresses is a sweaty business; you're standing in your pants, boobs out, being tussled into a dress by a lovely (but firm) stylist and it doesn't feel all that glam.
The sample probably won't fit either, but the great thing about going to a boutique is that an experienced stylist is that missing link between you, the dress and your final look – they help you to envisage what your dress will look like when it does fit.
One thing I would say is don't expect to be overcome with emotion. You might cry, for sure, but if you don't, it doesn't mean that your dress isn't The One.
Me with Sassi Holford just after I said YES! to the dress
The next and final stop was Anne Priscilla Bridal. Karen, the owner, opened the shop for us on a quiet Sunday afternoon. This woman lives and breathes bridal, and I felt in safe hands with her.
I hadn't seen anything that quite matched what I imagined my wedding day look to be, but as soon as I explained what I wanted to Karen, she just got it. She has encyclopedic knowledge of dresses and designers, and she helped me to understand that even if that perfect dress isn't on the rail, it can be created for you.
That's when my look started coming to life. We started with a few different styles, narrowing down elements of dresses I liked, and then it started taking shape. My mum and Letitia both said that they could see me becoming more comfortable and happier as my dream dress vision was being realised, and I left delighted that I was on the right path.
I went back to the boutique in September to meet designer Sassi Holford. Karen knew I would like the skirt of a particular dress in her new collection and, somehow, before I knew it, we pieced together elements that made my perfect gown. I added some of my own specifications and that was that… we had my dress.
That was the moment that I felt emotional, and shed a few tears with Letitia. I think it was more the realisation that the hunt was over, and that was the dress I'd be wearing when I walk down the aisle to meet my husband.
Sassi is going to come back in April to take some final measurements and go over specifications again with me. I should have my gown eight weeks before our wedding date.
I can't tell you how fortunate I feel to be able to have a made-to-measure gown by one of the world's most prestigious designers, and I can't wait to wear that dress on my wedding day.
My advice….
….make dress shopping an experience. Book lunch or drinks afterwards to celebrate, even if you don't find your gown that day. We had a lovely lunch at The Corinthian in Glasgow (and a few glasses of fizz) after one of my appointments.
Steph's Bride Diary: My 2019 make-up + skincare heroes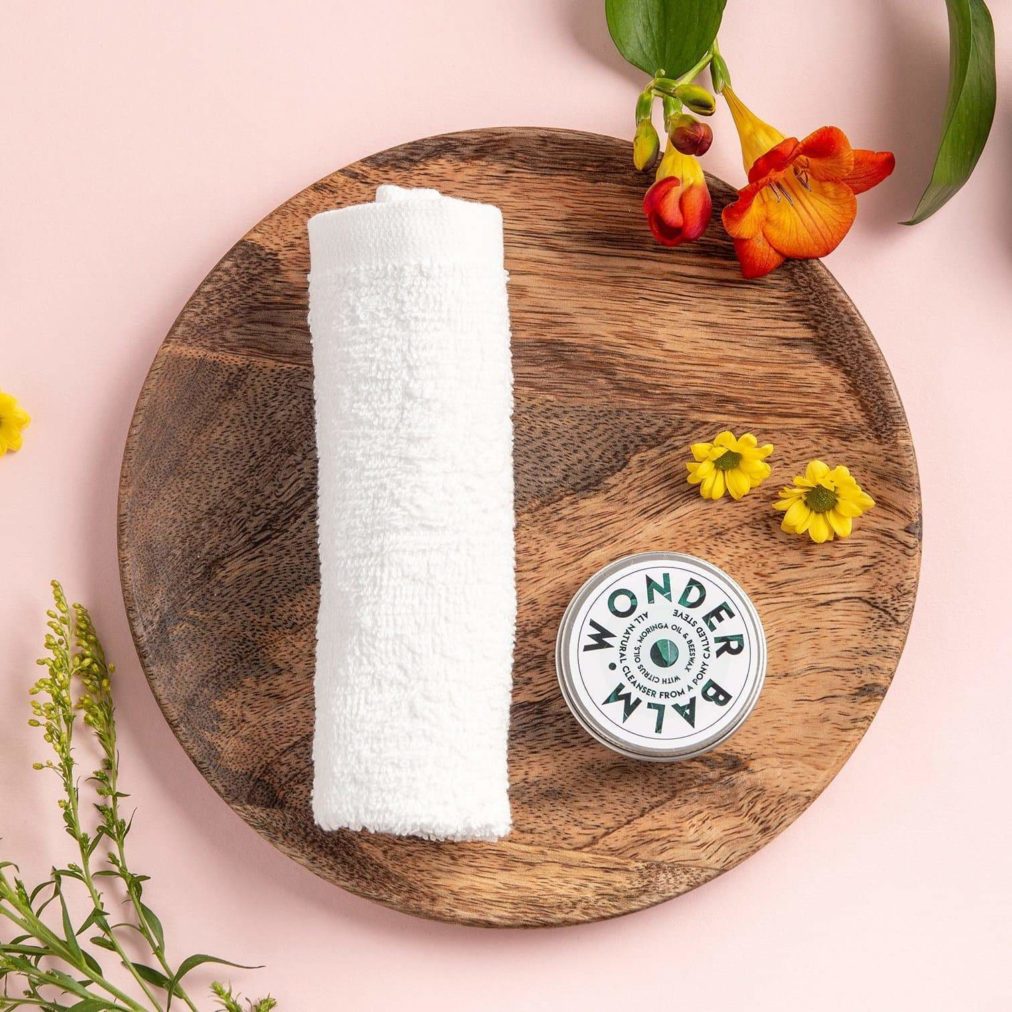 I'm 33 next year (omgomg) and if I'm 100% honest, I've never got into a proper skincare routine. I see so many lovely lotions and potions working at the mag, but I've never had a regime that stuck, no matter what I tried.
I've always found most fancy skincare to be outwith my budget (I'd rather spend £60 on a nice pair of shoes) but I made a conscious effort this year to try to get an affordable routine in place. Same with make-up; I used the same brand of concealer from age 12 to age 30! I knew that I needed to branch out and see what brands I loved, and in 2020 I'm going to do some make-up lessons.
I wanted to share with other brides-to-be what I found and what I have continued to use… 
ABSOLUTE HEROES
Wonderbalm (from £12), A Pony Called Steve 
This little pot has probably been my fave find of 2019. As someone who finds the thought of make-up removal painful (why so many steps?), it's been a godsend.
First of all, I really like that this is a small Scottish brand, with founders Emma and Aminah based in Glasgow having worked on this particular product for over 10 years.
The balm is 100% natural, with no preservatives and packed full of oils like lemon seed oil, moringa oil and citrus.
I also use it as a face mask when I'm having a relaxing bath, and most recently, I've used it as a conditioner for my laminated brows! It works a treat.
Now, I look forward to taking off my make-up. You just rub the balm between clean hands and go to work on your face. It's even gentle enough to use on your eyes, so don't worry about it not removing your mascara. It works on false eyelash glue too!
Wet a white wash cloth with very hot water, wring it out and wipe the day away. It actually feels very luxurious!
~
Airbrush Flawless Foundation (£34), Charlotte Tilbury
My foundation loyalties used to lie with MAC, but after a few changes to their formulas over the years, I decided to try a few different ones out. I'd been recommended Charlotte Tilbury by a professional make-up artist, and I went for the full-coverage Airbrush Flawless foundation, new to the brand.
I love the consistency – not too thick or too thin – and it really does offer a nice, soft full coverage that lasts all day.
~
Moisture Surge 72-Hour Replenishing Hydrator (from £12), Clinique
This pot is literally a drink for your skin; it's such a hydrating moisturiser and exactly what I need, especially in the Winter months. I wasn't sure that I would love the consistency – it's kind of like a gel – but as soon as I used it, my skin drank it up and I wasn't left feeling greasy at all.
It actually left my skin looking really dewy, even underneath my make-up. It's supposed to work nonstop for 72 hours too, even if you wash your face, so for the price I think it's a great product.
~
The POREfessional: Hydrate Face Primer (£29), Benefit 
I've been a fan of the original POREfessional primer for a while, so I was excited to try the Hydrate Face Primer that's just come out this month, and I have to say I much prefer it.
Hydration really is the order of the day for my skin, so every little helps, and I love the texture and application of this product. I've actually just been wearing it without foundation on top and I find it gives my skin a smoothed-over, fresher look.
~
Mini Mattetrance Lipstick Trio (£33), Pat McGrath Labs | FetishEyes Mascara (£26), Pat McGrath Labs
I'd been hearing loads about Pat McGrath make-up before I took the plunge and ordered a few bits. I needed some nice lipsticks to get me through the Autumn/Winter season, and the mini trios seemed like the best value for money. I prefer a matte lip, so I went for the Mattetrance trio, and I love them all! The pigments are so rich and the formula is creamy even though it's matte, which means that my lips don't dry out.
The mascara was equally as impressive. I need a fluffy wand, and I had a bad run buying mascaras that I didn't like, but I'm glad I took a gamble on this one. My lashes have never looked better.
~
My Flawless Blender Droplet (£7), MYKITCO. 
My name is Steph and for most of my life, I've been applying my foundation with my fingers. Yep, I can hear the gasps too. It always worked fine for me, or so I thought, until I started using a beauty blender sponge.
I picked up the tip from Charlie at Bang Bang Beauty, at a make-up tutorial she did at The Corinthian's Bridal Brunch, and I've never looked back.
I like the droplet shape of this one, but there are lots of different shapes available, and you can experiment to find out which one suits you best.
~
Boi-ing Cakeless Concealer (£18.50), Benefit
A full coverage liquid concealer which doesn't cake or crack? Sign me up!
This lovely product really brightens and tightens the under eye area too, and I really do need that sometimes!
Best of all, it's waterproof, which really helps me as allergies mean that I have watery eyes in the mornings a lot.
~
Honey Lip Scrub (£6.60), Sephora 
This is a little bit of a cheat product because I actually bought it from Sephora in Lucca at the end of 2018, but it really has been a staple for me this year.
The honey lip scrub is so nourishing and really does get rid of those pesky flakes of skin. I like to use it before applying matte lipsticks to make sure they go on as smoothly as possible.
It also smells and tastes great, although you're obviously not supposed to eat it!
Come on Sephora, we need you in Scotland!
~
Jamie Genevieve CBD Facial Tanning Water (£12), UTAN at Superdrug
Quickly becoming one of my all time fave products, this tanning water developed in collaboration with YouTube sensation and SW real bride Jamie Genevieve contains lavender and CBD oil, ensuring a good nights sleep after you spritz it on.
It really does work and can be built up, but I find two applications is plenty to bring my tan up.
~
White Brightening Cream (£75), Eve Lom | Radiance Transforming Mask (£65), Eve Lom
These two Eve Lom products are so brilliant, but they're very pricey, so I use them sparingly as a nice treat and I love the effects.
The Brightening Cream is all I need if I want to go barefaced. It really does visibly brighten your skin, and the rose scent is really subtle and pleasant. You get a wee tiny spatula with all Eve Lom products so you don't have to put your fingers in the tubs, which helps with wastage.
The mask really is a luxe product, and it feels like it. I have used it overnight twice and both times, my skin has been unbelievably silky smooth in the morning.
SW tries… Pure Spa Newhaven, Edinburgh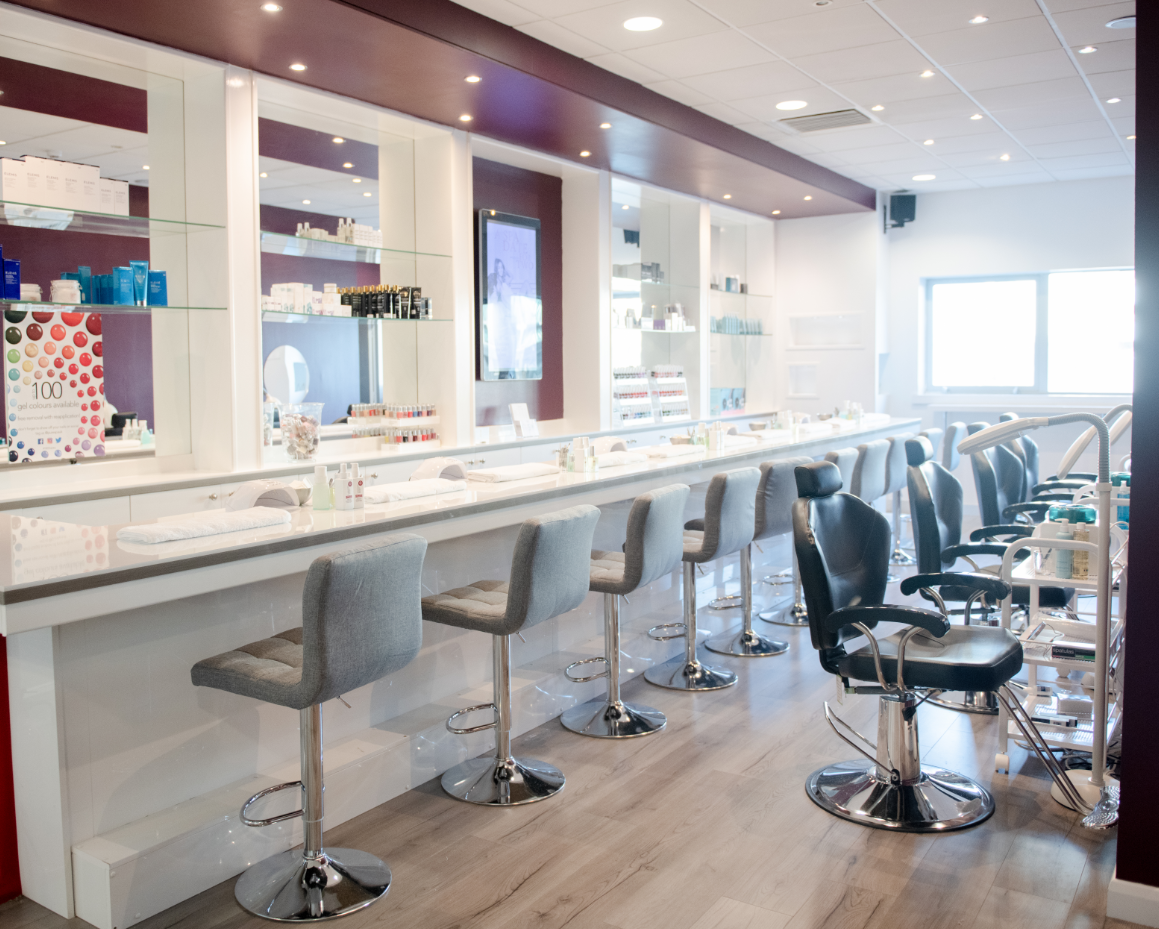 I love any excuse for a get-together with my bridesmaids.
We see each other quite a lot anyway, but it's so nice just to take a day off together and treat ourselves in the spirit of wedding planning.
We venture through to Edinburgh to Pure Spa's newest facility at David Lloyd gym, right on the water in Leith.
The spa is a short journey from Edinburgh Waverley train station by taxi, and out of the hustle and bustle of the busy city centre.
In the taxi, we all list our aches and pains and how we can't wait to get our massages or facials. I'm particularly looking forward to having a pedicure; I've never had one before!
After arriving and touring the facilities with the friendly receptionist, we slip into our swimsuits and wrap ourselves in our robes, ready to spend some time relaxing in the thermal area.
It's a small, compact area but it has everything you need for half an hour of chill time. A steam room, two saunas and a Japanese spa bath lead to a dimly lit relaxation area.
The girls and I hop into the warm water of the Japanese bath and just sit chatting until our therapists collect us for our treatments.
We're booked in for the Pure Deluxe Pamper Party package, which includes a choice of facial or massage, and either a pedicure or manicure.
One of my bridesmaids, Aspen, is pregnant, so the therapists make sure that her treatments are tailored to her specifically.
ABOVE | Digital editor Steph (front) with bridesmaids.
Clockwise from Steph: Aspen, Kirsty-Ann, Victoria + Letitia.
I decide on the deluxe relaxing massage (we were given a choice of massage when we arrived: Swedish, deep tissue, hot stone or relaxing). The treatment starts off with a foot bath ritual – it always feels a bit more special when massages start this way – before I hop up on the heated bed ready for a much-needed rub.
My therapist talks me through some breathing exercises to relax me, then gets to work carefully kneading out the stresses and strains of planning a wedding.
I'm so chilled and in the zone that I drift off and before I know it, we're finished!
Dozily, I make my way to the changing area to put my clothes back on before my pedicure.
All five of us opt for the same, and it's so lovely to sit together having a coffee and chatting about wedding cake whilst the therapists paint our nails.
We leave relaxed and happy. It was so nice to spend that quality time with my bridesmaids, and I would definitely recommend the Deluxe Pamper Party Package to any bride squads who are looking for a day out together.
My only regret is that we didn't go for cocktails afterwards. But that's always an excuse to do it again soon…
The Deluxe Pamper Party Package costs £60 per person, with a minimum party size of four people.
Bookings can be made directly by calling 0343 5071888 or visit the Pure Spa website.
Michelle's Bride Diary: Our wedding venue has everything we want!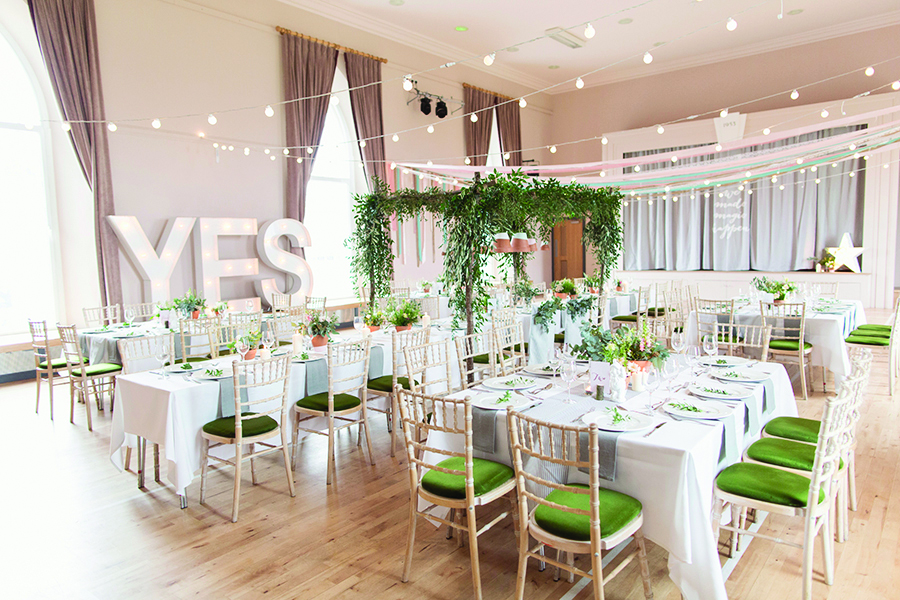 WEDDING COUNTDOWN: 6 MONTHS TO GO 
The prospect of the venue search has always been something that excited me when thinking about our wedding. Armed with the Bridebook app and this magazine's venue guide, we sat down and started figuring out what appealed to us.
A few things we considered when searching were our budget, a rough idea of the theme, styles of venue, the time of year we liked, how many guests we wanted and location.
We decided on an intimate, budget-friendly day in springtime, as close to home (Edinburgh) as possible. We also had other prerequisites, such as wanting it to be a wheelchair-accessible venue, and we liked the idea of marrying somewhere unique and quirky to match our personalities.
Initially, the idea of a multi-day wedding event was appealing and there are a few wonderful venues – most notably grand manor homes – that offer this.
We soon realised, though, that this type of wedding is best suited to couples who are thinking of eloping or planning to have a small guest list.
Also, many of the venues best suited to multi-day weddings aren't wheelchair-accessible. Not many venues are, in fact.
This narrowed down our search. We then looked at barns because we liked the rustic feel, but they either crept out of budget or weren't accessible.
We realised that the most powerful thing you can do when venue searching is work out what you are willing to compromise on and what you aren't.
Eventually we realised what we really wanted and needed was a blank canvas – and, actually, there are a lot more of those spaces than you think. As two very creative people we realised we needed the room to be able to design the day that we saw in our minds.
We had narrowed it down to the Restoration Yard in Dalkeith and Forgans St Andrew's, but then out of the blue came the biggest contender and the ultimate winner: Three Sisters Bake at Killearn Village Hall.
IMAGES | Fotomaki Photography
Nestled in the heart of the picturesque village of Killearn, this beautiful venue offers original architecture combined with stunning modern additions (including lifts for accessibility, woohoo!), and the space is unique, quirky and budget-friendly.
The wonderful wedding planner sealed the deal for us, not being phased at all when I Skyped in while my OH viewed the venue in person alongside my parents.
No question was too out-there or problematic and after copious research, Instagram-stalking (because this is how I make big decisions) and eventually viewing it in person, I knew it was the perfect place.
As I sat in the cafe eating a huge wedge of vegan chocolate cake (easy to guess what flavour our cake will be), we held hands and looked out the beautiful glass windows, visualising our own day in the space.
There had been moments when the search felt futile and frustrating and I'll admit I worried about whether we would find anything at all. But now I know that sometimes those worries are all part of the process.
I'm so glad that we found the perfect place for us and we can't wait to start designing the perfect day for us.
FOLLOW MICHELLE'S WEDDING PLANNING JOURNEY ON THE WEBSITE AND IN SCOTTISH WEDDING DIRECTORY.
YOU CAN ALSO FOLLOW HER ON INSTAGRAM AT @MICHELLEHOPEWELL
Steph's Bride Diary: It's the one year to go countdown already!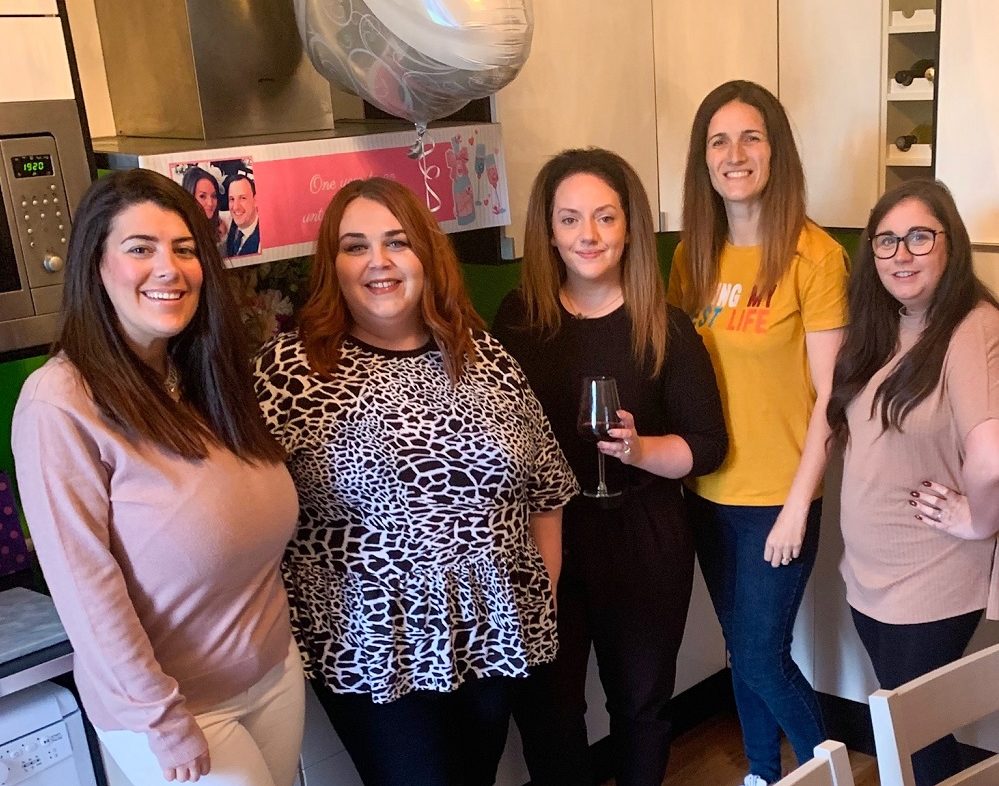 My bridesmaids + I celebrating one year to go! 
When we booked our wedding venue almost two and a half years ago, I couldn't even imagine what a year to go would feel like.
Infact, the whole wedding felt like it was a million years away.
We felt like we had all the time in the world; some people said that we'd booked it so far in advance, but now that we're sitting with less than one year to go (11 months and 24 days, to be exact), I'm SO glad we booked in advance.
One of the things I have enjoyed most about planning our wedding is the social occasions surrounding it, so we thought that we should mark the date with a family meal at our flat.
Rab's mum, her partner Neil, Rab's sister Kathryn and her partner Scott came round for dinner and prosecco, and it was nice to sit together and talk about the wedding.
One of my bridesmaids Aspen wanted to mark the occasion too, so invited my bridesmaids and I round to her lovely new house for a wee evening together.
I was so surprised when I got there and the girls had got me a lovely balloon, banner and some gorgeous flowers from my faves MUD Urban Flowers!
We also took a day trip to the Loch Lomond Arms again, just to show our friends around and have lunch. We managed to get a wee nose around the wedding space, which was set for a wedding that very day.
The weather was just amazing – I'm just going to be manifesting that weather every single day until our wedding comes! It would be so perfect.
Luss was buzzing with tourists too – the vibe is just so friendly and lovely in the little village, I could quite happily move there right now!
Us with our friends Aspen + Graeme (and dog Max!)
It's so nice to have these experiences with your loved ones, because it really does add to the whole experience leading up to your wedding.
For us, our wedding has never really been about one day – it's always been about spending time and making memories with our loved ones, which is the most important thing in the world to me.
There are so many more exciting times to come in these next 11 months, and I can't wait to spend even more time with our families and friends!
Are you planning on doing anything special to mark the year to go countdown? I'd love to hear about it!
Steph's Bride Diary: Why we've chosen to have an Interfaith wedding ceremony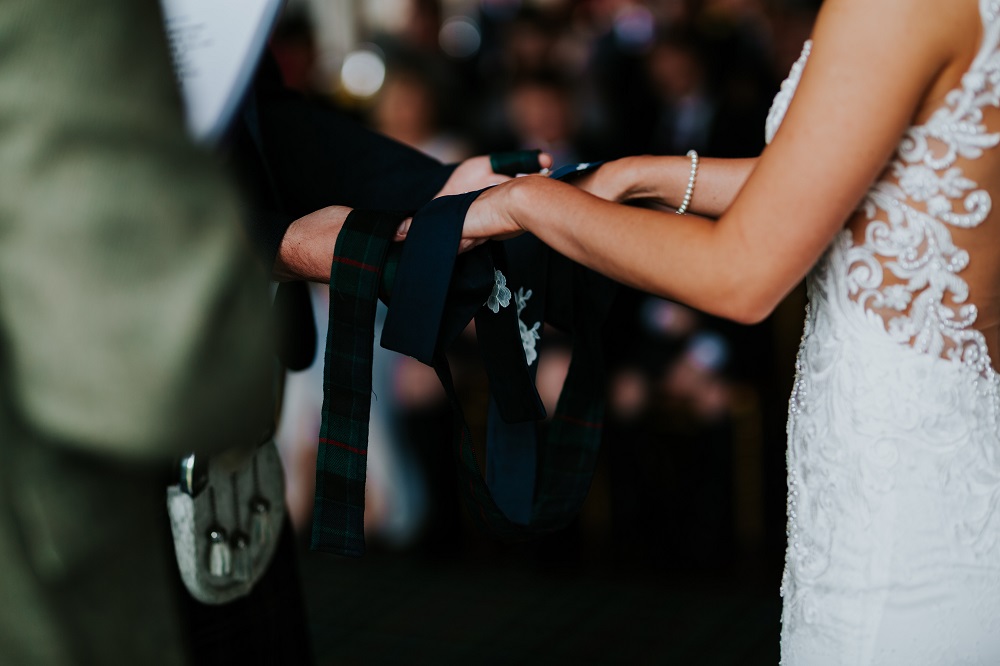 IMAGE | Ross Alexander Photography
When Rab and I first started talking about what kind of ceremony we were going to have at our wedding, we had a Humanist service in mind.
Rab isn't religious and wasn't brought up in a religious family, and I'm Christian, but I don't go to church or really practice the faith anymore.
The more I thought about exactly what marriage meant to me, the more I realised that Humanism didn't accurately reflect what I believed, and I started to think about having a different kind of ceremony.
Most people immediately think Humanism is the only non-religious option to go for, and don't take Interfaith ceremonies into account.
I've spoken to a lot of people who didn't even know that Interfaith was an option.
We were lucky to find our celebrant, Barbara Campbell, recently through Facebook, and I sat down to ask her a few questions about what an Interfaith ceremony actually entails.
WHAT IS AN INTERFAITH CEREMONY?
"I'd say that an Interfaith ceremony is the most flexible option available if you're getting married in Scotland.
The focus is on providing a ceremony that is completely personal, respecting whatever is important and meaningful to the couple, whether it is religious, non-religious, spiritual, Humanist or something in between.
You don't have to join any organisation, religion or belief body for an Interfaith celebrant to hold your ceremony," explains Barbara.
What we loved about an Interfaith ceremony is that it can be personalised completely to what we want.
Top: Our celebrant Barbara | Bottom: Set-up for a unity candle ceremony
It means that we can express what we believe individually – for me, that means I get the chance to include elements of my Christian upbringing and my continued faith and spirituality, without making Rab feel like he's being hypocritical.
I'm not sure exactly how I want to include my faith in the ceremony, whether it's a blessing or a reading, or maybe even a song. That's one thing that you generally can't do within a Humanist ceremony.
WHAT'S THE DIFFERENCE BETWEEN INTERFAITH + HUMANIST?
"A Humanist celebrant will generally not include any elements of spiritual or religious belief into the ceremony. Similarly, a civil celebrant won't allow any religious content either, and they are sometimes restricted to where they can perform your ceremony," says Barbara.
"If you choose Interfaith, we can marry you anywhere (just like a Humanist celebrant can), and we can create a ceremony that reflects not just your faith or values but also respects the traditions and faiths of your wider family, which is so important to a lot of people."
I know that my own family will be delighted that we're adding in an element of Christianity to our celebration; it'll mean a lot to my parents that I have acknowledged my past like that, and that they know I'm continuing into marriage with a faith and a belief that I grew up with.
I have to say, I'm looking forward to working on our ceremony with Barbara.
We've decided to write our own vows, and I'll talk more about that in a later post, but the most important thing to us on the day is that our friends and family really feel like they're part of the ceremony.
We need their support in marriage as much as we need each other, and that is something that Barbara likes to make sure she does in her ceremonies.
INVOLVE YOUR FAMILY IN THE CEREMONY
"It's great to make everyone feel included, which they are, and I encourage my couples to think about incorporating a symbolic gesture into their ceremony," says Barbara.
A symbolic gesture or ritual can be something like a handfasting, unity candles, ring warming or drinking from the Quaich.
"Handfasting is such a lovely ritual and it can involve members of the family or friends outwith the wedding party. It's a Scottish tradition, and where the term 'tie the knot' comes from!"
We haven't decided what we want to do yet in terms of wording or rituals, but Barbara has sent us a questionnaire to fill in separately about our relationship, our lives together, what we love about each other, and our hopes for the future.
It really does make you sit down and remember why you're actually getting married in the first place.
It's easy to get caught up in fancy frocks and table settings, when all that really matters is standing together and saying your vows to each other.
That's what the day is really all about, and I can't wait for it!
FREQUENTLY ASKED QUESTIONS ABOUT INTERFAITH CEREMONIES
Is an Interfaith ceremony legal? YES! In Scotland, Interfaith ceremonies are perfectly legal, as long as your chosen celebrant has authorisation to solemnise the wedding.

How much does an Interfaith ceremony cost? It varies, but the ballpark figure is between £350 – £550. Travel expenses may apply if the celebrant has to travel to your venue.

"We are both religious, but our religions are completely different! Will this work?" – This is exactly the situation to consider an Interfaith ceremony. Both religions can be included in the ceremony.
Michelle's Bride Diary: Meet our new columnist!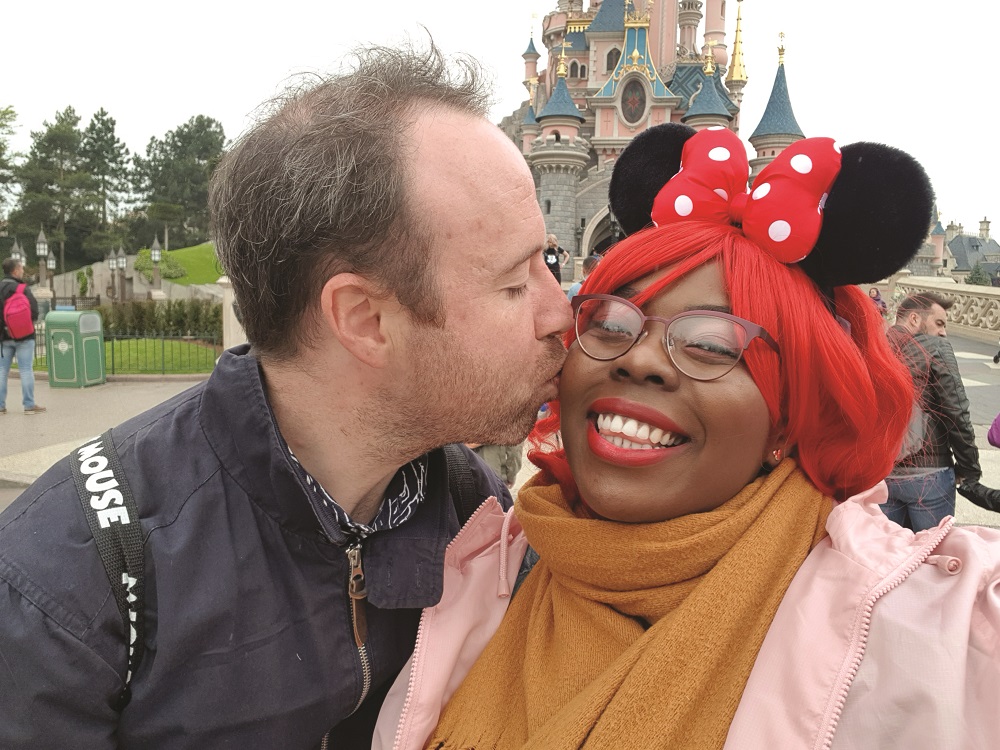 WEDDING COUNTDOWN: 10 MONTHS TO GO 
My fairytale goes like this: perpetually single girl meets and falls for exceptional boy. We met over two years ago on Match.com, and fate was definitely at play because I very nearly didn't sign up.
It wasn't until I was in a physio session during my time in the west end production of Aladdin that I was coaxed by my physiotherapist to try it out. I signed up, and the next time I checked my phone I had a message from Jonathan. He was the first and last date I went on using Match!
I knew Jonathan was the person I wanted to marry the day I was at his flat and automatically started cleaning up because I felt so comfortable.
Being with him felt like home – and thankfully our happily ever after is just beginning, because we are now engaged!
I'll admit it's not the traditional fairytale, but it works for us. I've quickly learned that this is one of the most important parts of planning a wedding; knowing what's going to work for you.
Some of us have been planning this day since we were little, some of us have absolutely no clue and just want to embark on this journey to married life, and some of us are a mix of both and winging it.
Please assign me to the latter group.
MICHELLE + JONATHAN
There's a dizzying amount of things to decide on, and I can already tell that knowing from the outset what will and won't work for us will save us from several near-breakdowns. Taking the time to sit down and have some real conversations – and prioritising ourselves – has saved us time already.
For example, we know that we want to get married in March or April next year, but we are leaving the exact date flexible to work around the availability of the venues we look at. We don't want a lavish affair with 250 guests in attendance. We want intimate and elegant without breaking the bank.
What makes things tricky for me is that I'm currently on tour with Matilda the Musical (I play Mrs Phelps, the librarian), which is cool, but it also means co-ordinating a wedding from sometimes 200 miles away.
It will be a feat, and I'm going to have to get creative (and trust my Jonathan to be my eyes and ears!).
Organisation and decisiveness are key. As of right now, I have the Bridebook App on my phone and I'm making my way through a computer-generated checklist which includes everything from insuring my new engagement ring to starting a rough guest list.
You can also make your partner admin so that you can both edit and tick things off as you go along.
We may not be together as we plan but we know what we want – and now we're embarking on the adventure of making that dream come to life.
FOLLOW MICHELLE'S WEDDING PLANNING JOURNEY ON THE WEBSITE AND IN SCOTTISH WEDDING DIRECTORY.
YOU CAN ALSO FOLLOW HER ON INSTAGRAM AT @MICHELLEHOPEWELL