SWD Tries… The Spa at Portavadie, Loch Fyne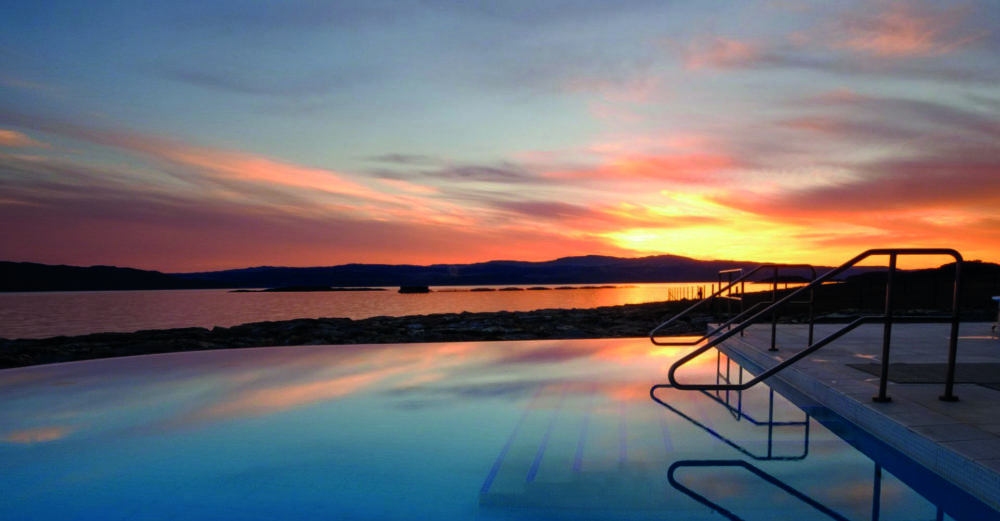 It took me a while to muster the courage to speed-walk out of the leisure complex onto the wooden decking.
Early April in Scotland did not feel like springtime.
The outdoor heated infinity pool did look inviting though, and as soon as I lowered myself into the steamy 33c water, I'd almost forgotten what that biting wind felt like.
The outdoor pool at Portavadie is the largest in Scotland, and the jewel in the crown of the large spa and leisure complex on the Loch Fyne resort.
Eking my elbows above the warm water to rest on the pool's edge, I looked out over the loch and towering hills in the distance, watching a boat arrive at the port.
Before I knew it, my fingers were wrinkly, and I had to take a few deep breaths to ascend into the cold again.
Wrapping myself up in my towelling robe, I wandered inside to use the facilities before my treatment. The spa has a hydro pool, Scandi-style sauna and steam room.
Settling down in the relaxation area, I grabbed a magazine and marvelled at the views again from the floor-to-ceiling windows. Close my eyes, and I could be poolside in some sun-soaked location.
I ambled through for my treatment, a hot stone massage. Not my usual aromatherapy massage, I decided to opt for the 55-minute hot stone treatment, mainly because the benefits included a deeper relaxation of muscles. I'd had an ache in my back and shoulders for weeks, and I wanted a gentler treatment of the tension.
My therapist went over my concerns with me before leaving me to hop up on the heated bed (I need to get one of these for my house, I love them) and getting to work on my knotty shoulders.
Flat, heated stones made of volcanic rock were placed in targeted areas of my back. The heat of the stones penetrate into the muscle tissue, relaxing the muscles much quicker than a standard massage.
The hot stones were deeply relaxing, and I had to stop myself from drifting off a few times. It really did feel like any anxiety and stress that I was carrying around in my muscles just melted away.
I awoke from my trance all too soon; those 55-minutes just flew past. This treatment really is perfect for pre-wedding pampering. Benefits can include boosting your immune system and helping relieve insomnia – reason enough for any bride or groom-to-be to get booking!
A 55-minute hot stone massage treatment costs £70 on its own, or can be booked as part of a spa day package, from £91.
All day packages include a bento box lunch, quarter bottle of prosecco, tea and coffee during lunch and full use of the spa and leisure experiences.
SWD Visits… Byre of Inchyra, Perthshire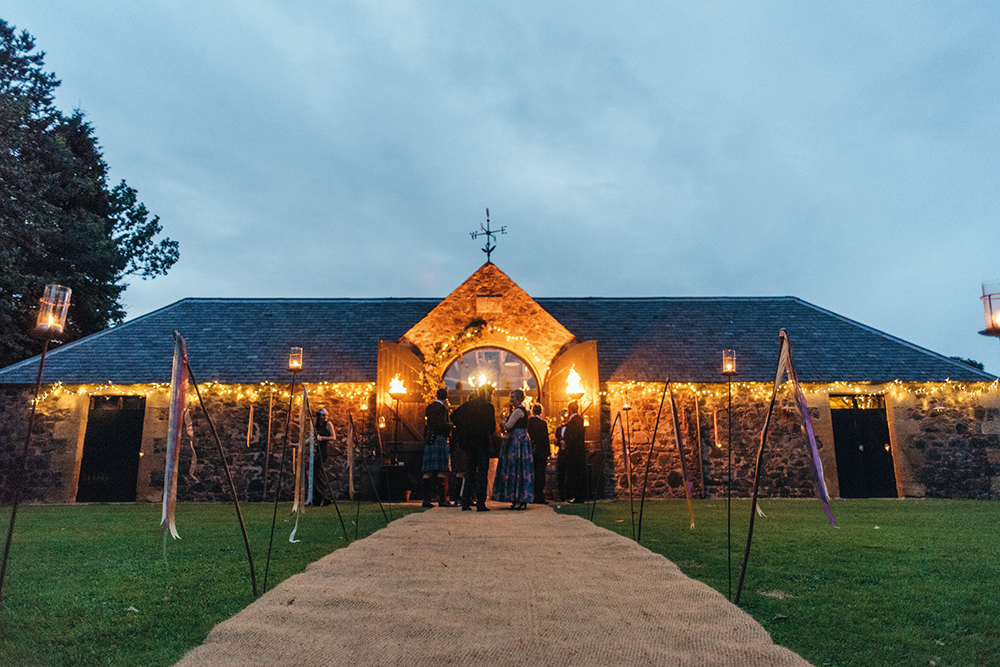 With its gorgeous grounds, charming cottages and nosy resident wildlife, The Byre at Inchyra is instantly captivating from the moment I arrive.
The estate is perfect for a romantic fairytale wedding, and offers up lots of photo opps and ceremony spots.
The front lawns of the main house are ideal for a slightly more traditional ceremony, but the walled garden has to be the highlight.
Not only is the short walk there beautiful (at one point a family of deer even run out of the trees in front of us), the manicured flower beds and tree-lined path make for a seriously stunning aisle.
The double doors of the Byre itself open into an airy but cleverly arranged space, with a bar, state-of-the-art dancefloor and stage, and plenty of room for a sit-down meal, if that's what you're planning.
Celebrate in style…
Original features like the cattle drinking troughs offer up the chance to get creative with your décor, but the sensitive restorations (the loos, for example, were crafted using reclaimed wood) have created a function space full of atmosphere.
The Byre at Inchyra is a blank canvas so putting a personal stamp on your day is easy, especially with the help of their hand-picked local suppliers.
The venue's talented team will also meet with you before your wedding to chat through all the logistics and offer any expert suggestions on improving your plans.
ALL IMAGES: Photos by Zoe
Stay the night…
As well as looking around the venue, I'm also given a sneak peek at the new Stable Yard Bridal Suite during my tour, which was newly launched in 2018.
With wood-clad walls, luxe furnishings and a flood of natural light from high ceiling windows, this stylish accommodation is the ideal place to get ready on your wedding morning, or to spend your first night as a married couple.
Visit Byre of Inchyra's website | t. 01738 860066 | e. enquiries@thebyreatinchyra.co.uk
SWD Visits… Dalmahoy Hotel & Country Club, Edinburgh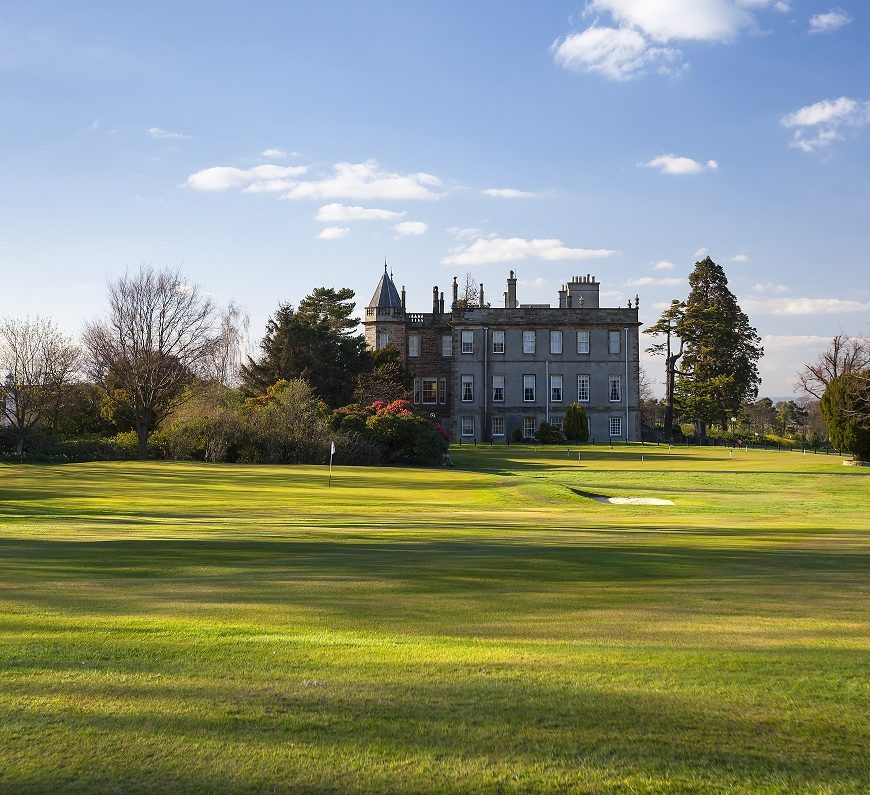 For being right on the outskirts of Edinburgh, Dalmahoy Hotel & Country Club's surrounding acres of countryside makes you feel like you've wandered into a secluded country retreat.
The peaceful vibes continue into the lobby of the baronial-style manor, where the welcoming reception staff get us smoothly checked into our recently refurbished Junior Turret Suite.
Renovations, due to finish mid-April, are still underway during our stay but the hallways showcase the sophisticated style of the new interiors.
Our suite itself is fresh and bright, with a spacious sitting room; it's easy to imagine a bridal party in here, enjoying a champs and getting ready together.
We then head down for afternoon tea at the Pentland Restaurant, which is delicious and specially catered to my allergies (a rare treat!).
A warm welcome…
Once we've had our fill of freshly baked scones, wedding co-ordinator Caroline gives us a tour of the hotel's event spaces.
There are lots to choose from, including the Dalmahoy Suite with private bar and moveable partitions which means it can comfortably accommodate anywhere between 80 and 250 guests.
If you're planning a more traditional wedding, you'll love the smaller rooms in the main house which boast fireplaces and chandeliers.
Home from home…
With a nosy around the event spaces done, we explore the hotel's other facilities. The restaurant is fab (we have a delicious three-course dinner here in the evening), as is the cosy bar, and throughout the staff are friendly and accommodating.
Dalmahoy has a lot to offer; there's a pool, sauna, gym, golf course and we also enjoyed massages at the beauty treatment room during our trip.
Combined with the welcoming atmosphere, it's clear you won't just celebrate your wedding here – this lovely hotel is sure to become 'your place', somewhere you'll love coming back to again and again to revisit the magic of your big day.
Did you know? Dalmahoy's senior wedding co-ordinator Caroline Sinclair was recently named Wedding Venue Co-ordinator of the Year at the 2018 Scottish VOWS Awards.
Visit the Dalmahoy Hotel & Country Club website | t. 0131 3358066 | e. weddings@dalmahoyhotelandcountryclub.co.uk
SWD Visits… Meldrum House Hotel, Inverurie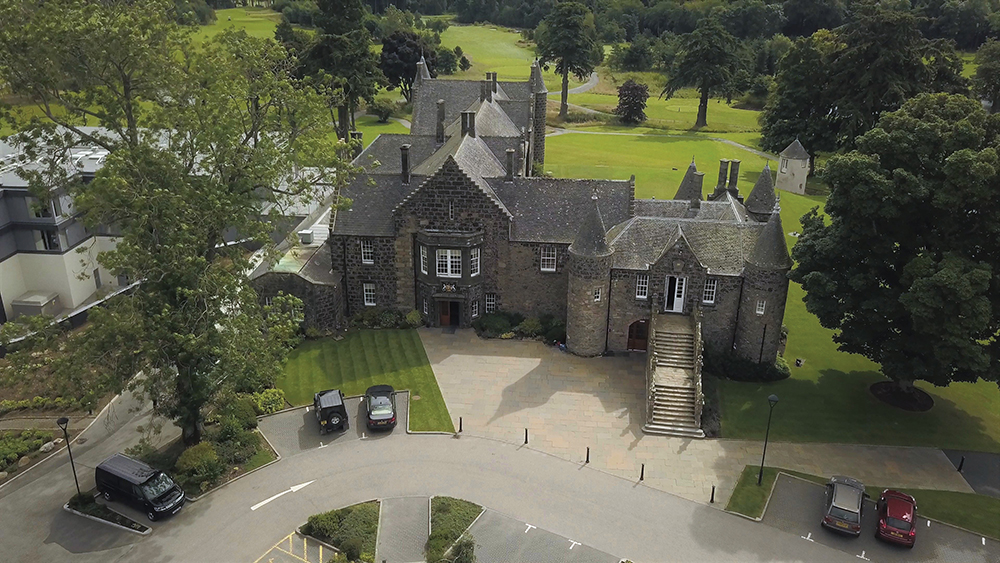 Reviewed by Rachel Lawler 
'Hidden gem' is a phrase used to describe a lot of venues, but Meldrum House Hotel in Inverurie takes the crown for truly being full of surprises.
With its 240 acres of sprawling grounds, complete with golf course and picturesque lakes, it feels like a different world.
On first impression, the 13th-century baronial mansion house is everything you would expect it to be.
A crackling fire sets the scene and the walls, adorned with portraits dating back hundreds of years, add to the traditional feel.
However, when I'm shown to the new wing (which opened in 2016), I realise that Meldrum has a lot more up its sleeve, marrying its impressive history with a contemporary feel.
Whilst the manor house and converted stables can cater for small and intimate weddings, it used to be that larger celebrations were held in a marquee on the grounds. But this is no longer the case.
Due to the venue's increasing popularity for weddings, it purpose-built a magnificent ballroom, perfect for up to 200 people.
Every detail has been considered, from the private kitchen to the floor-to-ceiling windows with awe-inspiring views.
This stylish addition to the original house also has a host of exquisite bedrooms, one of which is our room for the night. Its spacious marble bathroom and private balcony are idyllic.
BE OUR GUEST
As I'm shown around the rooms and suites, it's clear that each has its own identity.
The Laird's Suite is your go-to honeymoon suite, with a private entrance and jacuzzi bath.
Your guests are well looked after too; the converted stables and original manor house suites ensure plenty of unique accommodation options.
EAT, DRINK + BE MERRY
For dinner, we try the newly launched menu at on-site 1236 @ The Cave Bar, an 800-year-old space that provides a chilled-out, atmospheric dining experience.
Offering a range of small and big plates, we decide on a tasty selection of picks including mini baked Arran camembert and cast iron steak with parmesan and truffle fries.
It's an ideal place for a cosy family meal the night before the wedding.
Have your hen do at… Amàre Beach Hotel, Marbella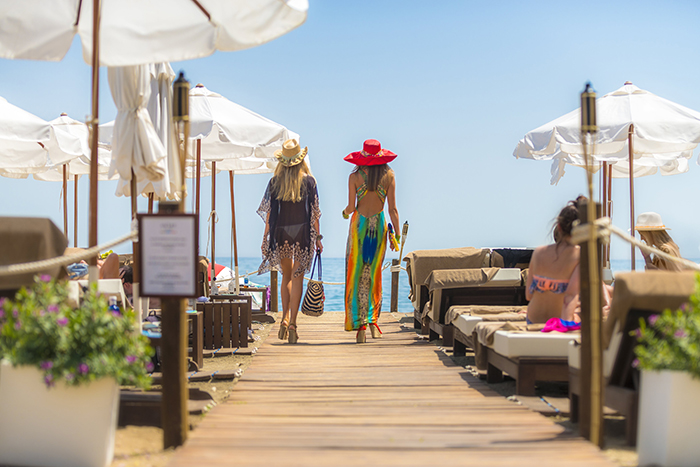 For a hen weekend of chilled vibes, elegance and style, Rachel Lawler takes a trip to Marbella.
THE REAL MARBELLA
Mention 'Marbella' and 'hen weekend' in the same sentence and you may instantly think of Grey Goose served with sparklers, blingtastic bikinis and enough fake tan to bronze you for a lifetime.
But put those thoughts on hold and step into the real Marbella.
Forget the sometimes infamous Puerto Banús; for real culture and charm, it's the old town – or 'downtown' to locals – that really steals the show.
Think picture-perfect cobbled streets, whitewashed buildings with traditional balconies and plenty of local boutiques.
Steeped in history, this town in the province of Malaga prides itself on its heritage, with plenty to see and do.
TAKING THE TOUR
A personal favourite on our guided tour with the Marbella Tourist Board was Orange Square, an orange-tree-lined plaza in the very centre, overlooked by the iconic Town Hall, and the ideal setting to enjoy a feast of freshly cooked tapas.
To fully immerse yourself in Andalucian life, a live flamenco dancing show at Flamenco Ana Maria is a must-do.
Amàre Marbella
With such a wealth of history surrounding it, you may be surprised by Amàre Beach Hotel Marbella.
Just five minutes along the promenade from the very heart of the old town, the hotel is a hidden gem of contemporary style and luxury.
Everything about Amàre has been created to be an experience in itself; even a stroll through the corridors will awaken the senses, with unique artwork, custom scents and a change in music as you go from floor to floor, all creating a different and personalised vibe.
ROOM WITH A VIEW
We stay in Oh Là Là The One, the most spectacular room with everything from a pillow menu to access to The One (a private lounge with snacks and drinks).
The hotel's beachfront location means our room's large balcony gives panoramic views across the Mediterranean sea.
With its chic bathroom, large wardrobe and dressing table, there's also plenty of getting ready room for a big night out with the girls.
DRINKS AND DJ SETS
The view of Marbella is important to the hotel, right down to the Belvue Rooftop Bar, complete with 360 degree views stretching across Marbella and beyond, a perfect spot to raise a glass of Moët with your 'maids to mark a seriously stylish hen weekend.
Of course, Amàre also has plenty of other settings to enjoy the finer things in life, from the Michelin-star Messina Restaurant to Amàre Beach, the venue's very own exclusive beach club and a firm favourite of my visit.
Arriving back from our trip to the old town just in time for that day's DJ (the club has a different DJ perform every other afternoon) and saxophonist starting to play at the beach cub and with a crisp, cold glass of wine in hand, it confirmed you truly do get the best of both worlds with a trip to Marbella.
RELAX + ENJOY
If you've partied the night away with your besties, chances are you'll all be ready for some relaxation – something Amàre can perfectly cater for.
Unwind with a trip to the on-site Spa By Germaine de Capuccini, the ultimate in luxury.
If some sunshine is what you need, Amàre Pool is your go-to. There's even a personal buzzer to order drinks and food without leaving your lounger. The dream!
NEED TO KNOW
Fly with Jet2 from Glasgow to Malaga airport directly from £25 one way. Nightly rates at Amàre Beach Hotel Marbella start from £125 on a bed and breakfast basis including complimentary daily sunbeds, use of the Technogym and WiFi. For more information, visit amarehotels.com.
*Please note, a minimum stay is required on selected dates.
Can you have a high-end hen do in San Antonio, Ibiza?
Digital editor Steph Telfer scouts out San Antonio in Ibiza in the name of research for her own 2020 hen do. 
Digital editor Steph (right) with chief BM Letitia
I've been visiting Ibiza on holiday almost every year for 14 years, so I always knew that when the time came, I'd plan my hen weekend there.
I'll be the first to admit that some of the hotels and apartments that I've frequented over those years have been less than luxurious and, now that I'm older, quality matters that bit more.
My bestie and chief bridesmaid Letitia and I decided to take a few days away to see if you really can have a luxury hen do on a budget in San Antonio.
YOUR ISLAND HQ
If you're looking for the ultimate in Balearic luxe then you'll find all that and more at Las Mimosas Ibiza, a four-star boutique hotel in San Antonio Bay.
Close enough to the action but far enough away to ensure relaxation, this hotel is recently refurbished and has 17 beautiful rooms, a fantastic Italian-inspired restaurant, a pool with plenty of super-comfy beds and a small spa.
The rooms at Las Mimosas Ibiza are spacious and gorgeous 
I'd thoroughly recommend working your way through the wee but perfectly formed cocktail menu – the drinks are beautifully made and garnished with flowers; Insta-perfect, actually – while relaxing in one of the poolside cabanas.
Balearic bliss at its best.
Sun, chilled out beats, cocktails. Is this heaven or what? 
MIX IT UP
I normally like to start an Ibizan night out quite late, but if your hen do is a group of all ages then maybe think about heading out earlier and enjoying a mixology hen party class at Savannah on sunset strip.
Café Mambo's neighbouring restaurant offers group cocktail making classes for two hours from 4pm until 6pm. For €40 per person, you'll learn to make three different cocktails, and take home a recipe sheet so you can recreate your experience.
Frozen Pornstar Martini! 
Our mixologist Barbara was lovely and knew her stuff; we sampled a lot of cocktails!
When the time comes to move on, and you're ready to let your hair down, grab a drink or two in Highlander Scottish Pub at the top of the west end. You can even book an area out for your hens. Message via Facebook for more information.
WATCH THE SUNSET
We decided to book a table at Café Mambo to watch the world-famous sunset; it's the perfect place to start off your evening. You'll be surprised how reasonably priced (and delicious) the food is.
Try the seared salmon in teriyaki sauce and the delicious Iberian pork, with a jug of cava sangria to sip as the sun goes down.
Digital ed Steph (front right) enjoying the sunset with bestie Letitia and friend Alexandra
The sunset in Ibiza needs to be seen to be believed
Ask for a seafront or regular terrace table if you want the best views, and keep an eye on their Facebook page to find out who'll be DJing on your visit.
Why not get out on the open sea and enjoy the sunset there?
Sunset Boats Ibiza charters stylish luxury boats for up to 10 people, which can drop you off at Cafe Mambo after the sunset.
AFTER SUNDOWN 
End the night at Pacha; the longest-established club night Flower Power is on every Wednesday, and combines 60s, 70s, 80s and 90s tunes with special sets from international DJs.
A good choice for a hen celebration, this night will appeal to everyone – even your mum or gran!
Forget 18-30; you can totally have a classy, high-end hen in San Antonio. And I plan on doing just that next year…
N E E D  T O  K N O W
Fly to Ibiza from Glasgow or Edinburgh with Jet2 from £51 one way.
Stay in a suite at Las Mimosas for up to three people from £144 per night, with breakfast and spa access available to add on. Visit lasmimosaibiza.com for more information and to book.
Book your cocktail class at Savannah by emailing info@savannahibiza.com.
Reserve a table at Café Mambo by visiting their website, cafemamboibiza.com. Minimum table spend applies.
SWD Visits… Golden Jubilee Conference Hotel, Glasgow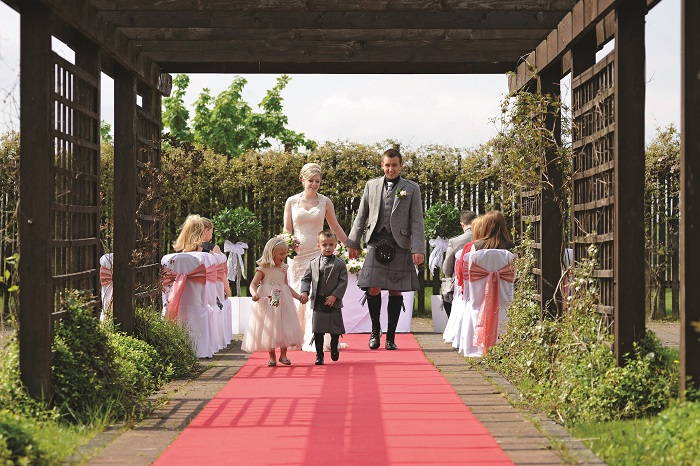 Digital editor Steph Telfer visits Golden Jubilee Conference Hotel in Glasgow, with views across the River Clyde and a variety of beautiful function spaces.
You may have heard of this hotel before under its former name, The Beardmore, but with a new name comes improvements and more opportunities for couples to have exactly the day they want.
Located in Clydebank, just 25 minutes' drive along the River Clyde from Glasgow city centre, this four-star hotel is part of the Golden Jubilee Foundation, a campus that hosts the National Hospital, Research Institute and Innovation Centre.
The hotel really is full of surprises.
SPACE TO FUNCTION
I arrive just as a big conference is coming out of the many function spaces available in the hotel, and I get a peek into the Inspiration Space, a lovely light, bright and airy room which is perfect for your ceremony.
Events manager Kirsten Burke says that couples love this room because it has direct access to the outside area, and it can be split depending on your guest numbers (the venue can cater for up to 120 for a sit-down meal).
Walking through to the restaurant area, I'm astounded by the gorgeous views over the Clyde from the back of the hotel. There is a massive outdoor space which is perfect for al fresco ceremonies or drinks, with a pergola that you can stand under to say your vows.
It's private and secluded; not at all what you'd expect from a big hotel like this. The Waterhouse is a lovely space for your reception, with big surround windows so that your guests can take in the views, plus tasteful neutral décor and plenty of room for a dancefloor.
Choose from one of the hotel's inclusive wedding packages, which offer everything you'll need for your day including a honeymoon suite.
FOOD FOR THOUGHT 
Pick from a selection of delicious courses for your wedding breakfast, such as seafood terrine, baked rump of lamb and lemon cheesecake with gin sorbet – delicious!
With 168 bedrooms, your guests can stay overnight if they want to, and enjoy a traditional Scottish breakfast the next day.
DID YOU KNOW… it's actually cheaper to get married at this venue in the summer months! Ask for details.
SWD Visits… Cluny Castle, Inverurie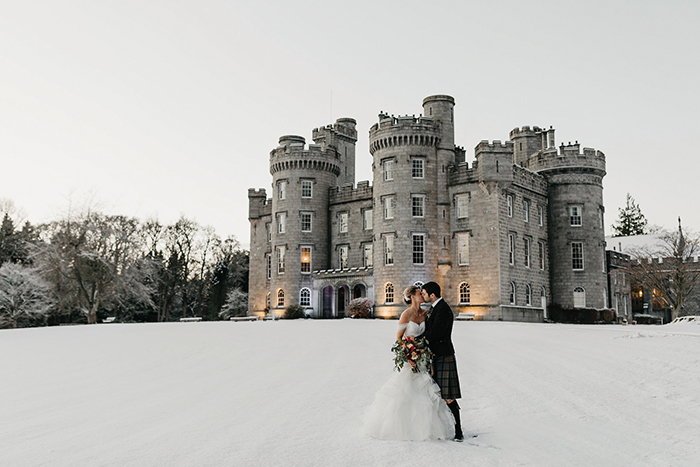 We were completely captivated by Cluny Castle, Inverurie, a picture-perfect 15th century castle + wedding venue…
IMAGE | Emma Lawson Photography
IMAGE | Sam Brill
I visit Cluny Castle in the middle of autumn and it's beyond beautiful. You enter through these impressive gates and head up a winding driveway surrounded by over 200 acres of wooded parkland, which offers up every colour that makes this season so pretty.
The burnt orange and yellow copper of the trees can't quite compete with the castle itself though, which is hidden from the road and feels utterly, magically secluded.
As well as offering some privacy for your big day, it also creates a seriously bewitching first impression.
IMAGE | Rubislaw Studio
Lots of options…
The initial wow factor of the exterior stays with you throughout thanks to the castle's gorgeous interiors.
First off, there's a beautiful on-site chapel, which has an external entrance for guests (you can get to it through the castle, though, so there's no need to go outside in your dress!) and striking stained glass windows.
IMAGE | Chris Henderson
There are two rooms inside the castle for your drinks reception, as well as the spacious landing and entrance hall, or, if the weather allows, enjoy some champagne and canapés outside on the lawn (Cluny Castle is still family run so there's plenty of flexibility).
Next up, there's Tenant's Hall for your reception. This lovely space is a bit of a blank canvas, with neutral walls so you can add in whatever décor you like.
If you're working with a bigger guest list, you can always put up a marquee next to the picturesque pond instead.

IMAGES | Raw Format
Stay the night…
There's also new accommodation for up to 26 guests to spend the night before or after your big day.
Recent renovations have created fresh and impressive bedrooms, each with original features totally befitting the historic castle – I fall a wee bit in love with the intricate four-poster bed in one of the bridal party suites!
Cluny Castle has been used as a film set, notably in The Queen starring Helen Mirren, so it goes without saying that you'll have no trouble getting some gorgeous wedding photos.
All in all, despite its grandeur, the family-run castle feels surprisingly comfortable – it's not a historic museum where you daren't touch anything, but a welcoming place to get married in a style that befits royalty.
Visit Cluny Castle and start planning your big day
t. 01330 833302 | e. info@clunycastle.com
SWD Visits… Inglewood Hotel and Spa, Alloa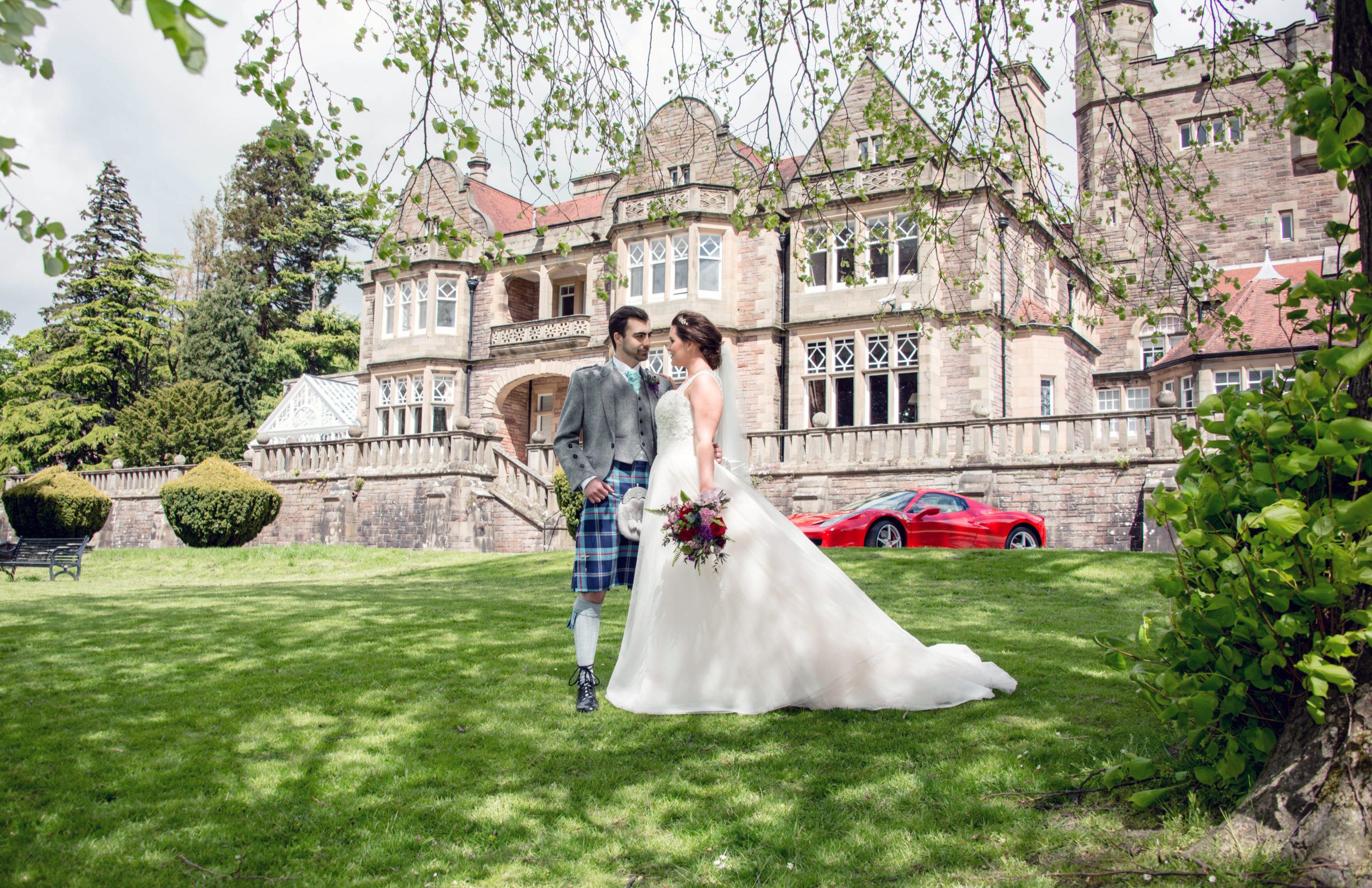 Rachel Lawler takes a trip to this award-winning Alloa venue to discover its fairytale charm.
As fairytale wedding settings go, Inglewood House and Spa ticks all the boxes.
Twenty-five acres of land, including a secret enchanting woodland for wedding pictures? Tick. The most lavish of restored features for a grand and elegant celebration? Big tick. Dramatic staircase entrance for the bride, a la Cinderella? Tick, tick, tick!
AWARD WINNING WEDDING VENUE
My arrival at Inglewood couldn't really have come at a better time. High on their win at the 2018 Scottish VOWS Awards (the venue was named the best in Stirling, Argyll, Loch Lomond and the Trossachs), there's a welcoming and excitable buzz at this stunning Jacobean mansion house.
The Grand Hall, full of character and awe-inspiring architecture, forms the hub of Inglewood and is – not surprisingly – where most couples choose to have their ceremony (it holds up to 130 guests).
Of course, if you wish to opt for a different vibe for your I do's, there's also the light-filled conservatory, which has been transformed into a sleek and elegant backdrop for your nuptials and has space for up to 60 guests.
There are so many picturesque and cosy spots around the venue to discover on the big day, but for me it's the Ballroom that really steals the show, with its twinkling fairylights and private bar.
SUITE DREAMS
We stay in the Paton Suite, a gorgeous and spacious setting, which was the original master bedroom of the house and maintains a regal feel but with a contemporary twist.
Highlights include the roll-top bath and the private balcony, which affords magnificent views out over the sprawling grounds.
We take the opportunity to enjoy a glass of prosecco and some chocolate dipped strawberries out on the pretty terrace, overlooking the sprawling grounds.
ALL IN THE DETAIL
Part of Inglewood's charm lies in their attention to detail, from the new custom-built woodland pods where your nearest and dearest can stay, to the fact that the bride gets her very own suite, complete with an outdoor terrace and even a hair and make-up studio for getting ready on the big day!
This is not forgetting Inglewood's on-site Lotus Spa, a haven of relaxation with a state-of-the-art thermal suite, hot tub and plenty of treatments to help you unwind from any wedding stress.
I indulge in a back, neck and shoulders massage, the perfect way to relax in the most tranquil of settings.
It's the personal touches from the passionate staff that really make this venue an award-winner, right down to all of Inglewood's culinary delights being made on-site using locally sourced ingredients.
One thing is for sure: you can truly see why Inglewood scooped their well-deserved award win!
t. 01259 216156 | e. info@inglewoodhouseandspa.co.uk | Website
Read reviews for Inglewood House Hotel and Spa
SWD Visits… Kinkell Byre St Andrews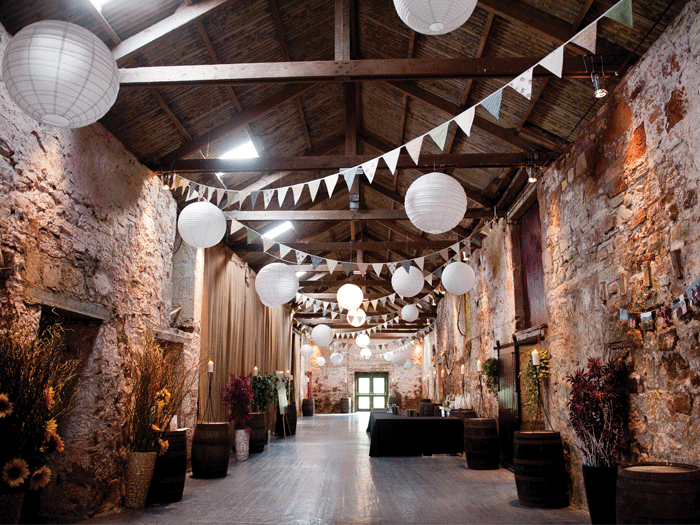 We explore Kinkell Byre St Andrews – the perfect blank canvas venue with a stunning coastal setting!
IMAGE | Elemental Photography
It kind of goes without saying that St Andrews is a pretty town, but despite being familiar with the tourist hot spot, I'm blown away when I pop over to Kinkell Byre for a visit.
Its peaceful location is unbelievably beautiful, outside of the town and right on the edge of the coast with postcard-perfect views out over the sea.
Rolling hills and fields surround this former farm steading, so no matter which angle you take your wedding photos from, you're guaranteed to find a stunning backdrop.
Flexible spaces
You can of course get married outdoors with the sea behind you, but the barn itself has plenty of charm to more than match the views outside.
You enter through large red doors and down through the main drinks reception space, which has a bar, seating area and windows that perfectly frame the sea.
There's also the ceremony room, a beautiful space with flexibility to arrange seating as you wish (it's been set up in the round when I visit and feels magically intimate despite the fact it can seat 200).
Finally, I reach Kinkell Byre's main reception area, which is ideal for a proper party.
It still has the original troughs from when the building was used as a working Byre, not to mention plenty of room for tables and dancing.
Blank canvas
The whole of Kinkell Byre flows perfectly from room to room, and because it has separate spaces for each part of your day, you won't have any lull periods during your wedding while a room is being changed around.
It's also a complete blank canvas, meaning you can style it however you like.
When I'm there it's decorated with greenery, flowers, candles and fairylights, giving it a Midsummer Night's Dream vibe.
Kinkell Byre does have preferred suppliers for lighting and the bar, but you'll have total flexibility for everything else – including no corkage charges – which means you really can create exactly the wedding day you want.
There's no on-site accommodation but there's plenty of parking and the town of St Andrews and nearby areas (including Dundee which is just half an hour way) offer plenty of holiday cottages and hotels.
t. 01334 472003 | e. info@kinkell.com
Read reviews for Kinkell Byre St Andrews