SW visits… Yester Estate, Gifford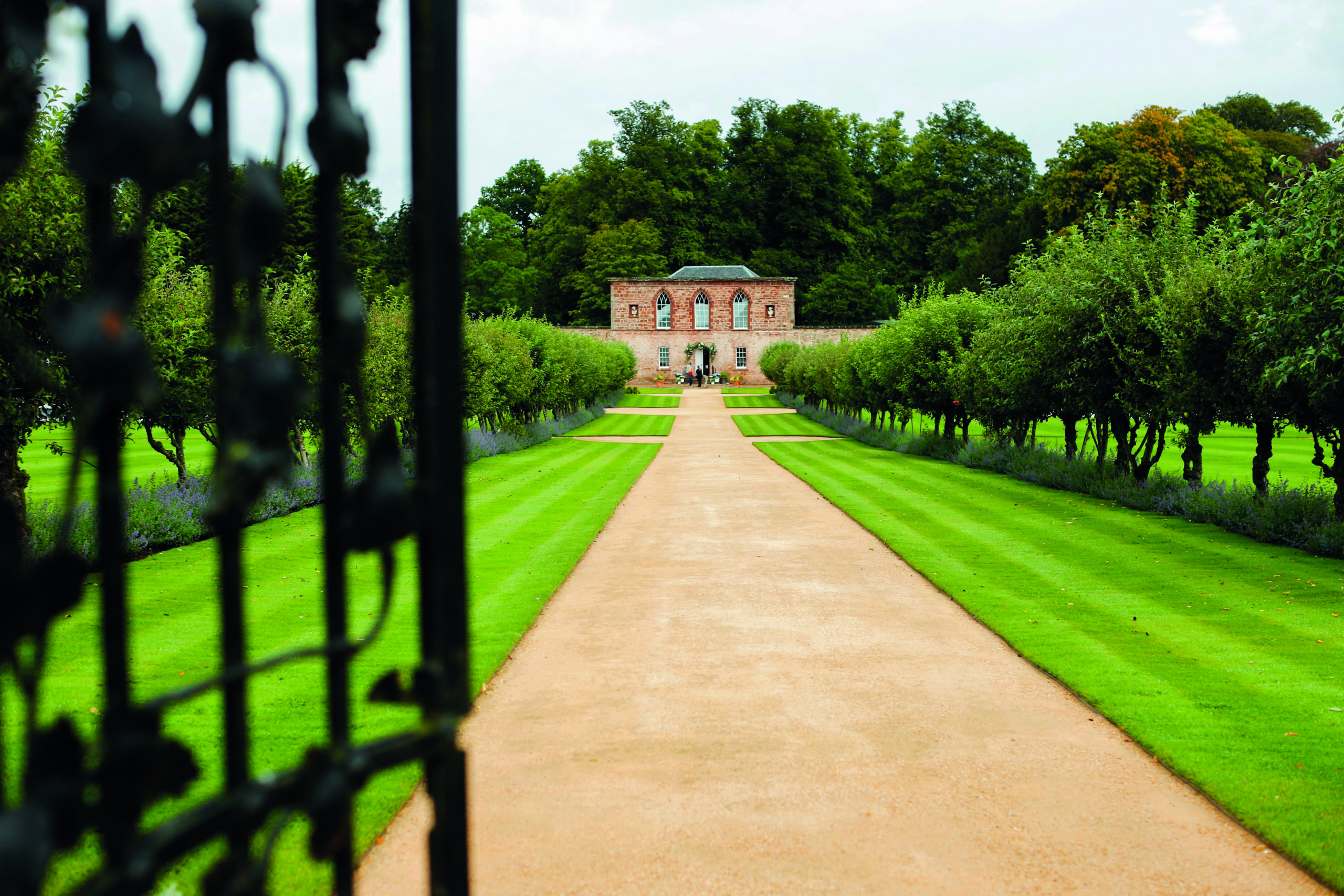 On a crisp morning at the beginning of autumn, I stand in the centre of Yester Estate's spacious and self-contained walled garden. The leaves on the trees that surround the garden's stone walls have already changed colour and are starting to drop from their branches, swirling onto the green grass below.
Robust apple trees line the avenue that cuts through the heart of the garden's four quadrants, and a butterfly flutters through the last of the summer flowers before resting on the head of a cherubic outdoor statue.
At the top of the garden, large iron-wrought gates close the grounds off from the world outside, giving the whole place a secluded Secret Garden vibe. It is – frankly – just lovely.
For a lucky few, this could be the garden venue of dreams, because the owners of this East Lothian estate are opening up the gates of their walled garden to exclusively host five weddings per year.
This ensures that the grass and grounds have plenty of time to recover between celebrations and look their pristine best for each wedding.
And if you marry here, you'll be spoiled for natural beauty: there's more than 15,000 sqm of beautifully manicured grounds blooming with fragrant and colourful plants, trees and flowers, making it an incredibly special backdrop for the best day of your lives.
IMAGES | Brett Harkness Photography
You can hold your ceremony wherever you like within the garden, and the team can recommend where is best to suit your needs.
For something a little more intimate and private, consider the romantic White Garden, which is a little smaller at 5,000 sqm. It's so-named because only white flowers have been planted there (a white wedding has never looked so good!).
For your reception, you can work with Yester's preferred suppliers to create your dream set-up for your special day. Host an extremely luxurious celebration in a crisp white marquee and hire caterers to provide a delicious fine dining experience.
Alternatively, go for a boho vibe with yurts, sperry tents, food trucks and sharing platters. Whatever your personal style, Yester Estate is a clean slate that can accommodate any theme, be it a refined country garden party or a go-with-the-flow rustic wedding.
IMAGES | Offbeat Pictures
The garden's large size allows you to do pretty much whatever you want for the set-up – you can erect a cosy and intimate teepee for as little as 25 guests, or host a huge blowout celebration for up to 1,000! Unlike smaller wedding venues, scale isn't a problem at Yester Estate.
While Yester House is a private home, it does have a luxurious three-bedroom apartment available for couples to hire for the duration of their wedding celebrations with its own private entrance. Gorgeously decorated in muted greens, pinks and lilacs, this elegant space is a lovely place to set up your wedding HQ.
You can stay here the night before with your 'maids and get ready here the morning of your big day, before spending your first night as a married couple in the apartment's stunning master bedroom.
SW visits… Banchory Lodge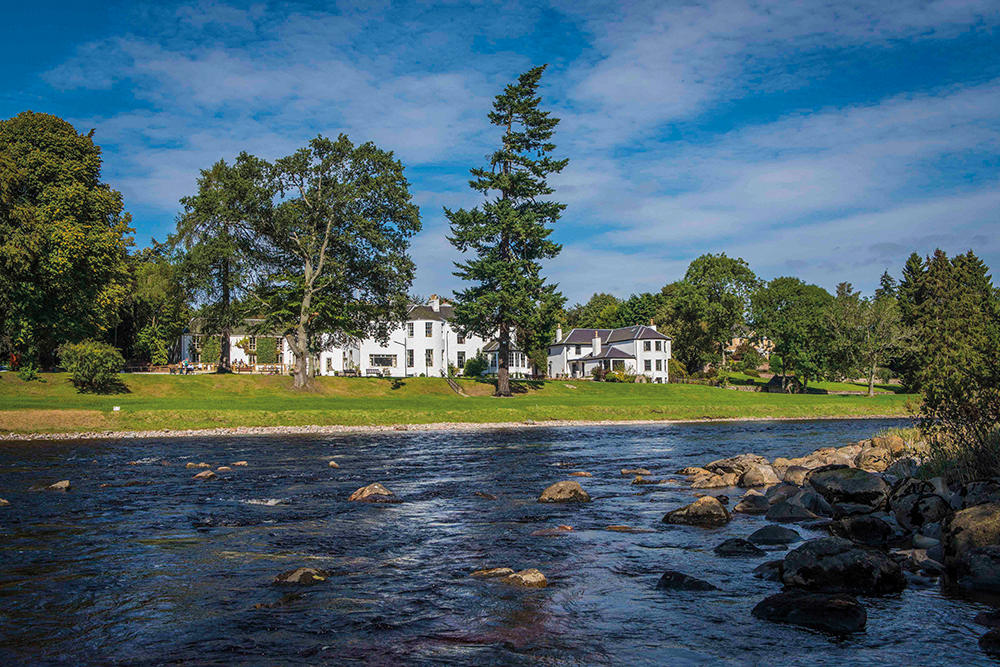 It's mid-October when I visit Banchory Lodge and the long tree-lined driveway is ablaze with golds and coppers.
Turning the final corner, the hotel's unique setting opens out and it's truly beautiful.
IMAGE | Archibald Photography
Banchory Lodge sits on the edge of the River Dee where it meets the River Feugh and it's easy to see why so many couples choose to marry in this stunning location.
You can hold your ceremony or drinks reception right on the riverside lawn to take advantage of this gorgeous backdrop.
The hotel itself dates back to the early 1800s when the old Coble Heugh Inn was incorporated into a new mansion house.
my room
Stepping inside, the entrance hall is warm and welcoming and its painting of dogs posing in military regalia gives a first hint of the quirky decor which combines solid Georgian architecture with contemporary design.
I'm staying in a spacious family room with a view over the river.
Rich velvet, leather and tweed in grey and silver hues give a decidedly luxurious feel and I could stay in the deep roll-top bath for hours.
All of the hotel's 28 bedrooms (22 in the main hotel, six in Cobbleheugh House) were renovated in 2017 and brides often book room 10 which has its very own conservatory, providing the perfect light for hair and make-up prep.
Couples wanting somewhere really special for their wedding weekend however, can take on the private Cobbleheugh House.
This separate six-bedroom house has its own garden area, a beautiful light-filled lounge-come-dining area and cosy snug.
It's the ideal spot for a family buffet the night before or barbecue the day after the wedding.
While Banchory Lodge is not an exclusive-use venue, it maintains a one-wedding-a-day policy and the hotel splits naturally into the restaurant at the front and the function area at the back.
The function room boasts a huge bay window that again overlooks the river.
If you decide not to marry outside, the room comfortably holds 110 guests for your ceremony or seated on oval tables for the wedding breakfast.
Couples can choose between the Lodge package (priced at £49 per person) and the Top Notch package (£55 per person).
Each offers a choice of menu; however, there's plenty of scope to serve something a little different.
And the food is divine – I sampled a sweet potato and cauliflower curry followed by a scrumptious Eton Mess, all served by friendly and attentive staff.
Neutral decor in the function room allows you to style your wedding exactly how you wish and the low ceiling creates intimacy.
Incidentally, the room looks amazing with a lighting canopy.
Then when it comes to the evening reception you can have up to 130 guests dancing the night away in this delightful country house with a twist.
SOMETHING DIFFERENT
The Fox Box is the Lodge's new addition, a converted horse box that's been lovingly transformed into an outdoor bar.
Treat your guests to a gin hour, cocktail hour or a traditional champagne or prosecco reception, all served from this cool little bar parked on the lawn.
IT'S A DEAL
If you fancy typing the knot mid-week, Banchory Lodge will waive the ceremony charge and give you two additional complimentary bedrooms in your package on top of the bridal suite.
If you marry January to March (minimum 60 adults) you'll also benefit from 20% off the wedding meal.
SW Visits: Cringletie House, Scottish Borders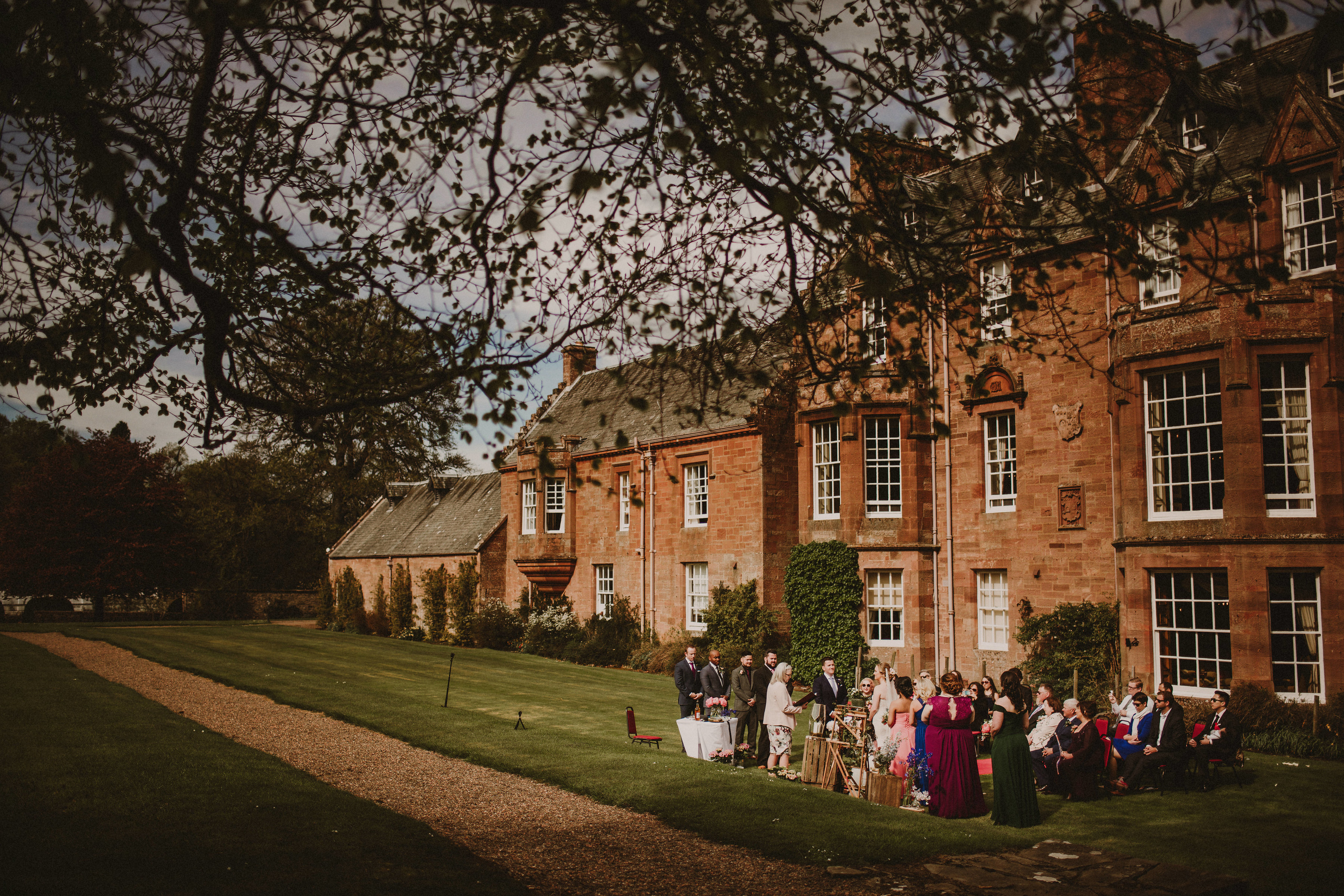 IMAGE | MARK PACURA PHOTOGRAPHY
Watching Cringletie House appear as we approach up the swooping driveway is nothing short of breathtaking.
I'm lucky enough to be visiting and spending the night at this picturesque former Baronial castle and popular Scottish wedding venue.
Just 30 minutes south of Edinburgh, on the road to Peebles, it's a sight to behold, set in 28-acres of luscious woodland, surrounded by intricately manicured lawns.
AN INTIMATE AFFAIR
Before checking ourselves in, we take a walk around Cringletie's walled garden, which dates back over 400 years.
Steeped in history, it's the perfect spot to snap some memorable wedding photos.
You can get a scope of all the space on offer here: the hotel itself, and on-site cottage, which together can accommodate up to 32 guests for an overnight stay.
For your wedding ceremony, Cringletie can host up to 70 guests.
STAY WITH ME
Once checked in, it was up to our room, The Melrose Suite. A junior suite, this room is decorated with elegant furniture, and exudes a warm, cosy feel as soon as you step in the door.
It's one of the largest rooms on offer, boasting a super king-size four-poster bed, as well as comfy seats and a beautiful en-suite bathroom.
Pictured: The Melrose Suite, where we spent the night
Couples can spend the first night as newlyweds in the Selkirk Suite; the hotel's master bedroom, which offers an adjoining lounge and huge en-suite bathroom complete with Jacuzzi whirlpool bath and in-built TV – add a bottle of champagne and close yourself away for the night!
There's a furry friend to be found in each room, too: a teddy bear called Huggy, who you can adopt and take home for a fee to the desk at reception.
DINNER WITH A VIEW
After freshening up, we headed down to the stylish Sutherland Dining Room.
You can expect to be met with sheer elegance: dark wooden fixtures, a magnificent fireplace, hand-painted ceiling and large windows provide the room with natural light, and gorgeous views to accompany our meal.
Attentive waiting staff check in on us like clockwork, yet the meal is a relaxed, familiar experience. Breakfast, lunch and dinner are all served in the dining room, and it's the ideal spot for a sumptuous wedding breakfast.
Cringletie's menu finds that rarely struck balance between luxurious flavours and hearty portions, offering quality food that celebrates Scottish produce.
It's utterly delicious, but none of this should come as a surprise – just last month Cringletie House took home the top prize for Hotel Dining Experience of the Year at the Hotel Awards Scotland.
UNDER THE STARS
After dinner, we pop our heads into the hotel's drawing room and downstairs bar.
Adjoining the bar, a converted library dotted with gorgeous chesterfield sofas, is Cringletie's conservatory, striking with its panoramic backdrop of the grounds.
It's a dreamy stage for that long-awaited first dance, and what could be more romantic than celebrating the night away under the stars, or even heading out for a firework display on those manicured lawns?
Plan your visit to Cringletie House…
Visit the Cringletie House website | t. 01721 725750 | e. enquiries@cringletie.com
SW tries… Pure Spa Newhaven, Edinburgh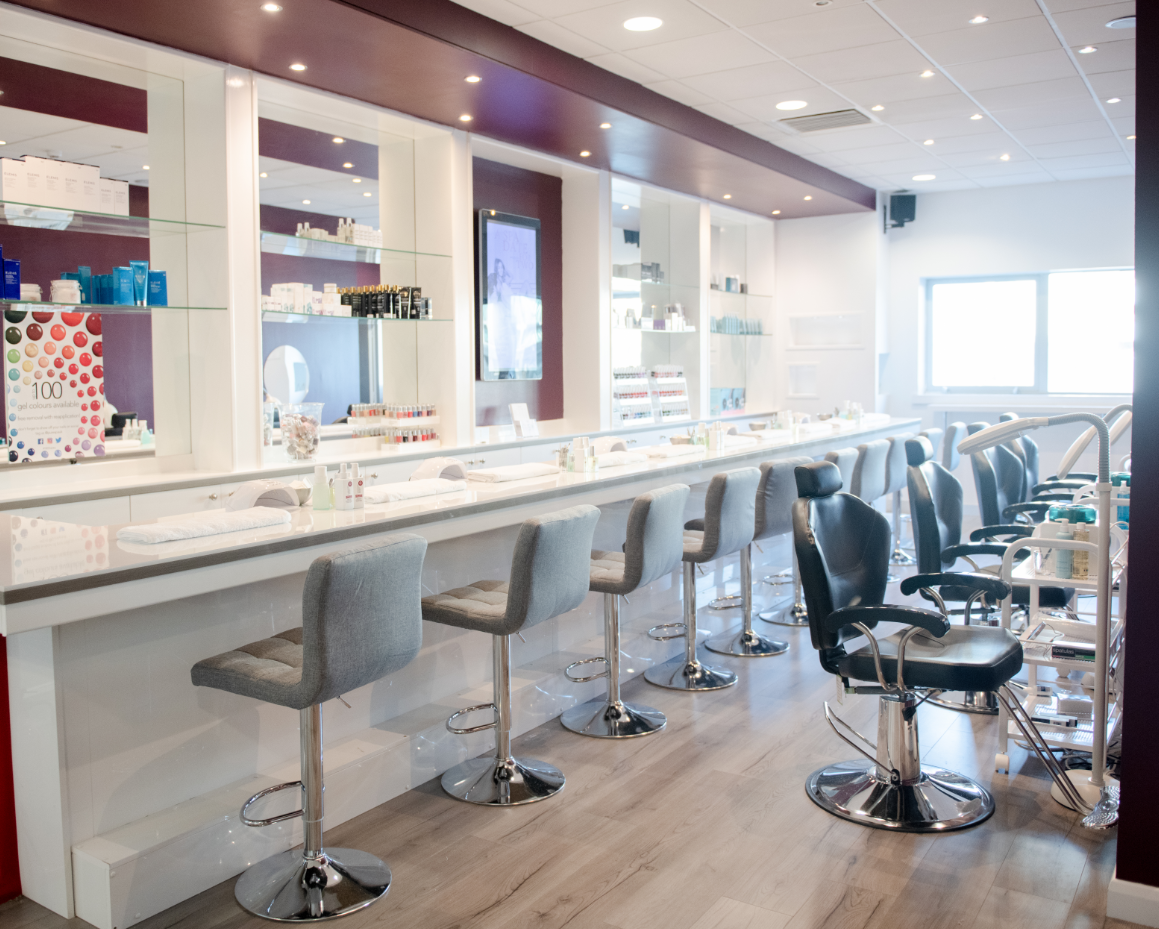 I love any excuse for a get-together with my bridesmaids.
We see each other quite a lot anyway, but it's so nice just to take a day off together and treat ourselves in the spirit of wedding planning.
We venture through to Edinburgh to Pure Spa's newest facility at David Lloyd gym, right on the water in Leith.
The spa is a short journey from Edinburgh Waverley train station by taxi, and out of the hustle and bustle of the busy city centre.
In the taxi, we all list our aches and pains and how we can't wait to get our massages or facials. I'm particularly looking forward to having a pedicure; I've never had one before!
After arriving and touring the facilities with the friendly receptionist, we slip into our swimsuits and wrap ourselves in our robes, ready to spend some time relaxing in the thermal area.
It's a small, compact area but it has everything you need for half an hour of chill time. A steam room, two saunas and a Japanese spa bath lead to a dimly lit relaxation area.
The girls and I hop into the warm water of the Japanese bath and just sit chatting until our therapists collect us for our treatments.
We're booked in for the Pure Deluxe Pamper Party package, which includes a choice of facial or massage, and either a pedicure or manicure.
One of my bridesmaids, Aspen, is pregnant, so the therapists make sure that her treatments are tailored to her specifically.
ABOVE | Digital editor Steph (front) with bridesmaids.
Clockwise from Steph: Aspen, Kirsty-Ann, Victoria + Letitia.
I decide on the deluxe relaxing massage (we were given a choice of massage when we arrived: Swedish, deep tissue, hot stone or relaxing). The treatment starts off with a foot bath ritual – it always feels a bit more special when massages start this way – before I hop up on the heated bed ready for a much-needed rub.
My therapist talks me through some breathing exercises to relax me, then gets to work carefully kneading out the stresses and strains of planning a wedding.
I'm so chilled and in the zone that I drift off and before I know it, we're finished!
Dozily, I make my way to the changing area to put my clothes back on before my pedicure.
All five of us opt for the same, and it's so lovely to sit together having a coffee and chatting about wedding cake whilst the therapists paint our nails.
We leave relaxed and happy. It was so nice to spend that quality time with my bridesmaids, and I would definitely recommend the Deluxe Pamper Party Package to any bride squads who are looking for a day out together.
My only regret is that we didn't go for cocktails afterwards. But that's always an excuse to do it again soon…
The Deluxe Pamper Party Package costs £60 per person, with a minimum party size of four people.
Bookings can be made directly by calling 0343 5071888 or visit the Pure Spa website.
Why Hotel du Vin at One Devonshire Gardens is an ideal Glasgow wedding venue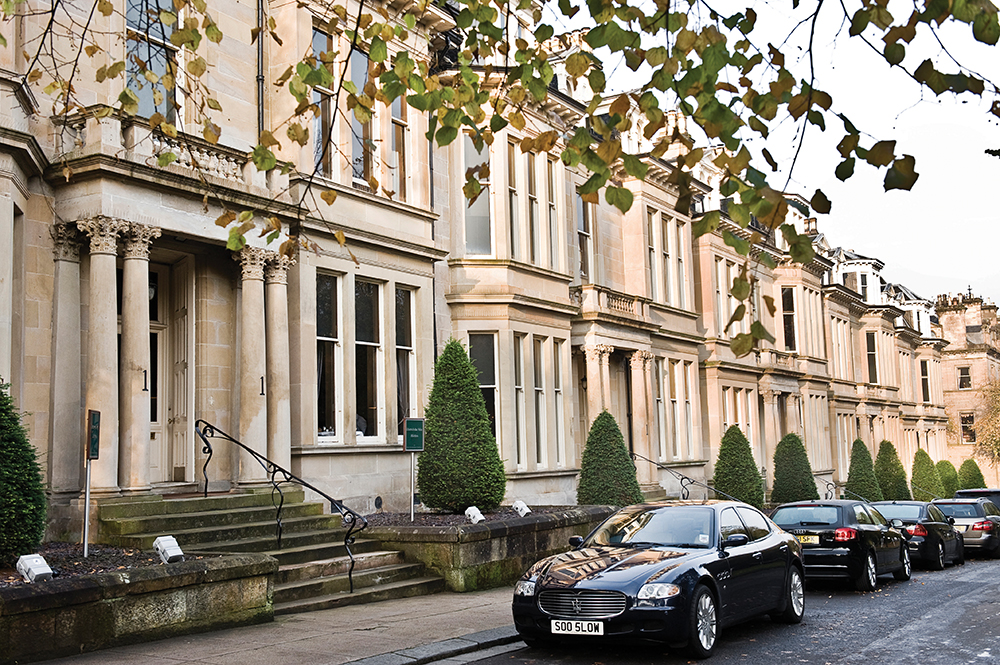 When I was younger, I'd stroll along Devonshire Gardens – one of Glasgow's most exclusive addresses – and pause on the tree-lined street outside a beautiful series of townhouses-turned-hotel. 'I'll know I've made it when I stay here,' I'd think, nose pressed against the glass.
I'm pleased to report that when Gabrielle said dreams can come true, she wasn't lying.
At the grand old age of 32 I found myself luxuriating in a roll-top bath (scented with the hotel's L'occitane toiletries) in one of Hotel du Vin at One Devonshire Gardens' sumptuous suites.
My stay couldn't have been better timed, coinciding with the completion of an extensive refurbishment.
The hotel's new look celebrates its heritage and surroundings: flora and fauna motifs adorn the textiles, reflecting the nearby botanical gardens, while antique furniture and original features such as grand fireplaces and mosaic flooring nod to the history of the 19th-century building. Sculptural lighting and bold injections of colour ensure a modern feel.
You might think such a luxe hotel would be all about the set-in-stone wedding packages with a hefty price tag. But this couldn't be further from the truth.
In reality, the friendly staff work to each couple's unique requirements and budget. So if you'd like to hire out the entirety of Townhouse Number 5 (including the 12 bedrooms and honeymoon suite) for an exclusive-use wedding then you can, but equally you could hire any of the private rooms, any day of the week.
It costs a lot less than you'd expect for such a high-calibre venue, with further savings to be made if you marry mid-week.
The hotel brims with character and couples are welcome to add their own personal stamp. There are loads of nooks and crannies to utilise; the outdoor terrace, strung with festoon lighting, is perfect for drinks receptions or even a barbecue in summer.
The wine cellar is an atmospheric space that makes a unique setting for photos, and if your guest list is on the small side, nothing's stopping you from having a wine tasting as part of the day's entertainment.
Marrying in winter? The venue transforms into a festive wonderland at this time of year. Think real Christmas trees, wreaths and roaring log fires – you really won't find a cosier place.
Weddings of any size from two people right up to 80 (with a capacity of 120 for the evening reception) can be held in the hotel. It's dog-friendly too, so if you want your pup as a ringbearer, that's no problem!
Personalisation is encouraged when it comes to your meal, too. Award-winning head chef Gary Townsend (formerly of Cameron House) is a real talent and can turn his hand to anything, so you're in for a treat if you consider yourselves foodies.
I tried his tasting menu – the highlight was Herdwick lamb saddle with smoked belly, white asparagus and wild garlic – which was seriously delicious. Gary will happily create a bespoke menu that reflects your tastes, and the sommeliers can even pair each course with matching wine. (And if you just want good old fish and chips or a roast dinner? That's completely doable too.)
Each bedroom in the hotel has been individually designed by interior designer Anita Rosato, who drew inspiration not only from nature but from the hotel's close association with premium wines and champagnes.
My room, named Schloss Gobelsburg, had a rich wine-inspired colour palette of burgundy and black, punctuated by a tangerine sofa and armchairs.
The Vettriano honeymoon suite (pictured above), so named because of the artwork decorating the room, is split across two levels: the bedroom, which has a fabulous roll-top bath, is upstairs, and downstairs there's a spacious bathroom with his-and-hers sinks and a walk-in shower.
Though the rooms all have their own style, they're all tied together by a luxurious feel. And if you can't treat yourself to a bit of luxury on your own wedding day, when can you?
SW Visits… Hotel Colessio, Stirling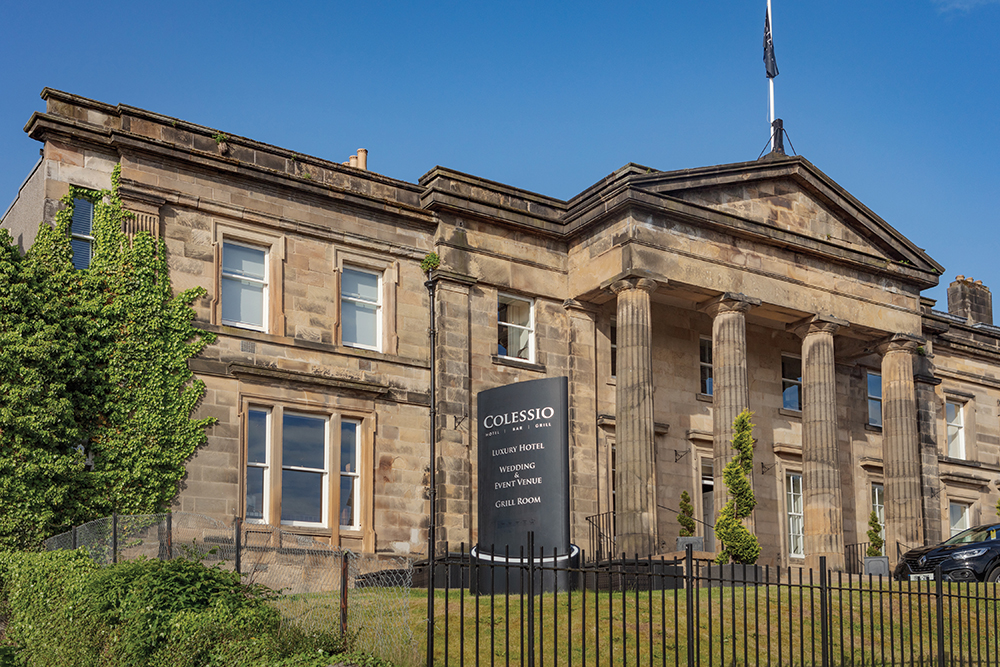 It might sound strange that one of Scotland's most proud and ancient cities is a bit of an uncovered gem when it comes to weddings, but that's exactly what Stirling is.
Lots of couples opt for Glasgow and Edinburgh when planning a Scottish city centre wedding, with Stirling sneaking under the radar.
Hotel Colessio is a bit of a hidden gem too, sitting handsomely within Stirling's cobbled, twisting old town.
As I walk into the hotel's newly renovated lobby, I take in the cool, comfortable room with its contemporary art deco furnishings.
To the left is a stylish deep maroon bar paired with gorgeous pinky-peach velvet chairs and I immediately imagine wedding guests mingling there during a drinks reception.
To the right is the hotel's fashionable restaurant where later I have the most amazing meal, testing out some of Colessio's scrumptious wedding canapés (the haggis bon bons are particularly delish!).
I'm staying in the spacious Bruce Suite which I'm told is a favourite for brides on the morning of their wedding day.
With huge windows it allows in plenty of natural light, and has lots of space for make-up artists and hair stylists to set up without getting too crowded by excited bridesmaids and fretting mums.
ROOM TO PARTY
Hotel Colessio's Ballroom is stunning, with sparkling chandeliers, designer mirrored walls and a private terrace. Able to sit 180 guests for a wedding breakfast and 200 for a reception, you can have your ceremony here or, if it's a lovely day, outside on the terrace.
Spacious but private, you can celebrate your big day without worrying about hapless hotel guests accidentally crashing your party.
Outside, the terrace is relaxing and peaceful, and I'm struck by how cool it would be to have an outdoor breakout area here if the weather held up.
Guests could take a breather from the party, have a gossip and enjoy the remnants of a late summer night.
HAPPY TO HELP
Recently bought over by Focus Hotels, Colessio has retained all its beauty and elegance, but has ramped up the sense of welcome and warmth.
Wherever I go, a friendly member of staff is there to give advice on what wine to try, or what the best tourist spots are.
In fact, to make my visit to Hotel Colessio as enjoyable as possible, the General Manager has even organised for a tour guide from tourist company Highland Rover to take me around Stirling's most historic spots.
It's this type of detail – really, truly going the extra mile – that makes me certain that any wedding is more than safe in the hands of the Hotel Colessio team.
SWD visits… Myres Castle, Fife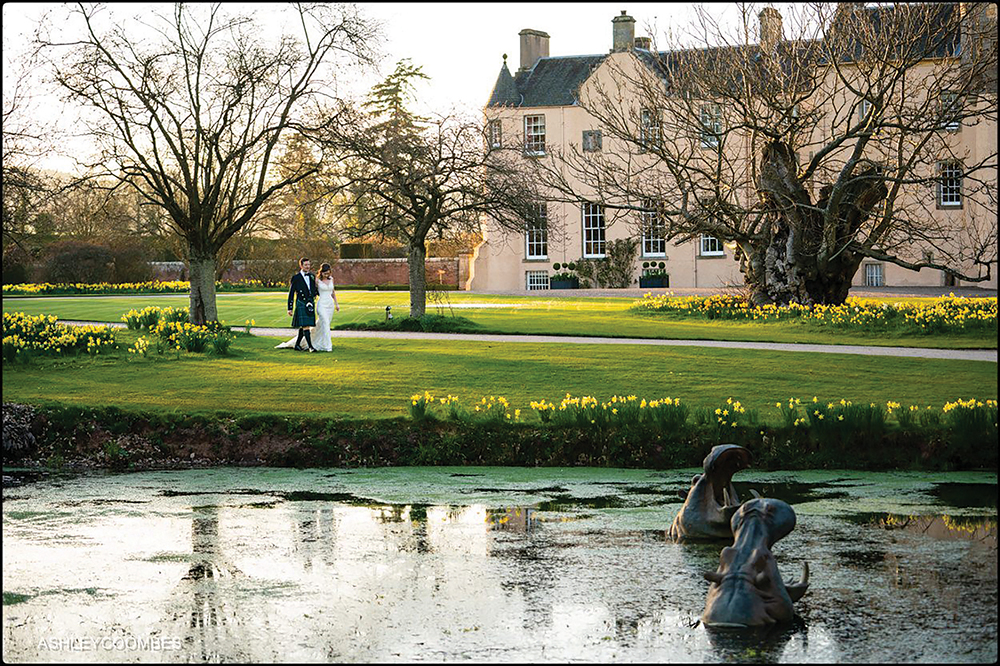 IMAGE | Ashley Coombes
I first visited Myres Castle in the autumn of 2014, not long after owners Amanda and Henry had taken it over, and back then I was blown away by the charm of the place.
Approaching the castle in the spring this time, though, is a truly breathtaking experience.
From the moment I drive under the cherry blossom and see the carpet of bluebells I can just feel this venue starting to work its magic on me.
Before I even ring the doorbell I spy the majestic copper beech, under which many couples choose to say their vows.
The castle itself – which won 2018 Best UK Wedding Venue with the Hudson UK Heritage Awards for stately homes – is of course magnificent, with its stunning reception rooms and beautiful bedrooms, but it's outside that your wedding planning dreams can really take shape.
If you don't fancy getting married under the beech you could choose from the rose garden, the hidden lawn or inside the apple store with its pretty stained glass window (capacity 150).
Host your drinks reception in the immaculately kept gardens or let your guests loose on the labyrinth before heading to the specially-built barnquee, which has space for 170 guests for your wedding breakfast, speeches and dancing.
Then at night the gardens take on a whole new charm, lit up by countless lanterns.
IMAGE | Apple store interior
IMAGE | Emma Lawson Photography
HOUSE PARTY…
Myres Castle is sold as a real house party experience and from the moment the bridal party arrives at 4pm on the Friday, you have the run of the whole castle.
Guests are shown to their uniquely decorated rooms (the castle sleeps 20 with a further four in the lodge), before settling down to dinner.
Then the next morning the castle's a hive of activity with hair and make-up and a light lunch served in the Victorian kitchen before the ceremony.
IMAGE | Karolina Kotkiewicz Photography
IMAGE | Marc Millar Photography
ALL TOGETHER NOW…
While couples can tie the knot anywhere in the beautiful grounds, the main evening activities focus around the barnquee and apple store, built around a lush lawn which has the feeling of a village square.
Teas, coffees and cake are often served in the apple store and two firepits are lit outside, but the see-through sides of the barnquee (which also roll up) stop the party ever feeling separate with everyone able to see the dancing and join in the fun.
The pizza oven by the barnquee has also been a very popular addition, providing a great talking point for your evening fare.
IMAGE | Barnquee interior
DID YOU KNOW?
The beautiful Spanish Chestnut tree on the front lawn is believed to have been planted by Mary Queen of Scots!
ARE YOU LOOKING FOR YOUR DREAM WEDDING VENUE?
A look inside Barnbougle Castle, a new wedding venue near Edinburgh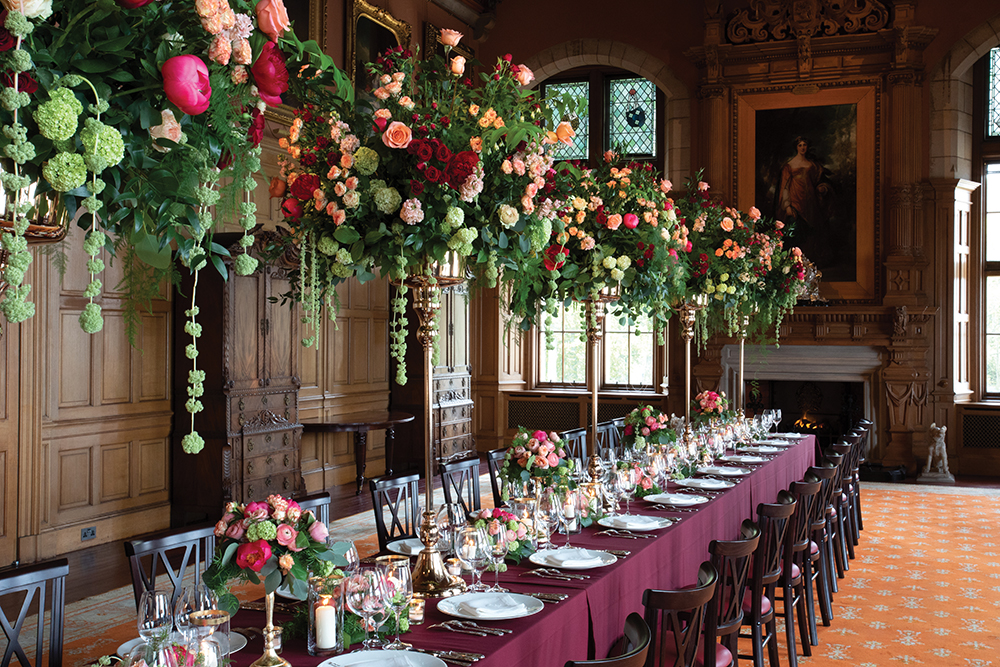 Editor Natasha Radmehr gets an exclusive first glimpse at Barnbougle Castle, one of Scotland's newest and most stunning wedding venues.
I feel like I'm in a film. The doors have just opened into the Banqueting Hall at Barnbougle Castle to reveal a magnificent barrel-vaulted room, flooded by natural light from its arched windows.
A long, elegant table, festooned with tall, blousy floral arrangements and flickering candles, stretches the length of the hall. Lining the walls are gilt-framed ancestral portraits of the Primrose family (Earls of Rosebery), who have owned Barnbougle for almost 400 years.
The castle has been a labour of love for this family. The building spent much of the past century being used as storage (albeit the most decadent storehouse imaginable), until the opportunity arose to breathe new life into it.
Considerable attention has been lavished on its respectful modernisation, with no expense spared, and now Barnbougle can be hired as an exclusive-use wedding venue – and it's one of the most beautiful I've ever visited.
The location alone is enough to win me over. The castle stands resplendent within the Dalmeny Estate in South Queensferry, surrounded by lush woodland. I spot Highland cows and lambs roaming the expansive grounds, and can't believe I'm only 15 minutes outside of Edinburgh.
Its private beaches and proximity to water, right on the edge of the Firth of Forth, make the city feel even more of a distant memory. This coastal setting is incredibly romantic; perfect for windswept wedding photos, and there to be enjoyed even from within the castle, as many of the rooms directly overlook the water.
There's a special feeling when you're in Barnbougle that's difficult to distil into words. Though it's undeniably grand, decorated with original furnishings, textiles and antiques, it's also cosy.
This is in part because of its six libraries filled with literally thousands of books. So historical are these tomes that they can't be touched, but guests would have a field day perusing the spines (I certainly did). Even the doors in the loos are cleverly disguised as bookcases – a thoughtful touch masterminded by Lady Jane Kaplan – which proves a fun talking point.
Though you can't stay over, there's a bedroom to get changed in. And as the venue is all yours for the day, you can marry wherever you like, be it surrounded by literature in the Scottish Library or outdoors in an alfresco ceremony.
Guests can spill out onto the waterside terrace for the drinks reception to soak up both the dramatic views and the delicious Great British Vermouth that's made on Dalmeny Estate.
You'll feel like royalty ascending the spiral stone staircase to the breathtaking Banqueting Hall, where you'll sit down to a feast created by Honeycomb Catering, the venue's exclusive caterer.
I cannot overstate how delicious my meal was. From the mangalitsa pork belly with spiced tamarind jus to the cucumber, fennel and seaweed water ice with gorse flowers, every plate was an innovative delight and a far cry from Chicken Supreme.
Hire a string quartet to provide ambiance while you dine (the Cairn String Quartet did just that).
Then, as the night draws in and the moon shimmers on the water outside, the furniture will be moved and the rug rolled up so you can dance into the wee hours on the sprung wooden floor. Heaven.
SWD Visits: Destination wedding venue The Phoenicia, Malta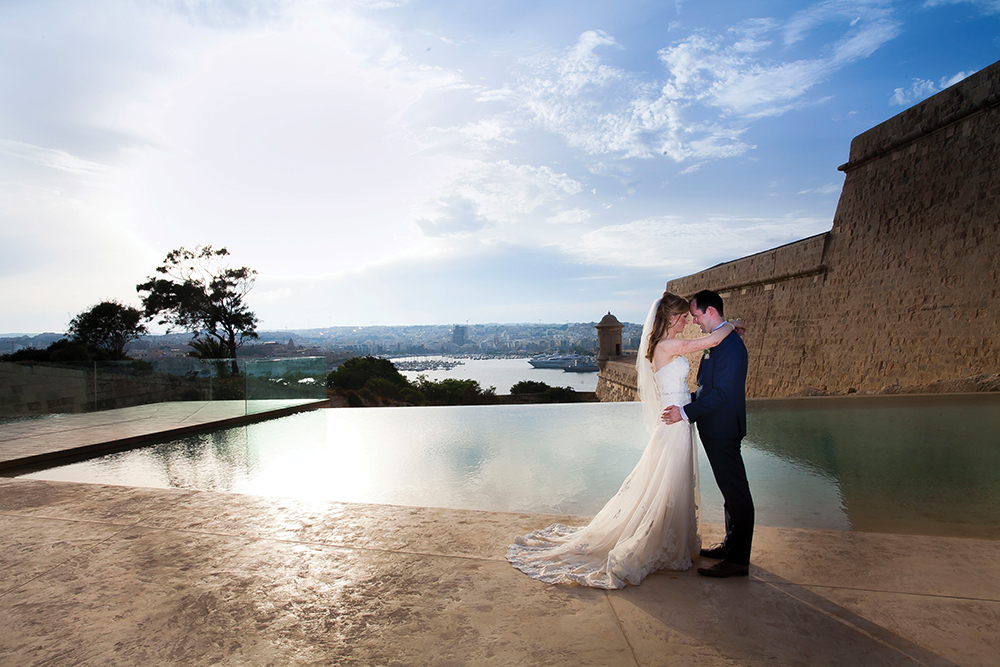 In my mind, posh hotels tend to fall into two camps: the super formal ones where you find yourself permanently speaking in your phone voice, and the equally as stylish but far friendlier ones that quickly become your dream home-from-home.
The Phoenicia, Malta, belongs firmly in the latter category, I'm pleased to say.
Throughout, the vibe is luxurious but relaxed, thanks to a restoration in 2017; the resulting décor is fresh and modern with a distinctive Mediterranean feel in the tiled floors and coral and blue accents.
Plus, the 136 luxury bedrooms and suites boast the comfiest hotel beds I've ever slept in; honestly, I talk about it all weekend during my stay and continue to fantasise about the fluffy, cloudlike pillows every night for a week once back home.
Food, glorious food
The different restaurants and bars to suit every mood also instantly make you feel at ease at The Phoenicia. The bright and airy Palm Court Lounge becomes my favourite place for a wee coffee (or who am I kidding, a prosecco or two), whilst the cosy Club Bar is perfect for a post-dinner cocktail.
I eat at the informal Café Phoenicia on my first day; think pizza, burgers, and amazing cake slices the size of your face.
There's also the Phoenix restaurant where breakfast is served daily. We book in here for brunch on the Saturday and I eat three courses (yes, three) accompanied by a mimosa, which the waiting staff very helpfully keep topped up throughout.
This, I quickly learn, is a characteristic of Maltese hospitality – you're fed and offered drinks at every turn, something I'm totally on board with.
Weddings at The Phoenicia
Copious amounts of food and drink are also a huge part of Maltese weddings, so you'll have plenty of chance to indulge if you choose The Phoenicia as your venue.
We're treated to a sample wedding menu at the Phoenix on the Saturday night and it's delicious! I opt for the burrata starter and the chicken main both washed down with some lovely local wine!
Food aside, The Phoenicia offers lots of flexibility to create your dream wedding. It has spaces to suit intimate weddings of 10 but with traditional Maltese wedding celebrations running on the large side (it's common here to invite everyone, from the postman to your parents' neighbours), they can also cater to groups of up to 300.
Malta has over 300 churches but there are lots of venues and options for getting married within the hotel. Indoors, there's the elegant Green Lounges, the stunning Grand Ballroom (a seriously impressive room that once hosted Queen Elizabeth II), and the more intimate Maryanski Porch with large doors overlooking the gardens and a patio area.
The Phoenicia's 7.5 acres of flower-filled gardens and grounds offer stunning views of the sea and bastion walls, creating the perfect backdrop for a fairytale-esque wedding. There's a long path through the gardens, which is basically the prettiest aisle I've ever seen, ending in picturesque ceremony spot the Gazebo (Place of Arms).
It's near the striking Bastion Pool, one of my favourite parts of the whole hotel, which can be used for larger drink receptions – the views are just breathtaking! The Rotunda, with an Art Deco water fountain in the centre and hedges already complete with atmospheric fairylights, is another popular option for weddings.
All in all, I'm blown away by the choices available and the hotel's passionate, knowledgeable wedding team who show me around; chatting to them makes it obvious why Phoenicia weddings are so iconic amongst locals.
Plus, it's far more affordable than you'd think, with a complete wedding package for 30 (including everything from registration fees and flower arrangements to a three-course meal) available from just €8,500.
Exploring Malta
Whilst The Phoenicia will make sure the wedding part of your trip runs flawlessly, Malta itself will easily keep you occupied the rest of the time.
I love the hotel's location just minutes from Valletta's city gates where we find plenty of bars, restaurants (Noni is divine and definitely worth a visit) and sightseeing, like the truly spectacular St John's Co-Cathedral.
I'd recommend taking a walking tour to learn more about the city's fascinating history (the Phoenicia should be able to help you organise one), whilst a boat harbour tour is a great way to see the historic city from a different angle.
We also explore the nearby Mdina, an ancient walled city with the cutest balconies and coffee shops, and although we sadly run out of time to visit Gozo, it's definitely on my hit list for my next Malta visit.
Valetta is an ideal base for exploring the rest of the island, and with plenty of taxis and a famously good bus system (we get one to Mdina and it's super easy, quick and budget-friendly) you'll have no trouble getting around – if you can manage to tear yourself away from relaxing in The Phoenicia during your stay, that is.
Definitely stay for long enough to make the most of it all and enjoy a little minimoon before heading home as newlyweds!
Rates for an Executive Balcony Room at The Phoenicia start from €250. A complete wedding package for 30 people is available from €8,500.
Find out more about The Phoenicia Malta destination weddings:
e. weddings@phoeniciamalta.com
t. +356 2291 1061.
SWD visits… Elsick House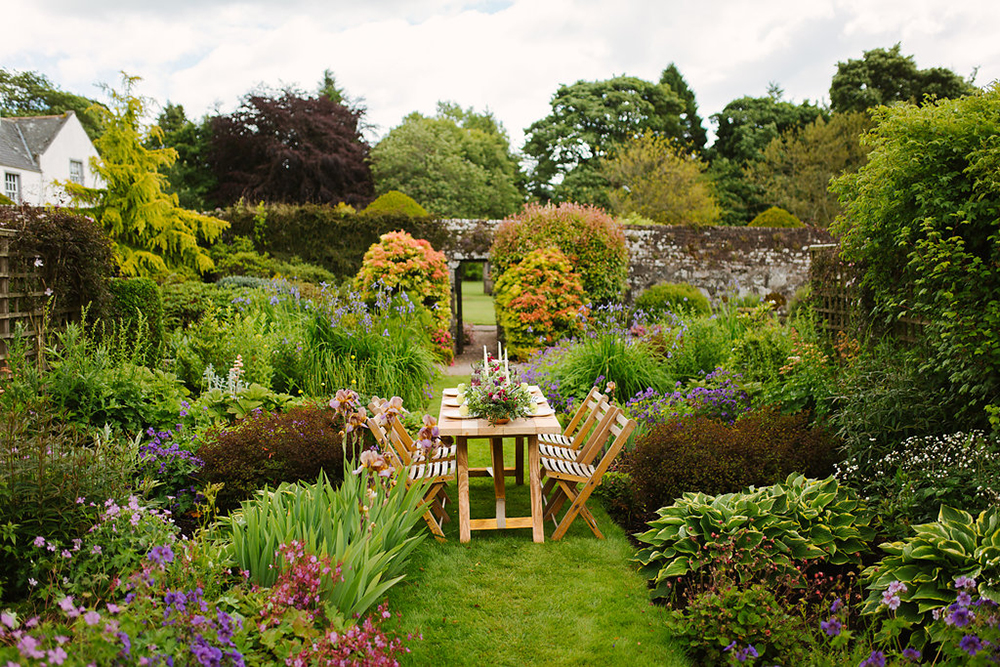 IMAGE | Laura A. Tiliman Photography
Tucked away within 1,500 acres of private parkland, it's hard to believe Elsick House is only eight miles from Aberdeen.
Yet driving down the hedge-lined lane towards the house feels like stepping into your own world.
The whitewashed baronial house retains all the grandeur you'd expect of the ancestral home of one of Scotland's prominent families, the Bannermans, without feeling intimidating.
The house dates back to the 14th century but recently underwent an extensive renovation to create a light and airy look which feels welcoming and homely, despite its grand proportions.
Bridal suite
Couples who tie the knot at Elsick are welcomed into the house from 4pm the day before and are encouraged to see it as their home for the weekend.
With its 11 brights bedrooms – including a fabulous bridal suite – and tastefully decorated reception rooms, the exclusive-use venue is just a delight.
Come the big day there are plenty of options.
You could say your vows in the marquee, which is housed within the south-facing walled garden and seats 150 for dinner (with the option to invite up to 50 evening guests), or take advantage of Elsick's stunning gardens with an outdoor ceremony.
Mature trees and shrubs border the lawn, providing a beautiful backdrop to your 'I do's', or exchange vows in the secret garden while your guests look on from the fragrant rose arch.
An intimate affair…
If you're planning a smaller celebration, weddings of up to 50 guests can be accommodated in the house.
Ceremonies are held in the elegant reception hall, before you enjoy your drinks reception either out in the gardens or inside.
The dining room and drawing room are then combined to seat all your guests for dinner on round tables.
Wedding breakfasts for 30 guests can be held in the dining room alone.
IMAGES | Laura A. Tiliman Photography
No nasty surprises…
Elsick Houses advertises as a no-hidden-costs venue so there won't be any heart-stopping moments when you see your final bill.
All tables, chairs, heating, the PA system, projector and screen and many more items come as standard within the quoted price, leaving you free to enjoy wedding planning without worrying about sourcing any added extras (or paying for them).
Did you know?
Couples wanting to celebrate their wedding midweek or during the winter months may receive a reduction of up to 50% off the three-day package price.
Visit Elsick House's website | t.01569 731310  | e. house@elsick.co.uk