VIDEO: Inside blank canvas venue The Barn at Harburn, West Lothian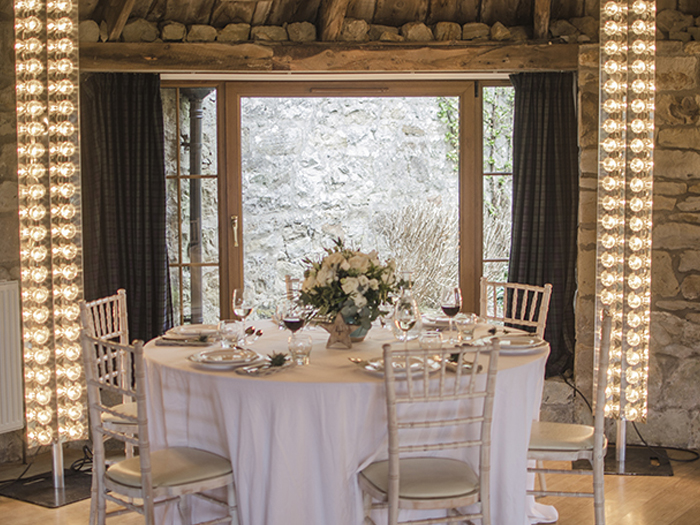 The Barn at Harburn is a historic, unique wedding venue, set in the heart of Harburn Estate in West Lothian.
Ideally situated between Edinburgh and Glasgow, Team SWD headed along on the day of the venue's wedding photoshoot. Charlotte, director of The Pantry Events who are managing the operations of the Barn, showed us around the pretty venue – and we were seriously impressed!
Following recent renovations, the venue encompasses its traditional history along with a modern luxury, making it a perfect setting for your big day.
Photography: Kerr Visuals
THE BARN
The Barn itself isn't a run of the mill venue. Set amongst a traditional farm steading, the venue consists of a roundhouse and granary that have been gracefully renovated to provide the ultimate entertaining space.
The roundhouse was originally used as a tread mill and dates back 250 years, although its design dates back much further to the ancient Scottish Broch style.  Beautiful French windows lead out on to the picturesque gardens, landscaped lakes and parkland, with stunning views of the Pentland Hills beyond.
YOUR WEDDING, YOUR WAY
What makes the venue so unique is the two separate areas to enjoy, maintaining their own distinctive period character and charm whilst also being an ideal blank canvas venue, but with contemporary touches.
The Roundhouse, a beautiful setting for a small and intimate ceremony and celebration or the main Barn itself, a longer room with plenty of natural light, holds up to 90 guests for dinner and up to 140 evening guests.
If you're looking to host a larger wedding day, a marquee can be directly adjoined to the main Barn, giving you plenty of options.
The Barn can be hired as 'venue only', giving you the freedom to choose your own suppliers, including catering and your bar.
If you would prefer a little helping hand, Charlotte and Lisa, consultant for The Barn at Harburn and The Pantry, have a wealth of wedding experience and can oversee everything you might need for the reception, from linen and glassware to table decorations too.
Plus, the venue has a full size professional kitchen making catering simple.
LEADING SUPPLIERS
On the day of the photoshoot, The Barn at Harburn's recommended suppliers were on hand, showcasing just how they can help transform the venue to suit you and your style.
i Love Letters added plenty of fun to the venue with their lawn games – we can just imagine your guests getting involved in the vintage outdoor games at the drinks reception.
i Love Letters can also bring plenty of sparkle to your big day with their cinema style light up sign and dazzling lights throughout.
As well as managing the venue, Charlotte also owns The Pantry Tuck Truck, a unique foodie treat for your guests and great for a blank canvas venue.
Charlotte tells us Mexican street food is the current talk of the wedding industry!
No wedding photoshoot would be complete without impressive wedding cakes and Liggy's Cakes certainly did not disappoint.
Our favourite has to be this beautiful four tier masterpiece.
With such a unique venue, we loved Unbridaled's twist on tradition with their stylish, on-trend gowns.
Of course, in Scotland you always need to be prepared for any weather and Brolly Bucket are always on hand with their chic umbrella hire.
Beautiful blooms filled the room by Narcissus Flower Shop and School.
WATCH NOW
Want to see more of this beautiful venue? See our live tour of The Barn at Harburn.
Guthrie Castle couples left in the lurch over alleged double booking scam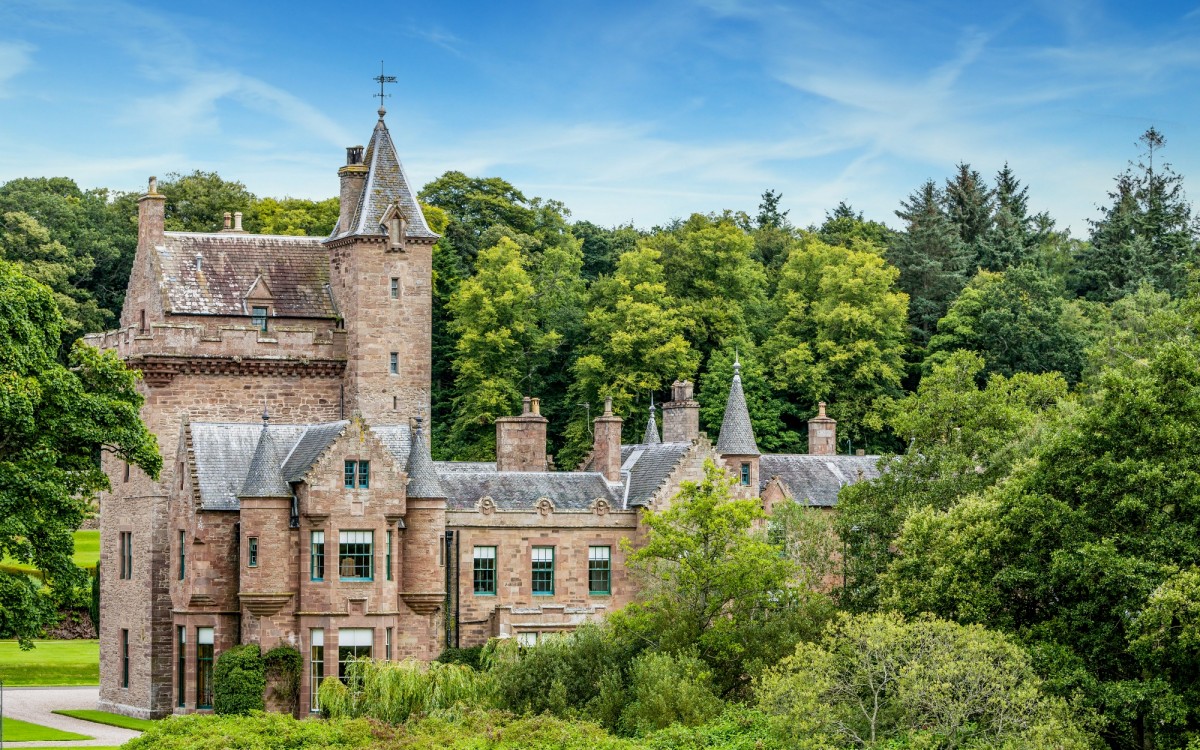 Engaged couples due to marry at Guthrie Castle in Angus are demanding answers following allegations that the venue's former wedding planner deliberately double-booked weddings then wiped the booking system and made off with the deposits.
It is understood that a wedding at the venue on Saturday was double booked with a conference.
One Dundee couple who are due to marry at the venue next month told The Courier that the situation was "horrendous".
The groom, who asked not to be named, said: "At the end of last week we were contacted by email asking us to get in touch, which I did on Thursday afternoon.
"They explained that the wedding co-ordinator hadn't turned up to work when expected and they contacted the police with a missing person report.
"Then they said it emerged that the guy had left the country and that he had wiped out their computer records."
Scottish Wedding Directory contacted Guthrie Castle about this issue, but the venue is yet to comment. However the venue has updated its website urging anyone who has booked a wedding or event to contact them on 01241 828691.
SWD visits… The Spa at Blythswood Square, Glasgow [Review]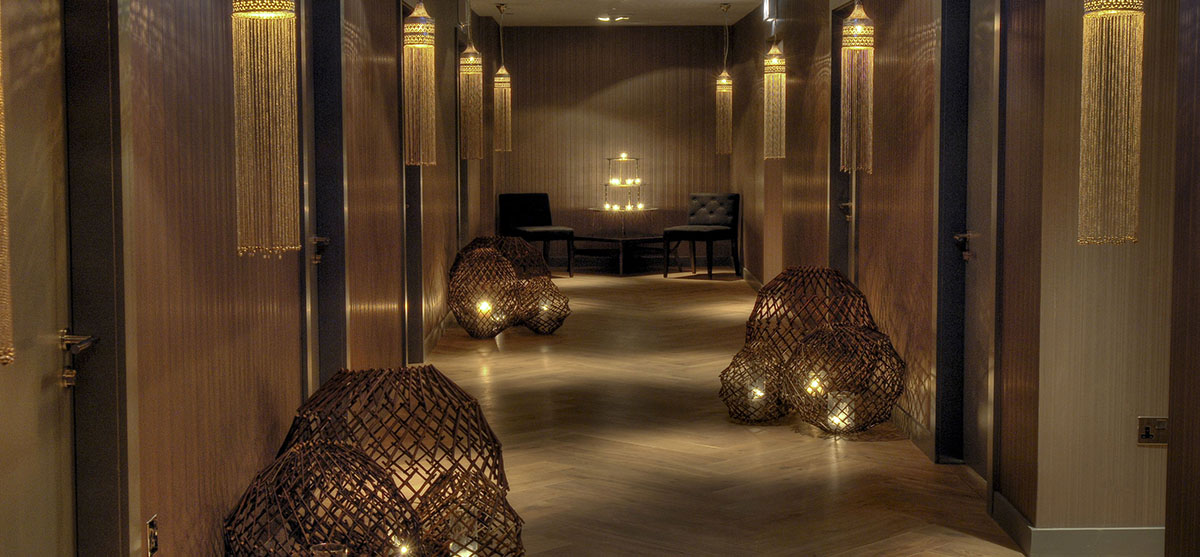 Are you considering a pre-wedding hen celebration at a spa with your friends? Check out The Spa at Blythswood Square in Glasgow city centre for a real taste of luxury!
There's genuinely nothing I like more than a relaxing spa day with the girls. Setting off with your swimsuit in your bag, knowing that in just a few hours you'll be chilled out and stress free, for a little while at least.
A spa day really is such a perfect hen activity for you and your friends. You might want to have a night out on the town, but I think that it would be lovely to take your bridesmaids or your mum to a spa for some pre-wedding pampering and, if you're in Glasgow, spas don't get much more luxurious than the gorgeous Spa at Blythswood Square Hotel.
Not only does just walking into the sumptuous foyer make you feel like you're in for a special treat, but the spa itself is just beautiful and well laid-out. We were greeted by a really friendly receptionist who talked us through everything we needed to know and offered us a drink in the spa lounge and cafe; there was no rushing around, we just took everything at our own pace. It was exactly how a spa experience should begin!
We went down into the spotless changing area to get into our swimsuits and headed to the thermal experience, with our complimentary robes, towels and water bottles.
The thermal suite at Blythswood Square Spa really is one of the most impressive suites I have been to.
The Crystal Steam Room is renowned for clearing out the respiratory tract, helping you to breathe more easily and the two pools, hydro and vitality, are deigned to aid the relaxation of tired and aching joints; the pools have a selection of hydrotherapy body jets and seated areas which massage the entire body. Bliss or what?
It wasn't too long before I went to get my treatments. I opted for the Blythswood Spa Taster, a great option for those not too familiar with the spa. As well as full access to the thermal experience, I started off with a Ishga back, neck and shoulder massage, gently working out the knots that come with the stresses and strains of daily life.
I asked the therapist for a medium to firm pressure, which started off uncomfortable but quickly turned to relief as those knots were pushed away.
Next, I enjoyed a Ishga facial, a rejuvenating facial designed to revitalise and repair. The organic range of products used combine mineral rich seaweed as the main ingredient, others include natural healing spring water, aloe vera, macadamia nut oil and cucumber extract. Seaweed is high in vitamins, minerals, trace elements and natural anti-oxidants considered essential for maintaining healthy, youthful skin.
My lovely therapist took me to the relaxation room, where I sipped on peppermint tea and read a magazine, my toes under a soft duvet at the bottom of the reclining bed. How I managed to stay awake is beyond me! I was so relaxed.
After my shower, I went back up to the lounge and cafe situated within the spa for a prosecco afternoon tea. All I can say is wow! Delicious mini sandwiches, hot and fresh scones with jam and cream and expertly handcrafted tiny deserts topped with delicate decorations were laid out in front of us. It really was the most perfectly decadent way to end a very special spa experience.
Thinking of having a pre-wedding hen celebration at Blythswood Square Spa in Glasgow? Get in touch…
Visit the Blythswood Square Spa website | Book your spa appointment online | e. spa@blythswoodsquare.com | t. 0141 240 1622
VisitScotland + TripAdvisor team up to give Scottish tourism a boost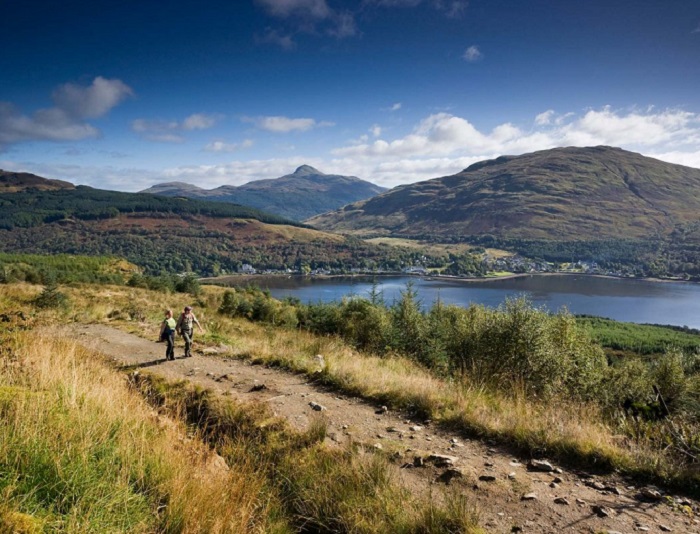 Speaking on the first day of her visit to America, Nicola Sturgeon confirmed that travel website TripAdvisor and VisitScotland with engage in a joint marketing campaign hoped to bring 70 million potential new visitors to Scotland.
Ms Sturgeon said: "The fact TripAdvisor has chosen Scotland as its first European partner shows just how resilient they believe Scotland's economy to be – and the fact we were voted the second-best country in the world to visit by the Rough Guide means site visitors are guaranteed a good holiday."
Undoubtedly this will mean more couples will potentially be coming to Scotland to get married, especially as Scotland is one of only eight countries to offer legally binding humanist wedding ceremonies.
What do you love most about getting married in Scotland? Tell us on Facebook! 
SWD visits: Broxmouth Park, Dunbar [Review]
Features writer Rachel visited the beautiful Broxmouth Park in Dunbar to experience the modern elegance of the exclusive wedding destination.
Arriving on a crisp, autumnal day as the late afternoon sun set, Broxmouth Park's sprawling lands, 150 acres to be exact, really were something to marvel.
With manicured lawns, enchanting woodland and it's very own loch, Broxmouth House stands proudly, the historic mansion the epitome of elegance.
Directly across from the house is where the special celebrations really begin; the grand marquee, beautifully floodlit to allow your guests to dance into the night, a truly exclusive Scottish wedding venue.
HOME FROM HOME
After a tour of the mansion itself, with its impeccably sophisticated interiors and quirky additions (including a basement man cave, perfect for your groom and his groomsmen to enjoy while you get ready), I headed to by luxury accommodation for the evening.
The Bridge House is one of three places to stay at Broxmouth; there is also the Head Gardeners Cottage sleeping eight and the brand new Lodge on the Loch, a romantic hideaway for two.
The Bridge House is a spacious abode for up to ten and encompasses the perfect balance of contemporary yet classic. With its spacious bedrooms and family kitchen, I could just imagine the excited loved ones of the happy couple getting ready for the big day.
For some extra pre-wedding pampering, spa treatments can be arranged to come to you; I indulged in a de-stressing back, neck and shoulders massage before an ultimate chill out evening.
With a crackling log fire and your very own hot tub, it really is the idyllic home from home.
TAILORED TO YOU
Broxmouth Park prides itself on creating your dream day, with a one wedding per day policy and exclusive use of the stunning venue.
One stand-out feature of the estate's weddings is their outstanding culinary delights, created by Gleneagles trained executive chef, David McClelland.
SWD LOVES…
The unique locations to exchange your vows. Say your I Do's under the iconic Cromwell Tree or opt for a ceremony fit for a royal with Queen Victoria's staircase as your backdrop. Just think of the beautiful wedding photographs!
Connect with Broxmouth Park
t. 01368 865 846
e.  info@broxmouth.com
Glenskirlie House and Castle offers £1000 discount on Fairytale Package for 2018 weddings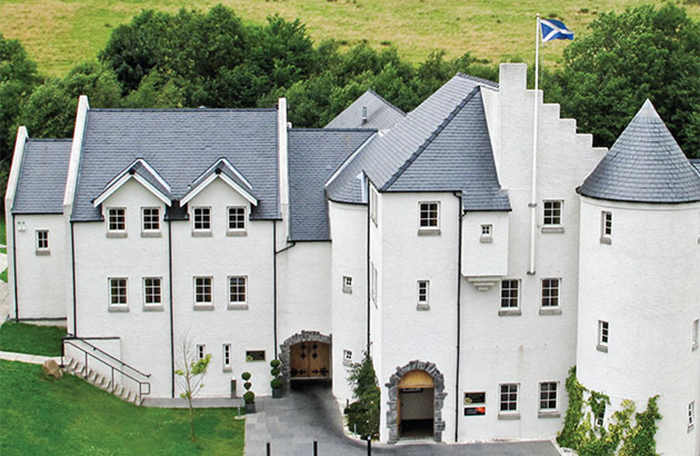 Glenskirlie House and Castle is a truly beautiful wedding venue on the outskirts of Glasgow, and it's luxurious décor and handy location has made the thought of tying the knot there massively attractive to couples across Scotland.
Now they're offering £1000 off of their Fairytale Package, which makes that thought even sweeter!
For all new wedding bookings held between 1st January and 25th June 2018, couples will receive £1000 off of Glenskirlie House and Castle's Fairytale Package, which usually starts from £2,999.
If you're interested, get in touch with the staff at Glenskirlie ASAP as spaces are likely to fill up quick!
Connect with Glenskirlie House and Castle…
Read or leave a review for Glenskirlie House and Castle
Spotlight on… Kinkell Byre, Fife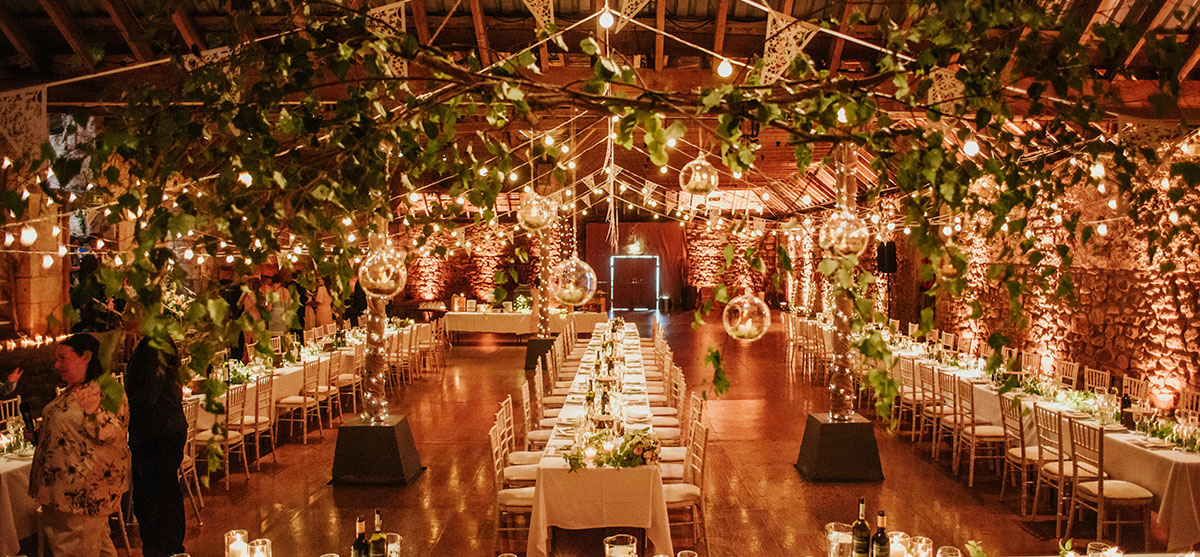 If you just love the idea of having you spring wedding in a gorgeous converted barn in picturesque St Andrews, Fife, then you're about to fall head over heels for Kinkell Byre.
[Images: Photos by Zoe]
This beautiful barn is not your average Scottish wedding venue; it offers you exclusive hire of the barn which is brimming with character and rustic charm, with plenty of room to make it your very own.
Create your dream day tailored exclusively to you with as much freedom as you desire. The barn really is a blank canvas, just waiting for you to put your own personalities all over it.
You can work with the team at Kinkell Byre if you need some help but equally, you can sort everything yourself. Perfect for that bride or groom with a vision " if you've got your Pinterest boards ready to go, then you'll have free reign!
YOUR DAY, YOUR WAY
You can rent the barn space exclusively for the day with some bits and bobs included in the price, including hessian draping, whisky barrels, candlesticks and candles plus heating of the venue and a PA system for speeches and background music. The rest really is up to you.
There are separate areas that can be used for various parts of your day: a ceremony space, an area for a drinks reception plus a huge room for your wedding breakfast and dancing. Not to mention the vast outdoor areas you can enjoy, with a gorgeous south facing garden. Perfect for when the Scottish sunshine smiles down on us!
Amazingly, the venue does not charge corkage, so you can bring your own alcohol into the barn without worrying about that extra expense. The team will be on-hand during your day to make sure everything runs like clockwork, so you can enjoy every moment.
Check out this awesome highlights and marryoake film by the super talented Adam at Abbey Wedding Productions to get a feel for what the venue is like!
Kinkell Byre , Wedding Highlights & "Marry-oke" from Abbey Wedding Productions on Vimeo.
Send an enquiry to or leave a review for Abbey Wedding Productions
Connect with the team at Kinkell Byre, Fife…
website | e. info@kinkell.com | Facebook | Twitter | Instagram | Pinterest
Send an enquiry or leave a review for Kinkell Byre
24 gorgeous venues for your spring wedding in Scotland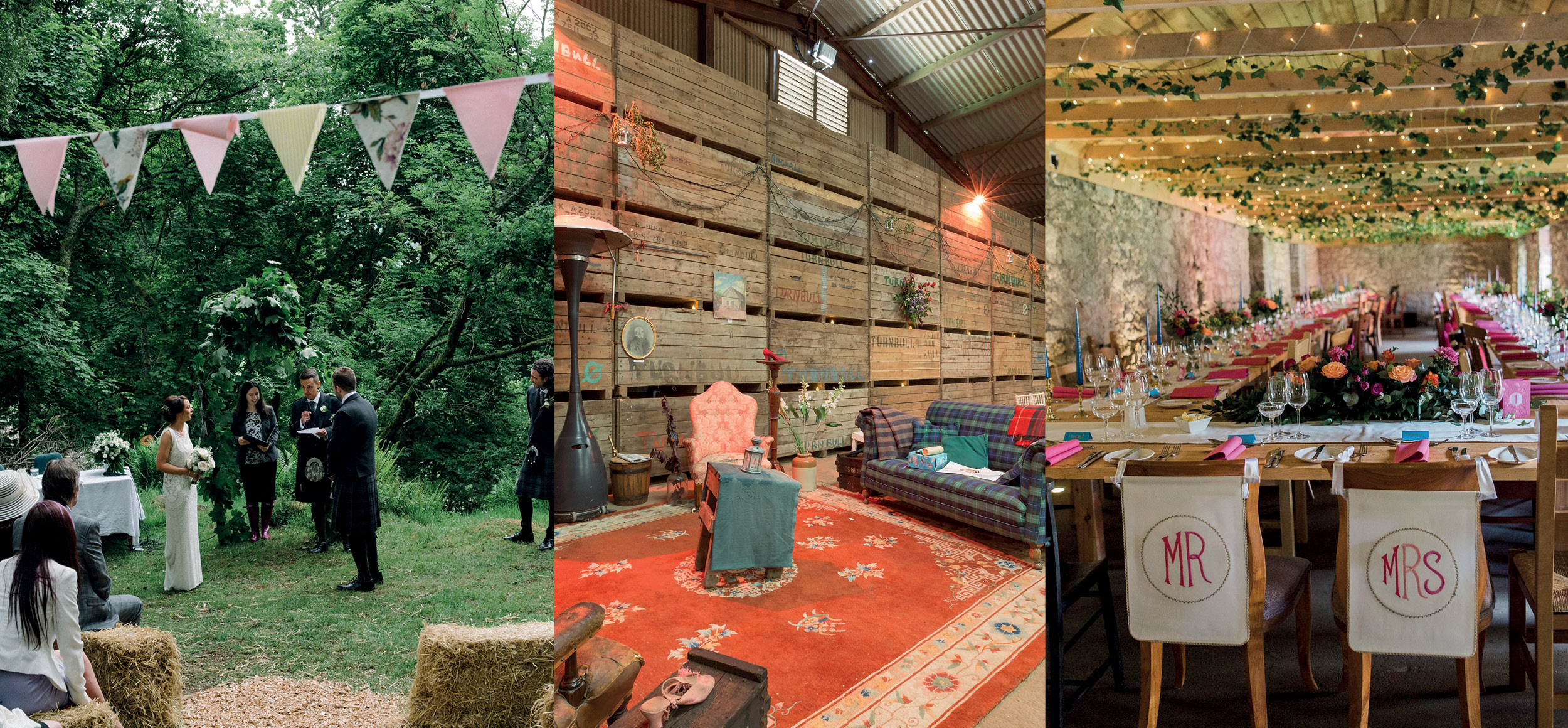 Spring has sprung and Scotland is full of amazing wedding venues just perfect for this time of year.
If you fancy tying the knot outdoors amid the daffodils, or in a venue with a fresh seasonal look we've rounded up some of our faves from around the country.
1. WINDMILL BARN
Choose if you love¦ a venue you can make you own!
There's a whole host of pretty spots for an outdoor ceremony while the wee barn offers a Plan B if the weather turns nasty.
Make the most of the longer nights with natural light streaming in through the windows.
windmillbarn.co.uk | t. 01383 882458
2. THE COW SHED CRAIL
Choose if you love¦ plenty of character
This venue's Steading Marquee, Cow Shed Barn, The Workshop and Courtyard gives you flexibility to host your wedding your way.
Set in Fife's picturesque East Neuk there's scope for beautiful shots down at the nearby harbour. Check out more pics from this gorgeous whimsical styled shoot shot by Suzanne Black.
thecowshedcrail.co.uk | t. 07989 420706
3. COMRIE CROFT
Choose if you love¦ the great outdoors
Couples with a sense of adventure and, er, spring in their step will love this old farmstead, set in 231 acres of fields and woods. The farm courtyard is perfect for an al fresco ceremony while your guests can even camp on site. Take a look at Eilidh and Robert's cool springtime wedding at Comrie Croft on our blog.
comriecroft.com | t. 01764 670140
4. THE BYRE AT INCHYRA
Choose if you love¦ options
If you've got your heart set on a spring wedding outdoors then let your imagination run riot here. There are countless charming locations across the parkland so whether you choose to light it up as an enchanted forest or get hitched in the Walled Garden, romance is guaranteed.
thebyreatinchyra.co.uk | t. 01738 860066
Read reviews for The Byre at Inchyra
5. HOUSE OF TURIN
Choose if you love¦ wide open spaces
Set in 20 acres of sweeping lawns with views of the Scottish countryside you can say "I do" at the beautiful stone circle in front of the house or pitch a marquee in the grounds.
houseofturin.com | t. 01307 830 463
6. CAMBO COUNTRY HOUSE & ESTATE
Choose if you love… a proper festival vibe
The inside of Cambo House is everything you could wish of a stately home but come the warmer weather we're itching to get outside and Cambo knows how to host an outdoor do, with its very own party woodland. Follow the fairylight trail to the clearing in the willows for a laid-back wedding. There's also a courtyard and tattie barn and lots of other gorgeous outdoor locations.
camboestate.com | t. 01333 450054
Read reviews for Cambo Country House & Estate
7. TAYPARK HOUSE
Choose if you love¦ an al fresco G&T
With beautiful gardens and breathtaking views across the River Tay to Fife this Dundee venue's already pretty special. Add to that the Gin & Fizz Garden Bar and we're sold!
tayparkhouse.co.uk | t. 01382 643777
Read reviews for Taypark House
8. BALMULE HOUSE
Choose if you love¦ bright and breezy interiors
Its history may stretch back over 500 years but this is no museum. Bright interiors are just the ticket for a springtime wedding. There's also a romantic marquee within the landscaped walled gardens and a garden terrace perfect for a drinks reception.
balmule.co.uk | t. 01383 432999
Read reviews for Balmule House
9. KINBLETHMONT HOUSE
Choose if you love¦ a country house weekend wedding
A walled garden is the perfect setting for spring nuptials and Kinblethmont hosts its larger weddings in a marquee in the garden. There's also accommodation for over 50 on the estate, making for a full blown weekend wedding shebang.
kinblethmont.com | t. 01241 890204
10. KINNETTLES CASTLE
Choose if you love¦ a touch of class
From its stunning outdoor terrace you and your wedding party will enjoy breathtaking views over the Scottish countryside before heading into the marquee with its soft white interior and opulent chandeliers. Who said spring had to be simple.
kinnettlescastle.com | t. 01307 820354
11. GEAN HOUSE
Choose if you love¦ light and airy
The bright interiors of Gean House's Garden Room make it a real find for a springtime wedding. Picturesque grounds and a fab patio for your drinks reception add to its charm.
geanhouse.co.uk | t. 01259 226 400
12. GLENBERVIE HOUSE HOTEL
Choose if you love¦ chic interiors and picture perfect gardens
Manicured lawns, a sweeping drive and a lochside location will have you hoping the weather holds for you to tie the knot outside here. Then you'll just need to decide on the perfect spot.
glenberviehousehotel.com | t. 01324 556280
13. LOCH LOMOND ARMS HOTEL
Choose if you love¦ the bonnie, bonnie banks
With spring sunlight dancing off the loch, the picturesque village of Luss has to be one of the most romantic locations going and the Loch Lomond Arms Hotel has everything you need for a very special w-day. The Inchonnachan Suite and Sutherland Room are set within landscaped gardens or you could even get wed on a private boat on the waters.
Read what SWD editor Natasha thought when she visited here.
lochlomondarmshotel.com | t. 01436 860420
14. INGLEWOOD HOUSE AND SPA
Choose if you love¦ landscaped gardens
This venue's beautifully restored conservatory is a pretty location for your springtime drinks reception while the picturesque gardens provide the backdrop to your vows. There's even a duck pond!
inglewoodhouseandspa.co.uk | t. 01259 216156/07721 049551
15. ASWANLEY
Choose if you love¦ simple charm
Set in the River Deveron valley, the 16th century fortified house and gardens at Aswanley offer a magical backdrop for a springtime celebration. The Victorian barn is brimming with character while its simple whitewashed walls keep it fresh and airy.
aswanley.com | t. 01466 700 340
16. HADDO HOUSE
Choose if you love… daffodils!
Set amidst 200 acres of Aberdeenshire countryside, this grand Palladian-style home combines sophisticated interiors with  glorious terraced gardens and parkland. Plus we love the Canadian Hall in the grounds " an ideal space for ceilidhs and larger receptions and more laid-back than the big house.
nts.org.uk | t. 01651 851440
17. LOGIE COUNTRY HOUSE
Choose if you love¦ being in the heart of the countryside
Set in 130 acres of beautiful countryside, Logie Country House boasts enviable views and a tastefully renovated stable block which now houses the ballroom and comfortably seats 150 wedding guests. What's more, there are two outside hot tubs – just the ticket to take in the springtime sunset.
logiecountryhouse.co.uk | t. 01224 589282
18. ARCHERFIELD WALLED GARDEN
Choose if you love¦ springtime flowers and plenty of fresh produce
This fab indoor/outdoor space in the grounds of Archerfield House is steeped in natural light and oozes modern rustic charm. The venue offer the very best of local produce in a relaxed setting and there's even a microbrewery if you fancy serving up craft ales at your reception.
archerfieldwalledgarden.com | t. 01620 388 588
19. RUNNINGBURN
Choose if you love¦ being under canvas
This marquee venue in the midst of farmland near Kelso has guaranteed gorgeous country views " just what you want for a springtime wedding. Tie the knot indoors or take full advantage of the stunning Cheviot Hills backdrop and take your ceremony outdoors.
runningburn.co.uk | t. 01573 470392
20. MACDONALD FOREST HILL HOTEL AND SPA
Choose if you love¦ loch views
Nestled within the beautiful Trossachs, there's no guessing why Forest Hills makes it onto our pick of springtime venues. The views of the loch are stunning and nearby Aberfoyle is renowned for its bluebells in the spring. Imagine posing for your photos amidst a carpet of blue.
macdonaldhotels.co.uk | t. 0344 879 9057
21. THE ROYAL BOTANIC GARDEN – EDINBURGH
Choose if you love¦ flowers, flowers and more flowers!
The ultimate springtime garden ceremony location, the Royal Botanic Garden mixes the best of both worlds. Either wed in one of the five function rooms or outdoors. Need we say more?  Picture perfect shots guaranteed.
The Royal Botanic Garden – Edinburgh | t. 0131 552 7171
22. MUCKRACH COUNTRY HOUSE HOTEL

Choose if you love¦ exclusive retreats
Just outside Aviemore you'll find Muckrach Country House Hotel, a gem of a former shooting lodge that's been lovingly restored. For weddings over 20 people you can hire the whole hotel to yourselves. Springtime weddings demand drinks on the terrace and the staff can even pack you a picnic hamper incase you get peckish during your photos.
Read SWD's Katie's visit to Muchrach here.
muckrach.com | t. 01479 851227
23. INNES HOUSE
Choose if you love… the finer things in life
Innes House's magnificent covered walled garden really is the stuff of fairytales. Imagine entertaining your guests in the marquee-covered garden, compete with a fountain and a summer house for the bar. Even if the weather's not playing ball you'll still feel like you're tying the knot outside.
inneshouse.com | t. 01343 842410
24. GLENTRUIM CASTLE + COTTAGES
Choose if you love… a Highland retreat
Nestled at the gateway to the Cairngorm National Park, this exclusive use venue is a perfect hideaway for a spring wedding. There's an array of locations around the estate so you can create your bespoke w-day, whether you want to wed in the Walled Garden's pretty Garden Room, host a drinks reception in the woodland or a wedding breakfast in a marquee on the lawn.
glentruimestate.co.uk | t. 01540 673886
DON'T FORGET…
YOU CAN USE OUR ONLINE DIRECTORY TO FIND YOU DREAM WEDDING VENUE IN SCOTLAND.
Spotlight on… Trump Turnberry, a Luxury Collection Resort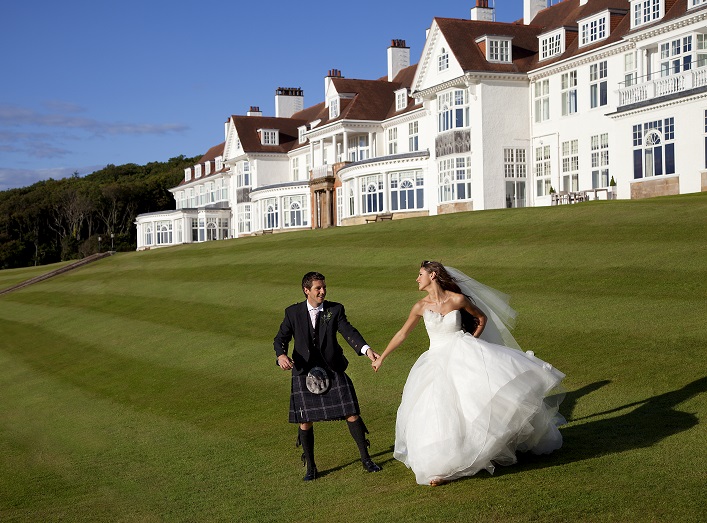 From the first glimpse, to the first dance, your wedding day is a collection of amazing experiences as newlyweds.
Situated on the beautiful Ayrshire coast, Trump Turnberry, a Luxury Collection Resort, Scotland, is the perfect place to say I do.
Since 1906, they've been creating memorable moments in time. Now, it's time to create yours.
PICTURE PERFECT
Set against the unrivalled backdrop of Ailsa Craig, the Isle of Arran and the iconic Turnberry lighthouse, Trump Turnberry is ready to take you beyond the expectation of your dream wedding day.
The hotel reopened in June 2016 following full transformation that has seen every bedroom lavishly refurbished, now featuring large mahogany framed beds, Austrian crystal chandeliers, Italian marble bathrooms and indulgent freestanding bathtubs.
All of the ballrooms and wedding spaces have also been recently renovated to the highest level. Sparkling chandeliers adorn the ceilings throughout and large picture windows flood each room with natural daylight, with most of our wedding venues featuring unrivalled sea views.
YOUR SPECIAL DAY
The Donald J. Trump Ballroom is the newest addition to the hotel. This 500 seater grand ballroom has floor to ceiling windows, overlooking the Championship golf courses and out to the Irish Sea.
Providing your guests with the wow factor are eight, opulent, custom made Ivanka chandeliers which hang exquisitely from the ceiling.
With an unforgettable coastal backdrop, Trump Turnberry allows for some extraordinary photography to help capture the most important moments of your big day.
Whether it's a sunset lighting up the sky with an array of vivid, fiery colours, or a dramatic windswept shot on the rocks by the lighthouse, the opportunities are truly inspiring.
Let the team look after you and your guests from start to finish. Your dedicated wedding planner will be there to guide you every step of the way meaning you'll have complete peace of mind from start to finish.
For more information, visit our turnberryweddings.co.uk or contact the team by calling 01655 334196 or emailing weddings@trumpturnberry.com  
*This post contains sponsored content*
Behind closed doors: hidden gem wedding venues in Scotland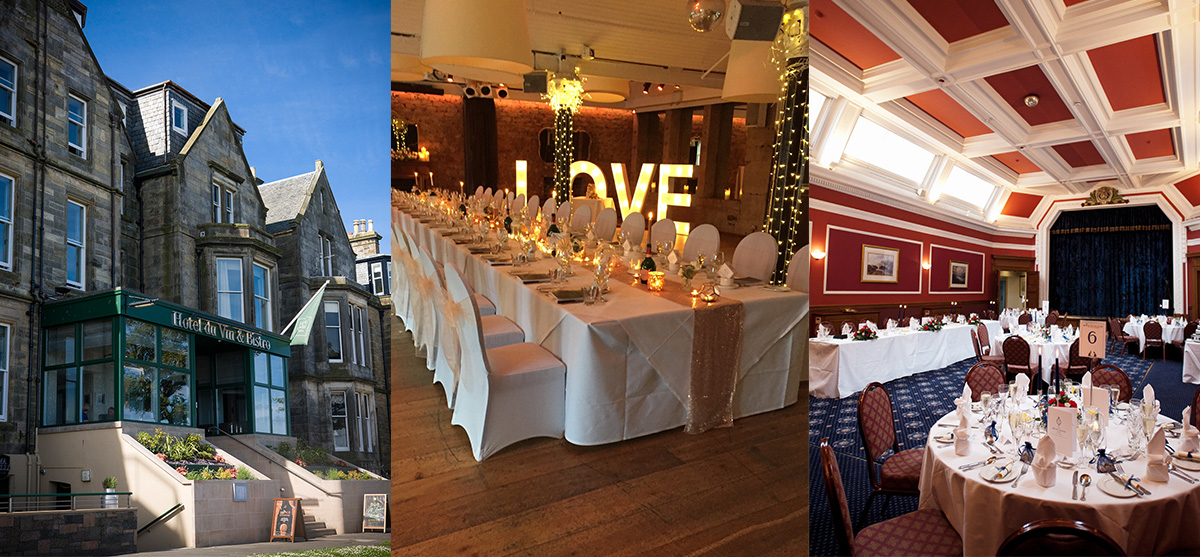 Don't judge a book by its cover; these three surprising Scottish wedding venues come alive as soon as you step through the doors!
Located in picturesque St Andrews, this gorgeous townhouse venue overlooks the golden sands of West Sands beach, just a two-minute stroll from the Old Course golf course.
Recently refurbished, this beach-side bolthole is perfect for understated, intimate and relaxed weddings with an edge of refinement.
[swd_gallery slug="inside-hotel-du-vin-st-andrews"]
The small details are lovingly taken care of here, whether it's working out wine pairings with the expert in-house Sommelier, planning alfresco reception cocktails in the sweet little courtyard nestled away at the back of the hotel or even arranging a cigar tasting for the groomsmen the night before your celebrations. Anything is possible!
Choose from The Swilcan Ballroom or Macallan Boardroom for your wedding breakfast and evening celebrations, and invite your guests to enjoy an overnight stay in the hotel in one of the 37 impeccably styled rooms or suites.
HOTEL DU VIN ST ANDREWS WEDDING OPEN DAY
WHERE: Hotel du Vin St Andrews 
WHEN: Sunday 26th March, 11am until 3pm
Discover more at one of the hotel's wedding open days. Book on the day and get six bottles of champagne or dinner, bed and breakfast stay on your first anniversary!
For more information on the Hotel du Vin St Andrews Open Days, click here.
t. 0844 7489269
Read or write reviews for Hotel Du Vin St Andrews | Facebook | Twitter | Instagram
As charming as the name suggests, this centrally located townhouse in the heart of Edinburgh is the perfect choice for your capital city wedding.
The tasteful Georgian interior creates a real sense of occasion and is the ideal place to host a right good Scottish knees-up! Don't worry though; there are lots of different packages and menus to suit various tastes and budgets, so there's bound to be something that'll work for you.
[swd_gallery slug="inside-royal-scots-club-edinburgh"]
The Royal Scots Club are also currently offering a Friday wedding deal: book your big day on a Friday in 2017/18 and you'll get a whopping £350 off of the overall room hire cost!
t. 0131 5564270
Read or write reviews for The Royal Scots Club | Facebook | Twitter

Tucked away in the corner of prestigious Royal Exchange Square is 29 Glasgow, a private members club that comes alive as you ascend the steps to a chic and modern city venue.
Rest assured your day will be both stylish and bespoke, with a personal wedding co-ordinator on-hand to guide you through the process, from start to finish.
[swd_gallery slug="inside-29-glasgow"]
Choose from a private dining room for an intimate candlelit dinner or even the marquee on the terrace which hosts up to 80. For larger weddings, take dinner in Apartment 29 and Club 29 for up to 120 guests.
29 Glasgow will be holding a Wedding Show on Sunday 2nd April at the venue! Come between 2pm and 4pm; admission is free! For more information, contact Louize at 29 on 0141 225 6652.
t. 0141 2255615
Read or write reviews for 29, Glasgow | Facebook | Twitter
Looking for Scottish wedding venues to suit your taste, budget and style?
You can find lots of venues for intimate weddings, marquee weddings, castle weddings and more in our online directory!
*This post contains sponsored content*