Scottish Elopement Wedding at The Grange Manor Hotel, Falkirk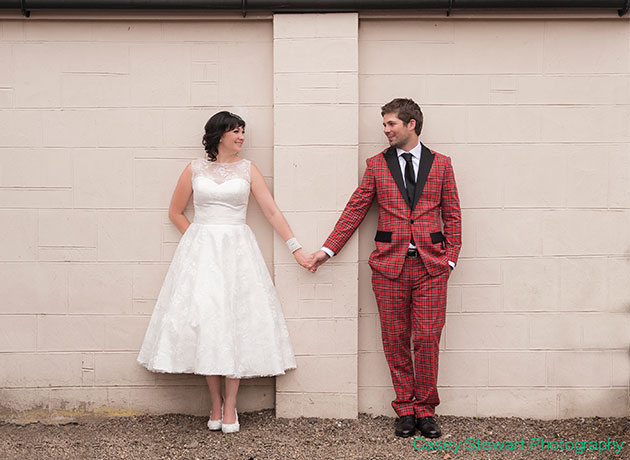 Nikki Steele and Kevin Osborne
Saturday 12th July 2014
The Grange Manor Hotel, Falkirk
Photographer: Casey Stewart Photography
Although American boy Kevin and Scots girl Nikki are a really well travelled couple, they decided that Scotland really was the best place for them to tie the knot. They didn't forget their high flying experiences though; Nikki tells us that the couple brought the cultures of the world to Falkirk!
"Kevin's American family flew over for the wedding, as did friends and family from Jakarta, Bali, Peru and Dubai!" she says. "Our table names were countries that we've visited together; our top table was Montenegro as Kevin had just secured a job there a week before the wedding."
Since so many of the couples friends and family made the effort to be there for their special day, the couple decided to put them to good use!
"My younger brother James played saxophone, and even Kevin's mum Cindy stood up to speak," says Nikki. Sadly though, one very important member of the grooms party couldn't make it at the last minute.
"Unfortunately, Kevin's brother Mike missed the wedding after being taken to hospital straight off the plane at Glasgow Airport! He was struck down with a throat infection for eight days."
"Good photos were so important to us," says Nikki. "Casey and his wife Lorraine have been friends of mine for around 20 years and he was the first person we booked when we got engaged!" The couple decided to book a great wedding filmmaker to capture the day too, and chose Graham Mackay of Cumbernauld to do the honours. "We regularly watch the DVD as there are so many great memories captured," Nikki smiles.
Highlights of the big day included the evening's dancing, kicked off in style by Kevin's parents taking to the dancefloor for Love Shack! They had the moves perfected! "A very special part of the day was having everyone there, watching us take our vows," reflects Nikki. "We're both so close to our families so that was so important."
Highlights of the big day included the evening's dancing, kicked off in style by Kevin's parents taking to the dancefloor for Love Shack! They had the moves perfected!
"A very special part of the day was having everyone there, watching us take our vows," reflects Nikki. "We're both so close to our families so that was so important."
"It's so great being married," says Nikki, when asked how she feels of her new wife status. "You get to spend every day with your favourite person, and become part of a bigger family which makes me feel so lucky; everyone gets along so well!"
ABOUT CASEY STEWART PHOTOGRAPHY
Casey's relaxed reportage style allows him to capture natural and emotional shots without interrupting your day, making sure every unforgettable moment is immortalised through beautiful, moving and artistic photographs.
Contact Casey Stewart Photography.
Venue: The Grange Manor Hotel, Falkirk
Photographer: Casey Stewart Photography. "He told a story rather than simply lining guests up for stagnant photos."
Wedding filmmaker: Graham Mackay Videography.
Dress: CKS Bridal, Falkirk. "After a failed attempt having my dress made in Jakarta, I had 10 days to get a new one! The staff at CKS were amazing."
Hair and make-up: Myles Retson in Larbert. "I know Kelly Love really well and it was lovely to have her beautify us!"
Cake: Darrells Wedding and Celebration Cakes. "We had chocolate cake, lemon cake and vanilla cake!"
Florist: Irene's Florist. "The wedding party and tables were all taken care of with no stress to us!"
Stationery: Made in Jakarta. "The venue made us a beautiful table plan too."
Entertainment: DJs Stuart Grey and Dave Snape. "Real records " no iPads " were used, and real music!"
Andy Murray + Kim Sears Get Married in Dunblane
It's been dubbed as Scotland's answer to the Royal Wedding; on Saturday 11th April 2015, tennis ace Andy Murray wed his partner of 10 years Kim Sears in a beautiful ceremony in Dunblane, where Andy grew up.
Our friends at The Sunday Post were there to capture the event unfolding as it happened and we can bring these exclusive photographs to you now.
COME RAIN OR SHINE
Crowds of locals and well-wishers gathered outside the beautiful Dunblane Cathedral for the wedding of Kim Sears and Andy Murray yesterday afternoon.
Earlier in the day, hailstones, showers and even snow threatened to mar an otherwise perfect day but in true Scottish style, the sun came out just in time for the guests arriving.
Lucy and Tim Henman gave the thrilled crowds a wave to cheers before Andy's mum Judy arrived alongside his dad William Murray and his partner Sam Watson.
Judy looked fantastic, making her way into the church dressed in a lovely taupe and white outfit finished off with a fabulous William Chambers Millinery hat.
Andy and Kim Murray Wedding Chris Austin @ The Sunday Post
The man of the moment pulled up next with one of his best men, brother Jamie. After much speculation, Andy went down the traditional route with a kilt outfit in his family tartan.
We only caught a glimpse of Kim entering the church flanked by her bridesmaids in blush pink floor length gowns, however the weather held out and the new Mr and Mrs Murray emerged into the sunshine as newlyweds!
The crowds were delighted to get a proper glimpse of the pair before they got into their car and made their way to Andy's hotel, Cromlix, for dinner and a party!
Congratulations Mr and Mrs Murray!
[Many thanks to Chris Austin and the team at The Sunday Post newspaper for the use of these images. Images copyright of The Sunday Post.]
Intimate Highland Wedding at The Plockton Hotel, Cromarty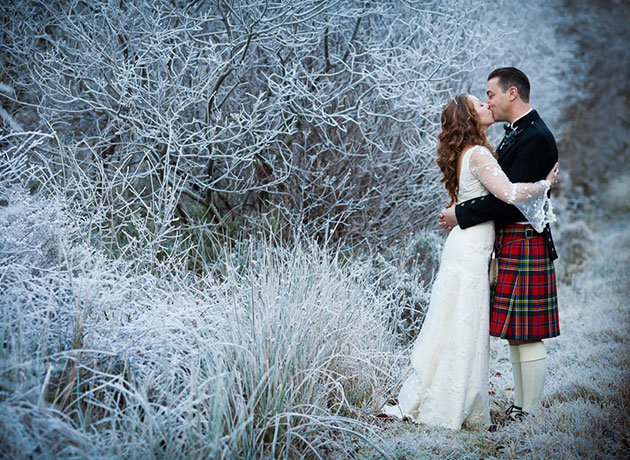 Kirstin Hogg and Chris MacLean
Wednesday 12th December 2012
Courthill Chapel, Kishorn and Plockton Hotel
Photographer: Lynne Kennedy Photography
As a location to get married, the Scottish Highlands is a real favourite here at SWD. The images that we get taken at weddings in this area are just stunning no matter what time of year. In fact, the more extreme the weather, the better the images look.
So while some people would dread snow, this pair were excited. "Our wedding was very traditional, but on an intimate scale," says bride Kirstin. The couple decided to get married on a significant date to them " the 12th of the 12th month in 2012, at 12:12pm. The couple met each other on the 12th, so the date meant a lot to them.
Kirstin and Chris live in Australia, and welcomed 40 guests from all around the world: Scotland, England, Cypress, Australia, Germany and Austria. "As our guests were travelling far, we all met the night before the wedding so that friends and family could catch up," says Kirstin.
"We rented a house just outside Plockton, and it was so lovely to get together with people who hadn't seen each other for a while."
The day kicked off with a traditional service in Kishorn Chapel near Loch Carron, the first wedding held there since the mid-sixties.Chris also asked Kirstin to marry him at the historic site, so it was a very special place for the couple.
"Our family helped decorate the chapel with giant thistles and tartan ribbons, all consistent with our Scottish theme and the MacLean family tartan," says Kirstin.
After a traditonal Scottish ceremony, the wedding party continued onto Plockton in a convoy of 12 cars and were met at the Plockton Hotel with welcome drinks.
Afterwards, guests were treated to a three-course wedding breakfast before taking to the floor to the music of Scottish folk band Iron Midden from the Isle of Skye."The banquet tables were pushed to the side of the room and a full ceilidh style party began with Highland dancing and lots of single malt," laughs Kirstin.
"Haggis, neeps and tatties were served to re-energise everyone after all that dancing and the day ended in the wee hours with the guests departing the following morning."
Now that the day is over, and the couple have returned home to Australia, what lasting impressions did the day leave on them?
Chris says that marriage has added that extra stability to their relationship adding, "I am very proud to be able to call my partner my wife. It was such a special fay in our relationship, for two people who were meant to be joined for life. Our marriage shows our commitment to the world, and our love to each other."
ABOUT LYNNE KENNEDY PHOTOGRAPHY
Photographer Lynne is based on the beautiful Isle of Skye, and provides contemporary and stylish wedding photography. She's experienced in shooting large weddings and intimate celebrations, even if it's just the two of you.
Contact Lynne Kennedy Photography.
Venue: Plockton Hotel, Plockton
Photographer:Lynne Kennedy Photography
Dress: Svetlana Martynova
Cake: Celebration Station, Perth
Caterer: Plockton Hotel, Plockton
Florist: Donald from Loch Duich Plants, Kyle
Entertainment: Iron Midden
Hair and make-up: Heather from Bee Bonnie
Tartan Hearts Enjoy Romantic Winter Wedding at Ghillie Dhu, Edinburgh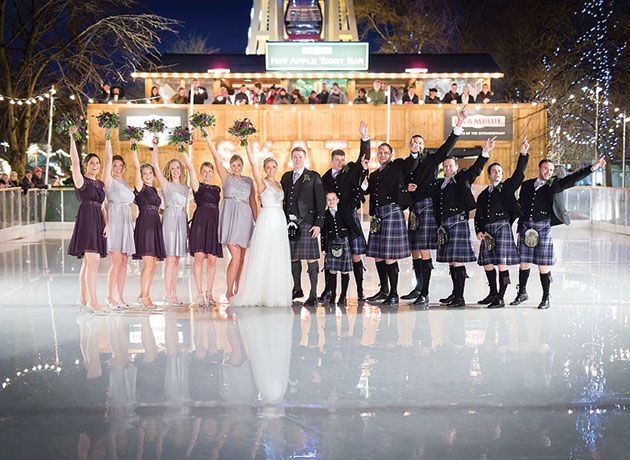 Alistair Smith and Kate Carmichael
Thursday 1st January 2015
Ghillie Dhu, Edinburgh
Photographer: Stuart Craig Photography
Scotland's capital is simply stunning in winter and the perfect location for a festive wedding. The New Year celebrations in Edinburgh are extra special so, when Alistair and Kate decided to marry on the first day of 2015, it was all the more reason to eat, drink and be merry!
As any bride or groom-to-be will know, Edinburgh isn't short of gorgeous wedding venues. The Ghillie Dhu, where the couple opted to hold their ceremony and reception, is among them. It's the perfect choice for those with a more traditional do in mind, which Alistair and Kate definitely did. "We came across Ghillie Dhu by chance," explains Alistair. "I never quite understood it when people say that they ˜just knew' they'd found the right place but that's how it happened."
The Australia-based couple arranged to get hitched before the year they were spending in Scotland came to an end. Both hailing from Scotland, Alistair and Kate were keen to incorporate their roots into the big day.
"[The Ghillie Dhu] has a very Scottish feel to the place, it's historic and beautiful," he adds. "After six years in Australia, we wanted it our day to be as Scottish as we could make it."
While tying the knot on New Year's Day is rather romantic, Alistair admits it was a "logistical nightmare" (think no public transport, inflated prices and a lot of Hogmanay hangovers!). "When we arrived in Edinburgh our room wasn't ready, so the groom party, which consisted of six large men, had to make do with the small changing room area by the pool," laughs Alistair. "Meanwhile the bridal party sipped champagne and were given the pamper treatment!"
After the ˜I do's, the couple surprised the wedding party with a visit to Princes Street. Making the most of having the Christmas market on their doorstep, the party sipped mulled wine and explored the gardens, which were decked out in festive fairy lights. They even managed to persuade market staff to let them on the ice rink " talk about an unbeatable photo opp!
"We became a bit of an attraction and a crowd formed to watch the potential car crash of having a wedding party on an ice rink," Alistair grins. "Being on the ice rink was pretty special since it wasn't really organised, we just used our powers of persuasion."
The couple are thoroughly enjoying married life (although Alistair has to keep reminding himself to replace ˜girlfriend' with ˜wife' when talking about Kate!). "Despite both moving to the other side of the world, we still managed to marry a Scottish person," Alistair smiles. "We had an amazing year and topped it off in the best possible way; having all our family and friends in the same place, enjoying good food, good wine and even better company."
Alistair and Kate are now settling back into life in Australia but, truth be told, they can't wait to come back home. "I desperately miss Scotland," Alistair admits. "We're counting the days until we move back!"
ABOUT STUART CRAIG PHOTOGRAPHY
Stuart is a professional wedding photographer based in Edinburgh, who covers weddings and civil partnerships all over Scotland. He produces a wonderful, natural style of photography and takes pride in operating an honest business with a flair for achieving high quality results.
Contact Stuart Craig Photography.
Venue: Ghillie Dhu. "Our events coordinator, Rebecca Carr, was great and the whole experience was quite easy."
Photographer: Stuart Craig Photography
Dress: Anna Campbell
Cake: Marks & Spencer. "We got the Bauble Cake and everyone raved about it!"
Caterer: Ghillie Dhu
Florist: Stuart Fenwick
Entertainment: Ghillie Dhu DJ. "We had a ceilidh followed by some cheesy 90s dance and pop songs."
Accessories: "I wore a TAG Heuer watch and Kate wore Irregular Choice shoes."
Hair: LS Hair Design
Make up: Emma Motion Makeup
SWD LOVES ¦ The ˜happy hangover' kits the couple gave out!
Persuade guests to get another round in and hit the dance floor, knowing there'll paracetamol within arms reach the next morning.
Vintage Winter Wedding at Melrose Corn Exchange, Scottish Borders
Melissa Capewell and Colin Grzybowski
Saturday 7th February 2015
Melrose Parish Church and Melrose Corn Exchange, Scottish Borders
Photographer: Alex Martin Photography
February is the perfect time for a wedding. Christmas is over and, by the time the January blues fade away, people can't wait to get out and party again! For Scots couple Melissa and Colin, it was the best time to host their quaint, intimate wedding. The couple weren't afraid to let their creative side run free, incorporating DIY details into the décor and even designing their own invitations.
"Although we found all of the handmade touches incredibly hard work " there was many an evening spent moaning! " every little detail was worth the time and effort!" said Melissa. "We made our own table runners, collected quirky glasses and we even made our own prop box for the photobooth."
The couple went opted for a vintage theme with a pastel pink and grey colour scheme to create winter warmness. The room was decked out with tissue paper pompoms and homemade bunting. "We collected 100 glasses from charity shops and family, so that everyone could pick a glass to suit them," smiled Melissa. "There was also a cookie bar to snack on alongside the canapés, as no wedding ever seems has enough!"
It turns out, married life suits the couple completely. "It feels just lovely," beamed Melissa "It's almost the same as we have been together for 10 years, but somehow better!
"The best thing about being a married couple is not having to plan a wedding, so we can enjoy time just being the two of us¦ oh, and having a clutter-free living room again!"
Alex Martin Photography is a professional wedding and portrait photographer, servicing clients in the Scottish Borders and Northumberland area. Complementing her unique flair, creativity and technical expertise, Alex employs a laid back approach to sessions, directing shoots with a light touch but an equally firm hand!
Photographer: Alex Martin Photography "We loved how her pictures were unobtrusive; they had an artistic and natural element."
Transport: Ecosse Classic Wedding Cars "They allowed us to browse the cars at our leisure and were always at the end of an email to answer questions. The drivers on the day were incredibly friendly and helpful."
Dress: Gwenne Wedding Services "Gwenne was wonderful. She was a fountain of knowledge and has a great range of styles in her shop. I went for a dress which had pockets, capped sleeves and a delicate ˜V' at the back, which made me feel comfortable yet glamorous at the same time."
Bridesmaid dresses: Virgos Lounge "We got lots of compliments on the girls' dresses as they were unusual."
Cake: Cuckoo's Bakery "They make the best cupcakes in Edinburgh! At night we put wooden forks into the cakes and handed them out, which was a great extra touch."
Caterer: Black Cherry Scotland
Florist: Rose and Ammi Flowers "Lydia is just amazing! She made the bouquets look simple and busy yet beautifully elegant. She even added a locket of loved ones who couldn't be there and some borrowed pearls to the base of my bouquet."
Entertainment: Goldstar " Music for Scotland "An incredible band who had the dancefloor filled all night. Having a male and female vocalist was a great addition."
Shoes: Rachel Simpson
Jewellery: Not on the High Street
Stationer: "We designed all of our own stationary then had it printed at Pronto Print, Edinburgh. Our save the dates were magnets!"
Hair: Kelly Barrie, Kelso,
Make up: Kari Hart, Edinburgh
Photobooth: LookLook Photobooth
A Beautiful Same-Sex Wedding in South Queensferry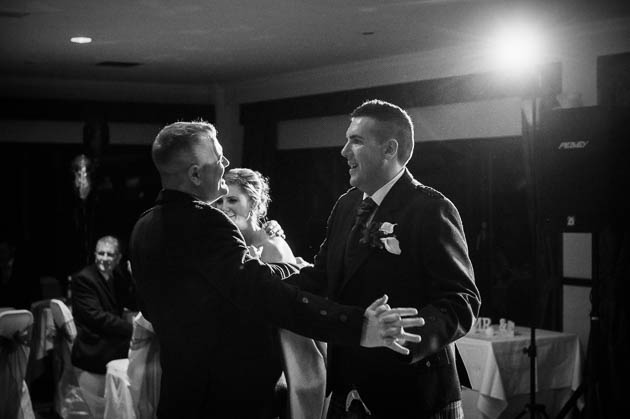 Graeme Crosbie and Steven MacMillan
Friday 24th October 2014
The Queensferry Hotel, North Queensferry
Photographer: Alan Hutchison Photography
Graeme Crosbie and his partner Steven MacMillan celebrated the tenth anniversary of their first date by flying to California to officially tie the knot on romantic Butterfly Beach. The couple also wanted a celebration in Scotland involving their family and friends at home.
"We originally only wanted a party, not necessarily a full wedding,"says Graeme, but admits that after seeing The Queensferry Hotel they changed their minds. "As we were being shown around the beautiful suites and found out about the great Winter Wedding Package, it became clear that this place was perfect for us and within our budget too." What really sold it for Graeme and Steven were the stunning views over the Forth bridges.
The couple decorated the hotel with a silver and purple theme, getting creative to incorporate the memories of their sunshine-filled Butterfly Beach wedding. "We had a butterfly theme weaved throughout the day. Dainty crystal butterflies were placed on the cake and in the flowers, as well as being used on the stationary and wedding favours," Graeme explains.
"Steven and I each walked in with our niece Emily and nephew Lewis as they are such a large part of our lives," says Graeme, who says that their relaxed and informal day was ultimately about sharing their love with close friends and family.
"We asked our closest friends Samantha and David Allen to be involved in the wedding too. David researched how to conduct humanist ceremonies and prepared a personal and unique ceremony for us. Sam was our ˜Best Woman' and gave a speech for both of us at the meal", says Graeme.
In addition to repeating their vows from their first wedding, they also had a handfasting, tying their hands together with tartan. The couple threw away the top table tradition for their reception, opting instead for a circular table in the centre of the room with the guests tables around them so that they could be "in the heart of everything".
So how do Graeme and Steven feel about this exciting change in same sex wedding Scotland legislation?
"Given that same sex weddings are so new with legislation recently changing, it feels great knowing that we're exactly the same as everyone else who is married, our friends and our family," confesses Graeme.
"It's an indescribable feeling to know that you have someone who wants to spend their entire life with you, experience new things and places with you, share a life and be a family together".
Venue: The Queensferry Hotel, South Queensferry
Photographer: Alan Hutchison Photography
Groom's outfits: Graeme's outfit " The Kilt Centre, Hamilton and Steven's outfit " Perth City Kilts, Perth
Cake: Marks & Spencer
Florist: Thistle Flowers, Bathgate
Entertainment: AIB Discos
Wedding rings: Mr Harold and Son Jewellery, Glasgow
Stationer: Little Paper Press and eBay
Hair: Leanne Sharp from Envy Hair, Dunfermline
Décor: Finishing Touches by Adele
Wedding Favours: Favor Fairy
Romantic + Festive Wedding at Dundas Castle, South Queensferry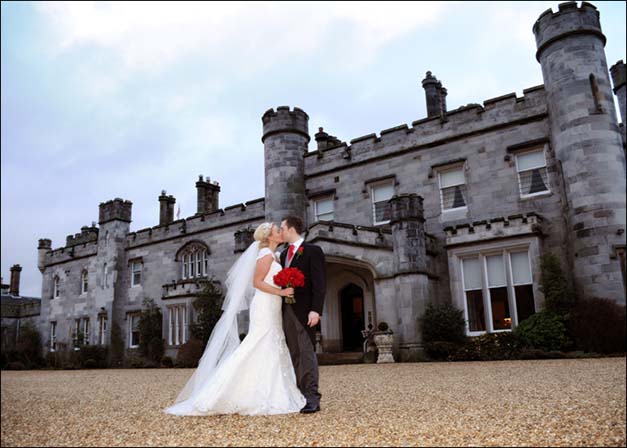 Danielle Robertson and Gareth Jones
Saturday 18th January 2014
Dundas Castle, South Queensferry
Photographer: Lorelle Elizabeth Photography
"Winter is our favourite time of year," bride Danielle tells us. "From the frosty mornings to taking bitter cold strolls, and being wrapped up next to the fire watching an old film¦ we couldn't think of any better time to get married."
She sounds like a lady after our own heart; winter weddings in Scotland are simply stunning. Take some of the most beautiful scenery in the world and sprinkle some glittery frost and snow on top, and you've got the makings of a picture perfect day.
Scotland's grand venues lend themselves to blistery days and Danielle and Gareth chose an exceptionally beautiful one to host their wedding; Dundas Castle in Edinburgh. "Dundas was the first and only venue we found," explains bride Danielle, 24.
"As soon as we saw it, we didn't want to look anywhere else. We fell in love with it all from the romantic Auld Keep to the homely living areas. Meeting the couple who lived there gave it an extra special touch too and we knew it was for us."
As well as being beautifully festive, Danielle and Gareth's wedding theme paid homage to the groom's occupation, an airline pilot. The invitations had a little wooden plane with the couple's names flying around the world, and were posted to guests in quirky Airmail envelopes. "Our seating plan was a world map with pins marking everywhere we've been," says Danielle. "Each table had a place name with details of what we did there."
The couple carefully chose recommended Scottish wedding suppliers to make their day as special as it could be, including a wonderful musical surprise from Danielle for Gareth and their guests. "I hired the Secret Singing Waiters as I had seen them at a wedding before and I loved them," says Danielle. "They blended in with the real waiters so everyone was shocked when they started singing!"
Not only were the singing waiters fabulous, but the star of the show was Britain's Got Talent runner-up Lucy Kay! "All of the singers were gifted but Lucy was brilliant. Our claim to fame is that we had the runner-up of BGT singing at our wedding!"
So what does being married mean to Danielle, and how does she feel now that she's a Mrs?
"Gareth and I just love being married," she says. "We lived apart for 18 months prior to getting married because Gareth was working in the Middle East. Once we were married, it was such an amazing feeling knowing that I was now his wife and we never needed to be apart again. I know it's kind of soppy, but it's true!"
Venue: Dundas Castle, South Queensferry
Photographer: Lorelle Elizabeth Photography. "Lorelle's work is stunning! When I saw her albums I just couldn't have looked anywhere else for a photographer. Lorelle listened to everything we wanted and her relaxed but professional attitude made us feel so comfortable when posing for pictures. I cannot recommend her enough."
Videographer: The Edinburgh Film Company. "I was recommended Edinburgh Film Company by a friend and also by the castle. The guys were amazing and on the day you didn't even know they were there!"
Dress: Enchanted in St Andrews. "I saw my dress in the window of the shop and when I walked past I knew it was the one! When I tried it on I felt just like a princess."
Cake and Stationary: Messydesk Cakes, Cards and Crafts. "Debbie was amazing; we wanted our wedding cake and stationary to be completely different. Debbie listened to everything and even came up with some great suggestions. We had travel themed invitations, vintage favours and a world map seating plan. She even played the organ during the ceremony. This lady can literally do anything!"
Caterer: Prestige Scotland. "Prestige do all of the weddings for Dundas so I knew I was in safe hands."
Florist: The Wedding Florist. "Karen has done many flowers for friends and family and after seeing what she can do we had to ask her to be part of our big day. Not only did she organise my 2000 red roses she was also there on the end of the phone calming my nerves at ridiculous times of the morning. She spent four whole days before the wedding at the castle, organising my extremely large centrepieces. Karen also surprised me with a poem, printed and displayed within the Auld Keep where we got married " These little things money could not buy."
Entertainment: Callanish. "The floor was never empty and played all types of music " from ceilidh to up to date music in the charts."
Hair: Dom Migele in Kirkcaldy. "They have been my hairdresser for years so I was very relaxed and I could explain what I wanted. The girls in the salon are like family."
Make-Up: Karen Bowen Makeup. "Karen was so flexible and did such an amazing job. With one of my bridesmaid being 13 I was concerned about the make up, Karen reassured me that I did not need to worry and she didn't disappoint. We all looked beautiful."
SWD LOVES ¦the beautiful red and white scheme which just screams festive! It's a timeless colour scheme that suits the chilly weather.