Vintage + glamorous 1920s themed wedding at Atholl Palace Hotel, Pitlochry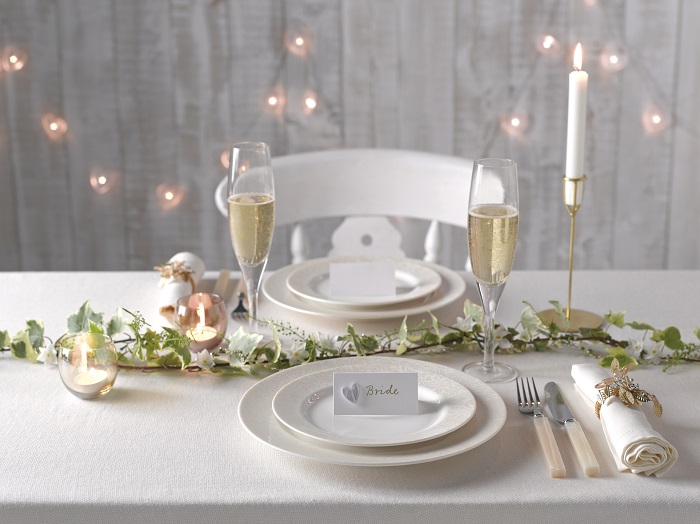 Emily Littler-Gordon + Andrew Norquay
Thursday 24th March 2016
Atholl Palace Hotel, Pitlochry
Photography | Jenni Browne Photography
It was more than just the stunning surroundings of the Atholl Palace Hotel in Pitlochry that persuaded couple Emily and Andrew to book their wedding there. It was a family tie to the venue that sealed the deal.
"My dad, who passed away when I was 19, used to play in a band, and my mum told me that his band used to play there " I thought that was a really lovely connection," says bride Emily. Not only that but because it's a hotel, the couple's guests (of which they had 42 during the day and around 100 at night) could make use of the accommodation there.
"We went for a winter package which included things like the meal, drinks, our overnight stay in the Turret Suite and a few other bits and pieces," Emily tells us, "and our ceremony and meal was held in the Bow Lounge, and then we held our evening reception in the Atholl Suite."
Emily says that they chose to plan a lot of the day by themselves, but the staff at Atholl Palace were always on-hand in the run-up to the day, ready to help when it was needed. "I really couldn't fault them. They were so helpful on the wedding day itself," says Emily.
The theme of the day was vintage glamour from the 1920s; golds, neutrals and creams, with table names in black and gold. They also had a music theme as Andrew is a musician, and the table names were all makes of guitars. "We has an open guitar case for the wedding cards to go in, and our favours were champagne glasses and shot glasses, which were all decorated with guitar charms," Emily says.
"I stayed with my bridesmaids the night before the wedding. I was nervous and excited and didn't get much sleep, but once I got up everyone was excited and happy," says Emily. Kirsty MacPherson did the make-up for the bridal party, everyone except Emily, who, as a make-up artist, did her own. "I have my own business, Blushing Beauty," says the bride.
Emily says that walking into the Bow Lounge was a highlight of the day, seeing her friends and family and being walked down the aisle by her mum and stepdad.
"I felt amazing and seeing Andrew waiting for me was such a special moment," says Emily. The ceremony was humanist, and the couple incorporated a ring-warming ritual as well as drinking from the Quaich.
The food was a real highlight for the newlyweds too, with a varied menu which gave their guests a choice of courses. "I had salmon and prawn pate, a goat's cheese tart with cranberry sauce and a chocolate torte," Emily remembers.
Another special part of the day was the speeches; Andrew made a small speech and then played a song on guitar that he'd written especially for the wedding. "Our first dance was brilliant too. We had a band from Glasgow called Echo State and danced to U2's With or Without You," she smiles.
ABOUT JENNI BROWNE PHOTOGRAPHY
Jenni Browne, based in Crieff, Perthshire, specialises in natural and relaxed wedding photography, unobtrusively capturing all the fun, love and emotion from your day as it unfolds.
Connect with Jenni Browne…
Send an enquiry | Facebook | Twitter | Pinterest
// Venue: Atholl Palace Hotel // Photographer: Jenni Browne Photography // 
Intimate wedding day at The Torridon Hotel and Inn, Achnasheen
Kate + Ian 
The Torridon Hotel and Inn, Achnasheen
Thursday 17th March 2016
Photography | Lynne Kennedy Photography
From the beginning, Kate and Ian were focused on an intimate setting for their big day. "We knew we wanted a really small wedding with just our parents, and we thought it would be nice to take them away.
We're from Hertfordshire and didn't want to fly anywhere, so we decided to take the Caledonian Sleeper up to Scotland," Kate explains.
Finding the perfect location was a laid back affair for the couple.
"We actually booked our venue, The Torridon Hotel and Inn, before I'd even been! Ian had been mountain biking in that area before and he'd been to the whisky bar at the hotel and really liked it. He showed me pictures and I trusted his judgement," Kate tells us.
After booking the pretty hotel, set in simply stunning Scottish scenery, Kate did manage to fit in a visit before their nuptials.
"We booked last September then went up in December. It was around the time that Scotland was getting very stormy weather so our flight was delayed and we didn't arrive until midnight. But the second we walked in I knew we'd made the right choice; they'd kept the fire on for us, prepared hot drinks and even put hot water bottles in our bed!" Sounds pretty perfect to us!
Instead of stressing over table plans or worrying about a large ceremony, the couple decided to have an idyllic and peaceful few days around their wedding.
"We stayed in the Torridon Boat House for the wedding week " it's 10 minutes up a private road and overlooks the loch," says Kate. "It was a really fun week; we did whisky and gin tasting, mountain walking, running and lots of relaxing. Our parents came up for four days and they stayed in the hotel (although the night before the wedding, I stayed in the hotel with my mum)."
The morning of the wedding got off to a slightly bumpy start for Kate: "I went for a run and fell, which was a bit of a disaster as I was wearing a short dress!" The bride opted for a simple Victoria Beckham dress, perfect for the low key ceremony.
"I knew I didn't want a traditional style, and I wanted something flattering that I could wear again and keep forever," Kate tells us. Before the wedding later in the day, the group enjoyed a tranquil day. "The guys all had lunch together and I had lunch with my mum and Ian's mum and we got our hair done in the hotel," says Kate.
To enjoy the day post-ceremony, Kate and Ian chose the Torridon's library as their setting.
"We cut the cake and had champagne then our photographer Lynne Kennedy took us out for photos. When she walked off to take some long-distance shots, we put on Ian's music and had a first dance on our own to Aretha Franklin's You're All I Need to Get By," Kate reminisces.
Following their first dance and photos, the newlyweds enjoyed the rest of their special day.
"We went back to the library which was all dressed for the evening meal " a seven-course taster menu! The food was outstanding. We spent the rest of the night chatting, eating amazing food and enjoying ourselves. It was exactly as we imagined it to be " so relaxed and not at all stressful " and we've made such lovely, laughter-filled memories with our parents.
Also, everyone was so nice, from the hotel staff to our photographer, celebrant and hairdresser; they all helped to make our day truly special," Kate concludes.
ABOUT LYNNE KENNEDY PHOTOGRAPHY
Lynne is based in the Highlands of Scotland and will provide you with emotive images which tell the romantic, emotional story of your big day, as well as a selection of beautiful, intimate portraits of you both. Photographs to treasure forever.
Connect with Lynne Kennedy Photography
Send an enquiry | Facebook | Twitter
// Photographer: Lynne Kennedy Photography // Venue: The Torridon Hotel and Inn, Achnasheen //  Dress: Victoria Beckham // 
Beautiful Scottish Borders Wedding at Clint Lodge, Melrose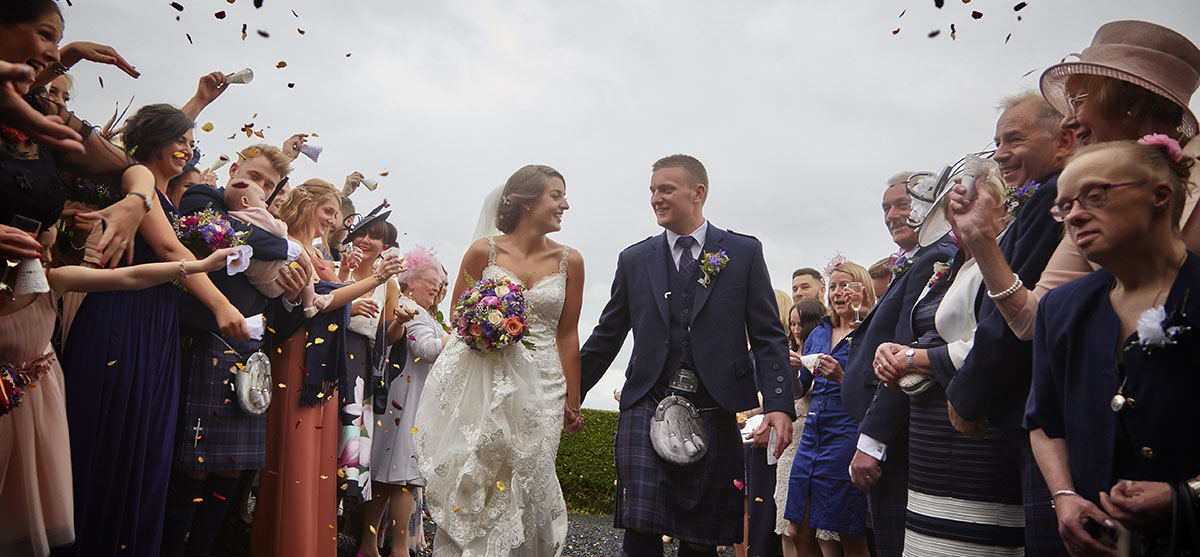 Amy Gunter + Michael Dodds
Friday 15th July 2016
Photography | Story of Love – Wedding Photography by Natalie Martin
When choosing their venue, Amy and Michael knew when they had found The One. "We had visited a few venues, but once we had been to Clint Lodge, nothing compared to it. It was exactly what we wanted. Homely and relaxed with breathtaking views and amazing gardens."
It wasn't just the location itself which Amy and Michael loved, it was the team who made the day extra special. "Suzie who runs the venue did so much for us, I think that's one of the reasons I felt so relaxed on the day," Amy says.
When deciding on her theme, Amy admits she didn't have any set colours in mind when she started her planing. "We didn't stick to a specific theme. I knew that Clint Lodge would be the perfect setting and the gardens already had lots of gorgeous flowers and plants." She was delighted with how things came together once she got started. "Everything just fell into place. I used Pinterest a lot and most of my inspiration was vintage, country and floral. I'm so glad I went for beautiful, bright, bold bouquets as I had initially thought about going for pale/ blush pinks."
Flowers played an important part in setting the scene, with Bev from Ruby Brown Flower Design creating the blooms. "The first tears of the day were when the flowers arrived. I was over the moon! Bev had captured everything I had imagined," says Amy.
When selecting their suppliers, Amy and Michael chose carefully, supporting businesses close by. "I was keen to shop local. All of our suppliers were local other than our band and videographer," Amy explains. This applied to her wedding gown hunt too, finding her dream dress at L.A. Bridal in Galashiels.
"I really wanted to buy my dress in L.A. Bridal as I had been in a few times and Amy, who owns the shop, was so helpful," Amy tells us. "I visited about six or seven shops but was quite late in finally choosing my dress at the end of January, but I'm glad I waited and found the perfect dress. I customised my dress so that it was a little different," she adds.
After spending a relaxing night before the wedding with her parents and bridesmaids, Amy enjoyed a morning of pampering, with Sharon Sanderson from R&R Hair and Beauty in Galashiels and Lucy MacKay of Harmony Beauty getting Amy, her mum, her bridesmaids and her flower girl wedding day ready, something even the youngest enjoyed. "My flower girl, Lia, loved being pampered and looked like an angel with her curls and hairband," Amy smiles.
Amy and Michael ensured to find their perfect photographer to capture all the details of the day, first discovering Natalie Martin from Story of Love at a wedding fair a few years ago when it was Amy's friend getting married. "Ever since then, I knew she was the photographer I wanted to capture our big day when the time came! She is amazing at what she does and we both love our photos," says Amy.
Not wanting to miss a single second of their dream day, the couple also had Ian from Ultimate Moments Videography covering the wedding. "He was brilliant and very discreet. We can't wait so see the final result!"
Michael's friend Richie Todd piped the bridesmaids and Amy and her dad down the aisle and also played after the ceremony. "We were keen to add this traditional aspect as we had guests from Canada and America with us for the wedding", explains Amy.
Putting the finishing touches to her lace, opal and diamante detailed wedding gown, Amy went for minimal jewellery, adding a simple veil from La Bridal to complete her delicate look. Michael's wedding day attire was his own traditional kilt, however he was also looking for a navy tweed jacket, something which proved very difficult to find.
The couple were thrilled to source the right jackets at David Thompson. "We were very happy to find them somewhere local," added the couple.
For the reception, the happy couple opted for a marquee on Clint Lodge's stunning grounds.
"We both have very large families and lots of friends and wanted everyone to be there to share our big day. A marquee was our best option as it catered for the size of our wedding and we could add our own personal touches," explains Amy.
Guests tucked into a feast of canapés, a delicious Spanish inspired main and a scrumptious trio of desserts, created by Suzie Walker at Clint Lodge.
"It was lovely to see everyone mingling in the gardens with a drink and Suzie's beautiful canapés; everyone looked so relaxed and happy. The mini burgers went down very well, so well that I didn't see any but heard so much about them!" Amy says.
As for their cake, it incorporated something for everyone. Created by Heavenly Cakes by Mama, the couple opted for something simple and Amy says that they were delighted with the result. "It was exactly what we wanted. We had a lemon gluten free layer for my mum, a white chocolate and vanilla layer and I got them to make the middle layer red velvet for Michael as a surprise as its his favourite!" she says.
To dance the night away, Amy and Michael chose wedding band Bleeker after hearing fantastic recommendations. "We actually booked them before we had been to see them perform," Amy says. "We had a great night out in Edinburgh watching them before our big day and we were certainly not disappointed. Lauren and Harris put on such a party and our guests danced all night. The dance floor was never empty."
Do the newlyweds have any advice for other brides and grooms to be? "If I was to do it all again I wouldn't change a thing, which is a lovely feeling," Amy says. "Do exactly what you want, not whats on trend at the time or what others have had or want you to have. I think this makes your day your own."
ABOUT STORY OF LOVE
"There is nothing more rewarding than capturing the love you have for one another and your friends and family and this is always so evident on your wedding day. I'm just lucky to be the one there, in the middle of it all telling the story of your day and capturing these beautiful moments in a beautiful way."
Connect with Story of Love Photography¦
Send an Enquiry | Facebook | Twitter 
// Venue: Clint Lodge // Photographer: Story of Love // Videographer: Ultimate Moments Videography
// Dress: L.A Bridal
// Cake: Heavenly Cakes by Mama // Catering: Suzie Walker at Clint Lodge 
// Stationery: Portlande Sanderson
 // Hair: R&R Hair and Beauty // Make-Up: Harmony Beauty Salon
// Entertainment: Bleeker // Flowers: Ruby Brown Flower Design // Cake: Heavenly Cakes by Mama // Marquee:  Kevin Crawford Events
Musical wedding with blue theme at Lothian Chambers and The Edinburgh Larder Bistro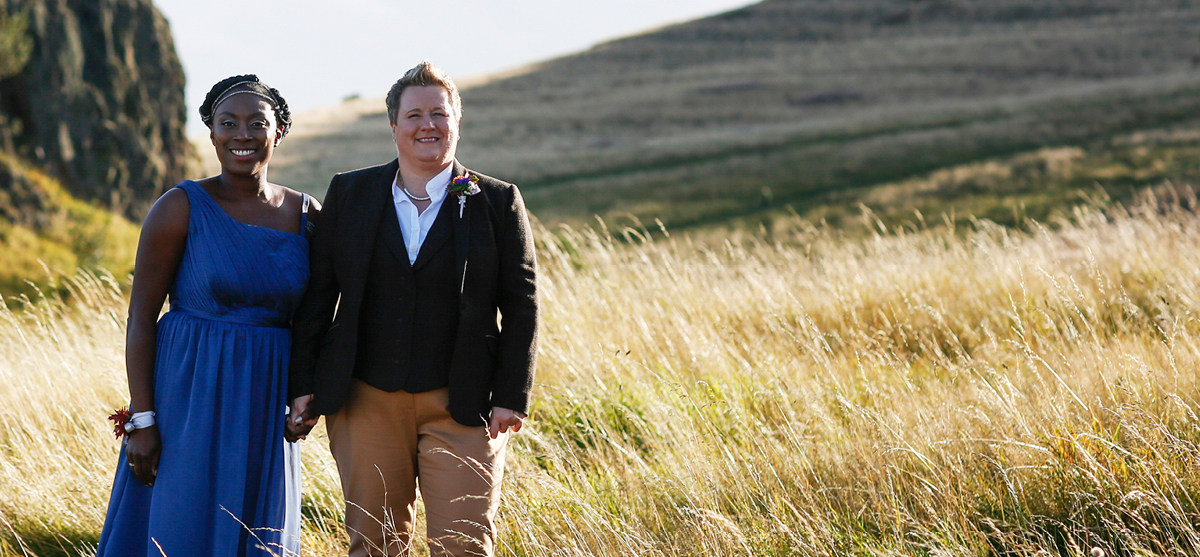 Fran Previdi + Angie Carter
Lothian Chambers and The Edinburgh Larder Bistro
Friday 25th September 2015
Photography | Duke Photography
It was love at first chat when Angie and Fran met at a mutual friend's birthday party. "We had a connection I hadn't felt before," says Fran, who realised the connection ran deeper after only a short time together.
"I knew Angie was The One when she was unexpectedly rushed to hospital one night. We'd only been together a few months but it made me realise I only wanted to be with her."
Once it became clear to the couple how much they meant to each other, it wasn't long before they were engaged.
"We set the date as near to our anniversary as possible and wanted to get married in Edinburgh's city centre," says Fran. "The room we chose at Lothian Chambers was beautiful with an amazing outlook, while the restaurant for our reception had a rustic, relaxed feel that we loved so we didn't use any other décor. The flowers were autumnal and our outfits were blue."
Both ladies decided to go against tradition for their wedding day outfits, "Dress shopping was a scary prospect. But at a wedding show I saw a Grecian dress and decided that style was for me," says Fran with a smile.
"My dress, by Freja Designer Dressmaking, was floor-length and off-the-shoulder in a Windsor blue. Inspired by Pinterest, I had a strap added in the style of shoulder armour, which I loved. I don't wear heels so wore blue leather sequined flip-flops!"
For Angie it was never a choice; she knew what she wanted to wear from the beginning. "Angie knew from the start that she wanted to wear tweed," notes Fran.
"Her outfit was a brown Borders Tweed jacket and waistcoat with a blue pane through it and a blue silk back, complementing my dress. The jacket had camel-coloured patches and she wore tailored trousers with dark tan, brogue ankle boots."
The couple thoughtfully organised a big red bus as a surprise to take guests from the Chambers to the restaurant, travelling via Holyrood and the Radical Road with a special stop for prosecco, speeches and pictures at St. Margaret's Loch.
Music was an important part of the ceremony, especially for choir member Fran. "We had Arrival of the Queen of Sheba by Handel playing as we walked down the aisle and during the ceremony I performed with some of my choir friends. We sang Fly Me to the Moon by Frank Sinatra and Always and Forever by Heatwave, which was part of our proposal.
We had Fleetwood Mac's Everywhere playing when we left as a married couple."
The couple opted for not one but two cakes: a gluten-free sponge with a mini version of the newlyweds on top, and a plaque saying Maude Loves Joan (their nicknames for each other!) and a cheese wheel cake, decorated with flowers. "It had two miniature gnomes as a topper – Angie loves them!" says Fran.
"Our first dance was At Last by Etta James. It's a beautiful song and the words are very poignant to us. Then we had a disco and put together a playlist of our favourite songs " as I said, we're control freaks! The reception was a blast; everyone had plenty to eat, space to chat and could dance when they wanted. It's really special and you feel so totally loved by everyone."
ABOUT DUKE PHOTOGRAPHY
"Every moment, emotion and milestone is expertly captured to create the picture perfect memory of your day in your own bespoke folio. Our experienced and highly recommended professional wedding photographers work closely with you to understand the style of photography that will best capture the real character of your wedding."
Connect with Duke Photography
Send an enquiry | Facebook | Website
// Photographer: Duke Photography // Ceremony venue: Lothian Chambers // Reception venue: The Edinburgh Larder Bistro
// Florist: Narcissus Flowers //  Transport: The Red Bus // Make-up artist: Colette Casher Make-Up Artistry
// Fran's dress: Freja Designer Dressmaking // Angie's outfit: Walker Slater  
// Rings: Annie Smith //
Winter Forest Fairytale at Beautiful Meldrum House Hotel, Aberdeen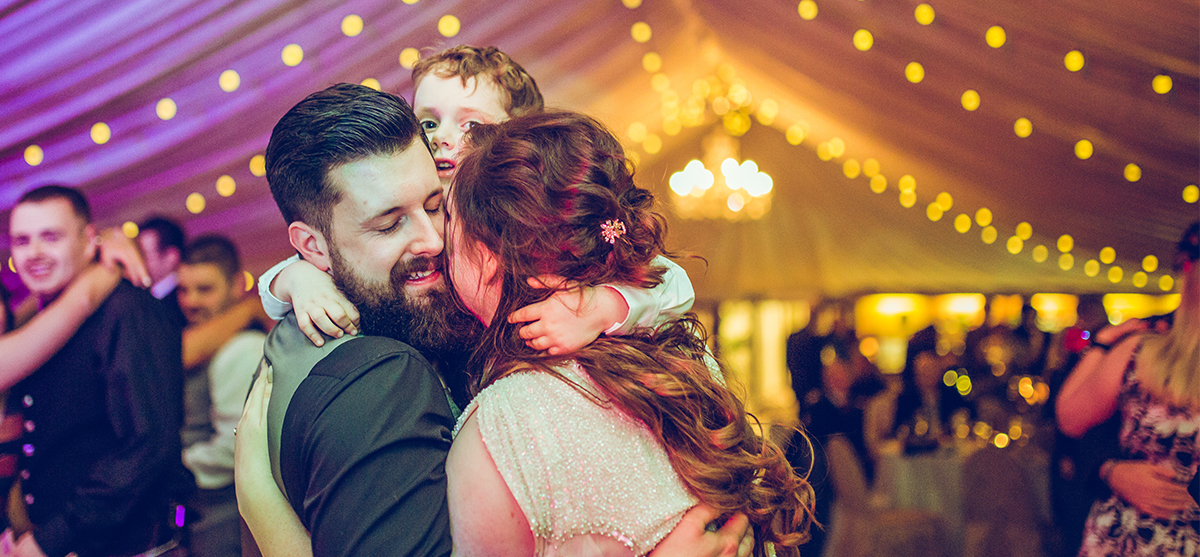 Carrie Muir + Liam Pettitt
Friday 27th November 2015
Photography | Fairytale Asylum Photography
Meeting at a gig, the couple had been together six years when Liam proposed as the couple were watching TV. "˜I think we should get married!' were his exact words," Carrie tells us. "It may not seem like much but it was just right for me." They then chose Carrie's engagement ring, a solitaire diamond on a gold band.
There was no doubt for Liam and Carrie that Meldrum House was their wedding venue and they booked the date straight away. "We knew we were meant to get married there as soon as we walked through the door," she says. "We looked at a few venues but none made us feel as good as Meldrum House."
It was while walking through a wedding exhibition that Carrie found décor company Three Tiers and fell in love with their rustic feel; they created a winter forest theme for the November wedding. "We had trees, plants, barrels, hessian and lots of brown. There were lots of lanterns and pretty autumn-coloured leaves scattered down our grass aisle runner," Carrie describes.
Originally thinking she wanted a long sleeved, lace gown, Carrie instead opted for a fully beaded ˜Esme' by Jenny Packham gown. "It was the most beautiful dress I'd ever seen and really took everyone's breath away," she says. Complementing her dream dress, Carrie wore a cathedral-length veil and Vivienne Westwood gold love heart flat shoes for a subtle quirky twist.
The night before the wedding was a relaxed affair for Carrie at her mum's house, spent with her sisters and best friend before a hectic morning getting ready. "We had hair and make-up, as well as about 15 other people in the house from 7am! It was noisy and busy so kept me distracted from the nerves," remembers Carrie.
Crafty Carrie made her invitations and favours, which doubled up as place settings. She filled jars with Smarties, painted the bottoms in pastel colours and attached handwritten luggage tags. The couple also chose a unique take on floristry.
"Rather than traditional flowers, we had yellow craspedia and pale blue and green succulents. They were so beautiful and a bit different; more like plants!" Keeping in with the woodland wonderland theme, even Liam's wedding ring reflected the day, created from stag antler, turquoise and wood.
To capture their big day, Carrie looked to wedding forums to find a natural-style photographer as they couple 'aren't very good at posing!'
Emma from Fairytale Asylum got in touch and, after looking through her pictures, they knew she was the right fit. "She was amazing, made everyone feel comfortable and had a great laugh with us all," Carrie says.
The day had a real traditional Scottish feel, with the couple choosing Caledonia by Dougie MacLean as their first dance, "It's really symbolic for us; no matter where we are in the world, our home will still be with one another," says Carrie. Guests then danced the night away to a DJ playing a variety of favourite songs.
Being married hasn't made anything too different for the couple, although Carrie thinks being a Mrs may take some getting used to! "Being married makes me feel very grown up," Carrie reflects. "Not a whole lot is different though, except my last name. And, because we have a four-year-old, we feel more of a solid family now we've taken the leap."
ABOUT FAIRYTALE ASYLUM PHOTOGRAPHY
"I prefer to adopt a storytelling approach to documenting the day, capturing all the details and moments as they happen. I will be like a photo ninja, yes we can do some fun (semi-posed) images, couple shots, portraits and group shots then the rest of the time I will be off taking candid photos."
Connect with Fairytale Asylum Photography…
Send an enquiry | Facebook | Twitter
// Photographer: Fairytale Asylum Photography // Venue: Meldrum House Hotel
// Florist: Isla Duncan Florist // Décor: Three Tiers  // Hair: Kerry Gillan 
// Make up: Lisa Aitkenhead Makeup Artistry // Piper: Julie Brinklow at Thistle Piping 
// Band: DJ Stephen Jackson from local radio station, Original 106 FM
// Bride's dress: Perfect Bridal Rooms // Bride's shoes: ASOS // Groom's outfit: McCalls Highlandwear
// Bridesmaid dresses: Wallis  // Bride's wedding ring: Sinclairs of Inverurie 
// Groom's wedding ring: Etsy //
Glittering Jewish Wedding Celebration at The Grand Central Hotel, Glasgow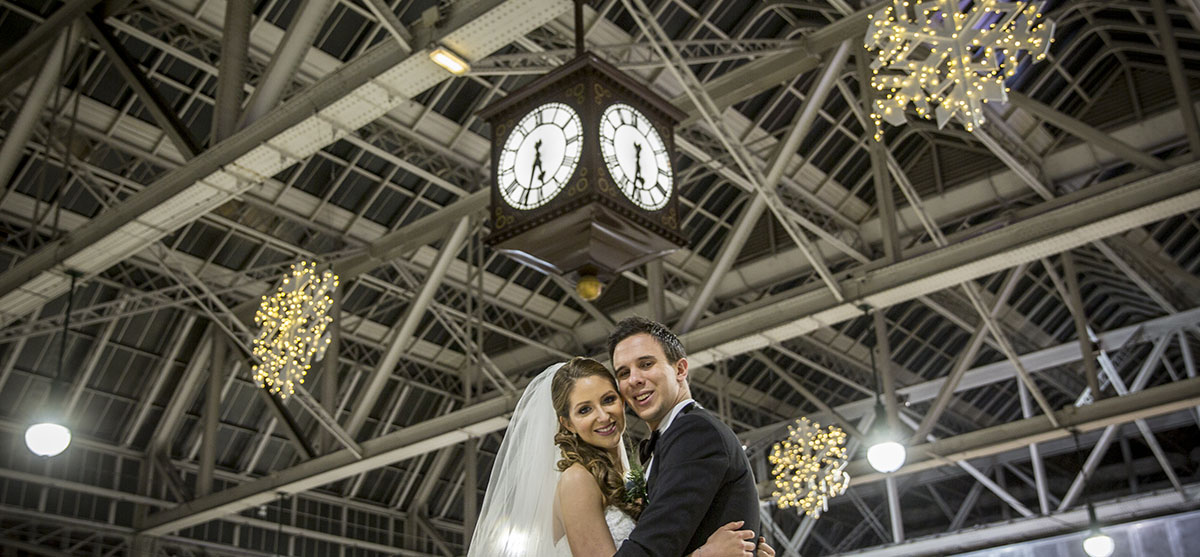 Natasha Goldberg + Daniel Woolfe
The Grand Central Hotel, Glasgow
Sunday 22nd November 2015
Photography | 1500 Photography
Two and a half years after a successful blind date, marketing manager Natasha was on a work site visit to the St. Pancreas Renaissance Hotel. "I was guided up a beautiful, grand staircase (the one in the Spice Girls' Wannabe video!) and was shocked to see Daniel," Natasha recalls. "When I reached the top, he proposed! It took me a while to work out the whole visit was a set up."
Organising events as part of her job, Natasha could use a lot of tricks of the trade in the wedding planning. "My Glasgow-based mum was instrumental in the planning too as we live in London. What I found most stressful was managing the opinions and requests from Daniel, my parents and in-laws " I'm used to having complete autonomy when arranging events so it was challenging to have other voices at the table!" she says.
With a love of bridal TV shows and a Pinterest board full of dresses, Natasha found The One in the second wedding dress shop she looked in. She didn't commit to the dress until later as she wanted to make sure she had seen all the different options.
"After all, you'll never get another chance to shop for your wedding dress!" she adds. Natasha accessorised with sparkles: diamond earrings from her new in-laws, a diamond necklace from her mum and a shimmering hairgrip to finish the look. For her three bridesmaids, she opted for gorgeous deep pink, full-length chiffon gowns from Dessy, all modified with a halter neckline and cut-out detail.
In keeping with Jewish tradition of the bride and groom not seeing each other for a week before the wedding, Natasha headed home to Glasgow and spent time with her family. "It was so nice having the whole week to arrange the final details. Seeing Daniel a week later when he came to place the veil over my face before the wedding was really special," says Natasha.
As the big day arrived, it was a relaxing start before the nuptials. "I loved the morning of my wedding," Natasha says. "I had breakfast with my family and gave my mum, dad and sister sentimental cards and gifts. It was really special. At the hotel we had nibbles, played music and Daniel's best men brought me a card and present from him " a Mulberry handbag."
For the ceremony itself, it was all about tradition. "It was important for us to have a traditional Jewish wedding ceremony and we made a guide for non-Jewish guests to explain the traditions," Natasha says. "We had a piper and a male choir who sang traditional songs then our external caterers provided a kosher feast."
To ensure every aspect of the spectacular day was captured, the couple found their perfect photographer through a recommendation from a friend. "They were like fairy godparents on the day, helping the boys with their bow ties and even had a crochet hook on hand so my mum could do up my dress. They really went above and beyond." The couple also chose a videographer who was a "seasoned pro at Jewish weddings!"
The grand ballroom was decked out in deep shades of pink and purple, the beautiful blooms and silver candlesticks setting a romantic scene. Silver and purple stationary complemented the décor and a glittering backdrop behind the band gave a perfect finishing touch to the glamorous venue.
Selfie sticks adorned the tables for guests to take the perfect picture and there were flip flops for the ladies to make sure they could party all night!
Following Jewish practice, the bride and groom and their guests celebrated with traditional Israeli dancing, which Natasha describes as hectic: "It involves splitting the men and women, dancing in concentric circles, being lifted up on chairs and the groom being thrown up in a sheet! It really gets everyone in the mood for a party!"
Afterwards, the dancing continued into the night with a mix of chart music and oldies. Thinking of every detail, the couple gave guests from afar hospitality bags which included Irn Bru, a personalised ˜Do Not Disturb' sign for the rooms and other goodies.
Looking back on her big day, Natasha has some words of wisdom for other brides-to-be.
"Planning a wedding is stressful and those who say it's not are either lying, not paying enough attention to detail or are eloping!" she laughs. "I had a 10-page running order that I was teased about but it meant the day ran like clockwork and I didn't have to think about anything other than having fun. Time flies so enjoy it as much as possible!"
ABOUT 1500 PHOTOGRAPHY
With 1500 Photography you will benefit from over 15 years experience with one of Scotland's top wedding photographers, Stuart Wood.   A multi award winner with accolades including MPA Scottish Wedding Photographer of the Year 2011.
Connect with 1500 Photography
Send an enquiry | Facebook | Twitter
 // Photographer: 1500 Photography // Venue: The Grand Central Hotel // Filmmaker: Video Jack
// Florist: Floral Haven // Hair: Alison Hanagan at Rock, Paper, Scissors
// Make-up: Julia Martin at The One Lounge
// Band: Storm // Wedding dress: Joyce Young Designs // Bride's accessories: Rainbow Club
// Bridesmaid dresses: Dessy //
Love Across the Borders at Colourful Dryburgh Abbey Wedding, Scottish Borders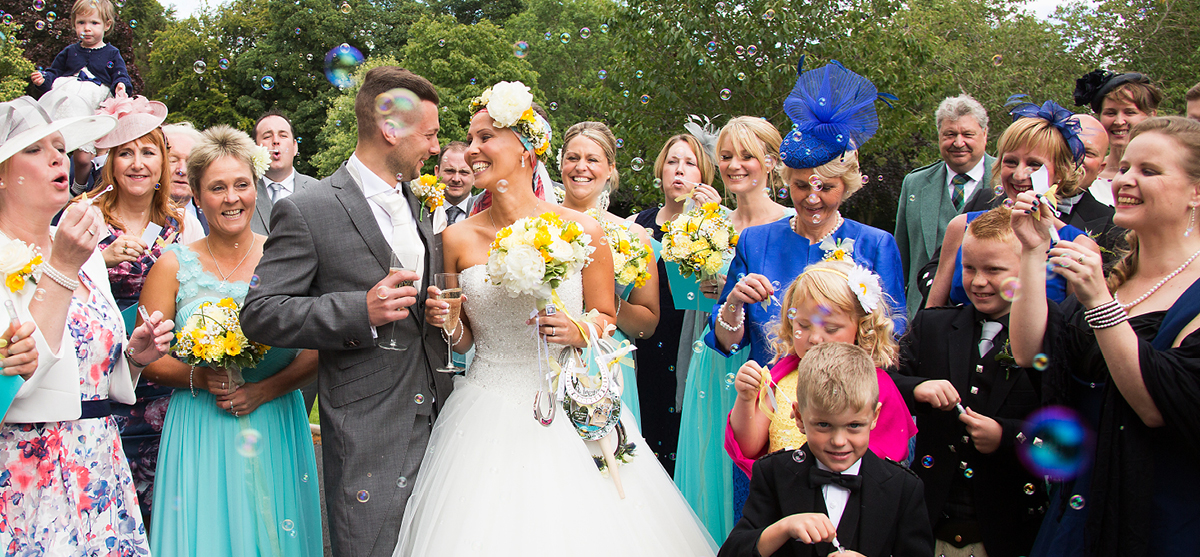 Melanie Foster + Danny Gray
Saturday 15th August 2015
Melrose Parish Church, Dryburgh Abbey and Dryburgh Abbey Hotel Hotel, Scottish Borders
Photographer | Parris Photography
Melanie Foster is a big believer in fate, as is her now-husband Danny. It makes sense, given that both of them are a prime example of being in the right place at the right time " more specifically, the same nightclub in Devon, where Danny lived at the time.
"A friend had moved there, so I was down visiting her," Melanie, who comes from the Scottish Borders, explains. She and her friends hadn't planned on visiting that particular club and Danny would later tell her the club " where they met, laughed, drank and swapped numbers " was not part of his friends' plans either; it was just pure luck that's where they both ended up.
What happened next was a force even bigger than fate. Despite 450 miles and the English border separating them and, with little more than an evening of conversation and an exchange of numbers to go on, Danny and Melanie stayed in touch.
They texted, chatted over the phone and eventually organised visits to see each other (cue a well-travelled road from Melrose to Devon). "Things immediately felt different with Danny," Melanie smiles. "It felt right and we both knew it."
Fast forward six months and the couple were enjoying a holiday in the Greek island of Cephalonia. Sat atop a cliff, watching the sunset, Danny popped the question " Melanie didn't have to think about the answer. "It was completely out of the blue," she admits. "I wasn't expecting it at all."
Newly engaged, Danny packed up and moved to Melrose, closing the distance between them. For the first time, Melanie and Danny were a standard, co-habiting couple " something they were keen to sit back and enjoy for a while. "Just being able to come home at the end of the day and see each other was a novelty," she beams. "We wanted to enjoy that instead of rushing into wedding planning."
Shortly after becoming engaged, they attended one wedding fair when they returned from holiday. "It was a real eye-opener," Melanie laughs. "We just went to have a look, we weren't in a rush to set a date." They did, however, meet Sandra and John from Parris Photography at that first wedding show " an impression that stuck when they finally started properly planning!
Starting to look at venues, Melanie quickly decided that she wanted to marry in a church; more specifically her local parish, just 15 minutes down the road. Finding a reception venue proved a little more difficult, though it turned out the perfect option had been hiding in plain sight.
"I thought about Dryburgh Abbey when I was driving home one evening," Melanie says. "Danny had never been there before but, when we both went out to visit, he agreed it was perfect."
Though the couple had different elements they wanted to focus on " Danny was passionate about photography and music, while a crafty Melanie was keen to add her own DIY touches to the day " they didn't have any problems deciding how to spend the budget. "We were on the same page," Melanie nods, "we knew where we wanted to spend a little more and where we wanted to scale back a bit".
The bride eventually found her ideal dress in Edinburgh's Crystal Bows Bridal Boutique. It was the last shop she'd made an appointment at and the last gown she tried on ("I'd tried on a lot by this point but none of them were rocking my socks!"), and immediately she knew it was the one.
The other thing Melanie had to consider was accessorising. Having alopecia, she wasn't sure how easy it would be to wear a veil. She chose a brightly coloured headscarf that complemented her bridesmaids' dresses, paired with a gorgeous floral crown. "I wasn't sure if I'd be able to wear a veil as they're obviously not designed to be attached to a headscarf," she says, "but we made it work on the day."
Melanie and Danny decided not to theme their wedding as such, but gave it a slightly Mediterranean feel to nod to the holiday they got engaged on."I wanted something bright and laid back " I love the colour turquoise so we just went with that." The centrepieces were floral arrangements in tall vases with lemons, complemented by hanging lanterns, turquoise bridesmaid dresses and cheerful yellow flowers.
The wedding itself snuck up on the couple but nerves didn't really catch up with Melanie until half an hour before she was supposed to leave. "My bridesmaids and I stayed in a suite at Dryburgh the night before the wedding," she explains. "Lynne Mills of Eye Candy did our make-up in the morning and was a very calming influence!"
Standing outside the church, Melanie was definitely feeling emotional. "I had a bagpiper pipe me in and I feel like pipe music can stir up something and be emotional anyway," she says. "You end up so busy with the planning that it can take up to that moment for the enormity of the day to hit you." She decided to focus on Danny to keep tears at bay ("I didn't want to ugly cry in my expensive make-up!") but quickly realised she was on her own because, as soon as Danny laid eyes on her, he broke down in tears. "He didn't know if I would be able to wear a veil so, seeing me walk in, that was an intense moment," she says.
There was another moment Melanie was fiercely protective of: she wanted to walk herself down the aisle. Her dad, who had passed away five years earlier, would've been the obvious choice to give her away but, despite kind offers from family, she didn't want anyone else to. "I didn't really need given away " I was happily giving myself to Danny," she says. "I knew it would be emotional but I'm glad I stood my ground and did it on the day. I had a charm with my dad's photo on my bouquet, so he was there with me."
The rest of the day was a bit of a blur. Melanie gave a toast to her dad during the speeches ("I had my maid of honour on standby in case I got too emotional but I got through it!") while the best men had everyone in stitches. Shortly before the reception, Danny disappeared. "I remember being annoyed at him for cutting into my dancing time," Melanie laughs. "When he came back, he'd changed from the suit he'd been wearing all day into a kilt " he got a round of applause for that!"
Despite tying the knot in the height of summer, couples marrying in Scotland know better than to try and predict the weather forecast. Luckily the sky stayed blue, letting the couple bask in the glow of post-marital bliss as well as some actual sunshine! "I had this picture in my head of the kids running about the grass," Melanie says. "It was one of the only parts of the day I really wanted to work out like I'd imagined¦ I walked out onto the lawn in the evening and they were playing outside. That was perfect."
// Photographer: Parris Photography // Venue:  Melrose Parish Church, Dryburgh Abbey + Dryburgh Abbey Hotel
// Dress and bridesmaids' dresses: Crystal Bows Bridal Boutique  // Groom's outfit: Moss Bros // Florist: Emma McDonald at Stems
// Entertainment: The Invitations // Make-up: Lynne Mills, EyeCandy Pro Team // Favours: Buttonmoon Tablet
// Transport: Barry's Bridal Classic Cars // Chair covers: Chair Cover Creations //
Creative Wedding with Cheerful Blooms at Pollokshields Burgh Hall, Glasgow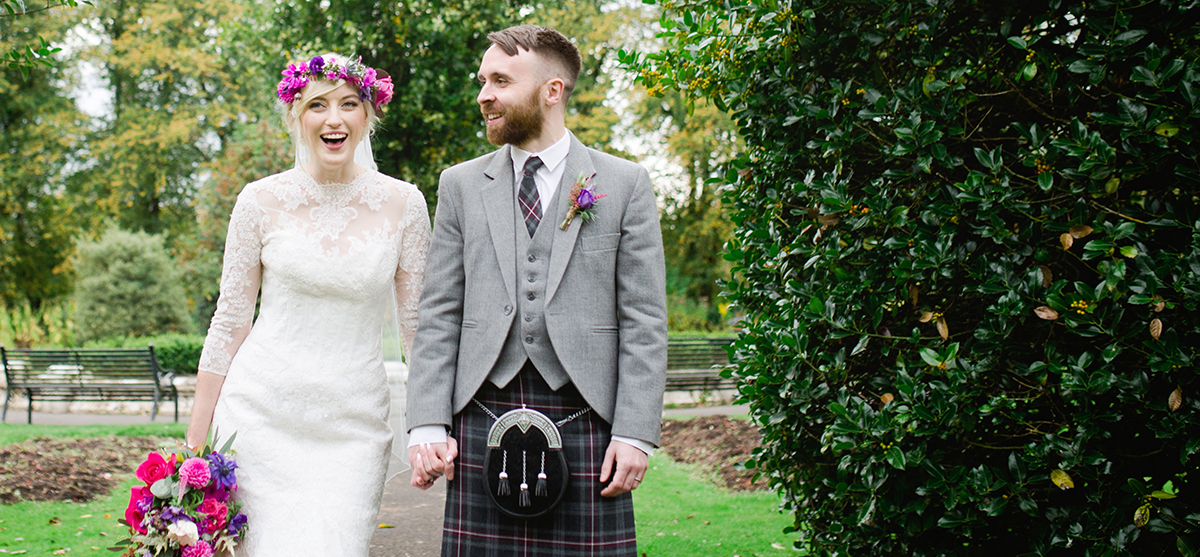 Amy Brechany + Barry Mochan
Pollokshields Burgh Hall, Glasgow
Wednesday 14th October 2015
Photography | The Gibsons
"Our shared values and similar characteristics connected us the first time we met. Even in quiet times sitting side by side reading, watching Netflix or catching up on schoolwork, I'm at my best having Barry in my life," says Amy.
Barry proposed on Christmas morning in 2014 at the couple's home in the West End of Glasgow. He pretended he'd lost one of Amy's gifts and asked her to check behind the Christmas tree. "There was a little dark blue box from my favourite jewellers and, inside, a gorgeous little ring with ˜Marry me' engraved on its side," beams Amy. "On Boxing Day we went into Glasgow so I could choose my own engagement ring."
Pollokshields Burgh Hall was their venue of choice; a pretty, red sandstone building with the charm of a little castle about it. Inside, the light and original features of stained glass windows, natural wood and exposed stone work is stunning and really sealed the deal for Amy and Barry. "It was also important to have the flexibility to set up the space and decorate it in our own style " it was perfect for that," Amy says.
"We made it as personal as we could with stacked crates with framed pictures and a memory table of old things that belonged to us. Our table plan was an antique mirror with black chalk paint and bunting made from cut up Scotrail tickets," says Amy.
"Fittingly, our table names were local train stops we'd commuted between when first dating. And there were plants, winter pansies, vases, mason jars and candlesticks everywhere!" The mouth-watering cake featured purple iced flowers and black polka dots and had three tiers: chocolate fudge, lemon drizzle and traditional fruit. Yum!
Amy knew she wanted a fully laced dress with a high neck and sleeves; comfortable yet glamorous and quite classic. After popping along to a sample sale and explaining what she was looking for, the shop assistant pulled out a dress that was perfect.
"I instantly knew that it was The One¦ it fitted me perfectly; too good to be true!" she says. Amy had amazing shoes too. Charlotte Mills ivory leather courts with a stunning gold block heel and a sweet poem on the sole.
The bridesmaids wore gorgeous dresses from ChiChi London, a fit-and-flare style with pockets " handy for mobile phones and lipgloss!  "The pansy print matched our invites, and the colours were lovely," says Amy. They wore antique gold shoes of their own choice and had their hair styled to reflect their personalities. Talented bridesmaid Corrin actually illustrated the monochrome and metallic stationery, including the seating plan, table names, place names and order of service.
"Walking down the aisle was a moment I will treasure," Amy tells us. "Half way down, Barry turned around and gasped " it was very sweet!" The couple had beautiful music by an ensemble of a flautist, violinist and guitarist then a humanist ceremony, incorporating handfasting, which signifies tying them together in marriage. "We now have the knot framed at home," she says.
"The evening reception was buzzing and so much fun! We had our friends' band play and organised a photobooth, which went down a storm," says Amy. Guests got two strips of each set of photos " one for them to keep and the other for their guest book where they stuck in the snaps and wrote messages.
For Amy, the most fun parts of planning were looking at venues and choosing décor, trailing through charity shops for picture frames and candle holders.
"After we dropped off our boxes of props at the venue, we said to each other how amazing it was all going to look then hit a fit of the giggles with excitement, realising we were actually getting married the next day!"
ABOUT THE GIBSONS
We are a relaxed, fun and friendly husband and wife team who go above and beyond to ensure that your wedding journey and photos are unique to you as a couple.
Connect with The Gibsons…
Send an enquiry | Facebook | Instagram
// Venue: Pollokshields Burgh Hall // Photographer: The Gibsons // Celebrant: Claire Digance
// Invitations: A Little Thing Called Love // On-the-day stationery: Corrin Strain
// Cake: Special Days Cakes // Favours: Yorkhill Children's Charity pins // Florist: Floral Menagerie // On-the-day wedding co-ordinator: Be Eventful
// Transport: Ecosse Classic Wedding Cars // Make-up: Cat Robertson // Band: Band of Gold
// Ceremony and drinks reception music: Amarone Music // Photobooth: Bygone Photo Booth // Dress: Anne Priscilla Bridal // Bride's shoes: Charlotte Mills
// Groom's outfit: MacGregor and MacDuff  // Bridesmaid dresses: Chi Chi London  
// Engagement and wedding rings: Laings of Glasgow //
Quirky + Intimate Wedding at Prestonfield House, Edinburgh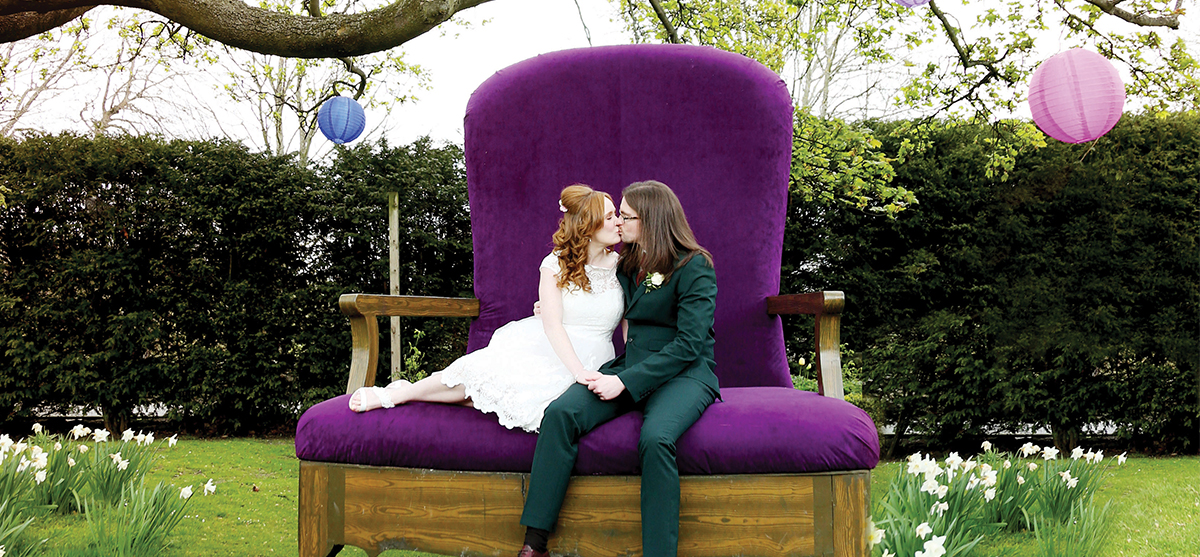 Fiona Graham + Nicholas James Dixon
Saturday 23rd April 2016
Photography | Lana Eve Photography
For Fiona and Nicholas, finding a venue for their quirky Edinburgh wedding and setting the date was number one on the to-do list but, apart from knowing they wanted somewhere small and intimate with a photo-ready interior in case of bad weather, they had no idea where to get married.
Fortunately, Fiona's sister recommended wedding photographer Lana Eve who the couple promptly fell head over heels for " not only for her snaps, but because she had a great venue suggestion up her sleeve¦
"Lana suggested the Lothian Chambers and then Prestonfield House," explains Fiona. "We went to see Prestonfield and fell in love. The Garden Room was perfect for the vintage feel we wanted."
Although they were engaged for a year, the wedding was planned in just a few months; partly because they only had 17 guests to think about, and partly because organising comes naturally to Fiona and she was only too happy to take charge.
Luck played a role in making the planning process easier too; Fiona happened upon her dress by chance while attending another wedding, where she fell in love with the bride's vintage-inspired knee-length gown.
After a night of admiring it, she knew she was in love and headed home to order it! She paired it with matching shoes and added flowers to her gorgeous long red locks and did her own make-up on the day, aiming for a natural long-lasting look.
The bride's morning was relaxing; a bath, trip to the hairdressers and a sunny walk through Dunfermline Abbey with her sister, then some Buck's Fizz ahead of the nuptials.
After an emotional walk down the aisle ("We had an instrumental version of Video Games by Lana del Ray playing, which was beautiful") Fiona and Nicholas tied the knot in a civil ceremony, with some special words that had meaning to them as a couple.
A beautiful vintage Jaguar Mark IV, which worked perfectly into the theme, took the bride and groom to the luxurious yet quirky Prestonfield House where celebrations began. There was an intimate prosecco drinks reception and guests dined from the private dining menu, with both families around one table.
Informal and whimsical was the order of the day so there's no surprise that several wedding traditions were relaxed, making for a really simple, special and personal day; an absence of bridesmaids due to the small guest list (although there was one very special flower girl!), no speeches or favours, and an omission of the first dance and band in favour of a selection of the couple's fave tunes on an iPod.
"The atmosphere was perfect. I'd tell other brides to remember the whole point of the day, which is marrying the one person you love more than anyone else in the world. Don't get hung up on little details!"
ABOUT LANA EVE PHOTOGRAPHY
"Styles of weddings, images and albums have changed so much throughout the years, but the one thing that is the same is my desire to capture your special day, in a contemporary, tasteful and elegant way."
Connect with Lana Eve Photography…
Send an enquiry | Facebook | Twitter 
// Venue: Prestonfield House // Ceremony venue: Lothian Chambers
// Photographer: Lana Eve Photography
// Cake: Mimi's Bakehouse // Florist: Silk and Fresh Flower Pot, Cowdenbeath // Transport: Ecosse Classic Wedding Cars
// Hair: Innovate // Bride's dress: Chi Chi London // Rings: Chisholm Hunter //
Scottish + Belgian Celebration at Stunning Carlowrie Castle, Kirkliston
Frances Drummond + Kai Vering
Carlowrie Castle, Kirkliston
Friday 28th August 2015
Photography | Suzanne Black Photography
Passionate Fran followed her love of horse riding from Scotland to Belgium nine years ago and got chatting to Kai at parties, where he'd drunkenly predict that, one day, they'd get together. Five years later he was right and after two years of romance, Fran popped the question at a beautiful spot near Fran's childhood home in Aberdour.
Dead set on a date during August 2015, the first priority was finding a venue and when Fran's sister Fiona stumbled across new venue Carlowrie Castle, the decision was made. Fiona and the girls' mum were instrumental in the planning process and laid-back Fran admits that without them the wedding would never have gone ahead: "My mum deserves a medal and I thank her so much for all the effort she put in."
Fittingly, the theme was relaxed vintage romance with lots of natural outdoorsy touches and the purple of Kai's kilt inspired the amethyst"coloured invitations. The table settings were a mixture of beautiful antique roses with lots of foliage and candles. Creative Fran added herbs too, keen for guests to experience the day on multiple levels with a scent that would keep the memories fresh in their minds for years.
The night before the big day was a celebration with Belgian friends and family, which included dancing on the tables and skinny dipping! Fran slept in her childhood bedroom and had a relaxing wedding morning. Hair was done by dear friend (and wedding guest) Miriam Begg and make-up artist Lucy Gourlay was a recommendation from Fran's sister: "Lucy creates what just looks like a really beautiful version of who you are."
Fran's dress, a low-back lace gown with a long delicate train (not the image she'd had in her head at all whilst shopping!) fitted perfectly into her romantic theme and was teamed with gorgeous gold Marc Jacobs court shoes. Kai, meanwhile, embraced his new Scottish connections with an Isle of Skye kilt and Argyll tweed jacket.
The outdoor ceremony, soundtracked by a piper and string trio, was small and intimate with just the right amount of humour. Afterwards, Belgian guests experienced their first Pimms and prosecco drinks reception followed by a delicious Scottish menu. A nod to one another's cultures, Kai gave his speech in English and Fran's dad begun his in Flemish " aww!
The evening kicked off with a ceilidh, followed by a DJ set and mini fish and chips for late night nibbles: "We had such a great mix of people from all walks of life and all corners of the world. It could have gone either way but everyone mixed, came together and got on like old friends. I had the most wonderful night!"
ABOUT SUZANNE BLACK PHOTOGRAPHY
"Based in Scotland, I am an award-winning professional Scottish wedding photographer offering a bespoke client service specialising in Scottish Wedding Photography and destination wedding photography all over the UK and the World. I shoot all types of weddings from intimate Scottish elopement weddings to grand Scottish castle weddings and everything in between."
Connect with Suzanne Black Photography…
Send an enquiry | Facebook | Twitter | Instagram
// Venue: Carlowrie Castle  // Photographer: Suzanne Black Photography
// Stationer: The Card Lab // Cake: Liggy's Cakes // Florist: Spiral Flowers
// Hair: Miriam Begg, Charlie Miller Salon in Ocean Terminal // Make up: LG Makeup // Band: Hop Scotch
// String quartet: Scotia String Quartet // Caterer: Wild Thyme
// Dress: Emma Roy of Edinburgh // Bride's shoes: Marc Jacobs
// Groom's outfit: Gordon Nicolson Kiltmakers // Bridesmaid dresses: Monique Lhuillier
// Rings: Elke Smellenbergh //