Our Scottish Elopement: A scenic wedding ceremony at the Quiraing, Isle of Skye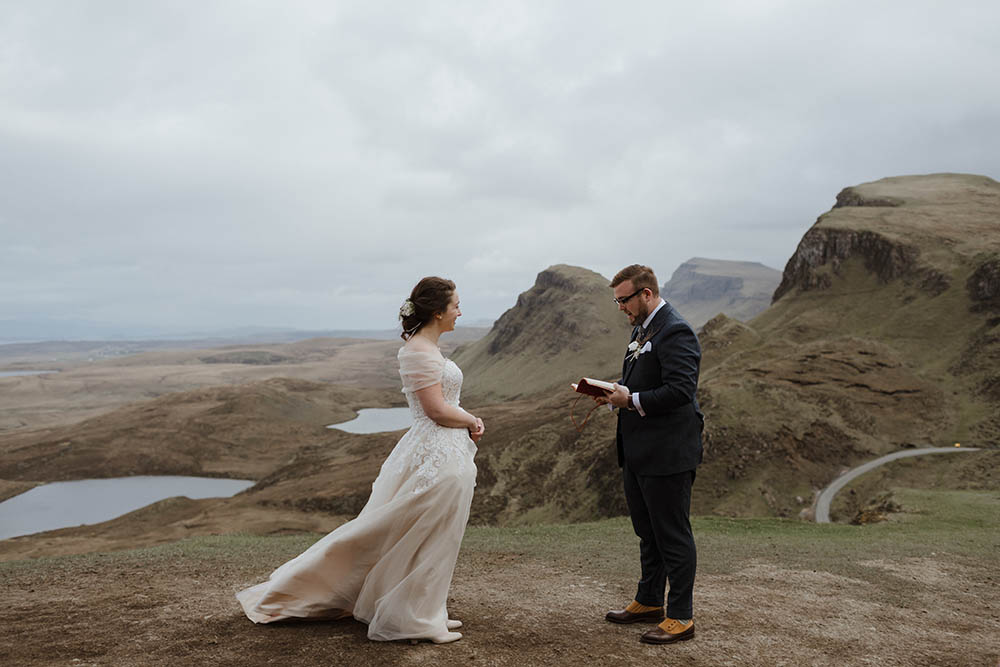 Our Scottish Elopement is a new series in which we explore the most beautiful locations to elope to in Scotland.
This week's elopement on the Isle of Skye was photographed by Caro Weiss, a wedding photographer who created Elope With Us, a Scottish elopement service which provides couples with an instant wedding team (from hair and make-up to flowers, photos and a film) for their elopement in Scotland.
What the photographer says…
"Bianca and Tom decided to elope to the beautiful Isle of Skye from Australia. They had fallen in love with the incredible views on the Quiraing and made their vows to each other there.
"It is always so special bearing witness to a couple who go down the elopement route.
"Stripping it back to what it's all about, two people committing their lives to each other.
"Myself and my Elope With Us team loved this wonderful couple and their cool, laid-back style.
"Bianca is my absolute hero bride for standing on the freezing mountain top in her wedding dress whilst I was wrapped up in a massive parka jacket and scarf.
"Maybe it had something to do with the amount of whisky that had been consumed!"
What the couple say…
"Tom and I were introduced by mutual acquaintances in our second year of our Arts degrees at the University of Melbourne. We've been together for eight years," recalls bride Bianca.
"We started our love story as students and spent long hours studying in libraries for exams, particularly during law school. Nowadays we spend time going on adventures and experiencing new things together whenever we can."
This appetite for adventure and experiencing new things extended to the couple's wedding day, when Bianca and Tom decided to elope from Australia to Scotland despite never having been here before!
"Firstly, we had to find a location that would permit foreign citizens to be lawfully married in their jurisdiction.
"Secondly, we had to find a service provider that was capable of doing all the 'leg work' for us – thank goodness for Caro.
"Thirdly, it had to be beautiful.
"Scotland lined up all those factors for us and despite having not been there before we fell in love with the Isle of Skye as soon as we saw pictures of it online. We are absolutely going back as soon as we possibly can, there's no question that the Isle has the most striking landscapes you will ever see."
The couple got married last May and stayed at Kinloch Lodge.
They admit that wedding planning was really not their bag – agonising over centrepieces and choosing envelopes just wasn't their thing – so they were pleased to hand the reins over to their photographer and elopement planner Caro.
"Our wedding day was extremely relaxed, we had a late breakfast at Kinloch and waited for the wedding team to arrive – after that it all happened really quickly!
"Our highlights were standing together on 'the table' in the Quiraing reading our vows to one another, it was an unforgettable moment.
"Also, we hadn't realised it but we attracted quite a crowd while giving our vows and when we had our first kiss the cheers and claps from the adjacent cliff did make us both laugh."
The most difficult part of wedding planning was making sure they had all their paperwork in order.
"Be prepared for paperwork, trips to the consulate and fingerprinting if you do get married overseas," says Bianca.
"Our advice is be diligent, know the deadlines for submission of documentation and always have duplicate copies of all your documents."
If you're thinking of planning a Scottish elopement but you're worried about what your friends and family might think, Bianca and Tom advise you to follow your heart.
"Do it, you won't regret it.
"We had nobody to tell us what we 'should' be doing, or how to get married, who to sit next to whom and everything else.
"We had a day full of adventure, meeting new people, learning about new places and committing to spend the rest of our lives to one another in the most beautiful landscape we've ever been fortunate enough to see.
"Yes, you will have people question your decision before you go – we certainly did – and there will be grumbles even after you get back. But we assure you that the memories that you get to create will far outweigh anything else."
Ceremony location: Quiraing, Isle of Skye | Venue in Skye: Kinloch Lodge | Photographer: Caro Weiss | Videographer: Sugar 8 | Transport: Skye Luxury Tours | Celebrant: Penelope Hamilton | Florist: Wild Gorse Studio | Hair and Make-up: Skye Beauty | Bride's dress: Mia Solano at Luv Bridal, Melbourne | Groom's outfit: The Bespoke Corner, Melbourne
Our Scottish Elopement: A lockdown-postponed wedding at Dunbar's Close, Edinburgh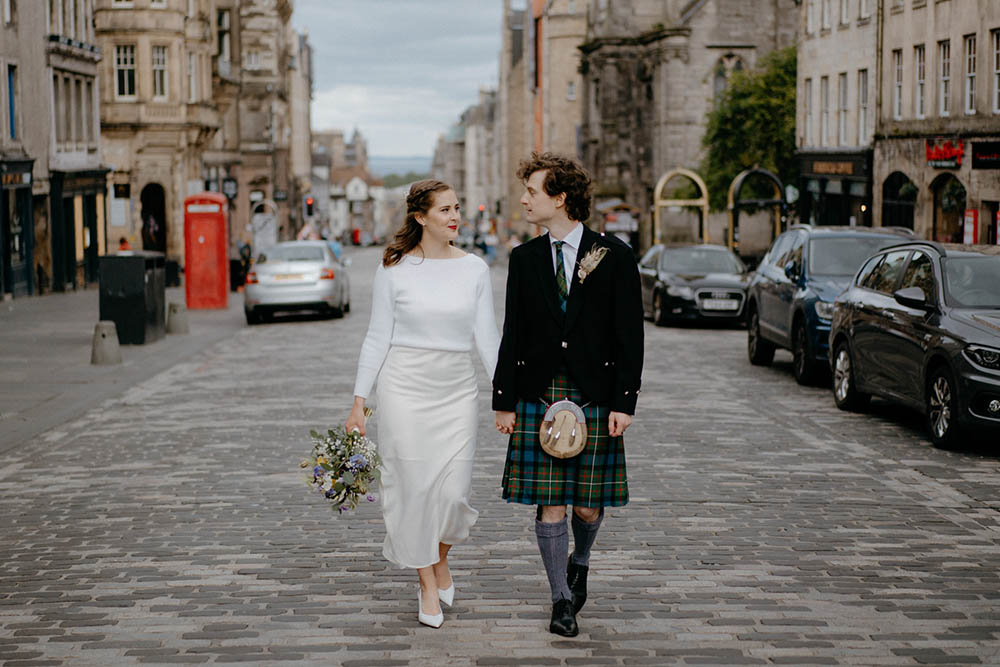 Our Scottish Elopement is a new series in which we explore the most beautiful locations to elope to in Scotland.
Our elopement series so far has focused on places you can elope to in the wonderful Scottish wilderness, from Glencoe to the Isle of Skye.
Today's post is a reminder that Scotland's cities make amazingly photogenic elopement locations too, as proven by super-stylish Canadian bride Sabrina and her partner Angus.
Sabrina and Angus were originally going to get married in May at Edinburgh's City Chambers, but they had to postpone their wedding due to Covid-19.
When the Scottish Government announced that outdoor weddings could go ahead, the pair switched their venue to Dunbar's Close, a leafy garden just off the Royal Mile, and got married on 4th July.
"Dunbar's Close is completely serene yet so close to the bustle of the Royal Mile," says Sabrina. "Once you get through the gates, there's a bit of a maze of sunken gardens until you get to a clearing at the back – this is where the ceremony was."
Keep reading to find out more about the couple's intimate city celebration, captured by the fabulous Lina Hayes Photography.
"Angus and I met on a blind (read: Tinder) date at Ox184 in February 2019," recalls Sabrina.
"By September I was telling my family that I would marry him, by November we were living together and by February, just two weeks before our anniversary, we were engaged."
Angus tried to propose a few times to Sabrina; a couple of times he informally suggested they get married (to which Sabrina responded, "I'll marry you but not until you get on one knee!"), and on a third occasion bad weather got in the way of romantic proposal plans.
Fortunately, all went well for proposal number four.
"We went for dinner at McLaren's then walked back through Merchiston and stopped in Harrison Park, where we sat on 'our' bench.
"Angus handed me a card that professed his love and intention to marry me, and when I looked up he was (finally) on one knee!"
The couple had always envisaged having an intimate wedding, but Sabrina admits it started to grow arms and legs.
"Slowly but surely, the conversation of a reception and who to invite would creep in. Neither of us wanted to have all of the attention, and there was a huge gap because none of my friends could afford to travel to Scotland just for a reception," says Sabrina.
"It was a struggle to balance out what we wanted with what we felt we had to do, and in the end having a lockdown wedding was such a blessing!"
Of course, getting married in the midst of a global health pandemic had its disadvantages.
"There were a lot of things we had to give up to get married during the pandemic: not seeing each other the night and morning before saying I do, having my father walk me down the aisle, plus hair stylists, nail bars, make-up artists, trying on dresses, getting ready with bridesmaids… pretty much all of what you expect from a typical wedding day," says Sabrina.
On the bright side, though, the couple made the most of the opportunity to support lots of local businesses.
"Everywhere we looked, these businesses went above and beyond.
"My sister-in-law brought a whole picnic from an Elgin cafe that was over-the-top in the best way, my cake from The Pastry Section was beautiful and beyond delicious, and my Narcissus bouquet felt like the only thing I needed to feel and look like a bride.
"At the end of the day, even though we only had four guests, our wedding felt like it had a whole community."
Angus and Sabrina's wedding day began with a walk around Gorgie, where they stopped in at Tea and Sympathy for tea and coffee.
Back at home, Sabrina did her own hair and make-up ("I sent photos of hairstyle options to everyone who couldn't be there in person to advise: my sisters, my mom, my cousin and my aunt all came together to vote for their favourite look!") then the couple got ready in separate rooms.
"Once I was all dressed, I went through to the other room where Angus and I had the least photogenic 'first look' ever. But at least we got a first look."
The pair took a taxi (wearing masks, of course) to their ceremony, where they met with their only guests: Angus's parents, his sister and her partner.
Their ceremony was live-streamed on Facebook so that Sabrina's parents, as well as other friends and family, could witness their marriage.
Afterwards, it was photo time!
The newlyweds met with their photographer Lina ("She manages to capture not just the couple, but the mood of the day and the wedding itself") and took to the streets of the capital for a photography session.
"The Royal Mile wasn't completely silent, there were enough people to scream "you're beautiful! Congratulations!" at me, but not enough to get in the background of photos, or honk at us if we stopped in the middle of the road for a moment," says Sabrina.
"At the end of our photo-tour, we stopped at Mary's Milk Bar for ice cream – Lina's genius idea!"
In total, Sabrina reckons the wedding cost around £1,500. And even though the day didn't look like the wedding they imagined back when they got engaged, they made it work for them.
"As someone who couldn't have most of the things she couldn't imagine her day without, let me tell you: not having something you can't imagine your day without will not ruin it if you don't let it.
"Prioritise expenses and once you know what you want, figure out a way to ensure that your budget is going to the right people. Shop small. When you support small businesses, nine times out of ten they'll go a million times farther than a big conglomerate.
"I bought a dress from a big brand and it arrived crinkled up in a plastic bag, in a sad, beat up cardboard box.
"In a non-coronavirus world, I could have bought a vintage dress for the same amount (from a boutique such as Those Were The Days in Stockbridge) and had an infinitely better experience, and I would have been supporting someone I know rather than a big business. That makes a difference not just ethically, but in how your day plays out!"
Photographer: Lina Hayes Photography | Cake: The Pastry Section | Flowers: Narcissus Wedding Flowers
Key workers: Here's how you could win a Wee Wild Wedding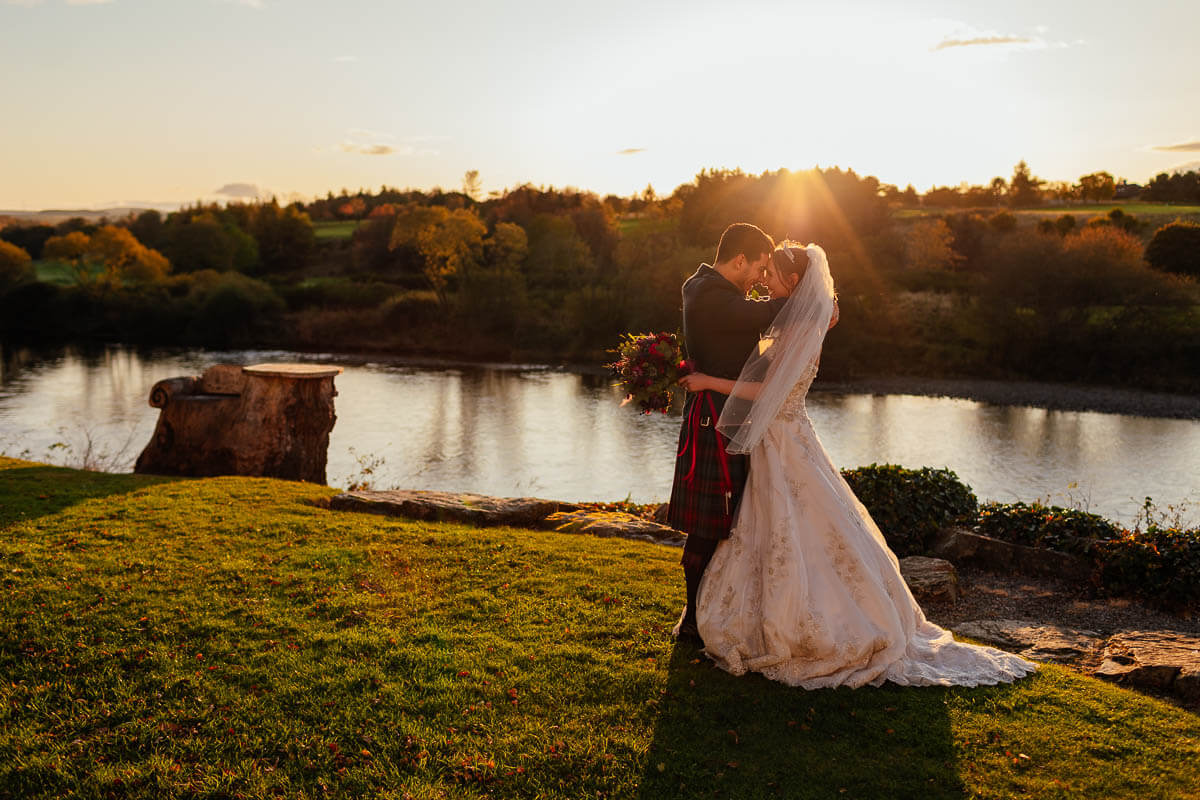 If this pandemic has taught me anything it's that even in the darkest of times, people's capacity for kindness knows no bounds.
The wedding industry has been hit pretty hard to say the least over the past few months, and that makes this competition, offered by a group of Glasgow-based wedding creatives, even more generous than usual.
"After four months of postponements and uncertainty, we want to let couples know that they don't have to wait for things to get back to 'normal'. There can be a new normal – mini weddings," said owner at Fotomaki Photography, Sarah Craig.
Sarah and her team have come up with the Wee Wild Wedding concept, which showcases some of the most beautiful parts of Scotland and takes advantage of the fact that humanist ceremonies are legal anywhere, which means that getting married at the top of a mountain is perfectly feasible in Scotland.
Aren't we lucky?
To celebrate the launch of this package, they'd like to give away a Wee Wild Wedding package to a deserving key worker.
If that sounds like you (or someone you know) then make sure you enter.
HERE'S WHAT YOU'LL WIN
Photography: Two hours of coverage from Fotomaki Photography
Planning: Wedding planning assistance from Fin Flükra
Flowers: Florals from Briar Rose Design
Celebrant: An amazing celebrant to marry you from Humanist Society Scotland
Catering: An on-location luxury picnic for two from Scottish Wild Picnics
Hair + Make-up: On-the-day beauty from Jennifer Mathieson or Pamper & Polish
Ceremony live stream: Live on YouTube with StrangeWorx Wedding Films
To enter, find out more details and check out the terms and conditions, visit the Fotomaki Photography website and fill in the form/email before 11pm on 31st July 2020.
The winner will be chosen by a panel.
This competition is not associated with Scottish Wedding.
Our Scottish Elopement: A same-sex wedding in a bluebell wood, Glen Finglas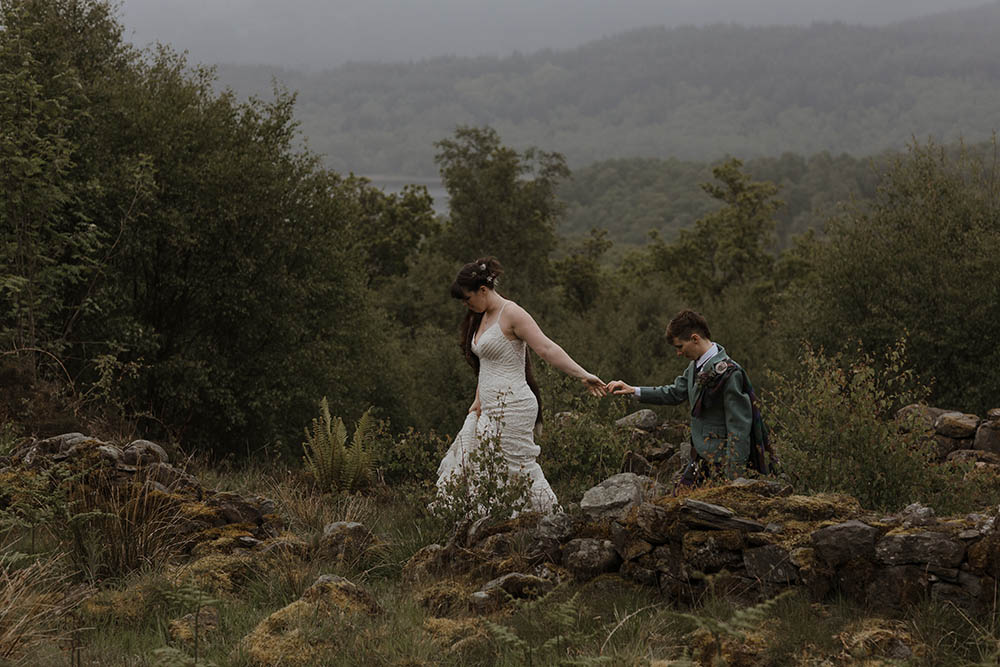 Our Scottish Elopement is a new series in which we explore the most beautiful locations to elope to in Scotland.
This week's elopement at Glen Finglas, Loch Lomond, was photographed by Caro Weiss, a wedding photographer who created Elope With Us, a Scottish elopement service which provides couples with an instant wedding team (from hair and make-up to flowers, photos and a film) for their elopement in Scotland.
What the photographer says…
"Sara and Megan approach life and their relationship with jubilation, candour, and unconditional love. They're non-traditional, independent, humorous people.
"Their one request for their elopement location was a bluebell wood and thanks to the Scottish weather we were able to find one still in bloom at the end of May last year.
"Myself and my Elope With Us team had so much fun with these two wonderful humans and I will forever remember them giggling through the ceremony, climbing hills and laughing so much my cheeks were sore."
What the couple say…
"We met the old-fashioned way, by today's standards, at a gay bar in Philadelphia," recalls Megan.
"Depending on who tells the story it sounds quite different. We quickly fell into conversation and it was extremely apparent we were mutually interested in each other.
"Sara left to go to the bathroom. I was left waiting at the bar. After what felt like hours (but in reality, was probably 10 or 15 minutes), I turned and saw her talking to another woman and of course blew it out of proportion and left."
Fortunately there was a not-so-old-fashioned way for the pair to reconnect.
Sara tracked Megan down on social media and after a year of dating she proposed, then Megan did a proposal of her own, buying Sara a watch and creating a Japanese senbazuru (a thousand paper cranes).
At first the couple started planning a traditional wedding, but it soon became apparent that this wasn't what they wanted.
"Everyone had opinions about every single detail, to the point that I felt like I was losing control of my own day," explains Megan. "I wanted this day to be about Sara and I, and the beginning of our life together."
An elopement was the perfect option, and the pair decided that Scotland would be the ideal location.
"Sara has played in Scottish bagpipe bands since she was a young girl, and her family is Scottish. It was a place we both wanted to go together. We have a deep love and appreciation for the beauty of Scotland, the history… and the scotch!"
As they booked via Elope With Us, much of the wedding planning was taken care of. They just had to turn up with their outfits: Megan in a dress, and Sara in a kilt to reflect her heritage.
"Caro did all the heavy lifting of planning. She told me what time to be ready for hair and make-up and took care of everything else," says Megan.
"It was better than anything I could've planned on my own, and despite being thousands of miles and several timezone hours away she really made the whole experience feel very personal. Having an elopement planner made the process easy."
Megan and Sara got married legally in the US first to facilitate paperwork, then had a second ceremony in Scotland.
Megan describes the wedding day as "perfection".
She had a vision of getting married in a bluebell wood, and Caro managed to find one at Glen Finglas.
"The park was absolutely carpeted in them. It's one of the most beautiful places I've ever been, and our photos truly look like moments out of a fairy tale.
"Our bagpiper played us into the wood, and we exchanged vows and rings. It was everything anyone could ever ask for in a wedding. It was a special moment that was truly about the two of us and our love."
The couple have no regrets about eloping. The day was incredibly meaningful and personal to them, and they shaped it exactly how they wanted it.
"Within the perspective of being gay, eloping gave us the opportunity to create a wedding experience without direct social pressures," adds Megan.
"Regardless if you're gay or not, if people want to celebrate their love, they should do it in a way that fully expresses themselves, their relationship, their community and their family. The elopement provides that space to have a cherished moment free of any other outside constraints and pressures."
Photographer: Caro Weiss | Videographer: Sugar 8 | Megan's dress: The Sample Rack, Philadelphia | Sara's kilt: USA Kilts, Spring City | Celebrant and hair stylist: Leigh Ferguson | Bagpiper: Keith Marshall | Quaich: Uig Pottery | Flowers: Wild Flower Workshop | Make-up: Sharon Stephen
Our Scottish Elopement: An intimate wedding ceremony in Glencoe, followed by a big reception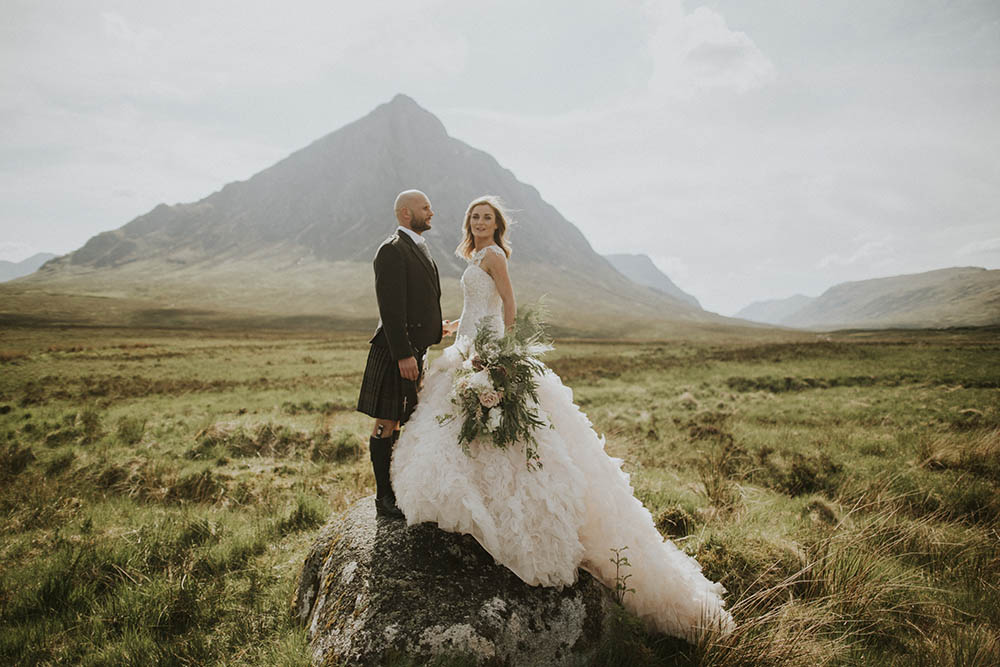 Our Scottish Elopement is a new series in which we explore the most beautiful locations to elope to in Scotland.
This week's Glencoe elopement was photographed by Lena Sabala, a fine art wedding photographer who, along with her partner Patrick, shoots weddings throughout Scotland.
What the photographer says…
"Patrick and I are a mixed-culture couple who moved to Scotland a few years ago. I'm Polish, Patrick is Lebanese.
"Before moving to Scotland, I'd been dreaming of photographing couples in the moody landscapes of the Scottish Highlands and I remember our first photoshoot in Glencoe. It was pure magic.
"Nicola and James eloped a while ago (2017), but it was our first wedding there, and believe me or not, I still can't forget this day.
"There is no place in Scotland that offers as picture-perfect a backdrop as Glencoe.
"The open space, the constantly changing weather – it all simply works. No matter if it's a sunny or a stormy day. It never disappoints."
What the couple say…
Timing wasn't always on James and Nicola's side. That's how all the best rom-coms begin, isn't it?
They first met in 2003 at a friend's barbecue; James was engaged at the time, and Nicola had recently split from a long-term partner. While romance wasn't on the cards, they struck up a friendship after having a conversation that made them feel like they'd known one another for ever.
They remained pals for years, each falling in and out of relationships with other people (James' first engagement didn't last). But they were barely ever single at the same time.
"James started a relationship with an old school girlfriend, just as I was starting to have more than just 'friend' feelings," recalls Nicola. "He had this girlfriend up until 2005… just as I started seeing a boyfriend for two years until 2007!"
In 2007 a rare period of mutual singledom emerged, but the pair were fully in 'just friends' mode.
They booked a holiday to Thailand for the following year, just as pals, but Nicola had a quietly revelatory moment while there.
"On our holiday, on the back of a moped, I decided that I was moving in with this 'friend' when we got home," says Nicola. "When we got back, I moved in with James and I've just never left. Not just as friends!"
James proposed at the summit of Ben Nevis in 2013, and it was their love of mountains that influenced the wedding location.
"I struggled to pick a place and then I thought to myself: 'What kind of pictures do I want to look back on in years to come? Where would I want them to be taken?' Once I asked myself that, it was easy."
Glencoe was the picture-perfect destination of choice, and The Ballachulish Hotel was booked for an intimate wedding with just a handful of guests, including their two-year-old son Harrison.
"We had prepared to be married within the hotel, but on the day it was so hot and beautiful the staff arranged the chairs outside on the lawn of the golf course. Surrounded by mountains, it was just perfect."
After the ceremony, James and Nicola went off and had their photos taken amid the stunning scenery of Glencoe.
Then it was back to the hotel for a meal. "We just loved it. By 10pm we were pretty tired so no big party that evening!"
One week later, the couple had a big bash at The Alona Hotel with over 150 guests. "We had another short ceremony displaying the pictures from the previous week. And a great party it was!"
Nicola says she's glad that they did it this way, having a small, intimate wedding ceremony followed by a reception at a later date.
"I felt happy that we split it over the two dates. I loved wearing my dress twice and having the best of both worlds: the quiet of the mountains and the noise of our party celebrating with my friends and family."
Watch James and Nicola's wedding film!
Ceremony venue: The Ballachulish Hotel | Reception venue: The Alona Hotel | Photographer: Lena Sabala | Videographer: Glasgow Wedding Videos | Bride's dress and jewellery: Bijoux Bridal Boutique | Bridesmaid dress: Monsoon | Groom's outfit: Dalgleish Kilts | Florist: Thistle Flowers | Hair: Hair by Debbie | Make-up: Annie Walters
Our Scottish Elopement: An ethereal elopement in Glencoe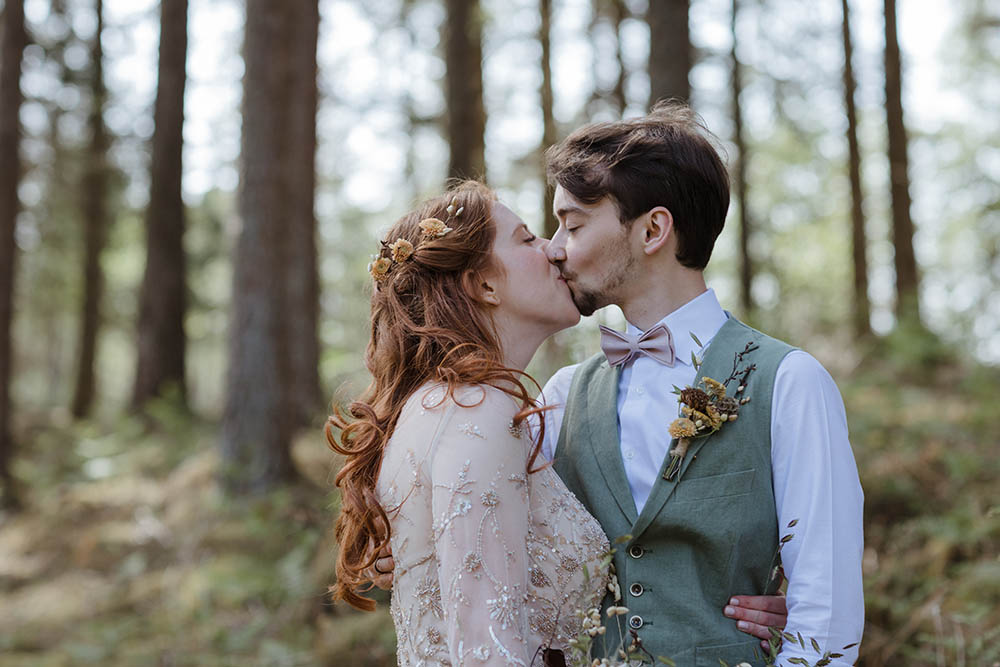 Our Scottish Elopement is a new series in which we explore the most beautiful locations to elope to in Scotland.
This week's elopement in Glencoe was photographed by Caro Weiss, a wedding photographer who created Elope With Us, a Scottish elopement service which provides couples with an instant wedding team (from hair and make-up to flowers, photos and a film) for their elopement in Scotland.
What the photographer says…
"This was a beautiful elopement in my favourite Scottish elopement location, Glencoe.
"Glencoe is brilliant, as there are so many wonderful backdrops close to each other so it's easy to jump in the car and explore.
"It's also not too far from both Glasgow and Edinburgh and a lot of our elopement couples then head on to the Isle of Skye afterwards for their honeymoon.
"It was a gorgeous sunny day when Alice and Declan said 'I do' in the woodland at Glencoe Lochan.
"I always crush on a red headed bride and Alice and Declan couldn't be a more in love couple.
"We explored some nearby locations after the ceremony which was a lot of fun."
What the couple say…
"We met at university in Preston back in 2011 through a friend. We both happened to be inside on bonfire night with uni deadlines so we started chatting on Facebook to keep each other company whilst everyone was out, and within a matter of weeks we had fallen completely in love and have been inseparable ever since.
"In the last nine years we have graduated from uni, moved to Manchester and bought our first home together, lived in Holland for a year and now we are living in Germany, planning to get our first dog!"
Alice and Declan started off trying to plan a 'normal' wedding in Manchester, but it proved tricky.
Not only did they have large extended families to consider (and mounting costs as a result), but mid-way through planning they were offered their dream jobs in the Netherlands.
"Planning an international move alongside a wedding would have been crazy! So we decided we wanted something more low key that was just about us, and that's how we found the Elope With Us team."
As they love nature and hiking, the couple knew an outdoors ceremony would be perfect for them.
"After looking at a few locations across Scotland we decided on Glencoe Lochan as it is a beautiful lake surrounded by forests and mountains."
Of course, when planning an elopement, there's less to organise than with a regular wedding. But Alice had the full wedding dress shopping experience when she went to a bridal boutique in Manchester with a vintage vibe called The Case of the Curious Bride.
"As soon as I walked in the owner said 'I know your wedding dress' which I was surprised to hear, but I was really open to anything," recalls Alice.
"I just knew I wanted colour and not white! She pulled out a blush gown with gold embroidery and it was stunning. It was the first dress I tried on and myself, my mum, MIL and best friend all fell in love with it instantly."
Designed by Aussie label Wendy Makin, the dress was super ethereal – so Alice decided to give it an edge.
"Once I moved to Holland to start my new job with Dr Martens, I knew I wanted to wear Docs with my dress as I love the contrast of something so feminine and elegant worn with more edgy boots. Luckily we had just released a rose gold vegan style that matched perfectly!"
Groom Dec complemented his bride in a white shirt, sage green waistcoat and a pair of black suede Docs.
The couple describe their wedding day as "really relaxed".
"Whilst I was getting my hair and make-up done, Dec went out for a walk in the local lake. Once I was ready we did a reveal and the 'first look' photos are some of our favourites," says Alice.
The sun shone as they exchanged vows in the forest on the banks of the lochan, with a moving ceremony conducted  by Humanist Society Scotland celebrant Claire Digance.
"As it was an elopement, we had our parents write their advice for a happy marriage which we read to each other. This was really emotional and made it feel like they were there with us."
The pair's sensible footwear came in handy after the ceremony, when they went off for a photo session with Caro. "Climbing up steep hills and jumping over ponds was no problem," laughs Alice.
Afterwards they drove to a local seafood restaurant and had a chilled-out dinner overlooking a lake.
"We honestly loved every moment of the whole process; there was no stress, it was just about us, our love and doing things in a way that felt right for us as a couple without having to worry about other people's expectations.
"It feels like a world ago, but looking at our photos and videos always fills us with so much joy."
Photographer: Caro Weiss | Videographer: Sugar 8 | Bride's dress: Wendy Makin from The Case of The Curious Bride | Celebrant: Claire Digance | Flowers: Wild Flower Workshop | Hair: Leigh Ferguson | Make-up: Sharon Stephen
Love this elopement in Glencoe? Check out more from our brand new series,

Our Scottish Elopement
Our Scottish Elopement: A beautiful same-sex wedding by Loch Coruisk, Isle of Skye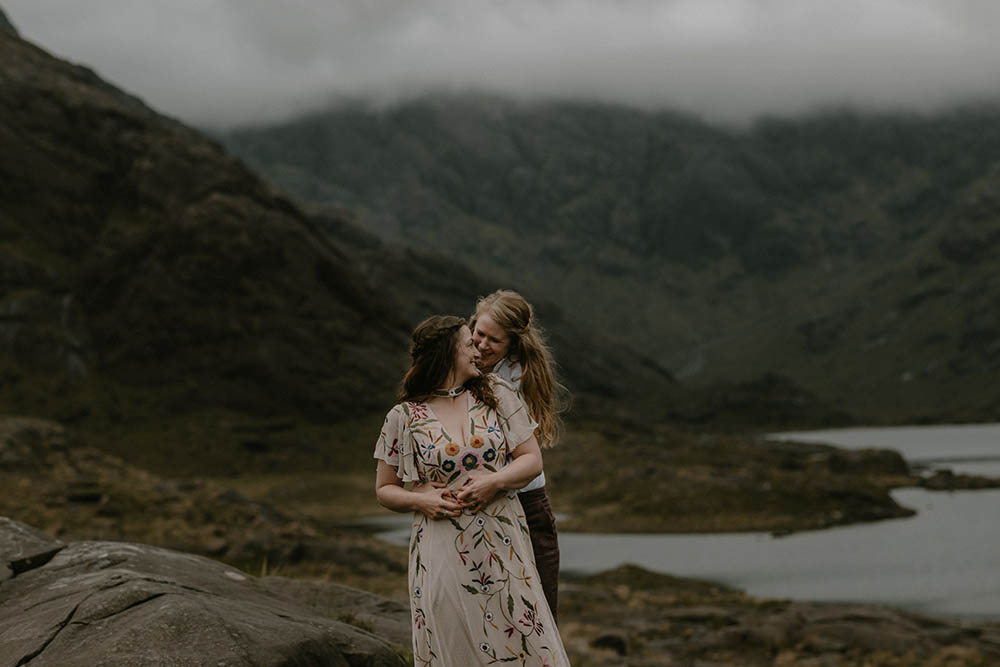 Our Scottish Elopement is a new series in which we explore the most beautiful locations to elope to in Scotland.
This week's elopement on the Isle of Skye was photographed by The Caryls Photography, who specialise in shooting elopements.
What the photographer says…
"With its green glens, rugged mountains and shimmering lochs, the Scottish Isle of Skye has to be one of the most romantic destinations in Europe for an adventurous elopement wedding," says photographer Katy.
"The weather on Skye is dramatic, and changeable. This makes for a moody, almost mystical atmosphere.
"When you cross the bridge onto Skye, it feels like you're stepping into the world of Outlander or Game of Thrones; it's the perfect elopement wedding location for nature-loving, outdoorsy couples who love mountains and want a spectacular setting for an outdoor elopement wedding ceremony.
"It's worth noting that Skye is popular with tourists (for good reason). So speak with your photographer (ideally someone who knows Skye well) about the best ways to avoid the crowds, and ensure you have a peaceful and private wedding ceremony."
What the couple say…
Welsh bride Chrissie and her German wife Kim are a well-travelled couple; they met in Darwin, Australia, travelled around New Zealand together then got engaged during a trip to Morocco!
Initially, when they embarked on their wedding planning journey, they thought they'd have a big bash.
"We had a guest list of nearly 200 people and ideas of a huge wedding. Then we attended a local wedding fair in North Wales and really felt out of place straight away," says Chrissie.
"We were asked many times, 'Which one of you is getting married then?' 'Are you the bridesmaid and you the bride?'
"Also we felt that everything was slightly too commercialised and impersonal for what we wanted our special day to be. So we quickly realised that no, we didn't want a traditional wedding."
The couple now live in North Wales, but fancied a change of scenery for their wedding and loved the idea of a Scottish elopement.
"We liked the idea that you are allowed to marry outside in Scotland.
"We found Katy and Jim – our photographers – on Instagram. Already very impressed by the photos we saw of scenic locations and beautiful backdrops, we wanted to meet them. Once we spoke with them we instantly knew that we wanted to book them.
"They helped us so much with all of the planning – from finding the location, accommodation, to where serves the best coffee! They truly know Scotland and specifically our location – the Isle of Skye – so well."
Chrissie and Kim took a boat over to Loch Coruisk, passing a seal colony on the way ("What a highlight for your wedding day!").
Chrissie wore a beautiful embroidered dress, while Kim teamed an elegant white shirt with tweed trousers.
"Kim also bought some stunning Italian leather boots from Arthur Knight, but she wore her walking boots to get to the ceremony location and forgot to change into her Arthur Knight boots when it started," laughs Chrissie.
"It's a funny story for us to remember back and think about! How many couples can say they accidentally got married in walking boots?! This definitely sounds like us."
A personal, humanist ceremony was the perfect option for them.
"Laura, our celebrant, played such an essential part in making this day so wonderful and personal to us. Not only did she fully invest herself in planning out and writing the ceremony, but she was also very caring and supportive throughout the entire day," says Chrissie.
"We can't thank Laura, the Caryls and Lynn [our hairstylist] enough. We loved the fact that when signing our official documents and seeing the words 'bride' and 'groom' Laura did a big cross through it and wrote 'partner 1' and 'partner 2'. She didn't like the original wording – neither did we obviously."
After the ceremony, the newlyweds took the boat back to Elgol and had a very chilled-out day.
"The beauty of the day was that we had time to  relax in the afternoon, unwind, play cards and realise that we were now married. In the evening we had a lovely dinner at Coruisk House followed by a sunset photo session with The Caryls who again took care of everything for us."
After eloping, Chrissie and Kim later had two bigger celebrations for family and friends: one in Cologne, and the other in North Wales.
"Even though we didn't have a big wedding, we still had our celebrations. Some of our close friends say we technically had three weddings!"
Their advice for other couples who are thinking of eloping to Scotland?
"We know that a lot of couples struggle with that decision as there are so many different opinions and voices trying to influence you. Take some time just the two of you and make that decision for yourself. The people who love you will understand and support you no matter what."
Photographer: The Caryls Photography | Videographer: Kim Ritter Films | Transport: Misty Isle Boat Trips | Chrissie's dress: Very.co.uk | Kim's trousers: Hobbs | Celebrant: Laura Gillespie, Humanist Society Scotland | Florist: Rosehip & Wren | Hair: Lynn Reilly, Skye Beauty Salon | Guesthouse: Coruisk House