"Our big day was postponed, so we had a garden wedding at home!"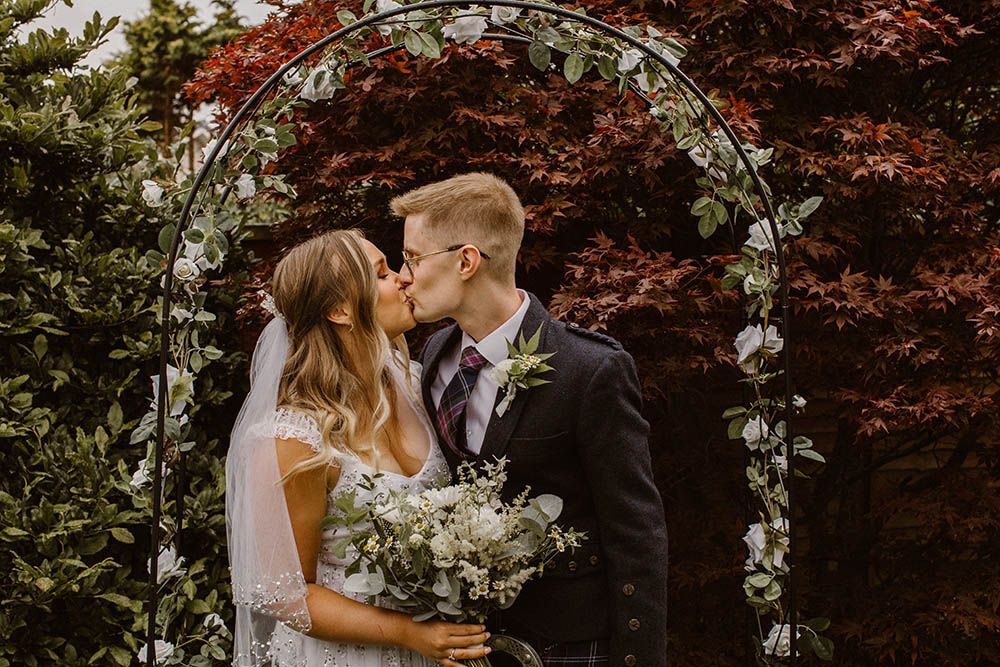 Planning a wedding during a pandemic is bloody hard – just ask Cam and Rach, who had to postpone their wedding twice.
After deciding that their original plans for a big wedding may not be able to go ahead this year, the couple put the big party on pause until next year and had an intimate garden wedding at Rachel's parents' home in Aberdeen.
And they did it just in the nick of time, because just days later another lockdown was announced in Aberdeen!
Keep reading to find out more about their wedding in the words of bride Rachel, alongside gorgeous photos by their photographer, Eilidh Sutherland Photography.
Cameron and I met at church (Bridge of Don Baptist) when we were 15 (me) and 16 (Cam) years old. It took us around a year to progress from friends to being in a relationship – Cam had to scramble out of the friendship zone!
After graduating from uni in 2018, Cam booked a wee staycation to a log cabin in Loch Inver.
We spent time admiring the views, exploring the local beaches and playing board games.
Cam suggested we had a date night, where he would cook us dinner and we'd both get dressed up as if we were off to a fancy restaurant.
I got ready and waited for Cam to 'pick me up' (collect me from the bedroom). When he did this, I was surprised to see that he had really dressed up – he was wearing a suit.
He led me out onto our balcony, overlooking the loch. I saw that our table was not only set for dinner, but had candles set out in the shape of a heart, a bottle of champagne and a laptop.
I asked why the laptop was there and Cam said to just sit down and press play. I did this and a video Cam had created began.
The video featured photos from all throughout our relationship, with very sweet messages and memories intertwined and 'A Million Dreams' playing in the background. It finished with 'We've had the best 5 years together, here's to many more…'. At this point, Cam took my hand, asked me to stand up and he got down on one knee.
We had planned to have between 100-150 guests at our wedding in June this year at Cluny Castle.
We wanted to have all our family and friends together to celebrate our marriage. We had planned to have a huge ceilidh in the evening and get everyone up dancing.
When lockdown came in in March, we quickly realised that a gathering of over 100 in June was never going to be possible. We were heartbroken.
We had planned everything. I had been envisioning our big day for two years.
I could see myself walking down the aisle in the chapel at Cluny Castle, in my big princess wedding dress from Eleganza Sposa, with my husband-to-be waiting at the end of the aisle and all my nearest and dearest looking on.
There were many tears shed when we realised this just couldn't happen. In the space of a month, I had lost my job, my Nana had caught and passed away from coronavirus and my wedding had been cancelled.
We almost immediately contacted our wedding venue and suppliers and were thrilled to find that we could postpone our wedding to October 2020 – this gave us hope and allowed us to get excited again.
However, as the months went on and lockdown continued, we realised that October wasn't going to happen without social distancing and other lockdown measures.
We were desperate to just be husband and wife and dedicate our lives to one another.
We had initially hoped that maybe we could at least get legally married on the 13th June (our original date), however that date came and went and the registry offices were still shut. Then we thought maybe we would have more luck in July, but still the offices were shut.
Until mid-July, we had lost some hope but then the offices opened and we asked when the soonest date was that we could marry and the 1st August was decided.
We came up with the idea of doing it outside in our garden, with only five guests and with social distancing in place.
We never thought that a second lockdown [in Aberdeen] would come into place – thank goodness we did it just in the nick of time!
The day was so different from what we had planned and envisioned but it felt perfect.
We borrowed a gazebo and made several trips to the local garden centre to make the garden look as festive as possible.
We decided to livestream the wedding on Youtube and we sent a link to all our wedding guests so they could virtually attend the ceremony.
We had Cameron's grandparents do bible readings over Zoom (of course they initially forgot to unmute themselves). My mum played piano as I came down the 'aisle' – she played A Million Dreams, the song that Cam played when he proposed.
My dad walked me down the aisle, all our guests did readings, Cameron's sister presented the rings. Our minister, Andy Hayes, did a great job of crafting a personal and unique wedding ceremony and made sure our virtual guests felt included too.
We were lucky enough to have our wedding photographers there for the day to capture our special moments.
Following the ceremony, we were whisked off down to the beach to take some lovely photos. We then came back, had some afternoon tea and fizz and enjoy the rest of the day as newlyweds with our parents and Cam's sister. (Oh, and enjoyed lots of cuddles with our dogs!)
Shout-out to Cluny Castle for being so flexible and allowing us to still have our big day when it's safe to do so – despite the legal part being already done!
Photographer: Eilidh Sutherland Photography | Bride's dress: ASOS (the Martina Liana gown will be worn at the Cluny Castle wedding) | Bride's veil: Etsy | Florist: Kim Dalglish | Minister: Andy Hayes
A Falside Mill winter wedding with a navy, gold and plum colour scheme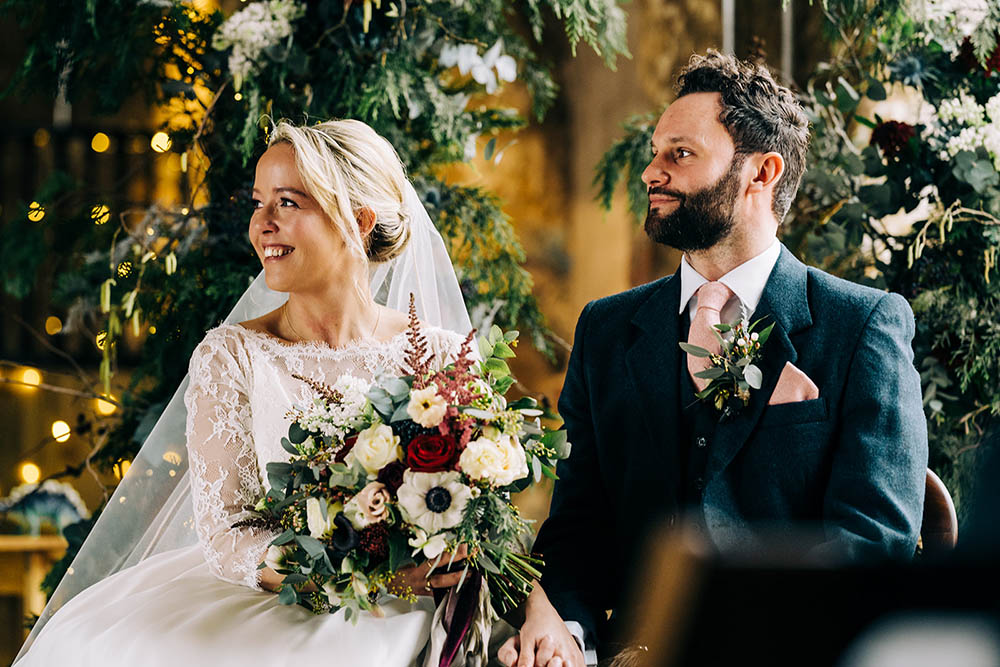 Lauren and Fraser got lucky with the timing of their Falside Mill wedding, marrying in January this year at the St Andrews venue.
"I couldn't be more grateful for our timing and to have been able to marry Fraser  that day," says Lauren, who is a doctor.
"We feel incredibly lucky to have had almost 200 of our favourite people together – cheersing, eating, dancing and enjoying one another's company, before this grim new reality started."
As you'll see from their gorgeous photos captured by Photos by Zoe, the couple had a beautiful winter celebration.
Keep scrolling to read more about their day in the words of bride Lauren.
Fraser and I met in Edinburgh five years ago.
I feel incredibly lucky to have met him, we just clicked on our first date and have been very privileged to have enjoyed lots of adventures both near and far ever since.
As a surprise, Fraser bought me tickets to NYC for my birthday the year before last.
At the time I was maybe a bit hopeful that this might be it – an engagement – but we were buying a house and Fraser let me know he didn't want us to do 'everything' at once.
On our first day in the city we took a wonderful, very cold walk along the High Line before heading to Washington Square Park.
And there it happened, sitting in the fountain with the beautiful arch behind us Fraser asked if I wanted to marry him!
I am a sun worshipper so we decided we would eliminate worrying about the weather (who wants to worry about rain on a Scottish summer day) and we set our sights on a winter wedding (without sunshine worries).
Perhaps to the dismay of our families we kept the venue visiting and decision making a secret and then let them all know about our choices at the same time.
In hindsight I'd maybe let our parents know more about the places we were going to visit, but it did selfishly mean that Fraser and I decided on our venue without being influenced by others.
Falside Mill is a brand new venue near St. Andrews.
We were excited about the prospect of visiting Falside over the year before our wedding and watching as it developed from a roofless building site to the finished venue.
It was also important to us that we could use The Edinburgh Catering Company as this is my cousin's company and their food is amazing!
Lots of venues that were big enough for our party had stipulations about things including catering, but Falside gave us a totally blank canvas.
We loved having the ability to decorate the venue however we wanted. It is a great space and we, with our team of helpers, made it look absolutely wonderful.
We used navy and gold for our Save The Dates and this formed the backbone to our ongoing colour planning.
Deep, plum red and pale, dusty pink were later added in – this created a nice warm, wintry colour scheme that we worked with for other stationery and the venue.
My mum and I enjoyed (far too) many trips to places like TK Maxx to pick candles and photo frames along with pretty vases and plant pots to furnish the tables and the venue.
We tried to only buy things that were reusable to ensure that not too much was just wasted; we now have beautiful memories of our wedding throughout our garden and house.
We decided that our tables would be named for some of our favourite places and added souvenirs to the tables to reflect our fabulous trips.
Our tables were furnished with delicious Winter Vodka made by my dad. Bridesmaid-made tartan scrunchies for all the girls added a keepsake favour and a ceilidh hair saver!
I wore the most beautiful Sassi Holford dress.
The material in the sample dress is striped and although it was beautiful I wasn't sure that the stripes were for me – however we discussed keeping the top stripey and changing the skirt to a wonderful organza silk.
To complete my dress I had made a beautiful lace jacket with a straight neck to keep my ceremony look more demure, this also led to a lovely change to the feel of my dress for our first dance.
To top off my outfit I took my cousin's idea of having a shawl made from Fraser's kilt.
The girls in Nicolsons were extremely helpful when he was choosing his kilt outfit, and were pleased to help with the shawl idea, which was also embroidered with our date.
Getting to the venue and seeing Ronnie our piper outside was very exciting and surreal.
Fraser's groomsmen were waiting and opened the door for my dad and I.  Then seeing my maids for a few more minutes – a quick practice of our walk, and then .. seeing all of our people in the ceremony room with Fraser at the top!
Fraser and I are very close to our families and Fraser's Uncle Douglas is a newly retired minister of the Church of Scotland.
It was such an honour to have him agree to marry us – and during our engagement it was lovely to get to know him more as we planned our ceremony with him.
Douglas' ceremony for us was so thoughtful and great and we both enjoyed it – and have been told by friends and family that it was lovely.
Cremant and canapés flowed and everyone just looked like they were having a great time.
Zoe and Rob, our photographer and videographer, knew  we were keen to sneak off for a little while – and we four got to zoom to the beach for an hour before dinner.
This was such a great period of time to only be with Fraser.
The afternoon became dusk as we got back from the beach and we arrived back to Falside, which looked magical.
Our food was absolutely amazing!
As it was 25th January we decided on a wee nod to Rabbie Burns. Each table had a nominated 'Rabbie' and adorned with their side burns and jabots they addressed the haggis and served it to their table.
As (huge) Sunday dinner fans, unbelievable rib eye beef was our main with super sides including dauphinoise potatoes and brussels sprouts. Everything was topped off with my cousins' crowd-pleasing and absolutely delicious sticky toffee pudding.
Our first dance, Disney's Can You Feel the Love Tonight was spectacularly played by Tom McGuire and The Brassholes – and the subsequent party atmosphere to the amazing jazz was epic.
Glitter and fancy dress were found by our guests and the whole place erupted in even more fun and party!
Venue: Falside Mill | Photographer: Photos by Zoe | Videographer: Peony Films | Bride's dress: Rachel Scott Couture | Bridesmaid dresses: Revelry | Groom's outfit: Gordon Nicolson Kiltmakers | Hair and make-up: MHM Styling | Caterer: The Edinburgh Catering Company | Celebrant: Douglas Wallace | Stationer: By Beck | Florist: Sugarbush Flower Studio (with extra from the bride's cousin Jenny, @rumble_and_boo) | Piper: Ronnie Allan | Evening music: Tom McGuire and The Brassholes | Venue furniture: Frill Factory
Our Scottish Elopement: A scenic wedding ceremony at the Quiraing, Isle of Skye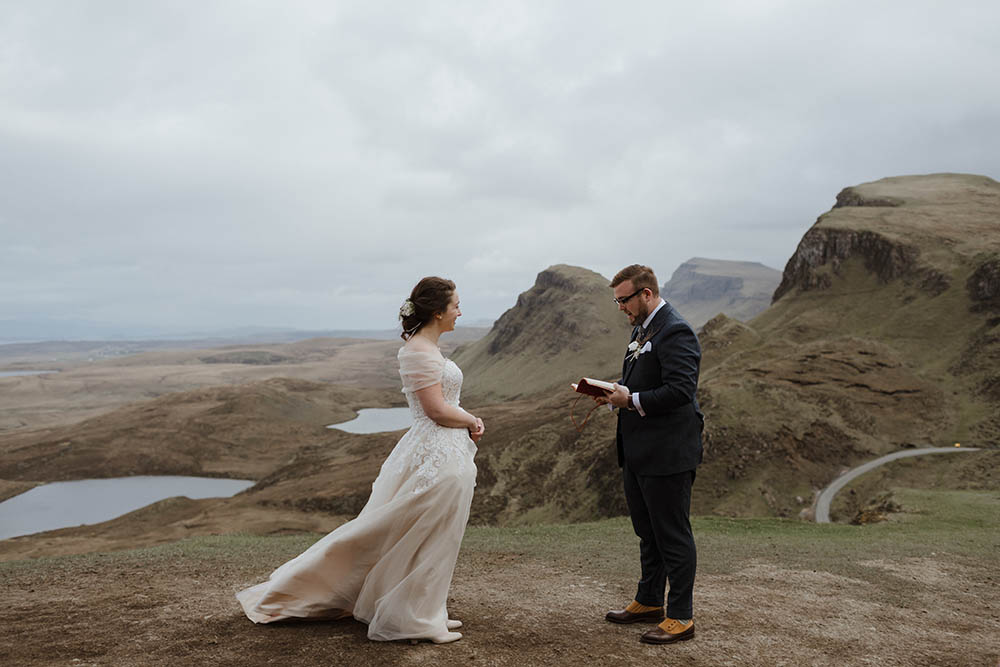 Our Scottish Elopement is a new series in which we explore the most beautiful locations to elope to in Scotland.
This week's elopement on the Isle of Skye was photographed by Caro Weiss, a wedding photographer who created Elope With Us, a Scottish elopement service which provides couples with an instant wedding team (from hair and make-up to flowers, photos and a film) for their elopement in Scotland.
What the photographer says…
"Bianca and Tom decided to elope to the beautiful Isle of Skye from Australia. They had fallen in love with the incredible views on the Quiraing and made their vows to each other there.
"It is always so special bearing witness to a couple who go down the elopement route.
"Stripping it back to what it's all about, two people committing their lives to each other.
"Myself and my Elope With Us team loved this wonderful couple and their cool, laid-back style.
"Bianca is my absolute hero bride for standing on the freezing mountain top in her wedding dress whilst I was wrapped up in a massive parka jacket and scarf.
"Maybe it had something to do with the amount of whisky that had been consumed!"
What the couple say…
"Tom and I were introduced by mutual acquaintances in our second year of our Arts degrees at the University of Melbourne. We've been together for eight years," recalls bride Bianca.
"We started our love story as students and spent long hours studying in libraries for exams, particularly during law school. Nowadays we spend time going on adventures and experiencing new things together whenever we can."
This appetite for adventure and experiencing new things extended to the couple's wedding day, when Bianca and Tom decided to elope from Australia to Scotland despite never having been here before!
"Firstly, we had to find a location that would permit foreign citizens to be lawfully married in their jurisdiction.
"Secondly, we had to find a service provider that was capable of doing all the 'leg work' for us – thank goodness for Caro.
"Thirdly, it had to be beautiful.
"Scotland lined up all those factors for us and despite having not been there before we fell in love with the Isle of Skye as soon as we saw pictures of it online. We are absolutely going back as soon as we possibly can, there's no question that the Isle has the most striking landscapes you will ever see."
The couple got married last May and stayed at Kinloch Lodge.
They admit that wedding planning was really not their bag – agonising over centrepieces and choosing envelopes just wasn't their thing – so they were pleased to hand the reins over to their photographer and elopement planner Caro.
"Our wedding day was extremely relaxed, we had a late breakfast at Kinloch and waited for the wedding team to arrive – after that it all happened really quickly!
"Our highlights were standing together on 'the table' in the Quiraing reading our vows to one another, it was an unforgettable moment.
"Also, we hadn't realised it but we attracted quite a crowd while giving our vows and when we had our first kiss the cheers and claps from the adjacent cliff did make us both laugh."
The most difficult part of wedding planning was making sure they had all their paperwork in order.
"Be prepared for paperwork, trips to the consulate and fingerprinting if you do get married overseas," says Bianca.
"Our advice is be diligent, know the deadlines for submission of documentation and always have duplicate copies of all your documents."
If you're thinking of planning a Scottish elopement but you're worried about what your friends and family might think, Bianca and Tom advise you to follow your heart.
"Do it, you won't regret it.
"We had nobody to tell us what we 'should' be doing, or how to get married, who to sit next to whom and everything else.
"We had a day full of adventure, meeting new people, learning about new places and committing to spend the rest of our lives to one another in the most beautiful landscape we've ever been fortunate enough to see.
"Yes, you will have people question your decision before you go – we certainly did – and there will be grumbles even after you get back. But we assure you that the memories that you get to create will far outweigh anything else."
Ceremony location: Quiraing, Isle of Skye | Venue in Skye: Kinloch Lodge | Photographer: Caro Weiss | Videographer: Sugar 8 | Transport: Skye Luxury Tours | Celebrant: Penelope Hamilton | Florist: Wild Gorse Studio | Hair and Make-up: Skye Beauty | Bride's dress: Mia Solano at Luv Bridal, Melbourne | Groom's outfit: The Bespoke Corner, Melbourne
A stunning Cornhill Castle wedding with outdoor ceremony and cherry blossom trees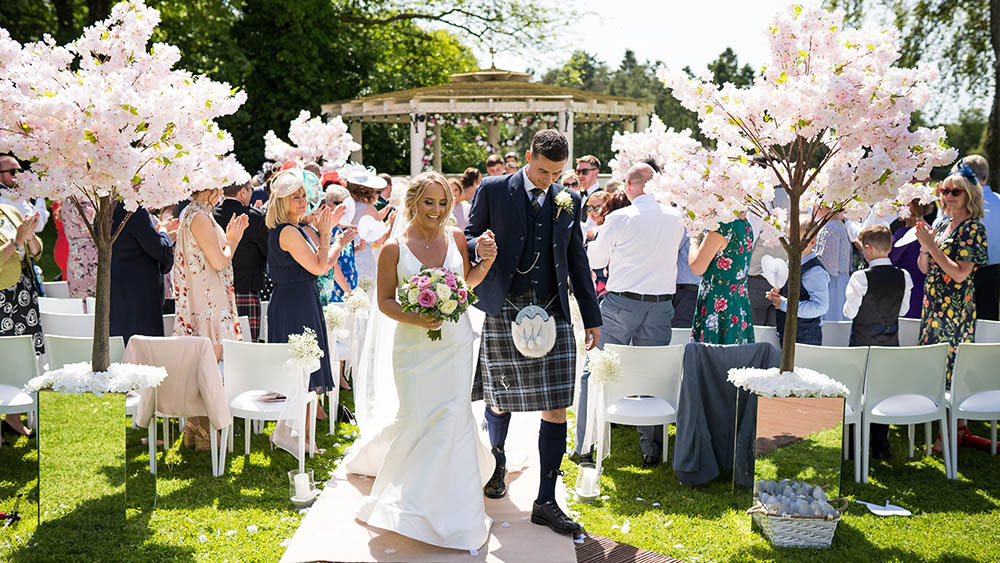 We love it when a Cornhill Castle wedding appears in our inbox at SW: it's a total fairytale venue, as Abby and Andy discovered when they tied the knot there last June.
The couple had their hearts set on saying 'I do' outside and were so lucky to get the incredible weather that allowed them to do just that.
Read on to find out more about their big day in the words of bride Abby, alongside the stunning sun-soaked images captured by Mark Quinn Photography.
We've known each other since going to school and had our first kiss at a 16th fancy-dress party which definitely makes us laugh now. The proposal was a complete surprise in Mexico during a sunset dinner on the beach.
I work as project manager so the planning and budgeting for the wedding was just like a new project at work.
I quite enjoyed the process; the only part that I really didn't enjoy was managing the RSVPs and people changing last minute. We used a wedding website to manage RSVPs and would absolutely recommend this to other couples.
For the venue, one of the key points for us was to have a big reception area with a bar inside the room.
In other weddings we've gone to with different rooms and bars there tends to be a natural split as the night goes on, so it was important to keep everyone together.
The other big attraction was having the option to have an outside wedding ceremony, we knew the chances would be slim but with the weather we had on the day we were delighted with our decision.
Then Cornhill obviously had the appeal of being a beautiful castle with a gorgeous honeymoon suite, which sealed the deal!
We went with a travel theme as we were going travelling for our honeymoon. Our table plan featured all the countries we had booked for our honeymoon and had boarding passes created for all the table names.
Our order of the day was similar to a flight board with times and our invites centred around the map of the world.
Clare (our stationer) was incredible at coming up with ideas for our theme and nothing was too much trouble. She also created an amazing logo for us using our initial and names.
For décor we used cherry blossom trees, candelabra (which Cornhill provided) and giant balloons, which we used both for the ceremony and as centrepieces.
My dress was Mori Lee purchased at Emma Roy in Edinburgh. I tried on my dress in the second shop I visited but it took me several months to commit.
A few months later the dress came into the shop and I got to try it on. It was such a great feeling and I knew I had made the right decision.
Andy knew he wanted to keep it traditional with a kilt but wanted a more modern take on this.
It wasn't until he visited Eight Yards that a kilt stood out, the contrast of the detail around the buttons was a bit more unusual and something we both loved.
The stand-out moment for us was the ceremony.
We were so lucky to be able to have this outdoors and felt like this really made our day.
It was really relaxed, made us both laugh, and included Andy downing two miniatures of whisky which was impressive for his first drink of the day.
We also decided to write three things we loved about each other and one thing we would change which we heard for the first time at the ceremony (both a cute moment and something that really made us laugh!).
The other stand out moment was the party at night, we hardly left the dance floor all night. Thank goodness for flip flops!
Venue: Cornhill Castle | Photographer: Mark Quinn Photography | Videographer: Solar Films – Scottish Wedding Films | Transport: Edinburgh Classic Wedding Cars | Bride's dress: Emma Roy of Edinburgh | Groom's outfit: Eight Yards | Bridesmaid dresses: Motee Maids at Kudos Edinburgh | Cake: Special Days Cakes | Celebrant: Andrew Smith-Simmons | Florist: Helen Coulter | Evening music: White Doves | Stationer: Clare Designs | Hair: Caroline Boyle | Make-up: Sophie Crompton Make-Up Artistry | Ice cream cart: Luca Ice Cream
"We had a micro wedding in our celebrant's back garden!"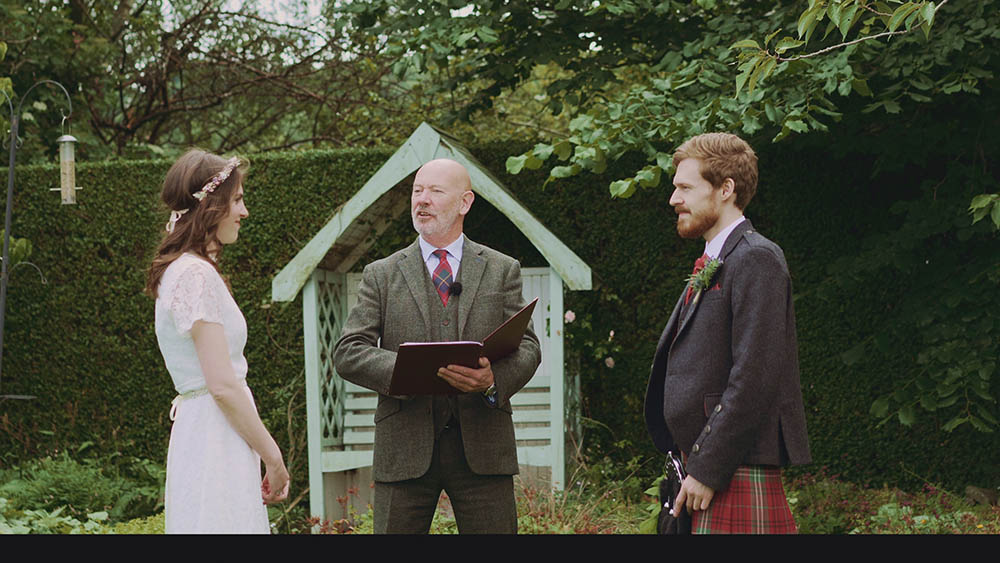 Now, more than ever before, I'm looking out for happy news to remind me that (cheese alert) all you need is love. And when Gavin and Diana's beautiful wedding film arrived in my inbox a few weeks ago, it was exactly what I needed to see.
They are one of the many couples whose wedding plans have been affected by Covid-19 this year, but they still eventually managed to get married in a way that was meaningful to them.
Gavin and Diana met on a dating app in 2014, shortly after they'd both moved to Edinburgh (Gavin from Dunfermline, and Diana from Michigan).
"We bonded over our mutual love of Harry Potter and instantly clicked on our first date at Starbucks.
"We became officially boyfriend and girlfriend after a couple of months and on our five-year anniversary Gavin proposed with a gorgeous opal ring (my birthstone) while at afternoon tea at the Balmoral Hotel in Edinburgh, where we were having a spa day," says Diana.
"He didn't tell any of the staff and nobody noticed, which was perfect because we are both very low-key."
The couple always intended to have an intimate wedding, and had booked the Italian Room at Prestonfield House for an April 2020 wedding with 22 of their closest family and friends.
But then, of course, came coronavirus, and the couple's wedding was cancelled.
"We were both disappointed (especially Diana as she was very excited to see her family in person for the first time since last year) but we understood it was for the best so that everyone could stay safe," says Gavin.
The couple were understandably keen to get married, however.
So they went about the tricky process of planning a micro wedding to take place as soon as it was permitted in Scotland – no mean feat in the midst of a pandemic when the government advice is constantly changing!
"We intentionally kept things to a minimum, to make things easier, but even at that we weren't sure how many guests we would be allowed until two days before the wedding," says Gavin.
"Originally the maximum attendees (for phase two) was eight, so only my dad, brother, and his wife were going to be allowed to come. Phase three kicked in the day before the wedding, so our guest list was able to increase to accommodate four additional friends."
The couple's humanist celebrant Tim Maguire kindly offered his back garden as a setting for Gavin and Diana's ceremony, and thankfully the weather stayed on side.
Gavin wore a kilt outfit he already owned from The Kilt Company. Diana, meanwhile, found a cute budget dress online which she accessorised with a flower crown and pearl jewellery (she's keeping her fancy wedding dress for when they can have a bigger ceremony in future).
"The ceremony was short and sweet and we wrote our own vows separately so that we would be surprised on the day. Afterwards we popped the champagne and ate wedding cake!"
Diana's family were there on video chat so that they could still be part of the day.
And even though they didn't get to marry at Prestonfield House as planned, the couple were still able to visit the venue.
"We stopped by Prestonfield House to shoot some footage for our wedding video, and one of the main highlights of our day was seeing the peacocks!" says Diana.
"After this we went to our own back garden to drink more champagne and eat Pizza Hut stuffed crust pizzas (much to the dismay of Gavin, who wanted "fancy pizza")."
Watch Gavin and Diana's beautiful wedding film
Celebrant: Tim Maguire, Celebrate People | Videographer (who also provided photos): Cherry Tree Films | Cake: Liggy's Cakes | Flower crown: intothehedgerow on Etsy
Our Scottish Elopement: A lockdown-postponed wedding at Dunbar's Close, Edinburgh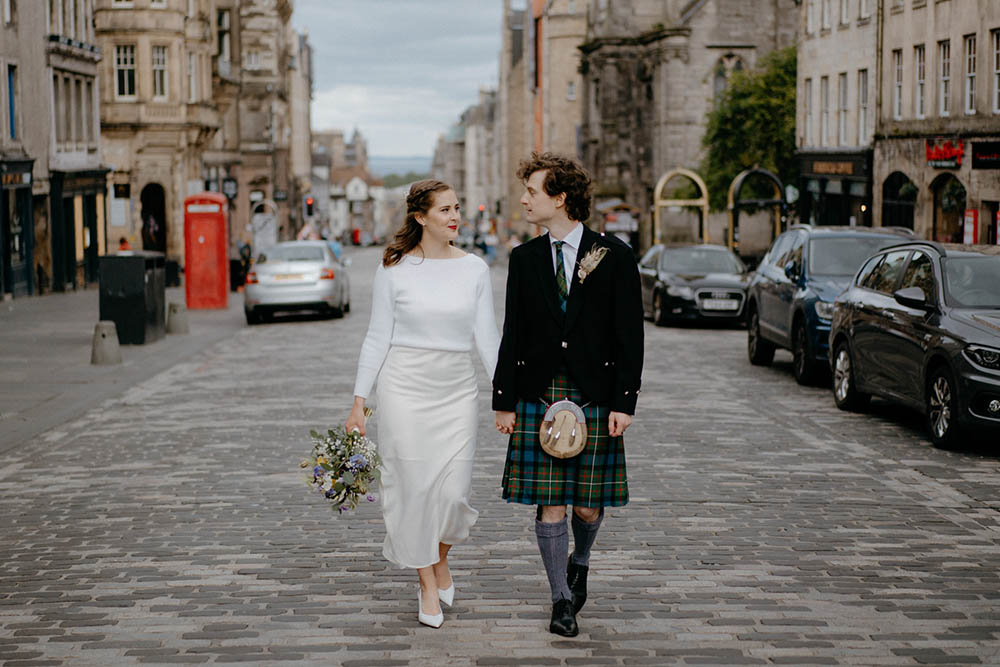 Our Scottish Elopement is a new series in which we explore the most beautiful locations to elope to in Scotland.
Our elopement series so far has focused on places you can elope to in the wonderful Scottish wilderness, from Glencoe to the Isle of Skye.
Today's post is a reminder that Scotland's cities make amazingly photogenic elopement locations too, as proven by super-stylish Canadian bride Sabrina and her partner Angus.
Sabrina and Angus were originally going to get married in May at Edinburgh's City Chambers, but they had to postpone their wedding due to Covid-19.
When the Scottish Government announced that outdoor weddings could go ahead, the pair switched their venue to Dunbar's Close, a leafy garden just off the Royal Mile, and got married on 4th July.
"Dunbar's Close is completely serene yet so close to the bustle of the Royal Mile," says Sabrina. "Once you get through the gates, there's a bit of a maze of sunken gardens until you get to a clearing at the back – this is where the ceremony was."
Keep reading to find out more about the couple's intimate city celebration, captured by the fabulous Lina Hayes Photography.
"Angus and I met on a blind (read: Tinder) date at Ox184 in February 2019," recalls Sabrina.
"By September I was telling my family that I would marry him, by November we were living together and by February, just two weeks before our anniversary, we were engaged."
Angus tried to propose a few times to Sabrina; a couple of times he informally suggested they get married (to which Sabrina responded, "I'll marry you but not until you get on one knee!"), and on a third occasion bad weather got in the way of romantic proposal plans.
Fortunately, all went well for proposal number four.
"We went for dinner at McLaren's then walked back through Merchiston and stopped in Harrison Park, where we sat on 'our' bench.
"Angus handed me a card that professed his love and intention to marry me, and when I looked up he was (finally) on one knee!"
The couple had always envisaged having an intimate wedding, but Sabrina admits it started to grow arms and legs.
"Slowly but surely, the conversation of a reception and who to invite would creep in. Neither of us wanted to have all of the attention, and there was a huge gap because none of my friends could afford to travel to Scotland just for a reception," says Sabrina.
"It was a struggle to balance out what we wanted with what we felt we had to do, and in the end having a lockdown wedding was such a blessing!"
Of course, getting married in the midst of a global health pandemic had its disadvantages.
"There were a lot of things we had to give up to get married during the pandemic: not seeing each other the night and morning before saying I do, having my father walk me down the aisle, plus hair stylists, nail bars, make-up artists, trying on dresses, getting ready with bridesmaids… pretty much all of what you expect from a typical wedding day," says Sabrina.
On the bright side, though, the couple made the most of the opportunity to support lots of local businesses.
"Everywhere we looked, these businesses went above and beyond.
"My sister-in-law brought a whole picnic from an Elgin cafe that was over-the-top in the best way, my cake from The Pastry Section was beautiful and beyond delicious, and my Narcissus bouquet felt like the only thing I needed to feel and look like a bride.
"At the end of the day, even though we only had four guests, our wedding felt like it had a whole community."
Angus and Sabrina's wedding day began with a walk around Gorgie, where they stopped in at Tea and Sympathy for tea and coffee.
Back at home, Sabrina did her own hair and make-up ("I sent photos of hairstyle options to everyone who couldn't be there in person to advise: my sisters, my mom, my cousin and my aunt all came together to vote for their favourite look!") then the couple got ready in separate rooms.
"Once I was all dressed, I went through to the other room where Angus and I had the least photogenic 'first look' ever. But at least we got a first look."
The pair took a taxi (wearing masks, of course) to their ceremony, where they met with their only guests: Angus's parents, his sister and her partner.
Their ceremony was live-streamed on Facebook so that Sabrina's parents, as well as other friends and family, could witness their marriage.
Afterwards, it was photo time!
The newlyweds met with their photographer Lina ("She manages to capture not just the couple, but the mood of the day and the wedding itself") and took to the streets of the capital for a photography session.
"The Royal Mile wasn't completely silent, there were enough people to scream "you're beautiful! Congratulations!" at me, but not enough to get in the background of photos, or honk at us if we stopped in the middle of the road for a moment," says Sabrina.
"At the end of our photo-tour, we stopped at Mary's Milk Bar for ice cream – Lina's genius idea!"
In total, Sabrina reckons the wedding cost around £1,500. And even though the day didn't look like the wedding they imagined back when they got engaged, they made it work for them.
"As someone who couldn't have most of the things she couldn't imagine her day without, let me tell you: not having something you can't imagine your day without will not ruin it if you don't let it.
"Prioritise expenses and once you know what you want, figure out a way to ensure that your budget is going to the right people. Shop small. When you support small businesses, nine times out of ten they'll go a million times farther than a big conglomerate.
"I bought a dress from a big brand and it arrived crinkled up in a plastic bag, in a sad, beat up cardboard box.
"In a non-coronavirus world, I could have bought a vintage dress for the same amount (from a boutique such as Those Were The Days in Stockbridge) and had an infinitely better experience, and I would have been supporting someone I know rather than a big business. That makes a difference not just ethically, but in how your day plays out!"
Photographer: Lina Hayes Photography | Cake: The Pastry Section | Flowers: Narcissus Wedding Flowers
Key workers: Here's how you could win a Wee Wild Wedding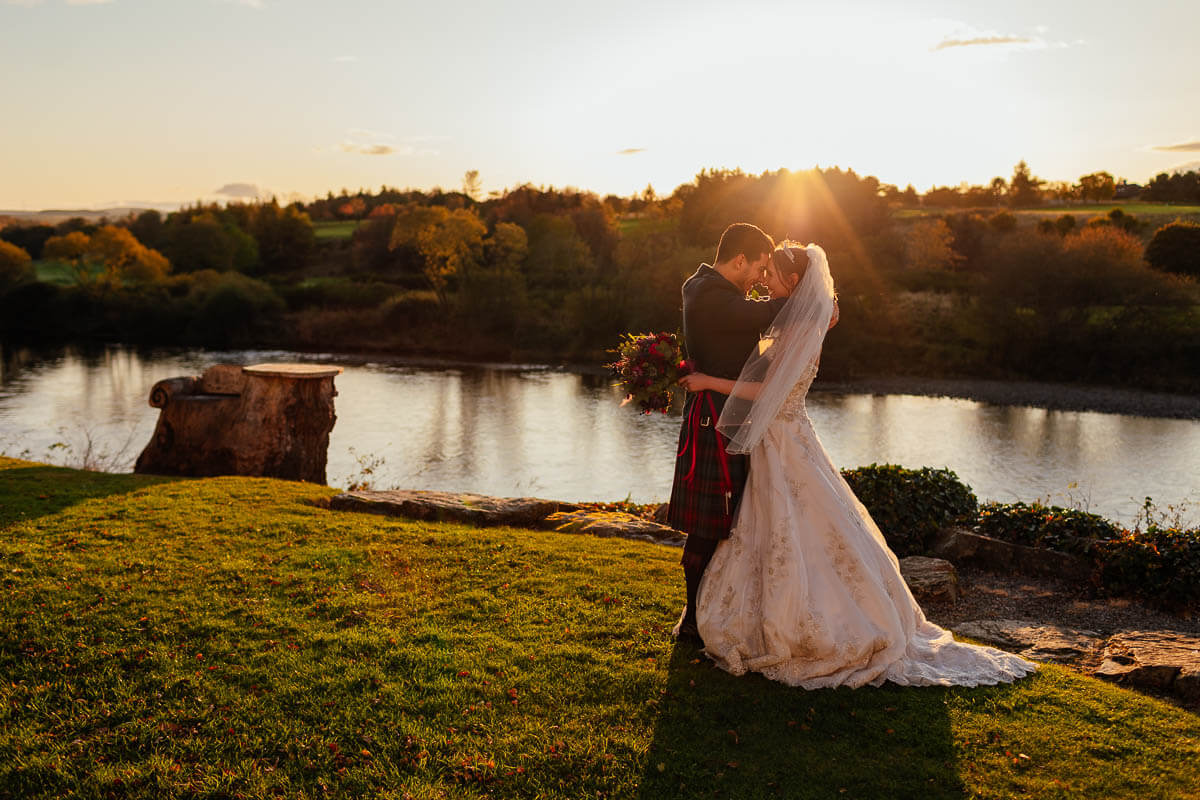 If this pandemic has taught me anything it's that even in the darkest of times, people's capacity for kindness knows no bounds.
The wedding industry has been hit pretty hard to say the least over the past few months, and that makes this competition, offered by a group of Glasgow-based wedding creatives, even more generous than usual.
"After four months of postponements and uncertainty, we want to let couples know that they don't have to wait for things to get back to 'normal'. There can be a new normal – mini weddings," said owner at Fotomaki Photography, Sarah Craig.
Sarah and her team have come up with the Wee Wild Wedding concept, which showcases some of the most beautiful parts of Scotland and takes advantage of the fact that humanist ceremonies are legal anywhere, which means that getting married at the top of a mountain is perfectly feasible in Scotland.
Aren't we lucky?
To celebrate the launch of this package, they'd like to give away a Wee Wild Wedding package to a deserving key worker.
If that sounds like you (or someone you know) then make sure you enter.
HERE'S WHAT YOU'LL WIN
Photography: Two hours of coverage from Fotomaki Photography
Planning: Wedding planning assistance from Fin Flükra
Flowers: Florals from Briar Rose Design
Celebrant: An amazing celebrant to marry you from Humanist Society Scotland
Catering: An on-location luxury picnic for two from Scottish Wild Picnics
Hair + Make-up: On-the-day beauty from Jennifer Mathieson or Pamper & Polish
Ceremony live stream: Live on YouTube with StrangeWorx Wedding Films
To enter, find out more details and check out the terms and conditions, visit the Fotomaki Photography website and fill in the form/email before 11pm on 31st July 2020.
The winner will be chosen by a panel.
This competition is not associated with Scottish Wedding.
Our Scottish Elopement: A same-sex wedding in a bluebell wood, Glen Finglas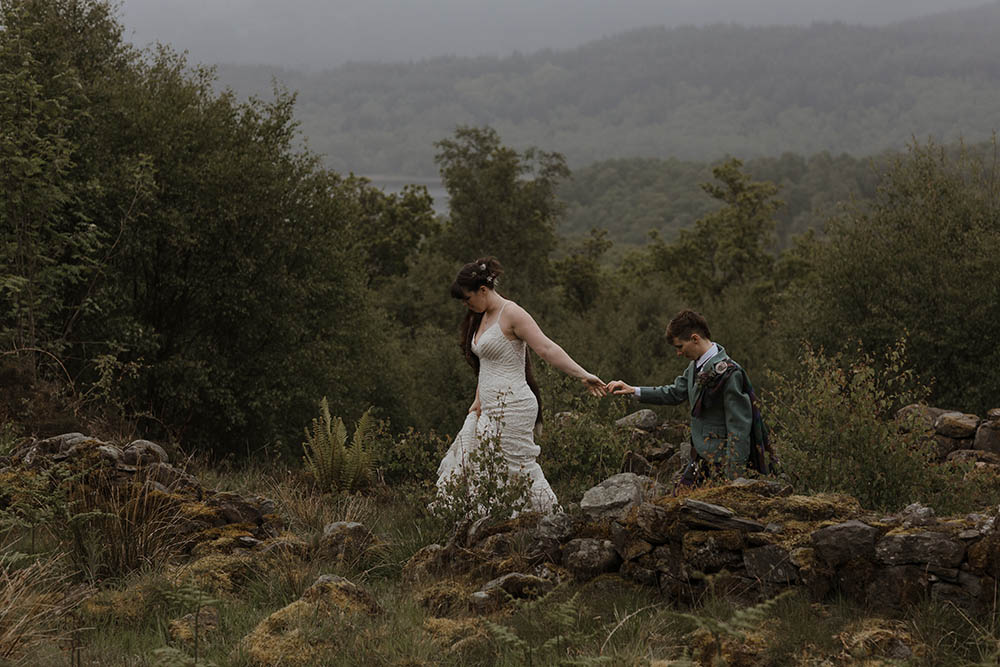 Our Scottish Elopement is a new series in which we explore the most beautiful locations to elope to in Scotland.
This week's elopement at Glen Finglas, Loch Lomond, was photographed by Caro Weiss, a wedding photographer who created Elope With Us, a Scottish elopement service which provides couples with an instant wedding team (from hair and make-up to flowers, photos and a film) for their elopement in Scotland.
What the photographer says…
"Sara and Megan approach life and their relationship with jubilation, candour, and unconditional love. They're non-traditional, independent, humorous people.
"Their one request for their elopement location was a bluebell wood and thanks to the Scottish weather we were able to find one still in bloom at the end of May last year.
"Myself and my Elope With Us team had so much fun with these two wonderful humans and I will forever remember them giggling through the ceremony, climbing hills and laughing so much my cheeks were sore."
What the couple say…
"We met the old-fashioned way, by today's standards, at a gay bar in Philadelphia," recalls Megan.
"Depending on who tells the story it sounds quite different. We quickly fell into conversation and it was extremely apparent we were mutually interested in each other.
"Sara left to go to the bathroom. I was left waiting at the bar. After what felt like hours (but in reality, was probably 10 or 15 minutes), I turned and saw her talking to another woman and of course blew it out of proportion and left."
Fortunately there was a not-so-old-fashioned way for the pair to reconnect.
Sara tracked Megan down on social media and after a year of dating she proposed, then Megan did a proposal of her own, buying Sara a watch and creating a Japanese senbazuru (a thousand paper cranes).
At first the couple started planning a traditional wedding, but it soon became apparent that this wasn't what they wanted.
"Everyone had opinions about every single detail, to the point that I felt like I was losing control of my own day," explains Megan. "I wanted this day to be about Sara and I, and the beginning of our life together."
An elopement was the perfect option, and the pair decided that Scotland would be the ideal location.
"Sara has played in Scottish bagpipe bands since she was a young girl, and her family is Scottish. It was a place we both wanted to go together. We have a deep love and appreciation for the beauty of Scotland, the history… and the scotch!"
As they booked via Elope With Us, much of the wedding planning was taken care of. They just had to turn up with their outfits: Megan in a dress, and Sara in a kilt to reflect her heritage.
"Caro did all the heavy lifting of planning. She told me what time to be ready for hair and make-up and took care of everything else," says Megan.
"It was better than anything I could've planned on my own, and despite being thousands of miles and several timezone hours away she really made the whole experience feel very personal. Having an elopement planner made the process easy."
Megan and Sara got married legally in the US first to facilitate paperwork, then had a second ceremony in Scotland.
Megan describes the wedding day as "perfection".
She had a vision of getting married in a bluebell wood, and Caro managed to find one at Glen Finglas.
"The park was absolutely carpeted in them. It's one of the most beautiful places I've ever been, and our photos truly look like moments out of a fairy tale.
"Our bagpiper played us into the wood, and we exchanged vows and rings. It was everything anyone could ever ask for in a wedding. It was a special moment that was truly about the two of us and our love."
The couple have no regrets about eloping. The day was incredibly meaningful and personal to them, and they shaped it exactly how they wanted it.
"Within the perspective of being gay, eloping gave us the opportunity to create a wedding experience without direct social pressures," adds Megan.
"Regardless if you're gay or not, if people want to celebrate their love, they should do it in a way that fully expresses themselves, their relationship, their community and their family. The elopement provides that space to have a cherished moment free of any other outside constraints and pressures."
Photographer: Caro Weiss | Videographer: Sugar 8 | Megan's dress: The Sample Rack, Philadelphia | Sara's kilt: USA Kilts, Spring City | Celebrant and hair stylist: Leigh Ferguson | Bagpiper: Keith Marshall | Quaich: Uig Pottery | Flowers: Wild Flower Workshop | Make-up: Sharon Stephen
Our Scottish Elopement: An intimate wedding ceremony in Glencoe, followed by a big reception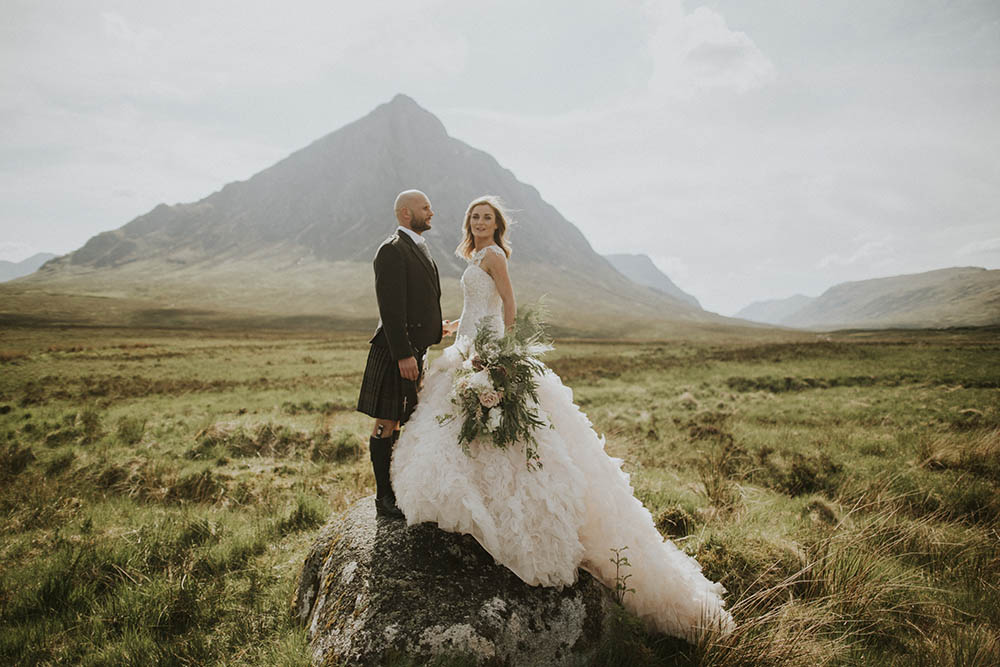 Our Scottish Elopement is a new series in which we explore the most beautiful locations to elope to in Scotland.
This week's Glencoe elopement was photographed by Lena Sabala, a fine art wedding photographer who, along with her partner Patrick, shoots weddings throughout Scotland.
What the photographer says…
"Patrick and I are a mixed-culture couple who moved to Scotland a few years ago. I'm Polish, Patrick is Lebanese.
"Before moving to Scotland, I'd been dreaming of photographing couples in the moody landscapes of the Scottish Highlands and I remember our first photoshoot in Glencoe. It was pure magic.
"Nicola and James eloped a while ago (2017), but it was our first wedding there, and believe me or not, I still can't forget this day.
"There is no place in Scotland that offers as picture-perfect a backdrop as Glencoe.
"The open space, the constantly changing weather – it all simply works. No matter if it's a sunny or a stormy day. It never disappoints."
What the couple say…
Timing wasn't always on James and Nicola's side. That's how all the best rom-coms begin, isn't it?
They first met in 2003 at a friend's barbecue; James was engaged at the time, and Nicola had recently split from a long-term partner. While romance wasn't on the cards, they struck up a friendship after having a conversation that made them feel like they'd known one another for ever.
They remained pals for years, each falling in and out of relationships with other people (James' first engagement didn't last). But they were barely ever single at the same time.
"James started a relationship with an old school girlfriend, just as I was starting to have more than just 'friend' feelings," recalls Nicola. "He had this girlfriend up until 2005… just as I started seeing a boyfriend for two years until 2007!"
In 2007 a rare period of mutual singledom emerged, but the pair were fully in 'just friends' mode.
They booked a holiday to Thailand for the following year, just as pals, but Nicola had a quietly revelatory moment while there.
"On our holiday, on the back of a moped, I decided that I was moving in with this 'friend' when we got home," says Nicola. "When we got back, I moved in with James and I've just never left. Not just as friends!"
James proposed at the summit of Ben Nevis in 2013, and it was their love of mountains that influenced the wedding location.
"I struggled to pick a place and then I thought to myself: 'What kind of pictures do I want to look back on in years to come? Where would I want them to be taken?' Once I asked myself that, it was easy."
Glencoe was the picture-perfect destination of choice, and The Ballachulish Hotel was booked for an intimate wedding with just a handful of guests, including their two-year-old son Harrison.
"We had prepared to be married within the hotel, but on the day it was so hot and beautiful the staff arranged the chairs outside on the lawn of the golf course. Surrounded by mountains, it was just perfect."
After the ceremony, James and Nicola went off and had their photos taken amid the stunning scenery of Glencoe.
Then it was back to the hotel for a meal. "We just loved it. By 10pm we were pretty tired so no big party that evening!"
One week later, the couple had a big bash at The Alona Hotel with over 150 guests. "We had another short ceremony displaying the pictures from the previous week. And a great party it was!"
Nicola says she's glad that they did it this way, having a small, intimate wedding ceremony followed by a reception at a later date.
"I felt happy that we split it over the two dates. I loved wearing my dress twice and having the best of both worlds: the quiet of the mountains and the noise of our party celebrating with my friends and family."
Watch James and Nicola's wedding film!
Ceremony venue: The Ballachulish Hotel | Reception venue: The Alona Hotel | Photographer: Lena Sabala | Videographer: Glasgow Wedding Videos | Bride's dress and jewellery: Bijoux Bridal Boutique | Bridesmaid dress: Monsoon | Groom's outfit: Dalgleish Kilts | Florist: Thistle Flowers | Hair: Hair by Debbie | Make-up: Annie Walters
A DIY Orkney wedding at home with a white, gold and greenery theme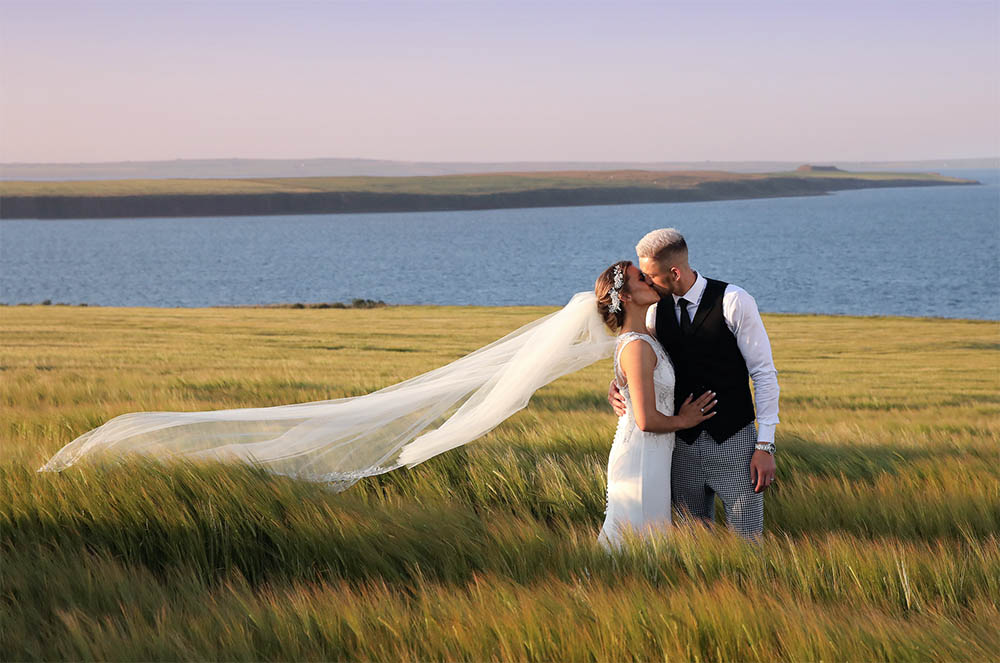 Karoline and Steven, with the help of friends and family, put so much effort into planning a beautiful Orkney wedding at their home. The pair admit it was loads of work, but it definitely paid off!
Read on to find out more about the couple's wedding in the words of bride Karoline, and see the photos captured by Fiona Scott Photography.
We got together in 2013 after chatting in the local nightclub. We had always known of each other as Orkney's not a big place, but had gone to different schools and cities for university.
Despite the height difference I think we both knew early on that we were pretty perfect for each other and had found something special.
In Orkney there aren't many wedding venues; most people get married in the local cathedral and then go to a country hall for the reception and we wanted something different.
We knew we wanted to get married at our house as it has amazing views over the Bay of Berstane.
Having it at our home also meant we got lovely pictures with our dog Kurtis who could be at the day, and with my horse Phoebe which was lovely.
Don't get me wrong: it was a lot of work.
We made all of the signs and outdoor seating out of pallets. Steven's friends helped to construct lovely toilets in another one of our sheds.
Steven had to lay a new wooden floor where we said our vows and there was a lot of power washing to get rid of the pigeon poop that had been left in the barn – once we got rid of the pigeons the starlings got in, but eventually we got that sorted too!
Our theme was a natural, romantic look. Our colours were white, gold and natural greenery.
Flowers were key! We had large white cherry blossom trees in the centre of the marquee, which were beautiful.
We had a theme of a gold K and S in circles on our stationery, favours, the bottom of my wedding shoes and on the side of Steven's shoes and also behind our top table to symbolise our names coming together in wedding rings.
We also made our own bar out out of whisky barrels which was very cool.
For our favours Orkney Distilling went above and beyond to match in with our invites with our personalised gins with elderflower in it picked from our own garden.
I went to Edinburgh with my mum, sister and four-week-old niece Pippa to find my dress. My sister had gotten her dress from Rachel Scott Bridal Couture for her wedding previously so we knew how amazing she was.
I wore a custom Suzanne Neville dress, 'Gianni', with a bespoke Alan Hannah veil. I had bespoke shoes made by Harriet Wilde.
Steven wore a bespoke suit made by Peter Johnston with Duke + Dexter shoes which were personalised on the heel with out initials and the wedding date.
We had a registrar from the local council and got married in our own barn. I walked myself down the aisle to Is That Alright? by Lady Gaga.
My father passed away when I was five, but I had greenery from where he was born and raised in my bouquet, and as he wore cowboy boots (don't ask) I placed cowboy boots at the bottom of the aisle with flowers in them. So, as my brother put it in his speech, not only was he there walking me down the aisle, he held my hand as well!
Our food was supplied by Gayle Grieve – Wedding and Events Caterer who was amazing. We had no on-site cooking facilities but nothing was a problem for her. She managed to cook the food at the local primary school and transport it in hot vans to our home for plating up.  Everyone commented on how delicious it was
Every part of our day was special as it was so personal. I think Kurtis coming down the aisle looking dapper in his suit was very memorable; we got lots of oooo's and awww's.
We worked very hard on making it the perfect day, trying to have every little detail covered. But the atmosphere created on the day by having our closest family and friends celebrate our love is what made it so special.
Our advice to other couples would be to plan as much as you can, try not to get stressed and trust each other to get things done.
Working together is key; take time away from wedding planning together and try not to get swept up too much in the 'perfect day' pressures. The day is about you both, your love and your future life together, not the Instagram pictures!
Photographer: Fiona Scott Photography | Videographer: Butterfly Wedding Films | Bride's dress and bridesmaid dresses: Rachel Scott Bridal Couture | Groom's suit: Peter Johnston | Cake: Becca's Bakes – birsay | Florist: Flooers | Evening band: The Eastie Boys | Jewellery and cherry blossom trees: W Hourstons Jeweller | Stationery: Feel Good Invites | Hair: Natalie @ The Peedie Salon | Make-up: Lauren Johnston | Favours: Orkney Distilling
We have a whole section on our site dedicated to real Scottish weddings.

Start browsing them now!