Newlyweds dazzle Glasgow in a diamond-covered Rolls Royce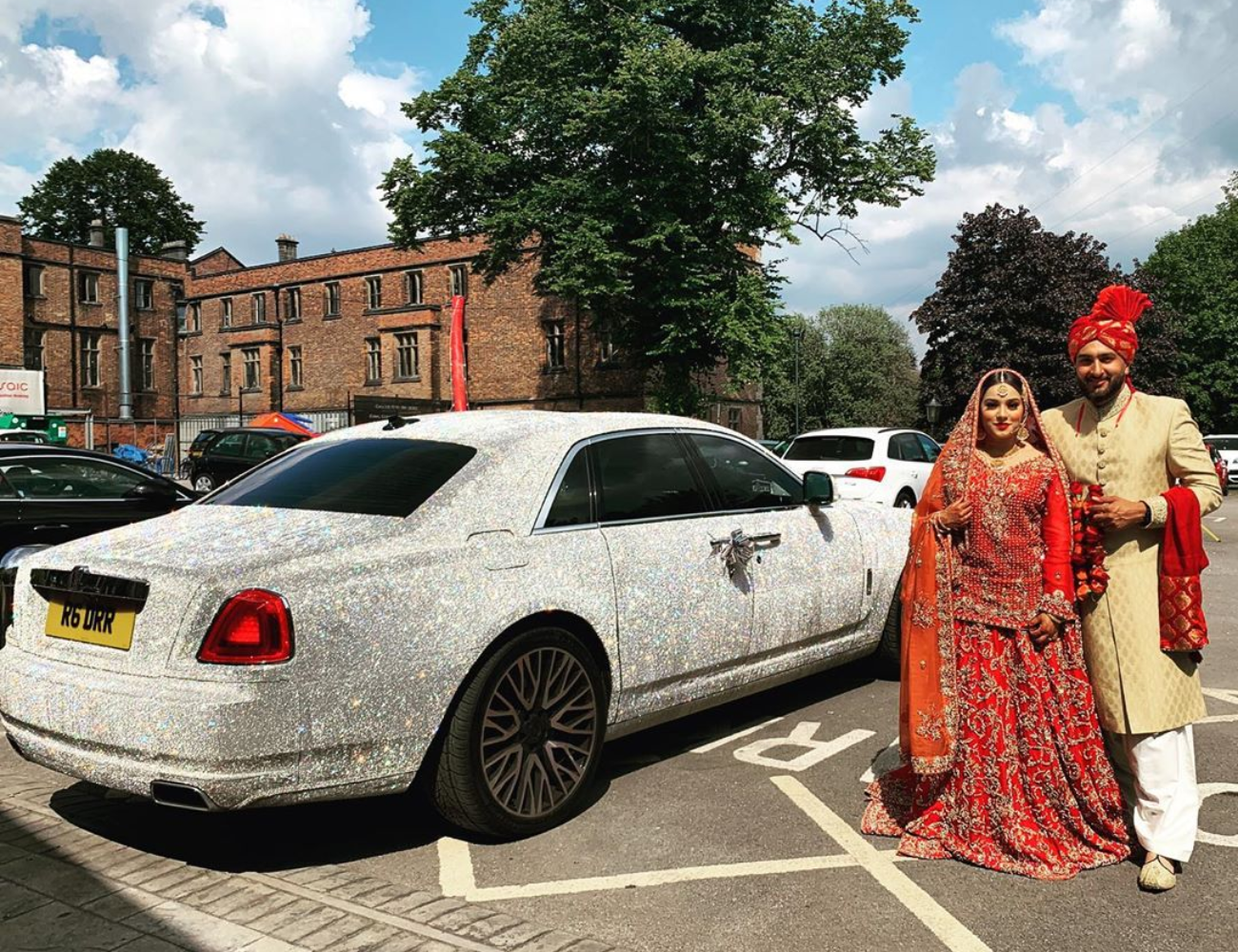 Newlyweds Zen and Iman Raza dazzled the streets of Glasgow on Sunday afternoon, cruising through in a Rolls Royce adorned with four million Swarvoski crystals and boasting an eye-watering price tag over £250,000.
Snaps of the Rolls circulated social media as Glaswegian's shared their awe of the magnificent car.
Glasgow native Zen, 24, rented the vehicle from Diamonds Rolls Royce to travel to his Manchester wedding.
With a starting rental cost of £350 a steal, this luxurious ride is a sure fire way of letting everyone know that it's your big day.
Find your own wedding transport in our online directory
Arrive in style for your wedding with Granite City Car Hire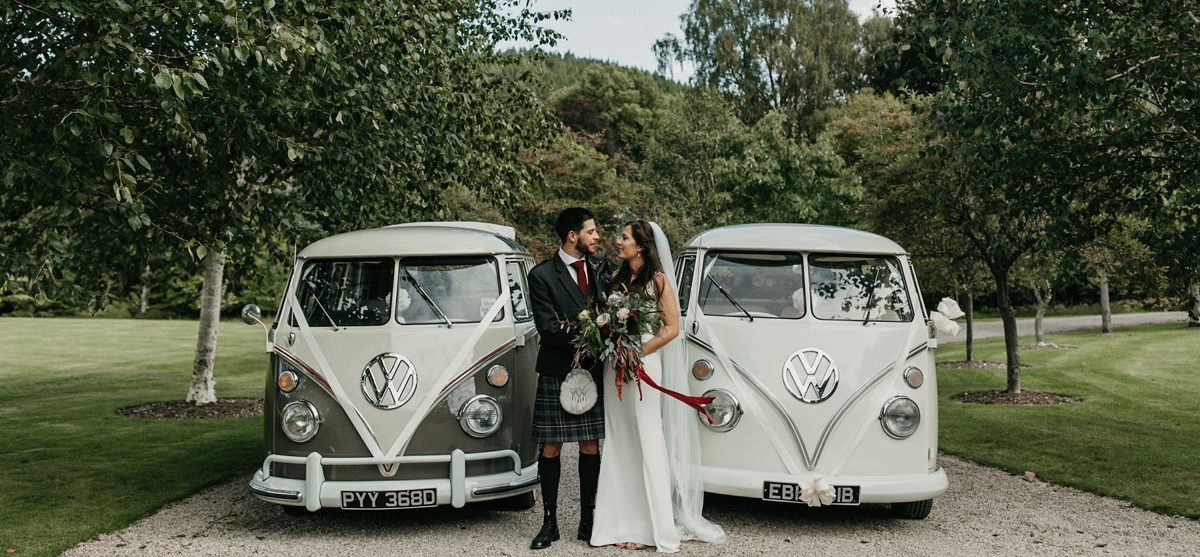 Looking to make your wedding extra special by arriving in style? Or maybe you fancy being whisked off post ceremony for a champagne drive?
Granite City Car Hire have just the ticket!
They specialise in Volkswagen 1960s splitscreen bus and campervans, which are a spacious and stylish alternative to a Rolls Royce or stretched limo.
When you see the big VW logo coming down the street people instantly wave and smile – it's nostalgic and quirky, but timeless and classic all at the same time.
Daisy and Tallulah
Granite City Car Hire's VWs have their own quirky personalities so it was only right they named them.
Tallulah was manufactured in the Volkswagen Hanover factory in 1966 and is basically the holy grail of VWs – a 21 window Delux ''Samba'' Microbus. She has a retractable sunroof, perfect for some fun photos.
Tallulah
Meanwhile Daisy, manufactured in 1964, was the first VW Splitscreen available for wedding hire in the North East of Scotland.
She's an 11 window Delux Microbus painted in all wedding white custom paint, with cream leatherette upholstery decorated with daisy and pink roses. The interior benches seat up to 5 passengers with room for one more in the front cab.
Daisy
Booking Granite City Car Hire
Book Granite City Car Hire with peace of mind knowing they're national award winners – they won best in class wedding transport provider for Scotland at the Scottish Vows Awards 2018, and the Top Tier Awards 2018 for best wedding transport in the North East of Scotland!
Although based in Grampian, they can travel further afield with their trailer.
Get in touch to receive a competitive quotation and keep in mind that they get bookings up to three years in advance – we'd recommend contacting them as soon as you can to chat about your wedding transport.
Start planning your VW wedding transport with Granite City Car Hire
t. Enquiries@granitecitycarhire.co.uk
Floral-filled nature inspired wedding day at Sorn Castle, East Ayrshire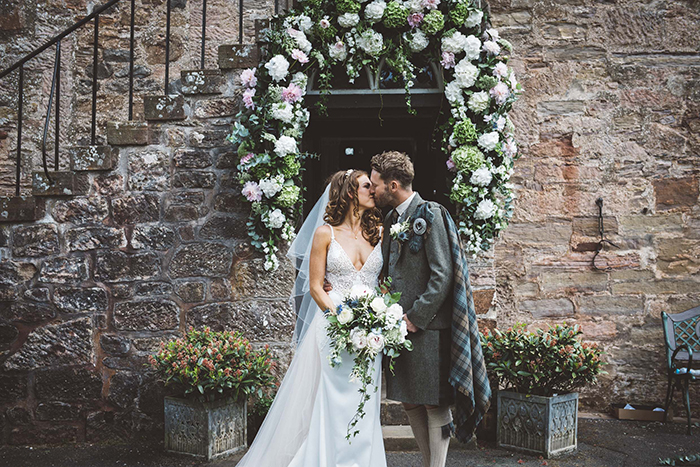 Rebecca and Jason created a beautiful nature-inspired wedding reception at Sorn Castle following their beautiful ceremony at Sorn Parish Church.
With plenty of personal touches – groom Jason even hand-built their wooden pergola! – it was truly a day to remember.
Here, bride Rebecca shares more from their wedding, including a very exciting arrival in 2019!
Jason and I clicked right away on the first date. Although we are opposites in lots of ways, we are so similar in others.
We both work really hard and help each other strive and achieve our goals – we balance each other out perfectly!
Jason proposed while we were on holiday on the island of Koh Tao.
We went snorkelling on our favourite beach, and he pretended to look under the water at some fish but instead resurfaced with my engagement ring from under the sea!
Booking the perfect venue was a priority to us, and we wanted our wedding on a bank holiday weekend to make it easier for my family travelling from Northern Ireland.
As soon as we walked into Sorn Castle, we fell in love with it.
The team made it feel really personal and special – it didn't feel like a wedding conveyor belt like some other venues.
For the décor, we wanted it to reflect the elegance of the castle and the beautiful nature in the surrounding grounds, installing lots of floral displays throughout the venue.
We also wanted to pay tribute to my Northern Irish ancestry and Jason's Scottish ancestry, and had fudge from my home town and bottles of Irn Bru as favours.
My dress was 'Gala' by Galia Lahav. It was made from vintage crochet and silk satin with a dramatic blush train.
Jason wore a customised tweed kilt made at Frank's Gold Room at Kilts 4 U in Hillington. It was stunning and everything we wanted.
The night before the wedding was so stressful, I was almost verging on having a little bridezilla moment! Jason was still building our wooden pergola at 9pm, but we eventually had our ceremony rehearsal and that helped calm our nerves.
We were both a little nervous at the ceremony, and stumbled over a few words even though we had practised it plenty!
We got a few giggles from our guests which actually helped put us at ease.
The speeches were fantastic, and there were a few tears during my dad's as he spoke about family and friends that are very missed.
It was followed by lots of laughs during the best man's speech, which contained anecdotes that cannot be put down in print!
Our florist embraced our vision and went above and beyond. People are still talking about the floral displays!
At the Ayrshire Wedding Show we won the chance for West FM DJ Colin McCardle to play at our wedding! Everyone had a blast, and the marquee was jumping from start to finish.
Our first dance was Brad Paisley She's Everything. It is a song we both love and has very meaningful lyrics. We also liked that it was a unique choice that many people hadn't heard.
Our plan for our honeymoon is to go to New Zealand and the Cook Islands, but we have had to postpone it as we're expecting our first baby in March 2019!
Photographer: Tommy Cairns Photography | Venue: Sorn Castle
Bride's dress: Kavelle Bridal Couture  | Bridesmaid dresses: Lou Lou Bridal
Groom's kilt: Kilts 4 U | Videographer: White Balloon Films | Cake: Rosewood Cakes
Florist: Every Bloomin Thing  | Make-up: AMM Hair and Makeup Team
Stationery: Bespoke Wedding Stationery
Gorgeous Easter weekend wedding day at Balbirnie House Hotel, Fife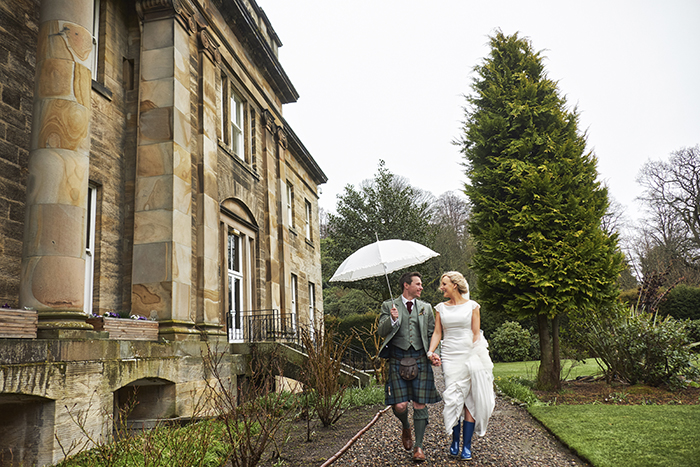 When childhood sweethearts Emma and Callum got engaged after 12 years together, they knew they wanted to say 'I do' within the year.
With plenty of personal touches, including some Easter-themed surprises, the happy couple opted for a spring wedding at award-winning venue, Balbirnie House Hotel, all captured beautifully by Suzanne Black Photography.
Here, bride Emma shares more of their eggscellent big day…
"We met at school and were in the same class on the first day. We were both quite shy in those awkward first years and didn't actually become friends until fourth year at school.
Callum is one of the kindest people I have ever met and goes above and beyond to help anyone.
I'm a huge Harry Potter fan and Callum proposed on a surprise break to Glencoe. We had a trip on The Jacobite steam train, which is basically the Hogwarts Express and it travels over the iconic Glenfinnan Viaduct.
We then went a walk into the hills to see the view and I turned around to see Callum down on one knee, surrounded by midges. It was the west coast of Scotland in June: prime midge season!
Finding an available venue which ticked all the boxes was first on the list. The most important things for us was a venue with character, lots of space inside and out and availability as we wanted to get married to as close to a year from our engagement.
When we found Balbirnie House Hotel, we knew it was the venue for us.
We loved the character of the old building with its high ceilings, period features and large drawing rooms with lovely decor. The grounds are beautiful and had ample space for all our guests to mingle during the canapés and drinks reception.
The winning factor for us was the ballroom downstairs which has beautiful arched windows on every side adorned with fairy lights and a huge twinkling dance floor.
We got so much help from our friends and family and Callum was so involved with every aspect of the day. We discussed together how our wedding should look and our ideas for the day, right down to small details.
My bridesmaids were fantastic throughout and understood how much goes into planning a wedding, whilst our families were also so helpful, from accompanying us venue hunting to late night arts and craft around the table.
We embraced a lot of DIY touches. We bought our wedding invitation design from a small stationery business on Etsy for £15, which we then tailored to suit us and got them printed at a local print shop and the envelopes were hand sealed with a wax stamp.
My ridiculously talented sister-in-law Corinne owns Dazed Dorothy and she hand drew and decorated our wedding chalkboards and handmade all four bridesmaids handbags, plus a bridal bag for myself which she lined with cloth that once belonged to her grandmother.
We made our favours from recycled mini glass bottles with corks, filled with pink gin for the ladies and rum for the gents. My sister then hand wrote and attached a mini tag with 'drink me' on each one. For our pregnant guests, we gave them Lindt chocolate bunnies.
As our wedding took place over Easter weekend, we had decorated jars full of Mini Eggs on each table to enjoy during the speeches before dinner arrived. Callum also painstakingly hand blew and decorated real eggs with gold leaves to hang from tree branches.
We also decorated lots of little recycled glass bottles with lace and twine which our florist filled with gypsophila and hung them on the aisle chairs during our ceremony.
The in-house wedding planning team at Balbirnie were absolutely fantastic. Christine, our main wedding coordinator, was so organised and helped us massively keep on track of every aspect of planning the day. Kerrie and David, our masters of ceremony, couldn't have done more for us, even helping me across the grass in my welly boots in the rain to achieve the perfect picture!
I went dress shopping with my mum, sister and bridesmaids. I was pretty much decided that I wanted a lace fitted dress with a V shaped back which wasn't too 'blingy'. I tried on every style there was it feels before I found the style that I loved.
We figured out very quickly that lace was not my friend and that a more simplistic style suited me best.
I bought my Pronovias dress from Kavelle Bridal Couture in Edinburgh. It was a combination of crepe, tulle and lace ivory; a fitted mermaid style dress with a lace back, bateau neckline and lace cap sleeve.
My Swarovski earrings were a gift from my parents, a halo drop style to compliment my engagement ring. My vintage style bridal cuff was borrowed from my friend as my something borrowed and my shoes were silver t-bar peep toes which I owned already and were my something old.
Callum had a custom kilt made and opted to wear matching green woolen socks and brown brogues, complementing his brown leather sporran which belonged to my late grandad.
The night before, I stayed with my four bridesmaids in the Pearl suite at Balbirnie and the bridal party and close friends met up at the local pub for dinner and drinks.
I felt really excited the morning of the wedding. I woke really early and couldn't get back to sleep.
We had breakfast in the room then hair and makeup started at 8am. I spent the whole morning with my bridesmaids and mum.
I was so calm walking down the aisle as my sister had just made me laugh before it started. We were all lined up in a row ready to walk in and she turned round and whispered to us 'Feel the rhythm! Feel the ride!' from Cool Runnings! We all burst into giggles.
Our brilliant pianist played Elton John's Tiny Dancer as I walked down the aisle.
We wanted a humanist ceremony as we both loved how personal the service is and all about the couple. We wrote our own vows with lots of help from our celebrant, Jane. It was so special to us to write our own and ranged from heartfelt moments to some funny ones too.
As the ceremony was at the venue, we didn't require transport  but it didn't stop Callum's vintage 1970's VW Beetle from making an appearance which he restored himself!
We had a drinks reception with canapés which I didn't even eat as I was too excited! We also has a popcorn station for everyone as I wanted something that was fun, but also gluten free for my coeliac guests.
The speeches were all fantastic my dad told funny stories of me growing up, Callum was brilliant and mentioned my grampa in his speech as sadly he passed away the year before.
The only band we wanted was Corra after seeing them at two other weddings. They played a version of Zac Brown Band's Loving You Easy for our first dance. We love that song and the words are so fitting for us.
The dance floor was full all night and Corra kept us all going and incorporated some ceilidh tunes too which we all loved. It was such a great party.
After the wedding, we went on a mini moon for four nights to a cottage in Killin in Scotland then headed to Italy the next month at the start of May.
When you have been together for this long, being married doesn't really feel too different. It was just a beautiful day to celebrate with all our loved ones.
Walking into the room and realising that every single person whom we love and care about was there especially for us was quite a phenomenal experience."
Venue: Balbirnie House Hotel | Photographer: Suzanne Black Photography
Bride's dress: Kavelle Bridal Couture | Groom's kilt: John Morrison Kiltmakers
Bridesmaid dresses: Polly Rose Boutique
Florist: Save the Date Collective | Cake: Mark Beedie
Pianist: Joe Revell | Band: Corra
Stationery: Etsy | Hair + make-up: Melanie Herriot from MHM Styling
Humanist celebrant: Jane Bechtel from Humanist Society Scotland
Your vintage wedding won't be complete without Daisy Love Bug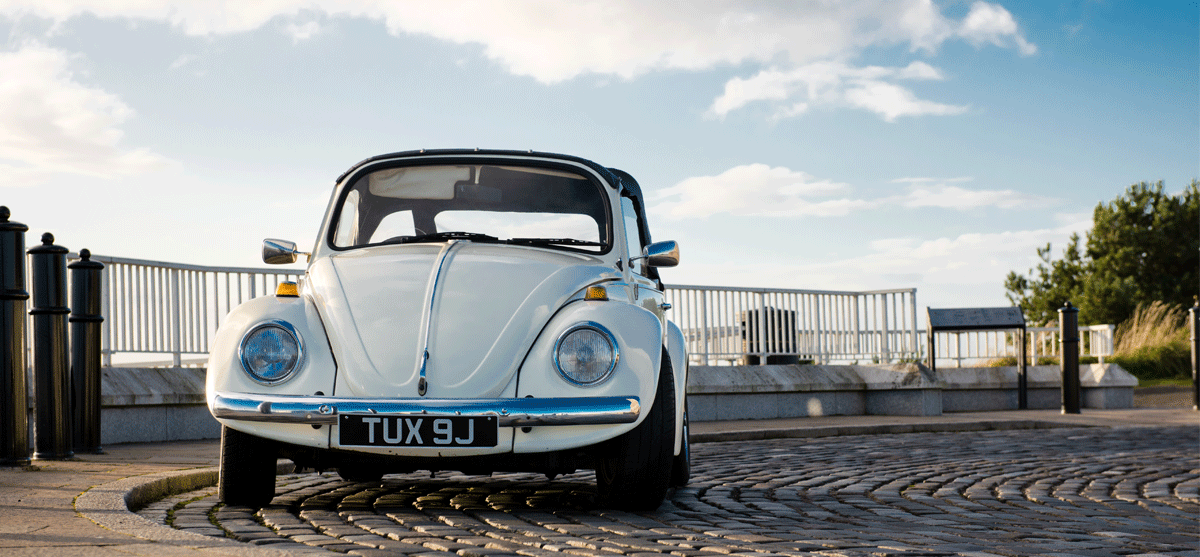 Going for a vintage-inspired big day? Daisy Love Bug is the stylish wedding car you've been looking for!
We're taking a closer look at Daisy and explaining more about hiring her for your special day… 
Statement wedding cars are definitely having a bit of a moment! First Prince Harry and Meghan made a smooth, super sleek exit in a Jaguar.
Then, Game of Thrones stars Kit and Rose left their big day in a Land Rover Defender, complete with a traditional white bow and 'just married' signs.
The real reason both were so successful? Each couple picked a car that perfectly matched their wedding style. Nothing else would have complimented Harry + Meghan's luxe and classic day quite so well as a Jag, whilst Rose + Kit's getaway vehicle worked 100% with their country wedding in the bride's family home town.
So we're super excited about Daisy Love Bug, a 1960s classic beetle convertible that's made for vintage-inspired, quirky or stylish weddings.
Introducing Daisy
Whether you need her to take you to the church, to the evening ceremony or to head off into the sunset once all the celebrations are over, Daisy will turn heads as she gets you there.
The classic car brings plenty of character and is the perfect backdrop for a few fun bride and groom wedding pics!
She's also very unique – she's one of the only chaffeur-driven VW classic convertibles available to hire in the Tayside and Angus area!
Plus, you're sure to receive amazing customer service if your hire this wedding car! Daisy Love Bug is run by father and daughter team Bruce and Toni, who aim to make every wedding day they work as special as possible.
Booking Daisy
Although Daisy Love Bug is based in the Tayside and Angus area, you might still be able to hire her even if your wedding is elsewhere in Scotland – they'll simply hire a trailer to bring Daisy to you and include it in the cost!
All you have to do to book Daisy is get in touch with Bruce and Toni.
You can do this at anytime but the sooner you can book the better (you don't want to end up missing out because they're already booked on your big day!).
You'll need to pay a deposit to secure your booking and then you'll be asked to pay the remainder 8 weeks before your wedding.
The final cost will vary depending on the location and distances, but Bruce and Toni will try to give you the best deal possible!
t. 01382 529777 | e. Brucemorison@yahoo.co.uk
Organising transport for your guests? Check out these vintage Routemasters from Lothian Motorcoaches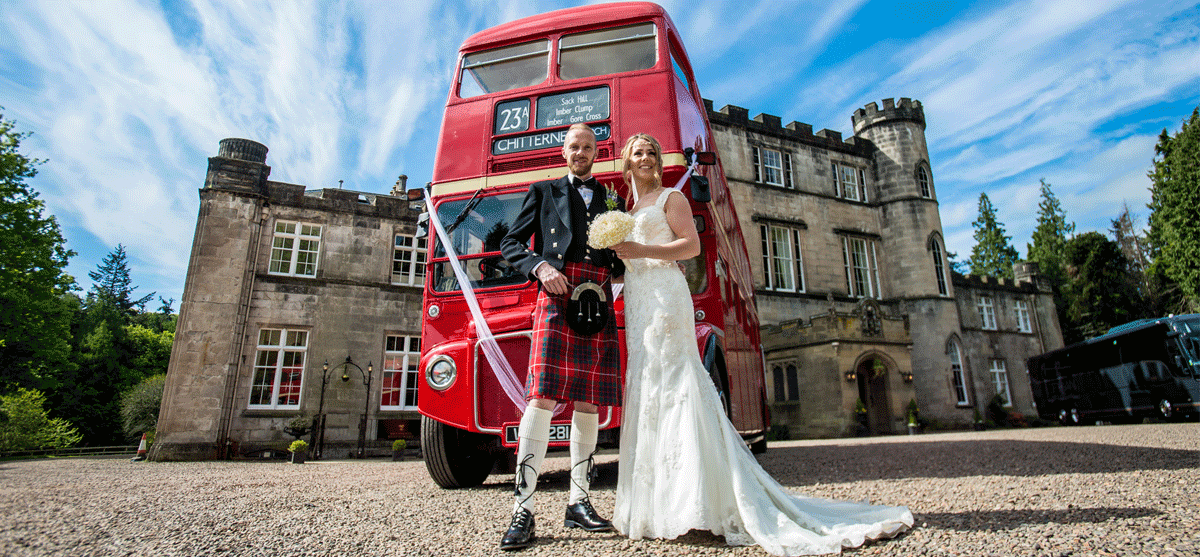 These vintage Routemasters from Lothian Motorcoaches are the perfect way to knock two things off your wedding planning to-do list.
Not only will they help solve the pesky task of getting all your guests to your venue, they'll also add a little something special to your wedding celebrations.
Here's the lowdown on organising transport for your wedding guests with Lothian Motorcoaches¦
IMAGES | Wullie Marr Photography
Stress-free travel
Organising a wedding can be pretty stressful at the best of time, but even more so if your guests are having to travel to your venue.
Maybe there's parking restrictions at the venue, or there's far too many guests hoping to have a drink and not nearly enough designated drivers.
Regardless, it's all getting just a little bit complicated.
Lothian Motorcoaches's door-to-door group private hire service is the most practical and comfortable way to get your guests from your ceremony to your reception.
Punctual and spacious, its luxury coaches will allow your guests to arrive at the reception feeling relaxed, refreshed and ready to celebrate.
Its smart and well-presented drivers are focused on making sure the journey is smooth and efficient, and they'll always know the best alternatives if there are delays on the planned route.
They also want to make the journey as comfortable as possible for your guests. That's why their vehicles are always immaculately clean and well ventilated, with plenty of space for any luggage your guests might have.
Practical but stylish
The Lothian Motorcoaches fleet has both contemporary and classic options, including the newly restored vintage Routemasters. These classic red buses won't just solve the logistical nightmare of organising transport for your guests – they'll also help set the tone for your wedding day!
They come with open platforms, authentic red livery, tartan moquette seating, tungsten lighting, plenty of chrome and the opportunity for a personalised destination screen.
Basically, it's like letting your guests step back in time! Each bus will let up to 76 guests travel in style.
Lots of options
But if you've got more of a contemporary style, then luxury coach hire from Lothian Motorcoaches will probably be a much better fit for your big day!
Your guests will be able to sit back and relax in the distinctive, modern executive vehicles.
These brand new executive coaches are fitted to a superior standard, offering you and your guests a high quality, luxury experience.
They're custom-built with customer focused features including Wi-Fi, USB charging points and comfortable high back seats " ideal if your guests are going to have quite a long journey!
With a seating capacity of 61, they also feature a new entrance arrangement that reduces step height at both the main entry door and into the gangway, making access easier, particularly for the elderly and infirm.
Whatever you have planned for your wedding, Lothian Motorcoaches will work closely with you on a package that offers you flexibility to suit your special day.
Get in touch with Lothian Motorcoaches to find a package that's right for you by calling 0808 169 8888
Our opinion: How far can I ask our wedding guests to travel?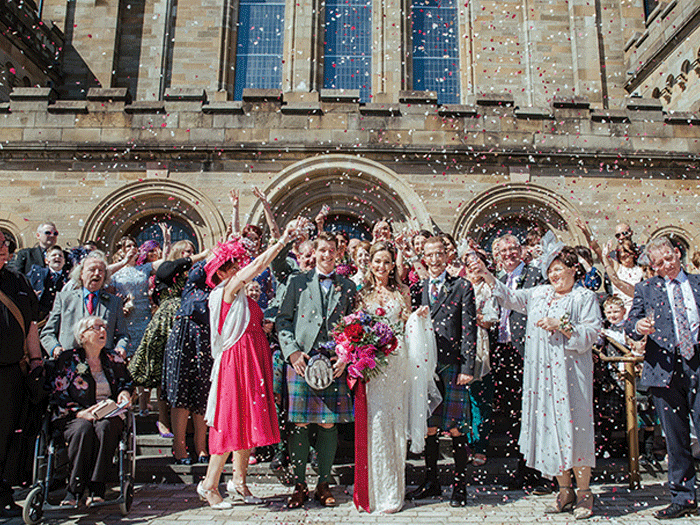 Have no big day fear! Team SWD are here to solve your wedding woes. 
IMAGE | Wonderful and Strange
Q: How far is it reasonable to expect guests to travel for our wedding?
Ok, first things first, I'm going to assume you're talking about a non-destination wedding here.
If you're jetting off to a gorgeous exotic island to say I do, then you'll probably have a more exclusive guest list and may even be paying for your nearest and dearest to join you.
You'll also be fully aware that the associated costs of travelling abroad will deter a lot your would-be guests, and have factored that into your plans.
Basically, that's a whole other kettle of fish.
IT'S THE THOUGHT THAT COUNTS
So let's just focus on the more manageable distances of non-destination weddings and start with this " don't spend too much time worrying.
Even if your bestie is now based eight hours away down south, if you'd like her there, invite her.
If you want someone to be a part of your day, then no matter how far away they are invite them. You may be surprised by the effort people will go to and the worst they can say is sorry, we're not going to make it.
PRACTICAL APPROACH
Of course, that's all easily said and a nice thought, but the last thing you want to be dealing with in the run up to your wedding is moaning aunties and huffy friends.
And you also don't want to end up having to rethink your guest list last minute because half of them can't make it and you're going to struggle to fill capacity.
So here's a few practical steps to take that'll keep everyone (you and your partner included!) happy:
If you and your partner are from two different places, consider choosing a venue that's close to equal distance between your hometowns, if possible.
Failing that, think about numbers. It's probably easier (and fairer) for your family of 10 to travel four hours than it is for your partner's family of 30+ to make that journey.
Think about access to your venue. If it's in a secluded rural location, see if your budget will stretch to organising buses or transport for everyone.
Even if your venue is super easy to get to, if you've got lots of guests travelling from the one place, organising a bus could be a nice gesture.
Remember that people tend to make more of an effort to travel and stay overnight for weddings they're invited to for the whole day. On the other hand, evening guests might not go to the same effort. If you can, send day invites to people who've got a long way to travel.
Include key venue and travel information like nearby accommodation, transport links, and directions in your invitation to make it as simple as possible for everyone to get there.
To save you being pestered with questions about getting to your venue, you could also nominate someone you trust (a bridesmaid or groomsman, maybe) as a point of contact on your invite's travel info section.
Be considerate and put as much practical help in place as possible, and you can ask your guests to travel a much bigger distance than you'd think!
8 ways grooms can help plan the wedding day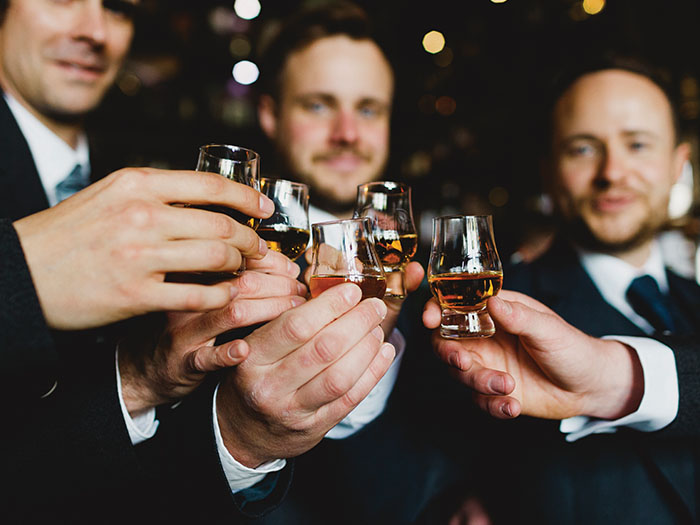 Wedding planning isn't just for women! Here's a checklist of the things grooms should do to help organise the big day.
IMAGE: Duke Photography
Paperwork
It may sound boring, but sorting out the paperwork that allows you to actually tie the knot is the most crucial task. You'll need to submit the Marriage Notice (M10) forms no later than 29 days before the date of marriage so you can legally marry. This will include details of where and when you're getting married so make sure you get someone to have a wee proofread.
It'll also be much appreciated if you take charge of collecting the Marriage Schedule (the part you sign during the ceremony) in the week running up to the big day. You'll then need to return it within three days of the wedding, or, if you're on honeymoon, get someone you trust to do the honours.
Table plan
You know the dreaded term ˜wedmin'. Sitting close to the top of that joyous to-do list is sorting the table plan. Once you've got your RSVPs back, the real fun begins.
Don't expect your other half to know all the ins and outs of your side of the family politics. Make sure this is a joint effort to ensure no one's been placed beside someone who said something untoward to them 30 years ago and they haven't spoken since.
Outfits
Your wedding outfit is your chance to look your finest and far from being something that's only decided on once the bridesmaids' colour is in place.
Robert Mathieson from The Kilt Centre says that priorities are changing, "The kilt is no longer an afterthought," he says. "Some couples are coming in to choose the kilt outfit before the bridesmaids. If you choose a bridesmaid colour that never features on a tartan you're immediately setting up a clash."
Tartan and tweed jackets have really come to the fore of late so it's important to decide on the guys' outfits when you're planning bridesmaid colours. The Kilt Centre is even doing ranges with matching sporrans and brogues.
Robert says you should also consider future use. "It makes sense to make sure the outfit fits the remit for the wedding day as well as for the rest of your life," he says. Gordon from Gordon Nicolson Kiltmakers agrees. "Historically grooms would have just come in and bought a Prince Charlie jacket," he says. "Now there's the choice of tweed jackets, different sock colours and sporrans so it's more interchangeable.
Grooms are becoming much more decisive and more are going for made-to-measure and an outfit they can wear a lot more [after the day]." Gordon says allow for at least three months to choose your outfit.
Décor
Couples nowadays are really encouraged to make their wedding day as personal as possible, right down to the pictures they string up around their venue.
Wedding co-ordinator Wendy McArthur from Utopia Scotland has had a few hands-on grooms recently who put their skills to work. "There was one Kinkell Byre wedding last year and the groom was a graphic designer," she remembers. "He made the table name stand in paper-thin sheets of wood with a new tool of his."
Gifts
To avoid being the groom who hasn't a clue what he's given his mum till she opens it, step up and hit the shops. You'll need a wee keepsake for your parents, ˜maids and groomsmen and when you're speaking to your florist about the wedding flowers remember to ask them to make up a couple of bouquets to present to the mums during the speeches.
The one present you'll absolutely need to sort out by yourself is the one for your other half. Grooms traditionally give something to open on the morning of their wedding and jewellery is always a winner here.
If in doubt, stick to something personal and remember to write them a sweet note to read as they get ready.
Transport
Sorting out your wedding wheels is one task a lot of grooms take ownership of. When your other half's scheduling hair and make-up trials you could be checking out some pretty sweet Beaufords or Rolls Royces.
Just remember to factor in a few crucial things like who will be travelling together, timings and whether you need a lot of space to accommodate a big dress train. Book your transport six to nine months before the wedding.

Music
If you and your beloved don't always see eye to eye when it comes to music make sure you take an interest in finding a band or DJ you trust to provide a soundtrack to your day that you'll both love.
Going along to band showcases can turn into a fun date night and it's always fun to spend an evening listening to music together to select a first dance song that's just right for the pair of you.
Meet your wedding suppliers
When you think about it, you're going to spend a lot of your big day with complete strangers so it's pretty important you can get on with them. That's why you should try to meet the likes of your photographer and filmmaker before the big day.
In this list you'll also find cake tasting " one of the, ahem, sweetest things about wedding planning.
105 lovely decor ideas for Spring wedding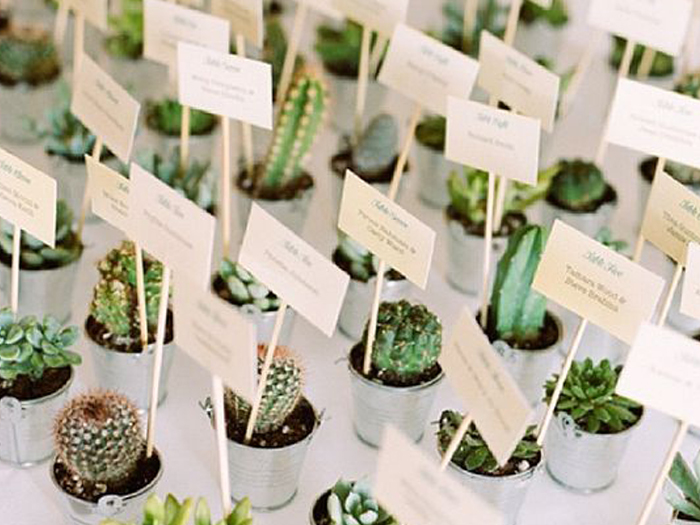 Having a spring wedding? Here is 105 decor ideas that will be lovely for your wedding day!

All aboard! 5 things you need to know about wedding transport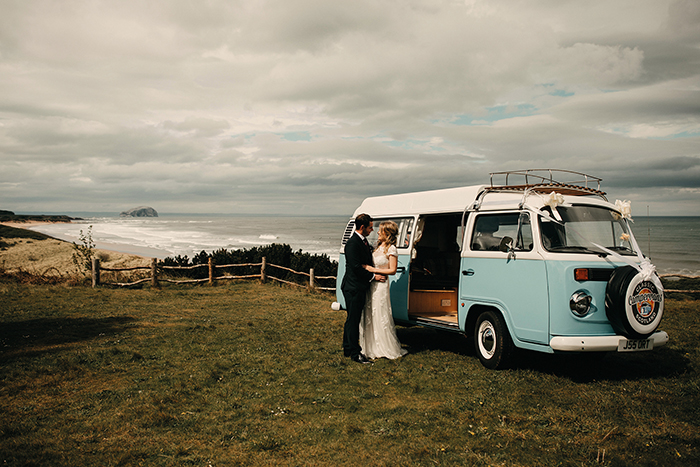 Need a ride to your venue? Or maybe its transport for your guests on your mind. Here's 5 things you need to know about wedding transport.
IMAGE | John Johnston Photography
1 // IT DOESN'T NEED TO COST THE EARTH
You've spent time and money on everything from the dream dress to the exact colour of chair ties, so don't overlook the transport. If your budget's on the small side, there are smart ways to keep costs down.
You could opt for larger, more practical cars which can transport more of the wedding party at once or have one car make multiple trips to the ceremony (remember to leave plenty of time for this). If you're booking a few cars, be sure to ask about multiple-car booking discounts to get the most for your money.
And always enquire whether the price is a flat-rate or based on mileage to avoid any surprise costs.
2 // YOUR GUESTS MIGHT LIKE A RIDE, TOO
If the venue is in a remote location with poor public transport links or there's a distance between the ceremony and reception, it's a good idea to provide transport for your guests such as a minibus or coach. Include a transport option in your RSVPs to keep track of numbers.
You could even make the transport part of the wedding day fun and go for something like a retro red double decker with personalised bus tickets!
IMAGE | The Gibsons
3 // STYLE MATTERS – BUT SO DO THE PRACTICALITIES
Traditionally on the wedding morning, the groom and best man travel together, then the mother of the bride with the bridesmaids  and lastly the bride and her father. This of course can be changed to what suits you and your wedding party, but remember to choose transport not only based on what looks best, but what actually fits the numbers (including your dress, which may take up a few seats depending on style!).
Post-ceremony, the journey with your new spouse is the only alone time you'll get all day so many suppliers can arrange to take you out on a slightly longer trip, just the two of you, for a moment of calm before the drinks reception. Communicate with your transport supplier to plan a route and see what's possible.
4 // YOU CAN MAKE IT PERSONAL TO YOU
There are so many ways to put your personal touch on your wedding transport, with many suppliers incorporating ribbons, balloons and flowers to really make your chosen car your own and tie it in with your theme.
Think about your soundtrack and pick songs you would love to listen to on the way to the ceremony and reception.
Oh, and it doesn't need to be a car, of course. Embrace your theme with any means of transport; we've seen everything from tractors decorated for the big day and vintage campervans with pretty bunting to a fairytale horse-drawn carriage and even a helicopter arrival! Your chariot awaits¦
5 // IT'S A GREAT PHOTO OP!
Your wedding transport is among the first things your guests will see. It's how you officially start your big day too (hopefully with a glass of champagne in hand) so you will want your gorgeous transport captured in all its glory. Make sure your photographer knows you want snaps of your arrival so they can be prepared, and tell them if you plan to go for a drive after the ceremony so they can follow behind you and get some snaps.
If there's time, your guests will love the chance to get their own pictures with your fancy or unique transport " such a great selfie backdrop!