Why we chose our wedding photographer: Ali Crawford Photography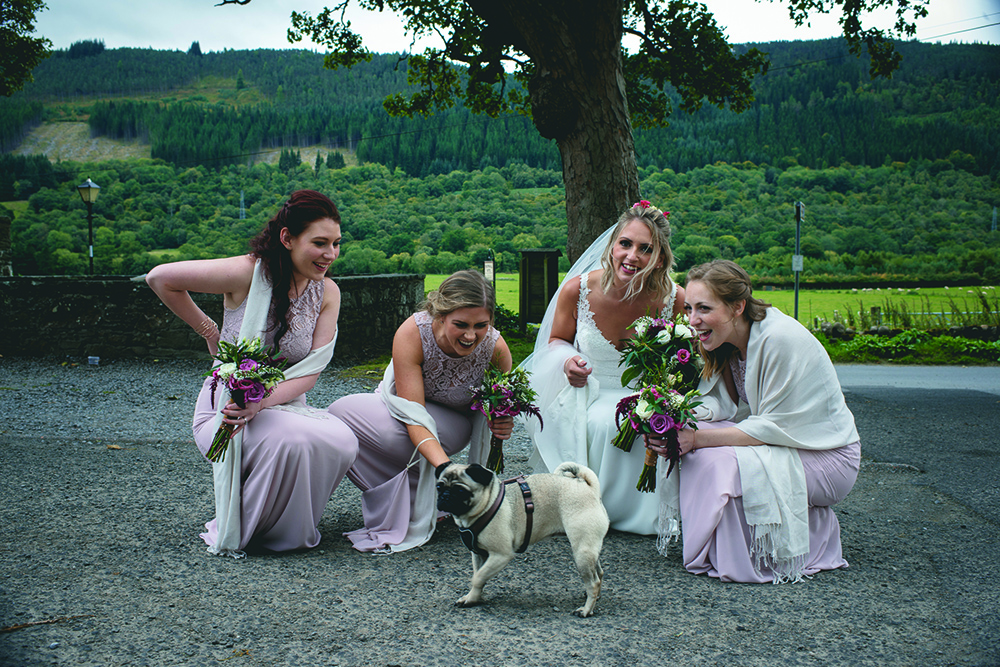 ALL IMAGES BY | Ali Crawford Photography
Even though Pete and Sarah were having a traditional Scottish wedding at the Fortingall Hotel, Aberfeldy, they were a little worried about how it would translate through their wedding photos.
"We knew that we didn't want tired photos with lashings of tartan and antlers everywhere.
Instead, we were looking for a photographer who could capture the natural beauty of Scotland without having to rely on things seen as traditionally Scottish as a crutch," explains Pete.
"We didn't really know what we were looking for – but we definitely knew what we didn't want!"
The couple started looking for the ideal style for them, even making a moodboard of their favourite shots to refer back to when scouting photographers.
"We were still searching when a close friend recommended Ali Crawford Photography, and when we had a look at his work it just seemed to pop for us," recalls Pete.
"We really liked that he was able to catch a great moment while also thinking about the shot artistically and making everything around the moment seem beautiful too."
On the big day, photographer Ali didn't register on the couple's radar (in the best way possible).
"He made us feel so relaxed that to be honest we barely noticed him – no offence Ali!" laughs Pete.
"He managed to capture moments from distances and angles that we wouldn't have thought possible, and he got some really lush outdoor shots of us that caught how beautiful Scotland can be without being cheesy.
Nothing felt posed or forced and Ali allowed us to just be ourselves."
Sure enough, when the wedding was over and Pete and Sarah had a look through their gallery, both were ecstatic with the results.
"When we received our USB stick (which was shaped like a cork inside a champagne glass!), we sat down and had a look through all of our images together, and it felt like we had been transported back to all the wonderful memories we had of that day," smiles Pete.
"It was such a special experience for both of us, and there are shots in there that we'll cherish forever!"
Why we chose our wedding photographer: Maureen Bell Photography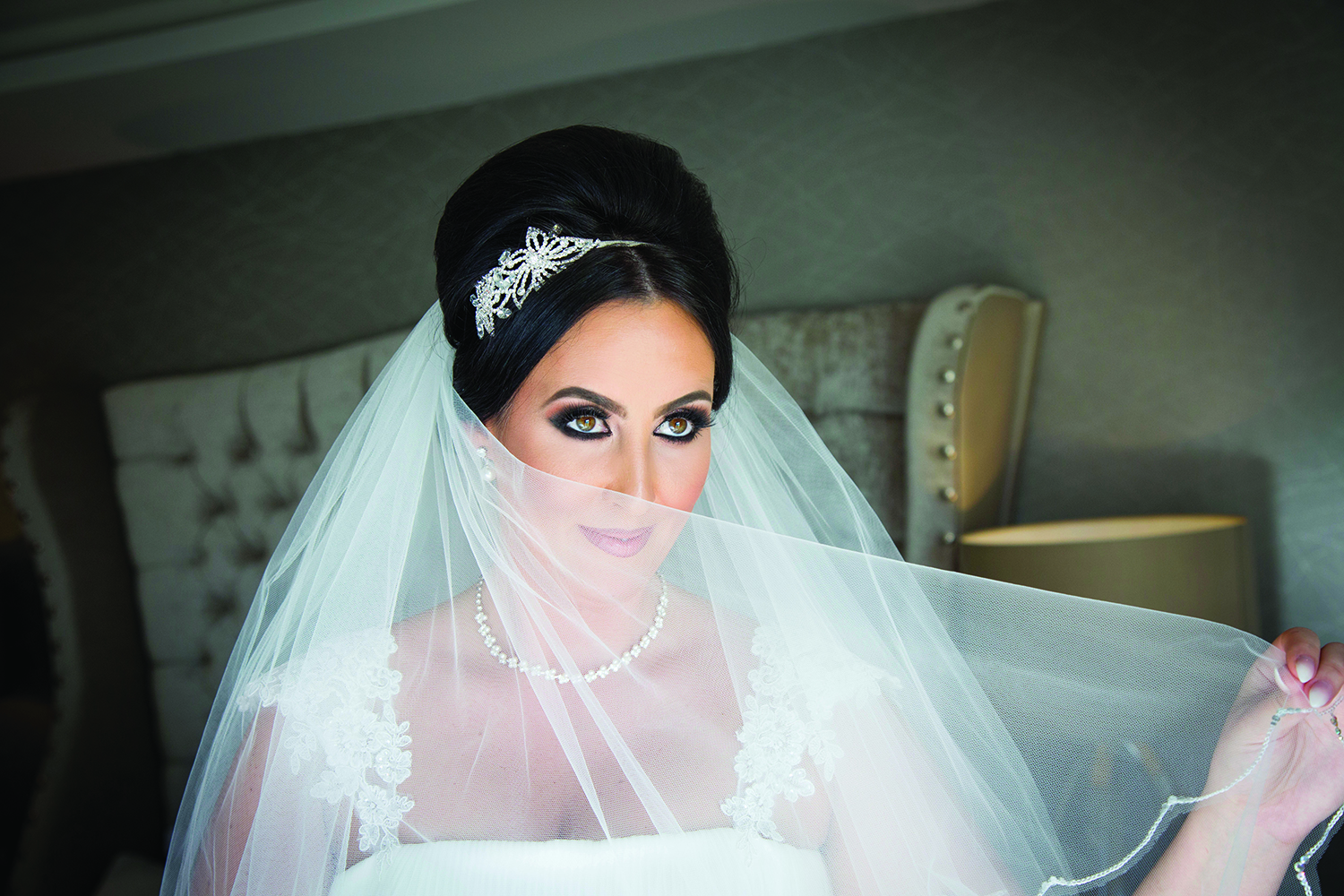 ALL IMAGES BY | Maureen Bell
When first searching for wedding photographers, Lisa and Chris found themselves at a bit of a loss. They wanted someone who would take relaxed reportage-style photographs as well as capture classic portrait shots that they'd cherish forever.
Unexpectedly, this was something they didn't find easy. "A lot of the photographers we looked at had really dramatic filters over their images, and we felt that they were so overly stylised that it bordered on faddy.
We wanted a style that would be around for a while and that wouldn't go out of fashion too soon!"
Then Lisa remembered the photographer who took newborn images of her little girl a few years previous.
Flicking through those photographs, she realised that their style was exactly what she had been looking for, and after some digging, she found the photographer again – Maureen Bell Photography.
"I realised that she did wedding photography too, and I had a look through her galleries and knew immediately that she was the photographer for us.
We loved the shots she managed to get, like family and friends interacting naturally together, or the little details you'd forget about in the whirlwind of your wedding day, such as flowers or perfume or shoes – I just loved all that!"
After a few emails back and forth, Lisa and Chris sat down with Maureen to discuss what they wanted from their wedding photography.
"I just said that while I like candid shots, I don't want tons of images with us being caught off guard all the time," recalls Lisa. "Even if we were just getting ready, I wanted some nice posed shots in there too."
Maureen was completely on board, and when Lisa and Chris first saw their wedding photographs from their big day at Lochside House Hotel and Spa, they were blown away. "It was better than we imagined, and I already had high expectations!" laughs Lisa.
"I just couldn't believe the number of great shots she got of all of us. She managed to get so much coverage of different parts of the day like the ceremony and speeches, and so many lovely ones of my daughter.
I've been finding it difficult to pick out some stand-out favourites, but as soon as I do I'm getting them blown up and put on my walls!"
Why we chose our wedding photographer… Fairytale Asylum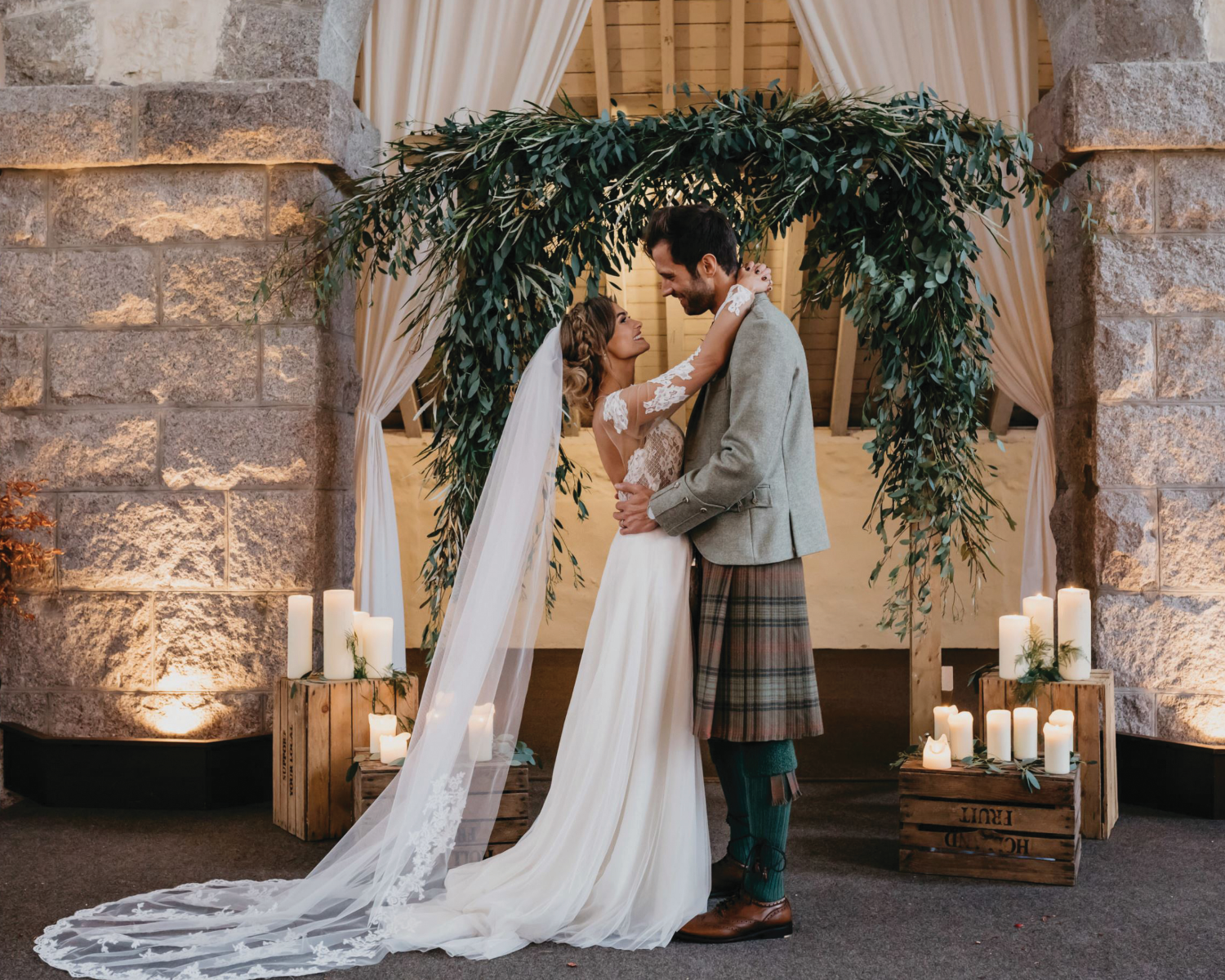 ALL IMAGES BY | Fairytale Asylum
For couple Victoria and Cameron the detail was in the décor, so they wanted a wedding photographer who could capture all the hard work they had put into creating their big day as well as the events of the big day itself.
"We were looking for someone who could catch the small things as well as the big things, and we just loved the tone and storytelling of Emma's work at Fairytale Asylum Photography," explains Victoria.
Tying the knot at Coo's Cathedral, Victoria and Cameron put in a lot of beautiful DIY work to transform the rustic white-walled converted barn into a dreamy autumnal courtyard.
Not only did this elevate the venue's natural charm and atmosphere for the couple and their guests, it also really helped make Emma's photos look extra special.
"We worked on a lot of DIY décor projects for the day ourselves and had an amazing florist who dressed the venue with lots of wild autumnal floral displays.
There was so much going on but Emma managed to pull it all together and capture everything beautifully," says Victoria.
But most of all, the couple wanted a photographer they could trust to be creative and spontaneous when shooting their wedding day, without much prompting or direction from them.
"Emma was the expert, and we wanted to be led by her knowledge and expertise. We just said feel free to try and get whatever photos you like, and to grab us at any point if you see something cool or want to try a particular shot – we were pretty laid back and weren't fussy about being interrupted during the party," says Victoria.
"Just after dinner she came over and asked us if we wanted to go outside for a second time for more portraits of just Cam and I because the light had gotten really lovely. Those shots ended up turning out lovely – Emma has a great eye for what will look good!"
In fact, Victoria and Cameron were pleased with all of Emma's photos. "They were just fantastic," beams Victoria, "we couldn't have asked for them to be any better. It wasn't just the shots Emma managed to get, it was how she edited them too. She made everything look so colourful and vibrant – we absolutely loved them!"
Everything you need to know about wedding photography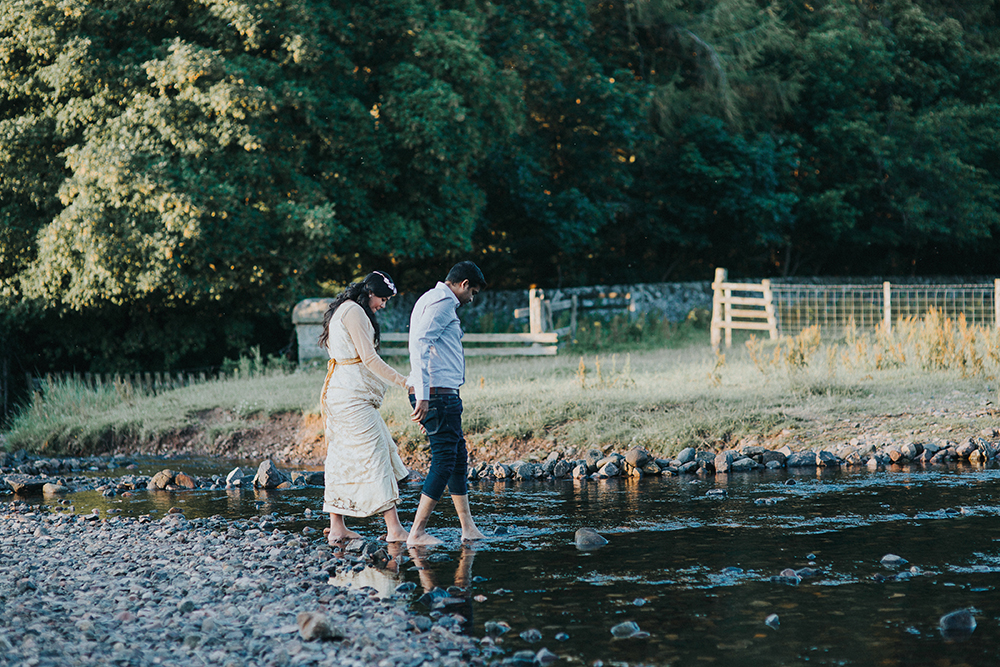 IMAGE | Iris Art Photography
Just how do you go about choosing your wedding photographer – and what should you expect?
~STARTING OUT~
THE DREAM TEAM
Expect to book your pro at least a year in advance, maybe even two if you're after a specific photographer.
Gail of Gail Photography says the summer months between April and October are the busiest so photographers will be booked up further in advance for those months.
Wedding mags and blogs are a great starting off point to suss out the style of photography you like, while wedding shows and exhibitions offer an opportunity to meet the person behind the lens.
"Go on their website and look at their Facebook reviews," says Gail. "I would always be a bit wary if photographers have removed reviews."
Ask to see complete wedding albums, not just a few select shots.
"That will reveal if they can work consistently at a high level all day," explains Zoe of Zoe Rae Photography.
Always make sure you meet a photographer before booking them to see if you get on well with them and it's a good opportunity to go over exactly what shots you want and make a bad weather plan.
"Sometimes there are also political situations within families that are beneficial to know about," adds Gail.
"If I know that, I can manage it on the day."
IMAGE | Iris Art Photography
YOUR CHOSEN PACKAGE
Most photographers offer a full-day package as standard, but what does that entail?
"It goes right through from about two hours before the ceremony until the first dance," says Zoe.
"But a good photographer will cover the first few dances to give a good feel of the evening's activities.
"Beware of anyone who's going to come just an hour before. Your photographer should be shooting all day with candid as well as group shots, apart from maybe an hour while you have your meal."
If you don't want (or can't afford) them there all day, ask your prospective photographer if they offer other options.
"We are very flexible and offer half-day packages which are popular among couples who choose a destination wedding or elopement and organise an evening reception for wider family and friends," says Justina from Iris Art Photography.
Whatever length of package you decide on, make sure you've agreed in advance what you'd like to be included.
GET IT IN WRITING
Always make sure you get a written contract, laying out things like the final price, what is included in your package, when you will receive your images and what happens if your photographer is ill on the day.
You should also ask if they have public liability and private indemnity insurance.
THE BOTTOM LINE
"If the pricing structure sounds too good to be true, they're probably not a professional doing it full-time," says Gail.
Don't expect to pay less than £1,000.
"An average in Scotland would be about £1,500 and the range seems to be from about £1,000 to £2,000," says Zoe.
ENGAGEMENT SHOOT
Also known as the pre-wedding shoot this is an extra photography session before the big day.
Not all photographers offer them and some will charge you extra to do one.
"This is a wonderful occasion to meet your photographer, chat and shoot, get used to photography and have fun," says Justina.
~THE BIG DAY~
IMAGE | Iris Art Photography
FIRST LOOK SHOOT
The photographer will arrive on time to take getting-ready shots and there's also the option of having a first-look shoot where you get to see your other half before the ceremony.
"This is still not a very popular tradition in Scotland and is chosen mostly by American or European couples," says Justina.
However, if you'd prefer to see your other half before your vows most photographers will happily oblige.
"There's a lot of nerves seeing each other for the first time walking down the aisle so with a first look the pressure's off the couple and it's just them," says Zoe.
FOOD FOR THOUGHT
While you may not be obliged to provide a three-course meal for your photographer, it's polite to give them something to eat.
"Usually for a full-day you should expect to pay for a meal for your photographer," says Zoe.
"A hot meal is the least we can ask for and it tends to be in a lot of photographers' contracts."
IMAGE | Gail Photography
~AFTER THE DAY~
If you've done your homework properly after the wedding you should have a clear idea of how many weeks you've got to wait for your final photos.
This varies from photographer to photographer. In peak periods of the year expect to wait two to three months.
"This time includes editing, designing the album, sending proof of the album to the clients, awaiting the acceptance from the client and then waiting for the album to come back from the lab," says Justina.
"After the album arrives to the photographer this needs to be checked over, re-packed and sent to the clients."
However, many photographers will try to provide a little preview two or three days after the wedding.
"I tend to send 20-30 images to give them a story of their day," says Zoe.
~REMEMBER TO ASK ABOUT~
SHARING
Do expect your photographer to want to share photos from your wedding online so other prospective couples can see their work.
If you're not comfortable with this have a conversation before the wedding or ask to see pictures before they make them public.
SECOND SHOOTERS
If you're planning a big wedding, it's worth asking your photographer if there's the option of a second shooter to capture extra candid images.
"It should always be another professional photographer experienced in weddings and you should expect to pay around £200 or £300 for adding this," says Zoe.
STILL LOOKING FOR YOUR WEDDING PHOTOGRAPHER?
The bigger picture with Jacki Hamilton Photography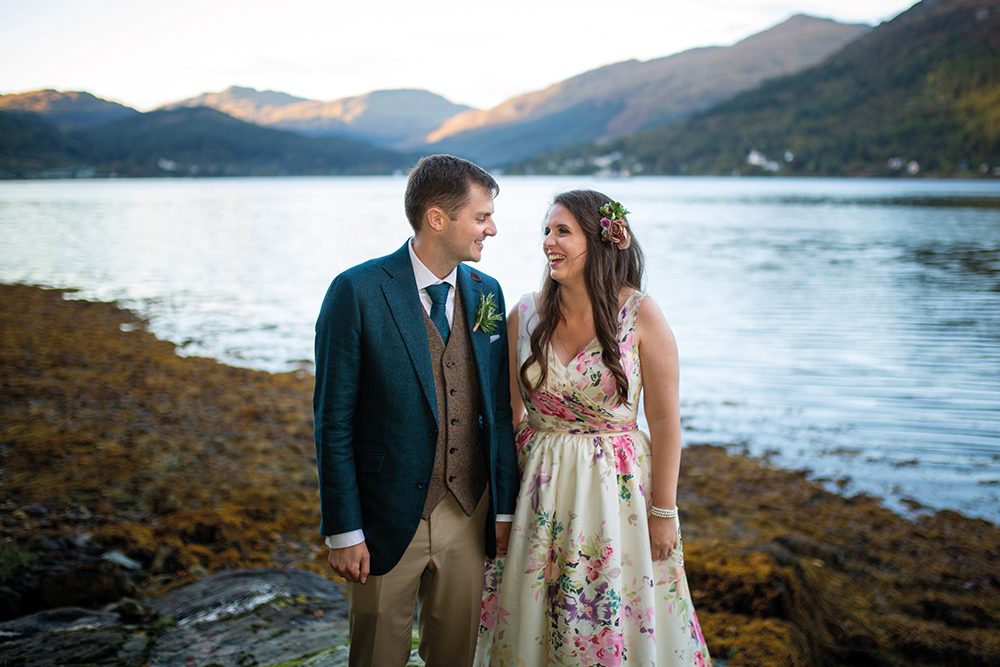 Your wedding photos are important – you're going to be getting teary-eyed over for them for many anniversaries to come, after all – so finding a photographer who'll accurately and emotively capture your big day is essential. Jacki Hamilton Photography is a pro at doing exactly this.
Her usual photography style is creative, elegant and natural, but she's super flexible and skilled in everything from natural light portraits to candid group shots.
That means she'll work to your likes and dislikes to ensure you end up with a wedding photo album you'll want to show off to everyone.
"I can effectively switch between styles to fit client needs, from dramatically lit posed images to natural reportage style, or a combination of them all," explains Jacki.
"I offer a meet and greet with all clients to ensure I am the right photographer for them. It's nice to have a wee chat over coffee and listen to their plans, then I can customise the wedding shoot to their requirements. I feel it's important they have their wedding their way."
Regardless of what sort of overall look you and Jacki agree on, one thing is for certain; you'll end up with photographs that tell the whole story of your wedding, without having to spend your whole day in front of the camera.
"My aim is to ensure that the couple spend as much time with their guests as possible," says Jacki. "I want the photoshoot to be relaxed and fun, ensuring you enjoy your time together."
Jacki's six years of experience shooting weddings means that she knows exactly the best moments to capture, and the right place to be to get the perfect shot.
"I love capturing the morning bridal preparations and the reactions of the family when the bride gets in her dress," she tells us, when we ask what her favourite part of a wedding is. "It's usually a hankies-at-the-ready moment, but makes for spectacular images filled with genuine emotion. Another favourite is when the groom catches a glimpse of his bride for the first time!"
After your ceremony, Jacki will try to get you and your new husband or wife alone for a little couple's shoot, too. It's a great opportunity to unwind and spend some quality time together, away from the hustle and bustle of the celebrations.
FIND OUT MORE
Jacki offers full and half day packages, with some including a pre-wedding shoot. If you're not sure what option's right for you, ask Jacki for her advice.
She covers all of Scotland and beyond, so even if you're planning a destination wedding, don't hesitate to get in touch to chat about your plans.
SPECIAL OFFER
Jacki Hamilton Photography's offering SWD readers 10% off
all wedding packages.
Just quote SWD to claim!
e. jackihamiltonphotography@gmail.com
t. 07702 591 623
DIY wedding with driftwood details at Errol Park, Perthshire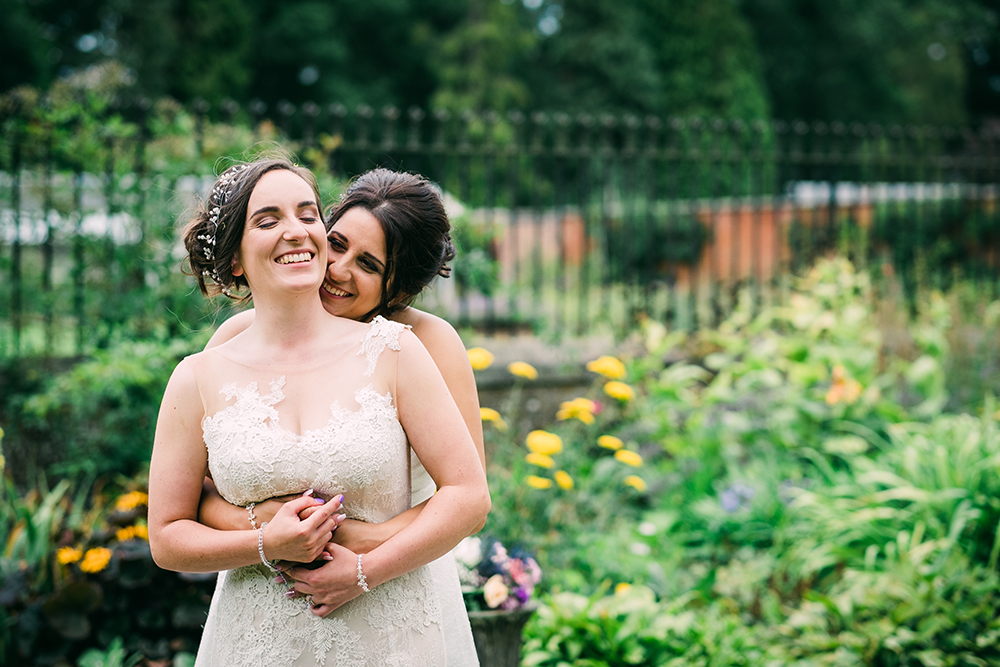 These stylish brides harkened back to their first kiss with a special tequila toast during their beautiful outdoor ceremony.
Read on for all the details of Shirin and Rosie's amazing Perthshire wedding, captured by Fern Photography.
Rosie (front) and Shirin (behind)
Shirin and Rosie first met while working together at the bar at Perth Concert Hall.
There was clearly a connection, but it wasn't until four months later that they shared their first kiss. "Fuelled by tequila, of course," laughs Shirin.
Fifteen months later Shirin was planning a perfect Christmas proposal, but the ring didn't arrive on time.
When it did, she lit loads of candles, got the fizz in and got down on one knee.
"Rosie said, 'Of course!' To this day I still haven't had my 'Yes'!"
Errol Park stole their hearts when they started the venue search – they loved the idea of spending the whole weekend there with their families.
"It was exactly what we wanted; a rustic venue with a relaxed attitude to making any changes or decorations we liked."
The couple set about crafting a rustic theme with sweet pastel tones, using plenty of driftwood Rosie collected on Aberdeen beach, alongside jars, glass bottles and tealights. The pair planned everything themselves "without a breakdown".
However, Shirin confesses to having had many a sleepless night and Rosie even ended up marrying a scary clown in her dreams, sparked by reading It in the midst of wedmin –we'll stick to a relaxing bedtime novel!
Though there was a breeze on the morning of the big day, the brides stuck to their guns and had the dreamy outdoor wedding they'd set their hearts on: "We even managed to take a shot of tequila during it!"
Post-ceremony, guests were treated to brownies and prosecco served by Artisana – Exquisitely Decadent Brownies, which gave them enough energy for a go on the bouncy castle. Then, at dinner, Rosie's mum's speech had guests laughing at the bride's past antics, including how at high school she was voted "most likely to end up in jail" while Shirin's brother Farhad hit a more emotional note with a poem about love knowing no gender.
This was followed by an evening reception with a real party atmosphere.
Rosie even drummed for the band to Sex on Fire!
Now it's all over, the couple laugh that nothing's changed much.
"We lived together before but now call each other wifey," says Shirin.
"We also got a nice ring out of it!"
Venue: Errol Park | Photography: Fern Photography | Shirin's dress: Alison Kirk Bridal
Rosie's dress: Perfect Bridal Rooms | Cake: Liggy's Cake Company
Florist: Lorna Davies Florist | Brides' hair: Angus Gordon
Bridesmaids' hair: Infinity Hair & Nails Boutique
Make-up: House of Butterflies Makeup Artistry
Celebrant: Perthshire registrar Alison Breingan 01738 475121
Should I hire a professional wedding photographer?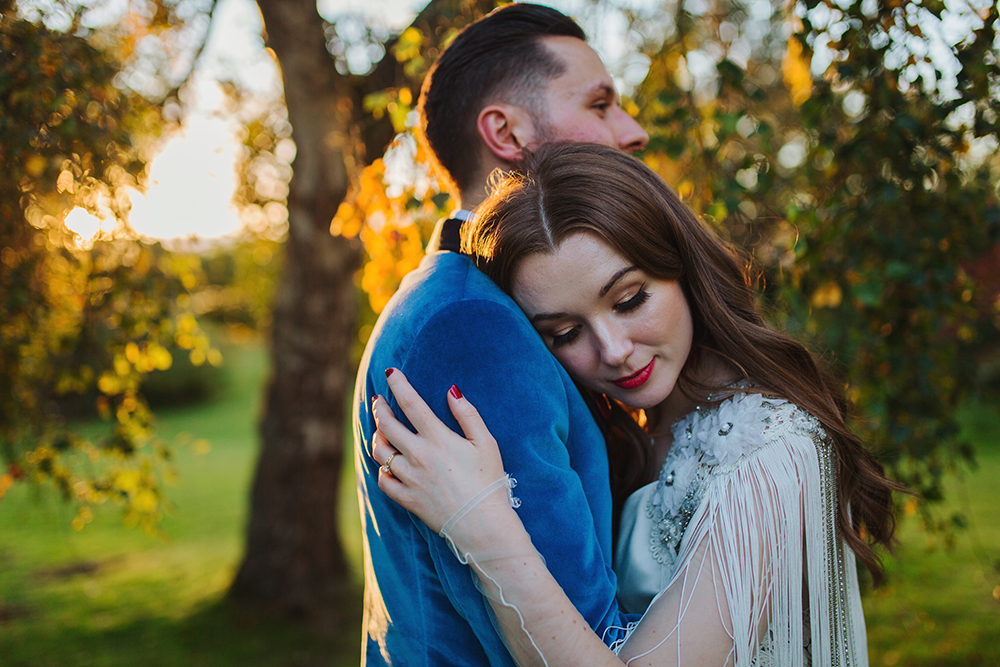 IMAGE | Laura A Tiliman Photography
I used to judge people who had planned their weddings before they were even engaged.
I remember reading a story in a magazine a few years ago about a woman who was fervently saving for her big day despite being single. How odd, I thought.
Yet here I am at the age of 32, eating my words like they're the now-discontinued (but forever in my heart) Galaxy Chocolate Caramel eggs.
Though I am engaged now, I'd already started thinking about what my dream wedding might look like before the ring was on my finger.
Obviously, given my job, that's not so strange.
What most people found surprising, though, is that while I was (and still am!) pretty open to ideas where the venue and dress are concerned, the one thing I'd already created a shortlist for was the wedding photographer.
Professional photography is one of my resolute non-negotiables.
When my engaged pals turn to me for general wedding planning advice, one of the very first things I tell them is not to scrimp on photography and to hire the best person they can reasonably afford.
The people who have followed this advice have all told me post-wedding that they're so glad they did. The one who didn't?
Well, he's divorced now, so he's chuffed he ignored me.
There are a few reasons I bang on about the importance of getting a pro to capture your day. Let's start with the obvious: it is your literal, actual wedding.
Y'know, one of the happiest days of your life, where you're surrounded by everyone you love, wearing the fanciest outfit you've ever owned, promising to spend the rest of your life with your fave human.
You need a photographer who's capable of capturing every emotion, and all the thoughtful details you've spent months – perhaps even years – deliberating over.
This is not the time to experiment with someone who bought an SLR a few months ago.
Consider, too, that your photos will be one of the few tangible remnants of your day, and certainly the most revisited.
Many of us will justify a pricey bag or coat by calculating the cost-per-wear, and if you could work out the cost-per-view of your wedding photos or a wedding film, you'd discover that you're actually getting a barg, even if it was initially an expensive outlay.
IMAGE | Struve Photography
Let's pause a minute to talk about money, actually, because the cost of a decent wedding photographer is something many to-be-weds balk at.
You'll find that the average package hovers between £1,000 and £3,000, which tends to elicit the response: "Not bad for a day's work."
I agree – it would be an excellent rate for a day's work. But a professional photographer is not working on your wedding photos for just one day.
They're liaising with you before the wedding, perhaps even providing an engagement shoot; they're at your wedding for 10-12 hours; they may shoot as a duo, or have an assistant to help cover more of the day, which means an extra person's wage to pay; then they will spend days going through all the photos, selecting the best ones and editing each one.
My best friend is a photographer so I've seen first-hand how hard she works into the wee hours, editing until each image is unmistakably hers and completely perfect.
Every photographer has their own style, and like all forms of art, there is no right or wrong. It all comes down to personal taste.
I think exposure to lots of different styles helped me figure out what appealed most to me – I look through hundreds of wedding photos every week – and this is what I'd recommend if you're about to start searching for your wedding photographer.
Look through our magazine, check out the weddings we feature online every week, and follow us on Instagram to see our weekly round-up of wedding snaps we've spotted and loved.
At the risk of sounding cheesy, seek out the photographs that move you. You'll thank me in 50 years.
IMAGE | Crear Weddings
Still looking for your dream wedding photographer?
Real Scottish Weddings of Instagram #89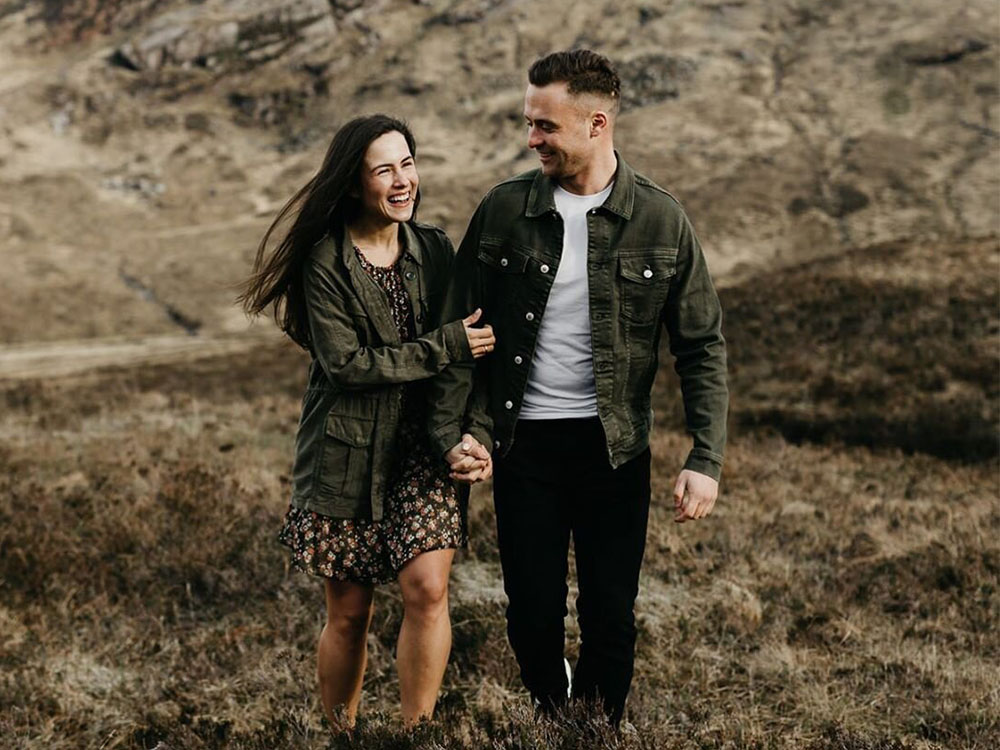 This week, we bring you another round of gorgeous weddings from across Scotland – see if you can spot yourself!
CHECK OUT THE REST OF OUR REAL SCOTTISH WEDDINGS OF INSTAGRAM HERE
Steph's Bride Diary: We've chosen our wedding photographer!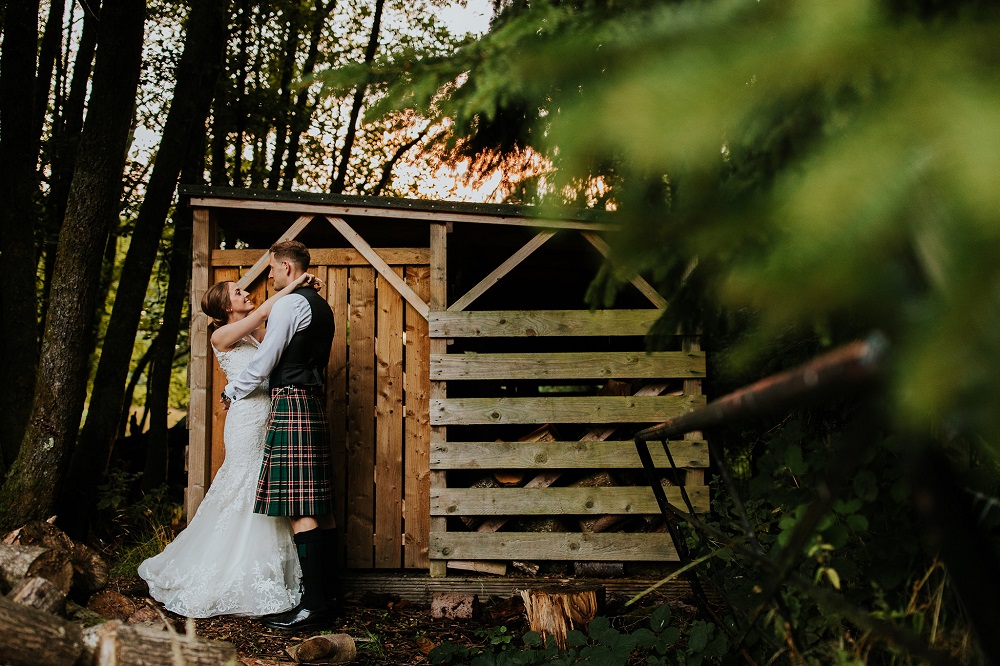 Digital editor at Scottish Wedding Directory and bride-to-be Steph found choosing a wedding photographer pretty tough, but in the end she got her first choice, Ross Alexander Photography. 
I snap a lot of photos. I do it all the time; on holiday, I take a photo of everything I eat so that I can remember it. Photos aren't just about social media adulation for me (in fact, they rarely ever make the grid).
Rather, they're about capturing that moment in time to hold onto forever. Nothing gives me the warm fuzzies quite like thumbing through yellowing photo albums, looking at me, aged three, tiny feet dangling off the edge of a deck chair, face covered in ice cream.
When it came to choosing a wedding photographer, I knew I had my work cut out.
Working at SWD for so long means that I've seen tens of thousands of wedding pics, in every imaginable style. I'm very lucky to not only have seen photographers' highlights, their best work that they pop up on their Instagram or Facebook accounts, but full online galleries, each with well over 500 snaps in them.
My OH hasn't had the same experience, so he really trusted me to make a shortlist that we could look through together. I had around five photographers on my list and we sat down over a beer and a burger one night scrolling through their galleries.
I found it really difficult to choose, but it was great to have Rab's input; there were a couple he said no to straight away, and that meant they were off the table. I would have gone back and forth forever if he wasn't involved.
~ ROSS'S FAVE PHOTOS ~ 
Finally, we settled on our favourite, Ross Alexander Photography (my first choice, and someone who was at the forefront of my mind even before we got engaged after seeing his pics of my friend Megan's wedding a couple of years ago).
Luckily for us, he had our date available. We asked to meet him – I know not everyone does this, but for us it was really important. If we hadn't clicked with Ross, or we felt awkward around him, then no matter how great he was, we couldn't have gone ahead with the booking.
I'd advise anyone who can do this to do it or, if you can't meet in person, have a Skype or FaceTime conversation.
I'm delighted that we've booked Ross. I can imagine him there on my wedding morning, blending in with my friends and family while I get ready.
I can imagine him with Rab and his pals, down by the loch, having a laugh and making them feel at ease. I think he'll fit right in with the vibe that we're trying to create with our relaxed, weekend-long wedding celebration.
I've been following Ross online for a while now (even before we booked him!), and one thing that really strikes me with his photographs is that even though I rarely know the couples, I feel like I can get a sense of how the day was through his photos.
He gets those moments that I would try to capture; a look between the newlyweds, friends laughing at a shared joke, a guest who's trying to dab away their tears during the speeches before
anyone notices.
I think that makes a really great photographer, and I can't wait to treasure his pictures of our wedding forever.
F O U R  S T E P S … to finding your wedding photographer
FIND YOUR STYLE
Do you love soft, romantic shots? Or maybe you're more into a darker style. Do your research in this mag, and on our Insta and Facebook (@scottishweddingmagazine).
MAKE A LIST
Write down a top five, or 10, or whatever number you naturally come to. With your OH, go through them all one by one together again.
NARROW IT DOWN
Eliminate them one by one. This could take some time so don't rush. When you have a very short list (maybe two or three), enquire about your date and pricing – they might not even have it free, so ask that first.
SEAL THE DEAL
When you have the one that you want, ask to meet them and go for that booking. Make sure you read the contract thoroughly before you sign, and pay your deposit.
Real Scottish Weddings of Instagram #88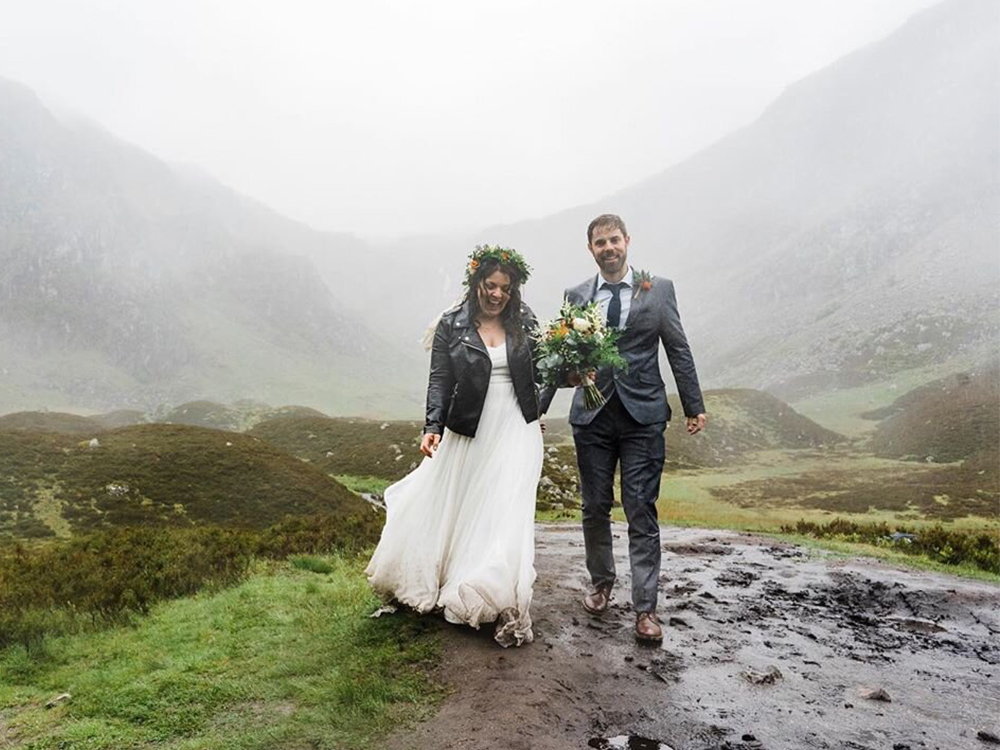 This week, we bring you another round of gorgeous weddings from across Scotland – see if you can spot yourself!
CHECK OUT THE REST OF OUR REAL SCOTTISH WEDDINGS OF INSTAGRAM HERE