The biggest misconceptions about… wedding films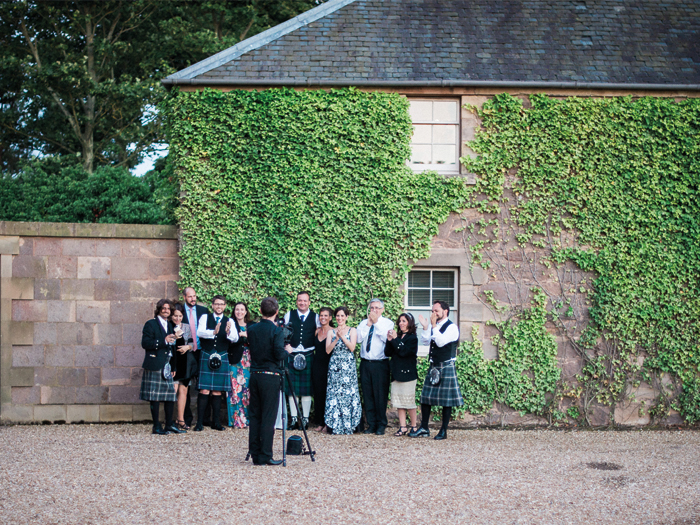 THERE'S NO NEED TO BE CAMERA SHY
One of the biggest worries filmmakers hear from couples is the fear of having cameras in their face but there's nothing to stress about. Long lenses and the crew's professionalism means you're likely to be unaware of much of the filming.
"Sometimes one half of the couple would really like their day captured on film and the other half is worried about feeling watched all day," says Colin Sinclair from Capercaillie Films. "However, we always meet with couples prior to their wedding so that they can get to know us and to reassure them that our style of filming is as discreet as possible to ensure we capture footage which is natural and a true reflection of their day."
IMAGE | Struve Photography
NOT EVERYONE WITH A CAMERA CAN FILM
So you've just had photography and videography quotes through and you may be tempted to cut costs and ask that friend who makes all their insta stories look amazing step in to film. Don't!
"It's a shame but if people aren't educated in it it's easy to think we just pick up a camera and stick it on a DVD and that's it," says James Hood from Strawberry Wedding Films, who warns it could ruin a relationship if you put the responsibility of your wedding film on a friend or family member's shoulders. "If it's important to you to have it, get it done professionally," he warns.
Colin adds that a professional filmmaker has the creative eye, experience and equipment to ensure all the finer details are captured and edited into the highest quality film.
YOU'RE NOT JUST PAYING FOR AN ON-THE-DAY SERVICE
Unlike some of your wedding suppliers the work of your filmmaker doesn't stop once Auld Lang Syne's been sung. "Many people value the service provided by a professional filmmaker and realise they are investing in being able to relive and enjoy their wedding day for years to come," says Colin.
"However, there are misconceptions that you are paying a filmmaker for a day's work, when actually the hours are spent after the wedding during the editing process."
James adds that his team of shooters and video editors spend thousands on their kit and they bring that and years of experience.
IMAGE | Duke Wedding Photography
THERE'S NOT JUST ONE SET STYLE
You may think you know the style and format of a wedding film but think again. "In recent years they've moved away from the more traditional lengthy films which would only be enjoyed occasionally to a more cinematic style which tells the story of the couple and their day," says Colin.
"These more modern films tend to be at a length that can be watched and enjoyed after the wedding as they show the most meaningful moments that would be cherished regularly."
James adds that modern wedding filmmakers are bring new film techniques to their craft, including things like fast and slow edits. And he adds Strawberry Wedding Films offers techniques like different film grades and a difference in colour as an additional extra.
Plus, you can opt to include other features like a video guestbook which he says can capture forever those moments where you get family members and friends talking directly to the camera about you.
Real bride: We booked our videographer Capercaillie Films before finalising our venue!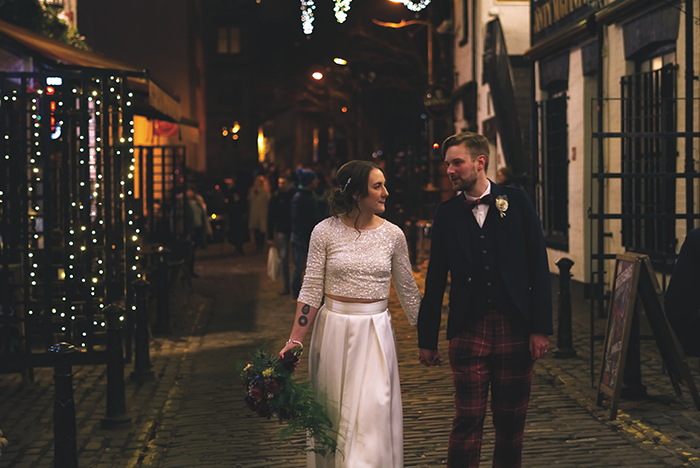 There's one thing about wedding planning that's undeniable – every couple will have different priorities. For bride Kate and groom Glen, booking videographer Capercaillie Films came first, before they'd even finalised their venue!
We sat down to hear more about their gorgeous big day and why finding the right videographer was so important to them…
"Our first priority was music and the videographer. Being a musician myself, there's an expectation that you're going to have an excellent band and for both of us it was really important to capture the day, as we'd been told by many that it would fly by. We actually booked band BrotherMan and videographers Capercaillie Films before we had finalised the venue!
We were looking for a modern, cinematic feel with our video. Having searched online and watched a few videos from many Scottish videographers, Capercaillie Films really stood out. They're storytellers, managing to capture someone's special day in such an intimate but non-intrusive way. Watching their films, I could really feel how the bride felt, even in those few minutes.
When we met with Colin and Shona they were so relaxed and professional, exactly how you want your suppliers to be on the stressful lead up to your big day, and were able to offer us lots of options. We decided on what was important to us and created an excellent package that included a feature film, the full ceremony and the speeches – all the best bits! Colin also made a 1 min video for my Instagram as I don't have Facebook.
We had a very intimate humanist ceremony with only 15 guests on the mezzanine of Oran Mor.
We wrote our own vows and told our story through our celebrant, Pamela Clocherty, and we also took part in a hand fasting (using Hufflepuff and Ravenclaw chords made by myself) and ring warming, both really special moments. Glen is known for being a "wee bit clumsy" so when he dropped my ring it couldn't have been more perfect!
The venue was beautifully decorated with candles, rose petals and other greenery which gave it a magical feel. Glen and I decided on a subtle Harry Potter theme so we had gold "Felix Felicis" good luck potions as our favours and the gold and blue of Hufflepuff and Ravenclaw was sprinkled around the venue.
At 5.30pm, 150 guests joined us in the Auditorium for a drinks reception with music from Ginny and the Tonic and the first of our two buffets. Glen and I had our first date at Tantrum Doughnuts so it felt fitting to have a doughnut wall covered in our favourite flavours! All the sweet treats were demolished by the end of the night! It was at this stage of the day where we did the speeches. My Dad, Glen and best man Lewis did an incredible job.
At 8.30pm our final guests arrived, taking the total to about 220 – this is when the party really took off! Glen and I cut the cake, danced to "Real Love", and then invited everyone up for the Goofy Movie classic "I 2 I"- quite niche but it went down a storm even with those who didn't know it. Going from intimate ceremony to massive party suited us well, I would highly recommend it!
On the day Colin from Capercaillie Films was brilliant, you could barely tell the cameras were there. He arrived for the bridal party getting ready and was there right through to our first few dances. I was amazed at all the moments he managed to capture considering how inconspicuous he was. Needless to say the finished product was absolutely amazing – I cried tears of joy and so did my husband! The venue looked spectacular and I was so pleased to see everyone really enjoying themselves.
I would definitely recommend it. Being able to watch your special day back again and again is something you'll never get tired of. It's extra special for us because we can show our evening guests our ceremony, and they get to experience it like we did. A video is also great because you get to see your day from a different point of view, including parts of the day you would have missed completely had it not been on film. Seeing your friends and family enjoy the day that you've spent months organising and agonising over just proves that it's totally worth it."
Watch Kate and Glen's wedding highlights…
Booking Capercaillie Films
Husband and wife team Colin and Shona loved their own wedding film so much they decided to start their own wedding videography company, and so Capercaillie Films was born.
Their passion for storytelling is clear to see in their beautiful, cinematic wedding films, and their focus on capturing each wedding day as discretely and naturally as possible has proved a hit with couples.
You'll start with a basic package (including a Highlights Online and Feature Film, presentation USB and wooden presentation box) and then you'll get to choose from a variety of optional extras to get the coverage and wedding film you want! Colin and Shona will help you figure out what's best for you.
t. 07749669086 | e. mail@capercailliefilms.com
Read reviews for Capercaillie Films
Floral-filled nature inspired wedding day at Sorn Castle, East Ayrshire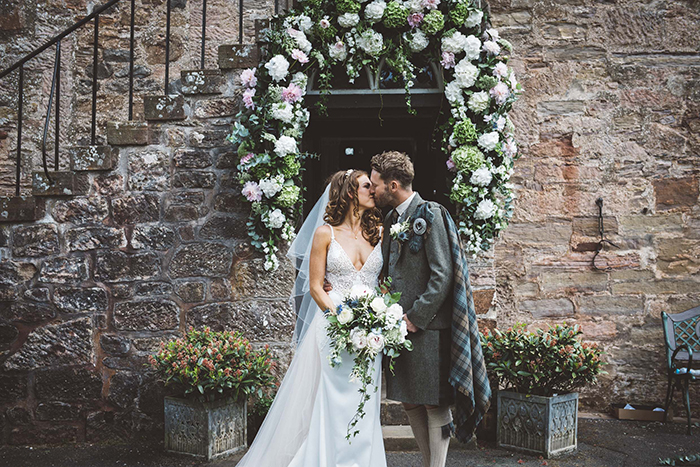 Rebecca and Jason created a beautiful nature-inspired wedding reception at Sorn Castle following their beautiful ceremony at Sorn Parish Church.
With plenty of personal touches – groom Jason even hand-built their wooden pergola! – it was truly a day to remember.
Here, bride Rebecca shares more from their wedding, including a very exciting arrival in 2019!
Jason and I clicked right away on the first date. Although we are opposites in lots of ways, we are so similar in others.
We both work really hard and help each other strive and achieve our goals – we balance each other out perfectly!
Jason proposed while we were on holiday on the island of Koh Tao.
We went snorkelling on our favourite beach, and he pretended to look under the water at some fish but instead resurfaced with my engagement ring from under the sea!
Booking the perfect venue was a priority to us, and we wanted our wedding on a bank holiday weekend to make it easier for my family travelling from Northern Ireland.
As soon as we walked into Sorn Castle, we fell in love with it.
The team made it feel really personal and special – it didn't feel like a wedding conveyor belt like some other venues.
For the décor, we wanted it to reflect the elegance of the castle and the beautiful nature in the surrounding grounds, installing lots of floral displays throughout the venue.
We also wanted to pay tribute to my Northern Irish ancestry and Jason's Scottish ancestry, and had fudge from my home town and bottles of Irn Bru as favours.
My dress was 'Gala' by Galia Lahav. It was made from vintage crochet and silk satin with a dramatic blush train.
Jason wore a customised tweed kilt made at Frank's Gold Room at Kilts 4 U in Hillington. It was stunning and everything we wanted.
The night before the wedding was so stressful, I was almost verging on having a little bridezilla moment! Jason was still building our wooden pergola at 9pm, but we eventually had our ceremony rehearsal and that helped calm our nerves.
We were both a little nervous at the ceremony, and stumbled over a few words even though we had practised it plenty!
We got a few giggles from our guests which actually helped put us at ease.
The speeches were fantastic, and there were a few tears during my dad's as he spoke about family and friends that are very missed.
It was followed by lots of laughs during the best man's speech, which contained anecdotes that cannot be put down in print!
Our florist embraced our vision and went above and beyond. People are still talking about the floral displays!
At the Ayrshire Wedding Show we won the chance for West FM DJ Colin McCardle to play at our wedding! Everyone had a blast, and the marquee was jumping from start to finish.
Our first dance was Brad Paisley She's Everything. It is a song we both love and has very meaningful lyrics. We also liked that it was a unique choice that many people hadn't heard.
Our plan for our honeymoon is to go to New Zealand and the Cook Islands, but we have had to postpone it as we're expecting our first baby in March 2019!
Photographer: Tommy Cairns Photography | Venue: Sorn Castle
Bride's dress: Kavelle Bridal Couture  | Bridesmaid dresses: Lou Lou Bridal
Groom's kilt: Kilts 4 U | Videographer: White Balloon Films | Cake: Rosewood Cakes
Florist: Every Bloomin Thing  | Make-up: AMM Hair and Makeup Team
Stationery: Bespoke Wedding Stationery
Get your Impulse Media wedding film for just £999!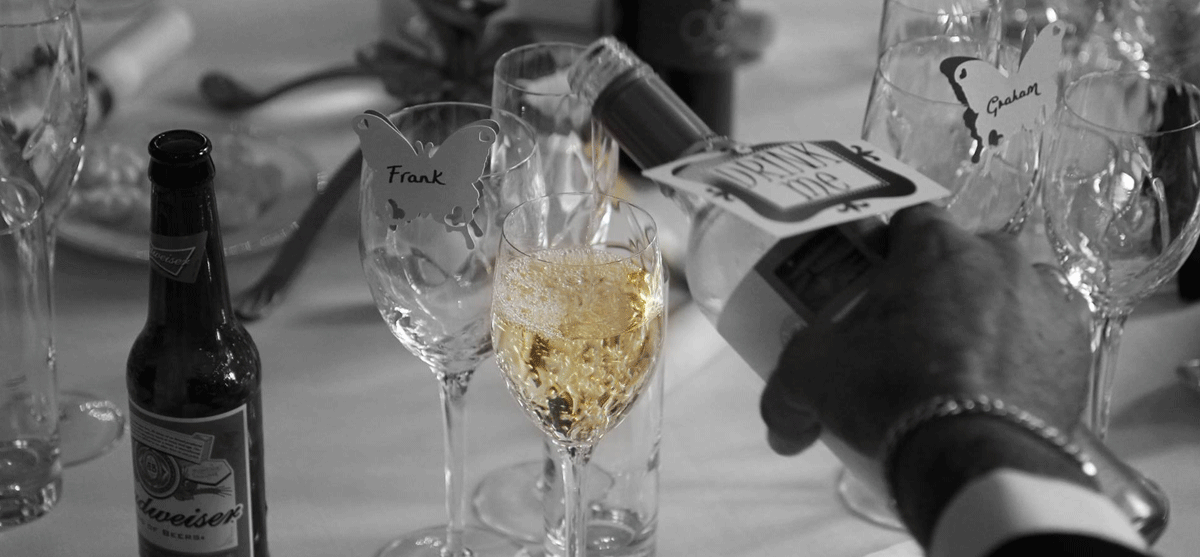 Your wedding budget is going to be so much healthier with this fab special offer from Impulse Media! Here's what you need to know…
Just like your photographs, a wedding film will let you look back and relive your big day for years to come!
And, luckily, thanks to Impulse Media's current special offer, it won't cost you an arm and a leg to get one.
Don't miss out
The videographers based in Aberdeen are specialists in emotive wedding films, and will capture all the little and big moments that make up your day flawlessly.
Book them for your wedding now and you'll get a montage film for just £999 thanks to their special offer.
It includes HD footage (so everything will be in crystal clear detail!) and they'll be there to capture your day from the morning bridal prep right through to your first dance.
The offer ends on Friday 14th September 2019, so get in touch asap to find out more (they'll be happy to chat you through all the details and Ts and Cs).
Take advantage of Impulse Media's special wedding film offer
t. 07702 464874 | e. impulsemedia_weddings@outlook.com
Read reviews for Impulse Media
Get to know the talented team behind Strawberry Wedding Films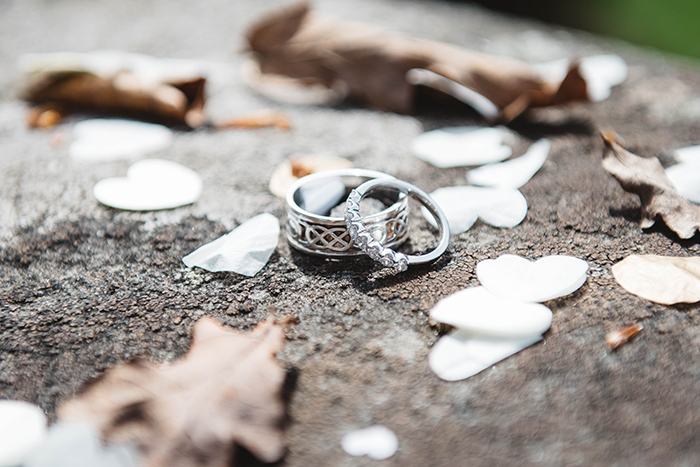 Unlike TV shows and films where directors can ask for multiple reshoots to get a scene Oscar-perfect, wedding videographers only get one chance to capture your special day.
And since your wedding film is so important – you want to be left with a film that'll bring up lots of happy memories every time you watch it, after all – it's essential you find a wedding filmmaker you can trust to absolutely nail it!
With a talented team of shooters and editors to rely on, Strawberry Wedding Films won't let you down. We spoke to owner James to find out more…
(Andrew & Alexandra – Highlight Film from Strawberry Wedding Films on Vimeo)
Strawberry Wedding Films are all about leaving their brides and grooms with fun, creative and cinematic wedding films – that's why every member of the team shares owner James' passion and talent for film.
"My team at Strawberry Wedding Films has grown really organically," explains James. "Everyone that works with me is someone who I've worked with previously, and everyone brings plenty of experience and something different to the table."
As well as James, when you first get in touch with Strawberry Wedding Films you'll likely end up speaking to Autumn (their office manager) and Lara, the Couple Care Manager. Lara's the one who'll keep in touch with you after your wedding and keep you posted on things like when your wedding film will be ready!
Finding the right team
James himself does lots of filming, but also oversees all projects and will meet you during your consultation to help find the best shooter (or team of shooters) to capture your wedding day.
Once James has figured out what you're hoping to get from your wedding film, he'll offer his advice on what's needed to properly document your big day.
The shooters always work in teams so they can capture your day from all angles, and there's also options for using the likes of drones.
You'll also have a variety of packages to pick from depending on what you're looking for!
On the day
Alongside James, the other Strawberry Wedding Films primary shooters are Gordon (a documentary filmmaker for the BBC) and Mirik (a convert filmmaker who also specialises in music videos).
But you might also end up having Jacob or Nick shooting your big day, both of whom also work in corporate filmmaking.
"We all know what we need to shoot, what kit we need and what looks best," explains James. "We've also all worked together so we're a close-knit network of friends. That makes shooting together easier."
Although you'll have more than one shooter filming your wedding, you'll be assigned a primary shooter. They'll be your point of contact and will have a Facetime with you before your wedding, to have a chat and start getting to know you.
It's all in edits
Once the shooters have done their job – documented your wedding and captured all the little and small moments that have made it so special – it's over to the editors.
The editing process after your big day will vary slightly depending on the package you've chosen; for example, if you go for the Strawberry Cinematic Package, you'll receive on-the-day edits.
These are normally done by editor Gary who'll be at your wedding to put together a cinematic mini-documentary that tells the story of your wedding. This 3-5 minute film is edited on the day to show off some highlights from the celebrations so far, ready to be screened during your wedding (normally after dinner and before your first dance in 4k on a large projector screen!)
Strawberry Wedding Films' other main editor is Mark, who's also a colour grade artist. Mark has edited films that have went to cinema and that are currently on Netflix!
Both editors are super talented, explains James; "You NEED to have good editors! Our editors have lots of experience and we make sure they have all the shots they need to put together your wedding film."
No matter what package you sign up for, you'll be kept updated as edits are worked on before receiving the final version!
Booking Strawberry Wedding Films
Ready to book the talented Strawberry Wedding Films team to capture your own big day?
Get in touch with James and his team to discuss dates and details!
t. 07967 174760 | e. enquiries@strawberryweddingfilms.co.uk
Read reviews for Strawberry Wedding Films
Film stars: the wedding film trends for 2019 + beyond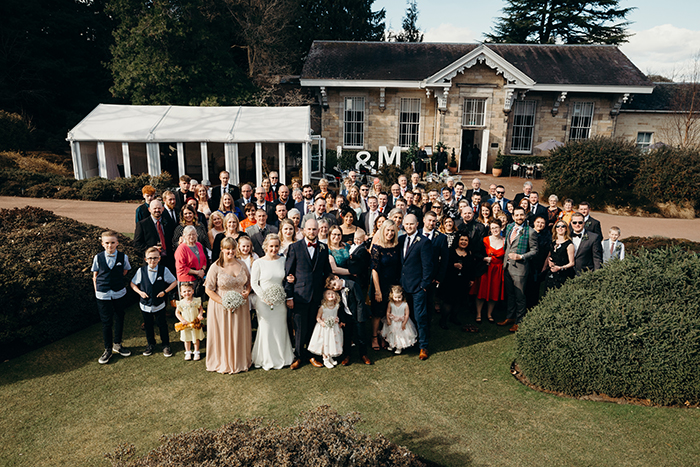 Professional clips for your Insta feed and cinematic techniques: the world of wedding films has never been so exciting.
IMAGE | Hayley Fraser Photography
#INSTAWORTHY
"One of the additional extras I offer to brides is InstaBride, where I create a series of less-than-oneminute clips that can be shared on their Instagram pages as and when it suits them," explains Michelle from Michelle Gillan Films.
"It can be a certain part of the day, from the bridal prep to the dancing at night. The shorter clips are also what most people will watch through to the end."
Your Insta grid has never looked so good!
IMAGE | Struve Photography
DRONE ON
"Aerial videography continues to be a developing trend," says Neil from Grand Gesture Wedding Films.
"Drone footage is popular for filming establishing shots of a venue, especially venues that are set in the more remote parts of the Scottish countryside, as drones can fly high enough to reveal the landscape for miles around."
It's not just for getting that venue shot, either.
"We also use drones for the group photos, the bridal car driving up to the venue and occasionally during the photoshoot."
IMAGE | The Gibsons
STEADY GOING
It's all about the right equipment for the pros and the rise in popularity of hand-held three-axis gimbals are a go-to for Neil and the team.
"Gimbals allow videographers to capture beautifully fluid and cinematic shots where the camera is moving or following the action," says Neil.
This can create perfect footage of everything from the bride walking into the ceremony to the all-important first dance.
"Being able to capture beautifully smooth footage whilst slowly circling the couple adds a great bit of production value to the first dance footage."
IMAGE | The Gibsons
SLOW DOWN
Whilst slow motion filming isn't anything new, there are now so many more ways to capture high quality slo-mo footage whilst staying on budget.
"The ability to shoot digital film at varying frame rates whilst maintaining picture quality used to be the domain of high-end and expensive cameras. Well, not anymore!" says Neil.
"The market now has a number of affordable options for shooting gorgeous slow-motion footage at high definition. It also allows us to shoot at a number of different frame rates to create various slow-motion effects."
Choose Next Scene Films and Fern Photography to capture your day from every angle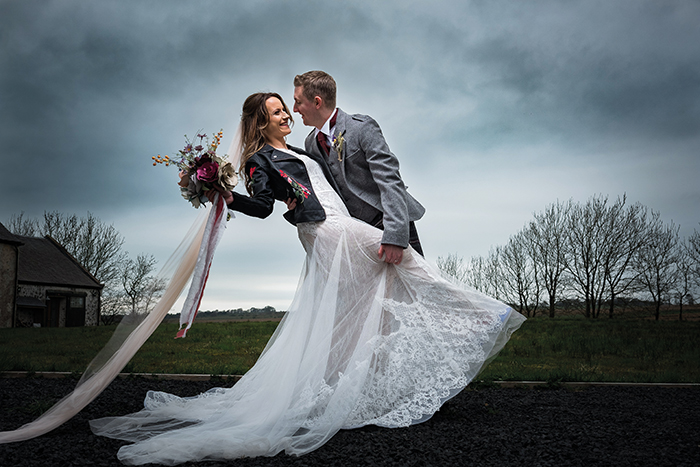 You don't have to choose between a photographer and a wedding film – with Next Scene Films and Fern Photography, you get both!
Getting ready with your bridesmaids in the morning. The exciting butterflies as you make your way to the ceremony. Promising to spend the rest of your life with the best human you've ever met. Laughing until you cry (or crying until you laugh) at the speeches.
Your wedding day is filled with precious, once-in-a-lifetime moments that deserve to be preserved and cherished for the rest of your lives – and we don't mean on a smartphone.
Hiring a wedding photographer and a wedding film company is the best way to ensure every single detail is captured, but this can be a daunting task.
For a start, it's stressful enough finding one wedding supplier you'd love to document your big day, let alone two.
Secondly, it's a big financial outlay.
And finally, you want to hire industry professionals who will work well together, striving towards the same common goal of catching every magical moment of your wedding day without stepping on one another's toes.
That's where Next Scene Films and Fern Photography come in.
Both specialists within their individual fields, these companies regularly join forces to provide couples with the very best of both worlds – a fantastic wedding film and outstanding photographs – from a team who collaborate with each other before and during the wedding to ensure you're getting superior service.
Book them together and you can tick two things off your to-do list straight away. Plus, you'll save some money as they offer exclusive joint packages to help you stick to your budget!
ETHICALLY SPEAKING
Both companies follow a code of ethics, which is central to how they conduct themselves.
You want every element of your wedding to be handled in a professional way. That's exactly what you'll get with Next Scene Films and Fern Photography. They will both approach your day in an unobtrusive and natural way.
They'll seamlessly blend into the background (Fern Photography even wear kilts!) to capture your day as it unfolds.
Most important of all, they'll listen to you. Their main priority is to ensure that the images and footage you receive of your wedding offers a true and authentic representation of you, your guests and your wedding day as a whole.
Their service is completely personalised and bespoke to you and your needs.
They'll be with you every step of the way, tailoring their service to your requirements and making you feel completely at ease.
Then after all is said and done, you'll receive beautiful photographs and a film that'll allow you to relive your perfect day for years to come.
Which, if you ask us, if priceless.
DID YOU KNOW?
Next Scene Films don't just give something back to their wedding couples – they give back to the environment too! The company plants a tree for every booking they receive and donate 5% of their yearly profits to World Land Trust.
Contact the dream team for your own special day!
Connect with Fern Photography
Visit the Fern Photography website | e. fern@fernphotography.co.uk | Read reviews for Fern Photography
Connect with Next Scene Films
Visit their Next Scene Films website | e. matt@nextscenefilms.co.uk | Read reviews for Next Scene Films
Behind the scenes with Scotland's wedding filmmakers: Brian Scott Weddings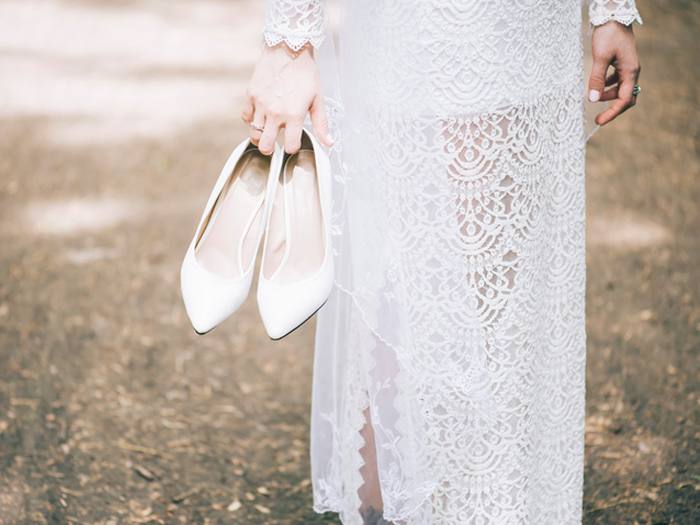 Not sure what goes into your wedding film?
Here's the second of our weekly chats with some of Scotland's leading wedding filmmakers to find out all.
This week, we meet Brian from Brian Scott Weddings. Here's what he said…

How did you get into wedding filmmaking?
I had a company making corporate videos when a friend asked me to film her wedding. For the first time in years, I felt an emotional connection to my clients. That changed everything.
How long have you been doing this for?
I have been filming weddings for five years – around 250–300 weddings. I can remember every couple and every day.
What do you enjoy most about being a wedding filmmaker?
That I get given all access into people's happiest day – their most tender and happy moments.
What kind of tech do you use?
We have a drone, sliders and steadicams, but they aren't a substitute for a good eye for detail and an ability to connect and tell a story.
Do you have any other advice for couples looking for a videographer?
My advice is to find the person most excited and passionate about being part of your day. If you don't feel a connection, walk away and find someone else.
Behind the scenes with Scotland's wedding filmmakers: Weddings by Guy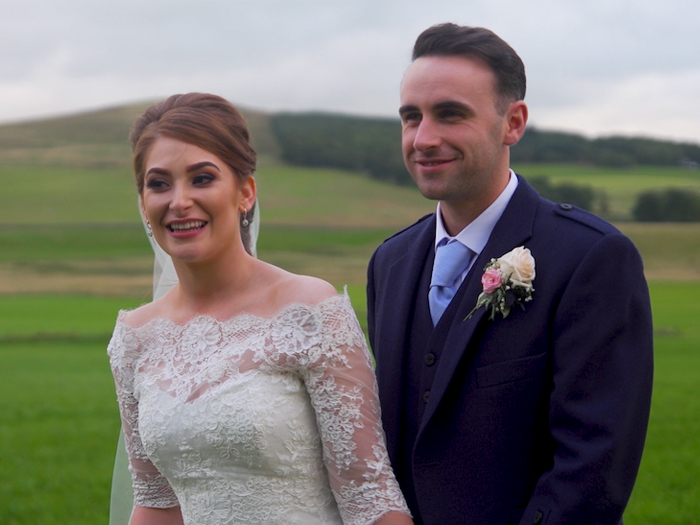 Not sure what goes into your wedding film?
Today marks the start of a weekly chat with some of Scotland's leading wedding filmmakers to find out all.
This week, we meet Guy Thomson from Weddings by Guy. Here's what he said…
How did you get into wedding filmmaking?
I began filming weddings for a video production company I regularly freelanced for. At the time I hadn't even been to a wedding as a guest, never mind filmed one!
Luckily I was surrounded by some excellent videographers and had access to everything necessary to learn the craft.
How many weddings have you filmed?
Since I began filming five years ago I've lost count of the number of weddings I've shot. The majority of this time I've represented other wedding companies but now I'm going it alone.
I'm bringing a wealth of experience to my own clients for the first time and couldn't be more excited.
What's your favourite thing about your job?
I enjoy being on location, filming and composing shots. I absolutely love it when I'm in the right place at the right time to capture the unique moments that you just cannot direct on a wedding day.
Tell us about an outstanding wedding you've worked on…
To be honest I've never had a wedding where everything went perfectly on the day. The weather plays a key role and lots of things can change at a moment's notice.
It's important to use your experience to adapt and think quickly. The standout weddings tend to be when you overcome these obstacles and end up with a final film everyone is happy with.
What's your favourite part of a wedding?
Straight after the ceremony when everyone relaxes and the smiles come out. This is when I feel I start to capture the best moments across the day.
Get inspired by these Gryffe Weddings destination wedding films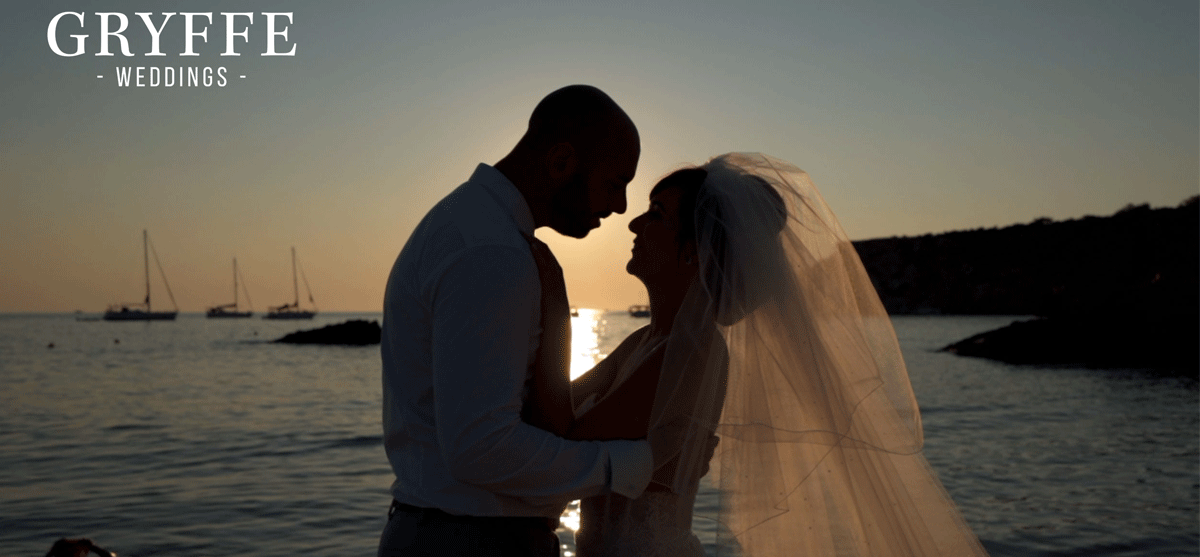 If you ask us, there's no better cure for the January blues than looking at destination weddings.
It's the ultimate form of holiday inspo – gorgeous, exotic locations AND stunning wedding dresses! What more could you need to distract you from the snow, ice and general yuckiness outside?!
We asked the experts, Gryffe Weddings, to share some of their recent destination wedding films and give us the lowdown on the logistics of hiring them for your big day abroad…
Bespoke destination wedding packages
Gryffe Weddings have been working as wedding videographers throughout Scotland for years, with their passion for creating high quality, cinematic wedding films earning them a great reputation.
In the past 5 years or so, they've also started shooting destination weddings, mainly in Ibiza and Mallorca.
As a result, they now also offer bespoke destination wedding video packages that cover bridal preparations through until dancing, including aerial filming.
"Destination weddings tend to have the ceremony later in the day around 6 pm, when the sun isn't as direct," explains Steven. "And the party always goes on much later in the evening! We don't have a set time we stay till, but normally we'll be there to capture the party late into the night.
We also charge travel and 1-2 nights accommodation on top of our package costs. This can be as little as £200 depending on the flight prices."
We asked them to share a few of their favourite examples from recent years to give you a wee flavour of their signature style…
Club Tropicana
"Pikes Hotel had been on our bucket list for a LONG time and we were jumping for joy when Sarah and Matt booked (we were actually in Ibiza when their booking form came through!).
Pikes is a very unique venue – their emotional ceremony was set in a beautiful court yard underneath massive shiny disco balls!
The family shots were taken on the PINK tennis court.
Guests then enjoyed drinks by the pool where Wham's Club Tropicana was filmed and partied till the very early hours in Freddie's (namedafter Freddie Mercury as he was a regular guest, and had his legendary 41st birthday there)!"
Beach vibes
"Laiken and Shaun's wedding venue was at a restaurant set on the cliff of one of the prettiest Ibiza beaches.
The couple and their friends and family were so laid back – it was so much fun to be part of!
We got a perfect sunset before dinner which was the icing on the cake!"
Family favourite
"We were delighted to return to Portal Nous church to film Zoe and Stephen's perfect day.
They chose the amazing The St. Regis Mardavall Mallorca Resort to continue the celebrations.
Mallorca holds a very special place in Stephen and Zoe's hearts as Stephen's grandparents have had a place there for over 30 years!"
t. 01505 874056 / 07914 805243 | e. info@gryffeweddings.co.uk
Read reviews for Gryffe Weddings