Make your dog a guest of honour at your big day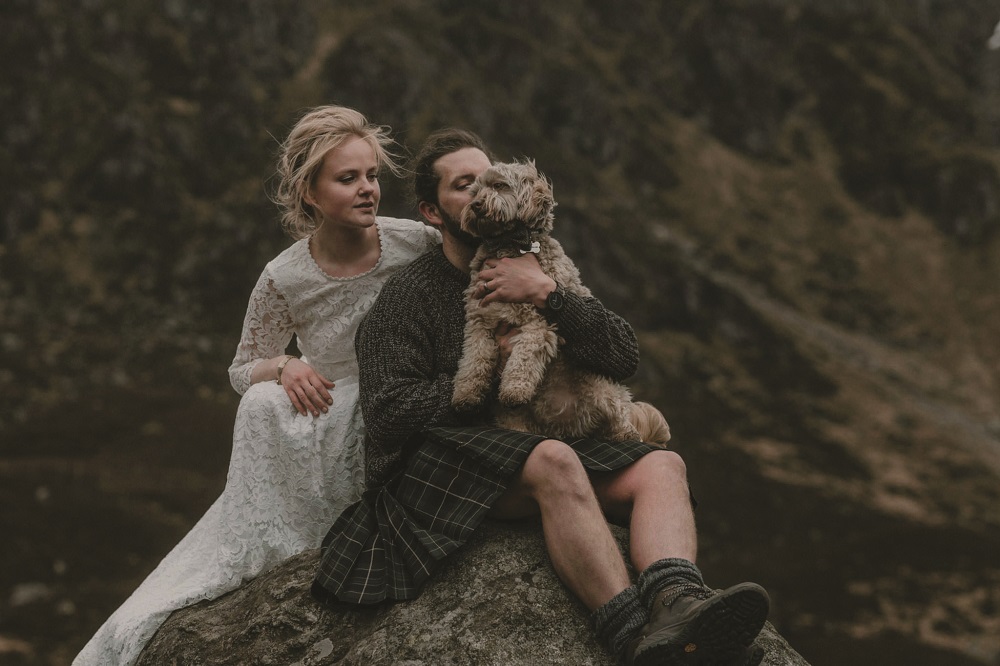 LEAD IMAGE | The Caryls
Let's be real – a dog-friendly wedding provides the perfect excuse to dress up your pooch, if it's something they'll be comfortable with. So what should you consider when picking that look?
To fit your theme, chat to your wedding florist about fashioning a special floral or greenery-adorned accessory for your pet to wear throughout the day or, if your pup enjoys getting all dressed up, consider a proper outfit.
You could even give that outfit a little purpose, as Fiona and Tim showed when they dressed four-year-old Cockapoo Jeffers for their big day.
IMAGE | Caro Weiss
Fiona and Tim opted for a small wedding with no traditional bridal party, instead having Jeffers walk down the aisle with a friend, followed by Fiona and her dad.
Multi-talented Jeffers even acted as a ring bearer, wearing a specially designed doggy tuxedo from Tuna & Bear, which had a clip designed to attach those all-important wedding bands to.
Laura and Adam, who live, travel, and work in their van, are never more than a metre away from their dog, Angus. The couple decided to elope with their parents, a photographer and videographer, and of course their beloved Lhasa Apso, Jack Russell and Poodle cross Angus.
IMAGE | The Caryls
"Angus is deeply incorporated into our lives – lots of our decisions have been based around him," says Laura. "After a haircut in Dundee, he arrived with my parents on the morning of the wedding, all dressed up in a small tweed bowtie before hopping in the van with us up to Corrie Fee.
"We wouldn't have wanted a day that didn't include Angus. I'm sure the photographers and videographers will agree that he was the star of the show and that they took far more shots of him than they realised!"
IMAGE | Ross Alexander Photography
When Claire and David began planning their wedding at Sorn Castle, they didn't have a dog of their own. However, they knew a dog-friendly venue would be a must so they could invite David's family dog Ellie, a six-year-old Golden Retriever.
"We knew we had to have Ellie there. She is such a big part of our lives and she is very sociable," says Claire. "We only viewed one venue and loved it so much, but the deal was sealed when I asked if dogs were allowed and the events manager said yes."
And the furry guests soon doubled, as Claire and David got their own golden retriever puppy, Whisky, just three weeks before the wedding.
Claire says it meant the world to have the dogs there. "They weave their way into your hearts and they really are such a massive part of the family," she smiles.
"People say they don't even know what's going on and I think Whisky was definitely too young to know, but I do think Ellie knew something important was happening."
GOOD TO KNOW
Want your dog to come along to your wedding, but worried about his or her wellbeing? There are now a number of dog chaperone services that can come along to your wedding to keep your dog calm and happy, with some even pampering and dressing your pup for the occasion.
"There are lots of ways to include your dog in your wedding, from flower girl, to ring bearer, to a guest of honour," says Jennifer from chaperone service Woof Woof Weddings.
"But one of the most important things to consider when involving your dog in your wedding is the safety and care of your beloved pet.
Michelle's Bride Diary: We had to postpone our wedding, so we eloped!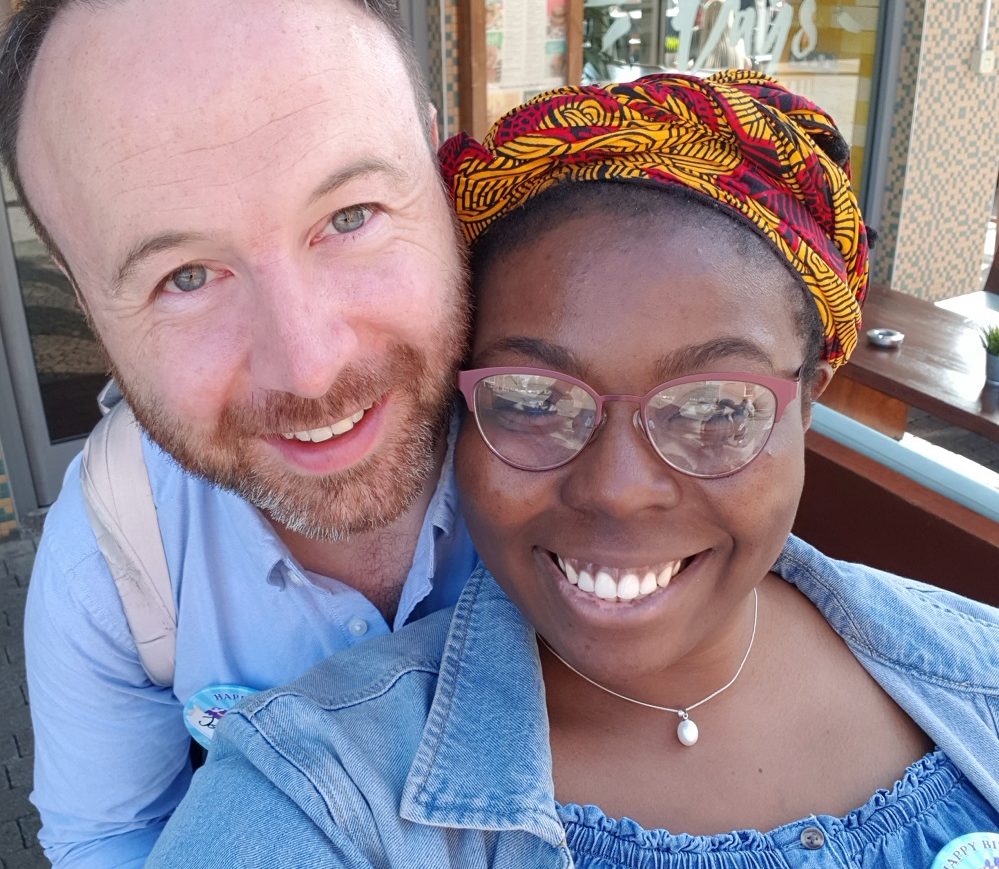 "We picked our original wedding date in Spring of 2019. We loved the idea of recapturing the beautiful Springtime we were experiencing at the time, and wanted the day to be a reflection of our love and of our personalities – fun and quirky. We'd settled on Three Sisters Bake at Killearn Village Hall.
But, by the evening of 15th March, we knew that things might not go ahead. The US shut their borders, and it became clear that my best friend wasn't going to be able to come to the wedding. We realised that the world was beginning to cycle to a halt.
I don't think either of us actually said the word 'elopement' out loud. We just instinctively knew that whatever was coming next, we wanted to navigate it as husband and wife.
We spoke to our families and to our minister, and everyone was so supportive of our idea. They too could feel there was a sense that things would be changing quickly in the UK, and if we weren't going to get the wedding we had planned, at least we could begin our married life now.
Reverend Catriona, our minister from Hillhead Baptist Church, was amazing. We originally thought that we would have the ceremony on 28th March, then 24th March, and right down to 20th when we realised that we'd be on lockdown soon.
We drove to Loch Lomond on 17th March to see if we could find somewhere to hold our ceremony. It was pouring with rain as we pulled into a carpark at Milarrochy Bay, and it was like we were able to exhale for the first time in about 48 hours.
We felt this incredible peace wash over us, and we knew right away that we'd get married there. A beautiful bridge would be my aisle to walk down with my dad, right up to the two trees which stood in perfect symmetry. I felt like it had been created just for us.
Arranging things from then on seemed to fall into place. We were able to pick up our marriage schedule on the same day as visiting Milarrochy; Lynne at Balfron Registrar's office came to the rescue and held the office open for us to change the details and pick it up.
The lead up was an anxious one for me, but mostly because of what was happening in the world, and also because I was worried that things could shut down any minute and we wouldn't get our ceremony.
On the day, all of that melted away. It was such a sunny, clear day. There was a gentle breeze and bursts of warmth, and I felt so calm.
My mum and my sisters arrived at our flat to help me get ready, and we laughed and talked and everything just felt so right. It felt like this was how it was always meant to have been.
The ceremony was always the most important part of planning to us. We wanted to capture the sacredness of what it meant for us to be bound as two souls, and we suddenly had it in its purest and rawest form because it wasn't about anything other than us coming together. I didn't have any expectations or plans other than getting to Jonathan and saying that "I do, infinitely".
As I walked down that bridge linked arm in arm with my dad, before I could even gather my thoughts, the tears came. My sister had Loch Lomond playing on a small speaker, which was the song that we'd picked way before our desire to elope.
I looked into Jonathan's eyes and we both smiled, that knowing smile we always give each other when we know we've done the right thing, and as we closed our eyes to pray with our minister, the air felt the thickest with love it had ever felt in my life.
There were some people out taking walks, and they stood in silence as we went through a short version of our ceremony and kissed as husband and wife. The biggest and most beautiful cheer erupted which made us both laugh and cheer alongside them!
We packed everything up after taking a few photos, and got in the car to go home.
The days that followed have been so wonderful, with moments of complete surrealism. We now greet each other by saying, "Hello husband!" or "Hello wife!". I don't think the novelty will wear off any time soon.
We were always a team but now we feel like a united force and I think we all need that feeling of reinforced support during these times.
The entire process has been extremely positive, and we feel how we look at things have been put into perspective. Of course I shed a few tears over our cancelled day, but only because of the love and money we had poured into it. The reality is, it's not about those things.
A wedding pales into insignificance in comparison to what a privilege it is to marry your best friend. It truly shows that you don't need all of the frills and excesses to be able to have a happy wedding, and it certainly won't equate to a happy marriage.
Now that our wedding celebration is postponed, I'm actually excited about having some extra time to perfect little details that will make our day more intimate – that's not about spending more money or planning extra stuff, but we'll be able to translate more of us and our growth as a couple into the day for our family and friends. Our suppliers have also been brilliant – they're such amazing people.
So though everything has changed and very world around us is being reshaped, I am so grateful I get to do it holding the hand of my husband."
YOU CAN ALSO FOLLOW HER ON INSTAGRAM AT @MICHELLEHOPEWELL
Everything you need to know about getting married in Scotland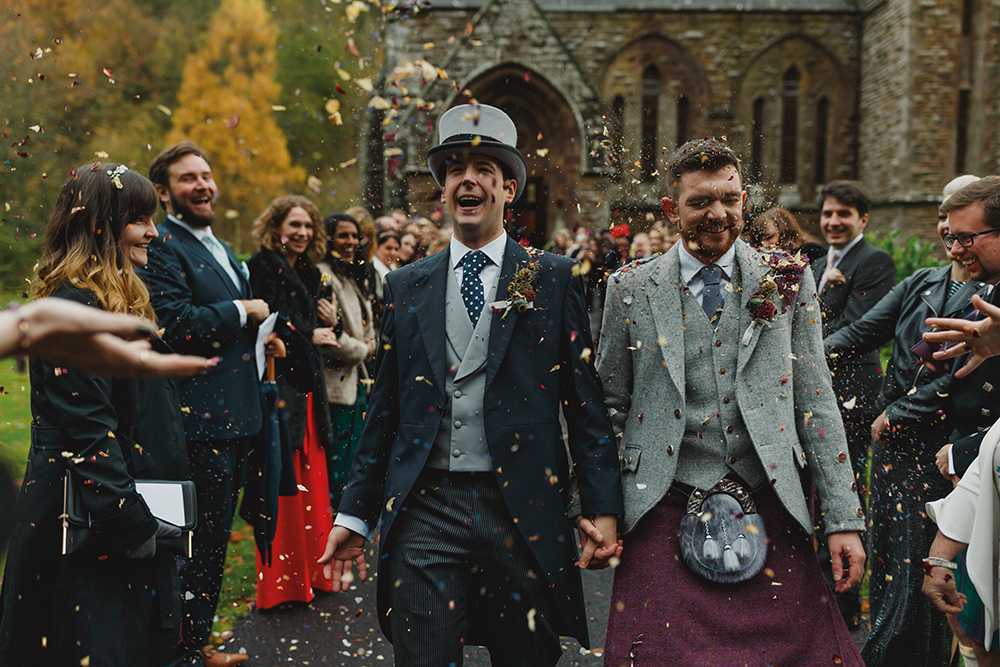 IMAGE | Duke Wedding Photography
Q. How easy is it for a same-sex couple to have a Christian ceremony?
A. While same-sex marriage has been legal in Scotland since December 2014, the ease for gay couples to say "I do" in a Christian ceremony varies from denomination to denomination.
The country's Roman Catholic Church remains opposed to same-sex marriage but in 2017 the Scottish Episcopal Church voted to redefine marriage to include gay couples, removing mention of being a union of "one man and one woman".
However, not all clergy have opted in to conduct same-sex weddings so it's necessary to check the position with the local church.
While the Church of Scotland has not followed the Episcopalians yet, it moved one step closer to allowing same-sex marriages in May 2018 when the Kirk's General Assembly tasked a committee to draft church law on the issue and report back this year (2020).
The report could offer a way for ministers and deacons who wish to do so to conduct same-sex weddings.
However, even if approved, that decision will be sent to local Presbyteries for approval – which can't be guaranteed – and the issue would return to the General Assembly in 2021.
Q. How quickly can you legally arrange a wedding in Scotland?
A. Sorry to disappoint but this isn't Vegas, so abandon any ideas of tying the knot on an ever-so-romantic (and not at all foolhardy) whim.
The very quickest turnaround between applying to marry and getting hitched is 29 days.
To legally marry in Scotland, you each must submit completed M10 marriage notice forms to the registrar of the district in which the marriage is due to take place.
Failure to give notice means your wedding may have to be postponed.
Usually you must post – not email – the forms to arrive with the registrar 10-12 weeks before your intended wedding day and no later than 29 days before.
This gives them plenty of time to check you are both actually free to marry one another.
If you're having a religious or belief ceremony make sure you contact your celebrant before filling out the marriage notice.
IMAGE | Francis J Smith Photography
Q. This isn't my first marriage. Do I apply to marry in the same way?
A. Yes, but you will have to produce extra documentation to prove you are free to marry.
According to the National Records of Scotland, if your previous marriage or civil partnership ended in divorce, annulment or dissolution you must submit a certificate of divorce or annulment or a certified copy decree or decree of dissolution along with your M10 marriage notice form.
If you have been married or in a civil partnership more than once you only need to submit documents relating to the termination of your most recent relationship.
If you were widowed, then you must submit the death certificate of your former spouse or civil partner.
If in doubt, head to the National Records of Scotland website and check out their handy guidelines.
Q. What's an unplugged wedding?
A. Imagine the scenario. You're about to get in the wedding car when a notification flashed up on your phone because some overly eager guest has shared a snap of your nervy-looking other half.
Worse still, people are starting to leave comments.
Want to avoid this happening?
Then go for an unplugged wedding by asking guests to turn off their phones and cameras and just enjoy being in the moment.
That way you'll also ensure no photos sneaking onto the internet until you're ready!
Prior warning is always the way forward.
You could include a polite notice in your invitations and let guests know there's no need to take their own pics of the ceremony as you'll be sharing all your professional ones.
As a reminder on the day, you could have a cute sign asking guests not to take their phones out during the ceremony, or have your celebrant mention it before the ceremony begins.
IMAGE | Dom Martin Photography
Q. I'd like to have some religious elements in our ceremony but my partner is an atheist. How do we compromise?
A. Going down the civil ceremony route is an option as you may still incorporate religious readings or prayers.
However, these must be approved by the registrar and they must be delivered by someone else at the ceremony as the registrar isn't permitted to do this.
Another possibility is an interfaith ceremony.
"Interfaith celebrants have trained for two years to hold ceremonies for people of all faiths and beliefs, including those that are non-religious, atheist or agnostic," says interfaith celebrant Jane  Patmore.
Your celebrant will work with you to understand what's important to you both, what you are each comfortable with in terms of music, language and symbolism, what are definite no-go areas and what traditions are important to the wider family.
Ways to incorporate each of your beliefs include both religious and non-religious readings; a non-specific blessing; inviting guests to silently offer their good wishes, blessings or prayers (perhaps during a ring-warming); and explicitly welcoming all beliefs and traditions.
Jane also suggests playing instrumental versions of music such as Ave Maria so it doesn't include overtly religious words, and saying different vows.
For instance, one of you can say "In the presence of God," while the other says, "In the presence of our family and friends."
IMAGE | Laura A Tiliman Photography
Q. We're not religious but don't fancy a civil ceremony. What are our options?
A. Interfaith ceremonies are definitely worth exploring (see above), or you could hold a humanist ceremony – the most popular type of ceremony in Scotland according to the Scottish Wedding Survey.
"A humanist ceremony is the ideal place to have a ceremony that reflects your beliefs.
Many people describe themselves as 'spiritual but not religious,' and spirituality is an essential part of being human," says celebrant Tim Maguire from Celebrate People.
"As celebrants, we are here to help you express your love for one another in your own words, so you are free to write or choose all the words and readings in your ceremony."
Gerrie Douglas-Scott, also from Celebrate People, adds that the celebrant should be able to give the couple "lots of ideas on how to make their ceremony a wonderful and real reflection of themselves and what their ceremony says about their love and relationship."
The ceremony can include some fun or romance about what you love about each other, or what your love and marriage means to you.
"We give them real ideas to discuss," she says. "I also say to couples that words will never be enough, but we will help you find the closest ones possible to how you feel.
That space between you can't be captured in words, but we can try our best."
How to write meaningful, personal wedding vows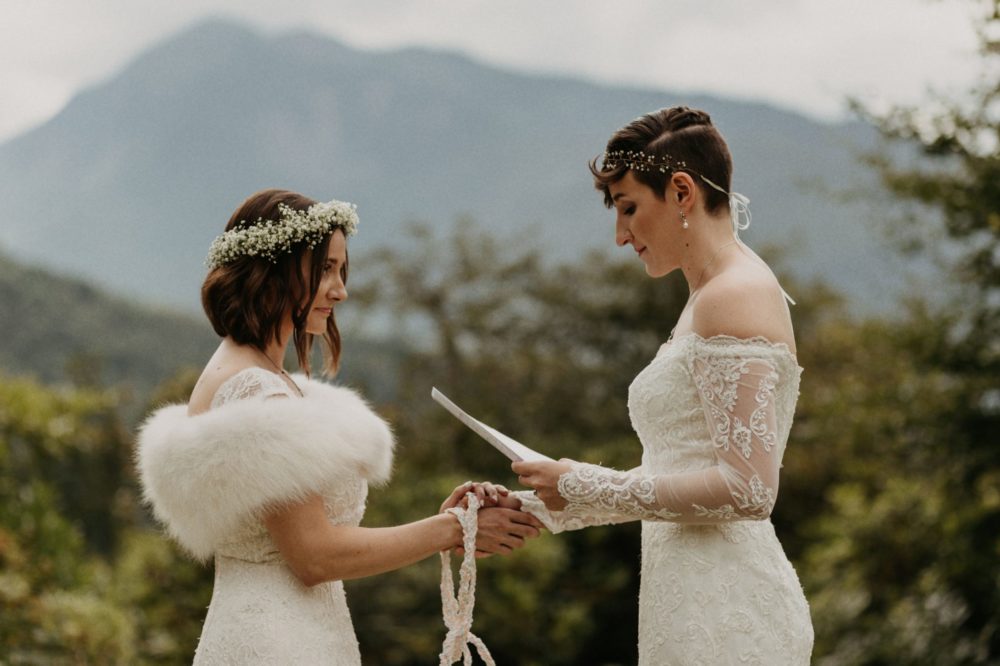 Gone are the days when couples and guests would simply endure a boring wedding ceremony in order to reach the fun part.
Now, the ceremony gets the party started and with Humanist ceremonies being all about the couples' personalities, is there a wonder that there has been a massive increase in Humanist wedding ceremonies in Scotland?
One main reason that couples opt for a Humanist ceremony is because they want to inject their own personalities into their wedding day, and that includes writing personal vows.
We've answered some of your frequently asked questions about writing personalised wedding vows…
[LEAD IMAGE | Wonderful and Strange Photography]
Q. WHAT EXACTLY ARE PERSONAL VOWS?
A. The content of personal vows vary massively from couple to couple, but they generally include elements of deep meaning and romance balanced with humour.
We like to think of personal vows as modern day love letters! It's about sharing meaningful and significant words with the person you love.
Q. ARE PERSONAL VOWS LEGALLY BINDING?
A. Humanist ceremonies are legally binding here in Scotland. There are two vow sections within a ceremony – legal vows and personal vows.
Legal vows are an essential part of the ceremony where couples 'repeat after me' and exchange rings, and personal vows are optional but something we think every couple should do.
Q. DO WE HAVE TO READ OUR VOWS OUT LOUD?
A. While most couples like to read their vows to each other, this is definitely not compulsory and if you're feeling anxious about it, then your celebrant will happily recite your vows for you.
Q. DO WE HAVE TO WRITE OUR OWN VOWS?
A. If the prospect of writing and then reading something so intimate and personal to your partner in front of everyone you know brings you out in a cold sweat, don't worry!
Many couples choose to write a set of promises which your celebrant will read on your behalf. Alternatively, you could write your vows and seal them in a love letter, exchanging them during the ceremony.
Your celebrant will explain what's happening to your guests and that you'll read them privately when you're alone.
IMAGE | Silver Photography
~ Paula's top tips to writing your own personal wedding vows ~
KEEP IT A SECRET | Don't tell each other what you're planning to say until the big day. Think of it like the wedding gift to each other that money could never buy.
AGREE ON LENGTH | You don't want to get into the embarrassing situation where one of you reads a 2000 word love-a-thon while the other coughs out two sentences! Agree on an approximate word count.
AGREE ON TONE | If one set of vows reads like something out of a Michael Mcintyre routine and the other is more akin to a Jane Austen novel, things will feel unbalanced.
PLAN AHEAD | Don't leave it until the last minute. Try to finish them about four weeks before your wedding day. This gives you time to think about what you want to say, and the luxury of rehearsal time in front of the mirror!
Find a wedding celebrant that you click with by contacting Fuze Ceremonies
Visit the Fuze Ceremonies website | t. 0800 0148237 | e. info@fuzeceremonies.co.uk
Send a direct enquiry to Fuze Ceremonies
Eloping to Scotland – all you need to know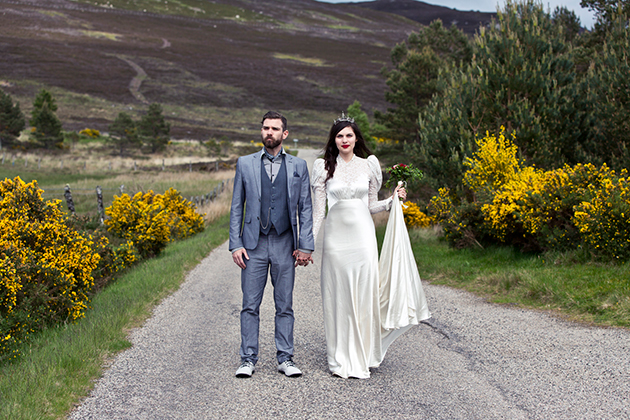 IMAGE | Solen Photography
Call us biased but we reckon Scotland is one of the most beautiful places in the world in which to tie the knot.
What's more, it's one of only a few countries where couples can marry exactly where they choose, so if you plan on eloping here you'll have your choice of mountain, glen, beach or city.
Celebrant Paula Wilkinson of Fuze Ceremonies says, "There are SO many advantages for couples who decide to say "I do" to Scotland.
"Scotland is one of only a handful of countries in the world where couples are free to marry wherever and whenever they want, which is a massive advantage in a country as breathtakingly gorgeous as Scotland!
"With serrated mountain ranges, mile-deep lochs, isolated glens, ancient woodlands, uninhabited islands, pristine beaches, history-steeped cities and medieval architecture and castles everywhere you look, Scotland is packed to the rafters with epic ceremony locations."
But before you get carried away deciding on your exact location give some thought to the logistics.
THE LEGAL BIT
According to the National Records of Scotland website foreign nationals who do not live in the UK are free to get married in Scotland.
However, depending on where you come from you may be subject to immigration control. "Otherwise, the arrangements are the same as those for a couple living in the UK," according to NRS.
If you're from a country outside the European Economic Area (EEA), and Switzerland and you want to elope to Scotland you WILL need an entry clearance.
So, for example, if you're travelling from Australia, Canada or the United States, to name just a few, you need clearance.
Further information is available on the GOV.UK website where you can apply for a marriage visitor visa.
This costs £95 and applies to couples who don't intend to live in the UK after the wedding.
Paula adds, "You should get a decision on your visa within three weeks. A Declaration of Immigration is something else that you will need to look into."
You don't need entry clearance to change your civil partnership registered in Scotland to a marriage. However, will need to provide evidence of your existing civil partnership.
WHAT IF WE WANT TO LIVE IN THE UK AFTER THE WEDDING?
The price of a fiancé visa if you want to live in the UK and you're marrying a UK citizen or settled person ranges from £1,033 to £1,643 according to GOV.UK.
IS THERE ANY OTHER PAPERWORK TO COMPLETE?
Once you have chosen your ceremony location, date and celebrant you can begin the actual wedding paperwork.
Paula says, "Thankfully it is incredibly straightforward to marry in Scotland and so all that is required is the couple, their celebrant, two witnesses over the age of 16 (we can provide witnesses if the couple are eloping alone) and a Marriage Schedule, which is the form which the couple, their witnesses and their celebrant will fill in on their wedding day."
The Marriage Schedule is granted by the registrar local to your wedding venue and can be collected in person up to seven days before the big day.
To be issued a marriage schedule you must each fill in a Marriage Notice form (M10 form).
The form must be submitted with a £70 processing fee no earlier than 12 weeks and no later than 29 days before the wedding day.
You will also need to submit your birth or adoption certificate, passport and proof of residence.
Divorce certificates or a Certificate of No Impediment are also required for couple coming from abroad.
IMAGE | Samantha Kay Photography
HOW DO YOU CHOOSE WHERE TO MARRY IN SCOTLAND?
Before you get bogged down in the final marriage paperwork you get the fun of choosing your wedding location.
Unless you have a specific location or venue in mind this may be trickier than you think!
Our guide to small and intimate locations in Scotland to elope to is a great start as well as our venues directory.
Paula also suggests hitting up social media and searching the hashtags #scottishwedding #scottishelopement and #scottishelopementphotographer.
Paula is actually Fuze Ceremonies' dedicated elopement specialist. She offers free advice on the perfect ceremony location to suit a particular couple.
HOW SHOULD YOU CHOOSE WHO TO MARRY YOU?
Again start by looking through the celebrant page on our directory here where you'll find details of celebrants all over the country.
Think about the sort of ceremony you want.
To get married in a religious ceremony contact the individual church and check if there are any limitations or requirements.
To go down the civil ceremony route contact the registrar of the council area in which you wish to marry.
Then there's also interfaith and humanist options.
Paula advocates finding the celebrant who is right for you and who you naturally click with.
"We would recommend that couples head over to our website where they can narrow down celebrants based on location, and from there they can dig deeper by checking out the whittled down celebrants' social media platforms," she says.
Always meet with your celebrant or at least FaceTime or Skype them before you make a decision.
IMAGE | Emma Lawson Photography at Aswanley
AFTER YOU'VE ELOPED TO SCOTLAND WILL THE MARRIAGE BE LEGALLY BINDING IN OTHER COUNTRIES?
Yes, it's that straightforward!
"Once a couple, their witnesses and their celebrant have signed the Marriage Schedule on the big day, they are declared officially married, which is legally binding and internationally recognised," says Paula.
CHECK OUT TWO GORGEOUS REAL LIFE ELOPEMENTS HERE AND HERE
Create a ceremony that really reflects your relationship with independent celebrant, Rachel Cheer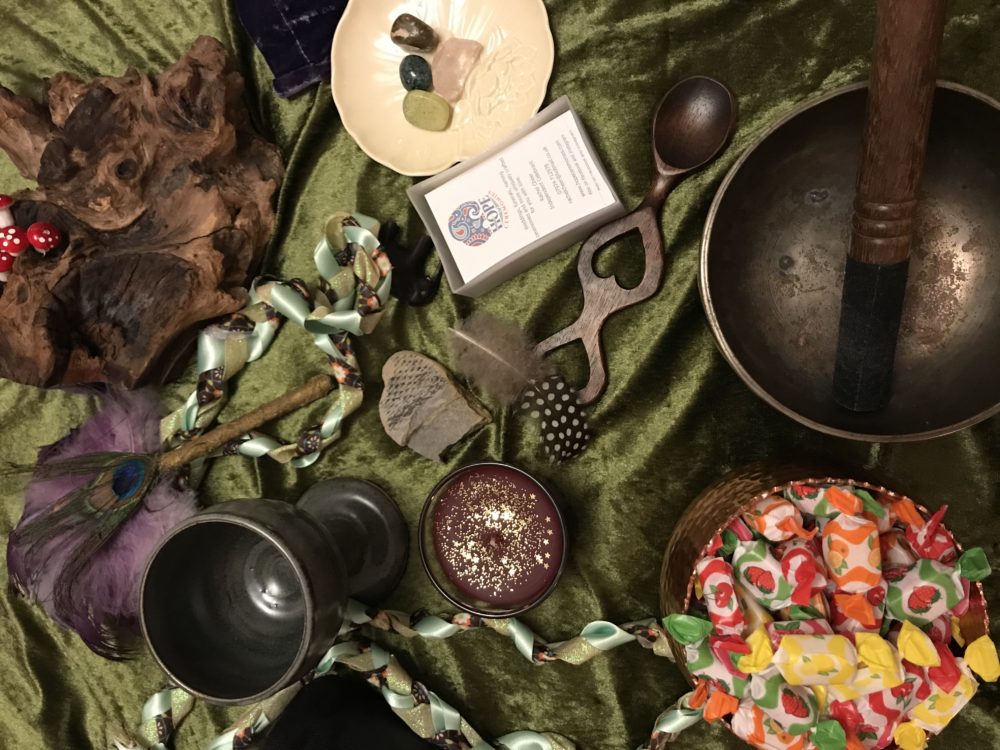 1. How would you describe what kind of celebrant you are Rachel?
Simply put, as an independent celebrant, I don't have to follow any rules. The ceremonies I create are only limited by the imaginations of those creating them.
I am creative, empathic and intuitive, and allow the couple to feel confident that their ceremony will be just what they want and that they will safe and supported throughout my time working with them.
My philosophy is that couples must be allowed to invoke whatever spirituality they have personally, whether they believe in God, Mother Nature, a higher force, the wisdom of our ancestors or nothing at all.
We can create a spiritual but non-religious ceremony brimmed full of meaning, and as unique as the couple are, but with no doctrine to adhere to.
2. What kind of couple would want you to conduct their ceremony?
I will appeal to couples who are creative, looking for something a little different or a more unusual setting.
If you want to get married during a full moon in a stone circle or at sunrise on the beach, then I am certainly the celebrant to help you with that!
3. How would you work with a couple on their ceremony?
My first job is getting to know the couple, and understanding their love story. It's from this that the shape and style of the ceremony will emerge.
It's important for me to understand what ideas and requirements they have about life and love. The ceremony must be a true reflection of their energies and absolutely tailored to them as a couple.
I ask the couple to answer a list of questions separately but no conferring about the answers! These answers will form the style and shape of the 'love story' aspect of the ceremony.
Your wedding ceremony is a sacred space. I work hard to ensure that everyone present feels separated from the everyday and is mentally and physically present in the moment.
Rachel set up for a ceremony
A singing bowl
4. Can couples include anything unique into their ceremony, like a ritual?
Yes! Rituals really inject meaning into the moment in a ceremony.
They are rites of passage and give reverence to the couple. They can also look great in your wedding photos!
A popular ritual is a handfasting using a bespoke cord of three ribbons.
Other ideas include a flower blessing, music and readings, sand blending, jumping the broom, ring warming, a unity bowl or a candle lighting ceremony. There are plenty more options too!
5. How much does it cost to hire you?
My fee is £400, which includes the ability to approve the draft script and a rehearsal if you like. I also offer a free, no obligation, initial consultation to offer a chance to explore ideas before you commit.
6. What do you love most about being an independent wedding celebrant?
It's such a joy working with people and getting to know them.
I love the creativity of crafting a ceremony, and the way I work means that each one is totally different.
Seeing my couples elated at the end of the process is the best gift I could wish for!
Interested in finding out more about hiring Rachel Cheer for your Scottish wedding?
You can contact Rachel on her Facebook page or via email at rachelcheer@hotmail.co.uk
The perfect wedding ceremony – whatever the weather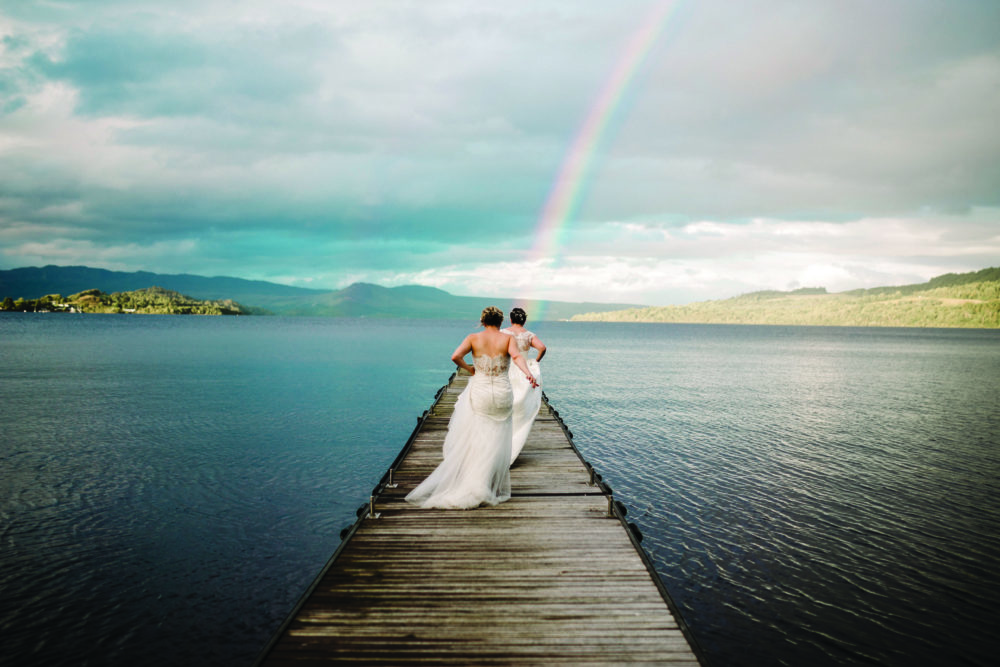 Do you love the idea of a windswept ceremony on the side of a mountain? Or maybe you fancy exchanging vows privately on a remote beach, having a cosy and intimate fireside ceremony at home, or saying 'I do' in a lavish stately home.
The beauty of getting married in Scotland is that anything is possible: you just have to dream it up.
Whatever you have in mind for your big day, your Humanist Society Scotland celebrant will always help make your ceremony personal and fitting – and a real reflection of who you are as a couple, too.
A REAL PARTNERSHIP
When you book a Humanist Society Scotland celebrant, you're not just hiring someone to show up and read a script on the day.
This is one of the most special and important days of you and your partner's lives, which is why in the lead up to the big day your Humanist Society Scotland celebrant will spend time with you, getting to know you and working with you to create a ceremony that's just right.
That means that when the wedding day arrives, your Humanist Society Scotland celebrant will be a familiar friend.
They'll be excited to deliver the best ceremony for you, and you'll feel comfort in knowing that they've got your best interests at heart. It truly is a partnership!
You won't have to worry about being let down on the day, either.
Humanist Society Scotland is the most trusted provider of Humanist ceremonies in Scotland, and the only one with celebrants who are permanently authorised to conduct Humanist marriage ceremonies.
They have over 100 celebrants across the country, ready to create a perfect ceremony for you – so book your Humanist Society Scotland celebrant, and you can relax knowing that you are in safe hands.
HEAD TO THE HUMANIST SOCIETY SCOTLAND WEBSITE TO FIND YOUR CELEBRANT, AND START PLANNING YOUR PERFECT CEREMONY!
Steph's Bride Diary: Why we've chosen to have an Interfaith wedding ceremony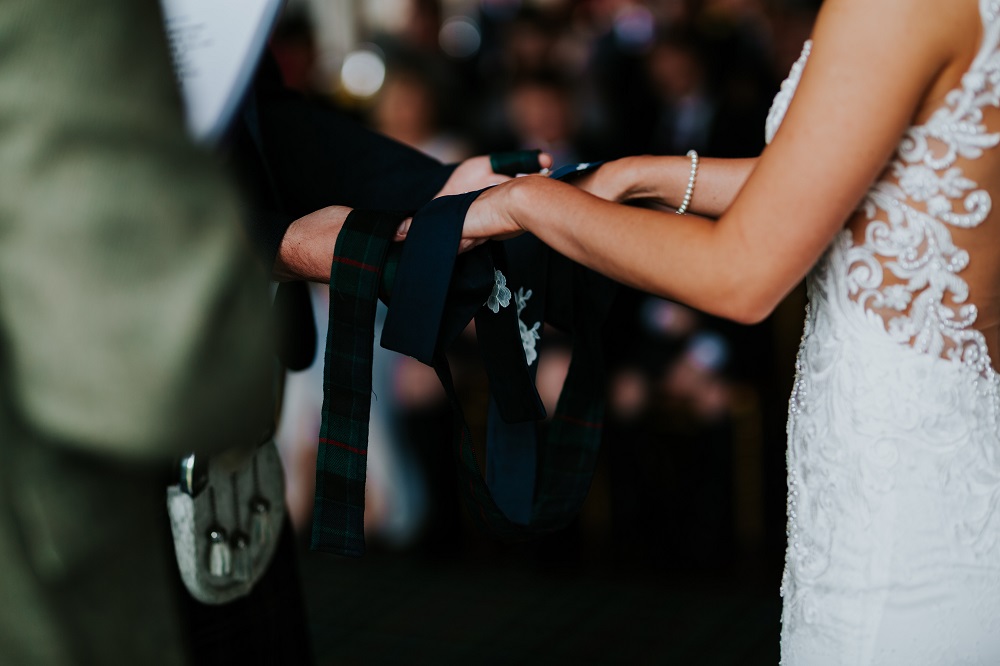 IMAGE | Ross Alexander Photography
When Rab and I first started talking about what kind of ceremony we were going to have at our wedding, we had a Humanist service in mind.
Rab isn't religious and wasn't brought up in a religious family, and I'm Christian, but I don't go to church or really practice the faith anymore.
The more I thought about exactly what marriage meant to me, the more I realised that Humanism didn't accurately reflect what I believed, and I started to think about having a different kind of ceremony.
Most people immediately think Humanism is the only non-religious option to go for, and don't take Interfaith ceremonies into account.
I've spoken to a lot of people who didn't even know that Interfaith was an option.
We were lucky to find our celebrant, Barbara Campbell, recently through Facebook, and I sat down to ask her a few questions about what an Interfaith ceremony actually entails.
WHAT IS AN INTERFAITH CEREMONY?
"I'd say that an Interfaith ceremony is the most flexible option available if you're getting married in Scotland.
The focus is on providing a ceremony that is completely personal, respecting whatever is important and meaningful to the couple, whether it is religious, non-religious, spiritual, Humanist or something in between.
You don't have to join any organisation, religion or belief body for an Interfaith celebrant to hold your ceremony," explains Barbara.
What we loved about an Interfaith ceremony is that it can be personalised completely to what we want.
Top: Our celebrant Barbara | Bottom: Set-up for a unity candle ceremony
It means that we can express what we believe individually – for me, that means I get the chance to include elements of my Christian upbringing and my continued faith and spirituality, without making Rab feel like he's being hypocritical.
I'm not sure exactly how I want to include my faith in the ceremony, whether it's a blessing or a reading, or maybe even a song. That's one thing that you generally can't do within a Humanist ceremony.
WHAT'S THE DIFFERENCE BETWEEN INTERFAITH + HUMANIST?
"A Humanist celebrant will generally not include any elements of spiritual or religious belief into the ceremony. Similarly, a civil celebrant won't allow any religious content either, and they are sometimes restricted to where they can perform your ceremony," says Barbara.
"If you choose Interfaith, we can marry you anywhere (just like a Humanist celebrant can), and we can create a ceremony that reflects not just your faith or values but also respects the traditions and faiths of your wider family, which is so important to a lot of people."
I know that my own family will be delighted that we're adding in an element of Christianity to our celebration; it'll mean a lot to my parents that I have acknowledged my past like that, and that they know I'm continuing into marriage with a faith and a belief that I grew up with.
I have to say, I'm looking forward to working on our ceremony with Barbara.
We've decided to write our own vows, and I'll talk more about that in a later post, but the most important thing to us on the day is that our friends and family really feel like they're part of the ceremony.
We need their support in marriage as much as we need each other, and that is something that Barbara likes to make sure she does in her ceremonies.
INVOLVE YOUR FAMILY IN THE CEREMONY
"It's great to make everyone feel included, which they are, and I encourage my couples to think about incorporating a symbolic gesture into their ceremony," says Barbara.
A symbolic gesture or ritual can be something like a handfasting, unity candles, ring warming or drinking from the Quaich.
"Handfasting is such a lovely ritual and it can involve members of the family or friends outwith the wedding party. It's a Scottish tradition, and where the term 'tie the knot' comes from!"
We haven't decided what we want to do yet in terms of wording or rituals, but Barbara has sent us a questionnaire to fill in separately about our relationship, our lives together, what we love about each other, and our hopes for the future.
It really does make you sit down and remember why you're actually getting married in the first place.
It's easy to get caught up in fancy frocks and table settings, when all that really matters is standing together and saying your vows to each other.
That's what the day is really all about, and I can't wait for it!
FREQUENTLY ASKED QUESTIONS ABOUT INTERFAITH CEREMONIES
Is an Interfaith ceremony legal? YES! In Scotland, Interfaith ceremonies are perfectly legal, as long as your chosen celebrant has authorisation to solemnise the wedding.

How much does an Interfaith ceremony cost? It varies, but the ballpark figure is between £350 – £550. Travel expenses may apply if the celebrant has to travel to your venue.

"We are both religious, but our religions are completely different! Will this work?" – This is exactly the situation to consider an Interfaith ceremony. Both religions can be included in the ceremony.
Your ceremony, your way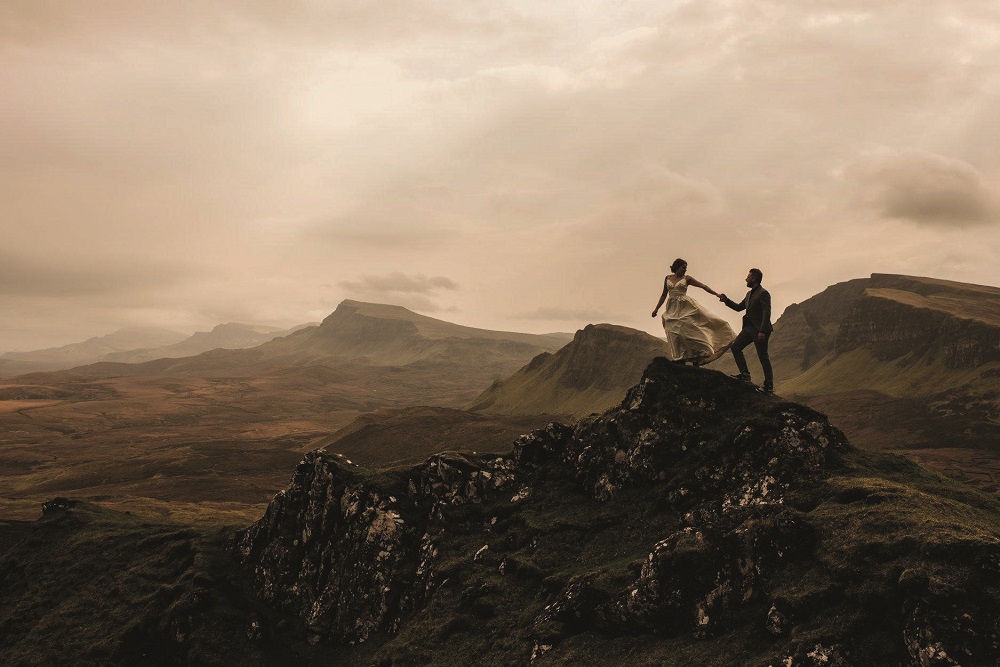 Here's a cool thought: nobody in the world has a relationship quite like yours. Every couple getting married is completely different – so doesn't it make sense for your ceremony to reflect that?
It's something Humanist Society Scotland always has in mind.
Its creative and thoughtful celebrants know that your relationship is unique, and that you'll want to focus on what's important to you in your ceremony.
They'll go the extra mile to create a ceremony that is personal and fitting for you, wherever and however you choose to celebrate your love.
IMAGE | Inga from Glitter & Twigs
TELLING YOUR STORY
Whether you're planning a big or small wedding, there are lots of ways to make your ceremony meaningful.
Perhaps you want to involve friends and family (or maybe a pet!); pay thoughtful tribute to a loved one who has passed away; exchange vows in a place that is special to you both; or share memories that will make everyone smile.
Your Humanist Society Scotland celebrant will have lots of suggestions and ideas to help you create a ceremony around your priorities.
IMAGE | In The Name of Love Photography
MAKING IT PERSONAL
You can incorporate symbolic gestures others can join in with (think a family handfasting or a Mexican hug), or include music or a reading that reminds you of a person or fond memory.
You could also incorporate something a bit different like a sand ceremony, where you'll use different layers of sand to symbolise people or sand from different places important to your relationship to create a wonderful memento of your day.
Having a smaller ceremony or eloping? If your family or friends know your plans and you'd like to include those who can't be there in person, ask them to write letters, keep them sealed and then read them at your ceremony.
Handfasting ribbons made from clothing (ties or scarves, for example) can serve as a tactile reminder of those that aren't there, whilst an oathing stone picked up from home or a favourite trip away can be a meaningful reminder of a place that's important to you.
Whatever it is that's important for you to include in your day, your Humanist Society Scotland celebrant will chat you through lots of options to make sure it's part of your ceremony in a fitting and personal way.
and start planning your perfect ceremony!
Here's why you should invite kids to your wedding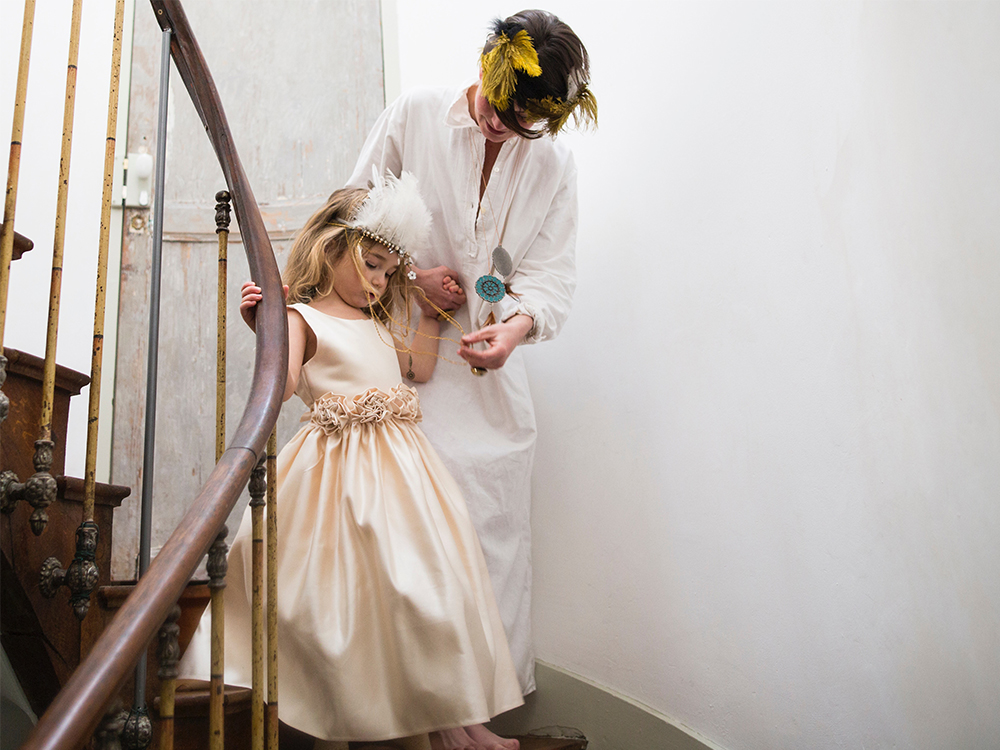 First comes love, then comes marriage, then comes the baby in the golden carriage – that's the way the old sing-song goes. But it's not how real life goes; not for everyone, anyway.
The number of Scottish couples choosing to start a family outside of marriage has risen considerably over the past few decades. According to the National Records of Scotland, just 3.9 percent of babies were born to unmarried parents back in 1974, yet by 2017 this had increased to 46.7 percent. Many of us are tying the knot in our 30s and 40s. Clutched pearls over children born outside of wedlock has gone well out of fashion, only rearing its head nowadays in your granny's favourite BBC period drama.
Sometimes, though, it feels like the wedding industry hasn't caught up. Some parents have confided in SWD that they feel like wedding businesses don't offer services that cater to kids, and that the industry in general doesn't often consider that children can be – and often are – a big part of their parents' wedding.
A few months ago, in fact, we received an email from a recent bride called Catriona asking us to provide more coverage in the magazine on the increasingly larger role of kids at weddings. I have to admit that my knee-jerk reaction, as someone without kids, was scepticism.
Parents, especially mothers, do so much to make sure their kids feel happy, healthy and loved. I always felt that if they decided to get married post-kids, that their big day should be all about them as individuals; a break from always being someone's mum or dad.
But Catriona explained it in a way that I hadn't thought of before: "For us, getting married wasn't just us coming together as a couple, but celebrating who we were as a family. It was as much my son's day as ours."
BABY BOOMERS
At this year's Scottish Wedding Show in Glasgow, I was surprised by how many brides-to-be had their kids with them. Most of the time, brides are flanked by mums, aunts, sisters and bridesmaids, with partners only coming in a close second in the wedding show companionship sweepstakes. But this time another demographic was giving them all a run for their money – the under-10s.
"I certainly feel like more couples are having children before they get married," says Jenn Bray, who owns and runs The Event Nanny, a child-minding service specifically for big functions such as birthdays or weddings. "Couples have to consider a more child-friendly approach when planning their big day, when before it would have been adults-only."
Yet despite the increase in couples getting married who already have children either together or from previous relationships, the wedding industry is still squarely aimed at fresh-faced to-be-weds with no dependants. "Maybe it's because they realise parents or expectant parents now have a more important financial obligation in their child or children," muses Sarah, who was six months pregnant when she got married last year.
"Suppliers might think they're less likely to splash out on extras or extravagant things, so probably avoid 'wasting their time' by trying to make products aimed at them."
KID-FREE ZONES
And even if couples with children do have the extra money to splurge, the toy elephant in the room is that there's a stigma around having kids at weddings.
Wedding forums are inundated with posts about how to tactfully tell guests that your celebration will be an adults-only event.
"I suppose weddings are supposed to be quite serious affairs, and are seen as a time where adults can let loose and leave the children at home for the weekend," says Catriona.
"Parents are always concerned about having to keep young children in check during what will be a very long day for them – no one wants to have the child that throws a temper tantrum during the ceremony."
But does it really have to be this way?
Surely if wedding suppliers and tastemakers acknowledge and cater for kids, weddings can be a fun, rather than strop-inducing, experience for them.
Parents like Catriona are finding new ways to make their big days exciting for the young and the old – and it's really not as hard as you'd think.
DINO-MITE
When Catriona and Lee started to plan their wedding day, they wanted to do everything they could to make Catriona's son and Lee's soon-to-be stepson Tristan feel happy and involved.
"We asked him what he wanted for the wedding day – and he said dinosaurs," laughs Catriona.
"We were like, 'seriously?' But he was adamant, so we said ok to having a dinosaur-themed wedding!"
Initially, not everyone was as enthused about the idea as they were.
"Most people were quite taken aback by the concept, and thought it might go too far and be tasteless. They couldn't really see how we were going to do elegance and dinosaurs," recalls Catriona.
"Traditional wedding suppliers tend to focus on themes such as rustic, romantic or bohemian styles. After making some enquiries, we found that a lot of suppliers were able to cater for unusual requests – but I just wish those who could would have shouted about it a bit more!"
Despite that initial scepticism, when the day came their guests were blown away by how the dino-décor turned out.
"They all thought it was fantastic, and were pocketing all the dinosaur-themed stuff to take home as souvenirs!
A lot of them thought it was going to look ridiculous, but they totally got it when they saw it," says Catriona.
DO IT YOURSELF CHILDCARE
So now we know it's ok to child-proof your wedding. But how do you do it?
Just because a child has every right to be there, doesn't mean a wedding is an ideal location for a playdate.
"You have to find ways to break up the day for them and reduce the chance of boredom developing while the adults chat away," advises Jen at The Event Nanny.
"Having a spare room or breakout area for them to play in with plenty of toys and a TV to watch movies on when they get tired is a great way to keep young ones occupied without family members or friends having to entertain them and miss the wedding fun."
To make the breakout space extra exciting for children, you can transform it into a hideaway or den to suit their particular interests, much like you would transform a blank canvas wedding venue to suit yours.
Teepee Dreams by Jen can set up a variety of different styles of teepees for kids, ranging from army camouflage to pink flamingos.
To make them feel really special, make-up a custom activity-pack just for them. "We got the children dinosaur tote bags filled with dinosaur-themed toys and games – they loved it!" says Catriona.
For the times when the kids really have to behave, Jen at The Event Nanny has a few pointers.
"Try to keep the ceremony as short as possible so they don't become fussy, and have a family member on standby in case the child gets too noisy and needs to be taken outside.
For photos, try to get them soon after the ceremony while the child is still looking clean and fresh – they won't stay that pristine for long!"
And Jen's last piece of advice?
"Hire an event nanny!" she laughs. "They can look after the kids' needs and make sure their day is fun and memorable so that you can enjoy your wedding without worrying – it's the best of both worlds!"