Devoted to your doggie? Forget a pre-nup; it's a pet-nup you need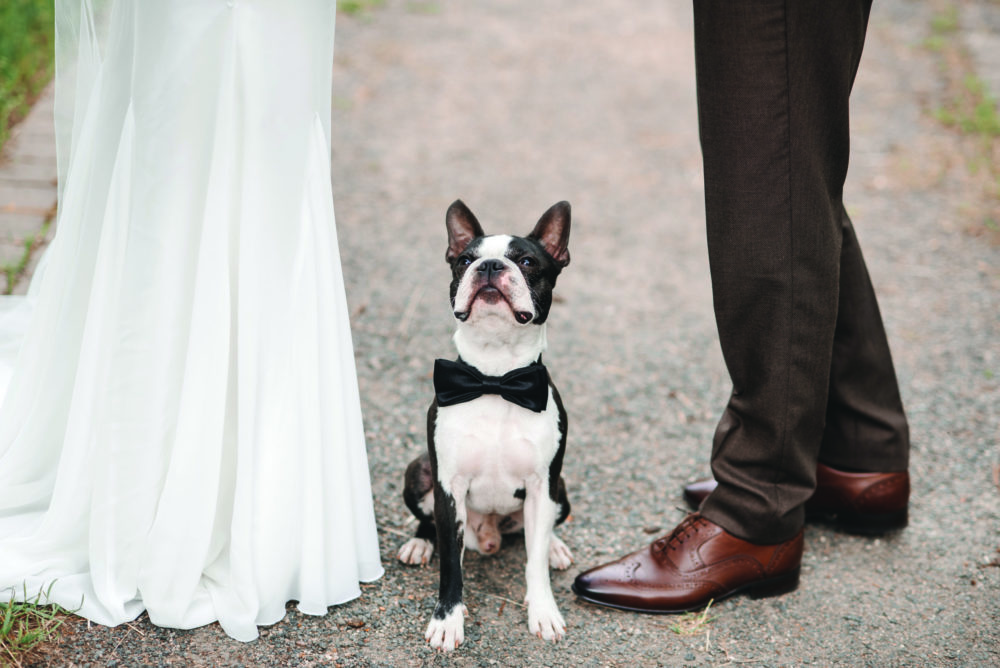 You care about your soon-to-be-spouse more than anything else in the world, but it might be a good idea to protect the second most important thing to you before you say 'I do' – your pet.
Family law expert Emma Darley at JMP Solicitors is urging couples to think of their animals before tying the knot, advising to sign a pet-nup to ensure any shared dogs, cats, hamsters or budgies are kept out of the crossfire in a potential divorce.
"Pets are part of the family, so it is important to implement safeguarding in case of an eventual relationship breakdown to ensure you, your family and your pet are put through the least amount of distress possible," says Emma.
Would you have a pet-nup drawn up before you walk down the aisle?
"Why I took my wife's surname"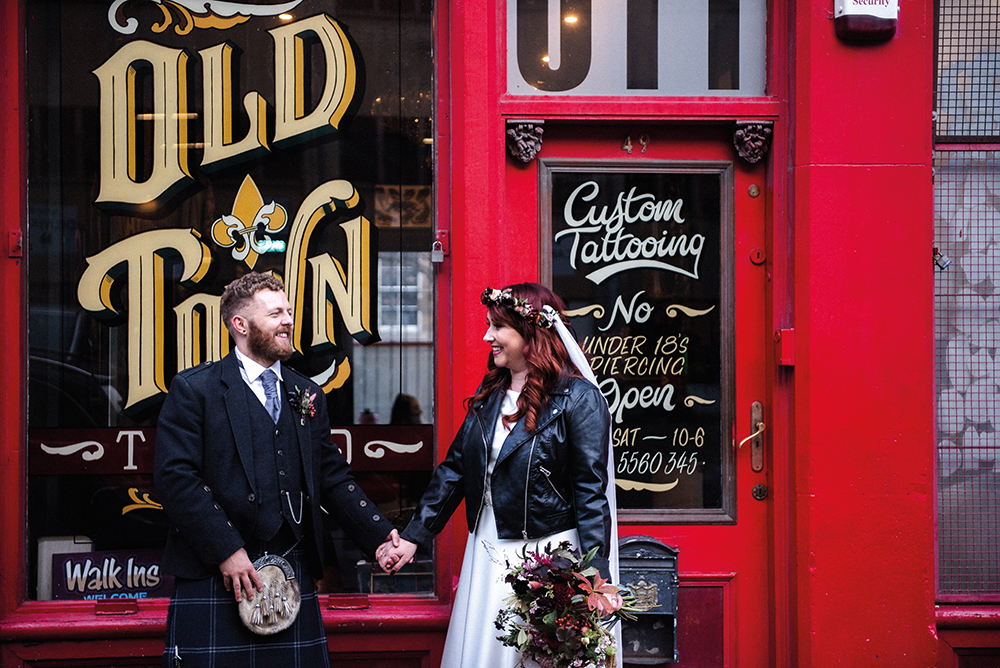 IMAGES | Elemental Weddings
For the Spring issue of Scottish Wedding magazine, we interviewed grooms who subverted gender norms by taking their wife's surname. Here, groom Danny Kennedy explains why he took partner Rachel's surname when they got married.
I was never of the opinion that I would marry before I met Rachel, because I am not a religious person. Rachel helped me understand that marriage is not just a ceremony with legal stuff, but something that can be our own.
To show my respect to all of those people that have basically been forced to marry and change their identity as it is the 'norm', and to also respect my own morals, I wanted to take Rachel's name.
Rachel and I both lost parents at a young age so I felt it was of real respect to my mother (a strong woman with morals I hold dearly) to do something she was probably expected to do in the 80s.
It also meant a lot for Rachel as it meant she could keep the name of her father.
I knew Rachel was happy, but I did not know what reaction I would get from others. I am and was aware that not many men do it and I had to prepare myself for the questions, gasps and the possible remarks of 'Oh, are you under the thumb?'
Rachel shared an article with me about a guy in the USA who did the same and the abuse he got at work from colleagues shocked me.
It made me apprehensive about telling people at first, but I have good relationships with people. My place of work, just like the city of Glasgow, has a great culture, and my close friends know me well too so I would say I felt supported.
Rachel supported me very well and made sure I was happy with my decision and always willing to discuss it, but nothing would ever make me change my mind.
My father was incredible about it. I had been unsure about how he would react so when he was instantly on board and told me it was my decision and he respected it, that took some pressure off.
I didn't want him to feel it was any disrespect towards him but I didn't even need to explain anything, as he knows I fully respect him and that I make well-educated decisions without any peer pressure.
I think men taking their wife's surname will increase over time as I feel when people are aware of someone doing something a bit different or against the grain, they then question themselves and realise they can do the same or even take it further.
I would love to live in a world where people can live to make basic life choices without fear of judgement. I think we are heading in the right direction.
Need to postpone your wedding? Here's our advice…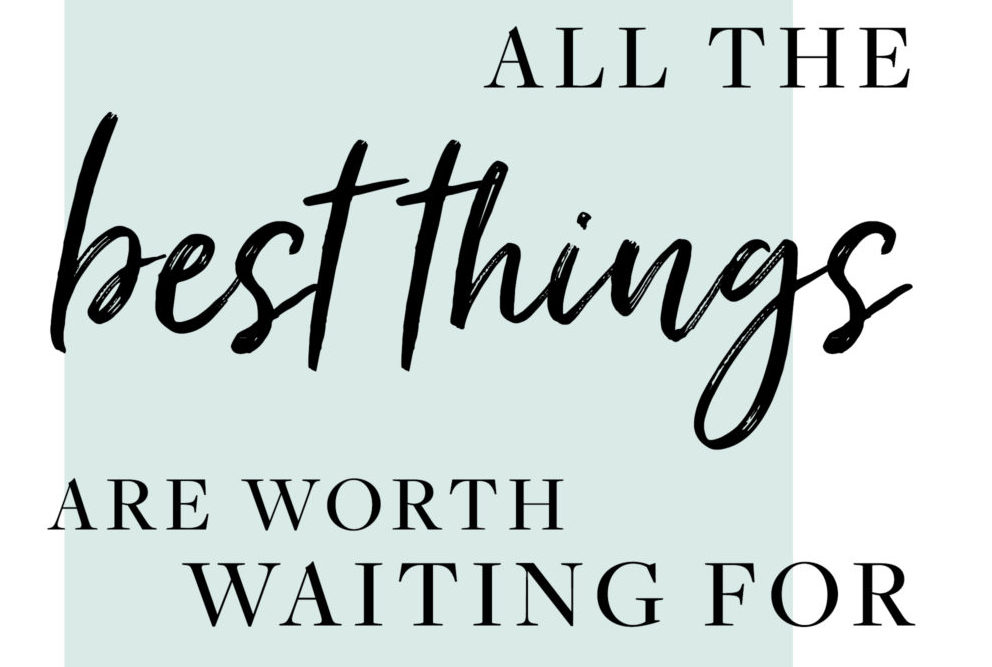 TRY NOT TO PANIC
Yes, it's a stressful time, and you absolutely will be upset about it. That's totally understandable and you should take a couple of days to wallow in it, if you want to. There's no shame in that. Don't panic, however. If this is happening, you have to try and keep a level head and think rationally. The long and short of it is this: you might not get the wedding you wanted on the exact day you wanted it but, with some compromise, you can still have a really special day if you're willing to wait.
MAKE YOUR DECISION + STICK TO IT
If your wedding is due to take place in the coming four weeks, then you'll definitely have to postpone it. Lockdown has been extended to 28 May, when it is anticipated we will enter phase one of restrictions easing – however, weddings are not permitted during phase one either.
Phase one will last until at least 18 June, so weddings between now and then will definitely have to be postponed.
Weddings will be permitted from phase two onwards, but there will be various requirements in place. You can read about these in detail here, and then make a decision as to whether or not you want to get married when your wedding may not look exactly how you envisaged it to.
It really is up to you. You might want to hang off until closer to your date to see what the updated government advice is, or you might want to delay the day in order to have peace of mind.
Either way, come to a decision now and stick to it. Then, if the worst does happen, deal with it at the time rather than constantly deliberating. You'll only cause yourself anxiety.
CONTACT YOUR WEDDING SUPPLIERS
The ideal thing to do in this situation is postpone, not cancel, if possible. Suppliers are having a hard time of it too; if you can move your wedding to another date, you'd be saving yourself from losing deposits and saving your suppliers from losing a booking.
Contact your wedding venue first and speak to your co-ordinator about what your options are. Once you know what an alternative date might be, or whether postponing is an option, then contact your other suppliers, like your photographer, videographer, caterer and hair and make-up suppliers. If they are able to move to the new date, then that's great news! If not, discuss what other options are available. You should have a contract with all suppliers individually, so make sure you read over each one to see what the policies are on cancellations and moving dates.
It's important to understand that if a supplier cannot move to another date for you, the likelihood is that you will lose your deposit. This is on a case-by-case basis of course, but most deposits are non-refundable. Write down all of your booked suppliers and the amount of money you have already paid them in deposits, to come up with a worst-case scenario of the money you might have to swallow losing.
After you've spoken to a supplier, send all of what's been said or agreed in an email and ask for an amended contract with your new date on it to be sent as soon as they can.
BE FLEXIBLE
It's worthwhile saying that now couples who had weddings booked in March, April and early May definitely have to postpone, and some couples in the following months are choosing to postpone, you could find getting a new Saturday date difficult.
There are only 52 Saturdays in 2021, and lots of those will already be booked, so you have to try and be flexible with dates if you can. Guests will completely understand.
It may be easier to get a mid-week wedding date, and this is something really worth considering if it's doable for you. Yes, it'll require you and your guests to take additional annual leave, but the government has relaxed the rules around annual leave so that people who can't use all of theirs up this year can carry it over to next. Some people may actually find themselves with a surplus of holidays to be taken next year.
"Midweek dates often have the benefit of ensuring you're able to transfer most of your suppliers and reduce the loss of money on booking fees or retainers. If your guests are already losing money on travel and accommodation bookings for your forthcoming wedding, it might be cheaper for them to rebook for a midweek journey," adds Kristin from Struve Photography.
"If your supplier isn't available on your new date, for example photographers or videographers, consider whether they could employ an associate to cover it for them. This is actually quite common even when there's not a pandemic – photographers and videographers sometimes do this if they have a family emergency or when they are unwell. Often the person you booked will edit and oversee the work to ensure you are still supplied with the final product in the style that you wanted."
If you can't come to an agreement with your venue, then you might have to cancel and find another one. Some venues will really struggle to accommodate a postponed date if they're already well booked up for next year; remember that they often have small teams and simply may not have the capacity to take on extra weddings.
This is when you should contact your wedding insurer to see what can be done and what you're entitled to.
GET PROPER LEGAL ADVICE
As useful a resource as the internet and social media can be, there is no substitute for proper legal advice. At Scottish Wedding, we've had legal experts Gilson Gray answer some of our readers' questions (see our posts here and here) and we recommend getting in touch with a lawyer for advice if you're struggling to settle a dispute with a wedding supplier.
We know it can be a minefield trying to figure out what is and isn't legal in a situation like this, because none of us have encountered anything like it before. The best thing we can do – and this applies to couples and wedding suppliers – is approach it as calmly and rationally as we can.
We know this is an emotionally charged time, but try to avoid threatening uncooperative wedding suppliers with negative social media coverage; not only could this impede your chance of reaching a negotiation with them, but it could backfire if they take legal action for defamation.
TELL YOUR GUESTS
Make sure you tell your guests that the wedding is postponed as soon as you can, to avoid them losing out on money if they are planning on booking accommodation or travel.
Invites already gone out? Speak to your stationer and see how they can help. A re-printed invitation, with a simple change of date, may not cost as much as your original service with them.
Sent Save the Date cards only? Use a free website, like Paperless Post, and message the link to everyone who you have sent a STD to.
This is a good time to take advantage of things like Facebook events or Whatsapp groups to communicate with lots of people at once. Have you got a wedding website? If yes, you can update that with any information but if not, create one with a site like WithJoy.
It'll save you sending lengthy messages to everyone and means you can tell guests to keep an eye on the website for updates.
OUR TOP TIPS FOR POSTPONING YOUR WEDDING
RETAIN YOUR WEDDING TEAM | Remember, your suppliers will probably be struggling too. Try to keep as many of them as you can, and if you have to change your wedding to next year, then consider paying them when you were supposed to anyway so that they're not out of pocket.
BE FLEXIBLE | Open your mind and be as flexible as you can. Sure, you may have planned for a Saturday wedding, but the reality is that changing your date might mean you have to go for a Thursday, Friday or Sunday instead.
CELEBRATE THE DATE | On your original wedding date, do something to mark it. Make a special meal together, share some wine, look through your wedding plans so far, and remember that your wedding day is still going to happen.
IMPORTANT INFORMATION | When you have a new date, make sure you inform your wedding insurance company. You also need to check when you gave legal notice to get married as you may be required to do this again. 
Coronavirus: Legal experts Gilson Gray answer your contract questions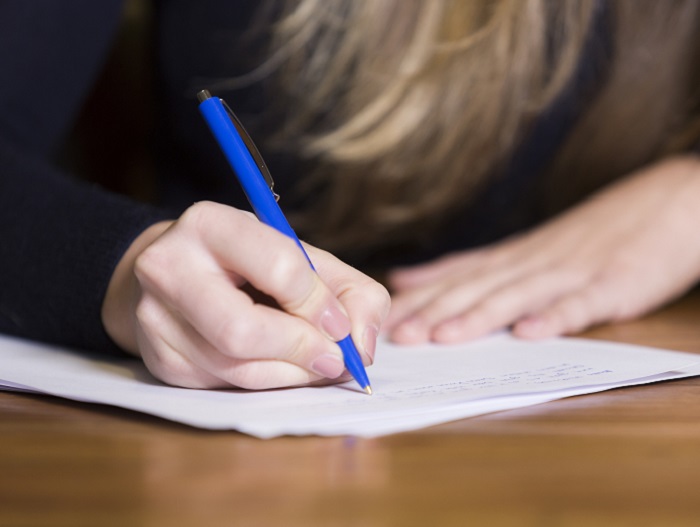 Lots of you have had to postpone or cancel your weddings due to COVID-19 and we've put some common questions about contract law to Lottie White, solicitor at Gilson Gray LLP.
Here's what she has to say… 
Q: What constitutes a contract between a customer and a business – is it only legally binding if it's a written contract that's been signed, or does an email exchange or even social media exchange count as a contractual agreement?
You do not need a signed, written agreement to create a contract. You need to show that there was an intention to commit to the arrangement. Email chains, social media messages and telephone calls can create a contact.
An enquiry or a loose arrangement with many of the details still to be agreed is unlikely to be a contract. Generally, the who, what, when, where and the price need to be confirmed for a contract to have been concluded even if some of the details or any "add-ons" are to be confirmed later on.
Each set of circumstances need careful consideration for both the customer and supplier.
Q: I have to postpone my wedding until 2021. I've paid the venue in full, and now they want to charge me 2021 prices even though the situation is out of my control. Do I have to pay?
Again, this will depend on the terms of your contract with the venue. Unless the contract states otherwise, if the venue has postponed the event they should be honouring the price agreed to for 2020. If they won't agree to this, and you don't wish to go down the legal route, your other option may be to ask for your money back and move venue.
If your heart is set on the venue mentioned, is the difference worth the aggravation and the hassle of moving? Is it more than any deposit you would lose?
If you are choosing to postpone the wedding, even if it's because friends and family can't attend, then you will likely have to pay the 2021 prices. Your contract was for a wedding in 2020 not 2021.
If the venue is insisting on the higher price, discuss with the venue's events co-ordinator about paying the additional amount in instalments or closer to the wedding rather than upfront.
Again, each set of circumstances need careful consideration.
Q: If I have to postpone my wedding, do I need to take out a second wedding insurance policy for the new date?
A: That will depend entirely on the policy that you have taken out. Consider the terms carefully and seek advice. Each insurer will have their own terms and conditions and even then it will vary from package to package. Some packages may let you claim for repeat supplier/vendor failure as long as it does not hit the maximum amount of the policy whereas other may only let you claim once per issue. If the latter is the case and you've had to make a claim in respect of the initial date, you will likely need to take out a second policy.
As you will have made a claim under a previous policy, you may well find the cost of a second policy will be greater. Some policies will also have an end date regardless of whether any claims have been made. If you're unsure you can get in touch with your insurance broker and ask them to clarify whether you would be covered based on your new date and the current claims (if any) on the policy. If you're still not sure, although weddings insurance is likely to be expensive in the current market, it's worth weighing the cost of the new policy against the cost having to rebook a second time without cover.
If you've booked a honeymoon that you need to postpone or cancel and you don't have travel insurance it may be covered under your wedding insurance policy.
Equally, if you are taking out a new wedding insurance policy, it may be possible able to add honeymoon cover to the new policy (although this will likely only protect you from issues arising after the policy is taken out).
Q: Any general advice for couples finding themselves in a situation where they may have to cancel their contracts?
This is a really stressful time for wedding couples and the wedding industry alike, particularly with the uncertainty surrounding how long the current measures are to last on for. The best thing you can do is try and work with the vendors and suppliers to agree a way forward together. The sad reality is that some suppliers and venues may have to cease trading.
If you have wedding insurance, read the terms and conditions carefully. You are unlikely to be reimbursed if you chose to cancel the wedding when the government has not banned large gatherings.
Although this will not apply to many couples facing issues with suppliers, for anyone who has only recently booked a service and didn't agree to the contract in person, broadly speaking, you have a consumer right to cancel the contract within 14 days of agreeing to it.
If you are going ahead with your wedding, we are aware that a lot of suppliers have longer waiting times for dresses and other items to come into stock than usual so be as organised as you can!
A huge thank you to Lottie White, solicitor at Gilson Gray LLP for answering our questions.
Eloping to Scotland – all you need to know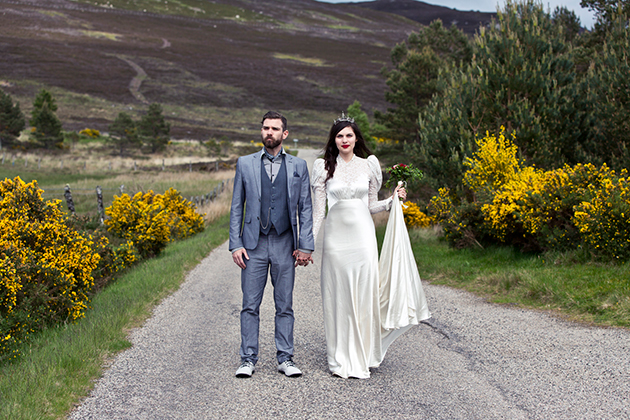 IMAGE | Solen Photography
Call us biased but we reckon Scotland is one of the most beautiful places in the world in which to tie the knot.
What's more, it's one of only a few countries where couples can marry exactly where they choose, so if you plan on eloping here you'll have your choice of mountain, glen, beach or city.
Celebrant Paula Wilkinson of Fuze Ceremonies says, "There are SO many advantages for couples who decide to say "I do" to Scotland.
"Scotland is one of only a handful of countries in the world where couples are free to marry wherever and whenever they want, which is a massive advantage in a country as breathtakingly gorgeous as Scotland!
"With serrated mountain ranges, mile-deep lochs, isolated glens, ancient woodlands, uninhabited islands, pristine beaches, history-steeped cities and medieval architecture and castles everywhere you look, Scotland is packed to the rafters with epic ceremony locations."
But before you get carried away deciding on your exact location give some thought to the logistics.
THE LEGAL BIT
According to the National Records of Scotland website foreign nationals who do not live in the UK are free to get married in Scotland.
However, depending on where you come from you may be subject to immigration control. "Otherwise, the arrangements are the same as those for a couple living in the UK," according to NRS.
If you're from a country outside the European Economic Area (EEA), and Switzerland and you want to elope to Scotland you WILL need an entry clearance.
So, for example, if you're travelling from Australia, Canada or the United States, to name just a few, you need clearance.
Further information is available on the GOV.UK website where you can apply for a marriage visitor visa.
This costs £95 and applies to couples who don't intend to live in the UK after the wedding.
Paula adds, "You should get a decision on your visa within three weeks. A Declaration of Immigration is something else that you will need to look into."
You don't need entry clearance to change your civil partnership registered in Scotland to a marriage. However, will need to provide evidence of your existing civil partnership.
WHAT IF WE WANT TO LIVE IN THE UK AFTER THE WEDDING?
The price of a fiancé visa if you want to live in the UK and you're marrying a UK citizen or settled person ranges from £1,033 to £1,643 according to GOV.UK.
IS THERE ANY OTHER PAPERWORK TO COMPLETE?
Once you have chosen your ceremony location, date and celebrant you can begin the actual wedding paperwork.
Paula says, "Thankfully it is incredibly straightforward to marry in Scotland and so all that is required is the couple, their celebrant, two witnesses over the age of 16 (we can provide witnesses if the couple are eloping alone) and a Marriage Schedule, which is the form which the couple, their witnesses and their celebrant will fill in on their wedding day."
The Marriage Schedule is granted by the registrar local to your wedding venue and can be collected in person up to seven days before the big day.
To be issued a marriage schedule you must each fill in a Marriage Notice form (M10 form).
The form must be submitted with a £70 processing fee no earlier than 12 weeks and no later than 29 days before the wedding day.
You will also need to submit your birth or adoption certificate, passport and proof of residence.
Divorce certificates or a Certificate of No Impediment are also required for couple coming from abroad.
IMAGE | Samantha Kay Photography
HOW DO YOU CHOOSE WHERE TO MARRY IN SCOTLAND?
Before you get bogged down in the final marriage paperwork you get the fun of choosing your wedding location.
Unless you have a specific location or venue in mind this may be trickier than you think!
Our guide to small and intimate locations in Scotland to elope to is a great start as well as our venues directory.
Paula also suggests hitting up social media and searching the hashtags #scottishwedding #scottishelopement and #scottishelopementphotographer.
Paula is actually Fuze Ceremonies' dedicated elopement specialist. She offers free advice on the perfect ceremony location to suit a particular couple.
HOW SHOULD YOU CHOOSE WHO TO MARRY YOU?
Again start by looking through the celebrant page on our directory here where you'll find details of celebrants all over the country.
Think about the sort of ceremony you want.
To get married in a religious ceremony contact the individual church and check if there are any limitations or requirements.
To go down the civil ceremony route contact the registrar of the council area in which you wish to marry.
Then there's also interfaith and humanist options.
Paula advocates finding the celebrant who is right for you and who you naturally click with.
"We would recommend that couples head over to our website where they can narrow down celebrants based on location, and from there they can dig deeper by checking out the whittled down celebrants' social media platforms," she says.
Always meet with your celebrant or at least FaceTime or Skype them before you make a decision.
IMAGE | Emma Lawson Photography at Aswanley
AFTER YOU'VE ELOPED TO SCOTLAND WILL THE MARRIAGE BE LEGALLY BINDING IN OTHER COUNTRIES?
Yes, it's that straightforward!
"Once a couple, their witnesses and their celebrant have signed the Marriage Schedule on the big day, they are declared officially married, which is legally binding and internationally recognised," says Paula.
CHECK OUT TWO GORGEOUS REAL LIFE ELOPEMENTS HERE AND HERE
The perfect wedding ceremony – whatever the weather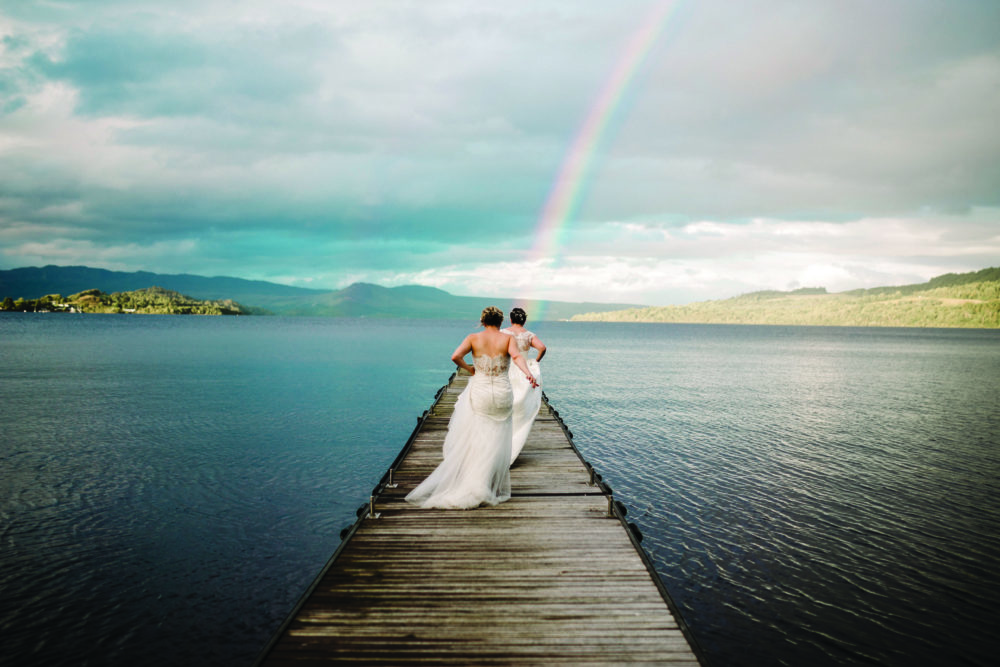 Do you love the idea of a windswept ceremony on the side of a mountain? Or maybe you fancy exchanging vows privately on a remote beach, having a cosy and intimate fireside ceremony at home, or saying 'I do' in a lavish stately home.
The beauty of getting married in Scotland is that anything is possible: you just have to dream it up.
Whatever you have in mind for your big day, your Humanist Society Scotland celebrant will always help make your ceremony personal and fitting – and a real reflection of who you are as a couple, too.
A REAL PARTNERSHIP
When you book a Humanist Society Scotland celebrant, you're not just hiring someone to show up and read a script on the day.
This is one of the most special and important days of you and your partner's lives, which is why in the lead up to the big day your Humanist Society Scotland celebrant will spend time with you, getting to know you and working with you to create a ceremony that's just right.
That means that when the wedding day arrives, your Humanist Society Scotland celebrant will be a familiar friend.
They'll be excited to deliver the best ceremony for you, and you'll feel comfort in knowing that they've got your best interests at heart. It truly is a partnership!
You won't have to worry about being let down on the day, either.
Humanist Society Scotland is the most trusted provider of Humanist ceremonies in Scotland, and the only one with celebrants who are permanently authorised to conduct Humanist marriage ceremonies.
They have over 100 celebrants across the country, ready to create a perfect ceremony for you – so book your Humanist Society Scotland celebrant, and you can relax knowing that you are in safe hands.
HEAD TO THE HUMANIST SOCIETY SCOTLAND WEBSITE TO FIND YOUR CELEBRANT, AND START PLANNING YOUR PERFECT CEREMONY!
What to do if your wedding band cancels on you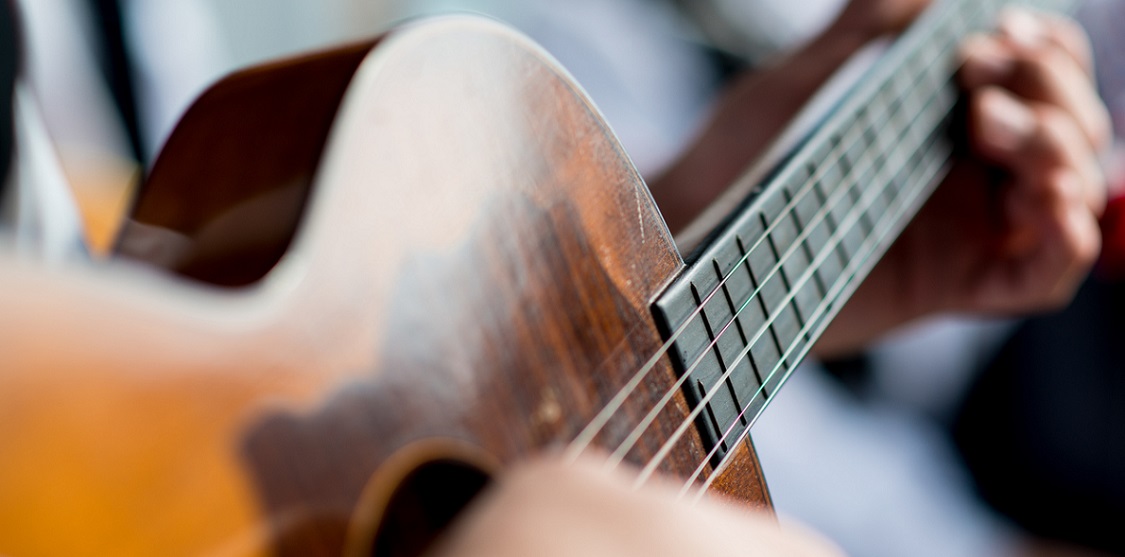 What should you do if your wedding band cancels on you? Del Cotton, managing director at Hireaband, gives his advice. 
So your wedding band have cancelled on you. The level of panic you feel will depend on just two things: how near to your wedding date you are, and did you book the band direct or via a reputable agency?
I'll answer the second part first. If you booked through a reputable agency then contact them and they will solve this problem for you. They will be best placed to recommend alternatives as close to the original band you booked as possible. They'll make all the calls and arrange everything for you.
You must bear in mind though that agents are only human and so the closer this happens to your wedding day the less choice you'll have to replace your band. If your band is involved in an accident or has a breakdown on the way to your wedding then your choice of replacement will be restricted to whichever band is available and contactable at that time.
Relax though: this scenario is incredibly rare. It's much more likely that you'll get weeks if not months of notice that there's a problem with your booking. In fact if you have booked through an agency, then when they contact you to let you know there's a problem they'll already have a list of available alternatives to offer you.
That's why it makes sense to have involved a reputable agency when you make your booking. They're in it for the long haul and can't afford to risk their reputation by recommending a dodgy replacement.
But what if you booked the band direct and don't have the backup and support of a professional agent?
Your next move is dependent on how close to your wedding date this happens. If you have a few weeks or months you can start the whole process again. Google and look for local bands, narrow down your favourites and then check if they're free.
If you get the dreaded call on the day from your band to say that for whatever reason they're not going to be able to perform for you what then?
I do like a list, so here's what to do if your wedding band cancels on you: 
Speak to the duty manager at the hotel.  Most hotels have knowledge of local bands and a list of their contact details. The sooner you can get on the phone the better. Get help and call as many bands as quickly as possible.
Try not to be too choosy – you're facing an entire night listening to your iPhone through the hotel PA as an alternative – so almost anything is better than that.
If the hotel can't help, call an entertainment agency. The best ones have emergency numbers so that you can call at any time.
If you have a band booked and can't get help from the hotel or a local agency, start calling local DJs. It's hard to get it wrong with a DJ and although not exactly the same as live music, at least you will be entertained and the DJ will have decent equipment.
Top tip: Make sure you've heard from your band or better still your agency the week of your wedding. If there's going to be a problem, the sooner you know about it the longer you or your agent has to fix it.
You probably expect me as the founder of one of the UK's largest entertainment agencies to be naturally biased towards booking through an agent. But, before I was an agent, I was in wedding bands for 25 years and the number of close calls we had would frighten you.
As an agency, we get calls almost every week from someone panicking because they've had a call from their band saying there's a problem with their booking. Why risk it?
You want your wedding day to be memorable for all the right reasons, not because you spent a big chunk of your day trying to replace a band that's let you down.
Use an agent, and as well as being far less likely to have an issue in the first place, in the event there is a problem, they'll sort it out for you so you can get on with marrying the love of your life.
Got an emergency wedding band problem? Call Hireaband Scotland on 07816 844623
Ask the expert: What to do if your wedding supplier goes bust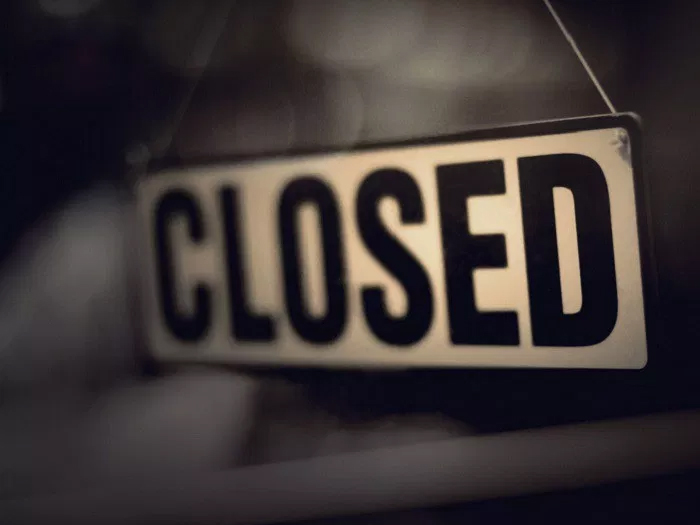 It's been a sad and shocking week for the wedding industry as popular bridal chain Berketex Bride announced the company had gone into administration with immediate effect.
With so many brides-to-be affected by the closure, many couples are now asking some big questions regarding supplier safety and what to do if the same were to happen to them.
We chatted to Keith Anderson, Partner at Scottish law firm Gilson Gray, to find out exactly what to do if your wedding supplier goes bust and how to protect yourself.
How can I protect myself when booking a wedding supplier?
"Prevention is better than cure so the starting point is to examine any contractual conditions or terms and conditions that the supplier produces to you when making an order.
Particular care should be taken to examine any terms dealing with payment and what lawyers call 'retention of title'.
You want to ensure you understand when ownership of the goods transfer to you. Ownership will usually be the key factor if your supplier were to enter into an insolvency. So, for example, if your wedding dress has been paid for but not yet collected, who owns it?
Usually the terms and conditions will deal with this. Separately, if you are ordering goods which are bespoke or specifically designed for your wedding (such that ownership could not transfer to you until they have been manufactured), then you may wish to consider only paying for the goods, or at least only part-paying for those goods at the point of order.
Therefore, if the supplier were to go into an insolvency, your losses would at least be reduced."
What can I do if my wedding supplier goes bust and I haven't yet received the product or service?
"The first step is to contact the administrator or liquidator. Sensible communication always assists. If you have paid for the goods in full and ownership of them has transferred to you, then the insolvency practitioner ought to be able to release those to you.
It will assist the administrator/liquidator if you can produce evidence of any contract you signed, evidence of payment and evidence to identify the specific goods you have purchased. If you have not paid in full, or ownership has not transferred then you will have difficulty in obtaining the goods.
However, the goods themselves will be assets of the insolvency; the administrator/liquidator is entitled to sell those assets for the benefit of the creditors as a whole. Therefore, it may be possible for you to agree a price with the insolvency practitioner for the goods you wish to purchase."
Where do I stand in getting some or all of my money back if my wedding supplier goes bust?
"Unfortunately, the consumer will almost certainly be an unsecured creditor. The likelihood is, at best, you will only receive a dividend many months down the line, being a 'pence in the pound' payment."
Do you have any other general advice on what I could do in this situation?
"It is important to identify the legal entity you are contracting with at the point of placing your order.
If it is an entity which has solvency concerns in the public domain then you should carefully consider whether you wish to place an order with that supplier.
If your supplier is placed in an insolvency process, you should seek advice and ensure you have a clear line of communication open with the administrator/liquidator."
HAVE YOU BEEN AFFECTED BY THE BERKETEX BRIDES CLOSURE? LET US KNOW ON OUR FACEBOOK PAGE.
England + Wales; welcome to the wonderful world of outdoor ceremonies!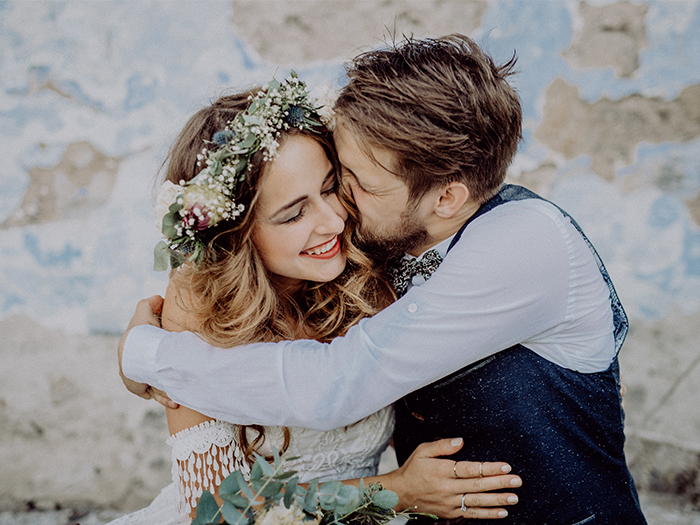 They're catching up with us Scots! Law changes in England + Wales means cheaper, outdoor weddings will be available to couples.
Horray! Good news for our neighbours in England and Wales; according to a new law, they'll be able to get married outdoors, just like you can in Scotland.
It used to be that in England and Wales, wedding ceremonies could only legally be held inside buildings. This new law change could potentially making weddings a lot cheaper for our neighbours south of the border.
In today's budget announcement, Councillor Philip Hammond will reveal plans allowing wedding ceremonies to be held outside in England and Wales, something that has been prohibited by a 180 year-old law until now.
Currently, weddings can only be held in a solid structure which has a permanent roof – meaning couples can't even get married in marquees. In Scotland, the rules are a lot more relaxed, letting couples tie the knot pretty much wherever they wish.
Not only that, but weddings can't take place in an area which could serve food or drink before or after the ceremony, a huge caveat that has prevented pubs and restaurants becoming wedding venues.
These proposed changes will relax the antiquated rules and give couples more freedom when it comes to planning their wedding ceremony.
This in turn will make things much cheaper for English and Welsh couples, as there will be a lot more choice – and therefore more competition – between venues.
Not sure what the rules are in Scotland?
These are the documents you actually need to get married in Scotland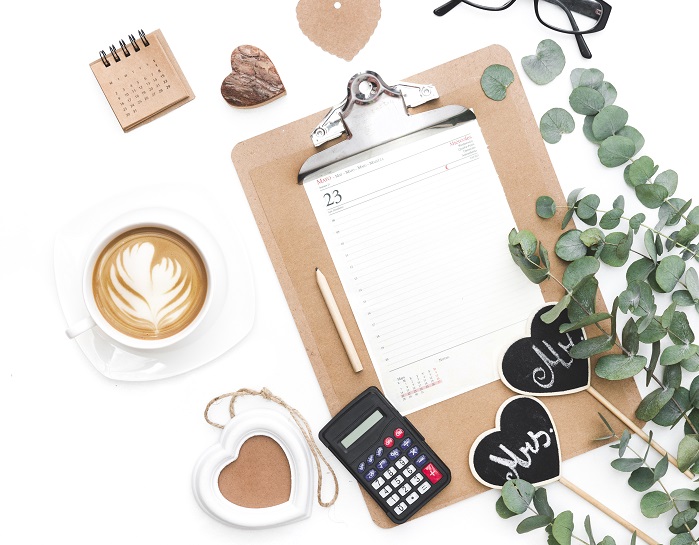 Here's the official documents you'll need if you're planning on getting married in Scotland. 
MARRIAGE NOTICE – M10 MARRIAGE APPLICATION FORM
In the three-month period before your wedding you each need to complete an M10 form so the Registrar General has written proof you want to marry.
These must be submitted to the registrar in the local authority where you wish to marry no later than 29 days before the big day. You can download the forms from nrscotland.gov.uk.
2. MARRIAGE SCHEDULE
The register office will prepare your Marriage Schedule – the document you, your other half, celebrant and two witnesses sign during the ceremony.
If you don't have the schedule at the wedding, you can't get married. Your registrar will bring it if you're having a civil ceremony but if you opt for a religious or belief ceremony, one of you must collect the Marriage Schedule from the register office in the week before the wedding.
3. MARRIAGE CERTIFICATE
You must submit your signed Marriage Schedule to the register office within three days (not three working days) of the wedding. Get someone you trust to do it if you're going on honeymoon immediately.
The Registrar will then send out your marriage certificate which is proof you are legally married. Woohoo!