Glasgow Cocktail Collective offer a virtual bar crawl, delivered to your door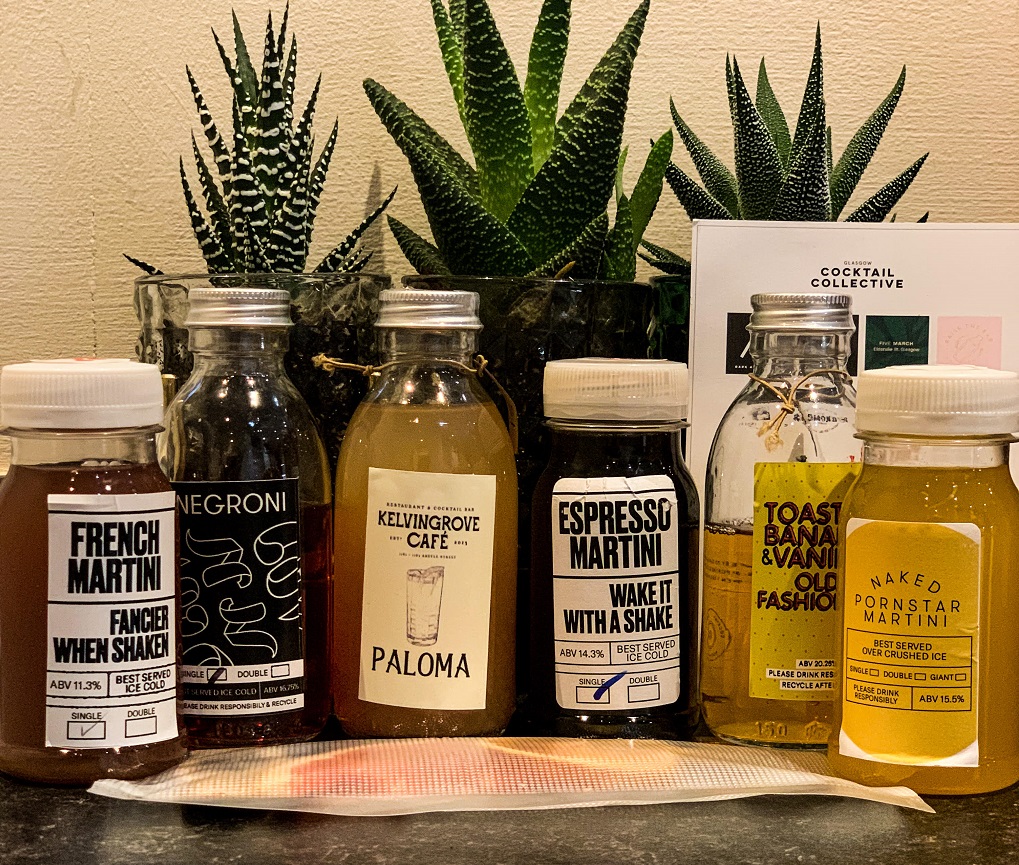 Now that pubs and bars have opened across Scotland it might be tempting to go out more, but if you're looking to have a girl's night out then you could struggle to find a bar that can accommodate your numbers.
Say hello to your new pocket best pal, the Glasgow Cocktail Collective app.
A cocktail delivery service in Glasgow and beyond, this app allows you to order pre-made cocktails from a variety of popular bars, meaning that you don't have to settle for your fave tipples from just one place; instead, you can order cocktails from a variety of places to be delivered direct to your door including Vodka Wodka, Kelvingrove Cafe, The Dam, Tiki Bar, Blue Dog and loads more.
"We began operating at the start of lockdown as a way of supplementing the license industry, by providing jobs for bartenders and drivers, while allowing bars to use their stock and bring in some much needed income," says the Cocktail Collective's Ritchie Munro. "The business has grown, and continues to adapt to the changing times."
One request from customers was for larger scale cocktails, ideal for BBQs, postponed wedding parties, hen dos or even micro weddings, so the Glasgow Cocktail Collective have added five and 10L cartons of Pink Gin Cosmo, Mango Rum Punch and Jolly Rancher cocktails to their menu.
Individual cocktails start from £4 and Party Packages from £70, including returnable dispenser.
You can get full menus and delivery details by downloading the Glasgow Cocktail Collective app for iOS or android.
7 mouthwatering food station ideas for your wedding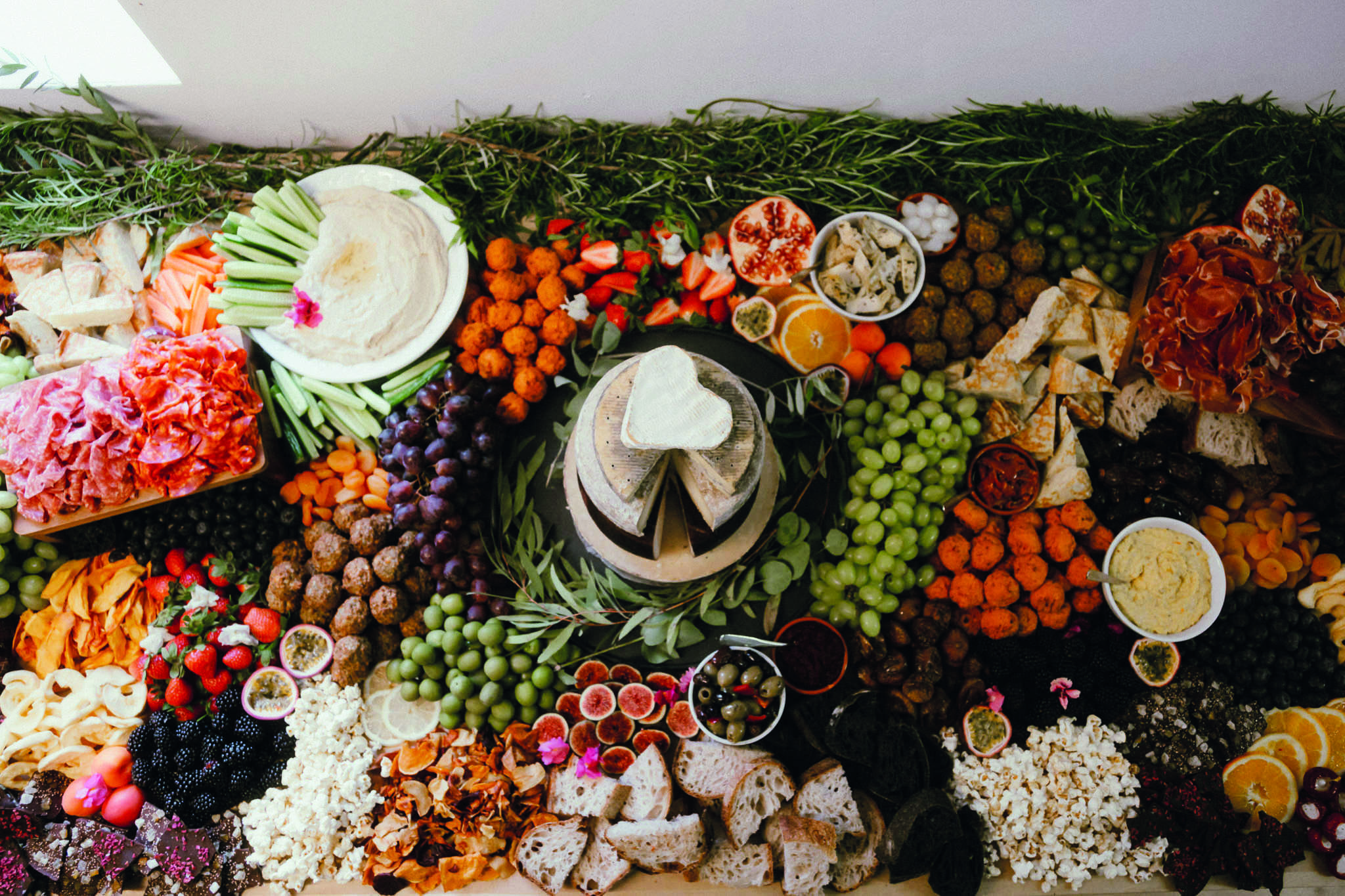 The buffet's bougie cousin is a creative and cost-effective way to cater your big day – here are some ideas for yours…
HOLEY MATRIMONY
IMAGES | Martin McLellan
This diminutive dessert has proved itself a crowd-pleasing party food in recent years.
Filled, frosted, boxed, or on walls: it doesn't look like this wedding station will be going stale anytime soon, as this spread from Tantrum Doughnuts proves.
KEEP 'EM SWEET
If you've got a sweet tooth, choosing your after-dinner sweet treat is an agonising affair. So why not get 'em all? This spread from Turnip The Beet offered a wide range of puddings selected by the bride and groom themselves.
BABY, IT'S COLD OUTSIDE
IMAGES | Daniela Flores Photography
Planning a winter wedding?
With its s'mores bar, mulled wine and luxurious hot chocolate, Bespoke Catering's heart-and-belly warming station will be sure to keep guests toasty.
GRAZE THE BAR
IMAGES | The Caryls
Three metres long, bursting with colour and boasting a sea of artisan cheeses, cured meats, cakes, and dried nuts and fruit, ByPlatter's trademark grazing table is proof that you don't need to rinse your wallet for a show-stopping dinner.
BUZZIN'
IMAGE | The Curries
Dancing, crying, mingling and eating – weddings sure are hard work.
A coffee bar might be the perfect way to keep the buzz going, and Something Brewed are on hand to provide that celebratory caffeine fix.
ON TAPA THE WORLD
A real crowd-pleaser, this tapas-inspired set up from Pantry Events will keep guests fed, satisfied, and on their feet!
Does a tantalising taste of the Mediterranean go mano-a-mano with a self-serve cocktail station?
Sì, naturalmente.
ALFRESCO, BABY
Have your dreams of chic alfresco dining been scuppered by a dreary forecast?
Don't fret – Platters and Puddins brought the outside in with this summer picnic themed spread comprising scotch eggs, sausage rolls, bruschetta, strawberry tarts, and Pimms.
PLANNING YOUR WEDDING? HEAD OVER TO THE SCOTTISH WEDDING MAGAZINE INSTA FOR INSPO GALORE.
Make your wedding meal personal to you with advice from Scotland's experts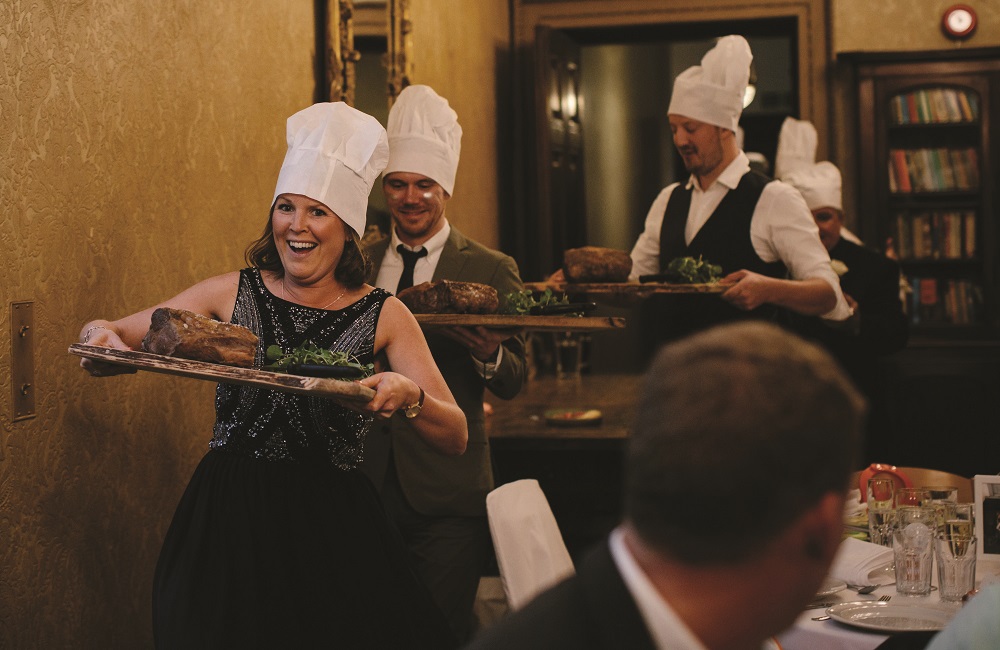 IMAGE | Caro Weiss Photography
There's never been so much choice when it comes to planning your wedding, with couples free to personalise their day as much as they want.
So you're big hillwalkers and want to get married up a Munro? No problem.
You met in Vegas and want to have an Elvis impersonator serenade you over dinner? Sounds great.
So why not carry on in the same vein and ditch the traditional soup and chicken to serve up a wedding meal that's truly personal?
"We find a lot of guests are pleasantly surprised that they are sitting down to a meal that they know is personal to you and totally different to anything they've had at any other wedding," says Chiara Di-Ponio Horne, who owns Italian street food van Mezzaluna.
You cannot please everyone, so you may as well go with your gut – literally!"
Going down the bespoke route can require a bit more planning than a set menu, though, so make sure you have the right team in place to deliver your dream.
"Choose caterers who are flexible with their menu," says Chiara.
"This way you have more control over it, and being able to add or substitute foods means that you can create your perfect menu."
SOUL FOOD
Most wedding caterers relish doing something a little different and welcome your ideas, but when there's so much choice, just where do you begin?
"Start with who you are as a couple and build out from there," suggests Susannah Nixon at Bespoke Catering and Events.
"Think about your food loves, the best meal you ever ate, perhaps a meal you shared while travelling and then use these as inspiration for creating your menu for the day."
If there's a special place abroad that you love, treat your guests to a flavour of your adventure.
The Pantry Group catered for one couple who had been in South America and their whole menu, from canapés to desserts, was influenced by their experience.
They carried the theme through to their décor too with lots of piñatas, and all their guests immediately got the story.
IMAGE | Bespoke Catering
However, if you're wary that serving up spicy tacos to your fussy old gran is more likely to spark a bout of indigestion than memories of your Mexican engagement, you don't need to go all out.
"You could still go down the line of having a fairly conventional wedding breakfast but perhaps have some weird and wonderful canapés or evening food as a fun approach to bringing in some more of your personality to the day while still pleasing some of your more traditional guests," suggests Susannah.
Russell Smith at The Edinburgh Catering Company agrees that evening food is a great area to inject some personality into.
One of Russell's couples had lived in Germany so they served up bratwurst, pickles and pretzels as an alternative to the usual rolls and sausage.
THAT SPECIAL INGREDIENT
If you're not Scottish, a fun way to make your meal more personal is to include ingredients from your home country.
"For example, we have a Japanese couple who want to have a sake toast," says Paul McLeman at Blackberry Cuisine.
Similarly, one of The Edinburgh Catering Company's recent grooms was Italian and his family provided a prosecco sorbet from their ice-cream shop.
IMAGE | The Edinburgh Catering Co
Another couple owns a Thai restaurant and want to include pandan, the Thai equivalent of vanilla, so Russell is creating profiteroles filled with pandan custard.
However, if you're both Scottish to the bone you can still use ingredients you have a personal connection to.
There are always meals that celebrate your Scottish roots and delight guests from overseas. Stovies, anyone?
MEMORIES ARE MADE OF THESE
One sure-fire way to make your meal more personal is to share some of your favourite family dishes; you could even give guests a menu that explains the backstory behind each dish.
Similarly, it's always sweet to see a dessert table with little signs telling you who made each pud so you can read all the personal connections to the couple.
And Paul suggests couples include family members' photos or photos of ancestors on the wedding cake table as a nice touch.
IMAGE | Appetite Events
Philly Nicholson at Appetite Events has noticed a rise in the number of couples taking a culinary trip down memory lane.
"We are seeing couples wishing to recreate those happy memories from childhood, whether it's a favourite pudding or Granny's famous steak and kidney pie recipe," she says.
"We weave these memories into the menu to make it really personalised."
SERVICE PLEASE!
How you choose to serve your meal can say as much about you as a couple as the actual food can.
Chiara suggests serving up family-style to create a convivial atmosphere.
"A lot of couples come to us saying they are really close with their families and want their wedding breakfast to feel as though they are sitting down to a relaxed family meal," she says.
"You can create this style of wedding breakfast by asking your caterers to provide sharing food or comfort food, food that has that real home cooked feel to it, served in the middle of the table for everyone to dig in!"
FOOD STATIONS
Food stations continue to be popular and again can really say something about you as a couple.
If your first holiday together was Greek island-hopping why not have a mezze station, or if your go-to treat is a box of Krispy Kremes you could do a donut wall.
IMAGE | Bespoke Catering
"Another great way to inject some more personality into your wedding food is to go with a more stylised approach to service," says Susannah.
"If you are known for being a bright and fun couple, why not bring this into your food presentation with a beautifully dressed food station."
39 ways to pretty up your wedding meal with edible flowers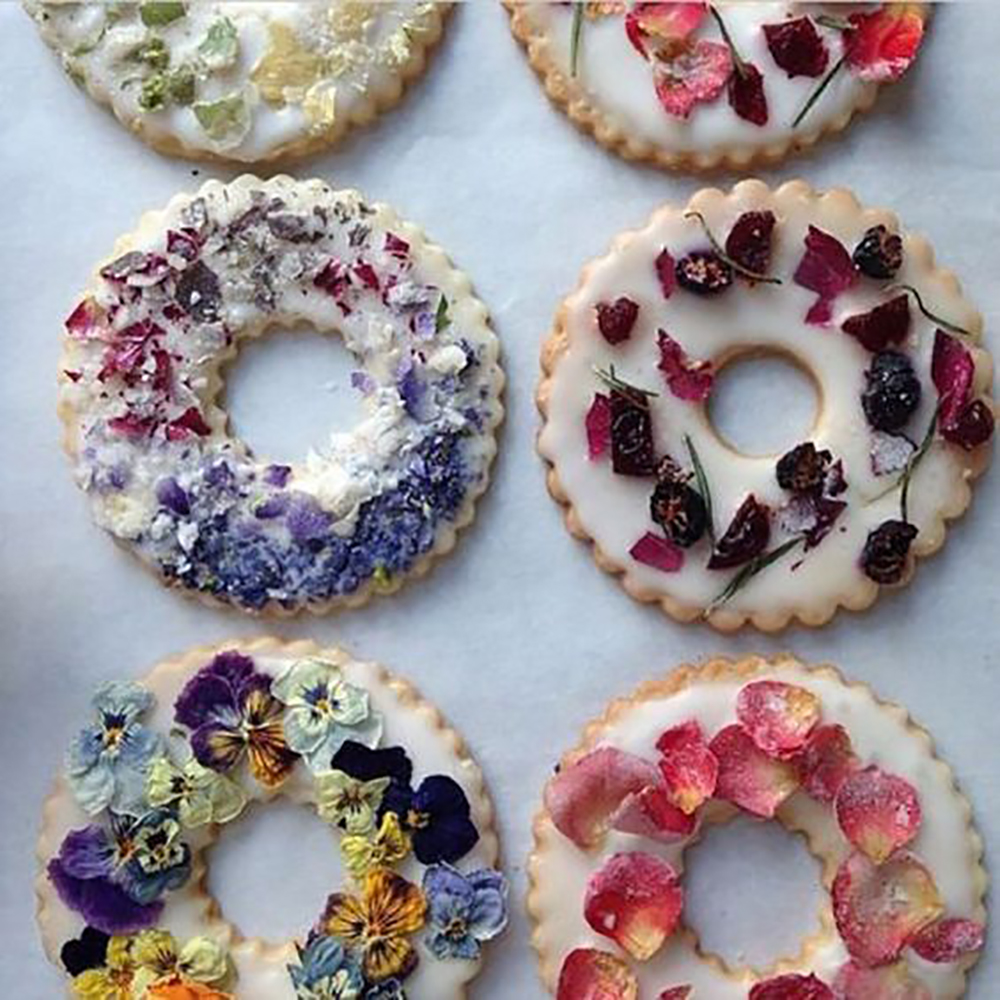 Using edible blooms in your drinks and meals is an instant way to pretty up your summer wedding breakfast, and we love it!
Whether you put tiny pansies in your champagne, add nasturtiums to your risotto or go all-out with gorge florals to decorate your wedding cake this trend elevates great-tasting food to Pinterest-perfect fare.
Here's just a few of our fave ways to incorporate edible flowers in your w-day:
Laura's Bride Diary: Dealing with unforeseen changes to my wedding plans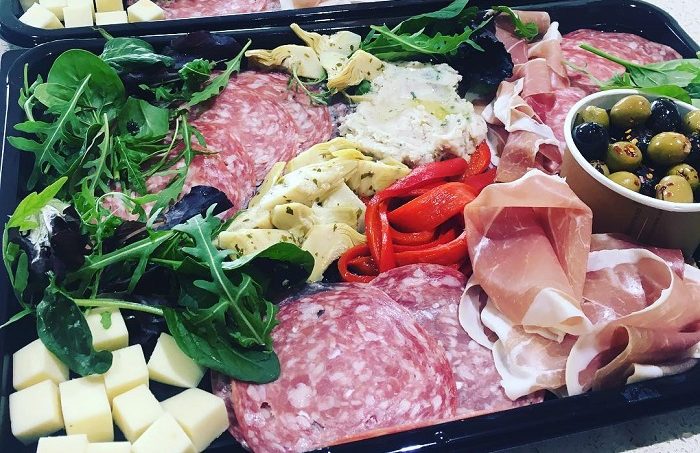 With wedding planning comes change due to life circumstances, as bride-to-be Laura Tiliman knows all too well. But how has she coped?
For me, change can be difficult to embrace, whether I'm anticipating it (like when I moved to Scotland from my home in Romania) or it comes out of the blue (it surely can't just be me who freaks out when the supermarket changes its aisle layout?).
My friends would describe me as a sentimental soul, and I can grow quite attached to ideas. But one thing I've learned about planning a wedding is that some things will inevitably change along the way, and you just have to roll with it.
As I mentioned in last issue's column, setting a budget and sticking to it has been one of our biggest challenges, with life throwing a lot of problems at us over the course of the last year.
We've ended up having to spend money that we'd originally set aside for the wedding on other things, and as a consequence, we had no option but to change our wedding menu in order to bring costs down.
Originally we were planning to have a roast dinner with all the trimmings, followed by a trio of desserts, as we wanted something hearty and delicious that would cater to the palates of our Scottish and Romanian guests.
We got in touch with our caterers to ask what budget-friendly alternatives they could provide, and they were very understanding and helpful.
They came up with an alternative of a big barbecue with lots of fresh salads, which actually feels a lot more 'us' than our original option (and a lot better suited to our June wedding, too!).
For our evening reception, the initial plan was to put a spread on ourselves, but we soon realised this was going to be a logistical nightmare (not to mention as expensive as just hiring someone in), so to reduce stress we've decided to hire a quirky Italian street food van called Mezzaluna.
They'll provide mezze platters and fresh pasta, which I'm incredibly excited about.
IMAGES | @mezzaluna on Instagram
Another unexpected change is that we're now down a bridesmaid, as one of the bridesmaids can no longer make it to the wedding. I think a small part of me was always worried this might happen, because my bridesmaids are scattered across the world.
One of my other bridesmaids won't be able to make it to the hen party, either, as she lives in Italy. I completely understand – I know it's a big ask for someone to travel to another country – but I'll miss them.
At times I've felt more stressed than I've ever been trying to contend with all of this, and with two months still to go I'm sure there could still be a few more curve balls to come.
However, it's been comforting for me to remember that on the day itself, few guests will be aware of the different changes that have taken place in the run-up to the big day.
People will just take things at face value – nobody is going to be tapping me on the shoulder to ask why they aren't getting Yorkshire puds!
We've also been able to keep ourselves anchored by reminding ourselves of the end goal: a big celebration of our love for each other with all our friends and family under one roof.
This is probably the only time we will ever have everyone together, due to my family and friends living in different parts of Europe, and this thought has helped us focus on the bigger picture and what really matters.
The wedding will still be perfect, no matter what.
This is Laura's final column, but don't worry – you'll get to see her wedding in our Autumn 2019 issue.
Appetite Events explain how to get creative with your wedding catering!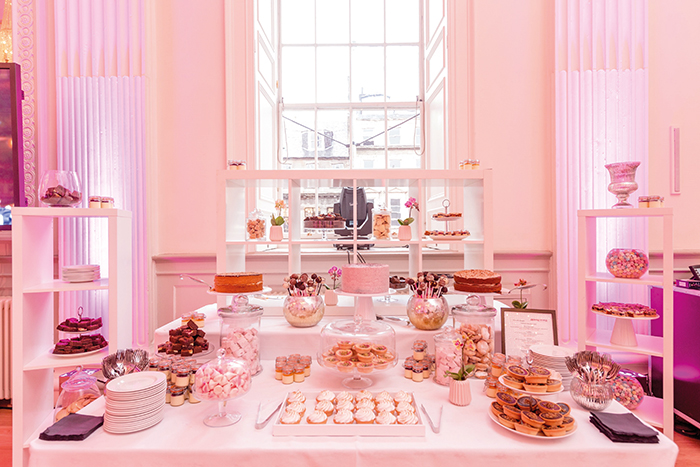 Feeling distinctly uninspired about your wedding food? We asked the experts at Appetite Events how to get creative with your catering…
You've got a tight budget to work with, the groom's an infamously fussy eater and collectively your guests seem to have every dietary requirement going – it's no wonder figuring out your wedding menu is proving tricky.
But there's no need to get stressed about your wedding food; Appetite Events is here to help.
The bespoke catering company, previously named Appetite Direct, has been creating delicious, spectacular wedding menus for couples across Scotland for 15 years. If anyone's qualified to give advice on organising bespoke catering or getting creative with your wedding breakfast, it's Appetite Events.
Here are their top tips and trends to help you start planning.
Everything bespoke
Every wedding catered by Appetite Events is bespoke, but what does 'going bespoke' with your wedding food actually mean?
Basically, you'll get a say in every morsel of food given to your guests during your wedding – and you don't have to stick to tradition. If you want canapés, a sit-down meal and an evening buffet then that's no problem, but you can also go for sharing platters, bowl food or a barbecue instead.
Appetite Events will help you figure out exactly what will work best for you. They're passionate about really listening to their brides and grooms, getting to know each individual couple's likes and dislikes in order to come up with a tailored menu and plan. If you consider yourselves foodies, then a bespoke catering package will be right up your street.
A trip down memory lane
Sick of going to weddings and eating the same bland chicken-breast-and-sauce combo? You're not alone.
Appetite Events say that couples are increasingly forsaking traditional wedding meals in favour of good ol' family favourites.
"We are seeing a trend in a desire to recreate happy memories from childhood, whether it be the bride's favourite pudding or the groom's granny's steak and kidney pie recipe," says Philly Nicholson, Appetite Event's Director of Marketing and Events.
There's always a way to put a special twist on this type of meal, maintains Philly: "We endeavour to weave memories into the couple's wedding menu. We're happy to work from old recipes or translate traditional dishes with a modern Appetite twist. For example, we recently had a couple who wanted to play around with the idea of serving their guests pie and mash. We came up with a simple-yet-elegant braised Scottish beef shin and puff pastry pie, served with jugs of gravy, Colcannon mash and baby vegetables. It was an absolute winner."
Alternatively, evoke fond memories by sharing cuisine from the country you got engaged in, or your fave holiday destination!
Appeal to all sense
It's not just about what food you serve – how you serve it will make all the difference. Appetite Events love to make creative food installations for weddings and events, and they always look fantastic.
"A charcuterie stall is a great way to serve the starter," advises Philly. "It becomes a sharing starter. It creates quite a spectacle and can be accompanied by fantastic cheeses, flat breads, homemade chutneys and cured vegetables; creating an antipasti table of delights, I suppose! We also do an amazing fresh seafood installation, a market stall creation and our dessert installation is always well received."
Besides making a statement, food installations help with staffing (as you don't require large numbers of staff to circulate canapés throughout the guests) and can be a great way to get your guests mingling together. Plus, sharing platters and food installations are a good solution if you're catering to a number of different dietary requirements!
Vegan friendly
It's official; veganism is not just a passing fad to be ignored or sniffed at. As well as being tasty (and often healthier), vegan options are also very much in-demand.
"No longer is veganism a dietary choice of the few, as the vegan craze is sweeping the culinary world! We have created dedicated vegan menus to suit and please even the most carnivorous tastes," says Philly.
"Ultimately, we love to create an exciting menu that will please the couple's audience and challenge their preconceived ideas of wedding food."
You can create a totally vegan wedding menu, but as everything Appetite Events serves is bespoke, it's easy enough for them to adapt recipes and offerings to suit meat-and-dairy-free guests. If you're hoping to serve up a vegan-friendly wedding meal but have no idea where to start, they're more than happy to make some suggestions.
Oh and by the way,the same applies to other dietary requirements or needs, too. Recently they were hired by a groom who was gluten-free; Appetite Events created a gluten-free menu across the whole wedding so the groom wasn't left out, or forced to have something different from everyone else.
Plan your dream wedding menu with Appetite Events
t. 0131 225 3711 | e. enquiries@appetiteevents.co.uk 
Read reviews for Appetite Events
How to have a vegan wedding day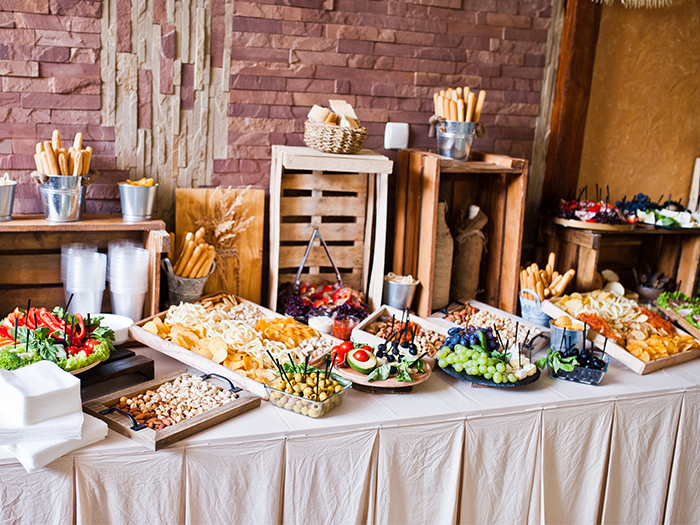 Veganism is becoming an increasingly popular lifestyle choice due to its health and environmental benefits – but how easy is it to keep it vegan on your wedding day? SWD finds out…
Last year, the (now former) editor of Waitrose Food magazine received a pitch from a freelance journalist for a series of plant-based recipes. His response? "How about a series on killing vegans, one by one?"
He was promptly sacked – cue a social media furore – with many of us left rolling our eyes at an attitude that felt woefully past its sell-by date.
While many meat-eaters have been guilty of making the odd vegan joke, the audience for them is at long last diminishing thanks to a growing awareness of the societal, environmental and health benefits of adopting a vegan lifestyle.
The number of vegans in the UK has quadrupled in four years, rising from 150,000 to 600,000 – and it's only expected to increase.
In all likelihood, as this trend continues, we'll see more vegan couples having the confidence to throw an entirely vegan wedding.
But how do you do it when your grandad has never knowingly eaten a vegetable?
Getting innovative

"Vegan options aren't just for vegans; they can be enjoyed by everyone," says Elena Orde, editor of The Vegan magazine and Communications and Campaign Officer for The Vegan Society.
"If you opt for a completely vegan wedding, your guests may find that they enjoy the food provided much more than they expected – and that in itself is a wonderful and effective form of activism."
One of the best things about vegan food is that it demands chefs to really think outside of the box to create out-of-the-ordinary meals that wedding guests will remember forever.
"We are always so excited to work on a vegan wedding," says Monika from En Croute Catering. "It allows our kitchen to get creative, and elevate the previously humble vegetable to something more celebratory!"
En Croute's vegan menu includes options such as Sri Lankan sweet potato curry; cauliflower, apricot and almond tagine; and a beetroot, bramble, caramelised walnut and rocket salad, all of which are so tasty guests would be unlikely to be despondent over the lack of meat.
If you're worried about bamboozling fussy eaters, think about your favourite comfort meals and work from there.
"I would say that big hearty dishes like stews, curries and pasta dishes work great as a vegan-friendly crowd pleaser," says Susannah from Bespoke Catering.
"As soon as you can show guests that you can recreate their favourite dishes with vegan ingredients, they feel much more comfortable trying vegan food."
Another boon of dishes centred around veg, leafy greens and fruit is that they suit informal dining options.
"Sharing-style meals are really popular at weddings just now, and vegan food really lends itself to this style of eating," says Claire from The Edinburgh Catering Company, which serves up sharing platters of dishes such as herb falafel with ras-el-hanout yoghurt and jewelled quinoa salad with raisins, pomegranate and garlic-tahini dressing, all with a generous portion of wood-fired flatbreads.
"Contrary to popular belief, you can put together a spread that is really beautiful, colourful, interesting – and most importantly, delicious!"
Let them eat (vegan) cake
And what about the foodie Big Kahuna, the wedding dish star player: the cake. Well, according to some cake designers, punters don't even notice the difference between vegan and non-vegan bakes.
"I have made and served a vegan chocolate cake with a yummy salted caramel filling to my own guests and they never guessed it's vegan!" laughs Mandi at Rainbow Sugarcraft.
Alison at A Bonnie Wee Cake has had a very similar experience: "My favourite vegan flavour is the chocolate orange sponge. I regularly take it to wedding fairs where it goes down a treat, and people are very surprised to find out it is vegan!"
Breaking the news
So now you're thinking about how cool it would be to throw caution to the wind and serve up delicious vegan food on your wedding day – but there's a catch, isn't there?
There's no way that crusty old uncle no. 4 is going to let that happen without a strongly worded Facebook message to your mum.
Make it clear on your invitations that your food will be vegan, but give guests the option to select an alternative. "There's always going to be someone who will consider a vegan meal a step too far for them," says Claire.
"In situations like this, we'll usually just advise the couple to put this down as a 'dietary requirement'. Well-fed guests are happy guests and we'd rather couples didn't stress about what certain people were going to eat!"
And before anyone tries to make you feel bad, remember that your wedding day means your wedding rules.
"It's your day, and you should celebrate it in a way which is in keeping with your own beliefs and values," says Elena from The Vegan Society.
"Veganism is better for the environment, for animals, and for people – so don't feel bad about it!"
Haven't found your wedding caterer yet?
Getting married in 2019? Win a supply of Aperol for your wedding day!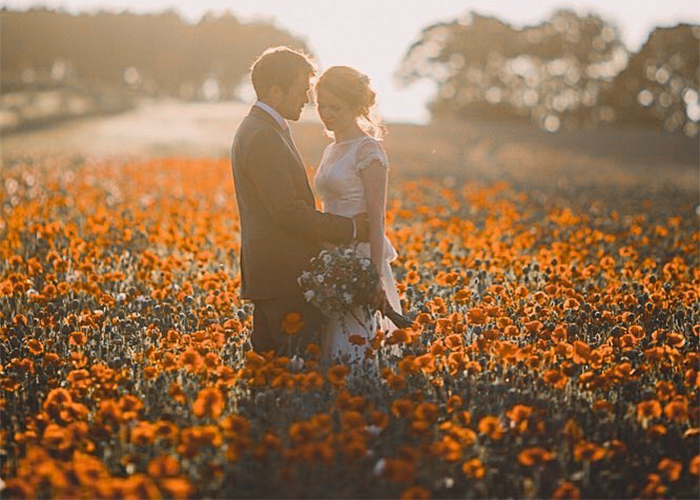 Aperol is offering 500 lucky couples the chance to win a supply of the refreshing citrus tasting liquor to serve on their wedding day.
Aperol, half of the famous Italian Aperol Spritz cocktail (the other half being Prosecco) are celebrating their centenary by gifting soon-to-be-wedded couples with their delicious drink. Just think of toasting at your wedding with a fresh, cool Aperol Spritz – yum!
To be eligible to enter the competition, you have to be getting married this year and have at least 100 guests attending your wedding. If that sounds like you, all you have to do to enter is register on the Aperol Spritz Socials webpage.
---
Looking for a wedding caterer or bar?
Floral-filled nature inspired wedding day at Sorn Castle, East Ayrshire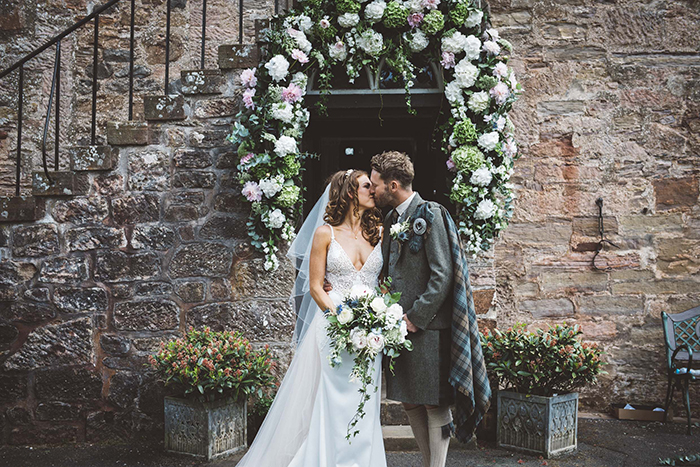 Rebecca and Jason created a beautiful nature-inspired wedding reception at Sorn Castle following their beautiful ceremony at Sorn Parish Church.
With plenty of personal touches – groom Jason even hand-built their wooden pergola! – it was truly a day to remember.
Here, bride Rebecca shares more from their wedding, including a very exciting arrival in 2019!
Jason and I clicked right away on the first date. Although we are opposites in lots of ways, we are so similar in others.
We both work really hard and help each other strive and achieve our goals – we balance each other out perfectly!
Jason proposed while we were on holiday on the island of Koh Tao.
We went snorkelling on our favourite beach, and he pretended to look under the water at some fish but instead resurfaced with my engagement ring from under the sea!
Booking the perfect venue was a priority to us, and we wanted our wedding on a bank holiday weekend to make it easier for my family travelling from Northern Ireland.
As soon as we walked into Sorn Castle, we fell in love with it.
The team made it feel really personal and special – it didn't feel like a wedding conveyor belt like some other venues.
For the décor, we wanted it to reflect the elegance of the castle and the beautiful nature in the surrounding grounds, installing lots of floral displays throughout the venue.
We also wanted to pay tribute to my Northern Irish ancestry and Jason's Scottish ancestry, and had fudge from my home town and bottles of Irn Bru as favours.
My dress was 'Gala' by Galia Lahav. It was made from vintage crochet and silk satin with a dramatic blush train.
Jason wore a customised tweed kilt made at Frank's Gold Room at Kilts 4 U in Hillington. It was stunning and everything we wanted.
The night before the wedding was so stressful, I was almost verging on having a little bridezilla moment! Jason was still building our wooden pergola at 9pm, but we eventually had our ceremony rehearsal and that helped calm our nerves.
We were both a little nervous at the ceremony, and stumbled over a few words even though we had practised it plenty!
We got a few giggles from our guests which actually helped put us at ease.
The speeches were fantastic, and there were a few tears during my dad's as he spoke about family and friends that are very missed.
It was followed by lots of laughs during the best man's speech, which contained anecdotes that cannot be put down in print!
Our florist embraced our vision and went above and beyond. People are still talking about the floral displays!
At the Ayrshire Wedding Show we won the chance for West FM DJ Colin McCardle to play at our wedding! Everyone had a blast, and the marquee was jumping from start to finish.
Our first dance was Brad Paisley She's Everything. It is a song we both love and has very meaningful lyrics. We also liked that it was a unique choice that many people hadn't heard.
Our plan for our honeymoon is to go to New Zealand and the Cook Islands, but we have had to postpone it as we're expecting our first baby in March 2019!
Photographer: Tommy Cairns Photography | Venue: Sorn Castle
Bride's dress: Kavelle Bridal Couture  | Bridesmaid dresses: Lou Lou Bridal
Groom's kilt: Kilts 4 U | Videographer: White Balloon Films | Cake: Rosewood Cakes
Florist: Every Bloomin Thing  | Make-up: AMM Hair and Makeup Team
Stationery: Bespoke Wedding Stationery
Gorgeous Easter weekend wedding day at Balbirnie House Hotel, Fife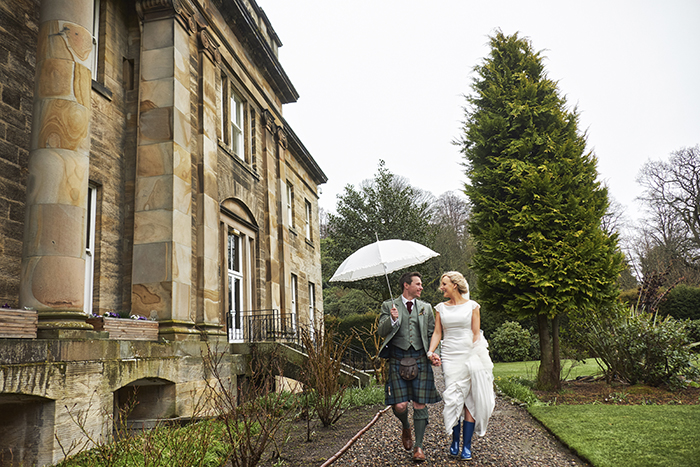 When childhood sweethearts Emma and Callum got engaged after 12 years together, they knew they wanted to say 'I do' within the year.
With plenty of personal touches, including some Easter-themed surprises, the happy couple opted for a spring wedding at award-winning venue, Balbirnie House Hotel, all captured beautifully by Suzanne Black Photography.
Here, bride Emma shares more of their eggscellent big day…
"We met at school and were in the same class on the first day. We were both quite shy in those awkward first years and didn't actually become friends until fourth year at school.
Callum is one of the kindest people I have ever met and goes above and beyond to help anyone.
I'm a huge Harry Potter fan and Callum proposed on a surprise break to Glencoe. We had a trip on The Jacobite steam train, which is basically the Hogwarts Express and it travels over the iconic Glenfinnan Viaduct.
We then went a walk into the hills to see the view and I turned around to see Callum down on one knee, surrounded by midges. It was the west coast of Scotland in June: prime midge season!
Finding an available venue which ticked all the boxes was first on the list. The most important things for us was a venue with character, lots of space inside and out and availability as we wanted to get married to as close to a year from our engagement.
When we found Balbirnie House Hotel, we knew it was the venue for us.
We loved the character of the old building with its high ceilings, period features and large drawing rooms with lovely decor. The grounds are beautiful and had ample space for all our guests to mingle during the canapés and drinks reception.
The winning factor for us was the ballroom downstairs which has beautiful arched windows on every side adorned with fairy lights and a huge twinkling dance floor.
We got so much help from our friends and family and Callum was so involved with every aspect of the day. We discussed together how our wedding should look and our ideas for the day, right down to small details.
My bridesmaids were fantastic throughout and understood how much goes into planning a wedding, whilst our families were also so helpful, from accompanying us venue hunting to late night arts and craft around the table.
We embraced a lot of DIY touches. We bought our wedding invitation design from a small stationery business on Etsy for £15, which we then tailored to suit us and got them printed at a local print shop and the envelopes were hand sealed with a wax stamp.
My ridiculously talented sister-in-law Corinne owns Dazed Dorothy and she hand drew and decorated our wedding chalkboards and handmade all four bridesmaids handbags, plus a bridal bag for myself which she lined with cloth that once belonged to her grandmother.
We made our favours from recycled mini glass bottles with corks, filled with pink gin for the ladies and rum for the gents. My sister then hand wrote and attached a mini tag with 'drink me' on each one. For our pregnant guests, we gave them Lindt chocolate bunnies.
As our wedding took place over Easter weekend, we had decorated jars full of Mini Eggs on each table to enjoy during the speeches before dinner arrived. Callum also painstakingly hand blew and decorated real eggs with gold leaves to hang from tree branches.
We also decorated lots of little recycled glass bottles with lace and twine which our florist filled with gypsophila and hung them on the aisle chairs during our ceremony.
The in-house wedding planning team at Balbirnie were absolutely fantastic. Christine, our main wedding coordinator, was so organised and helped us massively keep on track of every aspect of planning the day. Kerrie and David, our masters of ceremony, couldn't have done more for us, even helping me across the grass in my welly boots in the rain to achieve the perfect picture!
I went dress shopping with my mum, sister and bridesmaids. I was pretty much decided that I wanted a lace fitted dress with a V shaped back which wasn't too 'blingy'. I tried on every style there was it feels before I found the style that I loved.
We figured out very quickly that lace was not my friend and that a more simplistic style suited me best.
I bought my Pronovias dress from Kavelle Bridal Couture in Edinburgh. It was a combination of crepe, tulle and lace ivory; a fitted mermaid style dress with a lace back, bateau neckline and lace cap sleeve.
My Swarovski earrings were a gift from my parents, a halo drop style to compliment my engagement ring. My vintage style bridal cuff was borrowed from my friend as my something borrowed and my shoes were silver t-bar peep toes which I owned already and were my something old.
Callum had a custom kilt made and opted to wear matching green woolen socks and brown brogues, complementing his brown leather sporran which belonged to my late grandad.
The night before, I stayed with my four bridesmaids in the Pearl suite at Balbirnie and the bridal party and close friends met up at the local pub for dinner and drinks.
I felt really excited the morning of the wedding. I woke really early and couldn't get back to sleep.
We had breakfast in the room then hair and makeup started at 8am. I spent the whole morning with my bridesmaids and mum.
I was so calm walking down the aisle as my sister had just made me laugh before it started. We were all lined up in a row ready to walk in and she turned round and whispered to us 'Feel the rhythm! Feel the ride!' from Cool Runnings! We all burst into giggles.
Our brilliant pianist played Elton John's Tiny Dancer as I walked down the aisle.
We wanted a humanist ceremony as we both loved how personal the service is and all about the couple. We wrote our own vows with lots of help from our celebrant, Jane. It was so special to us to write our own and ranged from heartfelt moments to some funny ones too.
As the ceremony was at the venue, we didn't require transport  but it didn't stop Callum's vintage 1970's VW Beetle from making an appearance which he restored himself!
We had a drinks reception with canapés which I didn't even eat as I was too excited! We also has a popcorn station for everyone as I wanted something that was fun, but also gluten free for my coeliac guests.
The speeches were all fantastic my dad told funny stories of me growing up, Callum was brilliant and mentioned my grampa in his speech as sadly he passed away the year before.
The only band we wanted was Corra after seeing them at two other weddings. They played a version of Zac Brown Band's Loving You Easy for our first dance. We love that song and the words are so fitting for us.
The dance floor was full all night and Corra kept us all going and incorporated some ceilidh tunes too which we all loved. It was such a great party.
After the wedding, we went on a mini moon for four nights to a cottage in Killin in Scotland then headed to Italy the next month at the start of May.
When you have been together for this long, being married doesn't really feel too different. It was just a beautiful day to celebrate with all our loved ones.
Walking into the room and realising that every single person whom we love and care about was there especially for us was quite a phenomenal experience."
Venue: Balbirnie House Hotel | Photographer: Suzanne Black Photography
Bride's dress: Kavelle Bridal Couture | Groom's kilt: John Morrison Kiltmakers
Bridesmaid dresses: Polly Rose Boutique
Florist: Save the Date Collective | Cake: Mark Beedie
Pianist: Joe Revell | Band: Corra
Stationery: Etsy | Hair + make-up: Melanie Herriot from MHM Styling
Humanist celebrant: Jane Bechtel from Humanist Society Scotland