Celebrity first dance songs: revealed!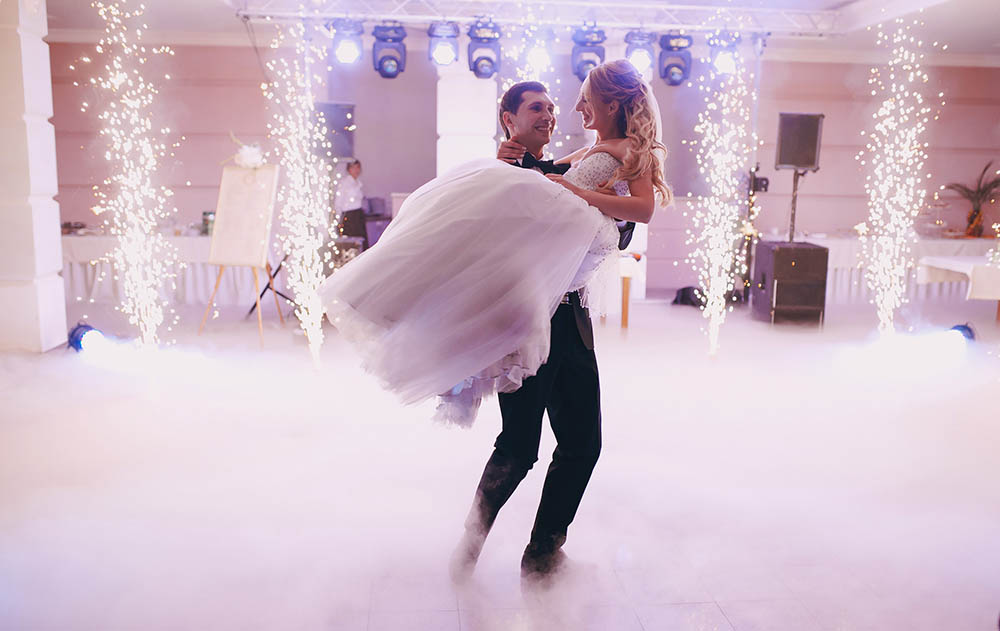 When a celebrity gets married, we see all the obvious details first: what the bride wore, where they said 'I do', which famous faces attended their wedding – but what I'm really interested in is what they chose as their first dance song.
Why?
A first dance song reveals a lot about a couple, way more than their floral arrangements or the type of venue they chose (details that, when it comes to celebs, invariably tell us one key thing: they're loaded).
Most celebrities will outsource the organisation of their wedding to a planner, but that first dance song? It's all theirs.
And it can be surprisingly revealing.
When you hear the song a couple has selected for their first dance, you get an idea of the jams they're into, what gigs they've been to together, if they're the kind of people who like to veer off the beaten track and whether or not they're a fan of he (Ed) who shall not be named (Sheeran).
If you similarly are intrigued by the first dance songs of the rich and famous, or you just want some inspo for your own, keep reading.
CELEBRITY FIRST DANCE SONGS
Meghan Markle and Prince Harry
For their first twirl on the dance floor as newlyweds, Meghan Markle and Prince Harry chose Wilson Pickett's I'm in Love, a soulful number written by Bobby Womack.
Hailey Baldwin and Justin Bieber
According to People magazine, Haley Baldwin and Justin Bieber's first dance song was country slow-jam It's Your Love by Tim McGraw, featuring Faith Hill.
Joe Wicks and Rosie Jones
Motown classic A Change Is Gonna Come by Sam Cooke was the soundtrack for fitness guru Joe Wicks and partner Rosie Jones' first dance as newlyweds.
Beyonce and Jay-Z
Crazy In Love was their first musical collaboration, so Beyonce and Jay-Z chose it for their first dance at their wedding.
Victoria and David Beckham
These icons selected a suitably iconic song for their first dance: It Had To Be You by Harry Connick Jr, the theme from When Harry Met Sally, aka the best rom-com of all time.
Prince William and Kate Middleton
Princess Diana was a close friend of Elton John, so Wills and Kate danced to one of his most famous songs, Your Song, performed by Ellie Goulding.
Kim Kardashian and Kanye West
It's got to be one of the most popular wedding first dance songs of recent years, but John Legend's All Of Me was all the more special at Kim and Kanye's wedding because it was performed by the singer himself.
Barack and Michelle Obama
Barack Obama has said that Stevie Wonder was part of the essence of his and Michelle's courtship, so it's little wonder that the pair chose You and I for their first dance song.
Tom Daley and Dustin Lance Black
Tom and Dustin love Ellie Goulding's How Long Will I Love You? so much that they played it twice at their wedding: an instrumental version for their ceremony, then with lyrics in the evening for their first dance.
Blake Lively and Ryan Reynolds
Blake and Ryan opted for Over The Rainbow, a classic tune given a modern twist when performed exclusively for them by Florence Welch of Florence and the Machine.
Mark Wright and Michelle Keegan
No wedding playlist is complete without Whitney Houston, whose song I Have Nothing was picked by Mark Wright and Michelle Keegan for their first dance.
George Clooney and Amal Alamuddin
Everything about this couple's Venice wedding was uber-classy, and their first dance – Why Shouldn't I by Cole Porter from the musical Jubilee – was no exception.
Priyanka Chopra and Nick Jonas
When they got married back in 2018, Priyanka Chopra and Nick Jonas selected a song with timeless romance for their first dance: The First Time Ever I Saw Your Face by Roberta Flack.
Our Song: why we chose Fresh Feeling by Eels for our first dance song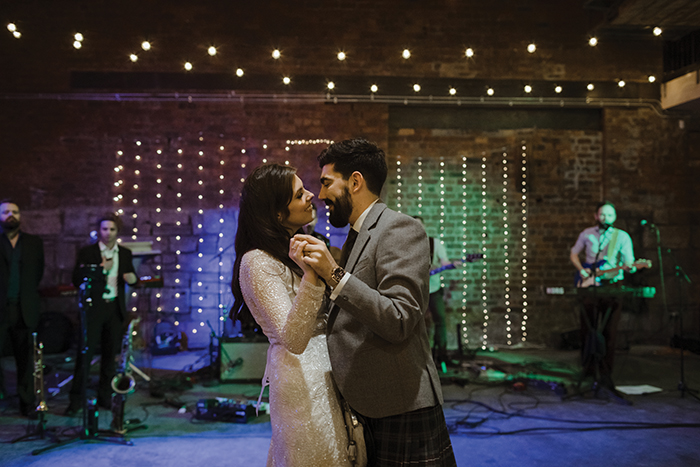 IMAGES | Caro Weiss
Laura and Lewis were always sure what their first dance song was going to be; it was the version of the song they couldn't settle on. "We wanted Fresh Feeling by Eels, which we've always loved," says Laura.
"The original recorded version is very cool, but it's not that danceable. There's a live version which felt more romantic and had more of a sway to it. We were quite torn and listened to both versions a lot in the months leading up to the wedding – the band even learned both versions!"
Two weeks before their wedding, the couple finally decided to go with the more upbeat, live version of the song. "Lewis had surprised me with some dance lessons, so we threw in a few fancy moves, but really it was just a gorgeous song to cosy in to and sway, and easy for our guests to join in with us too!"
Laura says couples shouldn't shy away from unusual songs, and should just go for what feels right. "If you're leaning towards something a little quirky or untraditional, go with it – it doesn't have to be an Ed Sheeran song! As long as you both love it, and you feel comfortable dancing to it, that's what matters."
---
Our Song: why we chose 'River' by Leon Bridges as our first dance song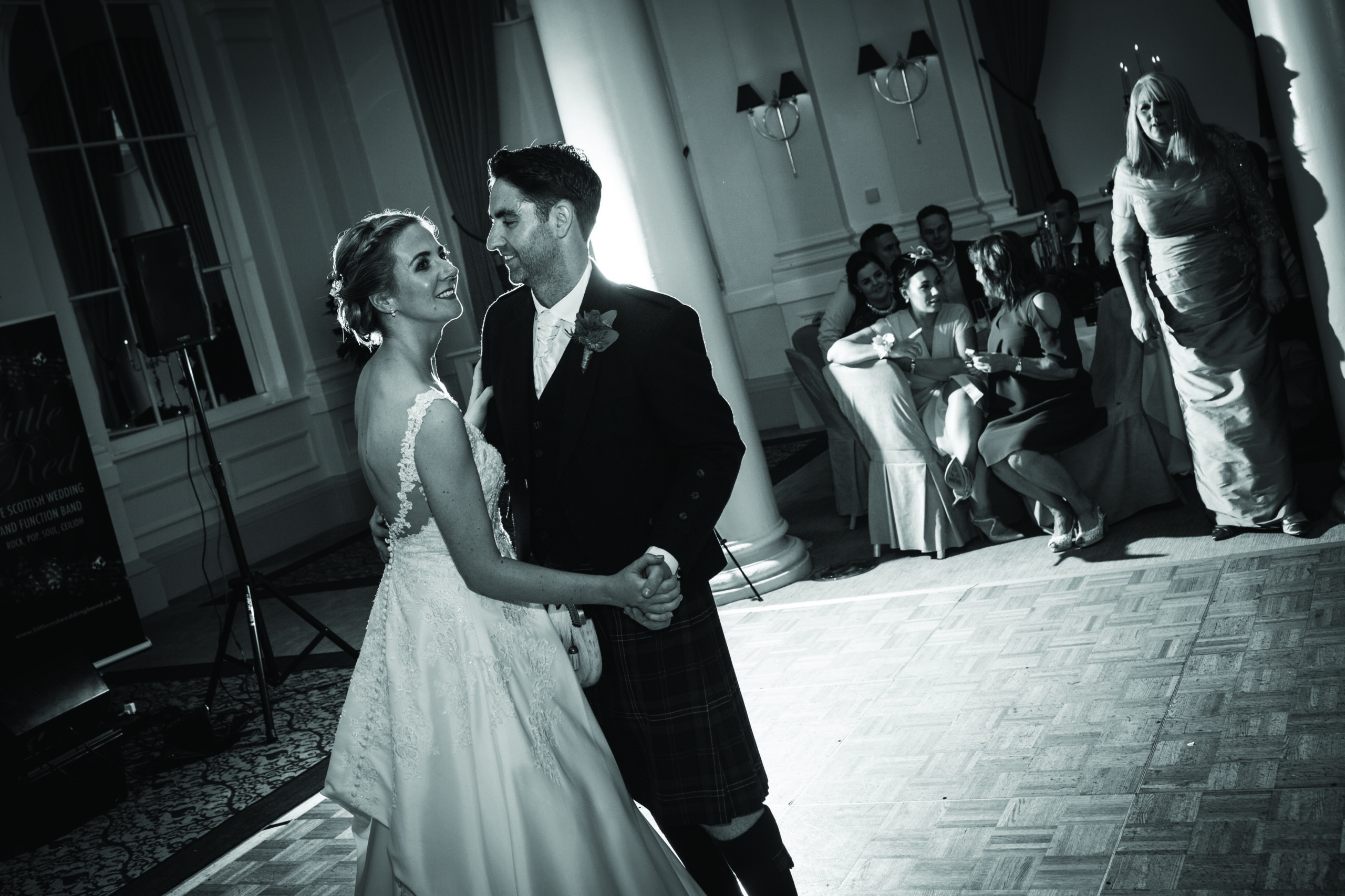 IMAGES | Neil Wykes Photography
Lesley and Steven didn't initially know what they wanted for their first dance song, but the bride knew what she definitely didn't fancy. "Steven suggested I Wanna Be Yours by Arctic Monkeys, but I can't stand the Arctic Monkeys – I can't even have them on in the house," laughs Lesley.
The couple had fundamentally different music tastes, so it took a while for them to settle on a song they were both happy with – so much so that they had to go back to the very beginning of their relationship to find the perfect track.
"We eventually settled on River by Leon Bridges, which was the first gig we ever went to together," explains Lesley. "We listen to his Coming Home album at home, so it had meaning to us." It also helped that the song was a little off the beaten track.
"We liked that it was a bit different. If you go to a few weddings throughout the year,
you start to hear the same song pop up over and over again."
---
Our Song: Why we picked 'You Send Me' as our first dance song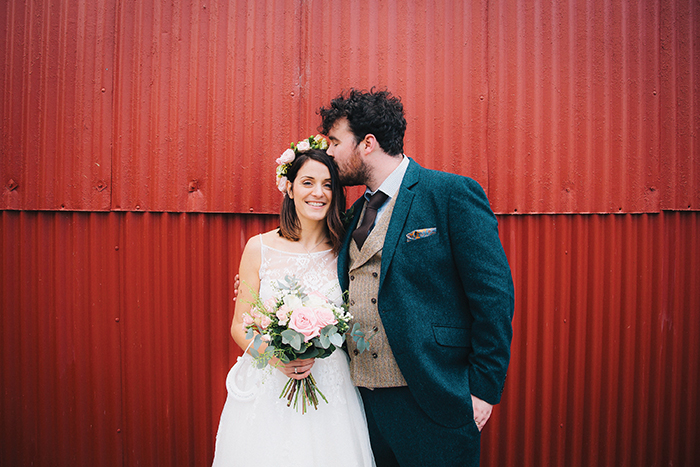 IMAGES | Jenny Turner Photography
Patricia and Robin didn't have 'a song' before they got engaged, so they organised a night in together to find the right tune for their first dance. "We made a shortlist of songs we liked, then listened to them all in our flat and tried to dance to them," says Patricia.
Eventually the couple narrowed the choice down to two songs: Sam Cooke's You Send Me covered by Aretha Franklin, and Jump To It, also by Aretha Franklin. "I always loved Sam Cooke and had never heard Aretha Franklin's version of the song before," explains Patricia. "It adds a really lively energy to a beautifully romantic song. But we both loved Jump To It and it fitted perfectly with the fun vibe of our wedding."
In the end, both songs played an important role. "We decided that You Send Me was better to dance to, but had Jump To It come on immediately after, so we got both of our favourite songs in the end!"
---
These are the most popular first dance songs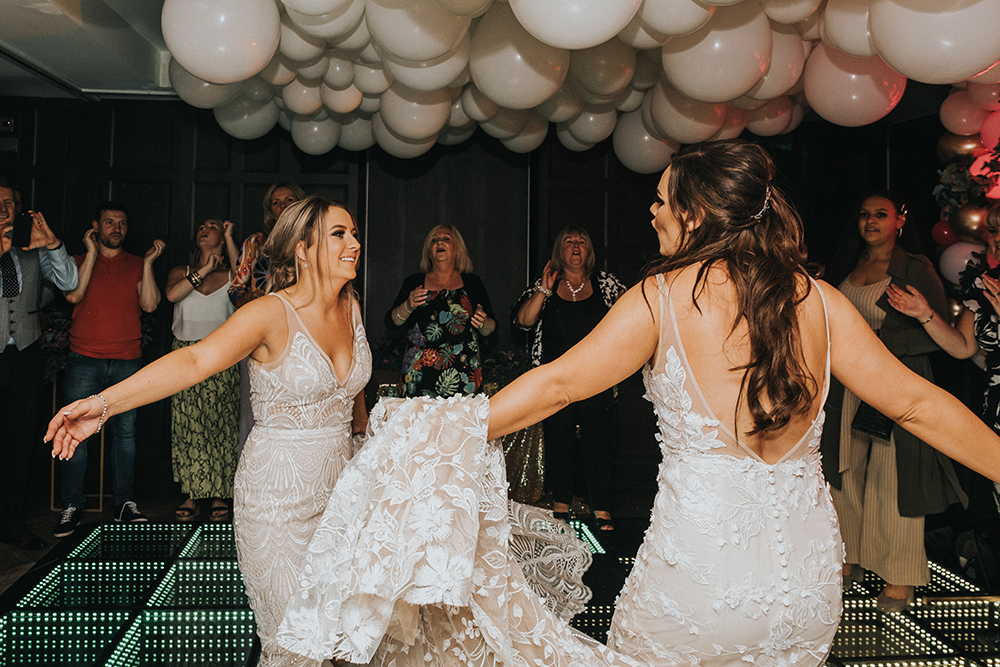 IMAGE | Dave Fallon Photography
Music taste is incredibly personal and, if you ask me, your first dance song should be one that reflects you and your partner's personalities or holds special meaning for you both.
But if you've never had A Song (because not every couple is starring in their own personal rom-com – who knew?), your music tastes are radically different or you simply cannot dance to the anthem you both always end up belting out while drunk (Tribute by Tenacious D: not waltz-appropriate) then perhaps you're on the hunt for inspiration for a suitable first dance song.
Coming to the rescue with a selection of the nation's most-loved first dance soundtracks are events specialists Chillisauce, who polled over 5,000 recently married UK respondents to determine the biggest wedding trends of 2019.
Their list reveals the most popular first dance songs at British weddings, many of which are perfect for a romantic slow dance with your beloved.
Here are the top 10 first dance songs for couples in the UK. No prizes for guessing who's number one…
10. AT LAST – ETTA JAMES
9. MAKE YOU FEEL MY LOVE – ADELE
8. MARRY YOU – BRUNO MARS
7. CHASING CARS – SNOW PATROL
6. SHALLOW – LADY GAGA & BRADLEY COOPER
5. YOUR SONG – ELTON JOHN
4. THINKING OUT LOUD – ED SHEERAN
3. ALL OF YOU – JOHN LEGEND
2. REWRITE THE STARS – ZAC EFRON & ZENDAYA
1. PERFECT – ED SHEERAN
NOTHING YOU FANCY ON THIS LIST? CHECK OUT SPOTIFY'S TOP 50 FIRST DANCE SONGS.
Start 2020 by booking your wedding band at the Hireaband Wedding Showcase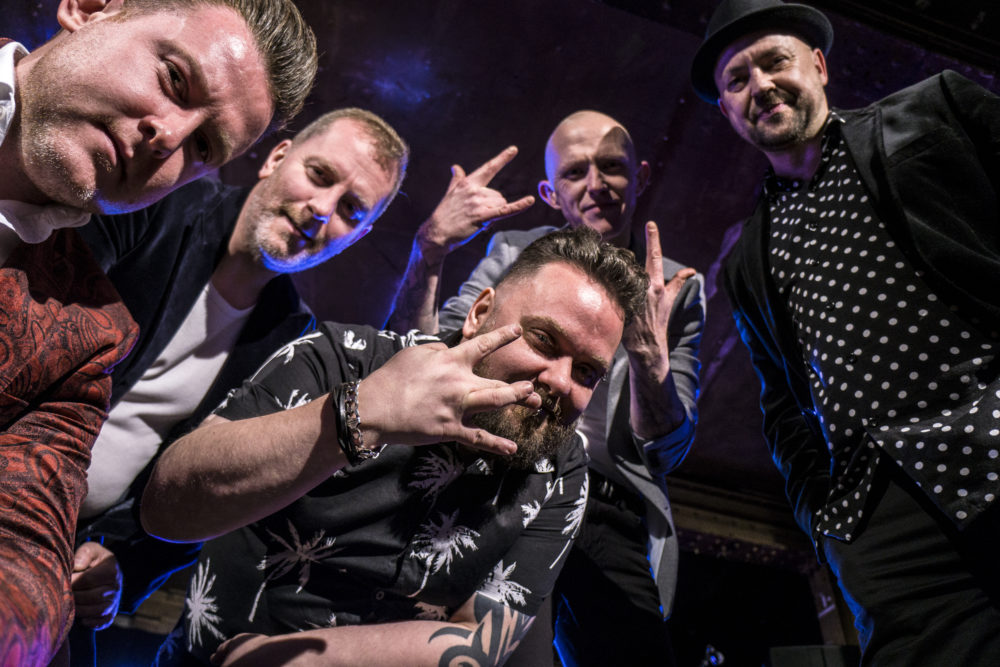 Hireaband Scotland's wedding band showcases are the biggest and best of their kind. See six amazing wedding bands play live under one roof, at the Holiday Inn East Kilbride, from 3pm 'til 5pm on Sunday 12th January 2020.
It's a rare opportunity to see wedding bands playing live, without having to crash a wedding!
The events fill up quickly, so make sure you register for your free tickets now. Seats fill up fast, so make sure you don't miss out!
BOOK YOUR HIREABAND SHOWCASE TICKETS NOW!
Find out more about the six bands that you can see performing…
COPENHAGEN
Forget everything you know about wedding bands; Copenhagen are a stupendously talented group of musicians who just so happen to play weddings.
Copenhagen features some of Scotland's top musicians who have performed with acts such as Bananarama, Altered Images, The Red Hot Chilli Pipers, JLS, Olly Murs and Brian May (yeah, the guy from Queen).
Members of the band have even performed for Barack Obama and his family at the White House; they've done it all.
Whilst Copenhagen know exactly how to fill the dance floor with every one of your guests, you'll find yourself watching in awe as these talented musicians take the stage.
The sheer vocal ability of lead singer Jessica will blow you away. She really has to be heard to be believed.
In keeping with their reputation for only representing the best bands in Scotland, Hireaband are incredibly proud to represent a band of such high quality.
Copenhagen are proof that you can have an unbelievably talented and accomplished act that will wow guests without breaking the bank.
If you really want to make a statement at your next event, Copenhagen are the band to book.
If you're a little hesitant to book a band before you've seen them perform live, then head along to the Hireaband wedding band showcase on January 12th to see Copenhagen and a host of some of the best bands in Scotland.
Check out more from Copenhagen and get an instant quote. 
STRANGE BRU
If your big day is all about having fun and not taking yourself too seriously then Strange Bru are absolutely the band for you.
These guys wrote the book on how to have fun and their electric energy gets every guest from eight to 80 up and having a great time. We think their music videos will give you a pretty good idea of what the 'Bru-Boys' get up to.
Strange Bru offer a brilliant ceilidh set, what they call 'ceilidh capers' as they love to interact with the guests whilst calling and demonstrating the steps.
The sight of Gregor and John skipping their way through a 'Military Two Step' is hilarious…but surprisingly helpful!
Whilst Strange Bru know how to party they're also excellent musicians in their own right.
They know exactly which songs to play and when, filling the dancefloor at every event. On top of this, the band always receive excellent reviews commending them for their top-notch customer service.
They were finalists for a VOWs this year!
Strange Bru have performed at hundreds of weddings over the years and are complete pros, they know exactly what to do to ensure your reception runs smooth as silk.
If you love the sound of these guys but want to see them live before you book anything in place, then make sure you come along to our 102nd wedding band showcase on Sunday 12th of January.
Check out more from Strange Bru and get an instant quote. 
THE STEREOBEATS
Omg do these guys know how to party?! With outstanding vocals and stunning live sax, The StereoBeats take everything you know about wedding bands up a gear.
Emma's vocals master every pop anthem and party hit they cover; whilst keyboard player, David, can switch to fiddle or accordion for an authentic ceilidh set and Marshali on sax brings the house down with her outstanding 90's Ibiza-style party set!
The StereoBeats are practically three bands in one!
Both The StereoBeats and Marshali were nominated for VOWs Awards this year for their outstanding approach to customer service.
Beyond being an excellent and talented bunch they are also some of the most genuinely kind and friendly people you'll meet. They're a pleasure to work with and will ensure that your evening reception goes off without a hitch.
If this all sounds too good to be true, then come along to the wedding band showcase on Sunday 12th of January to see this amazing band for yourself!
Check out more from The StereoBeats and get an instant quote.
WIRELESS
Wireless are truly the cream of the crop when it comes to Scottish wedding bands.
They have years of experience entertaining thousands of guests across the country and know just how to make every performance special for each couple.
On top of this, Wireless offer a level of fun and interaction that other bands can't equal.
In fact, their very name is a hint at one of their unique selling points; the three front men in the band use wireless radio equipment which means they're not tied to the stage or performance area.
It's not unusual at a Wireless gig to find one or all of the members of the band dancing next to while still playing their instruments.
Wireless are 100% reliable and have never missed a gig.
They are professional musicians with the best equipment money can buy, they even have their own sound engineer who makes sure that you'll get concert quality sound no matter the demands or restrictions of your venue!
Check out more from Wireless and get an instant quote.
ALAN RYDEN
While entertaining your wedding guests in the evening is expected, it's a nice touch to add some music for those parts of the day when you're busy being photographed or even during dinner.
To us, there's no better way to do this than by hiring someone like the fabulous Alan Ryden, a talented piano vocalist based in Dumbarton.
Alan has performed both as a solo act and in bands for the last 15 years. In fact he is currently very much in demand with his Billy Joel and Elton John shows as well as a huge number of wedding bookings.
As Elton, Alan recently entertained nearly 700 wedding professionals as the prestigious VOWS Awards in Glasgow and has been the buzz in the industry ever since.
If you'd like a chance to see and hear Alan in action, he'll be performing at the Scottish Wedding Band Showcase run by industry giants Hireaband on the 12th of January at The Holiday Inn, East Kilbride.
Check out more from Alan Ryden and get an instant quote.
CARLYLE
We were first made aware of this stunning band by their agent, Del Cotton from Industry favourites Hireaband Ltd.
Del's been in the wedding entertainment industry for 34 years and in his time has seen it all, so when we heard how excited he was about signing this band to his roster we were more than a little intrigued.
However once we saw Carlyle's latest promotional material we could see straight away what was getting this industry veteran excited.
The band is fronted by Crawford Carlyle, arguably the best male vocalist in the country. When the other musicians in the band heard that Crawford was putting together a new wedding and function band, they left their existing gigs for the chance to work with him bringing a level of musicianship and experience that would easily justify Del's description of them as a covers band supergroup.
They've started to quickly fill their diary on reputation alone, so if you want something really special for your wedding entertainment, you'll need to be quick.
They'll be performing live at the Scottish Wedding Band Showcase on the afternoon of January the 12th at the Holiday Inn East Kilbride alongside 5 other fantastic bands.
Check out more from Carlyle and get an instant quote.
THE TRUELOVES
The Trueloves are one of the busiest wedding bands in the country right now, and for very good reason. They were nominated again for a prestigious VOWs Award for their high standards and approach to customer service. Although only having been together for a couple of years, The Trueloves have managed to become one of the busiest wedding bands in Scotland.
They've built a set that is guaranteed to create a phenomenal party atmosphere at the best weddings and events in Scotland. The band is constantly evolving and updating their repertoire to reflect not only current hits, but classic dance floor fillers from the last 40 years.  Of course they also offer a blistering ceilidh set of up to 30 minutes with all the dances "called" so that even complete beginners to ceilidh dancing can join in the fun.
The Trueloves have over 300 verified 5-star reviews that rave about almost every event the band have ever played.
If this sounds like exactly what you're looking for, then come along to our wedding band showcase on Sunday 12th of January to see this amazing band LIVE!
Check out more from The Trueloves and get an instant quote. 
Step by step: how to nail your first dance as a married couple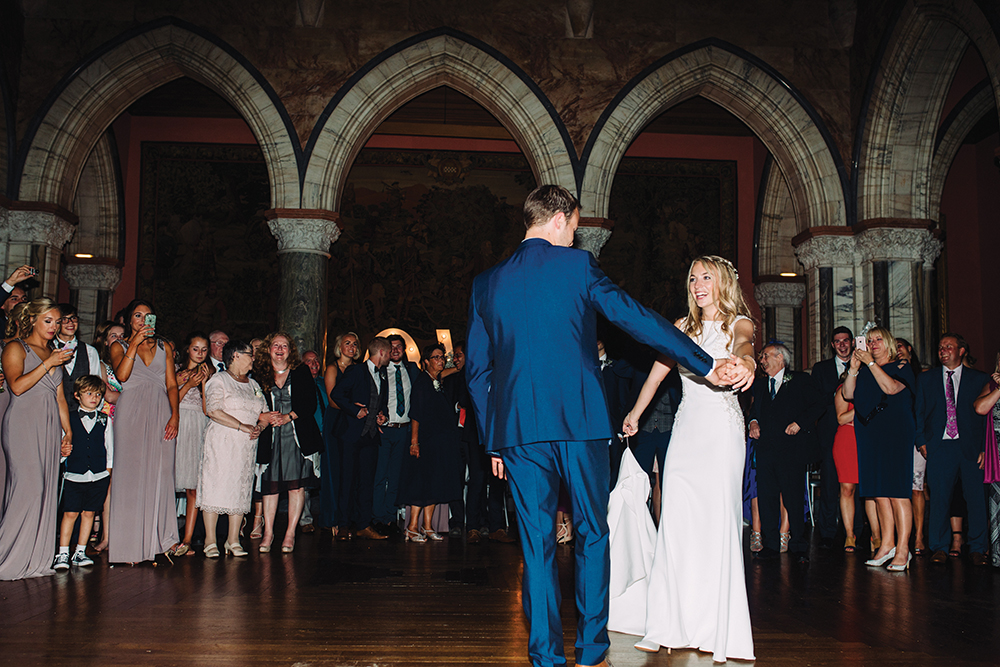 It's the beginning of your exciting new life together – so it goes without saying that you should step into it with your best foot forward, right? Here's how…
1. Get lessons
With huge wedding day details to consider such as the venue, décor and attire, it's tempting to let your first dance fall by the wayside until the moment to strut your stuff is almost upon you. Consider taking a few lessons to learn some impressive steps to lend you that much-needed boost of confidence on your big day. It doesn't have to be an elaborate routine that'd go viral, either – sometimes you just need a bit of guidance to ensure you don't step on one another's toes.
According to BidVine, the average cost of a dance lesson is between £50-£90 per class. "Generally, a couple will only need about three lessons," says Felicity McLean of Edinburgh-based dance school Learn 2 Wedding Dance. "We film the lessons, and they can use that to practise in their own time."
Even if you reckon your footwork is on a par with Anna Pavlova, it's important to remember that your first dance is a duet. Taking a few dance lessons can give you a chance to try things out and decide what works for both of you.
2. Make it personal
Weddings are tied together by the personal touches that tell a couple's story, and your first dance should be no different. Start by finding a song that gets both of your hearts singing; the routine can fit around whatever you pick. Films, books, and television shows that you both adore are a great place to start.
Newlyweds Steve and Roisin were determined not to succumb to the awkward shuffle when they planned their first dance at The Byre at Inchyra. The pair decided to recreate a scene from 1985 cult classic, Back to the Future.
"We used the song Earth Angel, which features in a prom scene. The dance was choreographed and taught to us over three lessons," explains Steve. "Our guests loved it, but it was a bit daunting."
Shelby and Tom couldn't afford lessons ahead of their wedding day, but still came up with a memorable dance.
"We did a slow dance (with some toe stepping). I was wearing a pair of Dr. Martens so it definitely hurt him more than it hurt me," says Shelby. "We danced to Escape (The Pina Colada Song) by Rupert Holmes because we served Pina Coladas at our reception."
Tom and Shelby
Looking for some musical inspiration? According to Spotify, John Legend's All Of Me, Bruno Mars' Marry You, and Ed Sheeran's Thinking Out Loud top the list of couples' favourite first dance songs. The shorter the song, the bigger the impact, so bear that in mind when deliberating over what to choose. It'll help you fit more steps in quick succession, making for a more natural routine between you and your partner.
3. Be in it together
If you'd prefer to have a longer tune but don't like the idea of all eyes being on you for the full five minutes, Felicity has some advice to make it a less intimidating prospect. "After the first minute and a half of a song, it's a good idea to invite everyone up to join you," she tips. "That can make the night more interesting and engaging, and takes some of the pressure off the couple."
This is an approach that worked well for Jo and her wife Céline when they realised their dance wasn't quite going to plan.
"We hadn't really worked out how we were going to dance to the song (Golden Years by David Bowie), which wasn't helped by it playing really quietly due to some sound issues on the day," laughs Jo, who married Céline at The Kinning Park Complex in Glasgow.
"After about a minute the awkwardness became unbearable, so I shouted at everyone to join us! As embarrassing as our dancing was, I wouldn't change our choice for the world."
4. Eyes up
If you've opted for lessons, try not to get so caught up on nailing your steps that you forget everything else. Remember: guests won't be looking at your legs – all eyes will be focused on your facial expressions and how you move together.
"Concentrate on pointing your body language towards each other," suggests Felicity. "Don't worry about fancy feet that no one will be looking at!"
5. Dress for the part
Besides looking gorgeous while you pirouette and dip, your wedding day outfit is something you need to consider when practising those steps. Those moves might feel easy-peasy in leggings and a T-shirt, but things will change once you add the length and heft of a wedding dress into the equation.
If you're wearing a dress with a long train, you should try to incorporate it into the choreography, or ask your dress shop about having a hook or wrist loop added so you can hitch it up for ease of movement. And if dancing in heels leaves you looking a bit Bambi-on-ice, consider whether a move to dancefloor-friendly flats might cause your dress to trail on the ground. Y'know, this could be the perfect excuse to have a second outfit for the evening reception, whether that's a shorter dress or a playsuit. Like you needed an excuse…
Splendid Gentlemen are not your average Scottish wedding band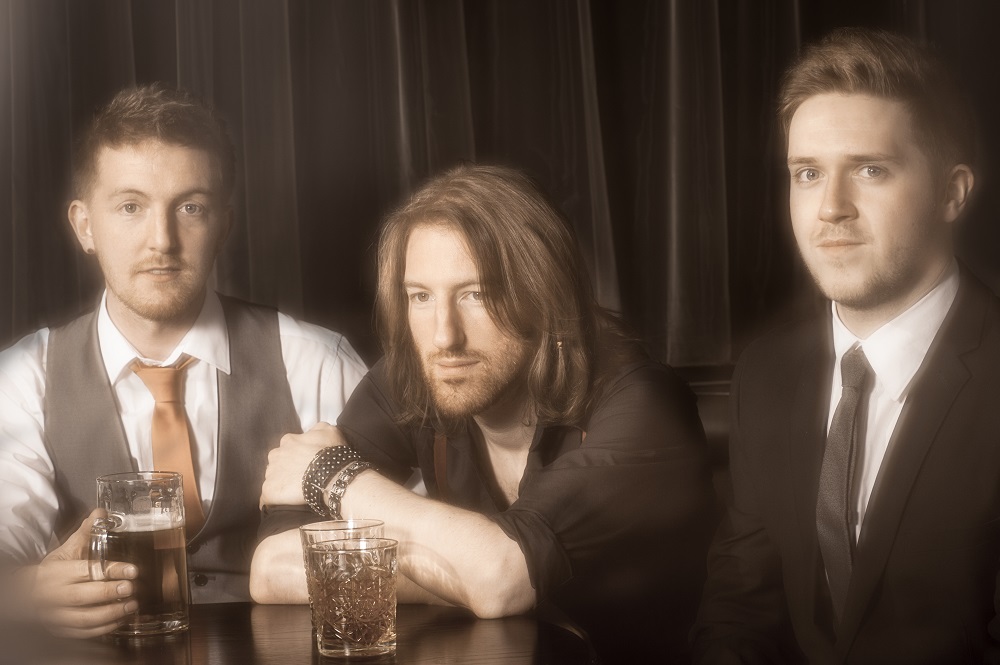 Back when they first created a band in 2010, Splendid Gentlemen had no plans to start playing at weddings.
Now, almost ten years later, they're in demand for weddings across Glasgow and Scotland.
"We had no higher ambition than playing the Scotia Bar in Glasgow when we started," explains Dee McLaren, one of the band's founding members.
"We were a really popular pub band for a while, then people started asking us to do weddings. We moved in to weddings but I think we kept the pub band ethos, which is why we've always seen ourselves as different to a cheesy wedding band.
"We've always seen ourselves as 'a band that plays weddings' rather than a wedding band."
But although weddings were never part of the master plan, playing during couples' big days is now something of an honour for Splendid Gentlemen.
"It's nice to be a part of something that has so much impact in someone's life," says Dee, when we asked him what his favourite part of playing weddings is.
"It's a big responsibility to make sure the end of the biggest day of someone's life goes off really well, so when it all comes together and the bride and groom are both over the moon at the end of it, it's pretty rewarding.
"Either that's my favourite, or constantly being offered cake at work. That's pretty decent too."
The band – consisting of original members and brothers Dee and Scott, alongside bass player of two years Michael – are based in Paisley, but travel all over the country for weddings.
Basically, if your wedding venue is within a four hour drive from Glasgow, Splendid Gentlemen will be able to happy to play for you.
SOMETHING DIFFERENT
One of the things that makes Splendid Gentlemen a popular wedding band is their unique mix of music and songs.
"We play pretty much anything and everything. We've always prided ourselves on having as big a repertoire as we can get," explains Dee.
"Rock and Pop are probably our biggest strong points, but we'll play anything from Disco to Motown to Punk. We have a fair few Alternative songs and quirky things thrown in there too.
"Even if we don't know a song, we've been known to google it on our break and at least wing it if we think we can manage it."
Watch this video for a sense of the scope of music genres you can expect from Splendid Gentlemen:
You also check them out in person at one of their regular pub gigs, particularly at one of their favourite venues, Maggie May's.
"We never liked how unnatural the wedding showcases felt so we just invite people to come along and see us in a pub atmosphere, which is much more relaxing. All our pub gigs are posted on our website and Facebook page," says Dee.
Already made up your mind? Get in touch directly with Splendid Gentlemen for a quote – although they've got a set price for weddings, some travel and accommodation fees may be added, dependent on your venue.
KEEP AN EYE OUT FOR SPLENDID GENTLEMEN'S NEXT GIG ONLINE AND ON FACEBOOK
t. 07979 490 300 | e. Dee@SplendidGentlemen.co.uk
New ways to entertain your wedding guests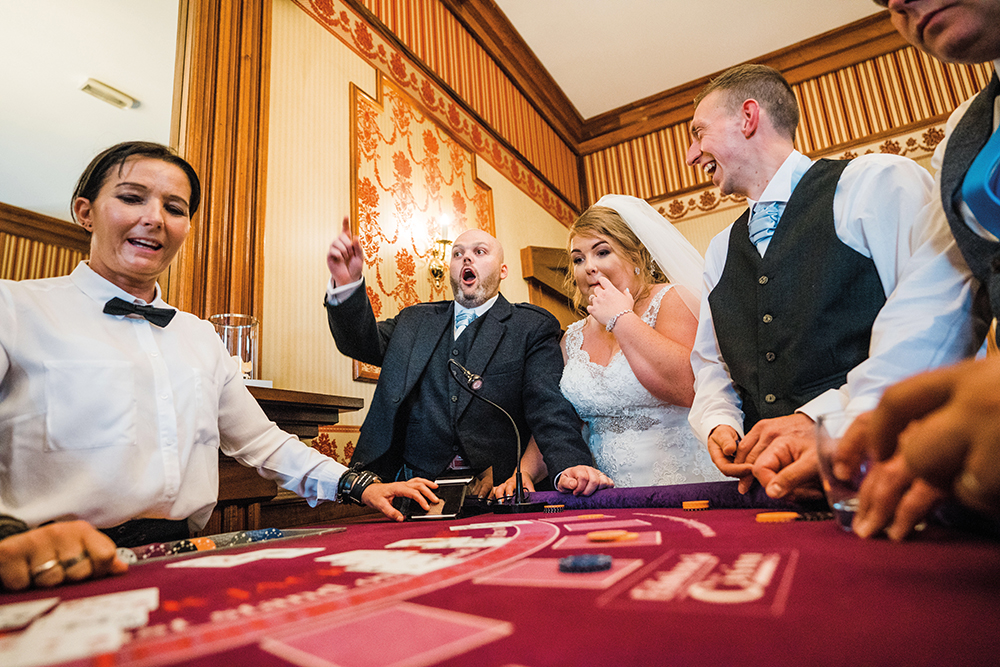 Admit it, you've caught yourself clock-watching at a wedding before.
Here are some of the weird and wonderful entertainment options to beat boredom and ensure your wedding is the one your guests talk about for years to come…
STRIKE A POSE
There's nothing like hiring someone to mingle among your guests, sketching them to break the ice, so a caricaturist is a great entertainment option.
Neil Thomson from Neilsart Wedding Caricatures works his way round the wedding guests, drawing quick five-minute caricatures on A3 paper during the drinks reception or dinner.
And evening reception bookings are becoming increasingly popular.
"The drinks reception is a popular choice for on-the-spot caricature entertainment while the bride and groom are having their photographs taken," says Neil, who can draw between 25 and 30 people over a two-hour period.
"Couple caricatures are popular and the drawings are provided free to guests."
You can even book Neil to sketch your invitations.
"The caricature artwork created to be used on the invitations can also be used for other parts of the wedding such as a guest signing board, table plans and order of service," he says.
"The colour artwork can also be framed as a memento of the wedding."
WE'VE GOTTA GET OUT OF THIS PLACE
Think escape rooms are restricted to your stag or hen? Think again.
Padlox Escape Rooms can bring their unique escape game on wheels to your venue.
Morven Lyon, creative director says, "The game is personalised to the happy couple and takes around 20 minutes per team.
The Padlox staff host the whole experience.
Whether you are an escape room fanatic or a first-timer, we're on hand to provide an entertaining and memorable experience."
When you book, Padlox will send a questionnaire to gather fun facts about your relationship to add the personal touch to your particular game.
On the day, guests are split into teams of six and around three teams can play per hour, so a four to five-hour booking can entertain 60-80 guests.
However, the game can be made shorter or longer depending on the number of guests.
Typically, couples book the experience to take place post-ceremony with a break for dinner and then carry on into the evening but you could hire it for the day after the wedding if you're extending the celebrations.
ROLL UP, ROLL UP!
IMAGE | Karen Simpson Photography
If the thought of bringing all the fun of the fair appeals to you, check out AIB Entertainment's Roll a Ball Derby.
This classic seaside game is suitable for all of your guests, whatever their age, and is a great icebreaker as it really encourages audience participation.
Managing director and compere, Alan Burt, says, "Our mobile Roll a Ball Derby is the only one of its kind, based in Scotland.
Each time someone wins a race they are given a 'win' ticket.
At the end, all players redeem their tickets and the three people with the most win a prize."
The game typically runs for three or four hours during your wedding.
Alan says couples typically book them for after the ceremony until dinner or as the early part of the evening entertainment.
"We can also offer a package with two additional games, 'Crack the Code' and 'Giant Buzz Wire'," he says.
SING IT LOUD
With GeO Gospel Choir you can inject your day with the warmth of soul music.
"We really appeal to any couple looking for that more bespoke and unique kind of entertainment – from boho festival weddings to traditional Catholic church weddings to more intimate civil ceremonies," says choir director Gerad McArthur.
The choir can vary in size but Gerad recommends booking the eight-piece ensemble for a strong visual impact.
Plus, he says, "when it comes to gospel, bigger always sounds better."
You can book them to perform during your ceremony, drinks reception or even your first dance.
What's more, they can personalise their repertoire and learn specific songs for you, though that will factor into the cost.
"We have a song list of 25 songs which are regularly updated to keep things current, and it's not just traditional gospel songs we sing," says Gerad.
"As part of all our wedding packages, each couple has the option to request a song and we would write and structure a gospel arrangement around this."
POKER FACE
IMAGE | Lifetime Photography
Add some full-on Vegas pizzazz to your wedding by setting up your very own casino.
If this sounds your bag, check out The Edinburgh Fun Casino Company who let couples choose from Roulette, Blackjack, 3 or 5 Card Stud Poker and Baccarat.
Each guest is issued a fun money voucher which they use to buy-in at either of the gaming tables and the dealer will exchange it for chips.
They can then game, gamble, win and lose.
And for a sweet touch, they can personalise the fun money with an image of you and your other half alongside your wedding date and a message to guests, or anything else you fancy.
Plus, as it's not real gambling your younger guests can give it a go, too.
As there can only be 12 roulette players and seven Blackjack players at once, guests come and go during the three hours of gaming.
Manager Matt Lee recommends two or three tables for 120 guests.
"We would normally set-up and game in the evening after the wedding breakfast, but we are available for any time of the day, sometimes when the newlyweds are having their photos taken," he says.
ALL THAT GLITTERS
IMAGE | Angela Allison
To create a real festival vibe at your wedding, a paint and glitter bar is a must.
Emma Cunningham from Give Good Face typically sets up after dinner to get everyone ready for the evening party.
"That way I can get everyone's glitter on before they hit the dancefloor," she says.
"The couples I have love fun and want something a little unusual on their day."
Once a couple books Give Good Face, Emma finds out the colour scheme or theme so she can build it into her designs.
She uses handmade gems and works the colours into them so guests have them as a keepsake after the wedding.
You can choose from The Opulent Paint and Glitter Bar, The Grand Glitter Bar and First Class Face Painting.
Emma can also add custom-designed temporary tattoos.
"These can be either added to the Glitter Bar or packaged as wedding favours for the table," she says.
What's more, Emma is working on making her kit more ecologically friendly by using bio-glitter, reducing single-use plastic and banning make-up wipes.
There you go: guilt-free fun.
ARE YOU READY FOR YOUR CLOSE-UP?
When was the last time you went to a wedding and they didn't have a photobooth – or at the very least a Polaroid station?
Photobooths have become a mainstay of wedding entertainment and it's no wonder.
Justin at Photobooth Deluxe says there's been a swing towards booking them for the very start of the evening reception.
That way there's already entertainment on hand for the evening guests if the meal is running late, and it's a handy distraction if the main room is being changed around.
Photobooths have come a long way from the early days.
Photobooth Deluxe can provide a slow-mo booth, gif booth, video booth, green screen, standard booth hire and a social media print station.
The latter option allows you to pick a hashtag for your day which guests can use when uploading pics.
The company's software then scans for images with that hashtag and the social print booth prints them out, customised with your theme, giving guests a memento from the day while the newlyweds get a special gift box of prints.
SHINE BRIGHT
Fireworks bring out the big kid in everyone and spark a party atmosphere.
And when it comes to a wedding display Chrissie Stanners, wedding co-ordinator at 21cc Group, has some top tips.
"Couples can have the show choreographed to the beat of their favourite music, whether that be a pop song or classical piece," she says.
You could also incorporate special effects, such as a Lancework Heart containing your initials.
And new this year is their Rainbow Firework.
"It fires a fan of colour across the sky from red through to purple – absolutely stunning!" says Chrissie.
If you don't want a full-blown fireworks display there's always indoor pyrotechnics.
21CC have a whole range including confetti cannons, table top ice-fountains, and cake cutting fountains.
There's even a bubble machine where the bubbles can be filled with smoke and highlighted in colour using LED uplighters.
"These can all be used to add special touches throughout the day from the ceremony to the evening reception," says Chrissie.
HAVE YOU CHOSEN YOUR WEDDING ENTERTAINMENT YET?
Stress-free wedding entertainment with Sporran Again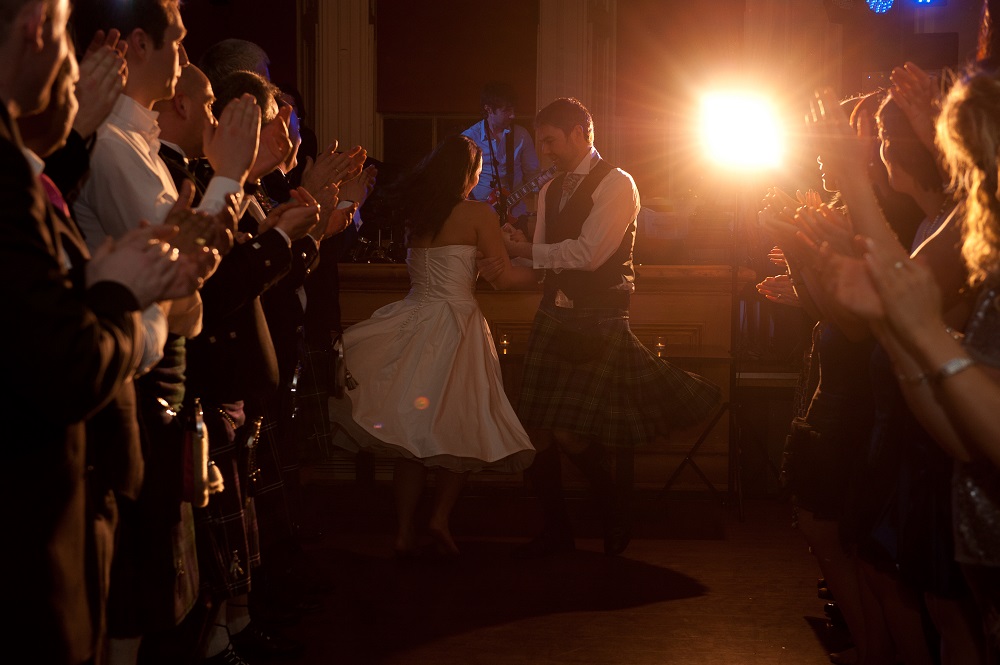 When it comes to wedding planning, finding a band to keep everyone entertained during your evening reception is no doubt pretty high up on your to-do list.
Sporran Again is a five-piece Scottish ceilidh band who, along with their in-house DJ, offer a flexible mix of ceilidh and disco to keep the party atmosphere buzzing all night long.
Solid performers on the Scottish wedding scene (with 1000+ ceilidhs under their belts!) they entice guests to their feet both at home and abroad with a refreshingly contemporary take on the traditional Scottish ceilidh.
There'll be no confusion during the ceilidh dances either; their excellent dance caller will keep everyone on track, perfect for any international guests or ceilidh first timers!
ON THE NIGHT
Book Sporran Again and you'll get a four hour block of entertainment as standard – the perfect amount of time to see you from your first dance right up until last orders. Plus, you're free to mix and match between ceilidh and disco throughout the night as you choose.
"The best evening's programmes have a degree of flexibility built in, allowing us to respond to guests and keep the dance floor lively," says Anne Curran, bookings manager and musician.
"Some crowds will happily ceilidh dance the night away, others enjoy a more generous helping of disco, and many appreciate a little extra down time between dances to mingle, catch their breath, and enjoy the party atmosphere.
"Whatever the unique demands of your crowd, our in-house DJ will be at the ready throughout the evening, allowing us to transition seamlessly between upbeat background music, live Scottish ceilidh, and even full on disco if and when desired.
"Even those of our couples who plan on a programme of primarily ceilidh dancing find it reassuring to know that our DJ is on hand if need be.
"Wherever the celebrations take us we love to recommend rounding things off with a final blast of live Scottish music and dancing. Something like a big Orcadian Strip the Willow, perhaps with the bride and groom as top couple, always goes down a treat and is a wonderful way to see out the night."
Typically, Sporran Again will include a good mix of well-known ceilidh dances and some newer favourites. You'll be expertly guided through them all by their frontman and highly experienced dance caller, Johnny Bell.
"Ceilidh dancing is such a great way to get folk mixing," says Johnny. "We do our best to make everyone feel at ease and eager to participate, especially if it is their first time at a ceilidh.
"Couples continually tell us how much their guests enjoyed the music and how delighted they were that their English and international guests in particular were so enthusiastic about joining in.
"Attending a ceilidh is high on many people's Scottish bucket list – what better opportunity than at a wedding, when amongst family and friends."
Check out these testimonials online here to hear directly from Sporran Again's happy couples.
WORKING WITH SPORRAN AGAIN
As well as keeping you right on the night itself, Sporran Again will make the whole process running up to your wedding as stress-free and easy as possible.
"Booking a live entertainment act is something that the majority of our wedding clients have never done before, so we try to make the process as reassuring and transparent as possible for them.
"From making sure finer details are considered, to liaising directly with the venue and other service providers to make sure everyone is on the same page, it all makes for a more polished evening," explains Anne.
"We really appreciate the trust our wedding clients put in us to help plan and lead their evening's celebrations in a way that engages their guests, and leaves everyone with a truly memorable experience."
Sporran Again will chat you through the plans and share their advice before your wedding. With their experienced experts taking care of the finer details, you'll be free to concentrate on having a good time!
GET IN TOUCH WITH SPORRAN AGAIN TO FIND OUT MORE
t. 07958 067 829 | info@sporranagain.com