He said YES! The women who bucked proposal tradition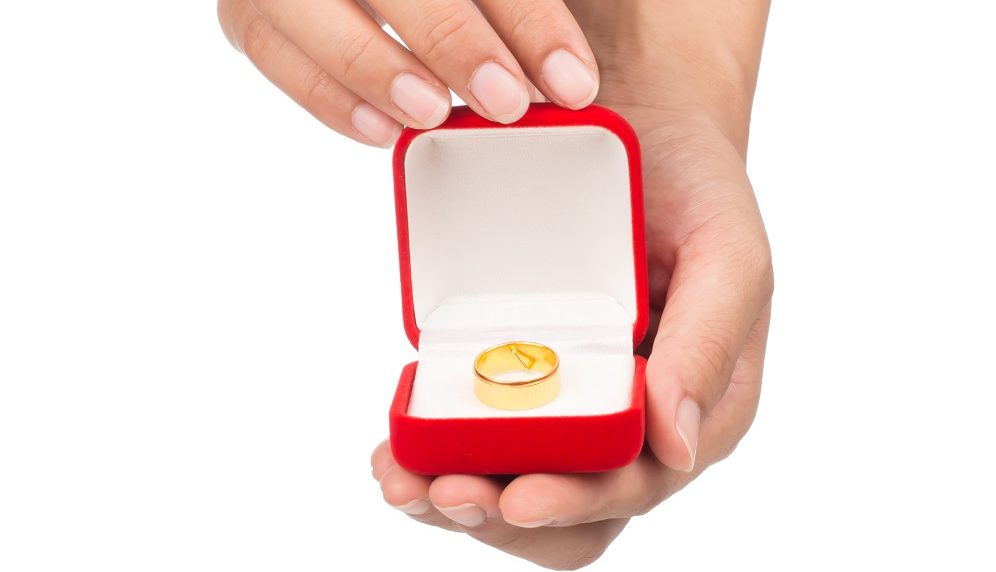 This year, February 29th cropped up on our calendars for the first time since 2016. As well as giving us an extra day, historic traditions tied to the so-called 'leap day' also offer heterosexual women the opportunity to mix things up and propose to their partner.
The reason? Legend has it that St. Brigid, a fifth-century Irish nun, asked St. Patrick, the patron saint of Ireland, to allow women to propose marriage because single women's suitors were taking too long.
Fine, said Ol' St. Paddy – but only on a leap day. And so, the tradition of 'Ladies Privilege' was born.
But new research indicates that this has become less of a leap year oddity, and more of a chance for opportunist women to break gender stereotypes.
A survey carried out by events agency Chillisauce found that back in 2010, just 5% of engaged and married women had proposed to their partners.
By 2019, that figure had jumped to 16%.
"In years gone by it was taken for granted that the only acceptable date for women to propose was every four years on February 29th," James Baddiley, spokesperson for Chillisauce, explains.
"But it is now much more common and financially accessible for the fairer sex to decide themselves when they are ready to get married."
So, how does it feel to break heterosexual norms and pop the question? We spoke to three ladies who jumped on the leap year tradition and put a ring on it. Literally.
GRAND GESTURE
When Rebecca decided to pop the question, the aim of her proposal was to make partner Ross feel special.
"Our five year anniversary was looming and we had recently bought a house together so, legally, it made sense for us to marry or enter a civil partnership," she says. "My partner is very loving and wonderful at showing it whereas I'm more emotionally reticent.
It felt important to me that I was the one to make the big gesture of a proposal."
Rebecca gave a small speech, and even incorporated a sentimental pun on their mutual love of reading by using a book called 'Ring' instead of actual rings.
"I think the pressure on men to be the ones to propose is enormous and doesn't suit all personality types," says Rebecca.
"I would love for the conversation surrounding marriage to change so that anyone who feels ready to propose is also societally empowered to do so."
TRADITIONALLY SPEAKING
Scotland has its own traditions surrounding a leap year proposal: allegedly back in 1288, the unmarried Queen Margaret passed a law that allowed a woman to propose during a leap year. But! She had to wear a red petticoat to warn her intended hubby-to-be of her intentions.
It was a tradition that Kerry was more than happy to adopt when she grew tired of waiting for her partner Lewis to propose.
"He took too long to propose to me! I was fed up," laughs Kerry. "It started off as a joke – I kept saying if you don't get a move on I'll take advantage of the leap year! I researched the traditions around it and ordered my red petticoat."
Kerry sprinkled some heart confetti and set up a card and ring box in Lewis' home office.
"I knew he wouldn't have enjoyed me asking him outright," she recalls. "But he rushed downstairs and said yes, before going out to buy me flowers and champagne."
For Kerry, the tradition that only men can propose is at odds with a society that advocates for female empowerment.
"In the world we live in, women want to take control of their lives and I don't see that proposals should be any different. So much pressure is put on men to be the romantic one, it's amazing to be able to turn the tables."
TAKE NOTE
It wasn't until the morning of the 29th that Chriselle decided she was going to pop the question to her now husband, Andrew.
"I knew from the beginning of our relationship that it was for keeps, and we had joked about it being a leap year and how I 'could' propose," says Chriselle. "I wanted him to know how much I loved him and that I wanted us to spend our lives together."
She wrote out a proposal on note cards, with the final card reading, "So, will you marry me? P.S. I'm hiding in the bedroom". She placed them in a gift box next to a bottle of wine and some candles. Of course, Andrew said yes.
"I think there's this huge stigma around women proposing as it comes across as 'desperate' or 'needy'," says Chriselle. "It's just love and that's what all proposals should be."
25 beautiful wedding venues in the Scottish countryside 2020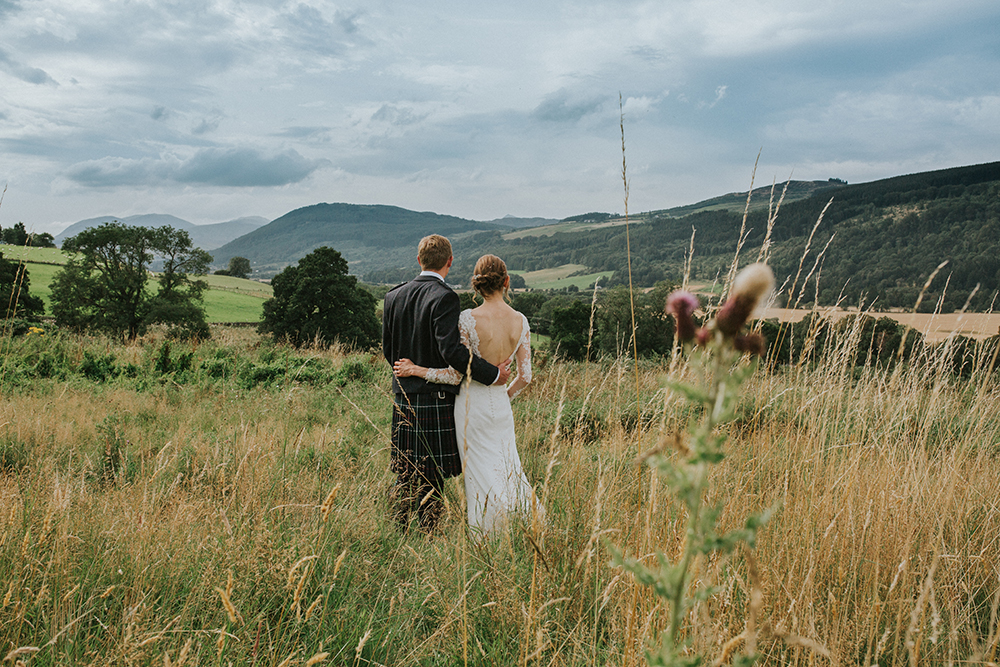 Scotland is home to some of the most beautiful scenery the world has to offer, so it's no wonder that many couples escape to the countryside to celebrate their wedding day amongst all of Scotland's natural beauty.
If you want the backdrop of your wedding to be rolling green hills, sprawling gardens and gorgeous landscapes, keep reading to find out about some of the most beautiful countryside wedding venues that Scotland has to offer.
Here's our pick of the best Scottish countryside wedding venues in 2020.
This post contains paid-for content.
ASWANLEY
IMAGES | Emma Lawson Photography
Like something out of a storybook, Aswanley is the epitome of countryside romance. Tucked away in a private corner of rural Aberdeenshire, it's surrounded by pretty green hills and lovely forests.
There are lots of special hidden areas, fantastic for outdoor photos, including a bright red abandoned train carriage on the banks of the River Deveron. The main event space is a Victorian barn, which has been gorgeously renovated, while also retaining its original farmstead charm.
Aswanley even has a purpose-built elopement hut that sits perched on a hillside surrounded by beautiful wildflowers – perfect for outdoorsy couples!
Visit Aswanley's website | t: 01466 700 340 | e: lauren@aswanley.com
BLAIR CASTLE
IMAGE | Suzanne Black Photography
IMAGE | Eilidh Robertson Photography
IMAGE | Jenni Browne Photography
Blair Castle is a beautiful and historic wedding venue close to the picturesque town of Pitlochry. It's home to acres and acres of grounds comprising beautifully kept gardens and sweepingly dramatic forests.
You can hold your wedding ceremony on the venue's lawn with the grand façade of the castle and the rolling hills of the Cairngorms serving as a breathtaking backdrop.
Once you have taken full advantage of all the amazing photo opportunities that Blair Castle's grounds have to offer, head inside and celebrate your wedding in the hunting-lodge-chic Ballroom which can hold up to 220 guests. Plus, the castle has a new panel of four caterers to choose from, giving you plenty of options.
Visit Blair Castle's website | t. 01796 481207 | e. jackieS@blair-castle.co.uk
Send an enquiry to Blair Castle
BLAIRQUHAN CASTLE
Set in over 200 acres of beautiful private land and gardens, Blairquhan Castle is an exquisitely romantic wedding venue.
From stately exteriors to elegant yet modern interiors, a wedding day at Blairquhan promises to feel sophisticated and luxurious.
You can hold your ceremony outside in the flower garden, or in the castle's beautifully decorated saloon which can seat up to 90 guests.
There are four stunning function suites within the Castle accommodating up to 100 for your wedding breakfast and 120 for evening reception. The castle also offers 15 individually styled bedrooms for those who wish to stay overnight, as well as eight cosy cottages onsite.
Visit Blairquhan Castle's website | t. 01655 770 239 | e. enquiries@blairquhan.co.uk
Send an enquiry to Blairquhan Castle
BRANXHOLM PARK HOUSE
Branxholm Park House is a gorgeous exclusive-use, three-day venue tucked away in the Scottish Borders countryside. This beautiful haven is all about bringing the outdoors inside, and has so many amazing amenities that allow you to enjoy the outdoors whilst being protected from the unpredictable Scottish elements.
Its romantic Wedding Pavilion sits in the midst of a mature woodland and is surrounded by reams of beautiful wildflowers. After exchanging vows, enjoy drinks around the woodland fire pit under a canopy of twinkling fairy lights or in the elegant blossom-topped loggia.
Foodie friends will not be disappointed in the delicious meal served in the stunning French Orangerie.
Visit Branxholm Park's website | t. 07585 281479 | e. info@branxholmpark.co.uk
Send an enquiry to Branxholm Park
CAIRNS FARM ESTATE
Set in a beautiful spot amongst the rolling hills of the West Lothian countryside, Cairns Farm Estate enjoys gorgeous views and all the comforts you'd expect of a new contemporary venue.
Cairns Farm is built around a country barn, offering you the chance to style your wedding exactly how you wish.
The venue boasts a beautiful ceremony area and separate reception space with floor-to-ceiling glass allowing you to take full advantage of the views, a fantastic bar, terrace for drinks receptions and a stunning events space.
What's more, there's on-site accommodation in the farmhouse and a honeymoon hideaway.
Visit Cairns Farm Estate's website | t.01506 883506 | e. cairns@hickoryfood.co.uk
Send an enquiry to Cairns Farm Estate
CASTLE MENZIES
IMAGE | Mike Plunkett Photography
Castle Menzies is a stunning building inside and out, standing proudly against the rolling hills of Aberfeldy. A perfect venue for couples who love the romantic Scotland of Braveheart and Outlander, the castle celebrates Scotland's rich history.
Each of the castle's function spaces can serve as a lovely background to your wedding ceremony, like the charming pink Main Hall that can hold up to 54 guests for a meal, or the beautiful Dewer Room, a grand ballroom that can hold up to 120 guests for your wedding breakfast.
Visit Castle Menzie's website | t. 01887 820982 | e. castlemenziesmanager@gmail.com
Send an enquiry to Castle Menzies
CRIEFF HYDRO HOTEL
IMAGE | Crieff Photography
IMAGE | Ellis Gibson Photography
IMAGE | Iain Struthers Photography
For glamour and grandeur; Crieff Hydro meets all expectations. But it's the things you might not expect that really set Crieff Hydro apart… Like bedrooms big enough for all the girls to get ready in, 900 acres of seriously breathtaking photograph spots and its own spa where you can spend a relaxing hour or two.
Prefer to extend the weekend? There are lodges of all shapes and sizes, fuss-free takeaway food that's perfect for sharing and Action Glen for some seriously good pre-wedding fun!  Your day, your way.
Visit Crieff Hydro Hotel's website | t.  01764 651680 | e. weddings@crieffhydro.com
Send an enquiry to Crieff Hydro Hotel
DUN ALUINN
IMAGES | Luke Bennett Photography
Dun Aluinn is Scotland's first design-led, exclusive-use venue which has featured in leading UK and EU design magazines.
Situated on an elevated site overlooking the town of Aberfeldy, Perthshire and the sweeping River Tay, Dun Aluinn enjoys 5.5 acres of private grounds with an extensive terrace with stunning views down the Tay Valley to Schiehallion.
Enjoy a wedding ceremony on the Terrace followed by drinks, canapes and your wedding reception all fully catered by Ballintaggart Farm using locally sourced produce. Then stay for the weekend (there's accommodation for up to 18 guests) and make use of the wood-fired natural cedar hot tub nestled in the woods outside the house. What bliss.
Visit Dun Aluinn's website | t. 07766 885270 | e. enquiries@dunaluinn.com 
EDEN LEISURE VILLAGE
IMAGE | Craig & Eva Sanders
Eden Leisure Village is a picturesque countryside wedding venue situated in a great location between Glasgow and Stirling. The North Lanarkshire landscape is peaceful and idyllic, and provides a wonderful backdrop for a romantic outdoor wedding ceremony.
You can then hold your wedding breakfast and drinks reception in the marquee and continue the day with your evening reception in the brand new converted barn, a blank canvas space that will instantly inspire your wedding with effortless rural charm.
There are also hobbit huts, glamping pods and a unique glampervan, meaning you can stay with your family overnight too. Call them to book a viewing.
Visit Eden Leisure Village's website | t. 01236 735464 | e. info@edenleisurevillage.co.uk
Send an enquiry to Eden Leisure Village
FINGASK CASTLE
IMAGES | Neil Thomas Douglas
This much-loved family castle sits in a glen between Perth and Dundee, 20 minutes from either, about an hour from Glasgow and Edinburgh and slightly more from Aberdeen. Fingask boasts one of Scotland's great gardens, with one of the world's largest collections of topiary trees, and certainly the most eccentric.
Small weddings can be held in the castle, while the pavilion is a flexible modern structure where gatherings of between 50 and 300 can be entertained.
There are various sorts of accommodation for up to 70 guests scattered through the estate, from fully-equipped houses and cottages, to convenient modern 'pods' with just a bedroom, excellent showers and a kettle.
Visit Fingask Castle's website | t. 01821 670777 ext 3 | e. events@fingaskcastle.com
Send an enquiry to Fingask Castle
FORBES OF KINGENNIE COUNTRY RESORT
IMAGES | Burfly Photography
A magical venue surrounded by beautiful greenery and woodlands, you'd be surprised to learn that Forbes of Kingennie Country Resort is only a short drive from the city of Dundee.
You can continue to enjoy the waterside views during your ceremony inside the Buddon Burn suite, which has floor-to-ceiling windows that look out over the resort's amazing rustic grounds and lochans.
Then spend your first night as a married couple in the dreamy Leannan Boathouse, a lavishly furnished hideaway for two that sits on the edge of the water.
Visit Forbes of Kingennie Country Resort's website | t.  01382 350777 | e. reception@forbesofkingennie.com
Send an enquiry to Forbes of Kingennie Country Resort
FRUIN FARM
IMAGE | Celeste Noche
IMAGE | Rachel and Tonie
IMAGE | Chloe Jane Wedding Photography
Tucked away in beautiful countryside, a mile from the shores of Loch Lomond, Fruin Farm provides the perfect backdrop for laid back, intimate weddings, with an emphasis on bespoke.
You and your guests will fall for the rustic charm of this lovely venue, with stunning scenery and a true Scottish welcome.
The whole farm is exclusively yours, with no set rules as to how you use the space. Say "I do" in the charming 200-year-old barn or perhaps you'd prefer the steading with panoramic views down to the loch. The dedicated wedding team will oversee the smooth running on the day, and can also provide your flowers, cake and personalised venue dressing.
Visit Fruin Farm's website | t. 01389 850727 | e. info@fruinfarm.co.uk
KEAVIL HOUSE HOTEL
Keavil House Hotel is situated in the Fife countryside and is surrounded by 12 acres of private gardens. You can hold your ceremony on the hotel's beautiful and extensive grounds, and take advantage of local greenery for some amazing outdoor wedding portraits.
The interiors of the hotel are beautifully elegant, paying tribute to the grand history of the 18th-century mansion while maintaining a contemporary boutique twist.
Keavil House Hotel also offers guests a great deal of versatility for its couples, and even has three different event suites that can cater for weddings large and small.
Visit Keavil House Hotel's website | t. 01383 736258 | e. events@keavilhouse.co.uk
Send an enquiry to Keavil House Hotel 
KINKELL BYRE
IMAGE | Photos by Zoe
This warm, cosy venue draped in sparkling fairy lights and lit with flickering candles will sweep you off your feet with its romantic ambience and beautiful countryside location.
Situated just outside St Andrews, you can exchange vows outdoors overlooking the town's gorgeous coastline or inside the atmospheric stonewalled byre surrounded by your nearest and dearest.
The Byre is an exclusive use blank canvas venue, allowing you to create a completely bespoke wedding day tailored to who you both are as a couple.
Visit Kinkell Byre's website | t. 01334 472003 | e. info@kinkell.com
Send an enquiry to Kinkell Byre
LOCH LOMOND WATERFRONT
IMAGES | Maureen du Preez
With panoramic views of the bonnie banks of Loch Lomond, this waterside wedding venue is perfect for a traditional and romantic Scottish wedding day – it even has its own exclusive beach!
If you really want to embrace your scenic surroundings and the 18 acres of stunning private grounds, you can hold your reception in a marquee on the grounds.
You can also book the entire place – all 18 acres, the function suite and 11 lodges – on an exclusive-use basis.
Visit Loch Lomond Waterfront's website | t. 01360 870144 | e. info@llwf.co.uk
Send an enquiry to Loch Lomond Waterfront 
MYRES CASTLE
IMAGES | Photos by Zoe
IMAGE | Suzanne Black Photography
Myres Castle, winner of Best UK Wedding Venue in the Hudson UK Heritage Awards 2018, is a whimsical and romantic wedding venue situated just outside the village of Auchtermuchty.
The best of both worlds, you can have the stunning castle for up to 24 guests throughout your stay, hold an outdoor ceremony under the copper beech tree and celebrate your wedding in the rustic and charming Barnquee.
The Barnquee is situated in a lovely woodland setting, with twinkling lights hanging from the trees and fire pits outside (as well as a wood fired pizza oven!) to further enhance the magical atmosphere.
Visit Myres Castle's website | t. 01337 828350 | e. enquiries@myrescastle.com
Send enquiries to Myres Castle
OXENFOORD CASTLE
IMAGE | Claire Tennant Photography
IMAGE | Eilidh Sutherland Photography
IMAGE | Will Stedman Photography
If you're dreaming of exchanging vows in the enchanting atmosphere of a traditional Scottish castle, look no further than Oxenfoord Castle. With Edinburgh only a 30-minute drive away, this grand venue boasts both a serene country location and close proximity to a major city.
An exclusive-use wedding venue, you can expect to spend a day surrounded by your nearest and dearest while you enjoy the estate's romantic parkland and historic interior, brimming with carved woodwork and lavish plaster ceilings.
Visit Oxenfoord Castle's website | t. 0131 287 0535 | e. oxenfoord@hickoryfood.co.uk
Send an enquiry to Oxenfoord Castle
PAPAKATA
IMAGE | Johnny Dent Photography
PapaKåta allow you to personalise your wedding, creating a venue that's truly unique to you, in the location of your choice!
As the most established Tipi company and the exclusive provider of luxury US Sperry Tents in Scotland, PapaKåta offer a completely bespoke venue on your own grounds (excuse the pun).
PapaKåta's Sperry Tents come in various sizes and their Tipis can be joined together to give you a unique space for your guest numbers. In addition to their exclusive tents, PapaKåta has a dedicated event planning service and a luxury portfolio of furnishings, allowing you to further personalise your day.
Visit Papakata's website | t. 01738 479803 | e. tellmemore@papakata.co.uk
PEEBLES HYDRO
You'll feel like you're on top of the world in every way possible (and so you should, it's your wedding, after all!) at this venue. Choose from five very different, very special, rooms.
And wait till you see the grounds: a 30-acre estate filled with lawns, Victorian gardens and woodland. The team at Peebles will help you make it your own – with the help of their trusty suppliers and knowledgeable folks they've worked with for years.
So that dream wedding wish-list of yours will practically tick itself off. And if you think all that sounds good? Well, just wait until you see their beautiful countryside location…
Visit Peebles Hydro's website | t. 01721 720602 | e. weddings@peebleshydro.co.uk
Send an enquiry to Peebles Hydro
ROTTAL STEADING
If getting away from it all is your idea of heaven, you'll fall for the rural charms of Rottal Steading in the heart of Glen Clova.
Surrounded by stunning scenery, the dramatic views are perfect if you're hoping to have an outdoor ceremony and provides you with plenty of opportunity for great couple photos in the stunning surrounding glens.
Rottal Steading is a rustic barn, ideal for couples who would like their wedding day to have a rugged countryside charm.
Visit Rottal Steading's website | t. 01575 550281 | e. info@rottalestates.com
Send an enquiry to Rottal Steading
THE BYRE AT INCHYRA
IMAGES | Photos by Zoe
The Byre at Inchyra is a gorgeous, versatile restored barn situated on 150 acres of private Perthshire parkland. While The Byre is a blank canvas venue, it has plenty of natural character that will absolutely charm you and your wedding guests.
You can have an outdoor ceremony in Inchyra's magical walled garden, but if the weather is a washout, the rustic interior of the barn will give your wedding the relaxed countryside atmosphere you were hoping for.
This venue also allows you to choose from a selection of approved caterers, meaning you can curate your dream wedding breakfast menu.
Visit The Byre at Inchyra's website | t. 01738 860066 | e. enquiries@thebyreatinchyra.co.uk
Send an enquiry to The Byre at Inchyra
THE LOCH LOMOND ARMS HOTEL
IMAGES ABOVE | Simon's Studio
IMAGES | Wonderful and Strange
An award-winning countryside retreat, this unique wedding venue is in the picturesque village of Luss, and just a stone's throw from the bonnie banks of Loch Lomond.
The perfect location for your Scottish wedding, you can make use of either the Sutherland or Inchconnachan Suites, located in the grounds of the hotel and surrounded by stunning gardens.
The spaces have lots of natural light, offering views of the gorgeous countryside.
A short stroll from the main hotel is Slate Quay, a private location ideal for an outdoor ceremony by the loch. You could even pitch a marquee or yurt on this perfect highland location.
Visit Loch Lomond Arms Hotel's website | t. 01436 860420 | e. events@lochlomondarmshotel.com
Send an enquiry to The Loch Lomond Arms Hotel 
THE VU
Situated between Edinburgh and Glasgow, The Vu has two stunning venues for your wedding day and is renowned for its incredible countryside location overlooking the Ballencrieff Reservoir.
It's set on the waterfront where you can have your very own island for your ceremony whilst enjoying panoramic views over the Lothians.
And if you're seeking a honeymoon suite with a difference, The Vu also has stylish, rustic Canadian lodges for the perfect way to enjoy your first night as a married couple.
Visit The Vu's website | t. 01506 630808 | e. admin@thevu.co.uk
TULLIBOLE CASTLE
IMAGES | Fern Photography
Even though Tullibole Castle is a stately Scottish mansion nestled in the Perthshire countryside, its relaxed atmosphere will make you never want to leave.
And for the weekend of your wedding, you won't have to. Exclusively yours over three days, you can prep on the Friday, have your special day on the Saturday, and chill out on the Sunday with a BBQ or round of lawn games!
When it comes to a spot for your ceremony you're spoilt for choice. Exchange vows in the castle itself, or have a more laid-back ceremony in the rustic-luxe Carriage House. For outdoor ceremonies say 'I do' beneath the Cathedral Tree, or by the moat!
Visit Tullibole Castle's website | t. 01577 840236 | e. hitched@tullibolecastle.com
Read reviews for Tullibole Castle 
WINTON CASTLE
Winton Castle near Edinburgh blends castle, palace and family home. A Scottish Renaissance castle and an exclusive-use venue, it's all yours for the duration of your wedding.
Their wedding planner will help you choose the format and style of your big day, which really is up to you – whether you fancy a garden party, a firework display finale or otherwise!
Your wedding guests will love Winton's warm welcome and relaxed ambience. The castle hosts weddings for 50 to 130 guests inside and can accommodate 100 to 400 guests in a marquee.
Visit Winton Castle's website | t. 01875 340222 | e. enquiries@wintoncastle.co.uk
Read reviews for Winton Castle
Just engaged…now what?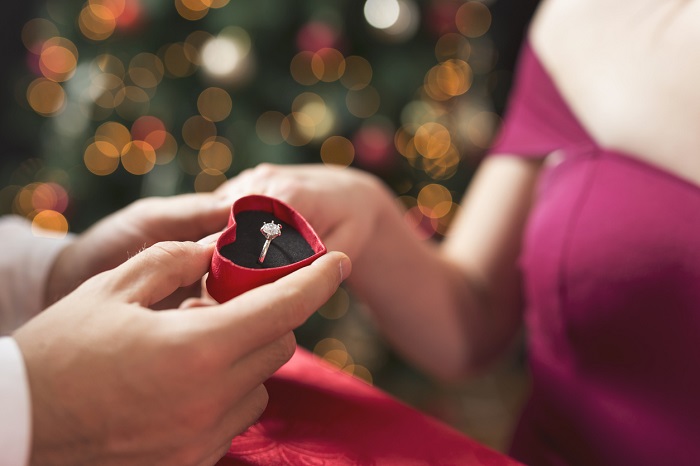 Whether you've been together 10 months or 10 years, nothing beats that "OMG we're engaged!" moment.
While the temptation may be to pop bottles of champagne for the foreseeable future there are a few things you should cover to enjoy this moment to the max and navigate wedding planning with as little stress as possible!
1. Let your family know first
I know you're desperate to share the news on social but imagine how your parents will feel if they find out the same way as Jenny from work.
Same goes for brothers, sisters and besties. Pick up the phone and call them.
Chances are they've known this moment was coming and are waiting on tenterhooks.
2. Take a ring selfie
Now you're free to spread the word more widely make sure you get a good shot of that sparkler.
It's probably going to be the most commented on pic in your feed for some time to come.
If your nails aren't looking their greatest get a manicure, or at the very least make sure they're clean and nicely shaped.
Your hands are going to be centre-stage so no tatty claws please.
3. Celebrate just you two
Time for a wee breather to let it all sink in properly (and yes, you can have a champagne now!)
Now that you've told everyone ignore the continual pings of your phones and just enjoy the moment.
If you've got engaged abroad, even better. Take some time just the two of you.
5. Let's talk numbers
Time to get serious for a moment. Have an honest chat about what sort of wedding you both fancy, where it'll happen and the all-important guest list.
This will give you a good starting point for your budget.
6. Talk to your parents again
We know chatting about finances with your mum and dad is never fun and potentially awkward but there's no point setting out with an imaginary budget largely funded by the parents if they're not on the same page.
Have an honest conversation about what sort of wedding you'd like, how much it's likely to cost and then ask if they would like to make a contribution.
You can then start planning in earnest. You might even be pleasantly surprised.

IMAGE | Alex Martin Photography
7. Pick your team
It's time to select your bridesmaids, best man and groomsmen.
You may have known who they were going to be for what feels like forever and may think it goes without saying but ask them properly.
Need some ideas for a cute 'maid proposal? Read how digital editor Steph proposed to her girls.
8. Time to party!
Engagement party that is. Round up your nearest and dearest and let them share in your happiness.
Quick word to the wise though. You may not want to make this a total free-for-all incase people you have no intention of inviting to the wedding think they've made the cut.
9. Visit some venues
You may have known where you want to tie the knot since you were little or you may be entering this process clueless.
Either way, make some appointments for a proper show-round.
Hands down your venue's going to be your biggest expense and they often get booked up months if not years in advance for the most popular dates so this could determine the length of your engagement.
10. Take in a show
If you've got engaged over Christmas you're in luck, January is a busy time for wedding shows and fairs.
They're the perfect place to start planning, scope out suppliers and even pick up a bargain.
The bigger shows also have fashion shows where you can check out the very latest in bridal fashion.
Keep an eye on the Scottish Wedding website and social for details on shows throughout the year.
11. Book in some of the big suppliers
Once you have your date, venue and, most importantly, a celebrant to marry you, it's time to make some more bookings.
Photographers and bands can be booked well over a year in advance so get researching to avoid disappointment.
Band showcases are a great place to find your wedding soundtrack.
12. Insure yourselves
Again not one of the glam tasks but get wedding insurance. No ifs or buts.
Hopefully you'll never need to use it but you just never know.
IMAGE | Eleganza Sposa, Glasgow
13. Hit the boutiques
Dress shopping has to be one of the most fun parts of planning a wedding so make the most of it and enjoy it to the full.
Make some appointments and round up your mum and 'maids.
Remember the lead time on your dress could be at least six months unless you're lucky enough to bag a sample so build that into your timeline.
14. Lists, lists and more lists
Or Pinterest boards, or excel.
It's time to start some wedmin and compile all your ideas from the wedding theme and ideas you love, to your suppliers and what costs what.
15. Decide if you need to hire a wedding co-ordinator
If you're DIY till you die that's grand but some brides and grooms would rather die than sit crafting and sorting timetables so it's worth considering whether you want to call in professional help.
They can be as involved or hands-off as you need.
16. Remember to chill
Wedding planning is definitely a marathon, not a sprint.
Remember to take some time off wedding chat to avoid fatigue.
Book in some dates or just set aside time that is a wedding-free zone!
HAVE YOU GOT YOUR ENGAGEMENT RING YET?
Why getting married in winter could save you money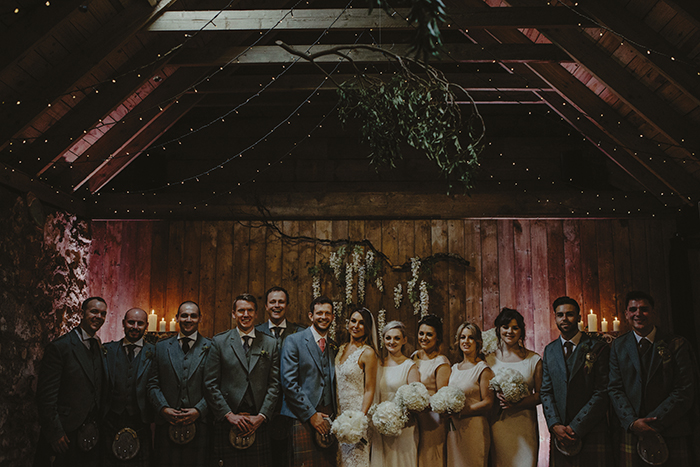 Scotland is absolutely beautiful in the winter months, so why not get married in October, November, December or January? You could save money too! 
IMAGE |  Tandem Photo
When you imagine your wedding day, what do you think of? If it's streaming sunshine, wedding photos on luscious greenery and bright, beautiful flowers, you're not alone.
Summer is high season for weddings, and most couples book years in advance to make sure they get the best possible date, praying our most elusive season will bestow them with good weather.
The problem with this is that: 1) not everyone fancies having a long engagement for the sake of securing their perfect venue on the right date and 2) even if you do go for a summer wedding, it's not like you can guarantee blazing sunshine.
This country has a mind of its own. You book a July wedding years in advance and you get to the day and it can just pour. Then you could book it for December and get a gorgeous sunny day.
At least if you plan a winter wedding knowing that the weather probably won't be amazing, you can be prepared for it (and you'll be pleasantly surprised if it turns out nice after all!).
CUTTING COSTS
But it's not all about the weather. One of the best things about planning a winter wedding is that it often works out a lot cheaper – perfect if you're trying to stick to a small budget but don't want to sacrifice on quality.
Venues in particular often offer bargain-worthy winter package deals to tempt couples during the chillier months, which can make a huge difference to your total spend.
Further savings may be in store if you forgo the traditional popular Saturday celebration in favour of a mid-week wedding.
Savings aren't restricted to the venue either; other wedding suppliers may be willing to be flexible on their prices too, especially if they aren't so in-demand at that time of year.
Another good thing about wedding suppliers not being quite so busy in winter? You're much more likely to get the suppliers at the top of your wish list, rather than having to settle for second best because your faves are all booked up.
Not to mention the fact that if your suppliers are quieter, they are more likely to be able to spend even more time perfecting your wedding.
IMAGE | Story of Love
WINTER'S LOVE
Stepping away from the business side of things, don't forget that winter is actually a pretty romantic time of year. Getting married in the winter creates a cosy, intimate atmosphere. It's a great time for family all being together, which gives the season a lovely romantic feel.
Snow-covered trees make a beautiful backdrop for your wedding photos, while the early dark nights are the perfect excuse to fill your venue with flickering candles.
In fact, a whole new range of options become available to you in terms of decor and styling. You can move away from traditional colour schemes like bright block pinks and pastels and opt instead for deep reds, maroons, navies, blues and dark greens; colours that are particularly effective in creating a rustic, log cabin vibe.
Or go for crisp whites and twinkling fairy lights to complement the blanket of snow outside.
Flowers can really help create warmth in a winter setting – we love a festive wreath – and due to advancements in technology, blooms that were previously only in season for a few weeks can now be cultivated all year round, giving you more options than ever.
Naked and semi-naked cakes lend themselves perfectly to a winter theme. A very light layer of buttercream looks like frosting, and you can decorate with a lovely red Grand Prix rose and sprigs of eucalyptus.
Serve the cake up with mugs  of cocoa in the evening, if your guests have any room after dinner (let's face it, winter wedding menus call for comfort foods – steak and ale pie,Yorkshire puds, roasted rosemary spuds … ).

IMAGE | Wonderful & Strange
NO MORE STRESS
Without the competition for suppliers, stressing about the weather, and negotiating about where best to use your budget, planning a winter wedding takes a lot of the stress out of wedding planning.
Does that mean you could possibly plan a wedding without even one bridezilla (or groomzilla) moment of madness? It must be a festive miracle…
Thinking of having your wedding in the New Year?
Bride sentenced to life… of marriage with Edinburgh Dungeon proposal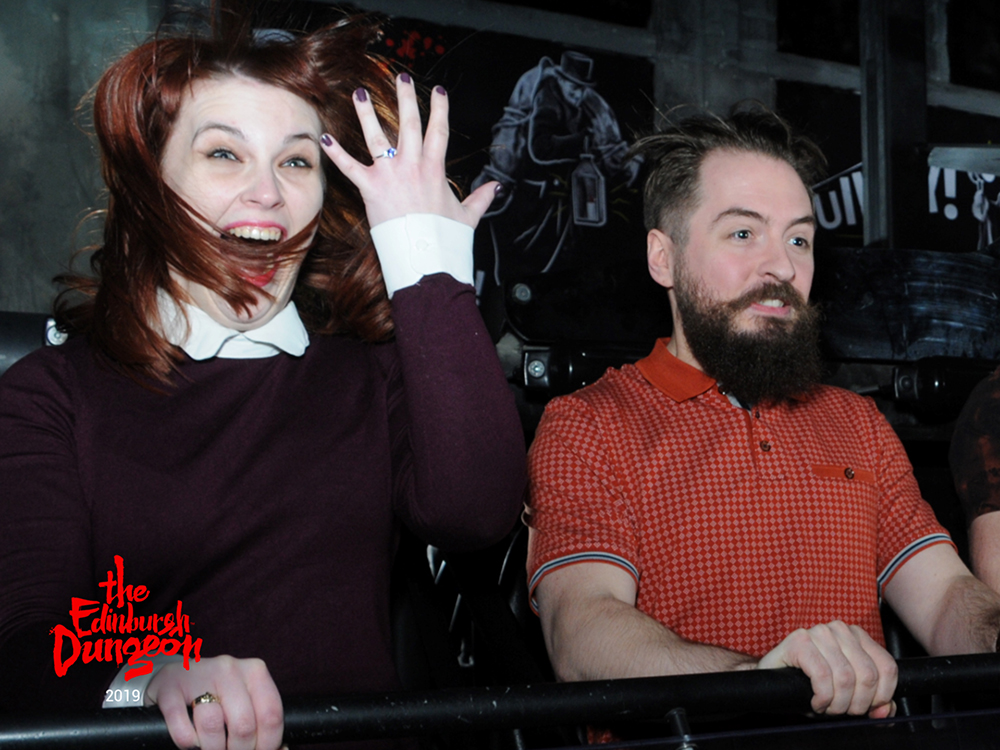 Rachael Pike got the surprise of her life when her visit to the Edinburgh Dungeon turned up a shock proposal.
Her boyfriend of three years Anthony Johnson surprised the room of tour-goers when he got down on one knee and popped the question.
The couple were in the judge's courtroom and Rachael was in the docks at the time.
"I actually wanted to give [the room] a miss because we were running late and were practically running there but Anthony insisted," smiles Rachael.
"When we went in the courtroom another person was called up to the stand before me and then I was called up to face a charge.
"The judge said if I prove I'm insane I'll be let off and suggested I to this jig, which I did.
"He then said I'm clearly insane and Anthony had something he wanted to say about that.
"I was confused but then I looked over and he had a small box in his hand and told me I was the love of his life.
"I froze at first and then said 'Are you really doing this in a dungeon?' and he said he couldn't think of a better place.
"He then came over to the stand and went down on one knee."
Anthony had contacted the Dungeons in advance and the team had amended the script accordingly.
"I was a bit overwhelmed, probably because it was so unexpected but I was and am still so excited and really happy.
"The dungeon is so deliciously creepy and a good laugh, I have recommended it to everyone who has asked 'How did he propose?'."
THE EDINBURGH DUNGEON IS A SPOOKILY COOL LOCATION FOR PROPOSALS BUT YOU COULD ALSO HOST A SPOOKY HEN PARTY THERE?
HEAD TO THEIR WEBSITE TO SEE HOW MUCH YOU CAN SCARE THE BRIDE-TO-BE – PERFECT FOR A HALLOWEEN HEN
Proposal goals! Unsuspecting bride-to-be's sister flies across the continent to surprise her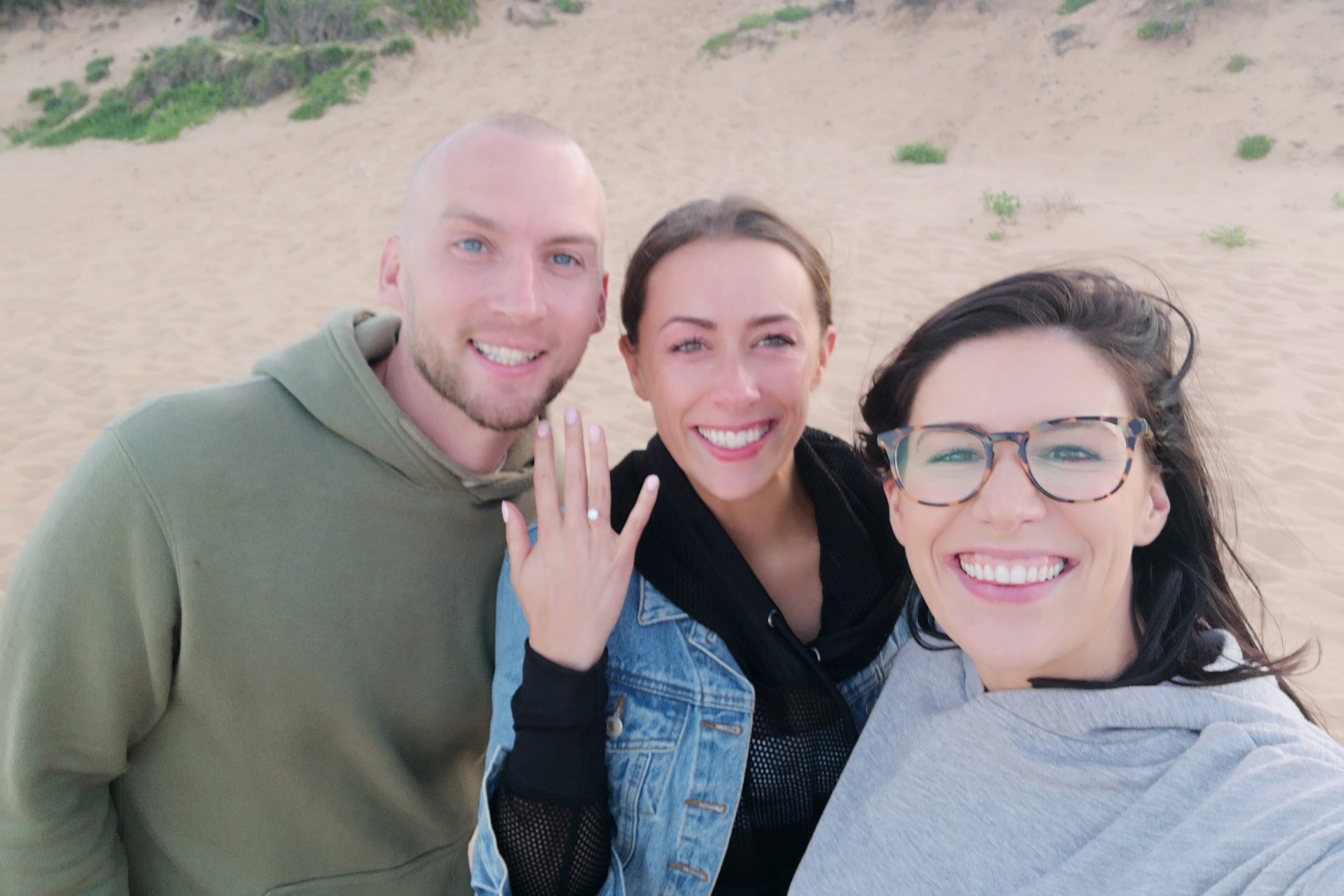 Sisters Christina and Yolanda have always had a special bond, which remains stronger than ever despite the fact that they now live on different continents.
Yolanda is in Australia with her partner John, while Christina and husband Chris stay in Scotland.
"John and Chris know how close we are and go out of their way to help us be together, whether in person or by video call," smiles Christina.
Naturally, when John decided he wanted to marry Yolanda, her sister was one of the first people he confided in.
"His original plan was to pop the question in December before they flew back home for Christmas so we could all celebrate together," says Christina.
But like all of life's best-laid plans, things quickly went awry when John realised that Yolanda's work schedule was just too hectic, and he'd have to bring the proposal forward by a month.
"John phoned and said 'I need to do it next weekend and I know she would love you to be here'," recalls Christina. "I told Chris and he could see my sadness as I knew it was too short notice with the proposal planned just six days later."
Christina resigned herself to not being there for her sister's big moment – then hubby Chris came to the rescue and booked her a surprise flight to Oz. Just over 48 hours later, she arrived Down Under and made her way to Palm Beach, where the proposal was planned to take place at sunset.
"Yolanda loves sunsets, but there are two sides to this beach and it turned out we were on the side that had no sunset," laughs Christina, who hid behind tall grass on the beach watching her soon-to-be brother-in-law get down on bended knee.
"Yolanda jumped back in disbelief before she eventually said yes. It was so special to watch."
Of course, that wasn't the only surprise in store for Yolanda, who video-called Christina not knowing that she was already on the very same beach.
"Yolanda was in tears and said 'I wish you were here!'"
At that moment, Christina ran towards her unsuspecting sister.
"When I eventually reached her, champagne bottle in hand, we gave each other the biggest hug – it was one of the best moments ever," says Christina.
Yolanda is still speechless over how special her proposal surprise was.
"The fact that John, Chris and Christina all did something this important for me, I can't really put into words how that feels," smiles the bride-to-be.
Planning your own proposal?
Michelle's Bride Diary: Meet our new columnist!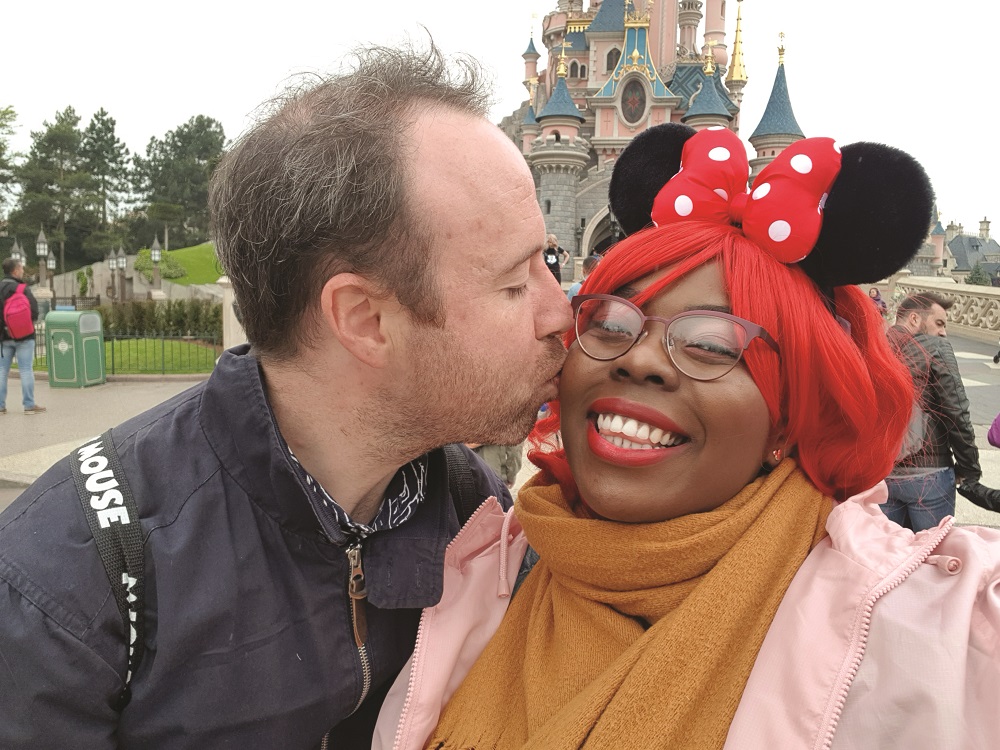 WEDDING COUNTDOWN: 10 MONTHS TO GO 
My fairytale goes like this: perpetually single girl meets and falls for exceptional boy. We met over two years ago on Match.com, and fate was definitely at play because I very nearly didn't sign up.
It wasn't until I was in a physio session during my time in the west end production of Aladdin that I was coaxed by my physiotherapist to try it out. I signed up, and the next time I checked my phone I had a message from Jonathan. He was the first and last date I went on using Match!
I knew Jonathan was the person I wanted to marry the day I was at his flat and automatically started cleaning up because I felt so comfortable.
Being with him felt like home – and thankfully our happily ever after is just beginning, because we are now engaged!
I'll admit it's not the traditional fairytale, but it works for us. I've quickly learned that this is one of the most important parts of planning a wedding; knowing what's going to work for you.
Some of us have been planning this day since we were little, some of us have absolutely no clue and just want to embark on this journey to married life, and some of us are a mix of both and winging it.
Please assign me to the latter group.
MICHELLE + JONATHAN
There's a dizzying amount of things to decide on, and I can already tell that knowing from the outset what will and won't work for us will save us from several near-breakdowns. Taking the time to sit down and have some real conversations – and prioritising ourselves – has saved us time already.
For example, we know that we want to get married in March or April next year, but we are leaving the exact date flexible to work around the availability of the venues we look at. We don't want a lavish affair with 250 guests in attendance. We want intimate and elegant without breaking the bank.
What makes things tricky for me is that I'm currently on tour with Matilda the Musical (I play Mrs Phelps, the librarian), which is cool, but it also means co-ordinating a wedding from sometimes 200 miles away.
It will be a feat, and I'm going to have to get creative (and trust my Jonathan to be my eyes and ears!).
Organisation and decisiveness are key. As of right now, I have the Bridebook App on my phone and I'm making my way through a computer-generated checklist which includes everything from insuring my new engagement ring to starting a rough guest list.
You can also make your partner admin so that you can both edit and tick things off as you go along.
We may not be together as we plan but we know what we want – and now we're embarking on the adventure of making that dream come to life.
FOLLOW MICHELLE'S WEDDING PLANNING JOURNEY ON THE WEBSITE AND IN SCOTTISH WEDDING DIRECTORY.
YOU CAN ALSO FOLLOW HER ON INSTAGRAM AT @MICHELLEHOPEWELL
13 of the best wedding venues in Stirling 2019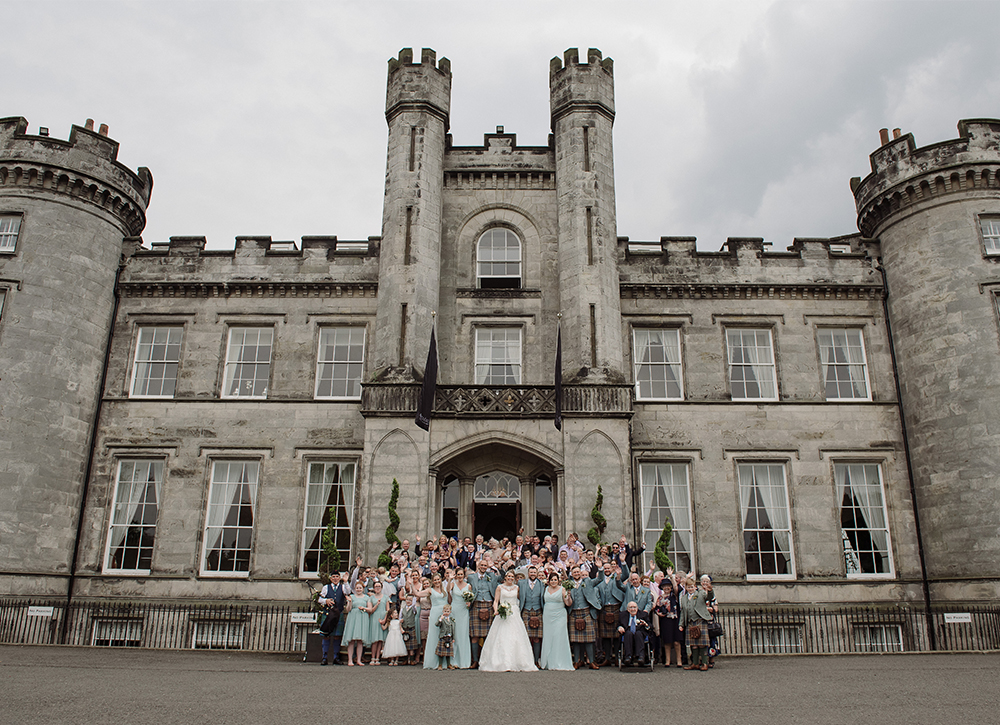 Stirling is one of the most historic and beautiful cities in the country, and a perfect place to hold an authentic Scottish wedding.
So, if you want to make your own personal history in a place rich with its own, here are some great Stirling wedding venues to get hitched in!
This post contains some paid for content.
Airth Castle Hotel and Spa
IMAGE | Rhiannon Neale Photography
Nestled in acres of wooded parkland with landscaped gardens and sweeping driveways, the award-winning Airth Castle Hotel & Spa, near Stirling, is an idyllic setting for your wedding.
The principal wedding suite is the fabulous Dunmore Ballroom, a unique space with an octagonal shape and also featuring a vaulted ceiling, contemporary furnishings and walnut panelling.
The elegant Wallace Suite and Stateroom Lounge in the Castle offer an equally impressive backdrop with floor to ceiling windows, ornate cornicing and magnificent Adam fireplaces, while the stunning Castle Suite features traditional period features and sweeping countryside views.
Visit Airth Castle Hotel & Spa's website | t. 01324 831411 | e. sales@airthcastlehotel.com
Read reviews for Airth Castle Hotel & Spa
Glenbervie House Hotel
A magnificent Victorian manor house reached by a long, sweeping driveway and surrounded by acres of mature grounds and beautiful countryside, Glenbervie House in Larbert is one of Scotland's most elegant exclusive-use wedding venues.
The grand Drawing Room opens on to a spacious outside terrace, perfect for your drinks reception, whilst the larger Glenbervie Suite also makes the most of those lovely views. It can accommodate up to 200 wedding guests, allowing you to have the big blow out celebration of your wedding dreams!
Visit Glenbervie House Hotel's website | t. 01324 556280 | e. sales@glenberviehousehotel.com
Read reviews for Glenbervie House Hotel
Glenskirlie House and Castle
IMAGE | Andi Watson Photography
Glenskirlie House and Castle is a striking and versatile wedding venue that sits between Stirling and Glasgow.
The venue is the epitome of romance, with elegant furnishings and décor that ensure that your wedding will be chic and glamorous. And don't forget that it has not one but two honeymoon suites to choose from!
The team at Glenskirlie will work closely with you and your other half to create a bespoke wedding day tailored to suit your tastes and requirements.
Visit Glenskirlie House and Castle's website | t. 01324 840201  | e. weddings@glenskirliehouse.com
Read reviews for Glenskirlie House and Castle
Inglewood House and Spa
Inglewood House and Spa is set within 25 acres of land and sits on the edge of a truly beautiful and enchanting woodland near Alloa.
The grounds have been extensively landscaped and there's a lovely duck pond on-site, making the gardens an incredibly pretty spot for wedding photographs.
Inglewood has a full wing dedicated to weddings, equipped with a stylish ballroom, balcony and special bridal suite where you can prepare for your wedding in the morning. Big or small, you can have the wedding of your dreams at Inglewood House and Spa!
Visit Inglewood House Hotel + Spa's website | t. 01259 216156 | e. info@inglewoodhouseandspa.co.uk
Read reviews for Inglewood House Hotel and Spa
The Parsonage at Dunmore Park
A lush Victorian mansion in Falkirk, The Parsonage at Dumore Park is a fantastic exclusive use venue for couples looking for somewhere with plenty of elegance and class.
Despite its luxuriously spacious size, The Parsonage has an easy, intimate atmosphere that will make your wedding feel like the most glamorous house party you have ever been to. It's also home to two pavilions, ideal for larger celebrations and able to accommodate weddings from between 150 to 400 guests.
With gorgeous onsite accommodation and sweeping, manicured lawns, The Parsonage will make you fall in love all over again!
Visit The Parsonage at Dunmore Park's website | t. 01324 831393 | e. sales@parsonage-dunmore.com
Read reviews for The Parsonage at Dunmore Park
The Royal Hotel, Bridge of Allen
The recently renovated Royal Hotel in Bridge of Allan is a beautiful backdrop for any wedding day. Complete with modern interiors that perfectly complement the iconic Victorian building and a gorgeous grand ballroom, there's a stylish space for your celebration no matter your style of theme.
Get married here and you'll also be given a dedicated wedding executive who will provide help and support at every step of your wedding planning journey.
Visit The Royal Hotel, Bridge of Allen's website | t. 01786 832284 | e. sales@royalhotelstirling.com
Read reviews for The Royal Hotel, Bridge of Allen
Broomhall Castle
Broomhall Castle is a stunning country mansion and a lovely backdrop for wedding photographs. Close to Bridge of Allan, this is a wonderfully accessible venue for guests coming from both Stirling and Glasgow.
Visit Broomhall Castle's website
Dunblane Hydro
IMAGE | Jenniflower Photography
Dunblane Hydro is a gorgeous hotel wedding venue that is perfect for couples who want a truly glam setting for their wedding day celebrations.
Visit Dunblane Hydro's website
Hotel Colessio
A wonderfully luxe hotel and wedding venue in the heart of the city, you can celebrate your wedding here and have your photos taken at the nearby Stirling Castle.
Visit Hotel Colessio's website
Inversnaid Bunkhouse
Inversnaid Bunkhouse is a quirky and unique wedding venue near Stirling which has plenty onsite accommodation for guests to stay the night.
Loch Lomond Arms Hotel
IMAGE | Simon's Studio
A beautiful wedding venue that sits on the banks of Loch Lomond in the picturesque village of Luss, Loch Lomond Arms Hotel is a wonderfully romantic place to hold your wedding day.
Stirling Castle
You can have your wedding ceremony and reception within the walls of one of the most historic buildings in Scotland – how cool is that?
Visit Stirling Castle's website 
The Cruin
IMAGE | The Gibsons
The Cruin is a lovely wedding venue situated on the banks of Loch Lomond, and has beautiful indoor and outdoor spaces for a wedding ceremony.
---
Would you like your wedding venue to be the epitome of romance?
Hey, it's okay to feel anxious + overwhelmed when you get engaged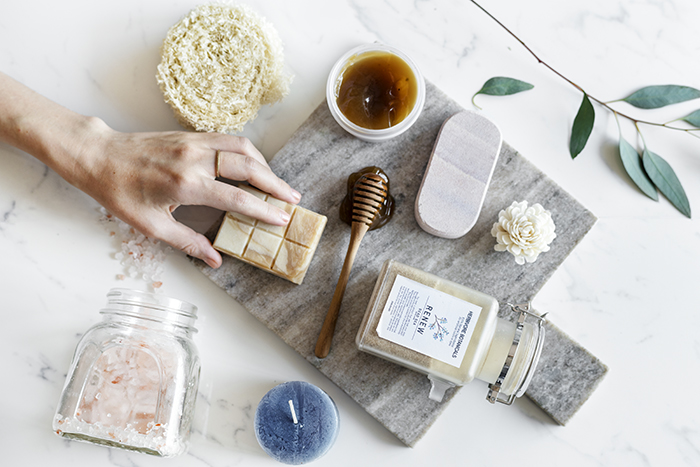 Feeling anxious? You're not alone. SWD writer (and bride-to-be) Rachel Lawler explores the complicated feelings that can arise after getting engaged.
Getting engaged is supposed to be the happiest time of your life. But what if it's not?
Of course you're delighted to be spending the rest of your life with the one you love, but it can feel a bit overwhelming – and that's totally okay.
'PERFECT COUPLE' PRESSURES
There's so much pressure to look like the 'perfect couple', especially when social media serves up a constant stream of forced happiness.
Sometimes the big changes in life, even the happy ones, can trigger feelings of anxiety and stress – especially if this is something you live with already.
It may feel like you're supposed to behave a certain way, but don't put pressure on yourself.
FEELING LOW
I speak from experience; when I got engaged, I felt guilty AF that I wasn't skipping around on a dreamy cloud of happiness 24/7.
But when you're already feeling low, you're only going to feel worse if you beat yourself up about it.
When I shared how I was feeling online post-engagement, I was blown away by just how many brides and grooms-to-be could relate and felt the exact same.
SOCIAL MEDIA SADNESS
Always remember, no matter how happy someone's proposal announcement sounds on Facebook, chances are they're also feeling a tad (or massively) overwhelmed by the life milestone they've just reached.
It's totally fine to need some time out and to not want to speak about your engagement to everyone.
It's a completely personal thing, which I think is sometimes forgotten in this digital age where everything is shared to extremes.
THE TRUE MEANING
Every relationship goes through ups and downs, especially when other aspects of your life are challenging, but it's how you pull together and support each other that really counts.
Take some time out just the two of you where and when you can, whether that's to go out for a date night or put your phones away and cook dinner together.
It's easy to get wrapped up in wedding worrying, but take a step back and remember the true meaning of your big day: you're getting to marry the person you love.
THE HAPPY MIND GUIDE
Self-care is everything when it comes to keeping your mind happy and healthy. Here's how to combat anxiety and stress.
TAKE TIME OUT
Set aside time to do things that make you happy, relaxed and calm, like going for a walk at lunchtime or making sure you're getting enough sleep.
GO OFFLINE
Websites and social media can be an amazing source of wedding inspiration, but they can also play on any existing problems you have with self-doubt and low mood, so limit your screen time.
MEDITATE
If you're not sure where to begin, download Headspace, a daily meditation and mindfulness app available in a basic free version on iOS and Android.
ASK FOR HELP
Take up offers of help and delegate to friends, family and your partner. You don't need to do everything by yourself when planning your big day.
Floral-filled nature inspired wedding day at Sorn Castle, East Ayrshire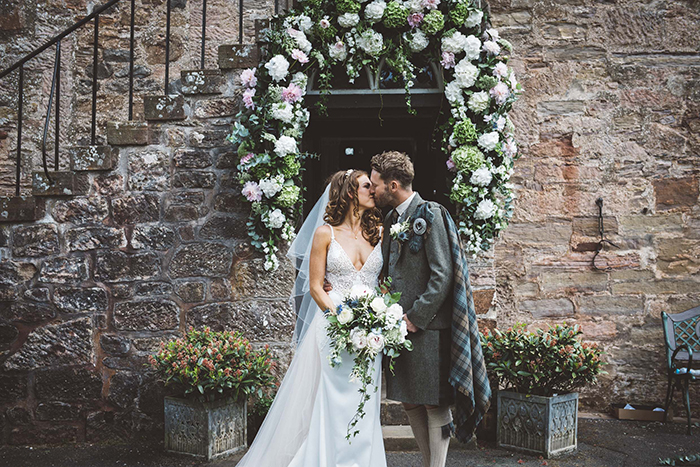 Rebecca and Jason created a beautiful nature-inspired wedding reception at Sorn Castle following their beautiful ceremony at Sorn Parish Church.
With plenty of personal touches – groom Jason even hand-built their wooden pergola! – it was truly a day to remember.
Here, bride Rebecca shares more from their wedding, including a very exciting arrival in 2019!
Jason and I clicked right away on the first date. Although we are opposites in lots of ways, we are so similar in others.
We both work really hard and help each other strive and achieve our goals – we balance each other out perfectly!
Jason proposed while we were on holiday on the island of Koh Tao.
We went snorkelling on our favourite beach, and he pretended to look under the water at some fish but instead resurfaced with my engagement ring from under the sea!
Booking the perfect venue was a priority to us, and we wanted our wedding on a bank holiday weekend to make it easier for my family travelling from Northern Ireland.
As soon as we walked into Sorn Castle, we fell in love with it.
The team made it feel really personal and special – it didn't feel like a wedding conveyor belt like some other venues.
For the décor, we wanted it to reflect the elegance of the castle and the beautiful nature in the surrounding grounds, installing lots of floral displays throughout the venue.
We also wanted to pay tribute to my Northern Irish ancestry and Jason's Scottish ancestry, and had fudge from my home town and bottles of Irn Bru as favours.
My dress was 'Gala' by Galia Lahav. It was made from vintage crochet and silk satin with a dramatic blush train.
Jason wore a customised tweed kilt made at Frank's Gold Room at Kilts 4 U in Hillington. It was stunning and everything we wanted.
The night before the wedding was so stressful, I was almost verging on having a little bridezilla moment! Jason was still building our wooden pergola at 9pm, but we eventually had our ceremony rehearsal and that helped calm our nerves.
We were both a little nervous at the ceremony, and stumbled over a few words even though we had practised it plenty!
We got a few giggles from our guests which actually helped put us at ease.
The speeches were fantastic, and there were a few tears during my dad's as he spoke about family and friends that are very missed.
It was followed by lots of laughs during the best man's speech, which contained anecdotes that cannot be put down in print!
Our florist embraced our vision and went above and beyond. People are still talking about the floral displays!
At the Ayrshire Wedding Show we won the chance for West FM DJ Colin McCardle to play at our wedding! Everyone had a blast, and the marquee was jumping from start to finish.
Our first dance was Brad Paisley She's Everything. It is a song we both love and has very meaningful lyrics. We also liked that it was a unique choice that many people hadn't heard.
Our plan for our honeymoon is to go to New Zealand and the Cook Islands, but we have had to postpone it as we're expecting our first baby in March 2019!
Photographer: Tommy Cairns Photography | Venue: Sorn Castle
Bride's dress: Kavelle Bridal Couture  | Bridesmaid dresses: Lou Lou Bridal
Groom's kilt: Kilts 4 U | Videographer: White Balloon Films | Cake: Rosewood Cakes
Florist: Every Bloomin Thing  | Make-up: AMM Hair and Makeup Team
Stationery: Bespoke Wedding Stationery