Wedding venue Melville Castle confirms closure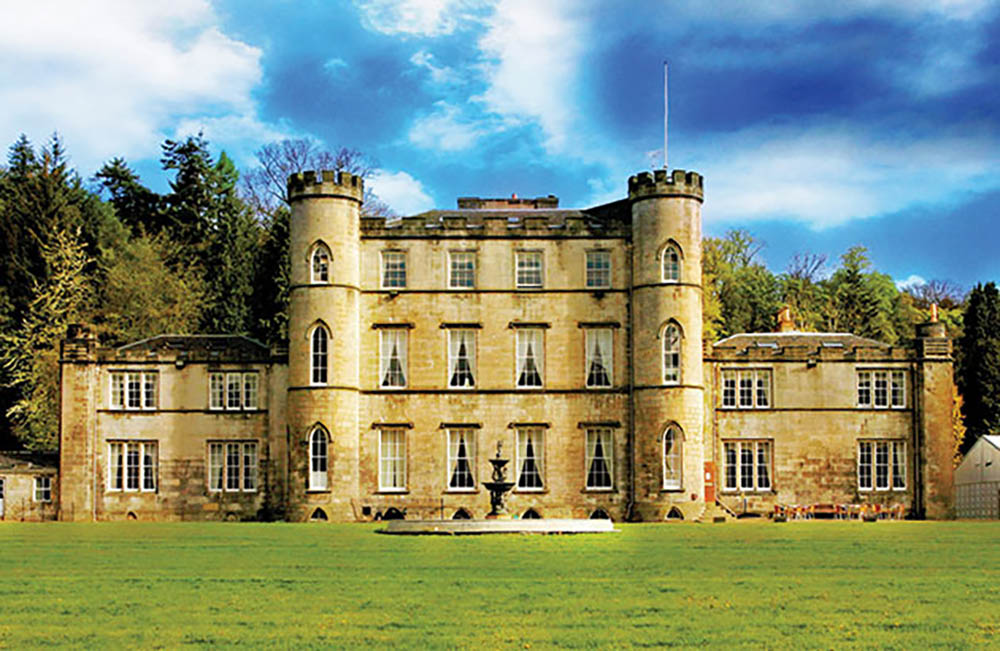 One of Scotland's most popular wedding venues has confirmed it will be closing its business for good due to the coronavirus pandemic.
Melville Castle, an exclusive-use venue on the outskirts of Edinburgh, contacted around 85 couples this week to let them know the sad news that they will no longer be able to host their weddings.
All couples have been reassured that their deposits will be refunded.
In a statement to Scottish Wedding, Melville Castle's Director Suzanne Hay said:
"It is with great sorrow that we are closing the operations at Melville Castle.
"It has been a beloved family business for many years.
"As a result of Covid-19, the subsequent impact on the business made staying open impossible.
"We extend our deepest regrets to our customers and friends and will be reimbursing all event bookings and wedding bookings in full."
Popular Fife wedding venue introduces a drive-in cinema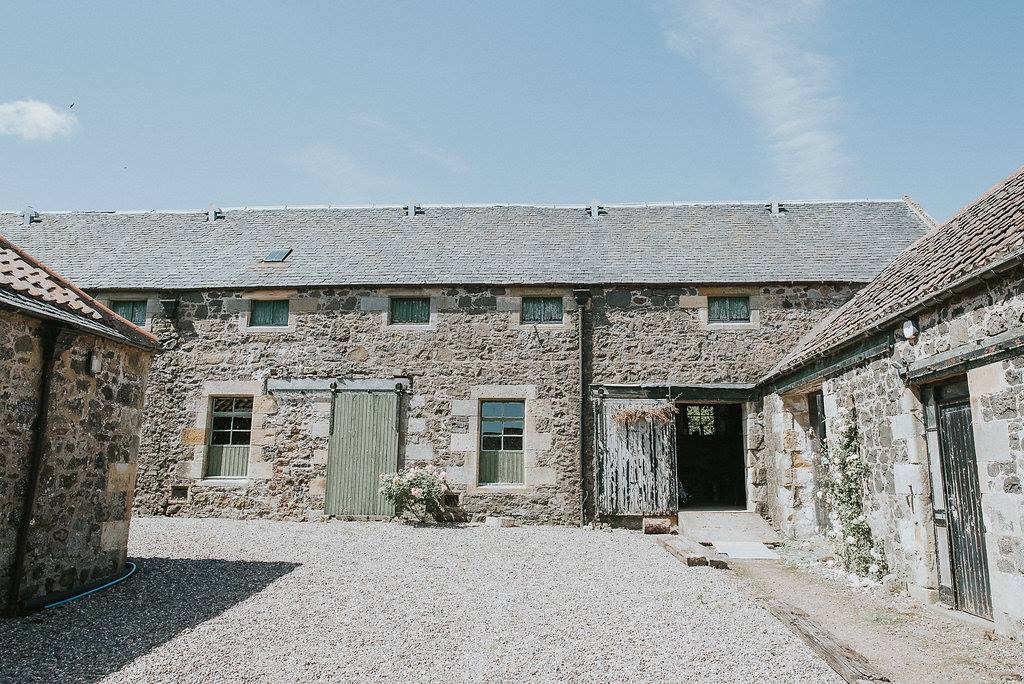 If date night with your spouse-to-be is getting a bit, er, repetitive these days, don't fret. One of our fave wedding venues has come to the rescue by launching a new drive-in cinema, and we are so here for it.
Pratis Barns in Fife is one of Scotland's top blank canvas venues, and during normal pre-Covid times it was accustomed to hosting huge celebrations.
With the restrictions on weddings in Scotland showing no sign of abating any time soon, venue owners Patrick and Nicola Gilmour have decided to put their gorgeous venue to good use by turning their hand to a different type of event.
"We have a large, beautiful space here at Pratis Barns and were looking for a fun and sociable idea to bring people together in a safe way," says Patrick.
"The drive-in cinema experience is a great opportunity for a family outing, a different kind of girls' night out, or a classic date night.  It certainly isn't a standard cinema trip!"
The Pictures @ Pratis event will take place from Friday 28th until Sunday 29th August, with an exciting bill of popular blockbuster movies on show.
The event opens on Friday with Up followed by Dirty Dancing; Saturday's bill includes Despicable Me, The Greatest Showman and Rocketman; and on the final day the films are Toy Story, Grease and A Star Is Born.
There'll be a giant outdoor cinema screen and the soundtrack will be played through your car.
And you can expect much more than boring old popcorn to snack on.
A tasty in-car dining menu carefully prepared by Patrick (who was named Scottish Wedding Caterer of the Year at the VOWS Awards) will be on offer, including wood-fired pizza from Fallones.
Defender Blender will also be on hand with delicious cakes and coffee.
Tickets cost £35 per car, and £10 of your ticket price can be redeemed against food and drink at the event.
Book your drive-in cinema ticket now.
You can now buy style blogger Florals and Corals' wedding dress!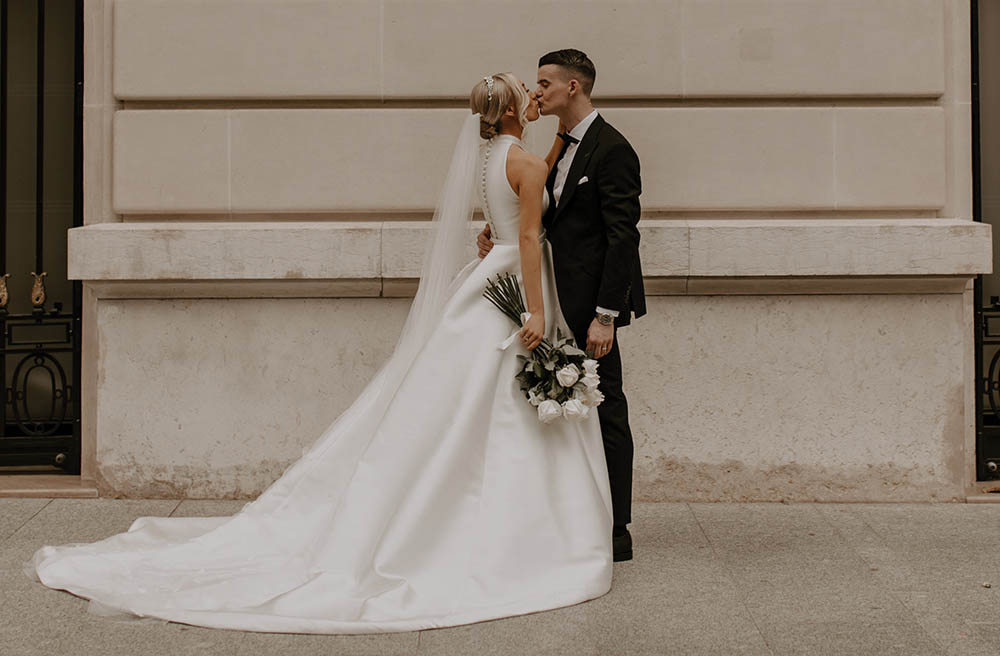 IMAGES | Vanessa Toth
When we featured style blogger Lucy of Florals and Corals' wedding in Scottish Wedding magazine earlier this year, the entire SW team was more than a little bit obsessed with one detail in particular: her dress.
Designed by celebrity favourite Suzanne Neville, the custom gown incorporated an amalgamation of different design elements Lucy loved but had been unable to find in one dress.
"I originally wanted a Vera Wang or Monique Lhuillier gown for that romantic and statement feel," Lucy told us.
"I went to London and felt that each one I tried drowned my small frame. I tried on one simple Peter Langner gown and was shocked by how much I loved it.
"Then I realised that 90% of my Pinterest wedding dress boards were filled with simple statement dresses.
"The next morning I went to Suzanne Neville and she told me she could make me a bespoke gown by putting together different aspects of different dresses that I loved, so I was sold!"
With its elegant halterneck, full skirt, belt and pockets, the chic design had a timeless quality that perfectly complemented the location of Lucy's wedding: Paris.
The Scottish style blogger accessorised with a pair of Jimmy Choo 'Aveline' heels and a headband.
"I wanted to keep everything minimal; I felt like the dress spoke for itself," she explains.
Lucy's wedding dress was so beautiful that we weren't surprised to see designer Suzanne Neville has included it in her 2021 Modern Love collection.
The 'Lovanna' gown boasts the designer's signature sleek and streamlined aesthetic and is one of several in the collection that we've fallen hard for.
Beatson Cancer Charity launches stylish new tartan with Slanj Kilts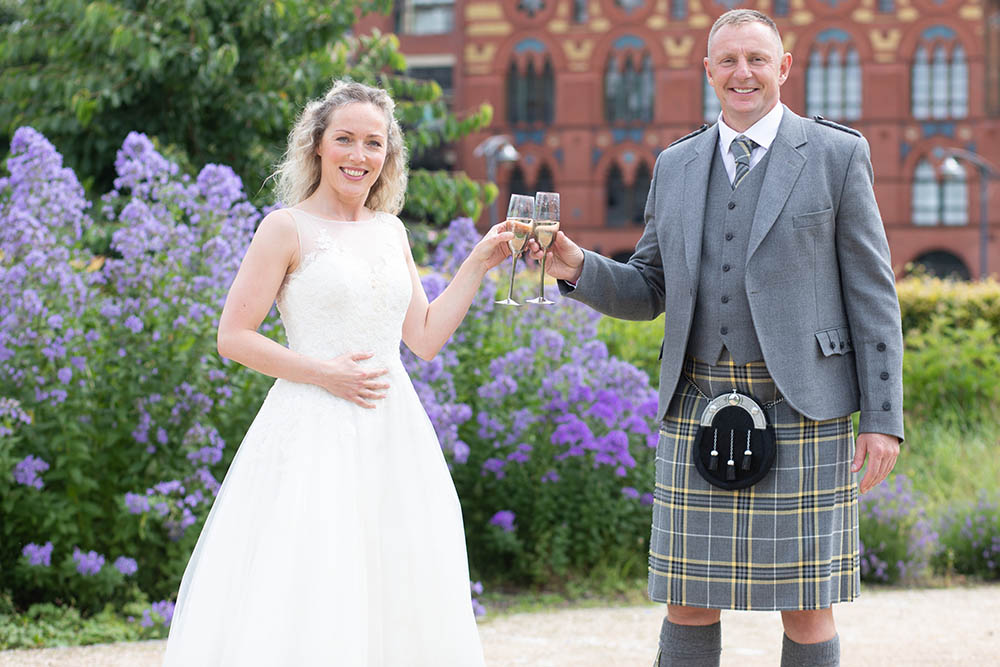 Beatson Cancer Charity has collaborated with one of Scotland's top kiltmakers, Slanj Kilts, to produce an exclusive new tartan.
Created to honour and support the millions of people facing cancer, the tartan can be used on your wedding kilt or trews to ensure you look stylish on the big day while doing your bit for a fantastic cause.
The woollen cloth features the Beatson Cancer Charity's distinctive black and yellow corporate colours complemented by a soft grey for a cool, contemporary look.
Jane Hunter of Hunter's Atelier (and sister-in-law of Tom Hunter), a former graduate of Glasgow School of Art, led the design of the tartan, which is woven at Isla Bank Mills in Keith.
The design is now part of The Scottish Register of Tartans.
And it's already a firm celeb fave, as STV broadcaster Laura Boyd and ex Scottish footballer Robert Douglas wore the tartan for its launch.
Laura tweeted:
"Today @beatsoncharity launch their very own tartan range, including kilts & face masks.
"It's the perfect way to proudly support the charity and celebrate Scotland in style, as well as staying safe. I owe my life to the Beatson and this was a joy to be a part of (even in the hat!)"
Kilts, trews and tartan face masks are all available to buy online from Slanj, which has stores in Glasgow and Edinburgh.
Slanj can create custom made-to-measure grooms' outfits tailored to fit your exact measurements.
Not in the market for groomswear?
There are also candles, dog leads and flat caps made from the tartan fabric which can be bought from the Beatson Cancer Charity shop.
Or if you're looking for another way to support the charity on your wedding day, take a look at the Beatson Cancer Charity wedding favours, which include heart-shaped pin badges and chocolate lollipops!
Lodge on Loch Lomond has a new outdoor patio for wedding ceremonies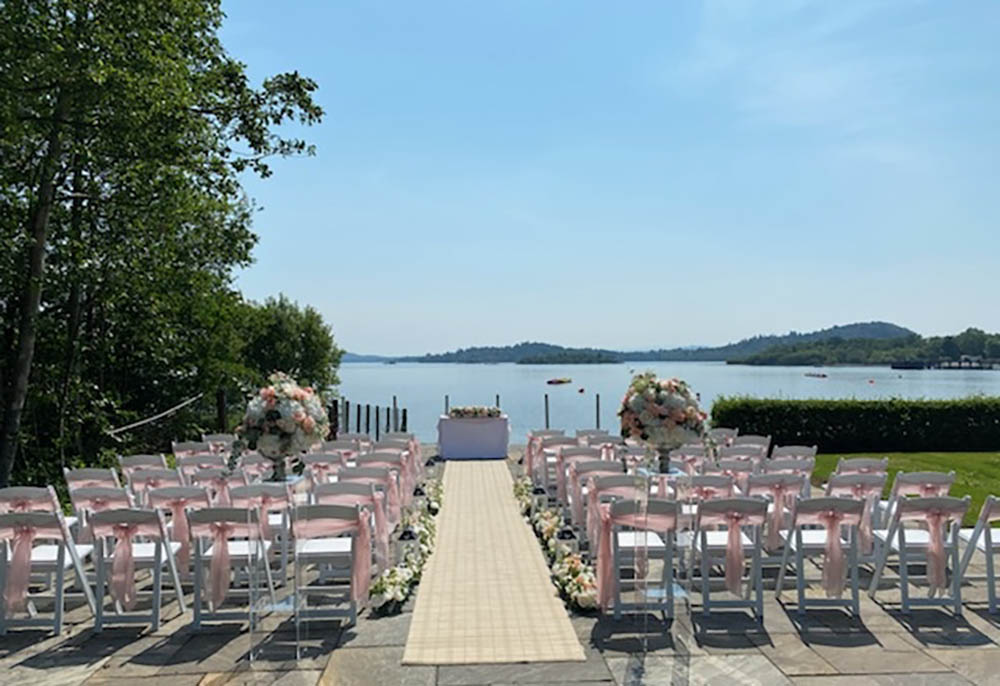 Getting married outside in Scotland has always been an appealing option for engaged couples (even with our, er, changeable weather) because of our gorgeous scenery.
And now that the government is encouraging couples to say 'I do' outdoors if they'd like to get married during the coronavirus pandemic, outdoor ceremonies are currently the safest option too.
If an al fresco wedding is something you're considering, you'll love the Lodge on Loch Lomond's brand new wedding ceremony patio.
This new private outdoor space boasts a unique waterfront location with stunning views of the loch, making it an incredibly romantic spot to exchange vows in.
It's just one of several improvements made over lockdown to the Loch Lomond wedding venue, which has just been named Best Wedding Venue at the Prestige Hotel Awards 2020.
As well as this new outdoor space, the venue's bedroom corridors have been given a bright and airy makeover, while the luxe Carter suite now has new patio doors opening out to its own balcony overlooking the loch.
The venue, based in Luss, reopened at the weekend after a four-month closure.
Lodge on Loch Lomond's sales manager Sandra Cunningham said: "We look forward to welcoming all the rescheduled weddings and many more couples to the Lodge to have the perfect Scottish Loch Lomond wedding."
She added: "Given the challenges recently with the Covid pandemic we are so delighted to have been named the Best Wedding Venue of the year in the Prestige Awards! It is testament to the dedication and hard work of the amazing team and our extra special location."
The wedding venue is open seven days a week and under normal circumstances can cater for weddings between 80-200 guests.
However, given the current government guidelines, the venue is working flexibly to ensure it can host more intimate celebrations for couples who want to get married soon.
Here's how to professionally live-stream your wedding ceremony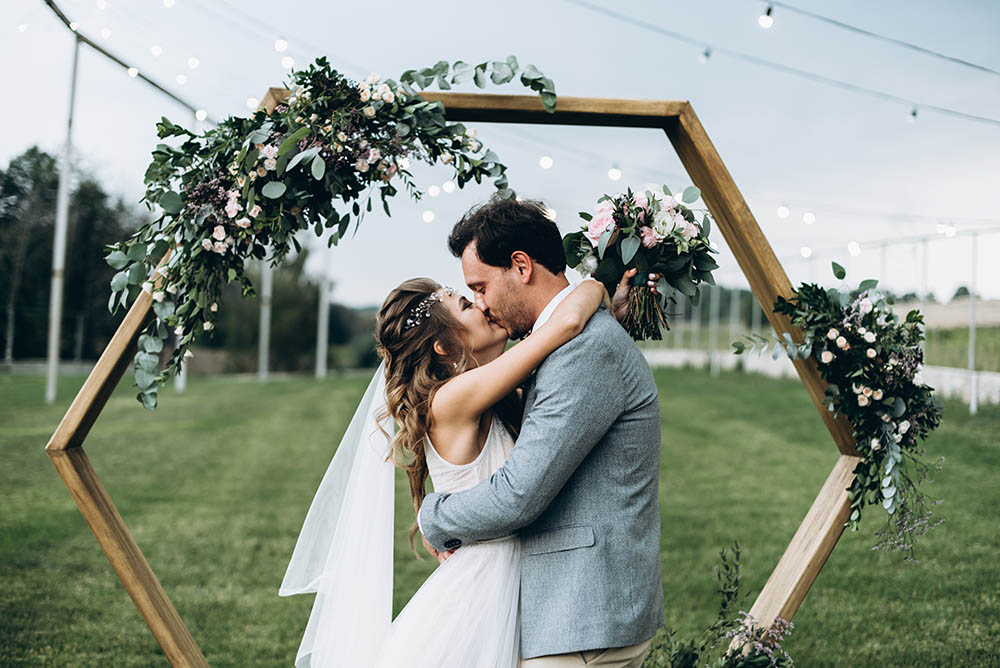 It's been heartening to see weddings take place again in Scotland after months of the industry (and, well, the world) being placed on pause.
But we're not quite back to normal yet, as guest list sizes are still restricted – which means that any couples getting married just now have to come to terms with not having all their loved ones there on their special day.
Of course, you could invite some guests to attend your wedding virtually.
That's the idea behind Wedding TV, a new service launched by Fuze Ceremonies that allows couples to professionally live-stream their wedding ceremony for friends and family that can't be there in person.
Forget the dodgy connection and shoogly camerawork that comes with streaming over social media with a smartphone; this is a far slicker operation combining videographers and cutting-edge technology.
Fuze Ceremonies has partnered with Life's Big Moments, a company that specialises in live-streaming events, alongside top film professionals to ensure the best visual quality.
Your guests will be sent a digital invitation to a dedicated website where they can log-in securely to virtually attend your ceremony live, as it happens, from the comfort of their own home.
The ceremony is then viewable via this link for 28 days, and you'll receive a digital copy of the footage to keep forever.
Anne Widdop, founder and director of Fuze Ceremonies, said:
"Wedding TV was designed with couples and distanced families in mind, with the aim to give the best possible experience of the ceremony to those who, for whatever reason, are unable to attend.
"We have been working hard to provide a high-quality, secure and easy to use service.  We have researched the emerging use of technology during wedding ceremonies and set out with an aim to offer a more personal, inclusive package of services and support to couples.
"We really hope that Wedding TV will have a positive impact on the lives of those whose ceremonies have been affected by the Covid-19 pandemic."
Want to live-stream your wedding ceremony?
There are a number of packages available for this service starting from £199, and a 15% discount is available on all packages until 30 August 2020.
Visit Fuze Ceremonies' Wedding TV page to find out more.
Want a sustainable wedding dress? This ethical designer has arrived in Edinburgh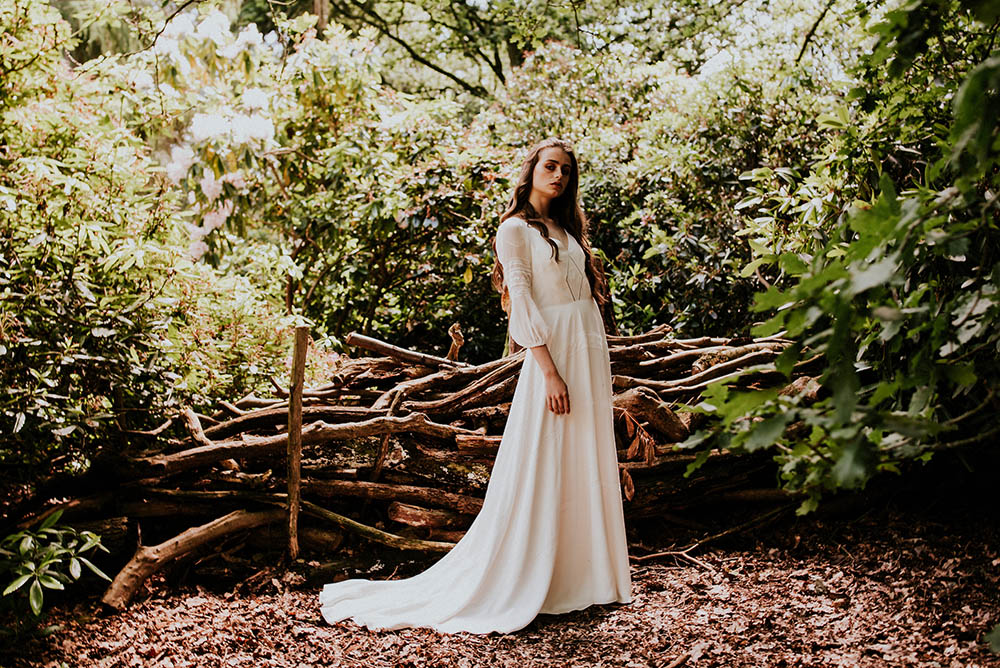 It's no secret that sustainability is a big concern for our generation, with even members of the royal family – from Princess Eugenie with her plastic-free big day to Princess Beatrice and her upcycled wedding dress – putting eco-friendly weddings on the map. Yet sustainable wedding dress designers are still pretty thin on the ground.
The pre-loved wedding dress is of course an option for those trying to make their wedding more green, but what if vintage isn't really your style?
Enter Rolling In Roses, an indie bridalwear label that specialises in gorgeous, boho-leaning and responsibly made dresses for the free-spirited bride.
Looking at the designs, you'd never guess the source of the fabric, which has the soft fluidity of silk.
Rose petals, orange peel, bamboo and even plastic bottles are among the surprising resources used to create the soft, draped material of the vegan-friendly wedding dresses.
Each gown is handmade in York by a small team of seamstresses and, excitingly, Rolling In Roses dresses will be available to order soon from Rachel Scott Couture in Edinburgh.
"I was drawn to Rolling In Roses not just because of their beautifully off-beat, bohemian creations, and use of such intriguing and innovative fabrics, but also because of their admirably ethical approach," says boutique owner Rachel Snedden.
"We've been working hard as a brand to become more sustainable and eco-friendly in everything we do within the higher end luxury bridal dress industry.
"So to be able to offer our brides a collection of sustainable, ethically produced dresses of such outstanding quality is so exciting."
Because Rolling In Roses is a tight-knit team with a small-scale ethical production, all gowns are made to order and can be customised by brides who would like to make tweaks to the designs.
There are no size restrictions either, which means all brides from petite to plus-size can have a wedding dress that fits them perfectly.
Want to see the dresses for yourself?
The collection will launch at Rachel Scott Couture from Thursday 13th to Monday 17th August, and appointments can be made to view, try on or order a dress by calling 0131 556 1520 or emailing.
Glasgow Cocktail Collective offer a virtual bar crawl, delivered to your door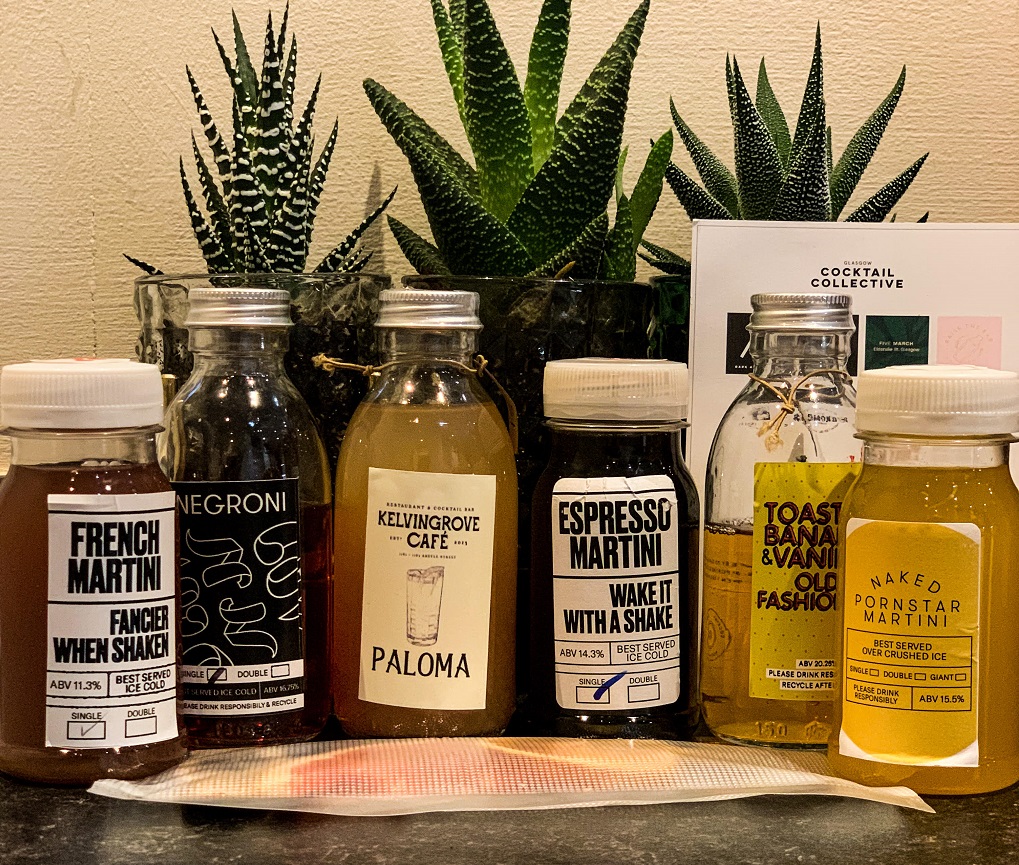 Now that pubs and bars have opened across Scotland it might be tempting to go out more, but if you're looking to have a girl's night out then you could struggle to find a bar that can accommodate your numbers.
Say hello to your new pocket best pal, the Glasgow Cocktail Collective app.
A cocktail delivery service in Glasgow and beyond, this app allows you to order pre-made cocktails from a variety of popular bars, meaning that you don't have to settle for your fave tipples from just one place; instead, you can order cocktails from a variety of places to be delivered direct to your door including Vodka Wodka, Kelvingrove Cafe, The Dam, Tiki Bar, Blue Dog and loads more.
"We began operating at the start of lockdown as a way of supplementing the license industry, by providing jobs for bartenders and drivers, while allowing bars to use their stock and bring in some much needed income," says the Cocktail Collective's Ritchie Munro. "The business has grown, and continues to adapt to the changing times."
One request from customers was for larger scale cocktails, ideal for BBQs, postponed wedding parties, hen dos or even micro weddings, so the Glasgow Cocktail Collective have added five and 10L cartons of Pink Gin Cosmo, Mango Rum Punch and Jolly Rancher cocktails to their menu.
Individual cocktails start from £4 and Party Packages from £70, including returnable dispenser.
You can get full menus and delivery details by downloading the Glasgow Cocktail Collective app for iOS or android.
Chi Chi London's new kids range is perfect for flower girls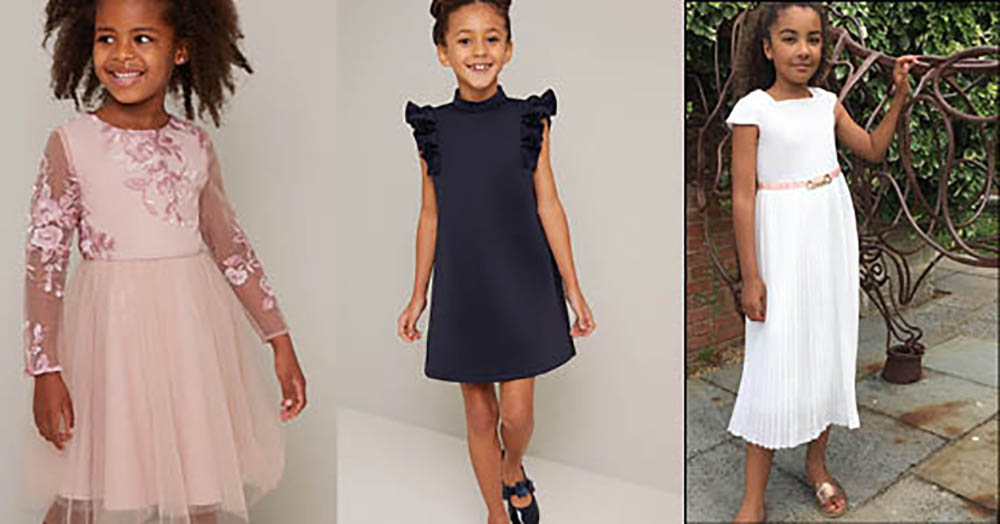 When you've got a wedding to attend, you can always rely on Chi Chi London for an affordable wedding guest outfit – and now even the wee ones can get kitted out, as the brand has launched its new kids range.
With its selection of colourful printed dresses, whimsical floral styles and even jumpsuits for the girls that simply don't do dresses, it's perfect for flower girls, young bridesmaids and the littlest wedding guests.
Here's a selection of our favourites from the collection, which is available for girls aged 6-14 and priced from a purse-friendly £40.
The SW Edit: Chi Chi London Flower Girl Dresses
The Marissa dress (£45)
Devoted to your doggie? Forget a pre-nup; it's a pet-nup you need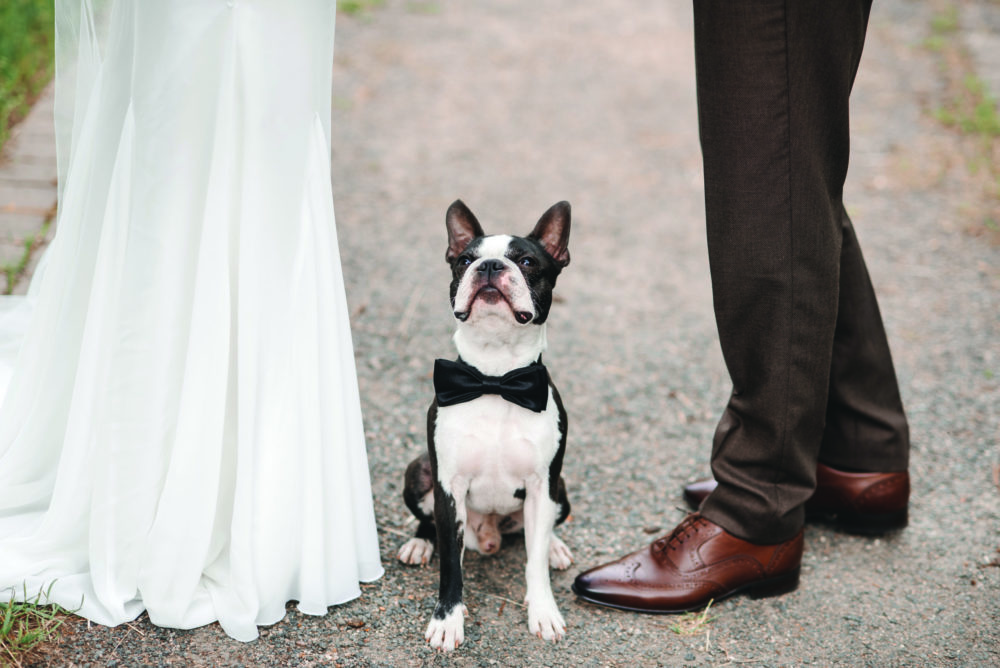 You care about your soon-to-be-spouse more than anything else in the world, but it might be a good idea to protect the second most important thing to you before you say 'I do' – your pet.
Family law expert Emma Darley at JMP Solicitors is urging couples to think of their animals before tying the knot, advising to sign a pet-nup to ensure any shared dogs, cats, hamsters or budgies are kept out of the crossfire in a potential divorce.
"Pets are part of the family, so it is important to implement safeguarding in case of an eventual relationship breakdown to ensure you, your family and your pet are put through the least amount of distress possible," says Emma.
Would you have a pet-nup drawn up before you walk down the aisle?