9 of the most luxurious honeymoon suites in Scotland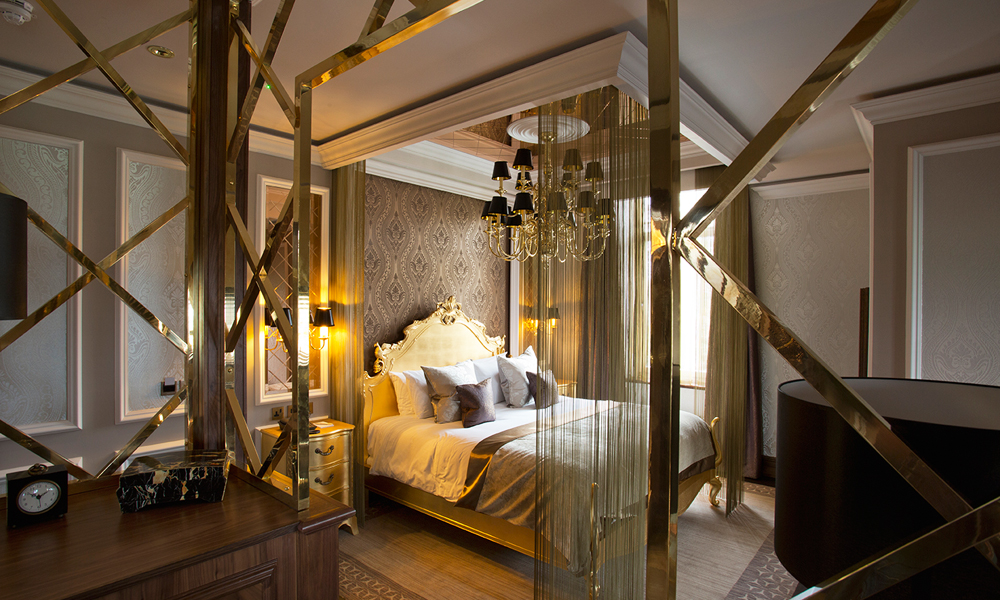 Kick off married life in style in a venue with an Insta-worthy honeymoon suite…
CORNHILL CASTLE
Nestled in the Biggar countryside, Cornhill Castle's three-storey Balmoral honeymoon suite was unveiled in 2017 as part of the venue's £850,000 revamp.
Occupying one of the castle's original turrets, the first floor comprises a beautifully decorated living room with a winding staircase leading up to the bedroom.
One of the highlights of this dreamy suite is the bathroom, a sunken area just off the bedroom complete with large hot tub bath, a two-person sauna and a massive rainfall shower.
The top floor is a real hidden gem: a one-of-a-kind champagne room in which bottles of fizz adorn the specially adapted walls, and a special bottle chilled to exactly the right temperature has pride of place in the centre of the room.
Visit Cornhill Castle's website | t. 01899 220001 | e. info@cornhillcastle.co.uk
THE TORRANCE HOTEL
The Torrance Hotel in East Kilbride, South Lanarkshire is home to perhaps one of Scotland's most indulgent honeymoon suites.
Running over two levels, the ground floor features a king-size bed, a bathroom with dual his-and-hers sinks and a luxurious lounge area; the perfect place to raise a glass with your new spouse on your wedding day.
Climb the spiral staircase to the mezzanine level and you will find the pièce de résistance: your very own private spa containing a sunken jacuzzi bath, steam and sauna room, complete with loungers and a mirror TV so you can kick back and relax for hours.
Visit The Torrance Hotel's website | t. 01355 225241 | e. info@thetorrancehotel.co.uk
BOCLAIR HOUSE HOTEL
Situated in Bearsden, just a short drive from Glasgow city centre, the impressive Boclair House Hotel hosts exclusive-use weddings and can provide seriously sumptuous accommodation in one of its 12 perfectly styled suites.
The Arran honeymoon suite is the stuff of dreams; after a blissful wedding day, you and your other half will retire to Art Deco-inspired interiors and bespoke furnishings, while champagne on ice sits within arms' reach of the indulgent freestanding copper bath.
This converted turret room features a spiral decorative staircase, tower shower and his-and-hers mirrors for the ultimate pampered stay.
Visit Boclair House Hotel's website | t. 0141 9424278 | e. events@boclairhousehotel.co.uk
BALBIRNIE HOUSE HOTEL
Recently named 'The World's Best Destination Wedding Retreat' at the Haute Grandeur global awards, it will come as no surprise that Balbirnie House Hotel in Markinch has a pretty spectacular honeymoon suite.
After a £50,000 investment, The Pearl Suite is an absolute show-stopper, from its £22,000 free-standing fully surrounded glass shower (sourced from London) to the elegant décor: think soft grey and pearl-inspired hues with a vintage French aesthetic.
With views out across the 400 acres of beautiful parkland, it's a truly romantic setting for newlyweds.
Visit Balbirnie House Hotel's website | t. 01592 610066  | e. gaynor@balbirnie.co.uk
GLENSKIRLIE HOUSE AND CASTLE
Located in Banknock, Stirlingshire, Glenskirlie House and Castle is a wonderfully chic wedding venue with not one, but two honeymoon suites to choose from.
Each of the beautifully appointed suites are individually themed, and both are incredibly glamorous. In the main room, you will find your own lounge and dining area, with a luxurious four-poster bed behind a glittering curtain.
The suites also have walk-in wardrobes, separate powder rooms and lavish en-suites with a luxurious whirlpool bath, double shower and his-and-hers sinks, a perfect room for your special day.
Visit Glenskirlie House and Castle's website | t. 01324 840201 
e. weddings@glenskirliehouse.com
CROSSBASKET CASTLE
Tucked away on the outskirts of Glasgow and with incredible views of the River Calder and its stunning waterfalls, Crossbasket Castle is an uber-luxe venue with a rich history.
The main castle dates back to the 18th century, and its 16th-century tower has been transformed into a four-storey honeymoon suite (yep – four!).
The incredible converted tower has a bridal dressing area, four-poster bed, bathroom with walk-in shower and roll-top bath, and your own luxury lounge area – it's what honeymoon suite dreams are made of!
Visit Crossbasket Castle's website | t. 01698 829461 | e. info@crossbasketcastle.com
TRUMP TURNBERRY
Set on a stunning stretch of Ayrshire coastline, Trump Turnberry, a Luxury Collection Resort, will completely enchant you.
For one of Scotland's most awe-inspiring honeymoon suites, experience the lavish Scotland villa that is the Lighthouse Suite. Housed within an actual lighthouse, this elegant suite offers breathtaking views across the Irish sea to the Isle of Arran and beyond.
The unique setting includes a living room with its own extensive private terrace and upstairs you'll find two bedrooms, each with its own bathroom and terrace access.
A hidden gem is the freestanding bath, perfectly positioned to enjoy views across the iconic landscapes whilst soaking in the tub.
Visit Trump Turnberry's website | t. 1655 334196 | e. weddings@trumpturnberry.com
SEAMILL HYDRO HOTEL
With its stunning beachside location on the Ayrshire coast, Seamill Hydro has long been renowned as a wedding venue of distinction.
The Glen Rosa Suite lives up to this reputation, and is the perfect honeymoon suite, located in the grandest area of the original Victorian building.
The bedroom has a gorgeous large bay window, with uninterrupted views over the Firth of Clyde and Isle of Arran, whilst the lounge is home to the famous Seamill turret, affording panoramic views right along the Ayrshire coastline.
Extra special features include a custom-built hidden dressing table complete with Hollywood mirrors, and a large double whirlpool bath.
Visit Seamill Hydro Hotel's website | t. 01294 822217 | e. mywedding@seamillhydro.co.uk
HETLAND HALL HOTEL
Set in 18 acres of picturesque private parkland with sweeping views over the Solway Firth and the mountains of the Lake District, Hetland Hall in Dumfries is an 18th-century country house like no other.
Providing a balance between the traditional romance of the Scottish countryside and the vibrancy of contemporary design with a stylish newly renovated interior, you can now soak up the opulence of the brand new Eden honeymoon suite.
A stylishly designed space with two wide-screen televisions, a spacious lounge area, two-person jacuzzi bath and splendid king-size bed, it's the perfect setting for a night of glamour and tranquillity.
Visit Hetland Hall Hotel's website | t. tel:01387 840201 | e. reception@hetlandhallhotel.co.uk
SWD Tries… The Spa at Portavadie, Loch Fyne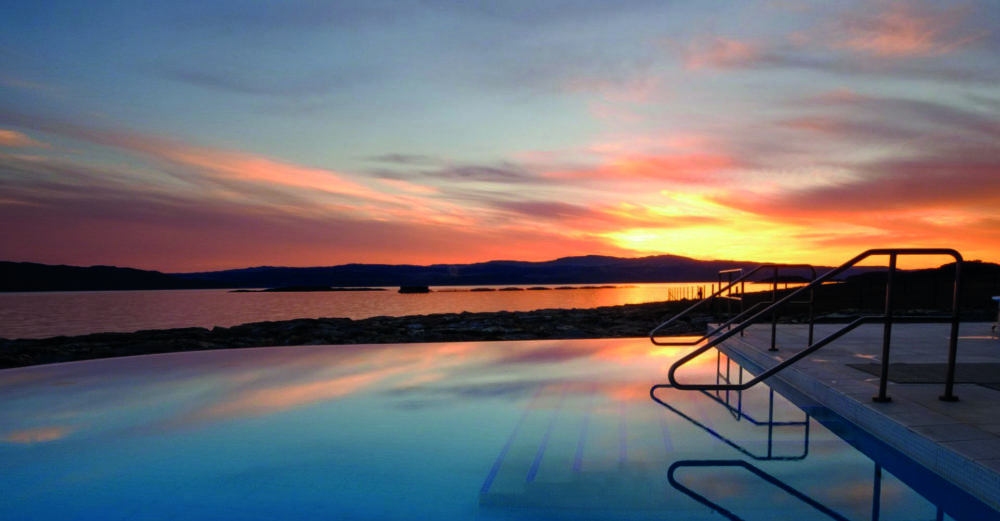 It took me a while to muster the courage to speed-walk out of the leisure complex onto the wooden decking.
Early April in Scotland did not feel like springtime.
The outdoor heated infinity pool did look inviting though, and as soon as I lowered myself into the steamy 33c water, I'd almost forgotten what that biting wind felt like.
The outdoor pool at Portavadie is the largest in Scotland, and the jewel in the crown of the large spa and leisure complex on the Loch Fyne resort.
Eking my elbows above the warm water to rest on the pool's edge, I looked out over the loch and towering hills in the distance, watching a boat arrive at the port.
Before I knew it, my fingers were wrinkly, and I had to take a few deep breaths to ascend into the cold again.
Wrapping myself up in my towelling robe, I wandered inside to use the facilities before my treatment. The spa has a hydro pool, Scandi-style sauna and steam room.
Settling down in the relaxation area, I grabbed a magazine and marvelled at the views again from the floor-to-ceiling windows. Close my eyes, and I could be poolside in some sun-soaked location.
I ambled through for my treatment, a hot stone massage. Not my usual aromatherapy massage, I decided to opt for the 55-minute hot stone treatment, mainly because the benefits included a deeper relaxation of muscles. I'd had an ache in my back and shoulders for weeks, and I wanted a gentler treatment of the tension.
My therapist went over my concerns with me before leaving me to hop up on the heated bed (I need to get one of these for my house, I love them) and getting to work on my knotty shoulders.
Flat, heated stones made of volcanic rock were placed in targeted areas of my back. The heat of the stones penetrate into the muscle tissue, relaxing the muscles much quicker than a standard massage.
The hot stones were deeply relaxing, and I had to stop myself from drifting off a few times. It really did feel like any anxiety and stress that I was carrying around in my muscles just melted away.
I awoke from my trance all too soon; those 55-minutes just flew past. This treatment really is perfect for pre-wedding pampering. Benefits can include boosting your immune system and helping relieve insomnia – reason enough for any bride or groom-to-be to get booking!
A 55-minute hot stone massage treatment costs £70 on its own, or can be booked as part of a spa day package, from £91.
All day packages include a bento box lunch, quarter bottle of prosecco, tea and coffee during lunch and full use of the spa and leisure experiences.
7 Scottish honeymoon hotels A-list celebrities love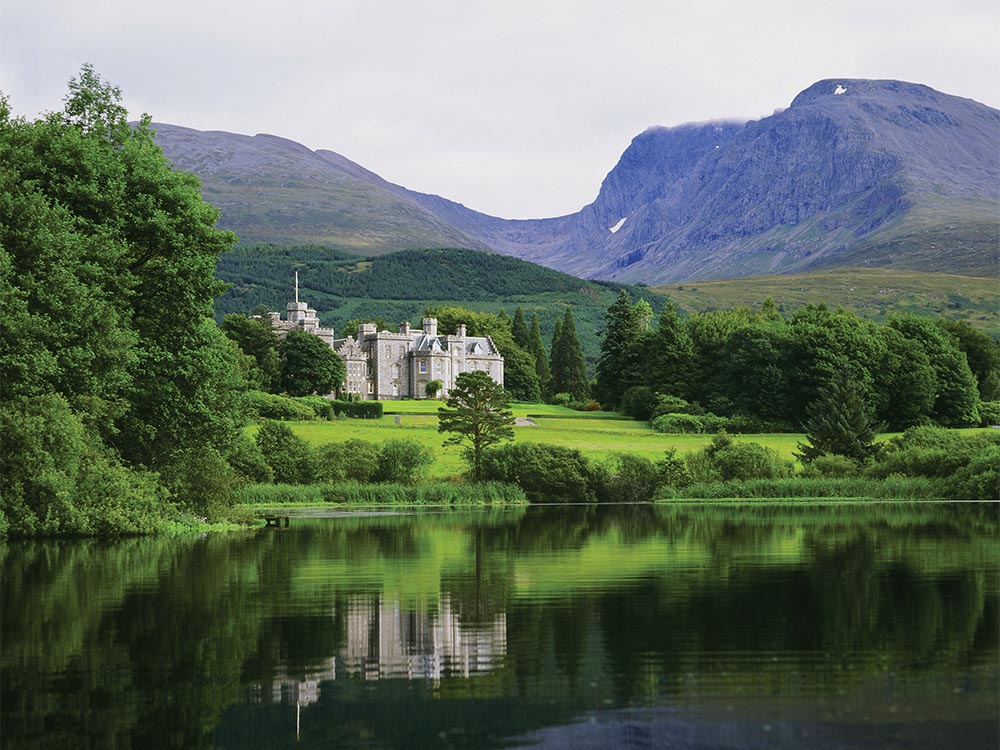 Planning a post-wedding staycay? We found out where the celebs bed down when they come to Scotland…
When searching for luxe honeymoon accommodation, there's no better trail to follow than that of an A-lister, says Tessa Williams, author of Hotels of the Stars: "Celebrities will stay at hotels that have certain high standards.
They want to visit somewhere that has a level of pampering and discretion. But the mark of any good hotel is one that treats everyone like a star and provides fantastic memories!"
So, if your greatest wish (after marrying the love of your life, of course) is to stand where Kanye once stood, and to see what Kanye once saw, here's where to go.
Skeabost Hotel
The Isle of Skye is home to some of the most stunning landscapes the United Kingdom has to offer, making it a popular minimoon location. But where to stay?
Well, you know the old saying: If it's good enough for Kanye, it's good enough for me. Mr West stayed at Skeabost Hotel, a boutique hotel near Portree, a few years ago while shooting a music video on the island.
Staff commented that he was "the perfect guest – charming, courteous and polite".
Knowing Kanye, the staff would have been well informed if he was unhappy with any aspect of his stay, so we can only conclude that they offered a service worthy of The Life of Pablo.
Visit Skeabost Hotel's website | t. 01470 532202
The Gleneagles Hotel
"Gleneagles is the favoured celebrity hotel in Scotland," says Tessa. Celeb guests have included Andy Murray, John Travolta and even royal couple William and Kate.
Envisioned by its creator Donald Matheson as an island-like palace swimming in acres of rolling Perthshire countryside, it was once described as "a riviera in the Scottish Highlands". The hotel sports several lush suites, a state-of-the-art spa, and is home to the only two-Michelin-star restaurant in Scotland.
If you like your luxury to err on the side of rustic, you can book one of Gleneagles' Glenmor Lodges. These cosy cottages offer all the decadence (and facilities) of the main hotel but with that extra touch of privacy.
Visit The Gleneagles Hotel website | t. 01764 662231
Taymouth Marina
If a posh hotel isn't really your thing, make like Ed Sheeran and decamp to Taymouth Marina.
Set on the banks of Loch Tay, the marina has luxury self-catering accommodation making it perfect for a laid-back honeymoon.
Each apartment has stylish décor, a private hot tub and, best of all, a dog-friendly policy. You'll also get complimentary use of the Hot Box Sauna, an incredibly cool sauna-bar with its own fire pit, private beach and water trampoline.
When Sheeran visited the Hot Box, he even partook in the Loch Tay Challenge which saw him throw himself down a 20ft slide into the open water – but that's perhaps an activity for summer honeymooners only!
Visit Taymouth Marina's website | t. 01887 830216
Inverlochy Castle Hotel
Of all the Scottish hotels favoured by celebrities, Fort William's Inverlochy Castle Hotel is Tessa's number one. "It's absolutely incredible," she says. "It's family-run which makes it quite lovely – it isn't overly corporate. It has a high level of luxury but still has this lovely, special warmth."
High praise indeed, and it seems the likes of Gerard Butler, Sean Connery and the Queen agree. Its cosy-yet-opulent décor gives the whole place an old school Highland charm, but it is the rugged Scottish landscape that surrounds it that makes it unique.
Situated in what is arguably one of the most dramatic and beautiful spots in Scotland, you can head out on romantic walks in the misty woodlands, or sail away on a boat trip on Loch Na Marag on the castle's grounds.
Visit Inverlochy Castle Hotel's website | t. 01397 702177
Hotel Du Vin at One Devonshire Gardens
A huge favourite with celebrities visiting Glasgow, this boutique hotel has played host to Brad Pitt, George Clooney, Kylie Minogue, Gwyneth Paltrow and Jon Bon Jovi.
Every room has been individually decorated to give each space its own stylish character, but a sense of sumptuous glamour is threaded throughout all of the hotel's décor. The Belle Epoque Suite is perfect for honeymooners, as it's an insta-worthy space with a deep marble surrounded bath and luxe king-sized bed.
The hotel's Bistro is a must-visit for any foodies (it's headed up by chef Gary Townsend, former head chef of Cameron House). And if you want to be pampered like a celeb, treatments are available in the hotel's beauty room.
Visit Hotel Du Vin at One Devonshire Garden's website | t. 0141 378 0385
The Balmoral
An iconic landmark in Scotland's capital and a first-class hotel to boot, The Balmoral is beloved by the most celeb-y of celebrities. "Even Beyoncé stayed there on her last visit to Edinburgh," says Tessa.
A-listers from Tom Hanks and Oprah Winfrey to Elizabeth Taylor have also been to the hotel, and JK Rowling even finished writing the final Harry Potter novel in her Balmoral hotel room (now called the JK Rowling Suite and a must-book for any self-respecting Potterheads out there).
The hotel's décor is fresh and contemporary while still exuding stately glamour, and there's plenty there to occupy you, from a Michelin-starred restaurant to a luxe spa.
Visit The Balmoral's website | t. 0131 556 2414
---
Want to bring your canine friend along with you on your honeymoon staycation?
5 of the best places to staycation in Scotland 2019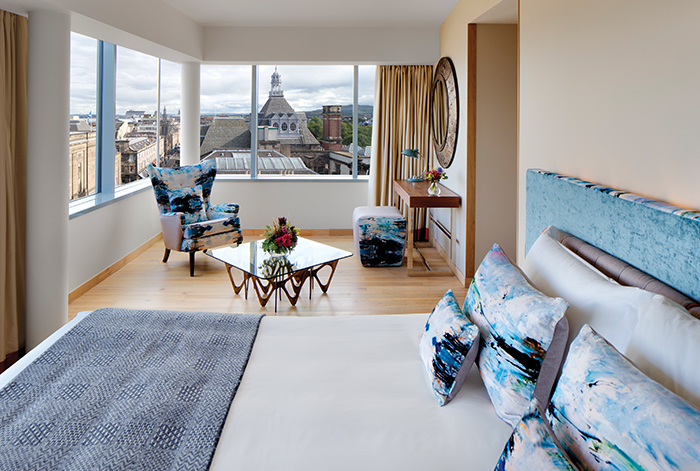 Fancy a minimoon staycation in Scotland while you save up for something more exotic?
Here's our top pick of five of the most stylish places to have your honeymoon/staycation in Scotland…
THE CRAIGELLACHIE
Located in the heart of Speyside – which, FYI, is the largest whisky region in the world – the Craigellachie is the place to go when you need a hug for your soul.
Walking in is like stepping into a countryside home that's been decorated by someone with fantastic taste; it's completely nailed the balance between comfort and contemporary, Scandi-inspired interiors.
We could while away hours upon hours in the snug Quaich Bar, which has 900 single-malt whiskies from around the world that you can sip while lounging on a plush hand-crafted Soane Britain armchair.
For a livelier vibe there's the Copper Dog pub, which celebrates local Speyside produce in its farm-to-fork menu and has a selection of cocktails, craft beer and wine.
Stay in a Comfy Luxe room for a sleigh or fourposter bed, a decanter of whisky on arrival, Johnston's of Elgin accessories and a Nespresso machine.
Rooms from £120/night; Comfy Luxe rooms from £215/night.
More info at craigellachiehotel.co.uk
MONACHYLE MHOR
At once achingly cool and pleasingly down to earth, Monachyle Mhor is a boutique hotel situated at the foot of Perthshire mountains.
This is the place for you if you're outdoorsy types who love walking, hiking and swimming, but who also appreciate the finer things in life.
Expect minimalist but artsy décor (Feature Rooms are individually decorated with the likes of an Eames chair or asymmetric rug) and out-of-the-ordinary accommodation options such as the Cabin, a reclaimed ferry cabin with an adjoining Bothy, and the Wagon, a restored 1950s Pilot Panther.
Monachyle Mhor is renowned for its truly excellent food, so any appetite worked up while out in the surrounding countryside will be well sated.
The award-winning restaurant sources ingredients from Monachyle's farm and the surrounding locale, and alongside the posher fare there's a steady stream of hearty soup, sandwiches and scones, which are served all day.
Rooms from £195/night.
More info monachylemhor.net
MOTEL ONE GLASGOW
German chain Motel One has just opened the biggest hotel in Scotland right beside Glasgow Central in the heart of the city.
But don't let its size, or the fact that it is budget-friendly, fool you into thinking it's a basic chain.
Far from it. Motel One prides itself on its modern design and makes a point of personalising each of its hotels; the Glasgow one is themed around rail travel across Scotland and decorated with photos taken by Glasgow
School of Art students.
The lobby is like a Pinterest interiors board brought to life, decked out in industrial-style furnishings, egg chairs by Danish designer Arne Jacobsen and animal-print rugs, all in fairly muted tones punctuated by the brand's signature teal.
Its 24-hour bar is buzzy, and when you're ready to bed down, the bedrooms, though small, are stylish and cosy.
Rooms cost from £69/night.
More info at motel-one.comhttp://motel-one.com
RADISSON COLLECTION ROYAL MILE EDINBURGH
Formerly the G&V (and before that, Hotel Missoni), this five-star hotel has always had serious style credentials – but as a Radisson Collection hotel, it's never looked better.
Handily situated on Edinburgh's Royal Mile, you'll have the city directly on your doorstep, but you may find yourselves perfectly content staying inside.
The slick Epicurean bar has a contemporary feel with marble-top tables and tan leather couches, where you could easily sit for hours working your way through the cocktail menu.
For award-winning Italian food and punchy floral interiors, make your way to Cucina restaurant.
And if you want your stay to be extra-special, hire yourselves one of the suites; each one has been designed by a different Scottish artist or designer and has its own distinct personality – the Hatti Pattison room is our fave.
Nightly rates at Radisson Collection Royal Mile Edinburgh start from £209/night inclusive of breakfast.
More info at radissoncollection.com/en/royalmile-hotel-edinburgh
CROMLIX
Owned by Andy Murray, who also celebrated his wedding here, this five-star Victorian mansion is more than fit for a celebrity.
Located in Dunblane, it's ideal for couples who want to spend a few days living out their bougie fantasies and reclining in absolute luxury.
The hotel has been decorated with specially sourced antique furnishings, there's a Chez Roux restaurant (overseen by legendary French chef Albert Roux) and it's set in 34 acres of lush woodlands and grounds – in other words, you'll feel like lord and lady of the manor.
There are 10 bedrooms and five suites, as well as a one-bedroom gate lodge, each of which has been individually decorated and some of which boast hand-painted freestanding baths in gold, silver and copper.
The only downside will come when you have to check out and return to reality with a thud.
Small double rooms start from £250/ night; suites from £550/night.
More info at cromlix.com
Victoria's Secret Swim collection has re-launched and it's now available in the UK!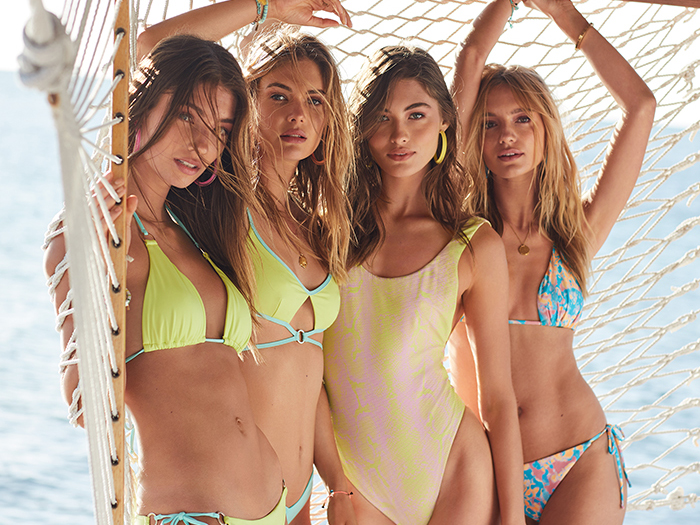 Exciting news for Victoria's Secret fans as the iconic brand have re-launched their swimwear collection – and it's available in the UK!
Due to high demand the Victoria's Secret Swim collection makes its eagerly awaited return alongside an assortment of the world's best swimwear brands, including Seafolly, Banana Moon, Lascana and La Blanca.
The Swim range offers must-have patterns, colours and styles, all perfect to pack for your honeymoon.
Styles include high-waist bikinis, Brazilian-cut legs and asymmetric shapes, plus classics that Victoria's Secret Swim is known for.
The Swim campaign features Supermodels Sara Sampaio, Jasmine Tookes, Romee Strijd, Grace Elizabeth, Lorena Rae, Aiden Curtiss, Megan Williams and Maya Stepper and you can shop the Victoria's Secret Swim collection range exclusively online.
Here's our fave pieces from the collection…
Dog-friendly minimoon holiday destinations in Scotland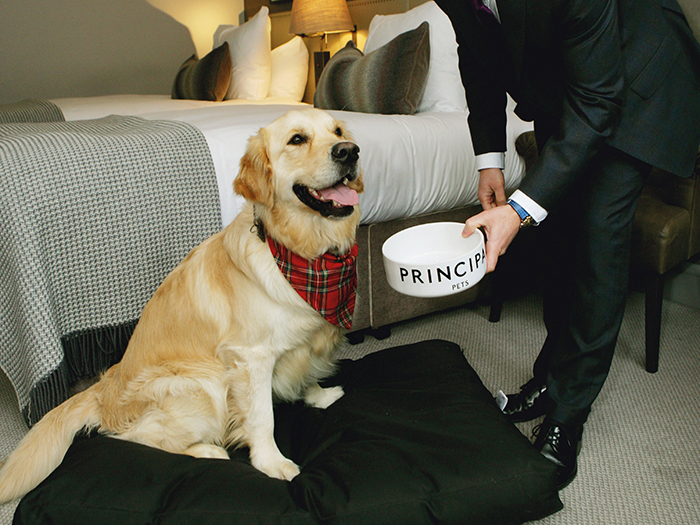 Looking for a dog-friendly holiday in Scotland? Here's where to minimoon in Scotland with your pooch.
For a romantic dog-friendly break in Edinburgh, the Principal Edinburgh George Street hotel happily welcomes your furry friends.
Set in the heart of the city, this iconic four-star hotel is perfectly situated for some seriously beautiful walks together, whether you take to Princes Street Gardens, Arthur's Seat or the Royal Botanic Gardens.
For a supplement of only £30 per night per dog, your pooch will have their own bed in the room and bowls for food and water. Plus, if you and your spouse want some time just the two of you, the hotel can even arrange a dog walking service.
Perfect for the city-loving pooch that loves the finer things in life!
For more information and to book a dog-friendly stay at Principal George Street, click here.
With breathtaking views over the trees to the River Deveron Valley and distant Grampian Highlands, Jocky Milne's Croft boasts the most scenic setting.
Tucked away on Aswanley estate, this cosy cottage has everything you need for a relaxing break with your four-legged friend, making it perfect dog-friendly cottage accommodation in Scotland.
Explore the open grassland and deciduous trees that surround the cottage or embark on one of the longer walks, which can take you up into the Highlands or down towards the River Deveron, where there are deep pools for wild swimming.
Plus, flowers, champagne and chocolates can be arranged for your arrival – a lovely romantic surprise for your new spouse!
For more information and to book a dog-friendly stay at Aswanley, click here.
For a romantic Highland minimoon with your well-behaved dog in tow, head to this four-star hotel.
Pets are welcome to stay with you in a variety of this hotel's rooms including Black Mountain view, Glen Orchy view, River Orchy, and in the beautiful Orchy Cottage.
Standing on its own grounds, the cottage is spacious and overlooks the historic Bridge of Orchy as well as the surrounding mountains, with its own private decking area to give the upmost privacy.
A perfect getaway spot to retreat from the noise, stress and demands of daily life.
You can also upgrade to the Ultimate Romance package for a bottle of prosecco, rose petals and chocolate-dipped strawberries in your room!
For more information and to book a dog-friendly stay at Bridge of Orchy Hotel, near Glen Coe, click here.
Set amongst 20 acres of ancient woodlands, Macdonald Houstoun House and its 16th-century Tower House make a gorgeous and grand setting for a minimoon with your loved ones.
The dog-friendly rooms are located in an external annex with a courtyard and direct access to the beautiful grounds, which means you won't have to worry about any muddy paws trailing through the hotel.
This hotel also has a spa (for humans only)!
For more information and to book a dog-friendly stay at Macdonald Houstoun House, click here.
They have self-catering lodges across Scotland, but it's the newly opened lodges at Solid Luxury's Balmeadowside location that have caught our eye for a minimoon.
The cosy open-plan living area leads out onto your own private raised decking with spectacular views over the Fife countryside, plus the decking is completely fenced off to ensure your dog can't scamper off.
IMAGE | Tender Loving Style
Blankets, bowls and treats are provided for your pampered pooch, as well as a handy info pack detailing all the local dog-friendly walks, cafes and more. There's also a hot tub for you and your other half to enjoy!
For more information and to book a dog-friendly stay at Balmeadowside Country Lodges + Cottages, click here.
Dating back to the 17th century, the Loch Lomond Arms Hotel is steeped in history, but has a luxurious feel.
For a pet-friendly stay by the bonnie banks, the hotel's cottages have ground floor and first floor bedrooms, all with access to the beautiful gardens.
Your pooch will love exploring the quaint village of Luss; there are some lovely walks to enjoy and there's even a village store where you can pick up pet products, from handmade dog treats to tweed collars and leads.
Then after a day out, you can all head back to the hotel and relax by the crackling fire with a well-deserved pint.
For more information and to book a dog-friendly stay at Loch Lomond Arms Hotel, click here.
With 10 acres of gorgeous grounds to enjoy, and located just a short distance from the beach, Rufflets really is a dreamy spot to take your happy hound.
There are plenty of dog-friendly accommodation options, from rooms to self-catering lodges.
This includes the Gatehouse, with its own parking and entrance (there's also direct access to the gardens, and your own lounge too).
All four-legged guests receive a welcome pack on arrival, with everything from drying towels to dog beds all available to borrow from reception.
If you're planning a day trip just for two, the hotel can recommend doggy day care services.
For more information and to book a dog-friendly stay at Rufflets St Andrews, click here.
ARE YOU TAKING YOUR DOGGO ON YOUR MINIMOON TOO? LET US KNOW ON OUR FACEBOOK PAGE!
SWD visits… Grand Central Hotel, Glasgow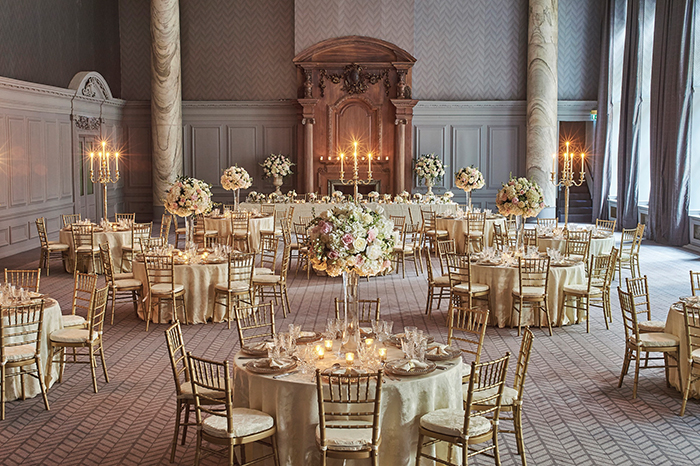 Online Editor Steph Telfer visits the iconic Grand Central Hotel, a venue beloved by A-listers and royalty!
You've probably passed this gorgeous building loads of times in Glasgow
The Grand Central Hotel, situated inside Glasgow Central Station, holds a special place in my heart through a story my mum often tells.
When my dad proposed to her, without telling another soul (including her own dad which, 40-odd years ago, was probably a faux pas!), they went to celebrate their engagement at The Grand Central Hotel.
They were so skint that they could only afford a plate of sandwiches to share and a pot of tea, but that anecdote warms my heart every time I hear it.
It shrouds the place in romance for me, and every time I walk past it – which is every single day – I think of my young, just-engaged parents and how excited they must have been.
There have been many changes to the building since then, but one thing remains, and that's the significance this hotel has had in the city of Glasgow. Visited by icons like Frank Sinatra, Nat King Cole, The Beatles and The Rolling Stones, glamour oozes from the pores of this historic building.
Can you imagine your wedding in this gorgeous space?
TOTAL TRANSFORMATION
You'll be wowed by the hotel's revamped Grand Room, fresh from a whopping £250k refurb. If you're planning a large wedding, then you're in luck; the room holds up to 400 guests for a party!
The John F Kennedy suite at Glasgow's Grand Central Hotel
FOUR-STAR SERVICE
We stayed in a suite named after one of Grand Central's aforementioned famous visitors, President John F Kennedy, and enjoyed sipping prosecco in the comfortable lounge area.
Dining at the adjoining Tempus Restaurant was also a treat, with locally sourced menu options that'll give you a taste of what to expect at your wedding breakfast.
Speak to the wedding co-ordinator at Grand Central Hotel Glasgow about hosting your big day in this beautiful hotel
Visit the Grand Central Hotel's website | t. 0141 2403700 | e. grandcentral.weddings@theprincipalhotel.com
Read reviews of Grand Central Hotel Glasgow
8 of the most romantic staycations in Scotland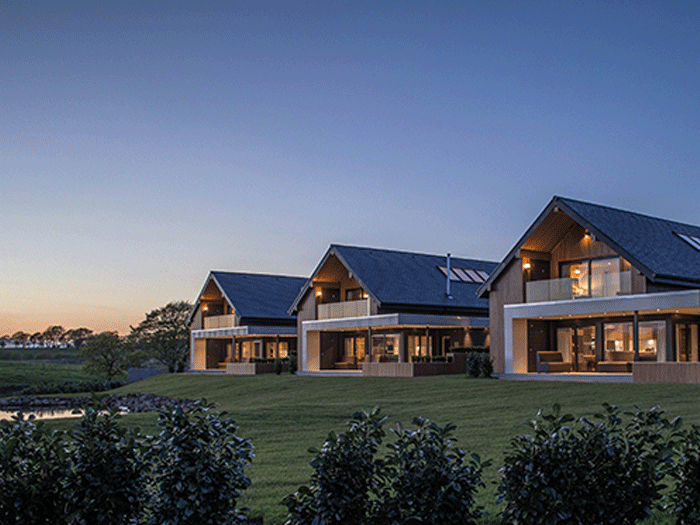 From countryside retreat to city centre chic, we're taking a closer look at some of the most romantic staycations in Scotland… 
Nestled on a 25-acre site, Eden Leisure Village is a unique glamping site close to Glasgow.
Perfect for couples looking for an outdoorsy getaway without missing out on home comforts, the leisure village offers a whole host of accommodation to choose from including glamping pods, hobbit huts and bell tents with hot tubs and saunas.
Sounds like our kind of camping!
Set in 27 acres of Perthshire parkland near Gleneagles, Duchally Country Estate boasts a dreamy countryside location with the most spectacular views.
Conveniently located for easy access to Edinburgh, Glasgow and the Highlands, the estate's backdrop of mountains, glens, lochs and rivers combine to provide you with the perfect holiday, right here in Scotland.
Whether you opt for a hotel room or luxury lodge, you can enjoy a romantic trip and discover the outdoors in a multitude of ways, from hiring a mountain bike from the on-site Leisure Centre to going on a Highland safari!
Tucked away in the Ayrshire countryside, these modern lodges lookout over the breathtaking landscape of Robert Burns' country, with views that inspired the poet's greatest works – how romantic!
With your very own private terrace and hot tub overlooking the stunning countryside, you'll feel you're in a world of your own.
The Lochside lodges offer the best of both worlds too – luxurious self-catering privacy, but with the restaurant, bar and spa facilities only a few steps away.
An oasis of calm in the bustling city, Blythswood Square Hotel is a haven of sheer luxury. Hide away in a master suite with the one you love; you could even arrange a few special extras, like a bottle of Laurent Perrier Rose Champagne, on ice in your suite for your arrival. I
f you decide to have a night out in Glasgow, or enjoy some delicious cocktails in the onsite Salon Bar, then take advantage of the late checkout and have a well-deserved lie in!
With the recent improvements to the spa, there's no better time to consider booking the Spa and Stay package: an overnight stay with full Scottish breakfast, plus a 55-minute spa treatment of your choice and access to the spa's thermal suite, which is one of the best in Scotland.
Located near Stirling, Inglewood House really is a unique getaway. Set within gorgeous grounds are the brand new woodland lodges, fully equipped for self-catering (or if you prefer, a short stroll from the hotel's restaurant and bar).
If you want something a little cosier, then choose a woodland pod, set in the grounds to the rear of Inglewood House.
Hideaway here and enjoy luxurious Egyptian cotton bedding, underfloor heating, an LCD HD TV and a large deck, perfect for sitting out and enjoying a warm summer's evening on.
You'll be smitten as soon as you step into Archerfield House's gorgeous spa, Fletcher's Cottage, right at the heart of this sprawling estate in East Lothian.
It's the perfect place to recuperate after your wedding; sip champagne in your robes beside the glowing log burners or have a candlit therapeutic bath in your own private room.
Stay in the Mansion House or, if you really want to splurge, choose the Marine Villa or Boathouse. Should you wish to take to the golf course, you'll be pleased to know that you'll be right next to the famous Archerfield Links golf course!
For a getaway with plenty of culture, Radisson Blu Royal Mile is located in the heart of Edinburgh's old town, just a short walk from highlights of the capital, including Edinburgh Castle and the National Museum of Scotland.
The staff at this hotel are dedicated to making your stay extra special, and you can even book a late check out at no extra cost!
If sightseeing gets too much, take to the spa together or cuddle up in your room, with 24-hour room service available. Your wish is their command!
Nestled in 2,400 acres of private grounds, Pittodrie House boasts stunning views of the surrounding Aberdeenshire countryside including The Mither Tap and woodland of Bennachie, as well as the house's extensive manicured estate and gardens.
For the ultimate romantic stroll with the one you love, discover the hidden walkways that reveal a secret walled garden.
For a real taste of luxury, stay in one of the stunning Feature Rooms; with original fireplaces and antique furnishings, you can hide away and reminisce about your special day!
Honeymoon + wedding guest style picks at Glasgow garden party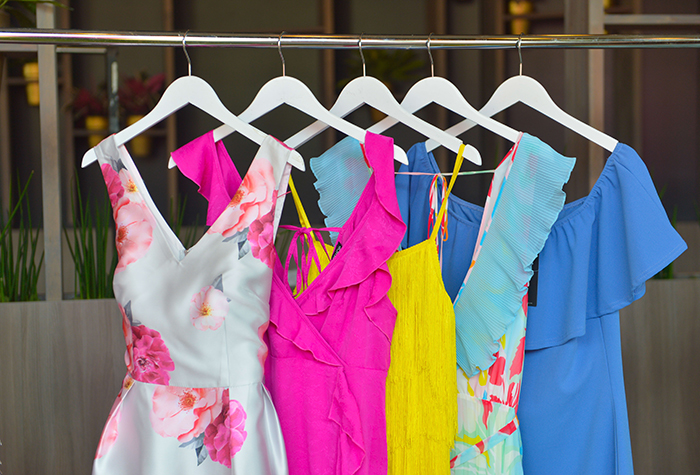 The sun is shining, the skies are blue – and it's putting us in a seriously summery style mood!
Embracing the season, we were invited to St Enoch Centre's garden party. From the most gorgeous pieces to pack for your honeymoon to plenty of wedding guest style inspo, we thought we'd round up some of our faves.
BE OUR (WEDDING) GUEST
We love the colour pop of wedding guest dresses. This pink ruffle dress from Topshop is only £25 – perfect for summer.
Because if you're not matching your perfume to your accessories, you're not doing it right. The new Daisy by Marc Jacobs Twinkle scent has us thinking of holidays.
Continuing with the pop of pink, we're loving the fascinator and bag combo from the shopping centre.
HONEYMOON HOT LIST
With so many holiday essentials, we picked out some gorgeous pieces for honeymoon. One of our faves has to be the J by Jasper Conran colour block swimsuit, complete with matching maxi dress from Debenhams.
Whether you're hitting the beach or have opted for a city break honeymoon, you can't go wrong with a pair of flats. We've got our eye on these Faith white slip on sandals.
BEAUTY ESSENTIALS
Get that summer glow with some of the beauty offerings. We can't get enough of Honey Bronze from The Body Shop, which gives skin a golden-shimmer with hydrating and illuminating bronzing oil.
Achieve sought-after beachy waves come honeymoon with Bumble and bumble's surf infusion range. If you need us, we'll be on our sun lounger with a cocktail…
WHAT'S YOUR FAVOURITE PICK FROM THE ST ENOCH CENTRE GARDEN PARTY?
SWD Visits…Macdonald Marine Hotel and Spa, North Berwick [review]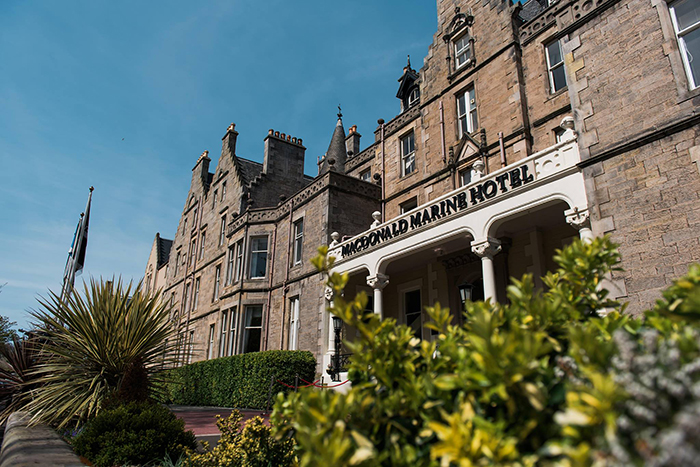 SWD's Rachel takes a trip to the picturesque North Berwick getaway, Macdonald Marine Hotel and Spa.
A WARM WELCOME
I feel like I find the Macdonald Marine Hotel and Spa by accident. I mean, obviously I knew this was my destination, but turning the corner of a quiet street, it's almost like this beautiful venue is a bit of a hidden secret, which only its guests know about.
As I arrive, a beautiful wedding car has stopped at the hotel's grand entrance, with an excited bride ready for her big day. Good timing for me to be able to see a wedding in action!
We have been blessed with a particularly gorgeous sunny day, making the bright and airy reception area, with its high ceilings and glossy floors, even more spectacular.
Jakob, the hotel's Head Concierge, welcomes us warmly, assisting with our bags and taking us to the check in desk. I feel at home already!
The grand reception area
ROOM NECESSITIES
Renowned for its beautiful coastal setting and glorious 19th century Victorian architecture, I'm surprised by the modern yet traditional feel the hotel has managed to create.
Our room, a spacious executive suite overlooking the sprawling grounds, has plenty of getting ready room and all the amenities to make for an enjoyable stay.
From the fluffy white bathrobes, right through to the Nespresso coffee machine, every little thing has been thought of.
RELAX AND UNWIND
After some exploring, it's time to head to the tranquillity and calm of the spa. Booked in for the Elemis Couture Touch package, we're first taken to the relaxation room. Robe and slippers on, sipping a water and reading a magazine in such a calming space is just what I need!
The treatment itself is so relaxing too, with 55 minutes of pampering to condition your skin and muscles with this all-embracing experience.
Post-treatment, you can unwind and make use of the luxurious Thermal Suite, with its sauna, steam rooms and – my favourite – the outdoor plunge pool. Bliss!
The views from Links Bar and Lounge
FINE DINING
Suitably refreshed and relaxed from our time in the spa, it's time for dinner; the hotel's Craigleith restaurant our setting for the evening.
Large bay windows give the most superb views out over the impressive West Links Golf Course and the Firth of Forth and create the perfect ambience.
For a more informal dining experience, there's also the Links Bar and Lounge. Still with the spectacular views, you can stop for a drink and nibble or even afternoon tea – perfect for the day before the wedding with your bridesmaids!
Craighleith restaurant is an ambient setting
GOOD TO KNOW
The hotel can cater any wedding, from intimate celebrations in the refined and traditional Library and Drawing Room to grand evening receptions of up to 300 in the stunning Bass Rock Suite.
There's also 83 luxury bedrooms and suites, giving you and your guests plenty of space to stay and really enjoy your wedding celebrations.
GET IN TOUCH WITH THE MACDONALD MARINE HOTEL AND SPA
See an enquiry | Website | t. 01620 897 300 | e. specialevents.marine@macdonald-hotels.co.uk