Bridal beauty insiders share the products they used for their own weddings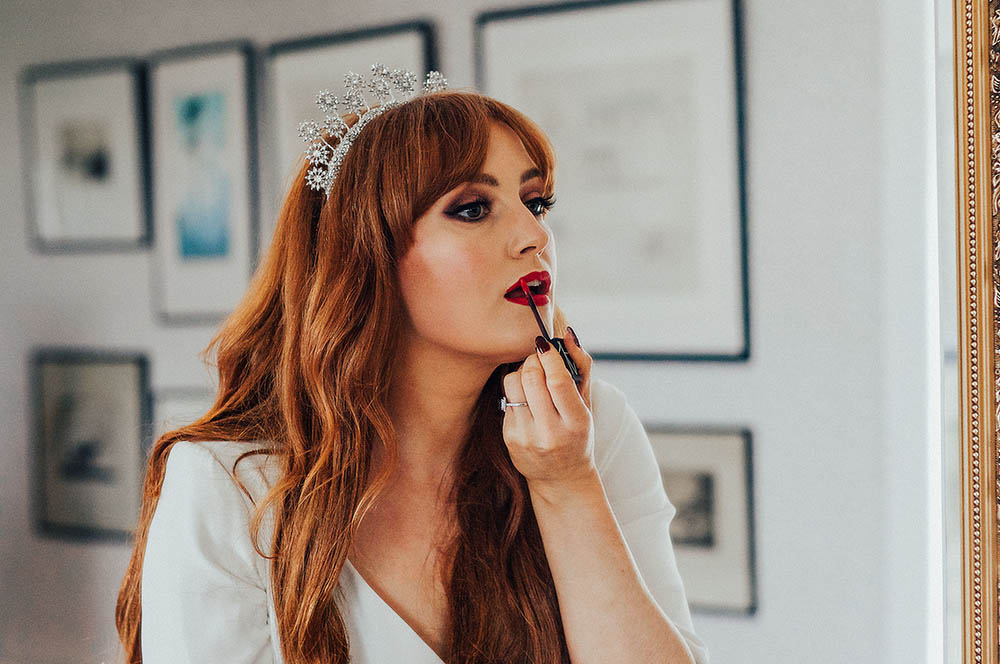 IMAGES | PJ Phillips Photography
Nothing has us racing to buy a beauty product quite like a glowing endorsement from someone that works in the beauty industry.
So when a professional beautifier gets married, the first thing we want to know is which products and treatments got the seal of approval for their bridal beauty look.
Looking for bridal beauty inspo for your own big day?
Take a peek inside the make-up bags of two Scottish beauty experts.
Bridal beauty insider: MUA Sarah Jane Macinnes
Sarah Jane Macinnes is a make-up artist and self-confessed "skincare junkie".
She always knew she'd do her own make-up for her wedding to husband James at Culzean Castle and Country Park.
"It's so relaxing for me and if I had someone else doing it I would probably have been quite nervous – plus I know what suits my face best," she explains.
To make things feel different to other bridal make-up sessions, though, she treated herself to some lovely new products.
Sarah Jane already had an extensive skincare routine but stepped it up once she got engaged.
She stuck with her usual Estee Lauder Advanced Night Repair Serum but switched her hydrating serum to the Drunk Elephant B-Hydra Hydrating Serum and used Kate Somerville Goat Milk Cream to moisturise.
She also used Ole Henriksen Truth Serum and Lixirskin Vitamin C Paste to make her skin glow, as well as Josh Rosebrook Hydrating Accelerator Mist.
The bride gave herself a weekly facial and road-tested clear fake tans, settling on St Tropez Purity Mousse for a nice, even and natural bronze glow.
On the big day she opted for glowy skin, pink-toned Pat McGrath Labs Mothership eyeshadow to enhance her green eyes, and a bold lip.
"I wear one most days so something soft and neutral wouldn't have felt right," she says. "I also knew I had to get some glitter in there too. I'm glitter daft – I even set up a glitter bar for my wedding reception, which everyone loved!"
Sarah Jane advises brides-to-be to get a good skincare regime in place ahead of their wedding and to ditch the wipes.
"They don't effectively remove make-up, they are often very harsh and drying and are bad for the environment," she says. And she urges brides planning on doing their own make-up to have a lesson with a professional MUA. "Your wedding make-up should be as individual as you are and should make you look and feel incredible."
Bridal beauty insider: Gemma Trykowski, Love Those Lashes
IMAGES | Andrew Low Photography
Gemma Trykowski is the creative director of Glasgow lash and brow salon Love Those Lashes and opted for a timeless make-up look for her two-day wedding to husband Ervin at Helensburgh Registry Office and Gleneagles Hotel.
"There are so many trends popping up and although these are amazing to experiment with, I want to be able to look back at my photos in 20-30 years' time and still love the look I went for," she says.
Gemma entrusted her bridal beauty to MUA Sara Hill, a celeb favourite.
"Everything she touches seems to glow," she says. "She is a make-up genius and is all about the skin."
Sara used Charlotte Tilbury Wonderglow, Nars Radiant Creamy Concealer and the Charlotte Tilbury Glowgasm palette to achieve the look.
But before Sara began, Gemma put in the prep, planning her treatments so she wouldn't be overwhelmed rushing between appointments.
"My first was for my brows a week before," she says. "I find when I get my brows done, they can be quite bold and dark-looking so I wanted to allow them time to settle. I went for our signature brow treatment 'Love Those Brows' which is a combination of mapping, tinting, threading and waxing to create the perfect set of bespoke brows."
She also had "the best facial" at Glasgow salon Elevate.
Four days before the wedding Gemma was waxed, including her full arms so her Fake Bake tan would sit perfectly, and had her face dermaplaned to ensure her make-up would sit flawlessly.
Then it was time for the all-important lashes. "I had a full set of handmade Russian volume faux-mink eyelash extensions applied three days before at LTL," she says. "These come in a wide variety of different curls, thicknesses and length so they can be designed to suit every person's individual taste.
"I opted for a C curl in 12mm length which is chic and elegant as I didn't want anything too glam. They also show up well on camera on the day with no risk of popping off."
The ultimate guide to bridal skincare and beauty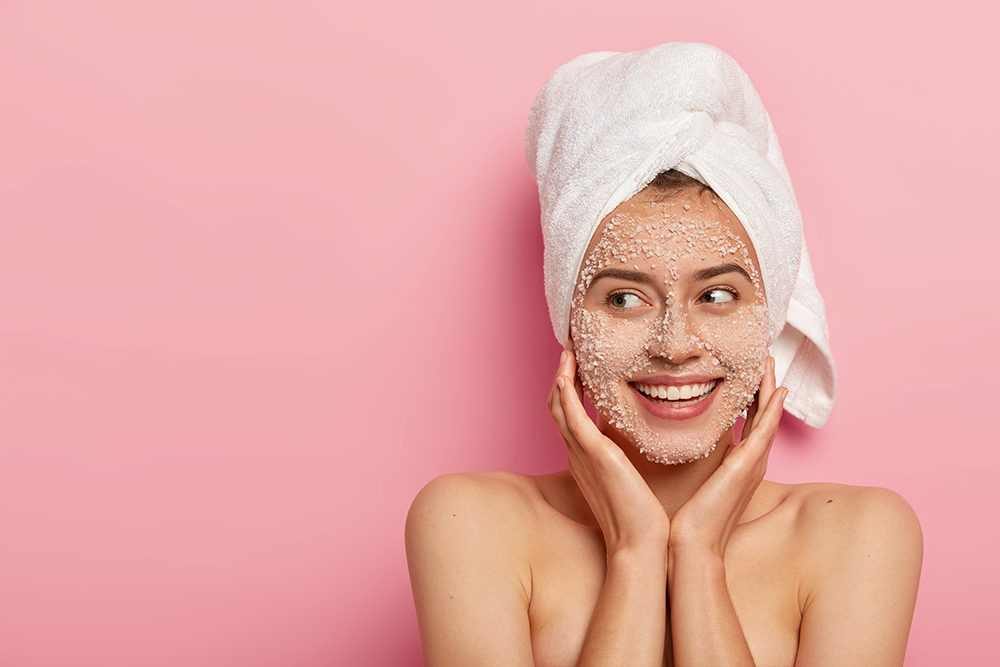 We know there are far more important things going on in the world right now, but when you're stuck at home and wandering by a mirror several times a day, it's easy to get stressed out over small things. Like the fact that your skin has seen much better days.
Central heating, a lack of fresh air and the urge to consume every sugary snack going has left many of us with spots, irritation and lacklustre locks. Which, frankly, is the last thing we need when our world's been tipped upside-down and we've got a bridal skincare routine to keep up.
But don't fret. We've reached out to Scottish bridal make-up artists, skincare experts and hairstylists to ask for their lockdown bridal skincare and beauty advice. Here's what they had to say.
Mitchell and Macinnes Makeup
"At times of stress and anxiety, your skin will sometimes breakout and it's often why a wee breakout is so common in the run up to your wedding day," says Sarah Jane of Mitchell and Macinnes Makeup.
"Add in a niacinamide serum to your routine to help improve the texture and clarity of your skin and help clear up any breakouts. The Ordinary Niacinamide serum (£5) is a great budget option if you want to try it out.
"I love masks of any kind and they are a great way to treat your skin when you're watching Netflix. Some favourites include Glossier Galaxy Moon Mask (£30 for a mask duo) for detoxifying your skin and drawing out any impurities, Summer Fridays Jet Lag Mask to brighten and Darphin Hydrating Kiwi Mask to hydrate and plump up the skin.
"Quarantine is also a great time to try retinol as these products often make the skin more sensitive to sun damage. Best to start off with a low percentage retinol when trying it out – The Ordinary Retinol 0.2% in Squalane (£4.20) is a great starter retinol as the squalane oil will help soften and hydrate the skin while the retinol will help with smoothness and anti ageing.
"If you are going outside, be sure to put on some SPF to prevent any possible skin damage."
The Glow Facialist
"My two top products to help your skin during this time are a Vitamin C serum and a hydrating mist," says Lorna Maclennan of The Glow Facialist.
"You might have noticed that your skin is looking a bit dull since we're spending a lot more time indoors. Adding a Vitamin C serum to your AM and/or PM routine will help to brighten and smooth the skin while also helping to encourage collagen production and protect against oxidative stress.
"Check out Garden of Wisdom's Vitamin C 23% serum (£10) and The Ordinary's 100% L-Ascorbic Acid powder (£4.90), which can be mixed with your existing moisturiser a few times a week.
"As well as looking a bit dull, you may notice that your skin is feeling a bit drier or dehydrated. By adding in a hydrating mist to your existing AM and PM routines, you're adding another layer of much needed moisture.
"Just mist your face and neck each morning and/or evening after cleansing and always follow up with moisturiser. Have a look at Josh Rosebrook's Hydrating Accelerator (£35) or for a more budget-friendly option, try Sukin's Hydrating Mist Toner (£7.95)."
Caroline Stewart Makeup Artistry & Hair Styling
"I absolutely love Simple Water Boost Hydrating Booster serum (£6.99) for underneath your moisturiser," says make-up artist and hairstylist Caroline Stewart, who did the hair and make-up for the front cover of our Spring issue.
"Serums work deeper into the skin, giving it an extra boost of hydration we all need. Most Scottish skins are dehydrated regardless of whether they are dry or oily due to our colder, windier weather and lack of sun.
"It's the perfect product as it's water-based to give you that boost. Simple is also an accredited brand that can be used for cancer patients getting treatment (which I unfortunately was last year) and this serum helped my skin so much."
Hair Ups
"This would be a fantastic time to give your hair a break from the daily stress of washing, drying then heat styling your hair," says Mandy Breen of Hair Ups. "I know a lot of people are concerned about their roots as well but let's embrace this time to give our hair a break from the all the dyeing, as hard as it may be!
"We are more stressed at the moment and it's more important for us to make sure we take a little me time for some pampering. For an affordable hair treatment that is available to buy at any supermarket, I recommend trying Aussie 3 Minute Miracle Miracle Moisture Deep Treatment (£4.99) for dry, damaged hair."
NCW Skin Nutrition
"With our routines being completely turned upside down, we could use this time to give ourselves, and our skin, the attention it deserves," says skin specialist Nicole Campbell-Watson.
"Why not dedicate one or two nights a week to facial massage? It's super relaxing and who doesn't want plump, juicy skin to see us out of this isolation?! I am loving Blend46 oil by Elevate (£35). Oh, and facial mists are totally underrated!"
Nicole also offers online skincare programmes and guided facial massage sessions via Zoom. Follow her on Instagram for more info.
Make up by Leigh Blaney
"I use pure coconut oil for everything! Cleansing, moisturising, body moisturising, and conditioning my hair. It's just the best natural conditioner for everything and smells amazing," says make-up artist Leigh Blaney.
"You can create a facial scrub at home to renew your skin's surface. Fill half a cup with coconut oil or olive oil then add sugar until it gets to the texture of a scrub (two or three tablespoons).
"If you have lemon juice, add about a tablespoon and spread the mixture, lightly running around your face. You can do your lips and anywhere else feeling dry.
"After washing this off I put just the coconut oil on and let it soak into my skin. Your skin feels amazing!
"My friends and I had a self-care house party call and we all did a face mask. I crushed down an avocado, added some natural yoghurt and honey and mixed it all together. It's a delight and these ingredients are rich in minerals and vitamins, great for the skin. Rinse off once it dries out."
Leslie Sneddon Makeup Artistry
"Once a month I do the Yeouth Acid Peel (£21.14) applied with a cotton pad and left on for no longer than 10 minutes. Use a cold cloth to activate and then rinse off," advises make-up artist Leslie Sneddon. "Afterwards I use the Boots Botanics All Bright Cleansing Toner (£5.49) to tone my skin and close pores.
"I'm using a couple of different facial oils, either Clarins Blue Orchid Face Treatment Oil (£35) or Eminence Facial Recovery Oil (£75). I pop about three drops into my palms, rub together to warm slightly, then pat into the skin.
"I follow up with a good moisturiser daily and retinol once a week. I'm loving the Eminence Lotus Detoxifying Overnight Treatment (£58) and the Obagi 360 Retinol (£53) once a week.
"I'm using the Boots Botanics Radiant Youth Microdermabrasion Polish (£9.99) once a week.
"I also recommend at least two litres of good fresh Scottish water straight from the tap. Nothing works better for your skin and a good variety of greens and fresh fruits daily – if you're struggling to find fresh fruit and veg at the moment, try Hion Purple Powder or Super Greens pure living powders which can be mixed with a smoothie or with just water."
Laura Courtie Hair
https://www.instagram.com/p/B_NqtsEhw28/
"During the lockdown looking after your hair may not be your number one priority, but it can be a time to help your hair look shiny and healthy for when you're back to normal.
"I recommend a hair treatment once a week. I personally love the Hask Bamboo Oil Hair Mask (£2.43).
"To get the best results apply it to wet hair and leave it for 30 mins before rinsing. This enables the moisture to really get in deep to your hair cuticles."
33 Dowanhill
"One of the most important things you can do for your skin is to massage it! Simple but true. It works for all skin types and leaves you glowing and sculpted," says Jo Laxton of 33Dowanhill.
"Working a good quality facial oil into your skin (check out the Limited Edition Blend46 Facial oil, with 10% of profits going to the NHS) will replenish the natural oils that are lost with all this time indoors and allows your skin to hold on to hydration levels which significantly improves the overall health of skin.
"Massage also helps lift and tone muscles giving you cheekbones that pop while draining any excess fluid to achieve a naturally sculpted face with reduced dark circles around your eyes. Adding in other facial tools like gua shas or rollers can give your at-home massage extra oomph.
"We have added some simple massage techniques onto Instagram for you to follow and get your glow on!"
Jo is currently offering online skincare consultations.
Fiona Park Make Up Artist
"One wonderful beauty tip I always encourage for those staying at home is to put on a little make-up in the morning; you will feel so much better and more put together even if you're not emotionally feeling your best," says MUA Fiona Park. "A little bit of concealer, blush, mascara and lipstick can really give you that boost of confidence you need for the day.
"If you've booked a wedding make-up artist, lots of those make-up artists are doing Instagram stories and videos showing you their tips and tricks using different make-up products. Join in and even try out similar make-up looks on yourself using the products you have in your own makeup bag [Team SW has been loving Fiona's videos – follow her on Instagram!].
"Maybe now is the time to research that perfect lip colour for your wedding day if you've not had a bridal make-up trial yet. Have a look online, at lipstick swatches or YouTube reviews.
"My favourite go-to lipsticks for brides are from Charlotte Tilbury, Nars and Mac. They do some of the best bridal nude lipsticks but also have such a brilliant colour selection for every skin tone."
Check out Fiona's own wedding day!
Wedding Hair by Lauren at The Loft
"I think that this time is so important for us all to just give our hair a much-needed break from heat and constant washing," says hairstylist Lauren Mcmonagle.
"If you can go for a few days without washing your hair then the natural oils will rejuvenate your scalp and in return the hair will grow faster and healthier. This will help certainly for the times that we are unable to get our hair cut.
"Heat is a big one! If you are going to use heat then I would suggest make your most important product a heat protector. I use Maria Nila Style & Finish Cream Heat Spray (£21.99) which smells amazing and does the job well.
"A miracle product of mine which I can vouch for is Olaplex No.3 Hair Perfector (£26) which is hands down the best product I've ever used for all-round hair health and growth.
"It is an intensive conditioning treatment. I recommend using it once a week as an overnight mask for optimum results!"
Louise's Bride-to-be Beauty Masterclass: Steer clear of the sunbeds + fake it!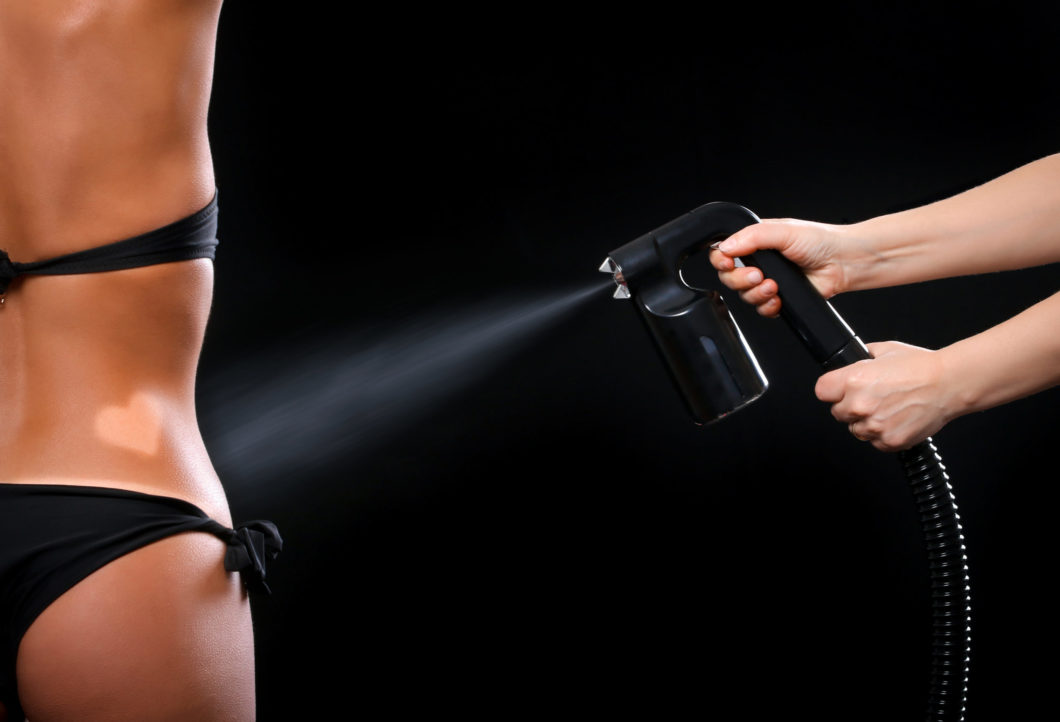 Being bronzed not only helps you glow but also makes you feel good, says Louise.
"I wouldn't recommend any bride-to-be uses a sunbed; not only are they harmful for your health, but you run the risk of burning your skin.
My number one recommendation to brides who want a golden glow on their wedding day is to get a spray tan from a professional who specialises in bridal spray tans.
GET SPRAYED
A spray tan is a much better option. I have been using a brand called Sienna for eight years now, and it's a brilliant bridal spray tan; I've never had any complaints about it, only lovely reviews!
The brand have so many different shades and tones for all skin colours, types and ages, for example, drier skin or more mature skin works best with a hydrating and moisturising spray, without affecting the end result.
The way I spray my brides is slightly different to how I would do any normal spray tan. Firstly, the absolute golden rule is that brides have to exfoliate. It's so important! Moisturise the night before your tan, but not on the day of (you can moisturise your face), and strictly no make-up, perfume or deodorant should be worn when getting the tan.
I don't spray directly under the arm as that's where we run the risk of transfer onto your dress.
There's maximum risk of sweating and rubbing, and any tan would leave marks on your beautiful wedding gown.
The tan should be done two days prior to the wedding. I always recommend a trial to see which shade you like best, which I then note down in your client file. You can go up or down a shade if you like – this small change can make all the difference to the depth of colour. We can experiment.
My bridal spray tan starts at 6% DHA (this stands for dihydroxyacetone, the colorless chemical that reacts with your amino acids to produce colour) solution – this won't give you a tan but can even out the skin tone – then we can go all the way up to 16%, so there really is a shade for everyone, even if a dark tan isn't your look.
Your tan should last five to seven days, if you look after it properly. Moisturise, don't use swimming pools and avoid shaving every day, as this will strip the colour faster.
Sienna Tan fades beautifully, so even the darkest shade will not go patchy whilst your skin is renewing.
DO IT YOURSELF
If you don't have the time or budget to get a professional spray tan, then you can do it yourself at home. I would really recommend that you try this a good few times well in advance of your wedding day if you are going to DIY your tan.
I absolutely love Tanologist Self-Tan Mousse in dark (£14.99). I've found over the last year, clear tans work better on my skin than any colour guide foam or mousse.
I go to bed with a clear, non-sticky tan and wake up lovely and bronzed. My bedding is not stained and there's no colour guide to be washed away. My pores seem to be less clogged with clear formulas also.
You should use a face-specific tan for your face too; I love Tan-Luxe The Face Illuminating Drops (£35). You can customise how much colour you want, and I mix it with my moisturiser so that then tan doesn't feel drying on my skin.
TOP TIP | Use a large soft brush, like a fluffy Kabuki brush, to blend your face and knuckles for even application.
IN AN INSTANT
Although you probably wouldn't want to tan your whole body with instant tan for your wedding, it can be really handy just to hide any visible veins or even out some patches of skin. It's also great to have for your hen do and honeymoon.
My go-to instant tan is Insta Glow by Tanologist (£11.99). It's my saviour most days, and I wouldn't go on a night out without it!
~ T H E  M A N  T A N ~
Tanning isn't just for us brides. A subtle golden glow can make the groom shine too

A recent survey revealed that 70% of women think men should use fake tanning products – so what are you waiting for guys?
An increasing number of men are now realising that fake tan can give a healthy look and a boost of confidence. Not only does it give you a bronzed look, but it also brings out your features, and even defines muscles!
Most importantly, a 'man tan' doesn't expose your skin to sun damage, meaning you can avoid those risk factors of skin cancer and even premature ageing.
Follow my tips to achieve the best fake spray tan possible for men…
Prep your skin. Shave your face 24 hours before the appointment, as shaving afterwards will remove some of the colour. Scrub your body with an exfoliator. Borrow your girlfriend's if you have to! Apply moisturiser the day before your appointment, focussing on face and hands as these can be dry spots. Don't wear aftershave or deodorant before your spray.
Speak with your therapist about what you want to achieve with your tan so that you can get the colour you want. Men often go for a lighter tan, as it looks more subtle – but this depends on your natural skin tone and how well your skin normally tans.
After your spray tan, wear loose and dark clothing so the tan doesn't rub off. Wait at least eight hours before showering it off, and avoid chlorine and gyms for 24 hours.
Once the tan has developed, you'll be left looking and feeling amazing! Once the compliments start rolling in, you'll wonder why you didn't get one sooner.
Until next time! Louise x 
Louise's Bride-to-be Beauty Masterclass: Frame your face with perfect brows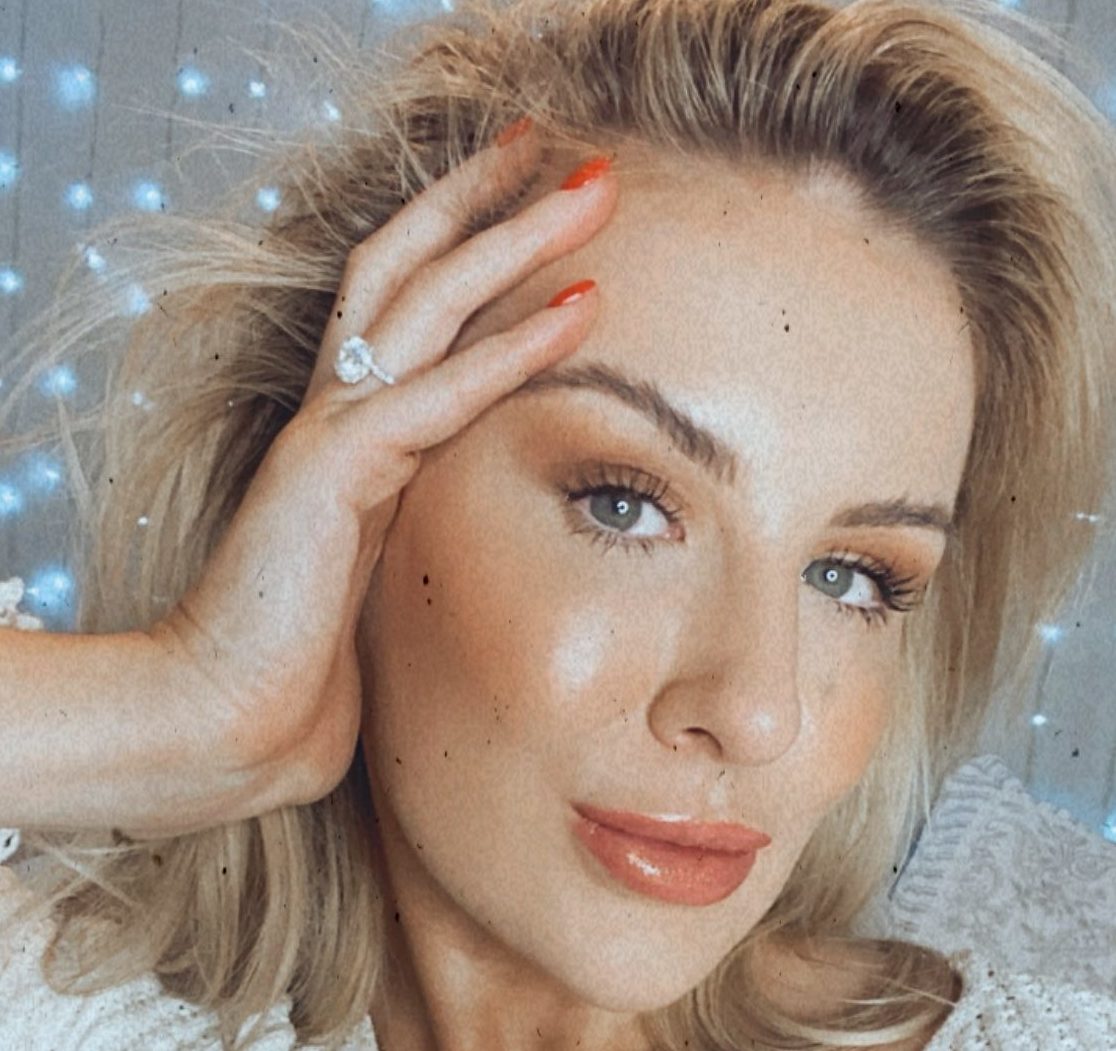 "Eyes are the window to the soul," says Louise Ballantine, "so it makes sense to have good window frames, y'know?"
"The first thing you should do is find a fantastic brow technician that you trust. I'd recommend going for someone who specialises in or offers HD brows, and get started on your brow journey as soon as possible.
Six months before the wedding is a good time to start as you want to aim to have them done every four to six weeks.
The HD technique is definitely different to just a tint and wax. Your brows are mapped out to create the perfect shape for your face, and your colour is custom blended so that it looks natural.
The goal is to create your ideal shape and encourage growth over several appointments.
THE ONLY WAY IS UP!
You may have heard of brow lamination. It's quite new to the eyebrow world, but as soon as I tried it, I knew that it was the perfect treatment for me.
With the lamination, or brow lift, we're able to disrupt the natural flow of the hair and set them in the desired shape. By setting the hair upwards, this widens the whole brow giving a great thickness and instant lift to the eye area.
It's the perfect treatment for people with thin brows, or if your brow hair is unruly.
The most amazing thing about brow lamination is that it lasts eight weeks! It softens the hairs, makes them more flexible and pliable for styling, so you can have them brushed straight up or smooth the edges at the top for a more wearable look.
I recommend using castor oil after the brow lamination to keep your brows in tip-top condition after a strong chemical process.
HELPING HAND
I've also been using a prescription-strength brow and lash serum, available on dermatica.com. I was introduced to Dematica last year and I think it's such a great concept. It's led by pharmacists and dermatologists, and gives you access to a monthly prescription for either acne, anti-ageing, some skin conditions and lash growth.
It can be quite a costly process to go to a dermatologist, and this process is done via the website so cuts the costs right down. My monthly prescription is £44.
YOU COULD BE LIFTED
A lash lift is my everyday beauty secret. I'm never without one; it's the perfect treatment to make you look and feel more awake, and it works well with a low maintenance make-up routine. I think it really opens up my eyes, and even gives the eye area a lift.
It takes around 45 minutes for a lash lift, and lasts between six and eight weeks. It's a popular choice for a bride who is quite natural and doesn't like strip lashes, but would like some more volume and length.
I often do a lash lift on a bride the wedding of the wedding, then just fill in with a few individual lashes.
Until next time! Louise x 
Louise's Bride-to-be Beauty Masterclass: Skin prep is key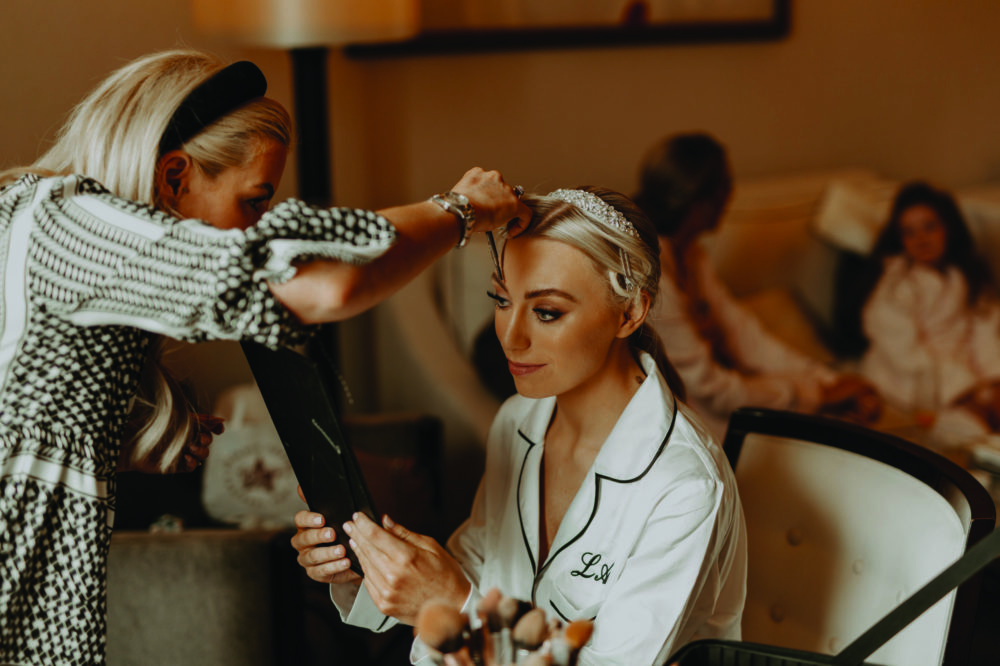 IMAGE | Vanessa Toth from the wedding of Lucy Connelly
First up, Louise looks at arguably the most important thing of all, skincare.
"Think of your face like a wall that you're going to paint. If you sand or buff the wall to prep it, the paint will look smoother, apply more evenly, last longer, and ultimately, the finish will be significantly different than if you'd left it rough and un-prepped before you started. The same analogy can apply to your skin and make-up.
Making sure your skin is correctly prepped is so essential in order to get the best from your wedding day make-up.
I'm a great believer in buying products that work for your skin regardless of the price or fancy packaging. If they're on the cheaper side but have the right ingredients, that's all that matters, so don't be duped into thinking that the more expensive products are always best.
Here's my top picks and tips for bridal skincare – some are pricier than others, but your skin is a good thing to invest in; you wear it every day after all!
DITCH THE MAKE-UP WIPES
If you're not removing your make-up before bed, then that's the first thing you must change. Using a make-up wipe does not count. The skin repairs most while we are sleeping, so if you don't give it the time to rejuvenate it will look and feel dull the next day.
Remove your make-up properly before using an active ingredient like salicylic acid, which helps to eradicate blemishes, to change or trigger an effect in your skin.
Finish by using a moisturiser to lock in those ingredients. Even better if you apply it on top of a serum.
TOP TIP | Got oily skin? It's even more important to moisturise! Your skin can actually overcompensate for the lack of of moisturiser by stripping the natural oils which can result in even more oil being produced. If you're worried, choose an oil-free moisturiser.
LOUISE USES: Clinique Take the Day Off Cleansing Balm (£25) | Garnier Micellar Water (£5.99) | CeraVe Hydrating Cleanser (£9.49)| EradiKate Salicylic Acid Blemish Treatment (£49) | Origins High Potency Night-A-Mins™ (£30) | The Ordinary Hyaluronic Acid 2% + B5 (£5.90)
---
---
BUFF BUFF BUFF!
The first question I ask my brides at their trial is: Do you exfoliate? Many times, the answer is no. This is such an important step in the prep process.
If there's one amazing product I always recommend, it's Kate Sommerville's Exfolikate – this really gets rid of that dead skin and has your skin looking like you've just had a facial! It's amazing and well worth the money.
If you're reading this and it's a bit late to start a proper skincare routine before your wedding then don't panic. If you do one thing, make sure you exfoliate as soon as possible. It's made such a difference to every bride I have recommended it to.
LOUISE USES: ExfoliKate Intensive Exfoliating Treatment (£21)
TREAT YOUR SKIN
If you have any skin concerns like acne or severe eczema, I would recommend making an appointment with a dermatologist. They can prescribe oral medication to help skin conditions that are resistant to antibiotics and topical treatments.
If you're thinking about getting facials, then make sure you try those out well in advance of the wedding. It's important to see how your skin reacts and also give your skin time to get the full benefits of the treatments. Your skin is unlikely to change after just one appointment, so schedule a few in.
You should also consider dermaplaning (an excellent treatment for exfoliation) and skin tightening treatments. HIFU – which stands for High Intensity Focused Ultrasound – is a cosmetic treatment for skin tightening which is non-invasive and painless, and a great alternative to a face lift.
DON'T FORGET YOUR BODY! 
Skincare doesn't just apply to your face; the rules of facial skincare can also apply to the body, and with you want to look the best you possibly can in your wedding dress.
Keratosis pilaris, or 'chicken skin', is a common skin condition which causes patches of rough bumps to appear on the skin. These tiny bumps are actually dead skin calls clogging hair follicles.
Ameliorate Transforming Body Lotion is such a hero product in this area. It contains lactic acid and almond oil to smooth away the bumps and nourish the skin.
LOUISE USES: Ameliorate Transforming Body Lotion (From £9)
Until next time! Louise x 
Steph's Bride Diary: My 2019 make-up + skincare heroes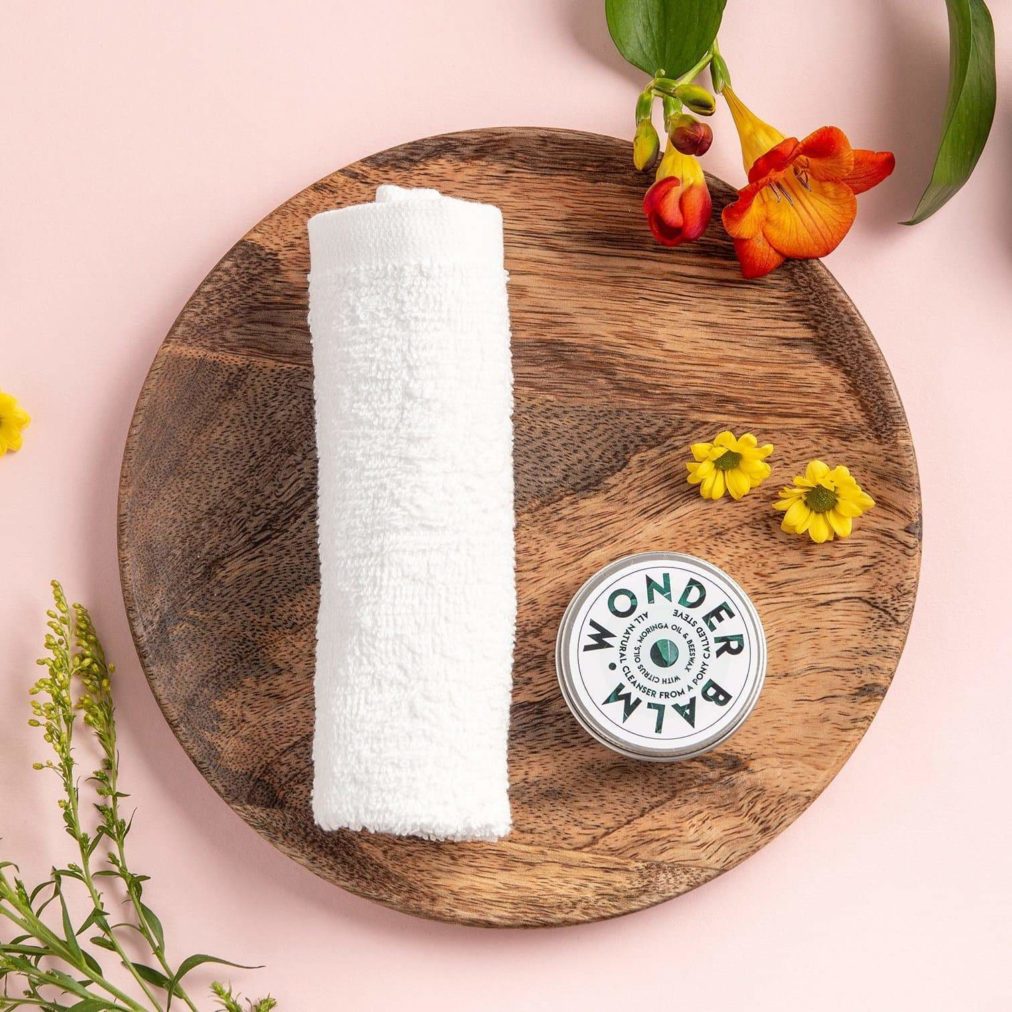 I'm 33 next year (omgomg) and if I'm 100% honest, I've never got into a proper skincare routine. I see so many lovely lotions and potions working at the mag, but I've never had a regime that stuck, no matter what I tried.
I've always found most fancy skincare to be outwith my budget (I'd rather spend £60 on a nice pair of shoes) but I made a conscious effort this year to try to get an affordable routine in place. Same with make-up; I used the same brand of concealer from age 12 to age 30! I knew that I needed to branch out and see what brands I loved, and in 2020 I'm going to do some make-up lessons.
I wanted to share with other brides-to-be what I found and what I have continued to use… 
ABSOLUTE HEROES
Wonderbalm (from £12), A Pony Called Steve 
This little pot has probably been my fave find of 2019. As someone who finds the thought of make-up removal painful (why so many steps?), it's been a godsend.
First of all, I really like that this is a small Scottish brand, with founders Emma and Aminah based in Glasgow having worked on this particular product for over 10 years.
The balm is 100% natural, with no preservatives and packed full of oils like lemon seed oil, moringa oil and citrus.
I also use it as a face mask when I'm having a relaxing bath, and most recently, I've used it as a conditioner for my laminated brows! It works a treat.
Now, I look forward to taking off my make-up. You just rub the balm between clean hands and go to work on your face. It's even gentle enough to use on your eyes, so don't worry about it not removing your mascara. It works on false eyelash glue too!
Wet a white wash cloth with very hot water, wring it out and wipe the day away. It actually feels very luxurious!
~
Airbrush Flawless Foundation (£34), Charlotte Tilbury
My foundation loyalties used to lie with MAC, but after a few changes to their formulas over the years, I decided to try a few different ones out. I'd been recommended Charlotte Tilbury by a professional make-up artist, and I went for the full-coverage Airbrush Flawless foundation, new to the brand.
I love the consistency – not too thick or too thin – and it really does offer a nice, soft full coverage that lasts all day.
~
Moisture Surge 72-Hour Replenishing Hydrator (from £12), Clinique
This pot is literally a drink for your skin; it's such a hydrating moisturiser and exactly what I need, especially in the Winter months. I wasn't sure that I would love the consistency – it's kind of like a gel – but as soon as I used it, my skin drank it up and I wasn't left feeling greasy at all.
It actually left my skin looking really dewy, even underneath my make-up. It's supposed to work nonstop for 72 hours too, even if you wash your face, so for the price I think it's a great product.
~
The POREfessional: Hydrate Face Primer (£29), Benefit 
I've been a fan of the original POREfessional primer for a while, so I was excited to try the Hydrate Face Primer that's just come out this month, and I have to say I much prefer it.
Hydration really is the order of the day for my skin, so every little helps, and I love the texture and application of this product. I've actually just been wearing it without foundation on top and I find it gives my skin a smoothed-over, fresher look.
~
Mini Mattetrance Lipstick Trio (£33), Pat McGrath Labs | FetishEyes Mascara (£26), Pat McGrath Labs
I'd been hearing loads about Pat McGrath make-up before I took the plunge and ordered a few bits. I needed some nice lipsticks to get me through the Autumn/Winter season, and the mini trios seemed like the best value for money. I prefer a matte lip, so I went for the Mattetrance trio, and I love them all! The pigments are so rich and the formula is creamy even though it's matte, which means that my lips don't dry out.
The mascara was equally as impressive. I need a fluffy wand, and I had a bad run buying mascaras that I didn't like, but I'm glad I took a gamble on this one. My lashes have never looked better.
~
My Flawless Blender Droplet (£7), MYKITCO. 
My name is Steph and for most of my life, I've been applying my foundation with my fingers. Yep, I can hear the gasps too. It always worked fine for me, or so I thought, until I started using a beauty blender sponge.
I picked up the tip from Charlie at Bang Bang Beauty, at a make-up tutorial she did at The Corinthian's Bridal Brunch, and I've never looked back.
I like the droplet shape of this one, but there are lots of different shapes available, and you can experiment to find out which one suits you best.
~
Boi-ing Cakeless Concealer (£18.50), Benefit
A full coverage liquid concealer which doesn't cake or crack? Sign me up!
This lovely product really brightens and tightens the under eye area too, and I really do need that sometimes!
Best of all, it's waterproof, which really helps me as allergies mean that I have watery eyes in the mornings a lot.
~
Honey Lip Scrub (£6.60), Sephora 
This is a little bit of a cheat product because I actually bought it from Sephora in Lucca at the end of 2018, but it really has been a staple for me this year.
The honey lip scrub is so nourishing and really does get rid of those pesky flakes of skin. I like to use it before applying matte lipsticks to make sure they go on as smoothly as possible.
It also smells and tastes great, although you're obviously not supposed to eat it!
Come on Sephora, we need you in Scotland!
~
Jamie Genevieve CBD Facial Tanning Water (£12), UTAN at Superdrug
Quickly becoming one of my all time fave products, this tanning water developed in collaboration with YouTube sensation and SW real bride Jamie Genevieve contains lavender and CBD oil, ensuring a good nights sleep after you spritz it on.
It really does work and can be built up, but I find two applications is plenty to bring my tan up.
~
White Brightening Cream (£75), Eve Lom | Radiance Transforming Mask (£65), Eve Lom
These two Eve Lom products are so brilliant, but they're very pricey, so I use them sparingly as a nice treat and I love the effects.
The Brightening Cream is all I need if I want to go barefaced. It really does visibly brighten your skin, and the rose scent is really subtle and pleasant. You get a wee tiny spatula with all Eve Lom products so you don't have to put your fingers in the tubs, which helps with wastage.
The mask really is a luxe product, and it feels like it. I have used it overnight twice and both times, my skin has been unbelievably silky smooth in the morning.
SW tries… Microneedling and topical skin boosters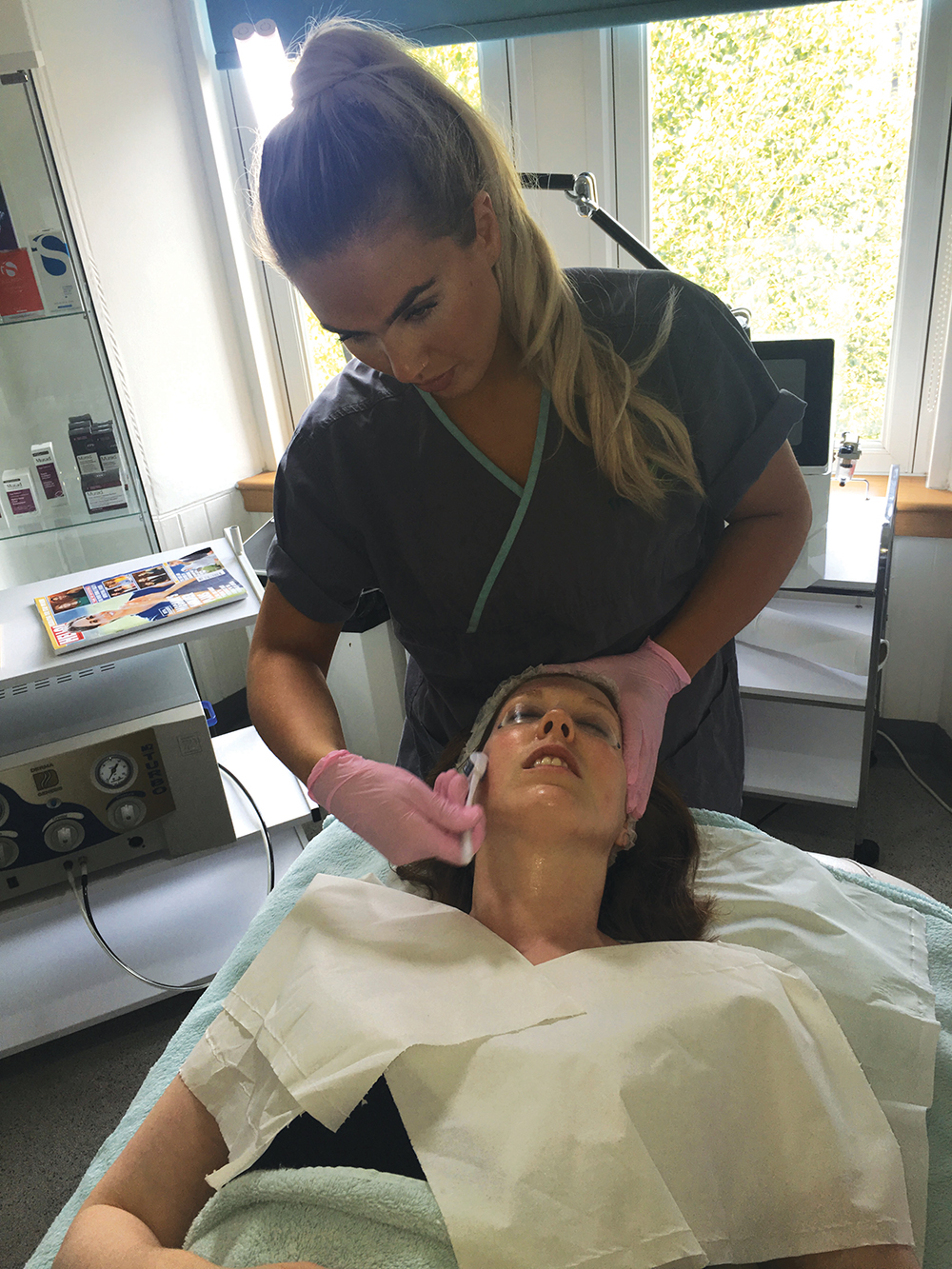 I turned 35 back in April and I'll be honest, it was one of my scary ages.
When I hit 30 I was totally unphased but looking in the mirror now there are a fair few fine lines.
Couple that with the fact my one-year-old still hasn't mastered sleeping through the night and I feel I look permanently knackered with grey, dull skin.
So when I got the chance to try out microneedling and topical skin boosters at Fresh inc. medispa in Invergowrie, just outside Dundee, I jumped at the chance.
Microneedling is a derma roller procedure that uses small needles to prick the skin so as to generate new collagen and skin tissue, resulting in a smoother, firmer complexion
It can also treat scars, small lines and large pores.
Anything that could give me back a bit of a glow sounded great!
IMAGE | numbing cream on before microneedling procedure
I'd never tried anything more than a facial before but my aesthetician Karyss totally put me at my ease, talking me through the entire treatment before we began.
She also warned me to expect to look like I had sunburn immediately after and that I could have some scabbing for five to 10 days.
The clinic itself is an oasis of calm and after a light cleanse I was left with a cup of tea and a magazine for 15 minutes while we waited for numbing cream to take effect.
So far, so chilled.
Next Karyss did a deep cleanse before applying a peel prep to remove any impurities and a serum.
IMAGE | The needle roller
Finally, I was all prepped and ready for the 1.0 needle roller.
Karyss started on my forehead, rolling the needle back and forward in a Union Jack pattern.
I'm not going to lie, it's a bit nippy but really not too sore and the forehead's the hardest part where your skin is thinnest.
She made her way all round my face and then it was time for the topical skin boosters.
This super-thick hyaluronic acid nourishes and revitalises the skin, and is designed to add an instant radiance and believe me within a couple of days I was noticeably more glowing!
After an application of sunblock I was ready to leave the clinic, red yes but feeling like I'd had a treatment that would deliver tangible results.
IMAGES | Immediately after microneedling and application of topical skin boosters
IMAGE | Sunscreen and barrier cream
You're advised not to wear any make-up for the first 12 hours after the procedure and I was sent home with a special barrier cream and an SPF 30 suncreen that doubles up as a primer – ideal for those first hours when foundation's a no no.
You have to protect the treated skin against excessive sun exposure for up to one month after the treatment.
The day after I didn't apply any make-up – a big deal for me – and two days after I limited myself to eye make-up but the redness subsided within 24 hours.
IMAGE | After
Although it can take two-six weeks before you see visible signs of regeneration and repair, I honestly felt that my skin looked brighter and healthier within the first week.
Since having it done my skin's also felt smoother and make-up application's been much easier.
The treatment can be carried out every two-four weeks and according to Karyss the optimum time to start for brides-to-be is four months before the wedding, finishing with a fire and ice facial the week before the big day for maximum glow.
This treatment costs £155 at Fresh Inc. Medispa in Invergowrie and the appointment time is 60 minutes.
SWD Tries… Dermaplaning at Love Those Lashes, Glasgow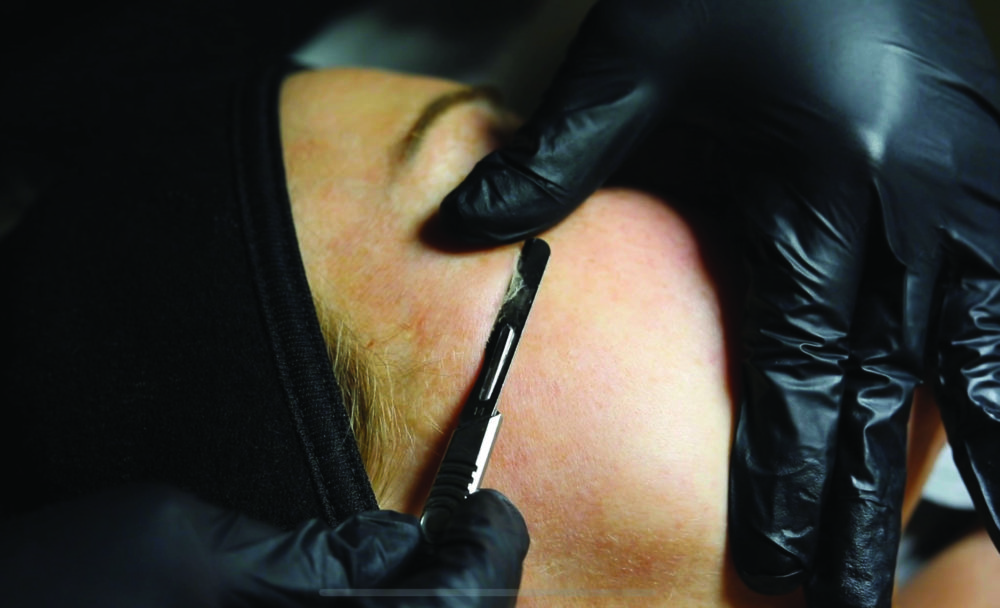 There was a weird beauty fad at my high school amongst the image-conscious girls: shaving your arms. It sounds, and was, very weird, and the regrowth was horrible.
You'd see girls cross-armed in third period English, scratching away at the short stubbly hairs poking through. This is the exact memory that came to me when I looked into dermaplaning, the removal of hair from the face with a surgical blade. It is, in essence, shaving your face.
This isn't just any old face shave though. Dermaplaning is one of the deepest, most thorough exfoliations you can have.
I arrive at Love Those Lashes salon in Shawlands, and my therapist Lynsey immediately makes me feel at ease by explaining the procedure simply.
Dermaplaning targets pigmentation, lines and wrinkles and even acne breakouts, allowing your skin to absorb up to 80% more moisture than before and helps your make-up look flawless.
Sounds like the perfect pre-wedding treatment to me, so I hop up on the bed and let Lynsey get to work.
After a cleanse to get rid of any make-up and grime, she passes a surgical scalpel over my face, removing the fine vellus hairs– also known as peach fuzz –gently and carefully. I actually found the sensation very relaxing and painless.
The second pass-over of the scalpel removes those dead skin cells that dull your complexion. It's not just the top layer that goes either; dermaplaning blades can remove up to four weeks' worth of dead skin.
Lynsey asks me if I want to have a look to see what she's removed from my face, so I take a peek at the black tissue that she's been wiping the scalpel on and oh my goodness!
I would never have imagined that so much horrible dry skin and hair was on my face.
I'd opted for the gold dermaplaning package, so after the scalpel pass-overs, a gold collagen face mask was applied – the cooling gel of the mask was heavenly, and I was treated to a mini scalp, neck and shoulder massage. The whole experience was finished with a rich collagen and elastin boosting serum.
I left the salon feeling fresh and clean, with the most moisturised baby smooth skin I've ever had! As soon as I looked in the mirror, I could see that glow everyone talks about.
And, unlike the arm hair shaving craze, the myth that your vellus hairs will grow back thicker and darker is totally untrue. The hair grows back the same as before, and the results of dermaplaning should last between four and eight weeks.
It really is the perfect pre-wedding treatment. There are no side effects, the results are instant, and your skin will be a perfect canvas for your wedding day glam.
Get ready for your close up!
The gold dermaplaning package at Love Those Lashes costs £120. Other dermaplaning packages are available.
SW tries… Pure Spa Newhaven, Edinburgh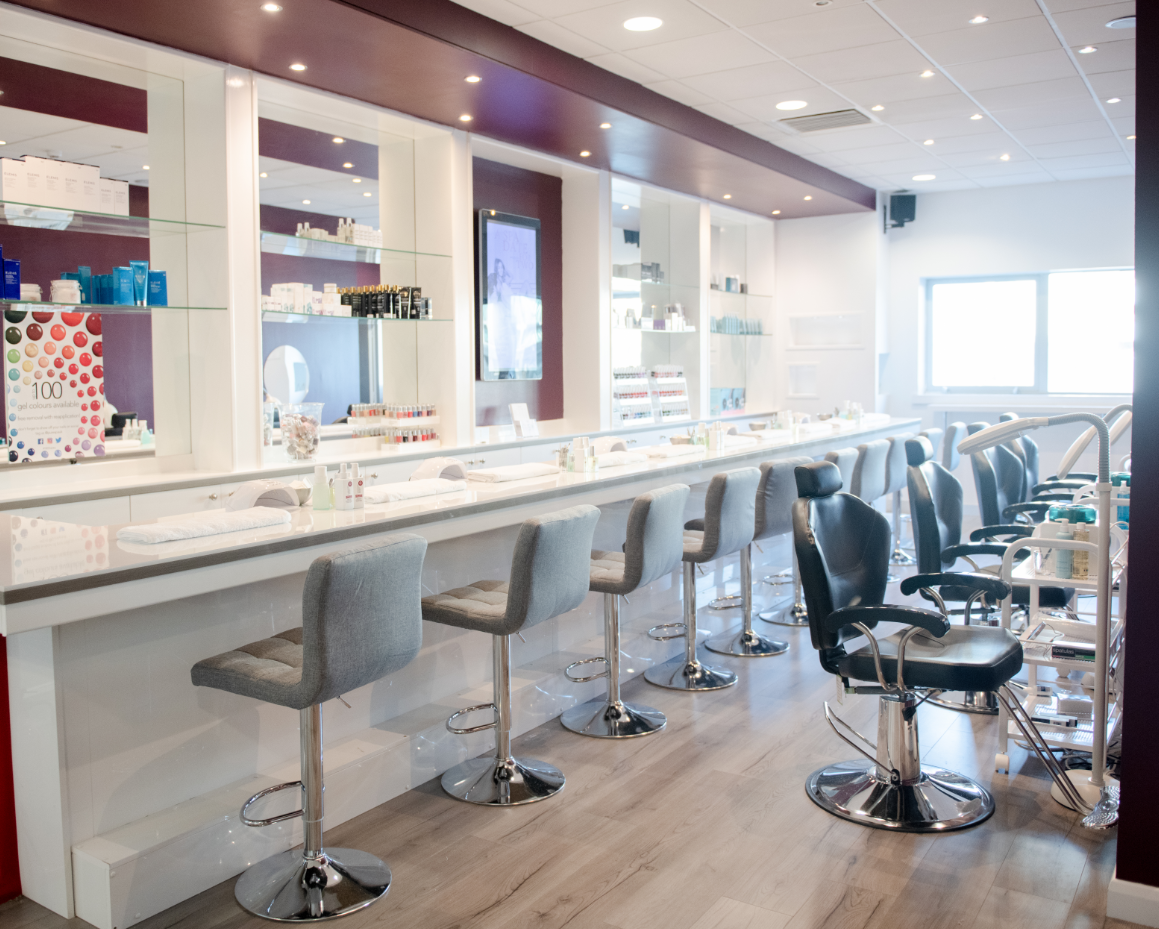 I love any excuse for a get-together with my bridesmaids.
We see each other quite a lot anyway, but it's so nice just to take a day off together and treat ourselves in the spirit of wedding planning.
We venture through to Edinburgh to Pure Spa's newest facility at David Lloyd gym, right on the water in Leith.
The spa is a short journey from Edinburgh Waverley train station by taxi, and out of the hustle and bustle of the busy city centre.
In the taxi, we all list our aches and pains and how we can't wait to get our massages or facials. I'm particularly looking forward to having a pedicure; I've never had one before!
After arriving and touring the facilities with the friendly receptionist, we slip into our swimsuits and wrap ourselves in our robes, ready to spend some time relaxing in the thermal area.
It's a small, compact area but it has everything you need for half an hour of chill time. A steam room, two saunas and a Japanese spa bath lead to a dimly lit relaxation area.
The girls and I hop into the warm water of the Japanese bath and just sit chatting until our therapists collect us for our treatments.
We're booked in for the Pure Deluxe Pamper Party package, which includes a choice of facial or massage, and either a pedicure or manicure.
One of my bridesmaids, Aspen, is pregnant, so the therapists make sure that her treatments are tailored to her specifically.
ABOVE | Digital editor Steph (front) with bridesmaids.
Clockwise from Steph: Aspen, Kirsty-Ann, Victoria + Letitia.
I decide on the deluxe relaxing massage (we were given a choice of massage when we arrived: Swedish, deep tissue, hot stone or relaxing). The treatment starts off with a foot bath ritual – it always feels a bit more special when massages start this way – before I hop up on the heated bed ready for a much-needed rub.
My therapist talks me through some breathing exercises to relax me, then gets to work carefully kneading out the stresses and strains of planning a wedding.
I'm so chilled and in the zone that I drift off and before I know it, we're finished!
Dozily, I make my way to the changing area to put my clothes back on before my pedicure.
All five of us opt for the same, and it's so lovely to sit together having a coffee and chatting about wedding cake whilst the therapists paint our nails.
We leave relaxed and happy. It was so nice to spend that quality time with my bridesmaids, and I would definitely recommend the Deluxe Pamper Party Package to any bride squads who are looking for a day out together.
My only regret is that we didn't go for cocktails afterwards. But that's always an excuse to do it again soon…
The Deluxe Pamper Party Package costs £60 per person, with a minimum party size of four people.
Bookings can be made directly by calling 0343 5071888 or visit the Pure Spa website.
We tried salicylic acid peels to treat acne and here's what we thought!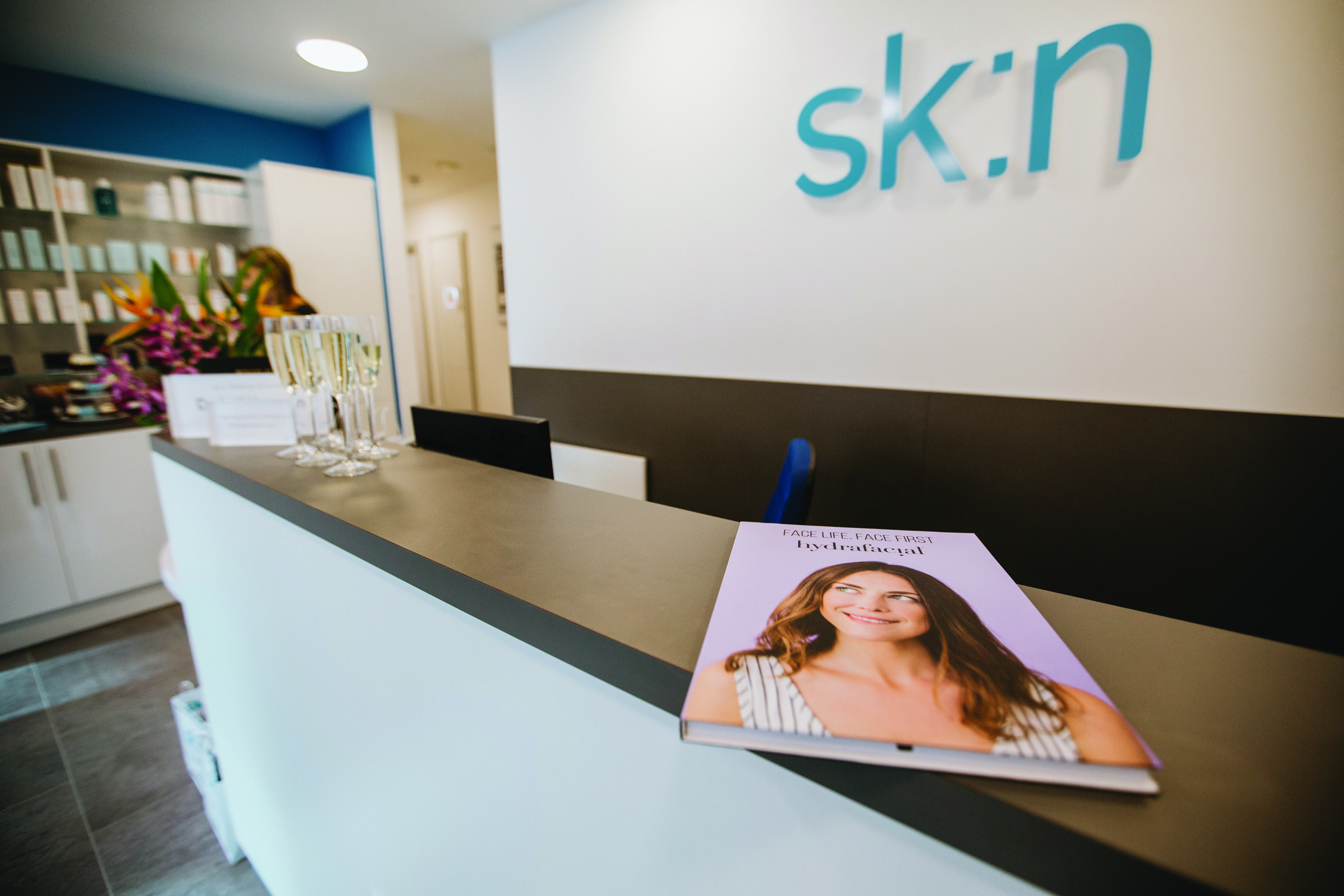 This treatment was gifted.
After years of mild acne that didn't seem to be going anywhere, and tired and dull-looking skin that wouldn't brighten no matter what fancy moisturiser I used, I was looking for a deeper skin treatment that would reset my skin to factory settings.
Before treatment
THE CONSULTATION
I booked into SK:N Clinic in Glasgow to have a consultation with their head nurse about what treatment would help my skin problems best. During our chat she examined my skin and put me right about a few things that were probably making it a lot worse (I was using an oil-based make-up remover on top of my already naturally oily skin – a big no-no – and was instructed to ditch my go-to foundation in favour of mineral-based make-up). Then, she recommended that I have six Dermaquest salicylic acid peels at two-week intervals.
One salicylic peel will make your skin look brighter, smoother and more youthful, but a few over a period of time can improve your acne in a way that antibiotics or the pill can't. A deep exfoliator, salicylic acid unclogs pores and reduces the amount of oil your skin produces, lowering the chance of spots developing in the first place.
Two weeks after first peel
You have to prepare your skin with special Dermaquest products in the weeks before and during your treatments, my favourite being the DermaClear Serum (£62) which stops spots in their tracks, diminishing huge eruptions to tiny manageable pimples overnight. Be careful not to overdo it with these products though – I ended up running out of the DermaClear Cleanser (£32) after six weeks (only halfway through my treatments) because I was trying to make it lather and ended up using way more than I ever needed.
THE TREATMENT
I was reassured by my nurse that the peel itself would feel 'warm' and maybe 'uncomfortable' when applied to my skin, but I'm not going to use euphemisms with you. It was – and always is – downright burny. Not unbearably so and only for two minutes maximum, but do be prepared for a nipping sensation.
I made a valiant attempt to keep up a casual conversation about my weekend plans with the nurse while trying pathetically to choke back tears – not because I was trying to be stoic or anything, just because I didn't want the salty tears to mix with the salicylic acid on my face like lemon being squeezed on a paper cut.
On the plus side, I saw the effects almost immediately, with spots reducing in size and ferocity after the very first peel. There's also little to no downtime with this treatment, only some minor skin flaking that clears up within a week.
My sixth and final was a little different, with the SK:N nurse recommending that we try the Dermaquest Pumpkin Resurfacer (£80) to finish off the round of treatments.
Halfway through treatment
A bit different from the salicylic acid peel, the Pumpkin Resurfacer's main purpose is to revitalise the skin and give it a rejuvenating glow (it's also not as burny on the skin!). Pumpkins are a great exfoliator, and when mixed with salicylic acid creates a deep, long-lasting facial.
It's been almost two weeks since this treatment and my skin is still buoyant and glowy with little to no downtime on this peel (my skin didn't even flake). If you're like me and struggle with dull grey skin, you could get this in the days before your big day to give your skin a bright, youthful glow.
THE RESULTS
Now that my treatment is completed, my skin is a lot healthier. While I still get spots, their lifespans are much shorter, with no painful and unsightly nodular monstrosities appearing since starting the treatments. The only drawback is that it is expensive, but if you've been fighting a losing battle with your spots for years, this is a treatment that won't just ensure your skin is wedding ready – it'll last a good while into your marriage too!
SK:N Clinic is currently offering a discount on Dermaquest salicylic peels, with three treatments costing £367, down from £459.
Two weeks after final treatment
Want to revitalise your skin for your wedding day?