Why I didn't lose weight for my wedding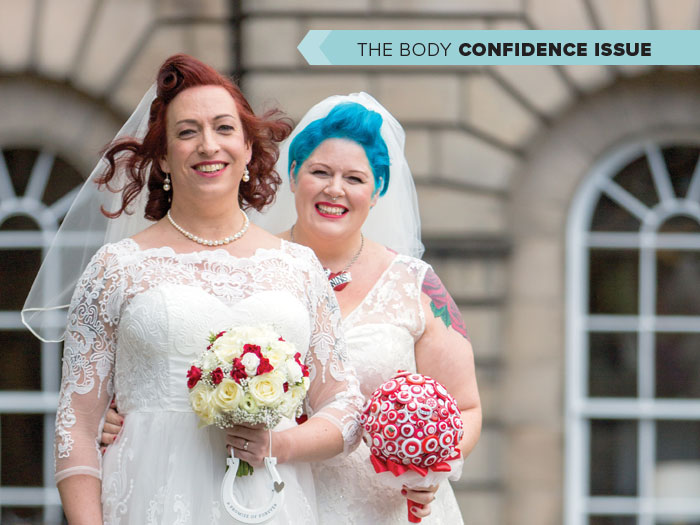 When Pauline Kirby got engaged, she was bombarded with wedding weight loss emails. Here, she shares why she shunned the big day diet.
"Last summer, my fiancée Jessica and I finally set a date for our wedding: 10th October 2016 at Lothian Chambers, then a reception at The Bonham Hotel in Edinburgh. To satisfy our insatiable thirst for all things wedding-related, we signed up to all the wedding websites we could find, and bought all the bridal mags we could get our hands on.
It wasn't long before the marketing emails came flooding in. They were generally harmless, but one in particular caught my attention: it was for a super-duper weight loss plan that promised to make me thinner in time for my wedding. Then came another, followed by yet another.
Body shaming
As a fat woman, I'm no stranger to random people recommending diets to me " as if the only thing hitherto missing from my life was someone pointing me in the direction of an apple. I've grown up with people telling me I have a pretty face, whilst politely ignoring the existence of every part of my body from my (double) chin down. But the people sending the weight loss emails couldn't see me; they didn't know I'm fat. They didn't know I'm fat, but were trying to flog me a diet anyway. Whatever size I was, they reckoned I could be smaller. I could be less. I could shrink myself to fit.
I don't know why I was surprised; body shaming is present both blatantly and in a quiet, nuanced way in almost every media outlet. It sneakily seeps into our subconscious at every opportunity. It's literally everywhere and its message is clear: You can be better. You're not good enough as you are.
Size + sexism
Interestingly, in my (completely non-scientific) research of wedding websites and magazines, I didn't see any articles urging grooms to lose weight for their wedding. I didn't see any kilt diets, or articles telling guys how they could drop a trunk size for their honeymoon.
Of course men aren't immune to body shaming, but the majority of the pressure to lose weight seems to be firmly on the bride and it reeks of sexism: ladies have to be pretty if they want to bag themselves a man.
Celebration of love
There is no room in the world for a message that repeatedly tells us we're not enough, and this is especially true on our wedding day. Weddings are a celebration. A celebration of love and commitment; of years spent together and years yet to come.
We are worthy of love and joy no matter what size we are. Our value and our uniqueness and our capacity for love are not measured in stones and pounds. We can have meaningful relationships and beautiful weddings just exactly as we are; all of us, whatever our size.
More to marriage
So when my fiancée and I finally moved beyond signing up to wedding websites and got round to the hardcore planning, not a diet plan was followed. I wore a tea-length gown in a size 22. I expected shopping for my dress to be challenging " I've heard about other brides being asked how much weight they planned to lose – but I was pleasantly surprised.
I went to Dragonfly Dress Design in Glasgow, where Lisa helped me put together the look I wanted without any issue. On my wedding day, I felt more beautiful than I've ever felt in my whole life.
True happiness
When I look at our wedding photographs, I don't notice the double chin or the back fat. I see the way my wife is looking at me with absolute love. I see myself smiling; my eyes sparkling with joy. I'll never look back at those photographs and wish I'd dieted, because I look at them now and I see how much my wife loves me exactly as I am. More importantly, I look at those photographs and I love myself exactly as I am."
Do you feel pressured into losing weight for your wedding? Share your thoughts editorial@scottishweddingdirectory.co.uk.
Future classics: 2017 wedding dress trends for your body shape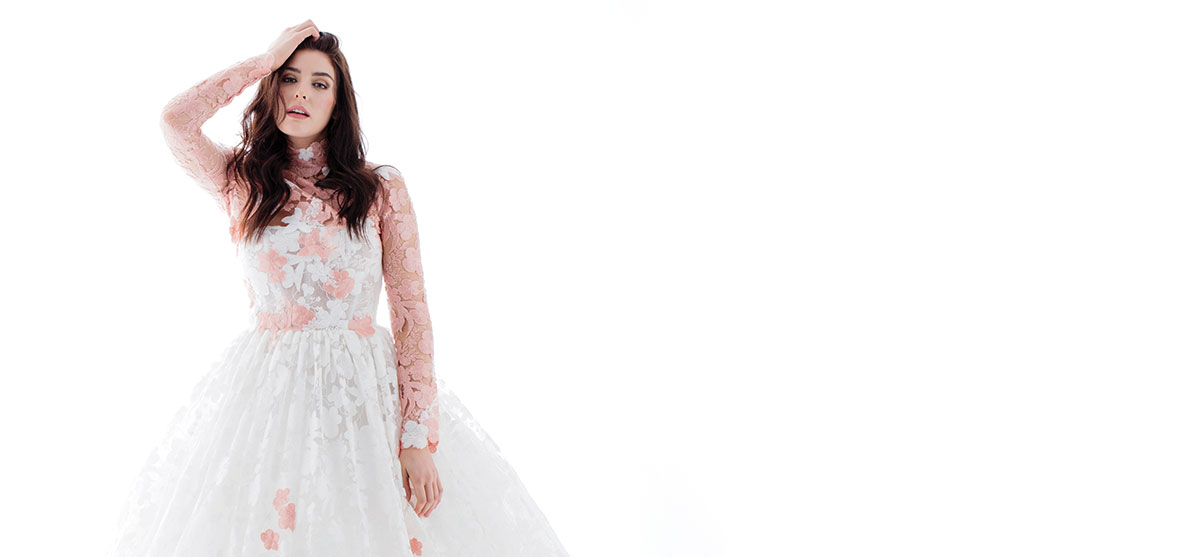 Photographer: Chris Blott
Styling: Beth Farquhar
Hair + Make-up: Claire + Tom @ Spotlight Professional Makeup and Hair
Flowers: Cherry Blossom
Model: Melissa McComb @ Colours Agency
FULL BLOOM
The trend for florals has been steadily, ahem, growing of late, but this year they're bigger and bolder than ever.
This stunning Eleganza Sposa dress (POA) is actually a two-piece; a full strapless dress made from sequin-embroidered tulle, with a high-necked coral long-sleeved body over the top. Perfect if you want to switch up your look from day to night!
MODERN MERMAID
This textured crepe body-con silhouette gown with dramatic fishtail and train (£2,695) from Anne Priscilla Bridal proves that fishtail gowns needn't be fussy or frothy.
This is the kind of dress that quietly lets you take centre stage " sleek, elegant and oh-so-flattering.
Styled with pearl beaded pillbox hat with bow (£295), pearl necklace (£100) and bracelet (£75), Ultimate Design Hats. Hand-tied bouquet of ivory roses, white ranunculus, white double lisianthus and white stock, finished with ribbon and pearl pins (£85), Cherry Blossom.
THE TWO PIECE
The bridal catwalks have been awash with midriff-exposing separates, but this gorgeous two-piece gown with illusion lace bodice and tulle skirt (£1,295) from Melle Cloche is a much more wearable take on this trend.
Styled with beaded hair comb (£105), Lily Luna. Long pearl lariat necklace (£300) and earrings (£100), Ultimate Design Hats.
SOFT ROMANCE
No matter the year, there'll always be a place for prettier-than-pretty princess gowns.
This Diane Honeyman dress (POA), with its layered tulle skirt and sweetheart neckline decorated with chantilly, embroidery and gemstone appliqué on crystal tulle, is so romantic. Wear with loose, messy waves for a contemporary feel.
BRING IT, BACK
Encourage the best kind of back chat from your guests in a gown that delights from all angles.
We love the gemstone-and-tulle embroidered geometric design on this Mikado silk mermaid dress (£1,995) from Kavelle Bridal Couture. Styled with beaded hair vine (£135), Bridal Bliss Accessory Boutique.
Hand-tied bouquet of ivory roses, white ranunculus, white double lisianthus and white stock, finished with ribbon and pearl pins (£85), Cherry Blossom.
BOHO BEAUTY
The 1970s revival has brought about a surge in bohemian-inspired bridalwear, such as this boho lace gown with capelet (from £2,500) from Eleganza Sposa.
Styled with hand-tied bouquet of white hydrangeas, finished with ribbon and pearl pins (£70), Cherry Blossom.
ALTER HALTER
Halterneck styles are very popular just now " this moss crepe halterneck gown (£2,700) from Rachel Scott Bridal Couture just exudes Parisian chic.
Styled with 100% silk-crepe-backed satin bridal headpiece finished with pearl (to hire from £18 or bespoke £249), Toco Fashion. Pearl bracelet (£75), Ultimate Design Hats.
PERFECT ILLUSION
An illusion neckline is the perfect solution for brides who want to show some skin without feeling too exposed.
This figure-flattering silk-georgette dress with illusion neckline appliquéd with ivory and silver roses (POA), from the Couture Collection at Joyce Young Design Studios, is a true beauty.
Styled with bridal headpiece (hire from £12 or buy from £120), Toco Fashion.
Hand-tied bouquet of ivory roses, white ranunculus, white double lisianthus and white stock, finished with ribbon and pearl pins (£85), Cherry Blossom.
DARLING BEADS
Those of you with magpie-like tendencies will love the intricate beadwork adorning many of this season's dresses, including this stunning silver sparkling beaded tulle gown (£4,199) and headpiece (POA) from Pan Pan Bridal.
CAPE DIEM
If you love the swooshy drama of a veil but don't like the tradition it represents, the bridal cape is your new BFF. Wear it during the day then take it off to dance at night!
This stretch-georgette mermaid gown (£650) is worn with a lace and beadwork belt (£189) and lace-edged cape (POA), all from Opus Couture.
The Winter 17 issue of Scottish Wedding Directory is out now. Take a peek between the pages…
Body confidence: time for a change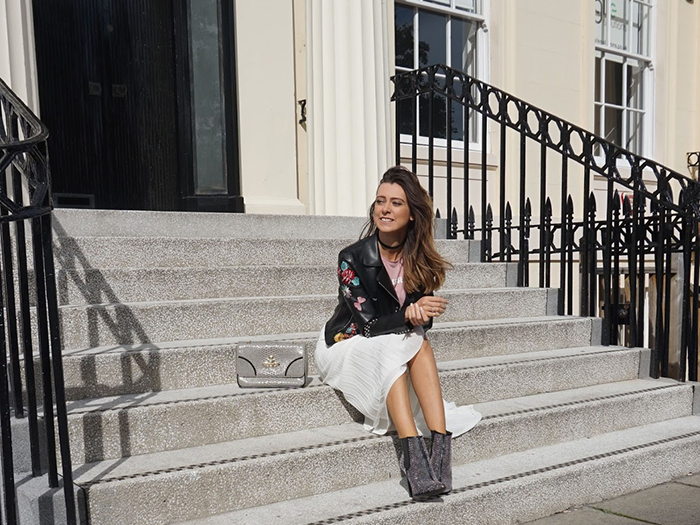 "'Real women have curves'.
No actually; real women don't dehumanise other women for having a different body type."
I saw this quote shared on Facebook and felt a pang of agreement and approval. I wish I could call up self-conscious 11-year-old me and say, "Hey, there's going to be this thing called Facebook in the future and someone will share a quote on it in 2017 and you'll feel so deeply supportive of the words, you'll want to get a t-shirt with the letters printed on for all to see".
SKINNY SHAMING
You see, body confidence for me is confidence for every body type, not just praising someone's (amazing) curves.
It's about making every woman or " importantly " young girl to feel empowered in the skin they're in. My body confidence story is still continuing, but I've come a long way in the past few years.
I've always been naturally slim. And note, I say slim. Not ˜skinny', not ˜too thin' " and certainly not ˜a stick insect' as one particularly cruel schoolgirl deemed appropriate to say.
The definition of skinny, according to the dictionary is: ˜(of a person or part of their body) unattractively thin'. It's not a compliment, especially said in a tone of disapproval.
I spent many school years hiding my body, praying no one hit out with the words I found so painstakingly embarrassing, especially from classmates: ˜you must not eat', ˜you're so thin, you could snap'.  I do eat, btw. A lot. Probably more than you. Snacking is one of my favourite past times
TIME FOR A CHANGE
Many blame the weekly gossip magazines for pushing an unachievable body image by showing celebrities over, say, a size 12 and ridiculing them, leading to hordes of young girls feeling they need to look smaller.
The very same magazines were filling me with despair too as I compared my similar body to that of the celebrities they were calling ˜skeletal', terrified people would view me as that too. It's a lose-lose situation for us all.
I cannot even imagine how much worse it must be for young girls now, with social media a way of daily life. I watched a discussion on Good Morning Britain a few weeks ago regarding a study which found more than a third of 11 to 16 year olds are willing to do ˜whatever it takes' to look good, including cosmetic surgery and crash diets.
Within the segment, they spoke to a young schoolgirl who admitted to spending time taking 20 pictures of herself, choosing one to post on Instagram and deleting it if it didn't get enough likes.
We need to change this, all of us, one less negative comment at a time. How can we expect younger generations to be any better at loving themselves if we spend time ripping each other apart, highlighting someone else's body shape or size in a negative light and finding it okay to do so?
ACCEPTING ME
It took me until I was around 17 to start to realise, I'm not too bad. The ˜skinny' legs I had so wished would put on weight (so much so that, when the skinny jean trend came around, I was wearing 2 pairs of leggings in the hope to bulk them out, desperate to blend in) suddenly didn't seem all bad.
I'm admittedly still not being as positive as I should be, but I'm getting there.
I don't want to sound like a walking cliché, but life really is too short. Let's all give ourselves a break! Smile more, compliment others, see the positives. I'll still always have my hang ups and insecurities – I don't think anyone is exempt of those feelings at times – but the more accepting I am of the things I don't like so much, the happier I am with me.
THE BODY CONFIDENCE CAMPAIGN WITH SCOTTISH WEDDING DIRECTORY
We're running a body confidence campaign called #NewYearSameYou; we want brides and grooms to start off their wedding journey feeling confident and comfortable with themselves – don't conform to the pressures of achieving so-called perfection!
On the other hand, there's so much confidence to be gained by taking control of your own happiness; there's nothing wrong with losing a few pounds if you want to. It's all about making choices that are right for you, and you only.
Have you got a story to share about your own body confidence, or have you decided you're perfect as you are for your wedding?
We'd love to hear from you! Just email steph@scottishweddingdirectory.co.uk or visit our Facebook, Twitter or Instagram.
Body Confidence: Bummed out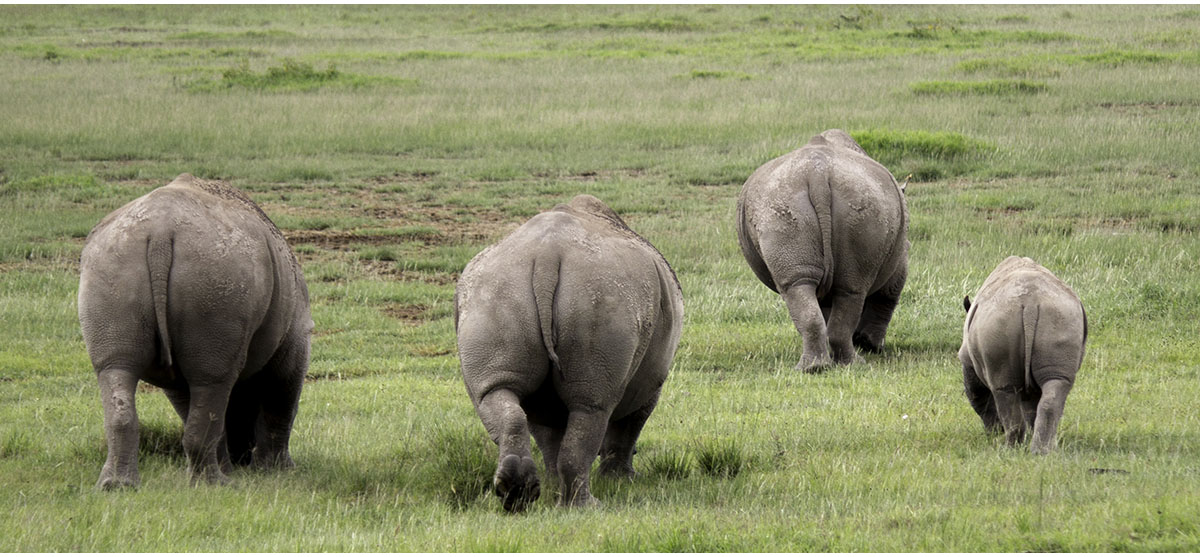 Features writer Patricia-Ann Young tells us that she'll never love her big booty, but she has started to accept it…
I have a big bum and huge can't-wait-to-bare-children hips. It makes my bottom half two sizes bigger than my top half, meant I couldn't join in the playsuit trend and no, I haven't learnt to love it. I'll never learn to love it, but somewhere along the way, I learnt not to hate it.
I used to blame my big bum for everything wrong in my life- like, seriously. Didn't get a job or a placement I really wanted? Well who's going to take the comedy-sized double act I was carting around everywhere seriously? Had trouble making friends? Who'd be caught dead with the girl with the bum that sticks out forever? Couldn't get a boyfriend? Well¦ who wouldn't be ashamed of me?
I knew then that I was irrational, but I bet you've blamed your body at some point for some perceived personal failing of yours. If you could only be smaller there, plumper here, or more tanned or toned, things would be better, and if they were better then you would happier, and if you were happier you wouldn't feel the rubbish way you currently feel about yourself. My bum wasn't the problem, it was (surprise!) insecurity all along, and if I managed to change my body shape into something I liked better tomorrow, insecurity would throw something else at me to angst about- it's really insecure that way.
I eventually got tired of wasting time and energy being upset about my body shape, because unless I contracted TB and wasted away, I was never going to look good in cigarette trousers. Once I accepted that and looked around to see that the world hadn't caved in on itself, I did away with other dumb stuff, like buying clothes that were in fashion but didn't suit me then feeling miserable about it (adi³s skinny jeans, see ya never) and just stuck to buying clothes that did suit me, made my body look nice and that I enjoyed wearing.
I also focused on the stuff I did like about me, I'm smart and sometimes funny, I like what I do and my family are proud of me. Why not saddle me with a fat arse? Otherwise I'd be perfect! Basically, once I started to believe I was more than my body shape, I started feeling a lot happier about myself and about my big bum.
THE BODY CONFIDENCE CAMPAIGN WITH SCOTTISH WEDDING DIRECTORY
We're running a body confidence campaign called #NewYearSameYou; we want brides and grooms to start off their wedding journey feeling confident and comfortable with themselves " don't conform to the pressures of achieving so-called perfection!
On the other hand, there's so much confidence to be gained by taking control of your own happiness; there's nothing wrong with losing a few pounds if you want to. It's all about making choices that are right for you, and you only.
Have you got a story to share about your own body confidence, or have you decided you're perfect as you are for your wedding?
We'd love to hear from you! Just email steph@scottishweddingdirectory.co.uk or visit our Facebook, Twitter or Instagram.
Body confidence: thin shaming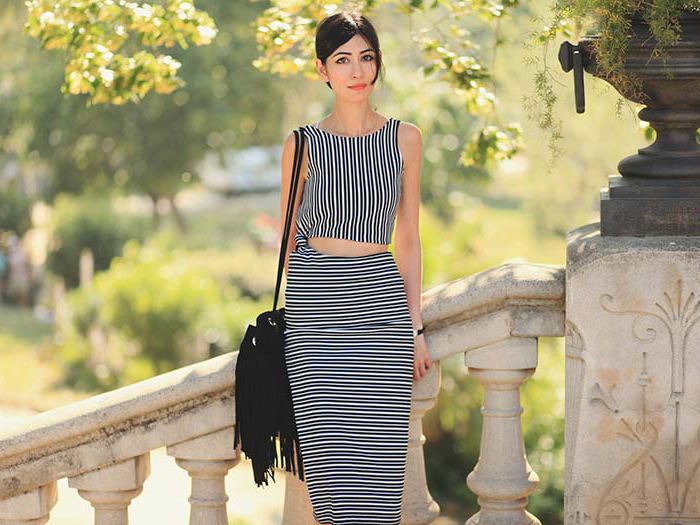 Calling someone out for being thin is not a compliment, says Natasha Radmehr, who has only recently learned to love her body as it is. 
"You're really skinny. You could do with putting some weight on," the optician casually remarked as I had my eyes tested in Costco. "You should eat digestive biscuits with butter on them " it's a good way to put weight on," a nurse advised me, while I was getting blood taken for an entirely non-weight-related health issue.
One time, a Big Issue seller stopped me on the street in London, not to sell me a magazine, but to tell me I'd be beautiful if I "just ate more". My grandparents' next door neighbour once pulled my gran aside to express concern that I had an eating disorder. And if I had a burger every time someone suggested I eat a burger¦ well, I'd probably still be the exact same weight, tbh.
Throughout my life, I've received comments like this on a regular basis. Sometimes stage-whispered behind my back, but usually directly to my face. Sometimes it's people I know, but usually it's complete strangers.
That's partly because I'm a woman " and everyone knows that regardless of size, women's bodies are constantly scrutinised and discussed both in the media and in everyday life " and partly because I'm slim, which makes people think I'm immune to criticism and won't take offence. Perhaps they think I'll even take it as a compliment. After all, I've got the body type that's upheld by the fashion industry as the ideal, so what exactly is my problem?
Well, my problem is that I'm human, and it's borderline-impossible not to feel self-conscious about your body when people constantly bring the size of it to your attention.
Growing up, I was really unhappy about my figure. It was hard to find clothes that fitted properly and didn't just hang off me. I hated wearing skirts and dresses because I worried they drew attention to my skinny legs, which people would then comment on. Forget coveting a thigh gap; I wanted mine to look like Beyoncé's.
I wore a bra before I even developed boobs because I didn't want anyone to make fun of me for wearing a crop top (one of the ultimate beamers in the PE changing room, second only to wearing a vest). Coming of age at a time when lads' mags were in their heyday and all my classmates were salivating over Baywatch, I genuinely worried that I'd die alone because I'd never be an F cup or a "real woman with curves" (don't even get me started on that phrase).
Like most teenagers, I internalised every snide remark made about my body and allowed them to build up and collectively weigh me down, and that continued into my early 20s. If I'd been able to change anything about my appearance I'd have done it in a heartbeat, but I couldn't put weight on regardless of what I ate.
But would I change anything now? Would I hell.
ATTITUDE CHANGE
Physically, I haven't changed that much since I was in my teens; I'm 30 now, and maybe about half a stone heavier than I was at high school.
Mentally, though, I've completely transformed.  I'm much less sensitive than my hormone-addled teenage self was, and I've developed a thicker skin over time (oh, the irony). And just like every women's magazine promised, I've finally reached that point in adulthood where I don't care all that much what other people think of me.
But more than that, and perhaps most importantly, I've made the conscious decision to 1) actually like myself and 2) fully realise that on the list of what's important in life, my dress size doesn't even make it into the top 10.
When someone says something mean about the way I look, my automatic reaction now is not to wonder inwardly what's wrong with me, but to wonder outwardly what's wrong with them.
I refuse to let other people make me feel sad or self-critical, and I refuse to let them determine my self-worth. I'm the person in charge of that. I decide how I feel about myself. And do you know what? I'M ACTUALLY NO' BAD.
I'm never going to sit here from my ivory tower at SWD HQ and tell you that you're failing at life if you're wrestling with negative feelings about your body. It happens to the best of us, even if we do strive to be body positive.
But I would like to encourage you to be easier on yourself. I would like to challenge the convention that you must change the way you look and undergo some sort of generic princess-like transformation for your wedding day. It would be great if nobody felt under pressure to go on a juice diet before the wedding, to marry someone who fell in love with them for who they are, as they are.
It would be wonderful if we all had the confidence to say: "Thanks for your bland interpretation of how a bride *should* look, but I think I'll just be myself and love every minute of it, cheers."
I can't say it better than Lindy West, and so I'm going to leave you with some of her wedding day words of wisdom:
"Choose your rituals, but make them yours. If you want to look like a flower market ate fat Betty Draper and then barfed her up in the middle of a haunted forest (YEEEESSS!), great choice. If you want to get married to a burrito while wearing a barrel with suspenders, I'm cool with it¦ remember that you absolutely do not have to "fix" your body, chase after "flattering", be somebody's dark secret, or beg for permission to be happy."
A-men.
The body confidence issue of Scottish Wedding Directory is on sale now
Body confidence: Start loving yourself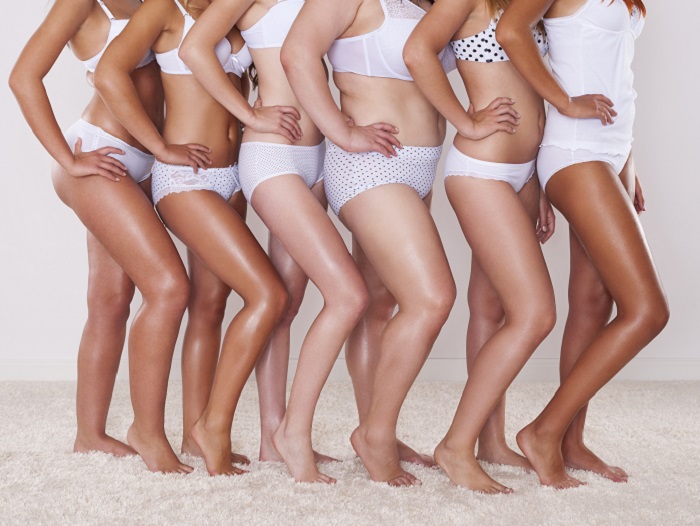 Digital editor Steph Telfer asks why we're so modest when it comes to loving ourselves.
Ok so, here's the stuff I actually do like about myself:
·       my hair; it's big
·       my feet; they're small
·       my nails (all credit needs to go to Lia at Swoon Nails)
·       my lips ˜cos they're pretty full
·       my waist which is quite small compared to the rest of me
·       my eyes; aquamarine or greeny-blue, but aquamarine sounds prettier
Do you know how long it took me to write all that down? About 20 minutes. 20 minutes to think of what I actually like about myself and my body; the body that I live in every day, the body that carries me around faithfully and, give or take a few minor hitches and glitches, hasn't let me down yet. Isn't that kind of sad?
This is me! 
I also almost stopped myself from writing that I liked my waist and my lips, because it kinda sounds like I'm praising myself a bit and for some reason, us girls don't tend to like doing that. And other people seem to not like us ˜boasting', which makes us feel ashamed.
I can't actually say, ˜D'ya know what, I quite like bits of myself' without me immediately seeing a gaggle of women tutting and saying, ˜Well, she's a big hit for herself, isn't she?'. An imaginary gaggle, but it's there in my head nonetheless. That's kind of sad too.
It's about time we realised that there's nothing wrong with liking yourself. There's nothing wrong with loving yourself. There's absolutely nothing wrong with looking in the mirror and thinking that you look damn good ˜cos DAYUM, you do girl.
Of course it'll take some time, but let's work together and make it ok for us to really love ourselves, and not be ashamed to say it.
Take control. You got this.
THE BODY CONFIDENCE CAMPAIGN WITH SCOTTISH WEDDING DIRECTORY
We're running a body confidence campaign called #NewYearSameYou; we want brides and grooms to start off their wedding journey feeling confident and comfortable with themselves – don't conform to the pressures of achieving so-called perfection!
On the other hand, there's so much confidence to be gained by taking control of your own happiness; there's nothing wrong with losing a few pounds if you want to. It's all about making choices that are right for you, and you only.
Have you got a story to share about your own body confidence, or have you decided you're perfect as you are for your wedding?
We'd love to hear from you! Just email steph@scottishweddingdirectory.co.uk or visit our Facebook, Twitter or Instagram.
7 of the best pre-wedding spas in Scotland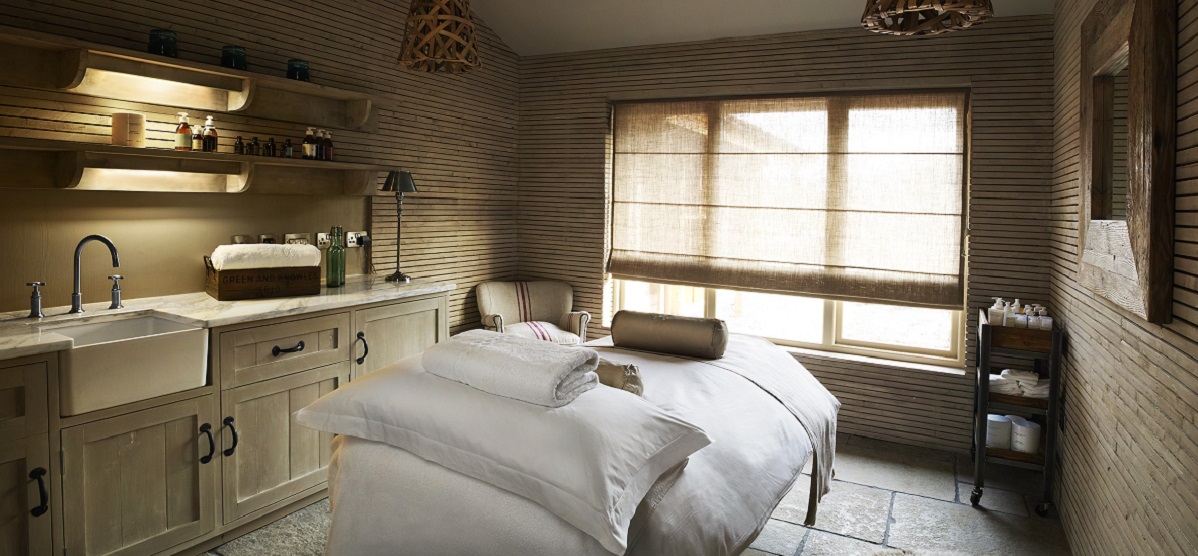 Looking for a relaxing spa day at one of the best spas in Scotland? It's always good to take a break, recharge and relax with your other half (or even your bridesmaids), so we've rounded up 7 of our favourites for you to try, from Glasgow spa days to spa experiences in Edinburgh; we've got it all!
WHERE Set in a magnificent estate situated between Gullane and North Berwick, in picturesque East Lothian.
IN A NUTSHELL A haven of rustic luxury right at the heart of the Archerfield Estate, every element of the spa expresses a responsible, ethical approach to health and well-being. There is a relaxation room, marine steam, aroma sauna and private bath huts to provide the ultimate relaxing day.  Experience abundant views over the walled herb garden or indulge in a glass of champagne beside mesmerising log burners. There is even Fletcher's Workshop where you can pick up your favourite products used during your treatment to continue the spa vibes at home.
SWD LOVES For sheer luxury, the Sisley Spa Day. You will enjoy full use of the spa facilities before a luxurious two hour Sisley Ultimate Face & Body treatment and a spa afternoon tea – sounds like bliss to us!
BOOK ME IN! Call 01620 897580 or email spareservations@archerfieldhouse.com. Find out more by visiting the Archerfield House website.
WHERE On the bonny, bonny banks of Loch Lomond! The Spa is set in simply breathtaking grounds, a short two miles from Cameron House itself, with a concierge service operating every half hour between the hotel and The Spa.
IN A NUTSHELL The Spa has 17 treatment rooms including a VIP couple's room with mineral bath, steam room and private balcony, as well as a Rasul mud chamber with steam room, and a Relaxation Suite. All the spa therapists are trained to the highest standard and use ESPA and Carita products. A highlight of a visit to The Spa at Cameron House is the stunning rooftop infinity pool, in which you can take a dip and enjoy view across The Carrick golf course, lodge resort and beyond into the Scottish mountains.
SWD LOVES All spa days include a light lunch in spa dining, use of the thermal experience for two hours and robes, slippers and towels. We love the sound of the Spoil Me package which includes the radiance ritual signature treatment to improve your skin's texture and relax tension in your muscles, starting with a deeply relaxing back massage followed by a revitalising facial with a brightening mask which leaves the skin radiant, smooth and hydrated. Your lower legs and feet receive a therapeutic massage and the experience concludes with a calming scalp massage – bliss! See other available packages here.
BOOK ME IN! Call 01389 310777 or email TheSpa@CameronHouse.co.uk. Find out more by visiting the Spa at Cameron House website.
WHERE The 520 acre five star Fairmont St Andrews resort encapsulates luxury, elegance and truly breathtaking surroundings in the ˜Home of Golf'. A truly unique and special venue that makes your visit one to remember, with its lavish and stunning surroundings, peaceful setting and stunning cliff top views of St Andrews and the North Sea.
IN A NUTSHELL The sumptuous Signature Spa offers a range of treatments including locally-themed massages, facial and relaxation therapies using exclusive Aromatherapy Associates products in 12 chic treatment rooms. The spacious swimming pool, sauna, steam room, Jacuzzi and relaxation room complete the experience, helping you to relax and unwind.
SWD LOVES For a dreamy spa day the Just What I've Always Wanted package really is what we have been looking for all of our lives. You will have use of Fairmont St Andrews Resort Spa Facilities and Relaxation Lounge with complimentary use of a spa robe and slippers before choosing your choice of four express treatments or two 60 minute treatments of your choice, completing your indulgence with a Lifestyle Cuisine Bento Box Lunch or Afternoon Tea. Annnd, relax…
BOOK ME IN! Call 01334 837000 or email standrews.scotland@fairmont.com. Find out more by visiting the Fairmont St Andrews website.
WHERE A stylish, newly refurbished luxury hotel on Aberdeen's Queen's Road.
IN A NUTSHELL Featuring two beauty rooms and two nail bars, allow yourself to melt into relaxation. IX Beauty offers over 60 luxuriant treatments with the spa's experienced therapists introducing you to Thalgo body and skincare range which offers a variety of treatments such as massage, facials and invigorating body scrubs; the only location in Aberdeen city centre to offer the treat of Thalgo.
SWD LOVES For sheer indulgence, the Elemis Ultimate Experience should be your go-to. Enjoy a Full Body Frangipani Scrub, Full Body Massage, Full Elemis Facial plus a Leighton Denny Custom Manicure and Pristine Pedicure. Complete your day of pampering with a two course lunch in the main restaurant, choosing from the Market Menu, and a glass of Prosecco all part of the deal.
BOOK ME IN! Call 01224 327778 or email beauty@chester-hotel.com. Find out more by visiting The Chester Hotel's website.
WHERE Located on the stunning quayside area of Dundee's waterfront, the spa is a perfect city haven.
IN A NUTSHELL Yu Spa Dundee offers a variety of services, all performed by knowledgeable professionals in one of the five tranquil Elemis treatment rooms. In addition to Elemis spa treatments, you can soak in the spacious Ozone swimming pool, unwind in a sunken Japanese-style hot tub, enjoy the sauna or herbal-infused steam room and enjoy a relaxing lunch while you're there.
SWD LOVES With a range of Wedding Wellness spa days, we particularly like the Something Yu package. Take time out of the busy build up to focus on you, a great way to relax the mind & body with choice of exotics body wrap, back neck and shoulders massage, use of robe and slippers plus Time to Spa, giving you full access to the spa facilities for 2 hours. You can see the other packages and treatments here.
BOOK ME IN! Call 01382 309309 or email cityquay@yuspa.co.uk. Find out more by visiting the Yu Spa at Apex Dundee website.

WHERE One of Glasgow's most popular hotels situated in gorgeous Blythswood Square.
IN A NUTSHELL This award-winning spa is just a stone's throw from Glasgow city centre, but it feels like a world away. The space has nine treatment rooms, a thermal suite with a wide range of rooms and experiences, plus two relaxation pools. Why not book a Rhassoul Chamber experience for you and your partner?
SWD LOVES This spa uses a range of lovely Scottish products including Ishga, developed on the Isle of Lewis with natural Scottish seaweed. Seaweed is known for its natural healing and therapeutic properties, and contains a concentration of vitamins and natural antioxidants that are great for maintaining healthy skin.
BOOK ME IN! You can email for more information at spa@blythswoodsquare.com, call the spa at 0141 2401622 or visit the Spa at Blythswood Square Hotel website for more information.
WHERE This spa is in the five-star Sheraton Grand Hotel and Spa, Edinburgh situated in a prime spot overlooking Edinburgh Castle.
IN A NUTSHELL A beautiful light-filled space, One Spa has an infinity edge swimming pool, rooftop hydropool and a thermal suit with heat and water experiences for relaxing or energising – whatever you need!
SWD LOVES Why not take some time to pamper and prepare for your big day with a Relax and Revitalise Spa Break, a series of spa treatments formulated to 'rejuvenate the face and body as well as relax the mind'. We're sold! You'll get two nights accommodation in a beautifully appointed room, full use of the hydropool and thermal suite for up to three hours, a body wrap, body massage, facial and light lunch in the One Spa Cafe.
BOOK ME IN! Call to make an appointment at One Spa on 0131 2217777 or visit the One Spa at Sheraton Edinburgh website.
SWD tries… Clarins BeautyBAR, Silverburn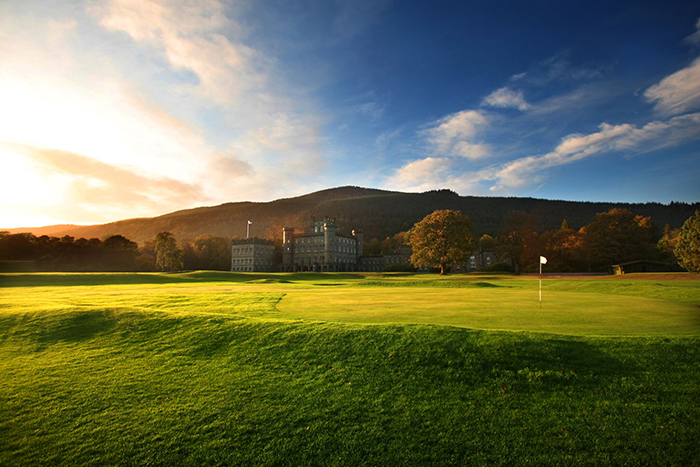 [Steph received a complimentary treatment and products on Saturday 24th September 2016]
Spa treatments are one of my favourite things about being a proper grown up lady. Not only are facials a good way to ward off the *whisper it* wrinkles, but a treatment is also a great way to get in some well-deserved chill time.
˜Chill time' and ˜busy department store on a Saturday morning' are two phrases which I wouldn't normally associate with each other but, when I visited Clarins BeautyBAR in Debenhams at Silverburn, Glasgow, I was pleasantly surprised that actually, they worked in harmony.
TAKE A SEAT
It was 10.30am when I arrived, the store in full swing of a payday weekend, and I doubted I would be able to relax. My therapist Zoe showed me to the pristine treatment area, which, to my relief, was shielded by frosted glass, and I took my place on the comfy dentist-style chair (could I have made that sound any more un-glam? It's lovely, I promise!).
You can choose your treatment from a menu of nine; facials, massages and a treatment specifically for men all feature, and I opted for an SOS Facial. I'd just come back from a 10-day holiday in Croatia and my skin was having a flaky (literally) at the sudden summer-to-autumn change in the weather. Couple that with my over-use of face wipes (I know, I know, I'm sorry) and blasting the central heating 24-7, my skin was dry as could be.
So there I was, lying back in the middle of Debenhams, when I found myself closing my eyes and totally relaxing into the treatment, the buzz of shoppers actually quite therapeutic as Zoe massaged my face with all manner of lotions and potions, all of which targeted different problem areas. The facial promised to detoxify, boost radiance and nourish my skin which was extra-dry, dealing with worry lines and dullness.
IN ROUTINE
Time passed quickly and I managed to stop myself nodding off a couple of times. After we were done, Zoe gave me a few minutes to adjust to the light (it was bright!), and we spoke about my skincare routine and which products she'd be recommending, having just spent half an hour up close and personal with my face.
I decided to go for it; it was time, and I started using the products shortly after my visit. A couple of weeks later and I can honestly say that I'm really enjoying the ritual. I go to bed feeling totally cleansed (a feeling you just don't get with a wipe) and I'm addicted, seriously addicted, to the Santal Face Treatment Oil for dry skin (£33) which cleared up rough patches in no time at all.
It's safe to say I'll be back at Clarins BeautyBAR; maybe next time I'll even treat a friend!
WHAT YOU NEED TO KNOW…
·       Treatments all take 30/40 minutes and cost £25.
·       Book an appointment at the Clarins BeautyBAR Silverburn to avoid disappointment.
·       Book nine treatments and get the 10th free! Make sure you ask about this in store.
WOULD BE GREAT FOR …
·       A quick stop when wedding shopping with your other half.
·       Treating your mum or mum-in-law after brunch (especially if they're not invited to your hen night because, you know, willies).
·       An afternoon with your ˜maids! No excuse needed really.
For more information about Clarins BeautyBAR Silverburn and to book your appointment, visit the Clarins website.
How to sleep better during wedding planning stress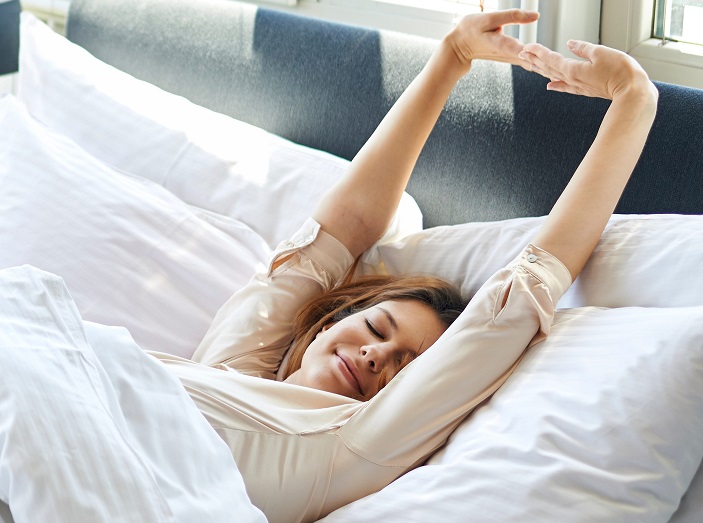 Do you need to sleep better during wedding planning stress? Research has indicated that even short term sleep deprivation can lead to memory loss, a weaker immune system and can make you more likely to over-eat through the day – none of which are great when you've got a wedding to plan. Just like a good diet and exercise regime, we really need good quality sleep to feel focused and ready to face whatever life throws at you.
We don't want to see you brides walk down the aisle bleary eyed, so we've asked the team at Neom Organics, who have formulated a Scent to Sleep range, to give us their top tips on how to get some much needed shut-eye.
GET INTO A BEDTIME ROUTINE
No, we're not talking jammies, brushing teeth and bedtime stories (although those are optional); creating a routine around your bedtime helps to encourage those ZZZs, says Creative Director at Neom Organics Nicola Elliot. "Routine is key… I banish electricals after nine, light a Neom Tranquility candle in my bedroom and have a warm bath with Tranquility oil," she says.
"I read a book for 20 minutes, take two magnesium capsules and spritz my pillow with Perfect Night sleep mist. It's one of my favourite parts of the day!" Get that telly out of the bedroom and make your boudoir into a place that just *whispers* cosy, sleepy times.
CUT OUT CAFFEINE
Don't panic, we're not suggesting you ditch your morning coffee altogether. But, lots of us like a little cup after dinner – this could be stopping you from sleeping at night. This isn't restricted to coffee either: tea and cola count too, so try to cut them all out after 2pm.
STAY COOL
Now that the colder weather is coming in, it's so tempting to turn up the central heating or pop your electric blanket on, but you could actually be overheating your body, which causes you to stay awake. It's a good idea to raise your body temperature before going to bed with a warm bath, but keep the bedroom cooler. The drop in body temperature encourages you to feel sleepy.
WRITE YOUR WORRIES AWAY
You're bound to have 10,000 things whirring around your head: wedding plans, table plans, honeymoon plans… it's overwhelming. So, before you hit the hay, jot down the things that are floating around in your head then write down what you're going to action to solve the issue. You can't do anything about it tonight, so tell your mind that you'll work on it tomorrow. You'll sleep easier knowing you have a plan of action ready for when you wake up.
DITCH THE SLEEPING TABLETS
No one wants to rely on medication to help them doze off and, unless prescribed for a specific reason by your GP, you shouldn't have to. Celebrated for its sedative abilities, the lavender that Neom selects is picked at high altitude and steam distilled, and is used due to its purest, most relaxing effect. In the Neom 2015 consumer sleep trials, a whopping 88% of women said that they slept better using products from the Neom Scent to Sleep range and they'd all choose the products over other remedies.
Neom Organics are celebrating Sleeptember with 30 days dedicated to helping the nation prioritise sleep! Get involved with the official #sleepwithneom night on Sunday 25th September and share your experience using the #sleepwithneom hashtag.
For more information and to buy the Scent to Sleep product range, visit neomorganics.com.
Spotlight On… Make-Up Artists Creative Agency Scotland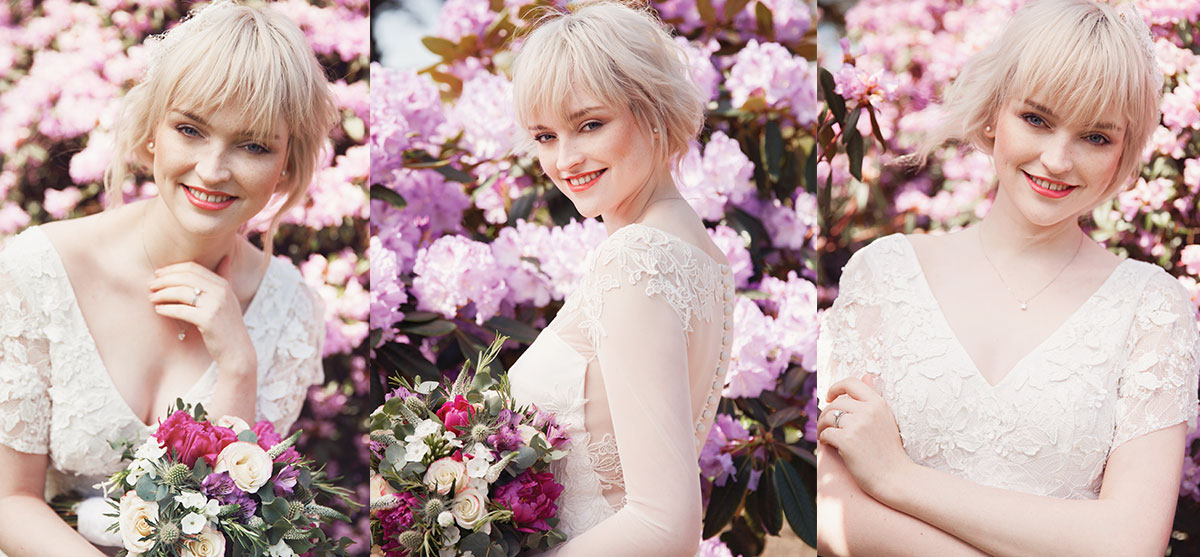 You'll probably spend quite a bit of money on your wedding, so why not book a make-up artist and hair stylist who gives back to the community? MUACAS " the brainchild of Denise McNulty and Justyna Adamek, does just that.
When most people set up a business, they have specific goals in mind. Perhaps it's to make a good profit, gain a high reputation or become the best in their field. When Denise McNulty and Justyna Adamek starting talking over lunch one day about what they wanted to achieve in their professions as Scottish make-up artists, they both shared a vision " to create a business that would not only allow them to be creative, but benefit their community in Edinburgh.
"So we started working on ideas, merging them and setting the foundations of MUACAS – Make-Up Artists Creative Agency Scotland " as we know it today," says Denise, who lives in Edinburgh. "We applied for funding through The Awards Programme which is funded by the Scottish Government's Social Entrepreneurs Fund and delivered by Firstport, and were successful in being awarded the Start It Award."
The mission of MUACAS is to empower people by breaking down barriers related to social, economic and environmental issues in Scotland, through the use of make-up and visual media.
The next step for Denise and Justyna was opening their base, a new make-up studio in the city centre of Edinburgh. "Our work incorporates editorial, fashion, bridal, beauty and body art, as well as photography, with our work appearing in various publications," says Denise. "The wedding side of our business provides a professional service for brides with a team of award-winning make-up artists and hair stylists."
Booking with MUACAS is a unique experience for the socially conscious bride; their USP is that they are a non-profit organisation who invests 50% of their revenue to provide mentorships, apprenticeships and education to young people from marginalised social groups to help develop and enhance their creative make-up skills.
"It goes a long way to helping these talented youngsters into employment, as well as actively promoting and raising the profile of make-up artistry as a form of expressive art within Scotland," Denise explains. "By booking with us, a bride will be contributing to making a difference in a young person's life."
"We have 30 years combined experience in make-up artistry," says Denise. In her career, she's worked with Jim Sheridan, director of films such as My Left Foot, The Field and In America. Justyna is known internationally, winning a distinction award in the Polish Fashion Make-Up awards in 2014. "We just love witnessing the transformation of a person; it's about creating a style that captures their inner essence. It's fair to say that we're both working in our dream jobs!"
So what does the future hold for such a unique Scottish wedding company? Denise and Justyna hope to expand their business and reach out to communities beyond Edinburgh. "We want to develop our ideas as a social enterprise so that we can help other communities," Denise says. "Seeing what we've achieved, and what others have achieved because of MUACAS, is a really satisfying feeling."
Connect with MUACAS…