The ultimate guide to bridal skincare and beauty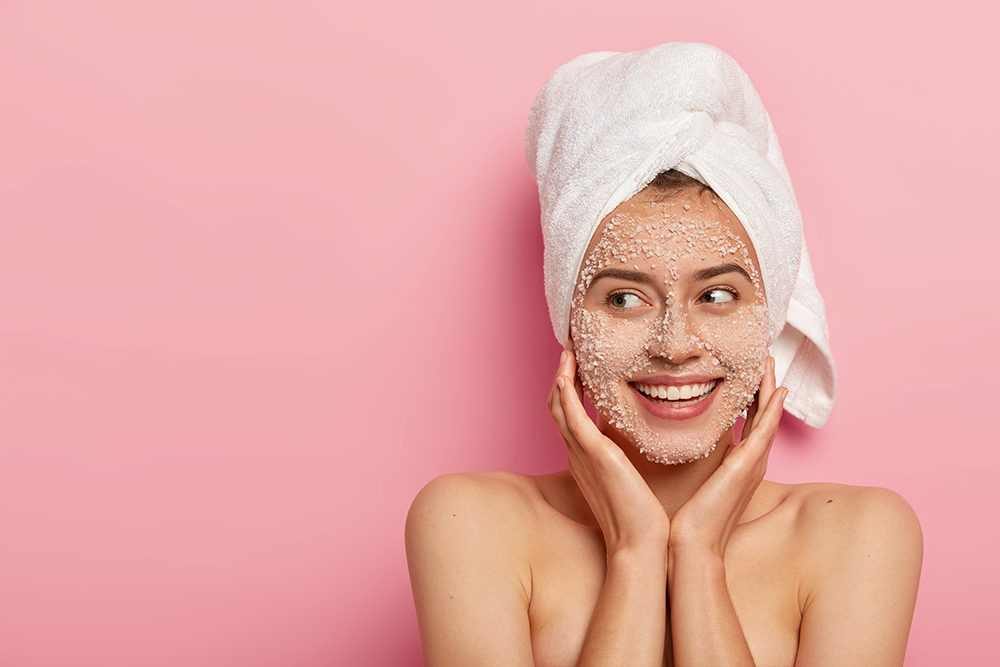 We know there are far more important things going on in the world right now, but when you're stuck at home and wandering by a mirror several times a day, it's easy to get stressed out over small things. Like the fact that your skin has seen much better days.
Central heating, a lack of fresh air and the urge to consume every sugary snack going has left many of us with spots, irritation and lacklustre locks. Which, frankly, is the last thing we need when our world's been tipped upside-down and we've got a bridal skincare routine to keep up.
But don't fret. We've reached out to Scottish bridal make-up artists, skincare experts and hairstylists to ask for their lockdown bridal skincare and beauty advice. Here's what they had to say.
Mitchell and Macinnes Makeup
"At times of stress and anxiety, your skin will sometimes breakout and it's often why a wee breakout is so common in the run up to your wedding day," says Sarah Jane of Mitchell and Macinnes Makeup.
"Add in a niacinamide serum to your routine to help improve the texture and clarity of your skin and help clear up any breakouts. The Ordinary Niacinamide serum (£5) is a great budget option if you want to try it out.
"I love masks of any kind and they are a great way to treat your skin when you're watching Netflix. Some favourites include Glossier Galaxy Moon Mask (£30 for a mask duo) for detoxifying your skin and drawing out any impurities, Summer Fridays Jet Lag Mask to brighten and Darphin Hydrating Kiwi Mask to hydrate and plump up the skin.
"Quarantine is also a great time to try retinol as these products often make the skin more sensitive to sun damage. Best to start off with a low percentage retinol when trying it out – The Ordinary Retinol 0.2% in Squalane (£4.20) is a great starter retinol as the squalane oil will help soften and hydrate the skin while the retinol will help with smoothness and anti ageing.
"If you are going outside, be sure to put on some SPF to prevent any possible skin damage."
The Glow Facialist
"My two top products to help your skin during this time are a Vitamin C serum and a hydrating mist," says Lorna Maclennan of The Glow Facialist.
"You might have noticed that your skin is looking a bit dull since we're spending a lot more time indoors. Adding a Vitamin C serum to your AM and/or PM routine will help to brighten and smooth the skin while also helping to encourage collagen production and protect against oxidative stress.
"Check out Garden of Wisdom's Vitamin C 23% serum (£10) and The Ordinary's 100% L-Ascorbic Acid powder (£4.90), which can be mixed with your existing moisturiser a few times a week.
"As well as looking a bit dull, you may notice that your skin is feeling a bit drier or dehydrated. By adding in a hydrating mist to your existing AM and PM routines, you're adding another layer of much needed moisture.
"Just mist your face and neck each morning and/or evening after cleansing and always follow up with moisturiser. Have a look at Josh Rosebrook's Hydrating Accelerator (£35) or for a more budget-friendly option, try Sukin's Hydrating Mist Toner (£7.95)."
Caroline Stewart Makeup Artistry & Hair Styling
"I absolutely love Simple Water Boost Hydrating Booster serum (£6.99) for underneath your moisturiser," says make-up artist and hairstylist Caroline Stewart, who did the hair and make-up for the front cover of our Spring issue.
"Serums work deeper into the skin, giving it an extra boost of hydration we all need. Most Scottish skins are dehydrated regardless of whether they are dry or oily due to our colder, windier weather and lack of sun.
"It's the perfect product as it's water-based to give you that boost. Simple is also an accredited brand that can be used for cancer patients getting treatment (which I unfortunately was last year) and this serum helped my skin so much."
Hair Ups
"This would be a fantastic time to give your hair a break from the daily stress of washing, drying then heat styling your hair," says Mandy Breen of Hair Ups. "I know a lot of people are concerned about their roots as well but let's embrace this time to give our hair a break from the all the dyeing, as hard as it may be!
"We are more stressed at the moment and it's more important for us to make sure we take a little me time for some pampering. For an affordable hair treatment that is available to buy at any supermarket, I recommend trying Aussie 3 Minute Miracle Miracle Moisture Deep Treatment (£4.99) for dry, damaged hair."
NCW Skin Nutrition
"With our routines being completely turned upside down, we could use this time to give ourselves, and our skin, the attention it deserves," says skin specialist Nicole Campbell-Watson.
"Why not dedicate one or two nights a week to facial massage? It's super relaxing and who doesn't want plump, juicy skin to see us out of this isolation?! I am loving Blend46 oil by Elevate (£35). Oh, and facial mists are totally underrated!"
Nicole also offers online skincare programmes and guided facial massage sessions via Zoom. Follow her on Instagram for more info.
Make up by Leigh Blaney
"I use pure coconut oil for everything! Cleansing, moisturising, body moisturising, and conditioning my hair. It's just the best natural conditioner for everything and smells amazing," says make-up artist Leigh Blaney.
"You can create a facial scrub at home to renew your skin's surface. Fill half a cup with coconut oil or olive oil then add sugar until it gets to the texture of a scrub (two or three tablespoons).
"If you have lemon juice, add about a tablespoon and spread the mixture, lightly running around your face. You can do your lips and anywhere else feeling dry.
"After washing this off I put just the coconut oil on and let it soak into my skin. Your skin feels amazing!
"My friends and I had a self-care house party call and we all did a face mask. I crushed down an avocado, added some natural yoghurt and honey and mixed it all together. It's a delight and these ingredients are rich in minerals and vitamins, great for the skin. Rinse off once it dries out."
Leslie Sneddon Makeup Artistry
"Once a month I do the Yeouth Acid Peel (£21.14) applied with a cotton pad and left on for no longer than 10 minutes. Use a cold cloth to activate and then rinse off," advises make-up artist Leslie Sneddon. "Afterwards I use the Boots Botanics All Bright Cleansing Toner (£5.49) to tone my skin and close pores.
"I'm using a couple of different facial oils, either Clarins Blue Orchid Face Treatment Oil (£35) or Eminence Facial Recovery Oil (£75). I pop about three drops into my palms, rub together to warm slightly, then pat into the skin.
"I follow up with a good moisturiser daily and retinol once a week. I'm loving the Eminence Lotus Detoxifying Overnight Treatment (£58) and the Obagi 360 Retinol (£53) once a week.
"I'm using the Boots Botanics Radiant Youth Microdermabrasion Polish (£9.99) once a week.
"I also recommend at least two litres of good fresh Scottish water straight from the tap. Nothing works better for your skin and a good variety of greens and fresh fruits daily – if you're struggling to find fresh fruit and veg at the moment, try Hion Purple Powder or Super Greens pure living powders which can be mixed with a smoothie or with just water."
Laura Courtie Hair
https://www.instagram.com/p/B_NqtsEhw28/
"During the lockdown looking after your hair may not be your number one priority, but it can be a time to help your hair look shiny and healthy for when you're back to normal.
"I recommend a hair treatment once a week. I personally love the Hask Bamboo Oil Hair Mask (£2.43).
"To get the best results apply it to wet hair and leave it for 30 mins before rinsing. This enables the moisture to really get in deep to your hair cuticles."
33 Dowanhill
"One of the most important things you can do for your skin is to massage it! Simple but true. It works for all skin types and leaves you glowing and sculpted," says Jo Laxton of 33Dowanhill.
"Working a good quality facial oil into your skin (check out the Limited Edition Blend46 Facial oil, with 10% of profits going to the NHS) will replenish the natural oils that are lost with all this time indoors and allows your skin to hold on to hydration levels which significantly improves the overall health of skin.
"Massage also helps lift and tone muscles giving you cheekbones that pop while draining any excess fluid to achieve a naturally sculpted face with reduced dark circles around your eyes. Adding in other facial tools like gua shas or rollers can give your at-home massage extra oomph.
"We have added some simple massage techniques onto Instagram for you to follow and get your glow on!"
Jo is currently offering online skincare consultations.
Fiona Park Make Up Artist
"One wonderful beauty tip I always encourage for those staying at home is to put on a little make-up in the morning; you will feel so much better and more put together even if you're not emotionally feeling your best," says MUA Fiona Park. "A little bit of concealer, blush, mascara and lipstick can really give you that boost of confidence you need for the day.
"If you've booked a wedding make-up artist, lots of those make-up artists are doing Instagram stories and videos showing you their tips and tricks using different make-up products. Join in and even try out similar make-up looks on yourself using the products you have in your own makeup bag [Team SW has been loving Fiona's videos – follow her on Instagram!].
"Maybe now is the time to research that perfect lip colour for your wedding day if you've not had a bridal make-up trial yet. Have a look online, at lipstick swatches or YouTube reviews.
"My favourite go-to lipsticks for brides are from Charlotte Tilbury, Nars and Mac. They do some of the best bridal nude lipsticks but also have such a brilliant colour selection for every skin tone."
Check out Fiona's own wedding day!
Wedding Hair by Lauren at The Loft
"I think that this time is so important for us all to just give our hair a much-needed break from heat and constant washing," says hairstylist Lauren Mcmonagle.
"If you can go for a few days without washing your hair then the natural oils will rejuvenate your scalp and in return the hair will grow faster and healthier. This will help certainly for the times that we are unable to get our hair cut.
"Heat is a big one! If you are going to use heat then I would suggest make your most important product a heat protector. I use Maria Nila Style & Finish Cream Heat Spray (£21.99) which smells amazing and does the job well.
"A miracle product of mine which I can vouch for is Olaplex No.3 Hair Perfector (£26) which is hands down the best product I've ever used for all-round hair health and growth.
"It is an intensive conditioning treatment. I recommend using it once a week as an overnight mask for optimum results!"
Louise's Bride-to-be Beauty Masterclass: Find the right hairdresser; change your life!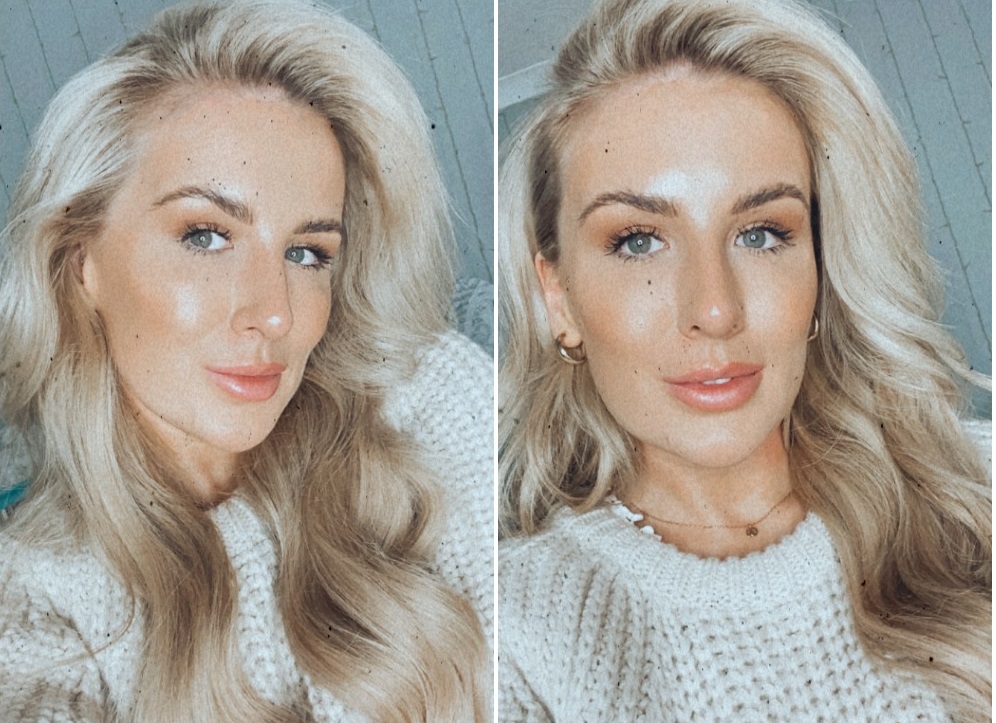 One of the most important step to your dream bridal hair is finding the perfect hairdresser, says Louise Ballantine.
"Find the hair stylist that you love, and let it be a monogamous relationship. Chopping and changing between stylists has, in the past for me anyway, proven to be a bumpy road. If a different person is colouring your hair each time, it can lead to problems with consistency, toning and shading, and worst of all, potentially damaged hair.
Last year, I found my guy, Stuart at Mesart in Glasgow, just in time. I feel so relaxed knowing that he's familiar with how my hair reacts to different colours and products, and I can trust him implicitly with my hair.
Work together with your stylist to create your ideal hair colour or style over a few appointments, and you'll feel more confident knowing that you're not going to have any unwanted surprises leading up to your wedding day.
TOP TIP |  Regular trims are essential – even if it's not changing the style and length much, getting rid of those split ends will keep your locks healthier and avoid more breakage.
---
---
TOP CONDITION
I have coloured blonde hair, so I aim to hydrate, moisturise and repair damage. I like to think of my hair as an extension of my skin almost – it needs hydrated and moisturised, as well as some protein to repair the damage from colour treatment and heat.
Damaged hair tends to grow quite slowly, so I like to use Nioxin shampoo and conditioner. It clears the pores in the scalp which can often get congested with things like dry shampoo and dead skin.
~ LOUISE'S TRIED-AND-TESTED HAIR PRODUCTS FOR DAMAGED HAIR ~
LOUISE USES: Silk pillowcase (£85) | Redken Extreme Strength Builder (£17.60) | Nioxin Shampoo + Conditioner (from £17.70) | Olaplex Hair Perfector No3 (£26) | The Body Shop Shea Butter Hair Mask (£12) | Olaplex No7 Bonding Oil (£26)
STYLE IT OUT
The Olaplex system is not only fantastic for hair growth, hydration and keeping hair healthy, but the products are great for styling too.
I've been loving the Olaplex Bond Smoother, followed by a few drops of the Olaplex No7 Bonding Oil. They work really well together and are the perfect duo to strengthen hair and speed up blow-drying.
They really work at smoothing and protecting the hair against heat damage. They also eliminate frizz and flyaways for up to 72 hours.
TOP TIP |  I recently bought a silk pillow to try and I've been surprised at the positive effects it's had in making my hair less wild and frizzy in the mornings.
Until next time! Louise x 
Behind the scenes on a Scottish Wedding cover shoot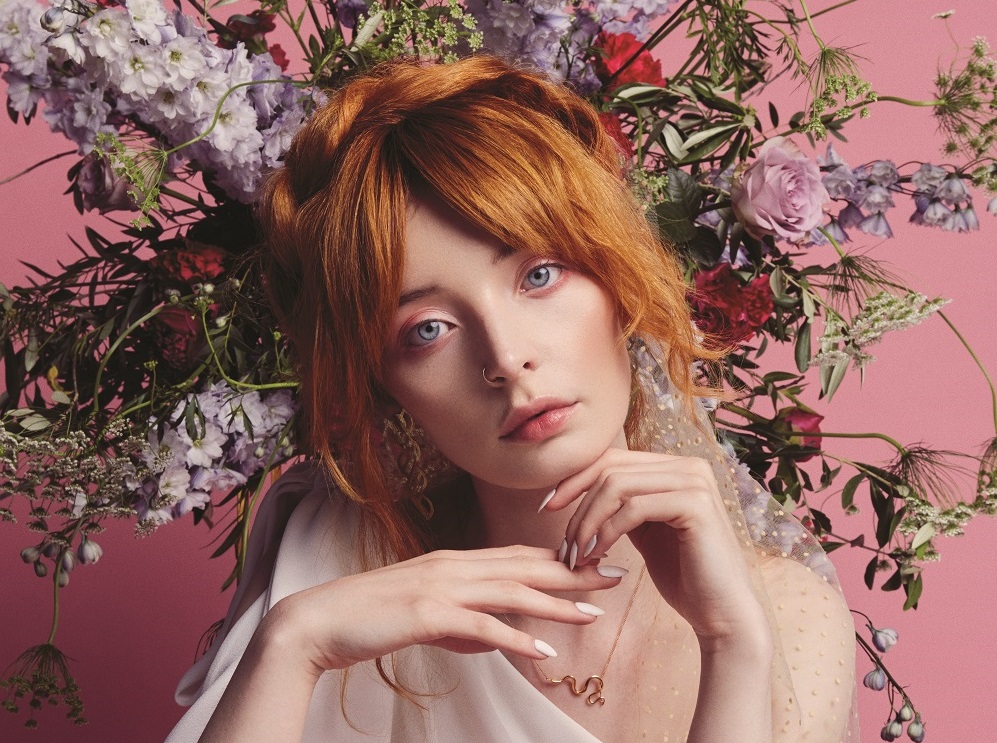 All images by photographer Stew Bryden
Ever wondered what goes on behind the scenes at one of our bridal photo shoots? We're giving you exclusive access to our latest cover and photo shoot!
Take a peek…
THE FLOWERS
Florist and stylist extraordinaire Cora Anderson provided the ah-mazing floral arrangement for our shoot, which served both as décor and as flowers for our model to hold.
"Crafting this arrangement, I wanted to channel a softer take on the autumnal look and with a modern edge," says Cora, who used a blend of Mediterranean branches and foliage alongside flowers including delphiniums, peonies, carnations and roses.
"I always channel Med vibes; I love the relaxed feel this gives to event styling and floristry."
Cora was keen to craft an arrangement with multiple uses; something that could be used both for the ceremony and then wedding reception styling. "These arrangements are designed to be high enough for floor use and then become dramatically high centrepieces that would look incredible in any venue space."
Left to right: Leslie Sneddon at work; beautiful blooms by Cora Anderson + our gorgeous model Laurie Duffy.
THE MAKE-UP
Make-up artist and beauty queen Leslie Sneddon prepped model Laurie's skin with Laura Mercier Foundation Primer, Mac Strobe Cream and L'Oreal Paris Hydra Genius, which all combined to create dewy, ethereal-looking skin.
"I also used Beauty Untouched Multi Use Oil in Pink Rose, Amaranth and Currant to give her shoulders, neck and décolletage a glow," adds Leslie.
A combination of Mac Face & Body Foundation and Mac Studio Fix created a natural looking base, with a pop of Nars Liquid Blush in Orgasm for flushed cheeks.
Mac Lip Glass delivered high-shine lips and throughout the shoot Leslie changed up Laurie's eye make-up, using Peaches and Cream pigments in Fantasy and Mermaize for the more playful, colourful looks.
THE HAIR
The legendary Anne Marie McElroy of AMM Hair and Makeup Team was on hand to style Laurie's amazing red hair, creating a variety of looks throughout the shoot using GHD products.
Ever wondered how to achieve the perfect curl?
"Spray GHD Curl Hold Spray and then tong hair," says Anne Marie.
"When taking hair out of the tong, it is essential to hold the curl in your hand for five seconds to cool as it goes through the glass transitional stage, and then with the memory in the product the hair will last all day."
Other key products included GHD Root Lift Spray ("This doesn't have to only be used on roots; it's great for an all-over prep spray," tips Anne Marie), the GHD Soft Curl Tong and the GHD Platinum+ Styler, which Anne Marie says creates a beautiful shine and prevents unnecessary damage.
THE DRESS
Laurie rocked an amazing made-to-measure dress, 'Courtney' (£1,900), from Kirkcaldy-based designer Mirka Bridal Couture.
With its cut-out 3D-effect embroidery and nude underskirt (which is available in other colours too), it's the perfect dress for fashion-forward brides.
THE FINAL FRONT COVER OF SCOTTISH WEDDING AUTUMN 2019
Here's some of our favourite looks from this gorgeous shoot… 
Crop top with tulle skirt and pearl earrings (POA, also comes with matching headpiece, not pictured), Glitterati. 
A-line 'Rebeca' wedding dress in tulle and beaded lace with deep-plunge neckline, tulle draping and V-back (£1,600), Rosa Clara.
'Mina' earrings (£24.50), Nmarra.  
Rosa Clara is stocked in Scotland at Pan Pan Bridal, Melle Cloche, Ivory Grace Bridal + Anne Priscilla Bridal.
Temperley high-necked gown with full-length sleeves and Victorian-motif embroidered bodice (£2,800), Rachel Scott Bridal Couture. 
Sottero + Midgley ballgown with sheer bodice of Swarovski crystals and beading with tulle skirt (£1,995) and 'Jupiter' hair vine (£169), Melle Cloche. 
Citrine and diamond oval cut faceted cluster ring (£4,630), Laings.
Andrea Hawkes V-neck A-line dress with illusion neckline and full sleeves (£2,650), Rachel Scott Bridal Couture. 
The 'Henley' panama white straw boater hat (£128), Mu Du London @ notonthehighstreet.com.
V-neck 'Oxnard' dress with illusion back and beading detail (£1,500), Bridal Boutique @ Frox of Falkirk. 
Worn with 'Lunaire' cape (£1,200), Opus Couture. 
THE NEW ISSUE OF SCOTTISH WEDDING IS OUT NOW! 
PICK UP A COPY FROM WH SMITHS + OTHER INDEPENDENT RETAILERS.
The grooms' guide to pre-wedding grooming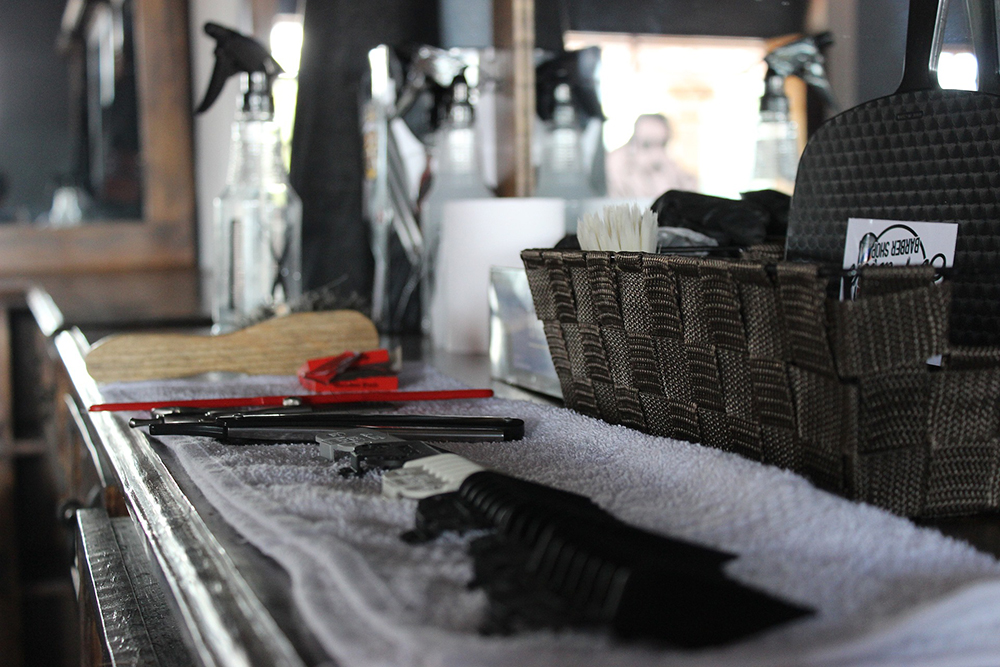 Pre-wedding pampering is no longer reserved for brides and all grooms want to look and feel on top form come the big day.
But faced with being centre of attention it can be easy for husbands-to-be to feel overwhelmed in the lead up to their weddings. From choosing the right cut to taming an unruly beard there are many things to consider.
Joanne Woods, manager of King's Barbers shares her top tips from years of experience in getting grooms ready for their trip down the aisle…
~ KEY TRENDS ~
"It's all about the skin fade for grooms," says Joanne. "A skin fade is gradient haircut where the hair is cut shorter and shorter as it goes down the neck – essentially fading into the skin.
"I've done 30 haircuts in a day and every single one was a skin fade.
"The days of short back and sides are now gone and it looks like skin fades are here to stay."
Up on top the crop is one of the most popular current styles, really short on top with a poker straight fringe at the front.
Joanne says we're moving away from the quiff in favour of a look that falls down and across the face – much easier to manage on your wedding day.
~ PLAY IT SAFE ~
Joanne suggests grooms book in for a hair trial a couple of weeks before the big day to find the perfect style.
"It's important to always ensure grooms have the best barber to suit their hair type and always choose one they know well before the big day, even more so if they don't end up having a trial," she says.
"We would always advise grooms play it safe and not get their hair cut directly before the wedding on the same morning, and we would never advise to get it cut too short.
"The last thing a partner needs is to see their husband with an awful or unexpected haircut on the big day."
~ ON THE MORNING ~
More and more grooms are booking in for blow-dries the morning of the wedding because they can't style it as well themselves.
However, Joanne warns against getting a hot towel shave on the morning of the wedding if it's not something you're used to.
"Most men like to do this on the wedding morning but it's not great at all, as it can cause the skin to break out," she says.
~ MAKE IT AN OCCASION ~
Brides are used to make-up sessions, hairdressers and champagne wedding mornings so why shouldn't grooms join in the fun too?
"We're looking to start a 'Get Groomed' exclusive wedding package for the whole wedding party," says Joanne. "It's a real go-to-town event with drinks and cigars, making it really special for the guys on the morning too."
JOANNE WILL BE SHARING MORE EXPERT TIPS AND SHOWCASING HER SKILLS AT THE SCOTTISH WEDDING SHOW ON 12th + 13th OCTOBER. 
HAVE YOU GOT YOUR TICKETS YET?
Here's what the wedding beauty experts couldn't live without…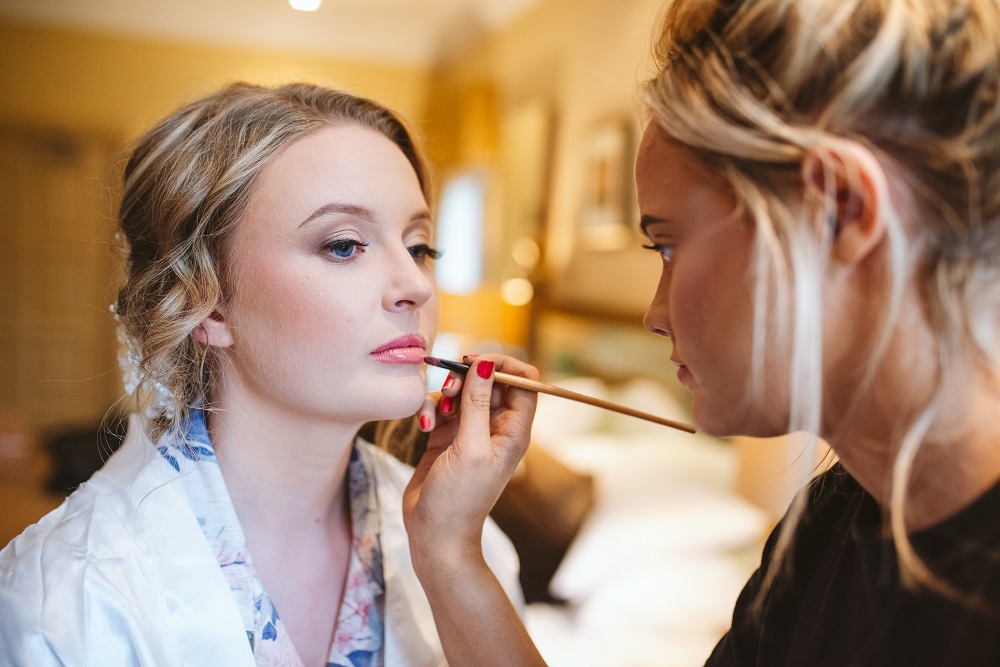 IMAGE | Glitter and Twigs Photography
BEST FOR: that glow up
Setting sprays have become a beauty must-have for anyone who wants to keep their make-up looking picture-perfect long after it's been applied.
And, happily, lots of brands are introducing sprays that seriously bring the glow.
"Not only does Iconic London Prep-Set-Glow smell gorgeous and come in three different shades, but it has a stunning pearly glow which, when applied to a full face of make-up, leaves skin looking and feeling fresh," tips Leslie.
1. BUY | Iconic London Inc Prep-Set-Glow (£20.50)
BEST FOR: long-lasting make-up
Few bridal make-up artists would forego primer; it's essential for creating a smooth base, and helps to ensure your foundation stays in place from morning until night.
There's a primer for every skin type, and if your complexion is on the oily side you'll love Illamasqua Matte Veil Primer.
"It instantly and visibly turns skin matte before applying foundation, keeping oil at bay so that less powder needs to be applied," says Kirsty. "It's great for combination or oily skin."
2. BUY | Illamasqua Matte Veil Primer (£34)
BEST FOR: a softer style
Even if you've used a product to prep your hair pre-styling, you'll always need a mist of hairspray to keep everything in place. But nobody wants to be the bride with the rock-solid do. So what's best for a natural look?
"My can't-live-without product for bridal hair is L'Oreal Paris Elnett Volume Excess Hairspray," advises Mandy.
"It's perfect for strong hold without the residue – no bride wants to be caked in hairspray! It's all about the natural, soft-looking locks."
3. BUY | L'Oreal Paris Elnett Volume Excess Hairspray (£6.69)
IMAGE | James Kelly Photography
BEST FOR: a bridal kit essential
Who doesn't love a multi-tasking product? "I love Elizabeth Arden Eight Hour Cream Skin Protectant – you can use it to prep dry lips or cuticles, and it's also great for reducing spot scarring in the lead-up to your wedding day," says Caroline.
Add it to your regular body moisturiser for use on particularly dry areas that are sometimes neglected, such as elbows and knees, and keep it on hand on your wedding day for any dance-related injuries!
4. BUY | Elizabeth Arden Eight Hour Cream Skin Protectant (£28) 
BEST FOR: everything!
"I use Weleda Skin Food on all my clients to create a glowing, luminous base under make-up," says Jen of Violet Rose, who's well-known for her glow-getting approach to naturally beautiful bridal make-up (check out her Glowing Live videos on Insta!).
"Skin Food is inexpensive and completely natural and can be used in so many ways; not only as a primer but also as a highlighter on top of make-up or even to create a glossy eye. I'm obsessed!"
5. BUY | Weleda Skin Food (£7.95) 
BEST FOR: adverse wedding day weather
When so many of us face the prospect of changeable weather on our wedding day, it's important to find a product that can prep your locks for wind, rain or a particularly sweaty rendition of Strip The Willow.
"Wella Professionals EIMI Perfect Setting Spray is my hero product – I use it on every single bridal hairstyle I do," says Lauren.
"I spray this on before heat-styling hair and it helps to really hold the shape, while also protecting the hair from heat damage."
6. BUY | Wella Professionals EIMI Perfect Setting Spray (£11.10)
BEST FOR: pre-wedding skincare
You don't need us to tell you that a proper skincare routine is essential to any great beauty look, and that can sometimes require a bit of experimentation to find the products best suited to your skin.
"Charlotte Tilbury Magic Cream is like a little bit of luxury for your face – I pop it on at night and let the magic happen overnight," says Leigh.
"I have oily skin though; if you have dry skin you could wear it day and night. My skin's never been better."
7. BUY | Charlotte Tilbury's Magic Cream (£70)
BEST FOR: under-eye darkness
We often hear of brides complaining that they didn't sleep well ahead of the big day due to a combination of excitement and nerves.
If you're prone to dark circles but want to look bright as a button when you make your way down the aisle, heed Hannah's advice: "My hero product is Becca Under Eye Brightening Corrector. It's a light formula and iridescent – great to cover any pigmentation under the eyes, giving you a fresh, beautiful look for your wedding day."
8. BUY | Becca Under Eye Brightening Corrector (£21)
Take a look at the suppliers in our online directory! 
Good hair day: Hair down hairstyle ideas for your wedding day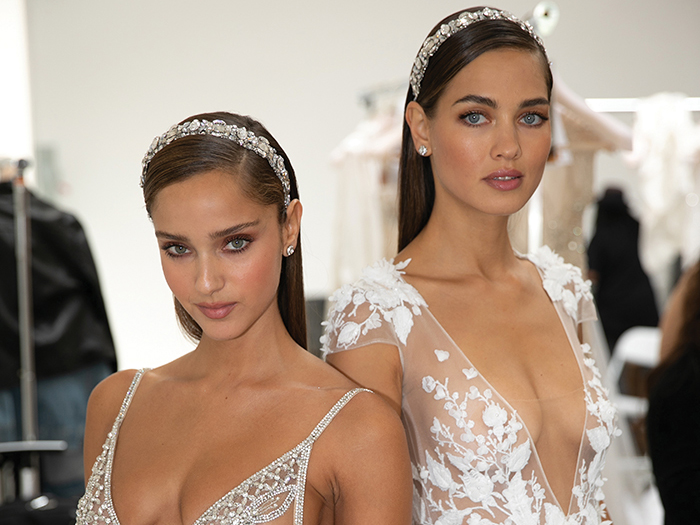 You don't need to stick your wedding day hair in an up-do if that's not your style, but will you go straight or wavy?
SLEEK WEDDING HAIR
IMAGES | Berta 
We got major Blair Waldorf vibes from the hairstyles at Berta's latest runway show.
This designer is known for its risqué, uber-glam dresses, and we loved the juxtaposition of the glamorous attire with prim-and-proper upper-eastside hair.
BUY | Philip Kingsley Weatherproof Hairspray (£12.75) 
This style requires a razor-sharp parting and uber-straight locks, so if your hair is prone to frizz, spritz Philip Kingsley Weatherproof Hairspray to keep humidity at bay.
Accessorise with a statement headband.
WEDDING DAY WAVY HAIR
IMAGES | Pronovias 
If you prefer your hair on the wavy side, Pronovias showed us exactly how to do it without straying into ringlet territory at New York Bridal Fashion Week.
Complementing the romance of the designer's AW19 dresses, the models sported undone, cool-girl waves adorned with nature-inspired hair accessories.
BUY | GHD Creative Curl Wand (£120)
Get the look with the GHD Creative Curl Wand, which has a tapered wand to create a tousled, beachy texture.
GET THE LOOK
BUY | Silver flower and pearl headband (£36) Johnny Loves Rosie
BUY | 'Jupiter' hairvine (£169) Melle Cloche
BUY | 'Laurel' comb (£160) Rachel Scott Accessories
BUY | Simone Rocha faux pearl-embellished hairband (£350) Matches
FOR WEDDING DAY HAIR ADVICE FROM THE EXPERTS, CLICK HERE!
Blank canvas Iranian + Scottish wedding day at The Barn at Harburn, West Calder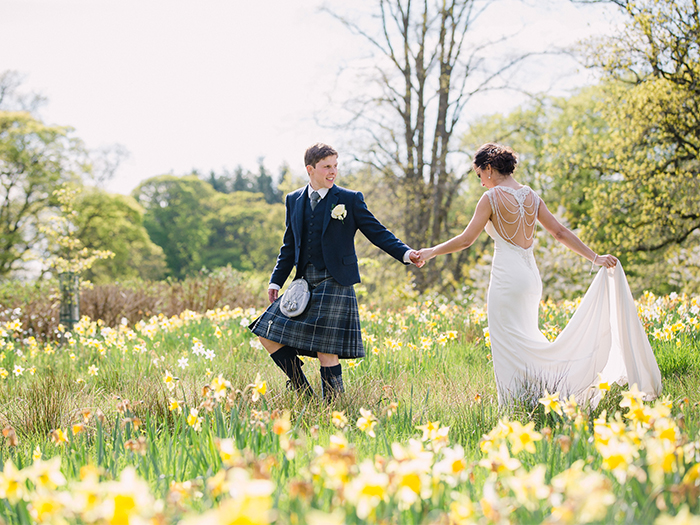 Shereen wanted to honour her Iranian heritage on her wedding day, so she and hubby Steven planned a gorgeous bank canvas celebration that paid tribute to both their  Scottish and Iranian identities.
Their wedding took place on a beautiful day at The Barn at Harburn and was captured beautifully by MacLaurin Weddings.
Find out more about this gorge wedding in Shereen's own words below…
Steven and I met eight years ago on a night out. We were both acting as the 'wingmen' for our friends, and neither of us tried to give that much of a good first impression because we were so focused on setting up our pals.
We quickly realised however that we were so similar in nature, and we were laughing so much together from the moment we met.
I did so much research into finding the perfect dress, namely looking through SWD! I got all my dress ideas from there and found all the best bridal shops to go to.
My dress was designed by Pronovias and I bought it from Kavelle Couture in Edinburgh. It was crepe and tulle, well fitted and had a draped train. The front was completely plain and white, just what I wanted.
The fitted look really complimented my figure and made me feel like a bride. My favourite part however was the back of the dress – it was a deep open back with gemstones draping over my shoulders and back.
It added a touch of glamour to the dress and gave the dress something really special. It sparkled in the sunshine and gave me the statement look I wanted.
We had a humanist ceremony because we wanted to be able to have lots of unique and individual aspects incorporated into it. We started with a traditional ceremony of standing at the front with our celebrant introducing the ceremony, followed by a lighting of two candles which represented each of us.
Our vows were very different in that we sat in front of a traditional Iranian ceremony table called the 'Sofreh Aghd'. This table has a symbolic meaning and all of the items on the table have their own representation of what a marriage should be.
We incorporated the 'Khaleh Ghand', which was the process of sugar cones being rubbed over our heads by my sister, one of my cousins, Elnaz and Steven's aunt, Annette. The meaning of this is to shower our life with sweetness.
We also included 'Asal' or honey, which was the tradition of dipping our pinky finger into the honey and feeding it to one another, a symbol of feeding sweetness to each other.
Our décor was quite simple as we let the venue and flowers speak for themselves, however I did buy a few items from John Lewis to spruce things up, including candles, balloons and some Ginger Ray products.
My friend Debbie has her own event company 'Without a Hitch Planning'. She was so kind as to provide us with mason jars, candles, large MR & MRS light up letters, photo booth backdrop and props, as well as so many other little touches.
The speeches were all memorable for their own reasons. Steven's was beautiful and heartfelt, particularly when speaking about his late Mum, Christine. Sadly she is no longer with us but she was certainly there in spirit and Steven made sure of it. We chose 12th May as our wedding date as that was her birthday and Steven really paid a loving tribute to her during his speech.
The father-of-the-bride (Hossein) speech was memorable for being so sincere and endearing. He had to pull out his glasses to read his notes as he became very nervous, and he either had everyone in a fit of laughter or in floods of tears.
We did have one more unique tradition after the wedding breakfast which was the Persian Knife Dance 'Raqs Chagoo'.
This involves a few female family members taking your cake knife and dancing with it until they were satisfied that we deserved to cut our cake. The tradition is to give each dancer money to entice them into handing over the knife.
We had three women do the dance, which were my sister Sonya, cousin Elnaz and cousin Atena. It really broke the ice before the first dance and cake cutting and was a fun experience for everyone in the room (perhaps not for the women dancing alone with a knife!)
The reception atmosphere was like nothing I have experienced before. It wasn't your typical wedding where people are forced onto the dance floor, it was really like being at a gig for your favourite band.
The dance floor started of with just the Iranians enjoying some Persian/Arabic music, and slowly everyone else started to join in and we got going with British music that everyone knew the lyrics to.
Around halfway through the night the dance floor was absolutely packed and you could barely move. I was even on the stage playing the tambourine at one point!
As most people will say, not much changes when you marry after being together for a long time. However, we both just have this nice sense of security and belonging now and of course, getting to wear a beautiful ring every day!
Photogrpahy: MacLaurin Weddings | Venue: The Barn at Harburn
Bride's dress: Pronovias at Kavelle Bridal Couture | Hair: LA Hair and Make Up Design
Make-up: Portraits | Bridesmaid dresses: Simply Bridesmaids
Groom's kilt: McCalls Ltd | Flowers: Flowers By Arrangement
Décor: Without a Hitch Planning | Celebrant: Humanist Society Scotland
Caterer: Bespoke Catering and Events | Wedding band: Casio 
Gorgeous Easter weekend wedding day at Balbirnie House Hotel, Fife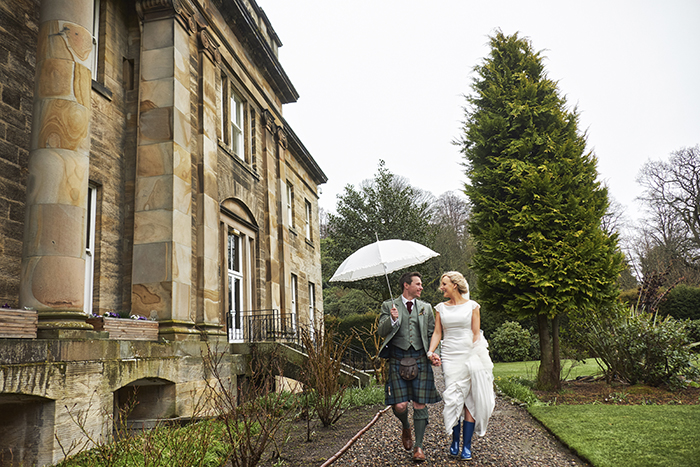 When childhood sweethearts Emma and Callum got engaged after 12 years together, they knew they wanted to say 'I do' within the year.
With plenty of personal touches, including some Easter-themed surprises, the happy couple opted for a spring wedding at award-winning venue, Balbirnie House Hotel, all captured beautifully by Suzanne Black Photography.
Here, bride Emma shares more of their eggscellent big day…
"We met at school and were in the same class on the first day. We were both quite shy in those awkward first years and didn't actually become friends until fourth year at school.
Callum is one of the kindest people I have ever met and goes above and beyond to help anyone.
I'm a huge Harry Potter fan and Callum proposed on a surprise break to Glencoe. We had a trip on The Jacobite steam train, which is basically the Hogwarts Express and it travels over the iconic Glenfinnan Viaduct.
We then went a walk into the hills to see the view and I turned around to see Callum down on one knee, surrounded by midges. It was the west coast of Scotland in June: prime midge season!
Finding an available venue which ticked all the boxes was first on the list. The most important things for us was a venue with character, lots of space inside and out and availability as we wanted to get married to as close to a year from our engagement.
When we found Balbirnie House Hotel, we knew it was the venue for us.
We loved the character of the old building with its high ceilings, period features and large drawing rooms with lovely decor. The grounds are beautiful and had ample space for all our guests to mingle during the canapés and drinks reception.
The winning factor for us was the ballroom downstairs which has beautiful arched windows on every side adorned with fairy lights and a huge twinkling dance floor.
We got so much help from our friends and family and Callum was so involved with every aspect of the day. We discussed together how our wedding should look and our ideas for the day, right down to small details.
My bridesmaids were fantastic throughout and understood how much goes into planning a wedding, whilst our families were also so helpful, from accompanying us venue hunting to late night arts and craft around the table.
We embraced a lot of DIY touches. We bought our wedding invitation design from a small stationery business on Etsy for £15, which we then tailored to suit us and got them printed at a local print shop and the envelopes were hand sealed with a wax stamp.
My ridiculously talented sister-in-law Corinne owns Dazed Dorothy and she hand drew and decorated our wedding chalkboards and handmade all four bridesmaids handbags, plus a bridal bag for myself which she lined with cloth that once belonged to her grandmother.
We made our favours from recycled mini glass bottles with corks, filled with pink gin for the ladies and rum for the gents. My sister then hand wrote and attached a mini tag with 'drink me' on each one. For our pregnant guests, we gave them Lindt chocolate bunnies.
As our wedding took place over Easter weekend, we had decorated jars full of Mini Eggs on each table to enjoy during the speeches before dinner arrived. Callum also painstakingly hand blew and decorated real eggs with gold leaves to hang from tree branches.
We also decorated lots of little recycled glass bottles with lace and twine which our florist filled with gypsophila and hung them on the aisle chairs during our ceremony.
The in-house wedding planning team at Balbirnie were absolutely fantastic. Christine, our main wedding coordinator, was so organised and helped us massively keep on track of every aspect of planning the day. Kerrie and David, our masters of ceremony, couldn't have done more for us, even helping me across the grass in my welly boots in the rain to achieve the perfect picture!
I went dress shopping with my mum, sister and bridesmaids. I was pretty much decided that I wanted a lace fitted dress with a V shaped back which wasn't too 'blingy'. I tried on every style there was it feels before I found the style that I loved.
We figured out very quickly that lace was not my friend and that a more simplistic style suited me best.
I bought my Pronovias dress from Kavelle Bridal Couture in Edinburgh. It was a combination of crepe, tulle and lace ivory; a fitted mermaid style dress with a lace back, bateau neckline and lace cap sleeve.
My Swarovski earrings were a gift from my parents, a halo drop style to compliment my engagement ring. My vintage style bridal cuff was borrowed from my friend as my something borrowed and my shoes were silver t-bar peep toes which I owned already and were my something old.
Callum had a custom kilt made and opted to wear matching green woolen socks and brown brogues, complementing his brown leather sporran which belonged to my late grandad.
The night before, I stayed with my four bridesmaids in the Pearl suite at Balbirnie and the bridal party and close friends met up at the local pub for dinner and drinks.
I felt really excited the morning of the wedding. I woke really early and couldn't get back to sleep.
We had breakfast in the room then hair and makeup started at 8am. I spent the whole morning with my bridesmaids and mum.
I was so calm walking down the aisle as my sister had just made me laugh before it started. We were all lined up in a row ready to walk in and she turned round and whispered to us 'Feel the rhythm! Feel the ride!' from Cool Runnings! We all burst into giggles.
Our brilliant pianist played Elton John's Tiny Dancer as I walked down the aisle.
We wanted a humanist ceremony as we both loved how personal the service is and all about the couple. We wrote our own vows with lots of help from our celebrant, Jane. It was so special to us to write our own and ranged from heartfelt moments to some funny ones too.
As the ceremony was at the venue, we didn't require transport  but it didn't stop Callum's vintage 1970's VW Beetle from making an appearance which he restored himself!
We had a drinks reception with canapés which I didn't even eat as I was too excited! We also has a popcorn station for everyone as I wanted something that was fun, but also gluten free for my coeliac guests.
The speeches were all fantastic my dad told funny stories of me growing up, Callum was brilliant and mentioned my grampa in his speech as sadly he passed away the year before.
The only band we wanted was Corra after seeing them at two other weddings. They played a version of Zac Brown Band's Loving You Easy for our first dance. We love that song and the words are so fitting for us.
The dance floor was full all night and Corra kept us all going and incorporated some ceilidh tunes too which we all loved. It was such a great party.
After the wedding, we went on a mini moon for four nights to a cottage in Killin in Scotland then headed to Italy the next month at the start of May.
When you have been together for this long, being married doesn't really feel too different. It was just a beautiful day to celebrate with all our loved ones.
Walking into the room and realising that every single person whom we love and care about was there especially for us was quite a phenomenal experience."
Venue: Balbirnie House Hotel | Photographer: Suzanne Black Photography
Bride's dress: Kavelle Bridal Couture | Groom's kilt: John Morrison Kiltmakers
Bridesmaid dresses: Polly Rose Boutique
Florist: Save the Date Collective | Cake: Mark Beedie
Pianist: Joe Revell | Band: Corra
Stationery: Etsy | Hair + make-up: Melanie Herriot from MHM Styling
Humanist celebrant: Jane Bechtel from Humanist Society Scotland
Coco & Eve hair masque: Does it really work? [review]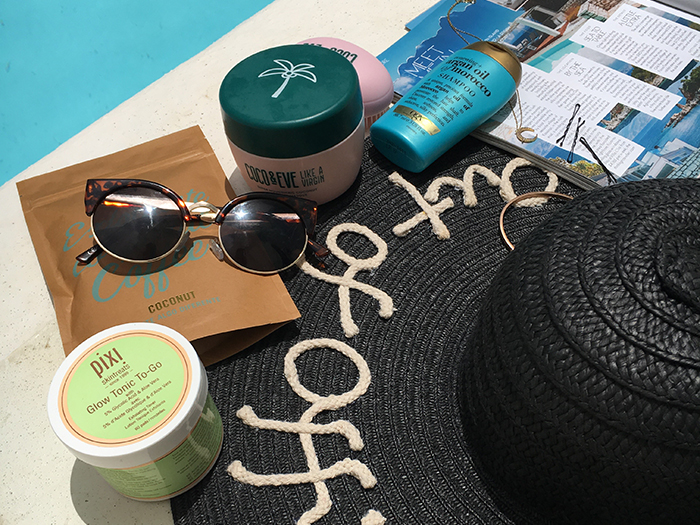 My hair and I have been through quite the journey over the years. The mega side parting, the overly-long extensions, that dark red colour I dyed with a wash-in colour circa 2009.
The last few years, I've been on a quest for the ultimate Pinterest-worthy look: ashy blonde through the ends of my naturally brunette hair.
Through many visits to my angel hairdresser, plenty of silver shampoo and hours spent trawling social media to find examples of how I want my next hair cut, I've achieved the look I wanted for so long.
With my hair so dark, we used bleach and toners to get my sought-after colour, but my hair health admittedly was suffering. I needed some serious hair TLC.
This is when I came across Coco & Eve. On a particularly bad hair day, I noticed the brand on Instagram and knew I had to try this new-to-the-UK product. So, here's the lowdown on the Coco & Eve's Like A Virgin Super Nourishing Coconut & Fig Hair Masque. What is it and does it really work?
COCO & EVE: WHAT IS IT?
What exactly is this miracle masque I hear you ask? Well, Coco & Eve's Super Nourishing Coconut & Fig Hair Masque is a 5-in-1 treatment, aiming to restore dry and damaged hair, improve hair texture and shine, hydrate and deeply condition, treats split ends and tame frizz, transforming your hair in only 10 minutes.
Founded in Bali, the masque was created to get your hair back to its purest state, with only the best ingredients.
It's also completely free from sulphates and parabens, gluten-free, cruelty-free and 100% vegan and is made using 5 key ingredients: coconut, fig, shea butter, argan oil and linseed.
The brand came to the UK late 2017 and has already won over plenty of beauty fans. So, what do Team SWD think of this wonder product – and is it a good investment for pre-wedding pampering?
PRESENTATION
When the box arrived at SWDHQ, it got plenty of 'oohs' and 'aahs'. One thing's for sure: this brand knows good packaging! The tropical inspired box really sets the tone and the hair mask is presented perfectly with its matching Coco & Eve tangle tamer (which is free with the masque at the moment, fyi).
We all agreed it was something we could give as a gift too as it really looks and feels quality upon opening.
PRICE
I'm aware some of us might grimace when we see the £34.90 price tag, but hear me out. I've paid £20+ for hair masks in the past and felt totally underwhelmed when the small sized amount arrives and lasts for a matter of weeks. The Coco & Eve masque is a 212ml tub and it feels like you're getting a lot of product for your money.
I noticed that they also do a Besties Kit, which includes x2 of the hair masques and x2 free tangle tamers for £54.90, which would be a nice idea for you and your bridesmaid for some pre-wedding hair prep and save you some money too.
PRODUCT
So, on to the product itself. First thing I have to note: it smells seriously amazing. So amazing, I made the entire SWD team smell it, just to agree how amazing it smells. I also made my mum and sister do this smell test too. And my boyfriend. Any my boyfriend's dog, by accident, but she also seemed to give the gorgeous smell her nod of approval so that's something too.
I washed my hair as normal then used around a 50p-sized amount of the masque through the ends of my hair. Having the tangle tamer really helps to evenly distribute the product through your hair too and makes it so much easier drying it later.
I left the hair mask in for around 5-10 minutes, but Coco & Eve also say you can leave the product on even longer for a more intensive treatment, with the option to leave it in overnight, which I'm planning on doing over the coming months.
I was a tad cynical that I would really see any difference in my hair. After my first use, I did notice my hair felt smoother, but it was the second time I used it that I could seriously see why everyone on Instagram was talking about it. My hair dried a lot sleeker, the ends of my hair looks shinier already and so much more hydrated.
SWD LOVES
I'm going to keep using the masque over the coming months to see how much it improves my hair, although I already think it's going to be a favourite the more I use it.
It might be a slight beauty investment, but you're totally worth it! Just think how swishy and fabulous your hair will be come honeymoon…
COCO + EVE: ONE YEAR ON
The Coco + Eve effect is still going strong and I have used the masque at least once a fortnight for 12 months now and I cannot rave about the product enough.
I still stand by it being a beauty investment and have recommended the intensive treatment to so many brides-to-be who have also loved the results.
The masque has also made me look after my hair health more – there's no better feeling than having gorgeously health hair. I decided to go for the hair chop earlier this year and the masque helps it maintain that shine.
It is now a holiday essential, giving your hair some much-needed hydration in the sun.  Plus, the same tub has lasted me all year! I feel a repeat purchase coming on…
YOU CAN BUY YOUR OWN MASQUE NOW HERE.
Make-up artist favourite products to create Meghan Markle's big day beauty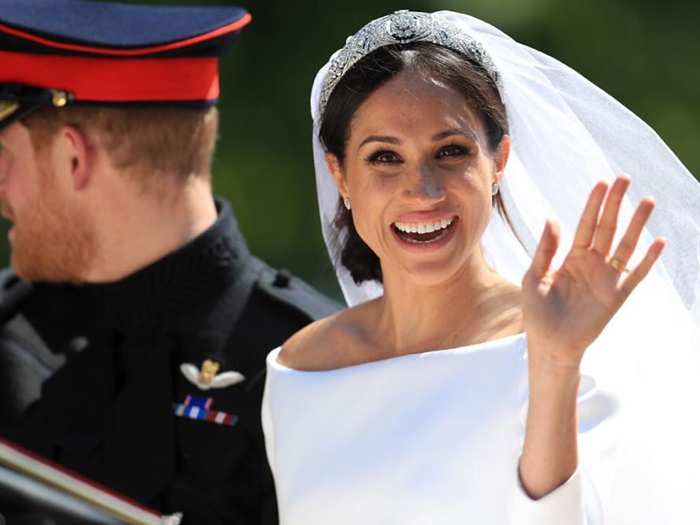 The Royal Wedding may have been last year, but the Duchess of Sussex's big day look is set to inspire beauty looks for the year ahead.
IMAGE | Instagram
With experts predicting a continued increase in a more natural big day make-up trend thanks to Ms Markle, we ask Scottish hair and make-up artists their favourite products and treatments to fully embrace the Meghan effect.
Here's how to be princess ready…
"The perfect make up application starts with a really good skincare routine followed by some pro treatments. Something like the Frances Turner Traill hydrofacial helps to help deep cleanse the skin in a non-abrasive way.
Many of my brides have followed my advice and its really great to see a visible difference in the skin texture and complexion upon make up application.
Radiant soft focus make-up is certainly on the rise. The focus for 2019 is all about 'subtle perfection'."
"Meghan Markle still seems to be all the craze: that soft, authentic, 'real me' look with just enough coverage to see you throughout the day/night.
Perfect glowing skin, soft blended out eyes and dabbed natural, nudes on the lips. My perfect go-to nude lip for Meghan's look is MAC Lipstick in Faux (£17.50)."
"The 'no make-up make-up' emphasises on the skin having a gorgeous glow that looks more radiant than beaming.
Products to achieve this are Charlotte Tilbury's Light Wonder foundation (£32) and Iconic London's Illuminator Drops (£30).
Colours are peach and dusky roses for the lips with more sheen to them. Fresh faced, dewey and luminous all the way!"
"As well as the usual pre-wedding nail care, tanning and lash treatments, brides are becoming more knowledgeable about their skincare thankfully and not everyone wants to have injectables so there is a greater interest into more natural ways of enhancing your face or neck. I offer the Natural Lift face massage and have had an increased interest about this.
For hair, natural and loose 'undone' styles will be very popular this year, with soft sections of trailing hair around the face (not curls) – think Meghan Markle!
DISCOVER THE SCOTTISH HAIR AND MAKEUP ARTISTS PERFECT FOR YOUR BIG DAY ON OUR ONLINE BEAUTY DIRECTORY!