The best wedding fragrances – according to real brides!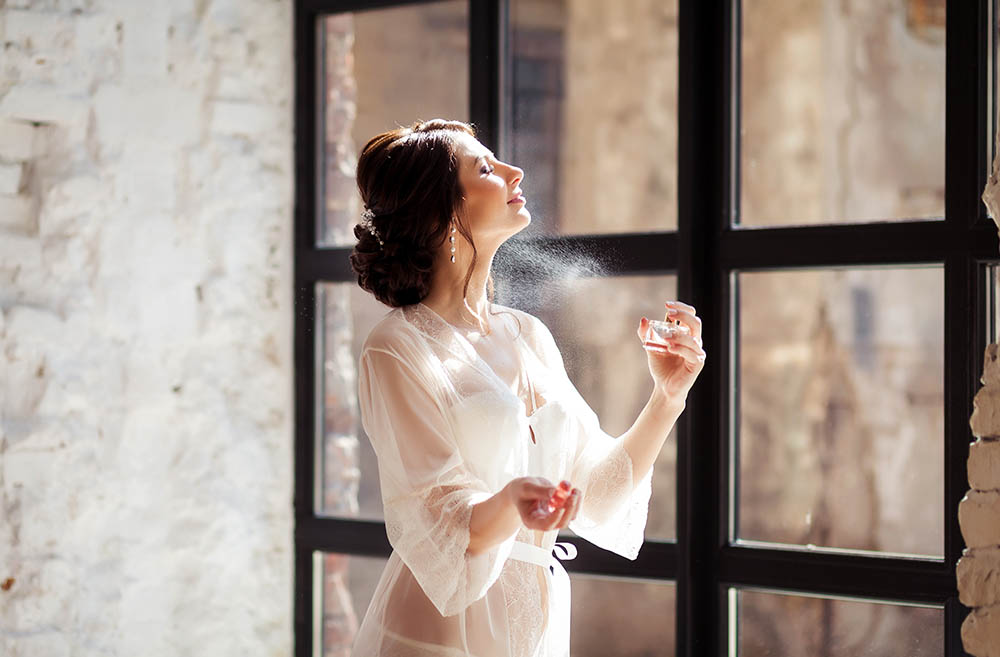 Choosing a wedding fragrance can be a bit of a minefield.
Do you go with a perfume you've always loved and worn religiously, or is it better to pick something brand new that will forever be associated with your wedding and your wedding alone?
There's no right answer, but I know that won't help you if, like me, you're indecisive as hell.
So I took to Instagram to ask Scottish Wedding's married followers what scent they wore on their wedding day, and why they chose it.
Whether you're looking for wedding perfume inspiration or you're just curious about the fragrances other brides deemed wedding-worthy, I think you'll find their choices – and their reasons – really interesting.
So here they are: the best wedding fragrances according to real brides.
The best wedding fragrances
GUCCI BLOOM
"My husband bought it for me the Christmas we got engaged, so it was perfect!"
JO MALONE VELVET ROSE & OUD
"It matched our wintry, deep burgundy colours."
Buy Jo Malone Velvet Rose & Oud
TIFFANY & CO EAU DE PARFUM
"I loved the something blue element with the box."
Buy Tiffany & Co Eau de Parfum
MISS DIOR BLOOMING BOUQUET
"It is so fresh and I would only wear it on special dates."
Buy Miss Dior Blooming Bouquet
ACQUA DI PARMA ROSA NOBILE
"I wore it when he proposed."
Buy Acqua di Parma Rosa Nobile
MARC JACOBS DAISY
"I love the floral scent and the bottle makes beautiful pictures!"
CHANEL COCO NOIR
"It's my scent, and I wanted him to think of our day often."
KENZO WORLD
"I bought it specially as I had been told that smell is such a strong memory sense."
DIESEL LOVERDOSE
"I wore it on our first date!"
JO MALONE ENGLISH PEAR AND FREESIA
"I did one of Jo Malone's fragrance sessions and matched it up."
Buy Jo Malone English Pear & Freesia
JO MALONE PEONY AND BLUSH SUEDE
"I always wear Lancome La Vie Est Belle, but I wanted a new scent as a reminder."
Buy Jo Malone Peony and Blush Suede
VIKTOR & ROLF FLOWERBOMB
"My hubby loves it!"
CHLOE NOMADE
"It smells amazing and timeless."
PRADA CANDY
"My now-hubby gave it to me as a wedding gift."
EMPORIO ARMANI IN LOVE WITH YOU
"The scent was unreal, it lasted ages and I could pair it with my hubby's aftershave to make a totally new scent."
Buy Emporio Armani In Love With You
ACQUA DI PARMA QUERCIA
"An autumn wedding in Perthshire needed a woody scent."
CARTIER LA PANTHERE
"Because my wedding ring was Cartier and it smells amazing!"
TOM FORD FUCKING FABULOUS
"Tom Ford F*cking Fabulous as that's how I felt!"
GUCCI OUD
"I just loved the smell and I wanted something I'd never smelt or worn before."
CALVIN KLEIN ETERNITY
"We both wore it, and we're still married 21 years later!"
DOLCE & GABBANA THE ONE
"I'll be wearing my fave perfume when I marry in May – The One by D&G."
VERSACE YELLOW DIAMONDS
"it's a nice light scent. I only ever wear it with my husband now."
MAISON FRANCIS KURKDJIAN BACCARAT ROUGE 540
"I'm not married yet, but this is what I'll be wearing when I do."
Buy Maison Francis Kurkdjian Baccarat Rouge 540
MIZENSIR TRES CHERE
"Love this fragrance and it will always remind me of our day."
Ever wondered what fragrance Jo Malone wore on her wedding day? Click here to find out!
Bridal beauty insiders share the products they used for their own weddings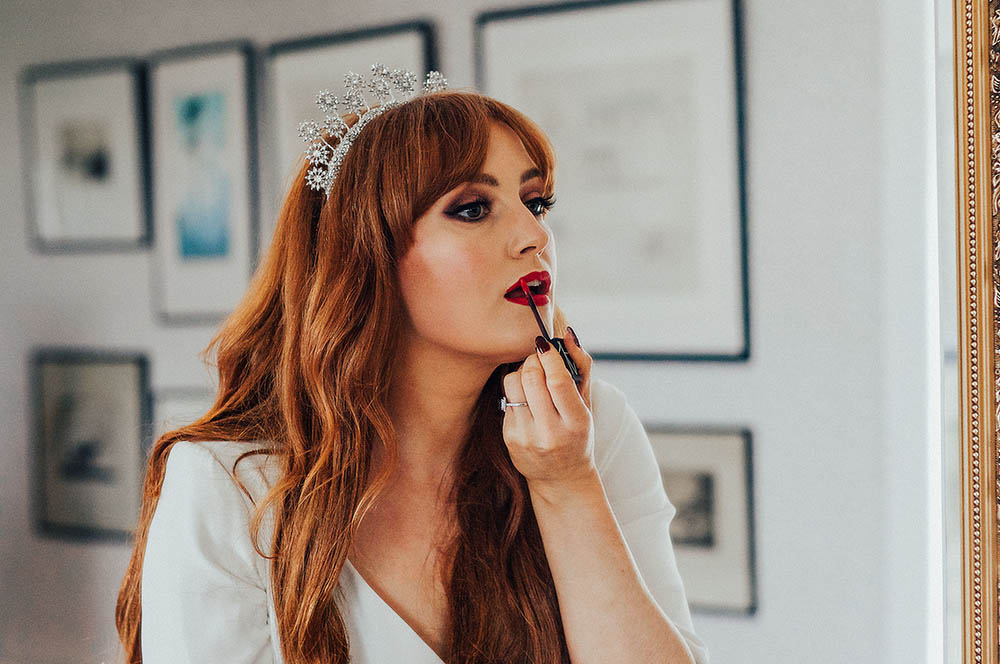 IMAGES | PJ Phillips Photography
Nothing has us racing to buy a beauty product quite like a glowing endorsement from someone that works in the beauty industry.
So when a professional beautifier gets married, the first thing we want to know is which products and treatments got the seal of approval for their bridal beauty look.
Looking for bridal beauty inspo for your own big day?
Take a peek inside the make-up bags of two Scottish beauty experts.
Bridal beauty insider: MUA Sarah Jane Macinnes
Sarah Jane Macinnes is a make-up artist and self-confessed "skincare junkie".
She always knew she'd do her own make-up for her wedding to husband James at Culzean Castle and Country Park.
"It's so relaxing for me and if I had someone else doing it I would probably have been quite nervous – plus I know what suits my face best," she explains.
To make things feel different to other bridal make-up sessions, though, she treated herself to some lovely new products.
Sarah Jane already had an extensive skincare routine but stepped it up once she got engaged.
She stuck with her usual Estee Lauder Advanced Night Repair Serum but switched her hydrating serum to the Drunk Elephant B-Hydra Hydrating Serum and used Kate Somerville Goat Milk Cream to moisturise.
She also used Ole Henriksen Truth Serum and Lixirskin Vitamin C Paste to make her skin glow, as well as Josh Rosebrook Hydrating Accelerator Mist.
The bride gave herself a weekly facial and road-tested clear fake tans, settling on St Tropez Purity Mousse for a nice, even and natural bronze glow.
On the big day she opted for glowy skin, pink-toned Pat McGrath Labs Mothership eyeshadow to enhance her green eyes, and a bold lip.
"I wear one most days so something soft and neutral wouldn't have felt right," she says. "I also knew I had to get some glitter in there too. I'm glitter daft – I even set up a glitter bar for my wedding reception, which everyone loved!"
Sarah Jane advises brides-to-be to get a good skincare regime in place ahead of their wedding and to ditch the wipes.
"They don't effectively remove make-up, they are often very harsh and drying and are bad for the environment," she says. And she urges brides planning on doing their own make-up to have a lesson with a professional MUA. "Your wedding make-up should be as individual as you are and should make you look and feel incredible."
Bridal beauty insider: Gemma Trykowski, Love Those Lashes
IMAGES | Andrew Low Photography
Gemma Trykowski is the creative director of Glasgow lash and brow salon Love Those Lashes and opted for a timeless make-up look for her two-day wedding to husband Ervin at Helensburgh Registry Office and Gleneagles Hotel.
"There are so many trends popping up and although these are amazing to experiment with, I want to be able to look back at my photos in 20-30 years' time and still love the look I went for," she says.
Gemma entrusted her bridal beauty to MUA Sara Hill, a celeb favourite.
"Everything she touches seems to glow," she says. "She is a make-up genius and is all about the skin."
Sara used Charlotte Tilbury Wonderglow, Nars Radiant Creamy Concealer and the Charlotte Tilbury Glowgasm palette to achieve the look.
But before Sara began, Gemma put in the prep, planning her treatments so she wouldn't be overwhelmed rushing between appointments.
"My first was for my brows a week before," she says. "I find when I get my brows done, they can be quite bold and dark-looking so I wanted to allow them time to settle. I went for our signature brow treatment 'Love Those Brows' which is a combination of mapping, tinting, threading and waxing to create the perfect set of bespoke brows."
She also had "the best facial" at Glasgow salon Elevate.
Four days before the wedding Gemma was waxed, including her full arms so her Fake Bake tan would sit perfectly, and had her face dermaplaned to ensure her make-up would sit flawlessly.
Then it was time for the all-important lashes. "I had a full set of handmade Russian volume faux-mink eyelash extensions applied three days before at LTL," she says. "These come in a wide variety of different curls, thicknesses and length so they can be designed to suit every person's individual taste.
"I opted for a C curl in 12mm length which is chic and elegant as I didn't want anything too glam. They also show up well on camera on the day with no risk of popping off."
The ultimate guide to bridal skincare and beauty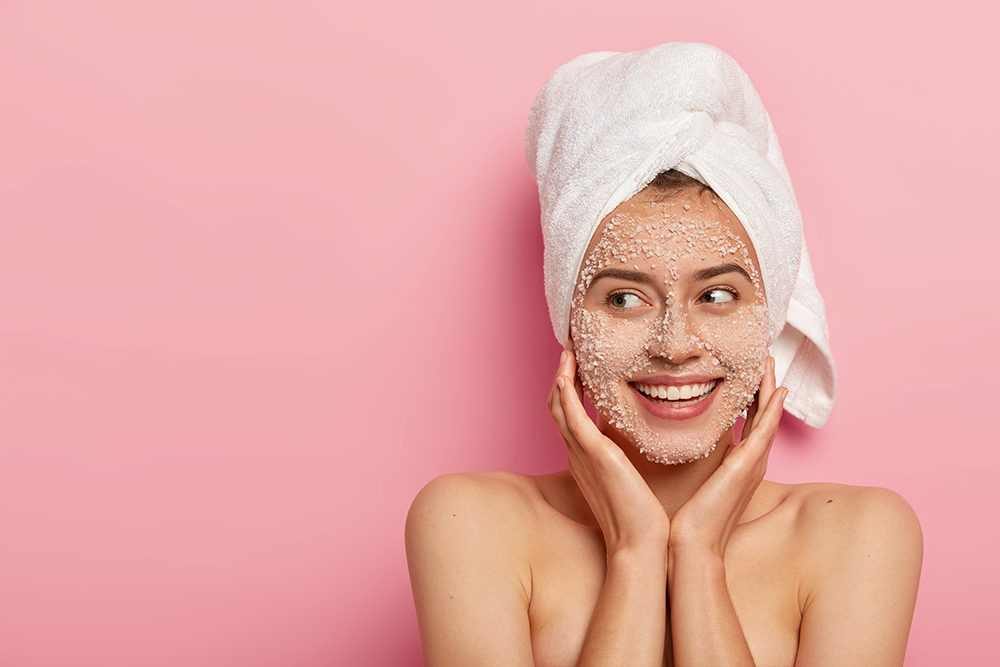 We know there are far more important things going on in the world right now, but when you're stuck at home and wandering by a mirror several times a day, it's easy to get stressed out over small things. Like the fact that your skin has seen much better days.
Central heating, a lack of fresh air and the urge to consume every sugary snack going has left many of us with spots, irritation and lacklustre locks. Which, frankly, is the last thing we need when our world's been tipped upside-down and we've got a bridal skincare routine to keep up.
But don't fret. We've reached out to Scottish bridal make-up artists, skincare experts and hairstylists to ask for their lockdown bridal skincare and beauty advice. Here's what they had to say.
Mitchell and Macinnes Makeup
"At times of stress and anxiety, your skin will sometimes breakout and it's often why a wee breakout is so common in the run up to your wedding day," says Sarah Jane of Mitchell and Macinnes Makeup.
"Add in a niacinamide serum to your routine to help improve the texture and clarity of your skin and help clear up any breakouts. The Ordinary Niacinamide serum (£5) is a great budget option if you want to try it out.
"I love masks of any kind and they are a great way to treat your skin when you're watching Netflix. Some favourites include Glossier Galaxy Moon Mask (£30 for a mask duo) for detoxifying your skin and drawing out any impurities, Summer Fridays Jet Lag Mask to brighten and Darphin Hydrating Kiwi Mask to hydrate and plump up the skin.
"Quarantine is also a great time to try retinol as these products often make the skin more sensitive to sun damage. Best to start off with a low percentage retinol when trying it out – The Ordinary Retinol 0.2% in Squalane (£4.20) is a great starter retinol as the squalane oil will help soften and hydrate the skin while the retinol will help with smoothness and anti ageing.
"If you are going outside, be sure to put on some SPF to prevent any possible skin damage."
The Glow Facialist
"My two top products to help your skin during this time are a Vitamin C serum and a hydrating mist," says Lorna Maclennan of The Glow Facialist.
"You might have noticed that your skin is looking a bit dull since we're spending a lot more time indoors. Adding a Vitamin C serum to your AM and/or PM routine will help to brighten and smooth the skin while also helping to encourage collagen production and protect against oxidative stress.
"Check out Garden of Wisdom's Vitamin C 23% serum (£10) and The Ordinary's 100% L-Ascorbic Acid powder (£4.90), which can be mixed with your existing moisturiser a few times a week.
"As well as looking a bit dull, you may notice that your skin is feeling a bit drier or dehydrated. By adding in a hydrating mist to your existing AM and PM routines, you're adding another layer of much needed moisture.
"Just mist your face and neck each morning and/or evening after cleansing and always follow up with moisturiser. Have a look at Josh Rosebrook's Hydrating Accelerator (£35) or for a more budget-friendly option, try Sukin's Hydrating Mist Toner (£7.95)."
Caroline Stewart Makeup Artistry & Hair Styling
"I absolutely love Simple Water Boost Hydrating Booster serum (£6.99) for underneath your moisturiser," says make-up artist and hairstylist Caroline Stewart, who did the hair and make-up for the front cover of our Spring issue.
"Serums work deeper into the skin, giving it an extra boost of hydration we all need. Most Scottish skins are dehydrated regardless of whether they are dry or oily due to our colder, windier weather and lack of sun.
"It's the perfect product as it's water-based to give you that boost. Simple is also an accredited brand that can be used for cancer patients getting treatment (which I unfortunately was last year) and this serum helped my skin so much."
Hair Ups
"This would be a fantastic time to give your hair a break from the daily stress of washing, drying then heat styling your hair," says Mandy Breen of Hair Ups. "I know a lot of people are concerned about their roots as well but let's embrace this time to give our hair a break from the all the dyeing, as hard as it may be!
"We are more stressed at the moment and it's more important for us to make sure we take a little me time for some pampering. For an affordable hair treatment that is available to buy at any supermarket, I recommend trying Aussie 3 Minute Miracle Miracle Moisture Deep Treatment (£4.99) for dry, damaged hair."
NCW Skin Nutrition
"With our routines being completely turned upside down, we could use this time to give ourselves, and our skin, the attention it deserves," says skin specialist Nicole Campbell-Watson.
"Why not dedicate one or two nights a week to facial massage? It's super relaxing and who doesn't want plump, juicy skin to see us out of this isolation?! I am loving Blend46 oil by Elevate (£35). Oh, and facial mists are totally underrated!"
Nicole also offers online skincare programmes and guided facial massage sessions via Zoom. Follow her on Instagram for more info.
Make up by Leigh Blaney
"I use pure coconut oil for everything! Cleansing, moisturising, body moisturising, and conditioning my hair. It's just the best natural conditioner for everything and smells amazing," says make-up artist Leigh Blaney.
"You can create a facial scrub at home to renew your skin's surface. Fill half a cup with coconut oil or olive oil then add sugar until it gets to the texture of a scrub (two or three tablespoons).
"If you have lemon juice, add about a tablespoon and spread the mixture, lightly running around your face. You can do your lips and anywhere else feeling dry.
"After washing this off I put just the coconut oil on and let it soak into my skin. Your skin feels amazing!
"My friends and I had a self-care house party call and we all did a face mask. I crushed down an avocado, added some natural yoghurt and honey and mixed it all together. It's a delight and these ingredients are rich in minerals and vitamins, great for the skin. Rinse off once it dries out."
Leslie Sneddon Makeup Artistry
"Once a month I do the Yeouth Acid Peel (£21.14) applied with a cotton pad and left on for no longer than 10 minutes. Use a cold cloth to activate and then rinse off," advises make-up artist Leslie Sneddon. "Afterwards I use the Boots Botanics All Bright Cleansing Toner (£5.49) to tone my skin and close pores.
"I'm using a couple of different facial oils, either Clarins Blue Orchid Face Treatment Oil (£35) or Eminence Facial Recovery Oil (£75). I pop about three drops into my palms, rub together to warm slightly, then pat into the skin.
"I follow up with a good moisturiser daily and retinol once a week. I'm loving the Eminence Lotus Detoxifying Overnight Treatment (£58) and the Obagi 360 Retinol (£53) once a week.
"I'm using the Boots Botanics Radiant Youth Microdermabrasion Polish (£9.99) once a week.
"I also recommend at least two litres of good fresh Scottish water straight from the tap. Nothing works better for your skin and a good variety of greens and fresh fruits daily – if you're struggling to find fresh fruit and veg at the moment, try Hion Purple Powder or Super Greens pure living powders which can be mixed with a smoothie or with just water."
Laura Courtie Hair
https://www.instagram.com/p/B_NqtsEhw28/
"During the lockdown looking after your hair may not be your number one priority, but it can be a time to help your hair look shiny and healthy for when you're back to normal.
"I recommend a hair treatment once a week. I personally love the Hask Bamboo Oil Hair Mask (£2.43).
"To get the best results apply it to wet hair and leave it for 30 mins before rinsing. This enables the moisture to really get in deep to your hair cuticles."
33 Dowanhill
"One of the most important things you can do for your skin is to massage it! Simple but true. It works for all skin types and leaves you glowing and sculpted," says Jo Laxton of 33Dowanhill.
"Working a good quality facial oil into your skin (check out the Limited Edition Blend46 Facial oil, with 10% of profits going to the NHS) will replenish the natural oils that are lost with all this time indoors and allows your skin to hold on to hydration levels which significantly improves the overall health of skin.
"Massage also helps lift and tone muscles giving you cheekbones that pop while draining any excess fluid to achieve a naturally sculpted face with reduced dark circles around your eyes. Adding in other facial tools like gua shas or rollers can give your at-home massage extra oomph.
"We have added some simple massage techniques onto Instagram for you to follow and get your glow on!"
Jo is currently offering online skincare consultations.
Fiona Park Make Up Artist
"One wonderful beauty tip I always encourage for those staying at home is to put on a little make-up in the morning; you will feel so much better and more put together even if you're not emotionally feeling your best," says MUA Fiona Park. "A little bit of concealer, blush, mascara and lipstick can really give you that boost of confidence you need for the day.
"If you've booked a wedding make-up artist, lots of those make-up artists are doing Instagram stories and videos showing you their tips and tricks using different make-up products. Join in and even try out similar make-up looks on yourself using the products you have in your own makeup bag [Team SW has been loving Fiona's videos – follow her on Instagram!].
"Maybe now is the time to research that perfect lip colour for your wedding day if you've not had a bridal make-up trial yet. Have a look online, at lipstick swatches or YouTube reviews.
"My favourite go-to lipsticks for brides are from Charlotte Tilbury, Nars and Mac. They do some of the best bridal nude lipsticks but also have such a brilliant colour selection for every skin tone."
Check out Fiona's own wedding day!
Wedding Hair by Lauren at The Loft
"I think that this time is so important for us all to just give our hair a much-needed break from heat and constant washing," says hairstylist Lauren Mcmonagle.
"If you can go for a few days without washing your hair then the natural oils will rejuvenate your scalp and in return the hair will grow faster and healthier. This will help certainly for the times that we are unable to get our hair cut.
"Heat is a big one! If you are going to use heat then I would suggest make your most important product a heat protector. I use Maria Nila Style & Finish Cream Heat Spray (£21.99) which smells amazing and does the job well.
"A miracle product of mine which I can vouch for is Olaplex No.3 Hair Perfector (£26) which is hands down the best product I've ever used for all-round hair health and growth.
"It is an intensive conditioning treatment. I recommend using it once a week as an overnight mask for optimum results!"
Louise's Bride-to-be Beauty Masterclass: Steer clear of the sunbeds + fake it!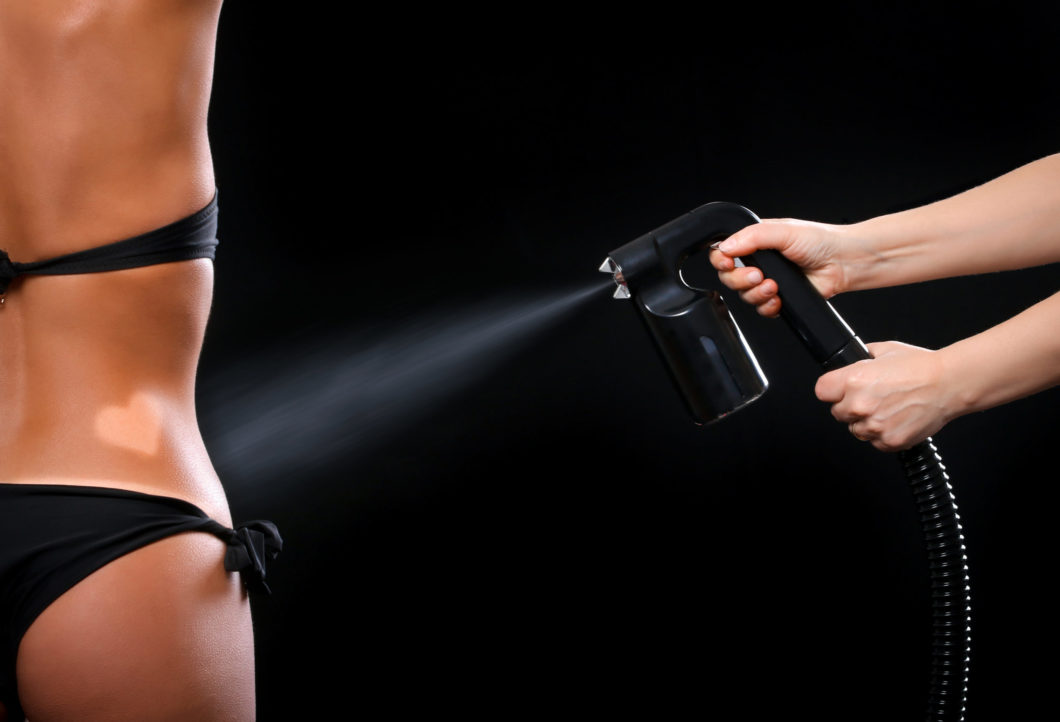 Being bronzed not only helps you glow but also makes you feel good, says Louise.
"I wouldn't recommend any bride-to-be uses a sunbed; not only are they harmful for your health, but you run the risk of burning your skin.
My number one recommendation to brides who want a golden glow on their wedding day is to get a spray tan from a professional who specialises in bridal spray tans.
GET SPRAYED
A spray tan is a much better option. I have been using a brand called Sienna for eight years now, and it's a brilliant bridal spray tan; I've never had any complaints about it, only lovely reviews!
The brand have so many different shades and tones for all skin colours, types and ages, for example, drier skin or more mature skin works best with a hydrating and moisturising spray, without affecting the end result.
The way I spray my brides is slightly different to how I would do any normal spray tan. Firstly, the absolute golden rule is that brides have to exfoliate. It's so important! Moisturise the night before your tan, but not on the day of (you can moisturise your face), and strictly no make-up, perfume or deodorant should be worn when getting the tan.
I don't spray directly under the arm as that's where we run the risk of transfer onto your dress.
There's maximum risk of sweating and rubbing, and any tan would leave marks on your beautiful wedding gown.
The tan should be done two days prior to the wedding. I always recommend a trial to see which shade you like best, which I then note down in your client file. You can go up or down a shade if you like – this small change can make all the difference to the depth of colour. We can experiment.
My bridal spray tan starts at 6% DHA (this stands for dihydroxyacetone, the colorless chemical that reacts with your amino acids to produce colour) solution – this won't give you a tan but can even out the skin tone – then we can go all the way up to 16%, so there really is a shade for everyone, even if a dark tan isn't your look.
Your tan should last five to seven days, if you look after it properly. Moisturise, don't use swimming pools and avoid shaving every day, as this will strip the colour faster.
Sienna Tan fades beautifully, so even the darkest shade will not go patchy whilst your skin is renewing.
DO IT YOURSELF
If you don't have the time or budget to get a professional spray tan, then you can do it yourself at home. I would really recommend that you try this a good few times well in advance of your wedding day if you are going to DIY your tan.
I absolutely love Tanologist Self-Tan Mousse in dark (£14.99). I've found over the last year, clear tans work better on my skin than any colour guide foam or mousse.
I go to bed with a clear, non-sticky tan and wake up lovely and bronzed. My bedding is not stained and there's no colour guide to be washed away. My pores seem to be less clogged with clear formulas also.
You should use a face-specific tan for your face too; I love Tan-Luxe The Face Illuminating Drops (£35). You can customise how much colour you want, and I mix it with my moisturiser so that then tan doesn't feel drying on my skin.
TOP TIP | Use a large soft brush, like a fluffy Kabuki brush, to blend your face and knuckles for even application.
IN AN INSTANT
Although you probably wouldn't want to tan your whole body with instant tan for your wedding, it can be really handy just to hide any visible veins or even out some patches of skin. It's also great to have for your hen do and honeymoon.
My go-to instant tan is Insta Glow by Tanologist (£11.99). It's my saviour most days, and I wouldn't go on a night out without it!
~ T H E  M A N  T A N ~
Tanning isn't just for us brides. A subtle golden glow can make the groom shine too

A recent survey revealed that 70% of women think men should use fake tanning products – so what are you waiting for guys?
An increasing number of men are now realising that fake tan can give a healthy look and a boost of confidence. Not only does it give you a bronzed look, but it also brings out your features, and even defines muscles!
Most importantly, a 'man tan' doesn't expose your skin to sun damage, meaning you can avoid those risk factors of skin cancer and even premature ageing.
Follow my tips to achieve the best fake spray tan possible for men…
Prep your skin. Shave your face 24 hours before the appointment, as shaving afterwards will remove some of the colour. Scrub your body with an exfoliator. Borrow your girlfriend's if you have to! Apply moisturiser the day before your appointment, focussing on face and hands as these can be dry spots. Don't wear aftershave or deodorant before your spray.
Speak with your therapist about what you want to achieve with your tan so that you can get the colour you want. Men often go for a lighter tan, as it looks more subtle – but this depends on your natural skin tone and how well your skin normally tans.
After your spray tan, wear loose and dark clothing so the tan doesn't rub off. Wait at least eight hours before showering it off, and avoid chlorine and gyms for 24 hours.
Once the tan has developed, you'll be left looking and feeling amazing! Once the compliments start rolling in, you'll wonder why you didn't get one sooner.
Until next time! Louise x 
Practising self care in stressful wedding-related situations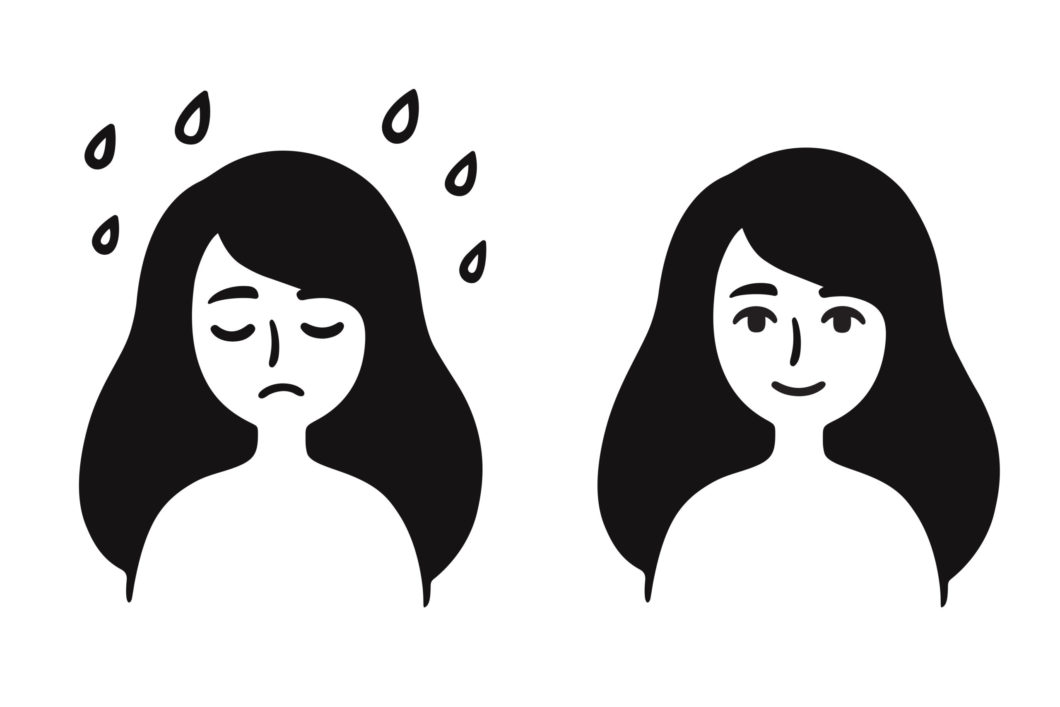 We know that as well as the general anxiety and worry about how the Coronavirus will affect everyday life, lots of couples are facing stress about postponing their weddings or changing their dates to next year.
I spoke to hypnotherapist  Amanda Trainer, to get her advice on how you can cope with negative feelings creeping in.
She's also recorded a very special self-hypnosis session just for brides/grooms who are finding this time super stressful, and you can download that below completely free of charge.
"I know it's easy to say this but stress is not going to help your situation. The only thing that will actually ruin your wedding experience is if you let stress and worry get the best of you, so managing your thoughts is key just now.
Also, positive self-talk is HUGE. It's so important not to torture yourself. Being kind to yourself is absolutely key here. This is not your fault and everyone will completely understand if you have to change plans.
Make a deal with yourself that you won't panic until you have something to actually panic about. Understand that almost everything is fixable.
Everyday, you have a choice to be in control of how you handle the situation you're in. It might feel outwith your control, but if you put a really good, solid morning routine into place then your day will be influenced by that. Go a walk. Listen to some empowering songs. Write down what you're thankful for in a journal.
Speak openly with your partner and share in each others concerns. Meditate together. Think of your thoughts as balloons – the nasty ones, the ones that are making you worry, need to be popped, so grab an imaginary pin and get good at catching them before they float by and replace them with good ones.
Make sure you catch them early too before they get too close.
LET IT GOOOO
Allow yourself to feel what you feel: angry, upset, confused, sorry for yourself, sad, but don't hold onto those feelings too long to the point where it becomes detrimental to your mental and physical health.
This is harsh, but hear me out. Try to understand that not everyone will be as concerned as you are about your wedding day, as hard as that is to comprehend right now.
This is a huge event in you and your partners' lives, and your close family and friends, but perhaps other people outwith your close circle will be worried about other things in their own lives.
Lean on your closest in these times.
SOCIAL DISTANCE FROM SOCIAL MEDIA
Be aware that spending too much time on social media talking about the same thing over and over again gets your mind into a negative place no matter how hard you try to ignore it, so when you catch yourself getting into a negative conversation or reading negative comments under a Facebook post, stop immediately.
If being in a wedding-related Facebook group is just too much right now, mute it for a couple of weeks.
Put your phone down or switch it off if you have to.
IT COULD BE BETTER
Here's a thought: What if your postponed wedding works out even better than your original date would have? What if the weather is going to be nicer, or drier? What if your band will have had more time to rehearse? What if an amazing new anthem has been released and you and your guests can dance to it at the reception? Maybe you wanted to grow your hair a bit longer – you can do that now!
Try to think of all the positives you could take from this, no matter how small or daft they might seem.
If you already have a new date then great. Spend some time creating a new vision board for the day. Get excited all over again! Make your day even better!
Is it in a different season? Think of ways you might want to incorporate that into your wedding now. Write a list of 10 reasons why this change of date could actually be a good thing.
You now have two dates to celebrate – do something nice on your original wedding date. Have breakfast in bed, watch a favourite film together with some nice wine, take an early morning walk and watch the sun come up.
LISTEN TO MY VOICE
I'd love to help each of you, so I have recorded a self-hypnosis track which focuses on self-care. I recommend that you try this in the morning during your new, improved routine. Allow yourself 30 minutes to really reset your brain and de-stress.
And don't worry, hypnosis doesn't 'put you to sleep'! You'll be fully aware of what's going on all through this recording."
How to listen to the self care routine hypnosis recording
Click the Dropbox link below.
Download, wait, plug in your earphones + listen! Make sure you have 30 minutes of time alone for this.
DOWNLOAD THIS SELF CARE ROUTINE FOR BRIDES/GROOMS TO DROPBOX
FOLLOW MRSBRAINTRAINER ON INSTAGRAM //
Why I decided to get Invisalign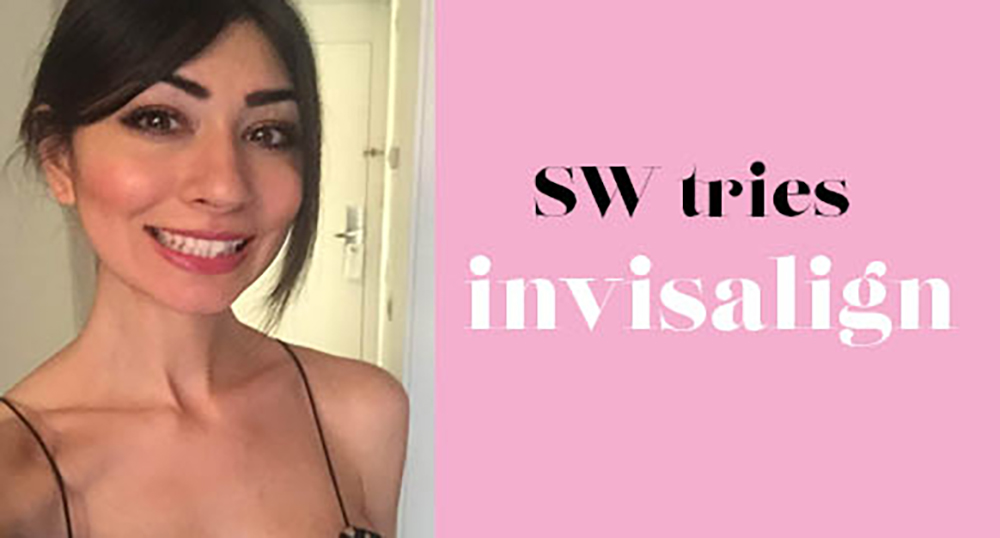 Smartphones have a lot to answer for.
Our parents own a handful of photo albums that document their time as 20- and 30-somethings; we have camera rolls filled with hundreds, if not thousands, of images of ourselves.
And while we're fortunate that we can capture memories with far greater ease than the generations before us, it's surely no coincidence that we're now more aware of the way we look than ever before. I know I certainly am.
That's why a couple of months ago I found myself in the warm and friendly company of Dr Alastair McGill at New Town Dental Care, ready to be fitted for Invisalign braces.
Despite having had train tracks as a teenager to correct an overbite and crowded teeth, I'd noticed over the past few years – primarily via photos, because who's smiling at themselves in the mirror? – that my teeth were starting to get pretty crowded again.
My bottom teeth were crooked, and my left front tooth slightly overlapped the right one. Not distractingly so, but enough for it to have started to bother me.
I hadn't worn my retainer post-braces, so all those years as a teen spent not kissing boys had kind of been for nothing. Bummer.
What is Invisalign, and how does it work?
Who wants a mouthful of metal braces as an adult? Not me.
This is why I liked the idea of Invisalign. It's a set of custom-made clear retainers, known as aligners, designed to fit snugly over your top and bottom teeth so that they're barely perceptible.
I was amazed when Dr Alastair called one of the dental nurses over and asked her to show me her Invisalign aligners. When she grinned, I couldn't see them at all.
The way it works is pretty simple: moulds are taken of your teeth, and then the dentist sends these to Invisalign, who use software to figure out how much work it'll take to sort them out.
Invisalign then create a series of custom aligners that you wear for a week or two at a time – in succession – which gradually nudge your teeth in the right direction until you've got a perfectly straight smile. Whether your teeth are crowded or gappy, misaligned or crooked, Invisalign offers a relatively fuss-free way of fixing them discreetly.
The aligners are worn at all times, but you take them out when you need to eat or drink (unless you're drinking water). The fact that I could take them out was a huge part of the appeal for me; I sing in a band, and worried that a fixed brace might make my already-mediocre voice sound downright terrible.
A genuinely invisible brace that could be removed if necessary? I was totally sold.
How long does Invisalign take?
Depending on the extent to which your teeth need corrected, you may need to undergo treatment for a year or longer, so the sooner you start, the better. Everyone is different so you should consult with your dentist or orthodontist first of all to see what they say – some people only need it for a few months.
My treatment plan, which began in December, said I'd need 14 aligners over the course of around four months. I didn't expect it to be so short (it felt like I had braces for an eternity as a teen). I'll show you now what my teeth were like before I began.
I know, I was deeply scarred by that last one too.
So, as you can see, the bottom teeth situation was un petit nightmare and the top wasn't great either. I also now have a complex about the edges of my teeth being raggedy. Nobody should have to see their teeth this close-up.
But I digress.
The most exciting thing for me has been that because I can take the aligners out, I've been able to see progress in real time. Once I hit the two-month mark I noticed that my top teeth were almost there, and my bottom teeth had markedly improved. I still have a wee bit to go, but it's reassuring to know it's actually working.
That's the great thing about getting Invisalign before your wedding. You might leave it a bit late to start it, or it may take longer than originally anticipated, but even if you haven't quite finished treatment by the time the big day arrives, you'll still have a smile that looks better than it did before you began.
In fact, one of my friends got Invisalign ahead of her wedding and hadn't quite reached the end of the process in time for her big day. She simply didn't wear the aligners when she got married, then continued with them afterwards (and she looked stunning in her wedding pics!).
Is Invisalign painful?
A lot of people have asked me how sore it is, and the honest answer is I've not found it painful at all thus far. Sometimes when I change to a new aligner set and it's a bit tighter than the previous one, my teeth feel a bit tender for a few hours afterwards. It's nothing a couple of painkillers can't quell.
That's not to say there haven't been moments of discomfort. Because my teeth are a bit crowded, tiny spaces had to be created between some of them to make room for movement. This was done via a process called polishing, which in essence involves your teeth being filed with the dental equivalent of an emery board.
I'm really lucky that Dr Alastair is the most gentle, kind dentist I've had as an adult, so even though getting my teeth polished wasn't fun, I felt completely at ease. And it wasn't so much sore as it was a weird sensation.
How much does Invisalign cost?
It of course depends on what dentist you go to and what needs done, but New Town Dental Care tend to charge around £3,000. That cost covers your aligners and your check-ups, and while it's by no means a small sum, it's cheaper than I thought it would be considering how impressive the results are.
I'm not at the end of my Invisalign journey yet so I don't know what those results look like for me right now, but having seen the progress made already, I'm feeling quietly confident.
I'll be keeping you posted here and will do a full write-up for Scottish Wedding magazine with before and after pics once I've reached the end of the (Invisa) line.
You can also follow me on Instagram (I'm @weddingeditor) for more chat!
How to get our make-up cover look with Mitchell + Macinnes Makeup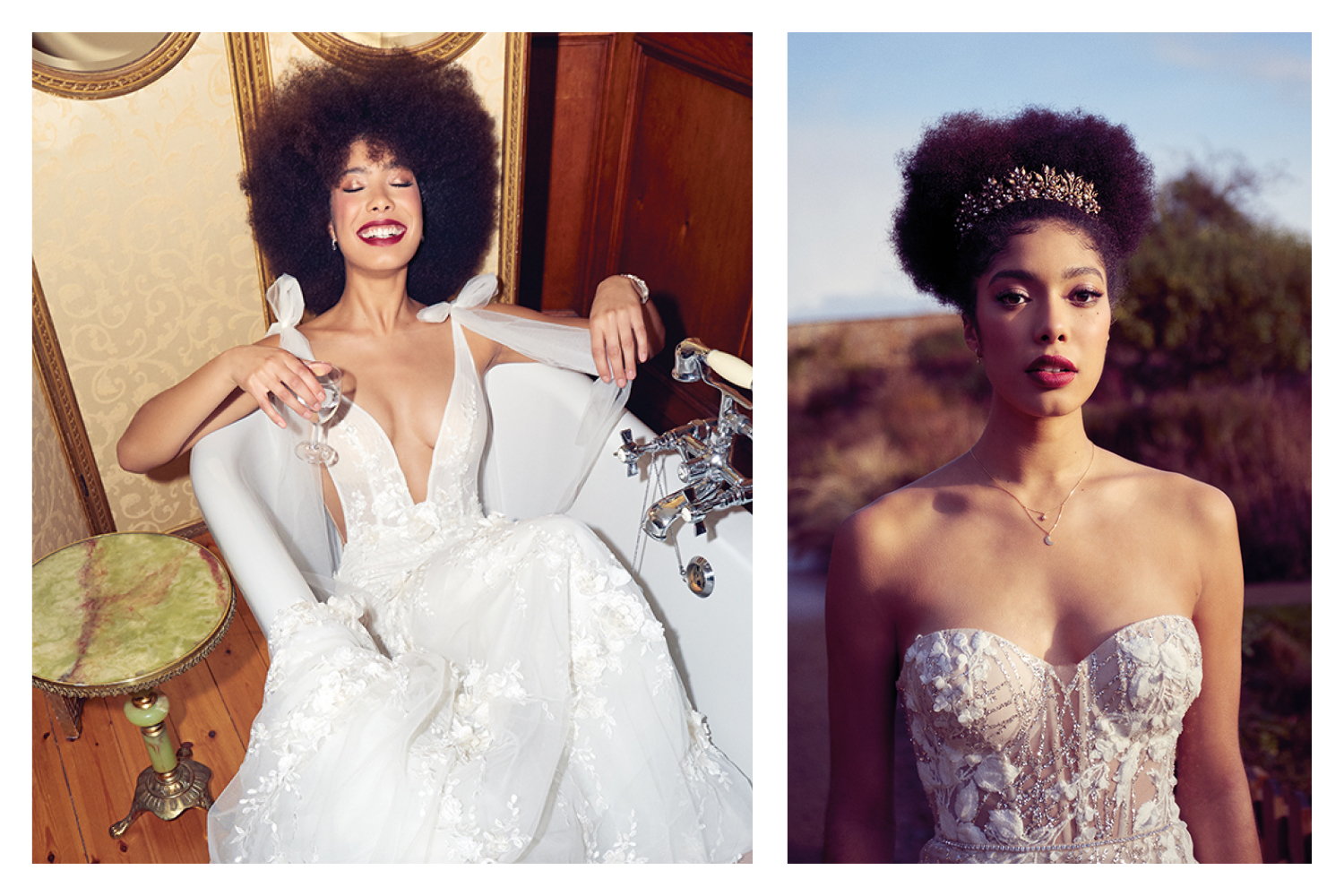 Our model Grace looked GLOWING on the cover of our Winter 2020 edition of Scottish Wedding magazine, so we asked the onset make-up artist, the super-talented Sarah Jane of Mitchell + Macinnes Makeup, what she used to create Grace's dewy-glam look.
Mermaid-style gown with fitted bodice and dramatic train (POA) Opus Atelier
THE GLOWING SKIN
Moisture Surge™ Intense Skin Fortifying Hydrator (£37) clinique.co.uk
Sarah-Jane prepped Grace's skin with this oil-free, multi-purpose gel-cream that moisturises the skin while giving it a much-needed boost of hydration.
Futuredew Oil Serum Hybrid (£23) Glossier.com
To be used after you've done all of your other skin prep, this serum full of nourishing non-greasy oils will help give your skin that lovely dewy glow.
Giorgio Armani Luminous Silk Foundation (£42) feelunique.com
Girogio Armani's silk foundation is worth the hype. This smooth liquid foundation will help you achieve a flawless finish.
Kevin Aucoin The Sensual Skin Enhancer (£31) beautybay.com
This balm-like concealer is ace at sorting out uneven skin tones, and is particularly handy on undereye bags.
THE BLUSHING CHEEKS
Mark: Edward Shetland Moss Donegal jacket (£285), waistcoat (£95) and trousers (£105) with mustard silk knit tie (£28) and white shirt (£74), Walker Slater.
Grace: Soft satin playsuit with floral beaded over-dress (£3,100), Catriona Garforth. 'Orbit' gold vermeil plated beaded silver torque bracelet (£95), ROX. Feather earrings in 18ct rose gold plating (£80) and feather necklace in 18ct rose gold plating (£80), Sweet Rosie Jewellery. Ivory strappy 'Blake' sandals (£79), Rainbow Club.
Ambient Lightening Blush (£35) johnlewis.com
A lovely soft blush mixed with a hint of highlighter to give your skin a natural pop of pink.
Shimmering Skin Perfector Pressed Highlighter (£30) cultbeauty.co.uk
This velvety highlighter illuminates skin by using a small hint of glitter.
Milk Makeup Matte Bronzer (£20.50) cultbeauty.co.uk
This Milk Makeup bronzer is easily applied to the skin and gives the wearer an authentic sun-kissed hue.
Laura Mercier Caviar Stick Eye Colour in 'Moonlight' (£25) spacenk.com
A creamy eye-liner that gives you a glamorous smokey-eye look.
Tom Ford Eye Colour Quad in 'Honeymoon' (£68) selfridges.com
An amazing smokey-eye palette that allows you to create lots of different, dynamic looks.
BROWS + LIPS
Mermaid dress with a deep v-neckline, trumpet-shaped skirt and tulle bow sleeve detailing (£4,495), Kavelle Bridal Couture. 'Whitney' cuff bracelet (£80) and 'Regina' drop earrings from 'Regina' necklace and earrings set (£85), Lily Luna. Shoes model's own.
Boy Brow in 'Black' (£14) glossier.com
This hero product makes your brows look naturally full and luscious.
This deep berry pigment is perfect for brides who want to make a statement with their wedding day make-up.
---
Louise's Bride-to-be Beauty Masterclass: Frame your face with perfect brows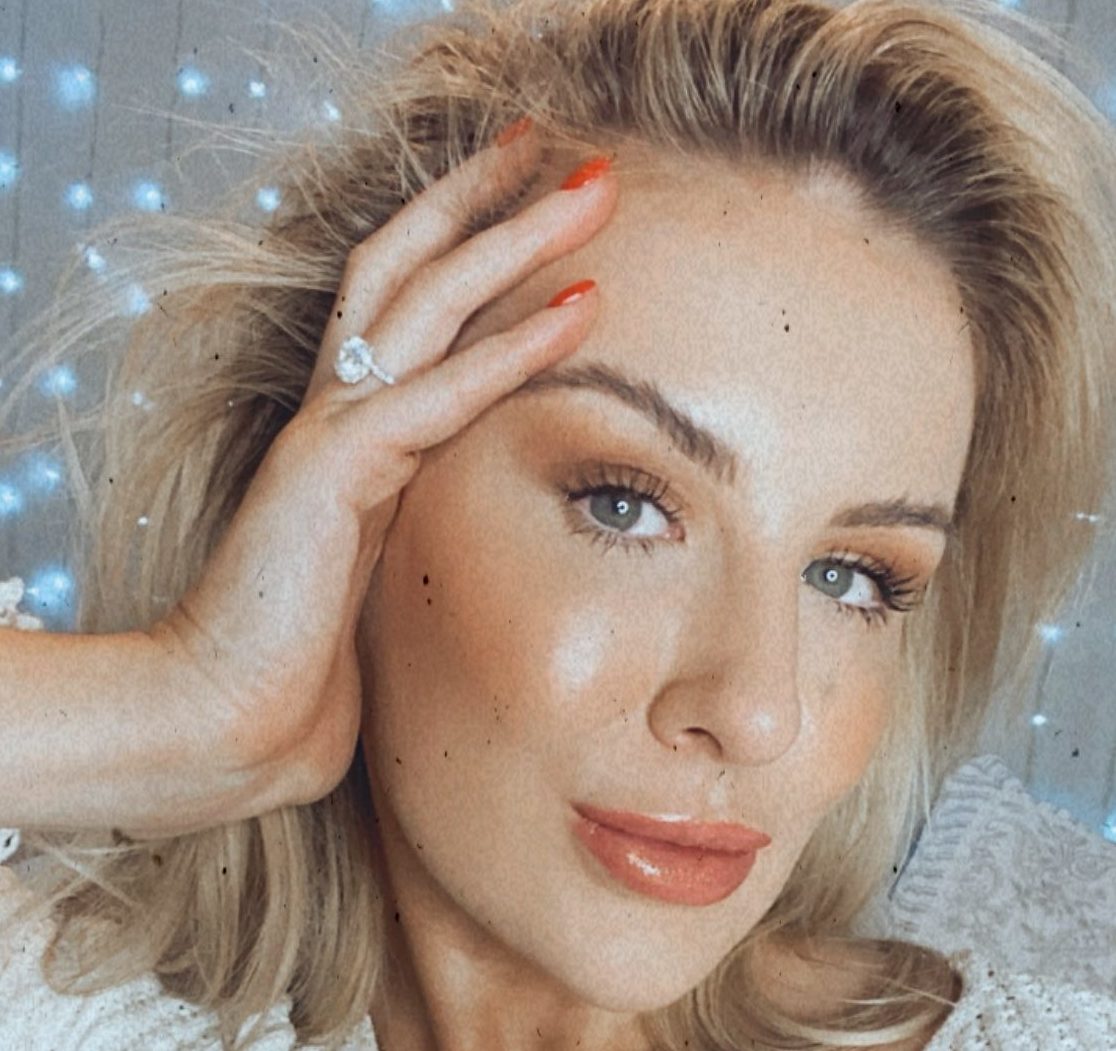 "Eyes are the window to the soul," says Louise Ballantine, "so it makes sense to have good window frames, y'know?"
"The first thing you should do is find a fantastic brow technician that you trust. I'd recommend going for someone who specialises in or offers HD brows, and get started on your brow journey as soon as possible.
Six months before the wedding is a good time to start as you want to aim to have them done every four to six weeks.
The HD technique is definitely different to just a tint and wax. Your brows are mapped out to create the perfect shape for your face, and your colour is custom blended so that it looks natural.
The goal is to create your ideal shape and encourage growth over several appointments.
THE ONLY WAY IS UP!
You may have heard of brow lamination. It's quite new to the eyebrow world, but as soon as I tried it, I knew that it was the perfect treatment for me.
With the lamination, or brow lift, we're able to disrupt the natural flow of the hair and set them in the desired shape. By setting the hair upwards, this widens the whole brow giving a great thickness and instant lift to the eye area.
It's the perfect treatment for people with thin brows, or if your brow hair is unruly.
The most amazing thing about brow lamination is that it lasts eight weeks! It softens the hairs, makes them more flexible and pliable for styling, so you can have them brushed straight up or smooth the edges at the top for a more wearable look.
I recommend using castor oil after the brow lamination to keep your brows in tip-top condition after a strong chemical process.
HELPING HAND
I've also been using a prescription-strength brow and lash serum, available on dermatica.com. I was introduced to Dematica last year and I think it's such a great concept. It's led by pharmacists and dermatologists, and gives you access to a monthly prescription for either acne, anti-ageing, some skin conditions and lash growth.
It can be quite a costly process to go to a dermatologist, and this process is done via the website so cuts the costs right down. My monthly prescription is £44.
YOU COULD BE LIFTED
A lash lift is my everyday beauty secret. I'm never without one; it's the perfect treatment to make you look and feel more awake, and it works well with a low maintenance make-up routine. I think it really opens up my eyes, and even gives the eye area a lift.
It takes around 45 minutes for a lash lift, and lasts between six and eight weeks. It's a popular choice for a bride who is quite natural and doesn't like strip lashes, but would like some more volume and length.
I often do a lash lift on a bride the wedding of the wedding, then just fill in with a few individual lashes.
Until next time! Louise x 
Louise's Bride-to-be Beauty Masterclass: Find the right hairdresser; change your life!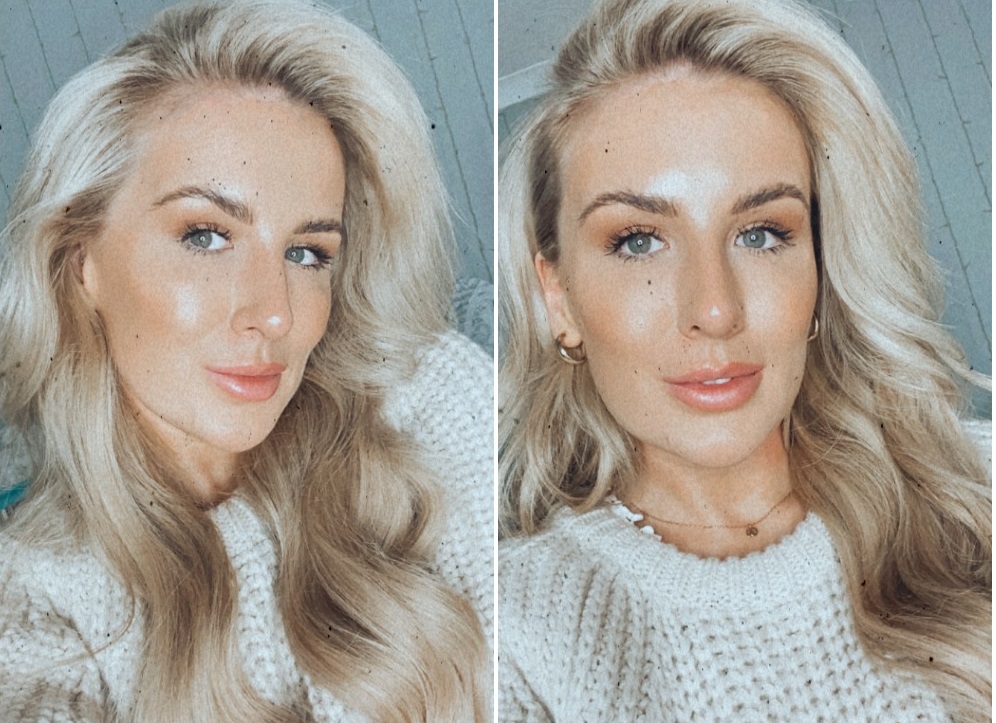 One of the most important step to your dream bridal hair is finding the perfect hairdresser, says Louise Ballantine.
"Find the hair stylist that you love, and let it be a monogamous relationship. Chopping and changing between stylists has, in the past for me anyway, proven to be a bumpy road. If a different person is colouring your hair each time, it can lead to problems with consistency, toning and shading, and worst of all, potentially damaged hair.
Last year, I found my guy, Stuart at Mesart in Glasgow, just in time. I feel so relaxed knowing that he's familiar with how my hair reacts to different colours and products, and I can trust him implicitly with my hair.
Work together with your stylist to create your ideal hair colour or style over a few appointments, and you'll feel more confident knowing that you're not going to have any unwanted surprises leading up to your wedding day.
TOP TIP |  Regular trims are essential – even if it's not changing the style and length much, getting rid of those split ends will keep your locks healthier and avoid more breakage.
---
---
TOP CONDITION
I have coloured blonde hair, so I aim to hydrate, moisturise and repair damage. I like to think of my hair as an extension of my skin almost – it needs hydrated and moisturised, as well as some protein to repair the damage from colour treatment and heat.
Damaged hair tends to grow quite slowly, so I like to use Nioxin shampoo and conditioner. It clears the pores in the scalp which can often get congested with things like dry shampoo and dead skin.
~ LOUISE'S TRIED-AND-TESTED HAIR PRODUCTS FOR DAMAGED HAIR ~
LOUISE USES: Silk pillowcase (£85) | Redken Extreme Strength Builder (£17.60) | Nioxin Shampoo + Conditioner (from £17.70) | Olaplex Hair Perfector No3 (£26) | The Body Shop Shea Butter Hair Mask (£12) | Olaplex No7 Bonding Oil (£26)
STYLE IT OUT
The Olaplex system is not only fantastic for hair growth, hydration and keeping hair healthy, but the products are great for styling too.
I've been loving the Olaplex Bond Smoother, followed by a few drops of the Olaplex No7 Bonding Oil. They work really well together and are the perfect duo to strengthen hair and speed up blow-drying.
They really work at smoothing and protecting the hair against heat damage. They also eliminate frizz and flyaways for up to 72 hours.
TOP TIP |  I recently bought a silk pillow to try and I've been surprised at the positive effects it's had in making my hair less wild and frizzy in the mornings.
Until next time! Louise x 
BLOW set to open new salon in the heart of Glasgow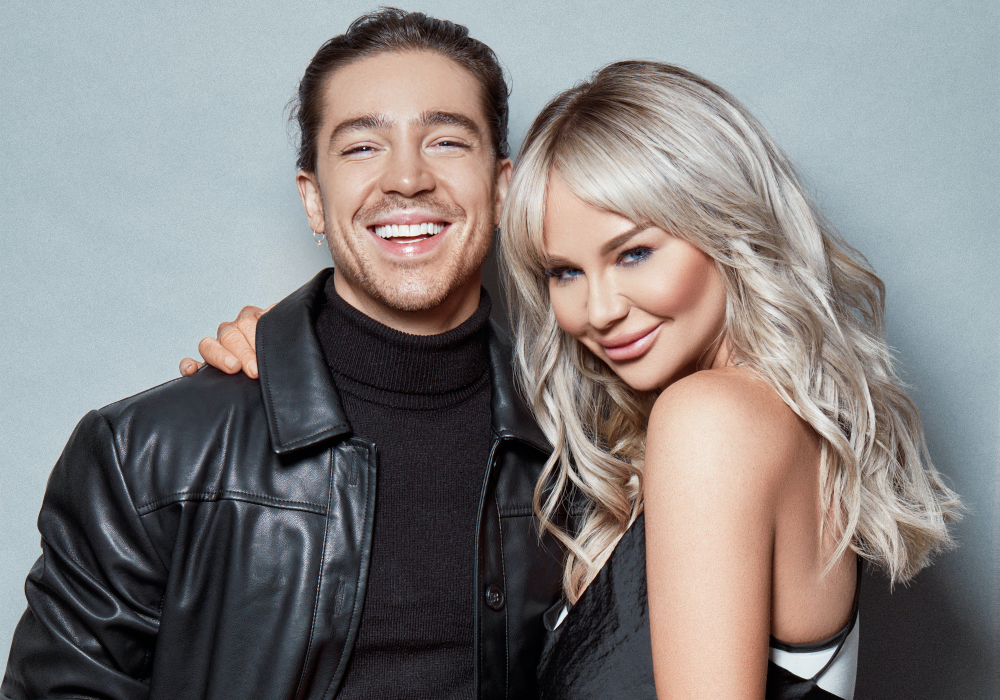 With feet already firmly planted in both Finnieston and Shawlands, BLOW is set to extend its reach by opening the doors of a new venue in the heart of the city.
The launch of BLOW CITY on Queen Street next weekend will see the award-winning brand amp up the volume with 12 hair stations, a gin bar serving up BLOW's signature drinks menu, live DJ sets, and a dedicated hair extension area.
Alongside the new opening, BLOW will also be offering customers the star treatment with the launch of their highly anticipated 'Celebrity Blowdry Collection', a collaboration designed by celebrity hairstylist, Jay Birmingham.
Birmingham's star studded list of clients includes Helen Flanagan, Gemma Collins, Jess Wright, Michelle Keegan, Rochelle Humes, Amanda Holden, and Love Island stars Maura Higgins and Molly Mae to name a few.
PICTURED | Helen Flanagan
Speaking of the exciting collaboration, Jay Birmingham said: "I absolutely loved working with BLOW and the team and can't wait for you all to see the new Celebrity Blowdry Collection. A special shout out to Fallon, and celebrity makeup artist Stacey Whittaker for making the collection come to life."
Already dialing up for an appointment? Hold the phone, there's more: BLOW founder and owner, Fallon Calberry will introduce a unique new concept space for the salon in the form of UNBRANDED.
The space focus on modern self-care and wellbeing, while also showcasing independent beauty and wellness brands such as brow studio BrowJam, makeup masters Onyx and White Rabbit Healing. 
When asked about the imminent launch, Fallon Calberry said: "We have the best designers and team working behind the scenes on our brand new look space. And we are taking things UP A NOTCH! Moving the BLOW brand and concept forward to the next level on this exciting new phase of our journey. It's amazing! We can't wait to share it with you all."
BLOW CITY opens its doors on Saturday 29th February and appointment bookings can be made online now.