Our Opinion: Would you have a joint stag and hen do?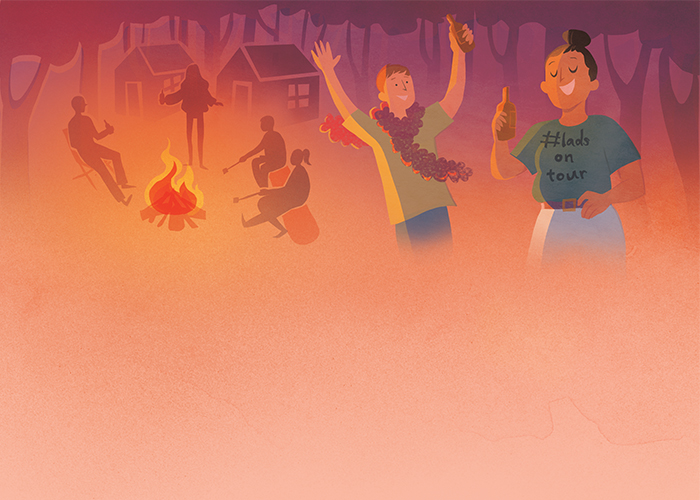 ILLUSTRATION | Sarah Holliday
If you've got loads of mutual pals, should you share your pre-wedding party with your partner?
Maybe I'm just an attention hog, but I totally balk at the thought of having to share a party with someone else when convention dictates it should be thrown solely in my honour – even if that someone else is my soon-to-be spouse.
If my hen party's sole purpose is to embarrass me as much as possible with cheesy strippers (or my pals regaling work colleagues and conservative aunties with deeply mortifying stories about me), so be it.
That's the hen party tradition, and when it happens, it'll be all mine.
I get it though; you're not like those regular brides. You're a cool bride.
The thought of 18 squawking girls on the main strip in Marbella really isn't your bag, and even a chill hen at a log cabin sipping Cosmopolitans out of penis or vagina straws seems a little too contrived to you.
Plus, you and your partner share the same friend group, so it makes sense to have a joint hen and stag – right?
Well, not necessarily. It's vital to have a strong friendship group separate to your relationship, and your hen is the perfect time to celebrate those friendships.
That's not to say your partner can't be friends with your friends and vice versa, but even couples in the happiest relationships should be able to socialise without the other – and do it reasonably often.
If you don't want to do your hen without them, I want you to look at your social life and see what else you're not doing without them. If it's hardly anything, for the sake of your long term sanity and overall health of your relationship, make a change – however small!
The whole point behind the tradition of a hen or stag is to have one last solo hurrah before you're officially off the market.
I'm not usually a stickler for tradition, but in this case I'm a firm believer in enjoying this rite of passage.
After all, you have the rest of your lives (not to mention your wedding!) to party together.
Hen and stag parties have changed dramatically in recent years – a nice meal at your fave Italian followed by a pub crawl just doesn't seem to cut it anymore.
Instead it's all about flying off to Ibiza or Prague or any other country that offers a bit of sun and lethal single measures of vodka for £1.50.
And it gets expensive. Super expensive. Especially if you're already saving for your own wedding or, heaven forbid, a holiday to a destination that you've actually picked yourself.
So whenever I get married, I love the idea of combining mine and my partner's pre-wedding blowouts and planning an amazing party somewhere fun.
And I hope that because all of our couple friends would be able to come together and enjoy a bit of quality time to themselves whilst we're away, it wouldn't be so much of a burden to ask them to splurge a few hundred pounds to get there.
I 100% get the 'you've got the whole rest of your married life to have parties together' argument against joint hen and stags, but so long as you don't suddenly switch to a joint Facebook profile and start inviting your other half to every girls'night in, there's no harm in joining forces and budgets for one great pre-wedding party.
Plus, having a joint hen and stag doesn't mean you have to spend every moment as one big group.
You can always separate and go off to do your own hen or stag activities before meeting up later on for drinks, drinks and more drinks.
I mean, even if you stuck to traditional separate parties you'd only end up propped up outside the bar drunk-dialling your fiancé anyway (don't even try tell me otherwise).
At least if you're all out celebrating together no one has to leave the party to declare their undying love (or make any cold-feet confessions…).
"I'M HAVING A STEN DO!"
"My fiancée and I are sharing our stag and hen as our friends are travelling together from the US to Scotland for the wedding.
Plus we both love the idea of Ibiza, so it seems logical to combine the event!
We'd like to have one night where we party together and another strictly apart so the girls and guys can get their own time."  SAM SMITH
WOULD YOU HAVE A JOINT HEN AND STAG?
What is a zen party hen party and how can I create one in Scotland?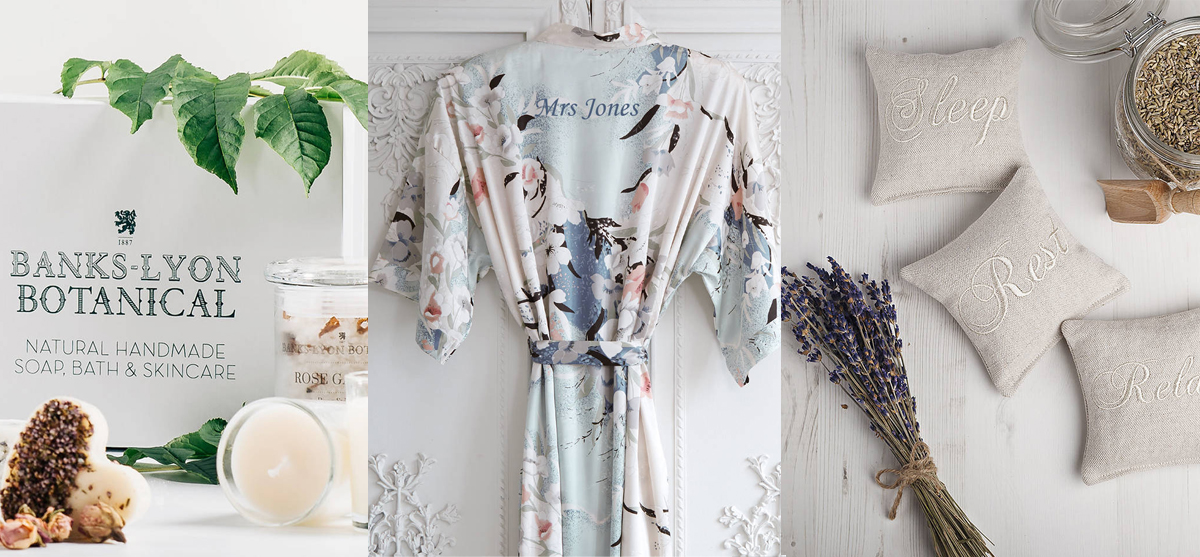 Forget feather boas, sickly shots and butlers in the buff: is the 'zen' party the new hen party?
~ WHAT IS A ZEN PARTY HEN PARTY? ~
We're totally on board for self-care, especially in a busy time wedding planning, so we're not surprised to hear the zen party is becoming more popular with chilled out brides-to-be.
Think comfy slippers, cosy dressing gowns and refreshing retreats for you and your besties to relax and unwind pre-wedding.
It's basically using your hen weekend to take some chill time and indulge in activities and relaxation to make you and your girls feel your best selves.
Fancy a weekend of wellness? Here's some ways to create your own zen party hen party in Scotland. All together now: 'om'.
~ THINGS TO DO FOR A ZEN PARTY IN SCOTLAND ~
TRY HOTPOD YOGA
First inflating (we'll explain that in a second) in Glasgow in March 2018, Hotpod Yoga is Europe's largest yoga business with over 40 locations across 8 countries.
Offering daily classes that are grounded in reality, this unique take on yoga is an active and passive flow of postures in their other-worldly 20 person inflatable Pod. Heated to 37 degrees to supercharge the yoga experience, afterwards you and your hens' minds will be a little calmer, your body a little looser, and yes – you'll all be a whole lot sweatier.
Remember you need to bring water and a towel, but Hotpod Yoga will bring the chilled vibes.
For more information on Hotpod Yoga, click here.
CREATE YOUR OWN CANDLE
What would a zen weekend be without some calming candles? Especially if you get creative and create your own scented joy. There's lots of home candle making kits, like this one, but we're loving Jo Macfarlane's Candle Making Workshops.
You will learn basic candle making skills and take away two beautiful scented candles of two different sizes whilst you enjoy tea or Prosecco and freshly baked scones as the candles are setting.
For more information on Jo Macfarlane's Candle Making Workshops, click here.
MAKE A FLOWER CROWN
Be one with nature, or at least let your accessories embrace the botanical side of life and enjoy a flower crown making class with your zen hens.
Scottish wedding florist, The Floral Design Boutique, is just one of the fabulous florists offering flower workshops for you to enjoy. The two hour classes include all the materials being supplied, along with a little glass of something and nibbles. Well, you can have a zen party and a glass of bubbly…
For more information The Floral Design Boutique's floral workshops, click here.
SUSHI MASTERCLASS
Forget cocktail masterclasses and opt for an afternoon of culinary delights at YO! Sushi's dedicated Sushi School!
You'll sit at the counter with your rolling mat, gloves, condiments, recipe cards and ingredients all laid out in front of you, with the chef taking you through how to make some of their most popular dishes, step by step.
Once you've rolled all your dishes, the team will cut and box them up for you to take away. Plus, you'll also get a professional sushi rolling mat, a guide to sushi making, a certificate and a 25% off voucher for the next time you dine YO! Sushi.
For more information on YO! Sushi's Sushi School in Scotland, click here.
INDULGE IN A SPA DAY
There are so many amazing spas right here in Scotland (check out our Luxury Spa Special in the autumn issue on page 163) and a relaxing spa day is just what you need to really find your zen.
One of our favourites has to be Stobo Castle in Peeblesshire. Surrounded by rolling hills and set around a picturesque loch, the spa offers top-of-the-range face and body treatments as well as a range of holistic therapies such as reiki and crystal healing.
The spa facilities are fantastic, too: in the ladies-only area there's a laconium, aromatic steam room and ice fountain and there are even three hot tubs outside!
Not sure what to pick? The Celebration Spa Day costs from £99 and includes a three-course lunch with coffee, top-to-toe Face & Body glow treatment, use of spa facilties, guided walks inc. the Japanese Water Gardens and optional aqua and fitness classes.
For more information on Stobo Castle's spa days, click here.
GET COOKING
Joe Wicks will have nothing on you and your zen hens after a day at the Edinburgh New Town Cookery School for their Delicious and Healthy Eating one-day course!
You and the girls will arrive at 9.45am, run through the day's recipes then cook dishes that will be suitable for lunch, which you can enjoy with a glass of wine before starting your cooking again to create dishes which you can take home and enjoy later – yum!
The recipes are all low in saturated fats and sugar and can include delish and healthy delights, like chargrilled sea bass with tomato and herb cous cous and frozen mango parfait.
For more information Edinburgh New Town Cookery School classes, click here.
~ HOW TO CREATE A ZEN PARTY IN SCOTLAND ~
WHAT TO WEAR
Pyjamas, robes and slippers are our go-to to set the zen party feels. Here's some of our comfy (and stylish) picks.
Personalised wedding floral robe (£38.50)
Feather pom pom slippers (£39)
TREAT YOURSELF
What is self care if you can't indulge in some chilled treats? Here are just a few pieces that you and your zen hen crew will love.
Create Your Own Personalised Botanicals Pamper Gift Box (£22)
Aromatherapy bath melts (£15.95)
City Zen fragranced candle (£21)
nügg Charcoal & Vitamin C Peel Off Mask (£4.99)
WOULD YOU OPT FOR A ZEN PARTY INSTEAD OF A CLASSIC HEN?
"We had a joint hen and stag!"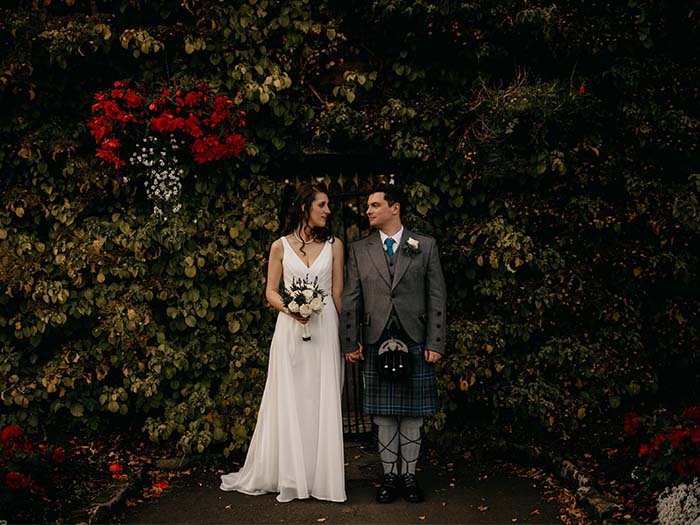 Karyn and Mark share the same group of close friends, so it made sense for them to have a sten do as opposed to two separate celebrations ahead of their wedding at Glasgow's House for an Art Lover.
IMAGE | Neil Thomas Douglas Photography
"The hen/stag tradition was never going to be our kind of thing. In particular, we never understood the traditional gender split of the parties," says Karyn. "We wanted to be together with our friends and take some time out to enjoy the lead-up to the wedding."
The pair planned a relaxed weekend away at a house in Argyll four months before the big day. "We invited our bridesmaids, groomsmen and their partners to arrive and leave as they liked over a long weekend. We had bonfires on the beach, forest walks, long lies, movie nights, good food and, of course, a lot of drinks in the garden!"
Everyone had an amazing time, and Karyn says there are lots of advantages to taking this approach. "No one had to worry about paying for flights or hotels abroad, they didn't need to take time off work if they didn't want to, everyone was free to do their own thing, or we did stuff together like the bonfire on the beach at night," she explains.
"It was incredibly relaxed with no financial or social pressure on anyone. I guess the disadvantage was it was a bit like herding cats at times, but that's how we are in general as a group anyway!"
Would you consider having a joint hen/ stag party with your other half? Let us know your thoughts over on our Facebook page!
There's now a First Dates board game and we need it in our lives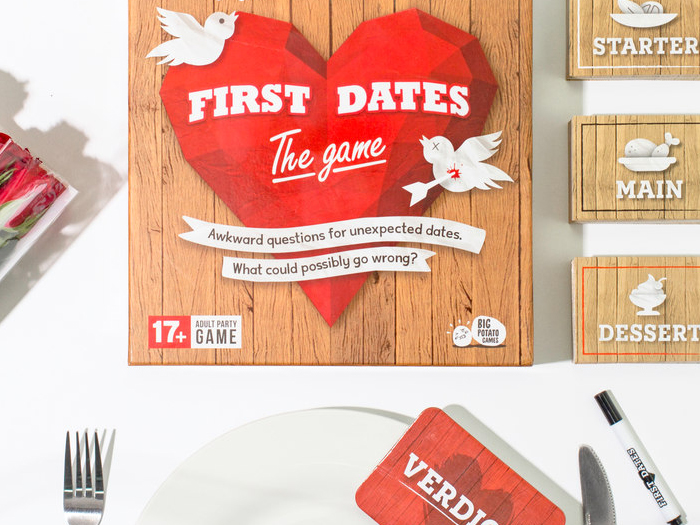 First Dates The Game is here, but it comes with a warning…
It's an understatement to say that Team SWD are fans of First Dates.
We feel like Fred is a close friend and get seriously invested in any daters who show potential of becoming a real life couple, so we're pretty delighted there is now an actual First Dates game!
Yup, First Dates The Game is inspired by our fave TV show, but comes with a twist.
Instead of finding a romantic match, this (strictly adult, FYI) game is set to be hilariously awkward so is best played with mates (i.e. no one you would want an actual date with).
BUY First Dates The Game (£23) ASOS here
You and your besties divide into couples and answer three rounds of increasingly awkward questions to be crowned the best-matched couple in the restaurant.
There's three sets of questions, known as 'Starters', 'Mains' and 'Desserts', to answer as a couple and gain points. Be warned – as the date continues these questions can get pretty personal!
We think it would make for a pretty funny icebreaker at your hen weekend, but maybs not if your mum and auntie Sandra are present…
WOULD YOU DARE TO PLAY FIRST DATES THE GAME? LET US KNOW ON OUR FACEBOOK PAGE!
Here's how much the average hen do abroad will cost Scottish hens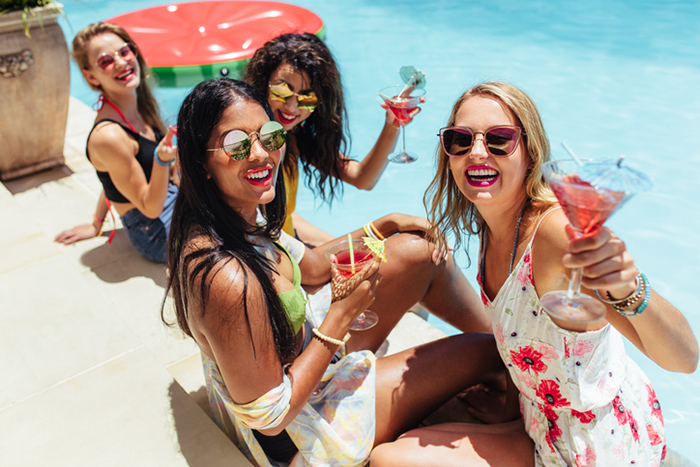 Wedding season is well and truly here, which means it has also been peak time for hens and stag do's – and the cost is going up.
Whilst pre-wedding getaways are a great way to toast the impending nuptials, new research from Hotels.com® reveals that almost half of Scots feel that itineraries are becoming stagnant (48%) and the majority feel that the expense is simply staggering (87%).
HEN DON'T?
The latest poll from the accommodation experts reveals that going abroad for a stag or hen will set you back an average of a whopping £892 abroad and £439 if you stay in the UK – eek!
The poll of 2,000 UK adults found that this ˜stagflation' is increasing with almost two thirds (64%) of Brits having seen prices rise over the last two years.
The rising cost has meant that over a third of Brits have had to make financial sacrifices to attend the festivities including giving up holidays (32%), not buying clothes (43%) and avoiding socialising with pals (54%). The costs have become so high that 29% of people have chickened out of a stag or hen altogether.
ASK THE EXPERT
Johan Svanstrom, President of Hotels.com brand gives is expert opinion. "Stag and hen dos are a great way to celebrate with friends (and maybe some family!) either at home or abroad but we'd encourage everyone to do a bit of research to avoid the ˜been there done that' feeling and the rising cost. There are so many affordable options in interesting locations that can prevent the ˜stag lag' and if you have multiple stags or hens in the pipeline, consider signing up to our Hotels.com Rewards programme.
After booking 10 nights, you receive a reward night for free, which you can either use to treat yourself to a night away or reduce the cost of your next stag or hen. You can even accrue the nights in one go if you are the best man or maid of honour and in charge of the group booking!"
SOMETHING NEW
Another way to make the party less resenting of the cost is to change up the activities, with over half of bride tribes and stag parties happy to splash the cash if the itinerary is something they haven't experienced before (59%).
Almost half (49%) of those polled said they'd actually prefer to go on a stag do off the beaten track and away from tourist destinations with the research showing that there is a clear thirst for quirkier stag and hen destinations with cities such as Valencia, Sofia and Zagreb creeping into the top 30 most popular stag and hen choices.
LOVE ISLAND
Having recently returned from their own pre-nuptial breaks away, Hotels.com teamed up with Love Island couple Alex Bowen and Olivia Buckland to share their top tips for planning the ultimate stag or hen.
Here's the to-be-wed islanders' advice…
WHAT DO YOU THINK? IS THE COST OF HEN AND STAG DO'S TOO HIGH? LET US KNOW ON OUR FACEBOOK PAGE!
Groom for improvement: your groom problems, sorted!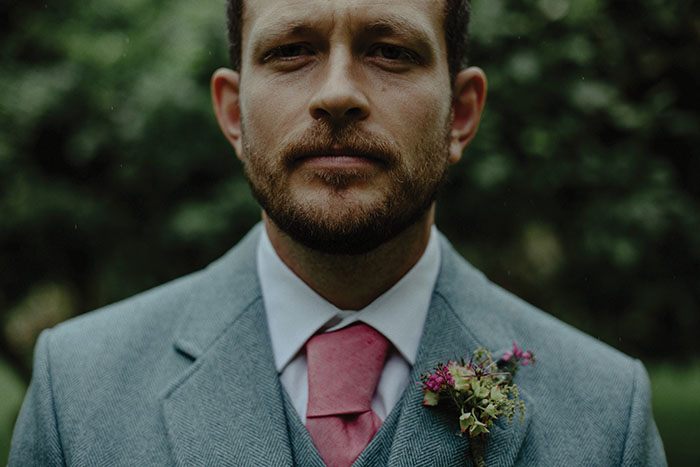 Hey, men: we know you want to be clued up on all things wedding related so we've answered your questions!
IMAGE | Wonderful and Strange
Q. My mum reckons I should shave my beard for the wedding, but I think I'll look weird without it. Thoughts?
There's no denying that beards are on-trend and your mum's probably worried that yours will date as badly as your dad's 70s' sideburns or her dodgy perm.
But think of the men that have been rocking facial fuzz for decades: Dave Grohl, Santa, Brian Blessed. Some men look bizarre without their beard, like a freshly de-shelled egg, and if you're one of those guys then
you should keep yours firmly in place.
Do tame it with a comb and beard oil so it looks tidy, though, like the handsome groom pictured above. The hair on your face should never resemble the hair in your pants.
Q. I want to wear a kilt, but I'd like an upgrade on my usual. How do I make it special?
How about getting your kilt outfit custom-made? Yes, it's pricier than hiring (the average cost is around the £1,000 mark), but unlike the bride's dress, you'll get loads of wear out of it in future.
"You have a say in everything " from the fabric, lining, button style and pocket style of the jacket, to the kilt tartan and the colour of the socks," says Louise from MacGregor and MacDuff. "It means you can have something really unique to you."
For a modern look, go for a tweed jacket and choose a tartan with subtle, earthy colours.
"You don't need to go for your clan tartan," says Louise. "Some men just choose something they like " often a colour that'll match the bridesmaid dresses " and even if you are keen to go with the family tartan, you can usually go for a ˜weathered' version of it, which contains more muted colours than the traditional bright ones."
Q. Am I the worst Scotsman ever if I don't wear a kilt?
Nope. You want to look your best on your wedding day and it's just a fact that some guys look way better in a suit.
Again, it makes sense to go down the bespoke route " a well-fitting suit never goes out of style " or you could buy a suit you love then have it tailored so it looks really sharp.
If you want it to have a Scottish vibe, consider a classy checked or tweed fabric, or wear a tartan tie.
IMAGE | Crieff Photography
Q. I don't want a plain wedding ring, but I don't fancy a blingy one either. What are my options?
"A lot of grooms are going for twotone rings that incorporate two metals, such as palladium and rose gold," says jeweller Timothy J Sharp.
"You could also incorporate a really subtle diamond, or choose a ring with texture." If durability is your main concern, Timothy recommends going for platinum rather than palladium (it's harder wearing), and says that a budget-friendly alternative is tungsten.
Bespoke rings are becoming increasingly popular, too, and allow you to essentially design your own ring with guidance from your jeweller.
Q. I'm freaking out about my speech. What am I supposed to say, exactly?
How much you love your other half, duh. Our advice is to steer clear of the internet (google will do nothing but feed you tired clichés), keep it between five and seven minutes long, thank the people you need to thank and for the rest of the time, speak from the heart.
You could always do a joint speech with your partner if you're nervous about public speaking " doing it together is a fitting note to start married life on, we reckon.
Q. How do I avoid regressing to my awkward teen self during the first dance?
Step one: no rapid winching. Step two: no Westlife songs. Step three: no liberal application of Lynx.
All joking aside, hitting the floor can be daunting when you've spent much of your adult life exclusively dancing to Gangnam Style and R. Kelly's Ignition.
Our advice? If you can't agree on a song that you both feel comfortable dancing to with your own innate skills, go for a couple of dance lessons before the big day to boost your confidence.
And remember that the first dance doesn't have to be a slow number " there are plenty of up-tempo heartfelt songs if you're not much of a waltzer.
IMAGE | Andrew Rae Photographer
Q. My mates and I are too old for a 'bantz' stag in Benidorm. Any ideas for 30-something guys?
How about a whisky distillery or craft brewery tour? Alternatively, if you're after something a bit more refined, Hotel du Vin in Glasgow has a well-stocked whisky room and cigar shack that'll make you feel very Don Draper.
Other ideas we like: renting a lodge somewhere scenic (just add a barbecue, beer and the obligatory pal with a guitar); hitting up a music festival; having a food-themed stag and munching your way around a city renowned for its culinary offerings.
Why Scotland is a winner with hens and stags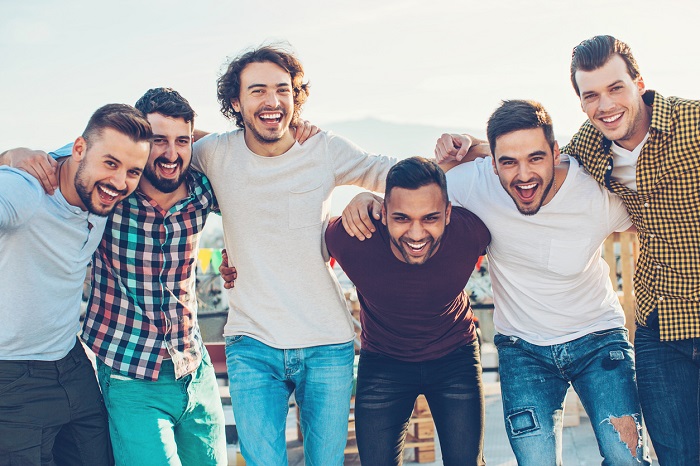 You need look no further than Scotland's two major cities, Edinburgh and Glasgow"to see why Scotland is a winner with hens and stags.
IMAGE | Edinburgh
IMAGE | Glasgow
The historic Scottish capital of Edinburgh has a rich history held within its ancient walls, providing groups of all sizes with informative and fun whisky tours, as well as relaxing Spa days. The vibrant city of Glasgow however, combines exciting activities with a truly stellar nightlife.
Before we begin to divulge why these cities are compelling in different ways, one thing that both locations share is their accessibility. Whether it be Airport access or the train and ferry connections, it's extremely easy to make your way into these cities.
With that said, here are some of the activity and nightlife options available in Glasgow and Edinburgh that are firstly"perfect for hens, and secondly"for stags. With knowledge gathered from HenorStag.com, here are the compelling reasons that keep groups coming to Scotland year on year.
F O R  T H E  H E N S
ACTIVITIES
Both cities are perfect for relaxing weekends, although for different reasons!
For ladies of luxury, the Sheraton Grand Hotel & Spa is a top five star hotel in Edinburgh that is a great choice for a spa break. Widely touted as the best spa in town, the One Spa boasts a 19-metre infinity pool, thermal suite, Espa treatments and an outstanding rooftop hydro-pool.
A well known relaxing alternative to Spa treatments is of course" retail therapy!
Glasgow is one of the UK's top places to shop in, with the ˜style mile' in the city being the largest retail centre outside of London! Glasgow's style mile is home to all the top retailers and independent boutiques, a great spot for many hours of blissful browsing.
NIGHTLIFE
At Hummingbird in Glasgow, you can book a private karaoke booth in one of their glitter rooms. Sip cocktails, enjoy fine dining and sing the night away at a venue that is perfect for hen parties!
Boasting the largest selection of artisan gins in Scotland, it's no surprise that Gin71 is huge with girl groups. You can relax in the lounge and enjoy cocktails and a personally made gin and tonic in chic surroundings.
What's more, Gin71 has three locations"two in Glasgow and one in Edinburgh, so you can get your fill of gin in either city.
F O R  T H E  S T A G S
ACTIVITIES
The Whisky Tours in Edinburgh are a top tourist attraction. Providing Whisky schools, tastings and tours, The Scotch Whisky Experience offer groups a range of different activities that will keep them engaged for hours.
On the other hand, football will always be a huge draw for stag parties to Glasgow, with the city's two major teams"Celtic and Rangers, playing weekly in front of rabid followings. Be in that number on your stag and experience an atmosphere that few other places can rival.
If your mates are avid Golfers, you'll be interested to learn that Haggs Castle"an 18 hole championship course, is just two miles from Glasgow city centre. You can catch a challenging round in the afternoon to earn your evening pints.
NIGHTLIFE
If you and the lads were big gamers back in the day, you'll enjoy the nostalgia that Super Bario provides! This bar and arcade in Glasgow combines a comprehensive range of beers with an even wider variety of classic games.
From original pinball machines to street fighter gaming terminals, you can enjoy a pint as you play your favourite childhood games till late.
An exciting addition to the late night scene, The Corinthian Club is a lavish establishment in Glasgow with an underground casino that looks like a scene from a James Bond movie.
Bring your poker face to the Casino at the Corinthian and reserve a top-class private poker room for your girl gang or stag group! You are sure to feel like a million dollars!
Alternatively, if you wish to experience a night out in Edinburgh, Cabaret Voltaire is a basement vault complex with a bar that serves craft beers and pizza. Live music is also performed with the vault staying open until late, as this venue is all-encompassing and worthy of any stag do.
There you have it! Here are just a few reasons as to why you'd want to take your group of guys and gals to Scotland, as both Edinburgh and Glasgow are unforgettable cities!
For more advice on planning a hen party or stag do, be sure to check out HenorStag.com
Prince Harry's upcoming royal stag do predictions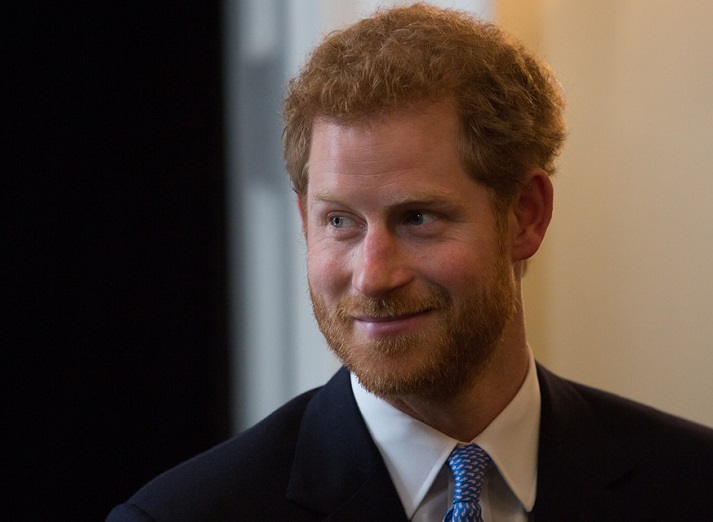 It's been big news this week and – with the next Royal Wedding date set for May 2018 – talk has already turned to Prince Harry's stag do!
New research by events company Chillisauce.com has revealed the top predictions that the British public have made for the upcoming royal stag do and wedding, with the top guesses for Prince Harry's Best Man and where the stag will take place.
Who will be Prince Harry's Best Man?
The study was carried out following the news of the royal engagement and 2,062 people aged 18 and over from around the UK were quizzed. Respondents were asked about how they thought the wedding planning and the big day would play out, particularly the stag do and Harry's choices.
Initially respondents were asked, "Who do you think Harry will choose to be his best man?" to which the following five answers emerged as the most popular guesses:
1.       Guy Pelly " 29%
2.       Prince William " 25%
3.       Tom Inskip " 17%
4.       Jack Mann " 11%
5.       Arthur Landon " 7%
Harry with sis-in-law Kate and brother William
Will Prince Charles attend Prince Harry's stag do?
Participants were then asked whether they thought that Prince Harry would invite his father, Prince Charles, to the stag do, with more than three quarters, 76%, predicting that he would. All of those taking part in the poll were then asked the same question, but this time regarding Prince Phillip, to which more than one fifth (22%) said they believed he'd be invited.
Where will Prince Harry's stag do take place?
All individuals were asked where they believed Harry would celebrate his stag do. Participants were provided with a long list of possible answers and were asked which they thought would be the top destination pick for the groom-to-be. The following five responses were the most popular predictions
1.      Las Vegas " 24%
2.      St Tropez – 21%
3.      Monaco – 18%
4.      Dubai " 11%
5.      Amsterdam " 6%
FUN AND GAMES
When participants were asked what activities they believed the stags would get up too, gambling (33%) shooting (24%) and horse racing/polo (20%) topped the list.
Finally, respondents were asked whether they believed Prince Harry would be photographed during his stag doing something inappropriate, with the majority, 82%, believing that this will be the case.
"The royal wedding is cause for much excitement; Prince Harry has always had a bit of a ˜bad boy' edge about him and it would certainly seem from this poll that he still hasn't shaken off his party animal reputation," says Mike Chidzey, spokesperson Chillisauce.com.
"Whatever happens on the stag, I think it's safe to say it will be a lot of fun. We do enjoy the image of Prince Charles and Phillip joining in on the celebrations too!"
Our Opinion: Has the traditional stag do had its day?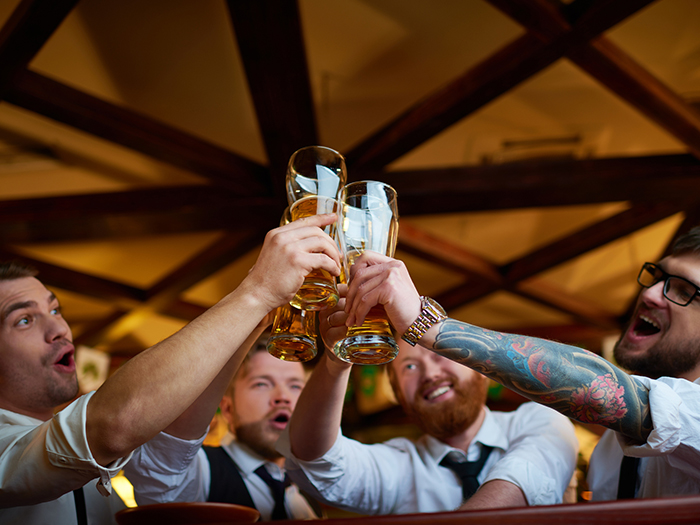 Recent research suggests many men don't enjoy a hedonistic stag do, but feel pressured into having one by their mates. Is it time to declare the boozy prank-filled stag over?

NO! Says Matthew Gaffney, your social life is about to become more family-oriented, so your stag should be on the wide side!
Boozy nights, strip clubs and fancy dress " a stag do is the perfect send-off for any groom-to-be. There's no better way to spend your stag than surrounded by your best mates for one last night of freedom. It's a rite of passage that every man deserves, and why shouldn't we? We've just signed up to a future of mortgages, bills, family commitments and debt, so there's no harm in having a final wild hurrah.
In fact, sometimes the stag do is more fun than the actual wedding. When else would you see Big John from the office dressed as a chicken, or get to experience drinking copious amounts of alcohol in a gentlemen's club with a bunch of random pals?
˜Best weekend ever' is how I would describe a recent stag do I attended " though I might be a wee bit biased. It was my brother's, so as best man I was tasked with the challenge of organising the best stag do ever.
No pressure! Fifteen of us jumped on a plane to Spain and I can honestly say it provided some unforgettable drunken memories, some of which should never be repeated. It certainly gave all the men something to laugh about on the day of the wedding.
As someone who had watched and enjoyed The Hangover, I naturally was a bit apprehensive about how the stag celebrations would unfold, but there was no need to worry. It's not all shaved eyebrows, being tied to a lamppost and spending the night in jail, you know; it's actually all about the banter and camaraderie that naturally comes when a bunch of lads get together.
Every guy deserves a stag do, whether it's a few pints in the local or a weekend in Prague. Is it time to say goodbye to the traditional debauched ways of celebrating your last days as a single man? Absolutely not. After all, it's a stag do " not a stag-don't.
IMAGE | Karol Makula
YES! Stephen Gallacher is ready to retire his status as a lad after experiencing several variations of the same stag do.
Lads, eh? What are all the lads like? All the lads on tour for the stag do! All the top lads getting together at the airport. Look at the lads, all exchanging banter wearing primary-colour shirts and drinking pints of cooking lager.
All the lads, walking up the steps to the aeroplane, talking about five-a-sides and how they're already going to be sick. Those lads, giving some banter to the air hostess. "Give us a smile, doll," they wink. "Yeah I'll have another cider," one slurs. "I'm sorry for my friend's behaviour, please don't phone the police at the other end," begs another.
All the top banter lads on tour, one of them has indeed been sick, getting off the plane in a European capital (it doesn't matter which one). Lads, eh? They're oblivious to a 16th-century Gothic cathedral which survived the Red Army's advance in 1944, but have noticed t's only a pound for a beer.
The top banter cheeky lads are there in a bar, remembering the time one of the gang, called something like Pumba Pete or The Fiend, got into a fight with a bin in Prague. Typical, it's the strippers for them next "good old lads, up to their high-jinks! They just love it when a bored lady gyrates on them in her pants while she thinks about going to Euro-Tesco for fags after she finishes.
Look at the fearful lads, they're having a great time! Pumba Pete is a laugh, isn't he? He peed in a cafe and got them all thrown out of a wine bar. Ooft, a bit cheeky!
Need I go on?
Here's an idea. Instead of a weekend immersed in a cloud of Krusovice and shame, consider this: a real stag is a fine, noble creature that you don't often see wearing a t-shirt saying Big Dave's Wolfpack 2017. So what about doing something like having a nice meal with your mates? How about being a bit more polite and inviting, I don't know, some women?
After all, we're not just lads any more.
For ideas of what to do for your stag do head over to our Hen & Stag Do Ideas of the Directory!
A gift for your groom that's as unique as he is from Jack Daniel's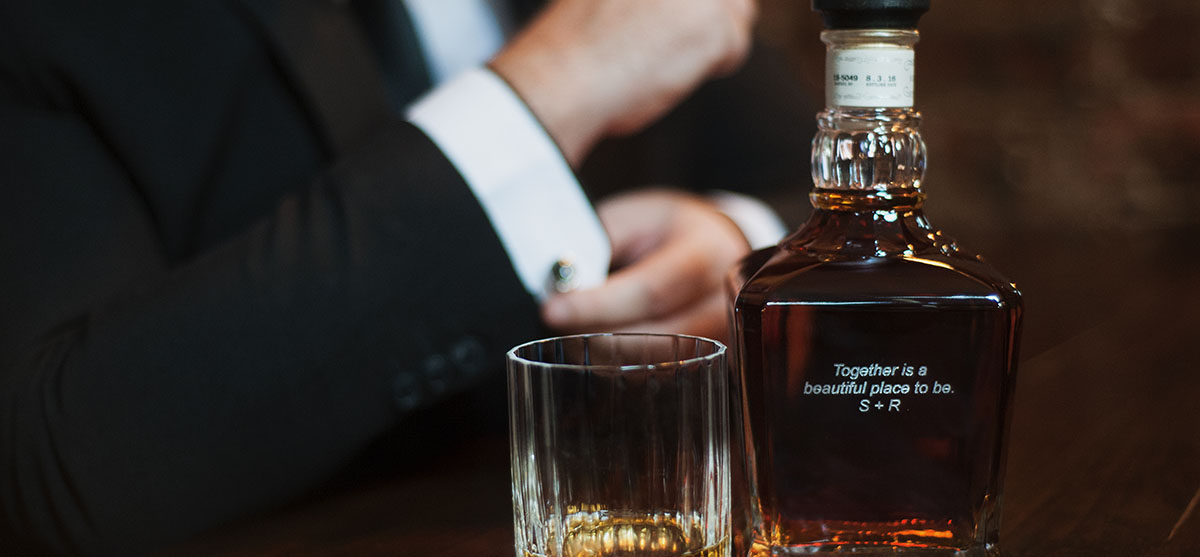 Buttonhole: Cherry Blossom // Cufflinks: Sweet Rosie Jewellery // Calligraphy set: Lamplighter London
Photography: Eve Conroy at The Finnieston, Glasgow
Finding a gift for your groom to give on your wedding morning can be tricky.
This man is taking his place beside you on the most important day of both your lives, so it's really important that your gift to him represents his uniqueness, and how special he is.
There's a balance to be struck between finding something that means a lot to both of you, and can be enjoyed by your other half amidst the excitement and nerves of the wedding morning.
SOMETHING EXTRA SPECIAL
We've found a gift that ticks all those boxes and more, in Jack Daniel's extra-special Single Barrel whiskey.
A unique occasion calls for a very unique gift and that's exactly what this is; only one out of every 100 barrels are hand-selected by the Jack Daniel's Master Tasting Panel as having met the standard.
Card: Text from a Friend // Buttonhole: Cherry Blossom
Sent to mature in the highest reaches of the barrelhouse, the extremes in temperatures across the seasons creates the bold and robust flavours of the whiskey inside.
Each individual bottle of Jack Daniel's Single Barrel has its own exclusive taste, hand-labelled and marked with a unique rick number and bottling date.
MAKE YOUR MARK
Presented beautifully in a cardboard gift box, the bottle can be personalised with a loving message from you to your groom; maybe a lyric from your first dance together, or a quote that means a lot to you.
You could even keep it simple with your names and wedding date.
Cufflinks: Sweet Rosie Jewellery
Leave the bottle with a card for your groom to find on the morning of your special day. It's a gift that perfectly encapsulates how special he is to you; he's one-of-a-kind.
Jack Daniel's Single Barrel is aimed at responsible drinkers, aged 18 years old and over only. Please enjoy responsibly.
You can order a bottle of Jack Daniel's Single Barrel Whiskey with engraving for £45.99, exclusively from the Jack Daniel's online store.