30 examples to help you write unique + romantic wedding vows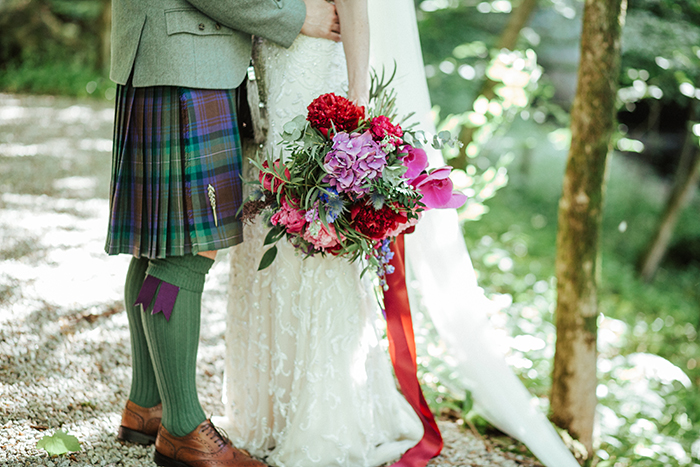 IMAGE | Tandem Photo
Writing your own unique and romantic wedding vows can be tricky. Where do you begin?
Whether you're looking for lovely wedding vows for your husband or wife, take inspiration from some of these examples below; from traditional, to funny, to tear-jerking!
1.     Today, I promise you this: I will laugh with you in times of joy, and comfort you in times of sorrow. I will share in your dreams and support you as you strive to achieve your goals.
I will listen to you with compassion and understanding, and speak to you with encouragement. Together, let us build a home filled with learning, laughter and light, shared freely with all who may live there.
Let us be partners, friends and lovers, today and all of the days that follow.
2.     I take you as you are, loving who you are now and who you are yet to become. I promise to listen to you and learn from you, to support you and accept your support.
I will celebrate your triumphs and mourn your losses as though they were my own. I will love you and have faith in your love for me, through all our years and all that life may bring us.
3.     You are my best friend. I love you with all my heart and stand here before all of our friends and family, sharing the happiest day of my life.
I want nothing more than to share my future with you " my triumphs and my challenges, my joys and my sorrows. Together, I know we can accomplish the life we both dream of living.
4.     I promise to remember that neither one of us is perfect. But strive to remind myself of the ways that we are perfect for each other.
5.     And even though I'm unsure about most things in life, I am certain that I love you and will continue to love you forever.
---
Ooh-la-la! Check out 31 of the most romantic wedding venues in Scotland 2019
---
6.     I'm so lucky to be in love, to have a willing hand to hold, to know that we'll stand side by side, until we're grey and old.
7.     I'm so lucky to have met my match, to have found my missing link, to know you try to understand, the way I feel and think.
8.     I'm so lucky to feel connected, like you're an extension of me. We share hopes and ambitions, of how our lives should be.
9.     I'm so lucky I am with you, and as we say I do, the luckiest thing of all is that you feel the same way too.
10.  I choose to give you my whole heart, with abiding courage and faith. I choose to laugh, cry and grow with you. To respect, encourage and support you. I choose our unconditional love. I choose our forever.
IMAGE | Fern Photography
11.  I feel like everything in my life has led me to you. My choices, my heartbreaks, my regrets. Everything. When we're together, I know my past has been worth it. Because if I had done one thing differently, I might never have met you.
12.  Love isn't perfect. It's not a fairytale or a storybook, and it doesn't always come easy. Love is overcoming obstacles, facing challenges, fighting to be together, holding on and never letting go.
It is a short word, easy to spell, difficult to define, and impossible to live without. Love is work, but most of all, love is realising that every hour, every minute, every second of it was worth it because we did it together.
13.  You are the one I want to binge watch Netflix with forever/ I promise not to watch the next episode without you.
14.  I can't promise you that dark clouds will never hover over our lives, or that the future will bring us many rainbows. I can't promise you that tomorrow will be perfect or that life will be easy. I can promise you my everlasting devotion, my loyalty, my respect, and my unconditional love for a lifetime.
15.  Because when I look at you, I can feel it. And I look at you, and I'm home. " Finding Nemo
---
You'll love this winter wedding by the water with stunning florals at the Loch Lomond Arms, Luss 
---
16.  I can promise that I'll always be here for you, to listen and to hold your hand, and I'll always do my best to make you happy, and make you feel loved. I can promise that I'll see you through any crisis, and pray with you, dream with you, build with you, and always cheer you on and encourage you.
I can promise that I'll willingly be your protector, your advisor, your councillor, your friend, your family, your everything. I promise you.
17.  I promise to grow with you and support you, I promise to be patient, understanding, and kind, I promise to listen and share, I promise to create, to explore, and be curious.
In good times and in bad, I promise to love you, I will make sure there is always coffee, I promise to be my best for myself, for us, and for our future together.
18.  I promise to bring out the best in you, because you bring out the best in me.
19.  I vow to pretend that I am interested in Match of the Day/your latest video game/your golf handicap.
20.  And do you solemnly swear to protect me from spiders, as long as we both shall live?
IMAGE | Emma Gray Photography
21.  It was always you.
22.  I can't wait to grow old together and look back at this beautiful moment – I'm so excited for all the joy of our life to come!
23.  Today I am marrying my best friend. You are the love of my life and my soul mate.
Thank you for loving me completely, and for giving your heart to me.
Thank you for always being kind, loving and supportive of me. Thank you for always telling me I'm beautiful and being so proud to call me yours.
Thank you for making me laugh and always seeing the positive in everything.
Thank you for always making me feel significant and for loving me unconditionally.
24.  I see these vows not as promises but as privileges: I get to laugh with you and cry with you, care for you and share with you. I get to run with you and walk with you, build with you and live with you.
25.  We're all a little weird, and life's a little weird. And when we find someone whose weirdness is compatible with ours, we join up with them and fall in mutual weirdness, and call it love.
26.  I swear, I will do anything I can to make you happy. I'll take care of you when you're sick. I'll cuddle you when you're cold. I'll tell you funny stories when you're sad. I'll cook for you. I'll sing to you when we're on long drives. Anything you want to do, you know I'll be right by your side.
---
11 readings that would be perfect for a humanist wedding ceremony 
---
27.  You are such a perfect little arrangement of atoms.
28.   You have been my friend, my girlfriend, my fiancé, and now my wife. You are all those things and more – you are my love, my dream, and my devotion – no matter the name, you are my everything.
29.  I vow to help you love life, to always hold you with tenderness, and to have the patience that love demands, to speak when words are needed and to share the silence when they are not.
To live within the warmth of your heart, and always call it home.
30.  I promise to make you a bacon sandwich every time you're hungover.
Ideas for meaningful readings for your wedding ceremony + vows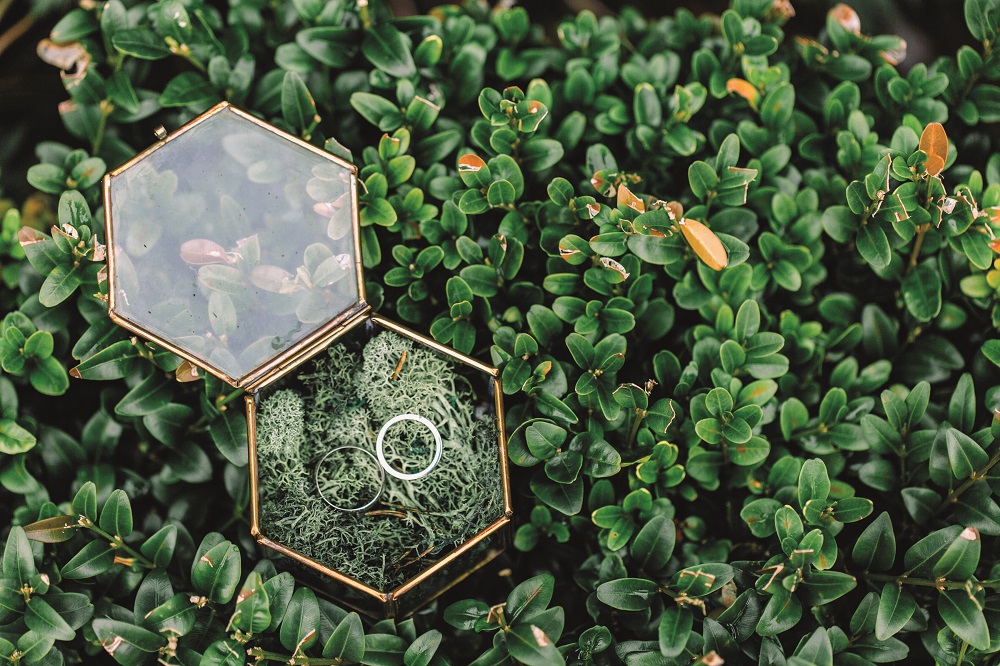 Are you looking for a different, more meaningful wedding ceremony reading, or something to add into your personal wedding vows? 
Take a look at these lovely wedding readings, both religious and non-religious, that might fit into your special day. 
"Leslie and Ben" (Season five, episode 14) Parks and Recreation
"The things that you have done for me to help me, support me, surprise me, to make me happy, go above and beyond what any person deserves.
You're all I need.
I love you and I like you.
The Holy Bible, Ruth 1:16-17 
But Ruth said, "Do not urge me to leave you or to return from following you. For where you go I will go, and where you lodge I will lodge. Your people shall be my people, and your God my God.
Where you die I will die, and there will I be buried. May the Lord do so to me and more also if anything but death parts me from you."
When Harry Met Sally 
"I love that you get cold when it's 71 degrees out. I love that it takes you an hour-and-a-half to order a sandwich.
I love that you get a little crinkle above your nose when you're looking at me like I'm nuts. I love that after I spend the day with you, I can still smell your perfume on my clothes.
And I love that you are the last person I want to talk to before I go to sleep at night. And it's not because I'm lonely, and it's not because it's New Year's Eve.
I came here tonight because when you realise you want to spend the rest of your life with somebody, you want the rest of your life to start as soon as possible."
---
Find a Scottish wedding celebrant in our online directory
---
I'll Be Your Mirror, The Velvet Underground 
I'll be your mirror
Reflect what you are, in case you don't know
I'll be the wind, the rain and the sunset
The light on your door to show that you're home
I find it hard to believe you don't know
The beauty you are
But if you don't, let me be your eyes
A hand to your darkness, so you won't be afraid
When you think the night has seen your mind
That inside you're twisted and unkind
Let me stand to show that you are blind
Please put down your hands
'Cause I see you
I'll be your mirror
Extract from Everything I Know About Love, Dolly Alderton 
"I know that love can be loud and jubilant. It can be dancing in the swampy mud and the pouring rain at a festival and shouting 'YOU ARE F***ING AMAZING' over the band.
It's introducing them to your colleagues at a work event and basking in pride as they make people laugh and make you look lovable just by dint of being loved by them… It's a big, beautiful, ebullient force of nature.
And I also know that love is a pretty quiet thing.It's lying on the sofa together drinking coffee, talking about where you're going to go that morning to drink more coffee. It's folding down pages of books you think they'd find interesting.
It's hanging up their laundry when they leave the house having moronically forgotten to take it out of the washing machine…I know that love happens under the splendour of moon and stars and fireworks and sunsets but it also happens when you're lying on blow-up air beds in a childhood bedroom, sitting in A&E or in the queue for a passport or in a traffic jam.
Love is a quiet,reassuring, relaxing, pottering, pedantic, harmonious hum of a thing; something you can easily forget is there, even though its palms are outstretched beneath you in case you fall."
He's Not Perfect, Bob Marley
He's not perfect. You aren't either, and the two of you will never be perfect. But if he can make you laugh at least once, causes you to think twice, and if he admits to being human and making mistakes, hold onto him and give him the most you can.
He isn't going to quote poetry, he's not thinking about you every moment, but he will give you a part of him that he knows you could break. Don't hurt him, don't change him, and don't expect for more than he can give.
Don't analyze. Smile when he makes you happy, yell when he makes you mad, and miss him when he's not there. Love hard when there is love to be had.
Because perfect guys don't exist, but there's always one guy that is perfect for you.
Not quite right for your wedding ceremony?
11 readings that would be perfect for a humanist wedding ceremony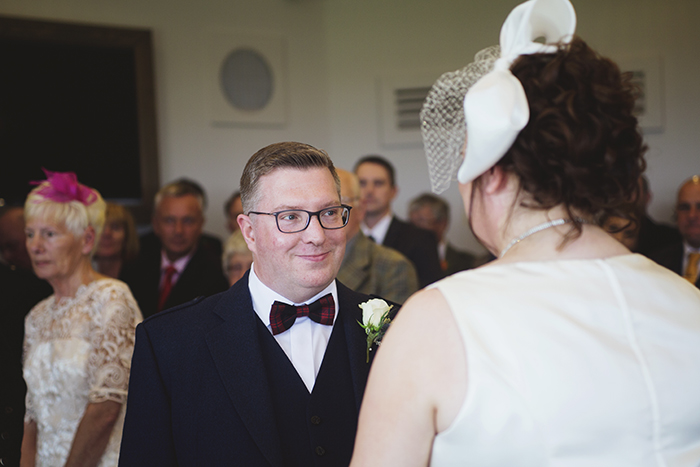 Are you having a humanist wedding ceremony in Scotland? Looking for the perfect non-religious reading for your wedding? We've found a few that you're going to love. 
IMAGE | Laura A. Tiliman Photography
1.       Carrie Bradshaw, Sex and the City (season two, episode 19)
His hello was the end of her endings.
Her laugh was their first step down the aisle.
His hand would be hers to hold forever.
His forever was as simple as her smile.
He said she was what was missing.
She said instantly she knew.
She was a question to be answered.
And his answer was "I do."
2.       Charlotte Bronte, Jane Eyre
I have for the first time found what I can truly love—I have found you. You are my sympathy—my better self—my good angel; I am bound to you with a strong attachment. I think you good, gifted, lovely: a fervent, a solemn passion is conceived in my heart; it leans to you, draws you to my centre and spring of life, wraps my existence about you—and, kindling in pure, powerful flame, fuses you and me in one.
3.       Sandra Boynton, Your Personal Penguin
"I like you a lot. You're funny and kind. So let me explain What I have in mind. I want to be Your Personal Penguin. I want to walk right by your side. I want to be Your Personal Penguin. I want to travel with you far and wide."
4.       Albert Einstein, on the theory of Relativity
Gravitation cannot be held responsible for people falling in love. How on earth can you explain in terms of chemistry and physics so important a biological phenomenon as first love? Put your hand on a stove for a minute and it seems like an hour. Sit with that special girl for an hour and it seems like a minute. That's relativity.
5.       Taylor Mali, Falling in Love is Like Owning a Dog [an extract]
Falling in love is like owning a dog.
On cold winter nights, love is warm. It lies between you and lives and breathes and makes funny noises.
Love wakes you up all hours of the night with its needs. It needs to be fed so it will grow and stay healthy.
Love doesn't like being left alone for long. But come home and love is always happy to see you.
It may break a few things accidentally in its passion for life, but you can never be mad at love for long.
Is love good all the time? No! No!
Love can be bad.
Bad, love, bad!
Very bad love.
Love makes messes. Love leaves you little surprises here and there.
Love needs lots of cleaning up after. Sometimes you just want to get love fixed.
Sometimes you want to roll up a piece of newspaper and swat love on the nose,
Not so much to cause pain, just to let love know don't you ever do that again!
Sometimes love just wants to go for a nice long walk. Because love loves exercise.
It runs you around the block and leaves you panting. It pulls you in several different directions at once,
Or winds around and around you until you're all wound up and can't move.
But love makes you meet people wherever you go. People who have nothing in common but love Stop and talk to each other on the street.
Throw things away and love will bring them back, again, and again, and again.
But most of all, love needs love, lots of it.
And in return, love loves you and never stops.
IMAGE | Ross Alexander Photography
6.       Pocahontas, If I Never Knew You
If I never knew you.
If I never felt this love.
I would have no inkling of.
How precious life can be.
And if I never held you.
I would never have a clue.
How at last I'd find in you.
The missing part of me.
If I never knew you.
I'd be safe but half as real.
Never knowing I could feel.
A love so strong and true.
I'm so grateful to you.
I'd have lived my whole life through.
Lost forever.
If I never knew you.
7.       John Lennon, In My Life [an extract]
But of all these friends and lovers
There is no one compares with you
And these memories lose their meaning
When I think of love as something new
Though I know I'll never lose affection
For people and things that went before
I know I'll often stop and think about them
In my life, I love you more.
8.       Rev. Daniel L. Harris, These are the Hands
These are the hands of your best friend, young and strong and full of love for you, that are holding yours on your wedding day, as you promise to love each other today, tomorrow, and forever.
These are the hands that will work alongside yours, as together you build your future.
These are the hands that will passionately love you and cherish you through the years, and with the slightest touch, will comfort you like no other.
These are the hands that will hold you when fear or grief fills your mind.
These are the hands that will countless times wipe the tears from your eyes; tears of sorrow, and tears of joy.
These are the hands that will tenderly hold your children.
These are the hands that will help you to hold your family as one.
These are the hands that will give you strength when you need it.
And lastly, these are the hands that even when wrinkled and aged, will still be reaching for yours, still giving you the same unspoken tenderness with just a touch.
IMAGE | Wonderful and Strange
9.       Beyoncé, Flaws and All
I'm a train wreck in the morning
I'm a bitch in the afternoon
Every now and then without warning
I can be really mean towards you
I'm a puzzle yes indeed
Ever complex in every way
And all the pieces aren't even in the box
And yet, you see the picture clear as day.
I don't know why you love me
And that's why I love you
You catch me when I fall
Accept me flaws and all
And that's why I love you.
I neglect you when I'm working
When I need attention I tend to nag
I'm a host of imperfection
And you see past all that
I'm a peasant by some standards
But in your eyes I'm a queen
You see potential in all my flaws
and that's exactly what I mean.
You catch me when I fall
Accept me flaws and all
And that's why I love you.
10.   Charlotte Gray, Crazy with Love
I know every bump, every bulge, every wrinkle.
Every sag, every bag, every scar, every flaw, every
whisker.
I know that you fleck the bathroom tiles with
shaving foam,
That you flood the floor with bath water,
That you never take your plate out to the sink,
That you strew your clothes,
That you forget to change your socks,
The you tell me the ending of detective novels,
That you track mud through the house,
That you never remember to pay the paper bill.
I know your eccentricities, your prejudices, your
moods.
And somehow, for some reason I can never fully
Understand, I am crazy with love for you.
11.   Ellie Fredricksen, Up
"You and me… we're in a club now. You will always be my greatest adventure."
Planning our wedding: The groom's guide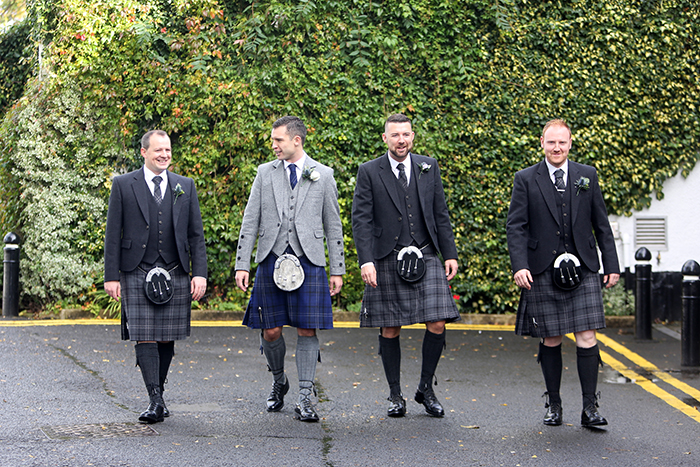 It's normally a story that we're told from a bride's perspective: How exactly did you plan your wedding? We think it's about time we hear from the grooms too! 
We chat to four newlywed grooms who want to share their wedding highlights and planning tips… 
~ DANIEL JOHNSON ~
IMAGES | 1500 Photography
WHERE DID YOU GET HITCHED?
Best Western Plus Keavil House Hotel, Dunfermline.
WHAT WAS YOUR FAVE PART OF WEDDING PLANNING?
Picking the venue. We viewed multiple venues across Glasgow and Edinburgh. In every one there was always one thing we didn't like and couldn't see ourselves getting married in those rooms. However, when we got to Keavil we didn't know the room we would then choose even existed.
We were meant to view what we thought was their only room until they told us they had an additional Elgin suite. The moment we walked into the room we just knew. The colour scheme complemented our colours of silver and lilacs.
Plus the room had amazing features such as colour-changing lights on the ceiling and big chandeliers, and would accommodate our guest numbers without looking too big or too small.
DID YOU WRITE YOUR OWN VOWS?
We didn't write them ourselves but we did choose different vows from a book from the humanist. They weren't traditional vows but they meant something to us.
We had been to a friend's humanist ceremony a couple of years before and thought it was personal to the couple and we wanted our ceremony to be personal to us.
WHAT WAS YOUR WEDDING SPEECH LIKE?
Short and simple. I knew the guests would be hungry by that point!
GIVE US SOME ADVICE FOR OTHER GROOMS-TO-BE¦
Make sure your groomsmens' kilts fit before you go to the venue. The kilt of one of my best men was way too short when we checked the night before the wedding. He had to drive back to the shop in Glasgow to change it!
 ~ DAVID MARR ~
IMAGES | Gail Photography
WHERE DID YOU GET MARRIED?
Best Western Eglinton Arms Hotel, Eaglesham.
WHAT MADE YOU CHOOSE YOUR VENUE?
We knew of the hotel because we go walking at the wind farm nearby from time to time. It always looked nice and one day we went in for lunch and were really impressed.
We had shortlisted a few hotels and went to Eglinton Arms first. The place looked so great, and it was perfect for what we wanted; so much so that we just booked it right there and then.
HOW DID YOU DECIDE ON YOUR WEDDING OUTFIT?
I always thought I'd get married in a suit; I'd never felt comfortable in a kilt in the past. But I wear a suit to work every day so that just didn't feel special enough for my wedding day.
My mate said I should opt for a custom-made kilt and recommended MacGregor and MacDuff. The staff couldn't have been nicer and spent ages with me, helping me narrow down the choices. I was delighted with the outcome and felt really smart on the day.
WHAT WAS THE HIGHLIGHT OF YOUR DAY?
Having all your friends and family in the same room is really amazing and to be able to share with them all how happy I was that day and how I felt about Nicola was important to me.
We had the most amazing day from start to finish " everything was perfect. I was more nervous than I thought I would be, and the day definitely went by far too quickly. Nicola looked absolutely stunning, as always, and I was so proud to marry my best friend.
~ CALUM DALGARNO ~
IMAGES | James Kelly Photography
WHERE DID YOU WED?
Chapel of Garioch Church and Thainstone House Hotel, Inverurie.
BEST THING ABOUT PLANNING A WEDDING?
Meeting all our different suppliers and putting forward our initial ideas. We didn't really have a theme. It was all based on the colours my wife Hollie picked for the bridesmaids and the flowers, plus utilising the tractors.
We created our own sweetie table and used an old pallet that we painted as a photo collage as an extra feature.
I made the decision to have a cheese board cake as I've never been a lover of wedding cake, and it was a good excuse to try lots of cheese along with a few glasses of wine.
TELL US MORE ABOUT THOSE TRACTORS…
My grandpa and granny had a farm when I was little so I have always had an interest in tractors.
Hollie bought me the grey Fergie [a type of tractor] for my 30th birthday so I restored it to its current state in time for the wedding and we used my tractor models to bring in a theme for the tables.
WHAT WAS THE HIGHLIGHT OF YOUR DAY?
Seeing Hollie walking down the aisle towards me.
HOW DID THE SPEECH GO?
I was a nervous wreck as I'm not a public speaker and have never had to do anything like that before. I think it went ok " certainly got a few laughs from our guests and a few tears thrown in too.
My best tip would be to not overthink it, keep it fairly short and make sure you have a few pints for some Dutch courage. Most importantly, take your time and enjoy it as you will only do it once.
~ STEVE ADAMS ~
IMAGES | Jenni Browne Photography
WHERE DID YOU TIE THE KNOT?
Trossachs Church and Roman Camp Hotel, Callander.
WHAT DID YOU WEAR?
I really wanted to wear my family tartan from my father's maternal side. I was worried about being viewed as a wannabe Scot [Steve was born in Boston, England] so I thought trews would be a nice halfway house.
Also, I have a great butt which looks far better in trews (I was on a promise from my new wife!).
WHAT WEDDING PLANNING TIPS WOULD YOU GIVE OTHER GROOMS?
Most importantly, be sure you're marrying the right person. It can be an expensive and painful experience if you get it wrong! Keep it simple. We kept a real focus on having fun and enjoying the day.
Plan your speech well in advance and practise it. If you're making an effort for everything else then make an effort for your wife. And don't get pished before your speech " it will go wrong! Above all, remember it's about marrying your beautiful wife.
HOW IMPORTANT WAS IT TO INVOLVE YOUR KIDS?
Fred, Horace and Rosie were all a massive part of our day. Fred (6) helped the ushers. He loved that (he was known as The Boss). It was planned that Horace would walk my wife Vicky down the aisle and Rosie would be the flower girl.
However, the two of them just ran down the aisle and left the bridesmaids and mummy to do their own thing, which I thought really showed what we are about " a fun, take-it-as-it-comes, chilled family.
The two wee ones decided to partially undress during the ceremony but the minister was fantastic. She just embraced them into the ceremony and made the whole occasion more family-orientated.
Groom for improvement: your groom problems, sorted!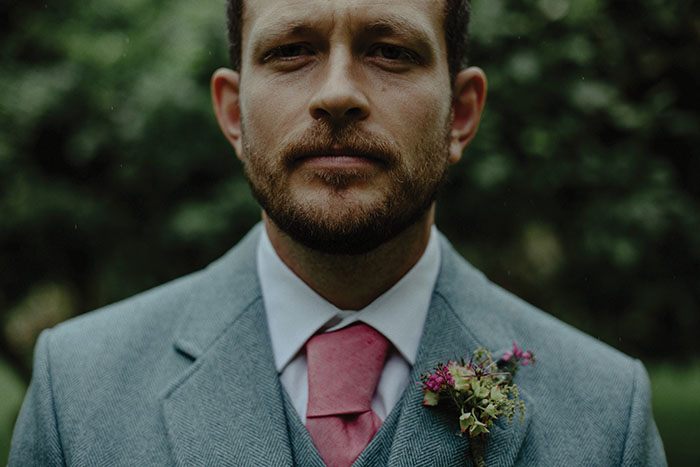 Hey, men: we know you want to be clued up on all things wedding related so we've answered your questions!
IMAGE | Wonderful and Strange
Q. My mum reckons I should shave my beard for the wedding, but I think I'll look weird without it. Thoughts?
There's no denying that beards are on-trend and your mum's probably worried that yours will date as badly as your dad's 70s' sideburns or her dodgy perm.
But think of the men that have been rocking facial fuzz for decades: Dave Grohl, Santa, Brian Blessed. Some men look bizarre without their beard, like a freshly de-shelled egg, and if you're one of those guys then
you should keep yours firmly in place.
Do tame it with a comb and beard oil so it looks tidy, though, like the handsome groom pictured above. The hair on your face should never resemble the hair in your pants.
Q. I want to wear a kilt, but I'd like an upgrade on my usual. How do I make it special?
How about getting your kilt outfit custom-made? Yes, it's pricier than hiring (the average cost is around the £1,000 mark), but unlike the bride's dress, you'll get loads of wear out of it in future.
"You have a say in everything " from the fabric, lining, button style and pocket style of the jacket, to the kilt tartan and the colour of the socks," says Louise from MacGregor and MacDuff. "It means you can have something really unique to you."
For a modern look, go for a tweed jacket and choose a tartan with subtle, earthy colours.
"You don't need to go for your clan tartan," says Louise. "Some men just choose something they like " often a colour that'll match the bridesmaid dresses " and even if you are keen to go with the family tartan, you can usually go for a ˜weathered' version of it, which contains more muted colours than the traditional bright ones."
Q. Am I the worst Scotsman ever if I don't wear a kilt?
Nope. You want to look your best on your wedding day and it's just a fact that some guys look way better in a suit.
Again, it makes sense to go down the bespoke route " a well-fitting suit never goes out of style " or you could buy a suit you love then have it tailored so it looks really sharp.
If you want it to have a Scottish vibe, consider a classy checked or tweed fabric, or wear a tartan tie.
IMAGE | Crieff Photography
Q. I don't want a plain wedding ring, but I don't fancy a blingy one either. What are my options?
"A lot of grooms are going for twotone rings that incorporate two metals, such as palladium and rose gold," says jeweller Timothy J Sharp.
"You could also incorporate a really subtle diamond, or choose a ring with texture." If durability is your main concern, Timothy recommends going for platinum rather than palladium (it's harder wearing), and says that a budget-friendly alternative is tungsten.
Bespoke rings are becoming increasingly popular, too, and allow you to essentially design your own ring with guidance from your jeweller.
Q. I'm freaking out about my speech. What am I supposed to say, exactly?
How much you love your other half, duh. Our advice is to steer clear of the internet (google will do nothing but feed you tired clichés), keep it between five and seven minutes long, thank the people you need to thank and for the rest of the time, speak from the heart.
You could always do a joint speech with your partner if you're nervous about public speaking " doing it together is a fitting note to start married life on, we reckon.
Q. How do I avoid regressing to my awkward teen self during the first dance?
Step one: no rapid winching. Step two: no Westlife songs. Step three: no liberal application of Lynx.
All joking aside, hitting the floor can be daunting when you've spent much of your adult life exclusively dancing to Gangnam Style and R. Kelly's Ignition.
Our advice? If you can't agree on a song that you both feel comfortable dancing to with your own innate skills, go for a couple of dance lessons before the big day to boost your confidence.
And remember that the first dance doesn't have to be a slow number " there are plenty of up-tempo heartfelt songs if you're not much of a waltzer.
IMAGE | Andrew Rae Photographer
Q. My mates and I are too old for a 'bantz' stag in Benidorm. Any ideas for 30-something guys?
How about a whisky distillery or craft brewery tour? Alternatively, if you're after something a bit more refined, Hotel du Vin in Glasgow has a well-stocked whisky room and cigar shack that'll make you feel very Don Draper.
Other ideas we like: renting a lodge somewhere scenic (just add a barbecue, beer and the obligatory pal with a guitar); hitting up a music festival; having a food-themed stag and munching your way around a city renowned for its culinary offerings.
Wedding Reading of the week: From Captain Corelli's Mandolin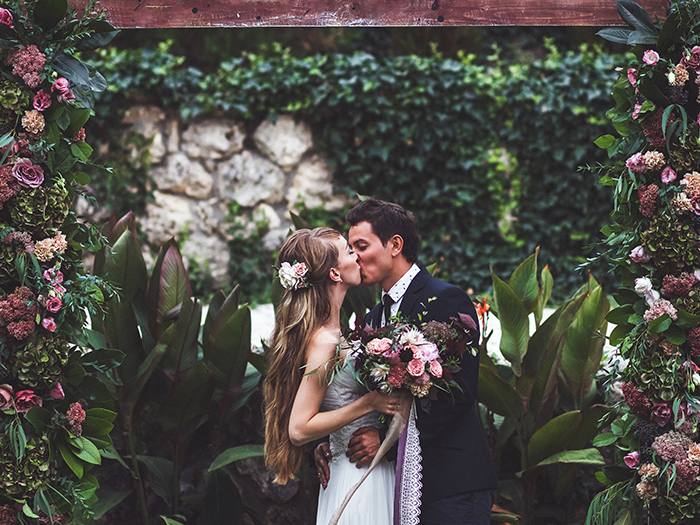 Each week we're going to highlight one of our favourite readings that would be perfect for your wedding ceremony!
This week, it's from Captain Corelli's Mandolin by Louis De Bernieres….
"Love is a temporary madness. It erupts like an earthquake and then subsides. And when it subsides you have to make a decision. You have to work out whether your roots have become so entwined together that it is inconceivable that you should ever part. Because this is what love is. Love is not breathlessness, it is not excitement, it is not the promulgation of promises of eternal passion. That is just being in love which any of us can convince ourselves we are. Love itself is what is left over when being in love has burned away, and this is both an art and a fortunate accident. Your mother and I had it, we had roots that grew towards each other underground, and when all the pretty blossom had fallen from our branches we found that we were one tree and not two."
How to start writing your own personal wedding vows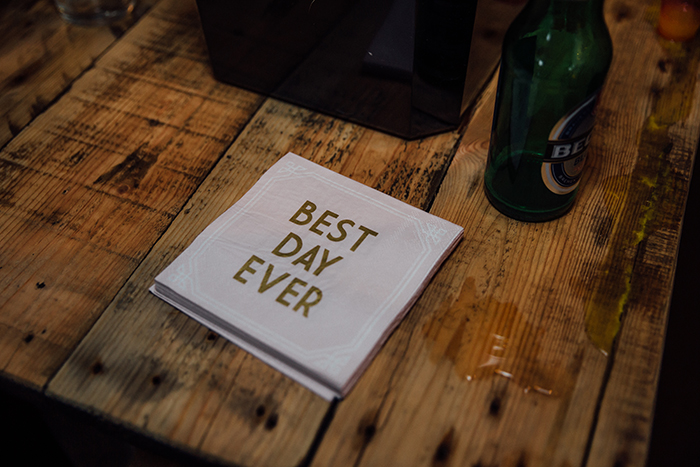 No idea where to begin when it comes to writing your own personal wedding vows?
Take the lead from our top tips and beat that writer's block!
IMAGE | Fairytale Asylum Photography
GO ONLINE + GET INSPIRED!
It can be difficult to know exactly where to begin. Even as a writer in my day job, it can be a struggle to start a feature; sometimes the words just don't flow. The best place to start (for most things in life) is online!
There are lots of great wedding blogs, websites and of course, old faithful Pinterest, where you can search for example wedding vows or find poems and quotes for inspiration.
Take a look at our 30 examples to help you write unique + romantic wedding vows as a starting point!
SPEAK TO YOUR OTHER HALF
You can keep exactly what you're going to say a secret, but it's probably an idea to go over general style, format and length with your spouse-to-be.
You don't want to stand up there and unravel War and Peace if they're keeping it short and sweet!
SPEAK TO YOUR CELEBRANT
Your Interfaith, Humanist or Civil celebrant will often speak to you about your vows anyway and give you some pointers and advice.
It's best to just double check with any celebrant first before you go ahead to make sure you don't miss anything that you legally have to say out.
When it comes to religious ceremonies, if you're not able to actually include any of your own vows then why not include a version of them in your order of service handouts?
GIVE YOURSELF TIME
IMAGE | Wonderful and Strange
This isn't the type of thing you should leave until the last minute, no matter how freely you expect the words to flow!
You want to sound like you've really thought about these vows and have time to practice, so start jotting down ideas well in advance.
Why not use the Notes in your iPhone, or open a draft email or Google Doc to pop any ideas in?
WRITE IT ALL DOWN
As I said above, jotting down some ideas in plenty of time makes sense and will help you collect all of your ideas together. Then, when you're ready to start your first draft, take yourself off to a quiet space and start writing them out word for word as you would say them.
Do this by hand, or on your computer, or on your phone; whatever is easiest and comes most naturally to you.
How cute are these matching vow books from Amazon? Keep them in your memory box afterwards and read on your anniversaries.
VOWS MEAN PROMISES " SO MAKE THEM
A vow, by dictionary definition, literally means a solemn promise, so it's a good idea to incorporate some promises into your vows.
This is your chance to publically tell your partner all of the things you vow to do for them in your future together as a married couple.
You can make these as broad or personal as you like!
BE HONEST
IMAGE | Jarvie and Jones Photography
Don't try to be extremely soppy or romantic because you feel like you have to, especially if that's not the tone of your relationship as a rule.
Try to inject some of your own personality into your vows, even if you're taking liberal inspiration from some you've found elsewhere.
KEEP ˜IN JOKES' TO A MINIMUM
While you should definitely keep it personal to you and your other half, remember that your vows are a public declaration of your intentions to each other after marriage, so try not to cram them with jokes and references that only the two of you will understand.
Your guests might feel a little bit alienated.
PRACTICE, PRACTICE, PRACTICE
The clue is in the title! Stand in front of the mirror, ask one of your bridesmaids/best men to be a sounding board, set up your phone and record yourself¦ whatever it takes to get that confidence up!
Another good reason to practice reading those words over and over again is that you might not feel as emotional on the day because you're used to the ˜script'; a handy tip for brides or grooms who are terrified that they'll bawl their eyes out at the top of the aisle.
(In my opinion, crying is totally ok and adorable, so try not to worry too much!)
ULTIMATELY, MAKE IT ABOUT YOU AND YOUR PARTNER!
In the end, feel free to scrap every iota of my advice and do whatever you want, because ultimately, this is YOUR wedding day. Yours and your partner's.
Make sure that the words you say are true to your heart, reflective of what you want to say, and words you feel comfortable with.
IMAGE | Crieff Photography
Do you have any good tips for writing your own vows? Let us know!
15 tried and tested jokes for a best man's speech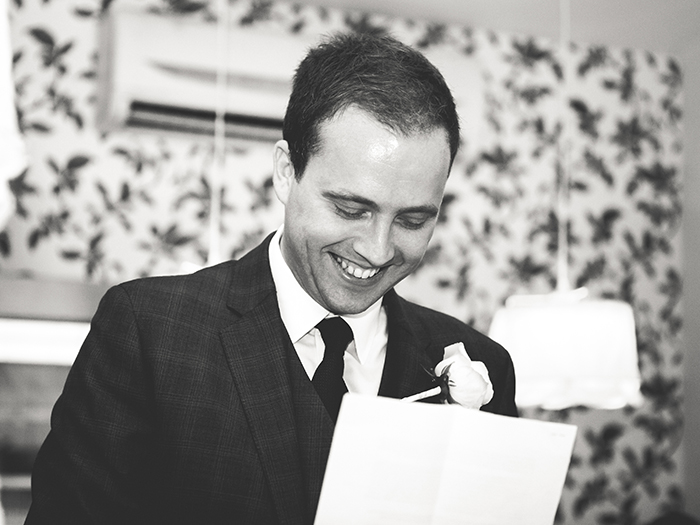 Being asked to be the best man at a wedding is a huge honour, but the idea of having to give a speech in front of a packed room can be daunting – especially as all those people are expecting you to be funny!
Don't worry if you're not a natural comedian, because we've got some solid best man jokes that will have your audience laughing for all the right reasons!
1.   "I recognise my place here; being best man at a wedding is like being the dead body at a funeral. You're expected to be there, but if you say too much people start freaking out."
2.   "It's been an emotional day, even the cake is in tiers!"
3.   "[GROOM'S NAME] was telling me that the amazing meal this evening was charged on a cost-per-head basis, so, on the bride and groom's behalf, I'd like to thank the following people for not coming¦"
4.   "Good evening everyone. I'm so happy to preside over the only five minutes that the bride didn't plan."
5.   "[BRIDE'S NAME], you're a wonderful woman, who deserves a wonderful husband. And I'm not going to rest until I get to the bottom of what's gone wrong here."
6.    "I have to say how lucky you are [GROOM'S NAME], you leave here today with a wife that is loving, warm and caring. And [BRIDE'S NAME], you're very lucky too. You leave here today with a beautiful dress and a lovely bouquet of flowers."
7.   "You have no idea how much I've been looking forward to this day. After all the time I've been friends with [GROOM'S NAME], he has at long last finally admitted that I am the best man!"
8.   "[GROOM'S NAME] was in a pub when he proposed. No, really, it was actually very romantic " he got up on one knee."
9.   "Loyal, caring, sincere, honest, and a great man… but that's enough about me, I'm here to give a speech about [GROOM'S NAME]!"
10.   "Well, I do hope that [GROOM'S NAME] and [BRIDE'S NAME] enjoy their honeymoon in Wales. I assume that's where they're going anyway¦ When I asked [GROOM'S NAME] what he was doing after the wedding he said he was going to Bangor for a fortnight…"
11.   "Good evening, ladies and gentleman. If there is anybody here who is feeling nauseous, nervous or like they're stuck in a big black hole with no way out, you're either me or you just married [GROOM'S NAME]."
12.   "I didn't really know where to start so I thought I'd trawl the internet. After a couple of hours I˜d found some really, really good stuff.  But then I remembered that I was supposed to be writing a speech."
13.   "I'm going to keep this speech like [GROOM'S NAME] – short and not very funny¦"
14.   "Marriage is grand – and divorce is about 10 grand."
15.   "[BRIDE'S NAME] please put your left hand flat on the table. [GROOM'S NAME] please place your hand on top of hers. Enjoy this moment [GROOM'S NAME] because it's the first and last time in your marriage that you'll have the upper hand."
Figure of speech: Get your wedding speech right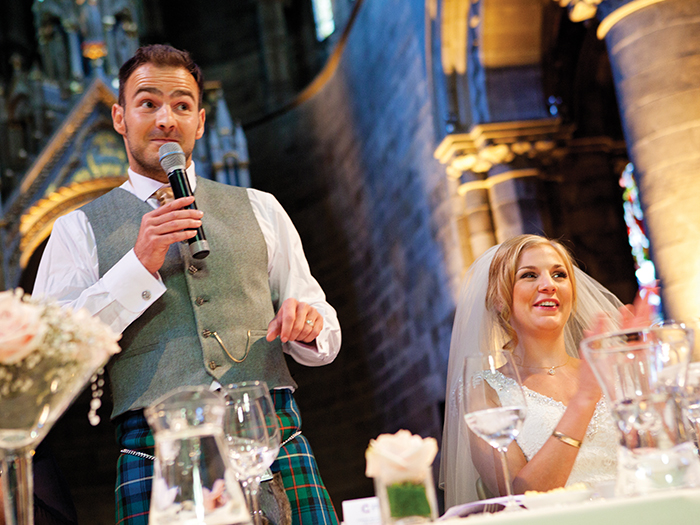 Professional speaker, presenter and humanist celebrant Stewart Struthers reveals the importance of getting your wedding speech right!
IMAGE | Jenniflower Weddings and Photography
As the wedding looms closer, all the elements of the day will begin to fall into place. The ceremony, reception, food, rings, cars and, of course, that all-important dress. So why is it that the speeches are always left until the last minute?
Although weddings have evolved over the years " 10 years ago you'd never have been able to have a humanist ceremony or even seen a dog or owl deliver the wedding rings! " guests still expect the speeches to be entertaining and sincere.
Many couples still have the conventional speech line-up before or during the meal with the father of the bride, the groom and the best man taking the mic. Tradition has ebbed away for others, however, with brides, bridesmaids and mums now joining the speech line-up at some weddings.
People delivering speeches tend to fall into three distinct camps. First up: the confident, competent and capable. They are used to public speaking and have done this effectively before. They have rehearsed and have done all they can to prepare.
IMAGE | Tracy Gow Photography
The second group contains the confident but often not competent (even though they think they are!). These folk are still considering what they will say in the minutes leading up to the speeches. They like to wing it, creating an off-the-cuff speech and hoping it'll all go well.
The last group lack both confidence and competence. They are new to public speaking as they haven't done anything like this before. They worry, have sleepless nights and have been stressing about it for months. They represent the majority of people " one recent survey revealed that above the fear of spiders and heights, people were most scared of public speaking!
Whichever group you or the rest of your speech givers fall into, the risks of getting it wrong are high, and the last thing you want is a dodgy speech being captured on someone's phone and shared on social media. For those giving a speech at a wedding, the reality is you will only get one shot at it " so it is worth investing in getting it right.
IMAGE | The Gibsons
A gift for your groom that's as unique as he is from Jack Daniel's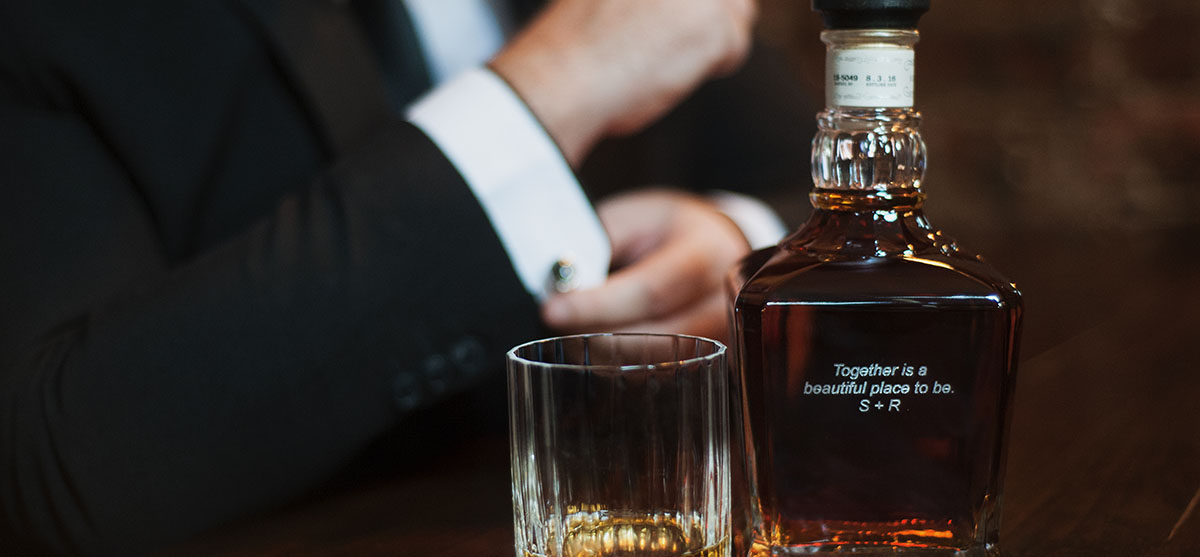 Buttonhole: Cherry Blossom // Cufflinks: Sweet Rosie Jewellery // Calligraphy set: Lamplighter London
Photography: Eve Conroy at The Finnieston, Glasgow
Finding a gift for your groom to give on your wedding morning can be tricky.
This man is taking his place beside you on the most important day of both your lives, so it's really important that your gift to him represents his uniqueness, and how special he is.
There's a balance to be struck between finding something that means a lot to both of you, and can be enjoyed by your other half amidst the excitement and nerves of the wedding morning.
SOMETHING EXTRA SPECIAL
We've found a gift that ticks all those boxes and more, in Jack Daniel's extra-special Single Barrel whiskey.
A unique occasion calls for a very unique gift and that's exactly what this is; only one out of every 100 barrels are hand-selected by the Jack Daniel's Master Tasting Panel as having met the standard.
Card: Text from a Friend // Buttonhole: Cherry Blossom
Sent to mature in the highest reaches of the barrelhouse, the extremes in temperatures across the seasons creates the bold and robust flavours of the whiskey inside.
Each individual bottle of Jack Daniel's Single Barrel has its own exclusive taste, hand-labelled and marked with a unique rick number and bottling date.
MAKE YOUR MARK
Presented beautifully in a cardboard gift box, the bottle can be personalised with a loving message from you to your groom; maybe a lyric from your first dance together, or a quote that means a lot to you.
You could even keep it simple with your names and wedding date.
Cufflinks: Sweet Rosie Jewellery
Leave the bottle with a card for your groom to find on the morning of your special day. It's a gift that perfectly encapsulates how special he is to you; he's one-of-a-kind.
Jack Daniel's Single Barrel is aimed at responsible drinkers, aged 18 years old and over only. Please enjoy responsibly.
You can order a bottle of Jack Daniel's Single Barrel Whiskey with engraving for £45.99, exclusively from the Jack Daniel's online store.