Groomswear that goes beyond the wedding day with Andrew Brookes Tailoring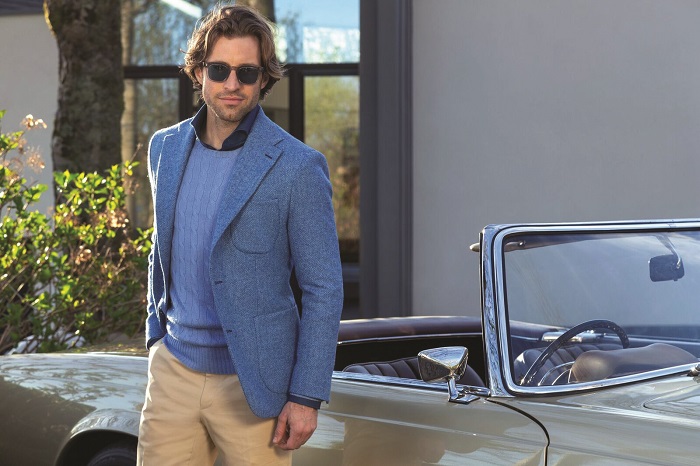 We love a designer that considers cost-per-wear, and Andrew Brookes Tailoring is the master of it.
His hybrid jackets and waistcoats can be paired with a kilt, suit trousers, tartan trews or jeans to give them life beyond the wedding, and have proven so popular that the tailor has introduced a new custom collection.
Perfect for your honeymoon (and your everyday stylish life), the range includes custom-made denim and chinos in a variety of colours, cashmere knits, custom-fit polo shirts, t-shirts and handmade shirts.
Check out Slater Menswear's new wedding party suit finder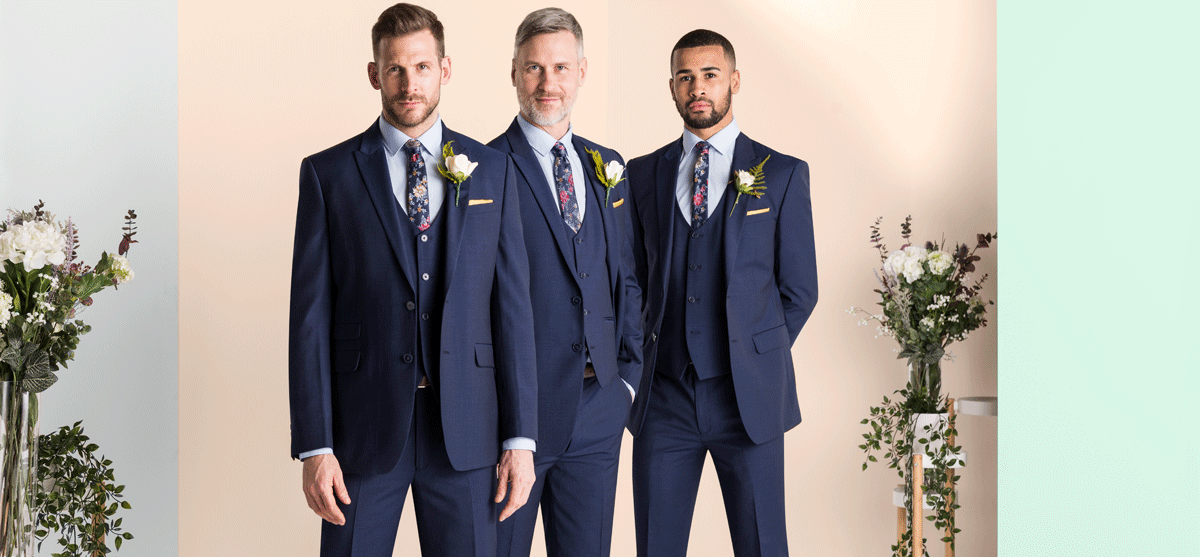 Slater Menswear have a huge range of suits available to buy and hire, and luckily they now have the perfect tool to help you narrow down your choices!
Fellini tailored suit from £139
Spoilt for choice
With the arrival of Slater Menswear's S/S wedding suit collection online and in-store, and new suits appearing every week, you're guaranteed to find something for your whole wedding party.
The gorge new collection features key trends like double breasted waistcoats, contrasting waistcoats and various lapels on the waistcoats, and you'll also find some bold checks if you're looking to make a statement on your big day. Each Slater Menswear store also has their own set of tailors and seamstresses, offering a free alteration service to all customers purchasing suits, jackets and trousers to ensure a perfect fit!
Harry Brown suit from £135
Plus, with two and three piece suits available in 36 short to 56 regular all coming in between just £55 and £475, you'll have no problem working to a budget.
Even if you're looking to hire outfits for your wedding party, you'll find budget-friendly options thanks to Slater Menswear's 5 for the price of 4 offer on all Formalwear and Highlandwear, with the most expensive outfit being free!
Sawyers Hendricks suit from £99
Stress-free shopping
Slater Menswear's great customer service doesn't stop in-store! It's continued online through their innovative Wedding Party Suit Finder.
This new stress-free approach to suit shopping is pretty unique! Basically, you enter everyone's suit sizes and measurements (groom and groomsmen), select your preferred colour if you have one, and the suit finder will take care of the rest.
Fellini tailored suit from £139
Based on the requirements you enter, Slater Menswear's Wedding Party Suit Finder will select a collection of suits specifically for your wedding party. When you've narrowed down your choices, simply save, share and buy.
And et voilà – you and your wedding party will be tailored to perfection by the time your wedding comes around!
Ventura suit from £99
"This exciting new development enhances our excellent customer service online," says Slater Menswear Managing Director Paul Slater. "We continue to offer 3-piece suits from £89 with free alterations, catering for wedding parties of any size. Whatever the occasion, we're with you every step of the way."
Read reviews for Slater Menswear
Floral-filled nature inspired wedding day at Sorn Castle, East Ayrshire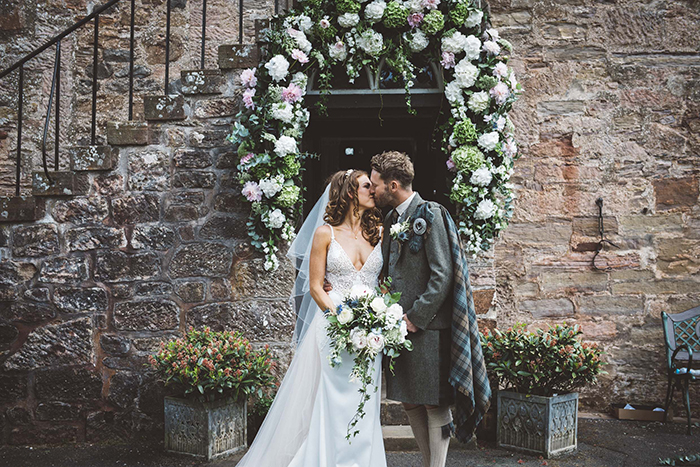 Rebecca and Jason created a beautiful nature-inspired wedding reception at Sorn Castle following their beautiful ceremony at Sorn Parish Church.
With plenty of personal touches – groom Jason even hand-built their wooden pergola! – it was truly a day to remember.
Here, bride Rebecca shares more from their wedding, including a very exciting arrival in 2019!
Jason and I clicked right away on the first date. Although we are opposites in lots of ways, we are so similar in others.
We both work really hard and help each other strive and achieve our goals – we balance each other out perfectly!
Jason proposed while we were on holiday on the island of Koh Tao.
We went snorkelling on our favourite beach, and he pretended to look under the water at some fish but instead resurfaced with my engagement ring from under the sea!
Booking the perfect venue was a priority to us, and we wanted our wedding on a bank holiday weekend to make it easier for my family travelling from Northern Ireland.
As soon as we walked into Sorn Castle, we fell in love with it.
The team made it feel really personal and special – it didn't feel like a wedding conveyor belt like some other venues.
For the décor, we wanted it to reflect the elegance of the castle and the beautiful nature in the surrounding grounds, installing lots of floral displays throughout the venue.
We also wanted to pay tribute to my Northern Irish ancestry and Jason's Scottish ancestry, and had fudge from my home town and bottles of Irn Bru as favours.
My dress was 'Gala' by Galia Lahav. It was made from vintage crochet and silk satin with a dramatic blush train.
Jason wore a customised tweed kilt made at Frank's Gold Room at Kilts 4 U in Hillington. It was stunning and everything we wanted.
The night before the wedding was so stressful, I was almost verging on having a little bridezilla moment! Jason was still building our wooden pergola at 9pm, but we eventually had our ceremony rehearsal and that helped calm our nerves.
We were both a little nervous at the ceremony, and stumbled over a few words even though we had practised it plenty!
We got a few giggles from our guests which actually helped put us at ease.
The speeches were fantastic, and there were a few tears during my dad's as he spoke about family and friends that are very missed.
It was followed by lots of laughs during the best man's speech, which contained anecdotes that cannot be put down in print!
Our florist embraced our vision and went above and beyond. People are still talking about the floral displays!
At the Ayrshire Wedding Show we won the chance for West FM DJ Colin McCardle to play at our wedding! Everyone had a blast, and the marquee was jumping from start to finish.
Our first dance was Brad Paisley She's Everything. It is a song we both love and has very meaningful lyrics. We also liked that it was a unique choice that many people hadn't heard.
Our plan for our honeymoon is to go to New Zealand and the Cook Islands, but we have had to postpone it as we're expecting our first baby in March 2019!
Photographer: Tommy Cairns Photography | Venue: Sorn Castle
Bride's dress: Kavelle Bridal Couture  | Bridesmaid dresses: Lou Lou Bridal
Groom's kilt: Kilts 4 U | Videographer: White Balloon Films | Cake: Rosewood Cakes
Florist: Every Bloomin Thing  | Make-up: AMM Hair and Makeup Team
Stationery: Bespoke Wedding Stationery
Gorgeous Easter weekend wedding day at Balbirnie House Hotel, Fife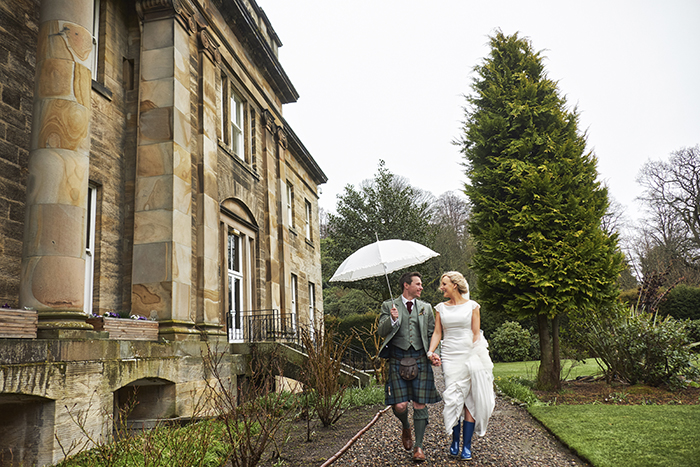 When childhood sweethearts Emma and Callum got engaged after 12 years together, they knew they wanted to say 'I do' within the year.
With plenty of personal touches, including some Easter-themed surprises, the happy couple opted for a spring wedding at award-winning venue, Balbirnie House Hotel, all captured beautifully by Suzanne Black Photography.
Here, bride Emma shares more of their eggscellent big day…
"We met at school and were in the same class on the first day. We were both quite shy in those awkward first years and didn't actually become friends until fourth year at school.
Callum is one of the kindest people I have ever met and goes above and beyond to help anyone.
I'm a huge Harry Potter fan and Callum proposed on a surprise break to Glencoe. We had a trip on The Jacobite steam train, which is basically the Hogwarts Express and it travels over the iconic Glenfinnan Viaduct.
We then went a walk into the hills to see the view and I turned around to see Callum down on one knee, surrounded by midges. It was the west coast of Scotland in June: prime midge season!
Finding an available venue which ticked all the boxes was first on the list. The most important things for us was a venue with character, lots of space inside and out and availability as we wanted to get married to as close to a year from our engagement.
When we found Balbirnie House Hotel, we knew it was the venue for us.
We loved the character of the old building with its high ceilings, period features and large drawing rooms with lovely decor. The grounds are beautiful and had ample space for all our guests to mingle during the canapés and drinks reception.
The winning factor for us was the ballroom downstairs which has beautiful arched windows on every side adorned with fairy lights and a huge twinkling dance floor.
We got so much help from our friends and family and Callum was so involved with every aspect of the day. We discussed together how our wedding should look and our ideas for the day, right down to small details.
My bridesmaids were fantastic throughout and understood how much goes into planning a wedding, whilst our families were also so helpful, from accompanying us venue hunting to late night arts and craft around the table.
We embraced a lot of DIY touches. We bought our wedding invitation design from a small stationery business on Etsy for £15, which we then tailored to suit us and got them printed at a local print shop and the envelopes were hand sealed with a wax stamp.
My ridiculously talented sister-in-law Corinne owns Dazed Dorothy and she hand drew and decorated our wedding chalkboards and handmade all four bridesmaids handbags, plus a bridal bag for myself which she lined with cloth that once belonged to her grandmother.
We made our favours from recycled mini glass bottles with corks, filled with pink gin for the ladies and rum for the gents. My sister then hand wrote and attached a mini tag with 'drink me' on each one. For our pregnant guests, we gave them Lindt chocolate bunnies.
As our wedding took place over Easter weekend, we had decorated jars full of Mini Eggs on each table to enjoy during the speeches before dinner arrived. Callum also painstakingly hand blew and decorated real eggs with gold leaves to hang from tree branches.
We also decorated lots of little recycled glass bottles with lace and twine which our florist filled with gypsophila and hung them on the aisle chairs during our ceremony.
The in-house wedding planning team at Balbirnie were absolutely fantastic. Christine, our main wedding coordinator, was so organised and helped us massively keep on track of every aspect of planning the day. Kerrie and David, our masters of ceremony, couldn't have done more for us, even helping me across the grass in my welly boots in the rain to achieve the perfect picture!
I went dress shopping with my mum, sister and bridesmaids. I was pretty much decided that I wanted a lace fitted dress with a V shaped back which wasn't too 'blingy'. I tried on every style there was it feels before I found the style that I loved.
We figured out very quickly that lace was not my friend and that a more simplistic style suited me best.
I bought my Pronovias dress from Kavelle Bridal Couture in Edinburgh. It was a combination of crepe, tulle and lace ivory; a fitted mermaid style dress with a lace back, bateau neckline and lace cap sleeve.
My Swarovski earrings were a gift from my parents, a halo drop style to compliment my engagement ring. My vintage style bridal cuff was borrowed from my friend as my something borrowed and my shoes were silver t-bar peep toes which I owned already and were my something old.
Callum had a custom kilt made and opted to wear matching green woolen socks and brown brogues, complementing his brown leather sporran which belonged to my late grandad.
The night before, I stayed with my four bridesmaids in the Pearl suite at Balbirnie and the bridal party and close friends met up at the local pub for dinner and drinks.
I felt really excited the morning of the wedding. I woke really early and couldn't get back to sleep.
We had breakfast in the room then hair and makeup started at 8am. I spent the whole morning with my bridesmaids and mum.
I was so calm walking down the aisle as my sister had just made me laugh before it started. We were all lined up in a row ready to walk in and she turned round and whispered to us 'Feel the rhythm! Feel the ride!' from Cool Runnings! We all burst into giggles.
Our brilliant pianist played Elton John's Tiny Dancer as I walked down the aisle.
We wanted a humanist ceremony as we both loved how personal the service is and all about the couple. We wrote our own vows with lots of help from our celebrant, Jane. It was so special to us to write our own and ranged from heartfelt moments to some funny ones too.
As the ceremony was at the venue, we didn't require transport  but it didn't stop Callum's vintage 1970's VW Beetle from making an appearance which he restored himself!
We had a drinks reception with canapés which I didn't even eat as I was too excited! We also has a popcorn station for everyone as I wanted something that was fun, but also gluten free for my coeliac guests.
The speeches were all fantastic my dad told funny stories of me growing up, Callum was brilliant and mentioned my grampa in his speech as sadly he passed away the year before.
The only band we wanted was Corra after seeing them at two other weddings. They played a version of Zac Brown Band's Loving You Easy for our first dance. We love that song and the words are so fitting for us.
The dance floor was full all night and Corra kept us all going and incorporated some ceilidh tunes too which we all loved. It was such a great party.
After the wedding, we went on a mini moon for four nights to a cottage in Killin in Scotland then headed to Italy the next month at the start of May.
When you have been together for this long, being married doesn't really feel too different. It was just a beautiful day to celebrate with all our loved ones.
Walking into the room and realising that every single person whom we love and care about was there especially for us was quite a phenomenal experience."
Venue: Balbirnie House Hotel | Photographer: Suzanne Black Photography
Bride's dress: Kavelle Bridal Couture | Groom's kilt: John Morrison Kiltmakers
Bridesmaid dresses: Polly Rose Boutique
Florist: Save the Date Collective | Cake: Mark Beedie
Pianist: Joe Revell | Band: Corra
Stationery: Etsy | Hair + make-up: Melanie Herriot from MHM Styling
Humanist celebrant: Jane Bechtel from Humanist Society Scotland
Hire an Eight Yards kilt for £49 with MyIdeals!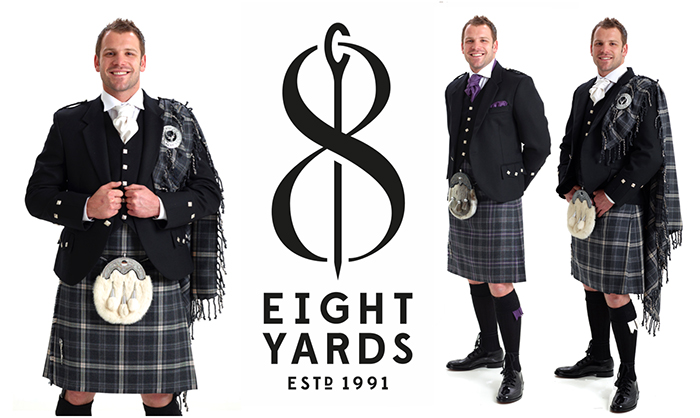 MyIdeals are running a special deal to let you hire your wedding day kilt for just £49 from Eight Yards, but you need to be quick – vouchers must be bought before the 2nd of April! Here are the details…
What you'll get…
This MyIdeals offer will give you a voucher redeemable for one Classic Range kilt outfit hire package with from Eight Yards, which you'll get for £49 instead of £103.95.
You'll be to choose between eight different Styles and 16 tartans. Style options include:
Prince Charlie 5 Button & Plaid Kilt Hire Outfit
Prince Charlie 5 Button Kilt Hire Outfit
Prince Charlie Traditional Kilt Hire Outfit
Argyle & 5 Button Waistcoat Kilt Hire Outfit
Argyle 5 Button & Plaid Kilt Hire Outfit
Argyle Traditional Kilt Hire Outfit
Jacobean & Plaid Kilt Hire Outfit
Jacobean Kilt Hire Outfit
How to get this special deal…
Head to MyIdeals before the 2nd of April to buy a voucher, which will be valid from 01.02.19 to 31.12.22!
It can be redeemed at any of the Edinburgh, Musselburgh or Dundee Eight Yards stores.
There's also a range of additional accessories you can add on, like brogues and sporrans, for a surcharge. Full details of all available extras are available on MyIdeals, alongside a list of all Ts&Cs!
Have you seen the new Slanj Kilts Glasgow store?
Slanj Kilts have recently moved to 49 Bath Street, Glasgow, and a visit to their exciting new shop should be on every groom's to-do list!

IMAGE | The Gibsons
Filled with an unrivalled collection of contemporary and traditional kilts and highlandwear, available to hire or buy, you're guaranteed to walk away with your perfect big day outfit.
And whatever your highlandwear needs, you'll be treated to their exceptional customer service as you shop.
The kilt experts
Slanj Kilts' commitment to excellence in kiltmaking and kilt hire will ensure your groom will be wearing the perfect outfit on your wedding day.
They've always tried to stay at the forefront of innovation and design in the Scottish highlandwear trade, and consistently stock the widest range of kilt jackets and the finest kilt accessories available in Scotland – they even have their own production facility, mainly involved in the manufacture of tartan trousers.
IMAGE | The Gibsons
In-store, their knowledgeable sales team have an unrivalled wealth of experience, earned by working in the kilt trade over many years. They'll help you select the perfect outfit from their extensive collection!
They also stock "Kilter" kilt luggage, cool original Scottish t-shirts and have recently launched their new range of "Lucky Jocks" tartan underwear. So basically, everything you need to look the part for your special day.   
 IMAGE | The Gibsons
Book an appointment for a kilt fitting at a Slanj store (as well as the Glasgow shop, there's also one in Edinburgh!) and get a stylish kilt outfit to last a lifetime.
t. 03333 201 977  | e. info@slanj.com
Irregular Choice's new collection for grooms are perfect if you want to make a statement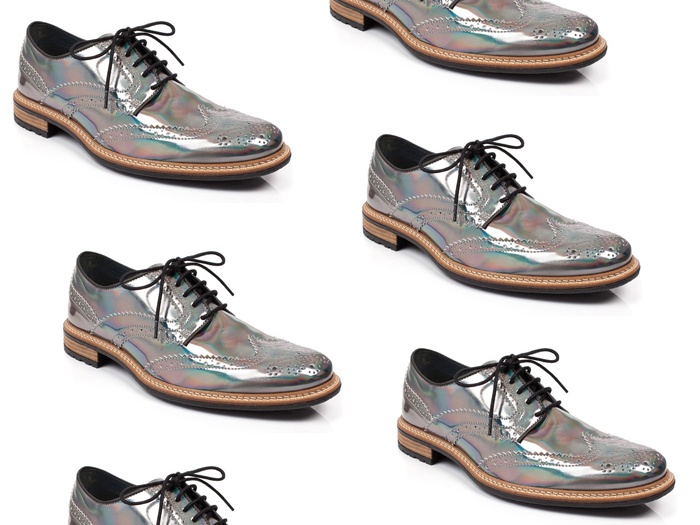 Thought it was just brides who could enjoy Irregular Choice shoes on their big day? 
Nope, grooms can treat their feet to the quirky shoe designs with Irregular Choice's men's collection.
From unique colour options to eye-catching metallic, the shoes are perfect for grooms looking to make a serious style statement.
Here's a look at the Irregular Choice Edwin collection, a classic brogue with a twist…
BUY | Glitter brogues (£110)
BUY | Metallic green brogues (£110)
BUY | Metallic silver brogues (£110)
BUY | Metallic pink brogues (£110)
BUY | Metallic red brogues (£110)

BUY | Metallic blue brogues (£110)
BUY | Metallic orange brogues (£110)
BUY | Blue glitter brogues (£110)
BUY | Metallic brogues (£110)
BUY | Metallic brogues (£110)
BUY | Metallic brogues (£110)
BUY | Pink glitter brogues (£110)
BUY | Lime green glitter brogues (£110)
BUY | Aqua glitter brogues (£110)
Elegant + glam Summer wedding at Lochside House Hotel and Spa, New Cumnock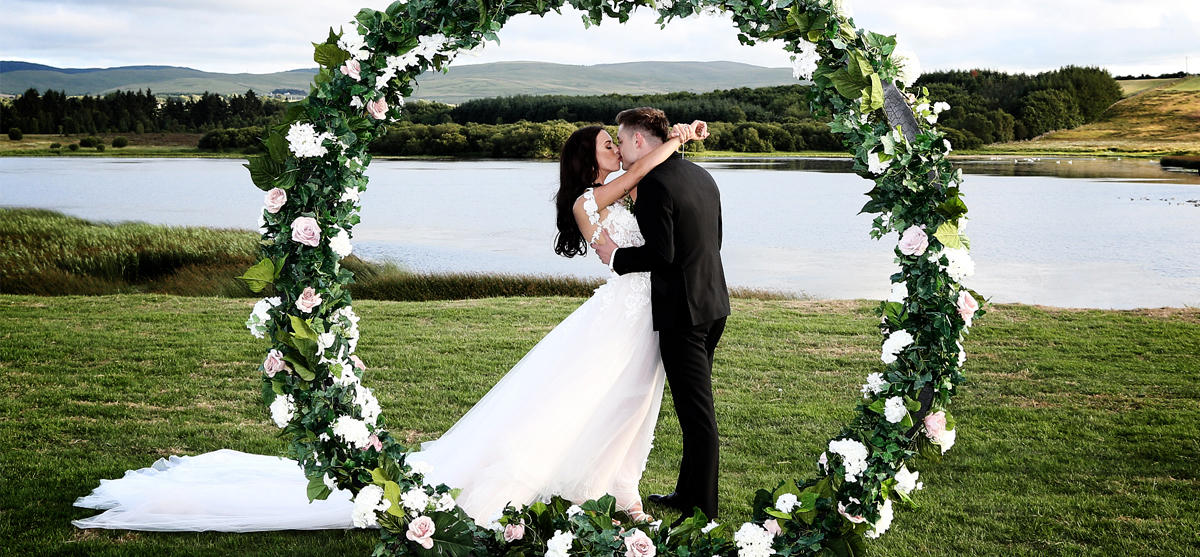 Bride Mhairi is an event stylist and her family owns several prestigious wedding venues, so her wedding to husband Jamie was always going to be out of this world.
With plenty of glamorous style, this Lochside House Hotel and Spa wedding day is one we'd have loved to have been guests at!
Here, happy newlywed Mhairi shares all the details from their beautiful big day, with snaps from Ryan Mimiec Photography.
"Jamie and I met on Instagram, then had our first date two weeks later. After that we never left each other's side, and within three months I was pregnant.
It moved quite quickly but it felt right; our wedding was just the finishing touch, as we'd already committed on every other level.
My family owns the RAD Hotel Group, and while all the venues are gorgeous, I always knew I'd get married in Lochside. It's been such a big part of my childhood and my life – it really has a piece of my heart.
Because we work in the wedding industry [Mhairi owns JAM Events], I felt a bit of pressure to make sure my wedding was amazing.
I didn't want to play it safe. My dad was laughing and asking if the theme was 'big and more' and I said yes, I wanted it to be extra!
We went for a fairytale theme with a little bit of glitz. JAM Events did all the floral décor; we had blossom trees everywhere, arbors covered in white flowers, floral hoops, huge floral centrepieces and a cake decorated with hydrangeas and orchids.
My dress was Galia Lahav; big and romantic with tulle and flowers all over it. My bridesmaids wore rose gold sequin dresses, and my mum wore white lace.
My make-up was really natural and glowy. We all wore our hair down and wavy; I didn't want my bridesmaids to look like they were going to prom!
Jamie, my dad, the ushers and best men all wore tuxes for a Prince Charming look.
We had two flower girls – our daughter Vivien (who was a year and a half old) and my cousin's daughter – and two page boys.
We had a humanist ceremony outside in front of the loch. The sun was splitting the sky, but my veil blew off because it was so windy!
The ceremony was very simple and relatively short, because we had children there and we wanted to get the party started afterwards.
We had a pianist play during the ceremony, then he continued playing inside during the drinks reception. Drums N' Roses played while we got our photos taken, then when the guests arrived at night we had a piper, and my cousin Jack played sax.
We gave all the women Miss Dior Absolutely Blooming Roller-Pearl as their favours, and the guys got a bottle of Ciroc vodka.
We had a different theme for the evening – I wanted it to be more of a party vibe, with balloons, mood lights and dry ice for our first dance (to John Legend's All of Me).
My mum put heaters and a gazebo outside and we had a gin bar, wine bar, cocktail bar and shot bar with a saxophonist playing outside for an Ibiza vibe.
Our wedding band kept the dancefloor busy, and people were milling around outdoors too – it didn't feel like Scotland!
At 11pm we closed the doors to move the party inside and then we had The Kilted DJ playing from midnight until 2am. Everyone was up for a good party!
I remembered people always saying to take five minutes out with your husband, so Jamie and I did that a few times throughout the day.
It was so nice to spend some time together having a wee drink and just taking it all in, as it's true what they say – the day goes by so fast!
Venue: Lochside House Hotel and Spa | Photographer: Ryan Mimiec Photography 
Second photographer: Mark Ferrier | Videographer: Strawberry Wedding Films | Floral décor: JAM Events 
Bouquets and cake flowers: Flowers @ 7, Ayr | Cake: Sugar and Spice  | Bride's dress: Galia Lahav at Kavelle Bridal Couture 
Bridesmaid dresses: Opus Couture | Flower girl dresses and bridesmaid dress alterations: Elizabeth Wallace Bridal
Mother of the bride outfit: Joyce Young Design Studios | Groom's and dad's tuxes: Jim Forbes Tailoring
Stationery: Bespoke Wedding Stationery by Jackie Adams | Bride's hair: Jena Kyle | Bridesmaids' hair: New Image Salon 
Make-up: Onyx Makeup | Childcare: Practically Perfect Event Childcare  
Celebrant: Norrie Flowers, Independent Humanist Ceremonies  | Pianist: Andy Lucas Piano
Pipe band: Drums N' Roses | Evening saxophonist: Sarah Sax | Wedding band: Ernest | DJ: The Kilted DJ 
Have you seen Slater Menswear's Highlandwear range?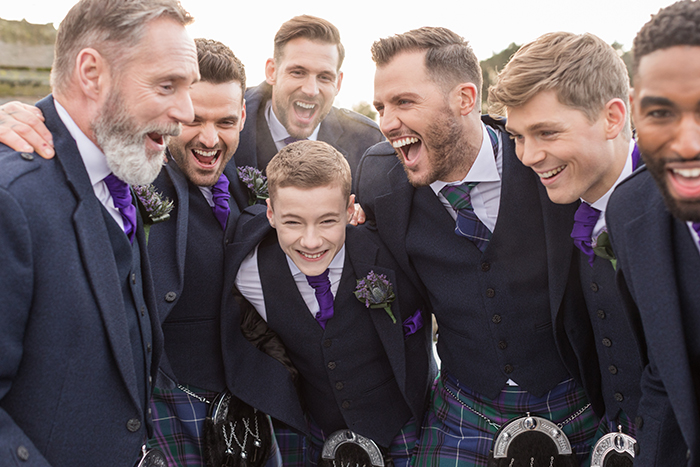 With a great range of formal and highlandwear to buy and hire, Slater Menswear should definitely be on every groom's must-visit list in the run-up to their big day. Here's a wee intro to what's on offer…
If you're keen to push the boat out and create an outstanding look for your wedding, hiring you and your groomsmens outfits might just be the way to go.
It's a great way to not only be more creative on a budget, but also to match outfits more easily across the group!

Exclusive tartans
Slater Menswear stores offer an exclusive selection of tartans for hire or to buy, so if there's a highland theme to your ceremony and celebration you can mix-and-match for stunning wedding outfits.
Their 17 Highlandwear variants to hire, including Slater Menswear exclusives Highland Sky and Summer Spirit, cover just about every traditional tartan requirement.
Meanwhile, with a choice of classic Argyll, Prince Charlie Jackets and Contemporary Tweed versions of each, there's bound to be a highland look that's just right for you and your party.
Check out the Slater Menswear hirewear ranges and build your ideal wedding outfit online with their outfit builder.
Special offers
You'll also love Slater Menswear's excellent five-for-four deal on outfits throughout the formal and highlandwear ranges.
And to support you even more on your wedding day, hire of the groom's outfit – or whichever is the most expensive – is free.
Made to order
Not looking to hire? Slater Menswear also offer a Made to order service for kilts and tartan trews in all their stores.
They have thousands of tartans available from Scotland's leading mills including, House of Edgar, Loch Carron and Marton Mill, so you'll have lots of options.
It's much more budget-friendly than you might think, with kilt prices starting from £305 to buy and trews from £156. Highland Retail Jackets* are available from £185 (*at Scottish stores only) and an extensive range of Highland Accessories are also available.
It's worth noting though that kilts and trews can take around 6 to 8 weeks to make, subject to cloth availability and bank holidays.
Doric inspired wedding day at The Barn @ Barra Castle, Inverurie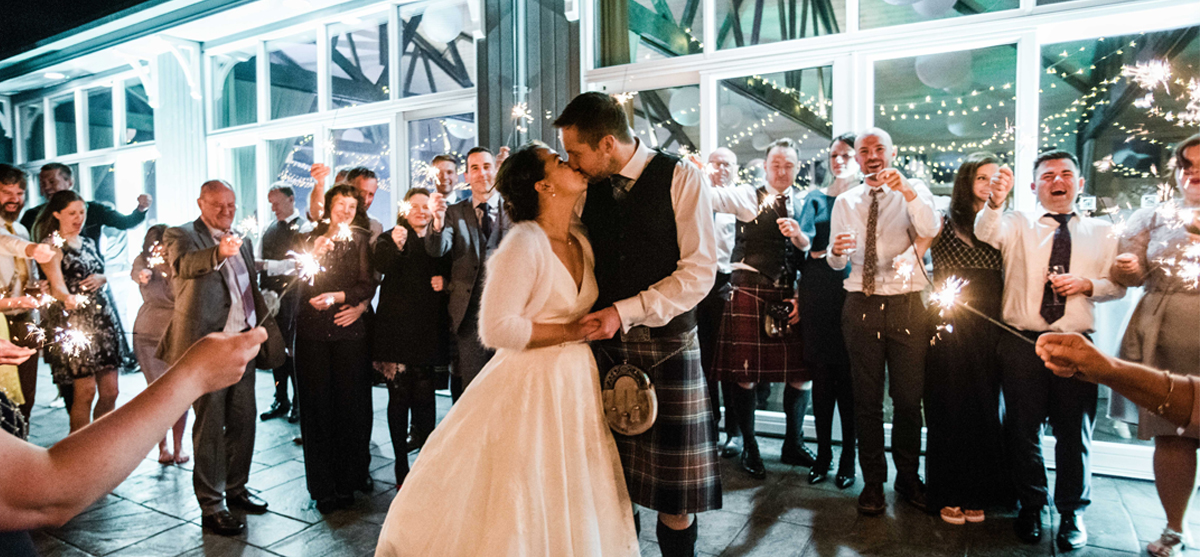 For Claire and Chris's wedding day, there was plenty of personal touches and a twist on Scottish dialect, Doric.
From a spectacular rustic vibe at The Barn @ Barra Castle to lighting up the night sky with sparklers, it was fun from start to finish.
Here, bride Claire talks us through their big day, captured by James Kelly Photography.
We chose Blair's Chapel for our noon ceremony as it was where Chris's parents and his younger sister also got married. It's such a beautiful church and setting.
Our priest asked us to write some information about how we met and our interests. He helped to keep the service really light-hearted.
The Barn @ Barra castle was our reception venue and it was the first venue we looked at. We loved the amazing views it has overlooking Bennachie, which we had climbed together on our second date.
We could also add personal touches to really make the venue our own.
We went for a Doric theme as we got engaged in Aberdeen. This was incorporated into the table names, some of the signage and speeches.
We kept things quite rustic and autumnal with tree log slices, hessian fabrics and pine cones. Our flowers were unstructured, with creams, pinks and deep purple.
We had 100 day guests and an additional 60 guests in the evening. We liked to involve our friends and family in the planning of the wedding.
Chris's friend, Allan, made a bespoke craft beer for the drinks reception and called it 'Hoppily Ever After'. My parents made blackcurrant gin as favours and Chris's mum made the cake.
We enjoyed the planning process and I think involving our family and friends really helped with that.
Our first dance was a little unconventional. We went for September by Earth, Wind and Fire. We took dance lessons and performed a choreographed routine, which included the floss (Chris still can't do it)!
We have so many great experiences to look back on like helping Allan bottle the beers and practising our dance.
In hindsight I think it might've been beneficial to put together a spreadsheet to keep track of when balances are due – something as an accountant I'm surprised I didn't do!
We had the best day of our lives and loved catching up with people to share stories and experiences of the big day. We're thoroughly enjoying married life so far!
Venue: The Barn @ Barra Castle | Photographer: James Kelly Photography 
Bride's dress: Sassi Holford at Ivory Grace Bridal | Bride's jewellery: Liberty in Love 
Bride's shoes: Rainbow Club | Bridesmaid dresses: Motee Maids at Ivory Grace Bridal
Groom's outfit: Neil Selbie & Co. | Make-up: Francine Ray | Hair: Cassie McRobb 
Band: Bahookie | Stationery: Optimalprint 
Ceremony florist: XOXO Florist | Bouquets and buttonhole florist: Val Morrison