Beatson Cancer Charity launches stylish new tartan with Slanj Kilts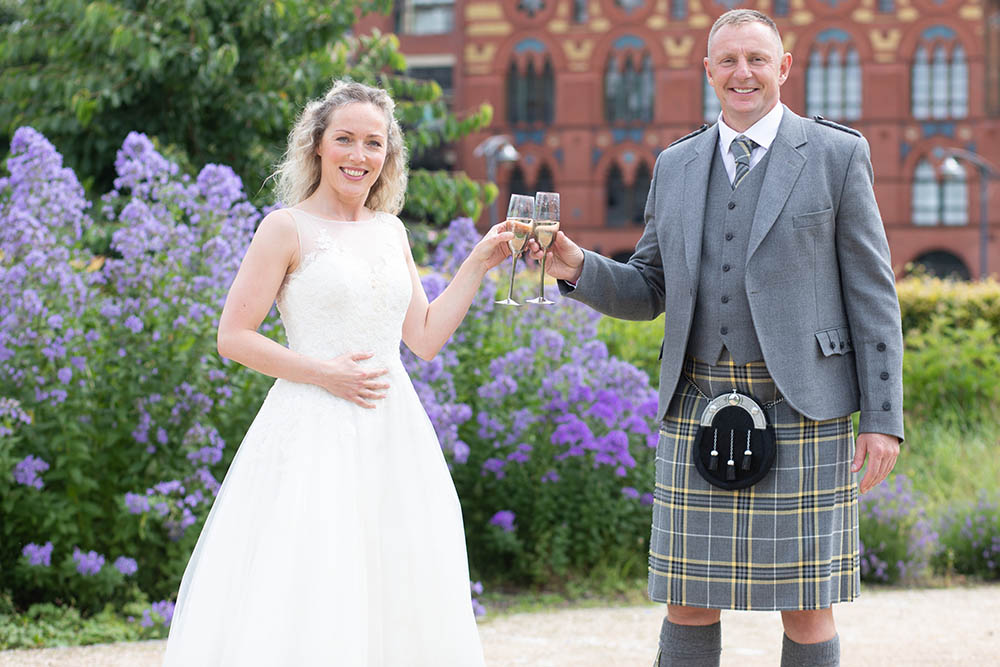 Beatson Cancer Charity has collaborated with one of Scotland's top kiltmakers, Slanj Kilts, to produce an exclusive new tartan.
Created to honour and support the millions of people facing cancer, the tartan can be used on your wedding kilt or trews to ensure you look stylish on the big day while doing your bit for a fantastic cause.
The woollen cloth features the Beatson Cancer Charity's distinctive black and yellow corporate colours complemented by a soft grey for a cool, contemporary look.
Jane Hunter of Hunter's Atelier (and sister-in-law of Tom Hunter), a former graduate of Glasgow School of Art, led the design of the tartan, which is woven at Isla Bank Mills in Keith.
The design is now part of The Scottish Register of Tartans.
And it's already a firm celeb fave, as STV broadcaster Laura Boyd and ex Scottish footballer Robert Douglas wore the tartan for its launch.
Laura tweeted:
"Today @beatsoncharity launch their very own tartan range, including kilts & face masks.
"It's the perfect way to proudly support the charity and celebrate Scotland in style, as well as staying safe. I owe my life to the Beatson and this was a joy to be a part of (even in the hat!)"
Kilts, trews and tartan face masks are all available to buy online from Slanj, which has stores in Glasgow and Edinburgh.
Slanj can create custom made-to-measure grooms' outfits tailored to fit your exact measurements.
Not in the market for groomswear?
There are also candles, dog leads and flat caps made from the tartan fabric which can be bought from the Beatson Cancer Charity shop.
Or if you're looking for another way to support the charity on your wedding day, take a look at the Beatson Cancer Charity wedding favours, which include heart-shaped pin badges and chocolate lollipops!
Grooms' kilts and suits we loved at the Scottish Wedding Show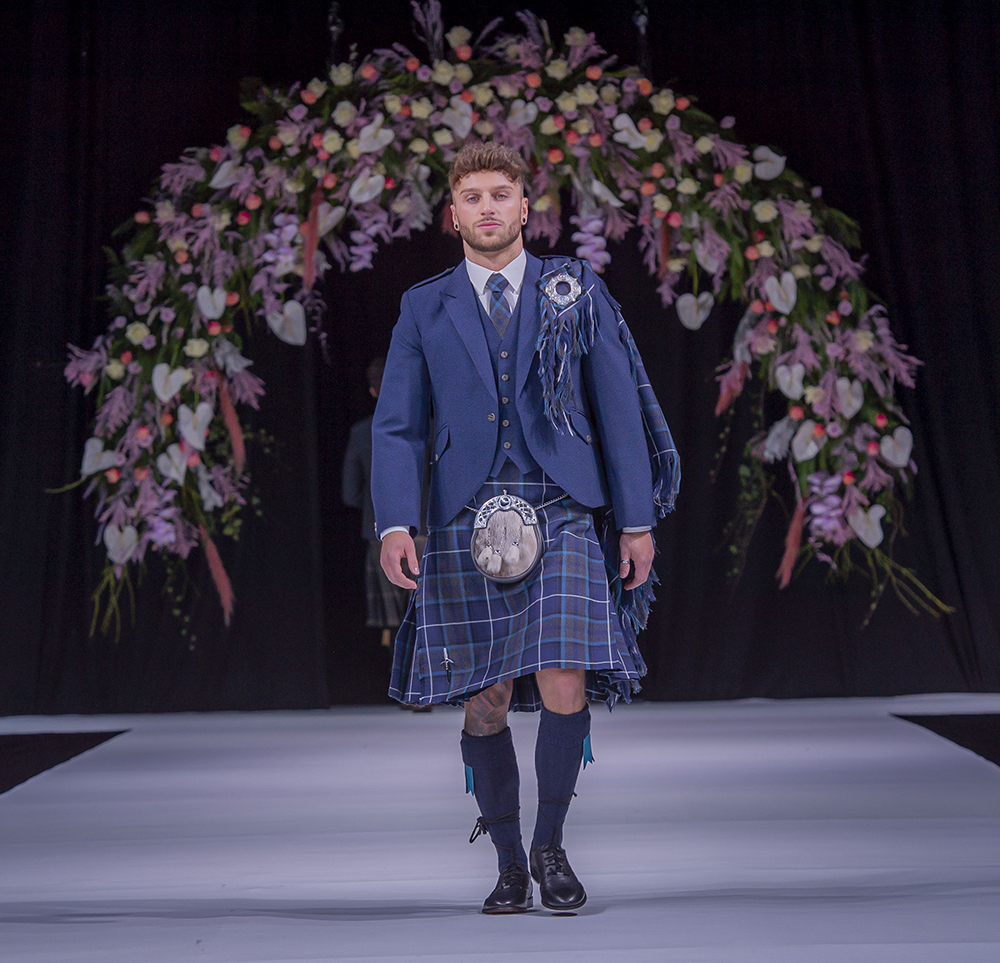 All images by Alan Peebles
With the coronavirus pandemic seeing us stuck indoors for the foreseeable, it'll be a while before any of us can go to a wedding fair – and groomswear shopping is out of the question too (physically, at least).
But that doesn't mean you can't browse for ideas!
Even if you've had to put the search for your wedding outfit on hold, you can still use this time to research the types of kilt or suit you'd like to wear. There are so many different styles and colourways available these days, and it's worthwhile having an idea in mind before you go shopping.
Begin by taking a look at our edit of the kilts and suits we saw and loved at the most recent Scottish Wedding Show back in February.
EIGHT YARDS
Find out more about Eight Yards.
CLAN KILTS
Find out more about Clan Kilts.
MACGREGOR AND MACDUFF
Find out more about MacGregor and MacDuff. (Dresses pictured are by Joyce Young Design Studios)
KILTS 4 U
Find out more about Kilts 4 U.
MCCALLS
Find out more about McCalls.
REMUS UOMO
Find out more about Remus Uomo.
SLATERS MENSWEAR
Find out more about Slaters Menswear.
Don't forget to check out our edit of the best wedding dresses at the Scottish Wedding Show.
We've also highlighted some our favourite mother of the bride outfits from the show.
The ultimate kilt shopping guide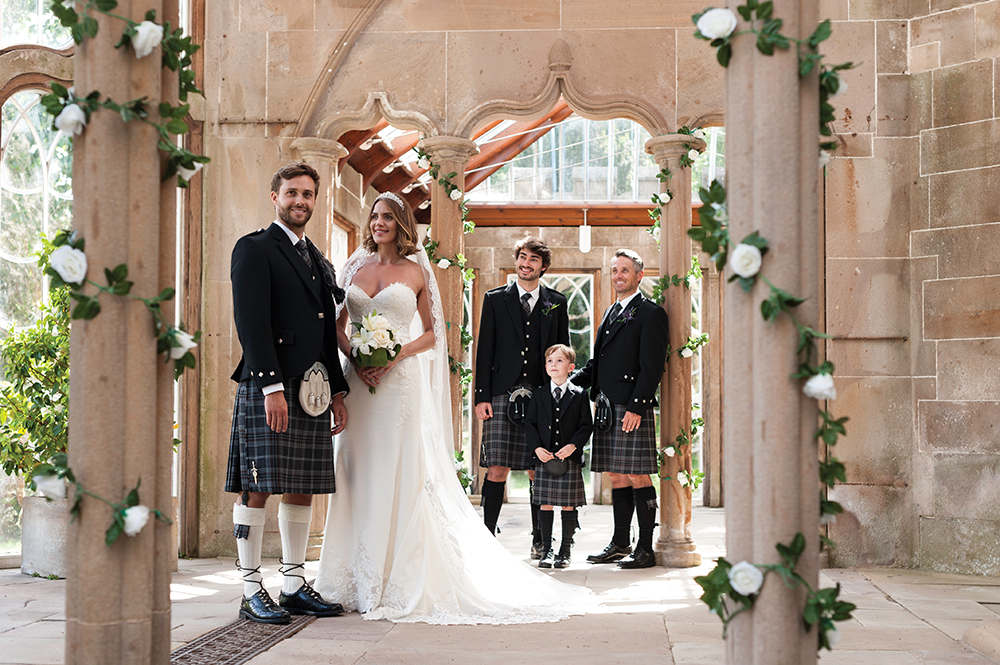 There are entire TV shows dedicated to brides hunting for their dream wedding dress. But what about you, the groom?
Finding your kilt can be just as challenging and exciting – and with screen-worthy results, too!
At MacGregor and MacDuff, the focus is on making the experience of purchasing and hiring wedding party kilts as stress-free and enjoyable as possible, so you can look your best without breaking a sweat.
GETTING STARTED
To start with, you'll find a great range of styles at their Prestwick and two Glasgow stores.
There are 12 hire tartans and six jacket options, not to mention up to 4,000 tartans to choose from if buying.
The expertly trained sales stylists will run through outfits and styling options with you, as well as letting you know about any relevant special offers.
Take advantage of the Groom's Fitting Service, too.
This involves being measured at the store, then returning at a later date to try on two to three outfits in your size.
It should help you make up your mind if you're stuck between a couple of options.
Once you're all sorted, get your wedding party in for measurements and outfit selection; you can do this individually or make an appointment to come in as one group.
THE COUNTDOWN
After that, MacGregor and MacDuff's wedding party co-ordinator will take over.
She'll look after the logistics – checking outfits and collection dates – so that you can focus on other wedding planning tasks.
Ideally you'll have your groomsmen measured 12 weeks before your wedding, while you should aim for a couple of weeks before this (if you're buying a kilt, it'll take 8-10 weeks to be made).
Children are asked to pop in three weeks before the wedding to be remeasured.
This is also an option for the rest of the wedding party, if you'd like to double-check sizes.
Finally, MacGregor and MacDuff ask wedding parties to collect their outfits at least two days before the wedding – this gives you a little bit of breathing space to try them on and sort any last-minute changes.
Left it a little bit late to find your outfit, or planning your wedding within a short window of time?
Don't panic. MacGregor and MacDuff will do their best to accommodate you, no matter your timescale.
ON THE DAY
When it comes to picking up your kilts, you can collect them at a time that suits you.
Or, excitingly, if you live within 15 miles of MacGregor and MacDuff's Bath Street store, you'll be able to make use of the company's brand new drop-off service, whereby your outfit will be dropped off at your home address.
Fancy having an extra special wedding morning? Check out the new Groom's Room service at House Martin Barbers on Bath Street, Glasgow.
MacGregor and MacDuff have teamed up with this super-stylish barber so that grooms and their groomsmen can book it for the wedding morning.
Everyone will get fresh haircuts and beard trims while sipping on whisky and coffee.
Better still, a MacGregor and MacDuff stylist will be there to dress you all in your outfits, so you can stand proudly at the top of the aisle knowing that you look amazing.
Whether or not you opt for additional extras like these, you'll receive the exact same standard of care and attention that all MacGregor and MacDuff grooms get.
And that's invaluable.
CONNECT WITH MACGREGOR AND MACDUFF
An easy guide to grooms' wedding suits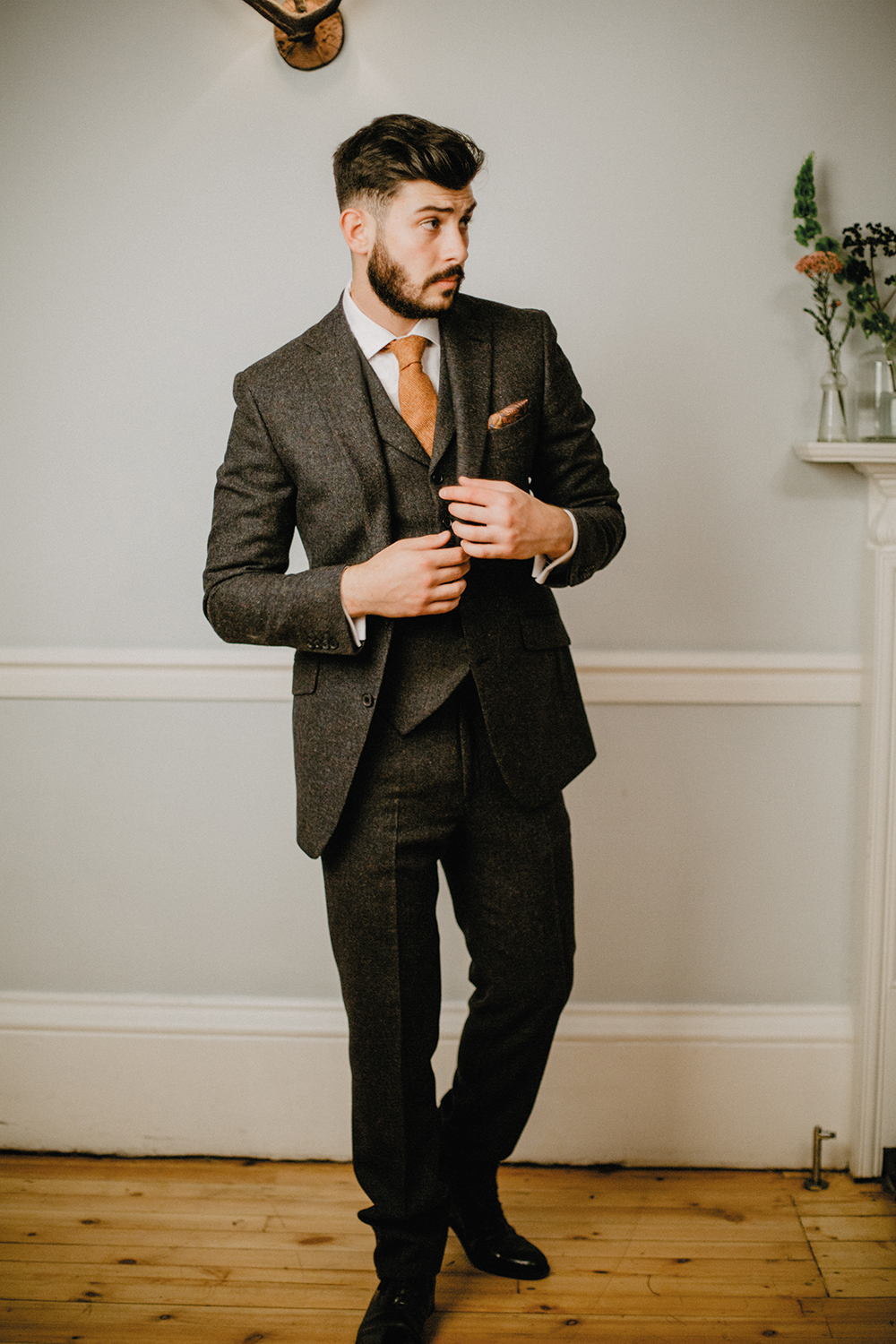 IMAGE | Walker Slater shot by Laura Tiliman and Eve Conroy for Scottish Wedding Directory
Highlandwear isn't for everyone but if you choose to wear a suit make sure you're wearing it right and looking sharp.
~BAND ON TREND~
"The most popular style right now is most definitely a three-piece suit with jacket, waistcoat and trouser," says Declyn Cooper, buyer at Slaters Menswear.
"The newer trend is having a fancy waistcoat such as a double-breasted style or lapel on the waistcoat."
Andrew Brookes, creative designer of Andrew Brookes Tailoring says the cut of the suit tends to be a narrower, more European cut with slimmer sleeves and tighter shoulders.
He adds, "We're seeing a lot more double-breasted or scooped waistcoats.
"It's really nice to do something in cream or ivory in the waistcoat for when you see brides and grooms together."
IMAGE | Remus Uomo
~COLOUR ME BEAUTIFUL~
Declyn says navy is the winner again this season, providing a nice contrast with the colours of the bridal party.
Bold checks are also popular.
~TROUSER LENGTH~
Trousers should ideally sit on top of your shoe with a slight break
~JACKET BUTTONS~
On a single-breasted two-button jacket you only ever do the top button up.
Three-button jackets are falling out of favour, but if you choose to wear one, you should only fasten the middle one.
Andrew says, "You should really cut the top button with the narrowest part of the groom's waist so it pulls his waist in."
~BUTTONHOLES~
Buttonholes are a great way to tie your wedding outfit in with the overall colour scheme.
The buttonhole will usually be on your left side but Andrew says for left-handed grooms he puts the buttonhole on the right lapel.
He also places a couple of loops of thread behind the hole to feed the stem of the buttonhole flower through neatly.
~SHIRT~
The shirt you wear will depend on the style of suit you opt for.
As suits have become more fitted, so too have shirts.
"It's comfortably neat, showing the man off," says Andrew, who espouses a big collar with a bigger tie knot.
"That's what can really give you an edge. If you take the collar a bit more cut back, the points will sit neatly underneath the waistcoat."
IMAGE |  Remus Uomo
~CUFFS~
Narrow-fit suits mean single-cuff shirts are more popular now because they fit better with the suit, says Declyn.
However, double cuffs tend to look smarter for your wedding and they can be accessorised with a nice pair of cufflinks – a perfect present for your best man.
~ACCESSORISE THAT~
You can easily elevate your wedding suit with fancy socks, handkerchiefs, ties and pocketwatches.
~THE CUSTOM LOOK~
Opting for a bespoke suit may seem like a huge expense but it's one that'll pay off, as you'll be able to wear it again.
"For your special day, a custom suit is a great idea as every aspect of the garment is tailored to the individual from the material to the lining to the custom button, possibly with the date on it," says Declyn.
Andrew can add personal touches that will really mean something to the couple like making a collage of the couple's holiday photos to transform into a handmade lining for the suit or changing the melton (the fabric underneath the collar) and embroidering it."
HAVE YOU FOUND YOUR WEDDING SUIT YET?
An easy guide to highlandwear for Scottish grooms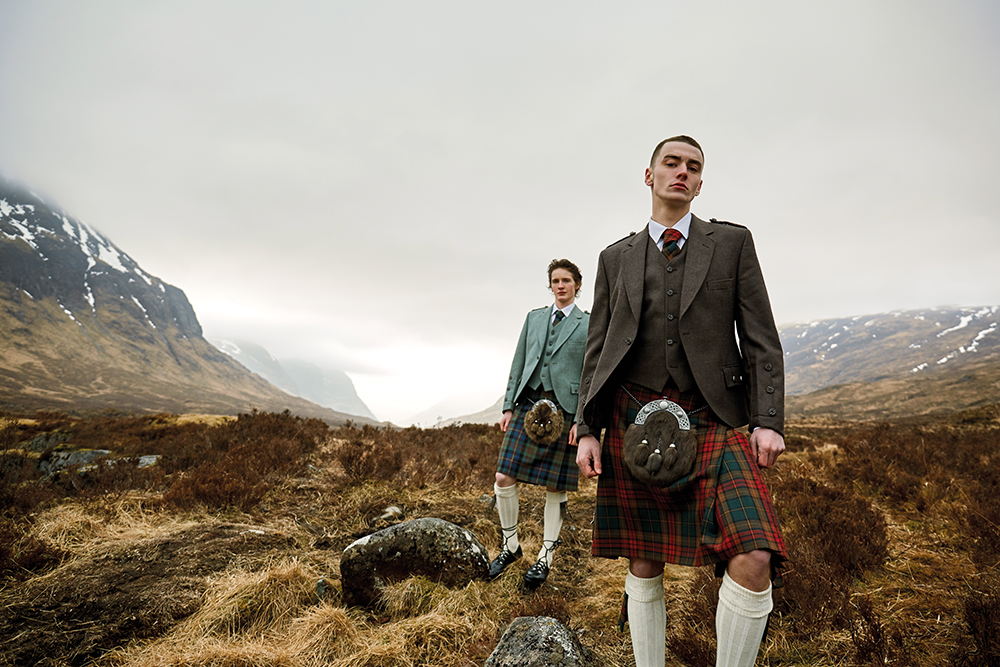 IMAGE | MacGregor and MacDuff, shot by Stew Bryden for Scottish Wedding Directory
It may be our national dress, but a kilt's not the easiest thing to put on.
Here's our guide to what to wear and how to wear it.
~ SHIRT AND TIE ~
The style of shirt you wear depends on the type of tie you opt for.
"There are several different ways to style your kilt outfit to fit in with your own personal style, and this includes a range of shirt and tie options," says Izzy Tetlow of MacGregor and MacDuff.
"A traditional cravat comes in a variety of colours and can be worn with either a white or black swept shirt.
"A swept shirt sits up at the back, and has a deep collar that folds down at the front."
"Ruche-style ties are quite a traditional choice for weddings and should be worn with a Victorian shirt," adds Taegan McClure of Kilts 4 U.
Wing collar shirts go with bow-ties, and straight ties (which are more on-trend) should be worn with a standard collar shirt.
According to MacGregor and MacDuff's Izzy, tartan bow ties have become increasingly popular and are a quirky twist on a classic design.
"Finally, tartan ties are a popular choice with our kilt outfits," she says.
"A tartan tie is worn with a normal collar shirt, and is a great way to make a traditional outfit look a bit more modern."
IMAGE | Kilts 4 U
~ THE SPORRAN ~
"The sporran is frequently worn incorrectly," says Taegan. "A lot of people wear it too low down. It should be worn about a four-finger-span down from the top of the kilt.
It's worn on a chain and belt which goes through the two belt loops at the back of the kilt."
If you're putting it on yourself, Taegan recommends buckling the belt up at the front and then rotating the sporran round to the front so it sits in the middle of the kilt, in line with the buttons running down the centre of the waistcoat.
~ SOCKS + SHOES ~
"Your socks should sit around three fingers below your knee, with the flashes sitting to the outside of your leg," says Izzy.
"Ensure that your socks aren't twisted, and put your flashes on the side of each calf. Fold your socks down to cover the garter of your flashes.
"Adjust the socks to be at the correct height.
"When getting ready, put your shirt, socks and brogues on first: it becomes increasingly difficult to tie your laces once you have a kilt on!"
And there's a knack to tying your ghillie brogues. "Start like you would normally wear your shoes, then cross the laces over between four to seven times to add a bit of height," says Taegan.
"You then want to take the laces around the back of the leg and cross them over, raise the laces a little, take them back around the front and cross them over, raise the laces a little again and then take them to the outside of the leg."
Your laces should sit below your calf muscle and they shouldn't fall down.
~ JACKET + WAISTCOAT ~
The more traditional Prince Charlie and Argyle jackets have been overtaken in popularity recently by contemporary and custom styles.
"At Kilts 4 U we specialise in bespoke outfits," says Taegan.
"Grooms can design their own jacket from scratch choosing their preferred cloth, lining, buttons as well as all the styling detailing, allowing them to design a one of a kind jacket to express their individuality."
Izzy says Tweed jackets are MacGregor and MacDuff's most popular offering at the moment.
"We have a range of different tweed options including two navy options, light grey and brown," she says.
"These are perfect for making your kilt outfit a bit more unique, by pairing the tartan with a complementary tweed colour.
"Our charcoal tweed jackets are extremely popular; charcoal goes with the majority of our tartans so this is always a great jacket to go for."
~ THE KILT ~
There's nothing worse than seeing a groom wearing his kilt at the wrong length.
"The kilt should be wrapped around your body, with the pleats at the back and aprons overlapping at the front," says Izzy.
"A kilt sits a lot higher than your trousers, and should be around your naval or an inch above.
"The length of the kilt should then just be overlapping the top of your kneecap and sit in the crease of the back of your knee."
Taegan adds, "The pleats should go to the rear and the fringe on the right hand side."
IMAGE | 8 Yards
~ THE PLAID ~
Some grooms wear a plaid on their left shoulder to stand out from the rest of the wedding party.
"On the plaid, one corner of the cloth is sewn into a V shape," says Taegan.
"This corner should be used to attach the plaid and should be fed through the epaulette on the left shoulder and pulled through to the front of the jacket.
"All of the fringing should go to the edge."
Pull the plaid down so the V-shaped corner is in line with the second button on the waistcoat.
Secure the plaid to the jacket with a brooch, worn just above the pocket.
~ PERSONALISE IT ~
Brides have their pick of wedding dress fabrics and styles and similarly grooms can personalise their kilt outfit.
"MacGregor and MacDuff have a Signature Collection, which is the best package to go for if you are looking for a completely bespoke outfit," says Izzy.
"The Signature Package allows you to completely customise your jacket and waistcoat, working closely with our Signature Stylist to design each element and create your perfect jacket and waistcoat.
"If this package isn't for you, the best way to personalise your outfit is through your accessory choices.
"We have a range of different accessory options, including a variety of sporran and tie choices to make you stand out from the rest of your wedding party."
HAVE YOU FOUND YOUR HIGHLANDWEAR OUTFIT YET?
18 of the best kilt + suit shops in Glasgow 2019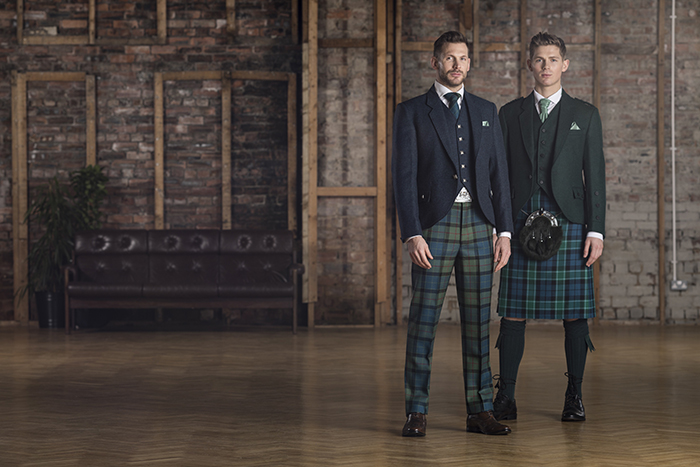 Whether you choose to wear a kilt in your family tartan, fashion-forward trews or a stylish suit, here's the best kilt and groomswear shops in Glasgow for you to visit. We hope you find that perfect groom's outfit!
Some of the content in this post is paid-for. 
KILTS 4 U
IMAGES: Stewart Bryden Photography
Kilts 4 U offer an extensive range of quality Highland Dress outfits where you can hire without compromise on quality, style or fit. 28 tartans and eight jacket options are all available from as early as six months, meaning all your groomsmen big or small will be looking sharp on your big day.
Kilts 4 U will offer you a fully bespoke service. Whether you want to design your own tartan or create a fully customised outfit, unique in every way they will offer you a gold room experience and guide you through every stage. Made to measure and Mark Darcy off the peg suits are a new addition to the Dumbarton Road branch.
Kilts 4 U an award winning supplier with branches in Hillington, Dumbarton Road, and Kilmarnock, with a store soon to open in East Kilbride.
Visit Kilts 4 U's website | t. 0141 334 4100
 SLATERS MENSWEAR

You may already know Slaters Menswear for their beautifully tailored and on-trend suits, but did you know you could also hire kilts from them too?
Situated behind the St. Enoch Centre is Glasgow, grooms and their groomsmen can easily peruse what tartans are available in store and online. No hidden costs, the team at Slaters Menswear are upfront about their pricing and what hiring entails, making what can be a confusing experience really easy for those soon-to-grooms not used to wearing (or hiring) kilts!
Also, if you have four kilts from Slaters you get the fifth one for free, meaning you can potentially get fully kitted out for your wedding day to the tune of £0 – score.
Visit Slaters Menswear's website | t. 0141 552 7171
A1 KILT HIRE
A1 Kilt Hire have stores in Glasgow, Dundee and Edinburgh, but you don't even need to go into their premises to secure your kilt – you can do it online! All you need to do is tell them which address you want the kilt delivered to and you're good to go.
Visit A1 Kilt Hire's website
GLASGOW KILT CO.
Situated on Glasgow's busy hope Street, Glasgow Kilt Co. can provide made to measure and hired kilts for your special day. They even have kilts for wee boys as young as six months – aww!
Visit Glasgow Kilt Hire's website
HECTOR RUSSELL KILTMAKER
No matter if you're looking for a classic kilt or are going for a more contemporary look, Hector Russell Kiltmaker's have over 130 years of experience creating made-to-measure Highland Dress.
Visit Hector Russell Kiltmaker's website
JAMES ROBERTSON KILTMAKER
Working closely with locally sourced suppliers, James Robertson Kiltmaker creates beautiful, high quality kilts in the centre of Glasgow.
Visit James Robertson Kiltmaker's website
FORBES ON THE SQUARE
Forbes Tailoring use only the finest fabrics when creating their beautiful suits, meaning you'll be well looked after if you go here to buy your wedding outfit. FYI for footie fans, they're also the official suit suppliers of Celtic and Rangers FC.
Visit Forbes on the Square's website
MCCALLS OF GLASGOW
IMAGE: Stewart Bryden Photography
McCalls of Glasgow are incredibly skilled kiltmakers, so much so that their work is recognised by The Guild Of Master Craftsmen, a national organisation which promotes and supports excellence in workmanship.
Visit McCalls of Glasgow's website
MACGREGOR AND MACDUFF
MacGregor and MacDuff have a huge selection of beautiful kilts and accessories available to hire or buy outright. And, if you're looking to cut costs, their ex-hire outfits are great value for money and have only been in the store for a year of less.
Visit MacGregor and MacDuff's website
MOSS BROS
Expert tailors and men's formalwear extraordinaires, you're guaranteed a beautifully made outfit for your wedding at Moss Bros' Glasgow store.
Visit Moss Bros' website
REMUS UOMO
Elegant and suave, Remus Uomo can make even the biggest suit novice look like a movie star in their beautifully tailored, on-trend occasion suits.
Visit Remus Uomo's website
SLANJ KILTS
IMAGE: Luis Holden Photography
Slanj Kilts are a modern highland wear company situated on Glasgow's Bath Street. At Slanj, you'll be able to get a suave bespoke kilt that will ensure you and your groomsmen look amazing on your wedding day.
Visit Slanj Kilts' website
WALKER SLATER
IMAGE: Ross Alexander Photography
Known for making tweed and tartan cool, Walker Slater has reimagined what it means to wear a traditional Scottish suit on your wedding day.
Visit Walker Slater's website 
~ WILLING TO TRAVEL? ~
These amazing kiltmakers aren't quite in the centre of Glasgow, but they're all within a one-hour drive from the city centre and definitely worthwhile visiting on your wedding outfit hunt!
A CRAWFORD AND SON
IMAGE: iStock
A Crawford and Son has been in the kilt making business for 115 years, meaning you'll be in safe hands when buying a kilt at there store in Giffnock.
Visit A Crawford and Sons' website
CLAN KILTS
Able to provide quality hand-sewn kilts and accessories in the stomping ground of Scottish heroes Robert the Bruce and William Wallace in Stirling, you'll be a true Caledonian clansmen in one of Clan Kilt's handsome wedding outfits.
Visit Clan Kilts' website
DALGLEISH KILTS
Situated in Motherwell, Dalgleish Kilts is a family run business that will help you every step of the way when picking out the perfect kilt for your wedding day.
Visit Dalgleish Kilt's website
 HOUSE OF HENDERSON
IMAGE: Corona Photographic
House of Henderson Kilts is an award winning kilt company in Stirling and is one of Scotland's longest standing providers of highland wear. Situated in Stirling, you'll be in safe hands if you decide to buy your kilt here.
Visit House of Henderson Kilts' website
HOUSTON TRADITIONAL KILTMAKERS
No matter your budget or taste, Houston Traditional Kiltmakers in Paisley can provide you with a beautiful hired or bespoke kilt that will help you take your aisle style to the next level.
Visit Houston Traditional Kiltmakers' website
~ Want to know more about kilts? ~
How to easily personalise your groomswear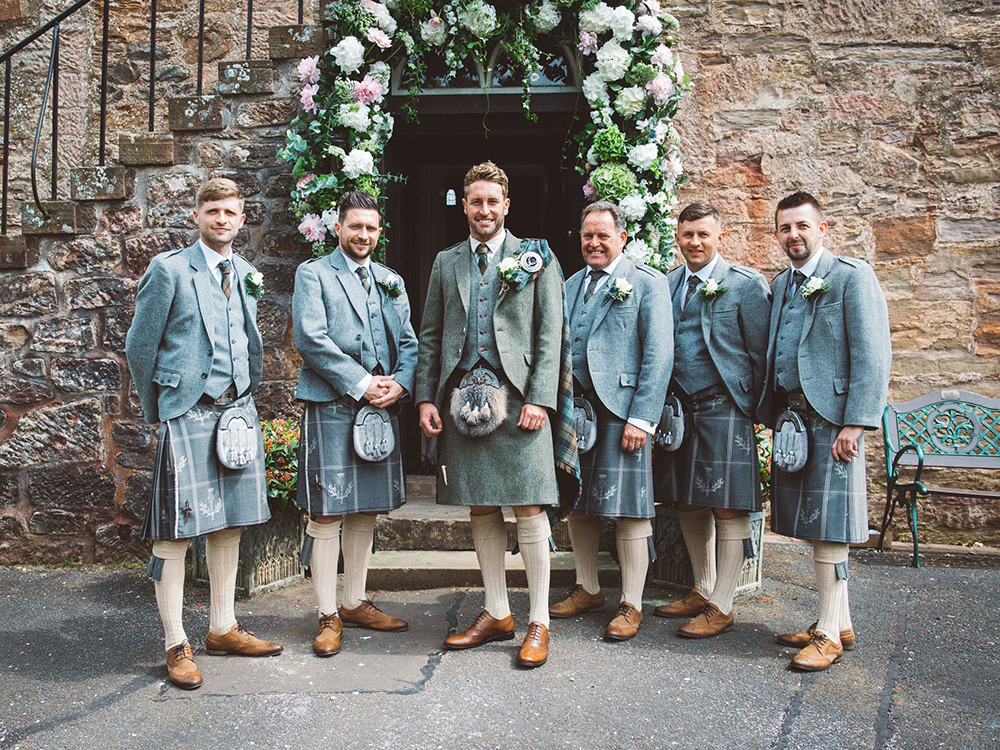 You want every part of your wedding to reflect your personality, right down to what you wear.
But how do you go about making sure that your suit or kilt, or whatever it is you feel like wearing, is unique to you and on budget?
Keep reading to find out…
IMAGE: Tommy Cairns Photography
One of a kind
The average Scottish bride will set aside over £1,400 for her dress, and if you plan to allow yourself a similarly generous budget, you could get a custom-made suit or kilt outfit.
"The made-to-order service isn't cheap but it's a great way to have a truly unique and individual kilt outfit that you can treasure for years to come," says Craig Halley from Slanj Kilts.
While it is a bigger financial outlay than hiring or buying off the peg, you've also got the benefit – as Craig points out – of being able to wear a bespoke outfit again and again, which generally can't be said for a wedding dress!
Obviously, the biggest advantage of getting a custom-made outfit is that you get to create your dream outfit from scratch. First off, everything will be made to fit you, so if there are certain jackets or cuts you feel more comfortable in, you can ask for exactly that.
And secondly, you'll be able to decide on everything from the fabric and colours to personal finishing touches to create a totally one-of-a-kind look.
Outfit by Andrew Brookes Tailoring
At Andrew Brookes Tailoring, the Edinburgh-based menswear tailor, the three-fitting process at their design studio couldn't be easier. "It starts with an initial call or meeting in the studio so we can get a better feel for our customers," explains Andrew Brookes, creative director and founder.
"It's helpful if clients bring photos or images from magazines to show what they like, as that helps us narrow down likes and dislikes. We also have a huge inspiration wall we've built up to help showcase the vast array of possible looks and outfits."
They'll never rush the process, but a three-piece suit can be delivered within six weeks – it really all depends on the bespoke fabrics, signature detailing, fit and style that you choose.
You might not know exactly what it is you want, but don't worry – you'll get plenty of guidance from your chosen tailor. "Our Signature range allows customers to add their own edge to a kilt outfit. It's a simple way to make a traditional outfit modern or quirky," explains Izzy Tetlow from MacGregor and MacDuff.
"Starting from choosing the jacket fabric and lining to deciding on smaller details like the jacket collar, cuff and pockets, you'd work alongside our Signature Collection Stylist to design your perfect jacket and waistcoat."
More of a suit man than a kilt fan? Walker Slater also offers a made-to-measure service that starts at £900; you'll pick from their selection of cloths and a suit will be made to your exact specifications.
Clever buys
If your budget just won't stretch to a bespoke outfit, but you would like to buy rather than hire, there are plenty of ways to make a style statement. Martin Byrne from men's fashion brand Remus Uomo advises, for instance, going for contrast pieces to create a stand-out look.
"A contrast jacket or waistcoat can be a very statement look if you're mixing your colour palette, like a navy jacket with a grey waistcoat," says Martin. "A subtler way of doing this is to stick with the same colour but alternate between plain and patterned fabrics. Our new Laro suit is perfect for this."
And remember, buying a kilt or suit off the rails doesn't mean you can't add a twist or make a few wee changes. Alterations are a great way of adding your own personal stamp and improving the fit, and they're normally pretty budget-friendly – Slater Menswear actually offers free alterations on jackets, suits and trousers purchased online or in-store.
It's amazing what a difference a few well-placed alterations can make, whether that's slightly shortening your jacket sleeves or having the trousers taken in for a more tapered fit.
Finishing touches
IMAGE: Alan Peebles | Outfit by Kilts 4 U
Though you might think that hiring an outfit doesn't offer much in the way of personalisation, you'd be surprised by the variety of hire options available these days.
Most suit and kilt hire companies have outfits in a variety of different colourways and styles so you certainly won't be limited when it comes to finding something that suits your wedding theme, and while you won't be able to make any changes to the outfits themselves, you can easily personalise them with accessories.
"There are many accessory options available to customers who hire kilt outfits," explains Izzy from MacGregor and MacDuff. "It can be as simple as having a different sporran or tie colour as the rest of the wedding party, or adding a plaid to the groom's outfit."
You could even treat yourself to those Grenson brogues you've been eyeing up – it is your wedding day, after all!
---
Suit up with Slater Menswear's new collection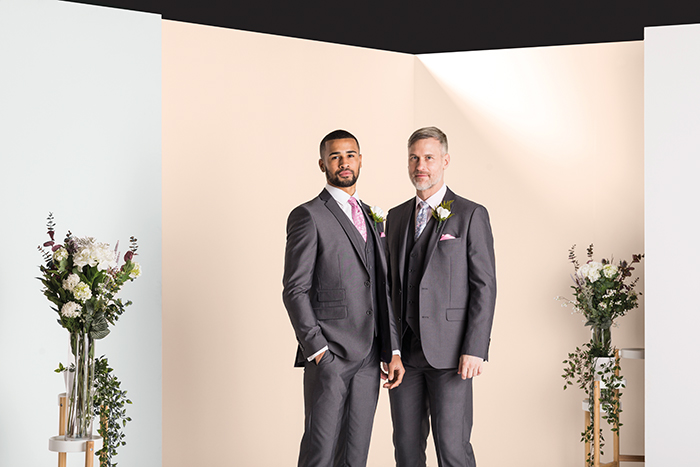 From chic charcoal to modern navy, the new season suit collection from Slater Menswear contains a colour option for every groom…
If there's one thing that'll make the hunt for a stylish wedding suit all the easier, it's having plenty of choice. At Slater Menswear you won't have to worry about struggling to find the right colour to match your wedding theme, nor will you have any trouble getting an outfit that fits like a dream.
With a huge range of suits in every conceivable colour, fabric and pattern, plus differing styles to suit every size and shape, there's no shortage of options for your big day look.
You'll be done and ready to suit up in no time at all, which means you'll have plenty of energy – both mentally and physically –to get your groomsmen all kitted out in matching styles, too.
The best thing is, you won't have to break the bank to accomplish it. Sure, Slater Menswear offers luxury designers if that's what you're after (if you can't treat yourself to a fancy suit for your wedding, when can you?), but it also has plenty of on-trend suits at budget-friendly price points. Who said groomswear shopping had to be stressful?
Here are three of Slater Menswear's favourite new season looks:
Sawyers & Hendricks charcoal tonic three-piece suit (£99)
Onesix5ive navy three-piece suit (£89)
A sharp blue three-piece suit is always a firm favourite with grooms. A bold floral tie adds personality and makes you stand out from your groomsmen.
Harry Brown black three-piece suit (£110)
The classic dinner suit is definitely making a comeback this wedding season. It's hardly surprising – what groom doesn't want to feel like James Bond on their big day?
t. 0141 548 6485 | e. contact@slaters.co.uk
Read reviews for Slater Menswear
Let's talk about plus-size groomswear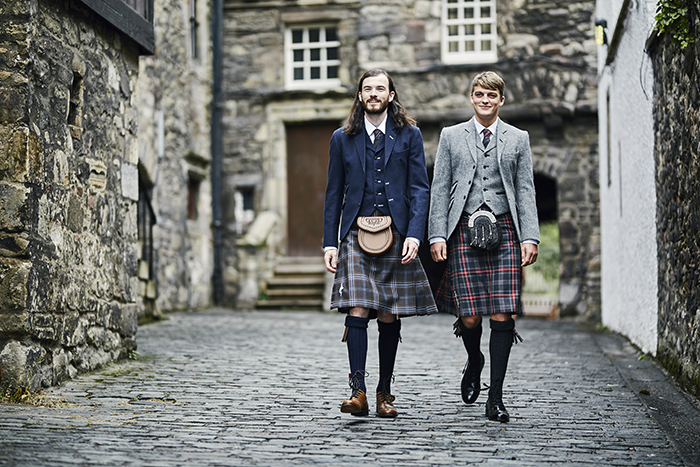 It's not generally spoken about anywhere near as much as women's fashion, but we need to chat about plus-size groomswear, says features writer Claire McPhillimy. 
IMAGE | Eight Yards
Let's talk about groomswear. Generally speaking, we don't hear anywhere near as much chat about plus-size male fashion as we should (Jacamo adverts aside), and even less when it comes to plus-size groomswear.
If you've got the budget to buy a tailor-made suit to your exact measurements then maybe this won't be much of a concern, but if you've not, what then?
There's no need to be nervous about the prospect of hiring a kilt or a suit, no matter what your size or height, if you go to the right shop. Paul Swadzba, director of Eight Yards, confirms this:
"Grooms get a great choice of products, with hire stores doing more garments that look like purchase goods with attention to small details."
Eight Yards have kilts for hire with jackets up to a 62" chest and kilts up to a 68" waist, and like any good kiltmaker or tailor, have solutions to help find you the perfect fit if you're outside this size range, too.
For example, Eight Yards offers kilts up to a length of 27.5", which will work for grooms up to 6' 8" and do go out a lot at the waist, alongside extra-long-fitting jackets.
Again, just phone up the kilt or suit shop you're eyeing up in advance to check out what sizes they offer across both hire and to buy ranges.
That'll save you any wasted trips to shops that aren't going to have anything to offer you except an uncomfortable and awkward trying-on experience.
Grooms, sort your honeymoon wardrobe with Andrew Brookes Tailoring!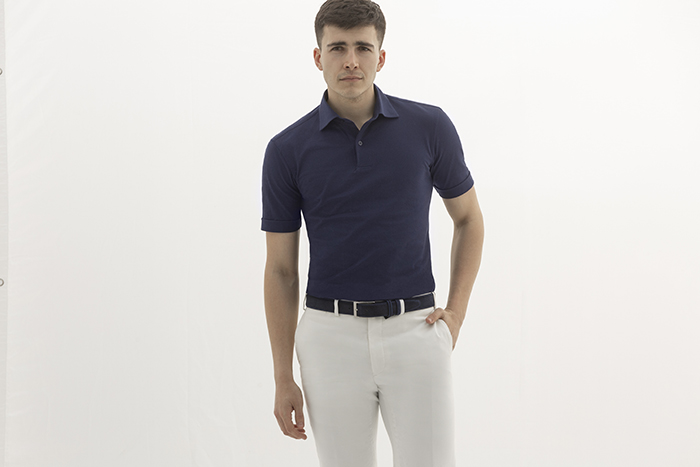 Andrew Brookes Tailoring isn't just the place to go for stylish, custom groomswear – their lifestyle collection is perfect for putting together a honeymoon wardrobe…
IMAGES | Gerardo Jaconelli
At a time when other brands are still focused on traditional tailoring, Andrew Brookes Tailoring has moved into lifestyle menswear with the launch of the first 2019 lifestyle collection of separates and accessories, which echoes the craftsmanship, high quality fabrics and fine tailoring this leading Scottish tailor is renowned for.
Andrew Brookes is the first and only luxury tailoring brand to offer a lifestyle collection in Scotland with customised wardrobe staples from polo shirts and T-shirts to denim and chinos at affordable prices.
Andrew Brookes in studio
Tailoring is all about style and individuality and these statement pieces offer the perfect staple for honeymoon-wear and beyond.
They're all made with beautiful fabrics that are luxurious to wear and long-lasting. They also wash exceptionally well so hold their own if you're wearing them day in, day out.
The new polo shirts by Andrew Brookes are cut from 100% piqué-knitted jersey in supima cotton, come in four classic colours and are priced from £119.
No matter what your frame, you can choose the cut to fit whether it's slim, standard or wide fitting and, design details from ribbed, long or short collar and cuffs to slits at the side seams, buttons, length and embroidered initials or logo. The choice is yours!
The new line of T-shirts is also made from the finest supima medium or heavy-weight cotton and come in a variety of fit and lengths.
These are great for layering or warmer weather honeymoons, come tailored to your exact measurements and are available in four colours with a choice of neckline (crew or v-neck), pockets, initialling, sleeve and fit (loose or fitted) from £89.
But, it's the new custom denim range that's the real stand out.
It's rare to find a pair of off the peg jeans that fit well, but with Andrew Brookes' new range of custom chinos and jeans, you can choose your perfect fit and design of stitch, colour/ wash, rivet and button style, belt loops, waistband, length, pocket quantity and linings.
There are nine different washed denims from Italy and Japan with a touch of stretch. You can even add your own embroidery or initials.
They're available to order from £220 with a typical six-week turnaround so when it comes to planning your honeymoon wardrobe, it is worth factoring in a trip to Andrew Brookes Studio.