The best groom boxer shorts for your wedding day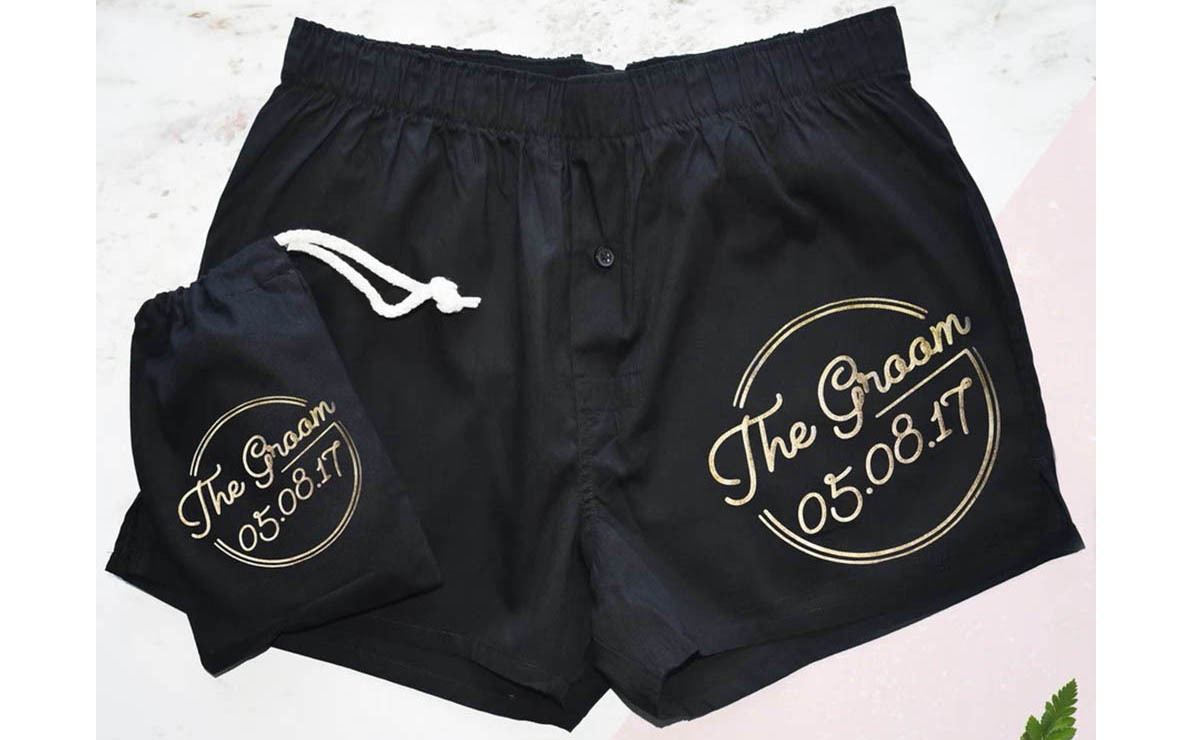 It's funny that we hear endlessly about how brides should invest in fancy lingerie for their wedding, yet never a peep about how grooms ought to make an effort with their w-day boxer shorts or briefs.
The reality of the situ for women is that many wedding dresses have built-in bra cups and most brides will opt for seamless, fuss-free knickers (for the daytime, anyway), but grooms? They'll be swaggering about in their fancy pants all day.
Undies are an oft-overlooked part of your wedding day attire, but no groom should be whipping off an expensive suit or kilt to reveal the knackered old boxer shorts he's been rocking since his student days.
A pair of faded Family Guy boxers don't exactly set the tone for an evening of romance, even if they will eventually end up on the floor.
Plus, a great set of underwear won't just please your partner – they'll make you feel confident. (Especially if your photographer decides to take some snaps while you're getting ready on the wedding morning…)
In need of inspo?
Here's our round-up of the best wedding day underwear for grooms.
Personalised groom boxer shorts and briefs
These classic cotton boxers can be personalised with your wedding date and come with a matching drawcord bag. Ideal if you'd like to give them as a gift.
Buy them now // Weasel and Stoat Groom And Date Boxer Shorts (£22) notonthehighstreet 
These chic monogrammed boxer shorts can be personalised with your initials for the ultimate personal touch. They come in a selection of colours and include an embroidered cotton bag.
Buy them now // Men's monogrammed personalised boxer shorts (£35) Pandora's Boxers
The perfect something blue, these boxer briefs come in a cotton bag which can be personalised with your name.
Buy them now // Personalised Something Blue underwear (£19) Solesmith
Designer men's wedding underwear
If you can't invest in Tom Ford underwear for your wedding day, when can you? These silky ivory boxers are the perfect accompaniment to a tux, if you ask us.
Buy them now // Tom Ford silk boxers (£145) Harrods
Boasting the iconic Versace logo on the waistband and a classic low-rise fit, these trunks score points for style and comfort.
Buy them now // Versace iconic classic-fit stretch trunks (£52) Selfridges
You can't go wrong with a pair of Calvin Kleins, and this pair offers an update on the classic style with a bolder waistband.
Buy them now // Calvin Klein Intense Power stretch trunks (£25) Harvey Nichols
Fun grooms' wedding pants
For grooms that don't take themselves too seriously, these fun boxers are guaranteed to raise a smile. They're budget-friendly too.
Buy them now // Groom bow tie trunks (£5) Asda
What do you mean you haven't always dreamed of having your face on a pair of pants? Now that you're getting married, you can finally make it a reality.
Buy them now // Mr & Mrs Boxers (£23.99) Supersocks
These fun customisable boxer shorts for grooms can be personalised with your name and come in two colours: black or grey.
Buy them now // Personalised wedding boxer shorts (£8.99) Etsy
Take a look at these wedding trainers you can customise from Converse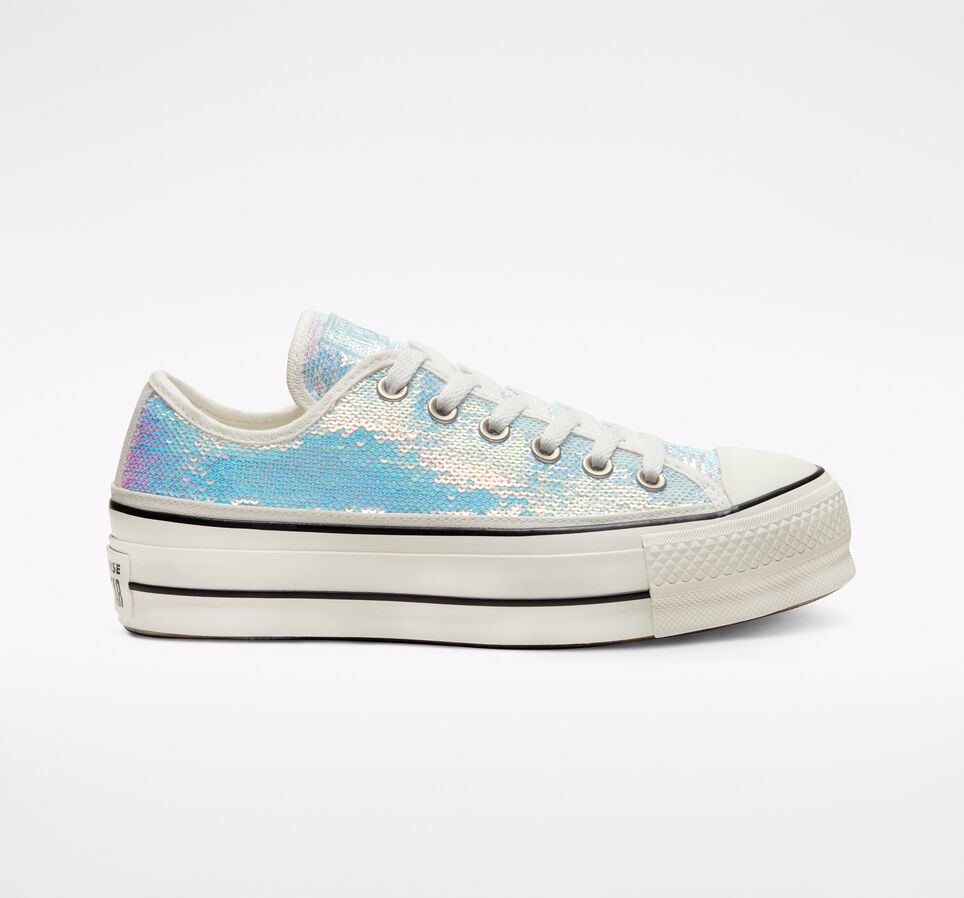 Finding your perfect wedding shoes is a hard task – especially if you're banking on dancing the night away after vows have been exchanged.
Well, that hunt just got a little easier, with the release of US shoe brand Converse's new wedding collection.
The retailer has a huge selection for both brides and grooms, from iridescent high-tops to a pair of black low-tops with a red rose motif on the heel. 
Galaxy Dust Chuck Taylor All Star 
Mini Sequins Chuck Taylor All Star Platform 
Custom Chuck Taylor All Star Floral Embroidery Low Top
You can even add a little height to your bridal look, with the brand's popular platform trainer now available in an aisle ready luxe white.
Chuck Taylor All Star Leather Platform Low Top
For those looking for truly bespoke footwear, the brand's new wedding range is completely customisable to make your wedding shoes one-of-a-kind.
You can create your very own pair of Converse almost from scratch, choosing from a selection of patterns, colours and materials, finishing with colourful shoelaces, motifs and wording – why not add your new married name and wedding date?
Order early, as delivery can take a few weeks.
Prices start from around £55.
PLANNING TO BREAK IN THOSE WEDDING SHOES?
Simple ways to personalise your groomswear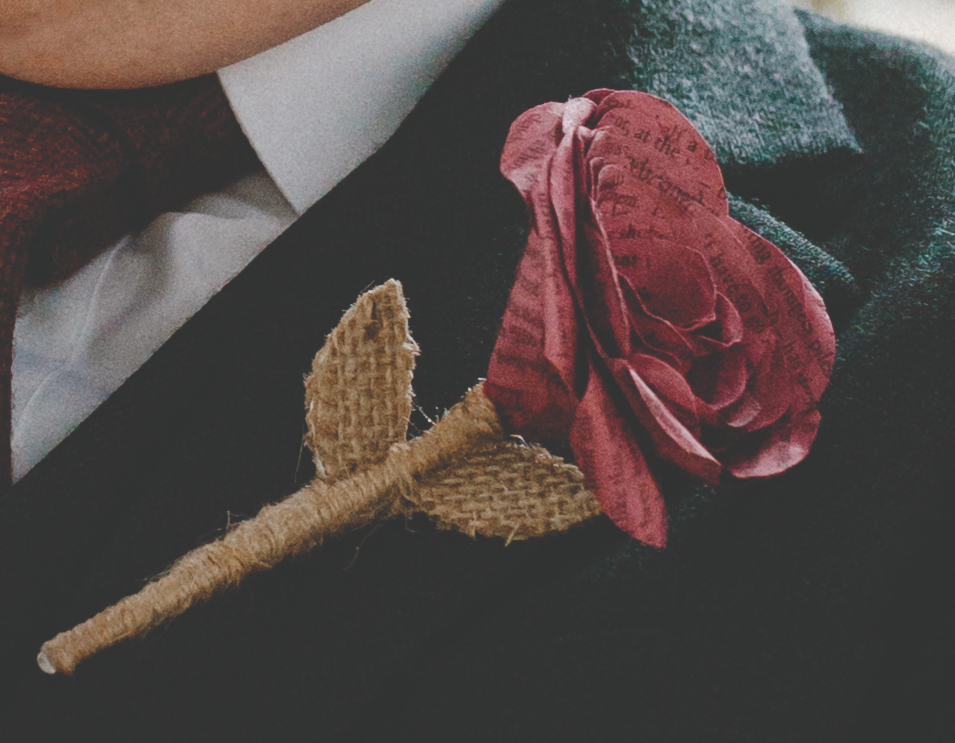 LINE UP, LINE UP
Bespoke lined jacket, Eight Yards (POA)
At Edinburgh-based menswear tailor Andrew Brookes Tailoring, there's been a clear rise in grooms searching for unique touches to make their wedding outfit one to remember.
"More and more grooms want a look that's individual and are taking more of an interest in their overall look and style," explains creative director and founder, Andrew Brookes. "Our handmade printed linings are becoming really popular as we take our clients' memories, special moments and photos from photo to silk."
Whether you're expressing a rock-and-roll element of your style (like with this skull smattered lining from Eight Yards) or making it sentimental by commemorating a loved one, Kyle Swadzba from Eight Yards says that the experience of customising a garment enriches the process from start to finish.
"We offer lots of in-house services to add personal touches to the outfits, from personalised writing or imagery engraving," says Kyle. "Whether you are designing or wearing the outfit, adding a personal touch makes the experience all the more special."
Andrew Brookes cites coloured buttonholes as another fun twist, and a great way to tie your look in with the wedding palette. "Embroidery under the collar or detailing such as special words, dates and nicknames are really popular too," he adds.
IF THE SHOE FITS…
Bespoke brogues from MacGregor and MacDuff (POA)
If you think about it, a pair of bespoke shoes are a very sound investment. After all, while your clothing size may fluctuate over the years, your shoe size won't; so you'll be able to wear them forever.
MacGregor and MacDuff's bespoke tartan brogues are perfect for adding an individual edge to your wedding day suit. Handcrafted to order in Scotland in a choice of 12 different leather colours, 900 tartans, ghillie or day brogues, the options are endless.
If you're not a brogues kinda guy, check out Duke + Dexter. The brand makes bespoke loafers which can be monogrammed with your initials (or hand-painted with a design of your choosing).
Duke + Dexter
CUTE AS A BUTTON
There's a lot of personal flair to be added with the modest boutonnière – florals to match your venue décor, your partner's favourite bloom, or an homage to your home country's flower. Lynne and Chris took it a step further, crafting a gorgeous literary-themed boutonnière from the pages of Chris' favourite book.
"I'd recommended the book, High Fidelity, to Lynne when we started chatting, so I loved being able to capture that as part of my suit," says Chris. "We made lots of paper flowers while watching Netflix and doing other bits of wedding prep together, and it was a great touch to have such a personal little memento afterwards."
We've seen similar ideas executed using the musical notation of a favourite song and even the script of a beloved film. It's a cool way to imbue something with special meaning without being showy about it. You could always have flowers during the day then switch up to your own paper one at night for a different look.
MATERIAL BOY
Furious Goose customised pocket square (POA)
The humble pocket square can tie your whole outfit together; mirroring your wedding palette, matching up or setting apart your groomsmen or even nodding to your heritage.
From embroidered phrases to fully bespoke designs, you'll find there's a lot of scope to score personal style points too. When it comes to flashing the cash on personalization, Edinburgh-raised, London-based designer Patrick Morrison of Furious Goose explains that there's a wide range of price points to accommodate a range of budgets.
"We offer a hand-stitched embroidery service for £20-£30 per letter, which can be as simple as a monogram of the groom's initials or a personal message," he says. "If money is no object then a fully bespoke design can be created. Going bespoke does mean longer timelines, and can take over six weeks to design, print, and hand finish."
'Sandpiper' Blue Tweed 'Sophisticate' Bow Tie, The Edinburgh Bow Tie Company (£35.00)
You could even get bespoke neckwear to match; check out The Edinburgh Bow Tie Company for custom bow ties that can be monogrammed, embroidered or made from a favourite tartan or tweed.
Fisherman Merino Wool Socks, Walker Slater (£15).
Oh, and don't forget a pair of jazzy socks if you're wearing a suit. We love this fisherman merino wool pair from Walker Slater.
JEWEL MEANING
If you intend to treat yourself to some new silverware anyway, have a think about how it could reflect who you are. You don't need to go the whole hog and get something designed from scratch if you've not got the budget for it, but it's worthwhile putting a bit of thought into it to avoid taking the panic-dash-round-Next route.
Take cufflinks for example; you could keep it simple and go for your initials, or don a set that nod to a hobby or interest. We've seen everything from watering cans to guitars to a Moomin set on a groom who believed Moomins to be his spirit animal.
Kilt Pin, Sheila Fleet (£190)
Kilt pins can be personalised easily by having them engraved. Remember you're not confined to a Celtic design either; it's the most traditional option, but by no means your only one.
Irregular Choice's new collection for grooms are perfect if you want to make a statement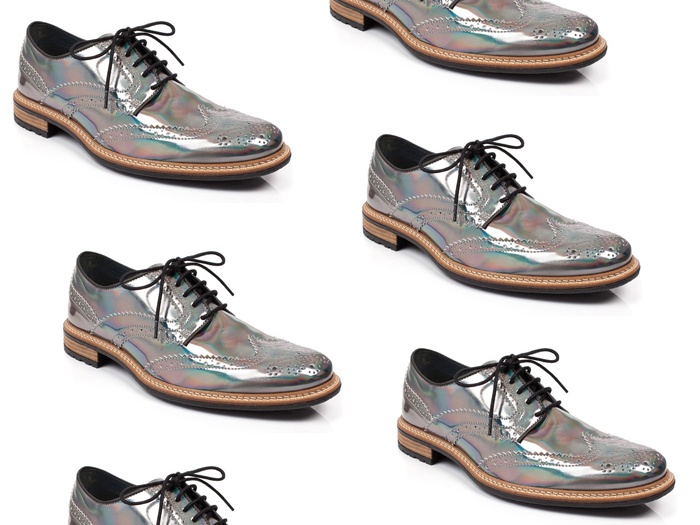 Thought it was just brides who could enjoy Irregular Choice shoes on their big day? 
Nope, grooms can treat their feet to the quirky shoe designs with Irregular Choice's men's collection.
From unique colour options to eye-catching metallic, the shoes are perfect for grooms looking to make a serious style statement.
Here's a look at the Irregular Choice Edwin collection, a classic brogue with a twist…
BUY | Glitter brogues (£110)
BUY | Metallic green brogues (£110)
BUY | Metallic silver brogues (£110)
BUY | Metallic pink brogues (£110)
BUY | Metallic red brogues (£110)

BUY | Metallic blue brogues (£110)
BUY | Metallic orange brogues (£110)
BUY | Blue glitter brogues (£110)
BUY | Metallic brogues (£110)
BUY | Metallic brogues (£110)
BUY | Metallic brogues (£110)
BUY | Pink glitter brogues (£110)
BUY | Lime green glitter brogues (£110)
BUY | Aqua glitter brogues (£110)
Elegant + glam Summer wedding at Lochside House Hotel and Spa, New Cumnock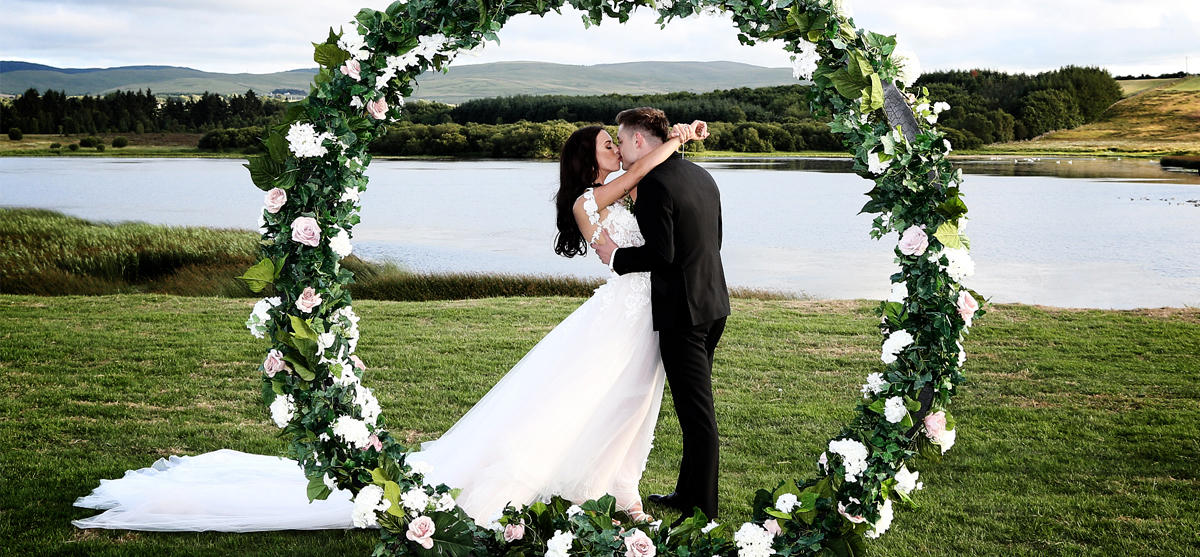 Bride Mhairi is an event stylist and her family owns several prestigious wedding venues, so her wedding to husband Jamie was always going to be out of this world.
With plenty of glamorous style, this Lochside House Hotel and Spa wedding day is one we'd have loved to have been guests at!
Here, happy newlywed Mhairi shares all the details from their beautiful big day, with snaps from Ryan Mimiec Photography.
"Jamie and I met on Instagram, then had our first date two weeks later. After that we never left each other's side, and within three months I was pregnant.
It moved quite quickly but it felt right; our wedding was just the finishing touch, as we'd already committed on every other level.
My family owns the RAD Hotel Group, and while all the venues are gorgeous, I always knew I'd get married in Lochside. It's been such a big part of my childhood and my life – it really has a piece of my heart.
Because we work in the wedding industry [Mhairi owns JAM Events], I felt a bit of pressure to make sure my wedding was amazing.
I didn't want to play it safe. My dad was laughing and asking if the theme was 'big and more' and I said yes, I wanted it to be extra!
We went for a fairytale theme with a little bit of glitz. JAM Events did all the floral décor; we had blossom trees everywhere, arbors covered in white flowers, floral hoops, huge floral centrepieces and a cake decorated with hydrangeas and orchids.
My dress was Galia Lahav; big and romantic with tulle and flowers all over it. My bridesmaids wore rose gold sequin dresses, and my mum wore white lace.
My make-up was really natural and glowy. We all wore our hair down and wavy; I didn't want my bridesmaids to look like they were going to prom!
Jamie, my dad, the ushers and best men all wore tuxes for a Prince Charming look.
We had two flower girls – our daughter Vivien (who was a year and a half old) and my cousin's daughter – and two page boys.
We had a humanist ceremony outside in front of the loch. The sun was splitting the sky, but my veil blew off because it was so windy!
The ceremony was very simple and relatively short, because we had children there and we wanted to get the party started afterwards.
We had a pianist play during the ceremony, then he continued playing inside during the drinks reception. Drums N' Roses played while we got our photos taken, then when the guests arrived at night we had a piper, and my cousin Jack played sax.
We gave all the women Miss Dior Absolutely Blooming Roller-Pearl as their favours, and the guys got a bottle of Ciroc vodka.
We had a different theme for the evening – I wanted it to be more of a party vibe, with balloons, mood lights and dry ice for our first dance (to John Legend's All of Me).
My mum put heaters and a gazebo outside and we had a gin bar, wine bar, cocktail bar and shot bar with a saxophonist playing outside for an Ibiza vibe.
Our wedding band kept the dancefloor busy, and people were milling around outdoors too – it didn't feel like Scotland!
At 11pm we closed the doors to move the party inside and then we had The Kilted DJ playing from midnight until 2am. Everyone was up for a good party!
I remembered people always saying to take five minutes out with your husband, so Jamie and I did that a few times throughout the day.
It was so nice to spend some time together having a wee drink and just taking it all in, as it's true what they say – the day goes by so fast!
Venue: Lochside House Hotel and Spa | Photographer: Ryan Mimiec Photography 
Second photographer: Mark Ferrier | Videographer: Strawberry Wedding Films | Floral décor: JAM Events 
Bouquets and cake flowers: Flowers @ 7, Ayr | Cake: Sugar and Spice  | Bride's dress: Galia Lahav at Kavelle Bridal Couture 
Bridesmaid dresses: Opus Couture | Flower girl dresses and bridesmaid dress alterations: Elizabeth Wallace Bridal
Mother of the bride outfit: Joyce Young Design Studios | Groom's and dad's tuxes: Jim Forbes Tailoring
Stationery: Bespoke Wedding Stationery by Jackie Adams | Bride's hair: Jena Kyle | Bridesmaids' hair: New Image Salon 
Make-up: Onyx Makeup | Childcare: Practically Perfect Event Childcare  
Celebrant: Norrie Flowers, Independent Humanist Ceremonies  | Pianist: Andy Lucas Piano
Pipe band: Drums N' Roses | Evening saxophonist: Sarah Sax | Wedding band: Ernest | DJ: The Kilted DJ 
Dune's wedding shoes for SS19 have arrived – and there are styles for brides AND grooms!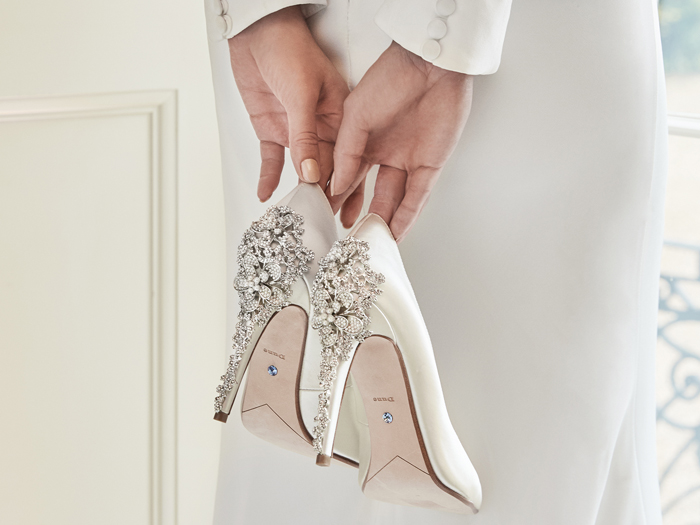 There was a lot of excitement in the SWD office last year when Dune launched its inaugural bridal shoe and accessory collection, and our return to work has been made a lot easier by the sight of the high street retailer's latest drop of designer-inspired wedding shoes and bags.
Featuring new designs for SS19, the brand has reworked its signature styles in luxe ivory satin and there's something to suit every bride, whether you want a pair of glam platforms, flat sandals or bridal shoes with an embellished heel.
And it's not just brides who can walk down the aisle in style – Dune also has a capsule collection of stylish leather shoes for grooms and groomsmen, and there are shoes for mums and bridesmaids too.
The Dune wedding collection is available exclusively online, and swatch books will also be available in standalone Dune stores.
Here are some of our fave Dune wedding shoes.
THE DUNE WEDDING SHOE EDIT: BRIDES
BUY | 'Crushing' (£120)
These mid-heel shoes have cross straps and a diamante-detailed pointed toe that lends a rather regal finish.
BUY | 'Church' (£130)
A diamante-embellished ankle strap with a tie fastening elevates this traditional style into something fresh and elegant.
BUY | 'Be Wedd' (£250)
Back by popular demand are these bejewelled-heeled beauties, perfect for glamorous brides.
BUY | 'Delightes' (£120)
T-bar bridal shoes will never go out of style, and look gorgeous with a vintage-inspired wedding dress.
BUY | 'Noted' (£110)
Looking for a pair of flat wedding shoes, or just want some fancy af honeymoon sandals? These are your gals.
BUY | 'Makeup' (£150)
If your shoe motto is 'go high or go home' then the 10.5cm on these glitzy platforms will definitely fit the bill.
BUY | 'Celebration' clutch bag (£175)
Surely the bridal clutch of dreams, this pearl and diamante-embellished bag fastens with a kissing lock closure and is finished in ivory satin.
BUY | 'Boted' box bag (£75)
If you prefer a more minimalist look, this chic box bag has a simpler design with a sparkling floral diamante top closure.
THE DUNE WEDDING SHOE EDIT: BRIDESMAIDS + MUMS
BUY | 'Magick' (£90)
I am completely starry eyed over these gold leather stilettos. Perfect if you're planning a celestial-themed wedding! (FYI, there's a matching bag too.)
BUY | 'Myrana' (£150)
These laser-cut floral heels are v. sexy, and available in both silver and gold leather with a rose gold lining.
BUY | 'Mikali' (£120)
These pom-pom slingbacks are the best mother of the bride shoes I've seen in ages. They're so fun! They come in black, too.
BUY | 'Davinya' (£65)
Designed by Roland Cartier, these chic shoes have a jewel-covered strap and an 8.5cm heel.
THE DUNE WEDDING SHOE EDIT: GROOMS
BUY | 'Potassium' (£110)
These classic Oxford brogues have a rounded toe and matte finish; ideal for grooms who don't like a glossy shine.
BUY | 'Savior' (£100)
For grooms who do like to shine, I love these Bertie patent shoes in the hottest colour du jour: burgundy.
BUY | 'Pretzel' (£95)
If he's a snappy dresser then perhaps these velvet loafers will appeal. The patent edging and gold snaffle trim make them ideal for a dapper gent.
Scotland's bridal boutiques + groomswear specialists showcase their latest collections, surrounded by Scotland's beauty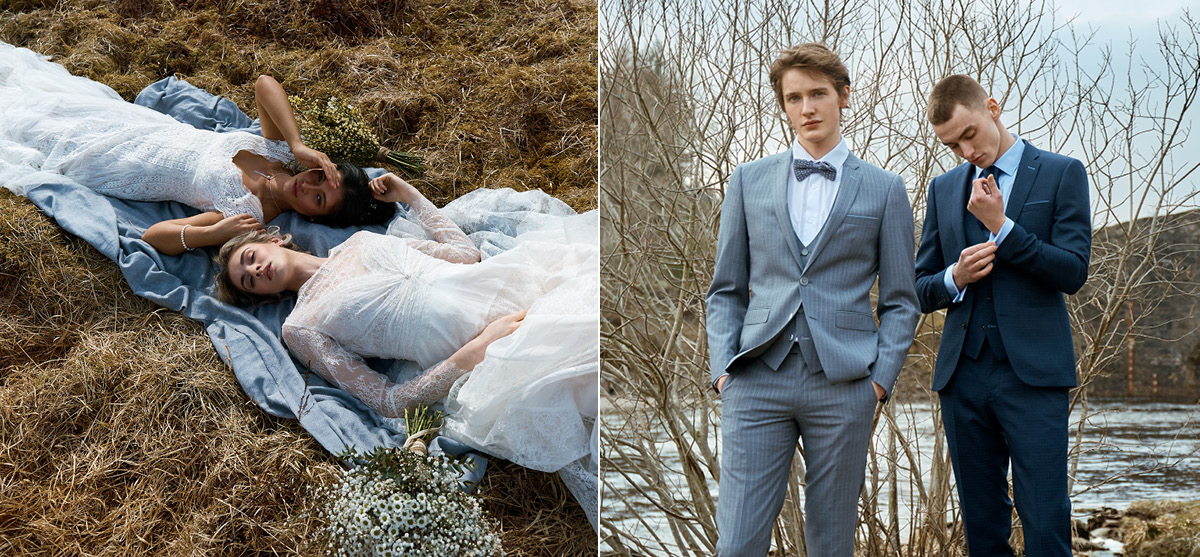 Our hearts and our bodies are given to us only once. So make sure yours are dressed impeccably on the most special day of your lives.
For the first time in SWD history, we created two covers for our summer 2018 issue. Partly because we were spoiled for choice when selecting images from this shoot, but also because we wanted to do something else we hadn't done before: having our models represent same-sex couples.
The covers came from this beautiful photoshoot, set in the stunning Glencoe woodland. With gowns and groomswear from exceptional Scottish boutiques and shops, you're sure to find something to spark inspiration if you're looking for your own bridal or grooms' outfit.
Check out these stunning shots, and make sure you vote for us to win Cover of the Year in 2018's Scottish PPA Awards! Details below… 
PHOTOGRAPHY | Stewart Bryden
STYLING | Natasha Radmehr + Beth Farquhar
LOCATION | Bridge of Orchy Hotel + surrounding area, Glencoe
BEAUTY SQUAD | Alana McCrae Makeup + Leslie Sneddon Makeup Artistry
FLORALS | Trudi Todd Creative Florist 
HAIR | Mandy Breen of Hair Ups
BRIDAL FASHION | Anne Priscilla Bridal, Allure Bridals, Apple Blossom Time, David's Bridal, Eleganza Sposa, Glitterati,
Ivory Whites, June Brides, Kudos, Olivia Cameron Bridal, Opus Couture,
Rachel Scott Bridal Couture, Reeta Fashions, Rosa Clará.
GROOMS' OUTFITS | Clan Kilts, Gordon Nicolson Kiltmakers, Kiltpin, Kilts 4 U, MacGregor and MacDuff, Mackenzie Menswear,
McCalls, Remus Uomo, Slater Menswear, The Kilt Hire Co.
ACCESSORIES | About Eve, RedRocks, Sweet Rosie Jewellery.
PLEASE VOTE FOR US TO WIN COVER OF THE YEAR IN THE 2018 PPA AWARDS! 
We'd really appreciate your vote for cover of the year in the 2018 PPA awards. Our same-sex split-run cover really was a ground-breaking moment for the Scottish (and UK) wedding magazine market.
Just click here to vote for us, no registration required (and you can vote every day!)
Our foolproof guide to shopping for your grooms outfit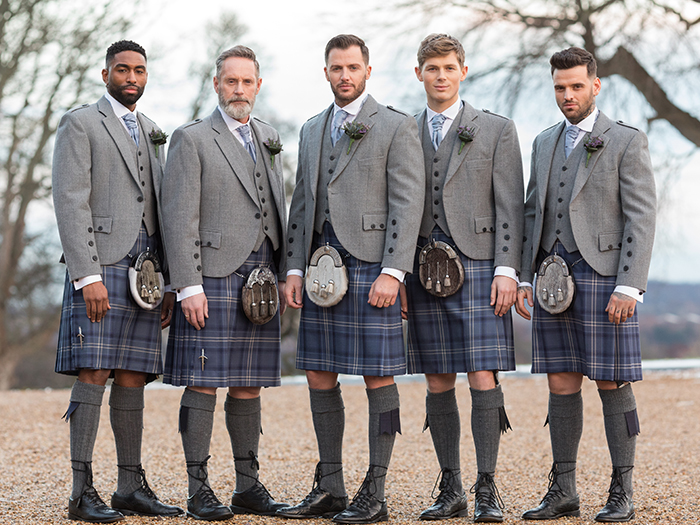 Move over, brides; it's time for the groom to find his perfect wedding day look! We help with everything from research to final fittings. 
Outfits: Slater Menswear
Buying a wedding dress is a major rite of passage for any bride, but for some reason, the same amount of buzz doesn't surround a groom when he's buying his wedding outfit.
The thing is, as men's formalwear becomes ever more versatile and fashionable, there's never been a better time to be a groom. Instead of a limited selection of looks and colours, grooms now have plenty of options to choose from, especially when it comes to patterns, materials and fit.
So here's everything you need to know about buying your wedding day threads…
DO YOUR RESEARCH
When looking for fashion inspiration, the shoots and real wedding stories in Scottish Wedding Directory magazine are really useful, and social media can prove invaluable.
Also, checking out men's formalwear companies on social media is a good idea, because they regularly post pictures of former clients and you can see how different styles look on real grooms.
Remember that it's always a nice touch to tie in the accessories of your wedding outfit (tie, pocket square, etc.) or even the tartan of your kilt with the overall colour scheme of the wedding, so have a chat with your other half about that before you go shopping too.
Outfits: Mackenzie Menswear
SUIT OR KILT?
A bit like being asked to declare your allegiance to either The Rolling Stones or The Beatles, choosing between a suit or a kilt is a matter of personal taste and there's no wrong answer. Still, you might be surprised at the options each look can give you.
The first thing you might think of with the kilt is a black Prince Charlie jacket and the Royal Stewart tartan, but our national dress has had a bit of a makeover in the last few years, with different styles of jackets in brighter colours becoming increasingly popular.
These small changes to the style of the kilt outfit can make a substantial difference, making your outfit look smart, modern and on-trend while still paying homage to your roots.
If you're going for a suit, you don't necessarily have to stick to a single-colour two-piece. Three-piece suits are particularly flattering and are a great option for guys who've never felt like they could pull off the look before, while double-breasted suits are ideal if you want to stand out and make a statement.
Groom's outfit: Walker Slater | Photographer: David Ruff Photography
BOOK AN APPOINTMENT
There's obviously nothing wrong with popping into a shop for a quick look, but if you want to try a few things on, you're best to contact the store to book an appointment first so that you have plenty of time inside the shop to try on as much as possible, and make a decision you're ultimately happy with.
Your outfit will be most customisable if you decide to buy rather than hire, with many outfitters offering the option to personalise every detail right down to the lining of your jacket.
On-trend tartan: which tartan to wear on your wedding day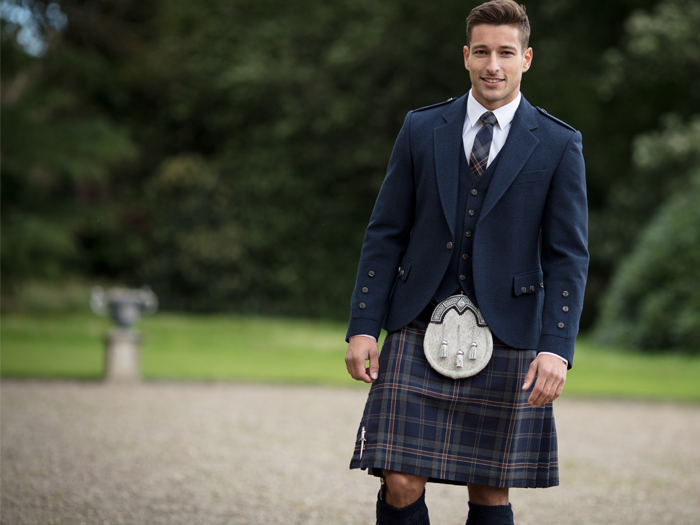 Still not chosen your wedding day kilt? We speak to six Highlandwear experts who share their most popular styles for 2018 and beyond.
SLANJ KILTS
TARTAN | Maple Leaf
"Maple Leaf is the latest addition to the Slanj Kilts hire range, handpicked by tartan experts and highly requested by customers. It is versatile, fun and traditional, but with a contemporary twist.
The tartan works great with various jackets including the peat brown and light grey wool crails."
MCCALLS
TARTAN | Midnight Granite Pride
"Our newest tartan, Midnight Granite Pride, is contemporary, sleek and made of various shades of grey with a striking navy blue, proving very popular for 2018 weddings.
It complements any outfit and our wide choice of jackets, including our new navy tweed, means customers can create several distinctive looks."
THE KILT HIRE CO.
TARTAN | Hebridean Fire
"The current most popular outfit we are hiring is our brand new Harris Tweed light grey jacket and vest with our exclusive Hebridean Fire tartan."
Visit The Kilt Hire Co.'s website
KILTS 4 U
TARTAN | Old Scotland
"Our grooms are loving the Old Scotland tartan just now. The green and burgundy colour combination is very popular at the moment."
GORDON NICOLSON KILTMAKERS
TARTAN | John Muir Way
"The John Muir Way tartan is very popular for both sale and hire at the moment.
Exclusively designed, woven and registered by Gordon Nicolson Kiltmakers, it was created to mark the opening of the John Muir Way on 21st April 2014."
Visit Gordon Nicolson Kiltmakers' website
MACGREGOR AND MACDUFF
TARTAN | Arran Mist
"Our most popular tartan is our exclusive Arran Mist, paired with the Arran jacket and waistcoat. Exclusively supplied by MacGregor and MacDuff and made in Scotland from seven yards of 100% worsted wool, this tartan is available to hire or buy for your big day."
Visit MacGregor and MacDuff's website
~ HOW TO WEAR A KILT ~
Once you've got your kilt outfit, make sure you know how to actually wear it correctly.
The kilt itself should be worn around the belly, just below the ribs at the belly button, with the hem sitting between the middle and top of the knee cap.
The pleats of a kilt should always go to the back, with the fringes to your right hand side. Which tartan you choose is completely up to you, and remember, you don't need to choose a matching tartan tie – you can select a block colour that complements the tartan instead.
Scottish Wedding Directory's Exclusive Fashion Show 2018: Slater Menswear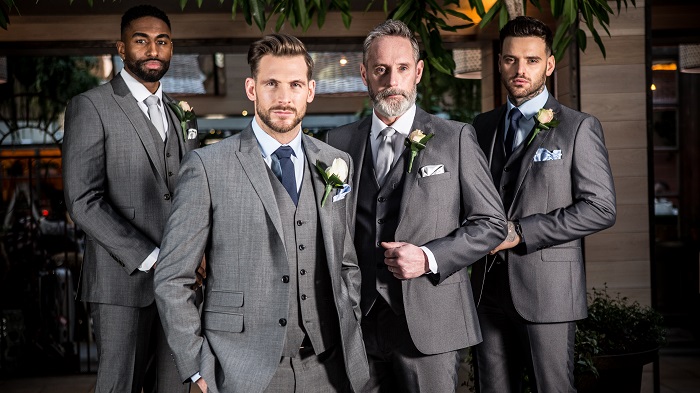 Taking place at our chic Dundee HQ on Thursday 16th August, Scottish Wedding Directory's exclusive fashion show will aim to bring you some of our favourite gowns, bridal outfits and grooms' outfits directly from the designers!
~SCOTTISH WEDDING DIRECTORY'S EXCLUSIVE FASHION SHOW DESIGNER PROFILE: SLATER MENSWEAR~
Make sure you bring your other half or dad along to this event too; there's loads of groomswear on the catwalk, including this season's offering from Slaters Menswear.
The exclusive MRK collection is skinny fit at its best for the confident young socialite, with eye-catching colours and bold checks, and the reassurance of Slater Menswear's trademark quality and attention to detail.
You'll also see the eclectic range of unique outfits from ONESIX5IVE: aimed at the cooler, younger man with a wild lifestyle. Bold but measured, quietly ambitious and decidedly stylish.
With collections from Harry Brown, Penguin, Ventura and Lambretta, Slater Menswear offer affordable style and wide-ranging options for the modern gentleman.
Slater Menswear have shops in Aberdeen, Ayr, Dundee, Edinburgh, Glasgow and Stirling.
GET YOUR TICKETS FOR SCOTTISH WEDDING DIRECTORY'S EXCLUSIVE FASHION SHOW 2018
Tickets for this fantastic event, held at our HQ The Counting House in Dundee city centre on Thursday 16th August are just £3 per person. Be quick though, because availability is limited.
Enjoy a gin, beer or fizz on arrival and meet the SWD team, plus get the chance to try on any of the gowns or outfits you see on the catwalk.
There's going to be an after party too¦ stay tuned for details!
Buy your ticket for Scottish Wedding Directory's exclusive fashion show 2018 now!