These husbands each took their wife's surname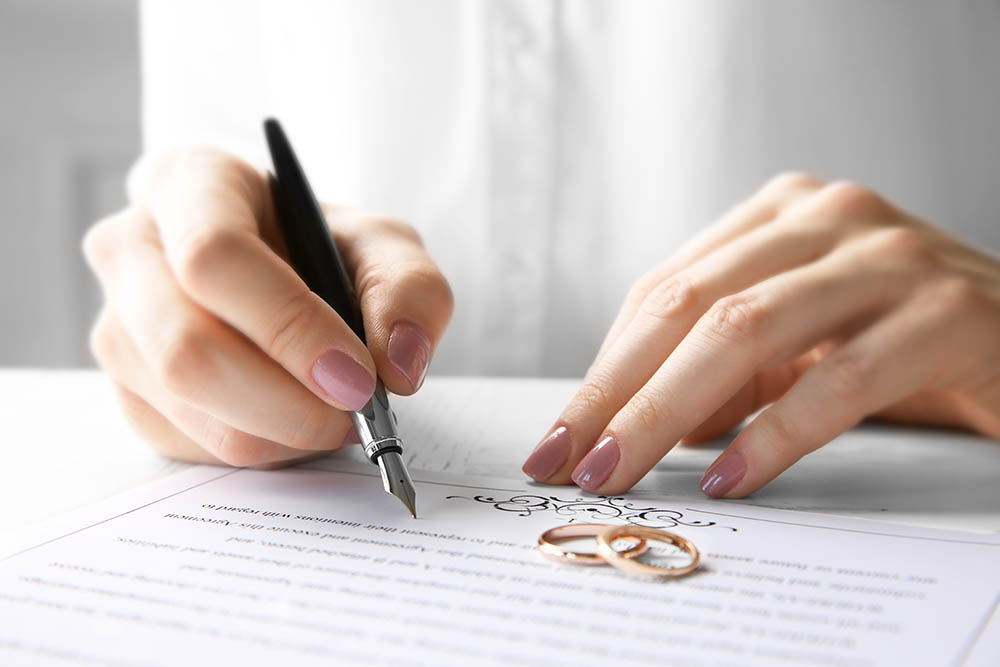 I'm pretty sure my colleagues all groan whenever the subject of changing your name after you get married arises. It's one of my favourite soapboxes to jump on.
I won't go off on a massive rant about it here (you can read more of my thoughts on the subject in this post), but the tl;dr of my POV is this: women should not automatically be expected to change their name when they get married.
Before you get offended, please know that I am absolutely not criticising any woman who decides she would like to take her husband's name. If that's what you want to do, go for it!
What I'm not cool with is the notion that this is something women must do – and the negativity directed at those who choose not to.
So accustomed are we to newly married women taking their husband's surname that we've come to view it as the only option available. It's what we've known all our lives.
We all remember our primary school teachers breaking up for the summer hols as Miss Smith and coming back in August as Mrs Jones.
I've even had conversations with people who thought that legally it was something that had to be done post-marriage. But that's not the case.
You can double barrel, mesh your surnames, keep your own names. Or (shock, horror), a husband can take his wife's surname.
A few months ago on Scottish Wedding we shared the story of Danny Kennedy, who took his wife's surname. Now, I'd like you to meet three more grooms who did the same.
Meet the husbands who took their wife's surname
ALAN SILVEY
Airdrie groom Alan Silvey, formerly Weir, says it was a discussion about kids that kickstarted a wider conversation on surnames with his Canadian wife Amanda.
"Manda didn't fancy being Amanda Weir, and seemed quite attached to her surname," remembers Alan. "It got the gears moving in my head."
The pair didn't want to go down the route of each keeping their own surnames, because they liked the unity and sense of family that a shared surname brings. And so Alan decided that he'd be the one to make the change.
"Amanda was honestly a little taken aback – like I was making the decision a bit too lightly," he recalls. "I figured a name doesn't affect me or anybody else that much, but had the power to show the most important person in my life exactly how I viewed her."
Alan was no stranger to switching surnames – years earlier, when his parents split up, he took his mum's maiden name. His mum was quite laid-back about that, so he didn't expect she'd mind when he changed his name upon marrying Amanda. But he was mistaken.
"Kicking off your honeymoon by getting into a fight with your mum isn't something I'd recommend. I still fear the wrath of my maw," he laughs.
The groom hopes that over time conventions will change and there will be more equality where name-changing is concerned.
"We hold a lot of ridiculous notions about a woman's place, and most of them have no kind of history behind them. Women have always worked, have always been conquerors, queens, warriors and scientists. I hope that it'll change, but honestly, the bad reactions were mostly from women. Frustrating, that."
TOBY SPAYNE
IMAGE | Neil Thomas Douglas
Groom Toby took wife Shannon's surname, transitioning from a Hutchins to a Spayne, for a number of reasons.
"I like Shannon's surname and Shannon's family," he explains. "My surname was given to me by a man who has had no involvement in my life since I was young. I'm not bitter as I was brought up well with a stepfather, but I feel it was a name I had no affinity to at all."
Shannon was happy about this ("She has always been very vocal about keeping her name, to the point that if I wasn't taking hers then she was happy to have differing marital names," says Toby), and it was this positive reaction that made Toby realise that it was the right thing to do.
Though he was going against the grain, Toby found he didn't face much negativity from friends and family, perhaps because most people understand the politics of coming from a broken home.
He often provides the backstory to his decision, however.
"I do feel like I have to explain why [I changed my name] whenever I tell someone new, which I think is because I'm worried about the reactions if I don't."
Traditional notions of masculinity tend to be the main obstacle to heterosexual men taking their wife's surname, says Toby. But if more men did it, the stigma would reduce over time.
"Most people you tell won't care. They may think it's interesting and want to talk about it, but most won't. Be brave and be prepared to stand up for yourself on the odd occasion you meet a bigot who just won't let go.
"As long as you are happy with your decision that is all that matters. I'm proud to be starting a family with Shannon and coming together like this, with a name we're both happy with."
GEORGE RUSSELL
IMAGE | Jonny Reid
"I've always had a huge amount of respect for Grace's side of our family. When I moved to Australia in 2011, they took me in and made me feel so welcome and loved," says George Russell, formerly Wallis-Ryder.
"Grace has a sister, so I suppose had she taken my surname, and her sister Jenise had taken her partner's surname, the Russell name might have ended."
George wasn't particularly fond of the connotations attached to a woman changing her surname, either. "The traditional practice of a woman taking her husband's surname has its origins in a sort of 'ownership' of the wife, which I don't feel comfortable with, nor do I feel it's relevant in contemporary culture," he explains.
The couple discussed combining their surnames, but as George already had a double-barrelled name, it could've ended up a bit unwieldy. "The prospect of Russell-Wallis-Ryder or Wallis-Ryder-Russell didn't really grab us," he laughs.
Grace had actually been fine with the idea of taking George's surname, so she was a little uncertain about the role reversal.
"However, as the reality sunk in, she was incredibly proud I had taken her surname – as am I," smiles George, who adds that other than the occasional jokey comments from relatives about "shunning" his surname, he found most people were on board with it.
"What is expected of a man, what society thinks they should or shouldn't do, is so culturally ingrained in traditional practices (much as it is for women). I think as a society we are beginning to question whether these historical practices are as relevant today as they perhaps once were, and attitudes around what men and women are expected to do are changing," he says.
"I expect more men in the future will take their partner's surname. When you love someone enough to marry them, you love every part of them, and every part of them becomes a part of you also. So why not take their surname?"
We want to hear your surname stories! Email editorial@scottishwedding.co.uk
Beatson Cancer Charity launches stylish new tartan with Slanj Kilts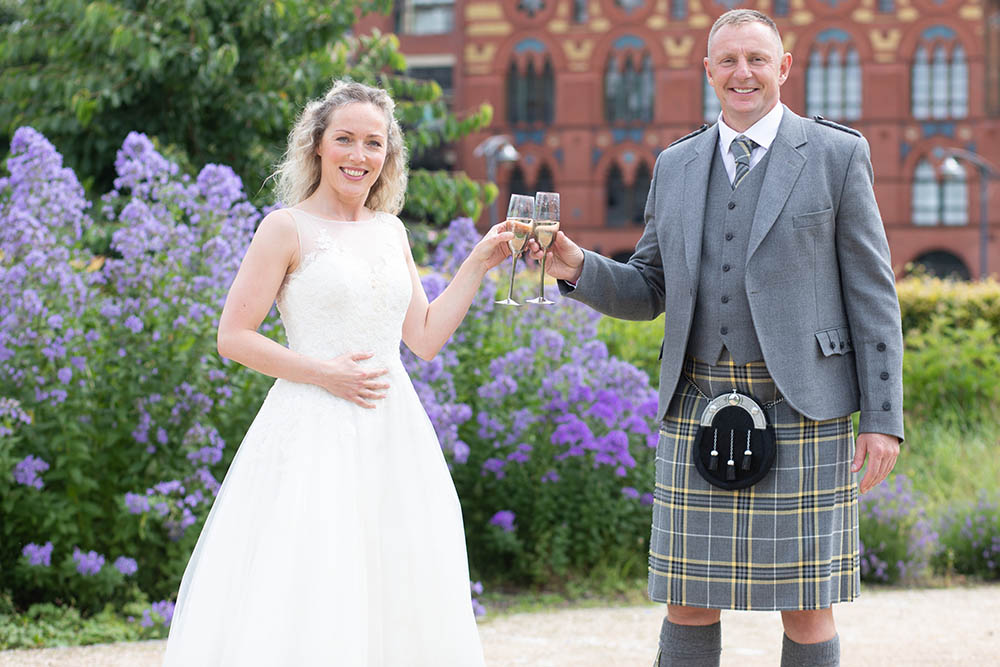 Beatson Cancer Charity has collaborated with one of Scotland's top kiltmakers, Slanj Kilts, to produce an exclusive new tartan.
Created to honour and support the millions of people facing cancer, the tartan can be used on your wedding kilt or trews to ensure you look stylish on the big day while doing your bit for a fantastic cause.
The woollen cloth features the Beatson Cancer Charity's distinctive black and yellow corporate colours complemented by a soft grey for a cool, contemporary look.
Jane Hunter of Hunter's Atelier (and sister-in-law of Tom Hunter), a former graduate of Glasgow School of Art, led the design of the tartan, which is woven at Isla Bank Mills in Keith.
The design is now part of The Scottish Register of Tartans.
And it's already a firm celeb fave, as STV broadcaster Laura Boyd and ex Scottish footballer Robert Douglas wore the tartan for its launch.
Laura tweeted:
"Today @beatsoncharity launch their very own tartan range, including kilts & face masks.
"It's the perfect way to proudly support the charity and celebrate Scotland in style, as well as staying safe. I owe my life to the Beatson and this was a joy to be a part of (even in the hat!)"
Kilts, trews and tartan face masks are all available to buy online from Slanj, which has stores in Glasgow and Edinburgh.
Slanj can create custom made-to-measure grooms' outfits tailored to fit your exact measurements.
Not in the market for groomswear?
There are also candles, dog leads and flat caps made from the tartan fabric which can be bought from the Beatson Cancer Charity shop.
Or if you're looking for another way to support the charity on your wedding day, take a look at the Beatson Cancer Charity wedding favours, which include heart-shaped pin badges and chocolate lollipops!
The best groom boxer shorts for your wedding day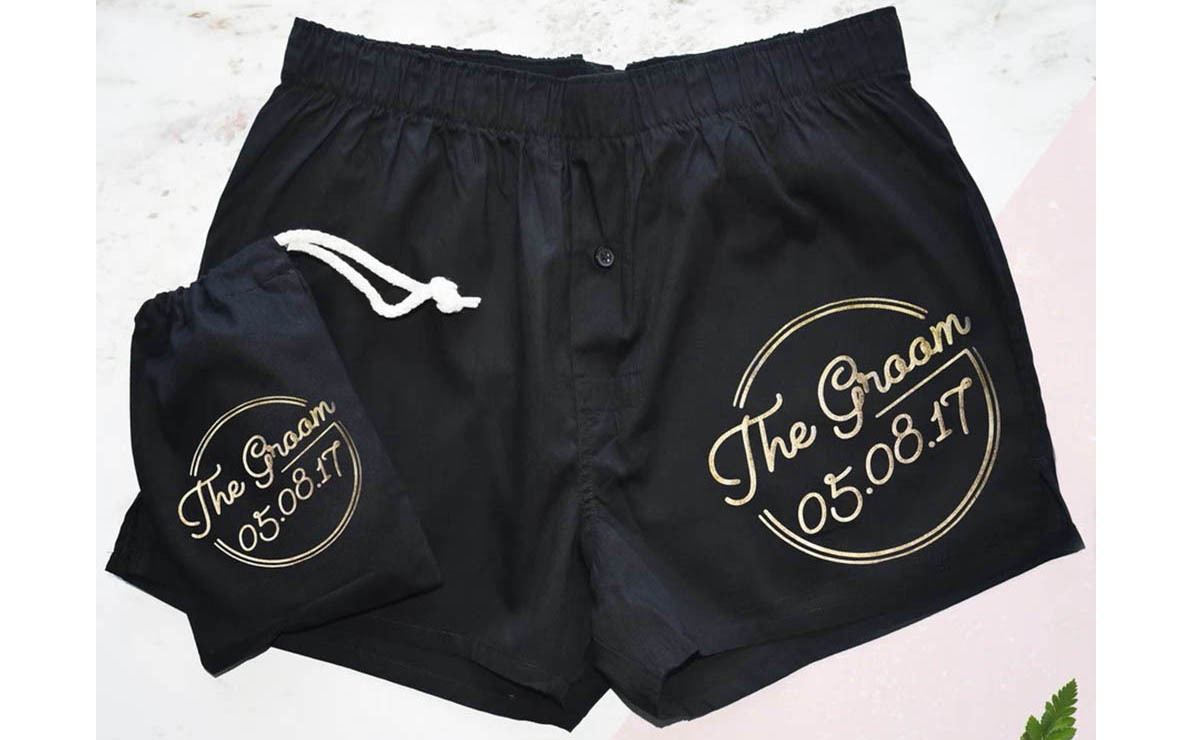 It's funny that we hear endlessly about how brides should invest in fancy lingerie for their wedding, yet never a peep about how grooms ought to make an effort with their w-day boxer shorts or briefs.
The reality of the situ for women is that many wedding dresses have built-in bra cups and most brides will opt for seamless, fuss-free knickers (for the daytime, anyway), but grooms? They'll be swaggering about in their fancy pants all day.
Undies are an oft-overlooked part of your wedding day attire, but no groom should be whipping off an expensive suit or kilt to reveal the knackered old boxer shorts he's been rocking since his student days.
A pair of faded Family Guy boxers don't exactly set the tone for an evening of romance, even if they will eventually end up on the floor.
Plus, a great set of underwear won't just please your partner – they'll make you feel confident. (Especially if your photographer decides to take some snaps while you're getting ready on the wedding morning…)
In need of inspo?
Here's our round-up of the best wedding day underwear for grooms.
Personalised groom boxer shorts and briefs
These classic cotton boxers can be personalised with your wedding date and come with a matching drawcord bag. Ideal if you'd like to give them as a gift.
Buy them now // Weasel and Stoat Groom And Date Boxer Shorts (£22) notonthehighstreet 
These chic monogrammed boxer shorts can be personalised with your initials for the ultimate personal touch. They come in a selection of colours and include an embroidered cotton bag.
Buy them now // Men's monogrammed personalised boxer shorts (£35) Pandora's Boxers
The perfect something blue, these boxer briefs come in a cotton bag which can be personalised with your name.
Buy them now // Personalised Something Blue underwear (£19) Solesmith
Designer men's wedding underwear
If you can't invest in Tom Ford underwear for your wedding day, when can you? These silky ivory boxers are the perfect accompaniment to a tux, if you ask us.
Buy them now // Tom Ford silk boxers (£145) Harrods
Boasting the iconic Versace logo on the waistband and a classic low-rise fit, these trunks score points for style and comfort.
Buy them now // Versace iconic classic-fit stretch trunks (£52) Selfridges
You can't go wrong with a pair of Calvin Kleins, and this pair offers an update on the classic style with a bolder waistband.
Buy them now // Calvin Klein Intense Power stretch trunks (£25) Harvey Nichols
Fun grooms' wedding pants
For grooms that don't take themselves too seriously, these fun boxers are guaranteed to raise a smile. They're budget-friendly too.
Buy them now // Groom bow tie trunks (£5) Asda
What do you mean you haven't always dreamed of having your face on a pair of pants? Now that you're getting married, you can finally make it a reality.
Buy them now // Mr & Mrs Boxers (£23.99) Supersocks
These fun customisable boxer shorts for grooms can be personalised with your name and come in two colours: black or grey.
Buy them now // Personalised wedding boxer shorts (£8.99) Etsy
"Why I took my wife's surname"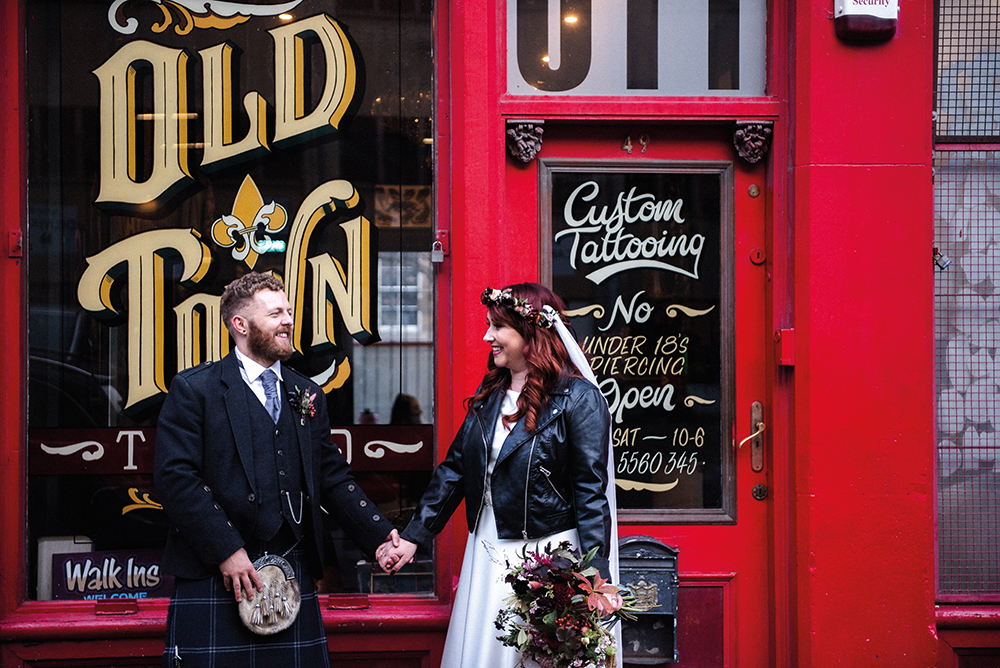 IMAGES | Elemental Weddings
For the Spring issue of Scottish Wedding magazine, we interviewed grooms who subverted gender norms by taking their wife's surname. Here, groom Danny Kennedy explains why he took partner Rachel's surname when they got married.
I was never of the opinion that I would marry before I met Rachel, because I am not a religious person. Rachel helped me understand that marriage is not just a ceremony with legal stuff, but something that can be our own.
To show my respect to all of those people that have basically been forced to marry and change their identity as it is the 'norm', and to also respect my own morals, I wanted to take Rachel's name.
Rachel and I both lost parents at a young age so I felt it was of real respect to my mother (a strong woman with morals I hold dearly) to do something she was probably expected to do in the 80s.
It also meant a lot for Rachel as it meant she could keep the name of her father.
I knew Rachel was happy, but I did not know what reaction I would get from others. I am and was aware that not many men do it and I had to prepare myself for the questions, gasps and the possible remarks of 'Oh, are you under the thumb?'
Rachel shared an article with me about a guy in the USA who did the same and the abuse he got at work from colleagues shocked me.
It made me apprehensive about telling people at first, but I have good relationships with people. My place of work, just like the city of Glasgow, has a great culture, and my close friends know me well too so I would say I felt supported.
Rachel supported me very well and made sure I was happy with my decision and always willing to discuss it, but nothing would ever make me change my mind.
My father was incredible about it. I had been unsure about how he would react so when he was instantly on board and told me it was my decision and he respected it, that took some pressure off.
I didn't want him to feel it was any disrespect towards him but I didn't even need to explain anything, as he knows I fully respect him and that I make well-educated decisions without any peer pressure.
I think men taking their wife's surname will increase over time as I feel when people are aware of someone doing something a bit different or against the grain, they then question themselves and realise they can do the same or even take it further.
I would love to live in a world where people can live to make basic life choices without fear of judgement. I think we are heading in the right direction.
Grooms' kilts and suits we loved at the Scottish Wedding Show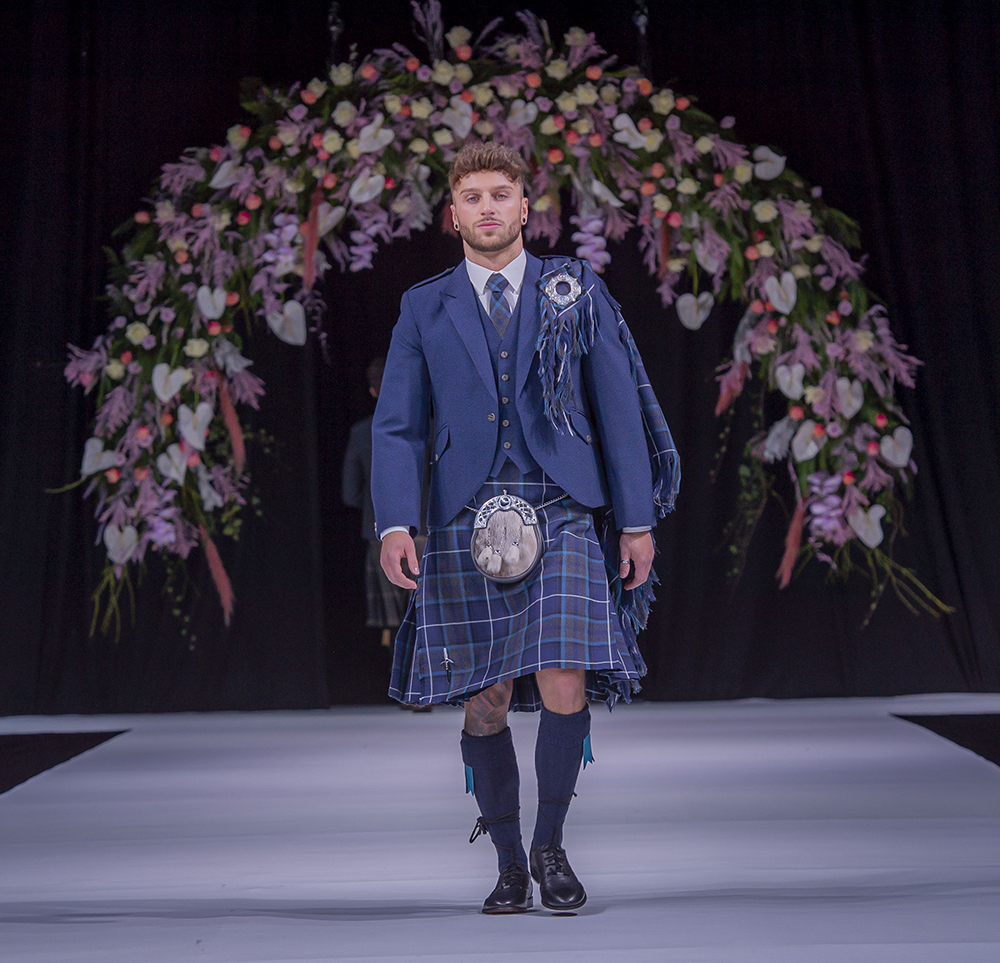 All images by Alan Peebles
With the coronavirus pandemic seeing us stuck indoors for the foreseeable, it'll be a while before any of us can go to a wedding fair – and groomswear shopping is out of the question too (physically, at least).
But that doesn't mean you can't browse for ideas!
Even if you've had to put the search for your wedding outfit on hold, you can still use this time to research the types of kilt or suit you'd like to wear. There are so many different styles and colourways available these days, and it's worthwhile having an idea in mind before you go shopping.
Begin by taking a look at our edit of the kilts and suits we saw and loved at the most recent Scottish Wedding Show back in February.
EIGHT YARDS
Find out more about Eight Yards.
CLAN KILTS
Find out more about Clan Kilts.
MACGREGOR AND MACDUFF
Find out more about MacGregor and MacDuff. (Dresses pictured are by Joyce Young Design Studios)
KILTS 4 U
Find out more about Kilts 4 U.
MCCALLS
Find out more about McCalls.
REMUS UOMO
Find out more about Remus Uomo.
SLATERS MENSWEAR
Find out more about Slaters Menswear.
Don't forget to check out our edit of the best wedding dresses at the Scottish Wedding Show.
We've also highlighted some our favourite mother of the bride outfits from the show.
The New Royals: Glamorous bride + groom photoshoot at luxe Cambo Estate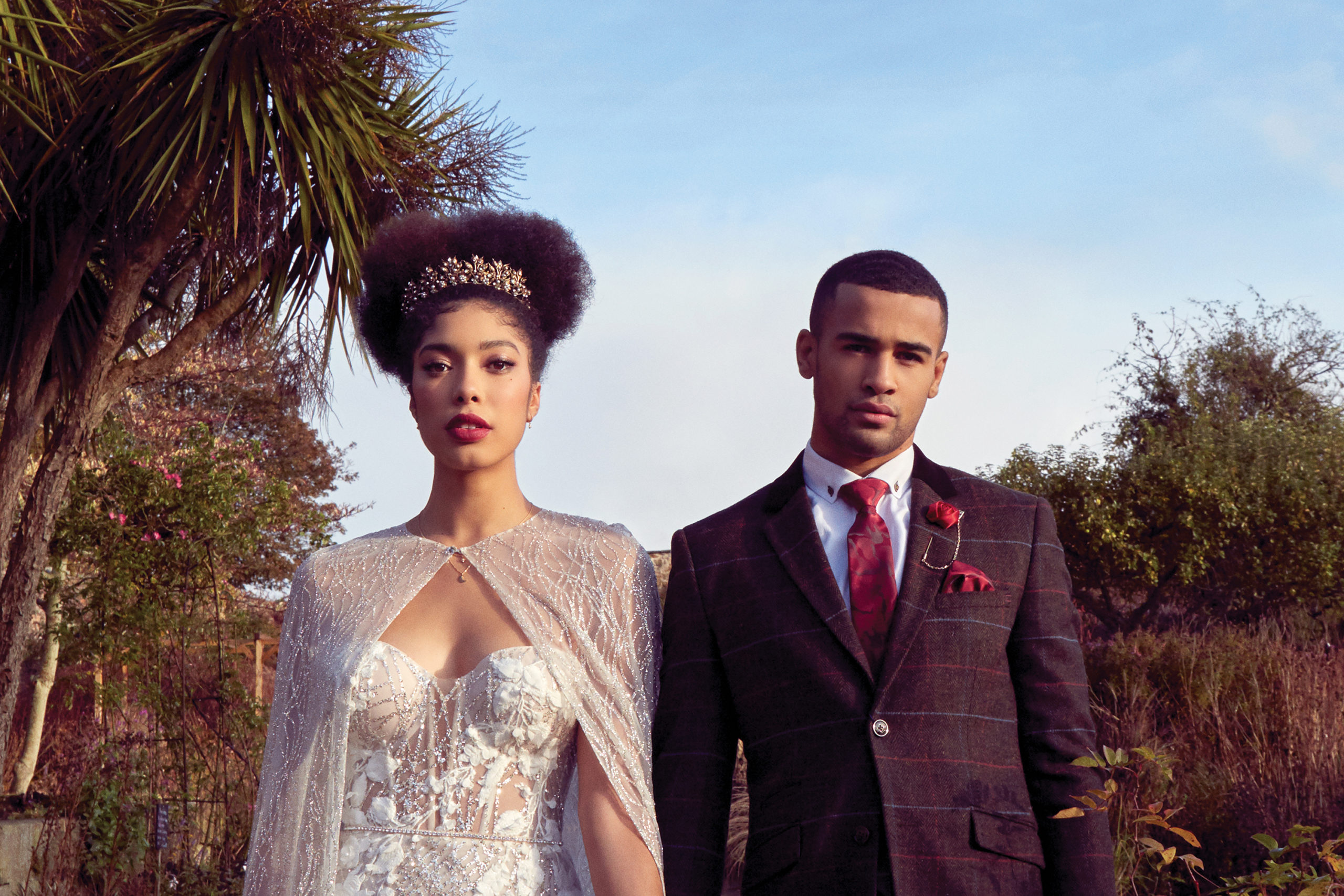 In every copy of Scottish Wedding magazine, you'll find a beaut editorial photoshoot showcasing the latest in wedding day fashion.
Here's some of our favourite shots from our Winter 2020 issue's bride + groom shoot at the boho-luxe Cambo Estate photographed by the amazing Stewart Bryden…
Arran Mist tartan kilt, paired with Brown Clunie jacket and waistcoat, raccoon sporran, brown brogues and staghorn sgian dubh (from £895), MacGregor & MacDuff. Eryngium, hypericum, brunia, steel berries and heather buttonhole (POA), Trudi Todd Creative Florist
V-neck mermaid dress with Art Deco beaded embroidery on bodice and skirt (£3,355), Pan Pan Bridal. V-shaped crown pendant (£285), Katie Lees Jewellery. Hand-stitched 'Darcey' bridal cuff (£85), Lily Luna. Ivory satin 'Kennedy' court shoes (£85), Rainbow Club.
Mark: Nicolson Tweed jacket and waistcoat (£495) with Red Nicolson Muted tartan kilt (£495), Glean Reigh bottle green socks (£35),
Norman Milne brass stag pin (£75), muted red tie (£25), Margaret Morrison brogue sporran (£220) and Loake 'Bedale' tan boots (£265), Gordon Nicolson Kiltmakers.
Eryngium, hypericum, brunia, steel berries and heather buttonhole (POA), Trudi Todd Creative Florist
Grace: Stretch duchess fit-and-flare 'Victor' dress (from £2,000), Rachel Scott Couture. Ivory strappy 'Blake' sandals (£79), Rainbow Club. Celestial gold vermeil plated hoop and star earrings (£75), ROX. Sky blue aquamarine 'Loom' ring accentuated with white diamond pave shoulders (£995), Katie Lees Jewellery. 'Rani' hair vine (£375), Halo and Co
Mark: Midnight Pride of Scotland tartan kilt with light grey tweed jacket and accessories (from £1,299 to buy, or hire from £105), McCalls
Grace: V-neckline crepe gown with illusion back and embellished with Venice lace (£1,240), Alison Kirk Bridal – Dundee. 'Regina' backdrop necklace (shown here styled to the front) and earring set (£85), Lily Luna. 'Rani' hair vine (£375), Halo and Co.
Grace: Mermaid-style gown with fitted bodice and dramatic train, worn with a glittering cape (POA), Opus Atelier. Gold vermeil-plated moon and star pendant (£80) and hoop and star earrings (£75), ROX. 'Amelia' headpiece (£320), Halo & Co. 
Mark: 'Tommy' tweed checked suit (£159.99), Tom, Dick and Harry Menswear.
Grace: Crepe Georgette and lace sheath 'Catha' dress with mermaid train (£1,690), Rosa Clará. (Scottish stockists include Ivory Grace Bridal, Anne Priscilla Bridal and Pan Pan Bridal). Blush pink feather bridal jacket (£225), Liberty in Love. 'Amelia' headpiece (£320) and 'Chain Me' earrings (£230), Halo & Co.
Mark: Spirit of Loch Ness tartan kilt outfit with accessories (to buy from £899, or hire from £95), Kilts 4 U.
Arrochar waterfall jacket and waistcoat with tartan detailing, grandad collar shirt and Cairngorm Black Watch tartan kilt (£1,616.85), Eight Yards. Eryngium, hypericum, brunia, steel berries and heather buttonhole (POA), Trudi Todd Creative Florist.
Mark: Edward Shetland Moss Donegal jacket (£285),
waistcoat (£95) and trousers (£105) with mustard silk knit tie (£28) and white shirt (£74), Walker Slater.
Grace: Soft satin playsuit with floral beaded over-dress (£3,100), Catriona Garforth. 'Orbit' gold vermeil plated beaded silver torque bracelet (£95), ROX. Feather earrings in 18ct rose gold plating (£80) and feather necklace in 18ct rose gold plating (£80), Sweet Rosie Jewellery. Ivory strappy 'Blake' sandals (£79), Rainbow Club.
Mark: Royal Stewart tartan kilt outfit with peat brown wool jacket and waistcoat, copper sporran and accessories (to buy from £800, or hire from £99), Slanj Kilts. Eryngium, hypericum, brunia, steel berries and heather buttonhole (POA), Trudi Todd Creative Florist.
Grace: Handpainted 'Goretti' dress with flutter sleeves (POA), Lluïsa Vilà. Feather earrings in 18ct rose gold plating (£80) and feather necklace in 18ct rose gold plating (£80), Sweet Rosie. 'Orbit' gold vermeil plated beaded silver torque bracelet (£95), ROX.
Mermaid dress with a deep v-neckline, trumpet-shaped skirt and tulle bow sleeve detailing (£4,495), Kavelle Bridal Couture. 'Whitney' cuff bracelet (£80) and 'Regina' drop earrings from 'Regina' necklace and earrings set (£85), Lily Luna. Shoes model's own.
Charcoal tweed hybrid jacket (£849), pink double-breasted waistcoat (£299) and MacThomas Tartan trousers (£399), Andrew Brookes Tailoring
Isle of Skye tartan kilt with Lovat Tweed jacket and waistcoat (to buy from £749, or hire from £80), Clan Kilts Ltd.
Photographer: Stewart Bryden | Venue: Cambo Estate | Make-up: Mitchell + Macinnes Makeup 
Models: Grace + Mark at Colours Agency 
---
Take a look at these wedding trainers you can customise from Converse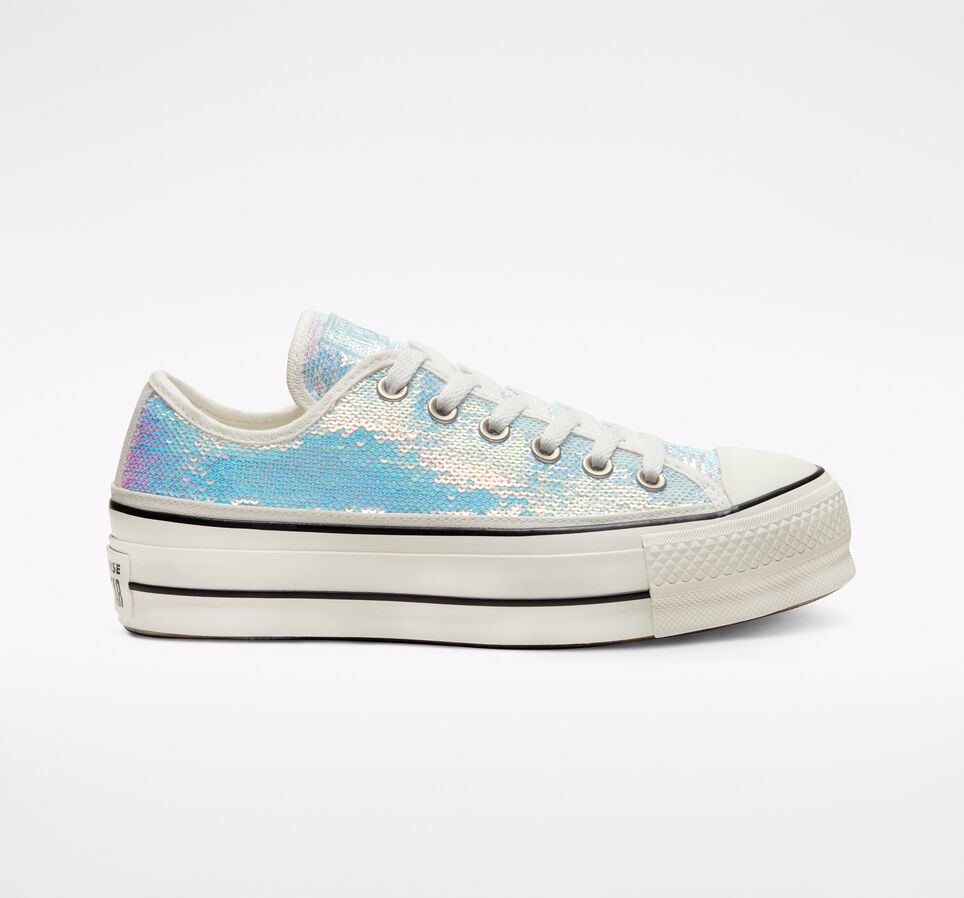 Finding your perfect wedding shoes is a hard task – especially if you're banking on dancing the night away after vows have been exchanged.
Well, that hunt just got a little easier, with the release of US shoe brand Converse's new wedding collection.
The retailer has a huge selection for both brides and grooms, from iridescent high-tops to a pair of black low-tops with a red rose motif on the heel. 
Galaxy Dust Chuck Taylor All Star 
Mini Sequins Chuck Taylor All Star Platform 
Custom Chuck Taylor All Star Floral Embroidery Low Top
You can even add a little height to your bridal look, with the brand's popular platform trainer now available in an aisle ready luxe white.
Chuck Taylor All Star Leather Platform Low Top
For those looking for truly bespoke footwear, the brand's new wedding range is completely customisable to make your wedding shoes one-of-a-kind.
You can create your very own pair of Converse almost from scratch, choosing from a selection of patterns, colours and materials, finishing with colourful shoelaces, motifs and wording – why not add your new married name and wedding date?
Order early, as delivery can take a few weeks.
Prices start from around £55.
PLANNING TO BREAK IN THOSE WEDDING SHOES?
Simple ways to personalise your groomswear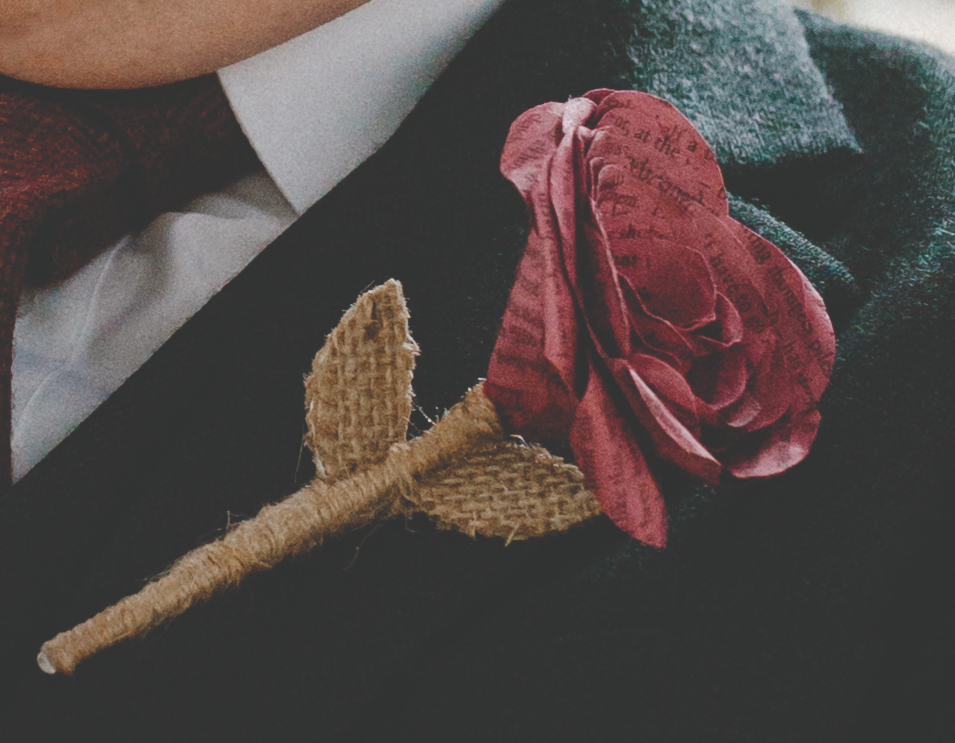 LINE UP, LINE UP
Bespoke lined jacket, Eight Yards (POA)
At Edinburgh-based menswear tailor Andrew Brookes Tailoring, there's been a clear rise in grooms searching for unique touches to make their wedding outfit one to remember.
"More and more grooms want a look that's individual and are taking more of an interest in their overall look and style," explains creative director and founder, Andrew Brookes. "Our handmade printed linings are becoming really popular as we take our clients' memories, special moments and photos from photo to silk."
Whether you're expressing a rock-and-roll element of your style (like with this skull smattered lining from Eight Yards) or making it sentimental by commemorating a loved one, Kyle Swadzba from Eight Yards says that the experience of customising a garment enriches the process from start to finish.
"We offer lots of in-house services to add personal touches to the outfits, from personalised writing or imagery engraving," says Kyle. "Whether you are designing or wearing the outfit, adding a personal touch makes the experience all the more special."
Andrew Brookes cites coloured buttonholes as another fun twist, and a great way to tie your look in with the wedding palette. "Embroidery under the collar or detailing such as special words, dates and nicknames are really popular too," he adds.
IF THE SHOE FITS…
Bespoke brogues from MacGregor and MacDuff (POA)
If you think about it, a pair of bespoke shoes are a very sound investment. After all, while your clothing size may fluctuate over the years, your shoe size won't; so you'll be able to wear them forever.
MacGregor and MacDuff's bespoke tartan brogues are perfect for adding an individual edge to your wedding day suit. Handcrafted to order in Scotland in a choice of 12 different leather colours, 900 tartans, ghillie or day brogues, the options are endless.
If you're not a brogues kinda guy, check out Duke + Dexter. The brand makes bespoke loafers which can be monogrammed with your initials (or hand-painted with a design of your choosing).
Duke + Dexter
CUTE AS A BUTTON
There's a lot of personal flair to be added with the modest boutonnière – florals to match your venue décor, your partner's favourite bloom, or an homage to your home country's flower. Lynne and Chris took it a step further, crafting a gorgeous literary-themed boutonnière from the pages of Chris' favourite book.
"I'd recommended the book, High Fidelity, to Lynne when we started chatting, so I loved being able to capture that as part of my suit," says Chris. "We made lots of paper flowers while watching Netflix and doing other bits of wedding prep together, and it was a great touch to have such a personal little memento afterwards."
We've seen similar ideas executed using the musical notation of a favourite song and even the script of a beloved film. It's a cool way to imbue something with special meaning without being showy about it. You could always have flowers during the day then switch up to your own paper one at night for a different look.
MATERIAL BOY
Furious Goose customised pocket square (POA)
The humble pocket square can tie your whole outfit together; mirroring your wedding palette, matching up or setting apart your groomsmen or even nodding to your heritage.
From embroidered phrases to fully bespoke designs, you'll find there's a lot of scope to score personal style points too. When it comes to flashing the cash on personalization, Edinburgh-raised, London-based designer Patrick Morrison of Furious Goose explains that there's a wide range of price points to accommodate a range of budgets.
"We offer a hand-stitched embroidery service for £20-£30 per letter, which can be as simple as a monogram of the groom's initials or a personal message," he says. "If money is no object then a fully bespoke design can be created. Going bespoke does mean longer timelines, and can take over six weeks to design, print, and hand finish."
'Sandpiper' Blue Tweed 'Sophisticate' Bow Tie, The Edinburgh Bow Tie Company (£35.00)
You could even get bespoke neckwear to match; check out The Edinburgh Bow Tie Company for custom bow ties that can be monogrammed, embroidered or made from a favourite tartan or tweed.
Fisherman Merino Wool Socks, Walker Slater (£15).
Oh, and don't forget a pair of jazzy socks if you're wearing a suit. We love this fisherman merino wool pair from Walker Slater.
JEWEL MEANING
If you intend to treat yourself to some new silverware anyway, have a think about how it could reflect who you are. You don't need to go the whole hog and get something designed from scratch if you've not got the budget for it, but it's worthwhile putting a bit of thought into it to avoid taking the panic-dash-round-Next route.
Take cufflinks for example; you could keep it simple and go for your initials, or don a set that nod to a hobby or interest. We've seen everything from watering cans to guitars to a Moomin set on a groom who believed Moomins to be his spirit animal.
Kilt Pin, Sheila Fleet (£190)
Kilt pins can be personalised easily by having them engraved. Remember you're not confined to a Celtic design either; it's the most traditional option, but by no means your only one.
The ultimate kilt shopping guide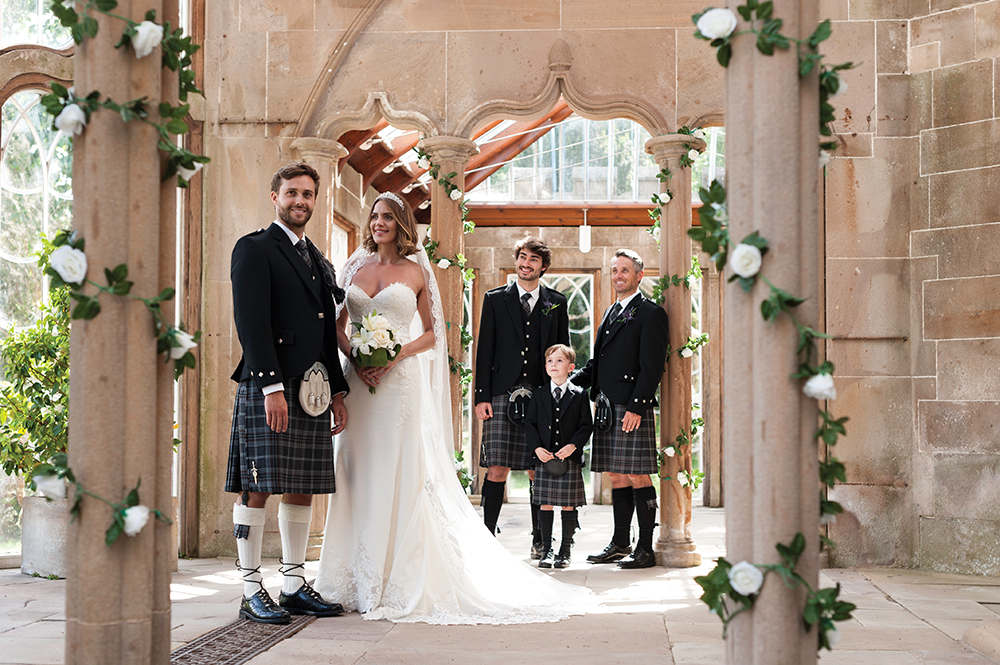 There are entire TV shows dedicated to brides hunting for their dream wedding dress. But what about you, the groom?
Finding your kilt can be just as challenging and exciting – and with screen-worthy results, too!
At MacGregor and MacDuff, the focus is on making the experience of purchasing and hiring wedding party kilts as stress-free and enjoyable as possible, so you can look your best without breaking a sweat.
GETTING STARTED
To start with, you'll find a great range of styles at their Prestwick and two Glasgow stores.
There are 12 hire tartans and six jacket options, not to mention up to 4,000 tartans to choose from if buying.
The expertly trained sales stylists will run through outfits and styling options with you, as well as letting you know about any relevant special offers.
Take advantage of the Groom's Fitting Service, too.
This involves being measured at the store, then returning at a later date to try on two to three outfits in your size.
It should help you make up your mind if you're stuck between a couple of options.
Once you're all sorted, get your wedding party in for measurements and outfit selection; you can do this individually or make an appointment to come in as one group.
THE COUNTDOWN
After that, MacGregor and MacDuff's wedding party co-ordinator will take over.
She'll look after the logistics – checking outfits and collection dates – so that you can focus on other wedding planning tasks.
Ideally you'll have your groomsmen measured 12 weeks before your wedding, while you should aim for a couple of weeks before this (if you're buying a kilt, it'll take 8-10 weeks to be made).
Children are asked to pop in three weeks before the wedding to be remeasured.
This is also an option for the rest of the wedding party, if you'd like to double-check sizes.
Finally, MacGregor and MacDuff ask wedding parties to collect their outfits at least two days before the wedding – this gives you a little bit of breathing space to try them on and sort any last-minute changes.
Left it a little bit late to find your outfit, or planning your wedding within a short window of time?
Don't panic. MacGregor and MacDuff will do their best to accommodate you, no matter your timescale.
ON THE DAY
When it comes to picking up your kilts, you can collect them at a time that suits you.
Or, excitingly, if you live within 15 miles of MacGregor and MacDuff's Bath Street store, you'll be able to make use of the company's brand new drop-off service, whereby your outfit will be dropped off at your home address.
Fancy having an extra special wedding morning? Check out the new Groom's Room service at House Martin Barbers on Bath Street, Glasgow.
MacGregor and MacDuff have teamed up with this super-stylish barber so that grooms and their groomsmen can book it for the wedding morning.
Everyone will get fresh haircuts and beard trims while sipping on whisky and coffee.
Better still, a MacGregor and MacDuff stylist will be there to dress you all in your outfits, so you can stand proudly at the top of the aisle knowing that you look amazing.
Whether or not you opt for additional extras like these, you'll receive the exact same standard of care and attention that all MacGregor and MacDuff grooms get.
And that's invaluable.
CONNECT WITH MACGREGOR AND MACDUFF
The grooms' guide to pre-wedding grooming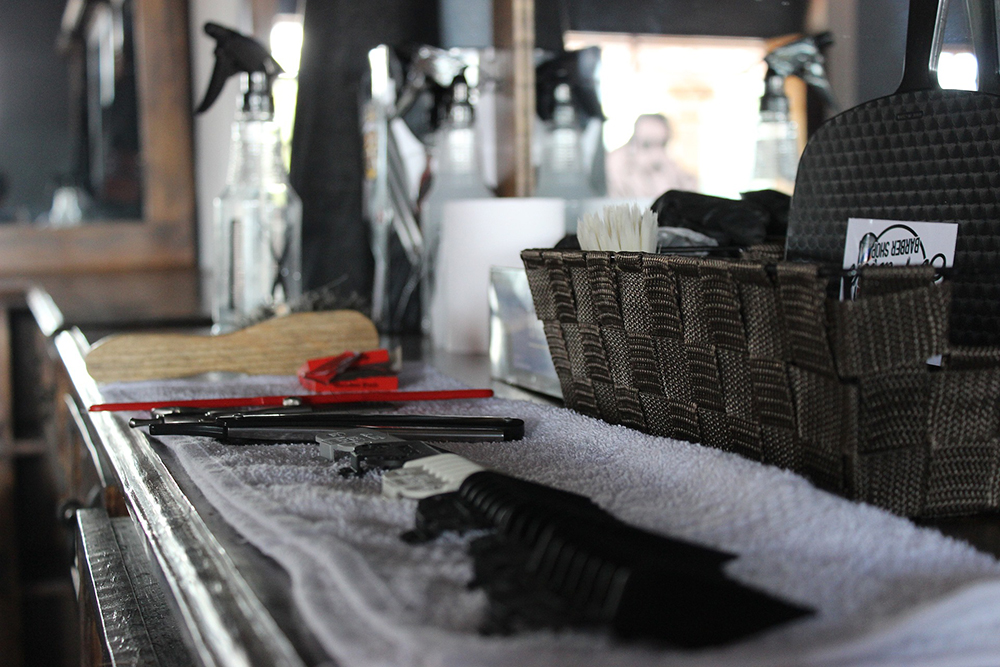 Pre-wedding pampering is no longer reserved for brides and all grooms want to look and feel on top form come the big day.
But faced with being centre of attention it can be easy for husbands-to-be to feel overwhelmed in the lead up to their weddings. From choosing the right cut to taming an unruly beard there are many things to consider.
Joanne Woods, manager of King's Barbers shares her top tips from years of experience in getting grooms ready for their trip down the aisle…
~ KEY TRENDS ~
"It's all about the skin fade for grooms," says Joanne. "A skin fade is gradient haircut where the hair is cut shorter and shorter as it goes down the neck – essentially fading into the skin.
"I've done 30 haircuts in a day and every single one was a skin fade.
"The days of short back and sides are now gone and it looks like skin fades are here to stay."
Up on top the crop is one of the most popular current styles, really short on top with a poker straight fringe at the front.
Joanne says we're moving away from the quiff in favour of a look that falls down and across the face – much easier to manage on your wedding day.
~ PLAY IT SAFE ~
Joanne suggests grooms book in for a hair trial a couple of weeks before the big day to find the perfect style.
"It's important to always ensure grooms have the best barber to suit their hair type and always choose one they know well before the big day, even more so if they don't end up having a trial," she says.
"We would always advise grooms play it safe and not get their hair cut directly before the wedding on the same morning, and we would never advise to get it cut too short.
"The last thing a partner needs is to see their husband with an awful or unexpected haircut on the big day."
~ ON THE MORNING ~
More and more grooms are booking in for blow-dries the morning of the wedding because they can't style it as well themselves.
However, Joanne warns against getting a hot towel shave on the morning of the wedding if it's not something you're used to.
"Most men like to do this on the wedding morning but it's not great at all, as it can cause the skin to break out," she says.
~ MAKE IT AN OCCASION ~
Brides are used to make-up sessions, hairdressers and champagne wedding mornings so why shouldn't grooms join in the fun too?
"We're looking to start a 'Get Groomed' exclusive wedding package for the whole wedding party," says Joanne. "It's a real go-to-town event with drinks and cigars, making it really special for the guys on the morning too."
JOANNE WILL BE SHARING MORE EXPERT TIPS AND SHOWCASING HER SKILLS AT THE SCOTTISH WEDDING SHOW ON 12th + 13th OCTOBER. 
HAVE YOU GOT YOUR TICKETS YET?