Plan your wedding under one roof at Top Floor Studios, Dundee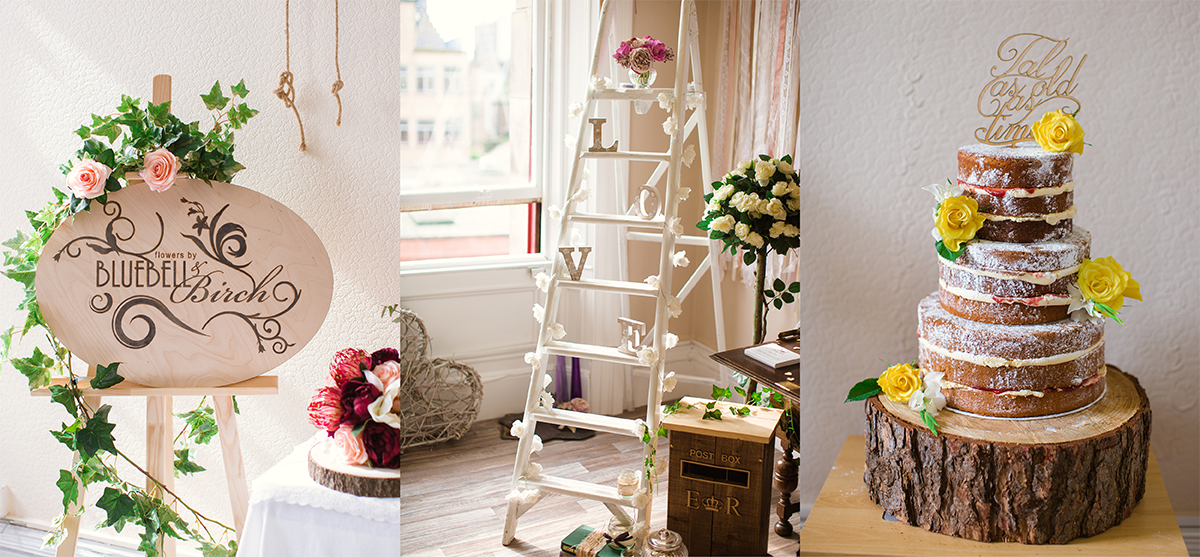 Top Floor Studios in Dundee is not your average wedding fair. Home to some of Scotland's most talented wedding suppliers, you could plan your whole day under the one roof.
Founder and owner at Hair Ups Mandy (left) with her sister
IMAGES | Photography by Emilie
Are you worried about finding the best Scottish wedding suppliers for your big day? There are so many to choose from, you could spend hours researching and visiting them before you find the right ones for you. What if you could visit them all under one roof?
Top Floor Studios in Dundee want to make it easier for couples to discover new suppliers, and have created a lovely, bright and airy space in Dundee city centre on Bell Street, where couples can make appointments and meet for a chat with individual wedding suppliers all year round.
We speak to owner of Hair Ups and founder of Top Floor Studios, Mandy Breen, to find out more about her exciting new venture.
ALL TOGETHER NOW
Top Floor Studios was born out of necessity; Mandy's bridal hair business was growing steadily and her mobile business was outgrowing itself, so she went on the hunt for permanent premises.
"I found the perfect place in the perfect location. The problem was, it was huge! Far too big just for me. So I got to thinking, maybe I could work with other Scottish wedding professionals to really use the space to its full potential, and help each other out in the process," explains Mandy.
Mandy then invited a few industry professionals who she'd worked with to set up in the space, and before she knew it, she had a real collective of wedding suppliers ready and waiting for couples to book a visit!
MAKING IT EASIER
"It can be hard for couples to know where to start when they embark on their wedding planning journey," says Mandy, "So we give them a pretty good place to do that! Why should they have to wait on wedding fairs to come around to start looking?"
IMAGES | Photography by Emilie
Couples can set up one-to-one appointments with a host of wedding suppliers, at a time that's convenient to them. They can then come into Top Floor Studios to meet and chat with them in a comfortable environment.
Some of the fantastic suppliers include:
Thistle Pipping Central Scotland
Boothy and the Geek Photo Booths
… and more, including photography, videography, stationery, event hire, pipers, cakes and jewellery.
THE FULL EXPERIENCE
Top Floor Studios plan is to make the experience more like a walk-in wedding, which changes with the seasons. This is not a typical wedding fair; you don't have to worry about the small talk and bags full of unwanted flyers and cards. Who you meet, and when you meet them, is entirely up to you.
"We have a relaxed seating area where couples can sit down with suppliers and have a chat too," says Mandy. All you have to do is contact the supplier that you're interested in directly to arrange a meeting.
Mandy also has her hair studio in the premises, where brides can come for trials and try on a selection of tiaras by Greypuss Jewellery.
The open day in September had a great turnout and Mandy says that the collective is planning on lots more events in the coming months.
Make sure you Like Top Floor Studios on Facebook to keep up with the latest news and events!
Why not Book a Look at Top Floor Studios?*  
All visitors will receive a complimentary copy of SWD!
*Fancy having a chat with a supplier at Top Floor Studios?  Simply contact them directly to arrange an appointment.*
When to send out your wedding invitations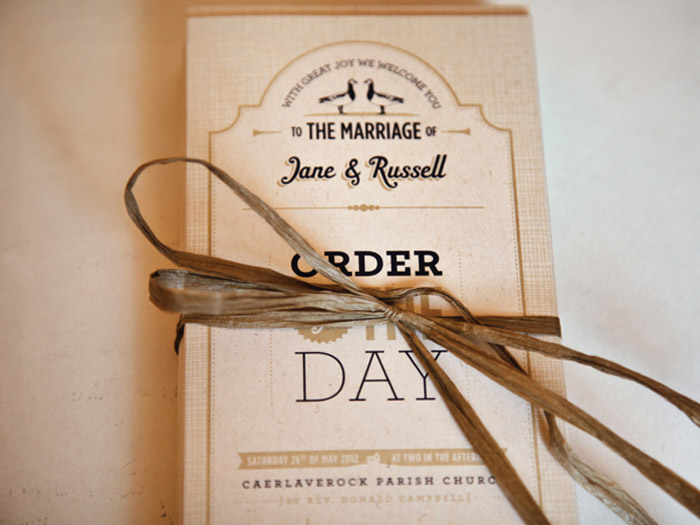 Planning a wedding can start to seem like a never-ending to-do list. Between creating multiple guest lists and trying not to have a breakdown over the exact shade of your napkin rings, it's hard to keep on top of every single thing.
Even tasks that seem relatively straightforward such as sending out your invitations have more components to them than you might first think.
Discover how to and when to start your shopping for your wedding stationery with our handy timeline checklist.
9 months to go
As soon as you set a wedding date, shop around to find designs you like and prices you're comfortable with!
Think numbers, who gets a coveted plus one and whether you're inviting children. Begin gathering addresses and start a trusty spreadsheet.
When it comes to family politics, consider a compromise " ensure your favourite people are there of course but do allow your family to have a say.
6 months to go
Most couples do this six to nine months before the big day" if it's a destination wedding, this can be done even earlier.
Consider what you'd like your invite to say as well as any information (directions, accommodation options etc) you want to include. Remember to proofread!
They don't have to be signed, sealed and delivered but you should ideally order four to six months before the big day.
Set up your wedding website or email
If you're going to create a wedding website, do it before you post the invites out. Some websites have a function that allow guests to RSVP (and if you'd like to do that, include the link on your invites). Alternatively, create an email address that guests can RSVP to, such as jimandpamaregettingmarried@mail.com. That way the RSVPs won't get lost amid your junk mail.
3 months to go
Traditionally wedding invitations are sent out six to 12 weeks before the wedding, though it's becoming more common to send them out at the three-month mark. Just remember to factor the cost of stamps into your budget otherwise you'll get a shock at the post office!
4-6 weeks before
Suppliers usually require final numbers at least a month before the wedding, so chase up any stray RSVPs and compile your final guest list!
Order ˜on the day 'stationery
Once you've got your numbers, it's time to finalise the table plan and order place settings. Decide whether you want extras like orders of service and stylised menus. Keeping a spreadsheet of wedding gifts makes writing thank yous a lot easier.
1 month after
It's courtesy to send a note thanking guests for coming. Lots of couples print their fave wedding snap to use on thank you cards.
This can wait until you're back from honeymoon, though more than three months after the wedding is pushing it!
Make a great first impression on your guests with beautifully crafted stationery
SWD Wedding Edit | Green + gold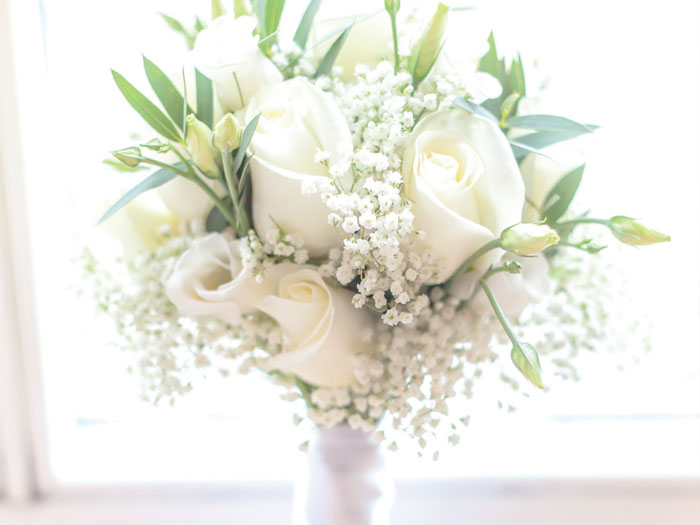 Sometimes simple is best. A white canvas accented with gold and hints of fresh green looks luxe and elegant.
FOLLOW US ON PINTEREST FOR MORE GORGEOUS SCOTTISH WEDDING INSPIRATION!
SWD Wedding Edit | Romantic Vintage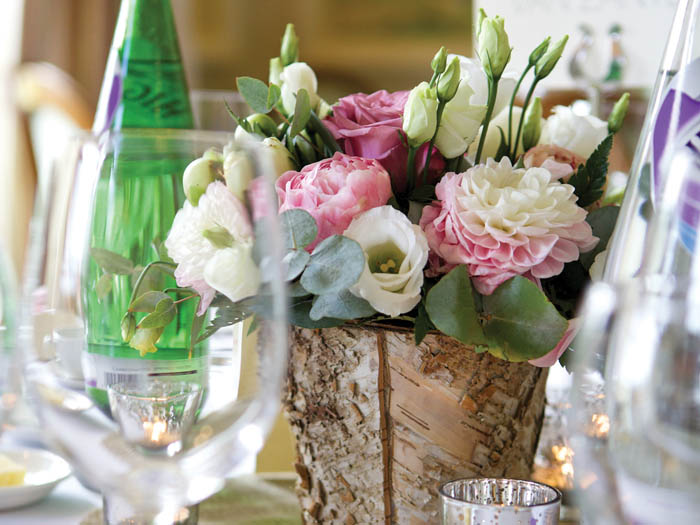 Go for heart motifs and floral details in soft pastel shades to create a romantic, vintage-inspired look
FOLLOW US ON PINTEREST FOR MORE GORGEOUS SCOTTISH WEDDING INSPIRATION!
Your wedding stationery checklist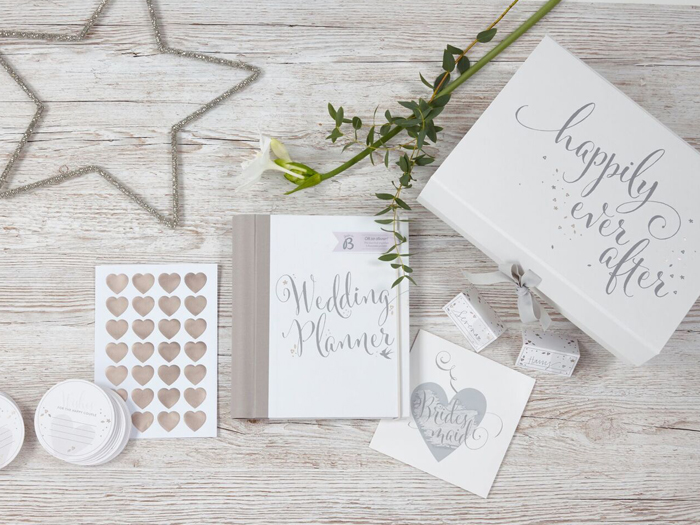 From simple save the dates to pleasing placards, here's our checklist guide to wedding stationery.
3-6 months before
If you're a creative type then your first urge may be to leg it to Hobbycraft, but this is far from being the easy route.
An experienced professional will ensure everything is consistent and cut with precision. They can also advise on the proper etiquette of invitation wording or what to include on your order of service.
Lindsay from SixpennyBlue advises that you order your stationery around six months before the wedding.
Cost of wedding stationery
As with any wedding supplier, it's important to scout around for someone that suits your style and budget.  We estimate you should prepare to spend around £200+.
Our directory of stationery designers is a great starting point, while wedding fairs provide an excellent opportunity to chat to the designers and see the stationery up close.
What to ask your wedding stationery designer
 Prepare for your first meeting with your stationer by having a think about what you'll actually need.
---
Types of wedding stationery
Save The Dates are useful for overseas guests
Evening guests will require separate invitations to all-day guests
Orders of service are particularly helpful if your ceremony will include hymns or prayers
Menus, placecards, table number cards and table plans are essential for any wedding meal
---
It's also a good idea to work out what you want your stationery to look like before you meet with your designer.
Consider whether your day will be formal or informal. Think about the colour scheme of your day and whether you'd like to include anything that reflects your lifestyle or personalities.
Sarah O'Neill Designs finds that designs combining the national flowers of countries within the UK and Ireland " like the thistle and rose" are very popular.
Images and colour swatches are helpful in conveying what you'd like so be sure to bring them with you. Alternatively, email a link of your Pinterest board if you have one.
Most couples tweak a design that the stationer already offers to suit their wedding, but you'll often have the option to have a bespoke design made from scratch.
Top tip: You can ask your bridesmaids to give you a hand with writing your invitations!
Check out our online directory!
Celebrate with a CHAS charity wedding favour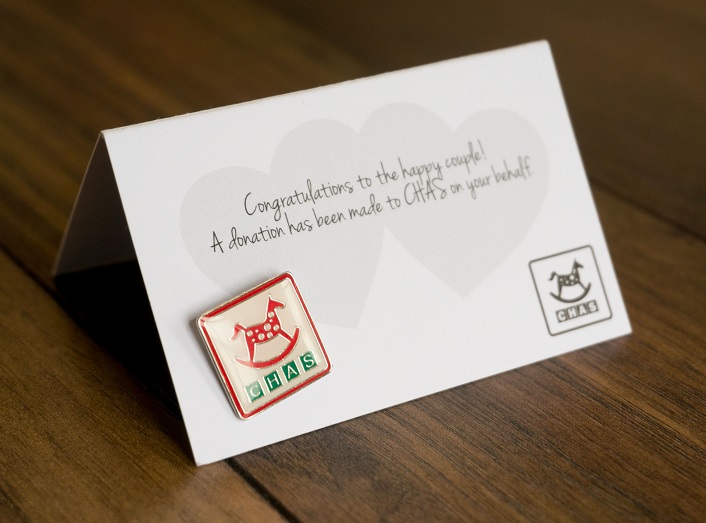 We're huge supporters of children's charity CHAS here at SWD; they do some amazing work, and we've raised over £80,000 of donations for them so far. Can you help raise some more?
Photo by Chris Phin
Wedding favours can be tricky to decide on, so why not give your guests a meaningful gift and donate to charity at the same time with a favour from CHAS?
The new wedding favour cards can be used to accompany pin badges, or CHAS love heart sweeties, and are priced at £1.50 per badge and card or £1 for the sweets and card.
As well as helping families across Scotland, you'll be creating awareness. Every week in Scotland, three children die of an incurable condition " CHAS are currently only reaching one of the three. Please join them on their mission of reaching every family!
To order yours today, please contact Samantha on 0141 779 6183 or email samanthareilly@chas.org.uk.
SWD EDIT | three floral + stationery styles you'll love for 2017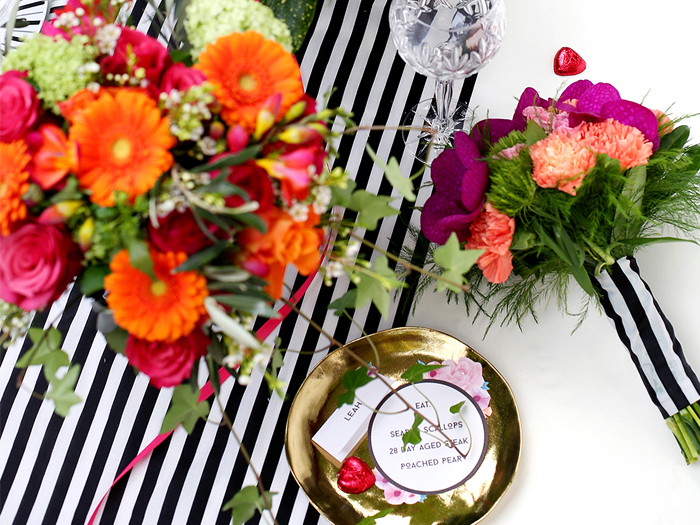 Peach and Sorbet mixed long and low Arrangement (POA) Make Believe Floristry | Bouquet of white ranunculus, eucalyptus cinerea, cineraria, echeveria succulents, avalanche rose, Anigozanthos and thlaspi green belle (£75) Something Special Flowers | Hand tied bouquet of roses, brunia hydrangeas, thlaspia and bouvardia and spray roses (POA) Trudi Todd Creative Wedding Florist
[IMAGES: Eve Conroy]
Our new spring '17 issue of Scottish Wedding Directory is packed full of inspiration; you'll find our gorgeous florals and stationery shoot on p249 – 255, with three fresh ideas for your 2017 wedding.
We picked three key looks for the season and here, we share extra shots from the shoot. Pin them, save them, screenshot them… be inspired!
GRECIAN ROMANCE
Repeat after me: I am a Godess! Bring some of that romantic charm to your day with beautiful lush greenery, hints of gold and hessian burlap.
We love the pastel and cream shades of the blooms alongside luxe green stationery.
Peach and sorbet mixed bridal bouquet (POA) Make Believe Floristry
Delicate lace invitation lasercut in a gold glitter finish (from £4.60) Purple Willow Weddings | Scattered hearts in green invitation (£2.75) Roseneath Studio | Olive Garden collection (POA) Fizzy Hearts Stationery | Grecian foiled save the date (£2.25) + Grecian foiled day invitation with response (£4.75) Sixpenny Blue
Peach Avalanche Napkin Posy (£12 each) Make Believe Floristry | Grecian Foiled Menu (£3) Sixpenny Blue
AUBERGINE DREAM
Spring and summer months don't have to mean bright, light colours. Rich hues can feel summery too and don't have to be consigned to wintertime.
Keep things looking fresh with hints of cream in your stationery and a mixture of textured flowers.
Wine goblet (£34.95 for set of six) notonthehighstreet.com | Hand tied bouquet with protea, anemone, skimmia, veronica, leucodendron, albiflora, cymbidium orchids, rosemary and muehlenbeckia (POA) Kirstie's Flowers | Bouquet with black grand prix roses, burgundy cymbidium orchids, phaleonopsis orchids, burgundy ranunculus, copper asparagus fern and thlaspi green belle (£125) Something Special Flowers | Hand tied bouquet of antique blue roses, beech foliage, lucadendron, calla, thistle and pops of waxflower and lavender (£85) Lavender Blue | Ombre wine glass (£42 for set of four) notonthehighstreet.com | Bespoke velvet sweetie pouch (POA) Just A Wee Favour
Purple and lace ribbon invitation (POA) Stationery by Suzanne | Invitation and table settings with modern calligraphy and rustic copper foil on burgundy card (POA) Paper Fox | Cream lace invitation with purple satin ribbon (POA) Stationery by Suzanne | Twin hearts in navy invitation (£2.50) Roseneath Studio | ˜Jewel Tones' pocketfold invitation (from £4.40) Purple Willow Weddings
CANDY STRIPES
Go bold with black and white stripes and plenty of pops of colour.
Flowers are kept fun and a little wild, wrapped in pink ribbon and stationery continues the bright and quirky feel.
Hand tied of cream waxflower, cerise pink ranunculus, viburnum snowball, olive, germini, hedera trails, freesia and tacazzi roses (POA) Kirstie's Flowers | Bespoke ˜Monochrome Brights' sweetie bag (POA) Just A Wee Favour | Crystal wine goblet (£86 for two) notonthehighstreet.com
Place card and menu (POA) Origami Fox | Contemporary illustrated table setting (POA) Ohhkatieq Illustration | Gold foil and pink bloom invitation (POA) Stationery by Suzanne | Invitation and place setting stationery with hand painted flowers (POA) Paper Fox | Pink invitation (POA) Roseneath Studio | Black and white striped invitation with bow detail (POA) Stationery by Suzanne
Silver footed bowl (£21.50) The Wedding of My Dreams | Imperfect porcelain plates (£36.95) notonthehighstreet.com | Bespoke ˜Monochrome Brights' sweetie bag (POA) Just A Wee Favour | Wild hand tie posy of spotted laurel foliage, tulips and pops of ranunculus (£75) Lavender Blue | Hand tied of cream waxflower, cerise pink ranunculus, viburnum snowball, olive, germini, hedera trails, freesia and tacazzi roses (POA) Kirstie's Flowers |  Hand tied bouquet of hot pink vanda orchids, green dianthus, miss piggy roses and orange carnations (£85) Lavender Blue |  Crystal wine goblet (£86 for two) notonthehighstreet.com | Menu and place setting stationery with hand painted flowers (POA) Paper Fox
NEW SPRING ISSUE OF SCOTTISH WEDDING DIRECTORY, OUT NOW!
See the full shoot with plenty more flower and stationery inspiration in the new issue of Scottish Wedding Directory, on sale now.
Barry Talks… Designing Your Own Wedding Stationery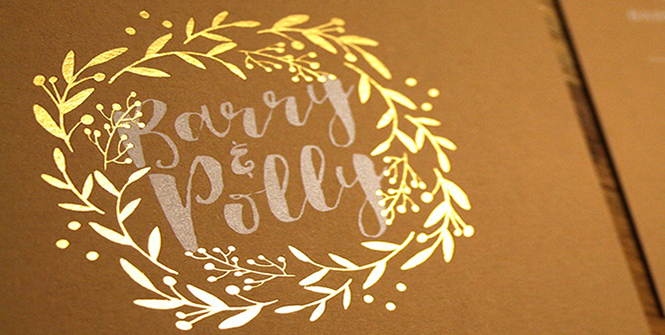 After plying my trade as a Graphic Designer (or colouring-in as my friends like to call it) for the past 10 years, I was never going to be at ease with someone else designing my wedding stationery.
Being involved in branding and logo design on a day-to-day basis gave me a rare opportunity to create something personal to us as a couple.
Having previously designed wedding stationery for friends, I realised that surprisingly, I actually quite enjoyed it so there was no doubt in my mind that I'd be creating the stationery for our wedding.
The design process involved a fair amount of procrastination in truth. As most designers will tell you, creating something for yourself is a difficult task and often results in a fair amount of stress. As part of my job I get to work with lots of great suppliers so I had a rough idea from the get go of what I wanted our personal stationery to look like.
The final design reflects our overall rustic theme of contemporary woodland winter wedding with brown kraft style paper, stamps and some subtle Christmas flourishes thrown in. We also designed a logo, which will underpin the whole wedding theme, creating consistency and adding to the atmosphere of the day.
When sourcing all of the elements, my experience in this field was invaluable. The paper and envelopes were matching stock bought from the fabulous GF Smith. On the paper, we printed using white ink, which is a relatively new technique, and finished it off with some fancy gold foiling.
The pack was held together by a frosted tracing paper bellyband, which, alongside the gold foiling, was the perfect nod to Christmas. We made a little sticker to hold the bellyband together and promote our website, where friends and family could go online to find out more about the wedding or RSVP quickly and easily. We sourced a custom logo stamp from The English Stamp Company to add a personal finishing touch.
Designing our own stationary certainly wasn't the easy option. I'm writing this with my designer hat on, but I think unless you are some form of creative, you should always look to someone who already possesses some skills in this area to help you out. Being a designer you have to be confident in your printer to deliver exactly what you want and be heavily involved in the whole process from start to finish.
With the type of finish we were going for, the project needed to be managed carefully. In our case, creating the bespoke designs probably ended up being more expensive than simply buying predesigned stationery simply because we went to town with all the fancy papers, envelopes, printing and finishing techniques.
This design project was an excuse for me to go a bit wild and try to make something really special for our big day, and it was totally worth it for all the amazing comments we have since received from guests!
There are lots of good independent creative designers out there who specialise the creation of great looking wedding stationery, so looking into a custom design that way might be the perfect way to capture something unique without all of the additional stress.
It is such an important element, the one that informs guests about wedding details and introduces the theme. This is your big day after all, so why not put as much love and attention into your invites as you do your flowers or dress?