A bride-to-be is fundraising for charity by selling these stylish wedding favour tags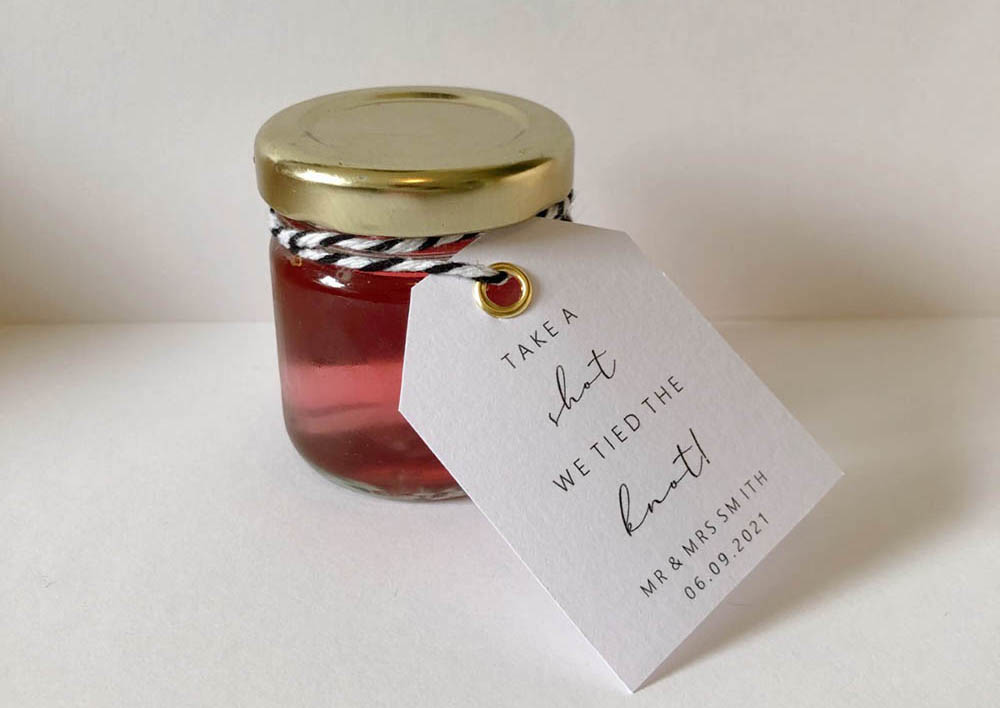 An Inverness bride-to-be is raising money for Macmillan Cancer Support by selling wedding favour tags – with all proceeds going to the charity.
Like many to-be-weds, Keely Butcher – who's getting married at Aswanley next October – was bitten by the crafty bug when she started planning her own big day.
"I feel like ever since we got engaged I've been playing about with different ideas for the wedding; there's so many different ideas and things to try," she says.
Keely turned her hand to creating stylish wedding favour tags for her guests which could be attached to miniature booze bottles and flip-flops (an excellent combination if you ask us: one to get guests in the mood to dance, and the other to help make dancing easier when the heels come off!).
They turned out so well that the bride-to-be would now like to make favour tags for other engaged couples in a bid to raise funds for a cause close to her heart.
"We lost my granny to a brain tumour years ago, and my grandad was diagnosed with Non-Hodgkin's lymphoma in 2019 – thankfully after six months of chemo he is doing well," says Keely.
"Then at the start of 2020 my other grandad was diagnosed with oesophageal cancer, and unfortunately we have now been told there's no further treatment."
Keely decided at the start of lockdown to turn the negatives into a positive by selling bespoke wedding creations.
She hopes that in doing so she'll be able to give a generous donation to a charity that provides support to people affected by cancer.
How to order the wedding favour tags
There is no set price for the favour tags, and the bride-to-be is simply asking for couples to donate whatever they can to her JustGiving page.
If you'd like to place an order, simply email Keely with your details on keely_dee@hotmail.co.uk.
All money made will go directly to Macmillan Cancer Support.
Cancer Research UK introduces new wedding favours collection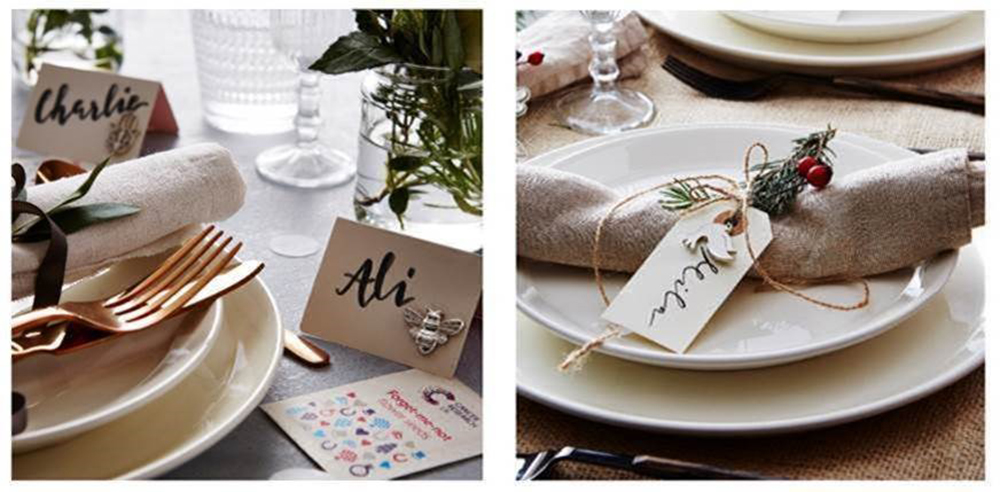 Whether it's the gay pride badge that catches your eye, one of the spiritual tokens or even a dinosaur design, the new pin badges will help fund life-saving research.
The badges come on either white or craft paper backing card to tie in with any colour scheme and can be personalised with guests' names and the date of your wedding.
brachiosaurus pin badge favour
Couples who want to not only help Cancer Research UK but do their bit for the planet will love the forget-me-not sustainable flower seeds.
They come in 100% natural and degradable packaging.
Plus you can also get your biodegradable petal confetti from the charity – perfect for that "We've just got married" pic!
rainbow pin badge favour
The Cancer Research UK favours are a touching way to celebrate or remember a friend or family member who has been affected by the disease.
Each favour is available for £2, which goes towards the charity's life-saving work into the prevention, diagnosis and treatment of all cancers.
Now doesn't that seem like a proper way to thank your wedding guests?
How to make your own dried flower confetti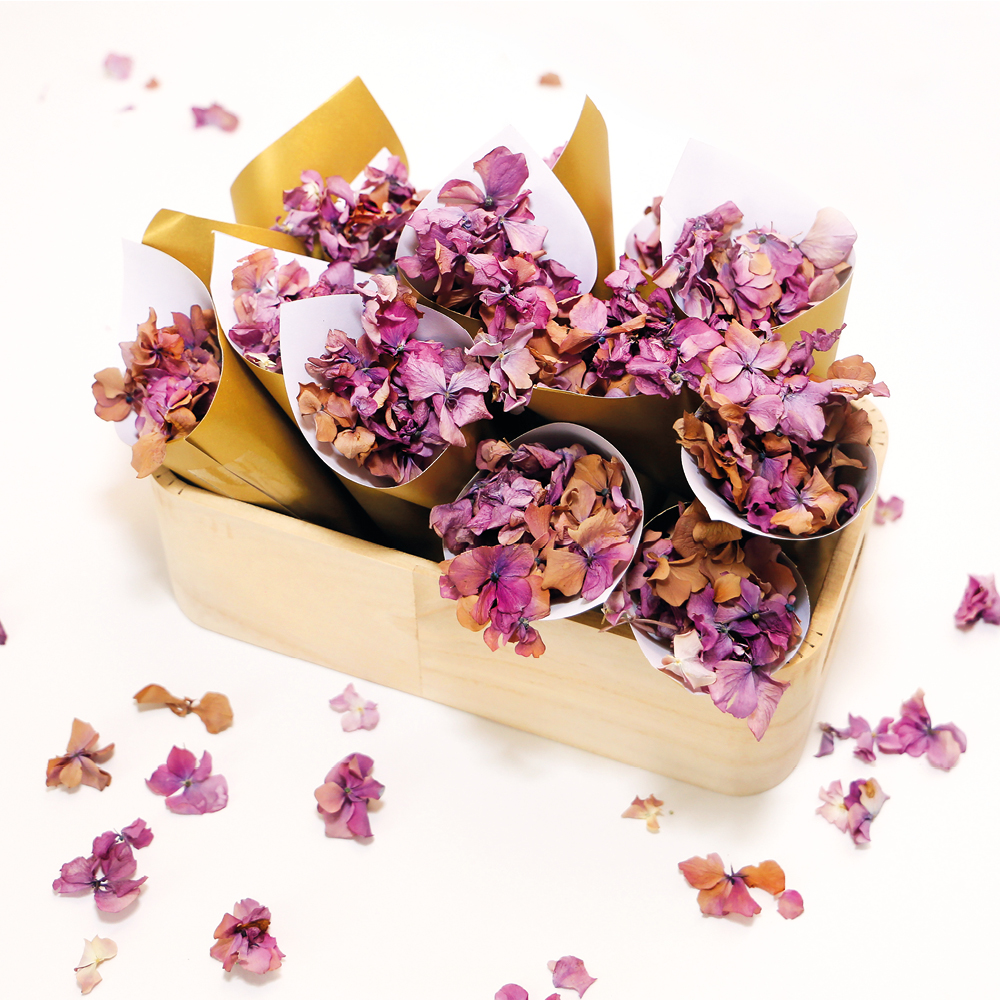 The photos of you and your other half being showered in confetti will be among your faves.
Here's our step-by-step guide to making your own perfect petal-filled cones.
WHAT YOU NEED…
IMAGES | Ailsa Kerr
You'll need a baking tray, scissors, glue or tape, card or thick paper, air tight jar, ruler, flowers and stickers (optional).
1.
Collect the flowers you'd like to use. Lindsay went with hydrangeas as they look delicate when dried.
2.
Depending on which flowers you use, pull them apart so you have full petals.
Lindsay cut hers at the back to get full flowers.
3.
Spread them out on your baking tray, trying not to overlap them so that they all dry evenly.
Put them in the oven at 180C (or 160C fan oven) for a couple of minutes, keeping an eye on them so they don't burn.
 4.
Once they are dried I like to give them a shuffle and put them back in the oven, switching it off and letting it cool down to make sure they are fully dry.
5.
Once cooled, store them in an air-tight jar until nearer your big day.
6.
To make the cones, cut your card or paper in 12x12cm squares.
7.
Roll to form a cone shape and tape or glue in place.
8.
When you're ready, fill cones with your gorgeous confetti and sit uptight in a box ready for your guests!
Feeling inspired to craft more for your big day?
6 cool table plans from real Scottish weddings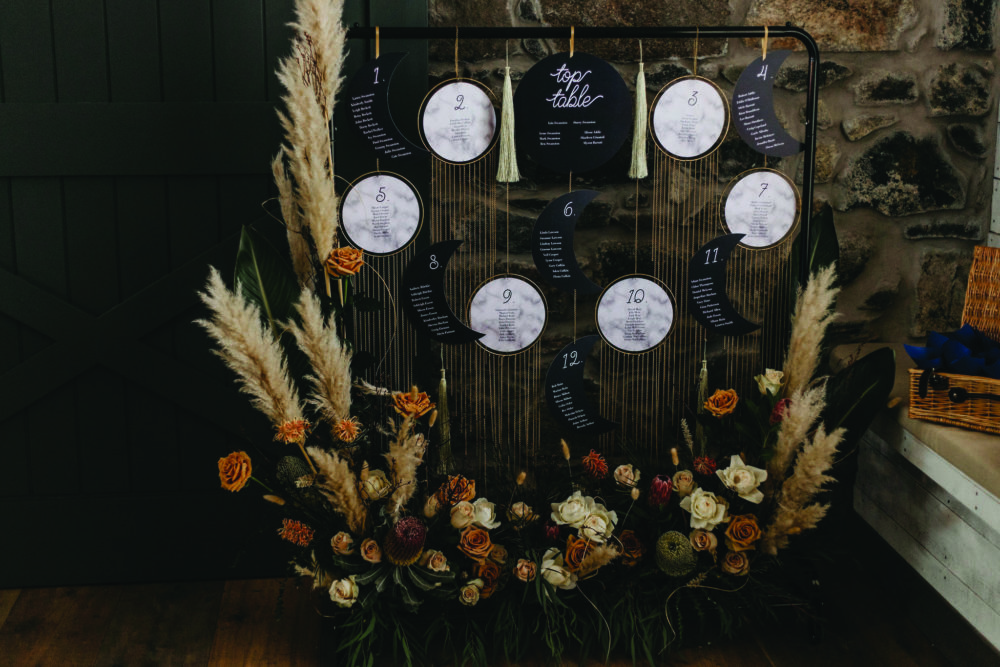 ~ OUR FAVOURITE THINGS ~
IMAGES | Neil Thomas Douglas 
"We decided not to have a theme per-se – our table plan was a combination of real and fictional locations from both of our favourite things," says Claire, who married Scott in The Barn at Dalduff Farm.
The bride worked with Origami Fox to create a seating plan that showcased her and her husband's passions: Formula 1, Harry Potter, Star Wars, Jurassic Park, and giraffes!
How's that for an unexpected touch?
"We are total opposites personality-wise, but sharing an interest in the things we chose let our personalities shine through," smiles Claire.
~ FIRST THINGS FIRST ~
When they got married at Banchory Lodge in Aberdeenshire, Jennifer and Adam took their guests on a journey of their romance with their 'Find Your Seat' table plan, expertly illustrated by Amy Singer Art.
Each table was named after one of the couple's 'firsts' – from their first holiday to their first house – and accompanied by a tiny, foam-mounted illustration that gave the images a storybook feel.
"We love the illustrations as they are something we can reuse.
We'll be repurposing them in the future – perhaps on our first anniversary for a keepsake," says Jennifer.
"We plan to put them in a photo frame as a storyboard. Amy even went the extra mile and found me on Facebook to get my hair colour right in the mini illustration of us!"
~ LOVE BIRDS ~
IMAGE | Susan Renée Photography
Tanya and Graeme weaved their love of exploring into their table plan for their wedding at Ballogie House – while also giving a nod to some feathered fellas who might be in their future!
"The tables were named after holiday destinations we had been to over the years," explains the bride. "The top table was called Las Vegas as this is one of our all-time favourite holiday destinations."
The stationery, created by Paperoo, also featured bird motifs.
"We have spoken about one day getting a house which has a garden big enough to have ducks, so we had wooden duck ornaments at the venue. Incorporating some cute love birds into the stationery made sense!"
~ WRITTEN IN THE STARS ~
IMAGES | Emma Lawson Photography
Guests had stars in their eyes looking at Stacey and Iain's table plan, which was inspired by the night sky.
"I found a similar table plan on Instagram which used moons for the tables, and Karla from Paper Skeleton and I worked together to create our own version," says Stacey, who tied the knot in The Barn at Barra Castle.
"Our wedding had celestial-inspired touches, so I thought this would fit perfectly with the rest of the theme."
Wedding stylist Robin's Egg showcased the stationery perfectly by placing a gorgeous pampas grass and toffee-toned rose floral installation underneath.
"I wanted something a little bit different which would tie in nicely with the style of the wedding – it was a nice way to reflect our taste," adds Stacey.
~ ON THE MAP ~
IMAGES | Pocketsquare Photography
As a wedding stationer by trade – he owns stationery company Bottled Love – it was only natural that David would design his own for his wedding to Haley at the Windmill Barn.
The couple opted for a Scottish-themed table plan to pay homage to one of their greatest passions.
"My wife and I both love exploring Scotland, so we named our tables after some of our favourite places," explains David.
"We used a map as a creative way to show these places and let our guests know where they were."
~ LOGGING ON ~
IMAGES | KK Snaps
Stacey purchased wood slices to give her wedding to William at the Byre at Inchyra the rustic tree-tment, working with Laila Lettering to create place names that her guests could take home – a stylish memento to be cherished for years.
"As we had a barn wedding, I knew I wanted a rustic but soft feel for the day. I also wanted guests to have something they could take as a keepsake to remember the wedding – the log slices worked perfectly," says Stacey.
"We purchased the log slices and got the amazing Christina at Laila Lettering to handwrite everyone's names on the slices in a soft white.
The setting pulled everything together, it was like nothing I had ever seen at a wedding!"
From neon wedding signs to a statement lip: How to add elements of neon to your wedding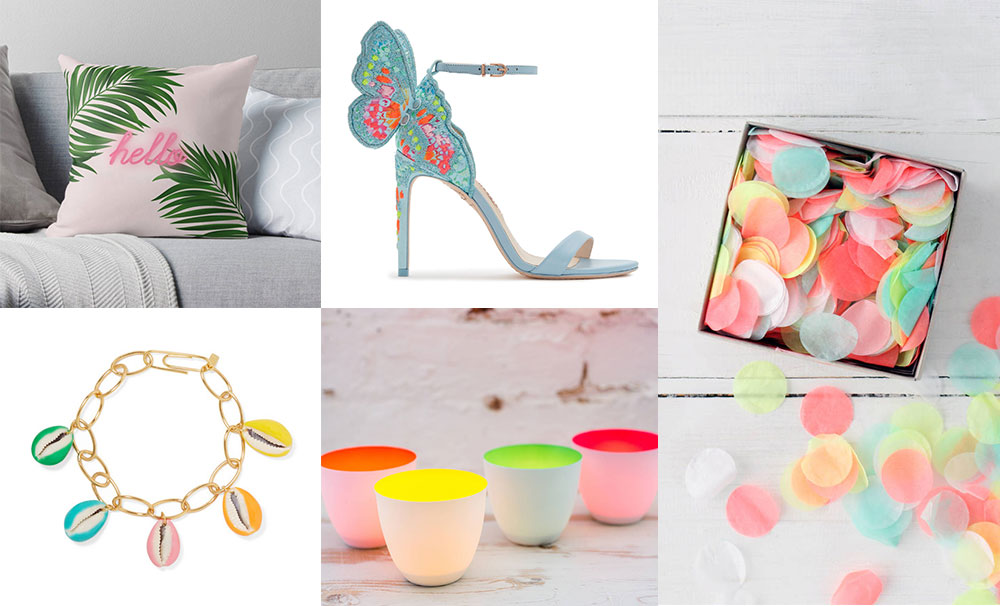 You might not immediately think of neon when you're putting together your wedding colour scheme, but adding some elements of it to your day can bring that pop of colour to lift the whole scheme.
NEON WEDDING SIGNS 
Neon wedding signs are a huge trend for 2019 weddings, and Make Believe Events have pulled it out of the bag with these fun Scottish sayings!
'Ye dancin'?', 'Slainte' and 'Aye Do' would work in different areas of your decor – at the ceremony, drinks reception and right above the dancefloor.
Take a look at other neon wedding signs on our Pinterest board. 
Contact the team by emailing info@makebelieveevents.co.uk for hire availability and prices. 
SUBTLE NEON WEDDING DECOR 
Top to bottom: Neon typographic felt artwork (£40) Not on the High Street | Personalised green palm print cushion (£39) Not on the High Street
Porcelain tea light holders in neon (£12) Not on the High Street | Neon party confetti (£5) Meri Meri 
Concrete candle holders with pink neon candles from DIYScom on Pinterest 
There's no need to go big on neon in order for it to make an impact. Adding smaller elements can be more effective.
Subtle nods to neon in artwork and soft furnishings work well, and we'd love to see a confetti shot with that bright neon confetti! It would look so cool.
Have a peek at some of our other suggestions for neon wedding decor on our Pinterest board. 
NEON WEDDING STATIONERY
Neon stationery suite (POA) Lovestruck Stationery
These fun invitations will catch the recipient's eye for sure! Always wanted your name up in lights? Now's your chance.
Another cool way to use neon in your wedding invitations is to go for a crisp white card, edged with your chosen neon hue.
We've got some other suggestions for neon themed wedding stationery on our Pinterest board. 
NEON BRIDAL ACCESSORIES
Top to bottom: Merco gold-plated, shell and enamel bracelet (£350) Net-A-Porter | Resin link drop earrings in neon orange (£12) ASOS
'Chiara' baby blue leather sandal with neon butterfly wing (£595) Sophia Webster 
How about those Sophia Webster shoes for a classy splash of neon? Not only that, but they could be your Something Blue too! Obsessed.
Earrings are a great choice for a neon hint. You could even change your earrings for the evening reception to something like the ASOS neon beauties above. Neon = disco after all!
NEON BRIDAL BEAUTY
IMAGES | Pinterest
When it comes to bridal beauty, we're not talking a full face of 80's neon warpaint. Instead, subtle neon hints can be achieved on the nails (above, in a neon citrus) or if you're feeling a wee bit bolder, a statement neon lip.
Pare back the rest of your make-up and keep your hair sleek for a really gorgeous bridal look. When it comes to lippy, we love Neon Angel – Magenta by ILIA Beauty for a pop of pink.
Get inspired by other neon bridal make-up looks on our Pinterest board.
How do you feel about adding neon elements to your wedding day? We'd love to know! Comment on our Instagram post about neon at weddings. 
The wedding stationery lowdown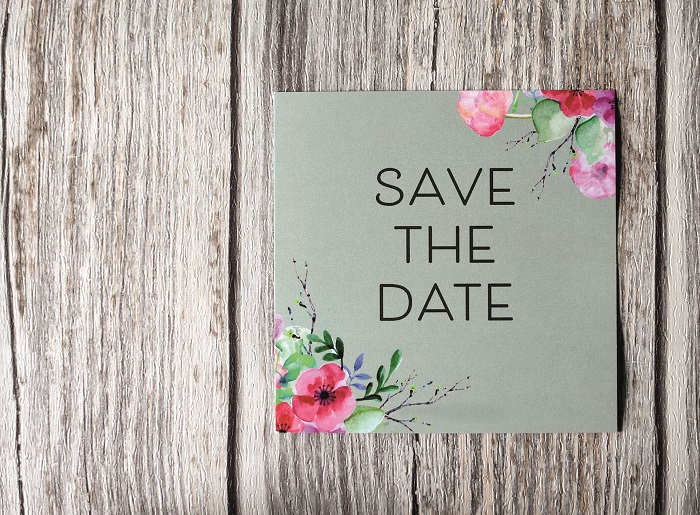 From save the dates right through to your table plan, here's how to keep your wedding stationery useful and stylish.
When it comes to setting the theme for your big day, don't accidentally neglect your wedding stationery.  Practically, it tells your guests everything from where they need to be and when, to where they should be sitting for the speeches.
Much more subtly, it also helps to set the tone for your celebrations, even before the day itself arrives.
You can go super formal and traditional with classic invites and order of service cards, or create an intimate vibe with save-the-date cards featuring a one-off illustration of you and your other half.
There are basically a gazillion and one ways to make your wedding stationery personal to you, and a few essential things you need to do with it, too.
Here's the lowdown on the necessary basics, and a bit on inspo on how to get creative with them.
SAVE THE DATES
One of the first things you'll want to do is send out a save the date, which pretty much does what it says on the tin – lets your guests know what day you're getting married on so they can keep it free!
You could send these as soon as you book your venue and date, especially if your guests will have to travel far, but about a year before your wedding is plenty of time.
The only real essential piece of info you need to include here is your wedding date, and then you can pick and choose what else, if anything, you'd like to reveal – some people like to include a location, for example, or even highlight that it's an all-day invite.
THE OFFICIAL INVITES
Next on the wedding stationery list are your invites. Include dates, times and the location as well as other info like RSVP cards, directions, maps, advice on accommodation and even menu choices or special dietary
requirement checklists.
Also specify whether it's an all-day or evening-only invite to save any awkward confusion further down the line. It sounds like a lot of information to pack in but there are plenty of ways to stop it looking overwhelming – check out Sarah O'Neill Designs' pocketfold invites.
Around 3-4 months before your wedding is a good time to send your invites, but don't wait until then to organise them, especially if you're going bespoke. Wedding stationers can book up quickly, and are often busy during the quieter months prepping for the busier seasons ahead.
If you know you want bespoke invitations, book your stationer as soon as you can, even if you haven't decided what you want yet; that way, they'll be able to factor you into their production schedule.
TOP TIP: If you go down this route, make sure you agree on T&Cs and a completion date for your stationery.
ORDER OF SERVICE
Your order of service basically takes guests step by step through the plans for your wedding ceremony, and you can also include lyric sheets for any hymns or songs you've picked.
For the sake of continuity, it's sometimes nice to match your order of service to your invites, even just in colour or the materials used, but you can always do something more low-key to keep costs down.
You can have fun with it too; we've seen loads of novel ideas, such as orders of service printed on cardboard sunglass cases (with a pair of cheap sunnies inside) for sunny outdoor weddings!
NAME YOUR TABLES
Adding a personal touch to your wedding stationery is a lovely way of making your big day feel more intimate.
Consider including a visual reference to something that means a lot to you, whether that's a hobby, the place you got engaged or just something your friends and family associate with you. The one place this is easiest to
accomplish? Your table names and place settings!
IMAGE | Laura A Tiliman Photography
Using photos from throughout your relationship as table markers is a popular option, as is naming your tables according to places you've visited, bands you love or even your fave movies.
Then you just theme all table related stationery around your chosen theme.
STATEMENT TABLE PLANS
Once you've gotten through everyone's favourite task of putting together a seating plan, it's time to share it with your guests.
Table plans are basically all about the presentation.
If you're working to a tight budget going for a printed design will probably be more affordable, but if you've got a bit more cash to spend then embellishments (be it ribbons, diamantes or otherwise) are a great way to add texture and interest.
If not, take a look at our online directory for your nearest suppliers! 
Floral-filled nature inspired wedding day at Sorn Castle, East Ayrshire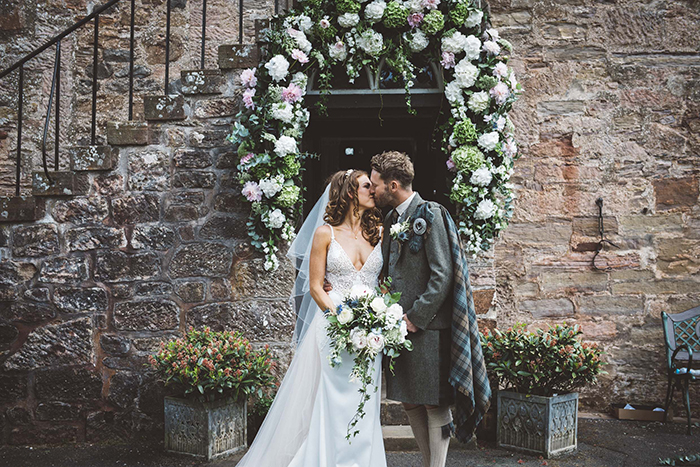 Rebecca and Jason created a beautiful nature-inspired wedding reception at Sorn Castle following their beautiful ceremony at Sorn Parish Church.
With plenty of personal touches – groom Jason even hand-built their wooden pergola! – it was truly a day to remember.
Here, bride Rebecca shares more from their wedding, including a very exciting arrival in 2019!
Jason and I clicked right away on the first date. Although we are opposites in lots of ways, we are so similar in others.
We both work really hard and help each other strive and achieve our goals – we balance each other out perfectly!
Jason proposed while we were on holiday on the island of Koh Tao.
We went snorkelling on our favourite beach, and he pretended to look under the water at some fish but instead resurfaced with my engagement ring from under the sea!
Booking the perfect venue was a priority to us, and we wanted our wedding on a bank holiday weekend to make it easier for my family travelling from Northern Ireland.
As soon as we walked into Sorn Castle, we fell in love with it.
The team made it feel really personal and special – it didn't feel like a wedding conveyor belt like some other venues.
For the décor, we wanted it to reflect the elegance of the castle and the beautiful nature in the surrounding grounds, installing lots of floral displays throughout the venue.
We also wanted to pay tribute to my Northern Irish ancestry and Jason's Scottish ancestry, and had fudge from my home town and bottles of Irn Bru as favours.
My dress was 'Gala' by Galia Lahav. It was made from vintage crochet and silk satin with a dramatic blush train.
Jason wore a customised tweed kilt made at Frank's Gold Room at Kilts 4 U in Hillington. It was stunning and everything we wanted.
The night before the wedding was so stressful, I was almost verging on having a little bridezilla moment! Jason was still building our wooden pergola at 9pm, but we eventually had our ceremony rehearsal and that helped calm our nerves.
We were both a little nervous at the ceremony, and stumbled over a few words even though we had practised it plenty!
We got a few giggles from our guests which actually helped put us at ease.
The speeches were fantastic, and there were a few tears during my dad's as he spoke about family and friends that are very missed.
It was followed by lots of laughs during the best man's speech, which contained anecdotes that cannot be put down in print!
Our florist embraced our vision and went above and beyond. People are still talking about the floral displays!
At the Ayrshire Wedding Show we won the chance for West FM DJ Colin McCardle to play at our wedding! Everyone had a blast, and the marquee was jumping from start to finish.
Our first dance was Brad Paisley She's Everything. It is a song we both love and has very meaningful lyrics. We also liked that it was a unique choice that many people hadn't heard.
Our plan for our honeymoon is to go to New Zealand and the Cook Islands, but we have had to postpone it as we're expecting our first baby in March 2019!
Photographer: Tommy Cairns Photography | Venue: Sorn Castle
Bride's dress: Kavelle Bridal Couture  | Bridesmaid dresses: Lou Lou Bridal
Groom's kilt: Kilts 4 U | Videographer: White Balloon Films | Cake: Rosewood Cakes
Florist: Every Bloomin Thing  | Make-up: AMM Hair and Makeup Team
Stationery: Bespoke Wedding Stationery
Neilsart Wedding Caricatures now offers personalised caricature wedding stationary!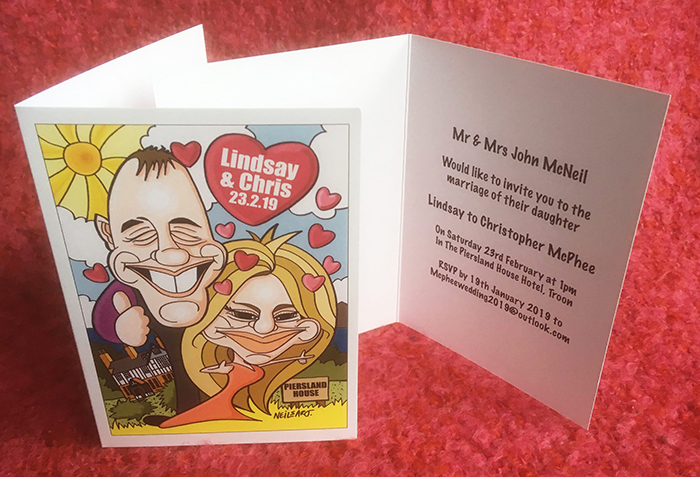 Neilsart Wedding Caricature now offers personalised caricature wedding stationery, and he's got some fab discounts to celebrate the launch! Here are all the details…
Neil is not only a pro at caricatures, he's also a pro when it comes to working weddings, providing fun and quirky entertainment that fits into the couple's plan for their day.
Now as well as on the spot caricatures to help break the ice and get your guests laughing during your drinks and evening reception, he's also offering personalised caricature wedding stationery.
You'll receive a colour caricature of your and your partner to use on all your wedding stationery, from invitations and tablecards to the guest signing board.
How it works
To get your personalised stationery, all you need to do is supply pictures of you both to Neil.
He'll use this to create a colour caricature which can be used as artwork in wedding invites, table cards, a table plan, a guest signing board and your order of service.
Neil will organise all this for you once you've told him what stationery you're looking for, printing the final products and then arranging for them to be delivered direct to your door.
A5 wedding invites start at £385, including your caricature and 50 printed cards and envelopes. You'll also receive your caricature as an A3 print for framing as a memento of your wedding day.
Take advantage of discounts
To celebrate the launch of his new caricature wedding stationery, Neilsart Wedding Caricatures is running some special discounts and offers!
Book the above package (£385) and Neil's on the spot service (where he comes along to the drinks reception to provide live caricatures for guests) and you'll get a 20% discount.
Or, get a 15% discount to the overall price if you also commission a colour caricature and book on the spot caricatures for your wedding reception.
For more info, Ts & Cs, and to book this special discount, email Neil directly for a friendly chat!
t. 07967 910388 | e. info@neilsart.co.uk
Read reviews for Neilsart Wedding Caricatures
Doubletree by Hilton Queensferry Crossing comes to life in this stunning styled shoot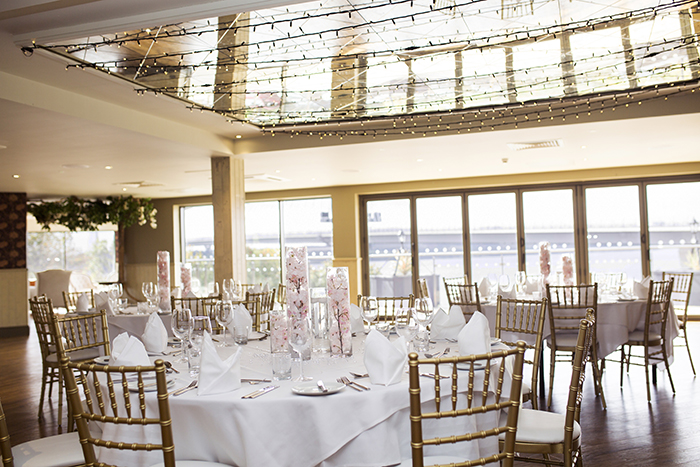 No idea how to dress your wedding venue?
We enlisted the help of the experts to style the gorgeous Doubletree by Hilton Queensferry Crossing for our shoot which appeared in our January 2019 edition of SWD.
A venue like this is truly versatile, so you can really put your own personal stamp on it.
Because this space benefits from lots of natural light, we went for an ivory and blush theme to complement its airy, elegant vibe.
Fit for a queen
Offering unrivalled views over the Forth and its famous bridges, the DoubleTree by Hilton Edinburgh – Queensferry Crossing in North Queensferry has been stunningly transformed following a £15m investment.
Perfect for couples seeking a stylish venue, it has three fabulous wedding suites and The Shore restaurant. It also has 147 guest rooms, including four beautiful new suites boasting panoramic views.
Each wedding suite offers an exceptional setting for your special day.
The Hope View features a fabulous outside terrace overlooking the Queensferry Crossing, whilst massive wrap-around windows in the Caledonian Suite provide picture-perfect views.
The beautifully landscaped gardens with the iconic bridges in the background, meanwhile, make the perfect location for your wedding photographs.
Whether you dream of an intimate wedding with close family and friends, or a grand occasion, it's hard to imagine a more stunning backdrop for your celebrations.
Artificial floral globe and raised mirror base (£35), Enchanted Events
Selection of vases with artificial cherry blossom, floating candles and table diamonds (from £25 per table), Without a Hitch
Chair covers and bows (£3 per chair) and table runners (£2 each), Sashes Venue Styling
All in the details
Tie your invitations in with your colour scheme to give guests a glimpse of what's to come.
Vellum wedding invitation (£4), Stationery by Suzanne
Favour tag (£0.50, miniature not included), Stationery by Suzanne
Table plan section (£3.75, to be used as part of copper rail – see below), Stationery by Suzanne
Birdcage (£30) and storm lamps (POA),Without a Hitch
Three-tier wedding cake (£260), Homemade by Jools at Top Floor Studios
Blush pink opal hairvine (£95), Redrocks
What a beauty!
Rose gold droplet earrings (£35), Redrocks
Model Natalie looked stunning with romantic hair by Mandy from Hair Ups and pretty-as-a-picture make-up by Leslie Sneddon Makeup Artistry.
One thing to bear in mind when deciding on your bridal hair and make-up is how it'll fit with your overall vision for the day.
Remember to give your hair stylist and make-up artist as much info as you can on everything from your dress to your décor, as this'll help them create a look that perfectly ties in with your wedding.
These 'Astrid' shoes (£99), Rainbow Club are beaut and comfy for dancing too!
Gorgeous blooms
Peach roses, blush roses, cream roses, thistle, astilbe and mixed foliage bouquet (POA), Poppy Floral Design
We love the just-picked-from-the-garden look of this amazing bouquet. Arrangements like this breathe life into a wedding, moving gently as you walk down the aisle and lending a romantic, countryside feel.
They can also suit a range of different budgets, depending on the ratio of roses to foliage and the season in which you're getting married.
Bride | Diane Legrand dress with ruched tulle body and tulle skirt (£999), Bridal Boutique at Frox of Falkirk.
Rose gold crystal and pearl bracelet (£38) and drop earrings (£35), RedRocks.
Groom | Platinum Pride of Scotland trousers with Edwardian grey jacket (to buy from £515, hire from £65), McCalls Ltd
Copper table plan rail (£50 to hire with flowers as shown, £30 without), Stationery by Suzanne
Gorgeous Easter weekend wedding day at Balbirnie House Hotel, Fife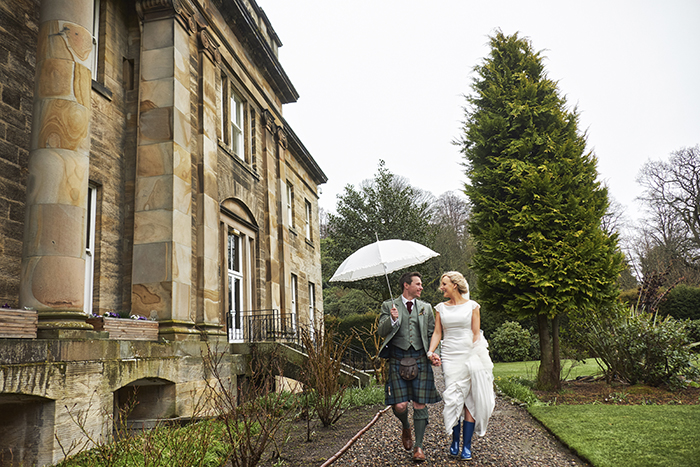 When childhood sweethearts Emma and Callum got engaged after 12 years together, they knew they wanted to say 'I do' within the year.
With plenty of personal touches, including some Easter-themed surprises, the happy couple opted for a spring wedding at award-winning venue, Balbirnie House Hotel, all captured beautifully by Suzanne Black Photography.
Here, bride Emma shares more of their eggscellent big day…
"We met at school and were in the same class on the first day. We were both quite shy in those awkward first years and didn't actually become friends until fourth year at school.
Callum is one of the kindest people I have ever met and goes above and beyond to help anyone.
I'm a huge Harry Potter fan and Callum proposed on a surprise break to Glencoe. We had a trip on The Jacobite steam train, which is basically the Hogwarts Express and it travels over the iconic Glenfinnan Viaduct.
We then went a walk into the hills to see the view and I turned around to see Callum down on one knee, surrounded by midges. It was the west coast of Scotland in June: prime midge season!
Finding an available venue which ticked all the boxes was first on the list. The most important things for us was a venue with character, lots of space inside and out and availability as we wanted to get married to as close to a year from our engagement.
When we found Balbirnie House Hotel, we knew it was the venue for us.
We loved the character of the old building with its high ceilings, period features and large drawing rooms with lovely decor. The grounds are beautiful and had ample space for all our guests to mingle during the canapés and drinks reception.
The winning factor for us was the ballroom downstairs which has beautiful arched windows on every side adorned with fairy lights and a huge twinkling dance floor.
We got so much help from our friends and family and Callum was so involved with every aspect of the day. We discussed together how our wedding should look and our ideas for the day, right down to small details.
My bridesmaids were fantastic throughout and understood how much goes into planning a wedding, whilst our families were also so helpful, from accompanying us venue hunting to late night arts and craft around the table.
We embraced a lot of DIY touches. We bought our wedding invitation design from a small stationery business on Etsy for £15, which we then tailored to suit us and got them printed at a local print shop and the envelopes were hand sealed with a wax stamp.
My ridiculously talented sister-in-law Corinne owns Dazed Dorothy and she hand drew and decorated our wedding chalkboards and handmade all four bridesmaids handbags, plus a bridal bag for myself which she lined with cloth that once belonged to her grandmother.
We made our favours from recycled mini glass bottles with corks, filled with pink gin for the ladies and rum for the gents. My sister then hand wrote and attached a mini tag with 'drink me' on each one. For our pregnant guests, we gave them Lindt chocolate bunnies.
As our wedding took place over Easter weekend, we had decorated jars full of Mini Eggs on each table to enjoy during the speeches before dinner arrived. Callum also painstakingly hand blew and decorated real eggs with gold leaves to hang from tree branches.
We also decorated lots of little recycled glass bottles with lace and twine which our florist filled with gypsophila and hung them on the aisle chairs during our ceremony.
The in-house wedding planning team at Balbirnie were absolutely fantastic. Christine, our main wedding coordinator, was so organised and helped us massively keep on track of every aspect of planning the day. Kerrie and David, our masters of ceremony, couldn't have done more for us, even helping me across the grass in my welly boots in the rain to achieve the perfect picture!
I went dress shopping with my mum, sister and bridesmaids. I was pretty much decided that I wanted a lace fitted dress with a V shaped back which wasn't too 'blingy'. I tried on every style there was it feels before I found the style that I loved.
We figured out very quickly that lace was not my friend and that a more simplistic style suited me best.
I bought my Pronovias dress from Kavelle Bridal Couture in Edinburgh. It was a combination of crepe, tulle and lace ivory; a fitted mermaid style dress with a lace back, bateau neckline and lace cap sleeve.
My Swarovski earrings were a gift from my parents, a halo drop style to compliment my engagement ring. My vintage style bridal cuff was borrowed from my friend as my something borrowed and my shoes were silver t-bar peep toes which I owned already and were my something old.
Callum had a custom kilt made and opted to wear matching green woolen socks and brown brogues, complementing his brown leather sporran which belonged to my late grandad.
The night before, I stayed with my four bridesmaids in the Pearl suite at Balbirnie and the bridal party and close friends met up at the local pub for dinner and drinks.
I felt really excited the morning of the wedding. I woke really early and couldn't get back to sleep.
We had breakfast in the room then hair and makeup started at 8am. I spent the whole morning with my bridesmaids and mum.
I was so calm walking down the aisle as my sister had just made me laugh before it started. We were all lined up in a row ready to walk in and she turned round and whispered to us 'Feel the rhythm! Feel the ride!' from Cool Runnings! We all burst into giggles.
Our brilliant pianist played Elton John's Tiny Dancer as I walked down the aisle.
We wanted a humanist ceremony as we both loved how personal the service is and all about the couple. We wrote our own vows with lots of help from our celebrant, Jane. It was so special to us to write our own and ranged from heartfelt moments to some funny ones too.
As the ceremony was at the venue, we didn't require transport  but it didn't stop Callum's vintage 1970's VW Beetle from making an appearance which he restored himself!
We had a drinks reception with canapés which I didn't even eat as I was too excited! We also has a popcorn station for everyone as I wanted something that was fun, but also gluten free for my coeliac guests.
The speeches were all fantastic my dad told funny stories of me growing up, Callum was brilliant and mentioned my grampa in his speech as sadly he passed away the year before.
The only band we wanted was Corra after seeing them at two other weddings. They played a version of Zac Brown Band's Loving You Easy for our first dance. We love that song and the words are so fitting for us.
The dance floor was full all night and Corra kept us all going and incorporated some ceilidh tunes too which we all loved. It was such a great party.
After the wedding, we went on a mini moon for four nights to a cottage in Killin in Scotland then headed to Italy the next month at the start of May.
When you have been together for this long, being married doesn't really feel too different. It was just a beautiful day to celebrate with all our loved ones.
Walking into the room and realising that every single person whom we love and care about was there especially for us was quite a phenomenal experience."
Venue: Balbirnie House Hotel | Photographer: Suzanne Black Photography
Bride's dress: Kavelle Bridal Couture | Groom's kilt: John Morrison Kiltmakers
Bridesmaid dresses: Polly Rose Boutique
Florist: Save the Date Collective | Cake: Mark Beedie
Pianist: Joe Revell | Band: Corra
Stationery: Etsy | Hair + make-up: Melanie Herriot from MHM Styling
Humanist celebrant: Jane Bechtel from Humanist Society Scotland