Wedding florists in Scotland talk us through real brides' bouquets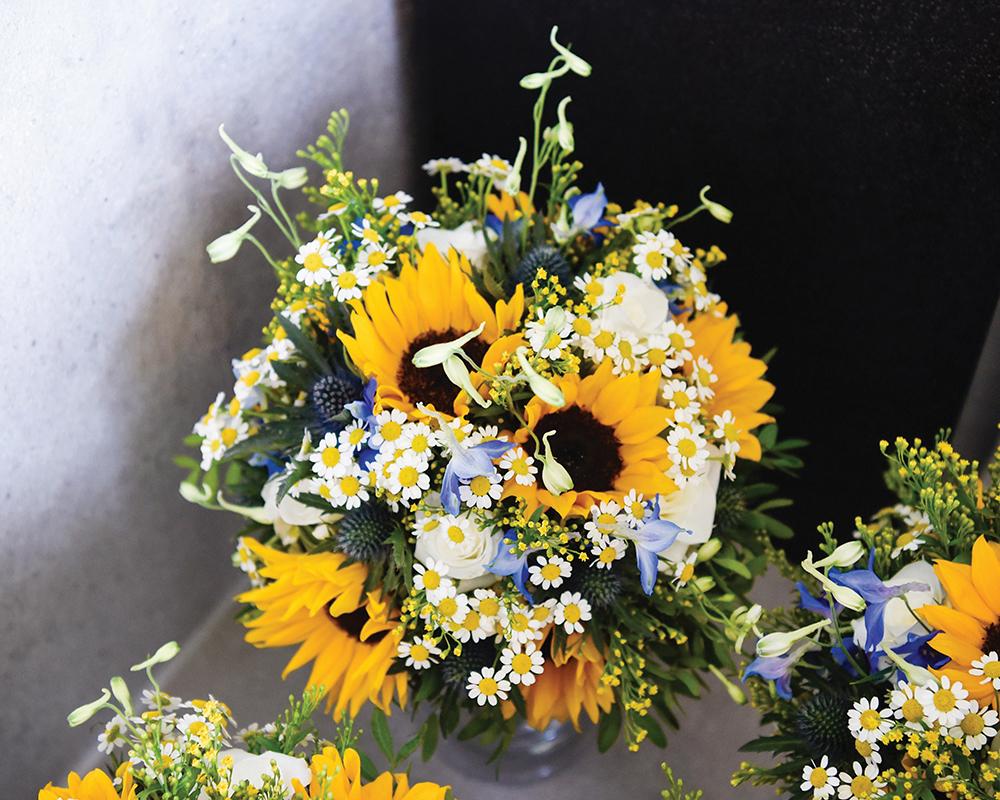 IMAGE | Emma Gray Photography
We could look at bridal bouquets all day at Scottish Wedding (and, to be honest, we very often do: check out our Pinterest for evidence). Looking for ideas for yours? We chatted to three real brides about what made them choose their bouquet, and asked the Scottish wedding florists who created them about the flowers they used.
A bright sunflower bridal bouquet
Amanda Brown always knew she wanted to incorporate sunflowers into her wedding bouquet when she married Gregor at Boclair House in August.
"They're my favourite flower and just looking at them puts a smile on my face," she says. She also wanted ivory roses and thistles for the men's corsages and thought it would be nice to include them in her bouquet too, but wasn't sure how to make them all work together.
That's when florist Laura from Cherry Blossom stepped in to craft her gorgeous summery arrangement.
"She really helped make it a reality, bringing in the daisies, wildflowers and greenery," says Amanda. "She also helped with the size and I was over the moon with the end result!"
IMAGES | Emma Gray Photography
Get the look
If you want to recreate this look, Laura from Cherry Blossom says to ask for a hand-tied bouquet of sunflowers, blue delphiniums, yellow soil, white roses, thistles and tanacetum. "Sunflowers are known for symbolising dedicated love," says Laura, who adds that sunflowers are in season from mid-July to September.
A wild, autumnal bridal bouquet
IMAGES | Sean Bell
Growing up with a green-fingered mum who could rear blooms in an Australian drought, flowers have always been important to Lisa Brown. So when planning her November wedding at The Cow Shed Crail, she knew they'd play a starring role.
The bride asked florist Kim Dalglish for a wild, unstructured and colourful bouquet. As well as this, Kim produced a beautiful floral crown Lisa could wear later on in the day. "My bouquet was everything I had hoped for and more and our venue was absolutely transformed into an autumnal utopia," enthuses Lisa.
Get the look
"Lisa wanted me to incorporate her native Australia so I included deep red protea flowers and a mixture of complementary autumnal florals in both a bold and muted palette," says Kim, who also included dark chocolate cosmos and contorted dried hazel, autumnal foliage and miscanthus. Kim adds that dried materials can elevate a bouquet into "something spectacular!"
A striking waterfall bouquet
Chloe Stevenson-Lennie's amazing princess dress for her wedding to Nicholas at Balbirnie House needed a bouquet that was equally grand and amazing, so she turned to Tracey Jaeckisch at The Diamond Bouquet.
"I knew I wanted a huge waterfall-style bouquet and when I showed Tracey my dress she said it would work perfectly," says Chloe. "I always wanted the crisp-white, clean look but Tracey suggested the greenery to break it up and it looked incredible. She did amazingly!"
Get the look
Tracey says these large waterfall bouquets can be produced with any materials but she likes to use budded flowers on the tail of the bouquet such as lisianthus, dendrobium orchids, nigella and spray roses. "Soft foliages like asparagus ferns and Italian ruscus are also great," she says. "When I construct these I work from the tip of the tail to the heart of it to achieve the shape my clients want."
Getting married in Winter? Here's the seasonal flowers…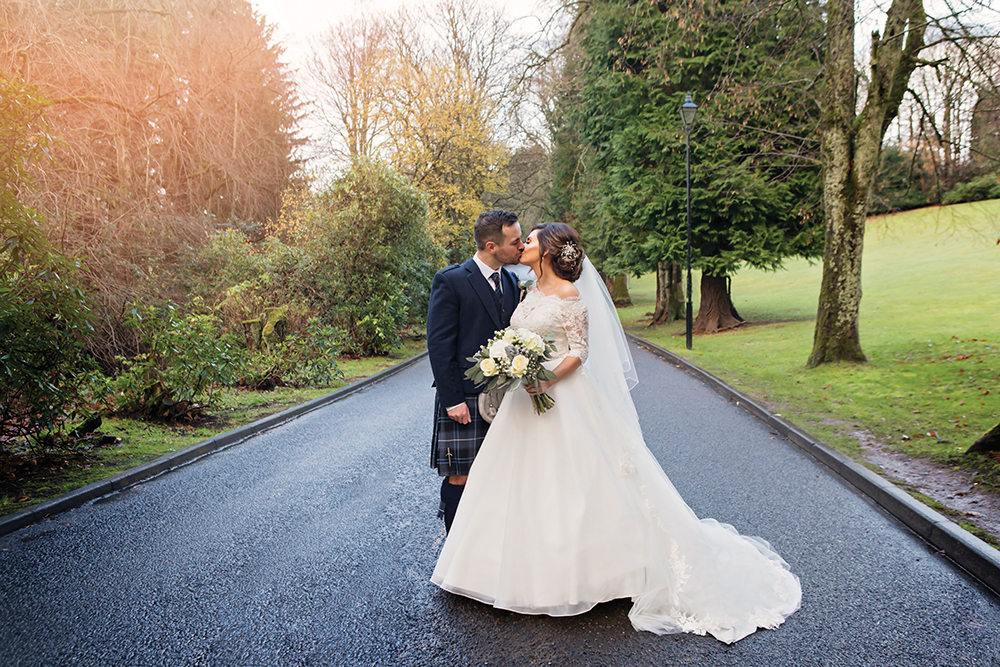 WHAT'S IN SEASON?
"Anemones are a beautiful, delicate flower and come in strong colours of purples, blues, reds, violets and whites – gorgeous for a winter arrangement," says Vicky from Vicky's Flowers.
"Pussy willow and branches of birch and willow are effective in table centres and larger arrangements, such as archways, too."
Among the winter flowers that Meghan from Something Special Flowers loves are orchids, hypericum berry, amaryllis, poinsettia, fir and blue spruce. For a festive feel, consider incorporating pine cones, scented spruce and silver eucalyptus.
Adding twinkly fairy lights and candles can really add to a wintry ambience too.
"Roses, Star of Bethlehem, orchids and narcissus with beautiful green or silver foliage and eucalyptus are popular together for winter weddings." Stunning Flowers
REAL WINTER WEDDING
IMAGES | Jenniflower Photography
Mandy and Scott got engaged at winter time, so it felt fitting to get married in November at Dunblane Hydro Hotel.
"Our wedding vision was for everyone to be together, a big fire going, lots of fairylights with a cosy and relaxed feel," explains Mandy.
Trudi Todd Creative Flowers was tasked with creating floral arrangements that fitted the season without being overly festive.
"I loved looking at bouquets that were frosty and cool-toned. I didn't want my flowers to look Christmassy, just wintry," says Mandy.
Using a mix of dusty miller, eucalyptus, white hypericum, hydrangeas, roses and gypsophila, Trudi created a bouquet Mandy loved.
"Trudi gave me different options that I hadn't even thought of. I told her what I liked, showed her only a few inspiration photos of different looks I liked and she created exactly what I had in my head."
Fancy winning a Christmas bouquet from Narcissus Flowers, Edinburgh?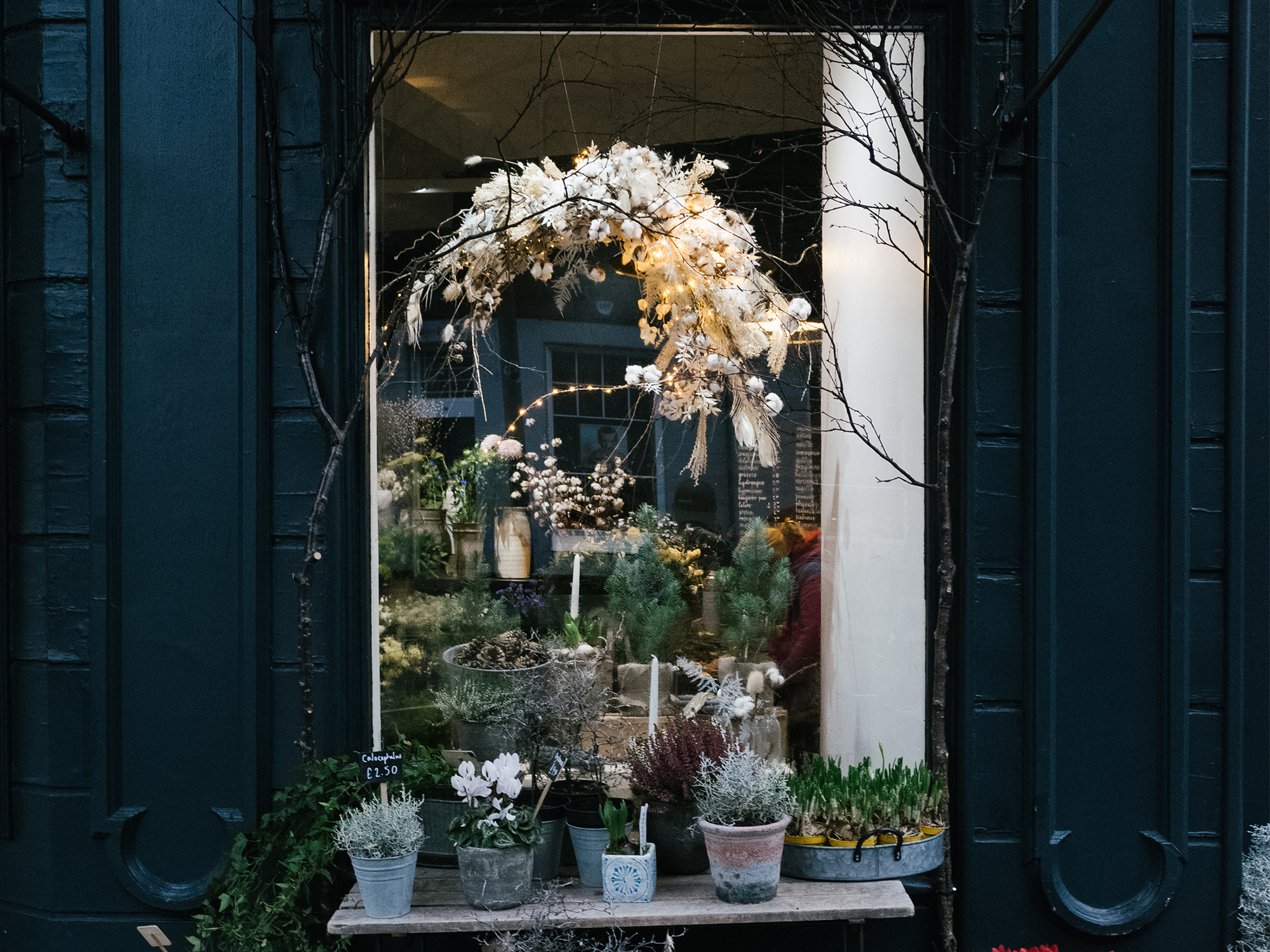 Renowned Edinburgh-based florists Narcissus Flowers have unveiled their new winter window display at their Broughton Street store, and are offering everyone a chance to win a hand-tied bouquet from their new Christmas collection to celebrate!
The storefront has been decorated to celebrate the beauty of nature in winter, with moody, dark wood birch trees and textural cottons, white ruscus and lunaria being used to recreate the Scottish outdoors in the midst of snowfall.
To win the bouquet, Narcissus is asking their Instagram followers to come along to the store and take a photo with the window installation, posting it with the hashtag #ANarcissusChristmas.
The best one will be invited to pick up the bouquet the week commencing the 16th of December.
Ask a florist: all of your FAQ about wedding flowers – answered!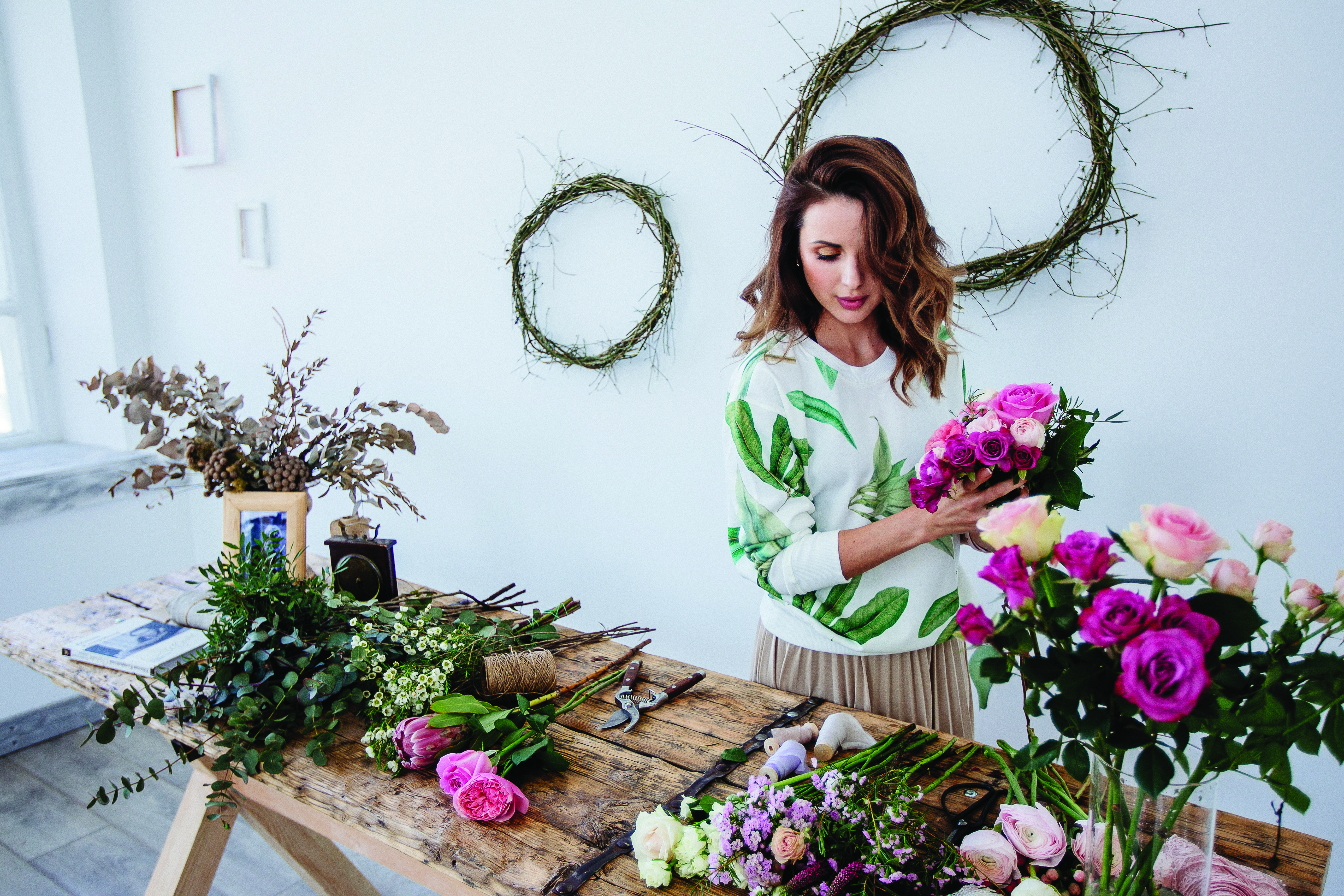 More comfortable buying £10 supermarket bouquets than floral chandeliers? Unsure how you're going to communicate what you like when all flowers seem to have names you can barely pronounce?
Features writer Claire McPhillimy asks real Scottish wedding florists the questions you are budding to know!
IMAGE: Aboyne Photographics
Q: How far in advance before the wedding should I book my florist?
The sooner the better, really, especially if you've got a specific florist in mind. "I would say a year-and-a-half to a year before your wedding, so you can secure your preferred vendor on your date," says Jillian from Something Special Flowers.
If you're planning a last-minute big day, and if they're not totally booked up, most florists should be able to turn something around in 2-3 weeks, Jillian tells us. It's definitely not advisable to wait this long, though. "It means you're dependent on what flowers the market has available at the time, and prices will probably be increased."
Q: What will my florist want to know during our first meeting?
There are lots of things you can research before your first meeting with your florist to ensure the ideas flow. "Normally, prior to meeting I'll ask brides or grooms to bring anything relevant to the wedding theme for inspiration, be it a fabric sample from a bridesmaid dress, a swatch of tartan or an invite," says Laura from Cherry Blossom.
"I'll also ask for some info about the feel of their wedding and what they want to achieve. It's about getting a whole picture of everything – the venue, dress and overall style."
Visual references, be it the physical samples already mentioned or even a Pinterest board, will always be appreciated, but don't worry if you don't even have that. "I also come to the meeting with ideas – this is what I do every day! I'll ask questions to help you figure out what it is you're looking for," reassures Laura.
Q: I'd like to have big flower arrangements, but my budget is small. What should I go for?
Ok, your first step here is definitely to share your budget with your florist – it will make this whole process much less stressful for you.
"As floral designers, we love to have an idea of our client's budget so that during a consultation we're both on the same page and can discuss realistic designs and set expectations," says Ros of Stunning Flowers. "We can create big arrangements using limited flowers, with many varieties of foliage which look amazing. Big arrangements don't have to be hugely expensive."
Trudi from Trudi Todd Creative Florist also recommends picking less expensive flowers: "Flowers that are in season are often cheaper. Gerberas, carnations and chrysant blooms cost less but aren't everyone's favourite." Keep an open mind, be honest, and creating the look you want for less is definitely possible.
Q: I want to go all out with my floral décor and really make an impact, but flower walls feel overdone. What could I do that's a bit different?
If you like a flower wall then go for it, but if not, there are a million and one other things you can do instead. "I'd suggest an installation of some sort," says Jillian from Something Special Flowers, who recommends hanging canopies, cascades, hoops and similar structures in venues such as marquees and byres.
"It's a great way of doing your flowers! So pretty and creates impact, but also draws eyes up into the empty space and makes the venue flow together. It's also a great talking point!"
If your venue isn't ideal for these kinds of installations, then Val from Val Hamilton Flowers suggests a pretty and creative photo booth alternative. "Why not adorn a large old ornate picture frame with fresh flowers, in the wedding colours?"
IMAGE: Craig and Eva Sanders Photography | Flowers: Cherry Blossom
Q: I'm trying to make my wedding as eco-friendly as possible. Any advice on how to do this?
Take a more eco-friendly approach by asking your florist to use seasonal and locally grown flowers. "You won't be able to be so picky, as we may not always be able to source certain colours from local growers, but you could always do a mix of homegrown and imported flowers," advises Laura from Cherry Blossom.
If you've got a really specific vision that locally sourced flowers won't achieve, then don't beat yourself up; there are other little steps you can take that will all add up. "Avoid plastic and try to use sustainable containers and materials, like bark, wood or glass," suggests Val of Val Hamilton Flowers.
Another top tip? Get as much use out of your flowers as possible. "We suggest trying to reuse flowers," says Laura. "For example, church flowers can be transferred to the reception venue, or we could provide vases so that the bridal party's bouquets can be placed along the top table."
You could even make like Harry and Meghan and donate your flowers afterwards, to help spread a little joy.
Q: When do florists typically set up floral décor, on the day or in advance?
This is one of those questions to which there is no definitive answer. "There are so many dependents that dictate and contribute to the planning, preparation and set-up arrangements," explains Ros, citing factors such as venue location and accessibility, amongst others.
"Table arrangements, pedestals, hoops and loops, garlanding and arches will generally be completed in the run-up to the wedding, and delivery will be at a time that works with the venue."
Some venues will allow a couple of days' access for set-up, whilst some will offer on-the-day access only, so make sure to check this and communicate it with your florist so they can plan accordingly. Happily, some floral details are less time-intensive to implement. "Typically, bouquets, buttonholes, hair crowns and any arrangement without a water supply will be completed the morning of the wedding," adds Ros.
IMAGE: Rachael Sture Photography
Q: How can my groom make his buttonholes unique and personal?
People are getting more and more creative with their buttonholes, so adding a little personal touch is super easy. Trudi Todd suggests looking to your hobbies for inspiration: "There are lots of different groom buttonhole ideas if choosing something from a hobby, like a keen golfer adding a golf tee, or adding lego figures, a bullet cartridge or feathers."
Laura from Cherry Blossom has also noticed a trend where grooms give a nod to their home country in their buttonholes, adding in national flowers (thistles, of course, being popular with Scottish grooms). Want to do something totally different? Go for it! "Our tip – not too big! But absolutely anything is possible," says Ros from Stunning Flowers. Let your imagination run wild!
Still looking for the perfect wedding florist?
Steph's Bride Diary: Picking a florist for our wedding was easy!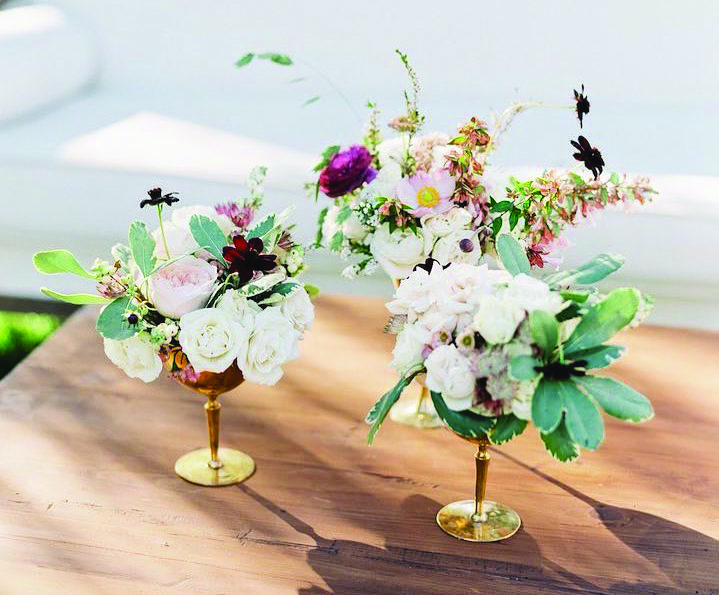 Flowers are one of the most important elements of Steph's day, so she needed a florist who shared her vision.
Flowers are one of my favourite things in life. If I need cheering up, I'll go and grab a bunch of blooms from a supermarket or florist for my home.
Unwrapping them, separating them all out, chopping off the ends of the stalks, filling up my beautiful vases – the whole ritual that goes along with having flowers around is something I really enjoy.
I knew that flowers would be super important to me even before I booked my wedding venue.
They're going to make up pretty much all of my décor, so I needed to book a florist who would be open to listening to my (pretty vague!) ideas and turn them into reality.
I'd known Amanda from The Floral Design Boutique for a while before I decided to book her as my wedding florist.
She's worked on a few different projects within the magazine, and I always loved her work.
I'm more into an unstructured look when it comes to flowers, but not quite at the end of the wildflower spectrum, so her style really resonated with me.
After I'd booked, Amanda and I met up in a little café and chatted about my vision, which was sketchy at the time.
Infact, my ideas are changing and evolving all the time. Thank God for Instagram and Pinterest!
INSTAGRAM | @myoverseaswedding
INSTAGRAM | @underthefloralspell 
I've decided to spend a little more than is maybe average on my flowers because they really are going to be the only décor we have on the day.
I'd love to have flowers at the outdoor lochside ceremony spot, and I can't wait to see what my bouquet is going to look like.
I completely trust Amanda to create something truly spectacular for my wedding flowers, and I am really looking forward to working with her on my vision.
Married in Autumn? Here's which blooms are seasonal…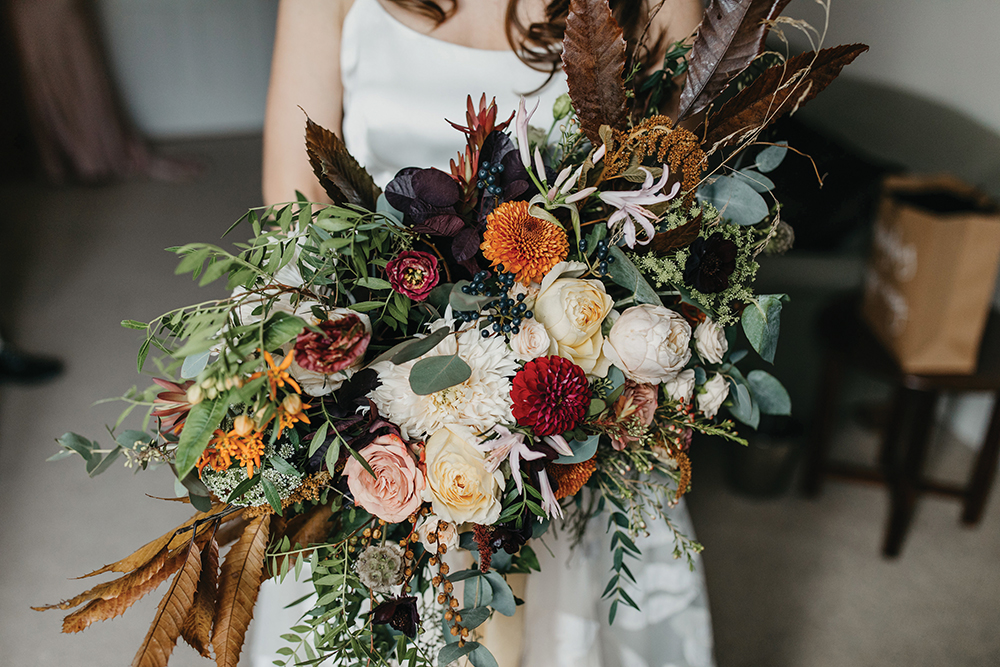 ~ AUTUMN ~
IMAGE | Emma Lawson Photography
WHAT'S IN SEASON?
"It's nice at this time of year to use rich reds, vibrant pinks and deep purples as an alternative to an orange or red classic autumnal vibe," says Vicky of Vicky's Flowers.
Hydrangea is a top choice for this time of year, even though, in autumn, this flower is not at the height of bloom.
"In autumn, hydrangea is into the drying stage, but this produces the most amazing muted tones," explains Ros from Stunning Flowers.
You can also create a textural autumnal arrangement by including foliage and berries: think rosehip, blackberries, oak leaves, ivy and lavender.
IMAGE | Catching the Moments
REAL WEDDING
"We didn't decide to have our wedding in autumn just for the flowers, but once we booked the date, I wanted it all to tie in together," says Maxine, who married Stuart at Norton House Hotel, Edinburgh, last October and hired Val Hamilton Wedding Flowers to bring their floral ideas to life.
"We love the changing colours of the autumn leaves and, for our flowers, wanted a vibrant mix of colours, like burnt orange, burgundy, a little blue and yellow."
Val used flowers including orange hypericum berries, burnt orange dendrobium orchids, burgundy calla lilies and a foliage mix of soft ruscus and eucalyptus to create the autumnal feel.
Find your wedding florist in Scotland in our online directory
Which flowers are seasonal for my Summer wedding?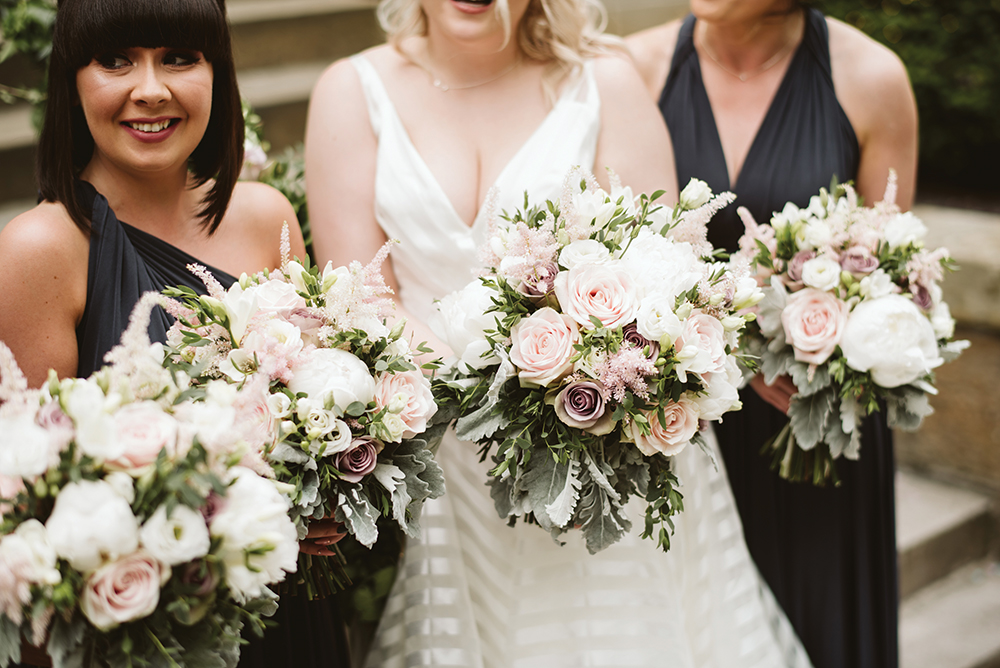 ~ SUMMER ~
IMAGES | Jen Owens Photography
WHAT'S IN SEASON?
The most traditional season in which to marry brings with it an abundance of blooms.
"The array and choice of flowers for a summer wedding is huge," agrees Ros from Stunning Flowers. "Peony is a firm favourite with brides and is seasonal in June and July."
It's not just the look of peonies that makes them perfect for a summer celebration, either.
Peonies have a gorgeous scent and make an impact in both wedding bouquets, table centrepieces and pedestal arrangements," says Val from Val Hamilton Wedding Flowers. But if peonies aren't for you, don't worry.
"Hydrangeas, dahlias, sunflowers, sweetpeas and delphiniums are all great for summer weddings," advises Laura from Cherry Blossom.
REAL WEDDING
When Jen and David got married at One Devonshire Gardens in June 2018, they used flowers to brighten their venue.
"Our venue had dark wood furniture and my bridesmaids were in darker colours, so flowers really helped lighten the whole look and feel," explains Jen, whose arrangements comprised white peony roses, sweet avalanche blush roses, lisianthus, white freesia, and dusty miller foliage.
IMAGES | Andrew Rae Photography
"The soft shapes and silver foliage kept things looking really fresh and contemporary."
When Jen first met with florist Laura from Cherry Blossom, she brought along images of her dress and bridesmaid outfits to help inform her choice of flowers.
"I was lucky enough to get married at a time when peonies were in season so we were able to incorporate these into the bouquet," says the bride. "Laura was even able to add a last-minute garland to the outside staircase!"
Find your wedding florist in our online directory
Choosing the right flowers for your Springtime wedding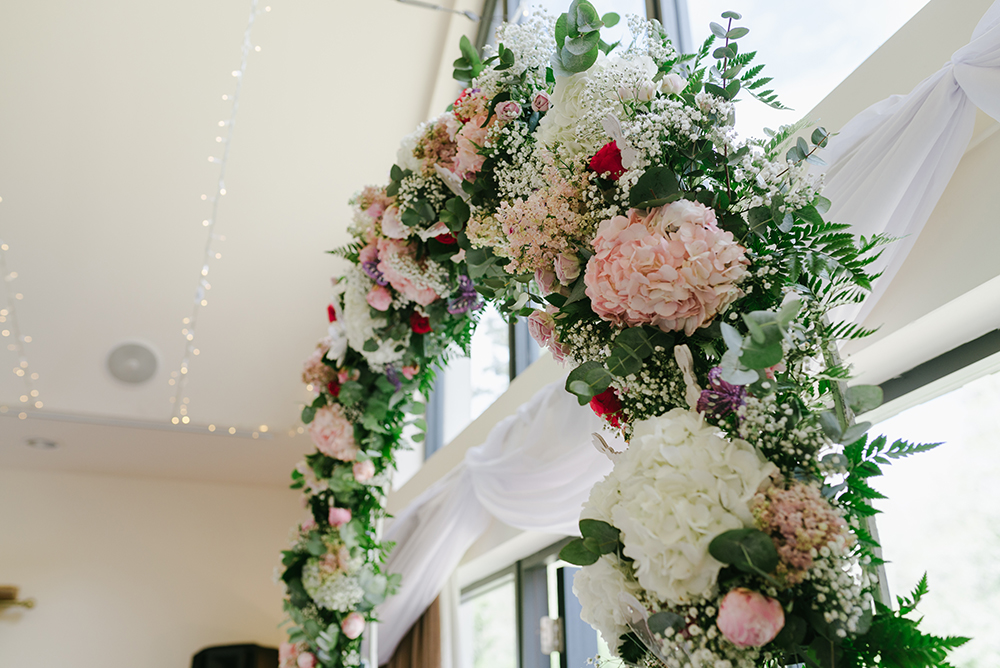 Want to know what flowers will be in season come springtime? We ask Scottish wedding florists for their seasonal faves…
~ S P R I N G ~
Nature's awakening brings forth a fresh crop of cheerful blooms
WHAT'S IN SEASON?
Nothing says springtime quite like the appearance of beautiful flowers after a long winter.
This burst of newness gives you plenty of choice.
"Classic brightly coloured spring flowers, such as iris, narcissi, tulips and grape hyacinths are all lovely for table centre pieces and around your venue," says Vicky from Vicky's Flowers.
Snowdrops, crocuses, bright gerbera daisies and delicate cherry blossom are also popular choices for spring wedding flowers.
"Paper white narcissi (white daffodils) with their distinctive smell are a good choice for a mixed wedding bouquet at this time of year too," adds florist Val from Val Hamilton Wedding Flowers.
REAL WEDDING
When Amanda, who wanted a fairytale wedding, and James, a classic rock music fan, got married in April 2018 at the Loch Ness Country House Hotel, Inverness, they worked closely with Something Special Flowers to make their flowers personal.
"We had a traditional wedding with a good bit of rock and roll thrown in!" laughs Amanda.
"We had seasonal flowers, keeping a traditional Scottish theme with thistle and heather buttonholes,and James had a guitar pick from one of our favourite bands in his."
Cherry blossoms and pastel hydrangea featured in the centrepieces and the couple were married under a floral arch, which they added vinyl records to later in the day to show the seating plan.
Amanda's bouquet flowers contained a hidden meaning, too. "I was very close to my grandad and he lost a battle with dementia a couple of years prior.
Jillian from Something Special Flowers surprised me by adding forget-me-nots in my bouquet, which is the Alzheimer's flower, along with a picture of me and him, which was really touching."
IMAGES | Olivia Johnston Photography
TOP TIP: "I love cherry blossom at this time of year, however catching it at just the right time is a challenge.
Using an artificial version mixed through fresh foliage instead can be super effective." Vicky's Flowers
Find your Scottish wedding florist in our online directory + start creating your floral vision!
How to use pampas grass on your wedding day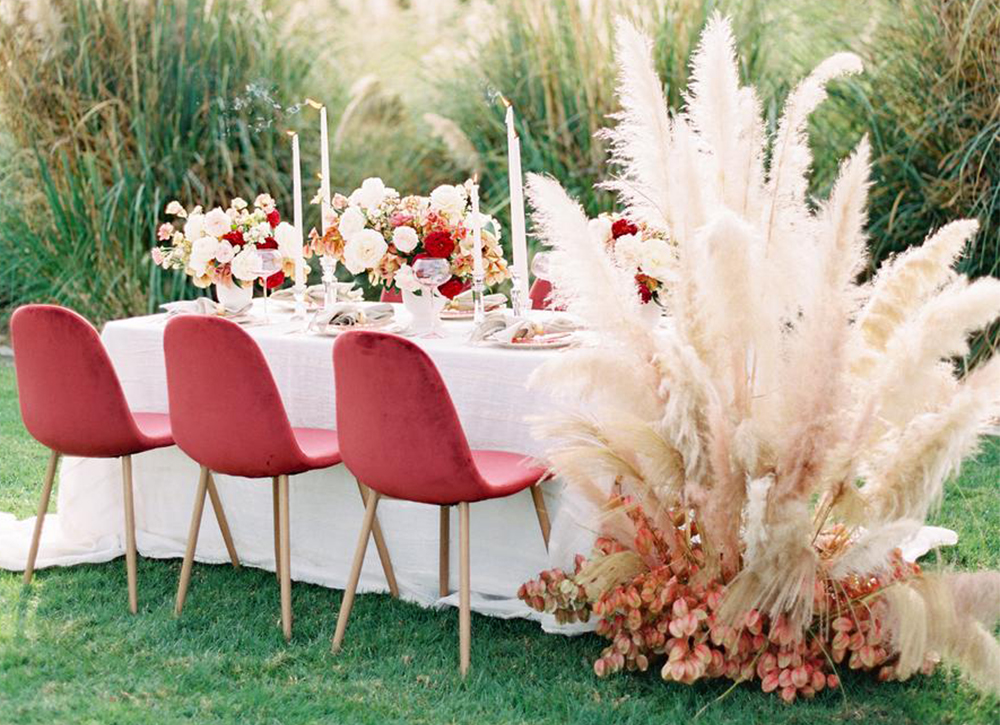 PHOTO | Cavin Elizabeth Photogtaphy
Ever since we saw pampas grass lining the aisle at Mandy Moore's wedding, we knew it was going to be a huge trend in wedding decor.
It's already taken off in the US, so if you love this look, here's 10 ways you can use it in your own wedding!
Want more pampas?
How to use flower garlands in your Scottish wedding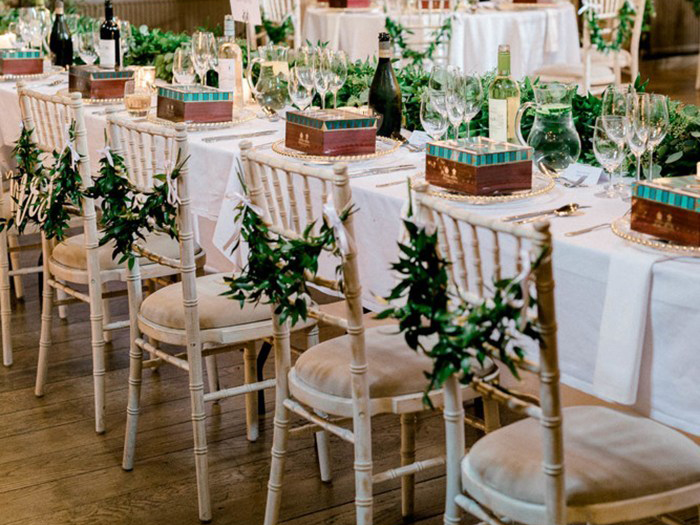 Wedding flower inspo: How to use flower garlands in your Scottish wedding.
From bridal floral garland crowns to amazing flower garland decor, here's how to get creative.
CROWNING GLORY
The bridal floral crown has had a revamp for 2019 and beyond with plenty of wild foliage for brides and bridesmaids.
IMAGE | Laura A. Tiliman Photography
IMAGES | Anna Urban Photography 
STEP INTO STYLE
The perfect picture opportunity, have your florist decorate staircases with pretty floral garlands.
IMAGE | Tommy Cairns Photography
IMAGE | Del & JayJay Wedding Photography
IMAGE | Cherry Blossom Flowers
UNDER THE ARCH
Whether you say your I do's under a beautiful flower garland arch or create a photo backdrop using a gorgeous garland, we have the inspo'.
IMAGE | Anna Urban Photography 
IMAGE |Ryan Mimiec Photography
IMAGE | Tommy Cairns Photography
IMAGE | Jenniflower Photography
IN THE CENTRE
How Insta-worthy does this floral centrepiece look? 
IMAGE | Cooper Photography
CHAIR AWARD
Forget chair covers and bows, the flower garland is our chair decor of choice.
IMAGE | Crofts and Kowalczyk Photography

IMAGES | Chen Sands Photography
GOOD SIGNS
Add a little something extra to your table plan with a blooming flower garland.
IMAGE | Chen Sands Photography
IMAGE | Kirstie Abbey Photography
PIECE OF CAKE
Use the stylish flower garland as a decoration on your wedding cake.
IMAGE | Chen Sands Photography
PUPPY LOVE
Give your pooch the VIP treatment for your big day photos!
IMAGE | Jen Owens Images