Can we please talk about… how alternative weddings are not that alternative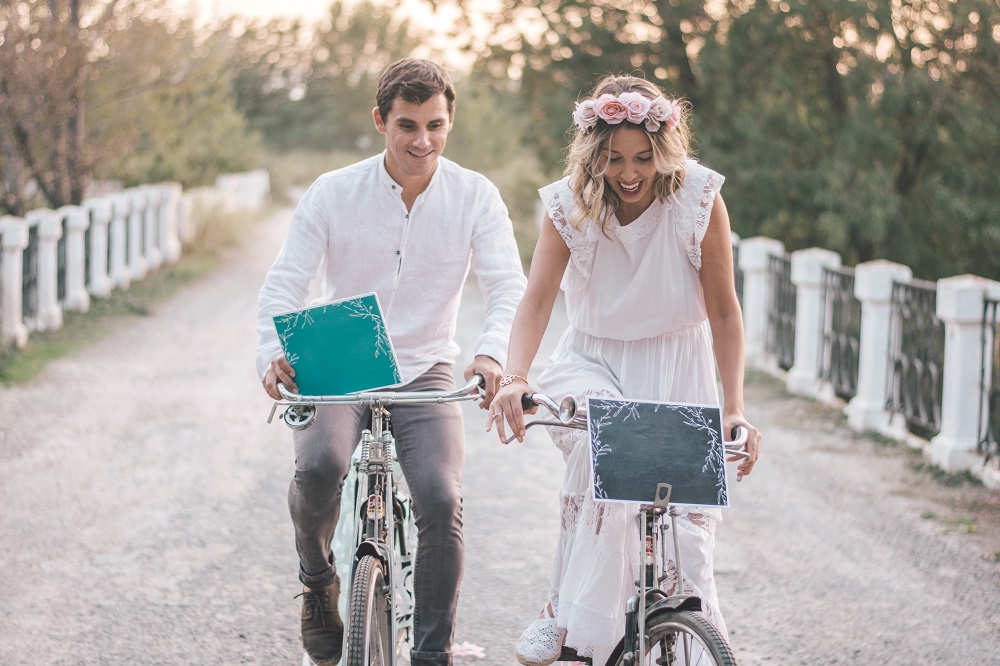 It was something that had been tugging at me for a while – a swirling sense of unease I couldn't quite put my finger on. But as I squinted at a poster promoting an 'alternative' wedding fair, it finally dawned on me: there's nothing that alternative about the 'alternative' wedding trend, is there?
The poster that brought on this epiphany had definitely been styled to appear subversive. The model gazed at me behind a wall of cool fonts and a logo so simple and chic that it was obvious whoever designed it spent years studying at some trendy art college. But take the text away and what was left was a pretty, slim, blonde model in a white dress. So far, so bog-standard when it comes to marketing in the bridal industry.
I'm not obtuse enough to not acknowledge that yes, of course, there are some fashion and décor options these 'alternative' wedding suppliers offer that other more conventional wedding suppliers don't.
A jumpsuit or skirt-and-top combo instead of a basic white dress. Leather jackets with hand painted backs that say 'Mrs [insert new name here as you participate in the most traditional of all traditions while looking like a T-Bird from Grease]'. Big wicker chairs, for some reason. You know, all the things that signify you're not a regular, boring bride, you're a cool bride.
These wedding suppliers promise couples that they won't give them a cookie-cutter wedding day, implying firstly that convention is something to be sneered at, and secondly that they're bucking wildly against the norm.
But the thing is, if you search the hashtag 'alternative wedding' on Instagram or Pinterest, you'll find literally hundreds of thousands of images that all kind of look the same.
Unstructured bouquets, DIY-style décor that was in all likelihood artfully arranged by a professional, and a bride in a denim jacket with her group of willowy friends in perfectly mismatched bridesmaid dresses, bouquets fist-punched to the sky. 'Yeeeeeaaah!' you can almost hear them screaming, 'We're soooooo bloody alternative!'
In truth, the concept of an 'alternative' wedding is pretty paint-by-calligraphic-numbers these days. It won't reflect who you truly are as a couple, because – I'm sorry baby – pampas grass can't do that.
'Alternative', 'authentic', 'un-wedding' – these are all just words being used to make you feel embarrassed for wanting to book a package wedding deal at your local hotel rather than a quirky blank canvas venue that charges three times as much.
And listen, if that's the type of wedding you want to have, then have at it. They're gorgeous, and I'm sure you'll make your big day just as beautiful.
But don't let anyone make you feel bad or 'less than' because you went for chair covers instead of Chiavari chairs or arrived in a Beauford instead of on a bike.
Your happiness is more important than how unique the outside world perceives you to be.
We'd love to hear what you think!
Glasgow Cocktail Collective offer a virtual bar crawl, delivered to your door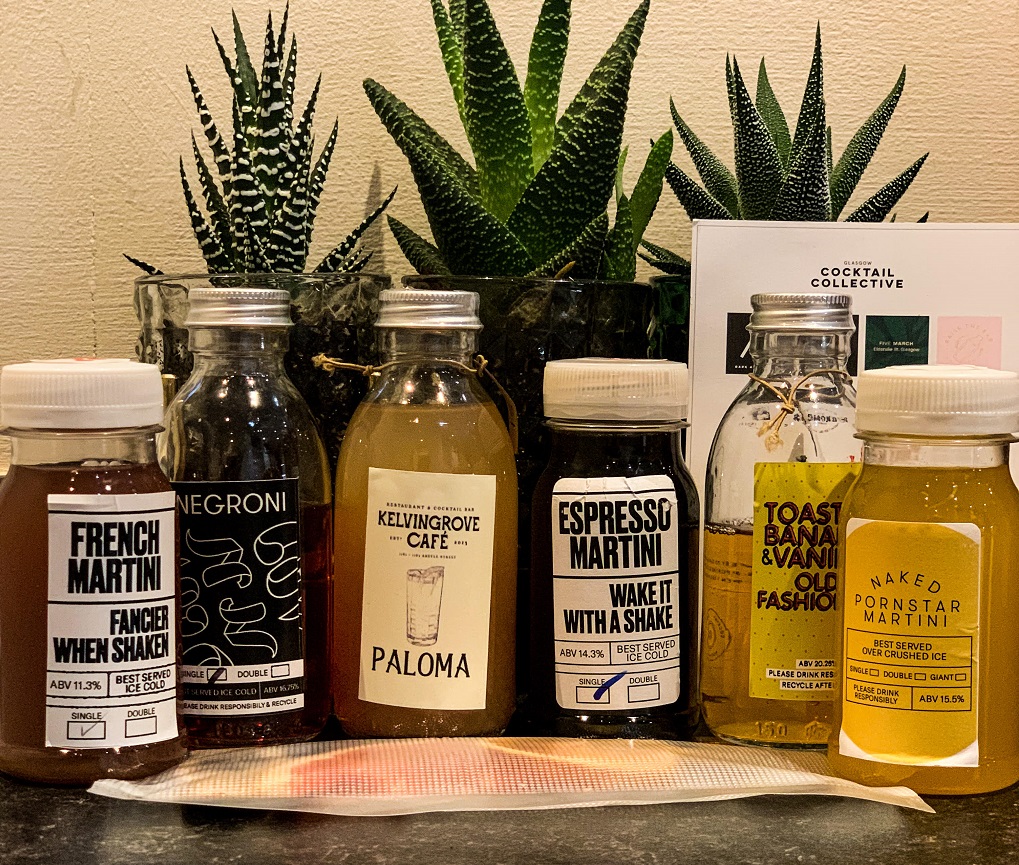 Now that pubs and bars have opened across Scotland it might be tempting to go out more, but if you're looking to have a girl's night out then you could struggle to find a bar that can accommodate your numbers.
Say hello to your new pocket best pal, the Glasgow Cocktail Collective app.
A cocktail delivery service in Glasgow and beyond, this app allows you to order pre-made cocktails from a variety of popular bars, meaning that you don't have to settle for your fave tipples from just one place; instead, you can order cocktails from a variety of places to be delivered direct to your door including Vodka Wodka, Kelvingrove Cafe, The Dam, Tiki Bar, Blue Dog and loads more.
"We began operating at the start of lockdown as a way of supplementing the license industry, by providing jobs for bartenders and drivers, while allowing bars to use their stock and bring in some much needed income," says the Cocktail Collective's Ritchie Munro. "The business has grown, and continues to adapt to the changing times."
One request from customers was for larger scale cocktails, ideal for BBQs, postponed wedding parties, hen dos or even micro weddings, so the Glasgow Cocktail Collective have added five and 10L cartons of Pink Gin Cosmo, Mango Rum Punch and Jolly Rancher cocktails to their menu.
Individual cocktails start from £4 and Party Packages from £70, including returnable dispenser.
You can get full menus and delivery details by downloading the Glasgow Cocktail Collective app for iOS or android.
A bride-to-be is fundraising for charity by selling these stylish wedding favour tags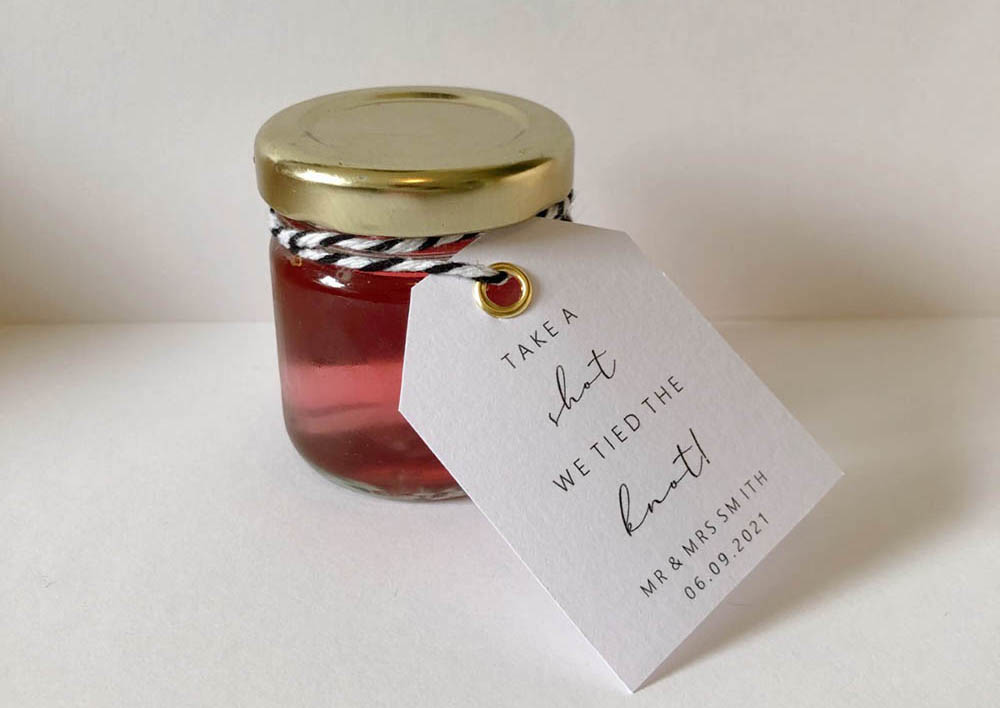 An Inverness bride-to-be is raising money for Macmillan Cancer Support by selling wedding favour tags – with all proceeds going to the charity.
Like many to-be-weds, Keely Butcher – who's getting married at Aswanley next October – was bitten by the crafty bug when she started planning her own big day.
"I feel like ever since we got engaged I've been playing about with different ideas for the wedding; there's so many different ideas and things to try," she says.
Keely turned her hand to creating stylish wedding favour tags for her guests which could be attached to miniature booze bottles and flip-flops (an excellent combination if you ask us: one to get guests in the mood to dance, and the other to help make dancing easier when the heels come off!).
They turned out so well that the bride-to-be would now like to make favour tags for other engaged couples in a bid to raise funds for a cause close to her heart.
"We lost my granny to a brain tumour years ago, and my grandad was diagnosed with Non-Hodgkin's lymphoma in 2019 – thankfully after six months of chemo he is doing well," says Keely.
"Then at the start of 2020 my other grandad was diagnosed with oesophageal cancer, and unfortunately we have now been told there's no further treatment."
Keely decided at the start of lockdown to turn the negatives into a positive by selling bespoke wedding creations.
She hopes that in doing so she'll be able to give a generous donation to a charity that provides support to people affected by cancer.
How to order the wedding favour tags
There is no set price for the favour tags, and the bride-to-be is simply asking for couples to donate whatever they can to her JustGiving page.
If you'd like to place an order, simply email Keely with your details on keely_dee@hotmail.co.uk.
All money made will go directly to Macmillan Cancer Support.
Ideas for a stylish lemon colour wedding theme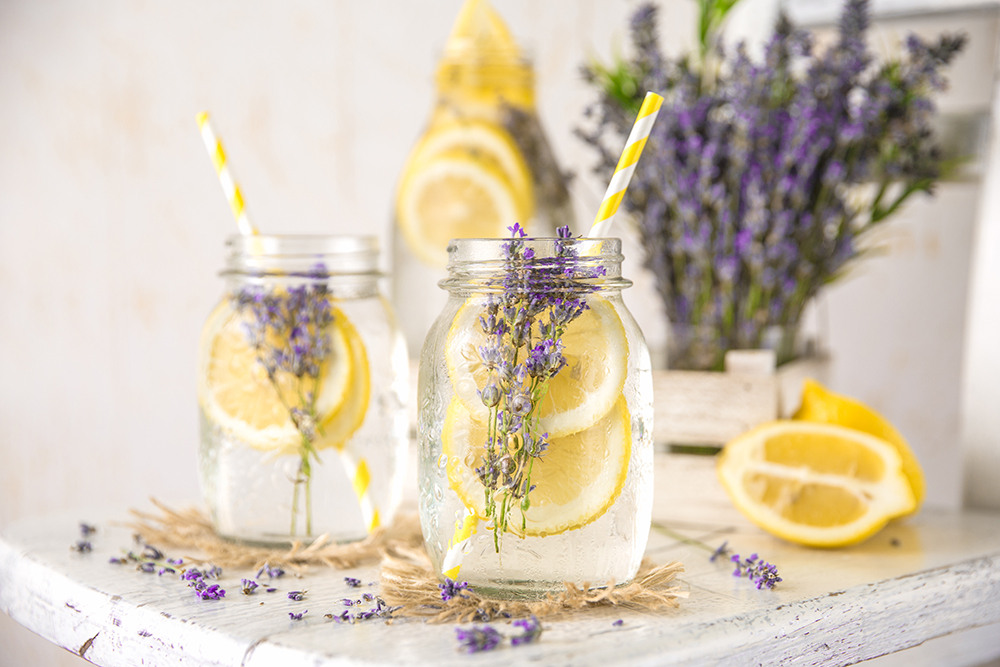 If happiness to you can be summed up by Tuscan sunflower fields and the warm citrus scent of Tom Ford's Neroli Portofino, you'll perhaps be considering a lemon colour wedding theme.
Perfect for a spring or summer wedding, a lemon theme will add a dose of sunshine to your big day even if the weather gods haven't been kind enough to do the same.
We love the idea of not only incorporating a cheerful yellow palette into your day but actually including lemon designs in your stationery and decor to bring a sunny Italian flavour to your celebration.
Here are some of our favourite ways to bring the lemon vibes to your wedding.
Lemon wedding invitations
You'll know the advice by now: allow your wedding invitations to offer guests an idea of what's to come by incorporating your colour scheme or theme into the design.
Give them a dose of citrus with one of these gorgeous lemon wedding invitations.
Tuscan wedding invitation (£3.45) Emily and Jo 
Invitation from the 'Meadow' collection with luxury envelope (£3) Paperoo
Lemon z-fold invitation from the 'Candy Floss' collection (£5.25) Paperoo
Citrus evening invitation (£2.50) Love Paper Co
Wedding invitation from the 'Ochre' collection (£2.50 each, or £2 each if 50+ purchased) Pearl Vine Print
Lemon bridesmaid dresses
Give your squad a golden glow with lemon bridesmaid and flower girl dresses.
Veronika dress (£245) Reformation
Lemon yellow flower girl dress (from £40) Boden
Long sleeve wrap maxi dress (see stockists for price) Dessy
Lemon bridal accessories
If your bridesmaids are in yellow then you'll likely not want to wear the same colour, but you can still incorporate lemon into your look with accessories like these.
Zena mesh court shoes in yellow (£145) Reiss
Lemon earrings (£39) Wolf & Moon
18ct white gold 3.06ct cushion cut citrine and 0.30ct round brilliant diamond claw set cluster with diamond shoulders (£1,995) Chisholm Hunter
Beaded lemon clutch (£45) & Other Stories
Lemon pendant pearl earrings (£6.99) H&M
Lemon enamel pin (£7) notonthehighstreet
Lemon bow tie (£16.91) Etsy
Lemon wedding decor and favours
You can really get creative with your decor when you're going for a lemon colour wedding theme.
Introduce lemon tones into your bouquet with mimosa flowers, craspedia or daffodils, incorporate lemons into your tablescapes and finish each place setting with lemony wedding favours (who doesn't love limoncello?).

Lemon twig door wreath (£15.99) notonthehighstreet
Lemon confetti (£2.33) Etsy
Mimosa place mats (from £29 for six) The Braided Rug
Limoncello wedding favours (£3.99) notonthehighstreet
Lemon and leaf LED string lights (£18) The Contemporary Home
Limoncello lollipops (£6.50) Etsy
Lemon beauty products
From a classy lemon mani to a citrus fragrance, you can even ensure that your bridal beauty look is on theme.
Neom travel candle (£16) lookfantastic
Chanel Le Vernis longwear nail colour in Giallo Napoli (£19.80) John Lewis
Maison Margiela Replica Under The Lemon Tree (£98) Selfridges
How to make a DIY macramé backdrop for your wedding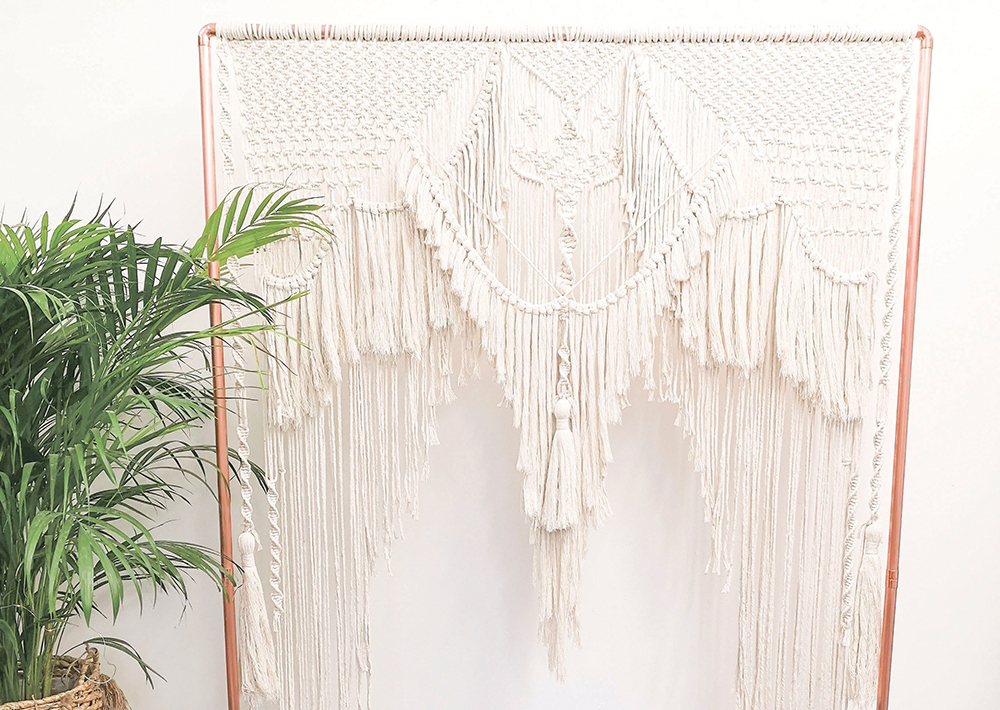 A DIY macramé backdrop will make the perfect addition to a bohemian wedding, and can serve multiple purposes throughout the day. Use yours as a ceremony backdrop then later it could sit behind your cake table or even be set up as part of a photobooth station!
We asked Emma Gilvear of MOO+BOO to talk us through how to make a gorgeous DIY macramé backdrop.
Read on for a step-by-step guide, a photo of the finished backdrop and to find out more about Emma's work!
Step 1: Buy your supplies
To make your backdrop, you'll need two sizes of cotton rope, a tape measure, scissors and a 1.3x2m copper frame (you can construct your own or buy ready made).
Step 2: Master the square knot
First, you need to know how to make a square knot.
Get four cords, take cord (A) and pass across cord (B+C) and under (D). Hold in place. Then take cord (D) and pass behind (C+B) and over cord (A).
Now gently tighten the knot by pulling on both (A) and (D) and slide up to tighten and place in desired position. This is known as a half square knot.
To create the other half of the knot: Take cord (A) which is now in position (D) over the two centre cords (C+B) and under (D), now at position (A), then tighten.
See the photos below for a walkthrough of making a square knot.
Step 3: Decide on a design
The first stage of creating your backdrop is to establish the style and design you want; be inspired by this design or look on Pinterest for other ideas. Your design doesn't have to be complicated to be eye-catching and impressive!
Your backdrop can be made up of simple square knots and some fresh or faux foliage surrounding your frame.
Step 4: Create a curtain of rope
Begin by cutting a length of rope at least double the drop you want, plus a bit extra to allow you to add knots.
Fold your lengths of rope in half and attach them all to the top bar of your frame, using the reverse larkshead knot. Now that you have a curtain of rope attached to your frame, you'll add knots to create your pattern and design.
Step 5: Start creating square knots
I've gone for square knots (see step 1) mirroring the pattern on both sides.
Step 6: Add a spiral effect
Throughout the design I've added a spiral effect, which is created by repeating a half square knot. The rope will start to twist and spiral the more you repeat.
Step 7: Add layers
Adding layers can give you more detail and texture. Simply bring two cords from each side of your design and tie together in the centre using a square knot and you'll have draped cords to then add your thicker rope to to create a draped tassel layer.
Attach your thicker rope strands by using a larkshead knot. Repeat this along the draped cords.
Step 8: Comb it out
You can then leave as is or comb out to give a softer look.
I use a wire dog brush for this but any comb will work. I've added tassels made using 7mm cotton rope to finish it off.
The finished product: A gorgeous DIY macramé backdrop
// About the maker //
Emma, the creator of MOO + BOO, has a background in interior design and began designing and making soft simple nursery décor from her home while on maternity leave.
She quickly branched out, hosting weaving, macramé and arm-knitting workshops around Scotland before recently opening her own studio, Skapa, in her home town of Falkirk.
As well as making beautiful woven and macramé hangings, Emma offers an alternative hen party class where you can get crafty and arm-knit your own chunky blanket or even make your very own décor for your big day!
Wedding florists in Scotland talk us through real brides' bouquets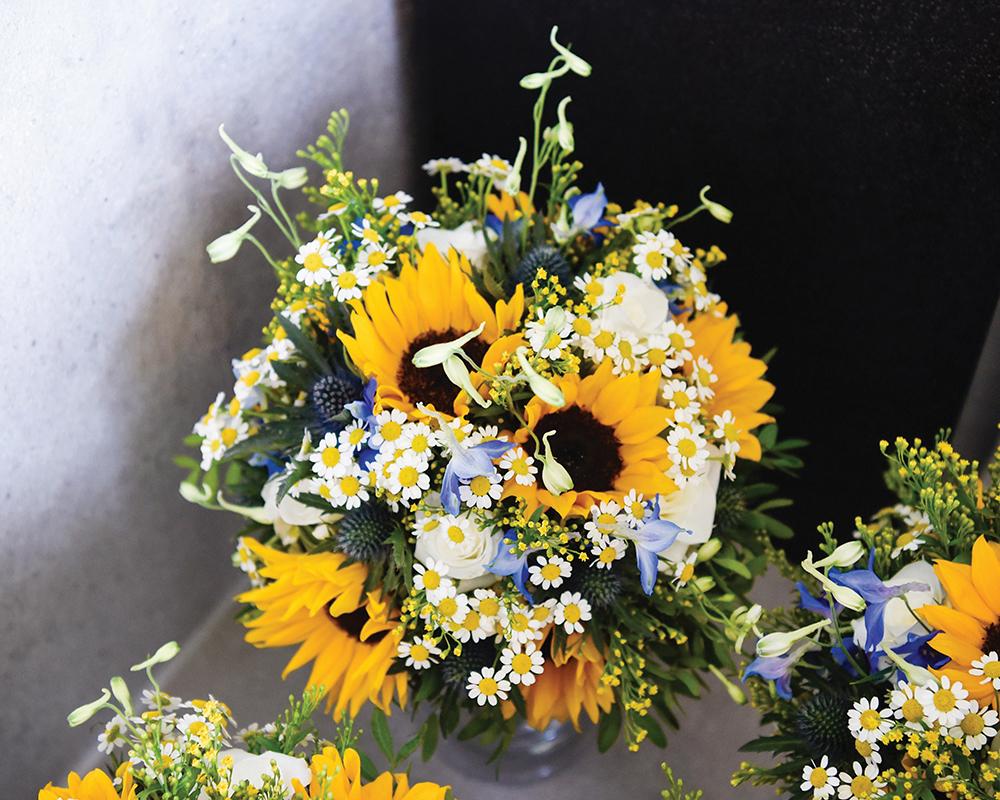 IMAGE | Emma Gray Photography
We could look at bridal bouquets all day at Scottish Wedding (and, to be honest, we very often do: check out our Pinterest for evidence). Looking for ideas for yours? We chatted to three real brides about what made them choose their bouquet, and asked the Scottish wedding florists who created them about the flowers they used.
A bright sunflower bridal bouquet
Amanda Brown always knew she wanted to incorporate sunflowers into her wedding bouquet when she married Gregor at Boclair House in August.
"They're my favourite flower and just looking at them puts a smile on my face," she says. She also wanted ivory roses and thistles for the men's corsages and thought it would be nice to include them in her bouquet too, but wasn't sure how to make them all work together.
That's when florist Laura from Cherry Blossom stepped in to craft her gorgeous summery arrangement.
"She really helped make it a reality, bringing in the daisies, wildflowers and greenery," says Amanda. "She also helped with the size and I was over the moon with the end result!"
IMAGES | Emma Gray Photography
Get the look
If you want to recreate this look, Laura from Cherry Blossom says to ask for a hand-tied bouquet of sunflowers, blue delphiniums, yellow soil, white roses, thistles and tanacetum. "Sunflowers are known for symbolising dedicated love," says Laura, who adds that sunflowers are in season from mid-July to September.
A wild, autumnal bridal bouquet
IMAGES | Sean Bell
Growing up with a green-fingered mum who could rear blooms in an Australian drought, flowers have always been important to Lisa Brown. So when planning her November wedding at The Cow Shed Crail, she knew they'd play a starring role.
The bride asked florist Kim Dalglish for a wild, unstructured and colourful bouquet. As well as this, Kim produced a beautiful floral crown Lisa could wear later on in the day. "My bouquet was everything I had hoped for and more and our venue was absolutely transformed into an autumnal utopia," enthuses Lisa.
Get the look
"Lisa wanted me to incorporate her native Australia so I included deep red protea flowers and a mixture of complementary autumnal florals in both a bold and muted palette," says Kim, who also included dark chocolate cosmos and contorted dried hazel, autumnal foliage and miscanthus. Kim adds that dried materials can elevate a bouquet into "something spectacular!"
A striking waterfall bouquet
Chloe Stevenson-Lennie's amazing princess dress for her wedding to Nicholas at Balbirnie House needed a bouquet that was equally grand and amazing, so she turned to Tracey Jaeckisch at The Diamond Bouquet.
"I knew I wanted a huge waterfall-style bouquet and when I showed Tracey my dress she said it would work perfectly," says Chloe. "I always wanted the crisp-white, clean look but Tracey suggested the greenery to break it up and it looked incredible. She did amazingly!"
Get the look
Tracey says these large waterfall bouquets can be produced with any materials but she likes to use budded flowers on the tail of the bouquet such as lisianthus, dendrobium orchids, nigella and spray roses. "Soft foliages like asparagus ferns and Italian ruscus are also great," she says. "When I construct these I work from the tip of the tail to the heart of it to achieve the shape my clients want."
Easter wedding ideas we love on Insta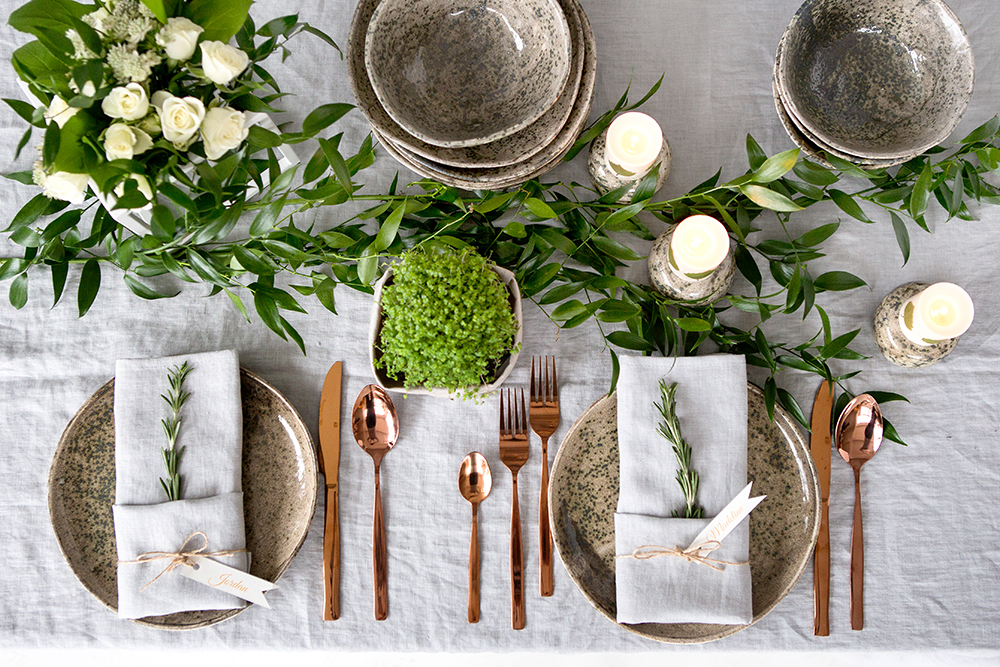 Though sadly no weddings can take place at Easter this year, many of you will be planning springtime weddings for next year and beyond.
There are countless ways to get creative with an Easter celebration – we've scoured Insta for the best Easter wedding ideas.
Yellow bridesmaid dresses
So many people fear they won't suit yellow, but we say there's a shade to suit everyone. And when better to test that theory than at an Easter wedding?
This squad looks amazing in their mustard bridesmaid dresses, and we love that they went for mustard shoes to match. V stylish.
Bring on the daffodils
Daffodils are synonymous with springtime and will bring a burst of cheer to your day. This couple had daffodils in gin bottles lining their aisle.
If you wanted to get more use out of them, you could repurpose the bottles later in the day as table centrepieces.
A yellow and peach wedding theme
Peach, yellow and white make a super-cool wedding colour scheme for an Easter wedding. It's a fresh and joyful palette that'll give your photos a beautiful aesthetic.
Have your bridesmaids in peach or yellow (or a combo) and the groomsmen can match with co-ordinating ties or pocket squares.
DIY a floral photobooth
If you plan to do a DIY photobooth, go with a floral theme to fit with the season.
This paper flower frame is such a cute idea and would definitely make a talking point for guests. Add a few Instax cameras into the mix and you'll end up with some brilliant keepsakes.
Commission a floral installation
There's nothing we don't love about flower clouds (seriously, even the name is adorable). This installation would be perfect for an Easter wedding; just ask your florist to use seasonal flowers.
Why not have it hanging above your top table?
Incorporate dried plants and flowers
The fluffy texture of pampas grass and pops of colour from craspedia really work well in springtime arrangements.
Think of the pampas as being like an Easter bunny and the craspedia representing the Easter egg of the floral world. (C'mon, use your imagination!)
Wear an alternative wedding dress
Look to designers such as Temperley Bridal for something a bit whimsical in keeping with the romance of spring.
Many Temperley dresses feature floral and leaf embroidery and incorporate colour, which is ideal if you don't want to wear a white dress. Check out Scottish stockist Rachel Scott Bridal Couture.
Get creative with your table settings
Not only do bunny tails (the name of the grass, not an actual bunny's tail) make the perfect addition to a textured bridal bouquet, but they can seriously upgrade your table settings with minimal effort.
Tuck them into ribbons around your napkins as an alternative to the bog-standard napkin ring.
Replace cake toppers with Mini Eggs
Who doesn't love Mini Eggs? Nobody. Incorporate them into your cake design, scatter them on tables, give packets of them to your guests as favours.
It's a wee change from tablet, eh?
Add gypsophila to your hairstyle
Gypsophila, also known as baby's breath, is so delicate and pretty, and can be interwoven into bridal hairstyles with relative ease.
Why not include some in your bouquet to tie the look together?
Postponed your wedding? Bloom Gin are giving you + your guests a gift…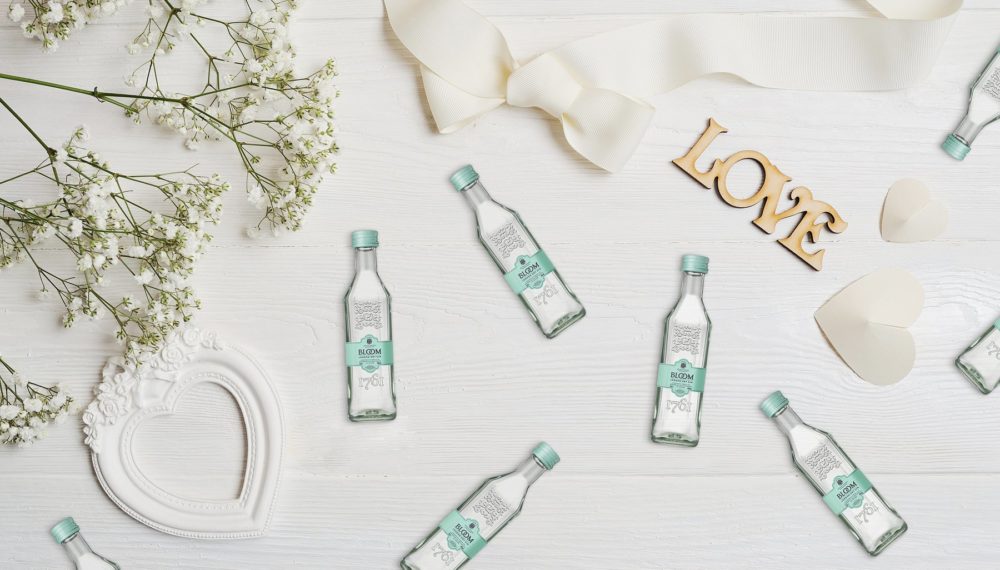 Thanks to Bloom Gin, you could give each of your wedding guests a miniature gin favour at your postponed wedding.
On the website, it says:
"In light of recent events surrounding COVID-19, BLOOM Gin is offering an exclusive 2020 wedding promotion to those that have been forced to postpone or cancel their wedding.
In times of uncertainty, many are feeling helpless with so much out of our control.
So if you're a bride or groom that's had to move your big day, we would love to provide FREE BLOOM gin miniatures for you to share with your guests as wedding favours to make it even more special.
To claim your gins, your wedding must have been scheduled to take place between 30th April 2020 and 31st December 2020 before you cancelled or rescheduled it.
Your wedding must have a minimum of 75 guests and a maximum of 200 guests, and you and your partner both have to be over the age of 18.
'70s vibes, vintage rings, sustainable style: Etsy's 2020 trend report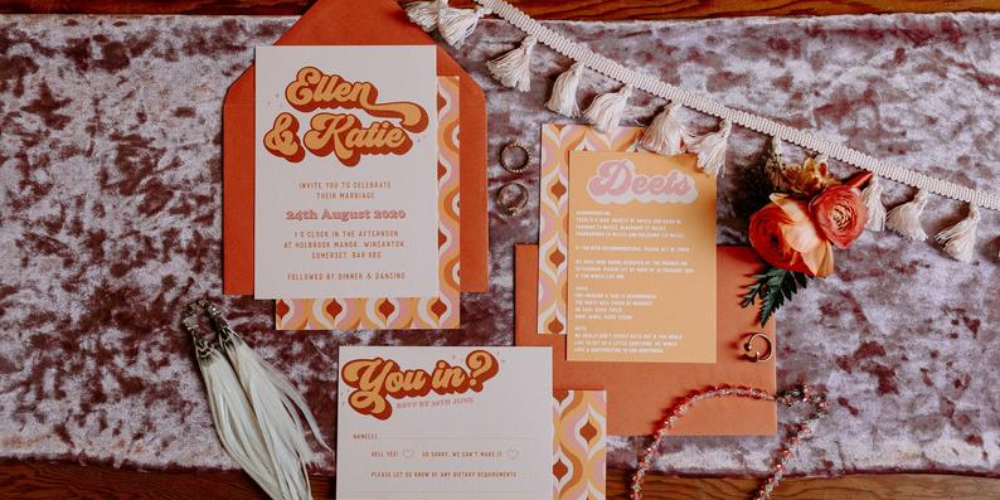 PHOTO | Peach Wolfe Co
It's a bold new decade, and with it comes a whole new set of wedding trends.
Worried about being left in the dust? Have no fear; Etsy has provided their wedding trend report to help you out, revealing the new mix of decor and style choices that brides and grooms are favouring.
So, what's in store for 2020 weddings, based on Etsy's findings?
PURPOSE
While last years' couples opted for personalised touches, Etsy's trend report has declared 2020 the "year of purpose". That means we can see customisation, individuality and personal values taking the helm.
"2020 is the year of purpose, so it's all about staying true to your partnership," says Etsy Trend Expert Dayna Isom Johnson. "Couples are casting aside traditions that don't fit with their vibe, and making their big day a celebration of what's most important to them, from inclusivity to sustainability."
'70S STYLE
Disco balls! Wicker chairs! Funkadelic fonts! Far-out fringe! Disco fever is alive and well, with couples increasingly embracing the iconic era for their own wedding theme.
Retro color palettes are also seeing a rise in popularity, like orange and chartreuse – Etsy's colour of the year.
Vixen wedding invitation set (from £2.49) Peach Wolfe Paper Co
POWER SUITS
Reader, cast your mind back to 2008. Remember in the Sex In The City film, when Carrie Bradshaw rejected a truly spectacular bespoke gown and embraced the decision to wed her longtime lover in a sleek bridal power suit? Yeah, us too.
Carrie would no doubt be thrilled to learn that 2020 brides are following suit (excuse the pun) and embracing the chic pant-suit ensemble.
Also, pockets? Yes, please.
Torres Trousers (£695) House of Ollichon
VINTAGE RINGS
When it comes to rings, couples are looking for something with a little more life to it.
One-of-a-kind vintage engagement rings and wedding bands are on the rise for 2020.
For something a little more sentimental, why not repurpose the stones and metal of jewellery you or your family no longer wear?
Rosalind from Sweet Rosie Jewellery offers a special remodeling service to do this, and it's not just environmentally friendly – it's budget-friendly too.
NON-TRADITIONAL WEDDING PARTIES
Listen, we've seen it all this year: grannies as flower girls, gender-swapping to a man of honour, and of course, four-legged ring bearers.
Etsy predicts that 2020 will see an increase in the rise of the wedding party that speaks to you—not just to tradition.
SUSTAINABLE STYLES
Sustainability is the word on everyone's lips for 2020, with brides and grooms-to-be taking Something Old to a new level and decking themselves out in pieces that don't cost the earth.
Think recycled wedding bands and vintage gowns like this sixties style from Edinburgh's own Those Were The Days vintage. Swoon.
WELLNESS FAVOURS
https://www.instagram.com/p/B8ZYL_qAz1o/?utm_source=ig_web_copy_link
Couples are thanking guests for coming with a wedding favor that encourages them to treat themselves with a little self-care.
That means goodbye to dinky bottles of booze and sweet treats, and hello to face masks, luxe soap, and scent-sational candles.
Jasmine, cedar and rose scented soy wax candle (£17.96) Sage and Bloom
CO-ORDINATED COUPLES' JACKETS
Personalised denim and leather jackets were all the rage in 2019, but for 2020 they're not only here to stay – they're doubling up.
The craze for coordinated jackets lets couples capture their unique style while parading your new partnership, plus it's one of the few fashion items you can keep wearing after your big day.
Cancer Research UK introduces new wedding favours collection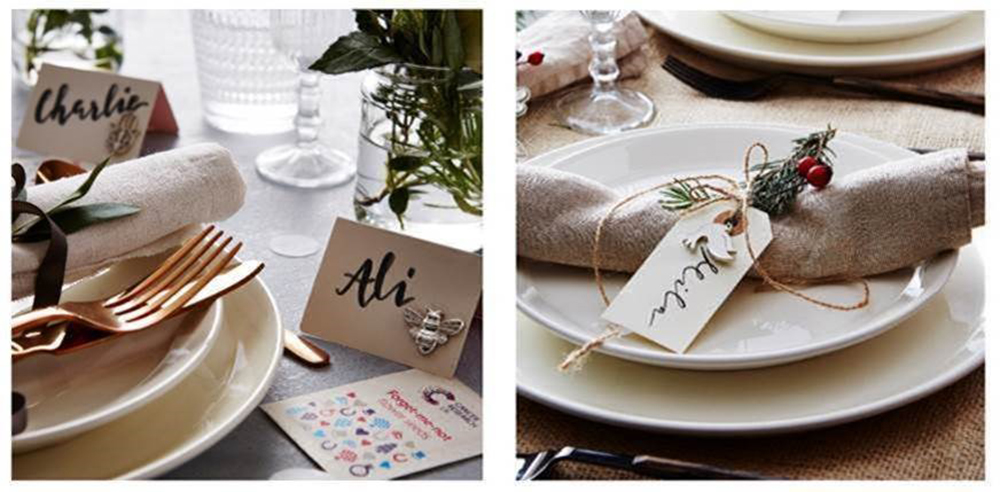 Whether it's the gay pride badge that catches your eye, one of the spiritual tokens or even a dinosaur design, the new pin badges will help fund life-saving research.
The badges come on either white or craft paper backing card to tie in with any colour scheme and can be personalised with guests' names and the date of your wedding.
brachiosaurus pin badge favour
Couples who want to not only help Cancer Research UK but do their bit for the planet will love the forget-me-not sustainable flower seeds.
They come in 100% natural and degradable packaging.
Plus you can also get your biodegradable petal confetti from the charity – perfect for that "We've just got married" pic!
rainbow pin badge favour
The Cancer Research UK favours are a touching way to celebrate or remember a friend or family member who has been affected by the disease.
Each favour is available for £2, which goes towards the charity's life-saving work into the prevention, diagnosis and treatment of all cancers.
Now doesn't that seem like a proper way to thank your wedding guests?