"Our big day was postponed, so we had a garden wedding at home!"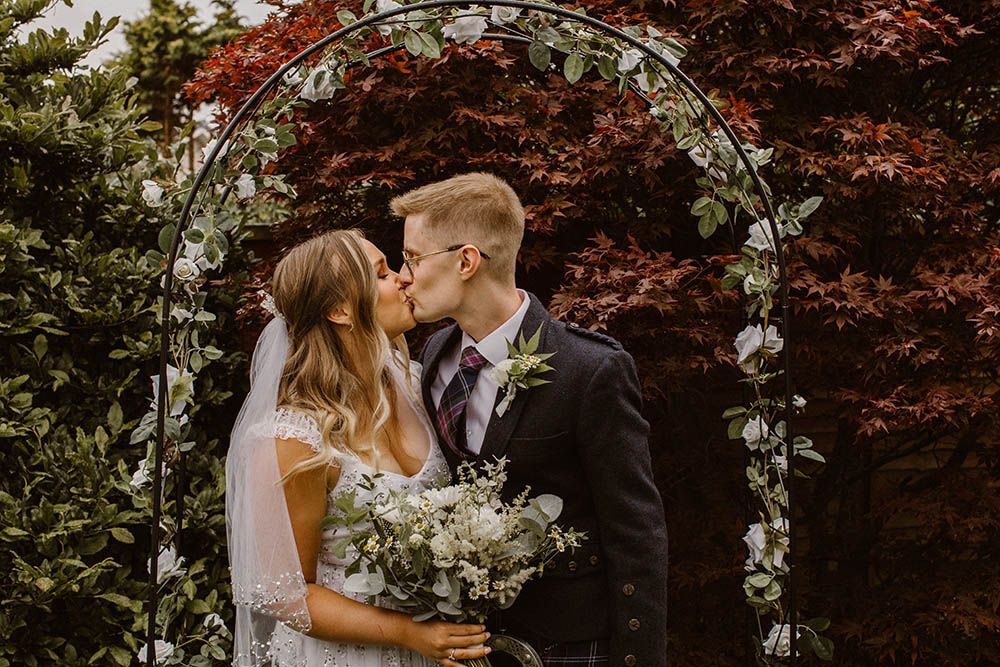 Planning a wedding during a pandemic is bloody hard – just ask Cam and Rach, who had to postpone their wedding twice.
After deciding that their original plans for a big wedding may not be able to go ahead this year, the couple put the big party on pause until next year and had an intimate garden wedding at Rachel's parents' home in Aberdeen.
And they did it just in the nick of time, because just days later another lockdown was announced in Aberdeen!
Keep reading to find out more about their wedding in the words of bride Rachel, alongside gorgeous photos by their photographer, Eilidh Sutherland Photography.
Cameron and I met at church (Bridge of Don Baptist) when we were 15 (me) and 16 (Cam) years old. It took us around a year to progress from friends to being in a relationship – Cam had to scramble out of the friendship zone!
After graduating from uni in 2018, Cam booked a wee staycation to a log cabin in Loch Inver.
We spent time admiring the views, exploring the local beaches and playing board games.
Cam suggested we had a date night, where he would cook us dinner and we'd both get dressed up as if we were off to a fancy restaurant.
I got ready and waited for Cam to 'pick me up' (collect me from the bedroom). When he did this, I was surprised to see that he had really dressed up – he was wearing a suit.
He led me out onto our balcony, overlooking the loch. I saw that our table was not only set for dinner, but had candles set out in the shape of a heart, a bottle of champagne and a laptop.
I asked why the laptop was there and Cam said to just sit down and press play. I did this and a video Cam had created began.
The video featured photos from all throughout our relationship, with very sweet messages and memories intertwined and 'A Million Dreams' playing in the background. It finished with 'We've had the best 5 years together, here's to many more…'. At this point, Cam took my hand, asked me to stand up and he got down on one knee.
We had planned to have between 100-150 guests at our wedding in June this year at Cluny Castle.
We wanted to have all our family and friends together to celebrate our marriage. We had planned to have a huge ceilidh in the evening and get everyone up dancing.
When lockdown came in in March, we quickly realised that a gathering of over 100 in June was never going to be possible. We were heartbroken.
We had planned everything. I had been envisioning our big day for two years.
I could see myself walking down the aisle in the chapel at Cluny Castle, in my big princess wedding dress from Eleganza Sposa, with my husband-to-be waiting at the end of the aisle and all my nearest and dearest looking on.
There were many tears shed when we realised this just couldn't happen. In the space of a month, I had lost my job, my Nana had caught and passed away from coronavirus and my wedding had been cancelled.
We almost immediately contacted our wedding venue and suppliers and were thrilled to find that we could postpone our wedding to October 2020 – this gave us hope and allowed us to get excited again.
However, as the months went on and lockdown continued, we realised that October wasn't going to happen without social distancing and other lockdown measures.
We were desperate to just be husband and wife and dedicate our lives to one another.
We had initially hoped that maybe we could at least get legally married on the 13th June (our original date), however that date came and went and the registry offices were still shut. Then we thought maybe we would have more luck in July, but still the offices were shut.
Until mid-July, we had lost some hope but then the offices opened and we asked when the soonest date was that we could marry and the 1st August was decided.
We came up with the idea of doing it outside in our garden, with only five guests and with social distancing in place.
We never thought that a second lockdown [in Aberdeen] would come into place – thank goodness we did it just in the nick of time!
The day was so different from what we had planned and envisioned but it felt perfect.
We borrowed a gazebo and made several trips to the local garden centre to make the garden look as festive as possible.
We decided to livestream the wedding on Youtube and we sent a link to all our wedding guests so they could virtually attend the ceremony.
We had Cameron's grandparents do bible readings over Zoom (of course they initially forgot to unmute themselves). My mum played piano as I came down the 'aisle' – she played A Million Dreams, the song that Cam played when he proposed.
My dad walked me down the aisle, all our guests did readings, Cameron's sister presented the rings. Our minister, Andy Hayes, did a great job of crafting a personal and unique wedding ceremony and made sure our virtual guests felt included too.
We were lucky enough to have our wedding photographers there for the day to capture our special moments.
Following the ceremony, we were whisked off down to the beach to take some lovely photos. We then came back, had some afternoon tea and fizz and enjoy the rest of the day as newlyweds with our parents and Cam's sister. (Oh, and enjoyed lots of cuddles with our dogs!)
Shout-out to Cluny Castle for being so flexible and allowing us to still have our big day when it's safe to do so – despite the legal part being already done!
Photographer: Eilidh Sutherland Photography | Bride's dress: ASOS (the Martina Liana gown will be worn at the Cluny Castle wedding) | Bride's veil: Etsy | Florist: Kim Dalglish | Minister: Andy Hayes
Popular Fife wedding venue introduces a drive-in cinema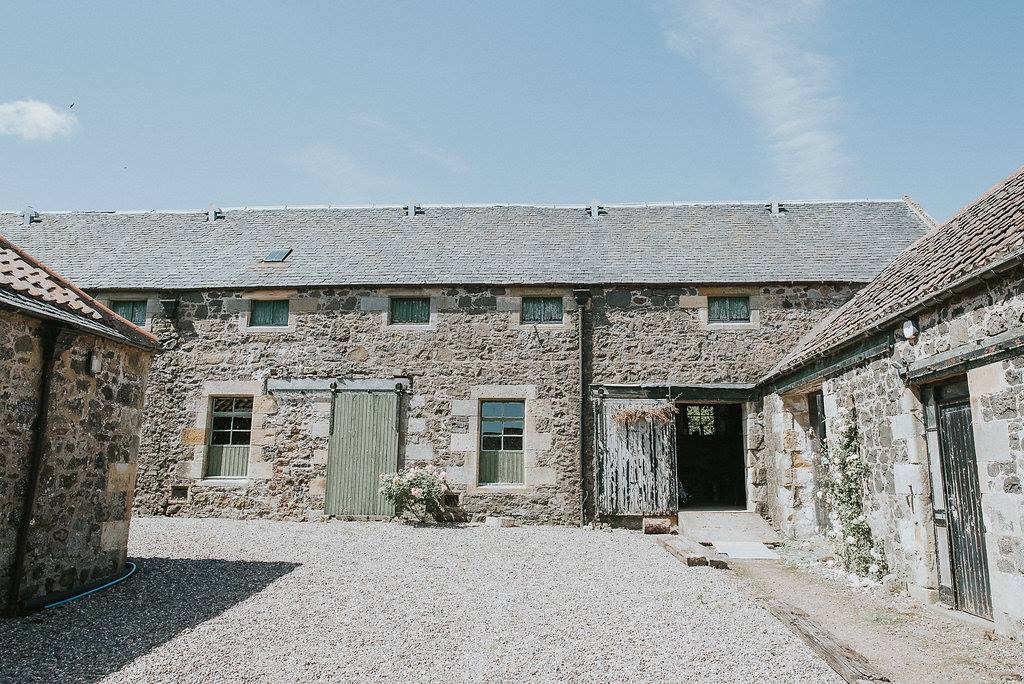 If date night with your spouse-to-be is getting a bit, er, repetitive these days, don't fret. One of our fave wedding venues has come to the rescue by launching a new drive-in cinema, and we are so here for it.
Pratis Barns in Fife is one of Scotland's top blank canvas venues, and during normal pre-Covid times it was accustomed to hosting huge celebrations.
With the restrictions on weddings in Scotland showing no sign of abating any time soon, venue owners Patrick and Nicola Gilmour have decided to put their gorgeous venue to good use by turning their hand to a different type of event.
"We have a large, beautiful space here at Pratis Barns and were looking for a fun and sociable idea to bring people together in a safe way," says Patrick.
"The drive-in cinema experience is a great opportunity for a family outing, a different kind of girls' night out, or a classic date night.  It certainly isn't a standard cinema trip!"
The Pictures @ Pratis event will take place from Friday 28th until Sunday 29th August, with an exciting bill of popular blockbuster movies on show.
The event opens on Friday with Up followed by Dirty Dancing; Saturday's bill includes Despicable Me, The Greatest Showman and Rocketman; and on the final day the films are Toy Story, Grease and A Star Is Born.
There'll be a giant outdoor cinema screen and the soundtrack will be played through your car.
And you can expect much more than boring old popcorn to snack on.
A tasty in-car dining menu carefully prepared by Patrick (who was named Scottish Wedding Caterer of the Year at the VOWS Awards) will be on offer, including wood-fired pizza from Fallones.
Defender Blender will also be on hand with delicious cakes and coffee.
Tickets cost £35 per car, and £10 of your ticket price can be redeemed against food and drink at the event.
Book your drive-in cinema ticket now.
Designer Sassi Holford creates wedding face covering for brides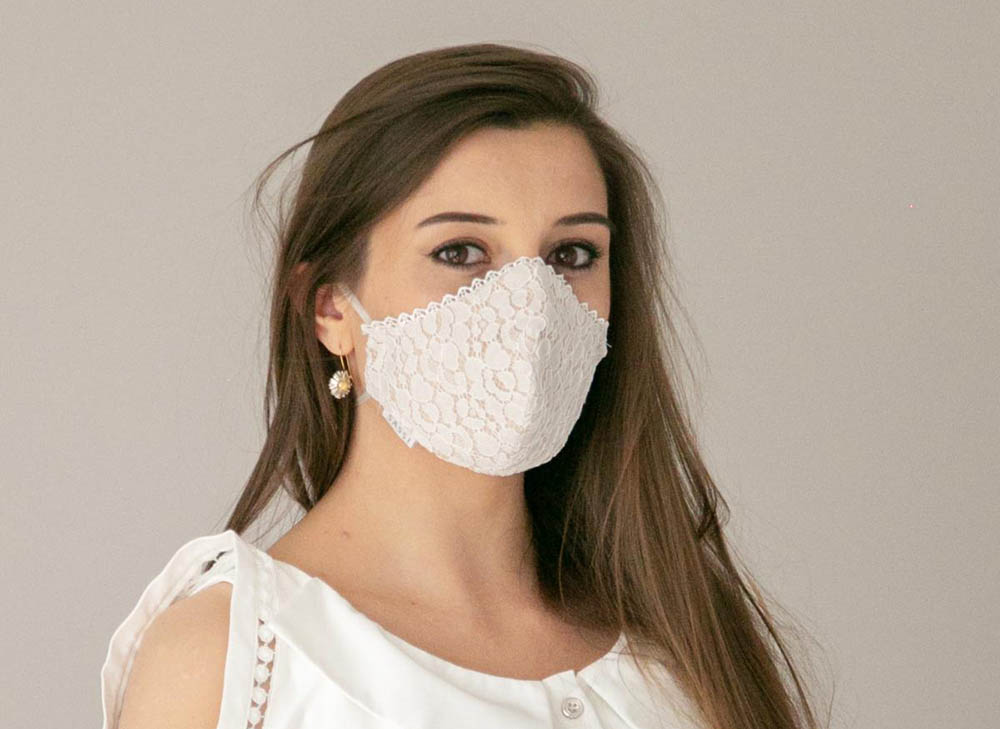 With current coronavirus restrictions requiring brides-to-be in Scotland to wear a face covering when shopping for their wedding dress, alongside new guidance that states face coverings are mandatory in places of worship and hotels, you may be looking for a face mask that's a bit more special than the norm.
We already shared with you the range of lacy wedding face coverings created by Scottish bridal designer Mirka Bridal Couture from off-cuts of wedding dress material, and now wedding dress designer Sassi Holford has launched a range of stylish Egyptian cotton face masks.
Available in a selection of wedding-friendly styles, you can choose from an ivory lace (pictured above), ivory spot tulle (pictured below) or ivory zebra face covering.
Or if you just want a stylish new everyday face covering, there are black tulle and black zebra options too.
The masks are made from sustainable Egyptian cotton fabric and have a sleeve for a filter (which isn't included), and a channel with a nose strip which can be replaced or removed when washing.
And the face coverings don't just help keep you and others safe in the Covid sense.
The designer is also donating 40% of proceeds from face mask sales to national domestic abuse charity Women's Aid.
The masks retail for £25 and you can get free delivery on your face covering by entering the code 'FREE4FACEMASK' at checkout.
19 of the best Scottish venues for small weddings 2020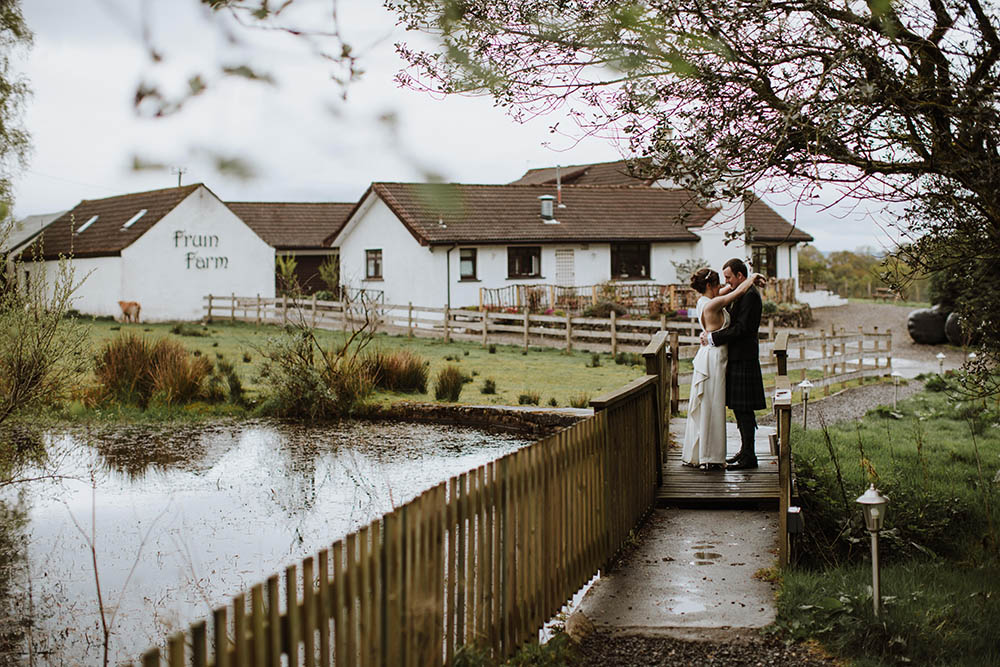 LEAD IMAGE |  Fruin Farm
This post contains some paid-for content.
BLAIRQUHAN CASTLE
This Regency castle is one of Scotland's most characterful wedding venues, boasting charming interiors and a gorgeous location in over 200 acres of private parkland within the Ayrshire countryside.
A variety of spaces are available both in and outside the castle for your wedding. The spectacular saloon holds up to 90 guests, while the drawing rooms combined can seat up to 100 people for dinner. But, of course, if it's an intimate celebration you're after, you can simply make use of the smaller areas – the team will happily arrange a day that suits your needs and numbers.
Regardless of where you choose, you'll have the visual pleasure of immaculate décor and period features, and the head chef will create a bespoke meal to match the beauty of your surroundings.
Visit Blairquhan Castle's website | t. 01655 770 239 | e. enquiries@blairquhan.co.uk 
Send an enquiry to Blairquhan Castle
BRANXHOLM PARK
This stunning luxury mansion sits in its own ancient woodland, famed in Victorian fairytales, in the heart of the picturesque Scottish Borders just an hour's drive from Edinburgh.
The fairylight-lit grounds are enchanting, the views of the Teviot Valley are breathtaking, and the plush boutique interiors of the mansion are second to none.
Branxholm Park offers three-night exclusive wedding packages that are almost all inclusive and at a surprisingly affordable price, so you can celebrate with a luxe wedding weekend. The venue specialises in small, intimate weddings, and is happy to work to the government guidelines to ensure your day is both safe and special.
Visit Branxholm Park's website | t. 07585 281479 | e. info@branxholmpark.co.uk
Send an enquiry to Branxholm Park
CASTLE MENZIES
Situated in Weem, Aberfeldy, Castle Menzies is a romantic Renaissance castle with plenty of options for a beautifully small and intimate wedding.
Its most iconic room for wedding ceremonies is The Lang Garret, a rustic space with exposed beams and stone walls, which has been playing host to weddings for just shy of 500 years.
Alternatively, you could marry outside in the walled garden; in the atmospheric Wine Store (which can hold up to 12 people); or in the 16th-century Old Kitchen, which has ancient flagstones, a magnificent fireplace and a large dining table where up to 18 people can sit down to a sumptuous banquet from one of the castle's hand-selected caterers. The choice is yours!
Visit Castle Menzies' website | t. 01887 820982 | e. castlemenziesmanager@gmail.com
Read reviews for Castle Menzies
DUN ALUINN
IMAGES | Luke Bennett Photography
Stretch your wedding celebrations out over a weekend by hiring Dun Aluinn, a luxury design-led venue in Perthshire which can be hired for three nights.
Specialising in small and intimate weddings for up to 50 guests (with room for 18 people to stay over), you'll feel completely at home thanks to its cosy, Scandi-inspired interiors. If the weather's nice, hold your ceremony in the gorgeous grounds and make use of the outdoor terrace which has a fire pit, seating and throws – not to mention incredible countryside views.
First-class catering is provided by Ballintaggart Farm and you've got the option of choosing from a specially curated wine list or bringing your own booze. There's no corkage fee, so you can let the good times flow.
Visit Dun Aluinn's website | t. 0131 556 4020 | e. enquiries@dunaluinn.com
See a small, intimate wedding at Dun Aluinn
ERRICHEL HOUSE
IMAGE | Suzanne Black Photography
A magical venue in the hills of Highland Perthshire, Errichel House's Thyme Roundhouse Restaurant offers an intimate, rustic space for wee weddings of up to 40 guests.
With its traditional stone walls, circular wooden roof, Tay Valley views and picturesque gardens, this is the venue for you if you're seeking somewhere with a cosy, farmhouse vibe to suit the relaxed feel of your celebration.
Errichel is family-run and prides itself on creating bespoke weddings to suit each individual couple's requirements. That personal vibe carries right through to your wedding menu, which will be devised based on your tastes and will even feature produce from Errichel's own farm.
When it comes to staying over, the house itself has four guest rooms and there are three unique holiday cottages on the farm sleeping up to 26 guests, so you could make a weekend of it.
Visit Errichel House's website | t: 01887 820850 | e. events@errichel.co.uk
Send an enquiry to Errichel House
FENTON TOWER
A truly stunning exclusive-use wedding venue that stands high on a hill in Kingston, North Berwick, Fenton Tower will blow you away with its uniquely Scottish charm.
The tower's décor pays tribute to its rich Scottish history while still being freshly contemporary, with many items being handpicked and carefully shipped over from French chateaus.
You can exchange your wedding vows in the Great Hall beneath a beautifully woven c tapestry while a log fire gently burns and crackles in the background.
Fenton Tower can accommodate weddings for up to 32 with the ceremony and drinks reception in the Great Hall and the wedding breakfast  in the vaulted dining room.
Visit Fenton Tower's website | t. 01620 890089 | e. manager@fentontower.com
Send an enquiry to Fenton Tower
FRUIN FARM
IMAGE | Photography 78

IMAGE | Chloe Jane Photo
IMAGE | Natalie Holt Photography
A bright, warm wedding venue that is both quaint and cool, Fruin Farm is a truly charming place to have and to hold your big day celebrations.
Fruin Farm is ideal for small, intimate weddings and is able to accommodate up to 60 guests in any one of it's three  unique and stylish spaces, including a 200 year old barn and farm steading, with panoramic views down to Loch Lomond.
The farm has beautiful grounds that are perfect for an outdoor ceremony or your post-nuptial photographs. Plus, animal-lovers will be glad to know the farm is home to plenty of furry friends, with a wee herd of llama and alpaca who will happily be a ring bearer for the day!
Also, don't forget that Fruin Farm is famous for its delicious food, ensuring that your guests will leave your wedding well-fed and very merry!
Visit Fruin Farm's website | t. 01389 850727 | e. info@fruinfarm.co.uk
NETHERBYRES HOUSE
IMAGES | Laura Elizabeth Patrick
A stylish blend of old and new, Netherbyres House combines a stunning Victorian building with vibrant, eclectic interiors to provide couples with the ultimate Instagrammable wedding venue. Think punchy colours, velvet textiles and eye-catching furnishings.
Get married amid the wildflowers in the grounds or make use of any of the house's stylish spaces – small weddings for up to 70 guests can take place inside and it'll be yours exclusively for the duration of the stay, so you can do as you please.
Whether you want a sit-down meal in the dining room or fancy hiring some street food vans, the flexible team can make your culinary dreams come true.
And with nine individually designed bedrooms, each with an en-suite, there's the option to stay for a weekend and eke the festivities out. Cheers to that!
Visit Netherbyres House's website | e: info@netherbyres.com
Send an enquiry to Netherbyres House
TURIN CASTLE
Turin Castle is a five-star, exclusive-use castle located in the heart of Scotland, surrounded by the scenic Angus Glens.
It's the perfect place to retreat from the rush of everyday life and surrender to the lush, unspoilt Scottish countryside.
An authentic Scottish hideaway, Turin Castle is luxuriously spacious, sleeping up to 20 guests in 10 beautifully appointed en-suite rooms which retain an intimate and boutique feel.
The castle is nestled in 20 acres of private grounds that could be yours to explore. It is the perfect venue for a luxury, intimate wedding celebration.
Visit Turin Castle's website | t. 01307 830463 | e. love@turincastlescotland.com
Send an enquiry to Turin Castle
ALEXANDER HOUSE
Perched high in the Perthshire Hills, Alexander House is the perfect exclusive-use small wedding venue.
Get married on the terrace with a simply stunning backdrop before celebrating with your guests in  the Dining Hall (seats 21 around an impressive circular table), or enjoy a more informal buffet for up to 30 guests in the open-plan kitchen.
Visit Alexander House's website | t.01764 910320 | e. info@alexanderhousescotland.com
Send an enquiry to Alexander House
ASSYNT HOUSE
An award-winning wedding venue, Assynt House in Evanton, Dingwall, only hosts a limited number of weddings each year.
Specialising in weddings of up to 50 people but with space for a marquee if you wish, this five-star exclusive use venue in the beautiful Scottish Highlands is a hidden gem sure to make your wedding day truly memorable.
Visit Assynt House's website | t: 01349 832923 | e: contactus@assynthouse.com
BACKHOUSE ROSSIE ESTATE
This Fife venue is home to breathtaking grounds with a romantic walled garden and sweeping lawns overlooking the Lomond Hills.
Smaller weddings and elopements can take place in its Flower Room (seating up to 80) or the Old Stables (up to 20 guests).
Visit Backhouse Rossie Estate's website | t.0844 414 5891 | e. weddings@backhouserossie.co.uk
BALLATHIE COUNTRY HOUSE HOTEL & ESTATE
IMAGE | Jenni Browne Photography
Ballathie House Hotel in Perthshire has two smaller private rooms  which are ideal for the smaller, intimate wedding breakfast.
The Morning Room is a charming traditional room with a large bay window overlooking the Victorian Gardens, which can seat 16 guests, whilst the Terrace Room which overlooks the River Tay can seat up to 36 guests.
Visit Ballathie House Hotel's website | t. 01738 804804  | e. email@ballathiehousehotel.com
Send an enquiry to Ballathie House Hotel
CREAR WEDDINGS
Love the idea of escaping with your nearest and dearest to a dreamy beachside wedding venue? Crear, on the west coast of Scotland, is for you.
The house sleeps up to 12 people and there's a Gourmet Small Wedding package for those who want an intimate wedding with plenty of great food.
Visit Crear Weddings' website | t. 01880 770369 | e. hello@crear.co.uk
HOTEL DU VIN AT ONE DEVONSHIRE GARDENS
Located in Glasgow's leafy west end, this hidden gem venue is perfect for small weddings from as few as two to as many as 80 guests.
A stylish boutique hotel, it boasts serious design credentials and is well regarded amongst foodies for its mouth-watering menus.
Visit Hotel du Vin at One Devonshire Gardens' website | t. 0141 378 0385 | e. events.glasgow@hotelduvin.com
Send an enquiry to Hotel du Vin at One Devonshire Gardens
LINDORES ABBEY
IMAGE | Photos by Zoe
A quirky wedding venue, Lindores Abbey in Fife is a whisky distillery with bags of charm and plenty of options for micro weddings.
Celebrate in the abbey grounds on a nice day or hold your wedding indoors at the Apothecary at the cloister table, hewn from a magnificent oak tree.
Visit Lindores Abbey's website | t. 01337 842547 | e. info@lindoresabbeydistillery.com
Send an enquiry to Lindores Abbey
THE OLD CHURCH
Specialising in relaxed and intimate weddings for up to 36 guests, The Old Church is situated in South Ayrshire in a converted church building.
With its stained glass window, log burning stove and seating area incorporating an original church pew, it's full of character and warmth.
Visit The Old Church website | t. 07710 075422 | e. theoldchurchayrshire@gmail.com
Send an enquiry to The Old Church
ST MARY'S
IMAGE | Melody Joy Co
A gorgeous converted church nestled in the Scottish Highlands, St Mary's is one of Scotland's newest elopement venues for very small weddings with up to 20 guests.
Surrounded by magical mountains and enchanted woods, you'll love having your own little slice of Scottish paradise.
Visit St Mary's website | t. 01631 730 449 
VENACHAR LOCHSIDE
If you'd love to get married by the water, Venachar Lochside is a stunning option.
Located between Callander and the Brig o' Turk, it has a variety of spaces and packages to suit different styles of wedding, including a package for celebrations of up to 30 people.
Still searching for your dream Scottish wedding venue?
Steph's Bride Diary: COVID forced us to postpone our wedding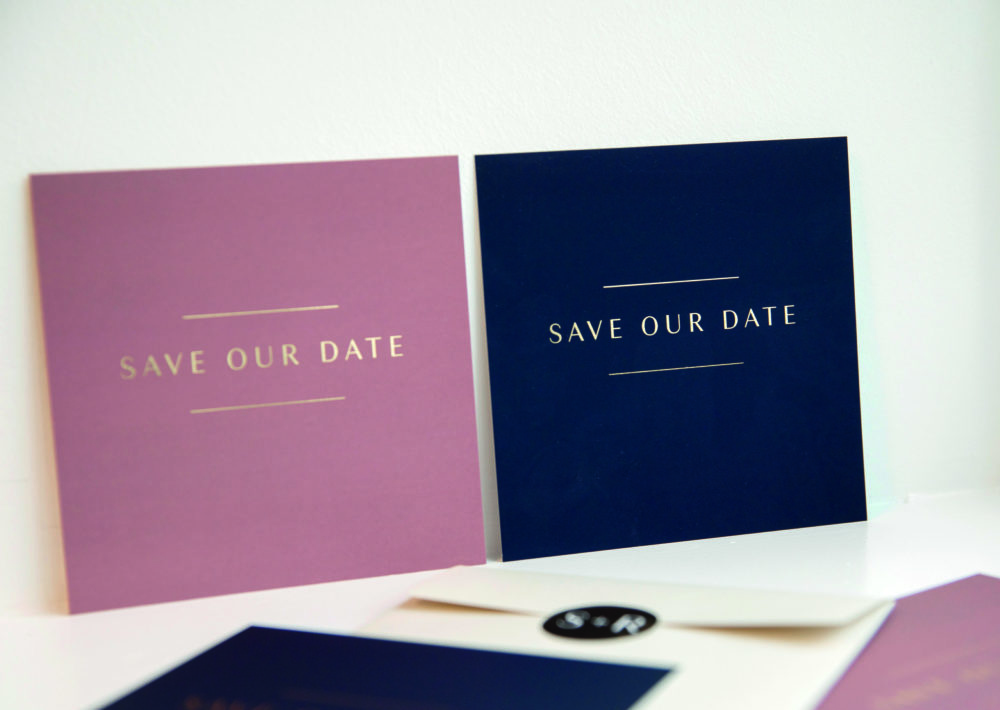 LEAD IMAGE | Save our date cards by Dursley Design Co
If you'd have told me this time last year that I wouldn't get married come September 2020, there's no way I would've believed you. Today marks one month to the date of our original wedding, 12th September 2020.
When the country went into lockdown, so did my brain. I couldn't focus on what I needed to be doing for our wedding, and that panicked me. As a bit of a control freak by nature, I wanted to be organised and at that time, we were five months from our wedding date. I didn't have my dress sorted completely, my bridesmaids didn't have their dresses, Rab hadn't even looked at suits and so much was up in the air.
When I emerged from the brain fog, I decided that I should go ahead and do things as normal as I could, so that if the world suddenly became less of a horror show, we'd be ready for the wedding.
PLANS ON HOLD
One thing I did do at the start of April was email my key suppliers and ask if I had to move the wedding to next year, could they accommodate us. To their credit, I got replies from all of them very quickly (even though at this point, they were dealing with cancellations left and right) and between us all, we landed on a new hypothetical date for 2021. My venue and my suppliers all held that date for us for the next few weeks while the true scale of the pandemic unfolded.
At the start of May, the possibility of postponing became very real as soon as lockdown was extended. Rab and I had to sit down and decide what we wanted to do.
We did want to wait until June to decide but we couldn't leave our suppliers waiting much longer, and I knew that the possibility of them filling our back-up date was very real. The moment when I realised I wouldn't be getting married this year was sad. I cried.
I felt like we'd been working towards creating a really special day for ourselves and our friends and families, and it had just been snatched away from us.
SAVE OUR NEW DATE
Afterwards, I have to say that my overriding feeling was one of relief. I had become accustomed to waking up at 3am, unable to get back to sleep, worried about what we'd do if the wedding actually did go ahead.
How would we make sure our guests were safe? What would we do if a second outbreak happened? Would our guests feel comfortable staying in accommodation just after a pandemic?
I worried myself sick about every detail for weeks and finally, I could breathe.
Telling everyone wasn't difficult. We did get a couple of people kind of scoffing that we were postponing so early, but looking back now with the benefit of hindsight, we definitely made the correct decision.
My friend Laura made a wee graphic that matched our original save the dates, and we got to contacting friends and family, trying to help people move accommodation around and sort out travel plans to suit our new date of 18th September 2021. I have to say that our families, friends and especially my bridesmaids and Rab's groomsmen have been exceptional.
It really does pay to pick your Bride Squad wisely – you never know what circumstances might crop up and if you don't have a supportive team around you, it can feel very lonely indeed.
TOP TEAM
Even though we'd said to each key supplier about the postponement, I emailed out a standard email telling them we were going ahead, and that we hoped they could still be part of our day. Luckily for us, everyone except one (my MUA Leigh – which I am so sad about!) could be part of our new date.
I have to say that my suppliers really did help me feel good about my decision. I know that COVID has brought a world of pain upon the wedding industry, and my heart goes out to every company who has worked so hard to build themselves up. It's an extremely hard time for them, and for them to accommodate us (all with no change to the agreed prices) was a massive weight off of our minds. I would recommend every single one of them without hesitation.

Rab and I in lockdown!
LET'S TRY AGAIN…
So that's it! I now have one year, one month to go instead of one month. It stings a little as we get nearer to the date but I just keep thinking that what we did was for the best and ultimately, having our wedding next year will mean we get the day we actually want with fewer compromises.
I've just found out that my dress fitting is going to be next month, and I took it as a sign that it's going to be a year to the date from our new wedding date! I am so excited to start the planning process again. You'll just have to put up with my Bride Diary for another year!
9 Happy Would Be Wedding Date cards for couples who have postponed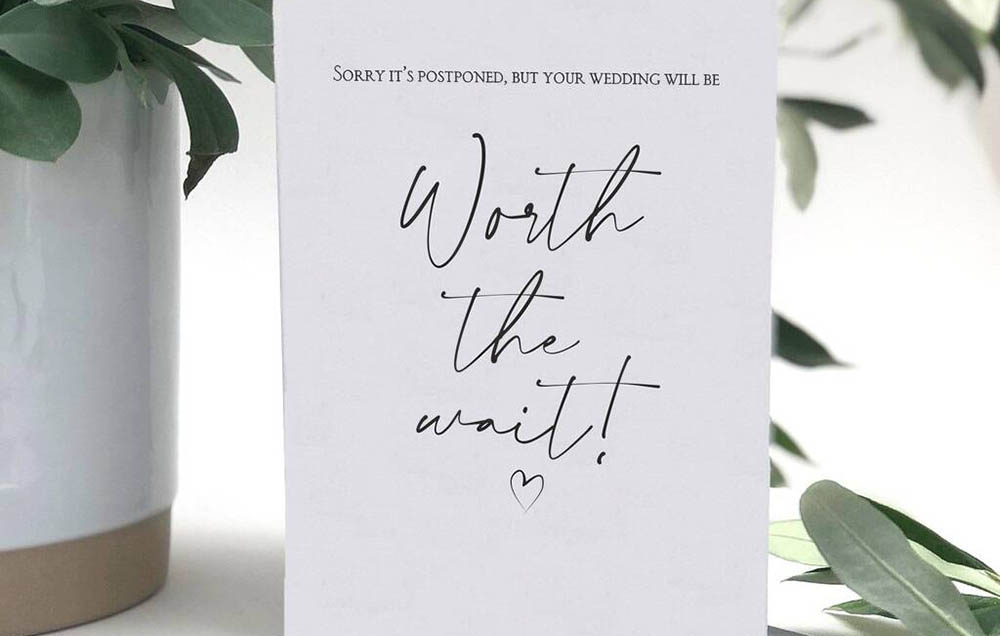 It's been a tough time for couples who have had to postpone their weddings, so why not send a little something in the post to make them smile on the day they were supposed to be getting married?
A Happy Would Be Wedding Date or Sorry You've Postponed Your Wedding card is a sweet gesture that'll let them know you're thinking of them on a date you should have all been celebrating together.
Many couples who have postponed their weddings are opting to mark their original wedding date, so receiving some cards in the post from guests will help to give the day a sense of occasion.
If you're looking for ideas, here are some of the best cards we've found to send to couples whose weddings have been impacted by the coronavirus pandemic.
The Scottish Wedding edit: Would Be Wedding Date Cards
True Love Waits postponed wedding card (£3) Etsy
Worth The Wait postponed wedding card (£3.50) Notonthehighstreet
Happy Meant To Be Wedding Day card (£3.19) Scribbler
Funny postponed wedding card (£3.65) Etsy
Postponed or delayed wedding greeting card (£4) Hendog Designs
Sending Love postponed wedding day card (£3.29, also available as an e-card) Moonpig
Sorry your wedding has been postponed card (£2.50) Banter Cards
Happy would-be wedding day card (£3.25) Ellie Bean Prints
Fun Tiger King postponed wedding card (£3.29) Thortful
"We had a micro wedding in our celebrant's back garden!"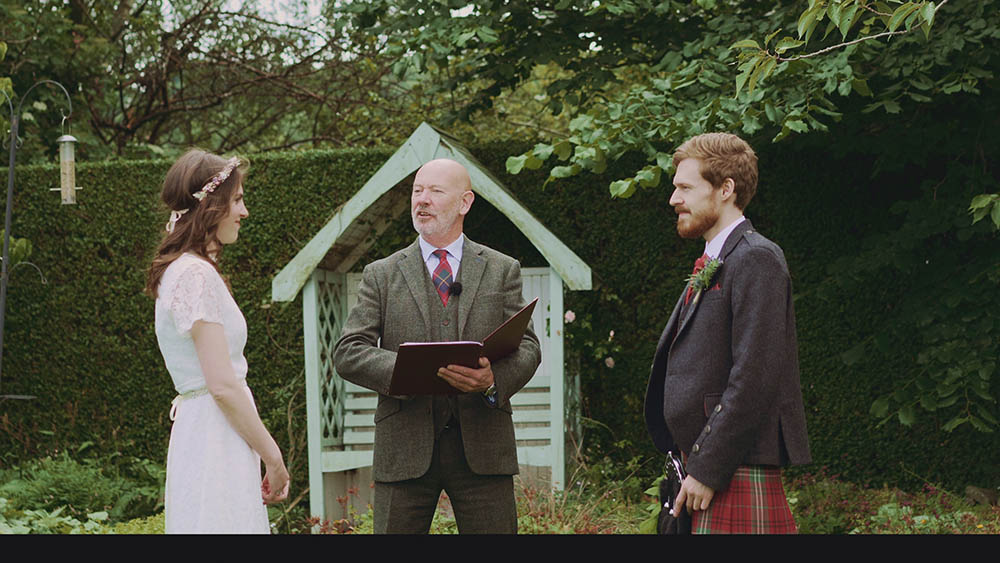 Now, more than ever before, I'm looking out for happy news to remind me that (cheese alert) all you need is love. And when Gavin and Diana's beautiful wedding film arrived in my inbox a few weeks ago, it was exactly what I needed to see.
They are one of the many couples whose wedding plans have been affected by Covid-19 this year, but they still eventually managed to get married in a way that was meaningful to them.
Gavin and Diana met on a dating app in 2014, shortly after they'd both moved to Edinburgh (Gavin from Dunfermline, and Diana from Michigan).
"We bonded over our mutual love of Harry Potter and instantly clicked on our first date at Starbucks.
"We became officially boyfriend and girlfriend after a couple of months and on our five-year anniversary Gavin proposed with a gorgeous opal ring (my birthstone) while at afternoon tea at the Balmoral Hotel in Edinburgh, where we were having a spa day," says Diana.
"He didn't tell any of the staff and nobody noticed, which was perfect because we are both very low-key."
The couple always intended to have an intimate wedding, and had booked the Italian Room at Prestonfield House for an April 2020 wedding with 22 of their closest family and friends.
But then, of course, came coronavirus, and the couple's wedding was cancelled.
"We were both disappointed (especially Diana as she was very excited to see her family in person for the first time since last year) but we understood it was for the best so that everyone could stay safe," says Gavin.
The couple were understandably keen to get married, however.
So they went about the tricky process of planning a micro wedding to take place as soon as it was permitted in Scotland – no mean feat in the midst of a pandemic when the government advice is constantly changing!
"We intentionally kept things to a minimum, to make things easier, but even at that we weren't sure how many guests we would be allowed until two days before the wedding," says Gavin.
"Originally the maximum attendees (for phase two) was eight, so only my dad, brother, and his wife were going to be allowed to come. Phase three kicked in the day before the wedding, so our guest list was able to increase to accommodate four additional friends."
The couple's humanist celebrant Tim Maguire kindly offered his back garden as a setting for Gavin and Diana's ceremony, and thankfully the weather stayed on side.
Gavin wore a kilt outfit he already owned from The Kilt Company. Diana, meanwhile, found a cute budget dress online which she accessorised with a flower crown and pearl jewellery (she's keeping her fancy wedding dress for when they can have a bigger ceremony in future).
"The ceremony was short and sweet and we wrote our own vows separately so that we would be surprised on the day. Afterwards we popped the champagne and ate wedding cake!"
Diana's family were there on video chat so that they could still be part of the day.
And even though they didn't get to marry at Prestonfield House as planned, the couple were still able to visit the venue.
"We stopped by Prestonfield House to shoot some footage for our wedding video, and one of the main highlights of our day was seeing the peacocks!" says Diana.
"After this we went to our own back garden to drink more champagne and eat Pizza Hut stuffed crust pizzas (much to the dismay of Gavin, who wanted "fancy pizza")."
Watch Gavin and Diana's beautiful wedding film
Celebrant: Tim Maguire, Celebrate People | Videographer (who also provided photos): Cherry Tree Films | Cake: Liggy's Cakes | Flower crown: intothehedgerow on Etsy
Here's how to professionally live-stream your wedding ceremony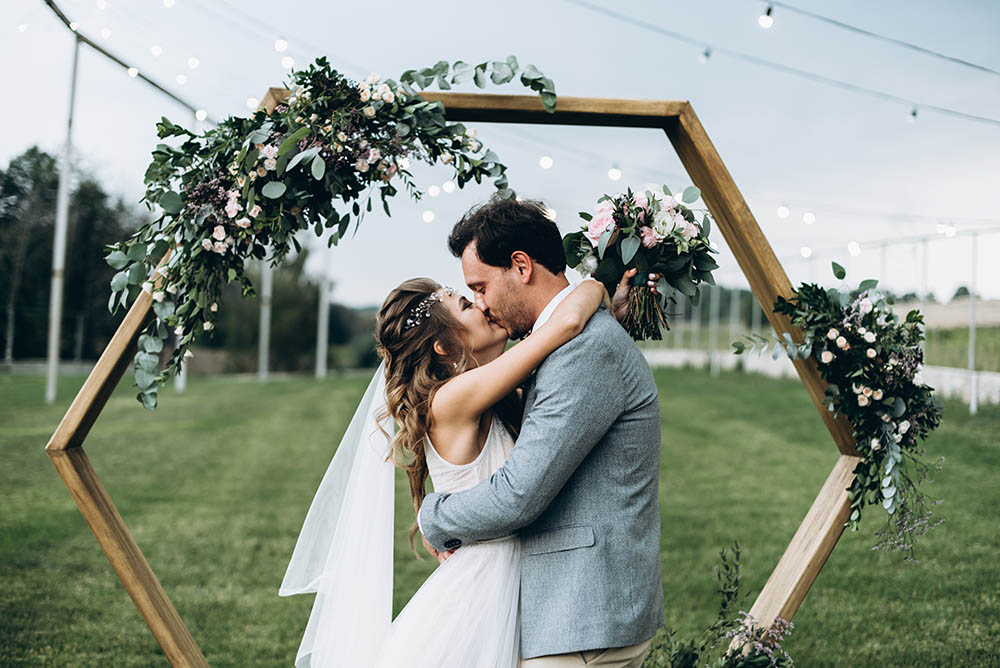 It's been heartening to see weddings take place again in Scotland after months of the industry (and, well, the world) being placed on pause.
But we're not quite back to normal yet, as guest list sizes are still restricted – which means that any couples getting married just now have to come to terms with not having all their loved ones there on their special day.
Of course, you could invite some guests to attend your wedding virtually.
That's the idea behind Wedding TV, a new service launched by Fuze Ceremonies that allows couples to professionally live-stream their wedding ceremony for friends and family that can't be there in person.
Forget the dodgy connection and shoogly camerawork that comes with streaming over social media with a smartphone; this is a far slicker operation combining videographers and cutting-edge technology.
Fuze Ceremonies has partnered with Life's Big Moments, a company that specialises in live-streaming events, alongside top film professionals to ensure the best visual quality.
Your guests will be sent a digital invitation to a dedicated website where they can log-in securely to virtually attend your ceremony live, as it happens, from the comfort of their own home.
The ceremony is then viewable via this link for 28 days, and you'll receive a digital copy of the footage to keep forever.
Anne Widdop, founder and director of Fuze Ceremonies, said:
"Wedding TV was designed with couples and distanced families in mind, with the aim to give the best possible experience of the ceremony to those who, for whatever reason, are unable to attend.
"We have been working hard to provide a high-quality, secure and easy to use service.  We have researched the emerging use of technology during wedding ceremonies and set out with an aim to offer a more personal, inclusive package of services and support to couples.
"We really hope that Wedding TV will have a positive impact on the lives of those whose ceremonies have been affected by the Covid-19 pandemic."
Want to live-stream your wedding ceremony?
There are a number of packages available for this service starting from £199, and a 15% discount is available on all packages until 30 August 2020.
Visit Fuze Ceremonies' Wedding TV page to find out more.
Postponed your wedding? Here's how to celebrate your original wedding date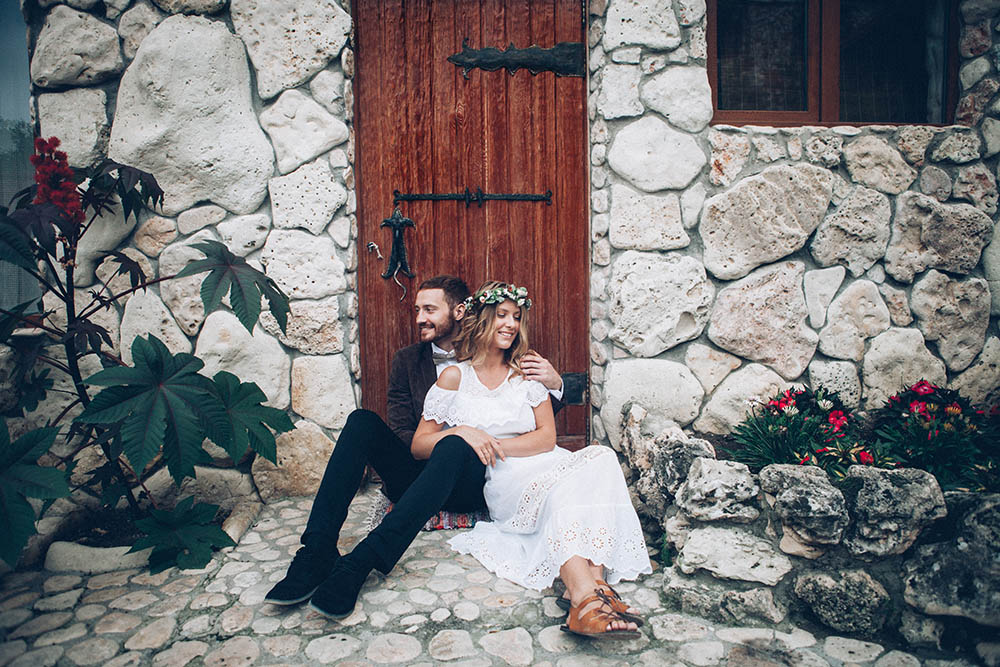 When you're planning a wedding, the date is etched in your brain. And on your invitations. Possibly even stamped on your wedding favours and on-the-day stationery…
Even if you've had to postpone your big day due to Covid-19 and you have a brand new wedding date to look forward to, that original wedding date will still hold a very special place in your heart. Of course it will.
So why don't you celebrate it?
Yes, the world is weird right now and our social lives for the last few months have largely involved us staring at our phones.
But there are lots of ways you can break the monotony and make the day you should have been getting married on, which you'd been looking forward to for such a long time, feel joyful and significant.
Looking for some inspo?
Here are some ideas for how to celebrate your original wedding date.
Hold a ceremony
So, you've got a couple of options here.
You could have your actual wedding ceremony now, given that weddings can currently go ahead in Scotland, so that you're officially married. Then, you could have a ceremony minus the legal bits on your postponed date, giving your wider circle of friends and family an opportunity to witness your love. D'aww.
Alternatively, hold a mock ceremony at home now while you wait for the real deal!
This can take any shape or form, and it doesn't have to mimic what your actual wedding ceremony will be like.
Why not write a love letter to one another and read it aloud, or make a list of your five favourite memories with your other half – from special holidays together to daft nights out.
Scottish couple Jenny and Phil got 'emotionally married' on their original wedding date, and Jenny even wrote Phil a poem which she read aloud.
It's the perfect opportunity to start the day on a romantic note.
Dress for the occasion
You might not want to wear your wedding finery (but it's totally fine if you do – after all, how many brides get the opportunity to wear such a special dress twice?).
However, you should definitely dress up to mark your original wedding date.
Do some at-home beautifying (see MUA Louise Ballantine's top product recommendations) and dig out your gladdest rags, or buy a white dress online.
Check out our round-up of high street wedding dresses to see some of the best white dresses on the UK high street, and consider adding some fun accessories, such as this bride-to-be veil.
And if you cba dressing up? We've found the cutest bride-to-be pyjamas right here.
Ginger Ray bride-to-be veil (£6.99) notonthehighstreet
Use your wedding suppliers (twice!)
The past few months have been so difficult for everyone, and the wedding industry has been hit particularly hard.
So now that businesses are starting to open back up, why not show some love to the people that will be contributing to your official wedding by booking their services (on a smaller scale) for your would-be wedding date?
Perhaps your photographer could pop round to take snaps, or your cake designer could deliver some cupcakes.
When couple Eilidh and Ranald decided to have a lockdown wedding at home, the bride-to-be had a bouquet delivered by her wedding florist.
These little touches will make your day feel extra special, and give you a taste of what you've got to look forward to!
Feast like royalty
If you're up to it (and you can get a reservation), book a table at your favourite restaurant followed by cocktails at a bar you both love.
Or, if you're feeling a bit nervy about going out-out, order your fave takeaway – and remember that lots of restaurants now offer dine-at-home options if you fancy something luxe.
Cocktail delivery services have sprung up everywhere, so you could have some French Martinis brought to your door.
Sun shining? Head out for a picnic or have a barbecue at home with a limited number of friends and fam (being sure to check the government guidance on social gatherings, of course).
Get your decor on
Don't underestimate the power of some artfully arranged balloons, streamers and banners: they'll lift your spirits and give your original wedding date a sense of occasion!
We love this 'Nearlywed' bunting.
Nearlywed bunting (£11.99) Etsy
Have a party!
Dust off your disco ball, make a Spotify playlist of your favourite tunes (including your first dance song, if you have chosen one) and take a spin on your living room floor.
If the mood of your day is decidedly more languorous, cue up some of your favourite films and have a movie marathon.
Want to do something a bit different?
Scottish magician Billy Reid, who regularly performs at weddings, has produced an online show that people can book over Zoom. It's live and interactive, and you can find out more about it here.
Lots of Edinburgh Fringe shows will be streamed online this year too.
Our Scottish Elopement: A lockdown-postponed wedding at Dunbar's Close, Edinburgh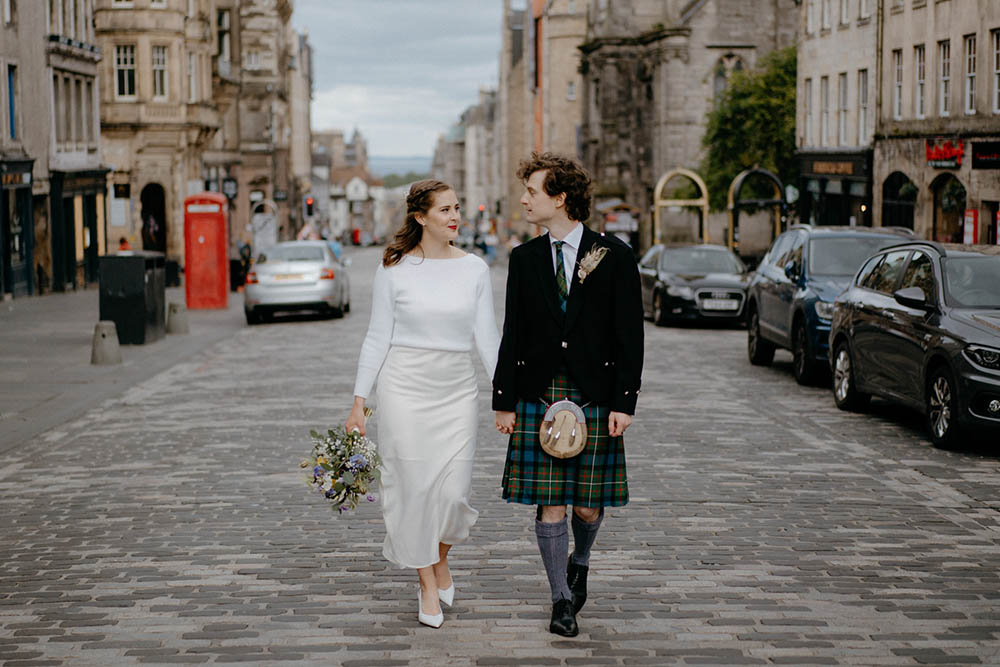 Our Scottish Elopement is a new series in which we explore the most beautiful locations to elope to in Scotland.
Our elopement series so far has focused on places you can elope to in the wonderful Scottish wilderness, from Glencoe to the Isle of Skye.
Today's post is a reminder that Scotland's cities make amazingly photogenic elopement locations too, as proven by super-stylish Canadian bride Sabrina and her partner Angus.
Sabrina and Angus were originally going to get married in May at Edinburgh's City Chambers, but they had to postpone their wedding due to Covid-19.
When the Scottish Government announced that outdoor weddings could go ahead, the pair switched their venue to Dunbar's Close, a leafy garden just off the Royal Mile, and got married on 4th July.
"Dunbar's Close is completely serene yet so close to the bustle of the Royal Mile," says Sabrina. "Once you get through the gates, there's a bit of a maze of sunken gardens until you get to a clearing at the back – this is where the ceremony was."
Keep reading to find out more about the couple's intimate city celebration, captured by the fabulous Lina Hayes Photography.
"Angus and I met on a blind (read: Tinder) date at Ox184 in February 2019," recalls Sabrina.
"By September I was telling my family that I would marry him, by November we were living together and by February, just two weeks before our anniversary, we were engaged."
Angus tried to propose a few times to Sabrina; a couple of times he informally suggested they get married (to which Sabrina responded, "I'll marry you but not until you get on one knee!"), and on a third occasion bad weather got in the way of romantic proposal plans.
Fortunately, all went well for proposal number four.
"We went for dinner at McLaren's then walked back through Merchiston and stopped in Harrison Park, where we sat on 'our' bench.
"Angus handed me a card that professed his love and intention to marry me, and when I looked up he was (finally) on one knee!"
The couple had always envisaged having an intimate wedding, but Sabrina admits it started to grow arms and legs.
"Slowly but surely, the conversation of a reception and who to invite would creep in. Neither of us wanted to have all of the attention, and there was a huge gap because none of my friends could afford to travel to Scotland just for a reception," says Sabrina.
"It was a struggle to balance out what we wanted with what we felt we had to do, and in the end having a lockdown wedding was such a blessing!"
Of course, getting married in the midst of a global health pandemic had its disadvantages.
"There were a lot of things we had to give up to get married during the pandemic: not seeing each other the night and morning before saying I do, having my father walk me down the aisle, plus hair stylists, nail bars, make-up artists, trying on dresses, getting ready with bridesmaids… pretty much all of what you expect from a typical wedding day," says Sabrina.
On the bright side, though, the couple made the most of the opportunity to support lots of local businesses.
"Everywhere we looked, these businesses went above and beyond.
"My sister-in-law brought a whole picnic from an Elgin cafe that was over-the-top in the best way, my cake from The Pastry Section was beautiful and beyond delicious, and my Narcissus bouquet felt like the only thing I needed to feel and look like a bride.
"At the end of the day, even though we only had four guests, our wedding felt like it had a whole community."
Angus and Sabrina's wedding day began with a walk around Gorgie, where they stopped in at Tea and Sympathy for tea and coffee.
Back at home, Sabrina did her own hair and make-up ("I sent photos of hairstyle options to everyone who couldn't be there in person to advise: my sisters, my mom, my cousin and my aunt all came together to vote for their favourite look!") then the couple got ready in separate rooms.
"Once I was all dressed, I went through to the other room where Angus and I had the least photogenic 'first look' ever. But at least we got a first look."
The pair took a taxi (wearing masks, of course) to their ceremony, where they met with their only guests: Angus's parents, his sister and her partner.
Their ceremony was live-streamed on Facebook so that Sabrina's parents, as well as other friends and family, could witness their marriage.
Afterwards, it was photo time!
The newlyweds met with their photographer Lina ("She manages to capture not just the couple, but the mood of the day and the wedding itself") and took to the streets of the capital for a photography session.
"The Royal Mile wasn't completely silent, there were enough people to scream "you're beautiful! Congratulations!" at me, but not enough to get in the background of photos, or honk at us if we stopped in the middle of the road for a moment," says Sabrina.
"At the end of our photo-tour, we stopped at Mary's Milk Bar for ice cream – Lina's genius idea!"
In total, Sabrina reckons the wedding cost around £1,500. And even though the day didn't look like the wedding they imagined back when they got engaged, they made it work for them.
"As someone who couldn't have most of the things she couldn't imagine her day without, let me tell you: not having something you can't imagine your day without will not ruin it if you don't let it.
"Prioritise expenses and once you know what you want, figure out a way to ensure that your budget is going to the right people. Shop small. When you support small businesses, nine times out of ten they'll go a million times farther than a big conglomerate.
"I bought a dress from a big brand and it arrived crinkled up in a plastic bag, in a sad, beat up cardboard box.
"In a non-coronavirus world, I could have bought a vintage dress for the same amount (from a boutique such as Those Were The Days in Stockbridge) and had an infinitely better experience, and I would have been supporting someone I know rather than a big business. That makes a difference not just ethically, but in how your day plays out!"
Photographer: Lina Hayes Photography | Cake: The Pastry Section | Flowers: Narcissus Wedding Flowers