16 cute ring trinket dishes for your wedding and engagement rings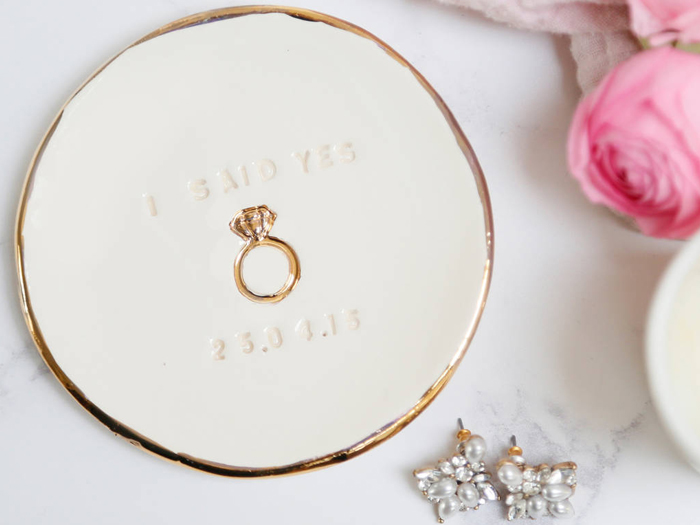 If you're recently engaged, you'll need a super cute ring trinket dish to display it on when it's not on your finger.
Pick a photogenic trinket dish and it'll come in handy on the wedding morning too, providing the perfect backdrop for your photographer to take up-close photos of your wedding and engagement rings.
Choose a classic dish that ties in with the metal and stone of your ring for ultimate co-ordination, go for a monogrammed trinket dish to make it personal or have fun with a more offbeat style. There's loads of choice!
Here are 16 of our favourite ring trinket dishes.
Gold monogrammed trinket dish
Gold personalised wedding ring dish (£20.50) notonthehighstreet.com
Sweet llama trinket dish
'Christine' trinket dish (£20) Anthropologie
Leaf ring dish
Meadow ceramics botanical trinket dish (£14) Anthropologie
Zodiac trinket dish
Zodiac trinket dish (£6) Urban Outfitters
Sun ceramic trinket dish
Sun terracotta orange ceramic trinket dish (£7) Oliver Bonas
Celestial ring dish
Moon celestial trinket dish (£10) John Lewis
Dinosaur trinket dish
Lilac dinosaur trinket dish (£4.99)  New Look
Eye trinket dish
Eye embossed trinket dish (£4.99)  New Look
Heart shaped Mr and Mrs trinket plate
Heart shaped trinket dish (£6.50) Amazon
Geometric jewellery dish
Metal and mirror hexagonal jewellery dish (£12.50) Maisons du Monde
Love trinket dish
Love trinket plate (£10) The White Company
Marble trinket dish
Marble trinket dish (£11) notonthehighstreet
Follow your heart
Metallic trinket dish (£25) notonthehighstreet
"I said yes" dish
Personalised engagement ring dish (£22) notonthehighstreet
Personalised engagement ring dish
Personalised engagement ring dish gift (£17.50) notonthehighstreet
Bee mine
Queen Bee trinket dish (£7.50) Sass & Belle
STILL TO FIND YOUR DREAM WEDDING RING?
Fall in love with Sheila Fleet Jewellery's charity collection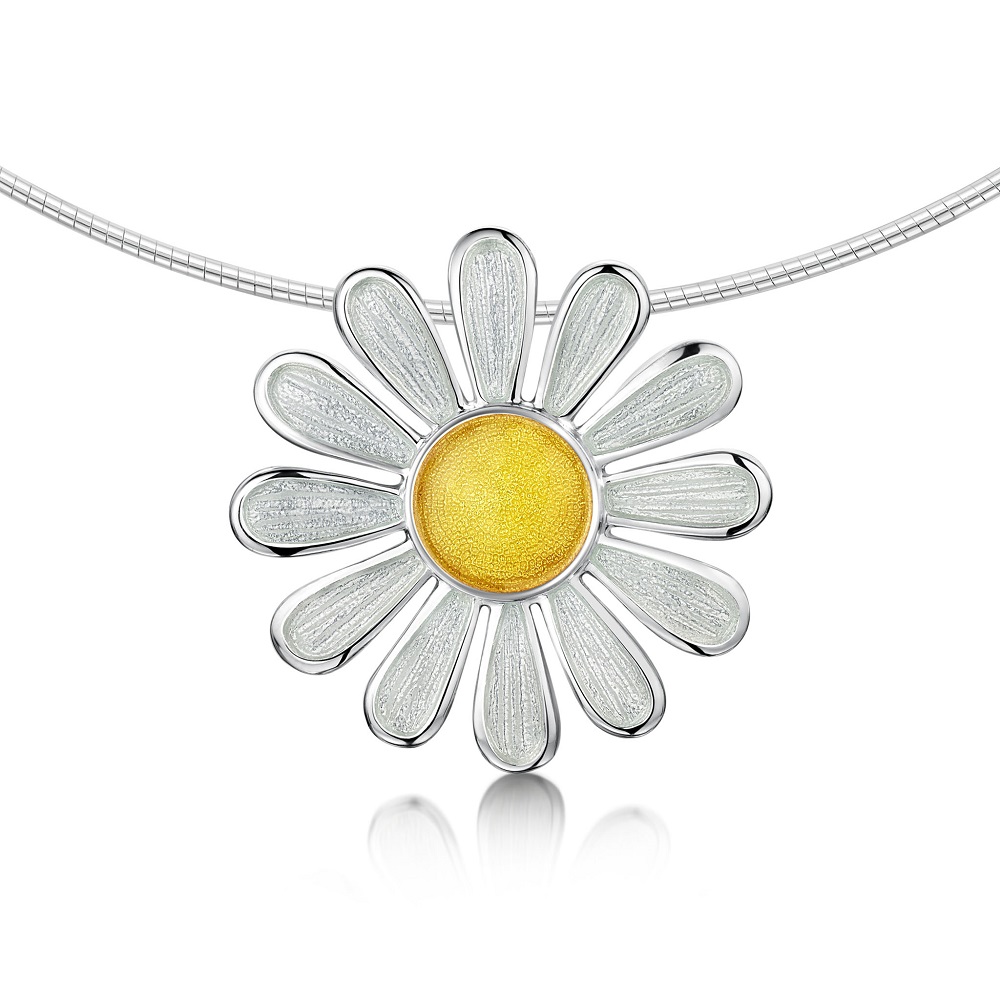 The best presents are the thoughtful ones – that's why we love Sheila Fleet Jewellery's daisy charity collection.
With every purchase from Sheila Fleet's Daisies at Dawn, Coloured Daisies or Diamond Daisies collections, 10% will be donated to Pancreatic Cancer Scotland.
Treat your bridesmaids to an item from the collection to say thanks and, as well as supporting the charity's amazing work, your 'maids will end up with a gorgeous piece of jewellery to treasure forever.
Read on to find out more about this lovely collection.
A special significance
The daisy has always had great meaning to Orkney-based jewellery designer Sheila Fleet OBE – when she married husband Rick in 1976, her long white dress was made of lace daisies and she carried a large bouquet of the flowers.
But daisies also have a special significance to Sheila's local community.
When at age 14 local girl Emily Findlay was diagnosed with neuroblastoma, a rare form of cancer, Sheila wanted to do something for her – she soon found out that Emily's favourite flower was the daisy.
This reminded Sheila of one of Rick's photographs (taken from their home and workshop in Orkney), which shows a sunrise with daisies highlighted in the forefront.
Using this as inspiration, she created and launched the Daisies at Dawn collection in 2014, turning the cheerful flower into a symbol of hope and joy.
Sheila explained: "When Emily was ill, we wanted to do something for her. We're delighted she's now doing so well, and I'm grateful we were able to help her at a very difficult time."
To date the Daisies have raised around £70,000 for good causes, which Emily and her family have benefitted from, as well as the Orkney Charitable Trust.
Now the collection will also show support for a charity close to Sheila's heart, Pancreatic Cancer Scotland, in memory of her late husband Rick who she sadly lost to the disease in 2013.
Sheila said: "I sadly lost Rick to this terrible disease. Locally I'm aware of other people in Orkney who have been affected by pancreatic cancer, but it affects people and their families all over the world. There is much we need to do to raise awareness."
The collection will benefit and support many people and their families, and raise much-needed awareness of one of the world's toughest cancers.
Shop the collection
While the classic daisy in the collection has white crystal petals with a sunshine yellow centre, there are also different coloured versions available.
The collection includes rings, stud earring, drops earrings, bracelets and necklaces featuring the delicate and pretty design – and we reckon any bridesmaid would be chuffed with receiving one as a prezzie!
It all works perfectly for a spring or summer wedding, and makes for a timeless, thoughtful gift that they can treasure for years to come.
Sheila Fleet Jewellery's new collection arrives in Edinburgh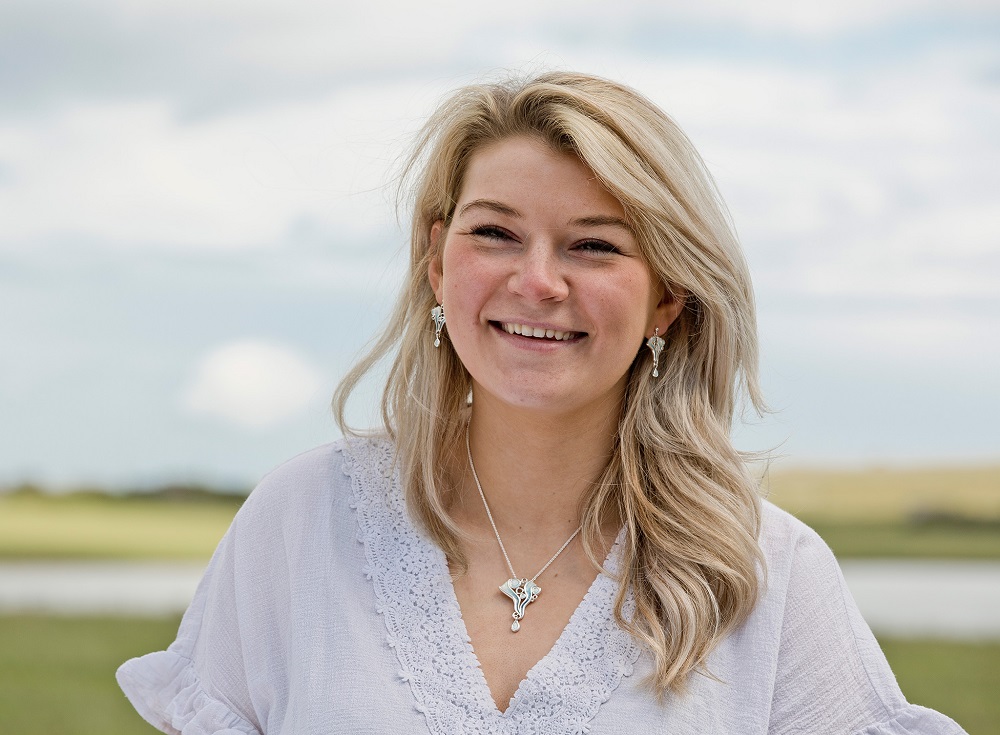 Leading Scottish jewellery designer, Sheila Fleet, will be holding her next Meet the Designer event at her Stockbridge Gallery from 25th to 27th October.
Pop in for a sneak peek at her latest collection Arctic Stream, inspired by a landscape of snow and ice (you can also check it out online here).
As glacial ice moves and changes, rocks of different shapes and sizes are carried with it, often coming to rest beside sparkling meltwater. Sheila was inspired by this process and by the shapes and colours of glacial ice, water and rock.
The intricate designs of her new collection mimics these shapes and come hand-enamelled in Arctic Blue, a colour inspired by the reflection of light on water and ice.
SHOP THE SHEILA FLEET COLLECTION
Treat yourself, buy your bridesmaids matching gifts for your big day, or even get ahead of your Christmas shopping – whatever you're looking for, Sheila and her Stockbridge staff will be there to offer you assistance.
You'll also be able to get your finger measured for one of Sheila's designer rings, and check out her unique wedding ring offerings.
All rings are available in silver, gold and platinum, set with diamonds or a variety of semi-precious gemstones. Sheila will also be happy to discuss her work with Scottish Gold and answer any questions you may have.
CLAIM YOUR DISCOUNT
Sheila Fleet is offering a 10% Loyalty Discount during her Meet the Designer Event. This promotion applies to all silver, gold and platinum jewellery and rings, including her new Arctic Stream collection (Charitable Daisies and Scottish Gold designs are excluded).
The next Meet the Designer event takes place at the Sheila Fleet Stockbridge showroom on Friday 25th until Sunday 27th October. Head along anytime between 10am and 5:30pm on Friday and Saturday, and 11am and 5pm on Sunday.
SHOP THE NEW ARCTIC STREAM COLLECTION FROM SHEILA FLEET JEWELLERY
t. 0131 2255939 | e. info@sheilafleet.com
Meet four couples who designed their own wedding rings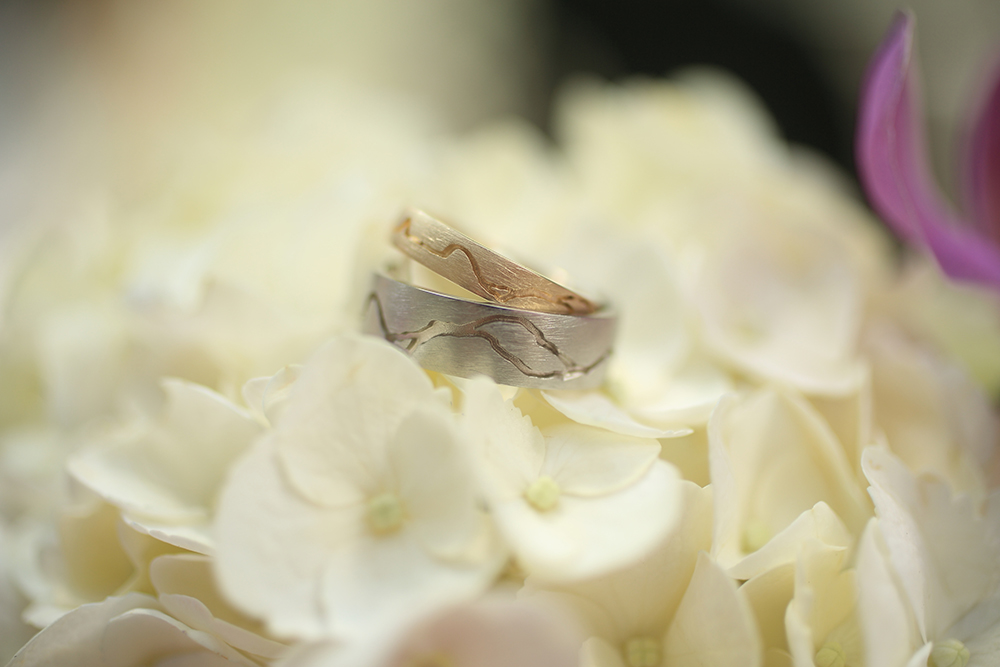 You're going to wear your wedding and engagement rings for the rest of your life – so shouldn't you have a say in how they look?
These four couples worked with their jewellers to get it just right…
~ HAYLEY + GORDON ~
IMAGES | Chugach Peaks Photography
SWD graphic designer Hayley and her husband Gordon tied the knot in Alaska (they lived in Canada at the time), but are from Scotland, so wanted their rings to reflect their favourite haunts back home.
The couple decided their beautiful rings should include a journey line, tracing the silhouettes of special places in Scotland and Europe.
"We were both feeling a bit homesick and were missing a lot of things about Scotland.
Living in Canada, the winters are quite harsh and Nova Scotia's quite rugged. We found it more limiting and missed having all these lovely daytrips back home," says Hayley.
Working with the Fireworks Gallery in Halifax, they had the outlines of the Cairngorms, Loch Tay and Lake Garda drawn out and merged into one single journey line engraved into each ring.
And what makes the bespoke rings extra special is the secret detail they each contain.
"We both have a little diamond inside them to represent each other," says Hayley.
~ NICOLA + DAVID ~
IMAGES | Ron Allner
Some people get to have a hand in the design of their wedding rings; others go one step further and actually pour the gold that goes into their bands.
David Burton was born and grew up on the farm where the Cononish mine near Tyndrum now stands, so when it came to choosing an engagement ring for his wife Nicola – and, subsequently, their wedding bands – only the mine's own white Scottish gold would do.
"It was the first gold that was poured at the mine and I was the one that poured it," says David.
Orkney jeweller Sheila Fleet had visited Cononish previously and was one of the recipients of its first batch of gold, so it was a case of perfect timing when David commissioned her to make the 18ct white gold rings.
"It was a great opportunity," enthuses David. "I was one of the first to have the rings made in the gold with Sheila. It was one of her existing designs, the Matrix rings, which she then adapted for us."
~ MEGAN + KERRANCE ~
IMAGES | David Grant Simpson Photography
As the owner and designer of NutMeg Couture Bridal, it was only natural that Megan Pankay would want to turn her creative eye to designing her gorgeous wedding ring.
Megan's American other half Kerrence surprised her by popping the question with a family ring ("it was my nana's engagement ring; it was her diamond that my mum had set in a platinum band that she wore for years," explains Megan), and then the bride worked with jeweller Bercotts to create a wedding band to match.
While Kerrence chose a unique design from the jeweller's own collection, Megan started from scratch.
"I wanted it to look like a tiny tiara to complement my nana's gorgeous diamond," she says.
Working from a pencil sketch Megan had done, the jeweller made a cast of her engagement ring and then did a CAD drawing to show how the two rings would fit together.
They then placed her seven diamonds in a clear casing before setting one tapered baguette, four brilliant-cut and two marquise stones in platinum.
~ DAVID + DAVID ~
IMAGES | John Clark Photos
David Nicoll and his husband (also David) had been together nearly 10 years when they tied the knot on Tuesday 12th March at Glasgow City Chambers.
The couple kept their ceremony intimate before flying to Paris the next day to celebrate together. On their return home, they celebrated with everyone at the Corinthian on the Saturday evening.
The couple replicated the handfasting ceremony from their wedding for their guests, with their bespoke wedding rings by Sweet Rosie taking centre stage.
"I was more jewellery-orientated than David and I wanted something a bit different," explains David.
The couple chose matching hammered-finish bands, set with a distinctive sapphire.
"March was when we met and that month's stone is an aquamarine, but they are quite light blue so we went for a sapphire instead," he explains.
"People comment on how eye-catching they are and how the sapphires can look different in different lights."
And the fact that the rings match is significant for the couple.
"It shows a bit of unity," says David.
HAVE YOU FOUND YOUR PERFECT RINGS YET?
Sheila Fleet Jewellery's new collection event starts next week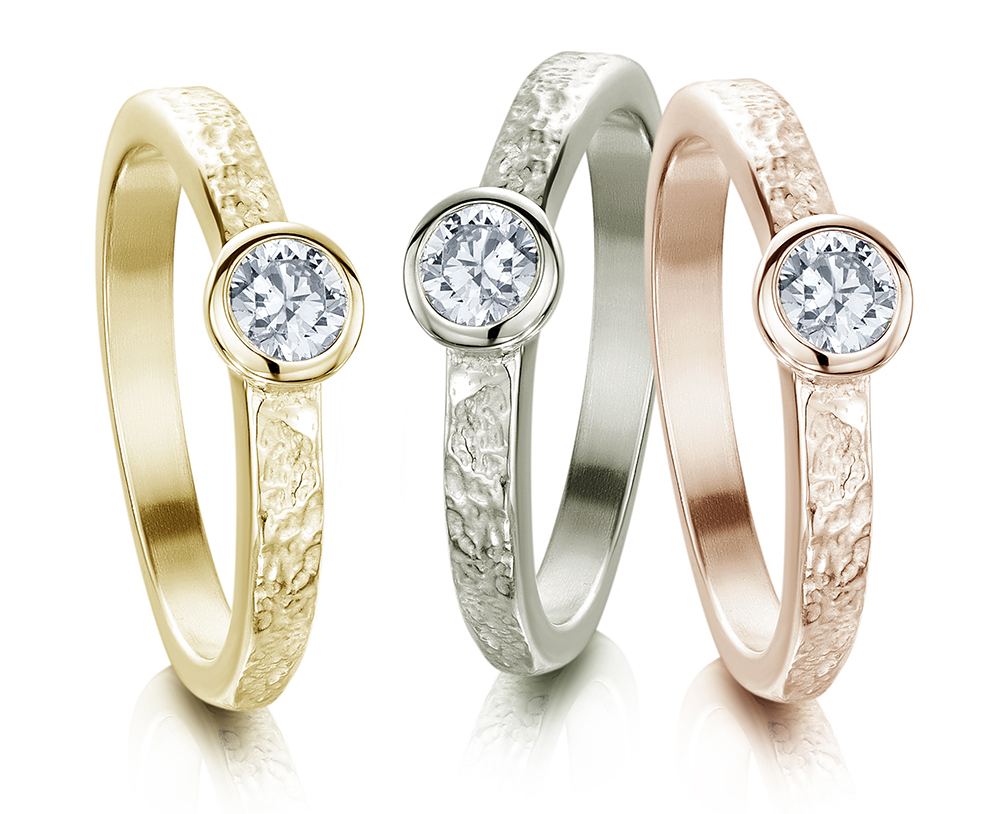 Scottish Jewellery Designer, Sheila Fleet, will be hosting her next Meet the Designer event at her concession in Jenners Loch Lomond Shores at the end of this month.
Sheila Fleet OBE, one of Scotland's leading designers and makers of precious jewellery, is giving an exclusive preview of her latest design, Matrix Embrace, between Saturday 27th July and Wednesday 31st July. The collection was inspired by watching the summer sunlight reflecting on the smooth sand and rippling sea of the beaches in Orkney.
The new Matrix Embrace bangles and rings are available in silver and a mix of yellow, white and rose gold. The design features two bands interlocked, one with a textured finish and the other polished, and would make a lovely, unique wedding ring.
The new Matrix Embrace bangles
Alternatively, Sheila's Matrix Diamond collection is perfect if you like a bit of sparkle!
The textured band is available in beautifully crafted yellow, white or rose gold and is handset with diamonds. Choose the solitaire diamond Matrix ring or the Matrix band handset with twelve diamonds for ultimate sparkle.
BROWSE THE LATEST SHEILA FLEET JEWELLERY COLLECTIONS
Sheila's Seasons collection will also be displayed at the event.
During a walk she took through Inverewe Gardens five years ago, the rich colours of the falling leaves inspired Sheila to take a photo to capture their beauty, knowing that at some point she would create a collection.
This collection is also available in autumn, winter and spring enamels, making a perfect accessory for any season. Each piece incorporates 9ct yellow and rose gold leaves, alongside silver and enamel.
Sheila and her team at Lomond Shores will offer assistance sizing your finger for a made-to-measure ring (like a wedding ring!), or ask to try on a range of Sheila's designs available in store. All items of jewellery are made in her workshop in Orkney.
Why not also ask Sheila to see her range of diamond rings, or ask her about Scottish Gold?
During the event, Sheila is also offering a 10% Loyalty Discount on all her silver, silver and enamel, yellow, white and rose gold, platinum and diamond jewellery.
The offer excludes the Charitable Daisies and Scottish Gold.
Sheila Fleet Jewellery's latest Meet the Designer event runs Saturday 27th July till Wednesday 31 July, 10am-6pm at Jenners at Loch Lomond Shores.
t. 0131 2255939
e. info@sheilafleet.com
Shopping for wedding rings next on your To Do list? Don't go 'til you've read this…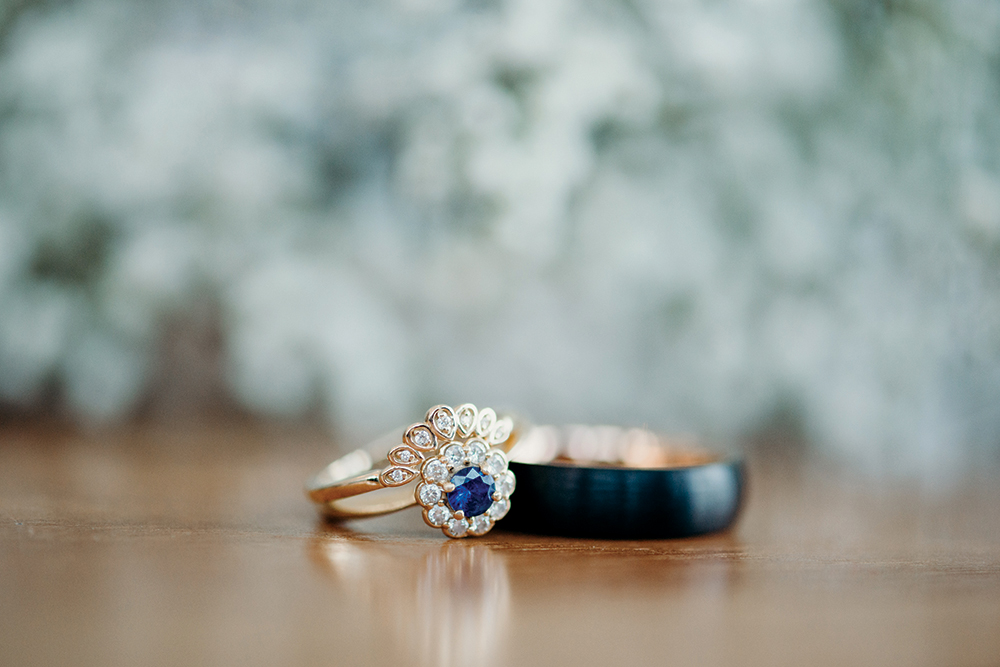 Don't go ring shopping until you've read these pearls of wisdom from jeweller Anna Marion of Oui! Designs.
IMAGE | Weddings by Hayley and Craig 
Figure out your budget
First of all, work out how much you would like to spend. I know this is something that can feel counter-intuitive to reveal, but it will mean your jeweller won't waste your time suggesting options that aren't suitable.
Good to know: although you might think that a custom jeweller would cost more, often they are more competitively priced as they have fewer overheads than larger commercial companies.
Find your jeweller
Wedding fairs are a great way to see and meet a range of designers, allowing you to get a feel for their style and decide if you'd like to work with them.
As well as the large wedding shows, there are many smaller events with a curated selection of exhibitors. Magazines, blogs and social media also provide useful ways to find a designer you like.
Don't forget to take notes and save the images you like so that you can communicate the aspects of their work that attracted you to them. The more information you have, the easier it will be to make something that you love!
Know your stones
If you're thinking of adding some color or sparkle to your wedding ring, you should choose gemstones that will wear well. As you probably know, diamonds are very hard – but did you know that sapphires aren't far behind?
Diamonds and sapphires come in every color of the rainbow, but sapphires are less expensive. If you are keen to use other gemstones for sentimental reasons (by repurposing inherited jewellery, for instance) it is advisable to put them in more protected locations on the ring, such as on the side, inside or in a concave area where there is less contact with day-to-day abrasive objects.
Otherwise, more protective settings should be considered such as bezel or flush settings.
Don't mix metals
For a bride, the best choice of metal will be the same metal as her engagement ring. Different metals have different levels of hardness and if worn together every day, the harder metal will wear away the softer metal.
For example, an engagement ring made in platinum (which has good hardness) will slowly remove metal from a wedding band made in yellow gold (which is relatively softer).
Think about how you would like the metal to look, too. If you'd like something more grey and matte, then platinum is the way to go. If you want something bright white and shiny, rhodium-plated white gold is the best choice.
Palladium has similar wear characteristics to platinum, but it has a lower density so is therefore lighter. It's a great choice for larger designs, such as a man's band.
Remember it takes two
If you plan to wear your engagement and wedding rings together often, it is important to make sure they sit well together. If there are only a couple of small areas that make contact, those areas will rub away at one another.
A common example is an engagement ring that has protruding prongs on the side (from the top of the stone down to the finger), and when a flat band sits next to them, it wears away the claws.
This is particularly troublesome because as the claws weaken they are likely to release the centre stone. Long-term, it's worth the money to have a custom wedding band that nests well.
Look after them!
My friends and family often ask me how to clean their gemstone rings. A quick fix is to chuck them in hot, soapy water and attack them with nothing other than an old toothbrush!
For a thorough clean, a jeweller will put your items in an ultrasonic bath. This is great for any precious jewellery, but remember not to get opals wet as it can make them cloudy.
Keep an eye on your settings to make sure you don't lose any gemstones. A good way to check is by tapping the gemstone with your fingernail – if you can hear or see a slight rattling, don't delay in taking it to be looked at.
Even if the stone is still covered with plenty of metal, a loose claw can snag and break or loosen further, but it is easily fixed if it only needs a small adjustment.
Check out the unique wedding rings in Sheila Fleet's new collection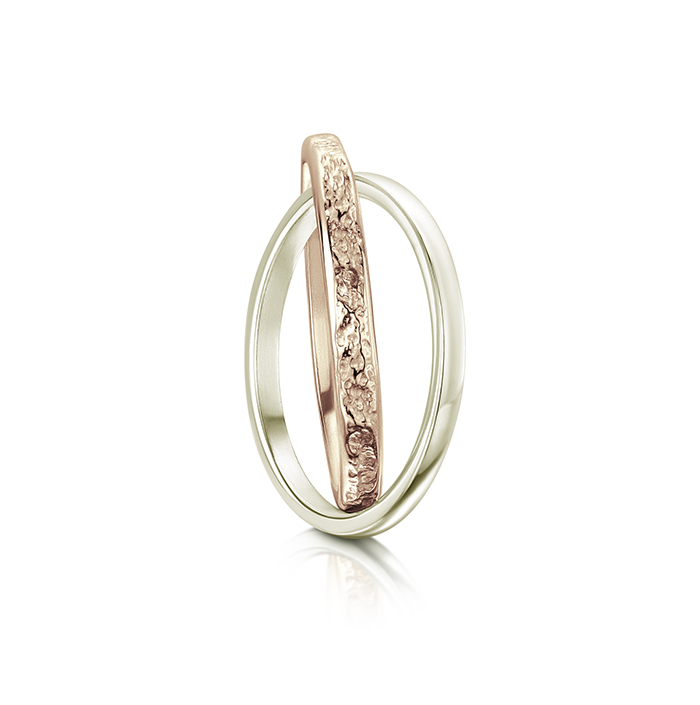 Jewellery designer Sheila Fleet never disappoints when it comes to unique wedding rings, as her new collection proves.
We're sharing more about the inspiration behind her latest designs and her next Meet the Designer event in Edinburgh at the end of this month…
Known for her work in precious metals and gemstones, Sheila draws her inspiration from nature and her island environment on Orkney.
On bright summer days she enjoys watching the sunlight dancing on smooth sand and rippling waves, so she's taken this as inspiration for her exciting new collection.
In her new ring designs, Sheila captures the richness of reflected light by juxtaposing polished and textured metals.
The result is something quite unique; two rings – one polished, one textured – linked together to form one item of jewellery.
This creative design is called the Matrix Embrace, so named because the two rings are united forever, gently kissing.

Matrix Embrace
The new Matrix Embrace kissing rings are available in a range of precious metals. You can choose from a mixture of white and yellow gold or white and rose gold.
Alternatively, for subtle reflections, opt for both linking rings made in the same metal. Perfect if you're the type of person who likes to wear jewellery in one metal only!
If sparking gemstones are more your style, then you'll love the Matrix Diamond ring – Sheila's new textured gold rings featuring diamonds set by hand.
Matrix Diamond can be worn as a single eternity ring or as an engagement and wedding ring set.
It's beautiful crafted in silver, yellow, white or rose gold, and seriously stunning in Scottish Gold!
Just ask if you'd like to go for this bespoke option, Sheila Fleet will talk you through the options. All Sheila's jewellery is designed and made in her Workshop in the Orkney Islands.
Meet the Designer
Sheila Fleet trained at Edinburgh College of Art in the 1960s, gained an Honorary Degree from her former College
for outstanding design, and an OBE for services to the jewellery industry. 
Be among the first to see the Matrix Embrace and Matrix Diamond rings, and a few other gorge Sheila Fleet designs as well, during her Meet the Designer event this month.
Sheila Fleet will be showing her latest creative designs at her boutique shop in Edinburgh's historic Stockbridge.
In addition, the designer is offering a 10% Loyalty Discount in-store during the event. This promotion applies to all silver, gold, platinum and diamond jewellery, and new designs (excluding only the charitable Daisies and Scottish Gold).
Sheila Fleet's Meet the Designer event takes place Thursday 30th May – Sunday 2nd June at her Stockbridge, Edinburgh boutique.
t. 0131 225 5939 | e. info@sheilafleet.com
Check out the latest wedding rings from John McKay Jewellers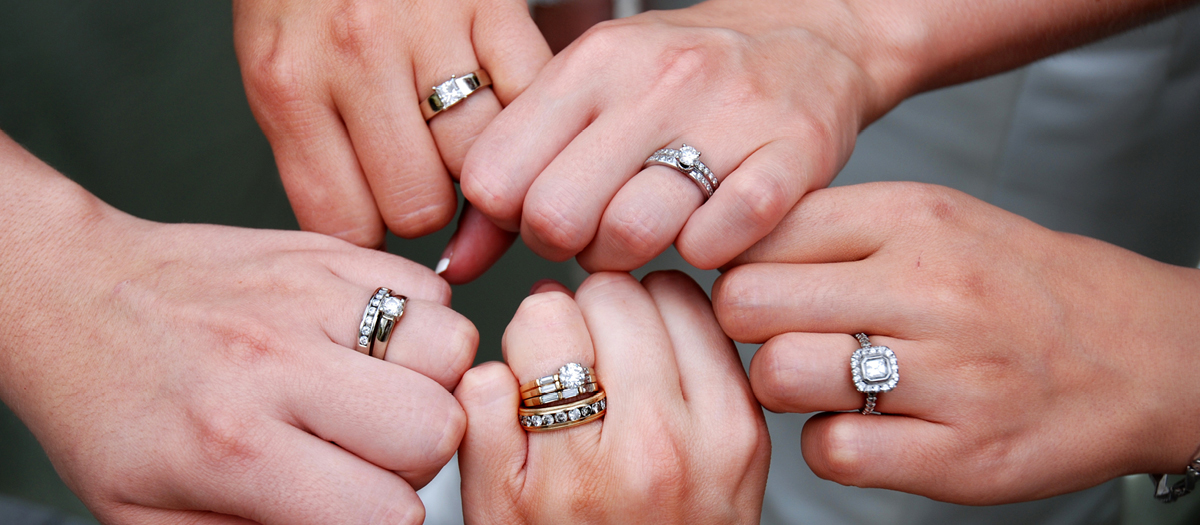 We're loving these sparkling showstopping wedding rings from John McKay Jewellers – take a look and get inspired!
The diamond experts and premium jewellers definitely know a thing or two about creating wedding rings you'll love forever.
They'll be able to help you find exactly the rings you're looking for, no matter what your style or budget – at the moment, they're actually offering a 20% discount if you're following them on Facebook!
You can go totally bespoke and create your dream wedding ring, but you'll find plenty of timeless and stylish designs to choose from too.
Here are a few of our fave wedding rings available in John McKay Jeweller's Paisley store now…
1 Brilliant cut diamonds
Ladies 0.25ct certified brilliant cut diamond wedding ring, from £533.00. Available in white, yellow and rose gold, platinum and palladium.
2 Cross over ring
Ladies double cross over wedding ring with 0.25ct of certified brilliant cut diamonds, from £590.00. Available in yellow, white and rose gold, platinum and palladium.
3 Brilliant and baguette cut diamonds
Ladies double row of certified brilliant and baguette cut diamond wedding ring, from 0.50ct and from £876.00. Available in white, yellow and rose gold, platinum and palladium.
t. 01418 894904 | e. sales@johnmckayjewellers.com 
Read reviews for John McKay Jewellers
There's now a Disney engagement ring collection and it's seriously magical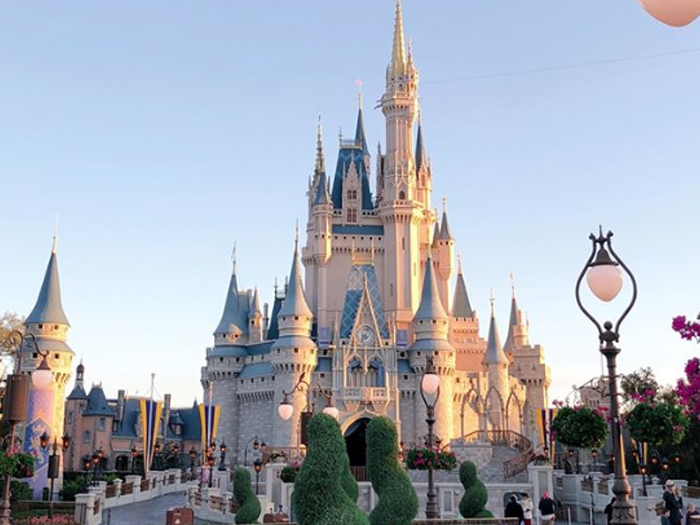 Jewellers H.Samuel are giving us all the princess vibes with the Enchanted Disney Fine Jewellery engagement ring collection.
IMAGE | Instagram
An elegant selection, the rings are made from yellow, white or rose gold and have plenty of sparkle, using diamonds, amethyst and tanzanite.
Each ring has a unique Disney Princess detailing, a truly special engagement ring for a Disney lover.
ENCHANTED DISNEY ENGAGEMENT COLLECTION
SHOP | Enchanted Disney Fine Jewelry Diamond Cinderella Ring (£1,299)
SHOP | Enchanted Disney Fine Jewelry Diamond Belle Ring (£999)
SHOP | Enchanted Disney Fine Jewelry Diamond Mulan Ring (£1,699)
SHOP | Enchanted Disney Fine Jewelry Diamond Pocahontas Ring (£1,499)
SHOP | Enchanted Disney Fine Jewelry Diamond Cinderella Ring (£799)
SHOP | Enchanted Disney Fine Jewelry Diamond Jasmine Ring (£1,299)
SHOP | Enchanted Disney Fine Jewelry Diamond Pocahontas Ring (£1,499)
SHOP | Enchanted Disney Fine Jewelry Diamond Elsa Ring (£1,299)
SHOP | Enchanted Disney Fine Jewelry Diamond Snow White Ring (£1,699)
SHOP | Enchanted Disney Fine Jewelry Diamond Belle Ring (£1,299)
SHOP | Enchanted Disney Fine Jewelry Diamond Tinker Bell Ring (£1,299)
SHOP | Enchanted Disney Fine Jewelry Diamond Tiana Ring (£1,299)
SHOP | Enchanted Disney Fine Jewelry Diamond Mulan Ring (£1,999)
SHOP | Enchanted Disney Fine Jewelry Diamond Rapunzel Ring (£2,299)
LOVE DISNEY?
Edinburgh named as the UK's most romantic place to propose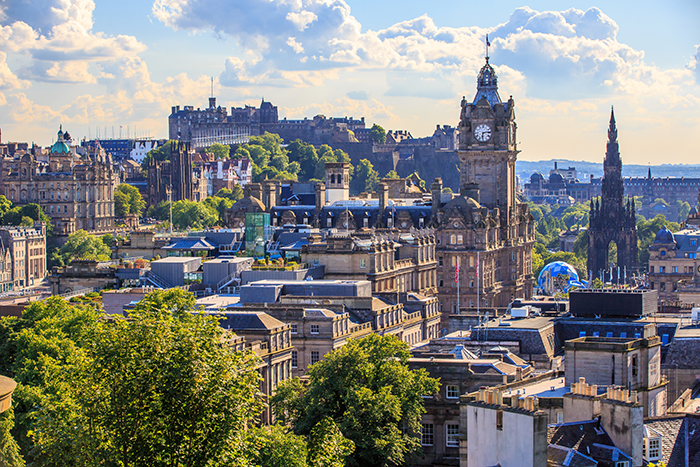 It's official. Edinburgh is the UK's most romantic place to pop the question.
A survey conducted by EliteSingles lists the top proposal destinations across the world, and Edinburgh is the only UK entry in the top 12.
The dating site asked 1,600 people for their opinion on proposal destinations, romantic getaways and their thoughts on 21st century proposals.
Interestingly, Venice knocked Paris off the top spot as the most romantic place to propose in 2019.
Hawaii, The Bahamas and Fiji round out the top five but it's not all flashy holiday destinations.
The survey revealed that many couples would prefer familiar surroundings, with "at home" coming in at number six.
Here's the complete list of the top 12 places to propose in 2019:
Venice, Italy
Paris, France
Hawaii, USA
The Bahamas
Vanua Levu, Fiji
At home
Bali, Indonesia
New York, USA
Niagara Falls, North America
Sydney, Australia
Edinburgh, Scotland
Las Vegas, USA
The survey also revealed that 1 in 5 men would prefer to be proposed to so no need to wait for a leap year!
HAVE YOU FOUND YOUR DREAM ENGAGEMENT RING YET?